Happy But Disappointed Quotes & Sayings
Enjoy reading and share 41 famous quotes about Happy But Disappointed with everyone.
Top Happy But Disappointed Quotes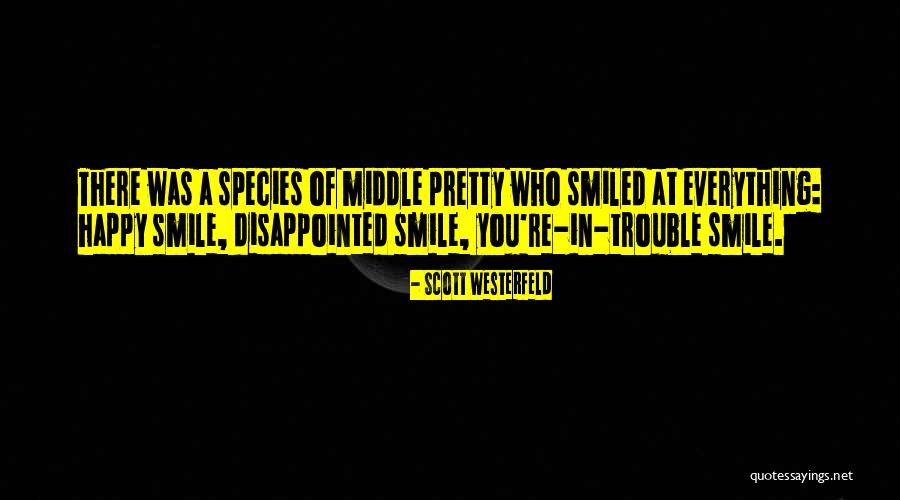 There was a species of middle pretty who smiled at everything: happy smile, disappointed smile, you're-in-trouble smile. — Scott Westerfeld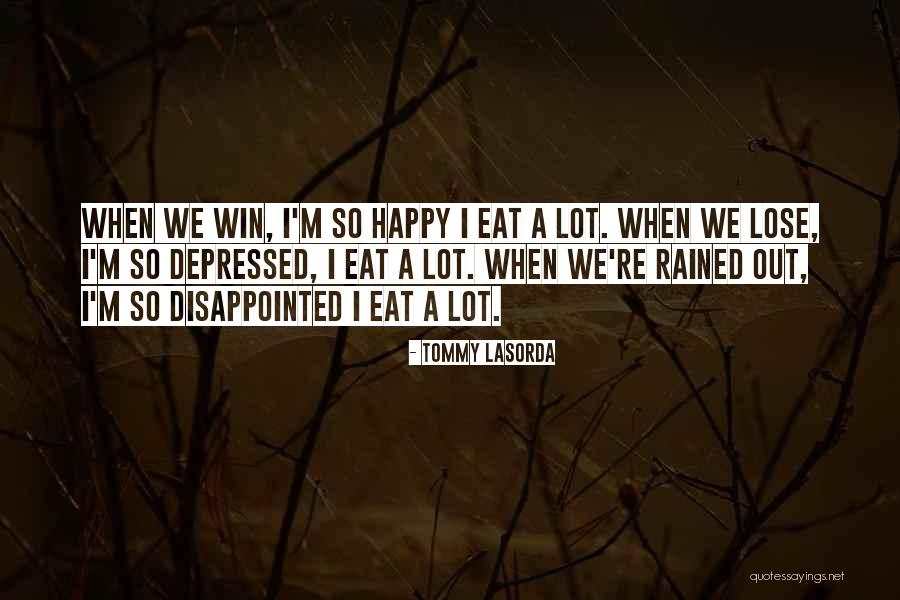 When we win, I'm so happy I eat a lot. When we lose, I'm so depressed, I eat a lot. When we're rained out, I'm so disappointed I eat a lot. — Tommy Lasorda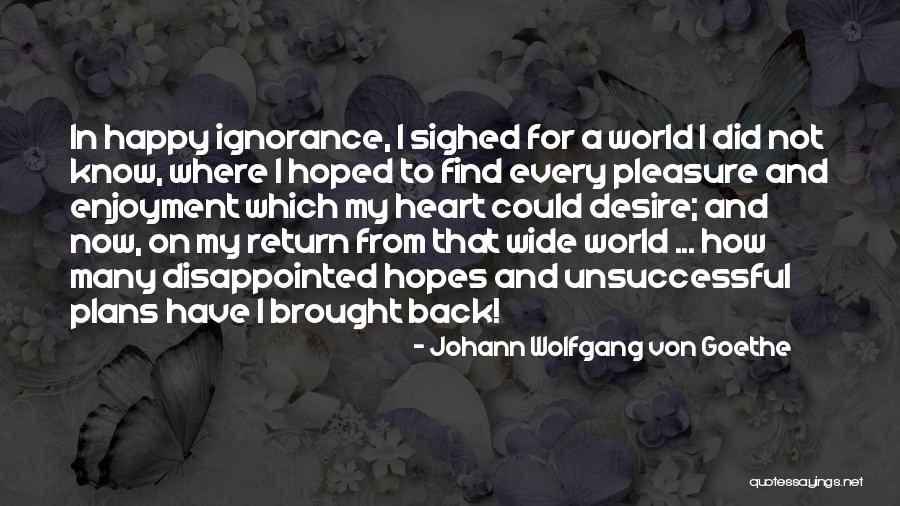 In happy ignorance, I sighed for a world I did not know, where I hoped to find every pleasure and enjoyment which my heart could desire; and now, on my return from that wide world ... how many disappointed hopes and unsuccessful plans have I brought back! — Johann Wolfgang Von Goethe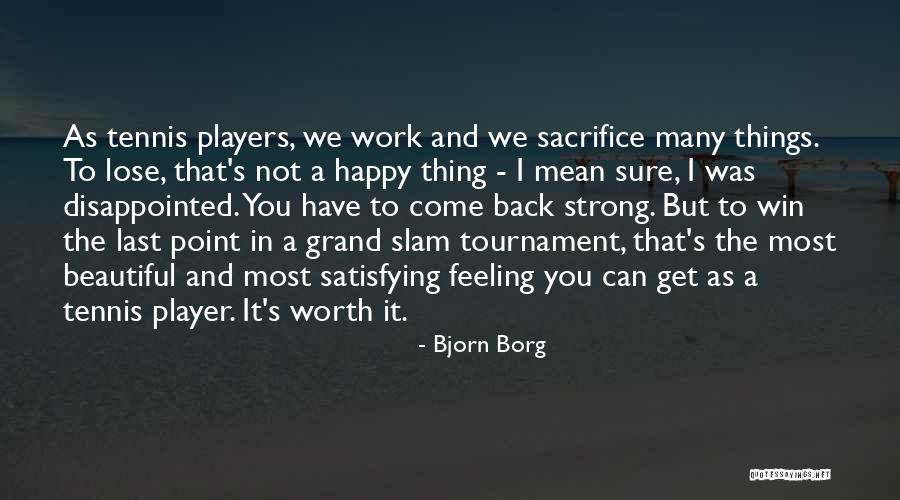 As tennis players, we work and we sacrifice many things. To lose, that's not a happy thing - I mean sure, I was disappointed. You have to come back strong. But to win the last point in a grand slam tournament, that's the most beautiful and most satisfying feeling you can get as a tennis player. It's worth it. — Bjorn Borg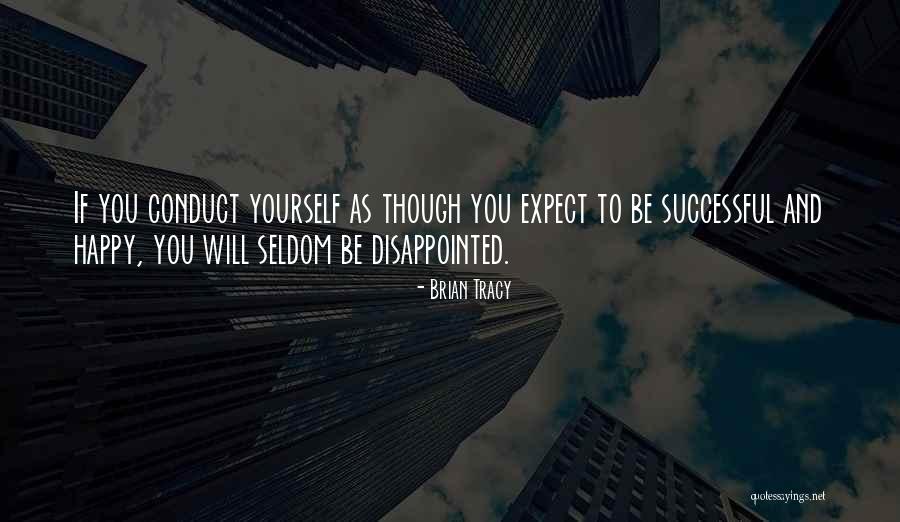 If you conduct yourself as though you expect to be successful and happy, you will seldom be disappointed. — Brian Tracy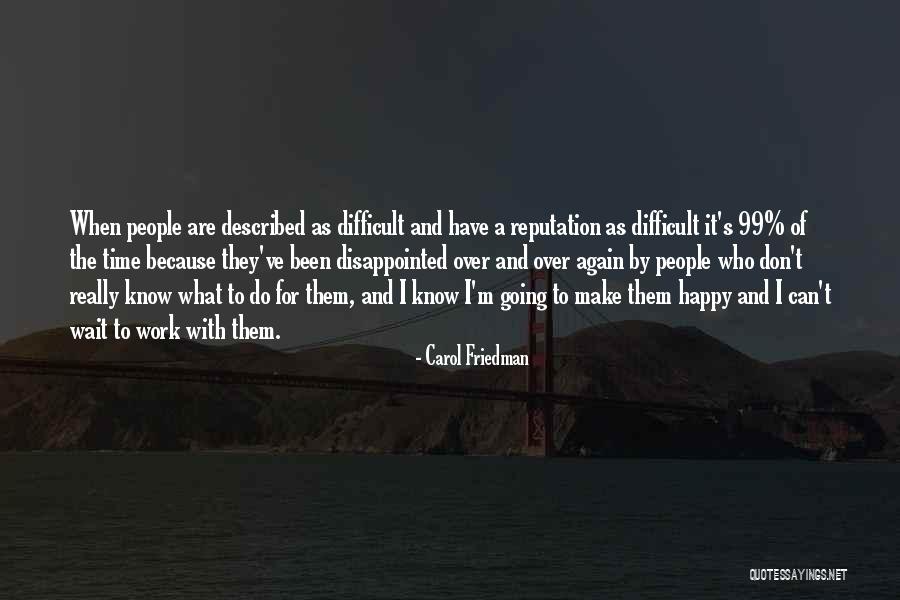 When people are described as difficult and have a reputation as difficult it's 99% of the time because they've been disappointed over and over again by people who don't really know what to do for them, and I know I'm going to make them happy and I can't wait to work with them. — Carol Friedman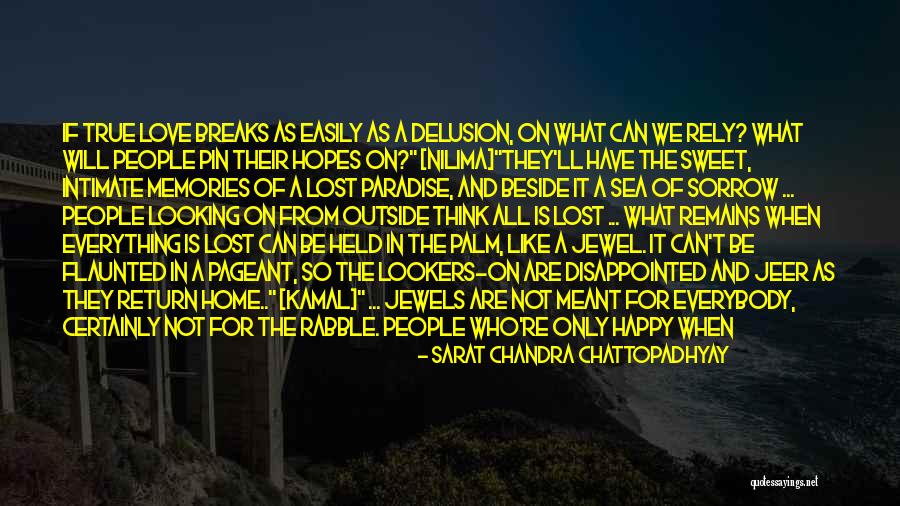 If true love breaks as easily as a delusion, on what can we rely? What will people pin their hopes on?" [Nilima]
"They'll have the sweet, intimate memories of a lost paradise, and beside it a sea of sorrow ... People looking on from outside think all is lost ... What remains when everything is lost can be held in the palm, like a jewel. It can't be flaunted in a pageant, so the lookers-on are disappointed and jeer as they return home.." [Kamal]
" ... Jewels are not meant for everybody, certainly not for the rabble. People who're only happy when decked out with gold and silver from top to toe won't understand the value of your tiny diamonds and gems. Those who want a lot feel secure only after tying knot upon knot. They put a price on something only by its weight and show and bulk. But it's useless to try and show the sunrise from a western window..[Nilima] — Sarat Chandra Chattopadhyay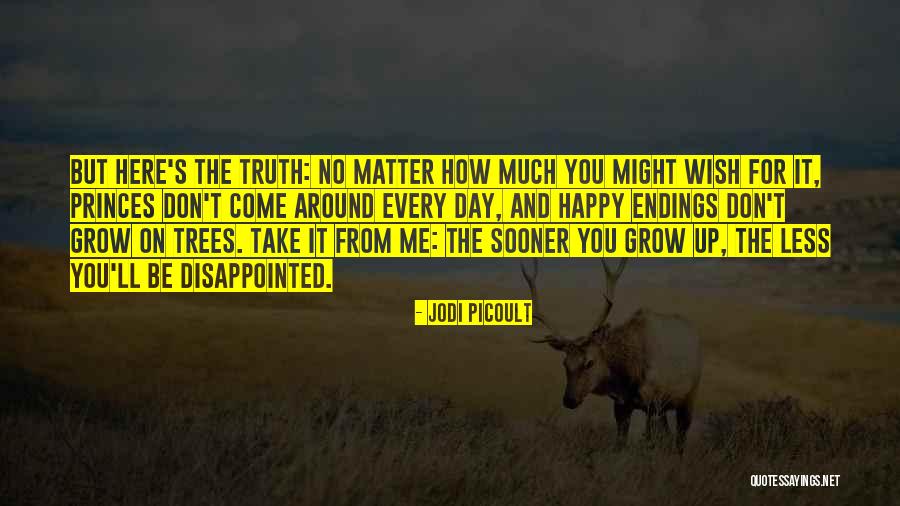 But here's the truth: no matter how much you might wish for it, princes don't come around every day, and happy endings don't grow on trees. Take it from me: the sooner you grow up, the less you'll be disappointed. — Jodi Picoult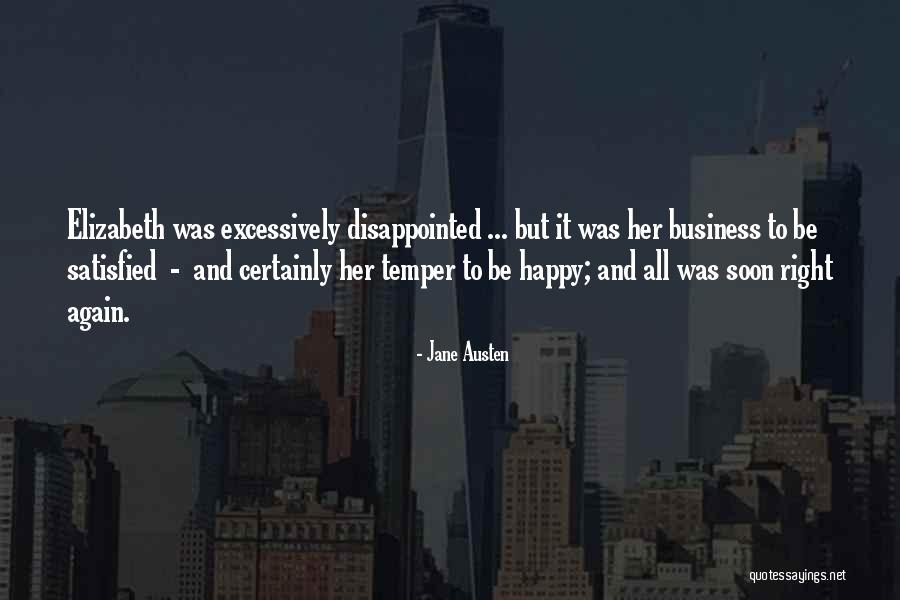 Elizabeth was excessively disappointed ... but it was her business to be satisfied - and certainly her temper to be happy; and all was soon right again. — Jane Austen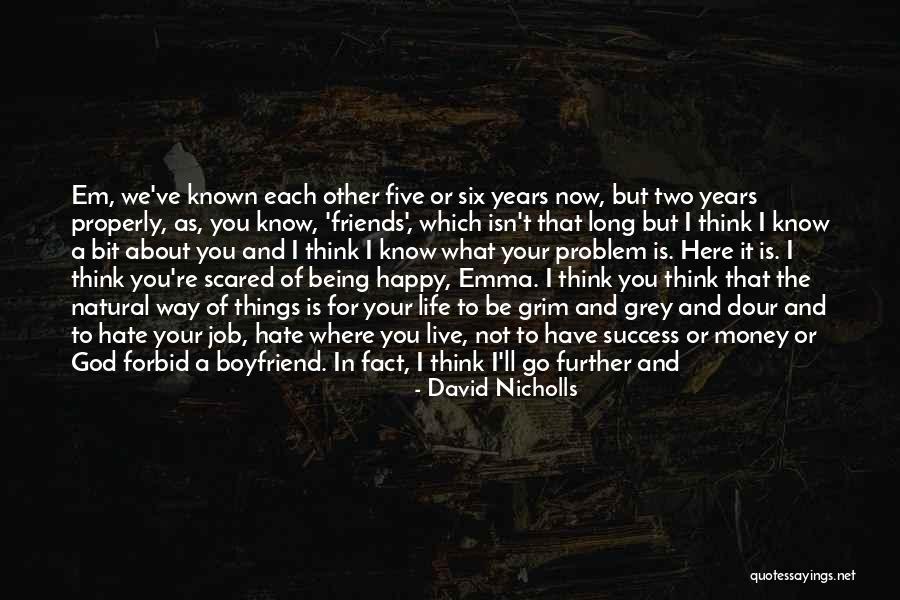 Em, we've known each other five or six years now, but two years properly, as, you know, 'friends', which isn't that long but I think I know a bit about you and I think I know what your problem is. Here it is. I think you're scared of being happy, Emma. I think you think that the natural way of things is for your life to be grim and grey and dour and to hate your job, hate where you live, not to have success or money or God forbid a boyfriend. In fact, I think I'll go further and say that I think you actually get a kick out of being disappointed and under-achieving, because it's easier, isn't it? Failure and unhappiness is easier because you can make a joke out of it. — David Nicholls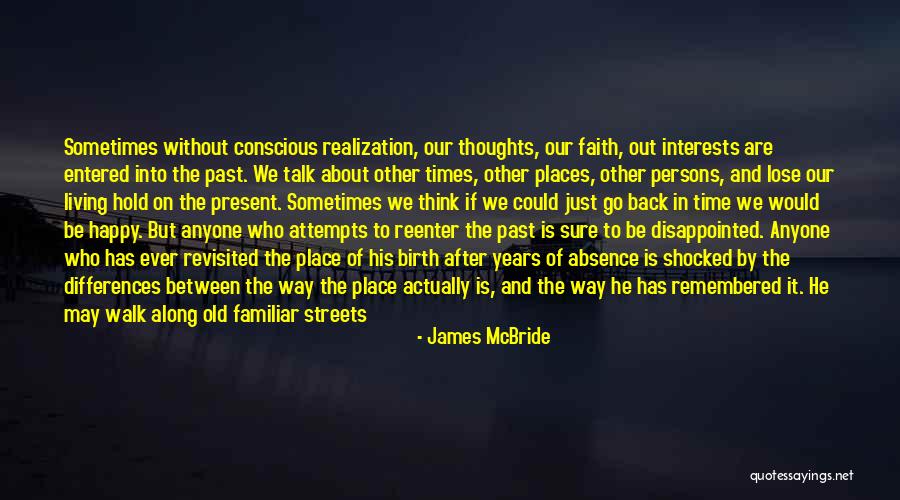 Sometimes without conscious realization, our thoughts, our faith, out interests are entered into the past. We talk about other times, other places, other persons, and lose our living hold on the present. Sometimes we think if we could just go back in time we would be happy. But anyone who attempts to reenter the past is sure to be disappointed. Anyone who has ever revisited the place of his birth after years of absence is shocked by the differences between the way the place actually is, and the way he has remembered it. He may walk along old familiar streets and roads, but he is a stranger in a strange land. He has thought of this place as home, but he finds he is no longer here even in spirit. He has gone onto a new and different life, and in thinking longingly of the past, he has been giving thought and interest to something that no longer really exists. — James McBride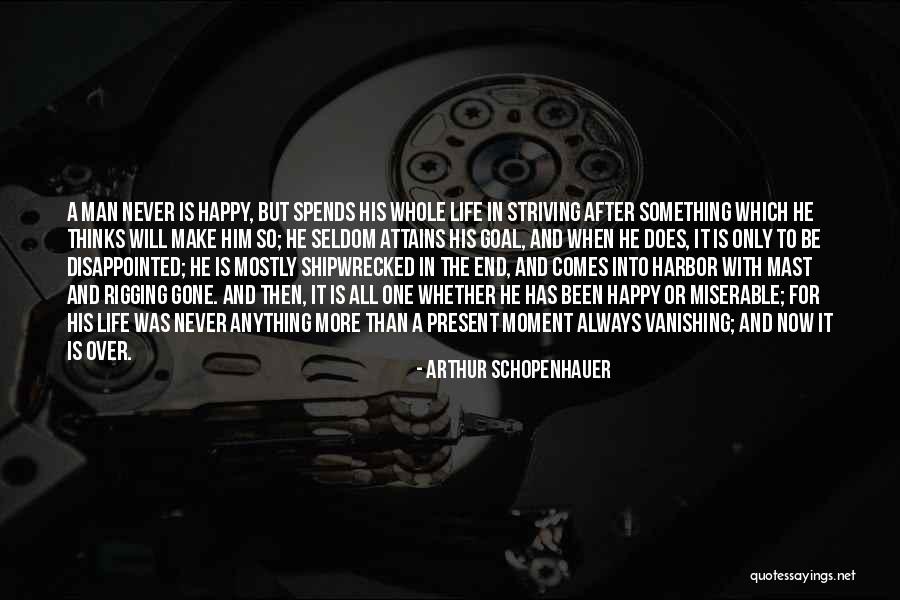 A man never is happy, but spends his whole life in striving after something which he thinks will make him so; he seldom attains his goal, and when he does, it is only to be disappointed; he is mostly shipwrecked in the end, and comes into harbor with mast and rigging gone. And then, it is all one whether he has been happy or miserable; for his life was never anything more than a present moment always vanishing; and now it is over. — Arthur Schopenhauer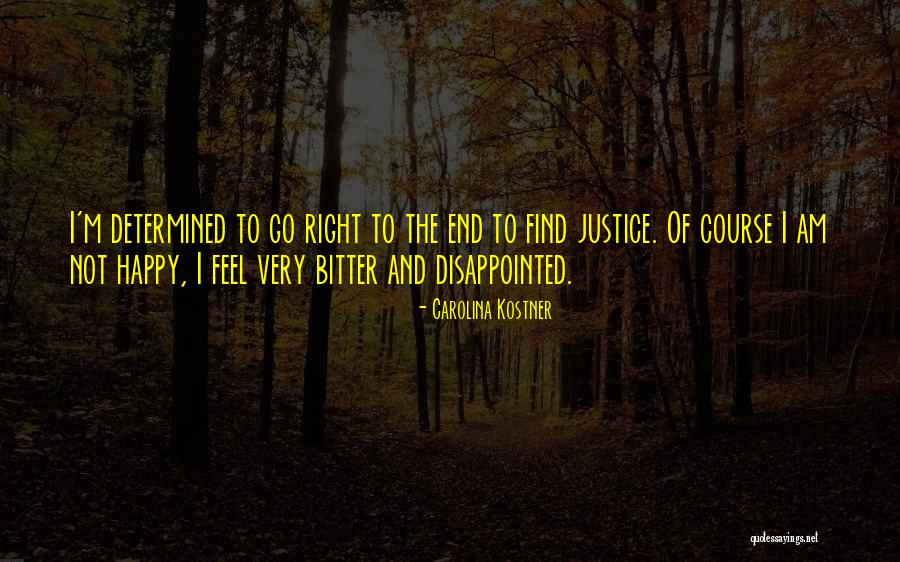 I'm determined to go right to the end to find justice. Of course I am not happy, I feel very bitter and disappointed. — Carolina Kostner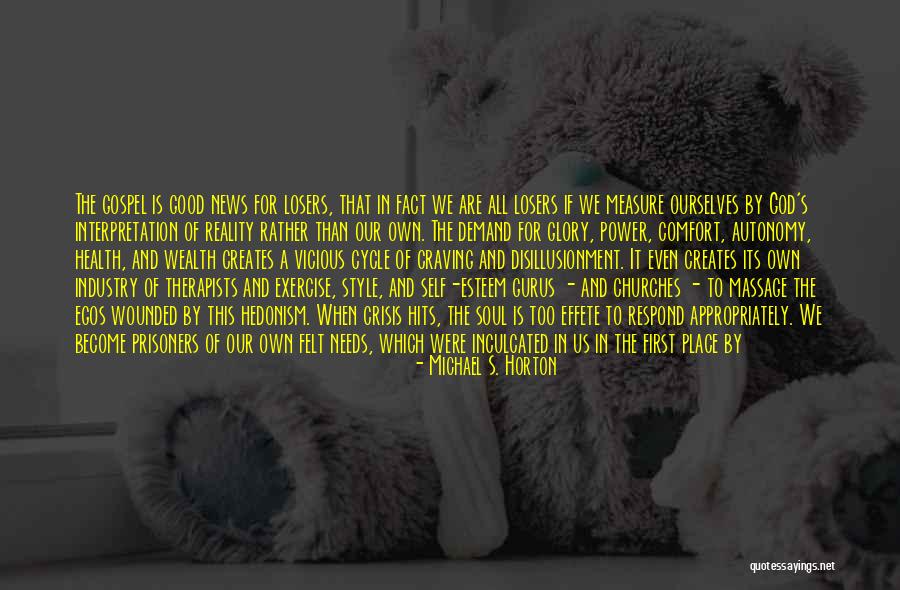 The gospel is good news for losers, that in fact we are all losers if we measure ourselves by God's interpretation of reality rather than our own. The demand for glory, power, comfort, autonomy, health, and wealth creates a vicious cycle of craving and disillusionment. It even creates its own industry of therapists and exercise, style, and self-esteem gurus - and churches - to massage the egos wounded by this hedonism. When crisis hits, the soul is too effete to respond appropriately. We become prisoners of our own felt needs, which were inculcated in us in the first place by the very marketplace that promises a "fix." We become victims of our own shallow hopes. We are too easily disappointed because we are too easily persuaded that the marketplace always has something that can make us happy. — Michael S. Horton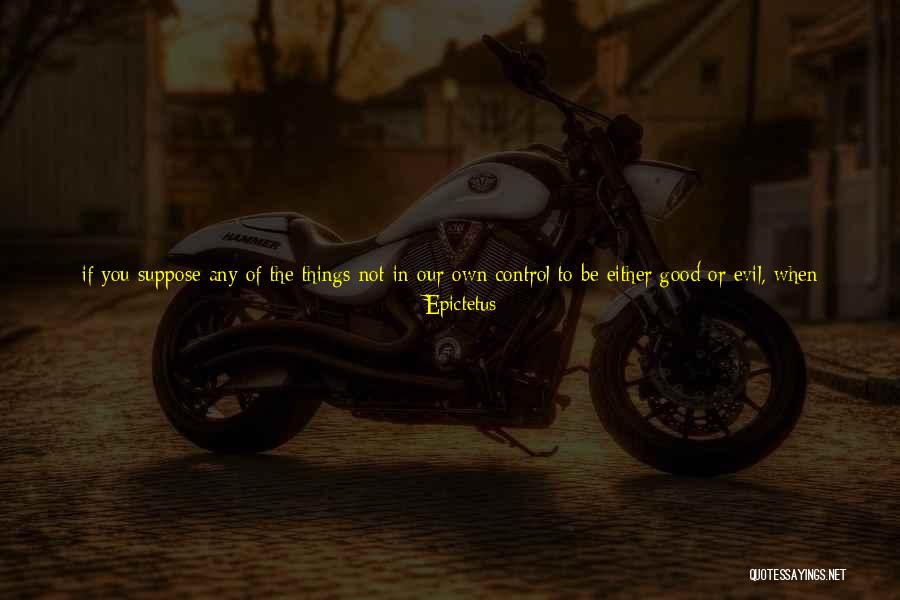 if you suppose any of the things not in our own control to be either good or evil, when you are disappointed of what you wish, or incur what you would avoid, you must necessarily find fault with and blame the authors. For every animal is naturally formed to fly and abhor things that appear hurtful, and the causes of them; and to pursue and admire those which appear beneficial, and the causes of them. It is impractical, then, that one who supposes himself to be hurt should be happy about the person who, he thinks, hurts him, just as it is impossible to be happy about the hurt itself. Hence, — Epictetus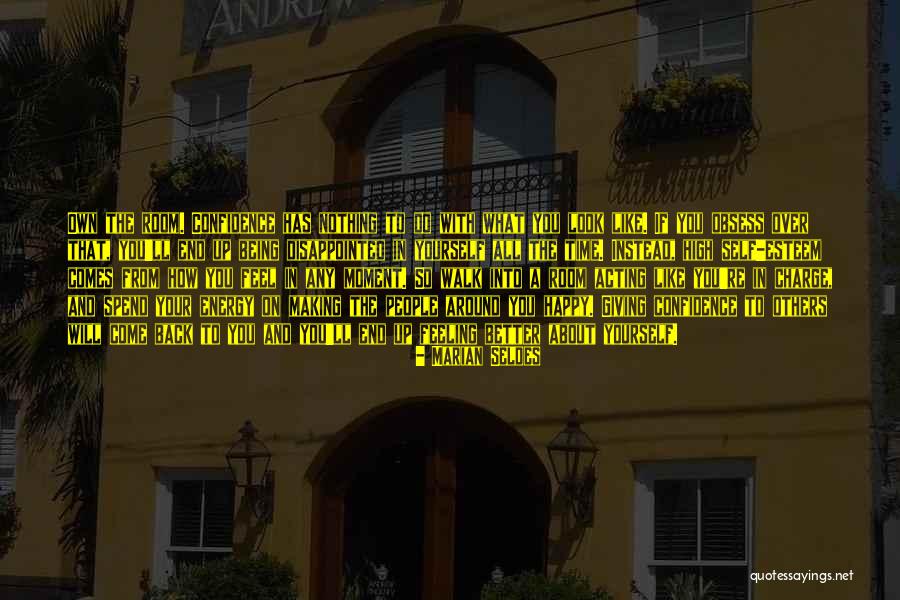 Own the room. Confidence has nothing to do with what you look like. If you obsess over that, you'll end up being disappointed in yourself all the time. Instead, high self-esteem comes from how you feel in any moment. So walk into a room acting like you're in charge, and spend your energy on making the people around you happy. Giving confidence to others will come back to you and you'll end up feeling better about yourself. — Marian Seldes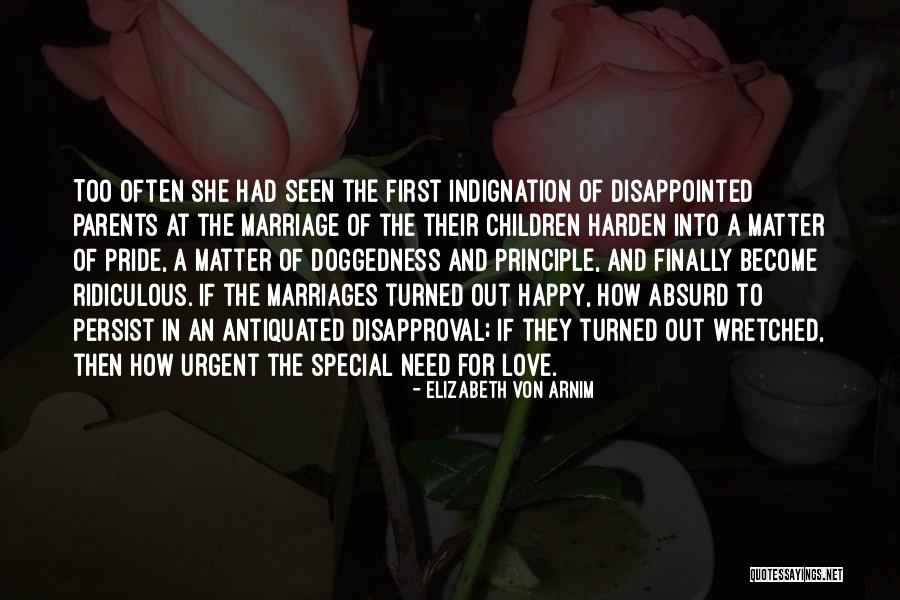 Too often she had seen the first indignation of disappointed parents at the marriage of the their children harden into a matter of pride, a matter of doggedness and principle, and finally become ridiculous. If the marriages turned out happy, how absurd to persist in an antiquated disapproval; if they turned out wretched, then how urgent the special need for love. — Elizabeth Von Arnim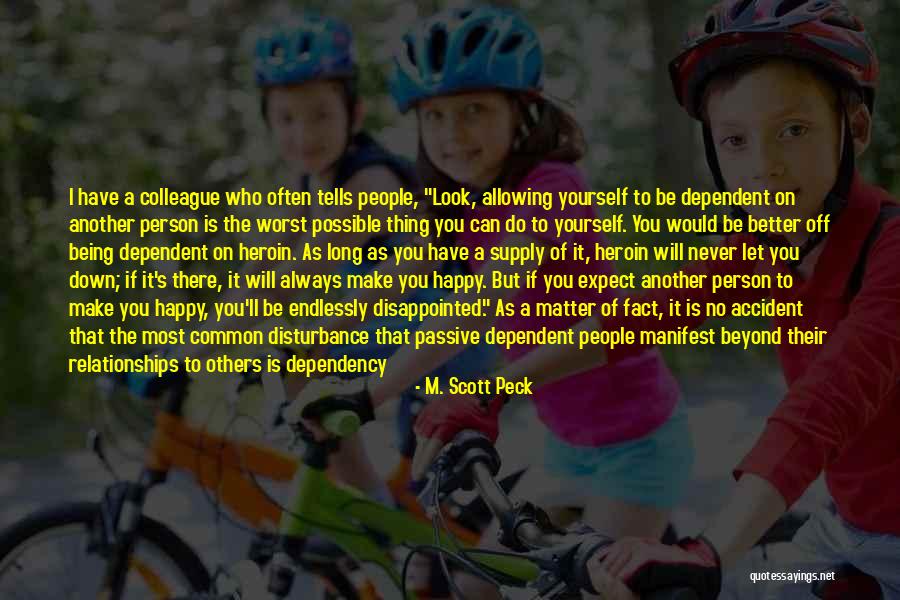 I have a colleague who often tells people, "Look, allowing yourself to be dependent on another person is the worst possible thing you can do to yourself. You would be better off being dependent on heroin. As long as you have a supply of it, heroin will never let you down; if it's there, it will always make you happy. But if you expect another person to make you happy, you'll be endlessly disappointed." As a matter of fact, it is no accident that the most common disturbance that passive dependent people manifest beyond their relationships to others is dependency on drugs and alcohol. Theirs is the "addictive personality." They are addicted to people, sucking on them and gobbling them up, and when people are not available to be sucked and gobbled, they often turn to the bottle or the needle or the pill as a people-substitute. In summary, dependency may appear to be love because it is a force that causes people to fiercely attach themselves to one another. — M. Scott Peck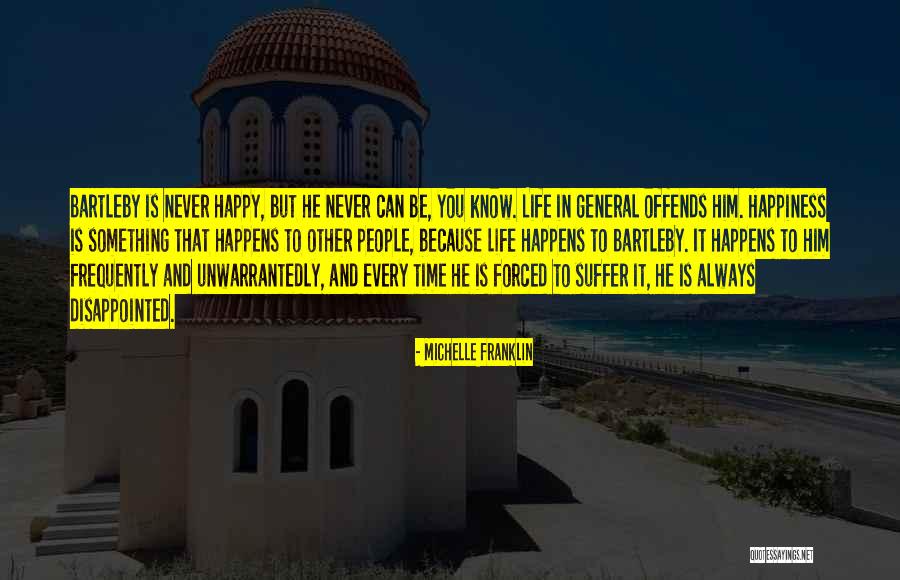 Bartleby is never happy, but he never can be, you know. Life in general offends him. Happiness is something that happens to other people, because life happens to Bartleby. It happens to him frequently and unwarrantedly, and every time he is forced to suffer it, he is always disappointed. — Michelle Franklin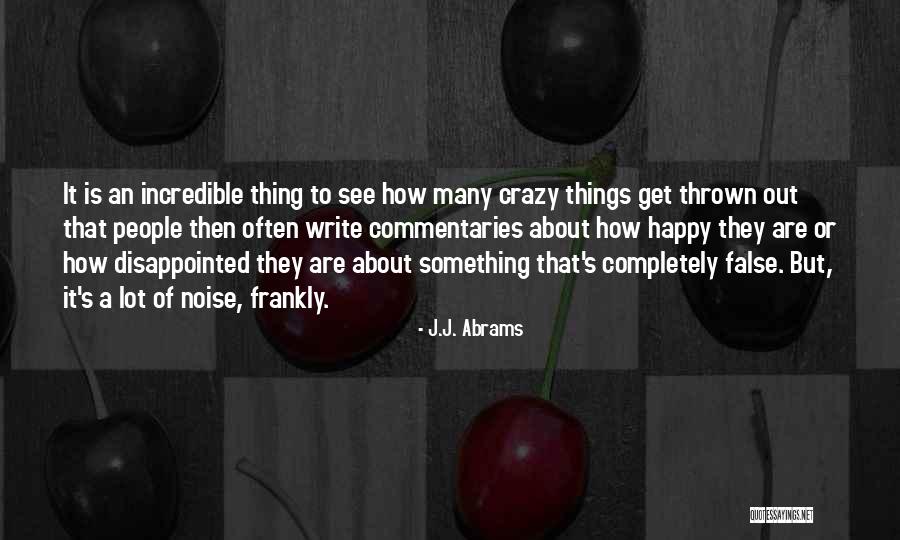 It is an incredible thing to see how many crazy things get thrown out that people then often write commentaries about how happy they are or how disappointed they are about something that's completely false. But, it's a lot of noise, frankly. — J.J. Abrams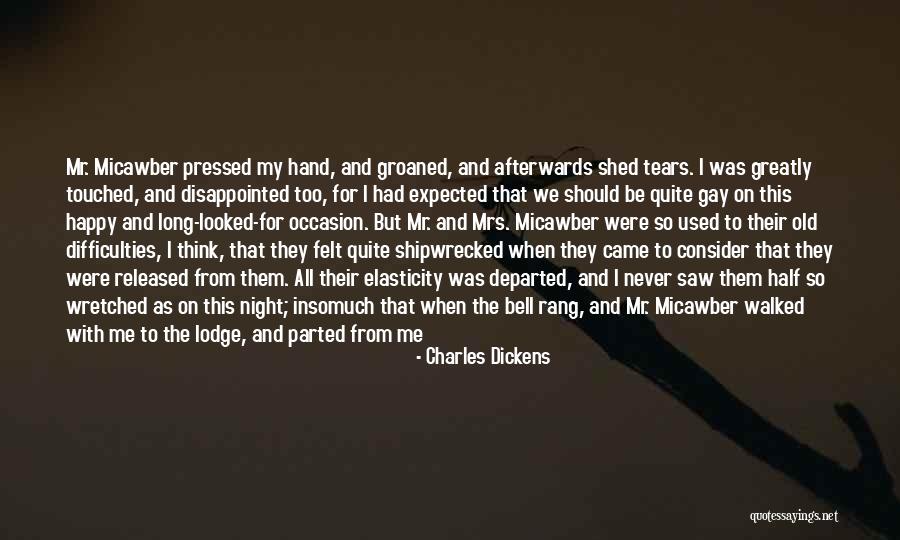 Mr. Micawber pressed my hand, and groaned, and afterwards shed tears. I was greatly touched, and disappointed too, for I had expected that we should be quite gay on this happy and long-looked-for occasion. But Mr. and Mrs. Micawber were so used to their old difficulties, I think, that they felt quite shipwrecked when they came to consider that they were released from them. All their elasticity was departed, and I never saw them half so wretched as on this night; insomuch that when the bell rang, and Mr. Micawber walked with me to the lodge, and parted from me there with a blessing, I felt quite afraid to leave him by himself, he was so profoundly miserable. — Charles Dickens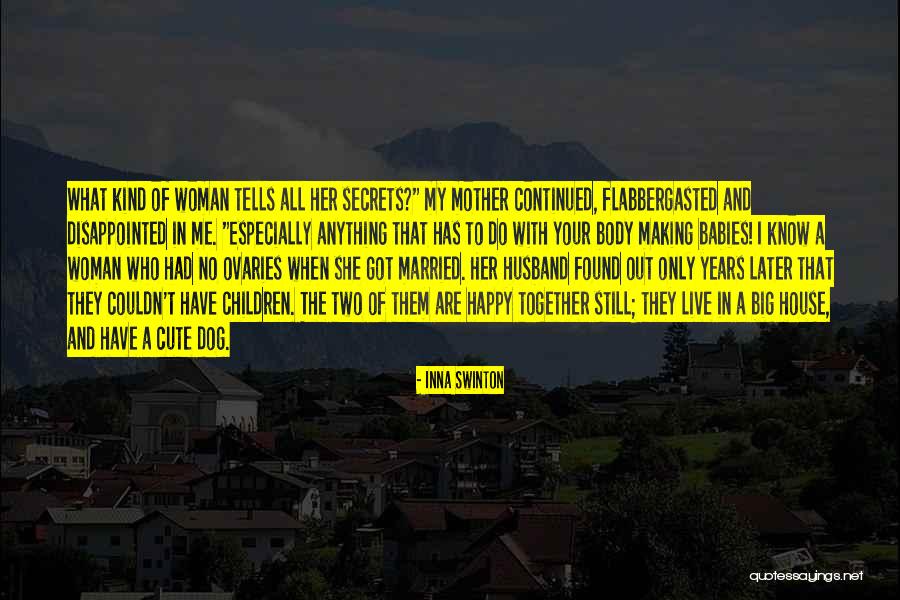 What kind of woman tells all her secrets?" my mother continued, flabbergasted and disappointed in me. "Especially anything that has to do with your body making babies! I know a woman who had no ovaries when she got married. Her husband found out only years later that they couldn't have children. The two of them are happy together still; they live in a big house, and have a cute dog. — Inna Swinton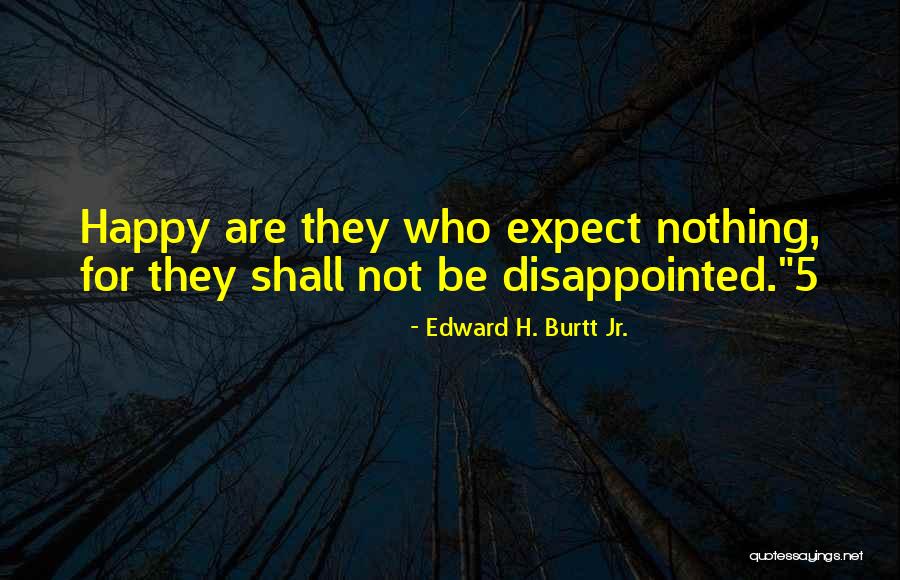 Happy are they who expect nothing, for they shall not be disappointed."5 — Edward H. Burtt Jr.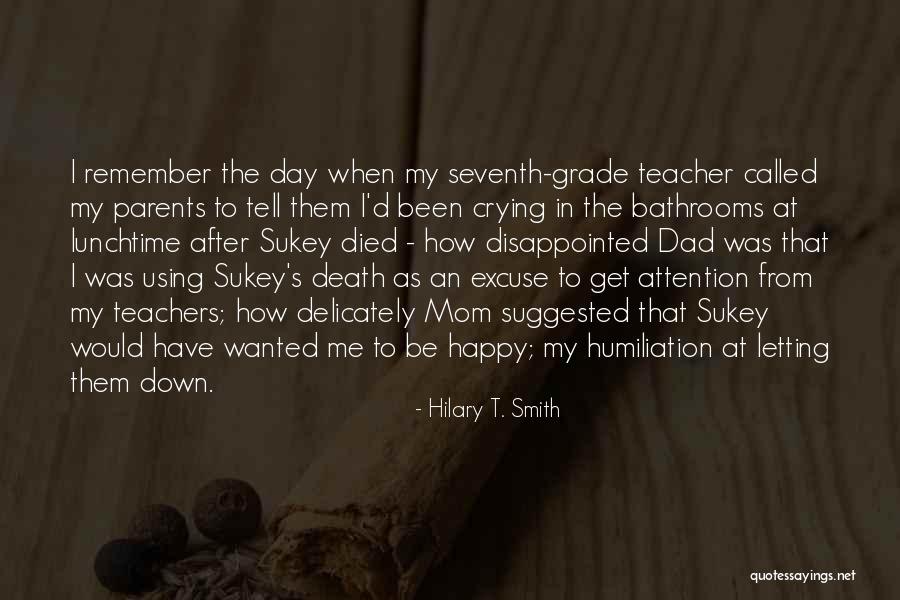 I remember the day when my seventh-grade teacher called my parents to tell them I'd been crying in the bathrooms at lunchtime after Sukey died - how disappointed Dad was that I was using Sukey's death as an excuse to get attention from my teachers; how delicately Mom suggested that Sukey would have wanted me to be happy; my humiliation at letting them down. — Hilary T. Smith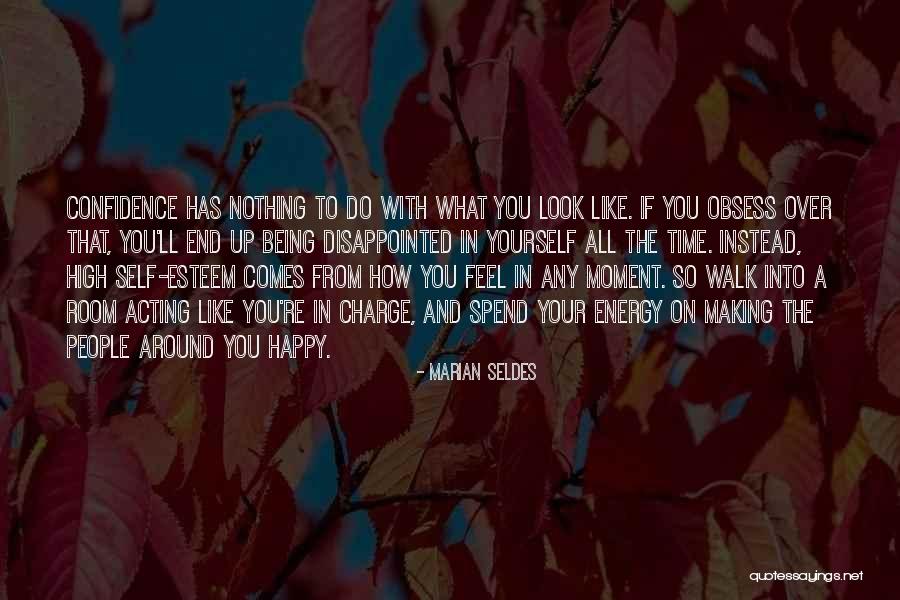 Confidence has nothing to do with what you look like. If you obsess over that, you'll end up being disappointed in yourself all the time. Instead, high self-esteem comes from how you feel in any moment. So walk into a room acting like you're in charge, and spend your energy on making the people around you happy. — Marian Seldes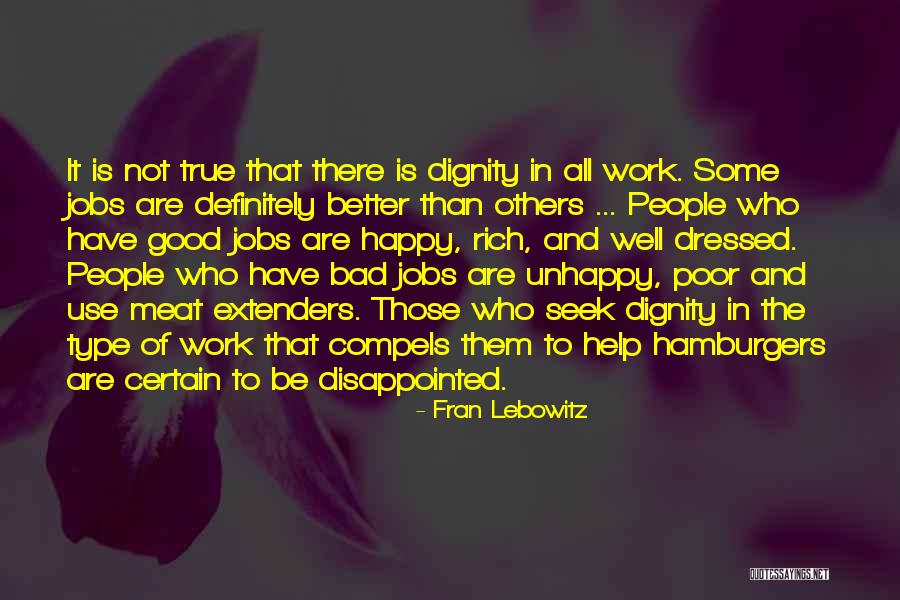 It is not true that there is dignity in all work. Some jobs are definitely better than others ... People who have good jobs are happy, rich, and well dressed. People who have bad jobs are unhappy, poor and use meat extenders. Those who seek dignity in the type of work that compels them to help hamburgers are certain to be disappointed. — Fran Lebowitz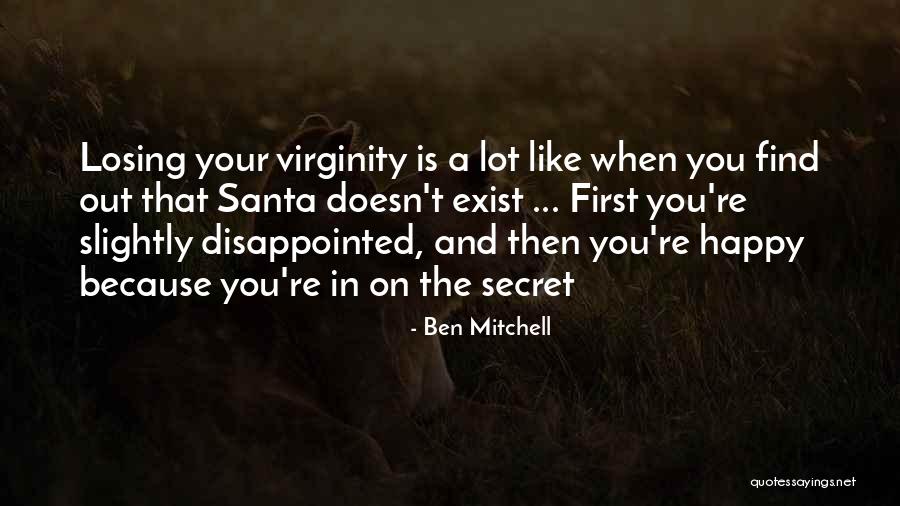 Losing your virginity is a lot like when you find out that Santa doesn't exist ... First you're slightly disappointed, and then you're happy because you're in on the secret — Ben Mitchell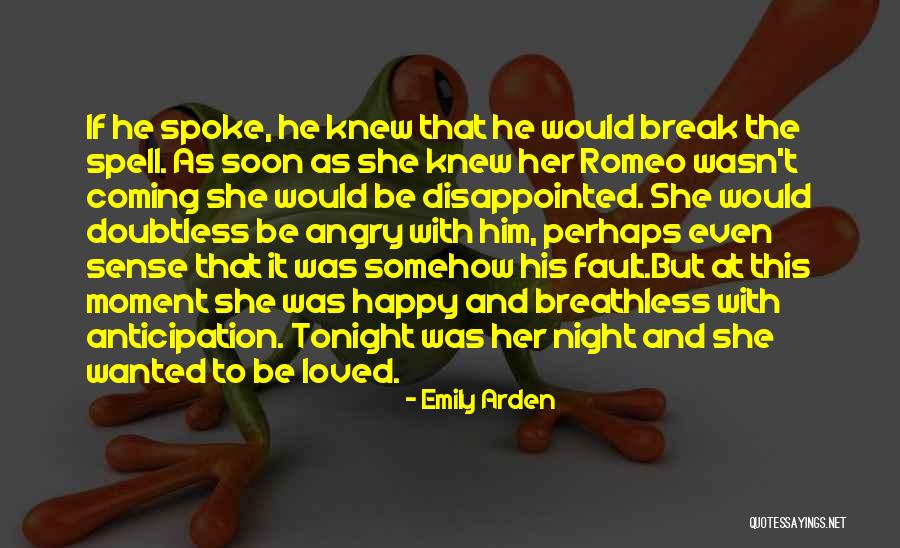 If he spoke, he knew that he would break the spell. As soon as she knew her Romeo wasn't coming she would be disappointed. She would doubtless be angry with him, perhaps even sense that it was somehow his fault.
But at this moment she was happy and breathless with anticipation. Tonight was her night and she wanted to be loved. — Emily Arden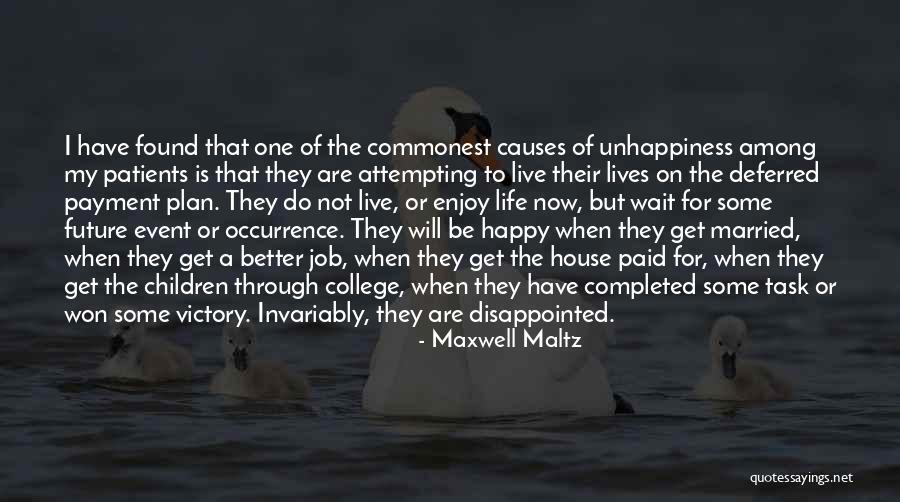 I have found that one of the commonest causes of unhappiness among my patients is that they are attempting to live their lives on the deferred payment plan. They do not live, or enjoy life now, but wait for some future event or occurrence. They will be happy when they get married, when they get a better job, when they get the house paid for, when they get the children through college, when they have completed some task or won some victory. Invariably, they are disappointed. — Maxwell Maltz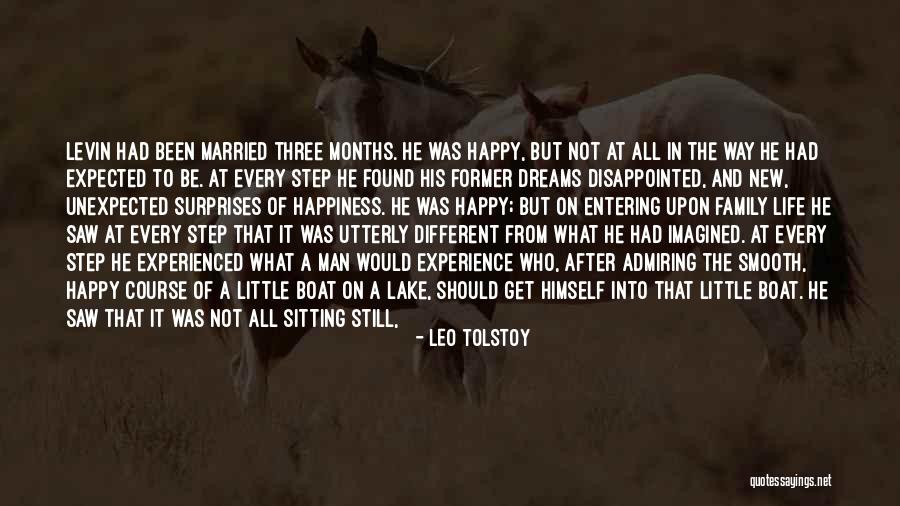 Levin had been married three months. He was happy, but not at all in the way he had expected to be. At every step he found his former dreams disappointed, and new, unexpected surprises of happiness. He was happy; but on entering upon family life he saw at every step that it was utterly different from what he had imagined. At every step he experienced what a man would experience who, after admiring the smooth, happy course of a little boat on a lake, should get himself into that little boat. He saw that it was not all sitting still, floating smoothly; that one had to think too, not for an instant to forget where one was floating; and that there was water under one, and that one must row; and that his unaccustomed hands would be sore; and that it was only to look at it that was easy; but that doing it, though very delightful, was very difficult. — Leo Tolstoy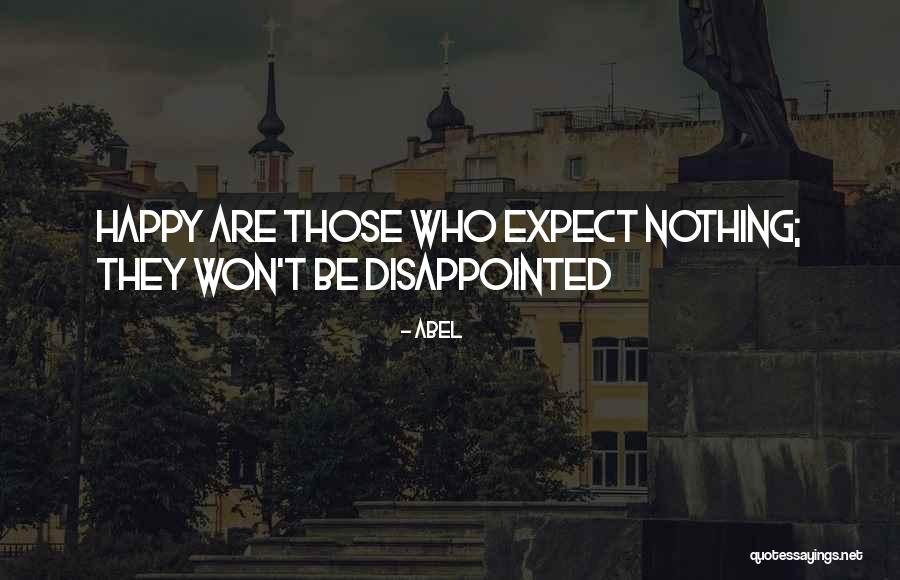 Happy are those who expect nothing; they won't be disappointed — Abel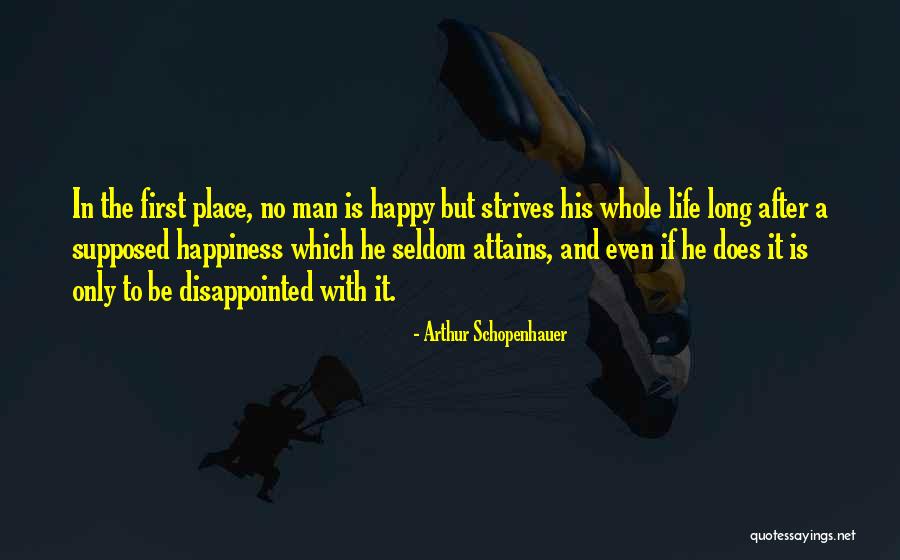 In the first place, no man is happy but strives his whole life long after a supposed happiness which he seldom attains, and even if he does it is only to be disappointed with it. — Arthur Schopenhauer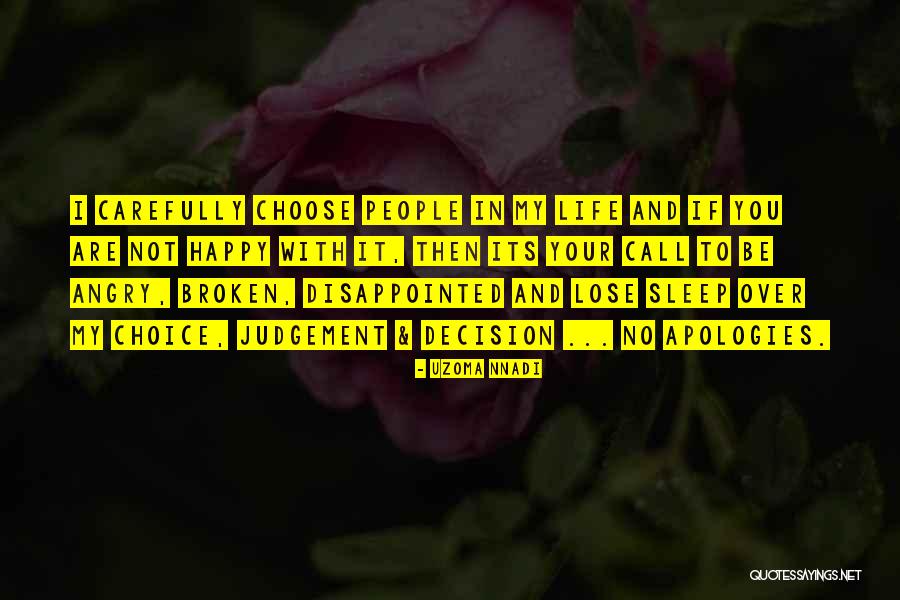 I carefully choose people in my life and if you are not happy with it, then its your call to be angry, broken, disappointed and lose sleep over my choice, judgement & decision ... no apologies. — Uzoma Nnadi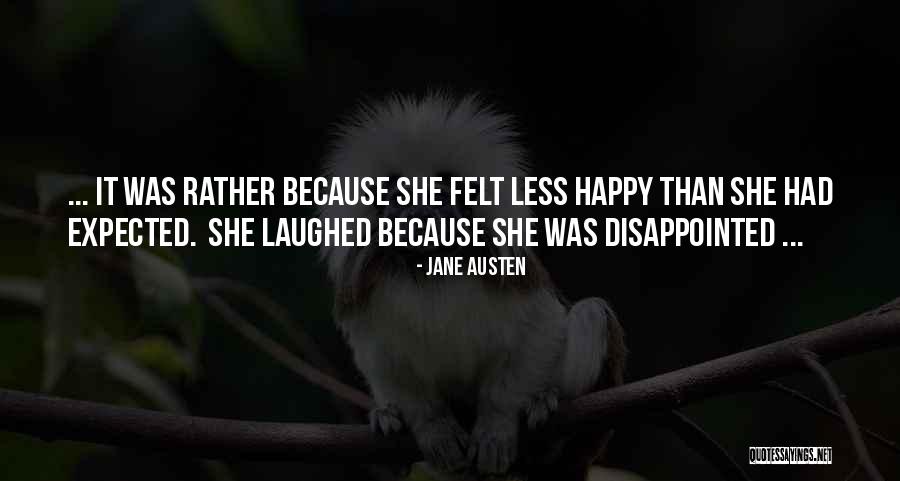 ... it was rather because she felt less happy than she had expected. She laughed because she was disappointed ... — Jane Austen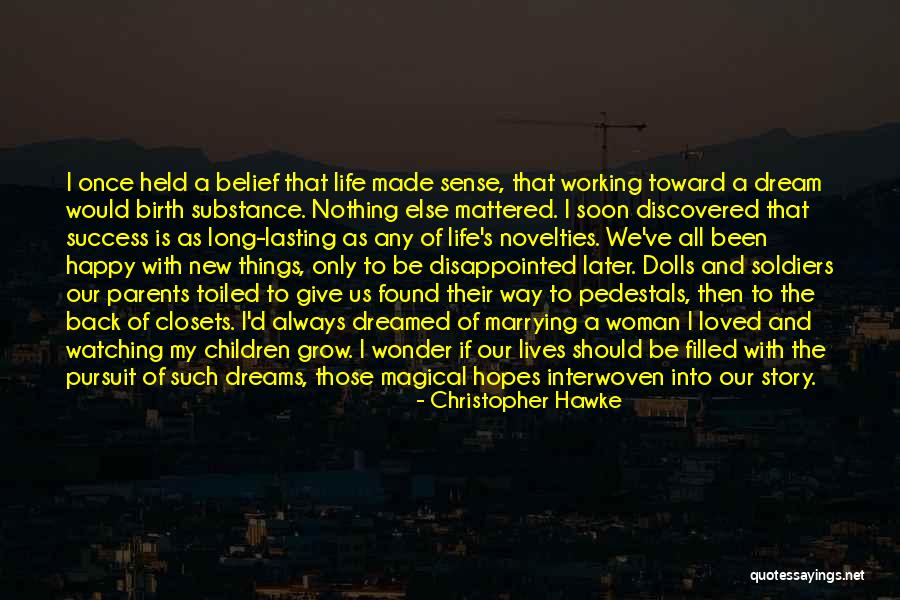 I once held a belief that life made sense, that working toward a dream would birth substance. Nothing else mattered. I soon discovered that success is as long-lasting as any of life's novelties.
We've all been happy with new things, only to be disappointed later. Dolls and soldiers our parents toiled to give us found their way to pedestals, then to the back of closets.
I'd always dreamed of marrying a woman I loved and watching my children grow. I wonder if our lives should be filled with the pursuit of such dreams, those magical hopes interwoven into our story. Our stories are decorative shells for the crabs we really are, both protecting and exposing us to the manic outside. — Christopher Hawke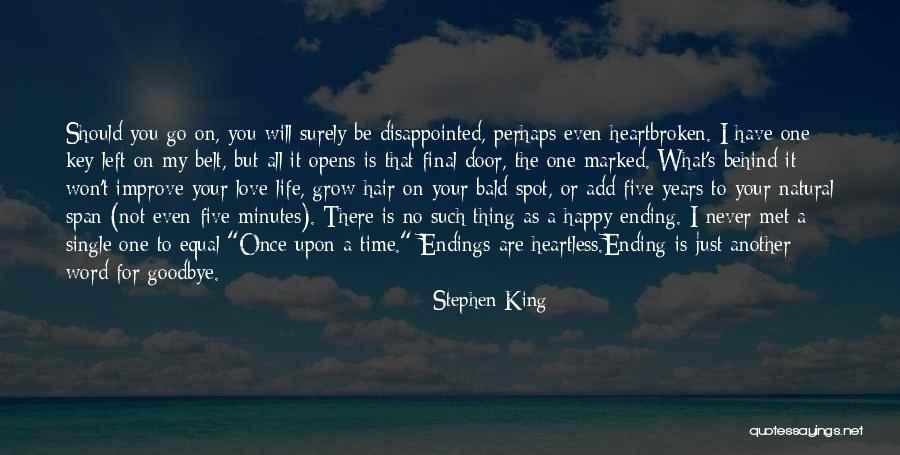 Should you go on, you will surely be disappointed, perhaps even heartbroken. I have one key left on my belt, but all it opens is that final door, the one marked. What's behind it won't improve your love-life, grow hair on your bald spot, or add five years to your natural span (not even five minutes). There is no such thing as a happy ending. I never met a single one to equal "Once upon a time."
Endings are heartless.
Ending is just another word for goodbye. — Stephen King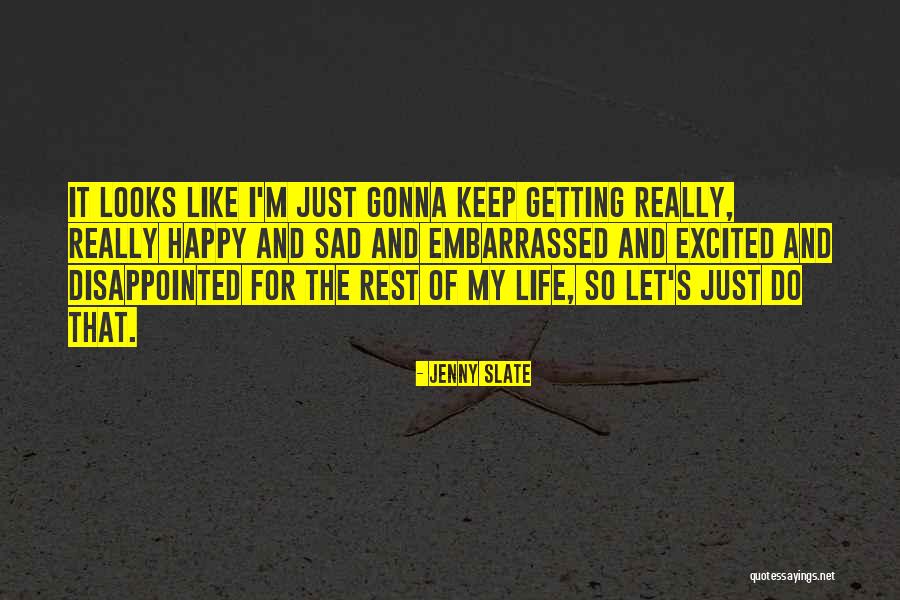 It looks like I'm just gonna keep getting really, really happy and sad and embarrassed and excited and disappointed for the rest of my life, so let's just do that. — Jenny Slate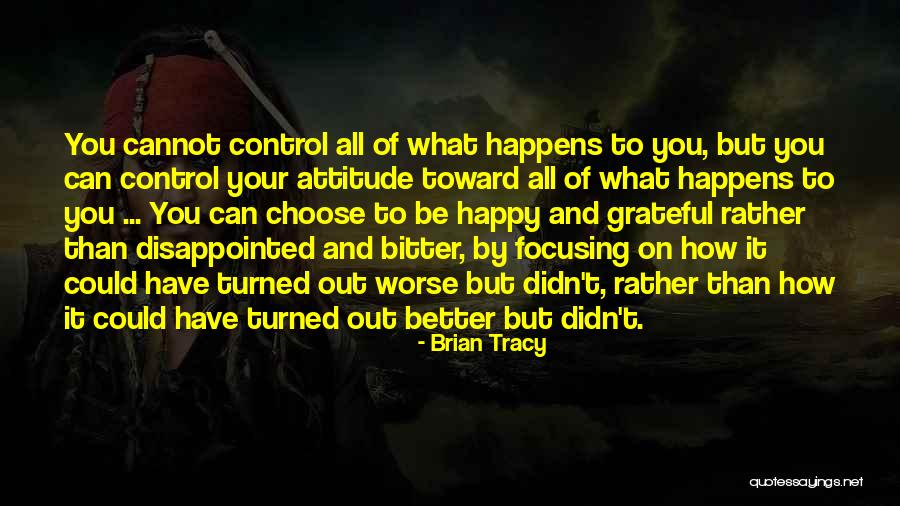 You cannot control all of what happens to you, but you can control your attitude toward all of what happens to you ... You can choose to be happy and grateful rather than disappointed and bitter, by focusing on how it could have turned out worse but didn't, rather than how it could have turned out better but didn't. — Brian Tracy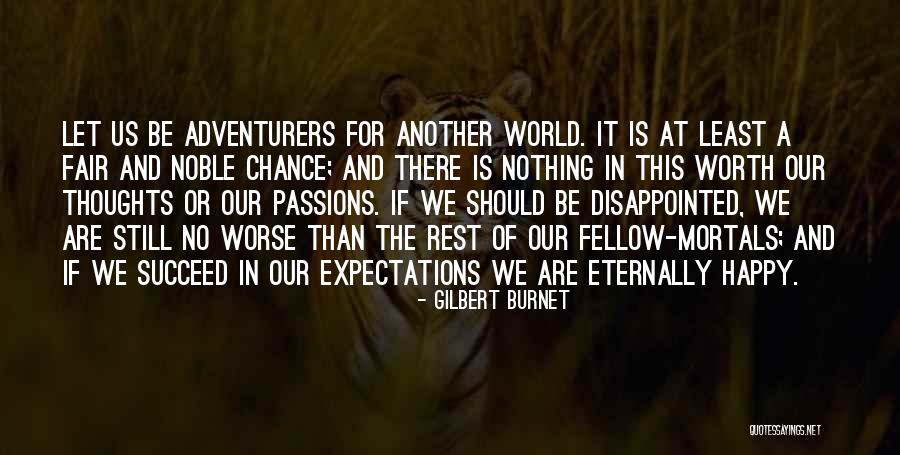 Let us be adventurers for another world. It is at least a fair and noble chance; and there is nothing in this worth our thoughts or our passions. If we should be disappointed, we are still no worse than the rest of our fellow-mortals; and if we succeed in our expectations we are eternally happy. — Gilbert Burnet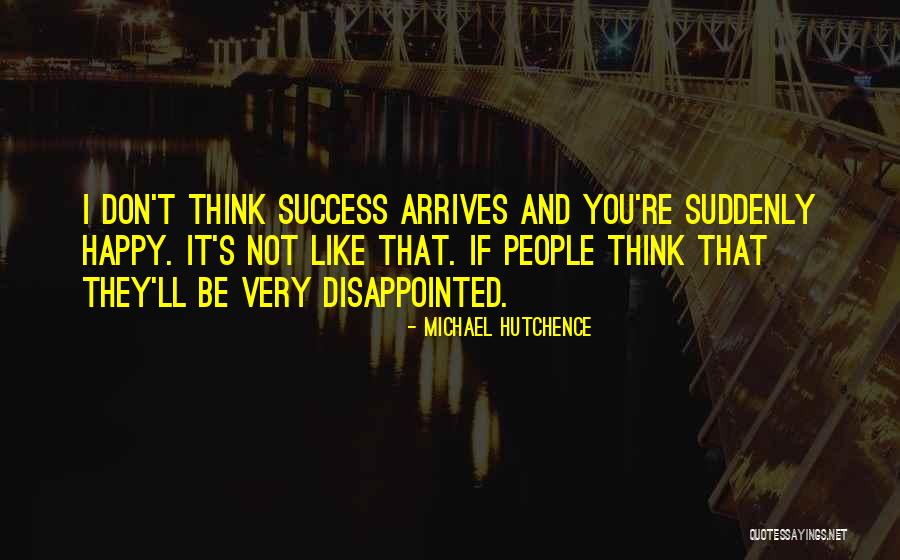 I don't think success arrives and you're suddenly happy. It's not like that. If people think that they'll be very disappointed. — Michael Hutchence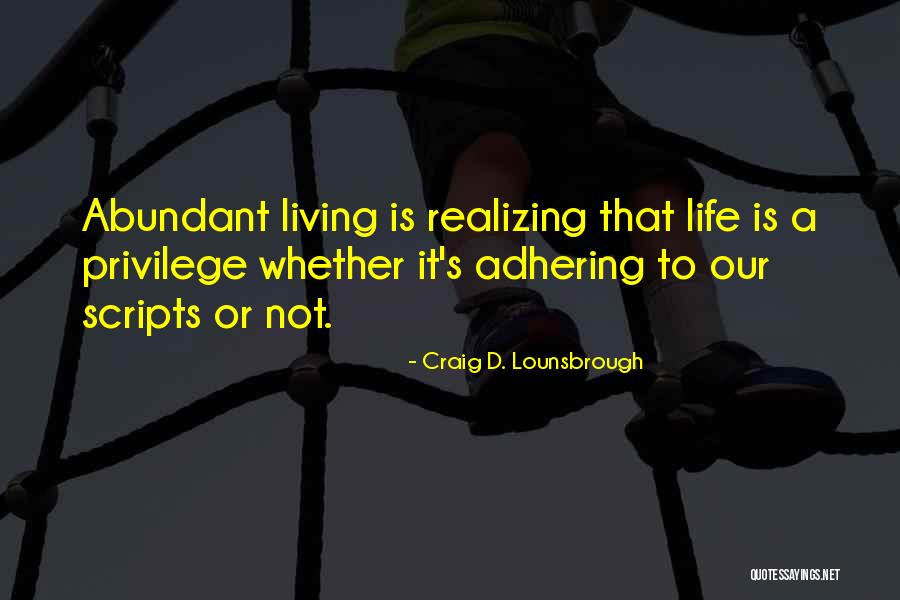 Abundant living is realizing that life is a privilege whether it's adhering to our scripts or not. — Craig D. Lounsbrough