Happiness Unexpected Quotes & Sayings
Enjoy reading and share 28 famous quotes about Happiness Unexpected with everyone.
Top Happiness Unexpected Quotes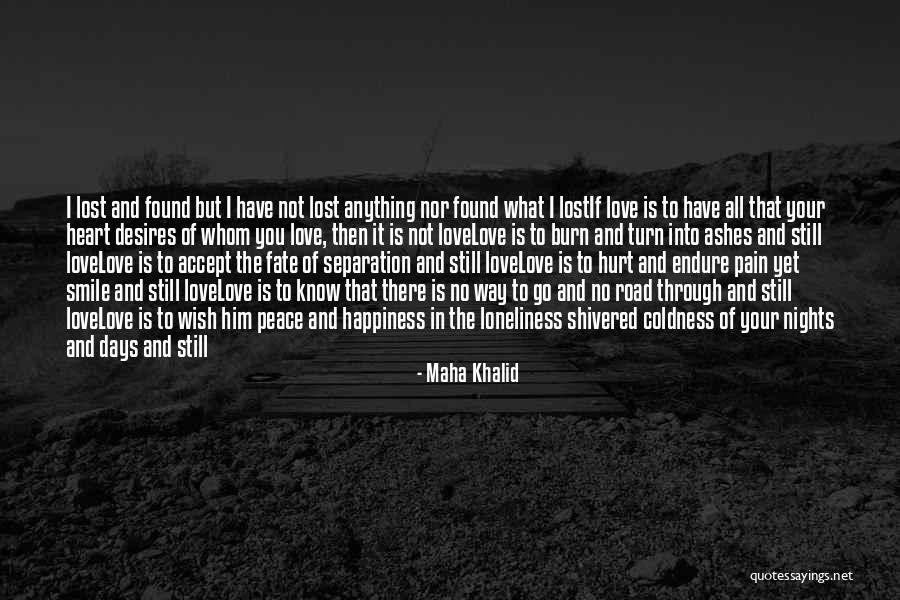 I lost and found but I have not lost anything nor found what I lost
If love is to have all that your heart desires of whom you love, then it is not love
Love is to burn and turn into ashes and still love
Love is to accept the fate of separation and still love
Love is to hurt and endure pain yet smile and still love
Love is to know that there is no way to go and no road through and still love
Love is to wish him peace and happiness in the loneliness shivered coldness of your nights and days and still love
Love is when a simple passing embrace turns into a wonderful completion, into a gift of unexpected kindness and warmth in the cold of years that will accumulate without him and you still love
Love, is to love and love and love
Until night becomes day and your eyes close and you drift into coldness and still

Love. — Maha Khalid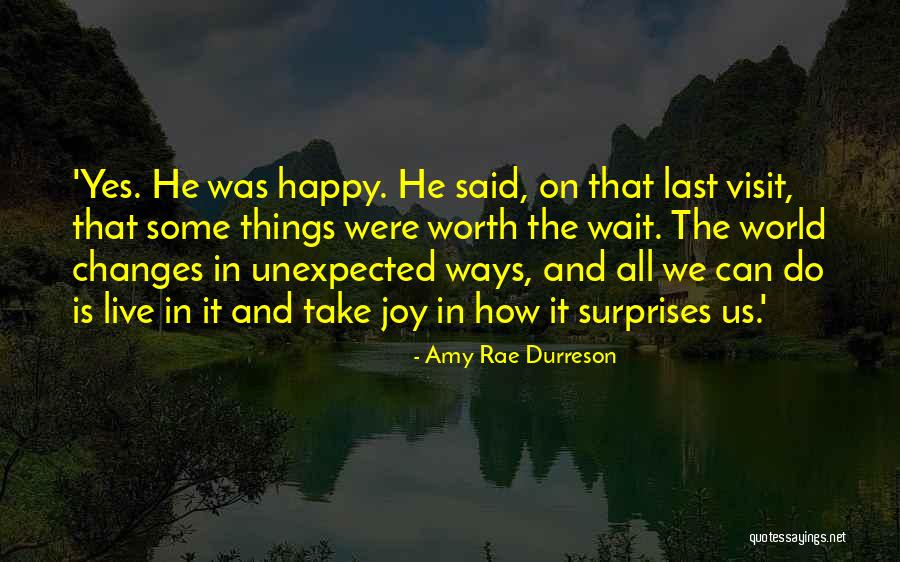 'Yes. He was happy. He said, on that last visit, that some things were worth the wait. The world changes in unexpected ways, and all we can do is live in it and take joy in how it surprises us.' — Amy Rae Durreson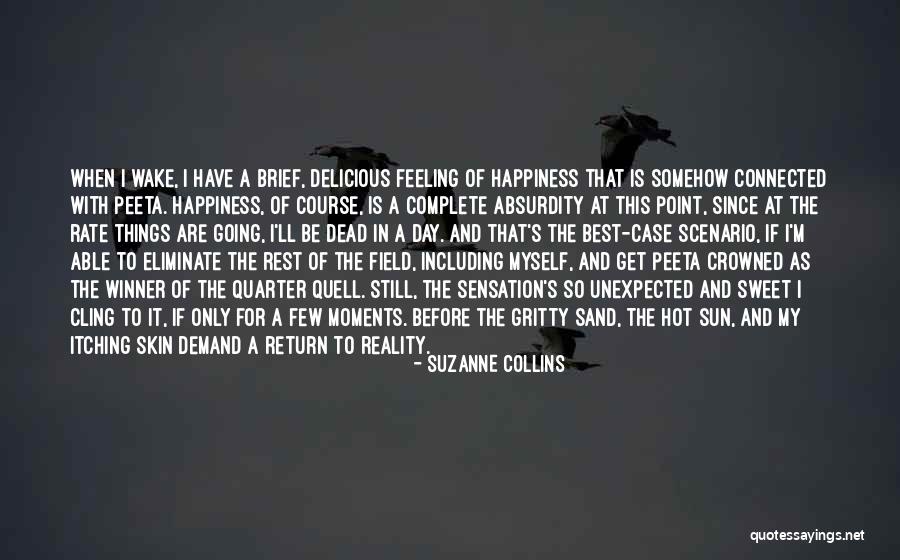 When I wake, I have a brief, delicious feeling of happiness that is somehow connected with Peeta. Happiness, of course, is a complete absurdity at this point, since at the rate things are going, I'll be dead in a day. And that's the best-case scenario, if I'm able to eliminate the rest of the field, including myself, and get Peeta crowned as the winner of the Quarter Quell. Still, the sensation's so unexpected and sweet I cling to it, if only for a few moments. Before the gritty sand, the hot sun, and my itching skin demand a return to reality. — Suzanne Collins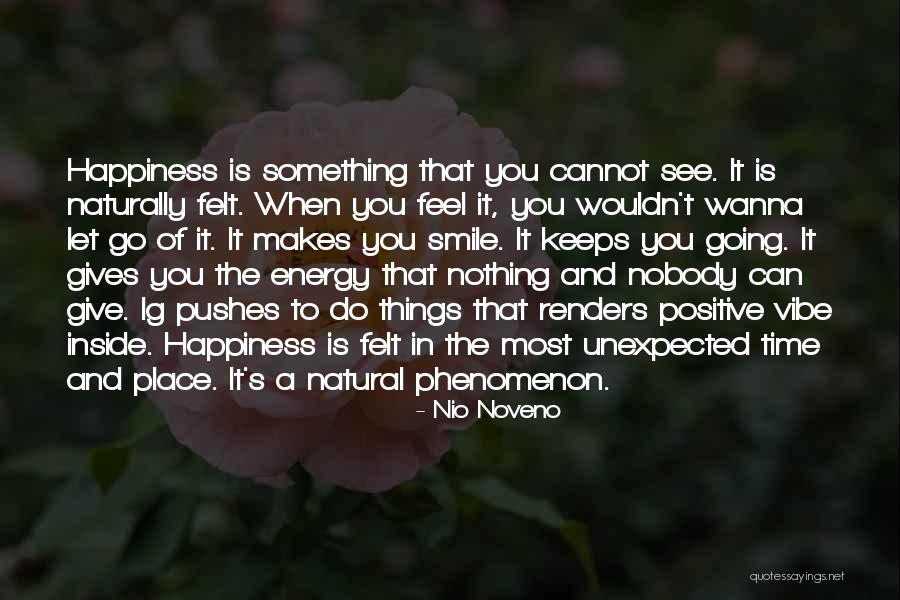 Happiness is something that you cannot see. It is naturally felt. When you feel it, you wouldn't wanna let go of it. It makes you smile. It keeps you going. It gives you the energy that nothing and nobody can give. Ig pushes to do things that renders positive vibe inside.
Happiness is felt in the most unexpected time and place. It's a natural phenomenon. — Nio Noveno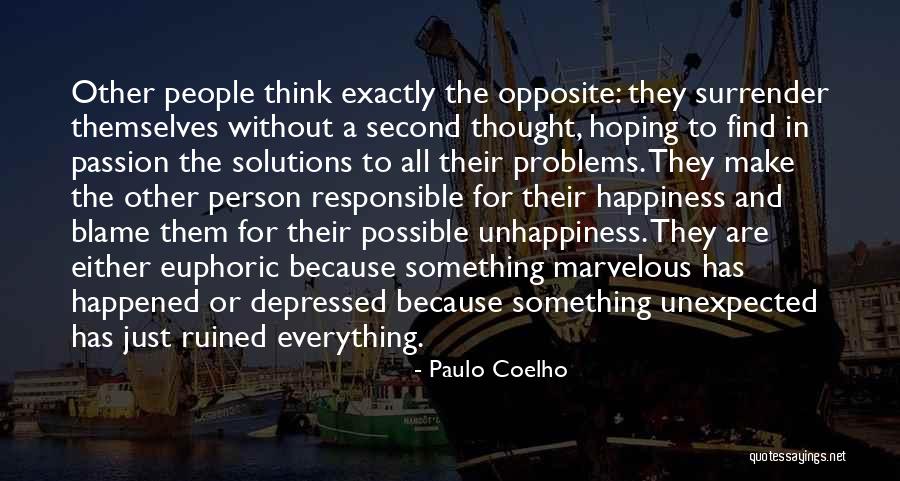 Other people think exactly the opposite: they surrender themselves without a second thought, hoping to find in passion the solutions to all their problems. They make the other person responsible for their happiness and blame them for their possible unhappiness. They are either euphoric because something marvelous has happened or depressed because something unexpected has just ruined everything. — Paulo Coelho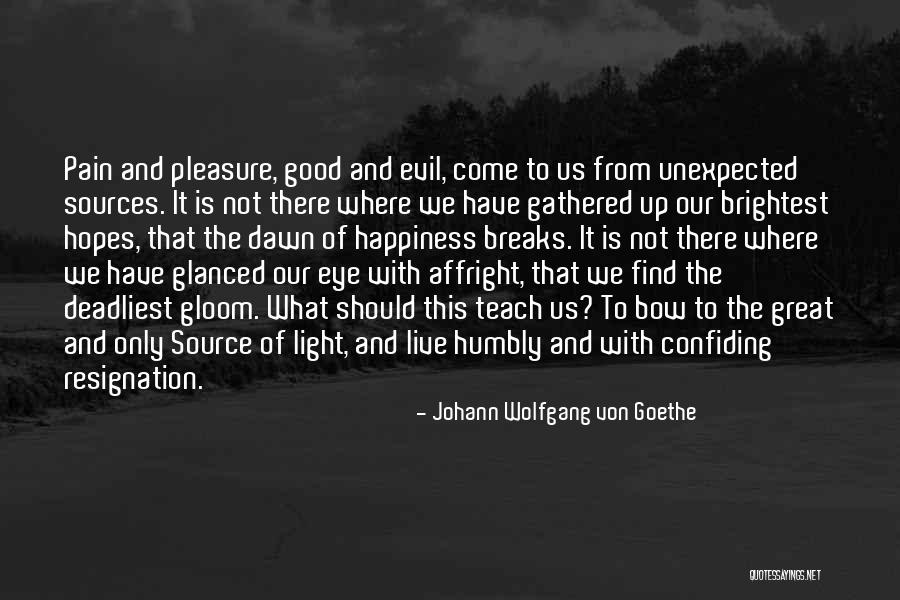 Pain and pleasure, good and evil, come to us from unexpected sources. It is not there where we have gathered up our brightest hopes, that the dawn of happiness breaks. It is not there where we have glanced our eye with affright, that we find the deadliest gloom. What should this teach us? To bow to the great and only Source of light, and live humbly and with confiding resignation. — Johann Wolfgang Von Goethe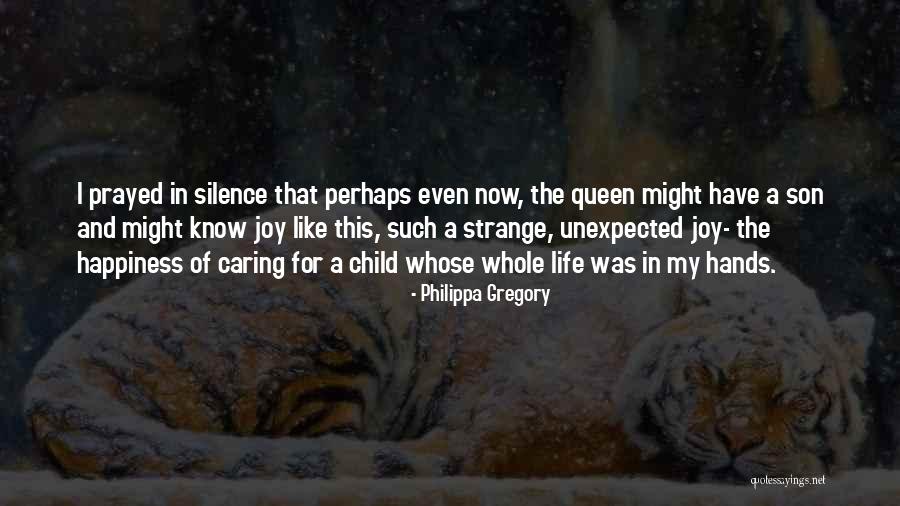 I prayed in silence that perhaps even now, the queen might have a son and might know joy like this, such a strange, unexpected joy- the happiness of caring for a child whose whole life was in my hands. — Philippa Gregory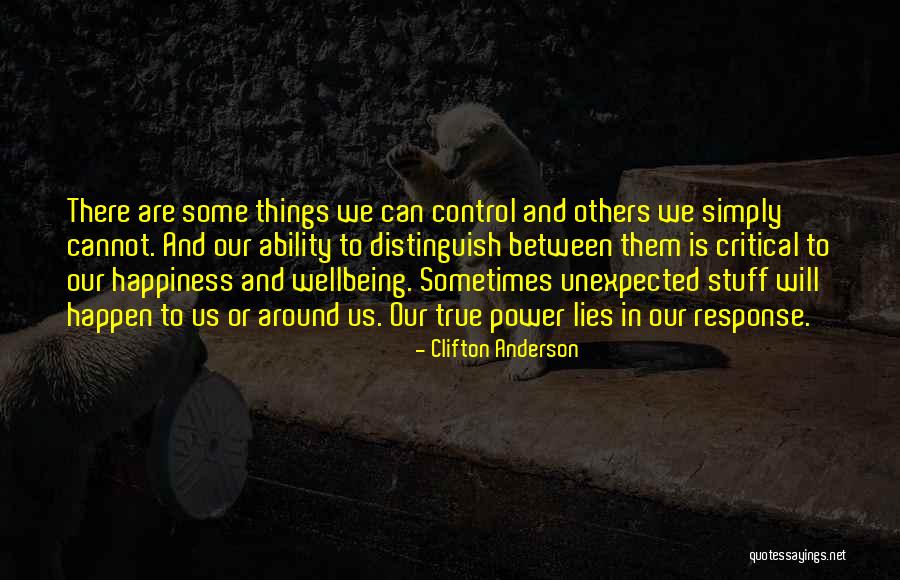 There are some things we can control and others we simply cannot. And our ability to distinguish between them is critical to our happiness and wellbeing. Sometimes unexpected stuff will happen to us or around us. Our true power lies in our response. — Clifton Anderson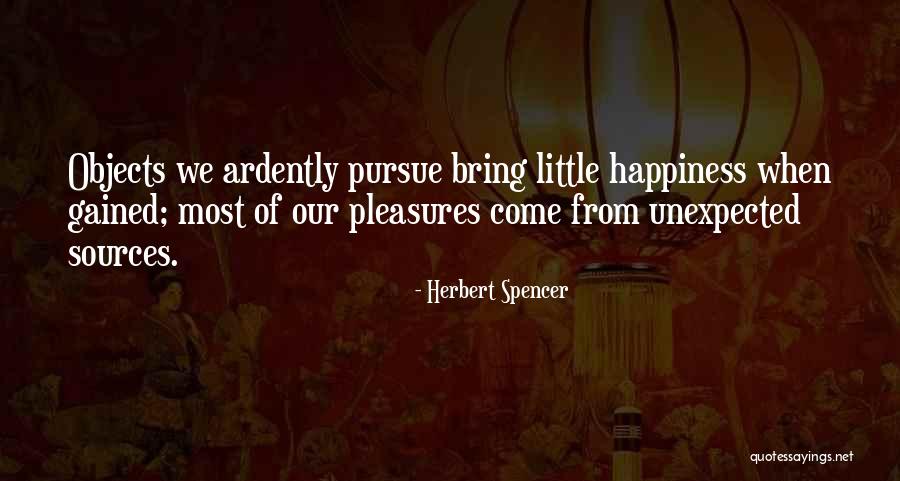 Objects we ardently pursue bring little happiness when gained; most of our pleasures come from unexpected sources. — Herbert Spencer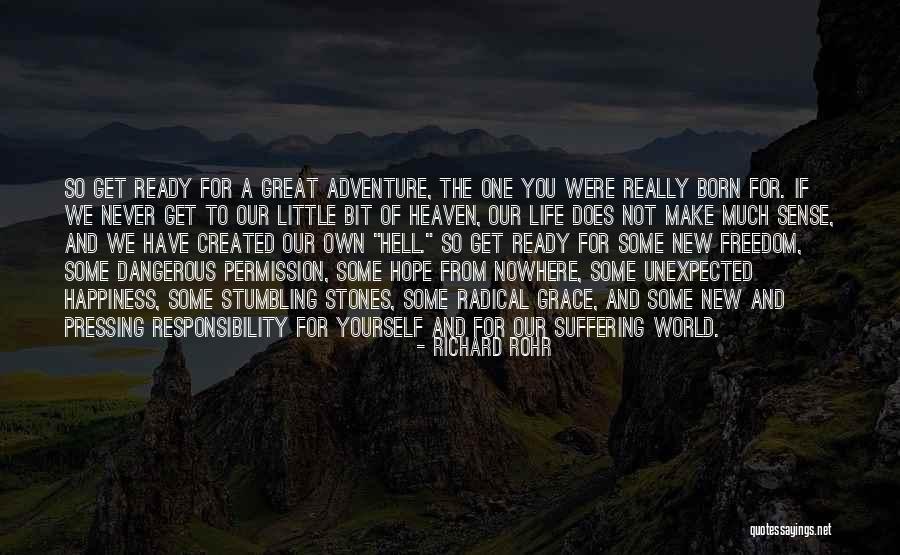 So get ready for a great adventure, the one you were really born for. If we never get to our little bit of heaven, our life does not make much sense, and we have created our own "hell." So get ready for some new freedom, some dangerous permission, some hope from nowhere, some unexpected happiness, some stumbling stones, some radical grace, and some new and pressing responsibility for yourself and for our suffering world. — Richard Rohr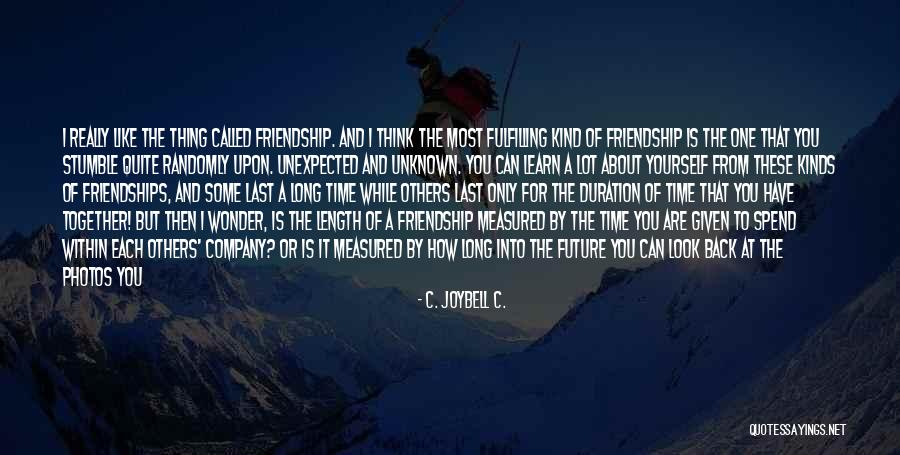 I really like the thing called friendship. And I think the most fulfilling kind of friendship is the one that you stumble quite randomly upon. Unexpected and unknown. You can learn a lot about yourself from these kinds of friendships, and some last a long time while others last only for the duration of time that you have together! But then I wonder, is the length of a friendship measured by the time you are given to spend within each others' company? Or is it measured by how long into the future you can look back at the photos you took, look back and replay the adventures and the laughter in your head; still feeling like it was one of the "bestest" times of your life? Because if it's the latter, I have a thousand friends! — C. JoyBell C.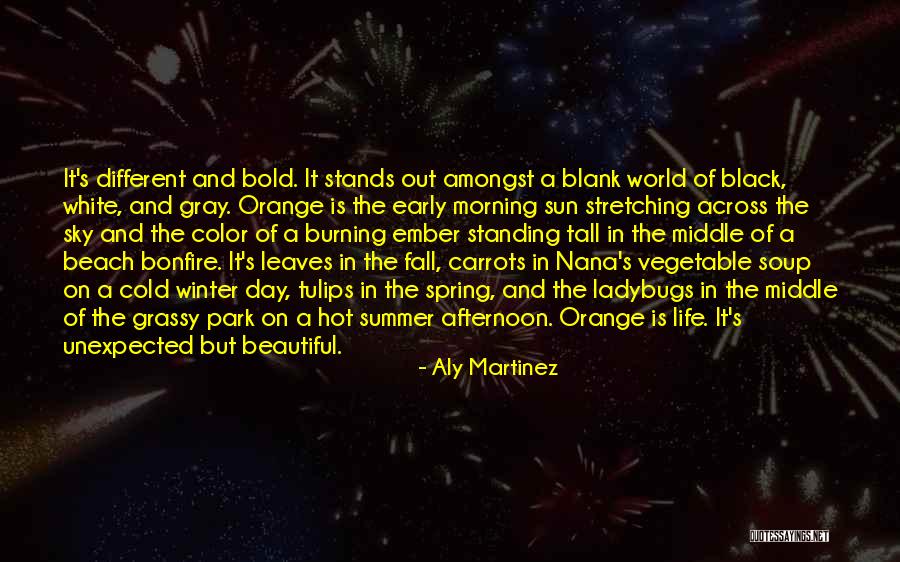 It's different and bold. It stands out amongst a blank world of black, white, and gray. Orange is the early morning sun stretching across the sky and the color of a burning ember standing tall in the middle of a beach bonfire. It's leaves in the fall, carrots in Nana's vegetable soup on a cold winter day, tulips in the spring, and the ladybugs in the middle of the grassy park on a hot summer afternoon. Orange is life. It's unexpected but beautiful. — Aly Martinez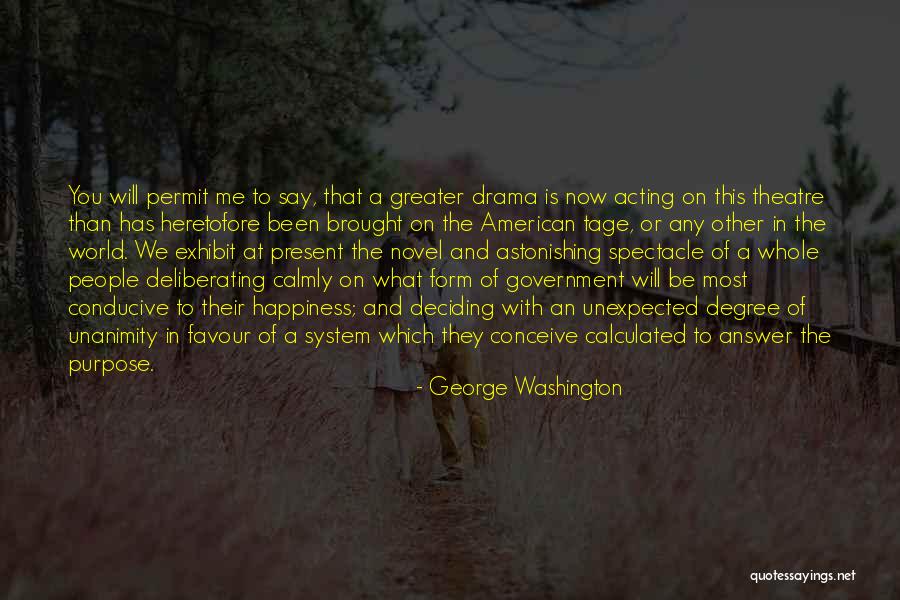 You will permit me to say, that a greater drama is now acting on this theatre than has heretofore been brought on the American tage, or any other in the world. We exhibit at present the novel and astonishing spectacle of a whole people deliberating calmly on what form of government will be most conducive to their happiness; and deciding with an unexpected degree of unanimity in favour of a system which they conceive calculated to answer the purpose. — George Washington
Moments of something this good, this unexpected and off his usual path, they always dredged up old shit, like somehow happiness came with sorrow as its anchor. — Heidi Cullinan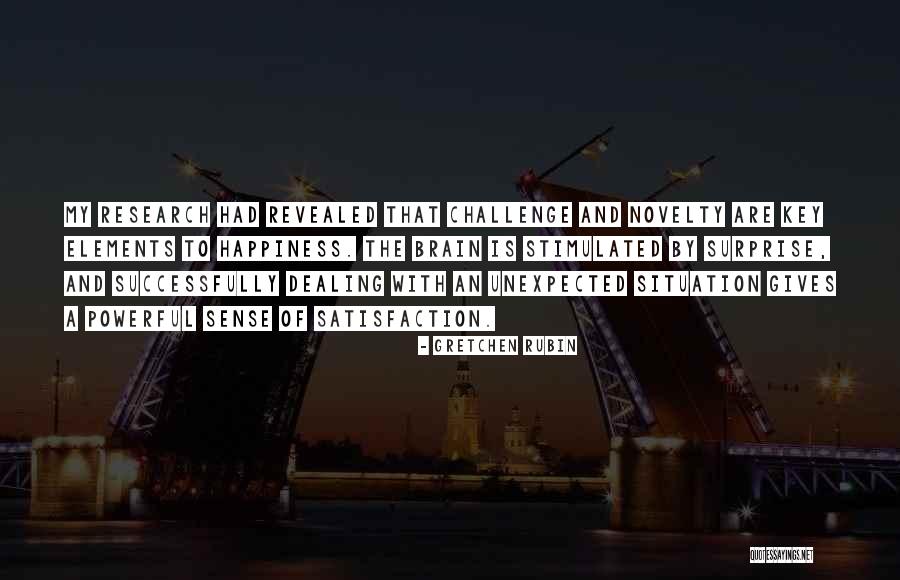 My research had revealed that challenge and novelty are key elements to happiness. The brain is stimulated by surprise, and successfully dealing with an unexpected situation gives a powerful sense of satisfaction. — Gretchen Rubin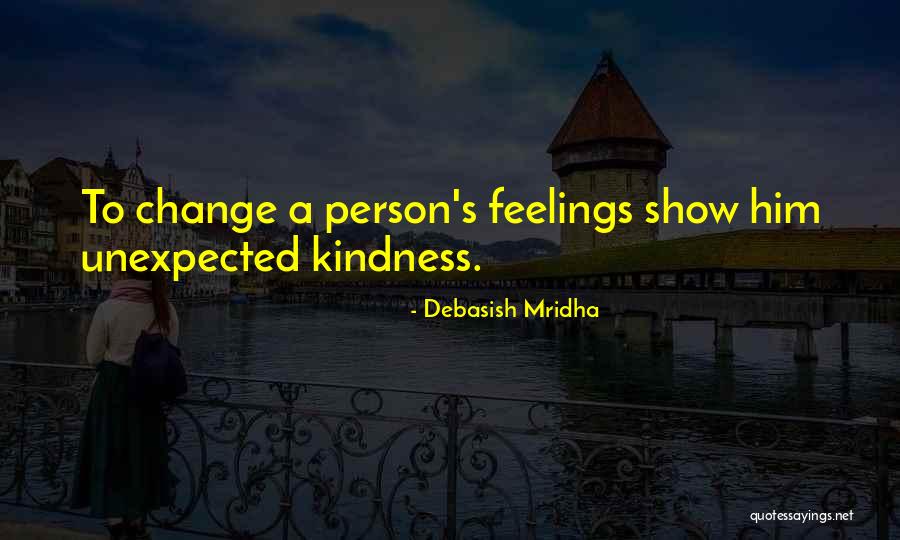 To change a person's feelings show him unexpected kindness. — Debasish Mridha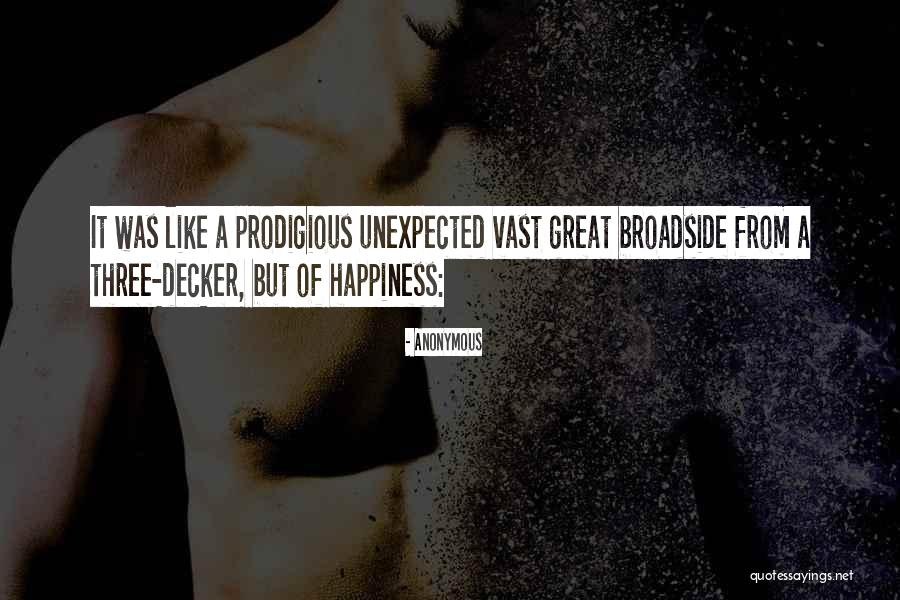 It was like a prodigious unexpected vast great broadside from a three-decker, but of happiness: — Anonymous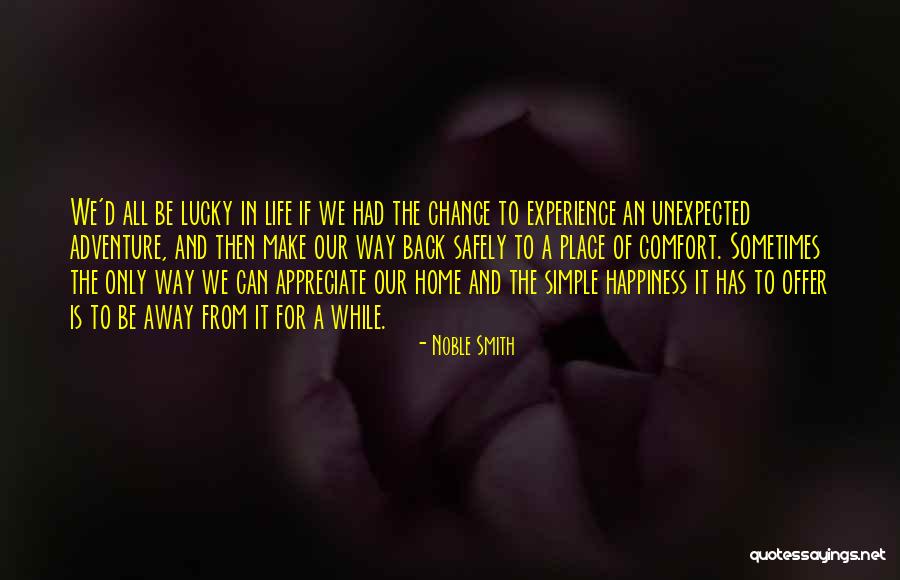 We'd all be lucky in life if we had the chance to experience an unexpected adventure, and then make our way back safely to a place of comfort. Sometimes the only way we can appreciate our home and the simple happiness it has to offer is to be away from it for a while. — Noble Smith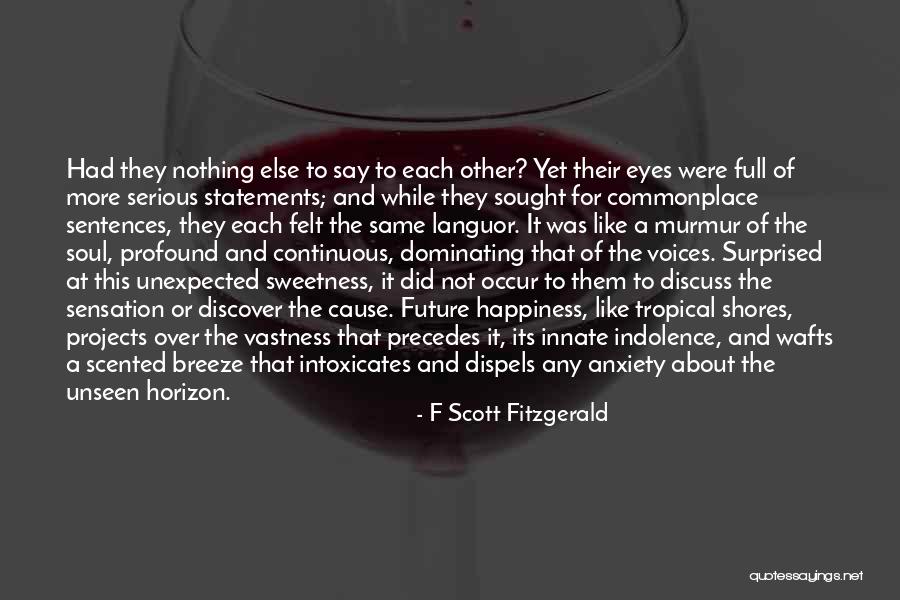 Had they nothing else to say to each other? Yet their eyes were full of more serious statements; and while they sought for commonplace sentences, they each felt the same languor. It was like a murmur of the soul, profound and continuous, dominating that of the voices. Surprised at this unexpected sweetness, it did not occur to them to discuss the sensation or discover the cause. Future happiness, like tropical shores, projects over the vastness that precedes it, its innate indolence, and wafts a scented breeze that intoxicates and dispels any anxiety about the unseen horizon. — F Scott Fitzgerald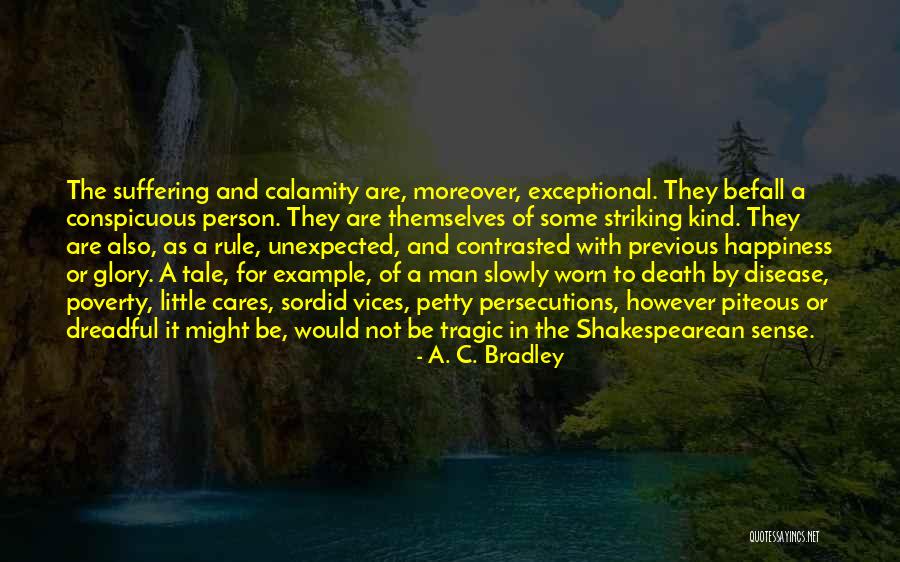 The suffering and calamity are, moreover, exceptional. They befall a conspicuous person. They are themselves of some striking kind. They are also, as a rule, unexpected, and contrasted with previous happiness or glory. A tale, for example, of a man slowly worn to death by disease, poverty, little cares, sordid vices, petty persecutions, however piteous or dreadful it might be, would not be tragic in the Shakespearean sense. — A. C. Bradley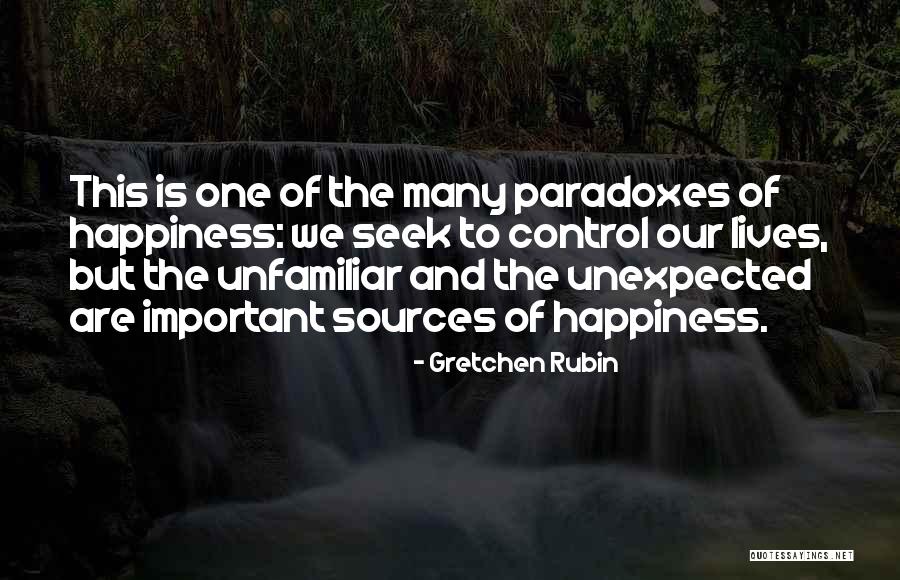 This is one of the many paradoxes of happiness: we seek to control our lives, but the unfamiliar and the unexpected are important sources of happiness. — Gretchen Rubin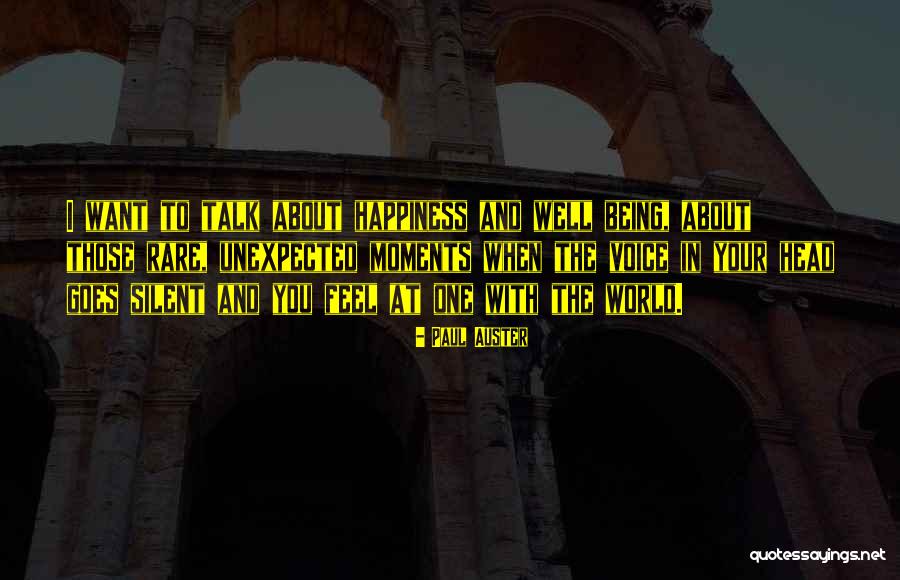 I want to talk about happiness and well being, about those rare, unexpected moments when the voice in your head goes silent and you feel at one with the world. — Paul Auster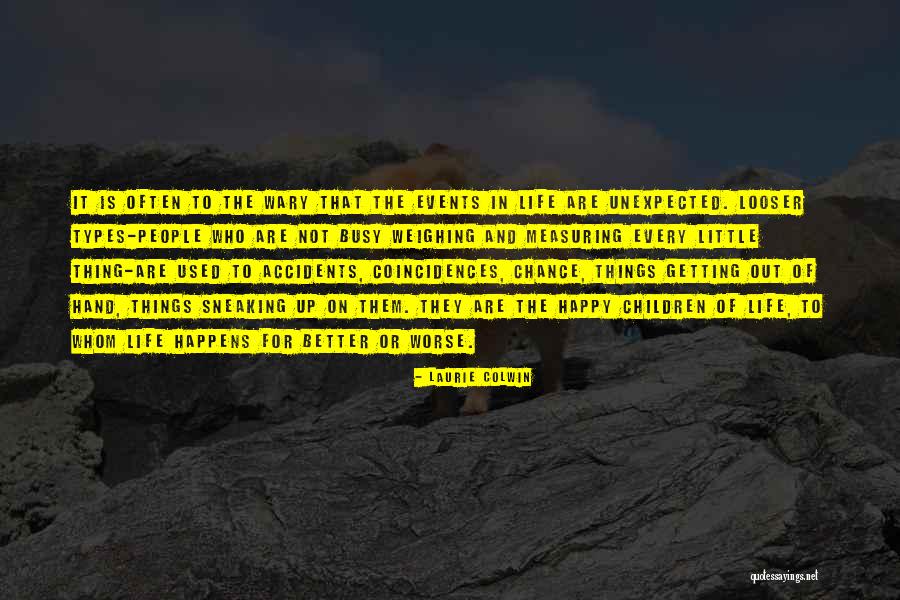 It is often to the wary that the events in life are unexpected. Looser types-people who are not busy weighing and measuring every little thing-are used to accidents, coincidences, chance, things getting out of hand, things sneaking up on them. They are the happy children of life, to whom life happens for better or worse. — Laurie Colwin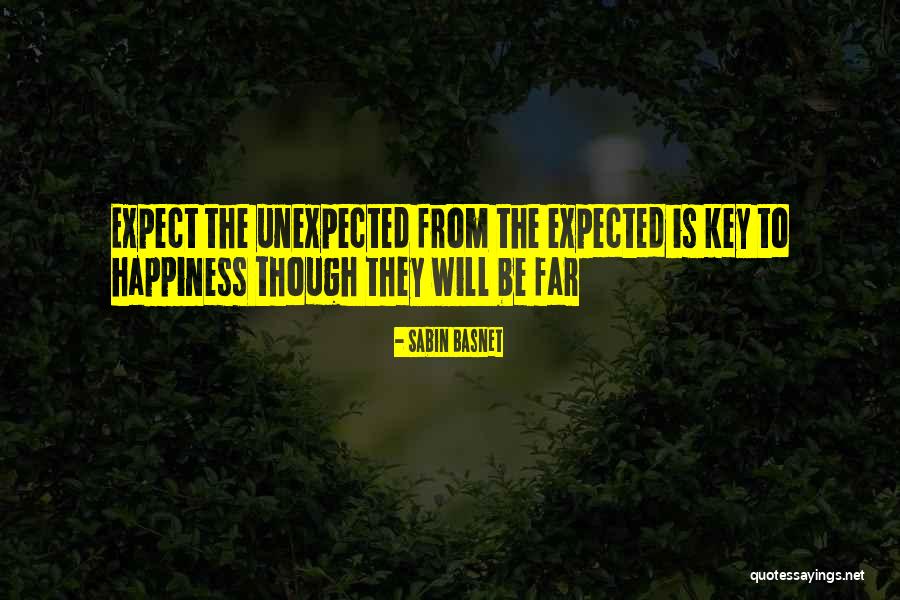 Expect the unexpected from the expected is key to happiness though they will be far — Sabin Basnet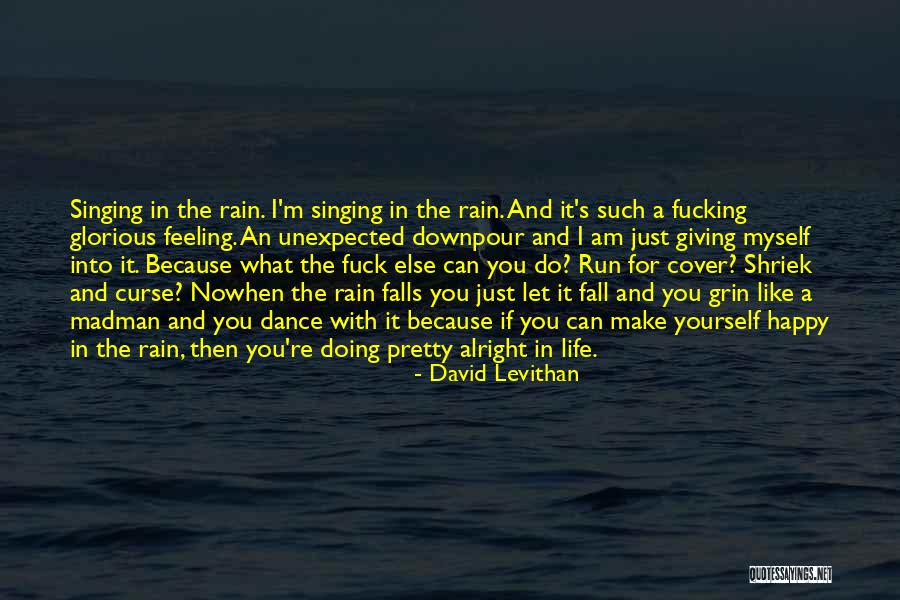 Singing in the rain. I'm singing in the rain. And it's such a fucking glorious feeling. An unexpected downpour and I am just giving myself into it. Because what the fuck else can you do? Run for cover? Shriek and curse? No
when the rain falls you just let it fall and you grin like a madman and you dance with it because if you can make yourself happy in the rain, then you're doing pretty alright in life. — David Levithan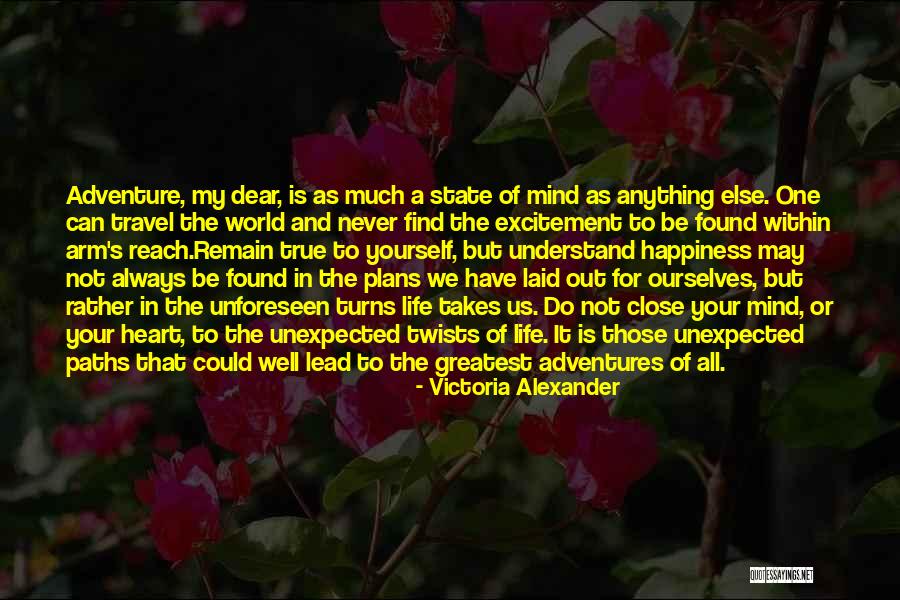 Adventure, my dear, is as much a state of mind as anything else. One can travel the world and never find the excitement to be found within arm's reach.
Remain true to yourself, but understand happiness may not always be found in the plans we have laid out for ourselves, but rather in the unforeseen turns life takes us. Do not close your mind, or your heart, to the unexpected twists of life. It is those unexpected paths that could well lead to the greatest adventures of all. — Victoria Alexander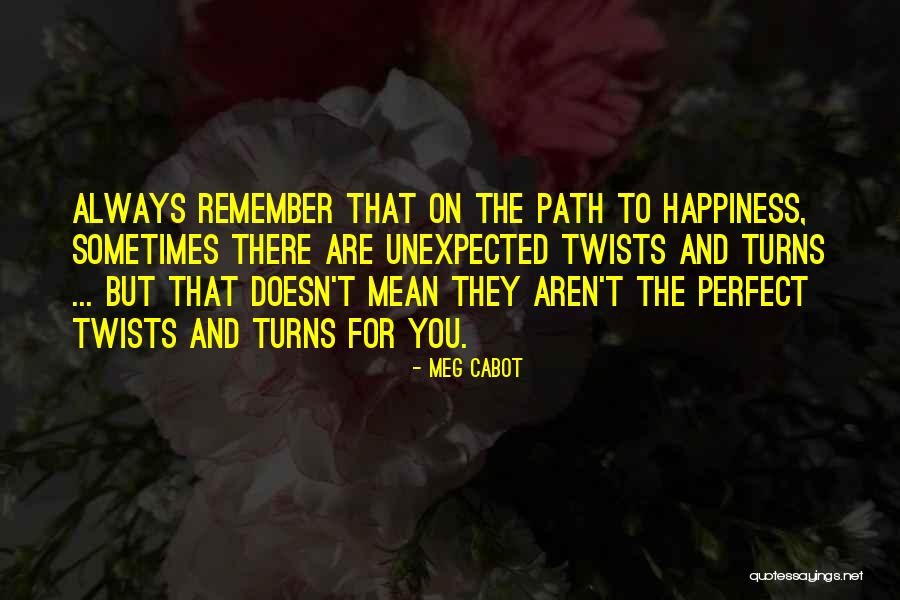 Always remember that on the path to happiness, sometimes there are unexpected twists and turns ... but that doesn't mean they aren't the perfect twists and turns for you. — Meg Cabot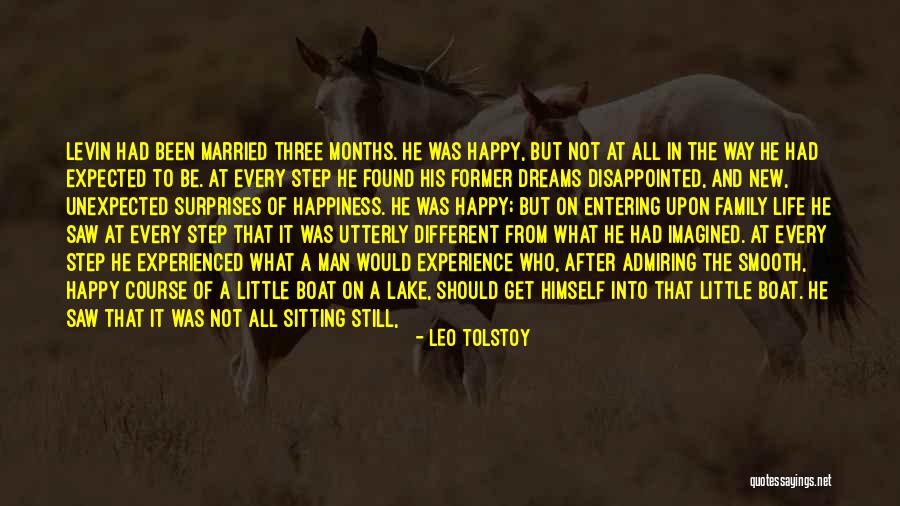 Levin had been married three months. He was happy, but not at all in the way he had expected to be. At every step he found his former dreams disappointed, and new, unexpected surprises of happiness. He was happy; but on entering upon family life he saw at every step that it was utterly different from what he had imagined. At every step he experienced what a man would experience who, after admiring the smooth, happy course of a little boat on a lake, should get himself into that little boat. He saw that it was not all sitting still, floating smoothly; that one had to think too, not for an instant to forget where one was floating; and that there was water under one, and that one must row; and that his unaccustomed hands would be sore; and that it was only to look at it that was easy; but that doing it, though very delightful, was very difficult. — Leo Tolstoy