Quotes & Sayings About Handsome Boyfriend
Enjoy reading and share 10 famous quotes about Handsome Boyfriend with everyone.
Top Handsome Boyfriend Quotes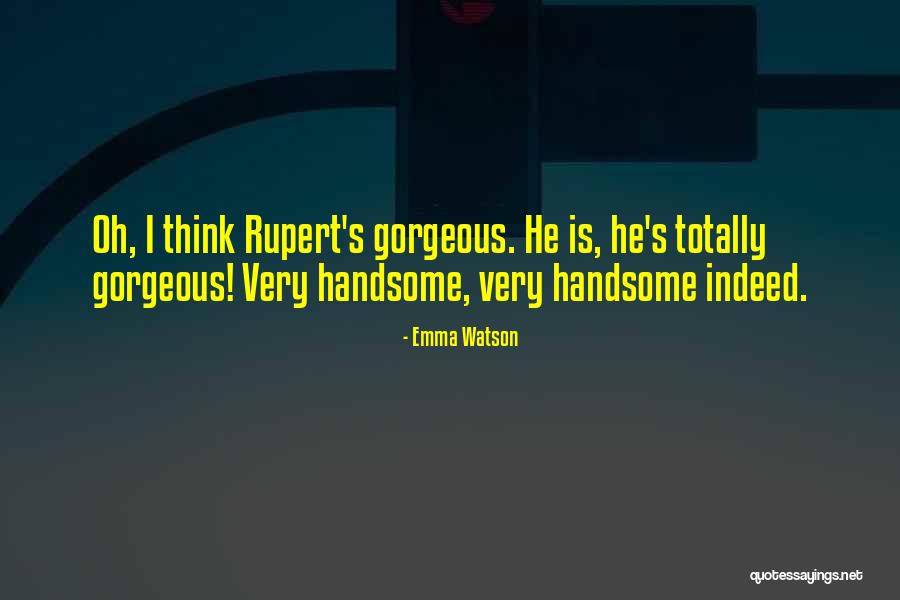 Oh, I think Rupert's gorgeous. He is, he's totally gorgeous! Very handsome, very handsome indeed. — Emma Watson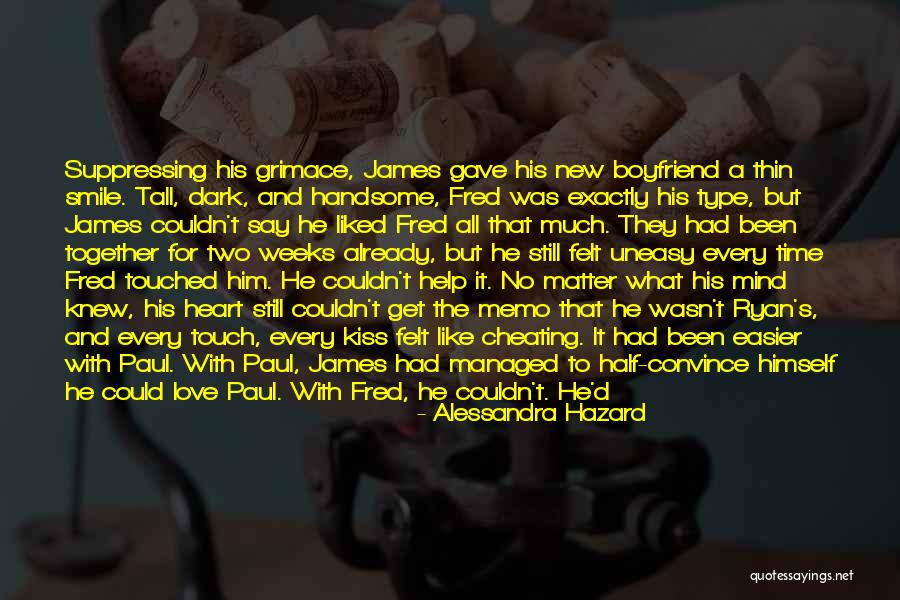 Suppressing his grimace, James gave his new boyfriend a thin smile. Tall, dark, and handsome, Fred was exactly his type, but James couldn't say he liked Fred all that much. They had been together for two weeks already, but he still felt uneasy every time Fred touched him. He couldn't help it. No matter what his mind knew, his heart still couldn't get the memo that he wasn't Ryan's, and every touch, every kiss felt like cheating. It had been easier with Paul. With Paul, James had managed to half-convince himself he could love Paul. With Fred, he couldn't. He'd chosen Paul because he had liked him; he'd chosen Fred because he needed a boyfriend. Because he needed to distract Ryan, needed to dispel any suspicion. — Alessandra Hazard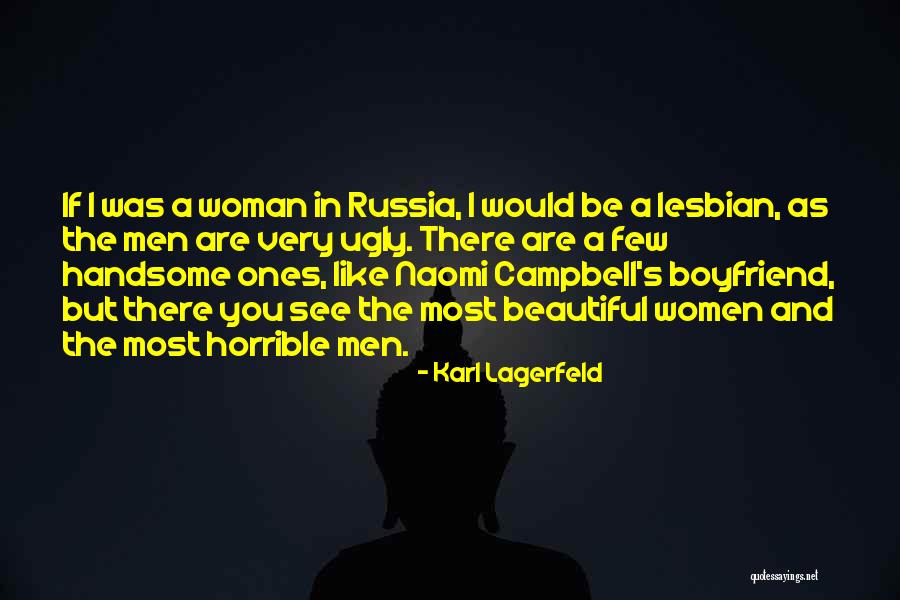 If I was a woman in Russia, I would be a lesbian, as the men are very ugly. There are a few handsome ones, like Naomi Campbell's boyfriend, but there you see the most beautiful women and the most horrible men. — Karl Lagerfeld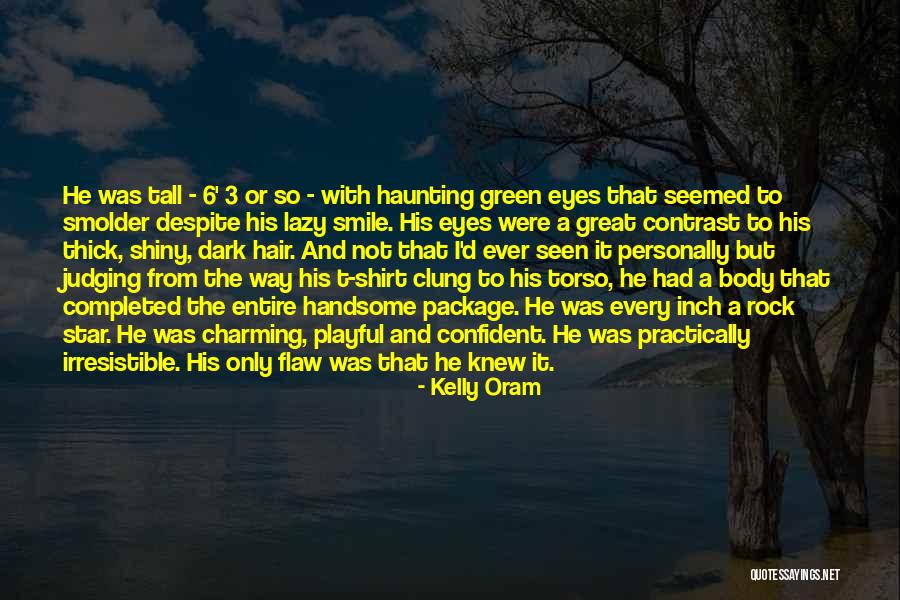 He was tall - 6' 3 or so - with haunting green eyes that seemed to smolder despite his lazy smile. His eyes were a great contrast to his thick, shiny, dark hair. And not that I'd ever seen it personally but judging from the way his t-shirt clung to his torso, he had a body that completed the entire handsome package. He was every inch a rock star. He was charming, playful and confident. He was practically irresistible. His only flaw was that he knew it. — Kelly Oram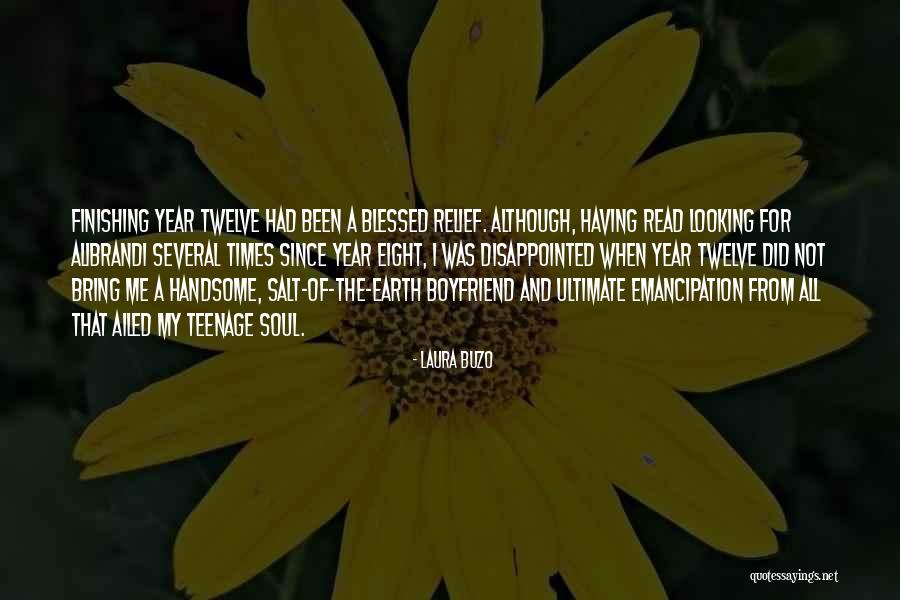 Finishing Year Twelve had been a blessed relief. Although, having read Looking for Alibrandi several times since Year Eight, I was disappointed when Year Twelve did not bring me a handsome, salt-of-the-earth boyfriend and ultimate emancipation from all that ailed my teenage soul. — Laura Buzo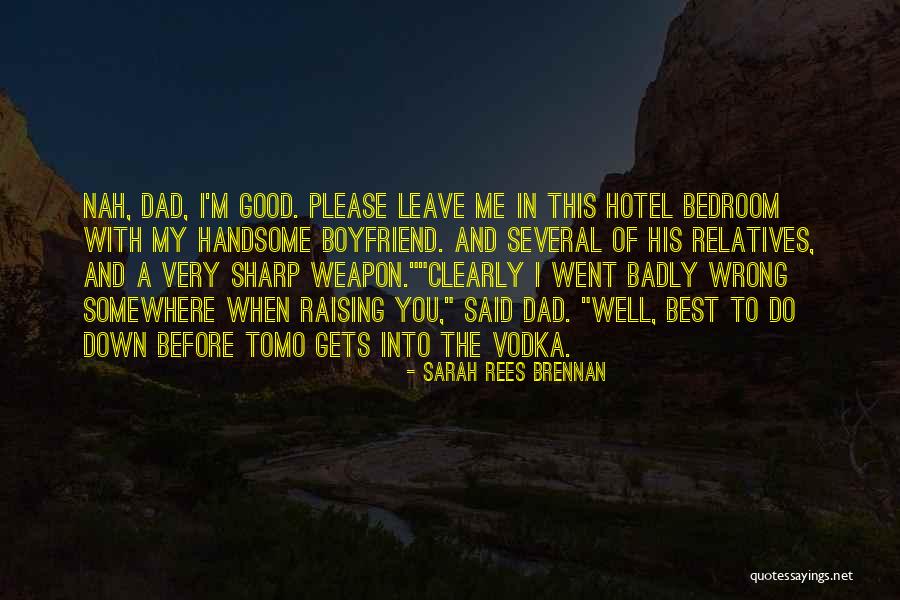 Nah, Dad, I'm good. Please leave me in this hotel bedroom with my handsome boyfriend. And several of his relatives, and a very sharp weapon."
"Clearly I went badly wrong somewhere when raising you," said Dad. "Well, best to do down before Tomo gets into the vodka. — Sarah Rees Brennan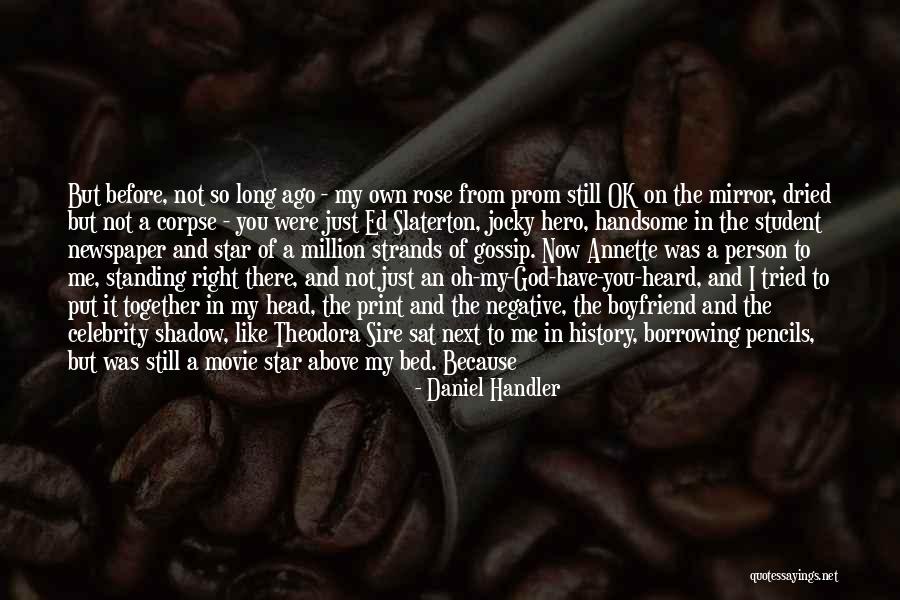 But before, not so long ago - my own rose from prom still OK on the mirror, dried but not a corpse - you were just Ed Slaterton, jocky hero, handsome in the student newspaper and star of a million strands of gossip. Now Annette was a person to me, standing right there, and not just an oh-my-God-have-you-heard, and I tried to put it together in my head, the print and the negative, the boyfriend and the celebrity shadow, like Theodora Sire sat next to me in history, borrowing pencils, but was still a movie star above my bed. Because as you came out of the dark to me, you were the boy I was kissing and wanted to kiss more, back to find me at a party like anybody might do, but you were Ed Slaterton too, and not the cad you are now, but just Ed Slaterton, co-captain, with a beer in your hand and Jillian Beach on your arm. — Daniel Handler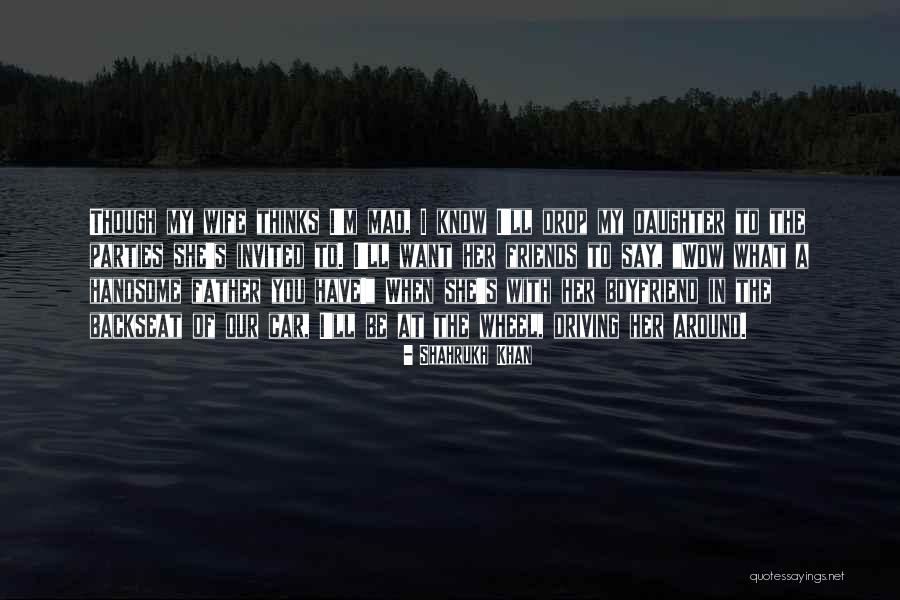 Though my wife thinks I'm mad, I know I'll drop my daughter to the parties she's invited to. I'll want her friends to say, "Wow what a handsome father you have!" When she's with her boyfriend in the backseat of our car, I'll be at the wheel, driving her around. — Shahrukh Khan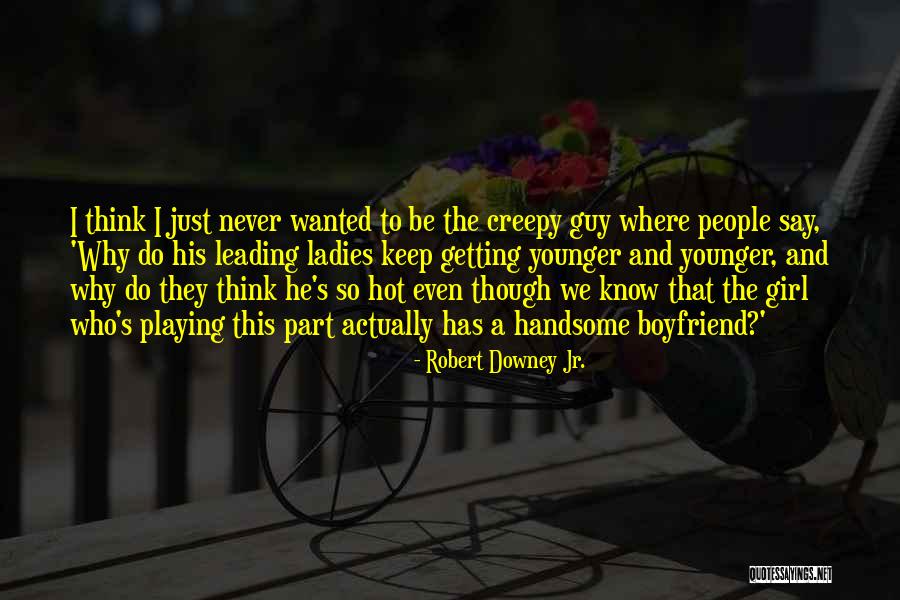 I think I just never wanted to be the creepy guy where people say, 'Why do his leading ladies keep getting younger and younger, and why do they think he's so hot even though we know that the girl who's playing this part actually has a handsome boyfriend?' — Robert Downey Jr.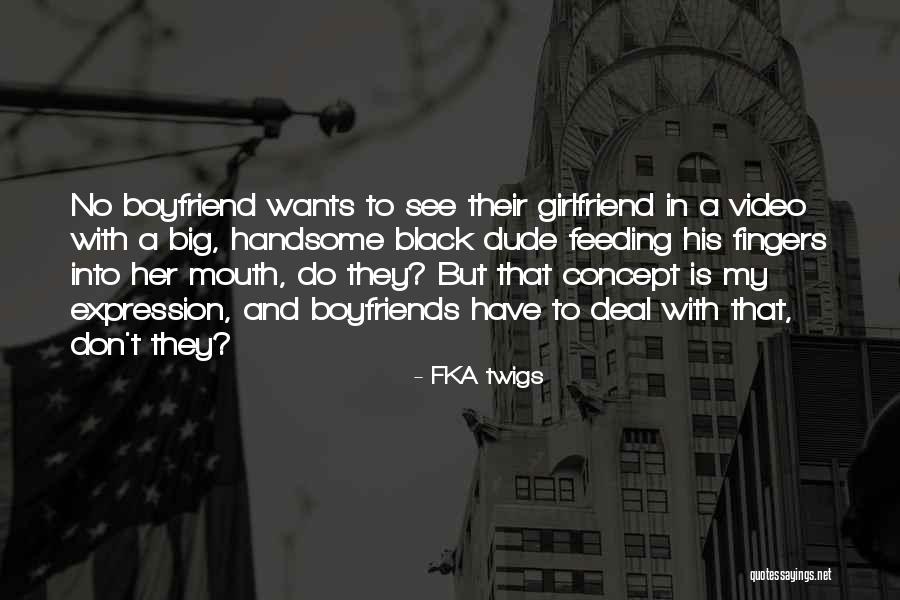 No boyfriend wants to see their girlfriend in a video with a big, handsome black dude feeding his fingers into her mouth, do they? But that concept is my expression, and boyfriends have to deal with that, don't they? — FKA Twigs