Guilty As Sin Quotes & Sayings
Enjoy reading and share 31 famous quotes about Guilty As Sin with everyone.
Top Guilty As Sin Quotes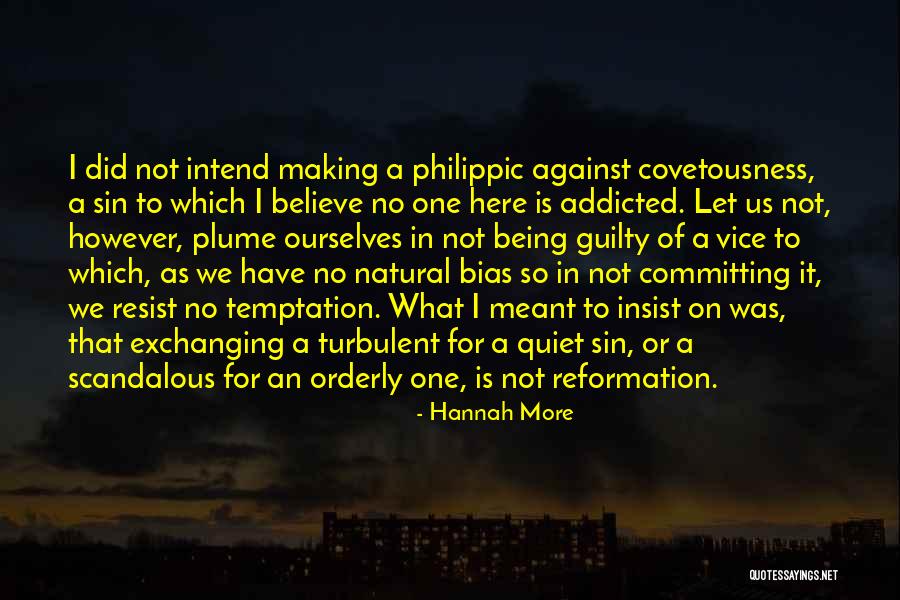 I did not intend making a philippic against covetousness, a sin to which I believe no one here is addicted. Let us not, however, plume ourselves in not being guilty of a vice to which, as we have no natural bias so in not committing it, we resist no temptation. What I meant to insist on was, that exchanging a turbulent for a quiet sin, or a scandalous for an orderly one, is not reformation. — Hannah More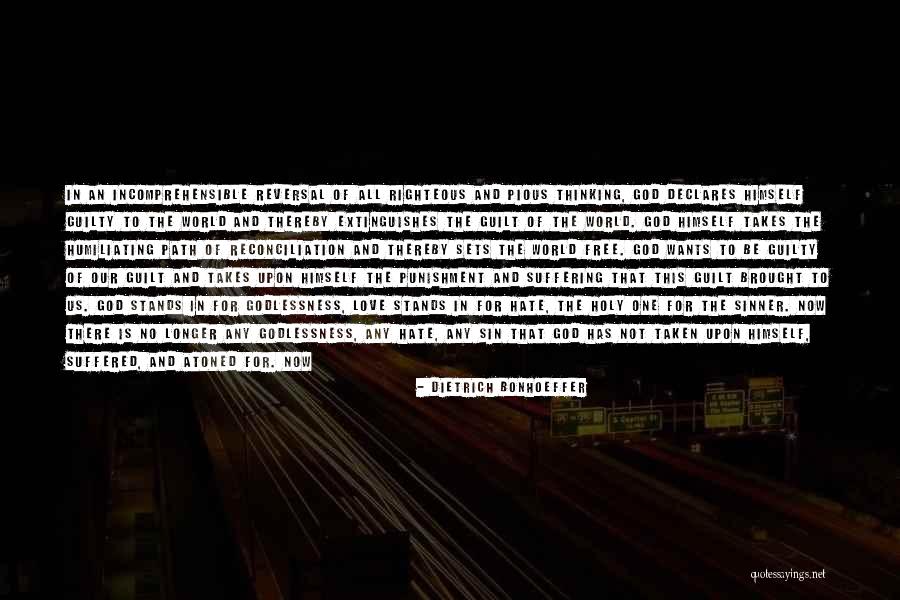 In an incomprehensible reversal of all righteous and pious thinking, God declares himself guilty to the world and thereby extinguishes the guilt of the world. God himself takes the humiliating path of reconciliation and thereby sets the world free. God wants to be guilty of our guilt and takes upon himself the punishment and suffering that this guilt brought to us. God stands in for godlessness, love stands in for hate, the Holy One for the sinner. Now there is no longer any godlessness, any hate, any sin that God has not taken upon himself, suffered, and atoned for. Now there is no more reality and no more world that is not reconciled with God and in peace. That is what God did in his beloved Son Jesus Christ. Ecce homo - see the incarnate God, the unfathomable mystery of the love of God for the world. God loves human beings. God loves the world - not ideal human beings but people as they are, not an ideal world but the real world. — Dietrich Bonhoeffer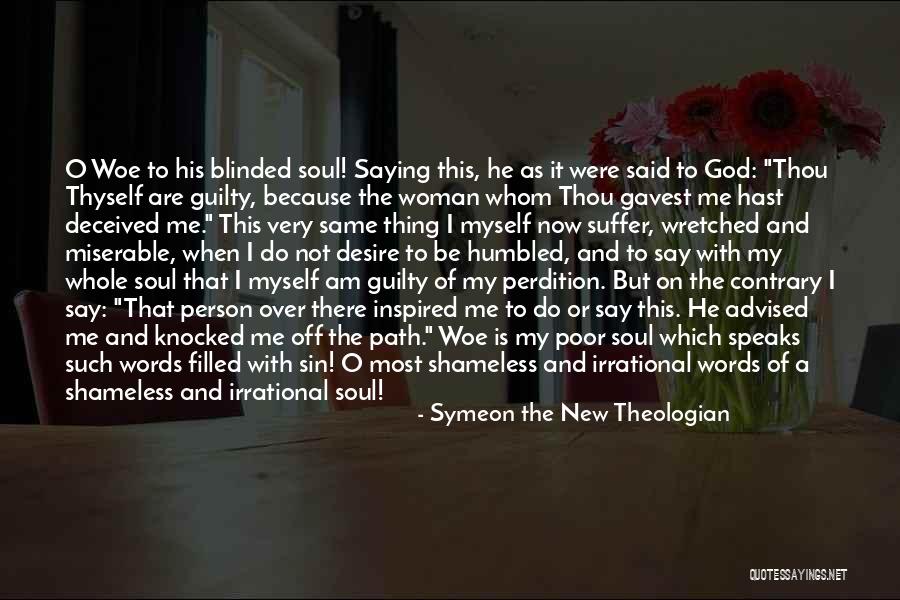 O Woe to his blinded soul! Saying this, he as it were said to God: "Thou Thyself are guilty, because the woman whom Thou gavest me hast deceived me." This very same thing I myself now suffer, wretched and miserable, when I do not desire to be humbled, and to say with my whole soul that I myself am guilty of my perdition. But on the contrary I say: "That person over there inspired me to do or say this. He advised me and knocked me off the path." Woe is my poor soul which speaks such words filled with sin! O most shameless and irrational words of a shameless and irrational soul! — Symeon The New Theologian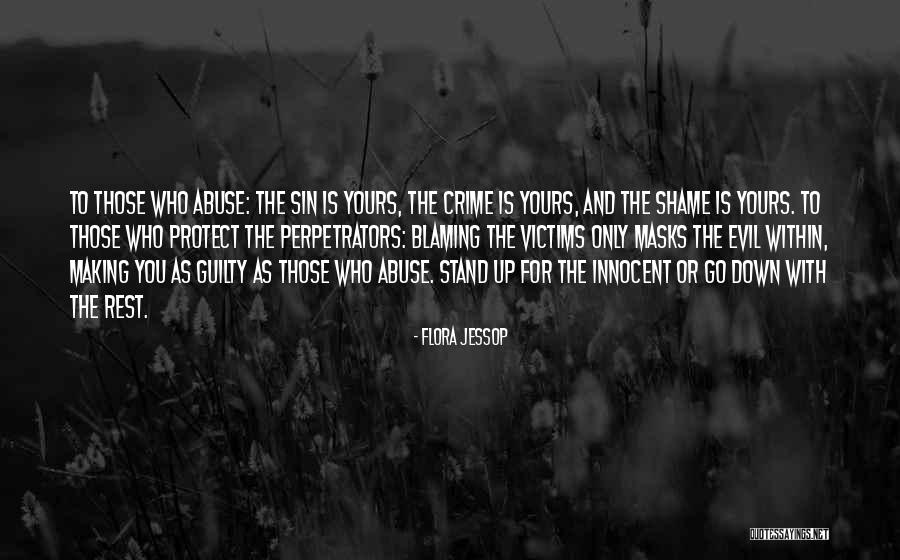 To those who abuse: the sin is yours, the crime is yours, and the shame is yours. To those who protect the perpetrators: blaming the victims only masks the evil within, making you as guilty as those who abuse. Stand up for the innocent or go down with the rest. — Flora Jessop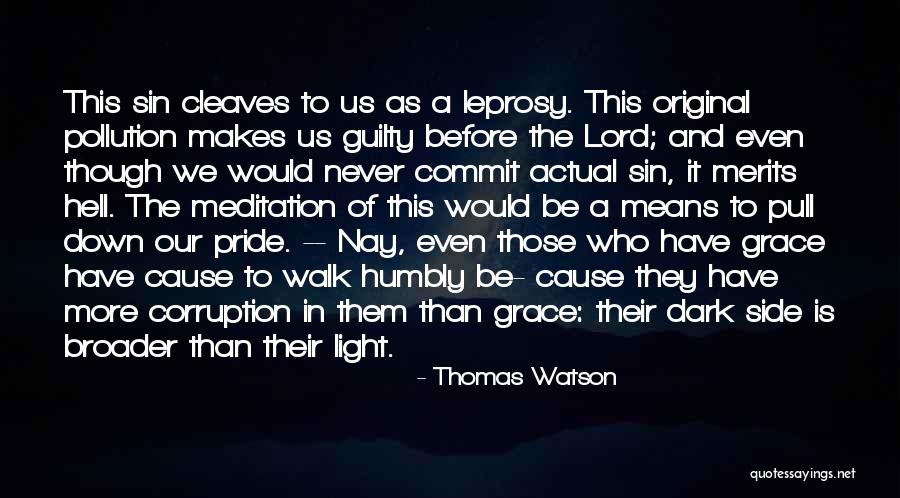 This sin cleaves to us as a leprosy. This original pollution makes us guilty before the Lord; and even though we would never commit actual sin, it merits hell. The meditation of this would be a means to pull down our pride. -- Nay, even those who have grace have cause to walk humbly be- cause they have more corruption in them than grace: their dark side is broader than their light. — Thomas Watson
Teach those who are ignorant as many things as possible; society is culpable, in that it does not afford instruction gratis; it is responsible for the night which it produces. This soul is full of shadow; sin is therein committed. The guilty one is not the person who has committed the sin, but the person who has created the shadow. — Victor Hugo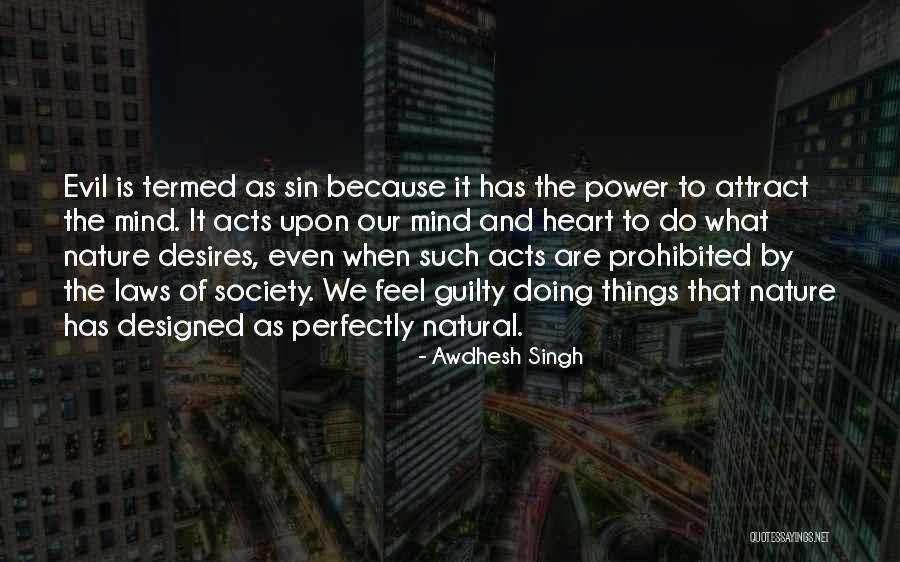 Evil is termed as sin because it has the power to attract the mind. It acts upon our mind and heart to do what nature desires, even when such acts are prohibited by the laws of society. We feel guilty doing things that nature has designed as perfectly natural. — Awdhesh Singh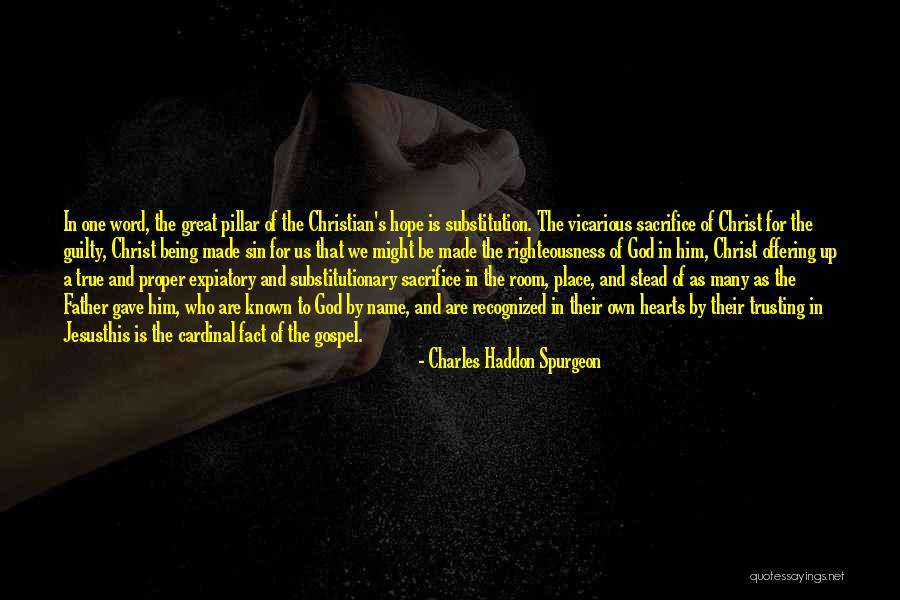 In one word, the great pillar of the Christian's hope is substitution. The vicarious sacrifice of Christ for the guilty, Christ being made sin for us that we might be made the righteousness of God in him, Christ offering up a true and proper expiatory and substitutionary sacrifice in the room, place, and stead of as many as the Father gave him, who are known to God by name, and are recognized in their own hearts by their trusting in Jesus
this is the cardinal fact of the gospel. — Charles Haddon Spurgeon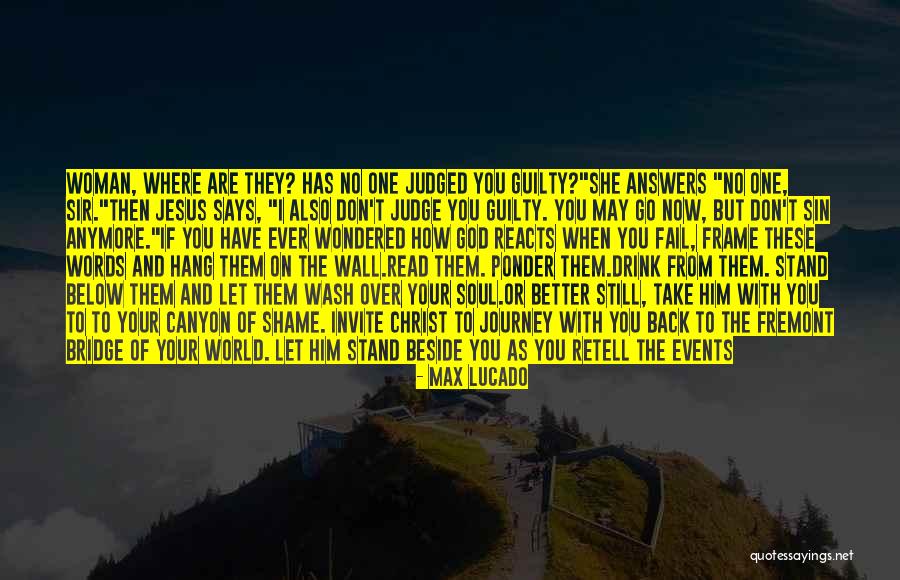 Woman, where are they? Has no one judged you guilty?"
She answers "No one, sir."
Then Jesus says, "I also don't judge you guilty. You may go now, but don't sin anymore."
If you have ever wondered how God reacts when you fail, frame these words and hang them on the wall.Read them. Ponder them.Drink from them. Stand below them and let them wash over your soul.
Or better still, take him with you to to your canyon of shame. Invite Christ to journey with you back to the Fremont Bridge of your world. Let Him stand beside you as you retell the events of the darkest nights of your soul.
And then listen. Listen carefully. He's speaking.
"I don't judge you guilty."
And watch. Watch carefully. He's writing. He's leaving a message. Not in the sand, but on a cross.
Not with his hand, but with his blood.
His message has two words: not guilty. — Max Lucado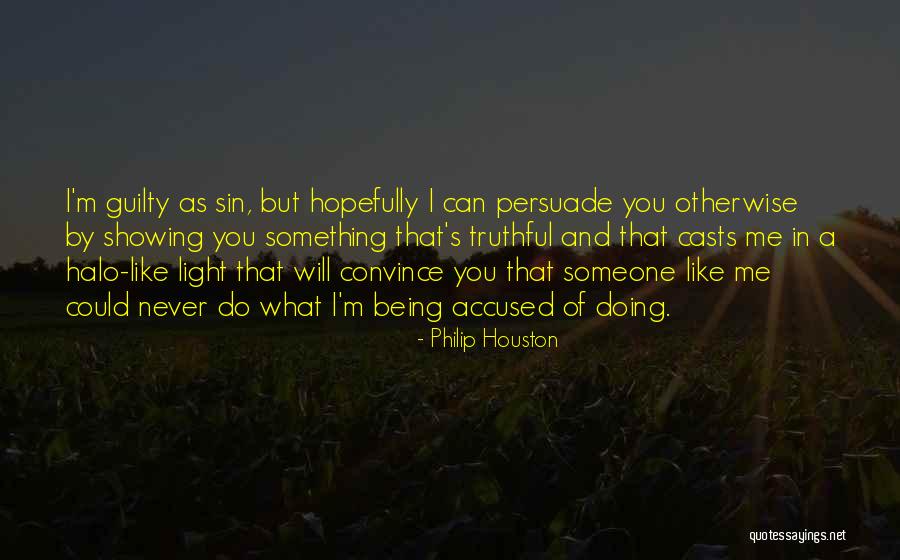 I'm guilty as sin, but hopefully I can persuade you otherwise by showing you something that's truthful and that casts me in a halo-like light that will convince you that someone like me could never do what I'm being accused of doing. — Philip Houston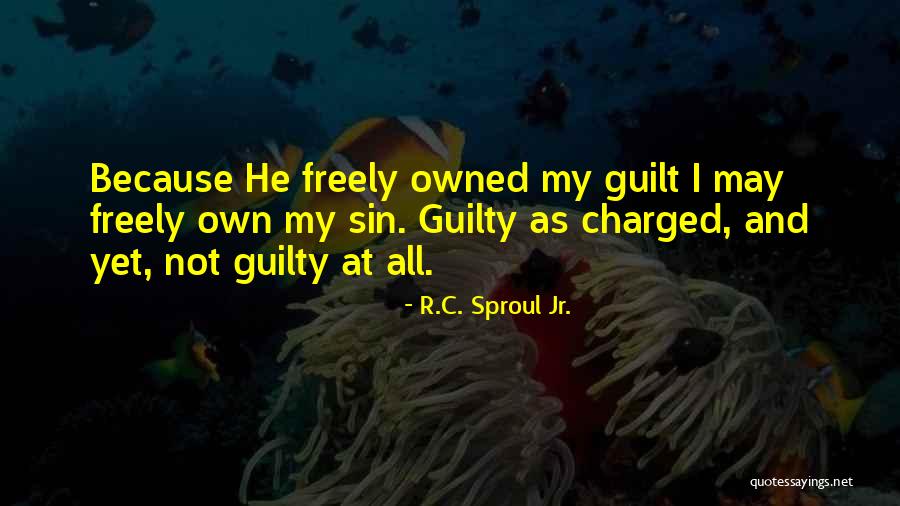 Because He freely owned my guilt I may freely own my sin. Guilty as charged, and yet, not guilty at all. — R.C. Sproul Jr.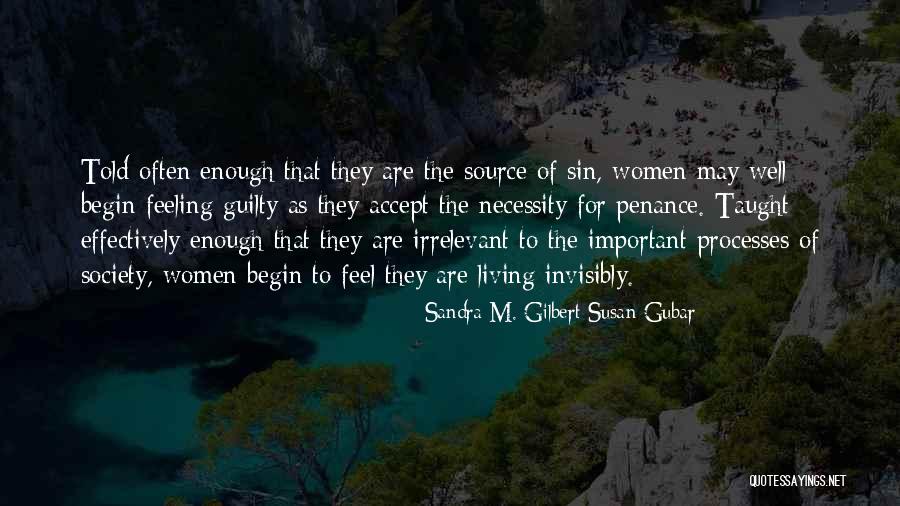 Told often enough that they are the source of sin, women may well begin feeling guilty as they accept the necessity for penance. Taught effectively enough that they are irrelevant to the important processes of society, women begin to feel they are living invisibly. — Sandra M. Gilbert Susan Gubar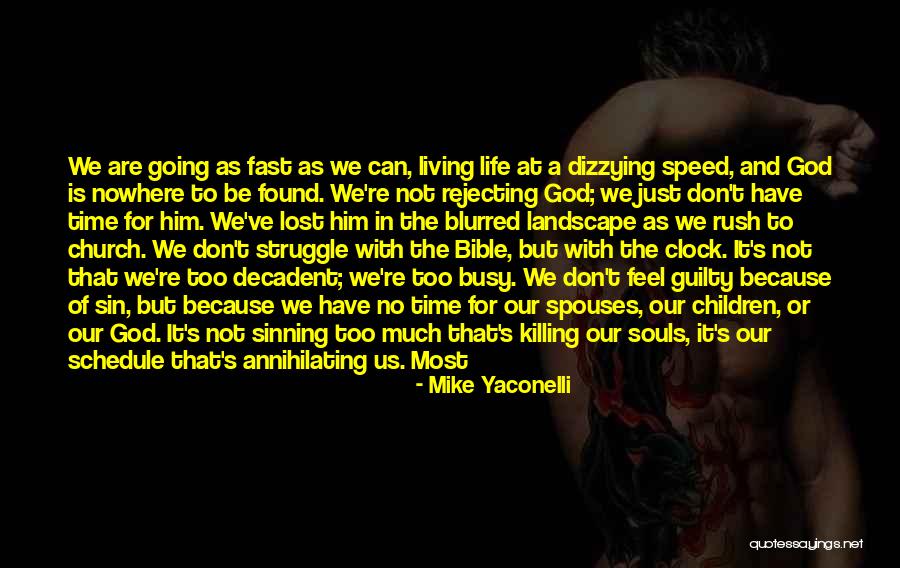 We are going as fast as we can, living life at a dizzying speed, and God is nowhere to be found. We're not rejecting God; we just don't have time for him. We've lost him in the blurred landscape as we rush to church. We don't struggle with the Bible, but with the clock. It's not that we're too decadent; we're too busy. We don't feel guilty because of sin, but because we have no time for our spouses, our children, or our God. It's not sinning too much that's killing our souls, it's our schedule that's annihilating us. Most of us don't come home at night staggering drunk. Instead, we come home staggering tired, worn out, exhausted and drained because we live too fast. — Mike Yaconelli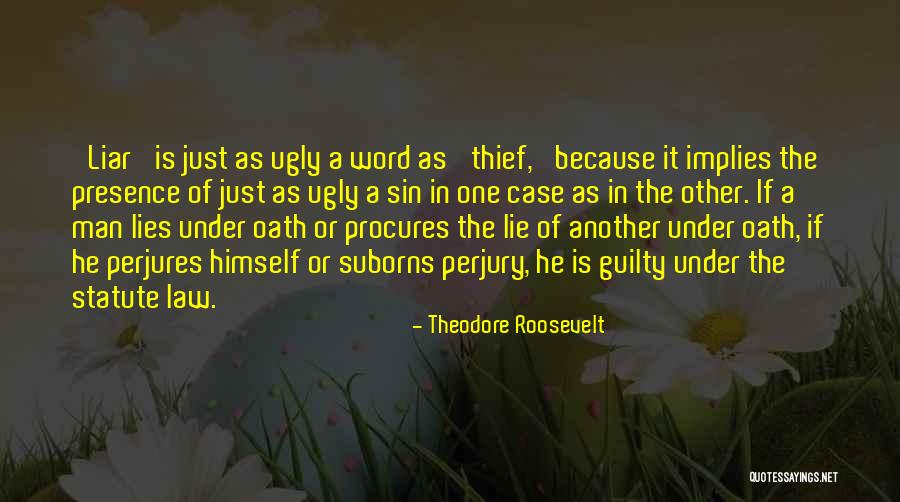 'Liar' is just as ugly a word as 'thief,' because it implies the presence of just as ugly a sin in one case as in the other. If a man lies under oath or procures the lie of another under oath, if he perjures himself or suborns perjury, he is guilty under the statute law. — Theodore Roosevelt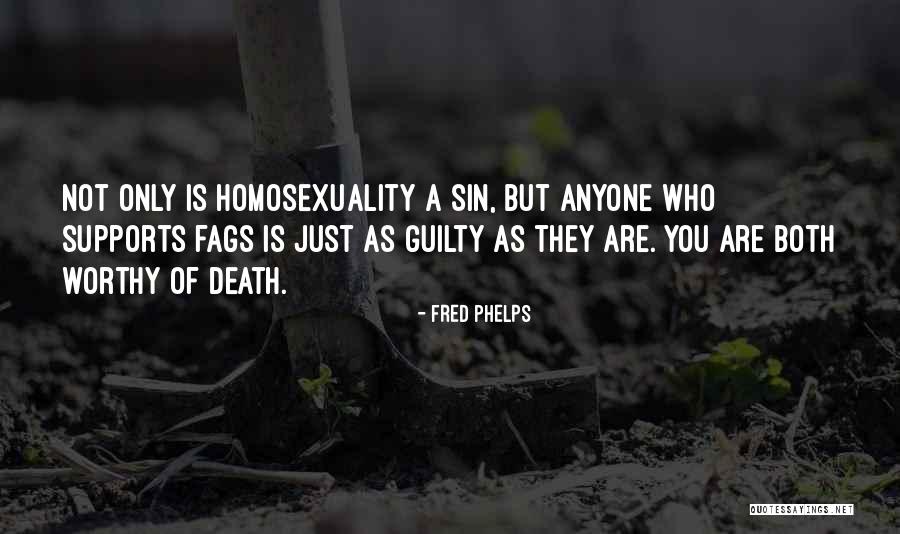 Not only is homosexuality a sin, but anyone who supports fags is just as guilty as they are. You are both worthy of death. — Fred Phelps
The solution to staying on the right side of the fine line between using and abusing grace is repentance. The road to repentance is godly sorrow (2 Corinthians 7:10). Godly sorrow is developed when we focus on the true nature of sin as an offense against God rather than something that makes us feel guilty. — Jerry Bridges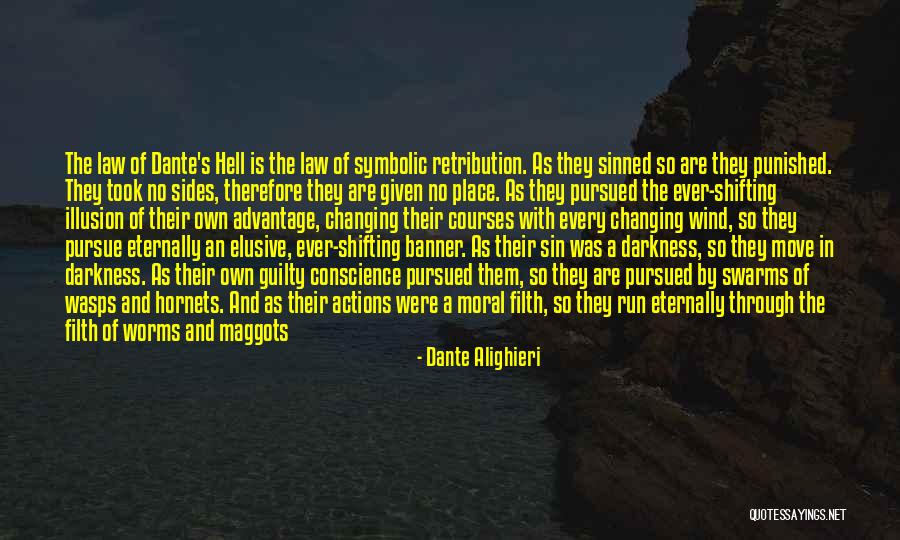 The law of Dante's Hell is the law of symbolic retribution. As they sinned so are they punished. They took no sides, therefore they are given no place. As they pursued the ever-shifting illusion of their own advantage, changing their courses with every changing wind, so they pursue eternally an elusive, ever-shifting banner. As their sin was a darkness, so they move in darkness. As their own guilty conscience pursued them, so they are pursued by swarms of wasps and hornets. And as their actions were a moral filth, so they run eternally through the filth of worms and maggots which they themselves feed. — Dante Alighieri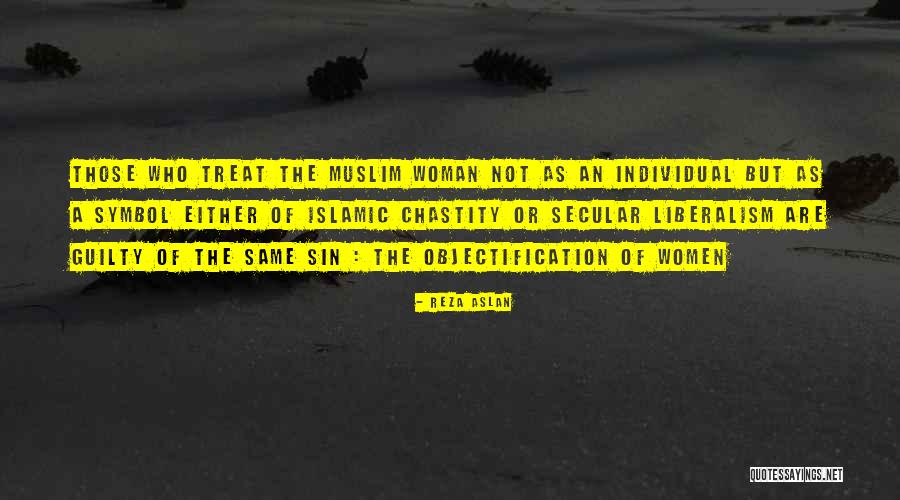 Those who treat the muslim woman not as an individual but as a symbol either of Islamic chastity or secular liberalism are guilty of the same sin : the objectification of women — Reza Aslan
The influence of sin touches the innocent as well as the guilty. — Billy Graham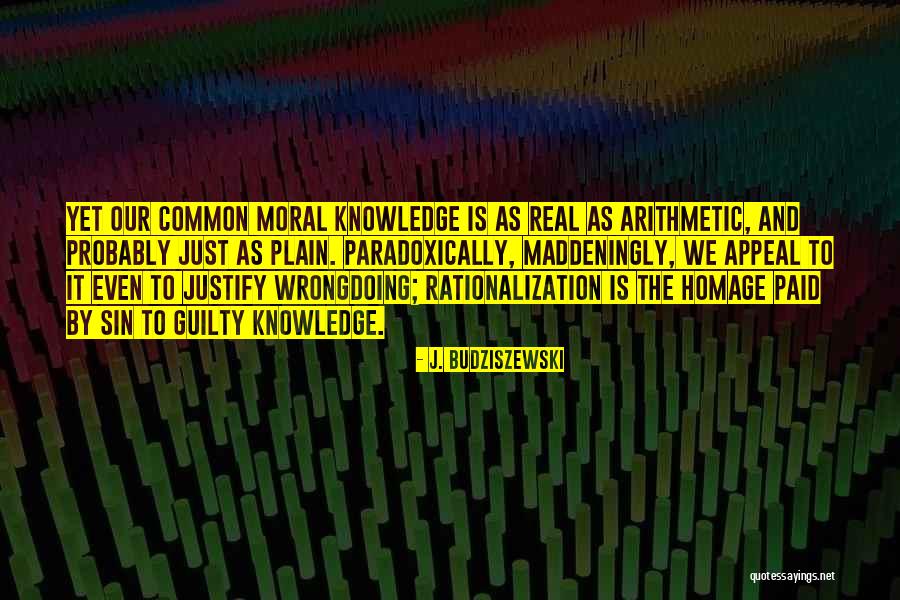 Yet our common moral knowledge is as real as arithmetic, and probably just as plain. Paradoxically, maddeningly, we appeal to it even to justify wrongdoing; rationalization is the homage paid by sin to guilty knowledge. — J. Budziszewski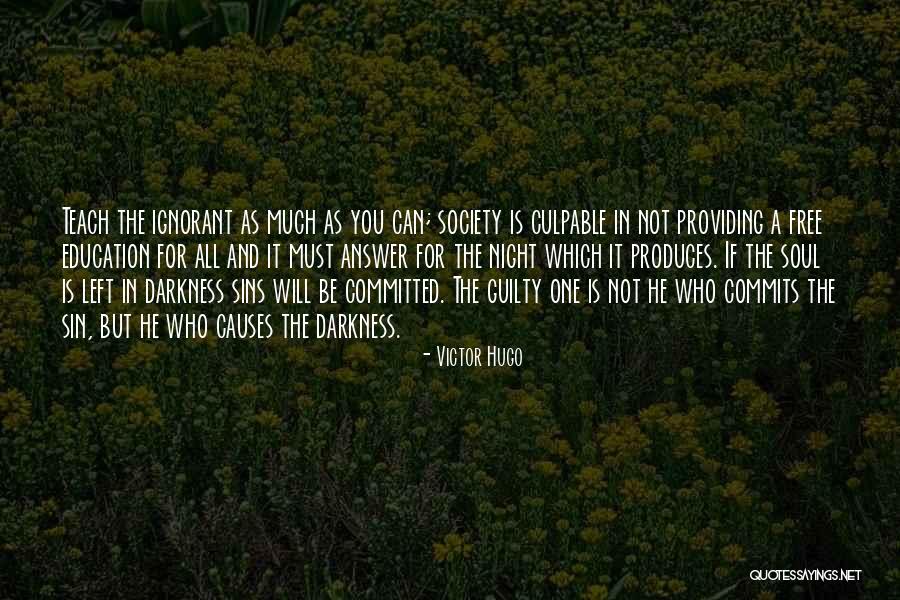 Teach the ignorant as much as you can; society is culpable in not providing a free education for all and it must answer for the night which it produces. If the soul is left in darkness sins will be committed. The guilty one is not he who commits the sin, but he who causes the darkness. — Victor Hugo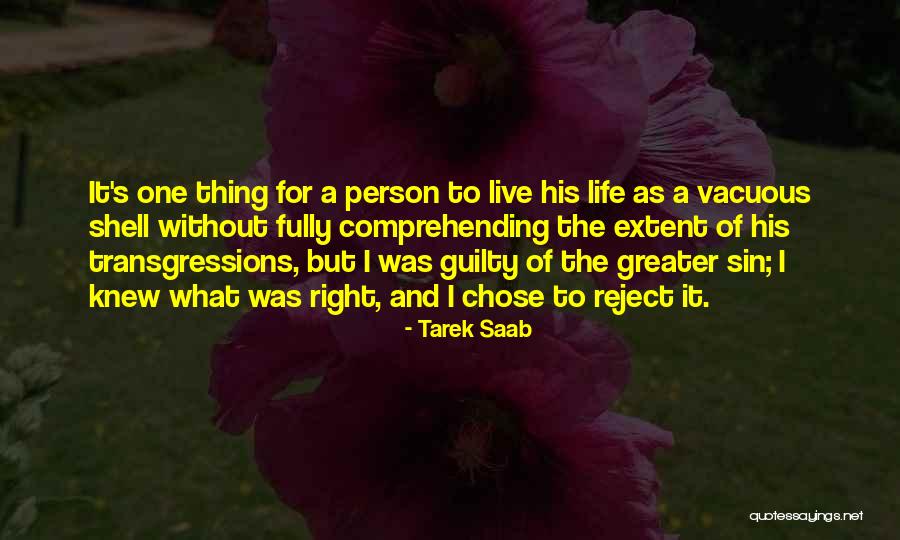 It's one thing for a person to live his life as a vacuous shell without fully comprehending the extent of his transgressions, but I was guilty of the greater sin; I knew what was right, and I chose to reject it. — Tarek Saab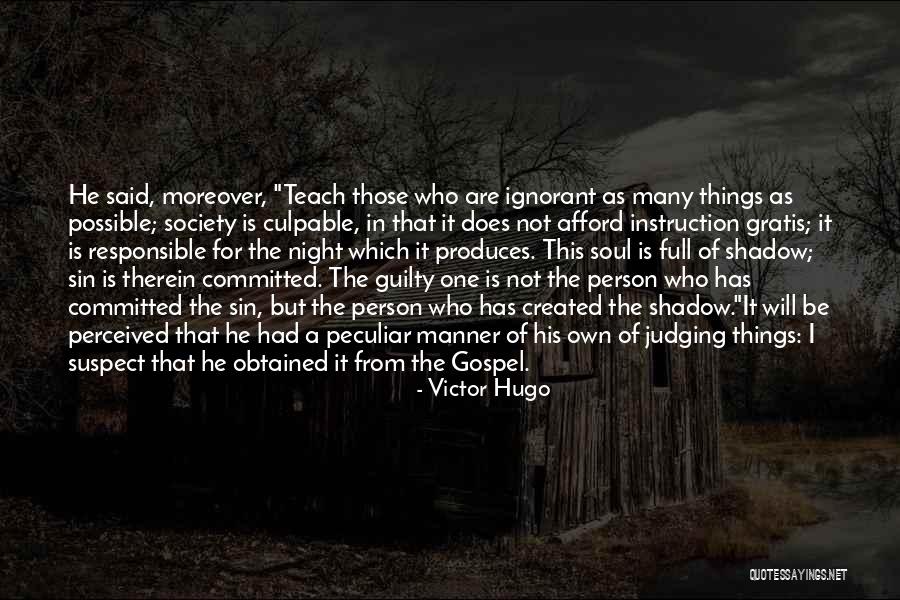 He said, moreover, "Teach those who are ignorant as many things as possible; society is culpable, in that it does not afford instruction gratis; it is responsible for the night which it produces. This soul is full of shadow; sin is therein committed. The guilty one is not the person who has committed the sin, but the person who has created the shadow."
It will be perceived that he had a peculiar manner of his own of judging things: I suspect that he obtained it from the Gospel. — Victor Hugo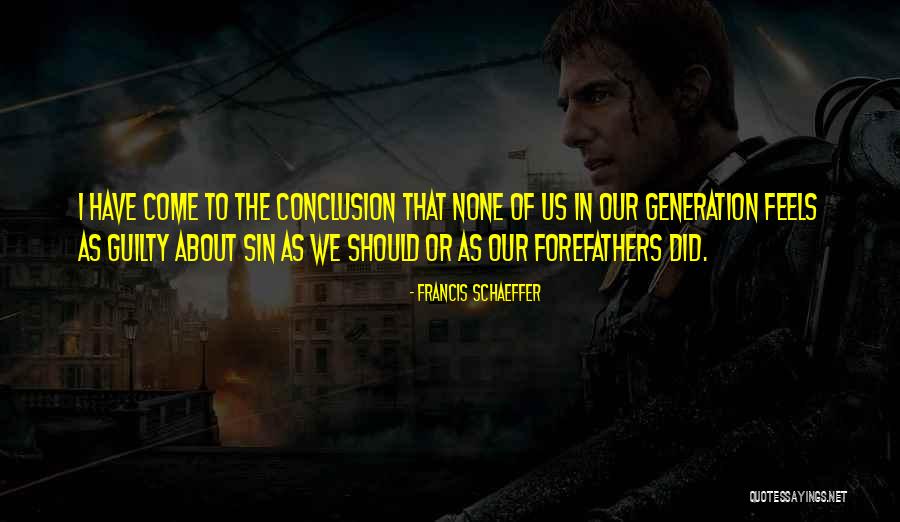 I have come to the conclusion that none of us in our generation feels as guilty about sin as we should or as our forefathers did. — Francis Schaeffer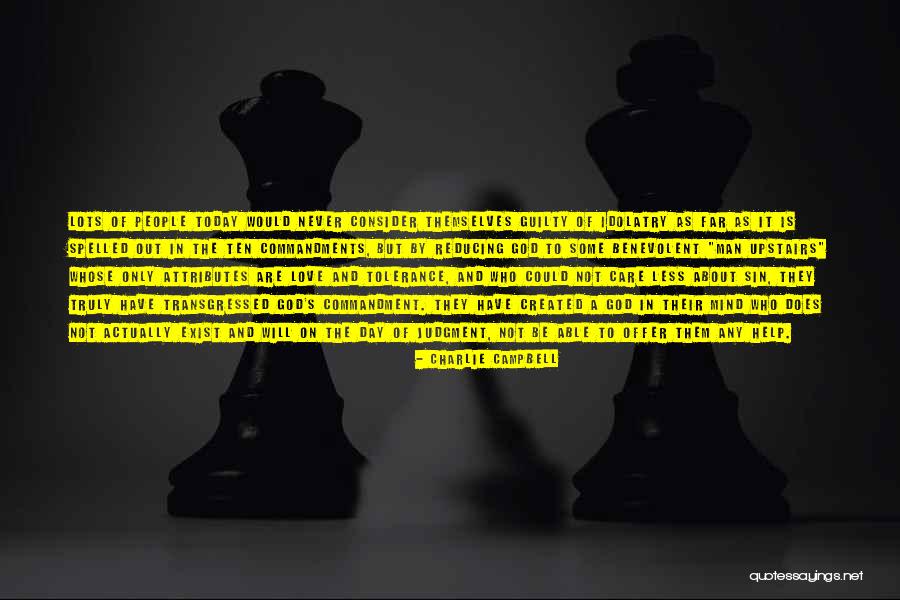 Lots of people today would never consider themselves guilty of idolatry as far as it is spelled out in the Ten Commandments, but by reducing God to some benevolent "man upstairs" whose only attributes are love and tolerance, and who could not care less about sin, they truly have transgressed God's commandment. They have created a god in their mind who does not actually exist and will on the day of judgment, not be able to offer them any help. — Charlie Campbell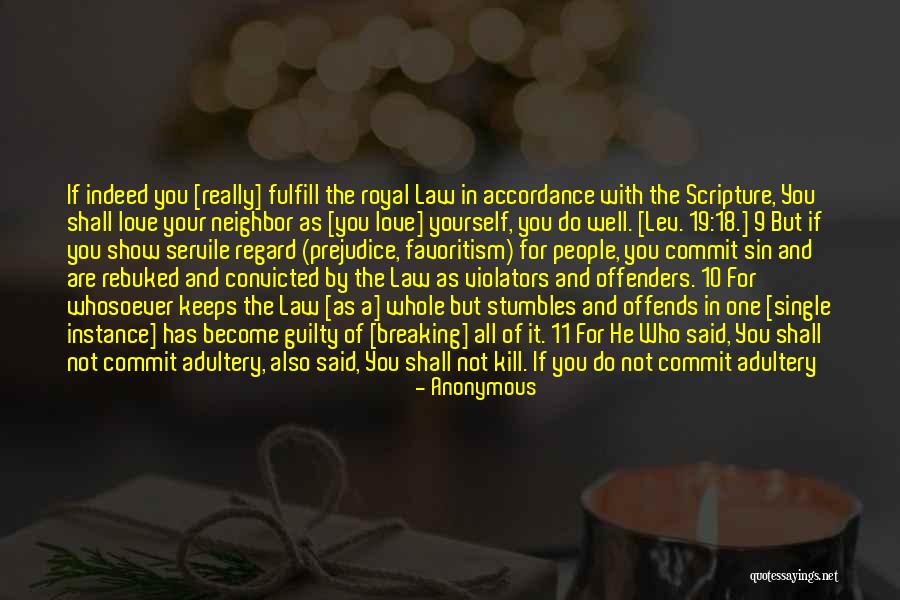 If indeed you [really] fulfill the royal Law in accordance with the Scripture, You shall love your neighbor as [you love] yourself, you do well. [Lev. 19:18.] 9 But if you show servile regard (prejudice, favoritism) for people, you commit sin and are rebuked and convicted by the Law as violators and offenders. 10 For whosoever keeps the Law [as a] whole but stumbles and offends in one [single instance] has become guilty of [breaking] all of it. 11 For He Who said, You shall not commit adultery, also said, You shall not kill. If you do not commit adultery but do kill, you have become guilty of transgressing the [whole] Law. [Exod. 20:13, 14; Deut. 5:17, 18.] 12 So speak and so act as [people should] who are to be judged under the law of liberty [the moral instruction given by Christ, especially about love]. 13 For to him who has shown no mercy the judgment [will be] merciless, but mercy [full of glad confidence] exults victoriously over judgment. — Anonymous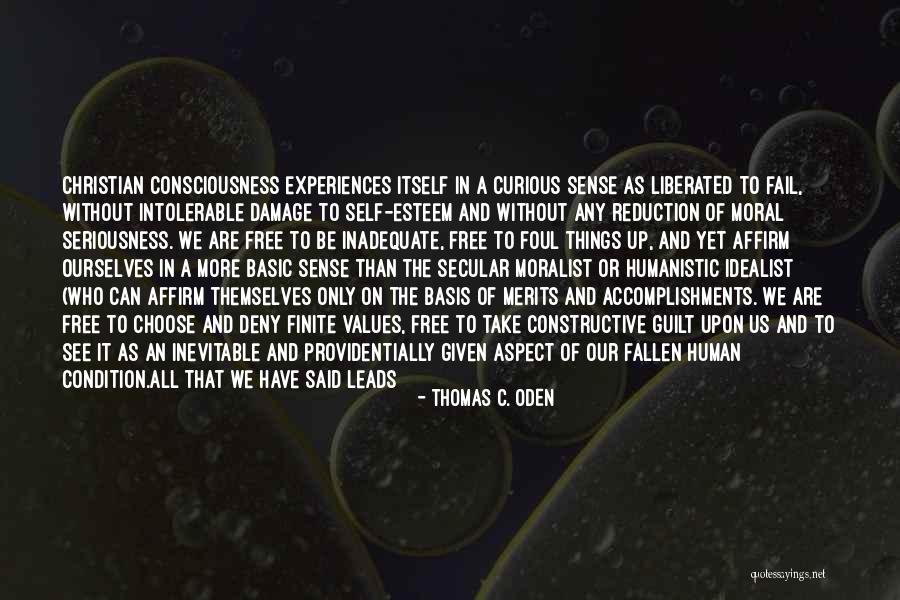 Christian consciousness experiences itself in a curious sense as LIBERATED TO FAIL, without intolerable damage to self-esteem and without any reduction of moral seriousness. We are free to be inadequate, free to foul things up, and yet affirm ourselves in a more basic sense than the secular moralist or humanistic idealist (who can affirm themselves only on the basis of merits and accomplishments. We are free to choose and deny finite values, free to take constructive guilt upon us and to see it as an inevitable and providentially given aspect of our fallen human condition.
All that we have said leads us to the pinnacle of this good news: In Jesus Christ we need no longer be guilty before God. It is only before our clay-footed gods that we stand guilty! — Thomas C. Oden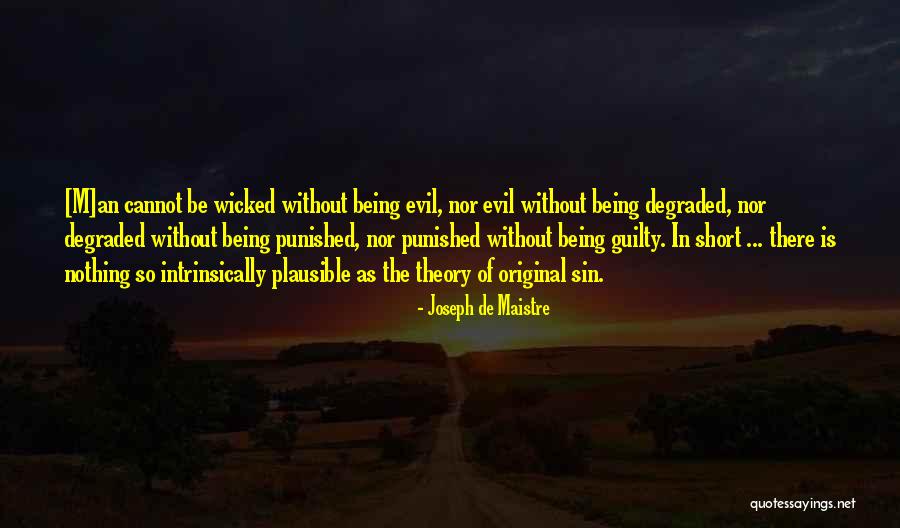 [M]an cannot be wicked without being evil, nor evil without being degraded, nor degraded without being punished, nor punished without being guilty. In short ... there is nothing so intrinsically plausible as the theory of original sin. — Joseph De Maistre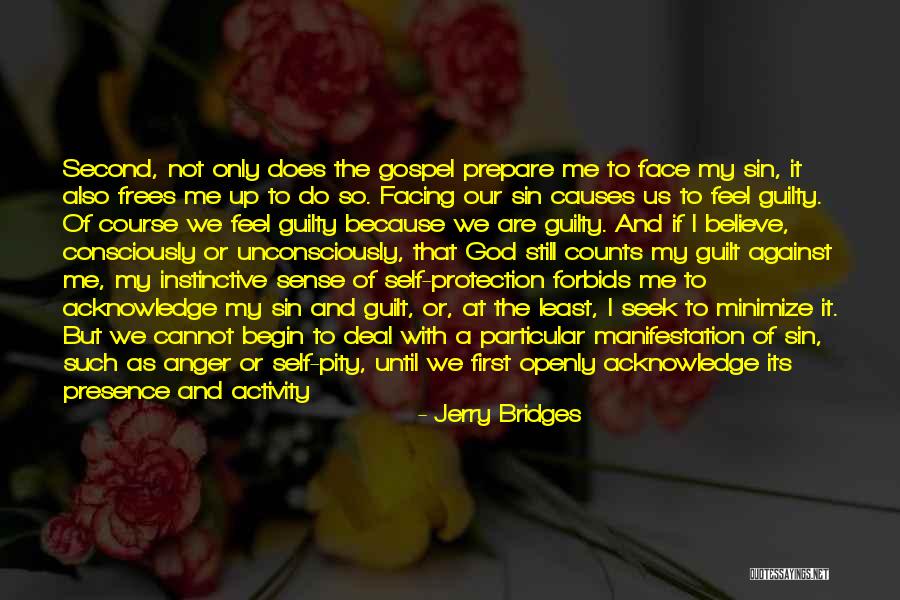 Second, not only does the gospel prepare me to face my sin, it also frees me up to do so. Facing our sin causes us to feel guilty. Of course we feel guilty because we are guilty. And if I believe, consciously or unconsciously, that God still counts my guilt against me, my instinctive sense of self-protection forbids me to acknowledge my sin and guilt, or, at the least, I seek to minimize it. But we cannot begin to deal with a particular manifestation of sin, such as anger or self-pity, until we first openly acknowledge its presence and activity in our lives. So I need the assurance that my sin is forgiven before I can even acknowledge it, let alone begin to deal with it. By — Jerry Bridges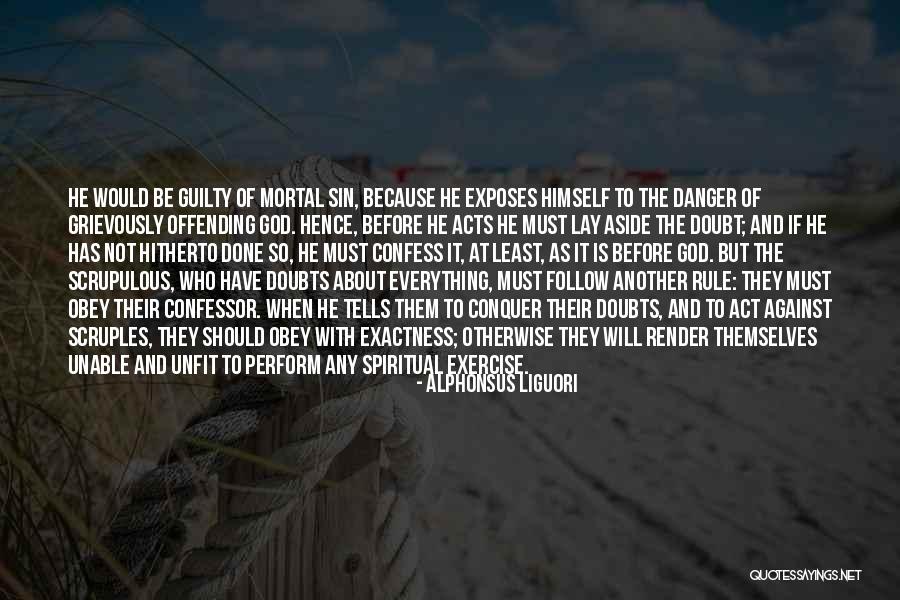 He would be guilty of mortal sin, because he exposes himself to the danger of grievously offending God. Hence, before he acts he must lay aside the doubt; and if he has not hitherto done so, he must confess it, at least, as it is before God. But the scrupulous, who have doubts about everything, must follow another rule: they must obey their confessor. When he tells them to conquer their doubts, and to act against scruples, they should obey with exactness; otherwise they will render themselves unable and unfit to perform any spiritual exercise. — Alphonsus Liguori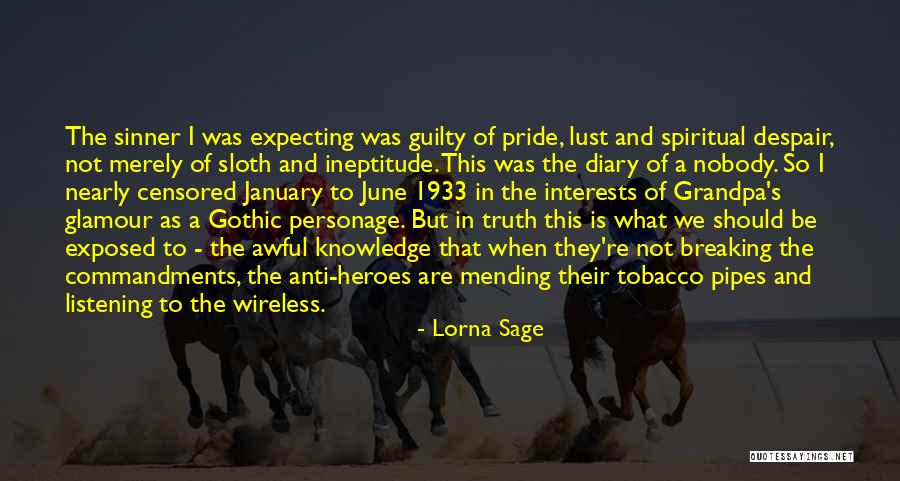 The sinner I was expecting was guilty of pride, lust and spiritual despair, not merely of sloth and ineptitude. This was the diary of a nobody. So I nearly censored January to June 1933 in the interests of Grandpa's glamour as a Gothic personage. But in truth this is what we should be exposed to - the awful knowledge that when they're not breaking the commandments, the anti-heroes are mending their tobacco pipes and listening to the wireless. — Lorna Sage