Quotes & Sayings About Growth Through Pain
Enjoy reading and share 23 famous quotes about Growth Through Pain with everyone.
Top Growth Through Pain Quotes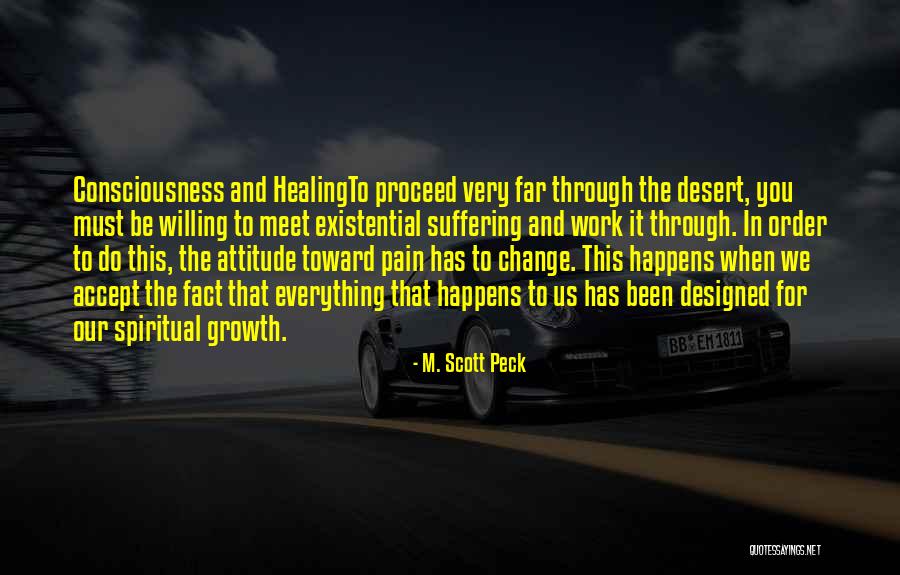 Consciousness and Healing
To proceed very far through the desert, you must be willing to meet existential suffering and work it through. In order to do this, the attitude toward pain has to change. This happens when we accept the fact that everything that happens to us has been designed for our spiritual growth. — M. Scott Peck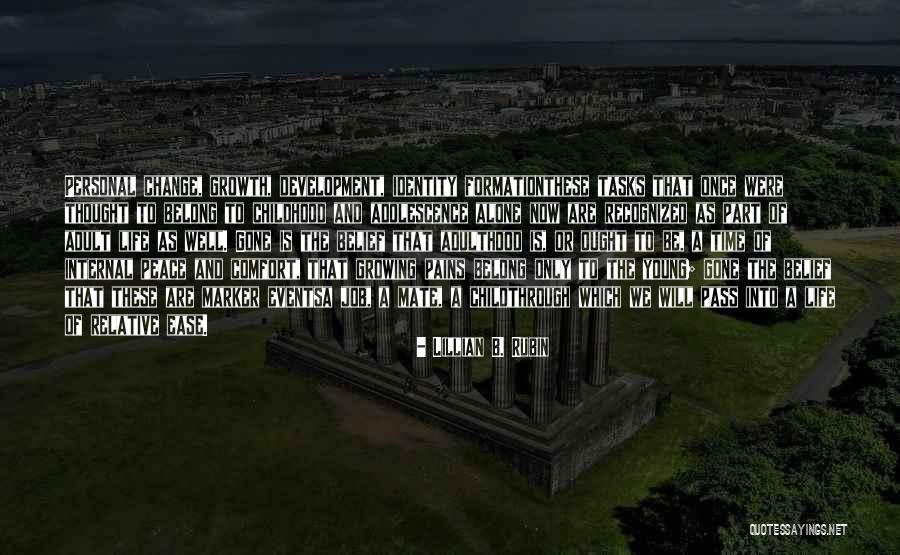 Personal change, growth, development, identity formation
these tasks that once were thought to belong to childhood and adolescence alone now are recognized as part of adult life as well. Gone is the belief that adulthood is, or ought to be, a time of internal peace and comfort, that growing pains belong only to the young; gone the belief that these are marker events
a job, a mate, a child
through which we will pass into a life of relative ease. — Lillian B. Rubin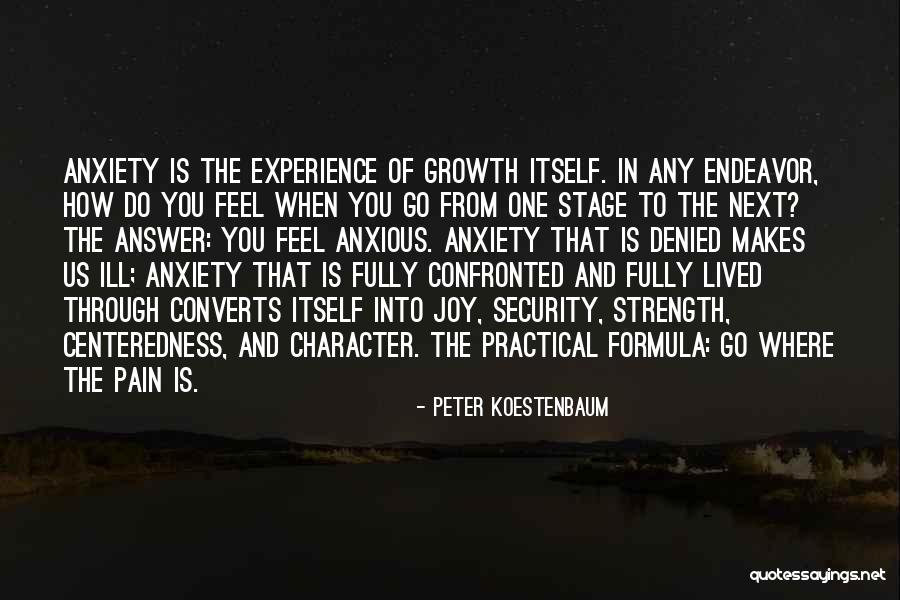 Anxiety is the experience of growth itself. In any endeavor, how do you feel when you go from one stage to the next? The answer: You feel anxious. Anxiety that is denied makes us ill; anxiety that is fully confronted and fully lived through converts itself into joy, security, strength, centeredness, and character. The practical formula: Go where the pain is. — Peter Koestenbaum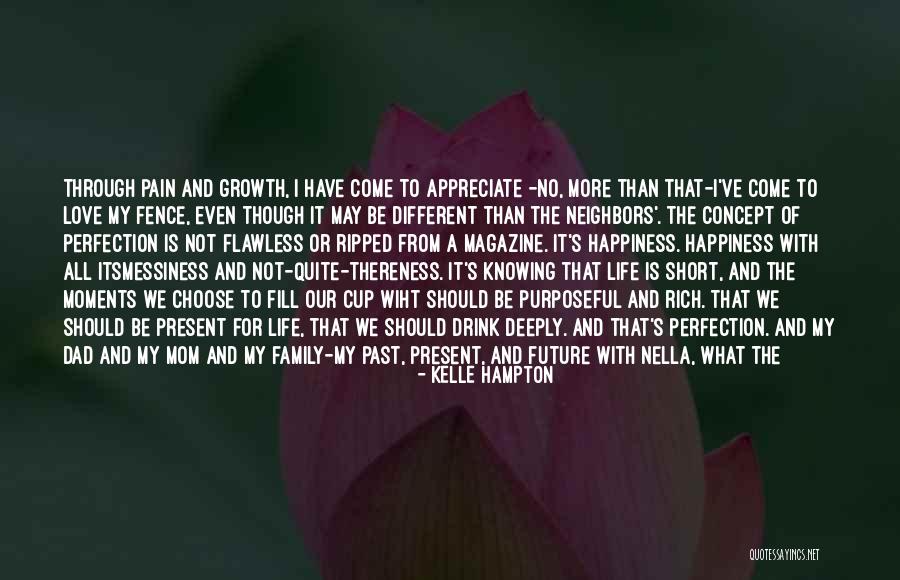 Through pain and growth, I have come to appreciate -no, more than that-I've come to love my fence, even though it may be different than the neighbors'. The concept of perfection is not flawless or ripped from a magazine. It's happiness. Happiness with all itsmessiness and not-quite-thereness. It's knowing that life is short, and the moments we choose to fill our cup wiht should be purposeful and rich. That we should be present for life, that we should drink deeply. And that's perfection. And my dad and my mom and my family-my past, present, and future with Nella, what the world may view as broken or damaged-have taught me what true beauty really is. — Kelle Hampton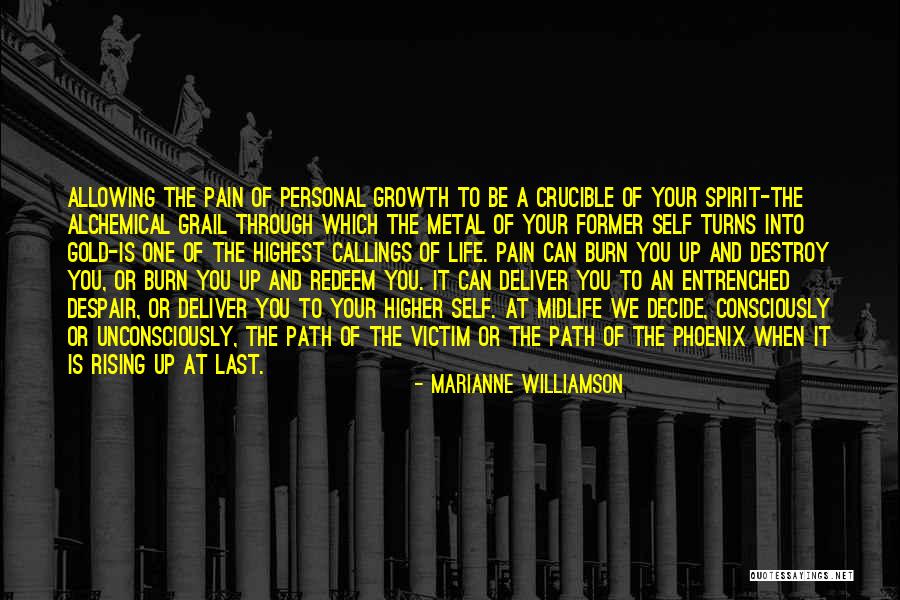 Allowing the pain of personal growth to be a crucible of your spirit-the alchemical grail through which the metal of your former self turns into gold-is one of the highest callings of life. Pain can burn you up and destroy you, or burn you up and redeem you. It can deliver you to an entrenched despair, or deliver you to your higher self. At midlife we decide, consciously or unconsciously, the path of the victim or the path of the phoenix when it is rising up at last. — Marianne Williamson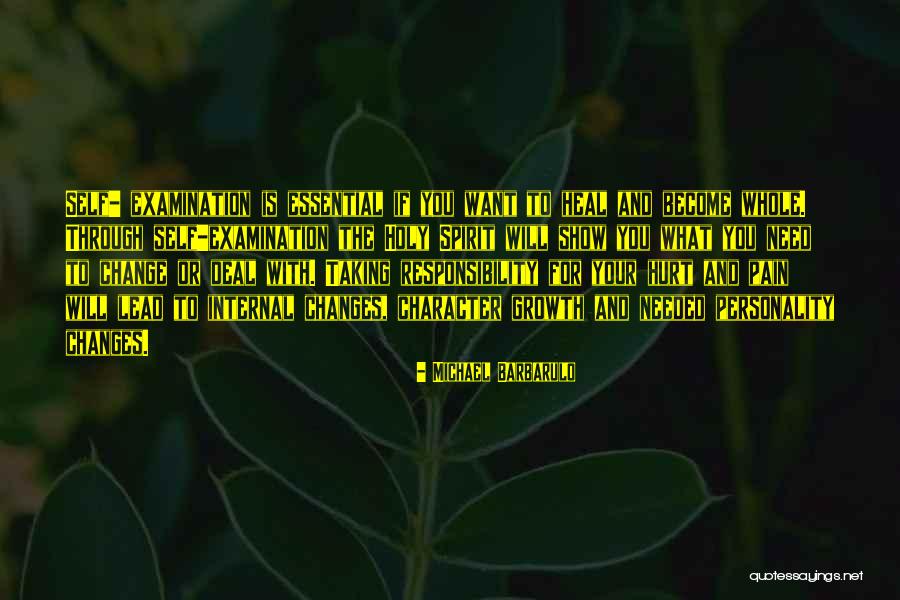 Self- examination is essential if you want to heal and become whole. Through self-examination the Holy Spirit will show you what you need to change or deal with. Taking responsibility for your hurt and pain will lead to internal changes, character growth and needed personality changes. — Michael Barbarulo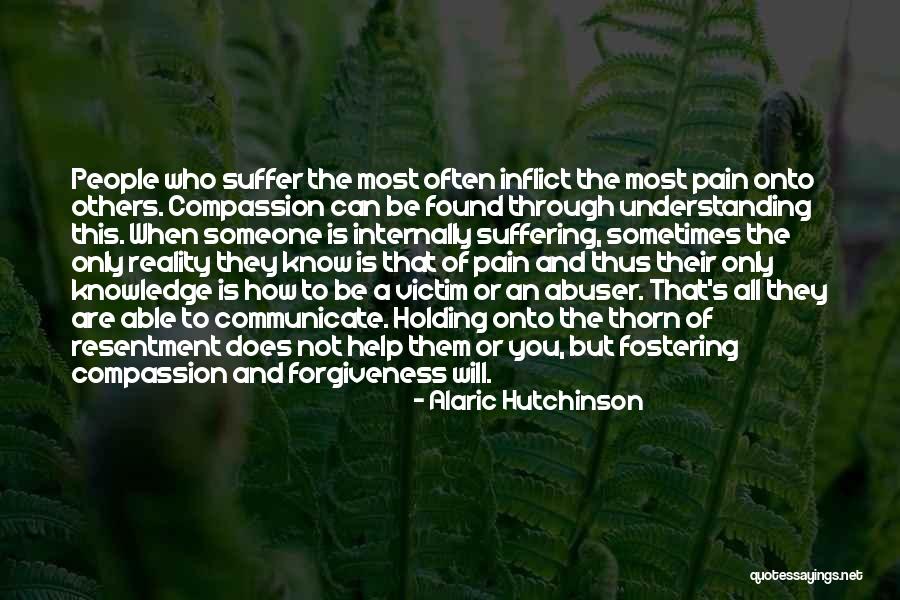 People who suffer the most often inflict the most pain onto others. Compassion can be found through understanding this. When someone is internally suffering, sometimes the only reality they know is that of pain and thus their only knowledge is how to be a victim or an abuser. That's all they are able to communicate. Holding onto the thorn of resentment does not help them or you, but fostering compassion and forgiveness will. — Alaric Hutchinson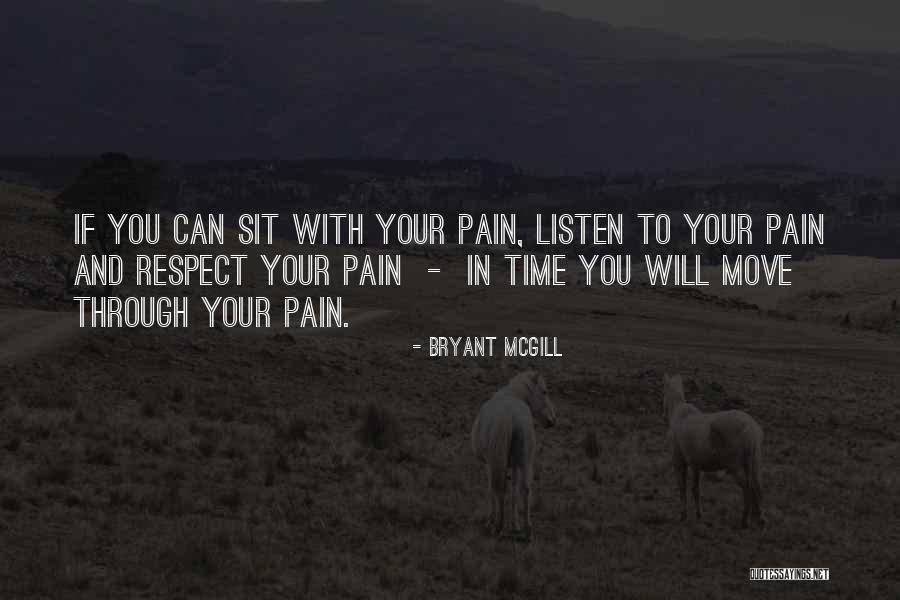 If you can sit with your pain, listen to your pain and respect your pain - in time you will move through your pain. — Bryant McGill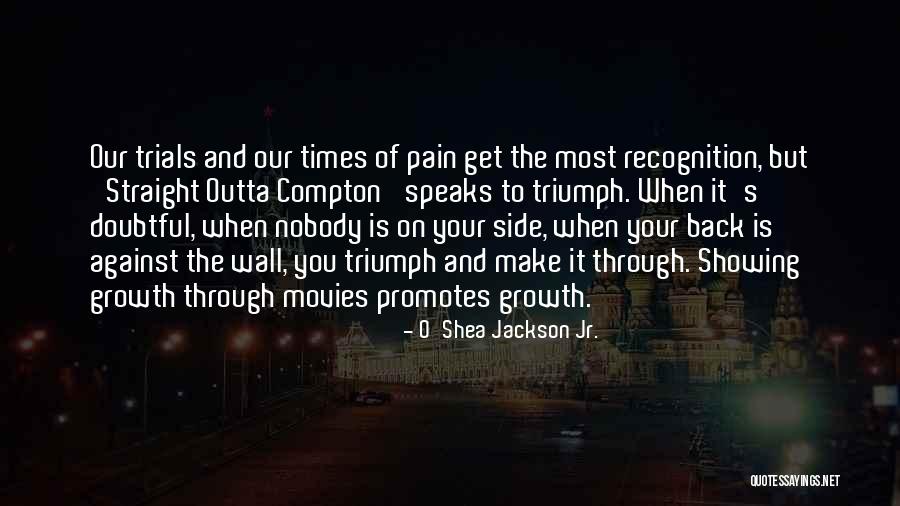 Our trials and our times of pain get the most recognition, but 'Straight Outta Compton' speaks to triumph. When it's doubtful, when nobody is on your side, when your back is against the wall, you triumph and make it through. Showing growth through movies promotes growth. — O'Shea Jackson Jr.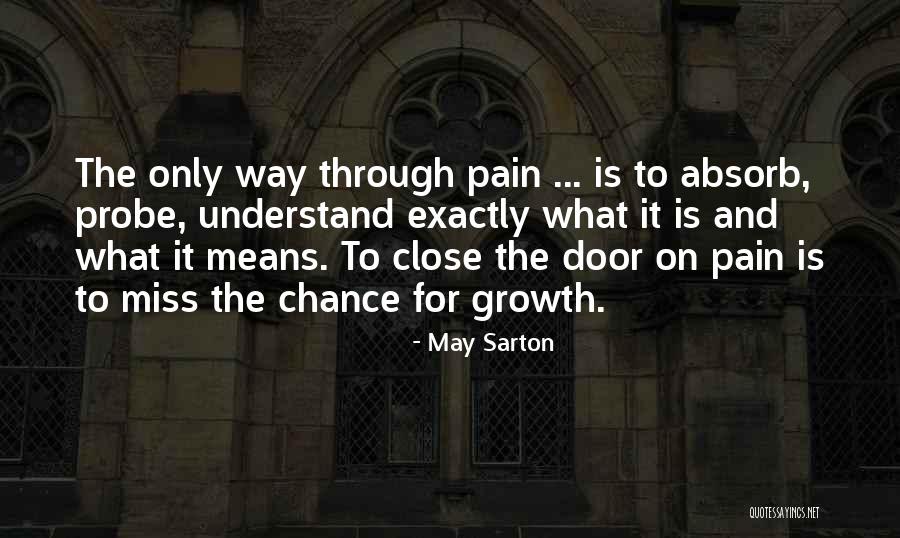 The only way through pain ... is to absorb, probe, understand exactly what it is and what it means. To close the door on pain is to miss the chance for growth. — May Sarton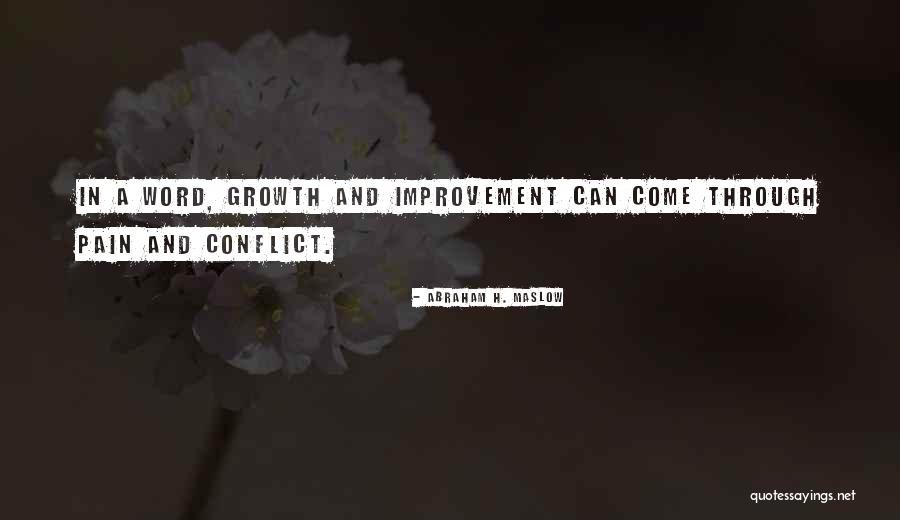 In a word, growth and improvement can come through pain and conflict. — Abraham H. Maslow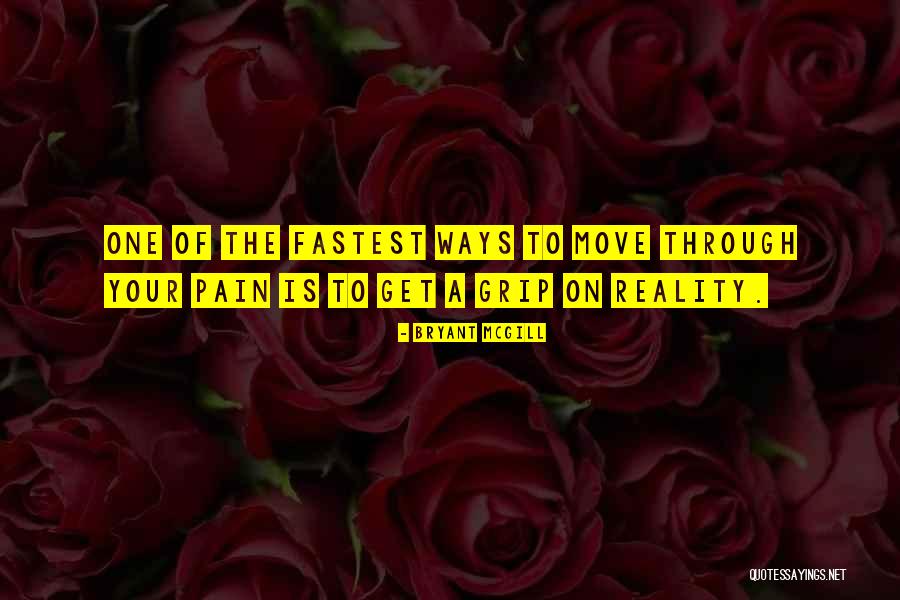 One of the fastest ways to move through your pain is to get a grip on reality. — Bryant McGill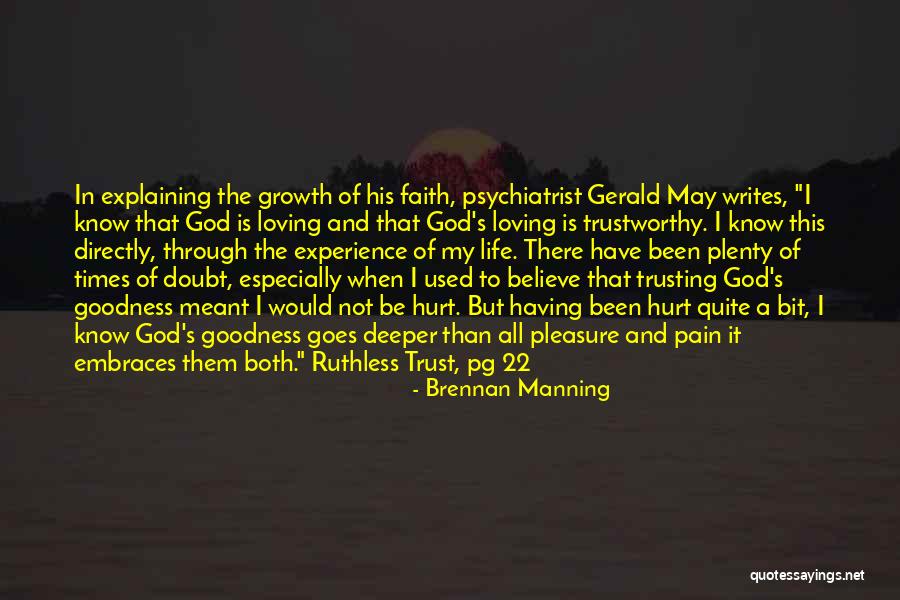 In explaining the growth of his faith, psychiatrist Gerald May writes, "I know that God is loving and that God's loving is trustworthy. I know this directly, through the experience of my life. There have been plenty of times of doubt, especially when I used to believe that trusting God's goodness meant I would not be hurt. But having been hurt quite a bit, I know God's goodness goes deeper than all pleasure and pain it embraces them both." Ruthless Trust, pg 22 — Brennan Manning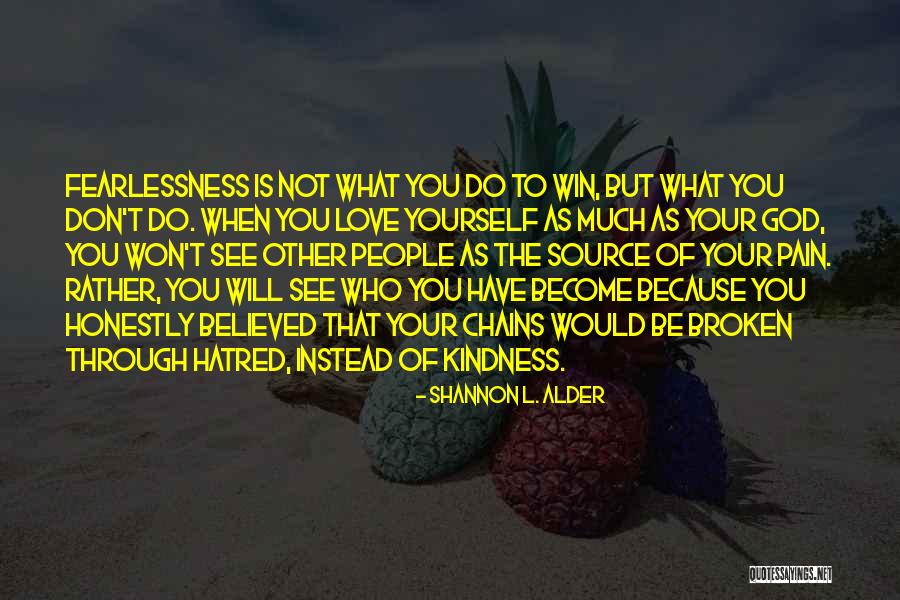 Fearlessness is not what you do to win, but what you don't do. When you love yourself as much as your God, you won't see other people as the source of your pain. Rather, you will see who you have become because you honestly believed that your chains would be broken through hatred, instead of kindness. — Shannon L. Alder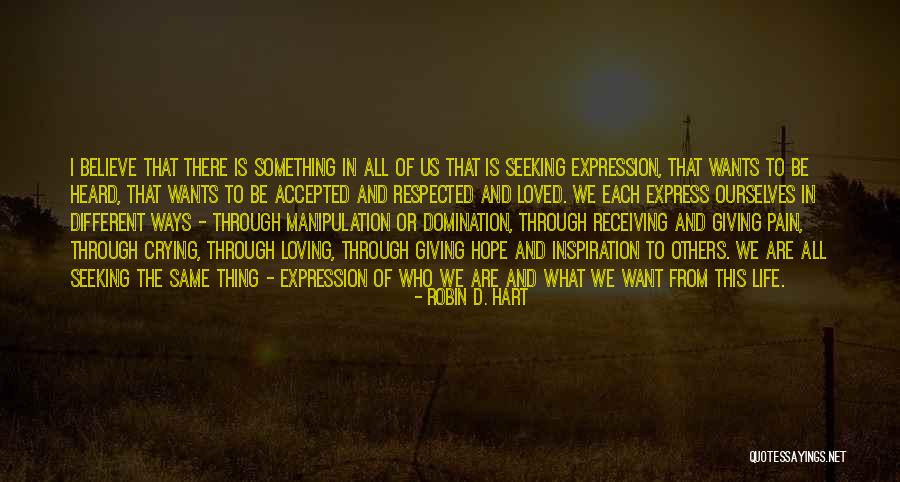 I believe that there is something in all of us that is seeking expression, that wants to be heard, that wants to be accepted and respected and loved. We each express ourselves in different ways - through manipulation or domination, through receiving and giving pain, through crying, through loving, through giving hope and inspiration to others. We are all seeking the same thing - expression of who we are and what we want from this life. — Robin D. Hart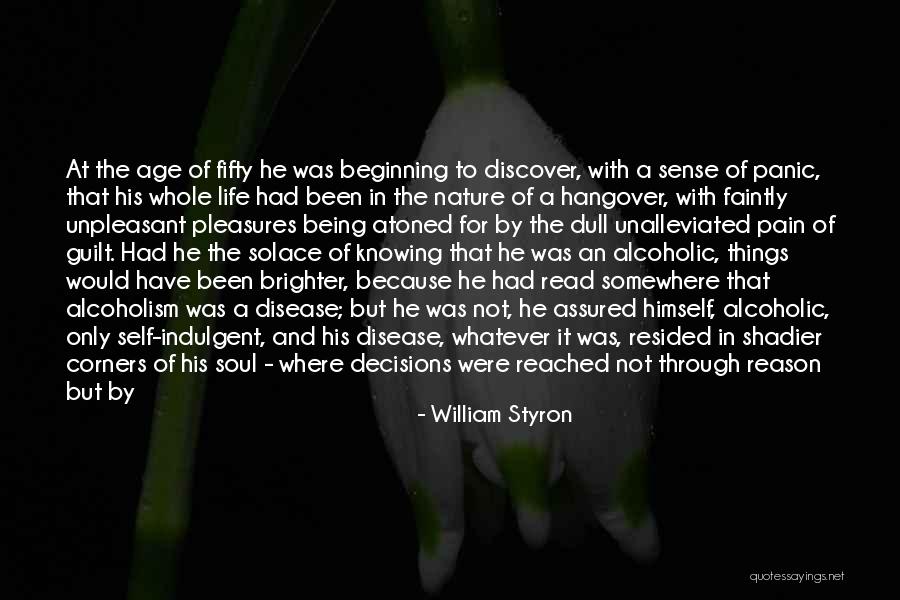 At the age of fifty he was beginning to discover, with a sense of panic, that his whole life had been in the nature of a hangover, with faintly unpleasant pleasures being atoned for by the dull unalleviated pain of guilt. Had he the solace of knowing that he was an alcoholic, things would have been brighter, because he had read somewhere that alcoholism was a disease; but he was not, he assured himself, alcoholic, only self-indulgent, and his disease, whatever it was, resided in shadier corners of his soul - where decisions were reached not through reason but by rationalization, and where a thin membranous growth of selfishness always seemed to prevent his decent motives from becoming happy actions. — William Styron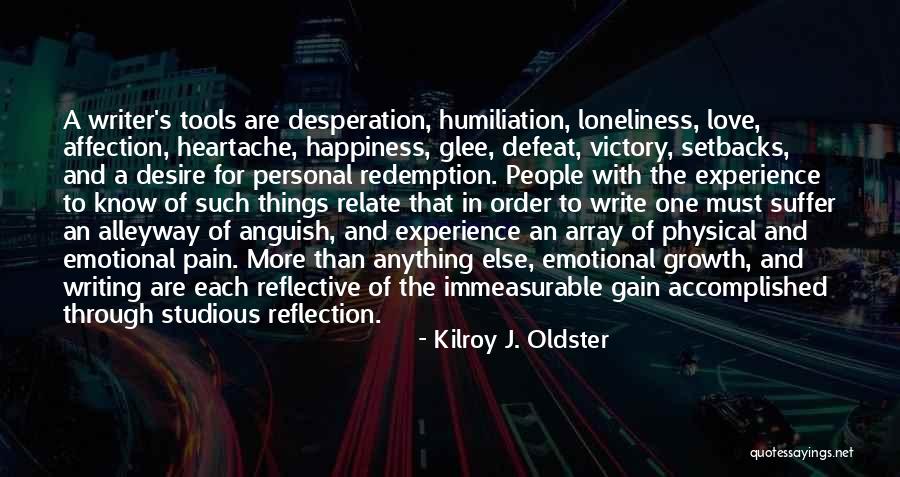 A writer's tools are desperation, humiliation, loneliness, love, affection, heartache, happiness, glee, defeat, victory, setbacks, and a desire for personal redemption. People with the experience to know of such things relate that in order to write one must suffer an alleyway of anguish, and experience an array of physical and emotional pain. More than anything else, emotional growth, and writing are each reflective of the immeasurable gain accomplished through studious reflection. — Kilroy J. Oldster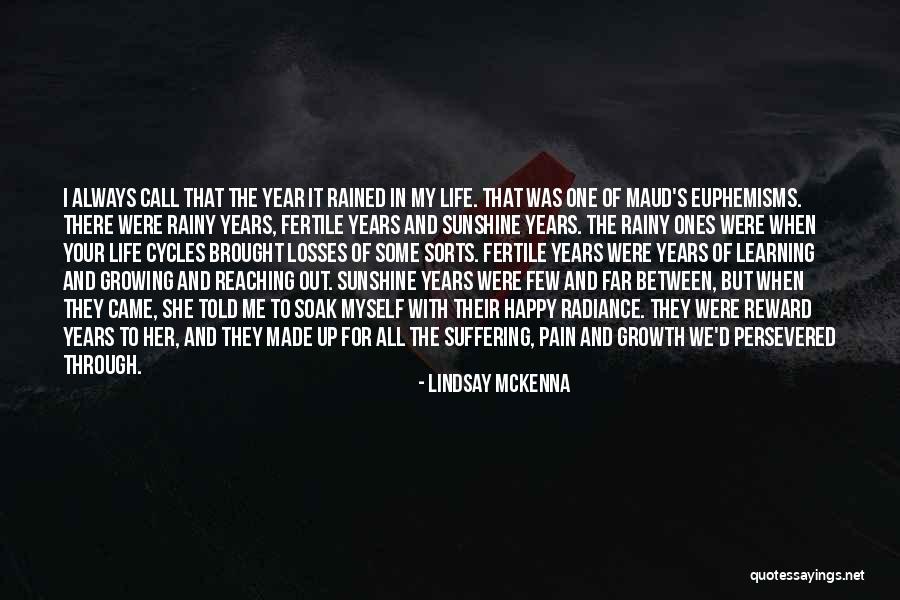 I always call that the year it rained in my life. That was one of Maud's euphemisms. There were rainy years, fertile years and sunshine years. The rainy ones were when your life cycles brought losses of some sorts. Fertile years were years of learning and growing and reaching out. Sunshine years were few and far between, but when they came, she told me to soak myself with their happy radiance. They were reward years to her, and they made up for all the suffering, pain and growth we'd persevered through. — Lindsay McKenna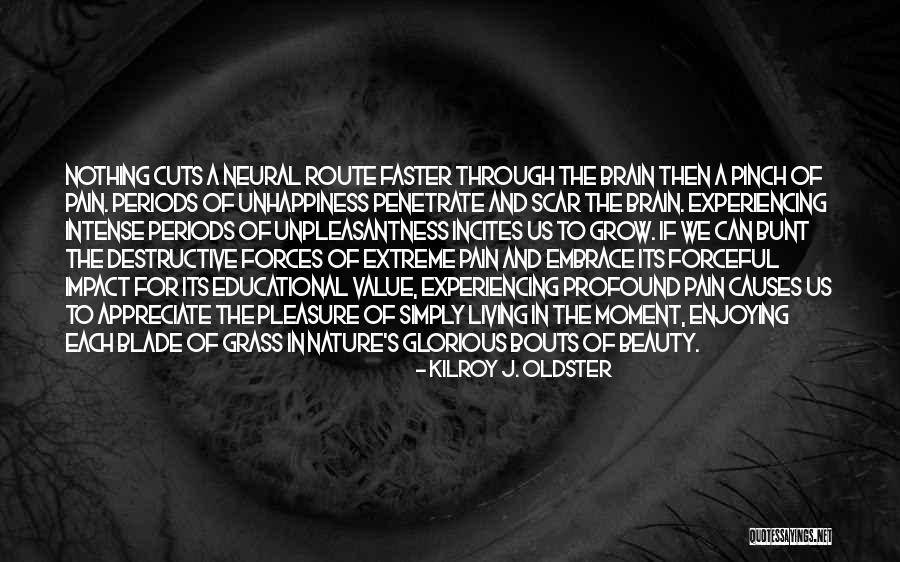 Nothing cuts a neural route faster through the brain then a pinch of pain. Periods of unhappiness penetrate and scar the brain. Experiencing intense periods of unpleasantness incites us to grow. If we can bunt the destructive forces of extreme pain and embrace its forceful impact for its educational value, experiencing profound pain causes us to appreciate the pleasure of simply living in the moment, enjoying each blade of grass in nature's glorious bouts of beauty. — Kilroy J. Oldster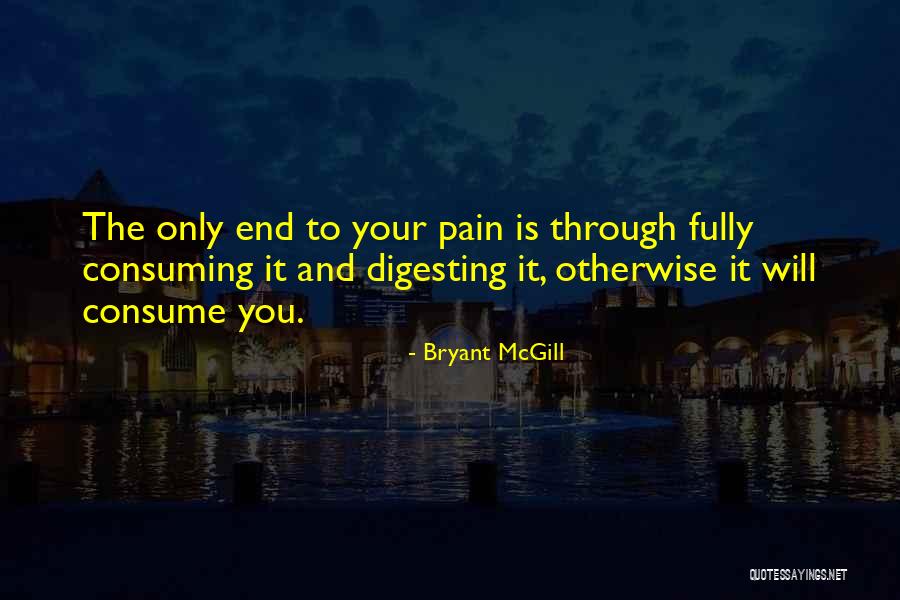 The only end to your pain is through fully consuming it and digesting it, otherwise it will consume you. — Bryant McGill
You know, through pain, you learn a lot about yourself
things you thought you never knew you wanted to learn. And it's kind of like those animals that regrow a part of their body
like a starfish. You might not feel it. You might not even want to grow, but you will. You'll grow that part that broke off, and that growing, that blooming
cannot happen without the pain. — Kelle Hampton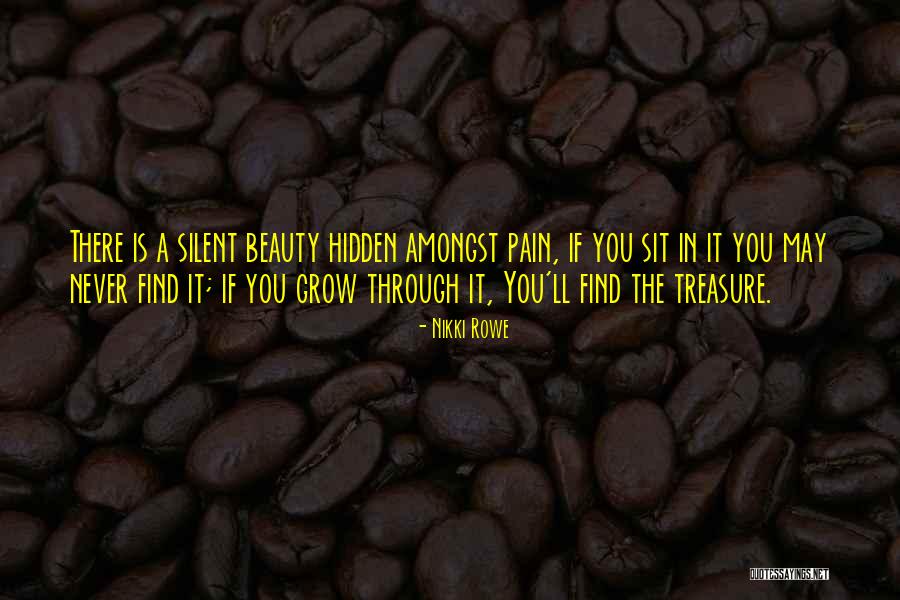 There is a silent beauty hidden amongst pain, if you sit in it you may never find it; if you grow through it, You'll find the treasure. — Nikki Rowe