Groucho Quotes & Sayings
Enjoy reading and share 100 famous quotes about Groucho with everyone.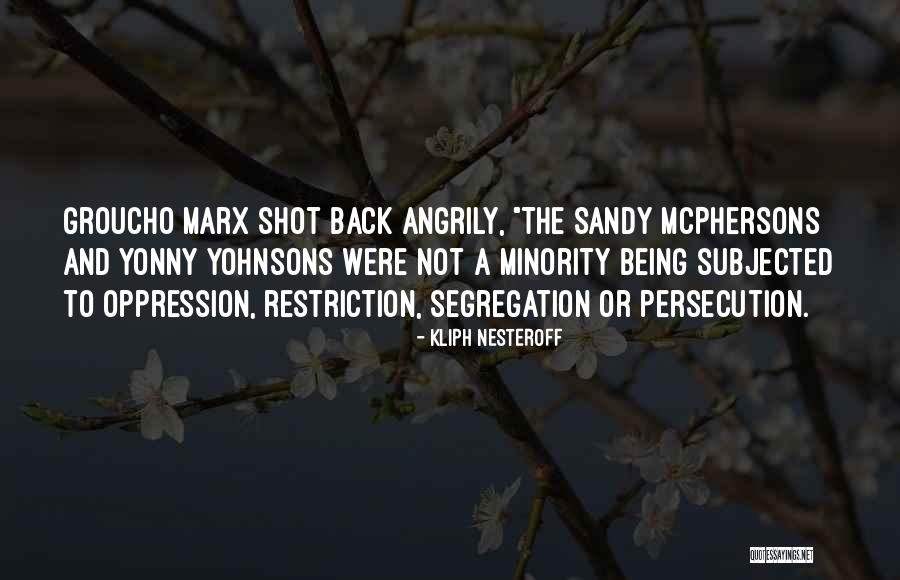 Groucho Marx shot back angrily, "The Sandy McPhersons and Yonny Yohnsons were not a minority being subjected to oppression, restriction, segregation or persecution. — Kliph Nesteroff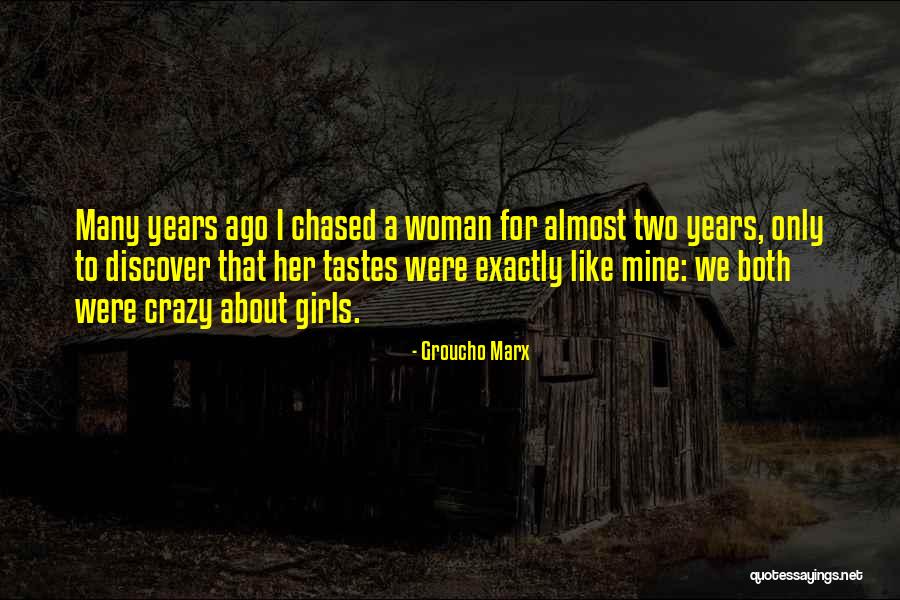 Many years ago I chased a woman for almost two years, only to discover that her tastes were exactly like mine: we both were crazy about girls. — Groucho Marx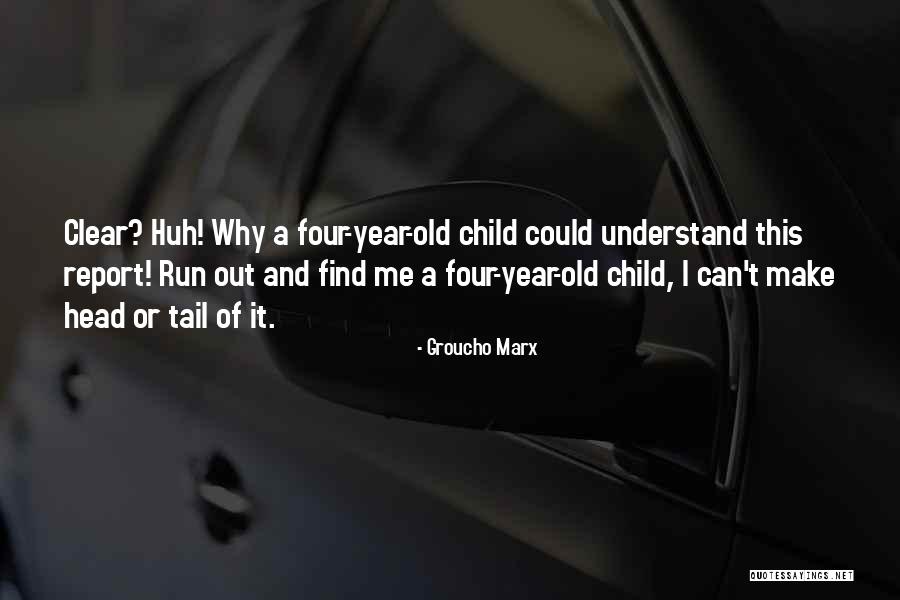 Clear? Huh! Why a four-year-old child could understand this report! Run out and find me a four-year-old child, I can't make head or tail of it. — Groucho Marx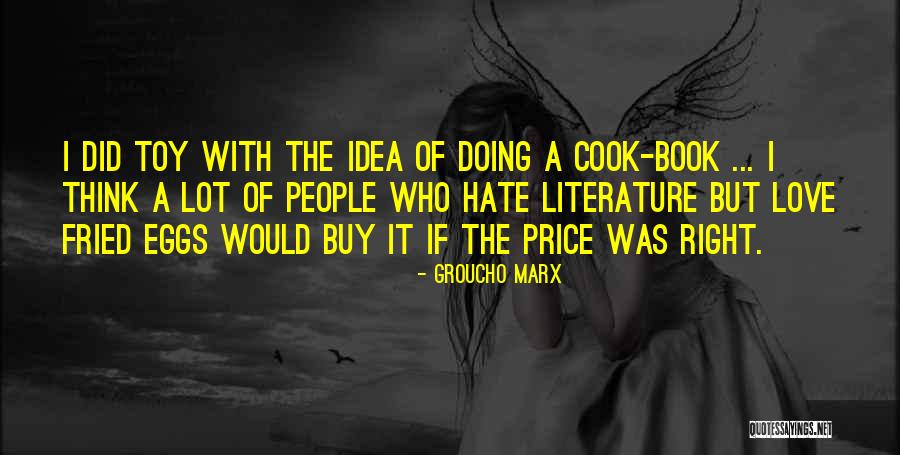 I did toy with the idea of doing a cook-book ... I think a lot of people who hate literature but love fried eggs would buy it if the price was right. — Groucho Marx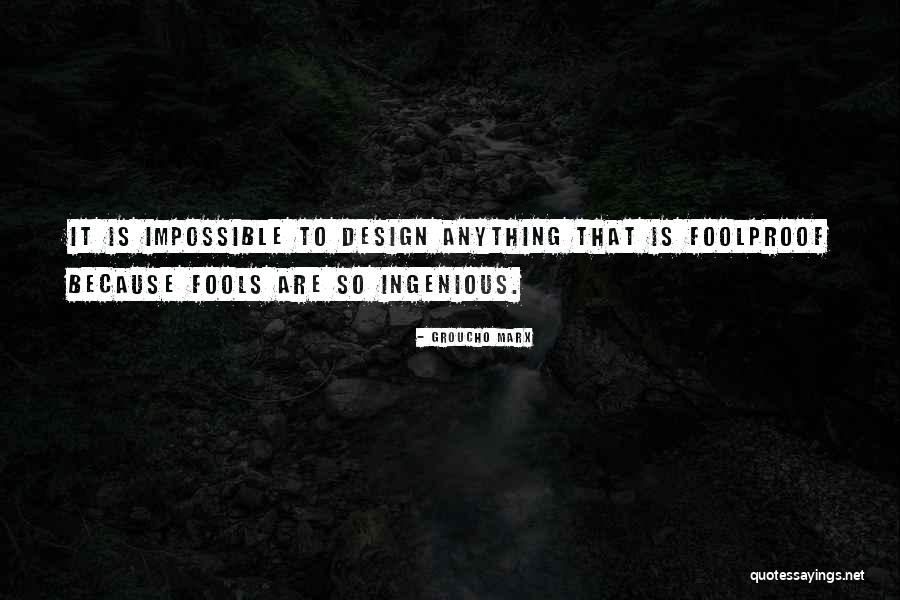 It is impossible to design anything that is foolproof because fools are so ingenious. — Groucho Marx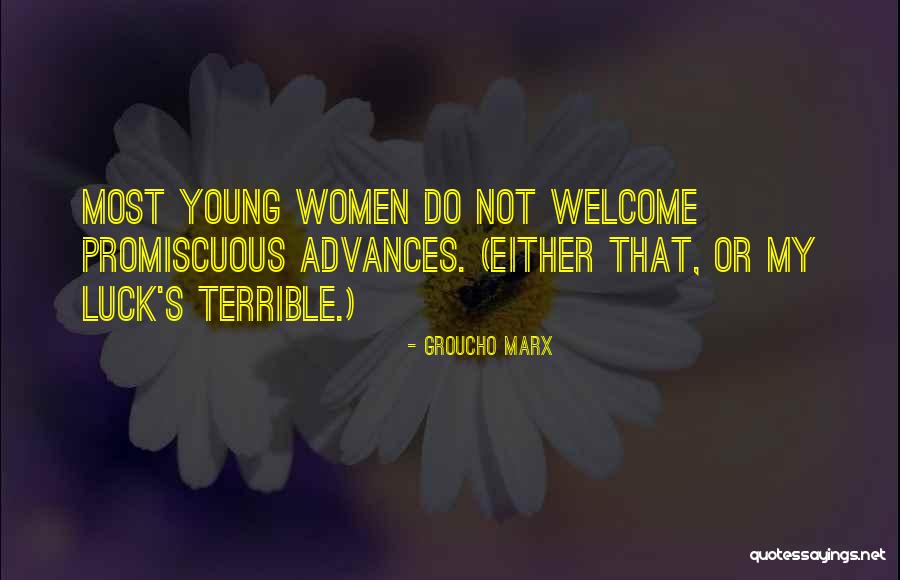 Most young women do not welcome promiscuous advances. (Either that, or my luck's terrible.) — Groucho Marx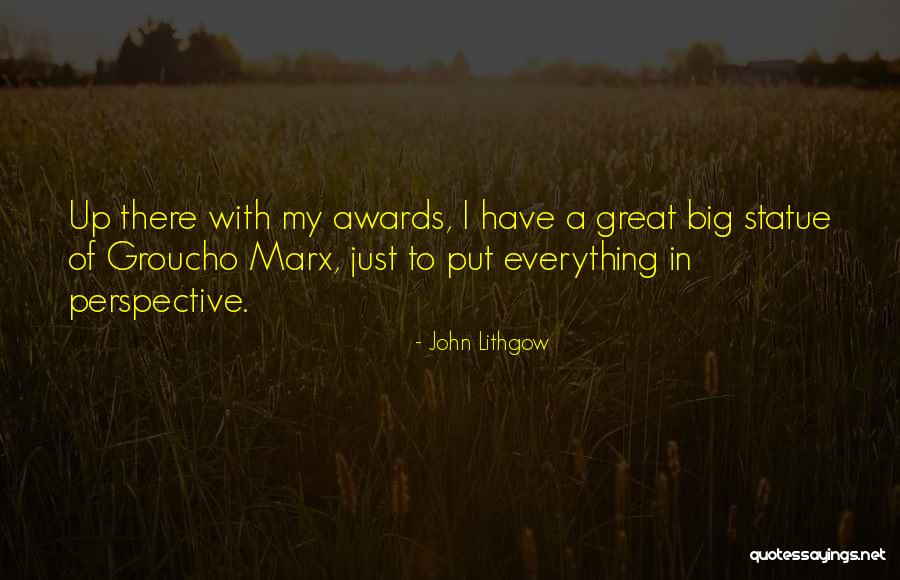 Up there with my awards, I have a great big statue of Groucho Marx, just to put everything in perspective. — John Lithgow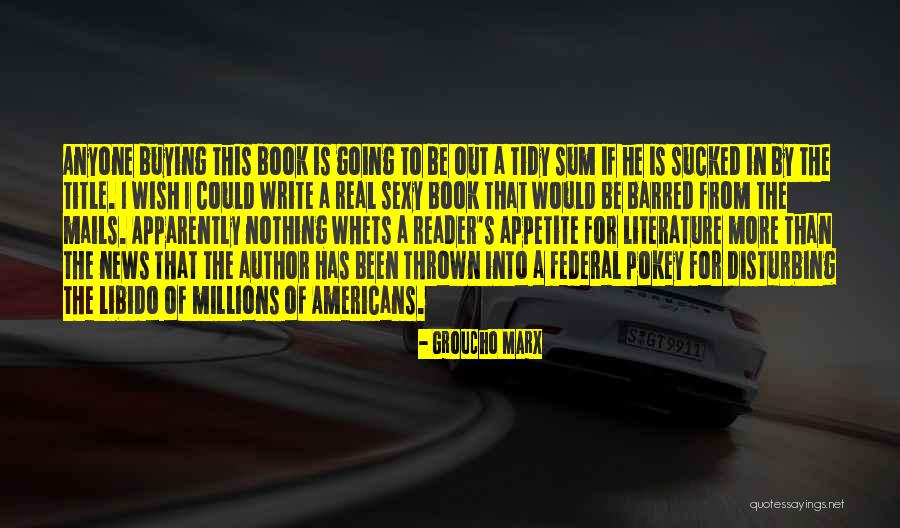 Anyone buying this book is going to be out a tidy sum if he is sucked in by the title. I wish I could write a real sexy book that would be barred from the mails. Apparently nothing whets a reader's appetite for literature more than the news that the author has been thrown into a federal pokey for disturbing the libido of millions of Americans. — Groucho Marx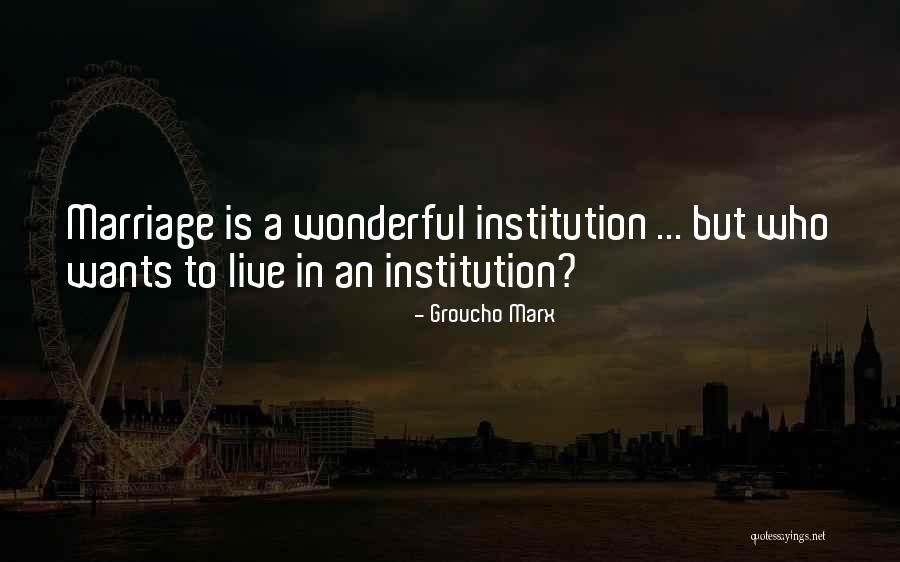 Marriage is a wonderful institution ... but who wants to live in an institution? — Groucho Marx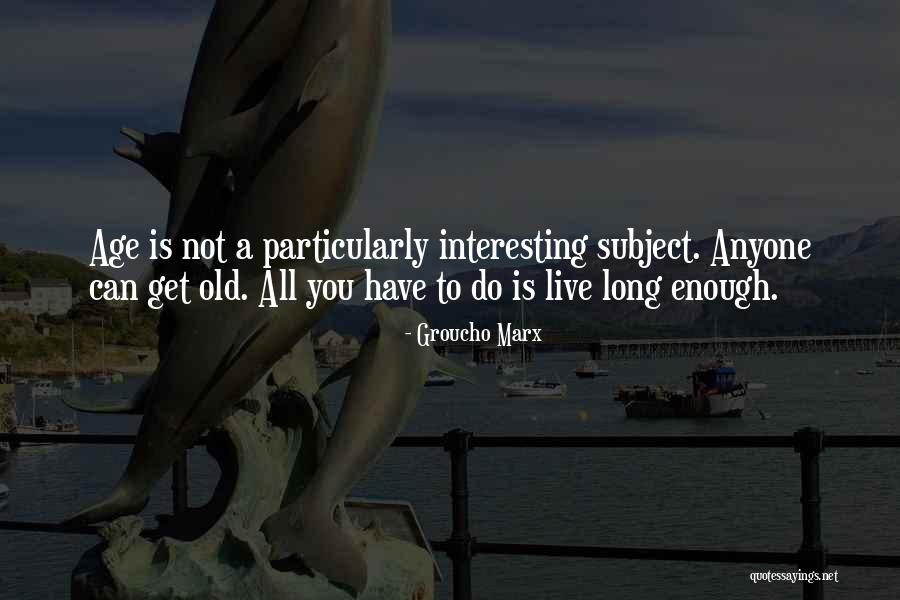 Age is not a particularly interesting subject. Anyone can get old. All you have to do is live long enough. — Groucho Marx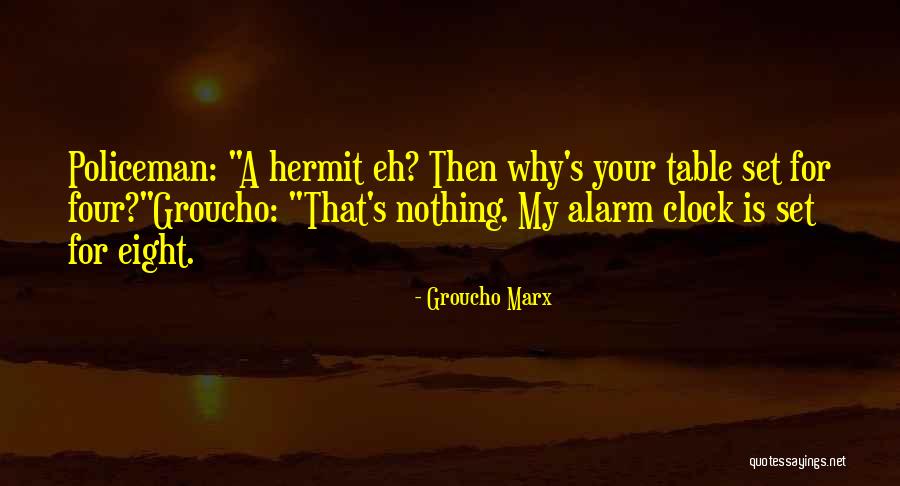 Policeman: "A hermit eh? Then why's your table set for four?"
Groucho: "That's nothing. My alarm clock is set for eight. — Groucho Marx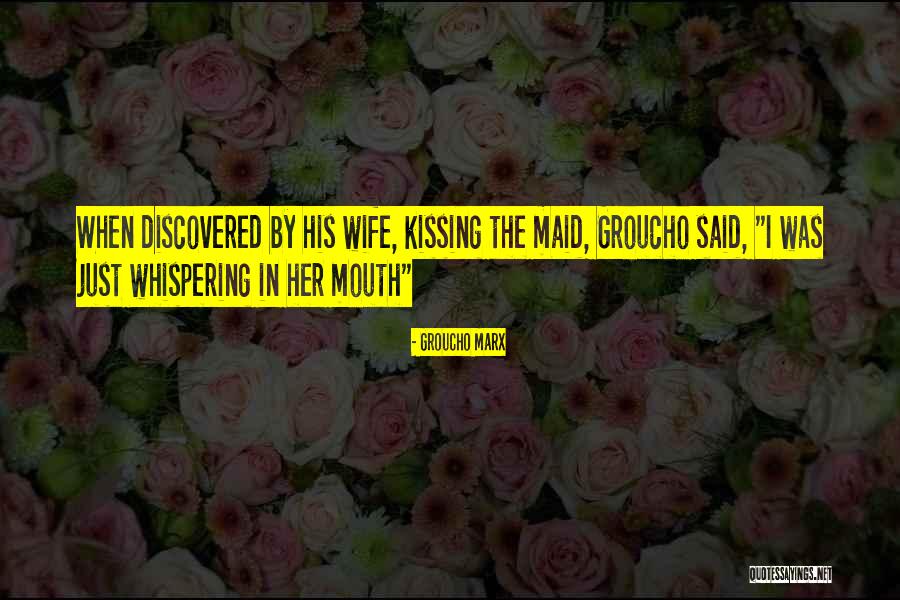 When discovered by his wife, kissing the maid, Groucho said, "I was just whispering in her mouth" — Groucho Marx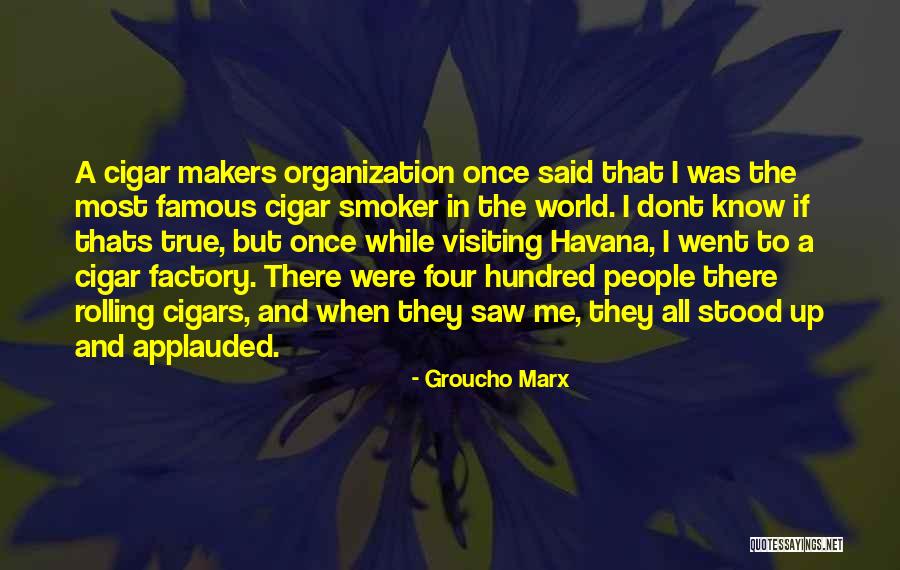 A cigar makers organization once said that I was the most famous cigar smoker in the world. I dont know if thats true, but once while visiting Havana, I went to a cigar factory. There were four hundred people there rolling cigars, and when they saw me, they all stood up and applauded. — Groucho Marx
I am a man and you are a woman. I can't think of a better arrangement. — Groucho Marx
Groucho Marx continued to alternately call Margaret Dumont "a great lady" and to denigrate her in interviews. But he seemed, at the end, to realize how important she'd been to his career. When accepting his 1974 Lifetime Achievement Oscar, the ailing Groucho told the audience, "I only wish Harpo and Chico could have been here - and Margaret Dumont. — Eve Golden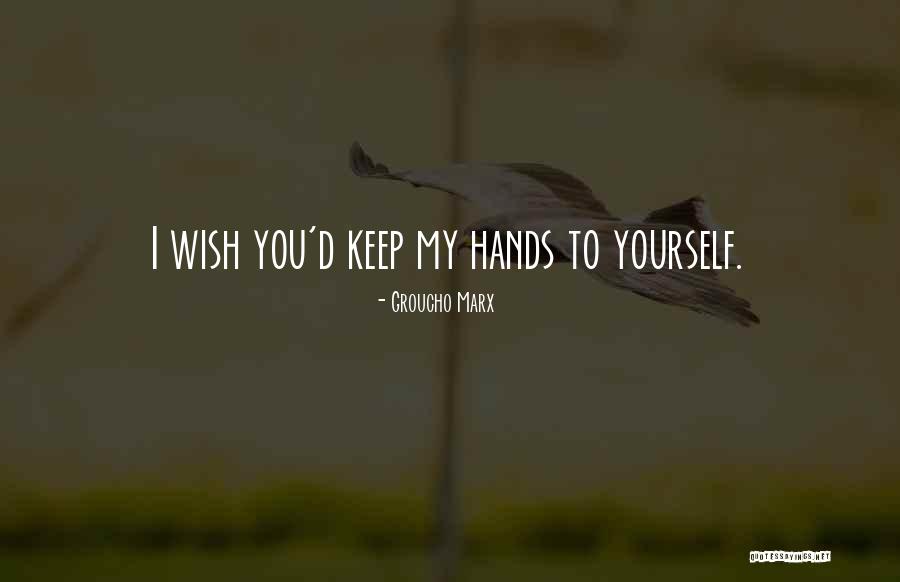 I wish you'd keep my hands to yourself. — Groucho Marx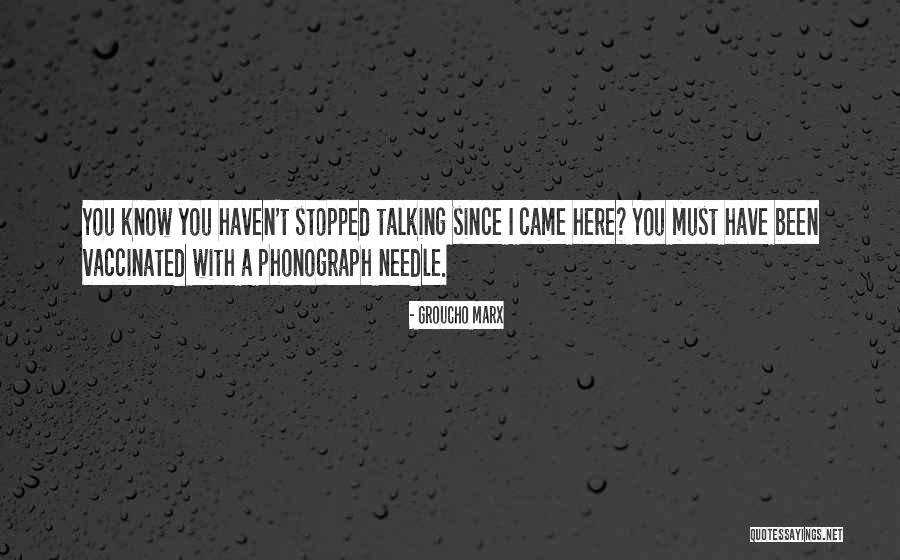 You know you haven't stopped talking since I came here? You must have been vaccinated with a phonograph needle. — Groucho Marx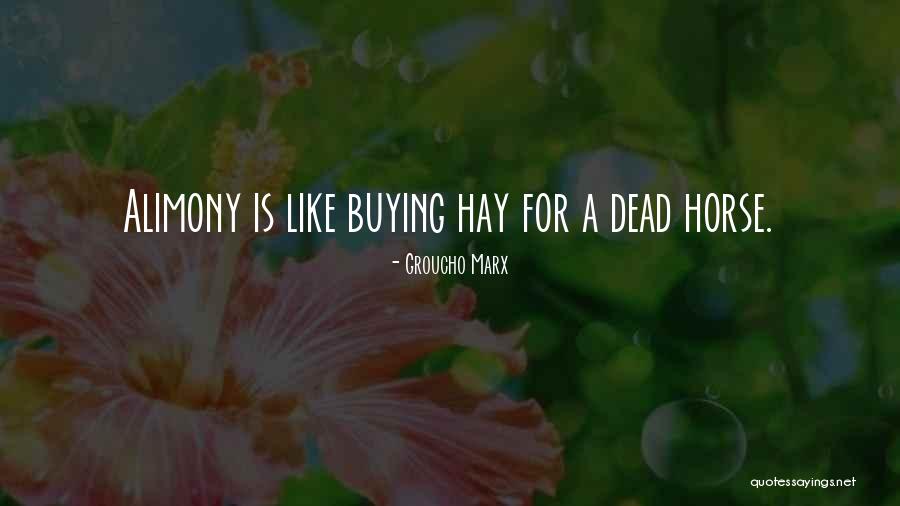 Alimony is like buying hay for a dead horse. — Groucho Marx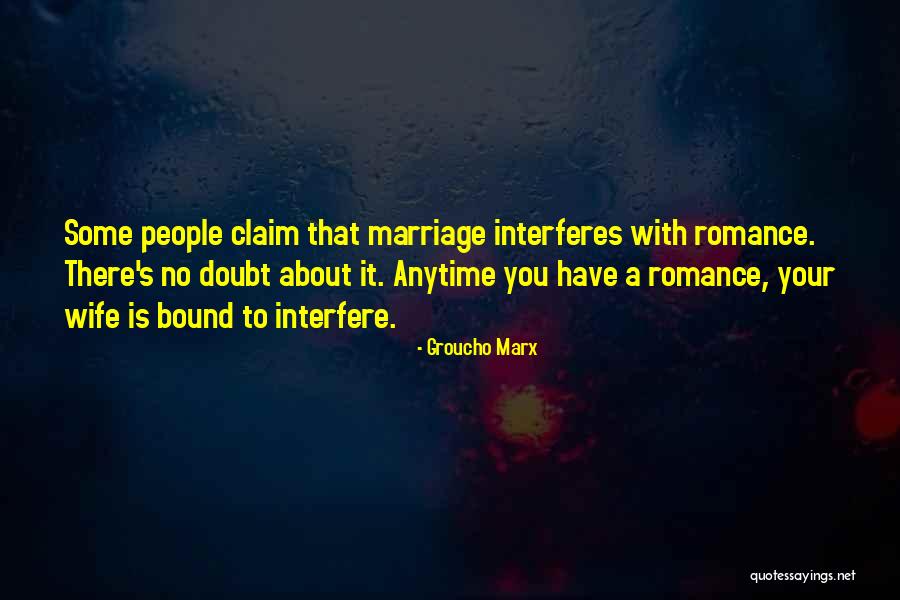 Some people claim that marriage interferes with romance. There's no doubt about it. Anytime you have a romance, your wife is bound to interfere. — Groucho Marx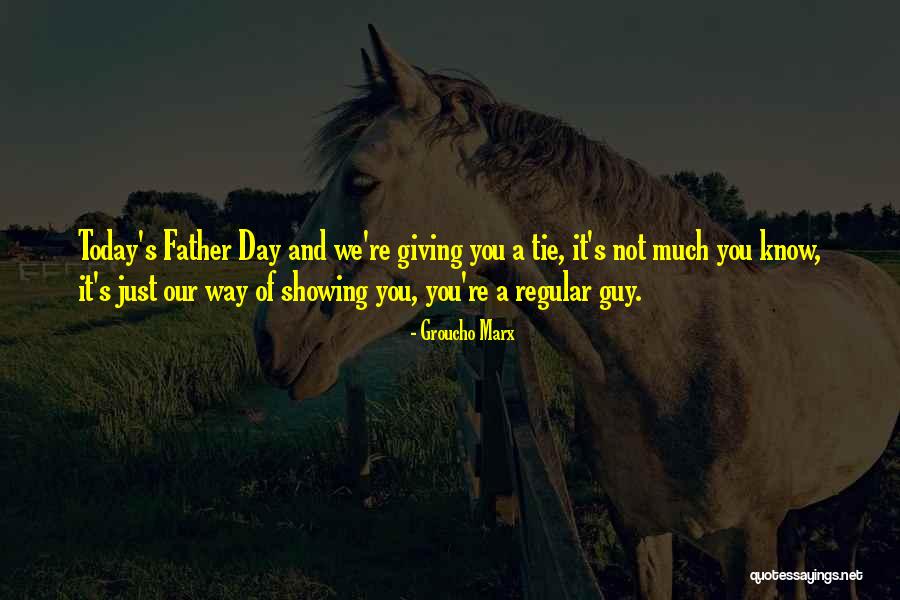 Today's Father Day and we're giving you a tie, it's not much you know, it's just our way of showing you, you're a regular guy. — Groucho Marx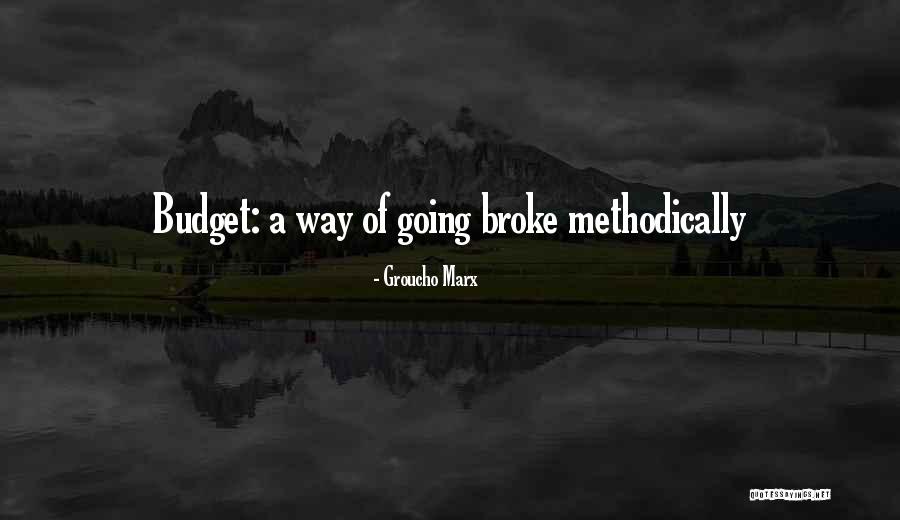 Budget: a way of going broke methodically — Groucho Marx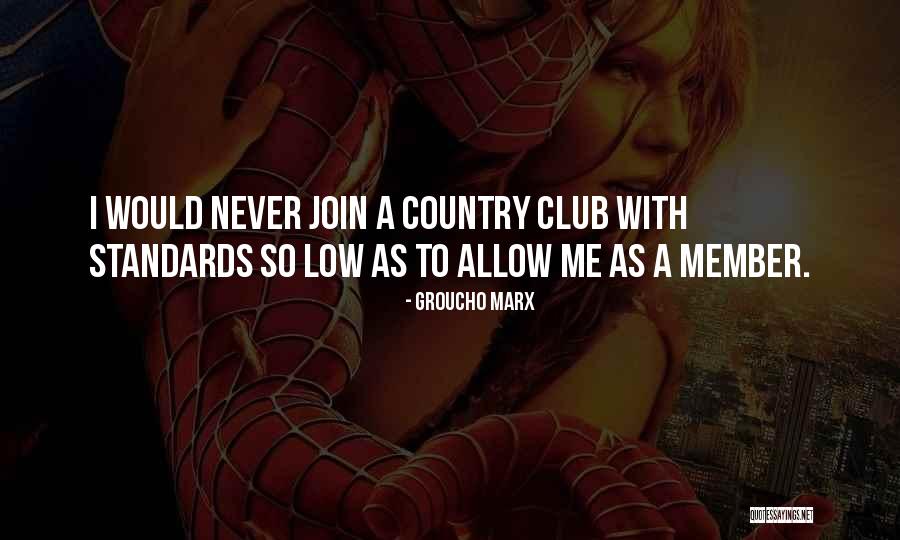 I would never join a country club with standards so low as to allow me as a member. — Groucho Marx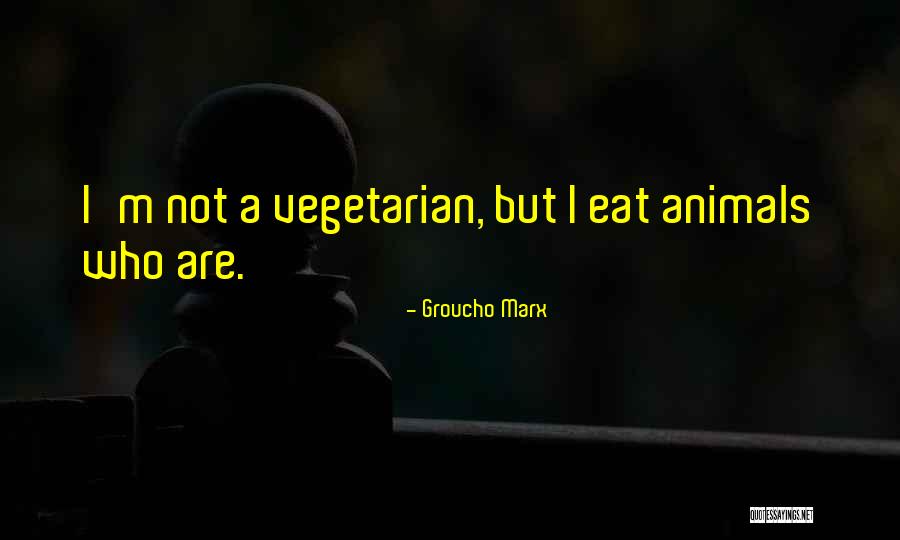 I'm not a vegetarian, but I eat animals who are. — Groucho Marx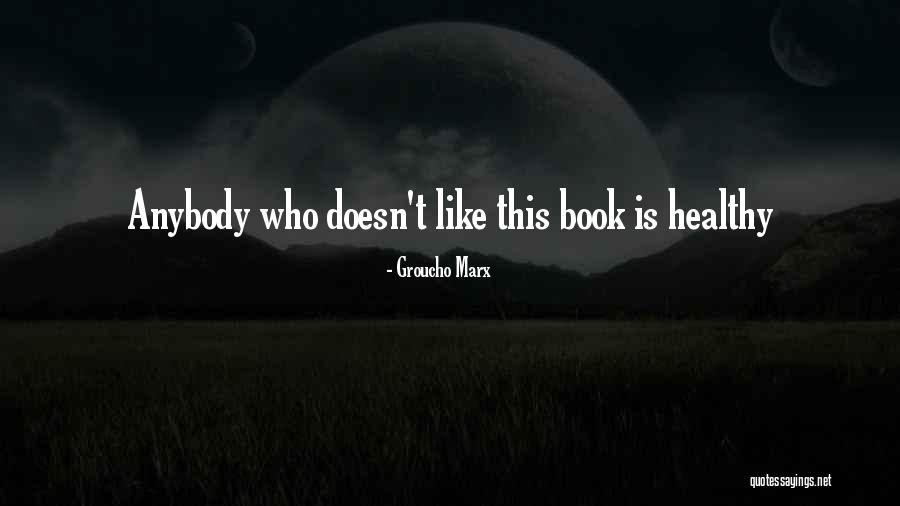 Anybody who doesn't like this book is healthy — Groucho Marx
I always preferred Harpo to Groucho Marx. — Lee Evans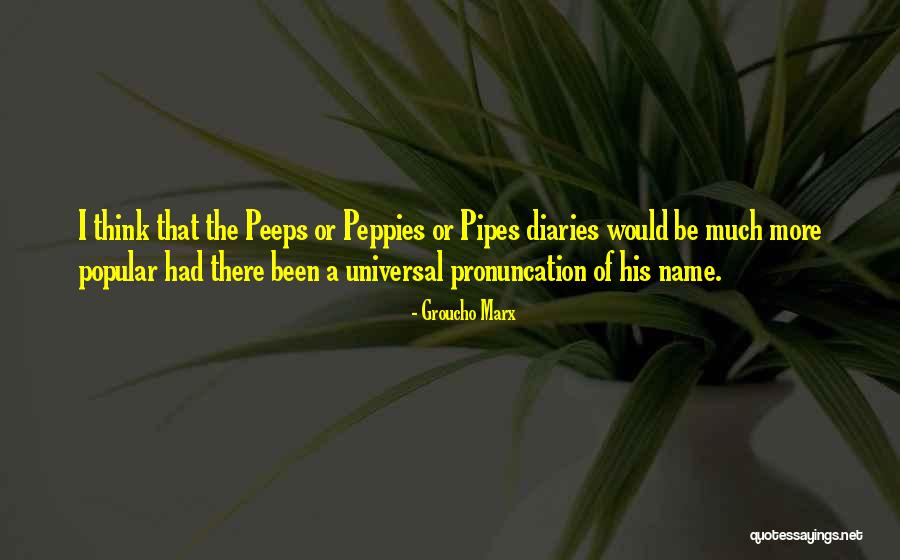 I think that the Peeps or Peppies or Pipes diaries would be much more popular had there been a universal pronuncation of his name. — Groucho Marx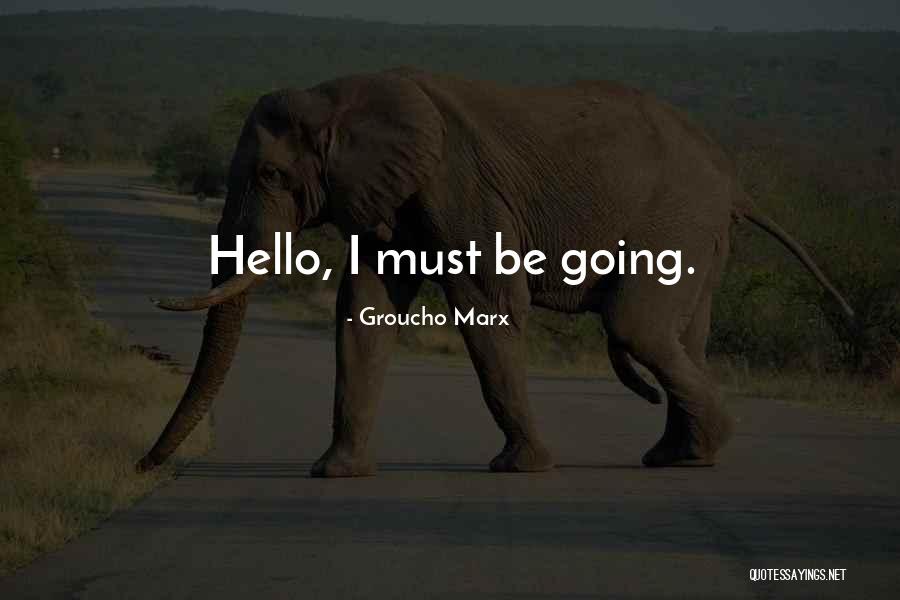 Hello, I must be going. — Groucho Marx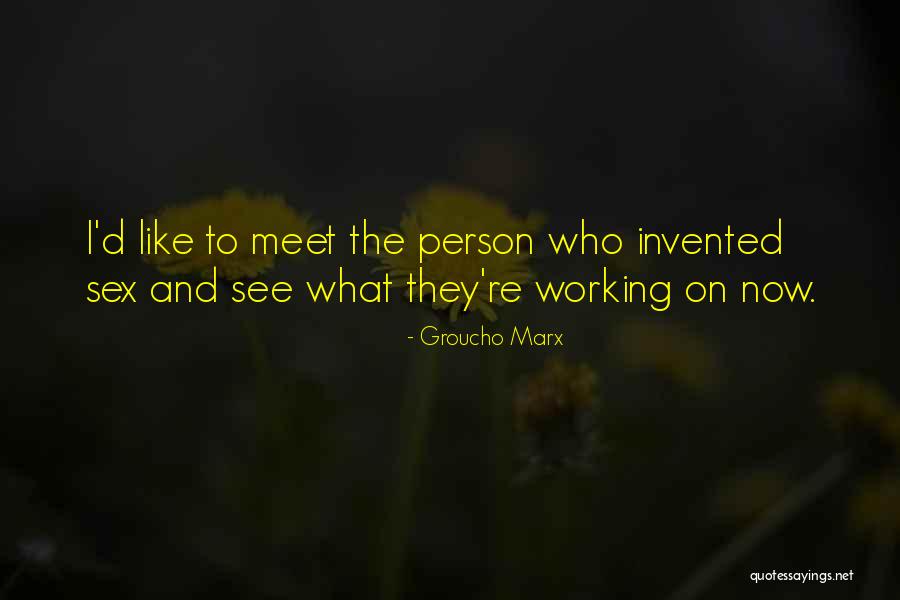 I'd like to meet the person who invented sex and see what they're working on now. — Groucho Marx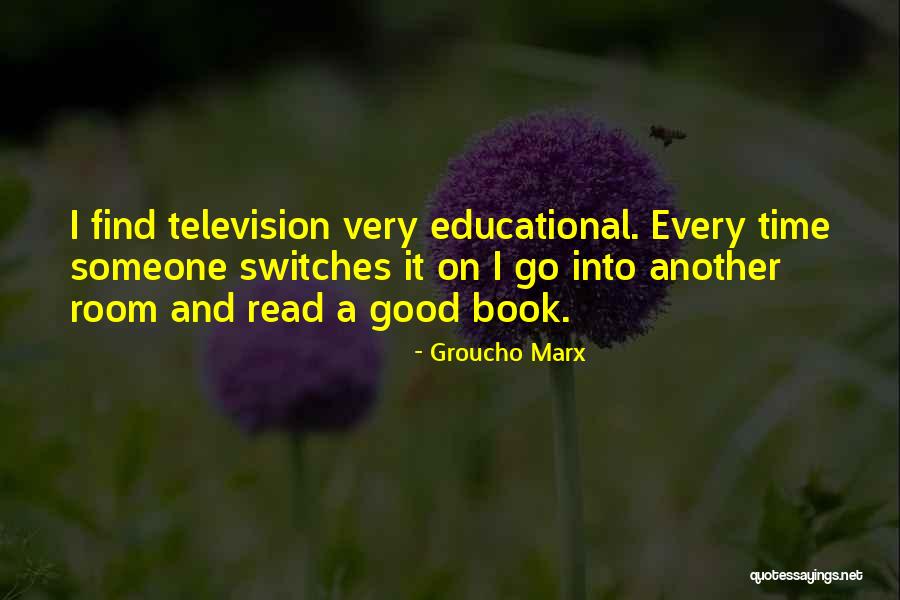 I find television very educational. Every time someone switches it on I go into another room and read a good book. — Groucho Marx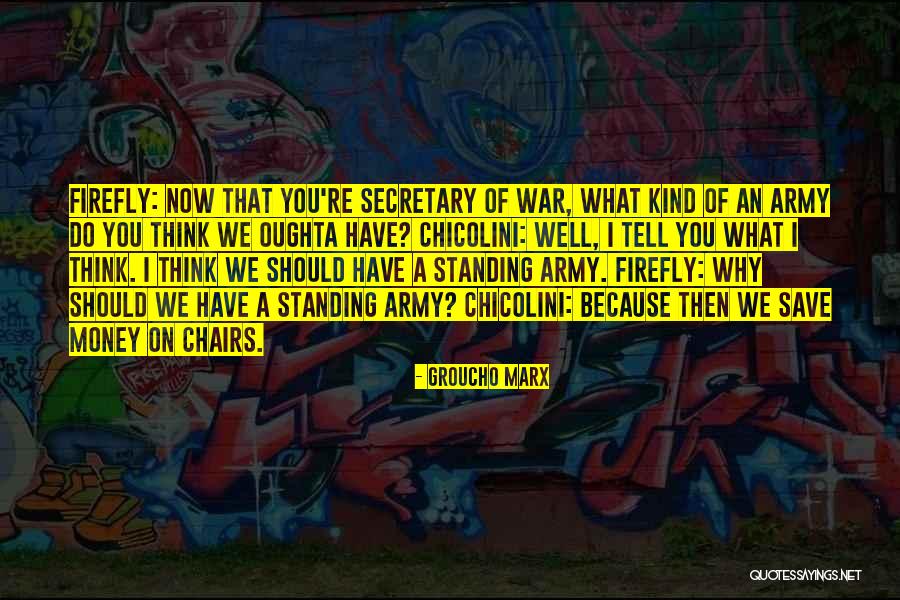 Firefly: Now that you're Secretary of War, what kind of an army do you think we oughta have? Chicolini: Well, I tell you what I think. I think we should have a standing army. Firefly: Why should we have a standing army? Chicolini: Because then we save money on chairs. — Groucho Marx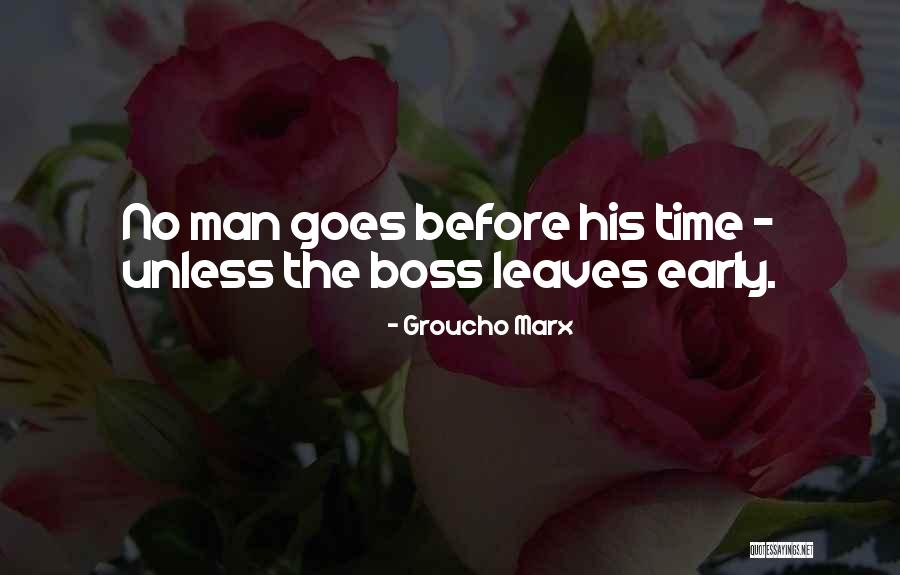 No man goes before his time - unless the boss leaves early. — Groucho Marx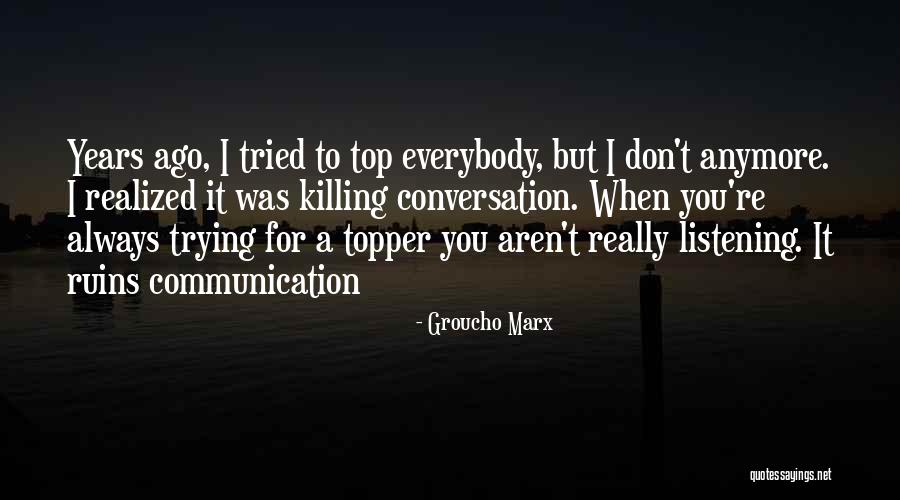 Years ago, I tried to top everybody, but I don't anymore. I realized it was killing conversation. When you're always trying for a topper you aren't really listening. It ruins communication — Groucho Marx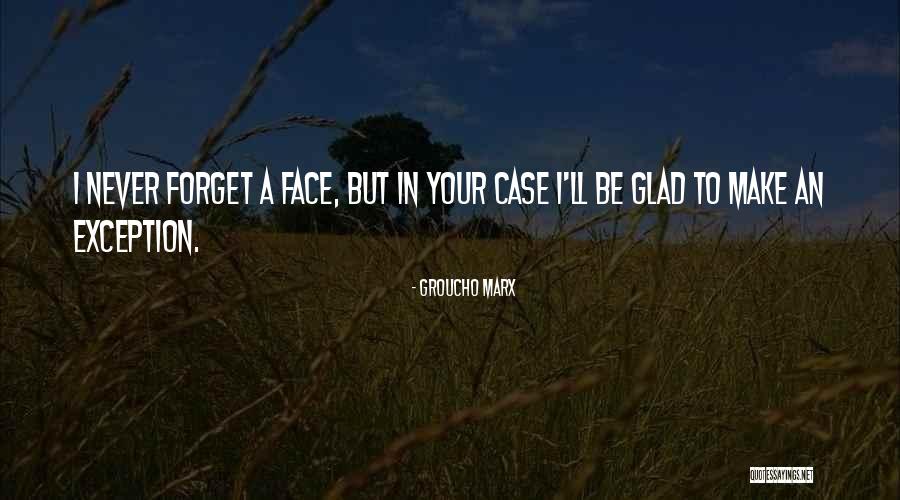 I never forget a face, but in your case I'll be glad to make an exception. — Groucho Marx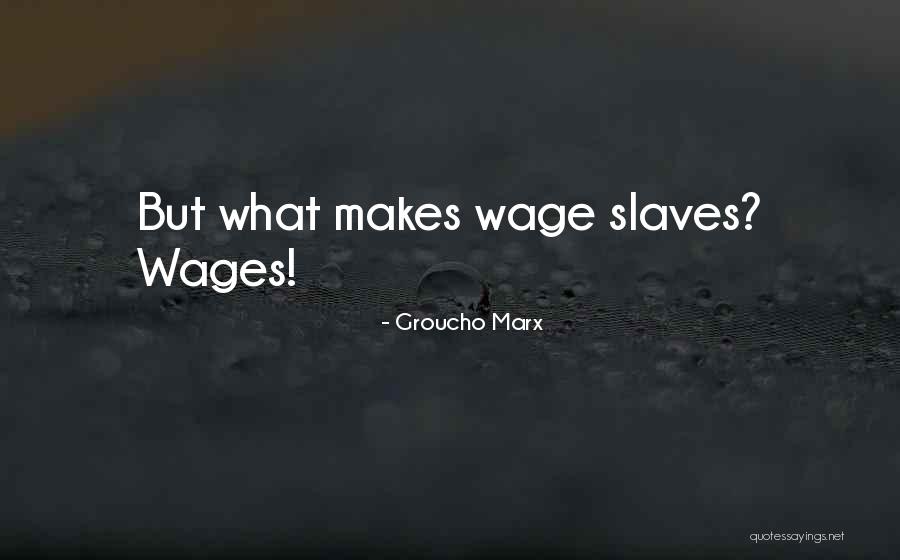 But what makes wage slaves? Wages! — Groucho Marx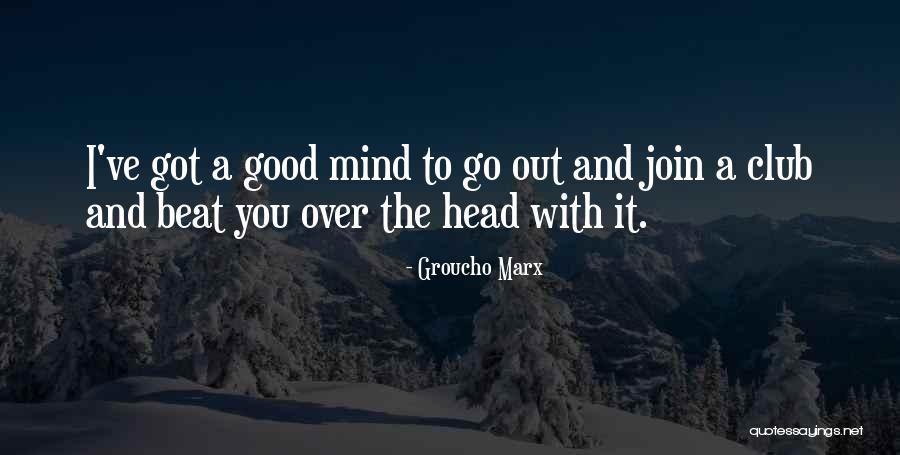 I've got a good mind to go out and join a club and beat you over the head with it. — Groucho Marx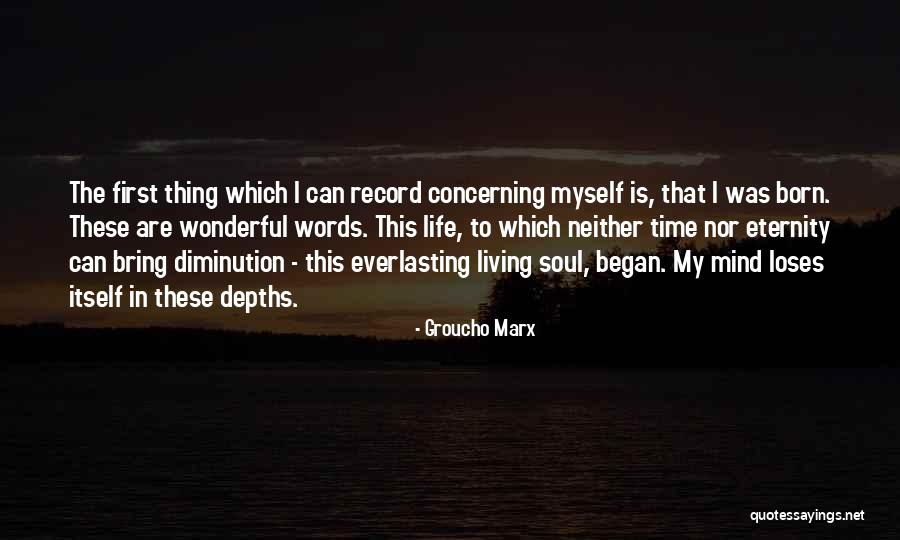 The first thing which I can record concerning myself is, that I was born. These are wonderful words. This life, to which neither time nor eternity can bring diminution - this everlasting living soul, began. My mind loses itself in these depths. — Groucho Marx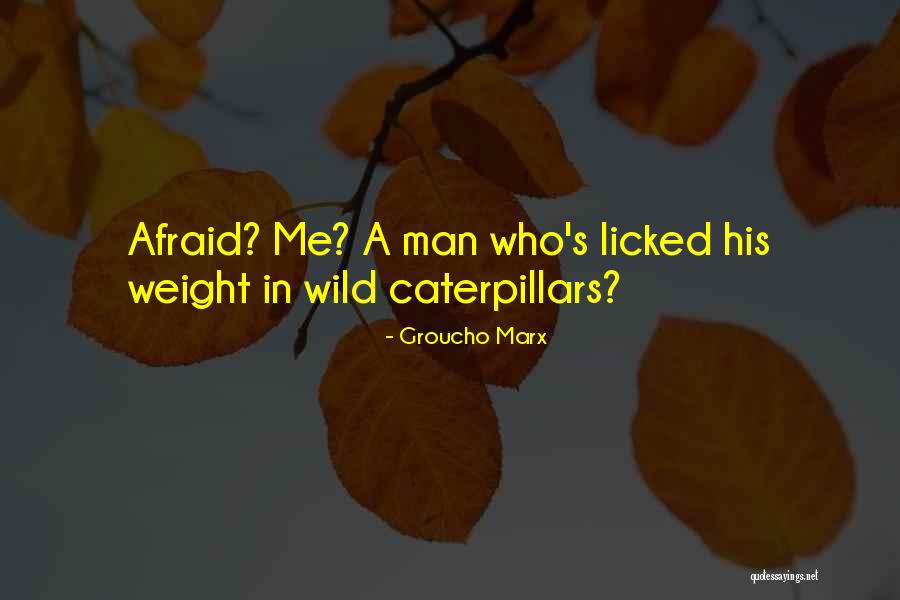 Afraid? Me? A man who's licked his weight in wild caterpillars? — Groucho Marx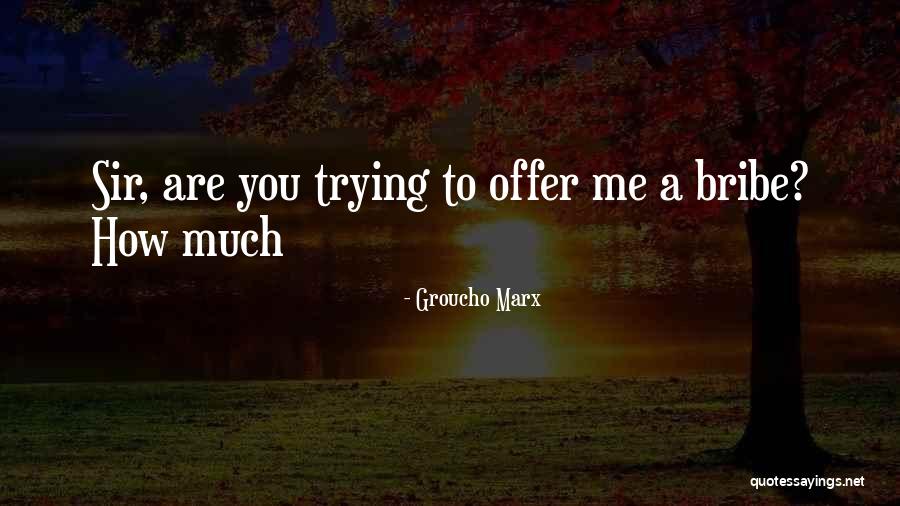 Sir, are you trying to offer me a bribe? How much — Groucho Marx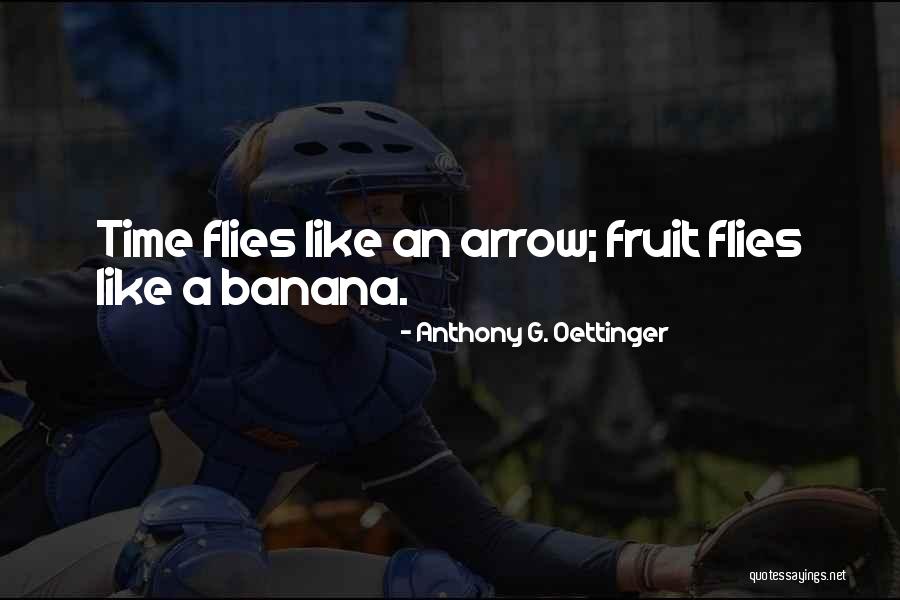 Time flies like an arrow; fruit flies like a banana. — Anthony G. Oettinger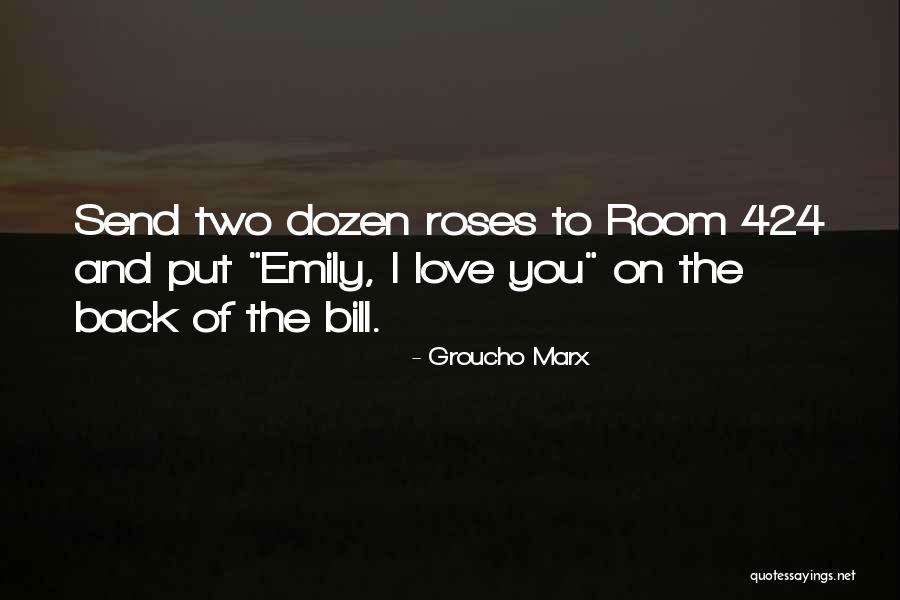 Send two dozen roses to Room 424 and put "Emily, I love you" on the back of the bill. — Groucho Marx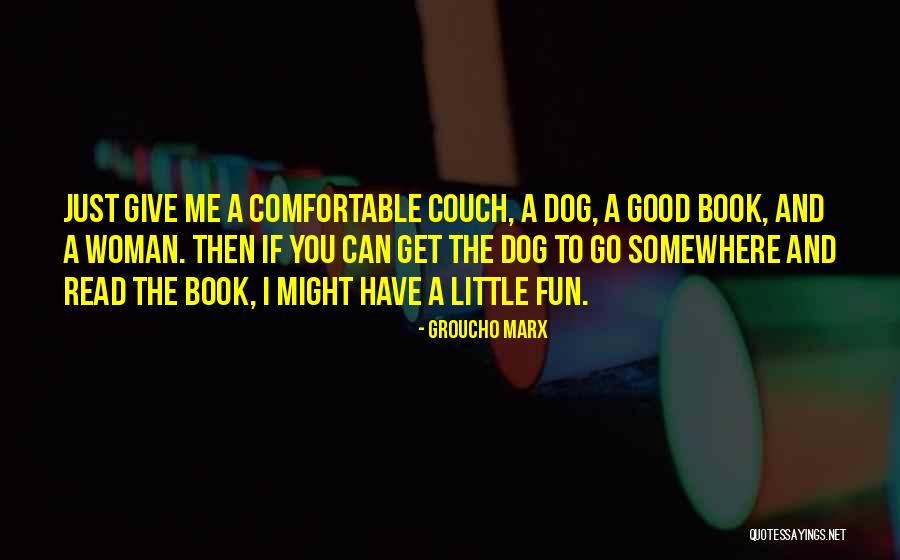 Just give me a comfortable couch, a dog, a good book, and a woman. Then if you can get the dog to go somewhere and read the book, I might have a little fun. — Groucho Marx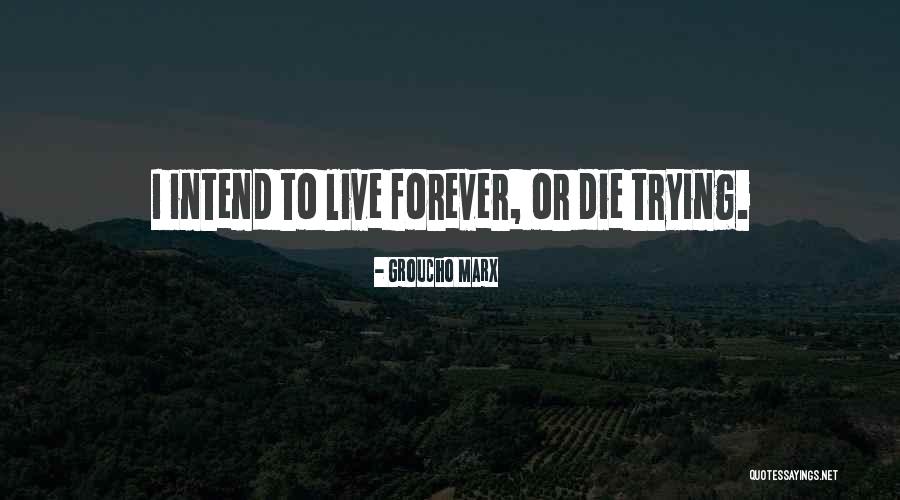 I intend to live forever, or die trying. — Groucho Marx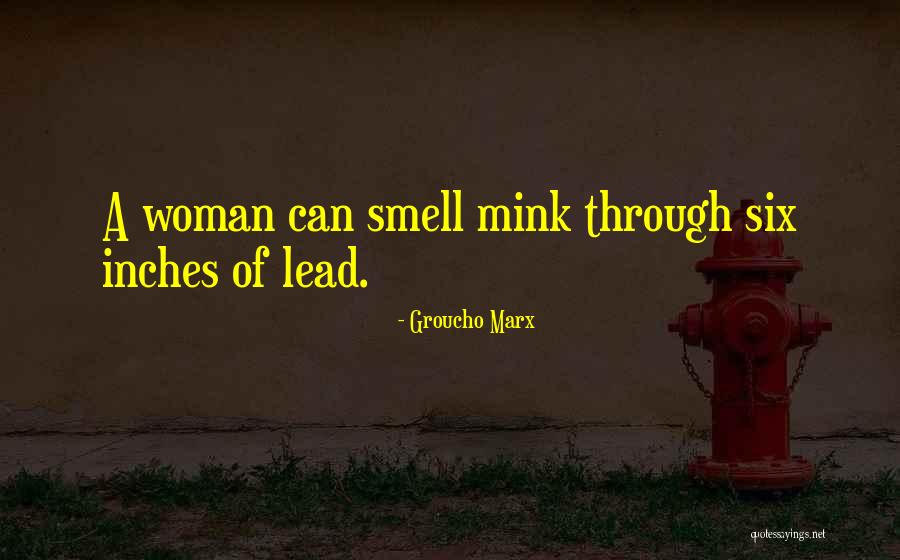 A woman can smell mink through six inches of lead. — Groucho Marx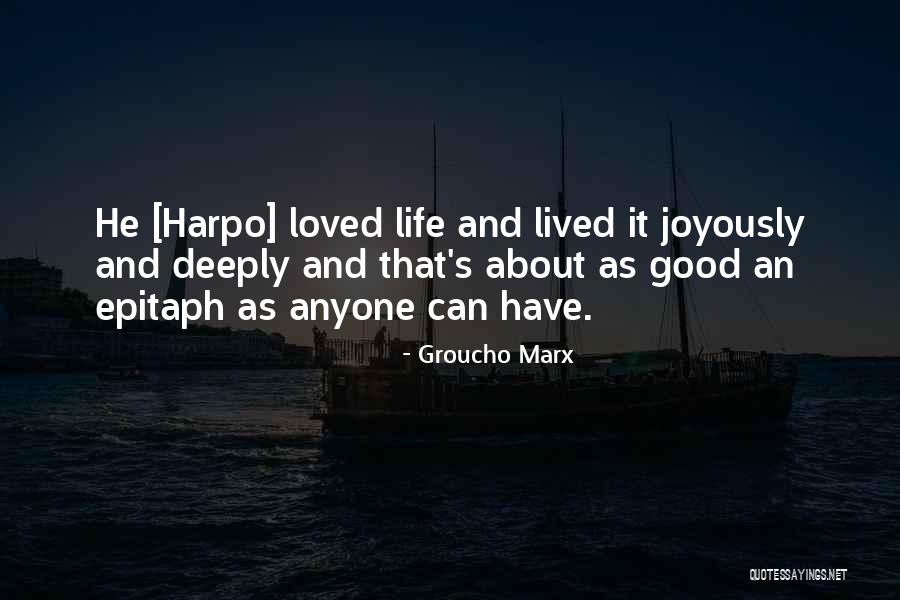 He [Harpo] loved life and lived it joyously and deeply and that's about as good an epitaph as anyone can have. — Groucho Marx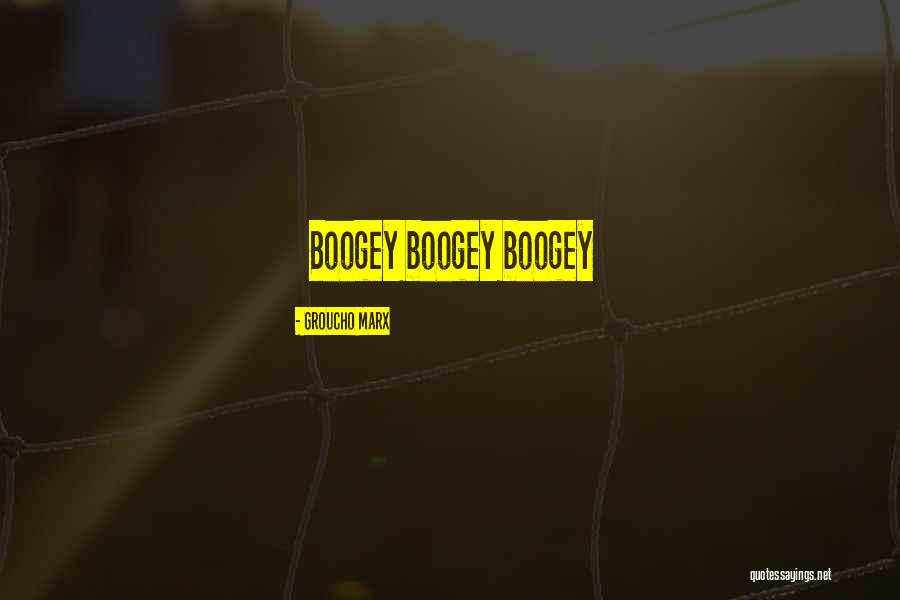 Boogey boogey boogey — Groucho Marx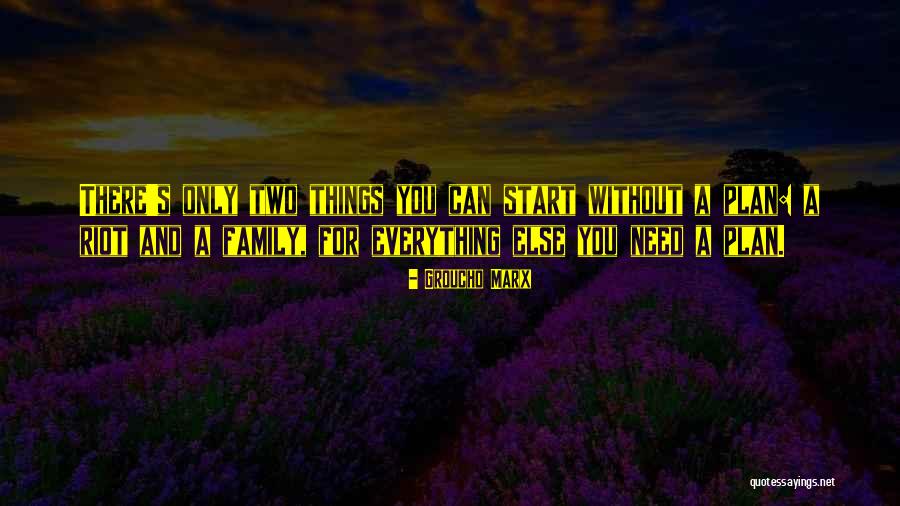 There's only two things you can start without a plan: a riot and a family, for everything else you need a plan. — Groucho Marx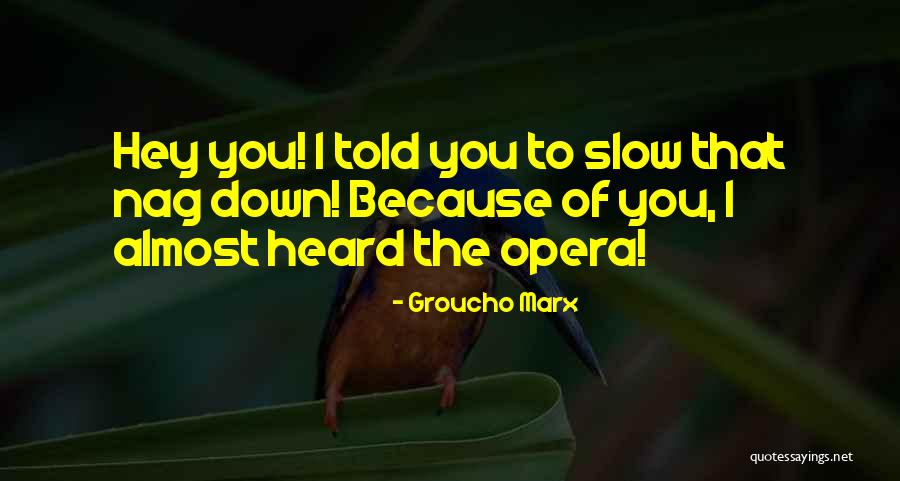 Hey you! I told you to slow that nag down! Because of you, I almost heard the opera! — Groucho Marx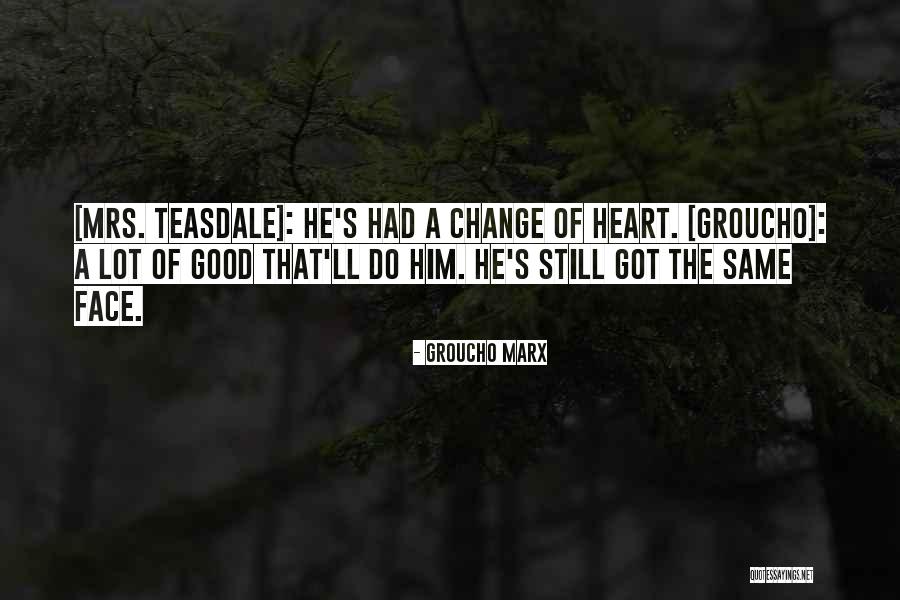 [Mrs. Teasdale]: He's had a change of heart. [Groucho]: A lot of good that'll do him. He's still got the same face. — Groucho Marx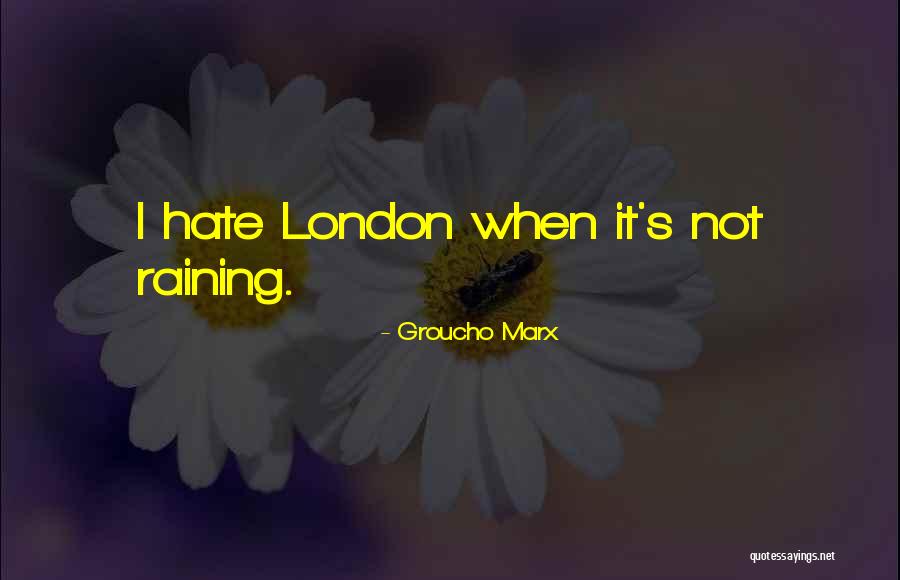 I hate London when it's not raining. — Groucho Marx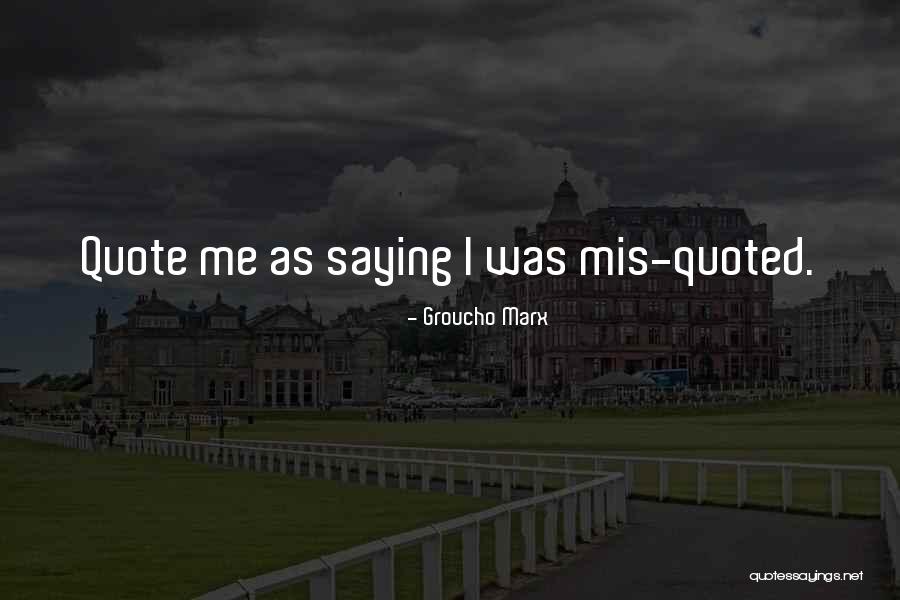 Quote me as saying I was mis-quoted. — Groucho Marx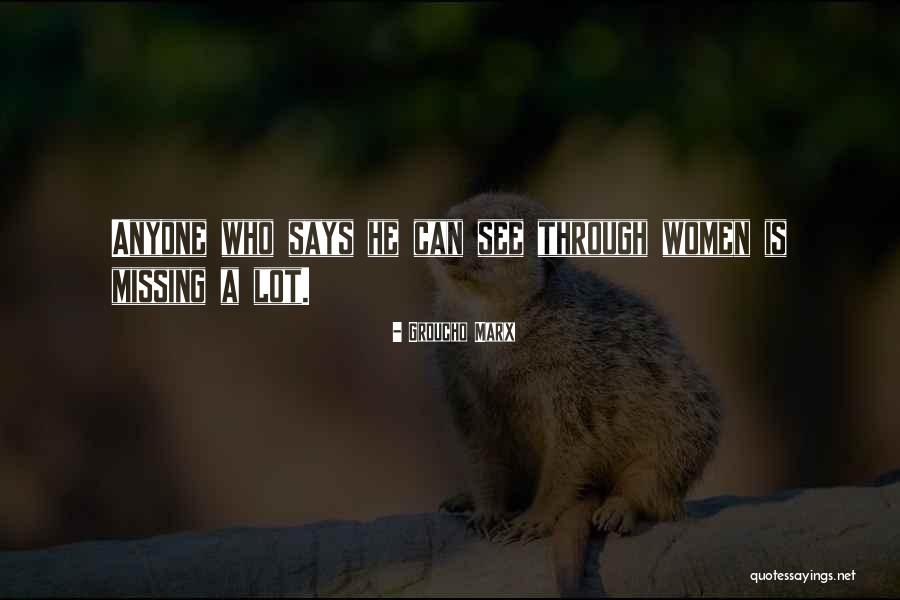 Anyone who says he can see through women is missing a lot. — Groucho Marx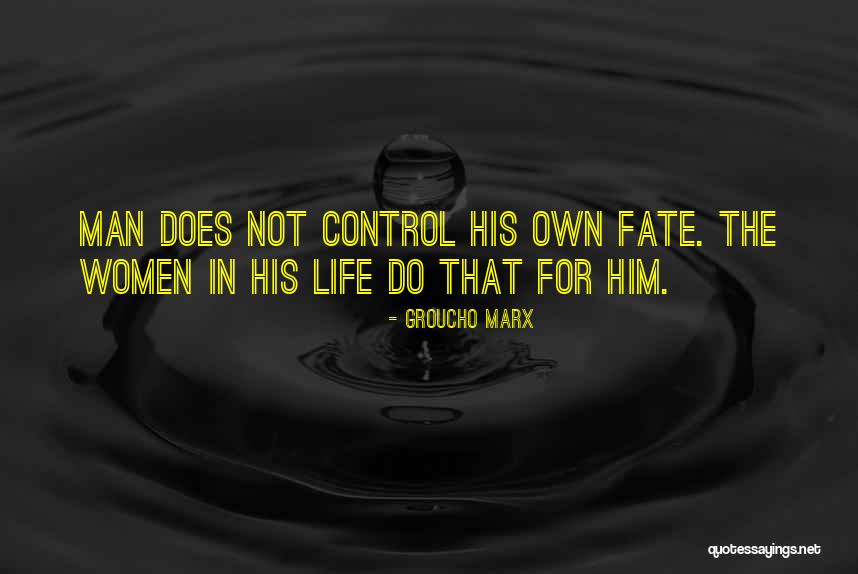 Man does not control his own fate. The women in his life do that for him. — Groucho Marx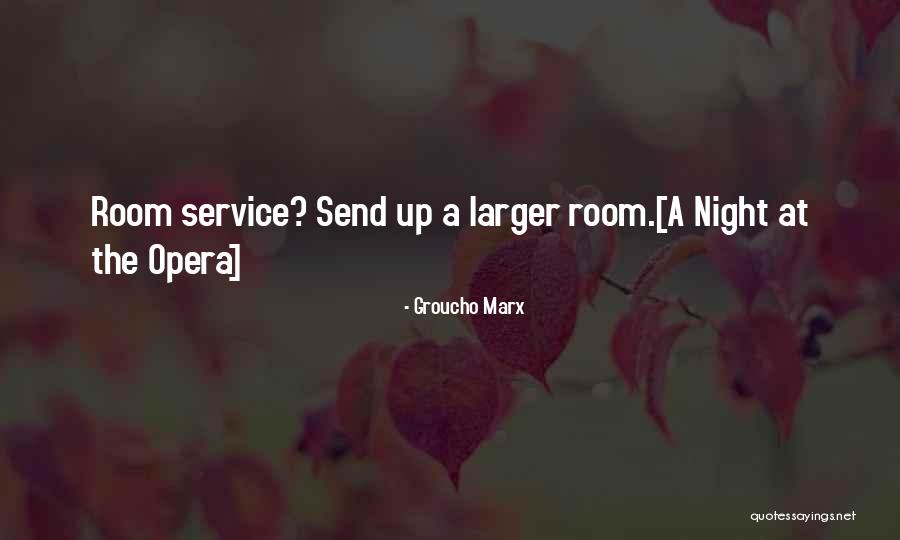 Room service? Send up a larger room.
[A Night at the Opera] — Groucho Marx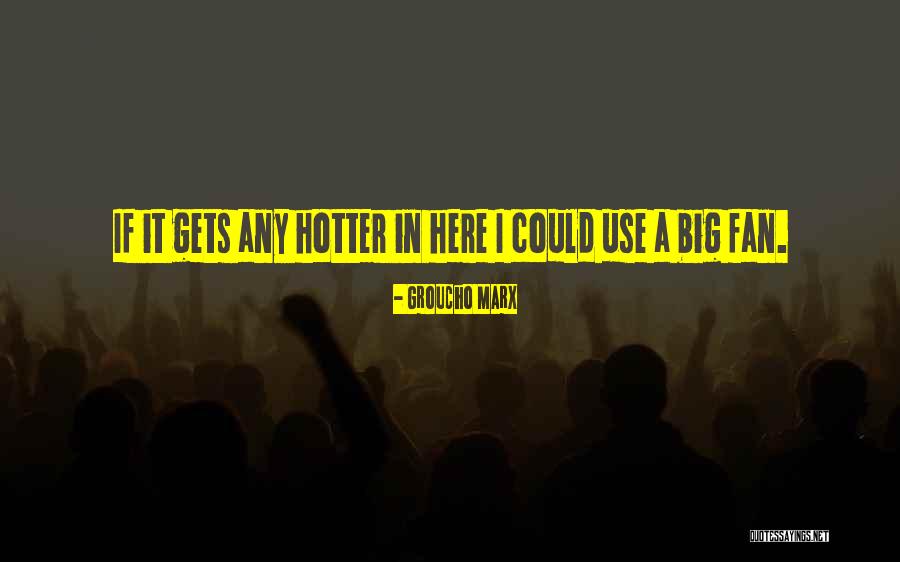 If it gets any hotter in here I could use a big fan. — Groucho Marx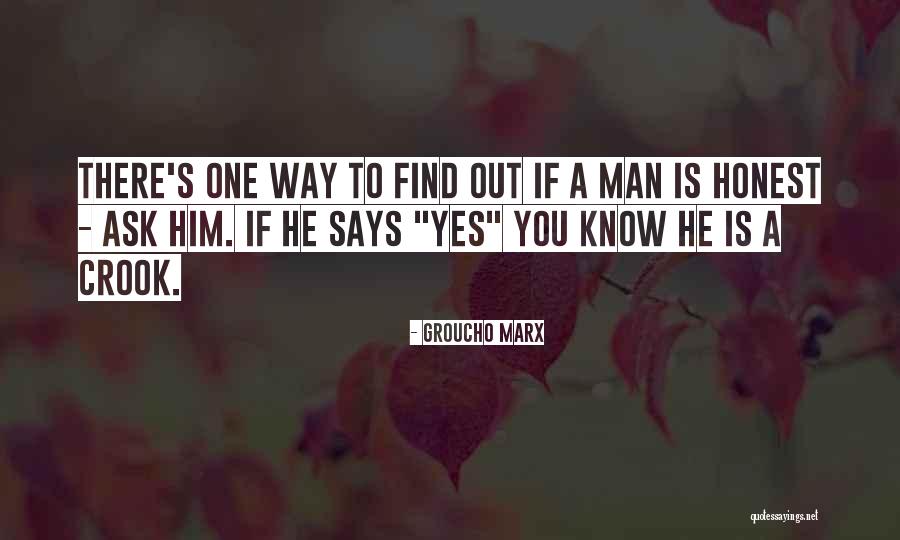 There's one way to find out if a man is honest - ask him. If he says "yes" you know he is a crook. — Groucho Marx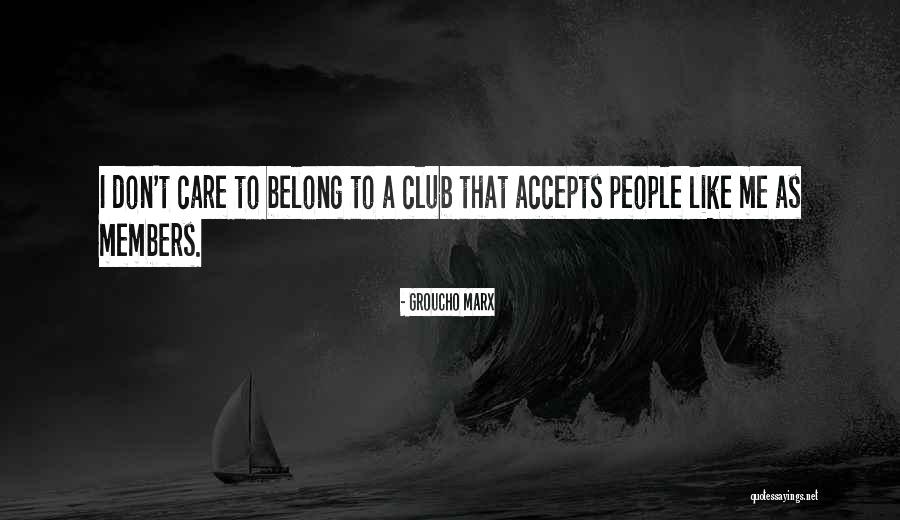 I don't care to belong to a club that accepts people like me as members. — Groucho Marx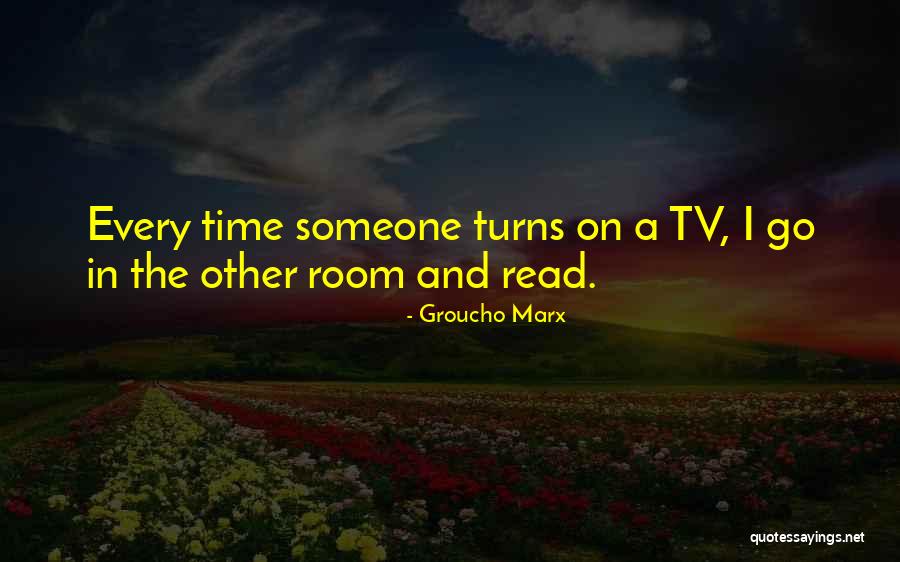 Every time someone turns on a TV, I go in the other room and read. — Groucho Marx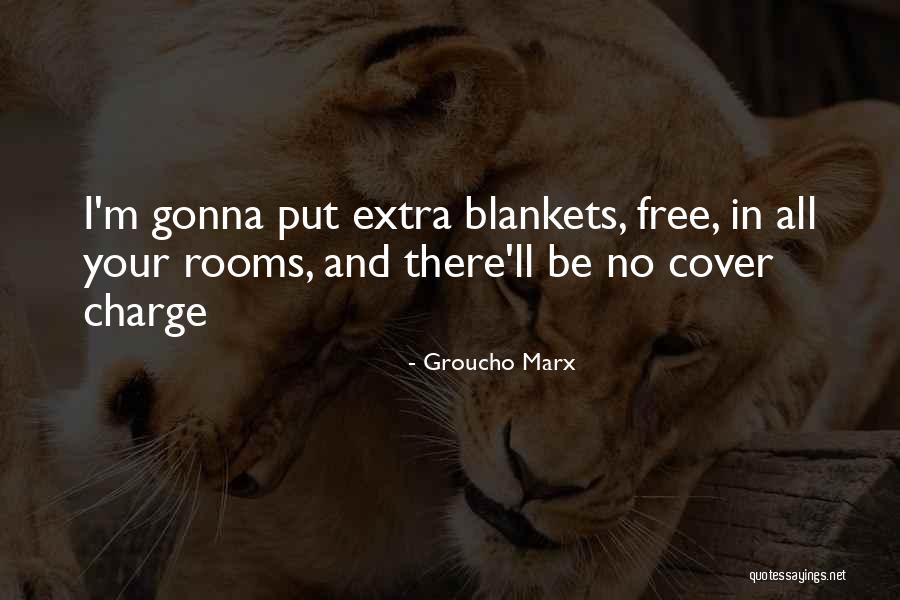 I'm gonna put extra blankets, free, in all your rooms, and there'll be no cover charge — Groucho Marx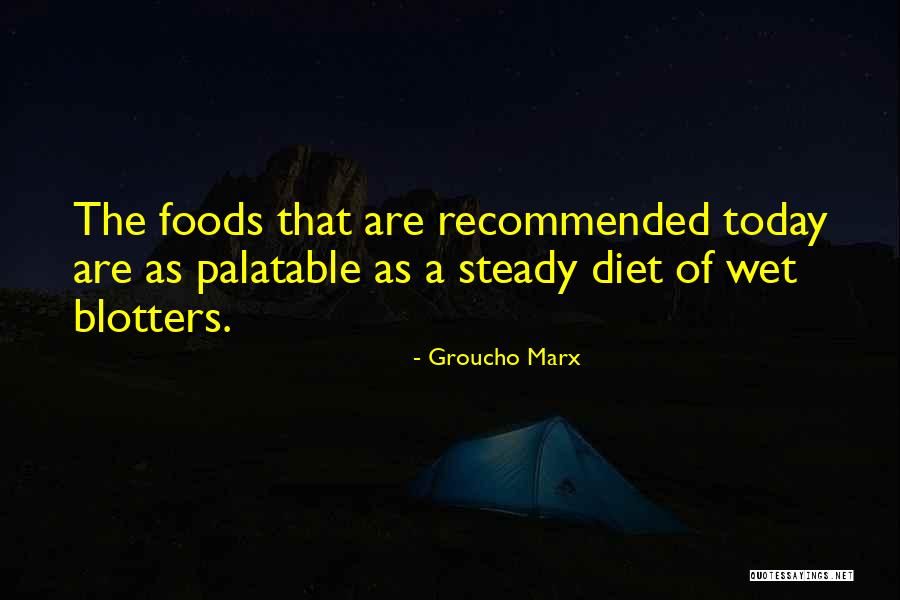 The foods that are recommended today are as palatable as a steady diet of wet blotters. — Groucho Marx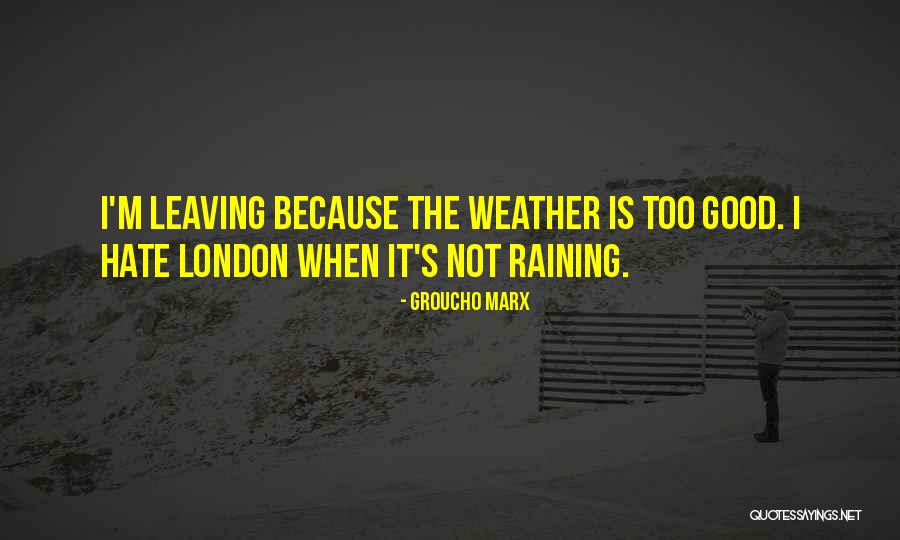 I'm leaving because the weather is too good. I hate London when it's not raining. — Groucho Marx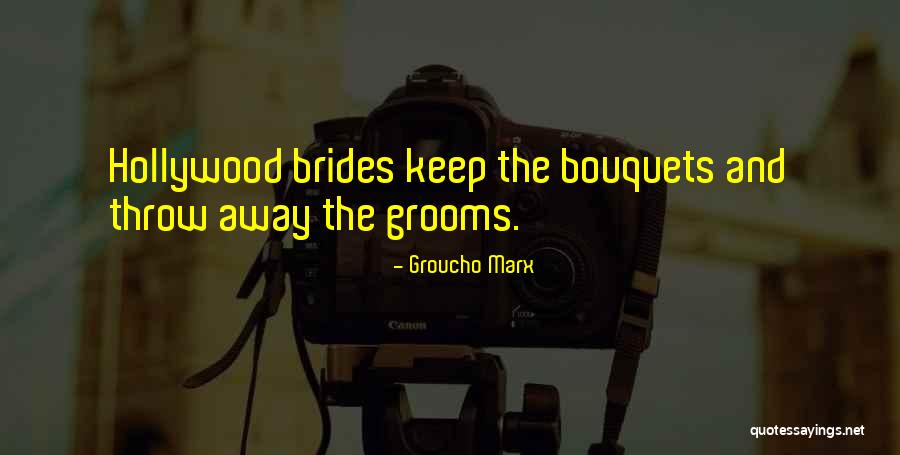 Hollywood brides keep the bouquets and throw away the grooms. — Groucho Marx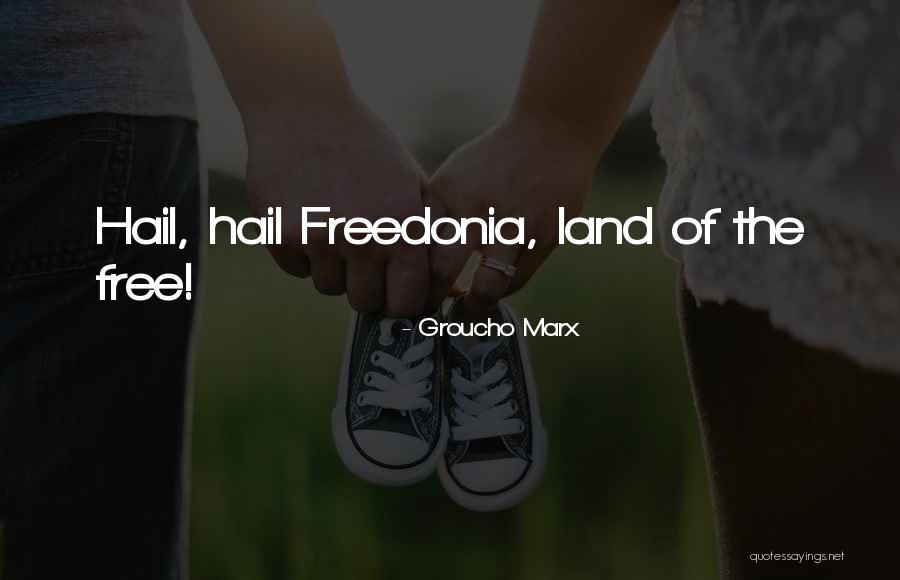 Hail, hail Freedonia, land of the free! — Groucho Marx
Women should be obscene and not heard. — Groucho Marx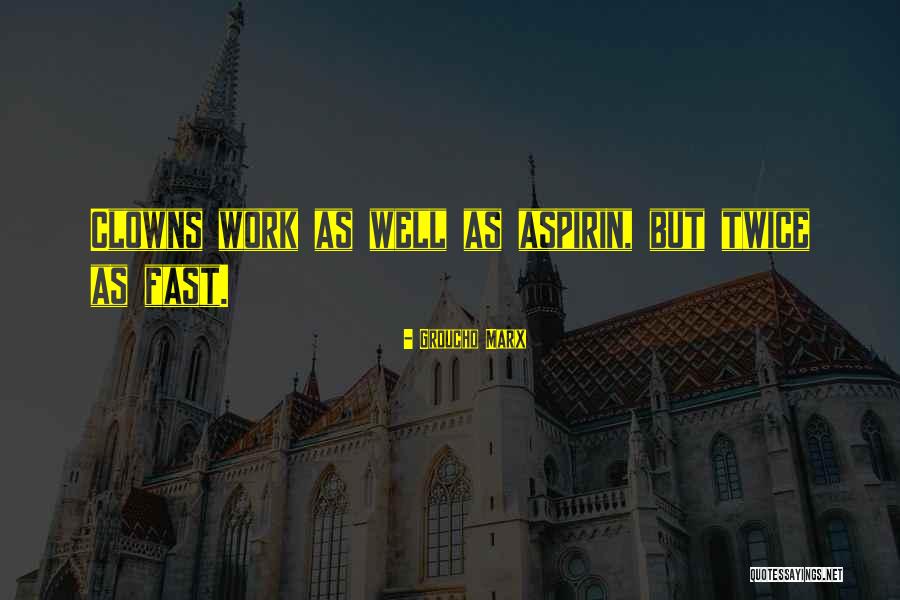 Clowns work as well as aspirin, but twice as fast. — Groucho Marx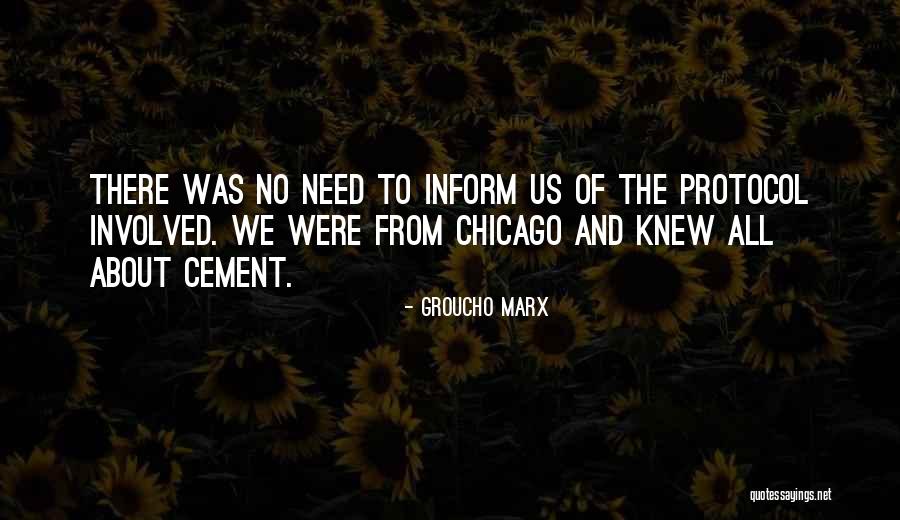 There was no need to inform us of the protocol involved. We were from Chicago and knew all about cement. — Groucho Marx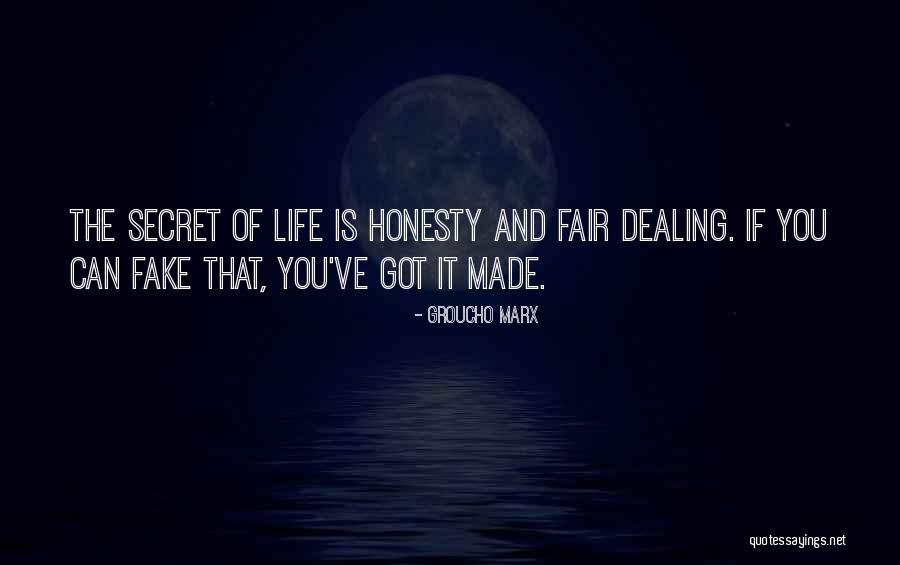 The secret of life is honesty and fair dealing. If you can fake that, you've got it made. — Groucho Marx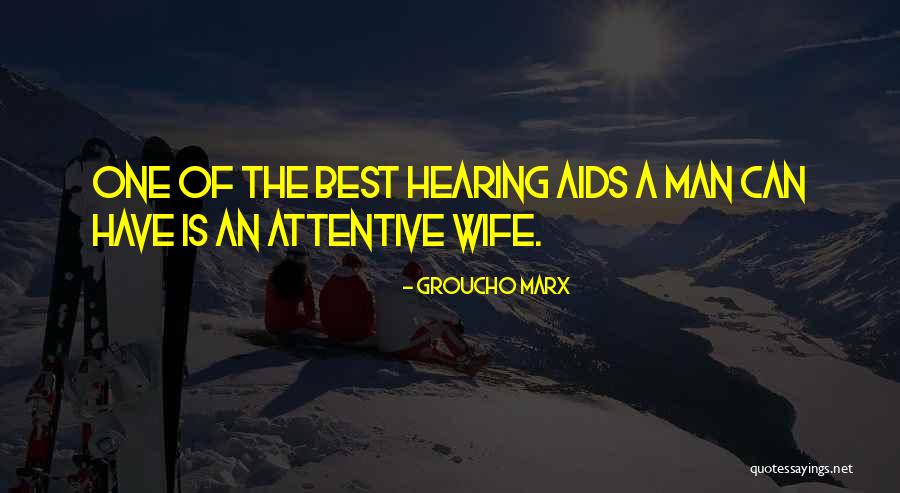 One of the best hearing aids a man can have is an attentive wife. — Groucho Marx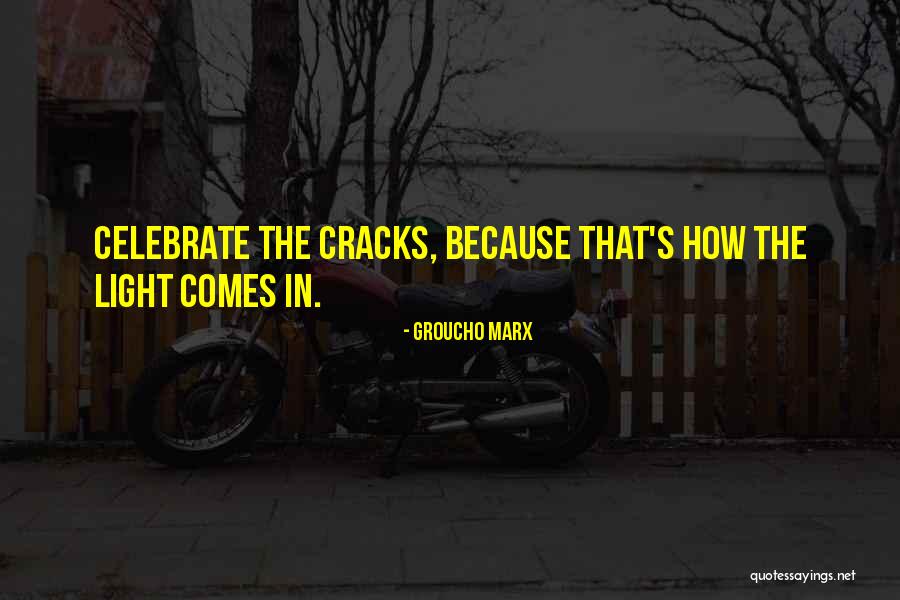 Celebrate the cracks, because that's how the light comes in. — Groucho Marx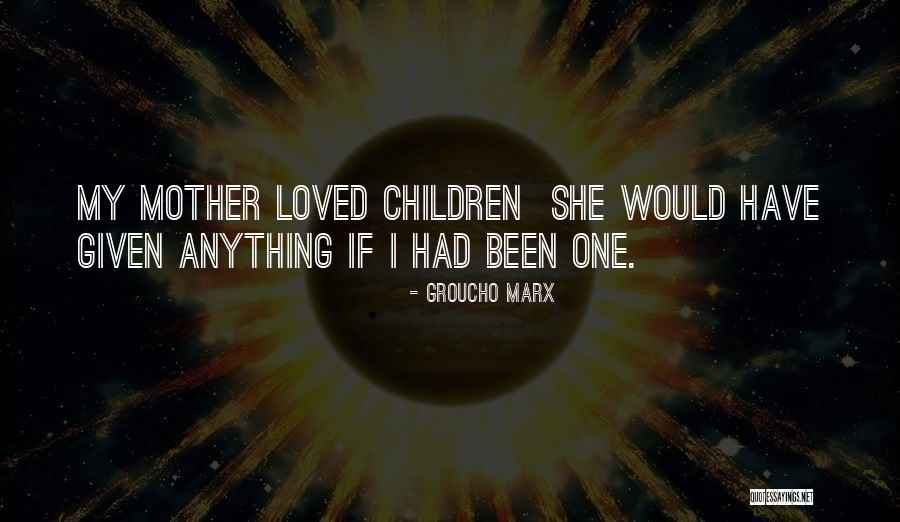 My mother loved children
she would have given anything if I had been one. — Groucho Marx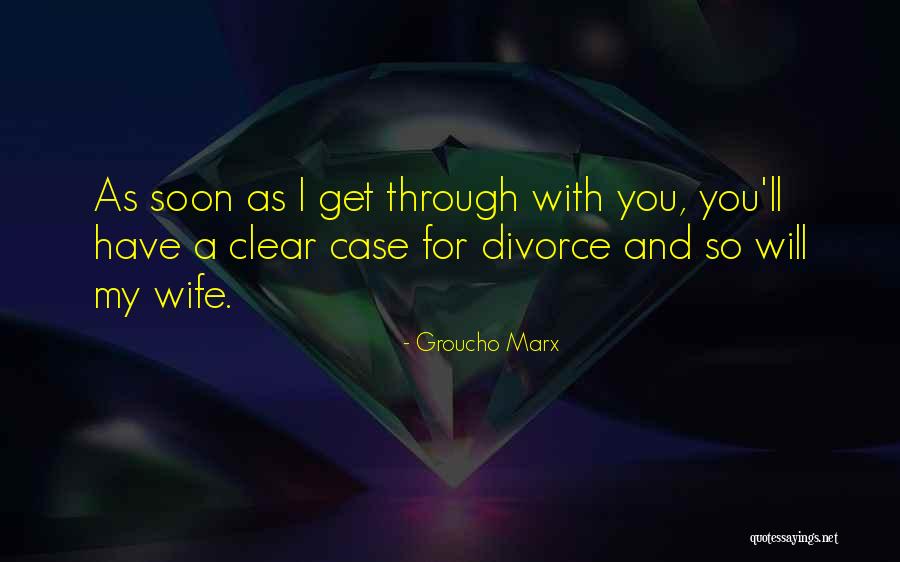 As soon as I get through with you, you'll have a clear case for divorce and so will my wife. — Groucho Marx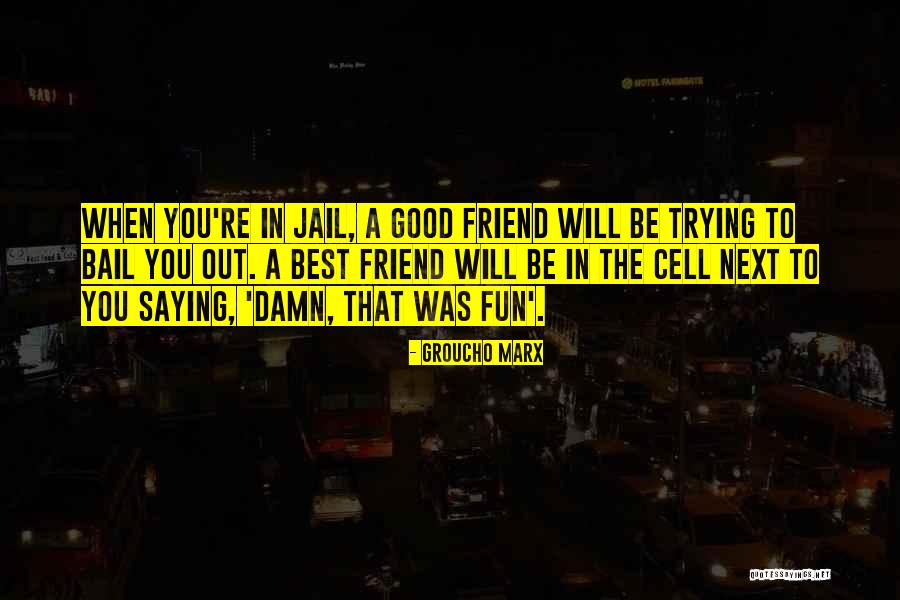 When you're in jail, a good friend will be trying to bail you out. A best friend will be in the cell next to you saying, 'Damn, that was fun'. — Groucho Marx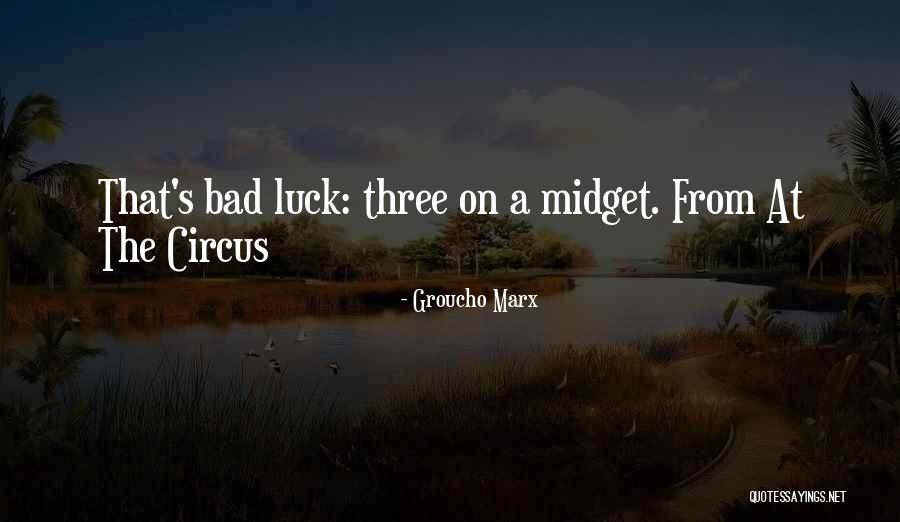 That's bad luck: three on a midget. From At The Circus — Groucho Marx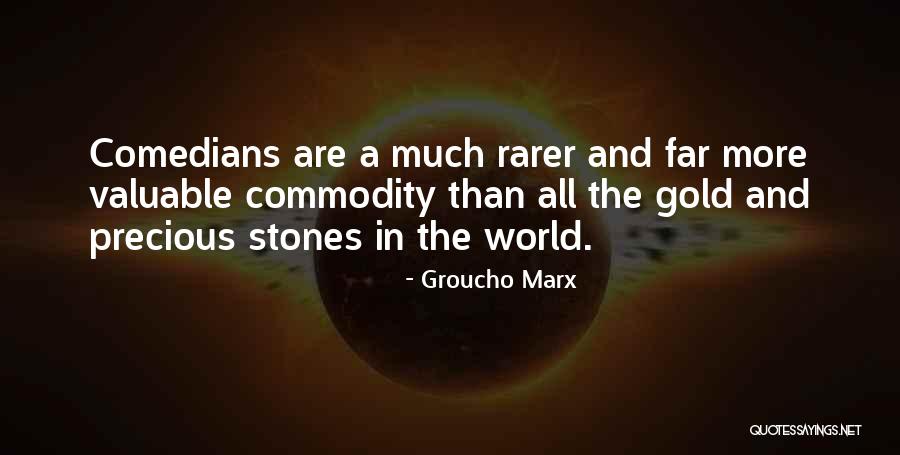 Comedians are a much rarer and far more valuable commodity than all the gold and precious stones in the world. — Groucho Marx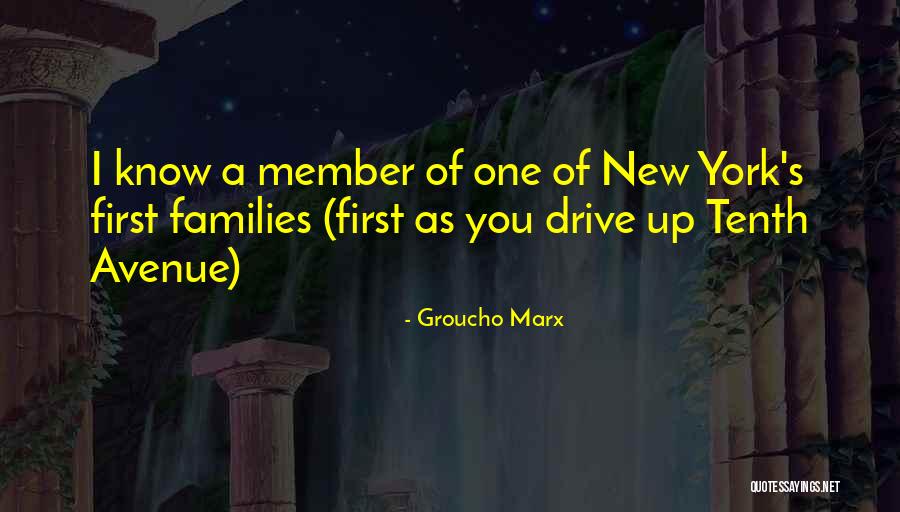 I know a member of one of New York's first families (first as you drive up Tenth Avenue) — Groucho Marx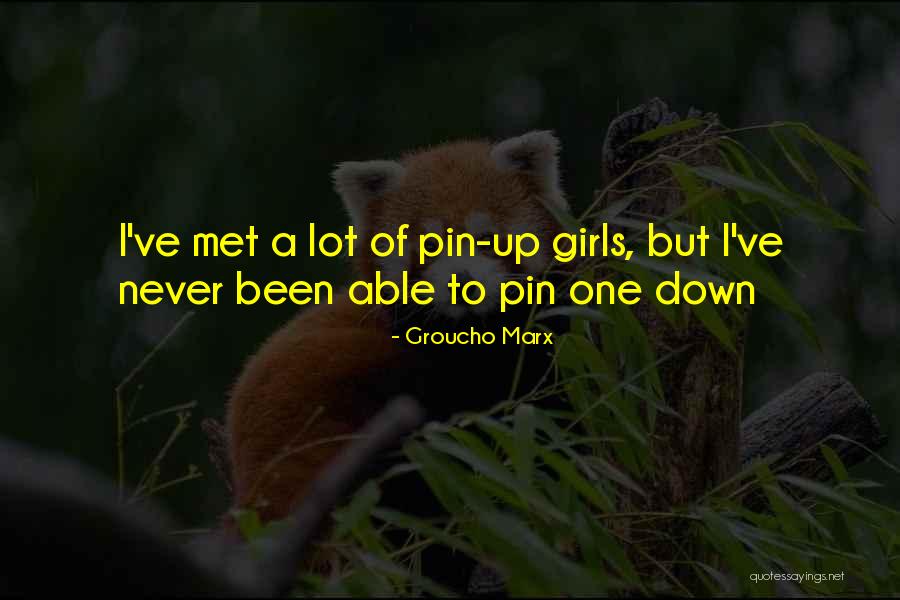 I've met a lot of pin-up girls, but I've never been able to pin one down — Groucho Marx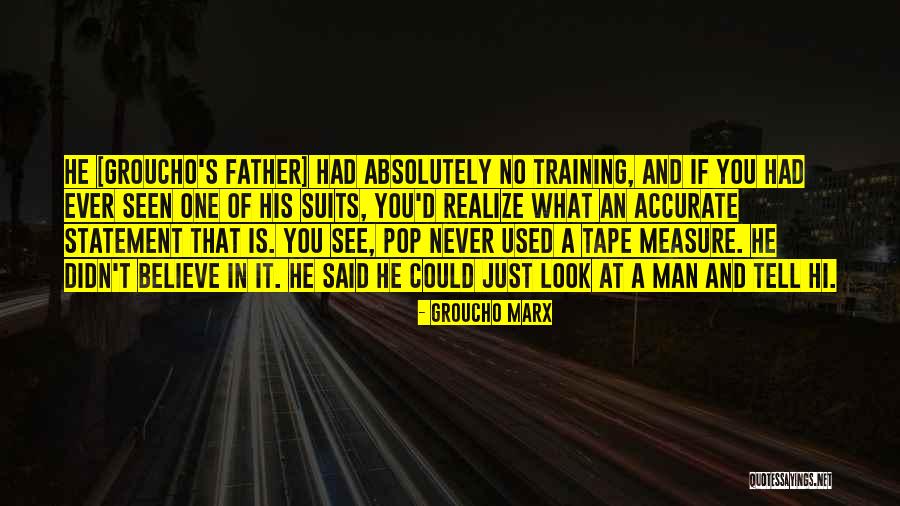 He [Groucho's father] had absolutely no training, and if you had ever seen one of his suits, you'd realize what an accurate statement that is. You see, Pop never used a tape measure. He didn't believe in it. He said he could just look at a man and tell hi. — Groucho Marx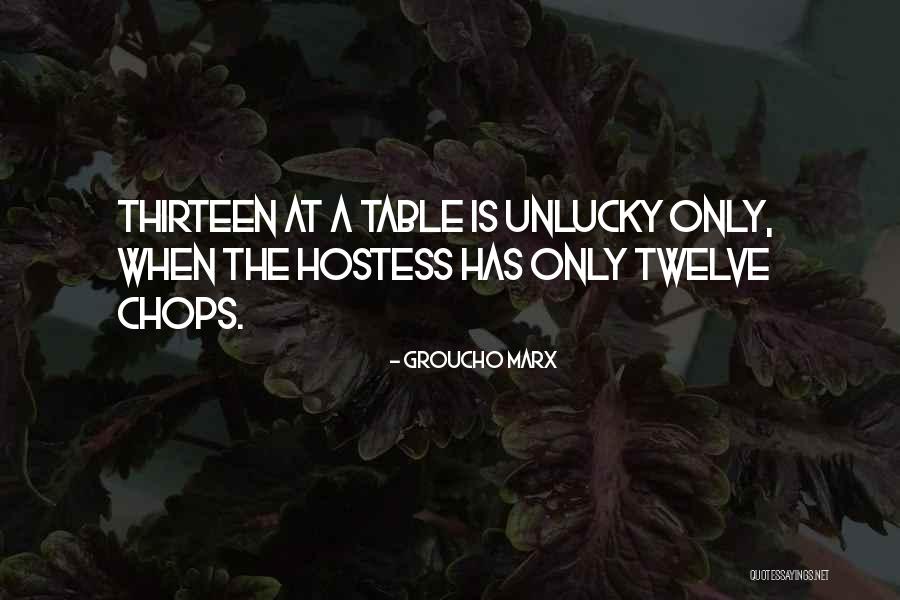 Thirteen at a table is unlucky only,
when the hostess has only twelve chops. — Groucho Marx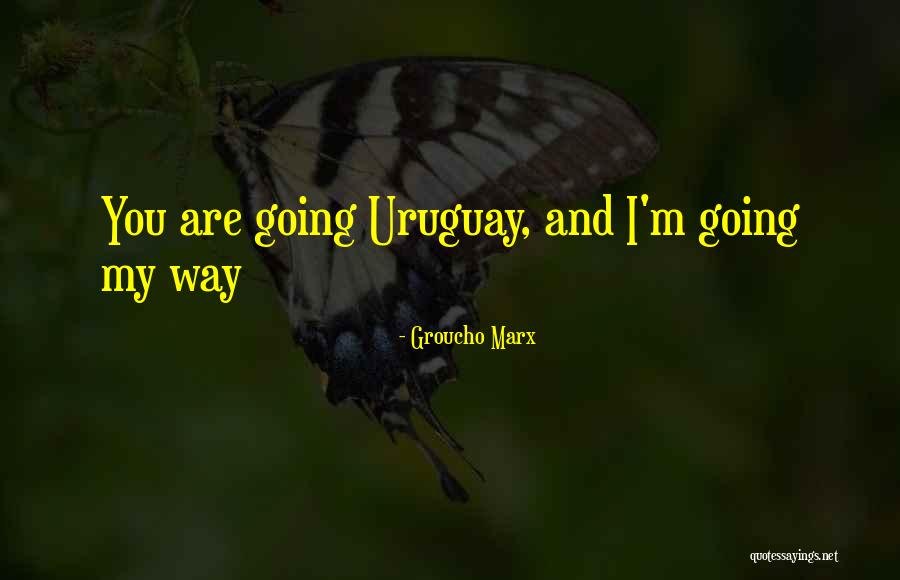 You are going Uruguay, and I'm going my way — Groucho Marx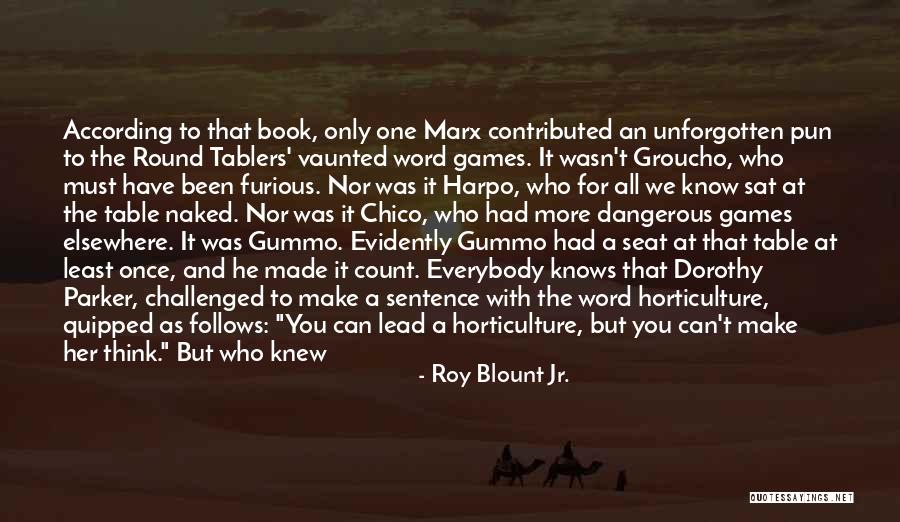 According to that book, only one Marx contributed an unforgotten pun to the Round Tablers' vaunted word games. It wasn't Groucho, who must have been furious. Nor was it Harpo, who for all we know sat at the table naked. Nor was it Chico, who had more dangerous games elsewhere. It was Gummo. Evidently Gummo had a seat at that table at least once, and he made it count. Everybody knows that Dorothy Parker, challenged to make a sentence with the word horticulture, quipped as follows: "You can lead a horticulture, but you can't make her think." But who knew that Gummo, taking on euphoria, came up with this: LEFT TO RIGHT: Harpo, Zeppo, Chico, Groucho, and Gummo, 1957. "Go outside and play," Minnie told the brothers. "Which ones?" they asked. And she said: "Euphoria."* — Roy Blount Jr.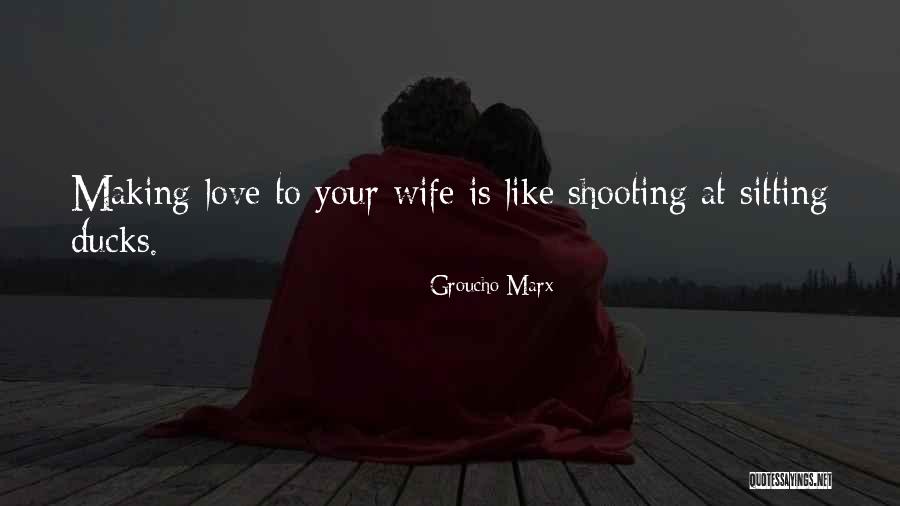 Making love to your wife is like shooting at sitting ducks. — Groucho Marx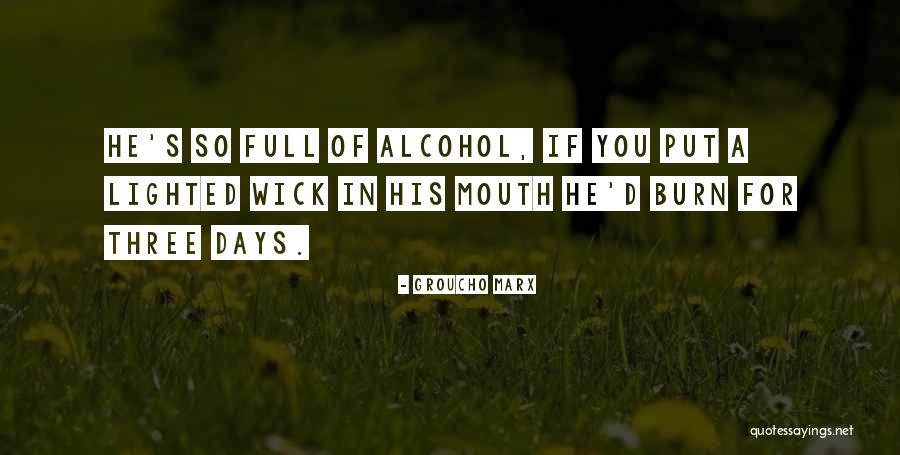 He's so full of alcohol, if you put a lighted wick in his mouth he'd burn for three days. — Groucho Marx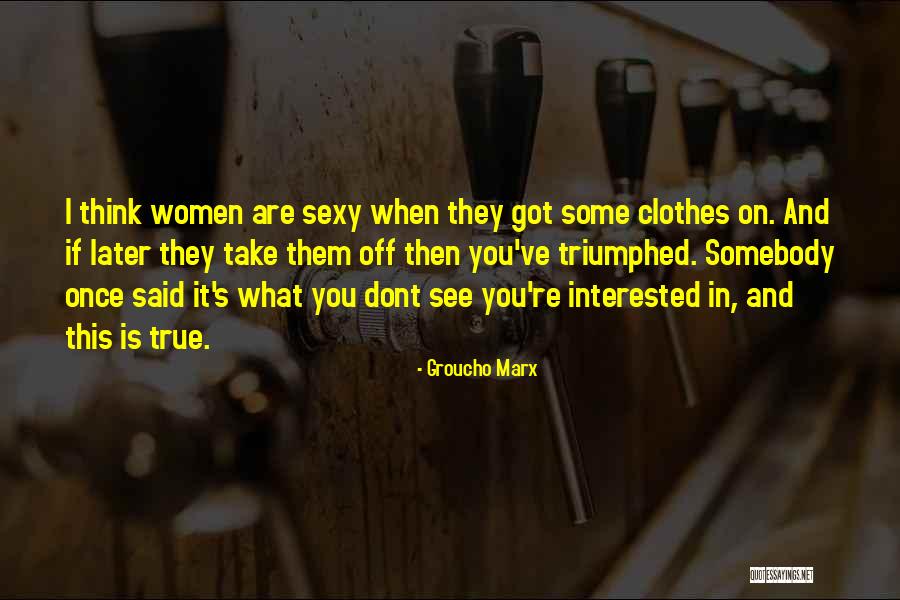 I think women are sexy when they got some clothes on. And if later they take them off then you've triumphed.
Somebody once said it's what you dont see you're interested in, and this is true. — Groucho Marx
You bet I'm shy. I'm a shyster lawyer. — Groucho Marx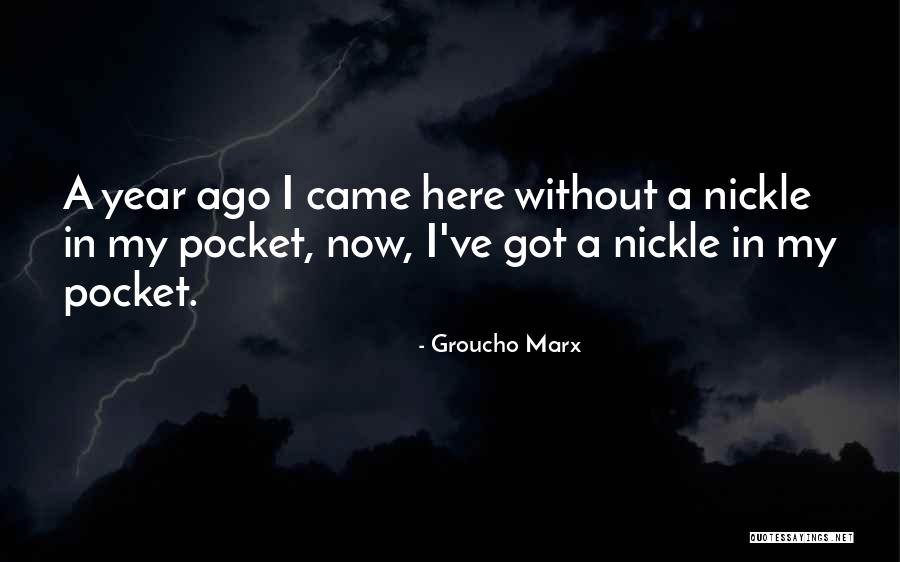 A year ago I came here without a nickle in my pocket, now, I've got a nickle in my pocket. — Groucho Marx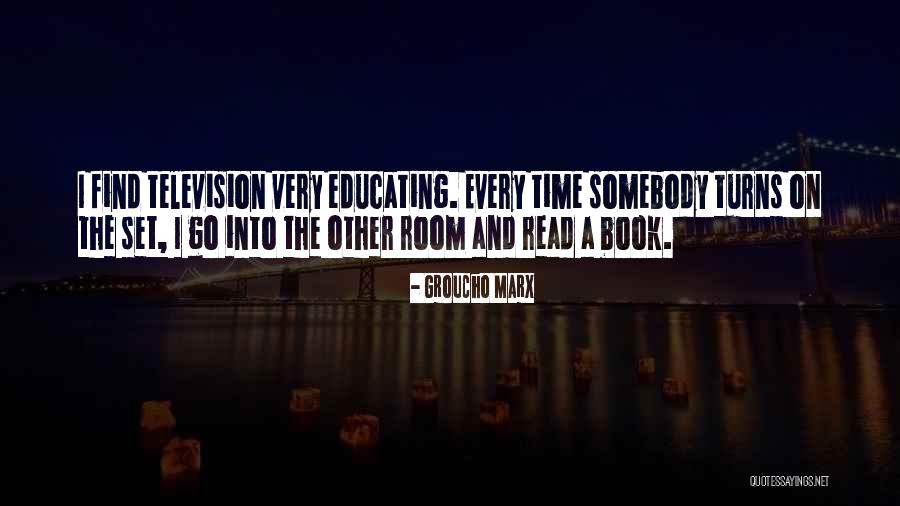 I find television very educating. Every time somebody turns on the set, I go into the other room and read a book. — Groucho Marx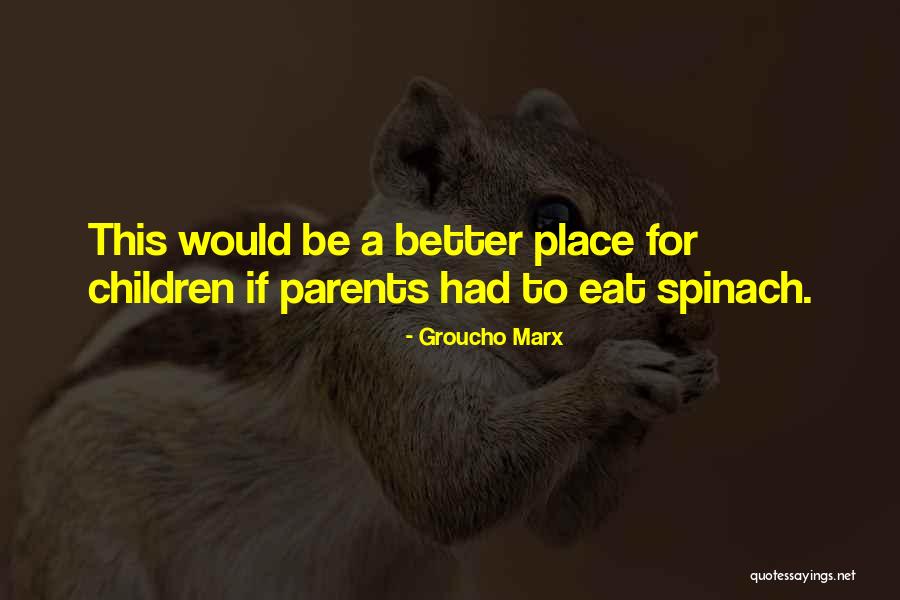 This would be a better place for children if parents had to eat spinach. — Groucho Marx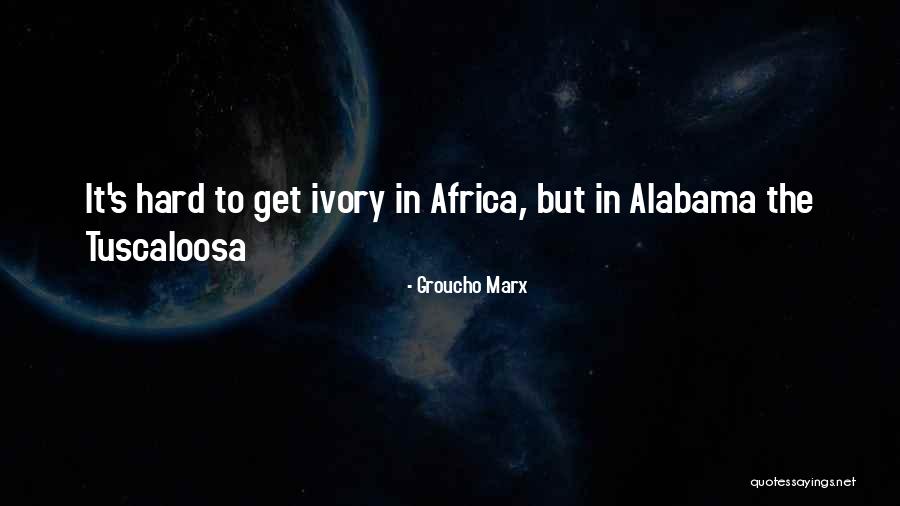 It's hard to get ivory in Africa, but in Alabama the Tuscaloosa — Groucho Marx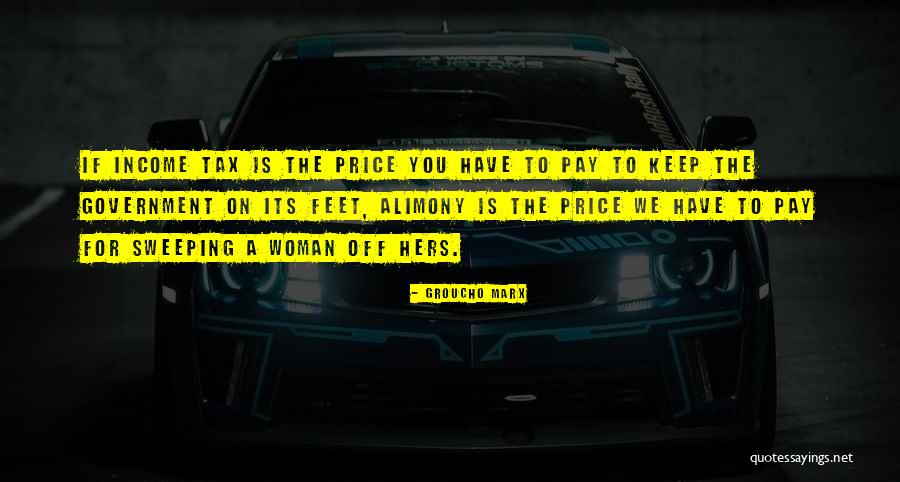 If income tax is the price you have to pay to keep the government on its feet, alimony is the price we have to pay for sweeping a woman off hers. — Groucho Marx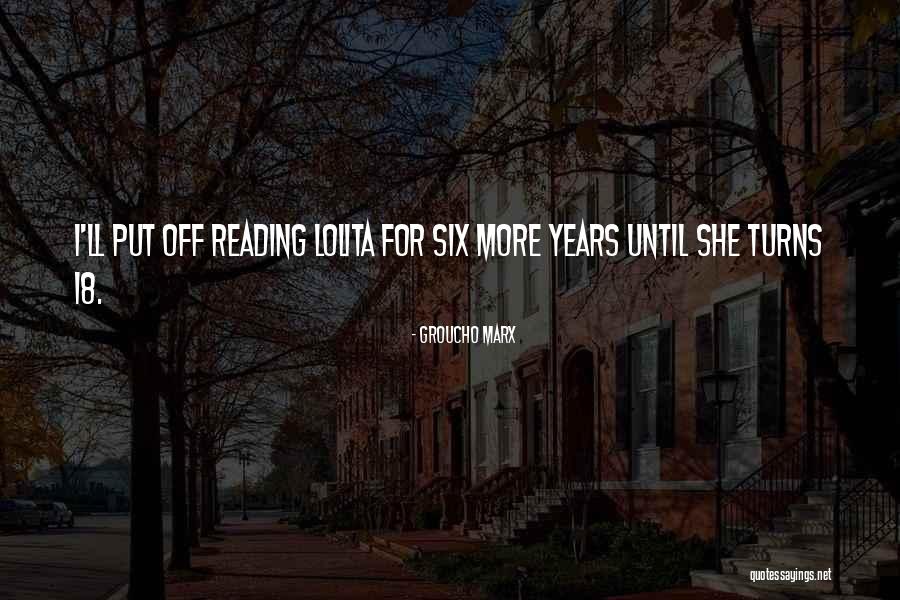 I'll put off reading Lolita for six more years until she turns 18. — Groucho Marx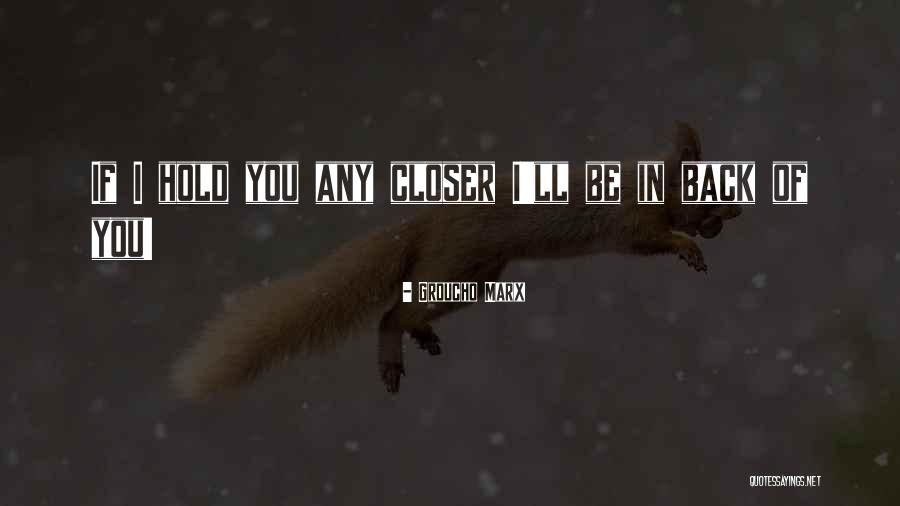 If I hold you any closer I'll be in back of you! — Groucho Marx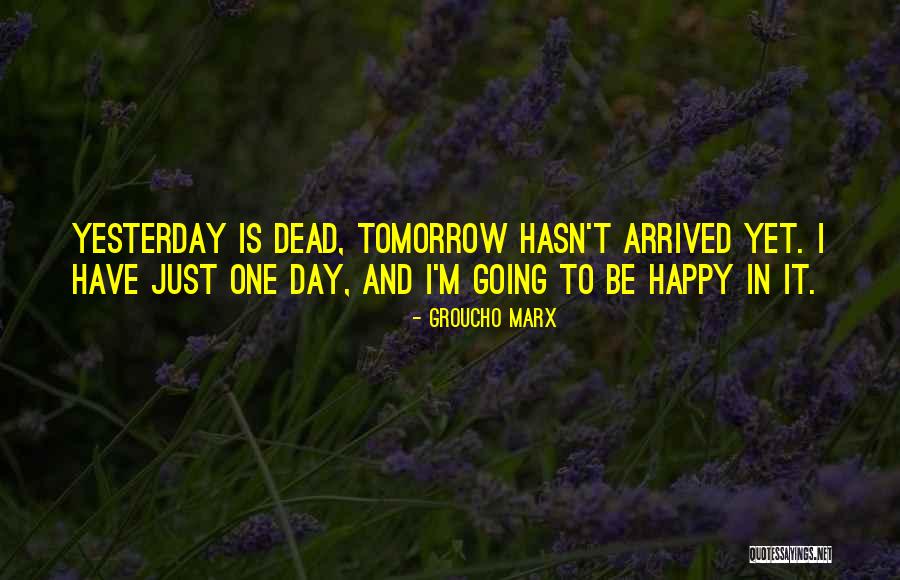 Yesterday is dead, tomorrow hasn't arrived yet. I have just one day, and I'm going to be happy in it. — Groucho Marx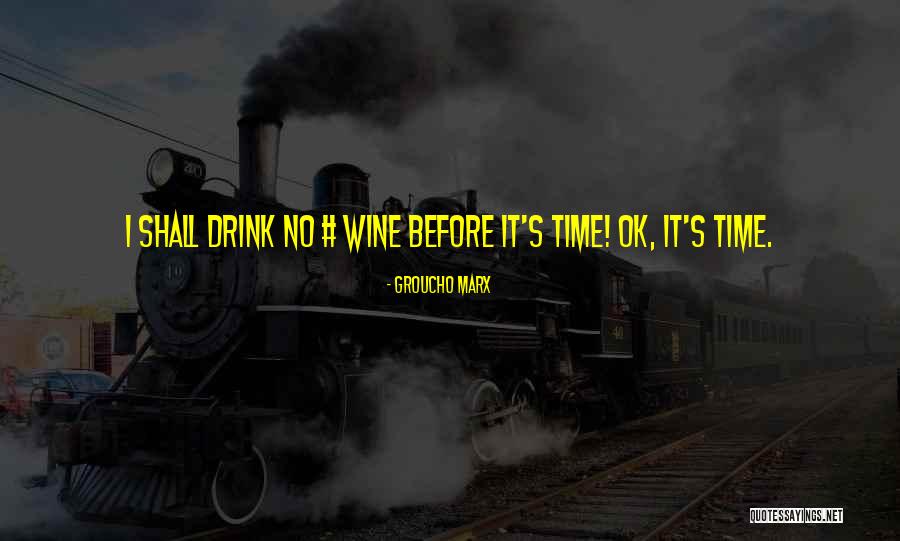 I shall drink no # wine before it's time! OK, it's time. — Groucho Marx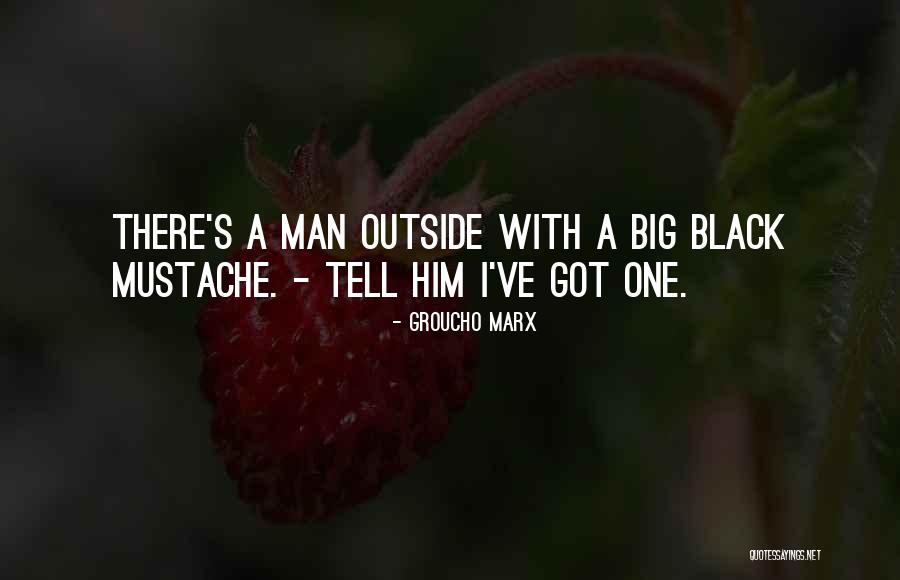 There's a man outside with a big black mustache. - Tell him I've got one. — Groucho Marx