Quotes & Sayings About Gratitude For Gifts
Enjoy reading and share 36 famous quotes about Gratitude For Gifts with everyone.
Top Gratitude For Gifts Quotes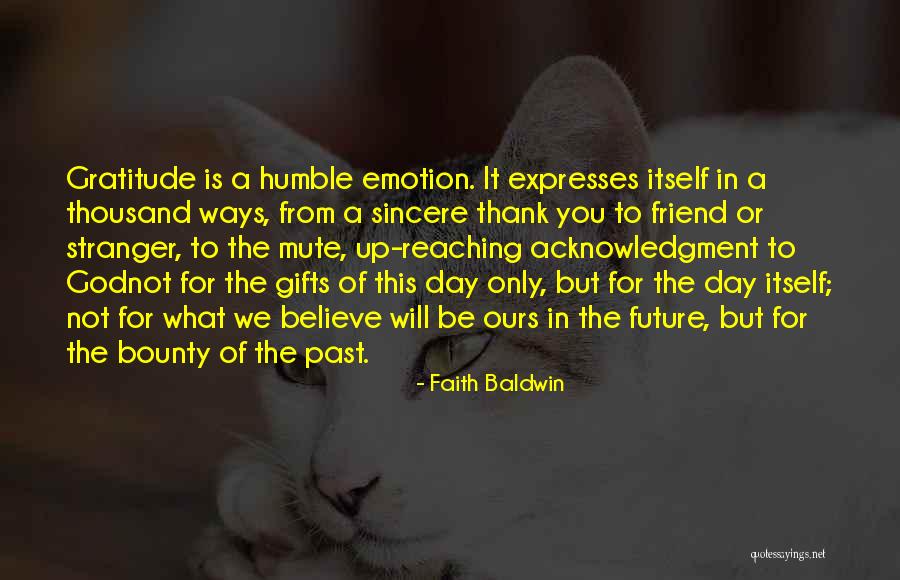 Gratitude is a humble emotion. It expresses itself in a thousand ways, from a sincere thank you to friend or stranger, to the mute, up-reaching acknowledgment to God
not for the gifts of this day only, but for the day itself; not for what we believe will be ours in the future, but for the bounty of the past. — Faith Baldwin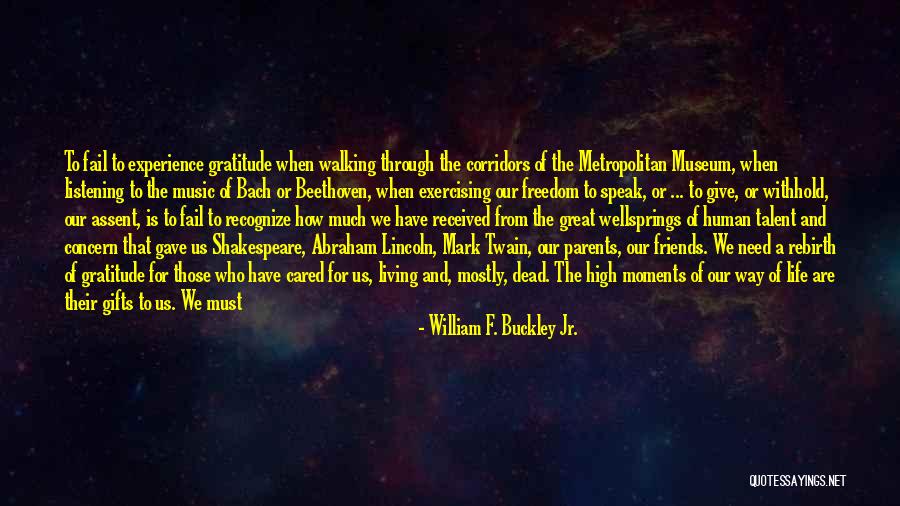 To fail to experience gratitude when walking through the corridors of the Metropolitan Museum, when listening to the music of Bach or Beethoven, when exercising our freedom to speak, or ... to give, or withhold, our assent, is to fail to recognize how much we have received from the great wellsprings of human talent and concern that gave us Shakespeare, Abraham Lincoln, Mark Twain, our parents, our friends. We need a rebirth of gratitude for those who have cared for us, living and, mostly, dead. The high moments of our way of life are their gifts to us. We must remember them in our thoughts and in our prayers; and in our deeds. — William F. Buckley Jr.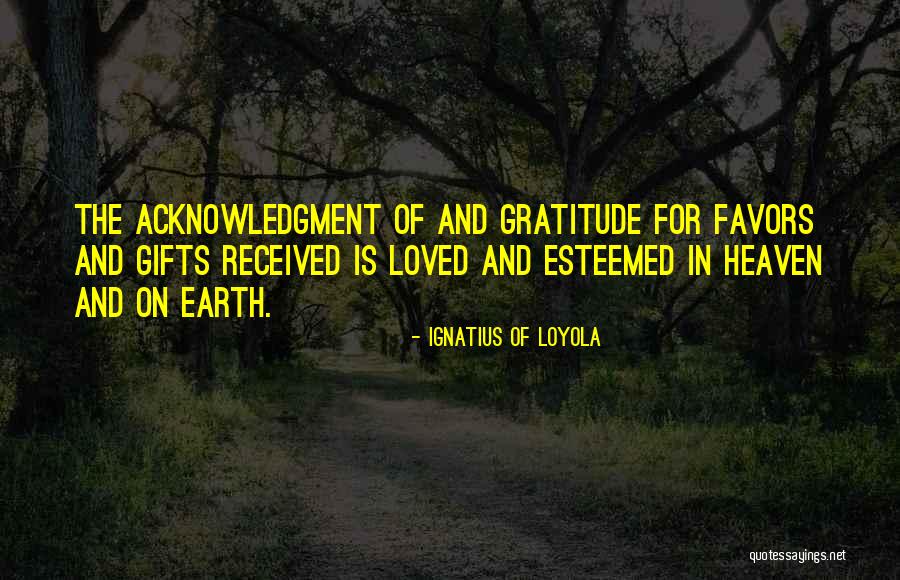 The acknowledgment of and gratitude for favors and gifts received is loved and esteemed in Heaven and on earth. — Ignatius Of Loyola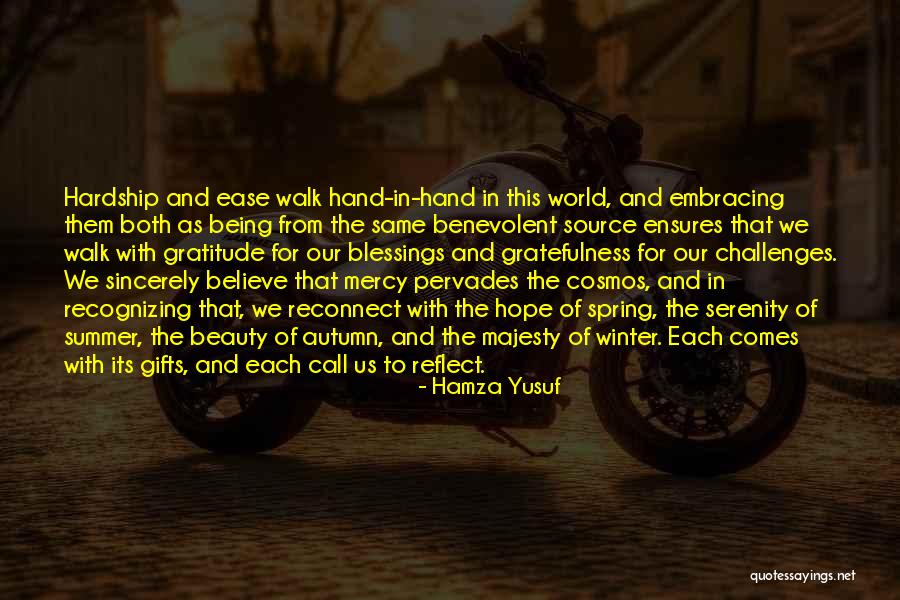 Hardship and ease walk hand-in-hand in this world, and embracing them both as being from the same benevolent source ensures that we walk with gratitude for our blessings and gratefulness for our challenges. We sincerely believe that mercy pervades the cosmos, and in recognizing that, we reconnect with the hope of spring, the serenity of summer, the beauty of autumn, and the majesty of winter. Each comes with its gifts, and each call us to reflect. — Hamza Yusuf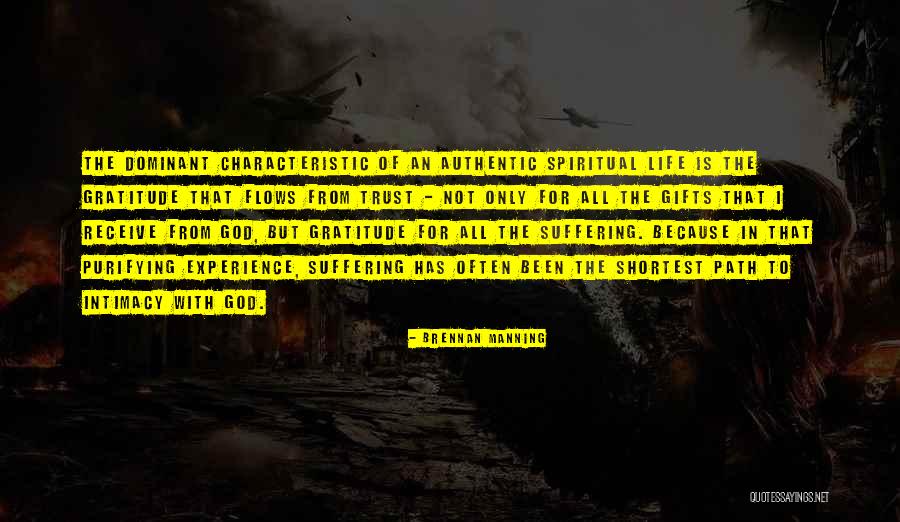 The dominant characteristic of an authentic spiritual life is the gratitude that flows from trust - not only for all the gifts that I receive from God, but gratitude for all the suffering. Because in that purifying experience, suffering has often been the shortest path to intimacy with God. — Brennan Manning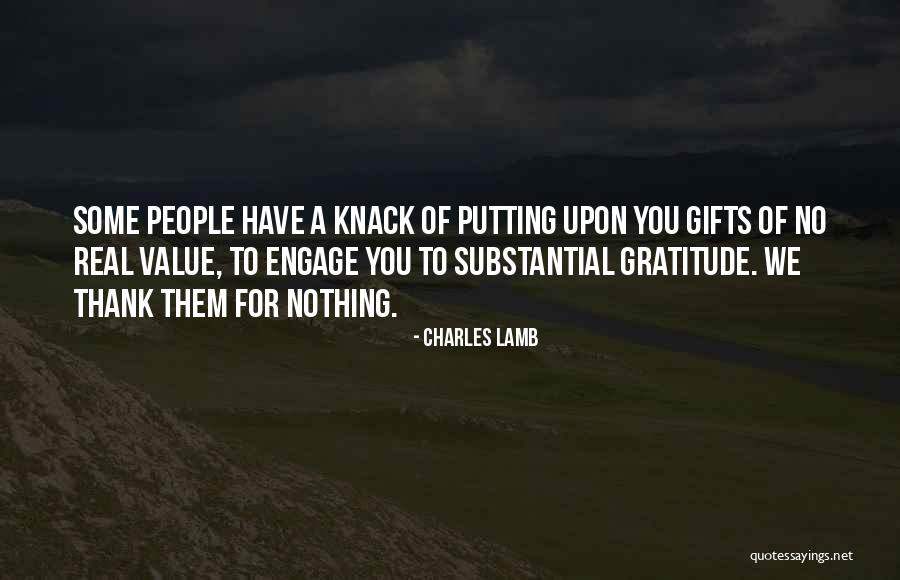 Some people have a knack of putting upon you gifts of no real value, to engage you to substantial gratitude. We thank them for nothing. — Charles Lamb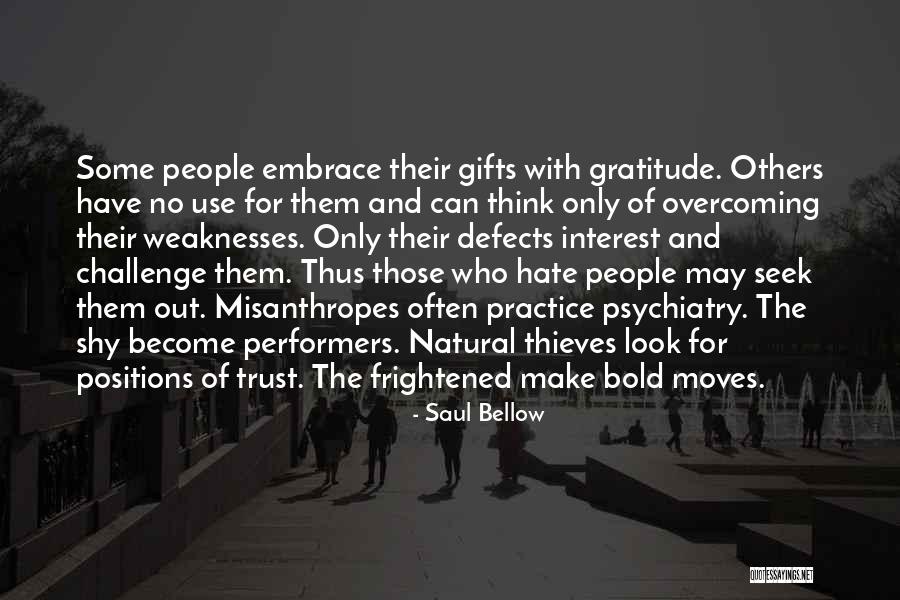 Some people embrace their gifts with gratitude. Others have no use for them and can think only of overcoming their weaknesses. Only their defects interest and challenge them. Thus those who hate people may seek them out. Misanthropes often practice psychiatry. The shy become performers. Natural thieves look for positions of trust. The frightened make bold moves. — Saul Bellow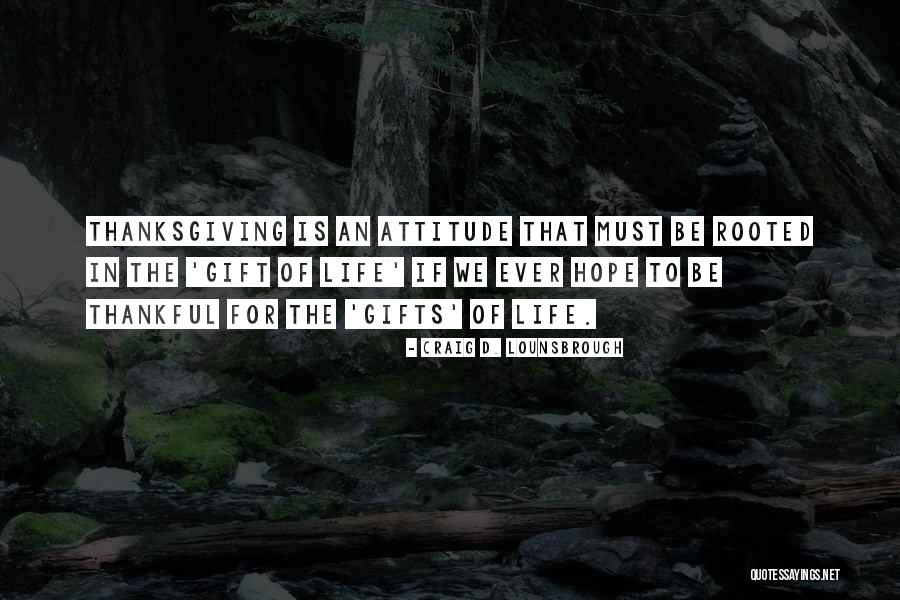 Thanksgiving is an attitude that must be rooted in the 'gift of life' if we ever hope to be thankful for the 'gifts' of life. — Craig D. Lounsbrough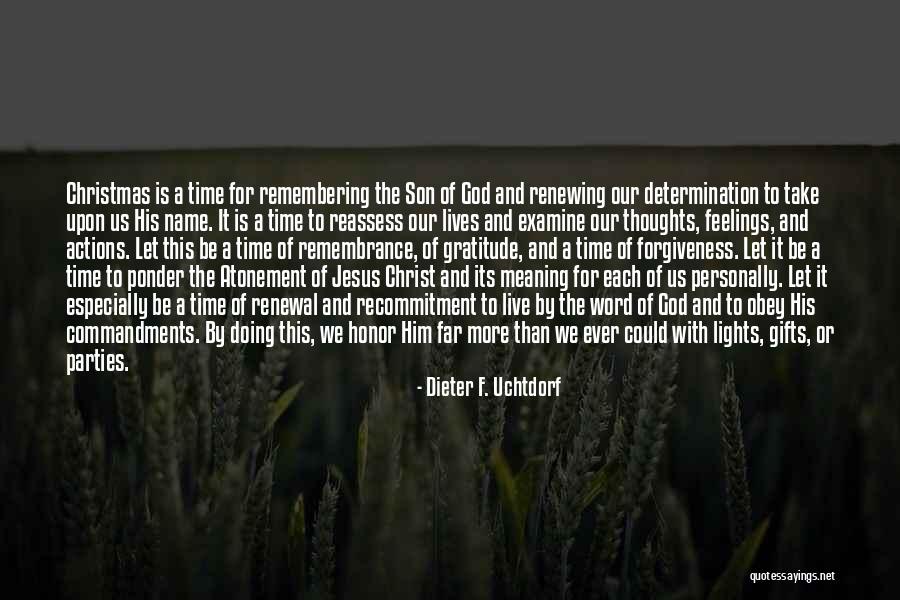 Christmas is a time for remembering the Son of God and renewing our determination to take upon us His name. It is a time to reassess our lives and examine our thoughts, feelings, and actions. Let this be a time of remembrance, of gratitude, and a time of forgiveness. Let it be a time to ponder the Atonement of Jesus Christ and its meaning for each of us personally. Let it especially be a time of renewal and recommitment to live by the word of God and to obey His commandments. By doing this, we honor Him far more than we ever could with lights, gifts, or parties. — Dieter F. Uchtdorf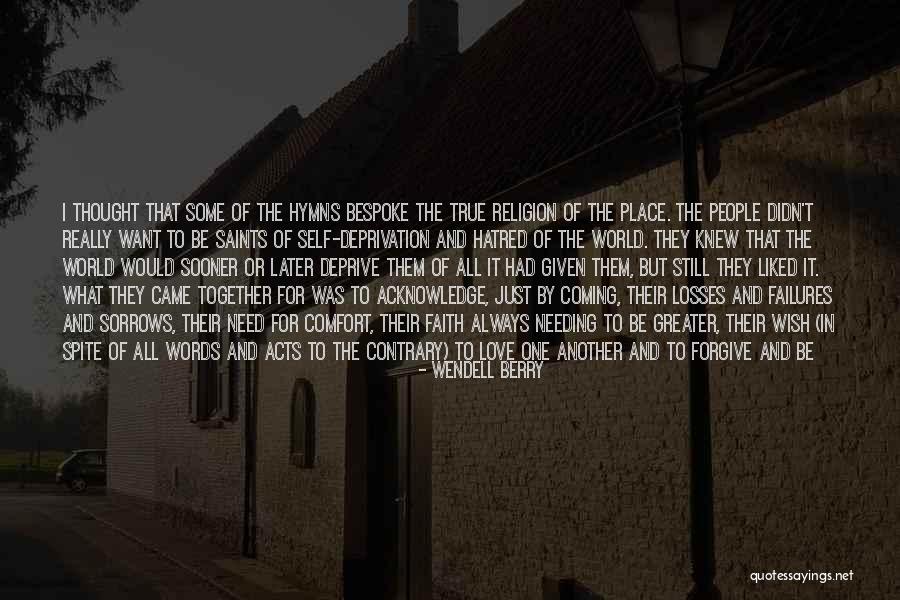 I thought that some of the hymns bespoke the true religion of the place. The people didn't really want to be saints of self-deprivation and hatred of the world. They knew that the world would sooner or later deprive them of all it had given them, but still they liked it. What they came together for was to acknowledge, just by coming, their losses and failures and sorrows, their need for comfort, their faith always needing to be greater, their wish (in spite of all words and acts to the contrary) to love one another and to forgive and be forgiven, their need for one another's help and company and divine gifts, their hope (and experience) of love surpassing death, their gratitude. — Wendell Berry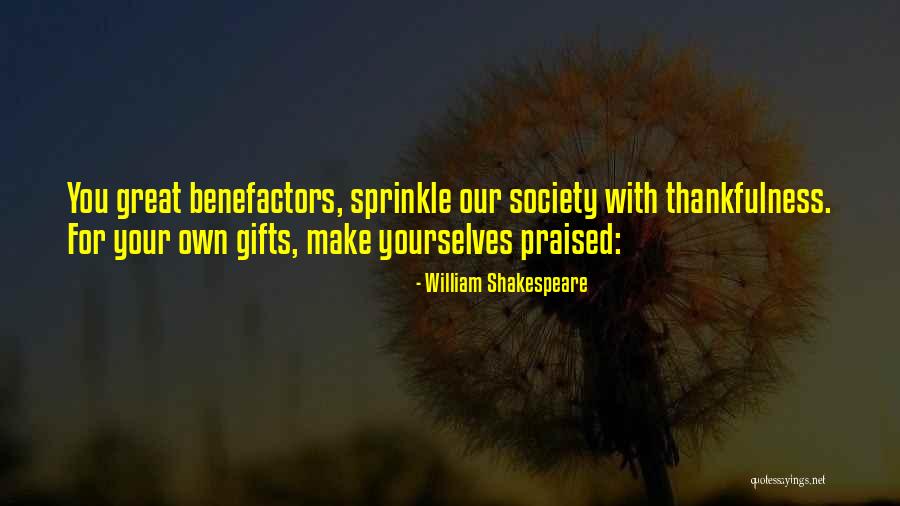 You great benefactors, sprinkle our society with thankfulness. For your own gifts, make yourselves praised: — William Shakespeare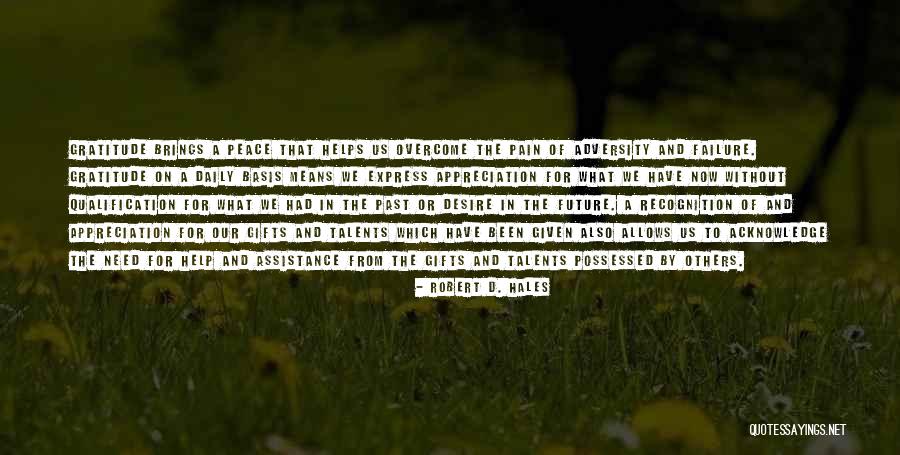 Gratitude brings a peace that helps us overcome the pain of adversity and failure. Gratitude on a daily basis means we express appreciation for what we have now without qualification for what we had in the past or desire in the future. A recognition of and appreciation for our gifts and talents which have been given also allows us to acknowledge the need for help and assistance from the gifts and talents possessed by others. — Robert D. Hales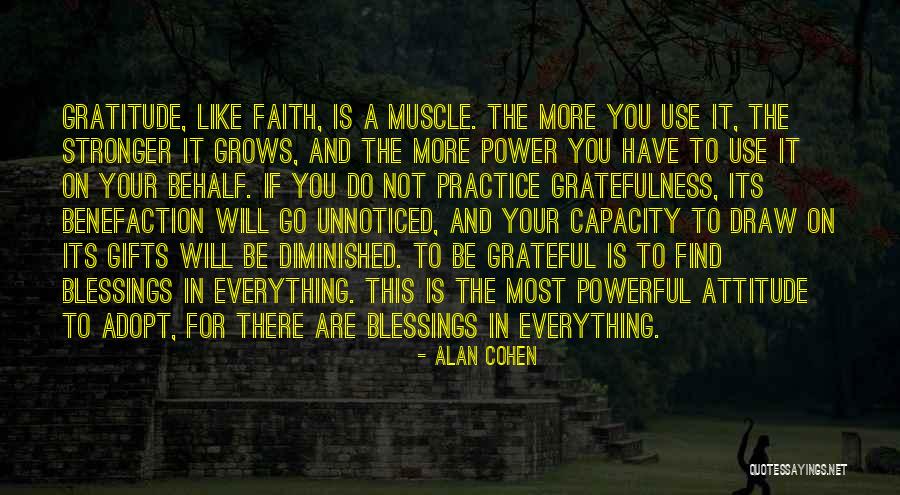 Gratitude, like faith, is a muscle. The more you use it, the stronger it grows, and the more power you have to use it on your behalf. If you do not practice gratefulness, its benefaction will go unnoticed, and your capacity to draw on its gifts will be diminished. To be grateful is to find blessings in everything. This is the most powerful attitude to adopt, for there are blessings in everything. — Alan Cohen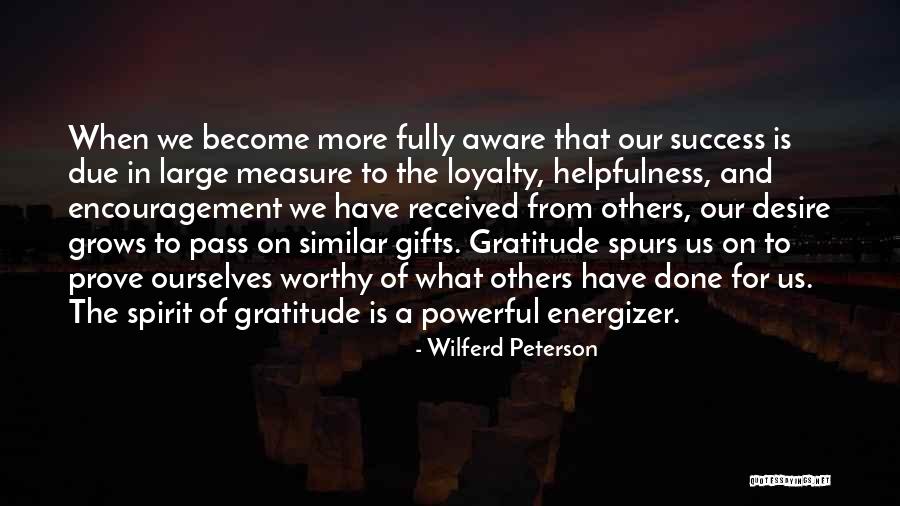 When we become more fully aware that our success is due in large measure to the loyalty, helpfulness, and encouragement we have received from others, our desire grows to pass on similar gifts. Gratitude spurs us on to prove ourselves worthy of what others have done for us. The spirit of gratitude is a powerful energizer. — Wilferd Peterson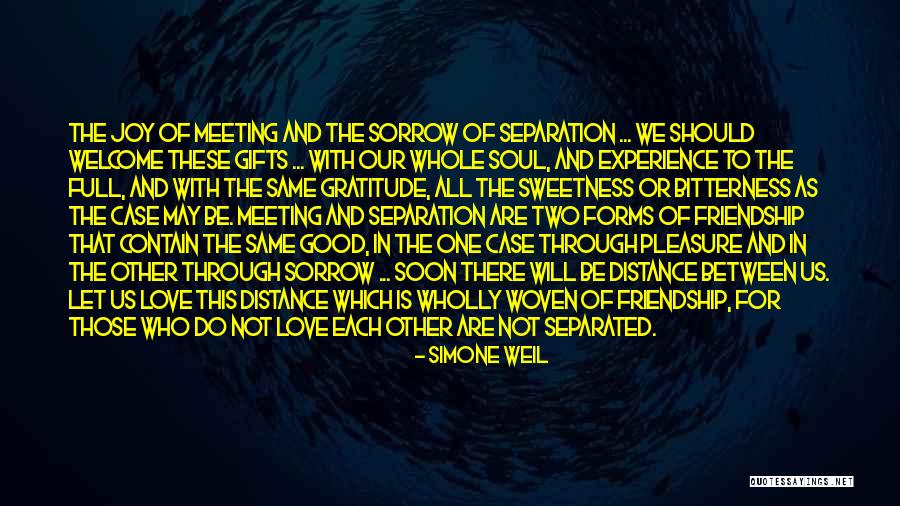 The joy of meeting and the sorrow of separation ... we should welcome these gifts ... with our whole soul, and experience to the full, and with the same gratitude, all the sweetness or bitterness as the case may be. Meeting and separation are two forms of friendship that contain the same good, in the one case through pleasure and in the other through sorrow ... Soon there will be distance between us. Let us love this distance which is wholly woven of friendship, for those who do not love each other are not separated. — Simone Weil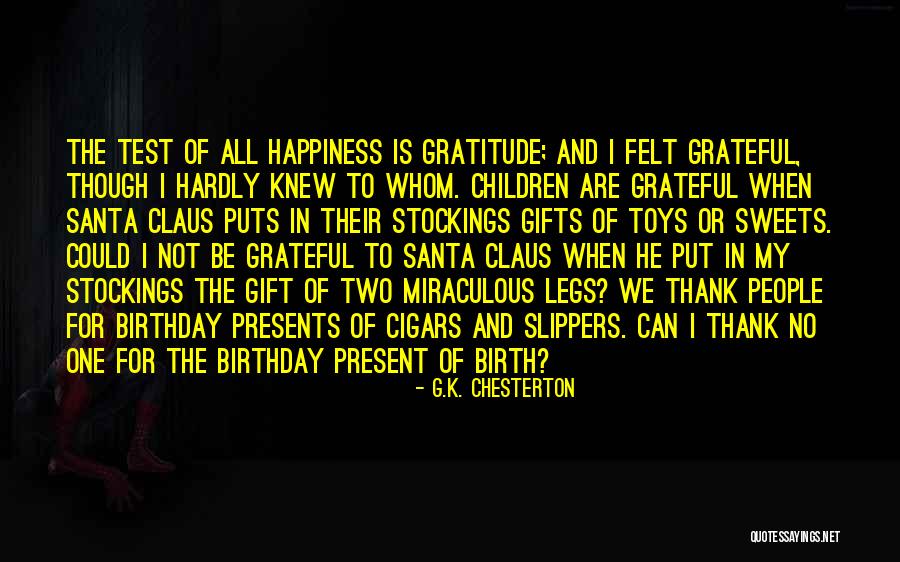 The test of all happiness is gratitude; and I felt grateful, though I hardly knew to whom. Children are grateful when Santa Claus puts in their stockings gifts of toys or sweets. Could I not be grateful to Santa Claus when he put in my stockings the gift of two miraculous legs? We thank people for birthday presents of cigars and slippers. Can I thank no one for the birthday present of birth? — G.K. Chesterton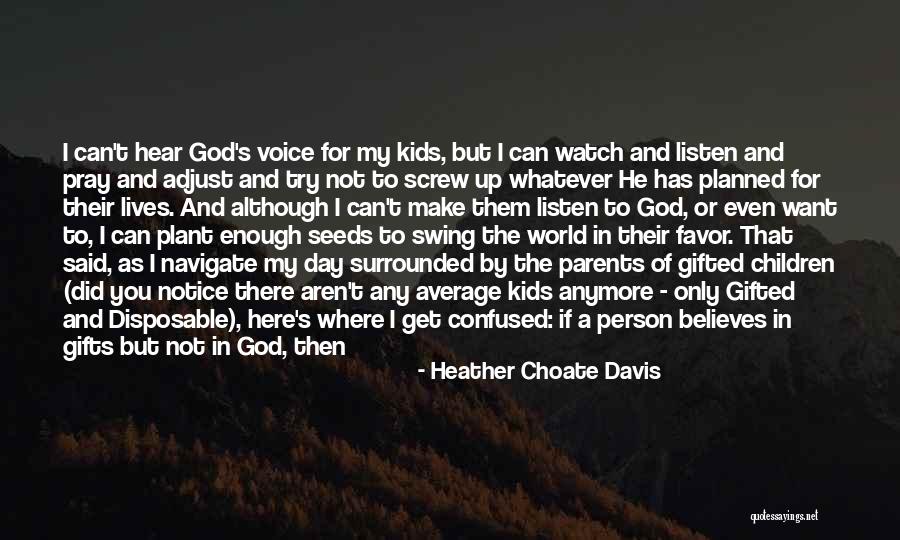 I can't hear God's voice for my kids, but I can watch and listen and pray and adjust and try not to screw up whatever He has planned for their lives. And although I can't make them listen to God, or even want to, I can plant enough seeds to swing the world in their favor. That said, as I navigate my day surrounded by the parents of gifted children (did you notice there aren't any average kids anymore - only Gifted and Disposable), here's where I get confused: if a person believes in gifts but not in God, then where - as they stand in daily admiration of their child's emergent uniqueness, their heart swelling with pride and joy and, yes, gratitude - where, then, do they send the thank-you note? — Heather Choate Davis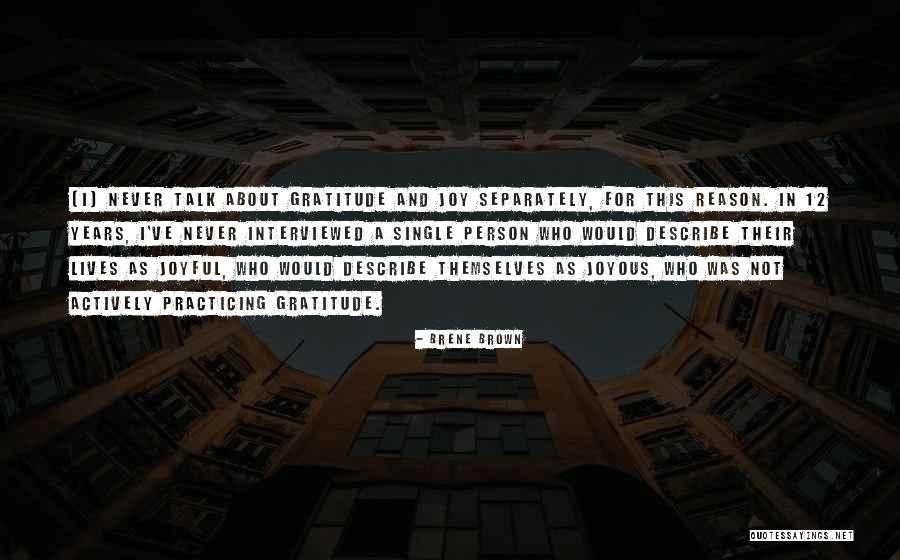 [I] never talk about gratitude and joy separately, for this reason. In 12 years, I've never interviewed a single person who would describe their lives as joyful, who would describe themselves as joyous, who was not actively practicing gratitude. — Brene Brown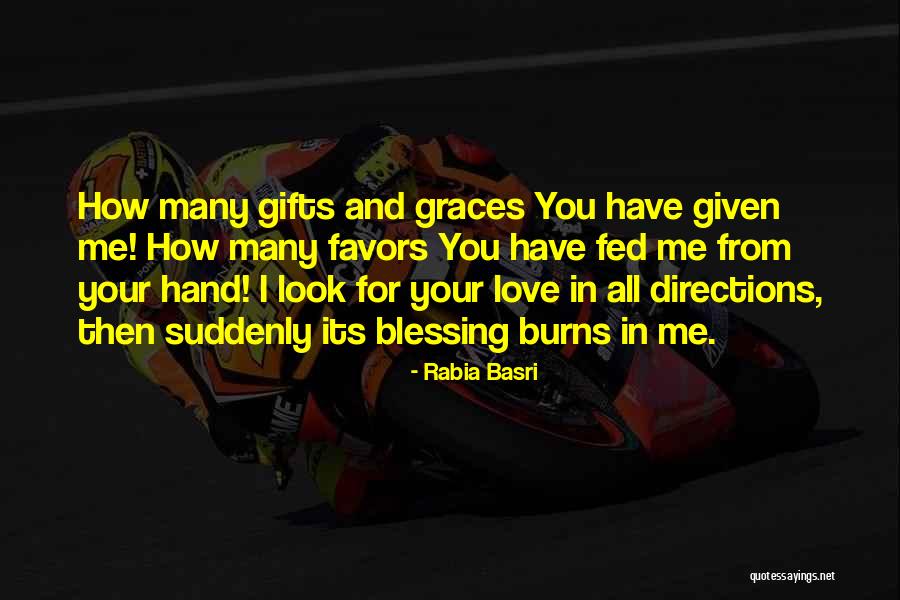 How many gifts and graces You have given me! How many favors You have fed me from your hand! I look for your love in all directions, then suddenly its blessing burns in me. — Rabia Basri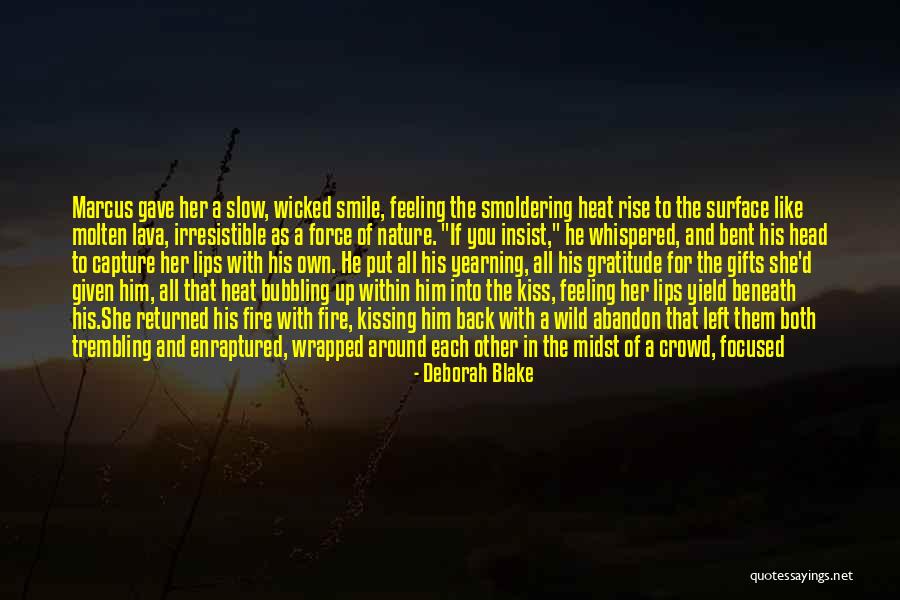 Marcus gave her a slow, wicked smile, feeling the smoldering heat rise to the surface like molten lava, irresistible as a force of nature. "If you insist," he whispered, and bent his head to capture her lips with his own. He put all his yearning, all his gratitude for the gifts she'd given him, all that heat bubbling up within him into the kiss, feeling her lips yield beneath his.
She returned his fire with fire, kissing him back with a wild abandon that left them both trembling and enraptured, wrapped around each other in the midst of a crowd, focused only on each other.
Overhead, fireworks lit the sky, but neither of them noticed. — Deborah Blake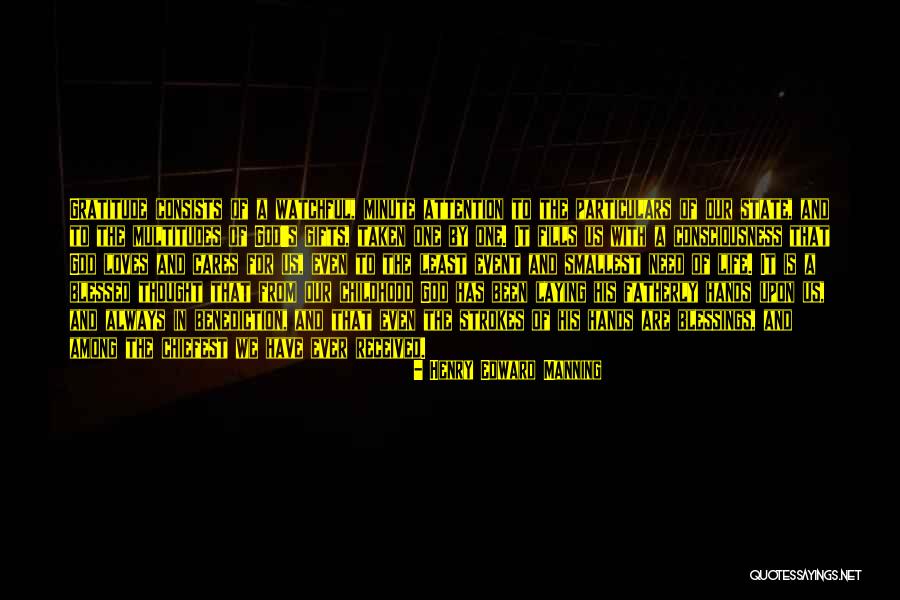 Gratitude consists of a watchful, minute attention to the particulars of our state, and to the multitudes of God's gifts, taken one by one. It fills us with a consciousness that God loves and cares for us, even to the least event and smallest need of life. It is a blessed thought that from our childhood God has been laying his fatherly hands upon us, and always in benediction, and that even the strokes of his hands are blessings, and among the chiefest we have ever received. — Henry Edward Manning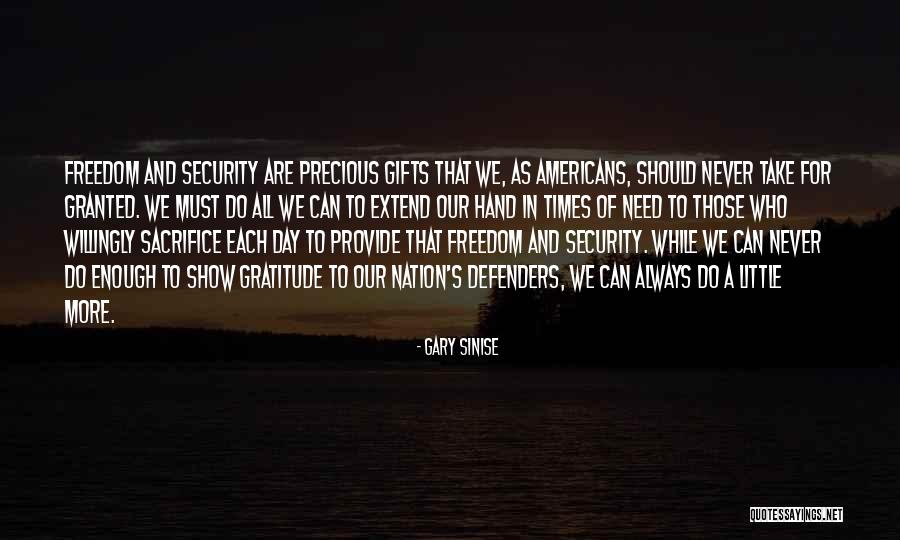 Freedom and security are precious gifts that we, as Americans, should never take for granted. We must do all we can to extend our hand in times of need to those who willingly sacrifice each day to provide that freedom and security. While we can never do enough to show gratitude to our nation's defenders, we can always do a little more. — Gary Sinise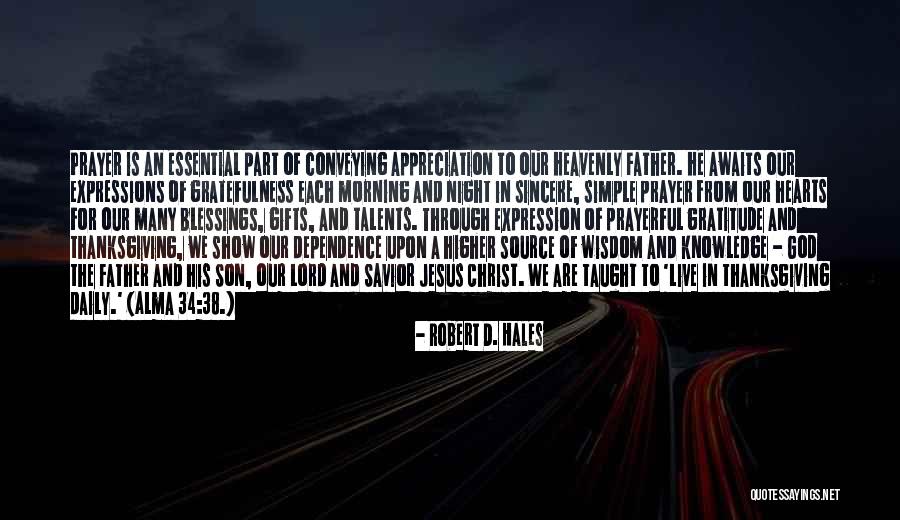 Prayer is an essential part of conveying appreciation to our Heavenly Father. He awaits our expressions of gratefulness each morning and night in sincere, simple prayer from our hearts for our many blessings, gifts, and talents. Through expression of prayerful gratitude and thanksgiving, we show our dependence upon a higher source of wisdom and knowledge - God the Father and his Son, our Lord and Savior Jesus Christ. We are taught to 'live in thanksgiving daily.' (Alma 34:38.) — Robert D. Hales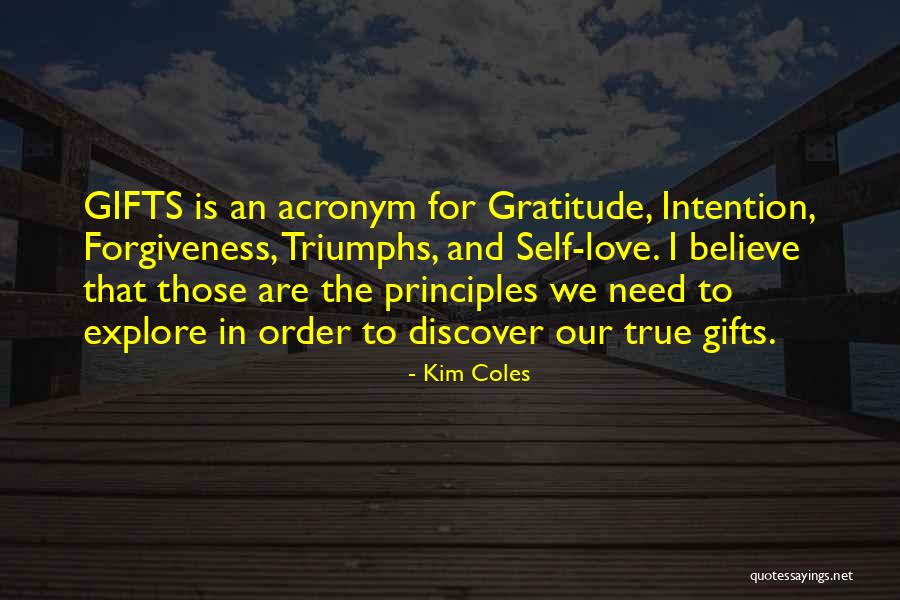 GIFTS is an acronym for Gratitude, Intention, Forgiveness, Triumphs, and Self-love. I believe that those are the principles we need to explore in order to discover our true gifts. — Kim Coles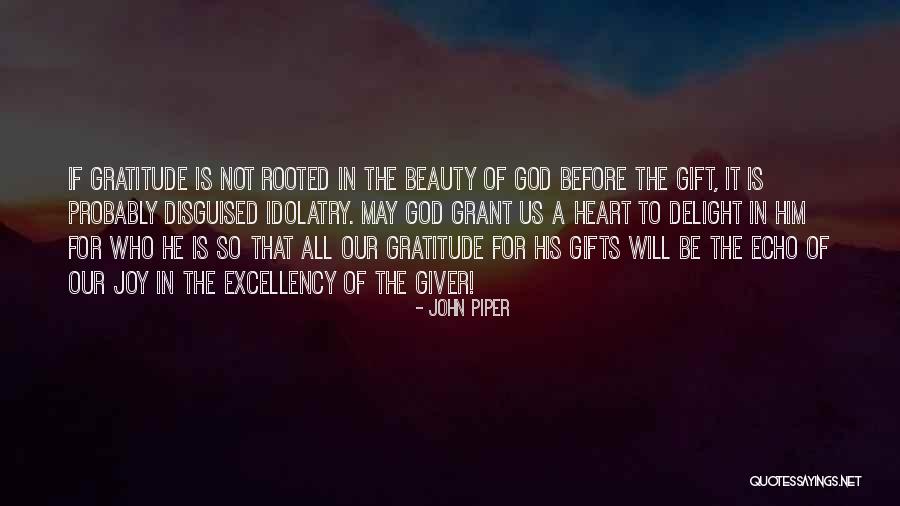 If gratitude is not rooted in the beauty of God before the gift, it is probably disguised idolatry. May God grant us a heart to delight in him for who he is so that all our gratitude for his gifts will be the echo of our joy in the excellency of the Giver! — John Piper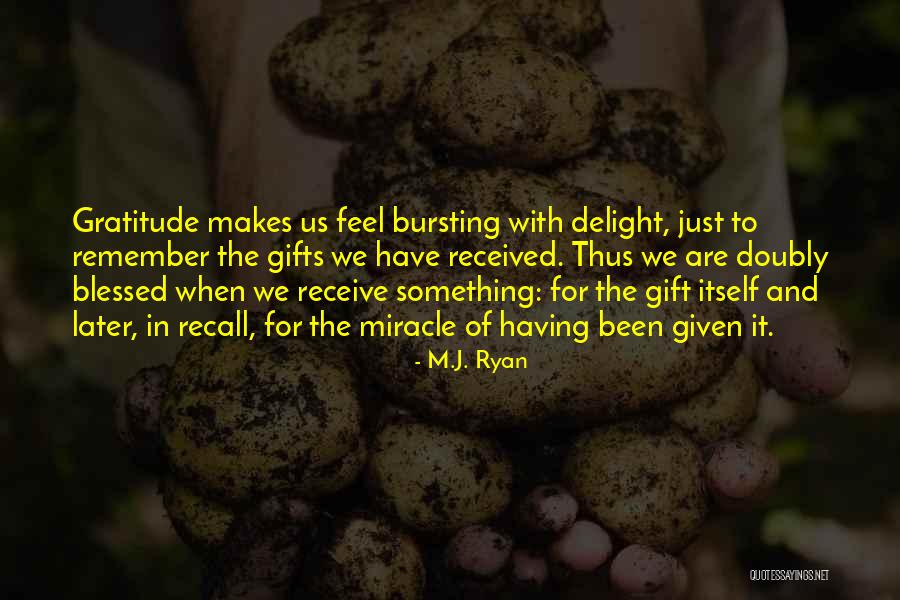 Gratitude makes us feel bursting with delight, just to remember the gifts we have received. Thus we are doubly blessed when we receive something: for the gift itself and later, in recall, for the miracle of having been given it. — M.J. Ryan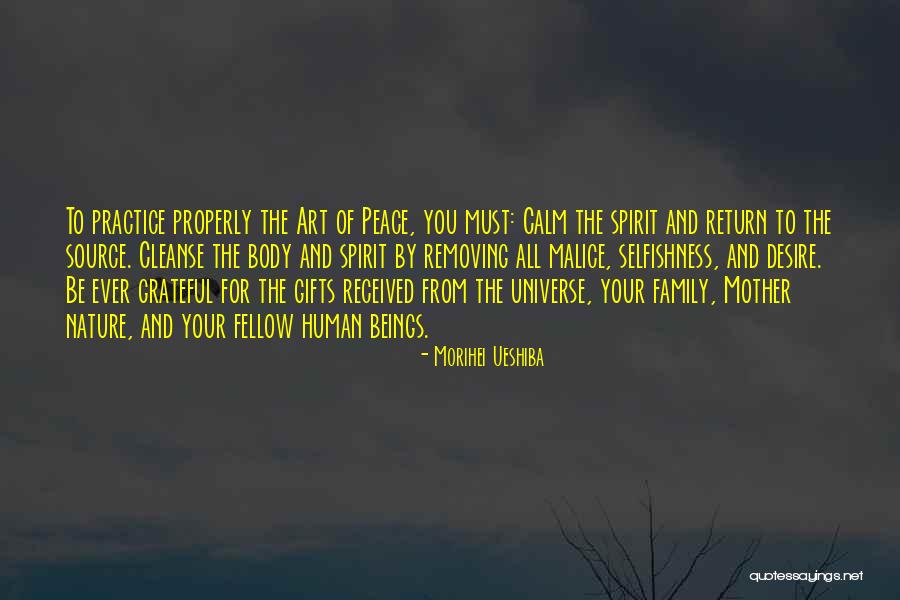 To practice properly the Art of Peace, you must: Calm the spirit and return to the source. Cleanse the body and spirit by removing all malice, selfishness, and desire. Be ever grateful for the gifts received from the universe, your family, Mother nature, and your fellow human beings. — Morihei Ueshiba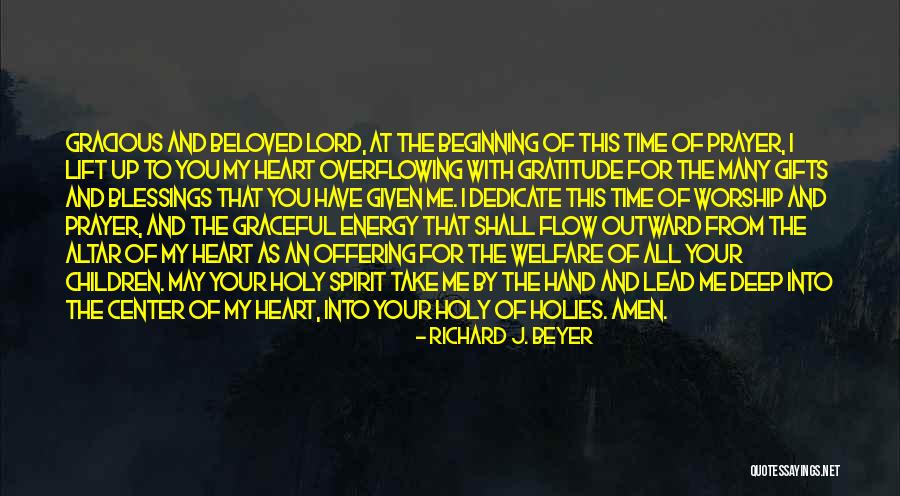 Gracious and beloved Lord, at the beginning of this time of prayer, I lift up to you my heart overflowing with gratitude for the many gifts and blessings that you have given me. I dedicate this time of worship and prayer, and the graceful energy that shall flow outward from the altar of my heart as an offering for the welfare of all your children. May your Holy Spirit take me by the hand and lead me deep into the center of my heart, into your Holy of Holies. Amen. — Richard J. Beyer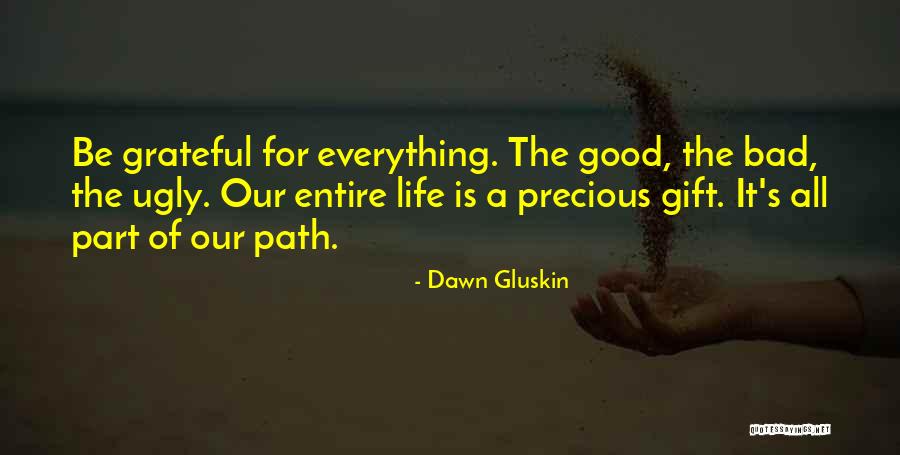 Be grateful for everything. The good, the bad, the ugly. Our entire life is a precious gift. It's all part of our path. — Dawn Gluskin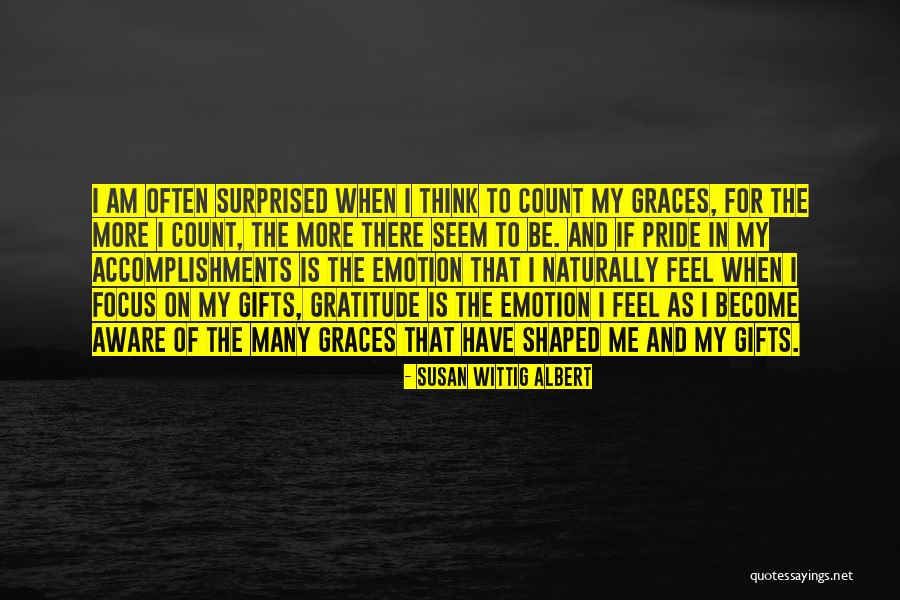 I am often surprised when I think to count my graces, for the more I count, the more there seem to be. And if pride in my accomplishments is the emotion that I naturally feel when I focus on my gifts, gratitude is the emotion I feel as I become aware of the many graces that have shaped me and my gifts. — Susan Wittig Albert
Ingratitude to God does not rely only on our refusal to give the verbal thanksgiving due to Him, but also recides in our inability to appreciate his gifts and potentials in us by leaving them untapped. — Israelmore Ayivor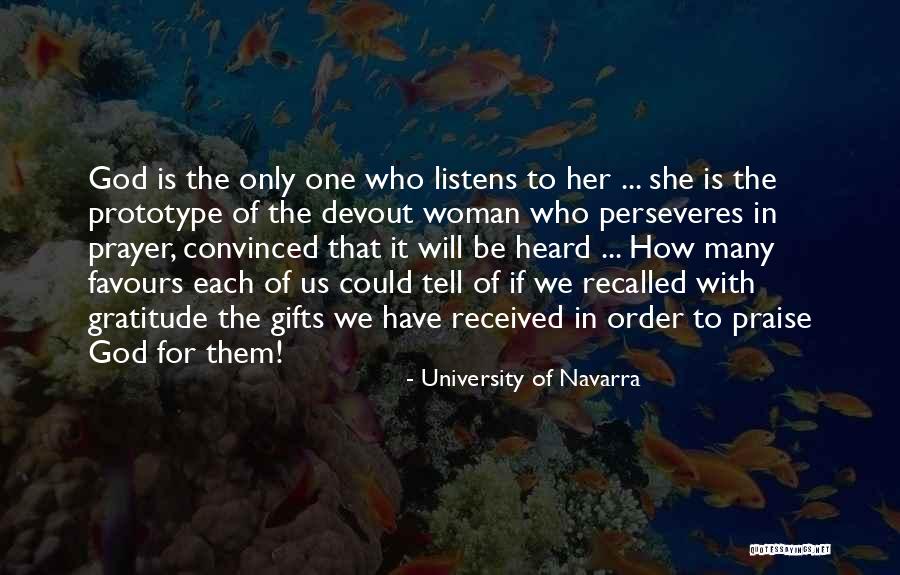 God is the only one who listens to her ... she is the prototype of the devout woman who perseveres in prayer, convinced that it will be heard ... How many favours each of us could tell of if we recalled with gratitude the gifts we have received in order to praise God for them! — University Of Navarra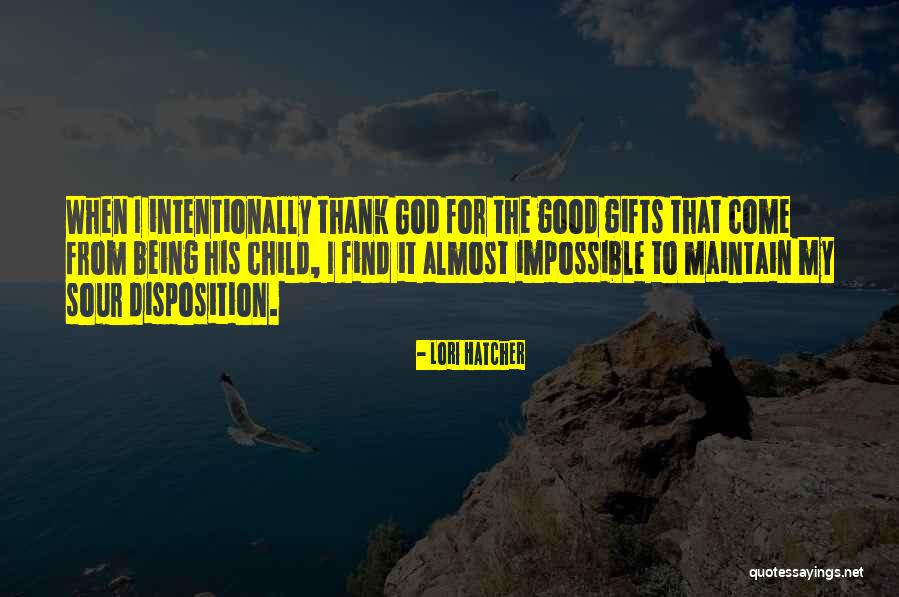 When I intentionally thank God for the good gifts that come from being his child, I find it almost impossible to maintain my sour disposition. — Lori Hatcher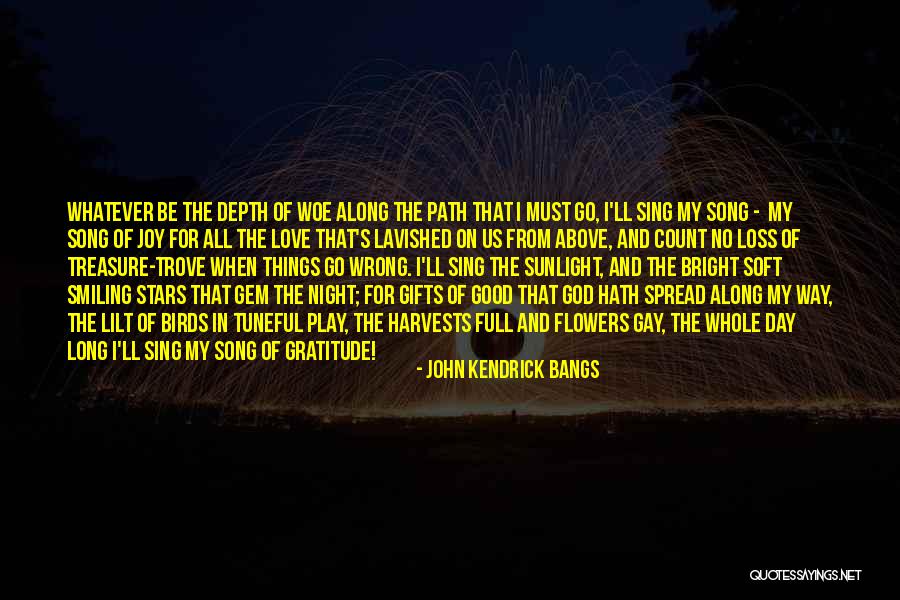 Whatever be the depth of woe Along the path that I must go, I'll sing my song - My song of joy for all the love That's lavished on us from above, And count no loss of treasure-trove When things go wrong. I'll sing the sunlight, and the bright Soft smiling stars that gem the night; For gifts of good That God hath spread along my way, The lilt of birds in tuneful play, The harvests full and flowers gay, The whole day long I'll sing my song Of gratitude! — John Kendrick Bangs