Quotes & Sayings About Good Work Performance
Enjoy reading and share 22 famous quotes about Good Work Performance with everyone.
Top Good Work Performance Quotes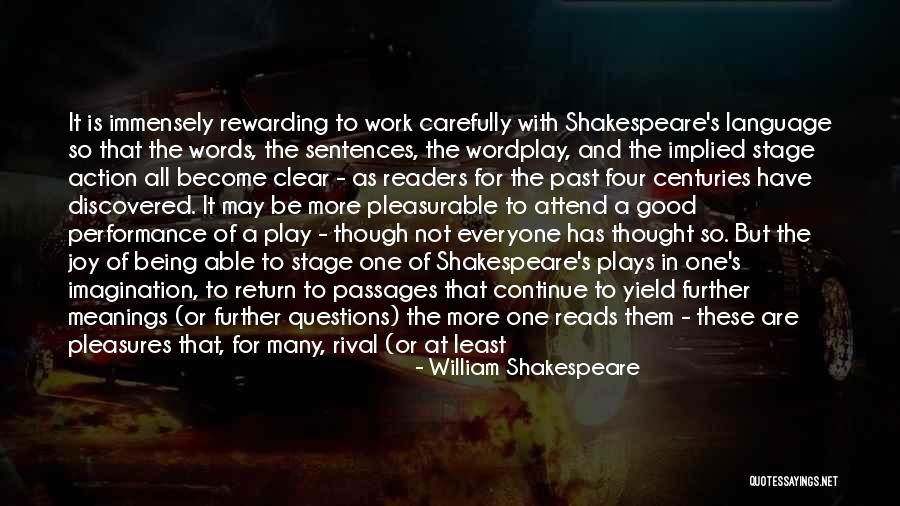 It is immensely rewarding to work carefully with Shakespeare's language so that the words, the sentences, the wordplay, and the implied stage action all become clear - as readers for the past four centuries have discovered. It may be more pleasurable to attend a good performance of a play - though not everyone has thought so. But the joy of being able to stage one of Shakespeare's plays in one's imagination, to return to passages that continue to yield further meanings (or further questions) the more one reads them - these are pleasures that, for many, rival (or at least augment) those of the performed text, and certainly make it worth considerable effort to "break the code" of Elizabethan poetic drama and let free the remarkable language that makes up a Shakespeare text. — William Shakespeare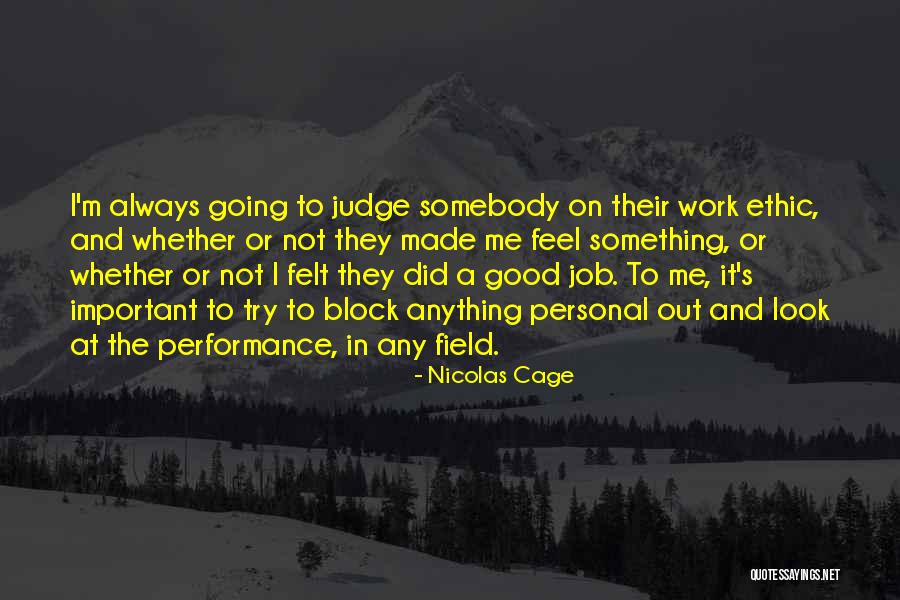 I'm always going to judge somebody on their work ethic, and whether or not they made me feel something, or whether or not I felt they did a good job. To me, it's important to try to block anything personal out and look at the performance, in any field. — Nicolas Cage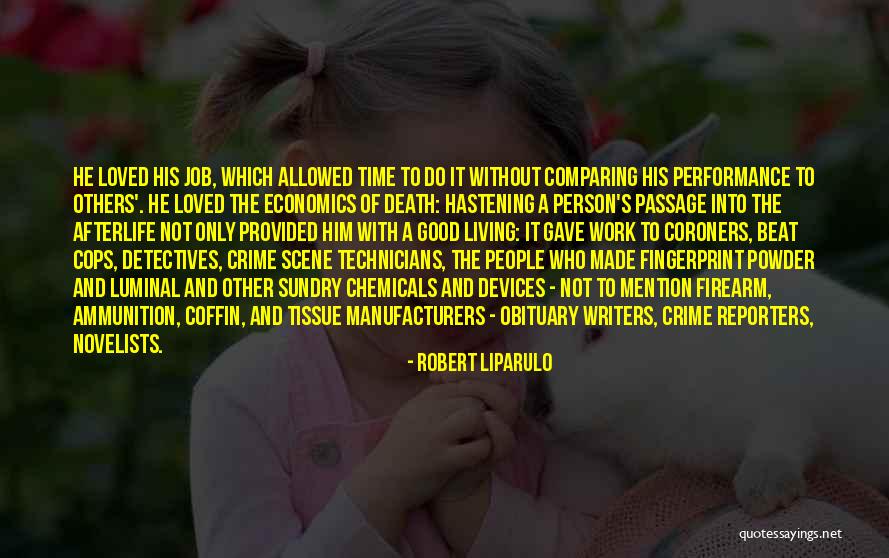 He loved his job, which allowed time to do it without comparing his performance to others'. He loved the economics of death: hastening a person's passage into the afterlife not only provided him with a good living: it gave work to coroners, beat cops, detectives, crime scene technicians, the people who made fingerprint powder and luminal and other sundry chemicals and devices - not to mention firearm, ammunition, coffin, and tissue manufacturers - obituary writers, crime reporters, novelists. — Robert Liparulo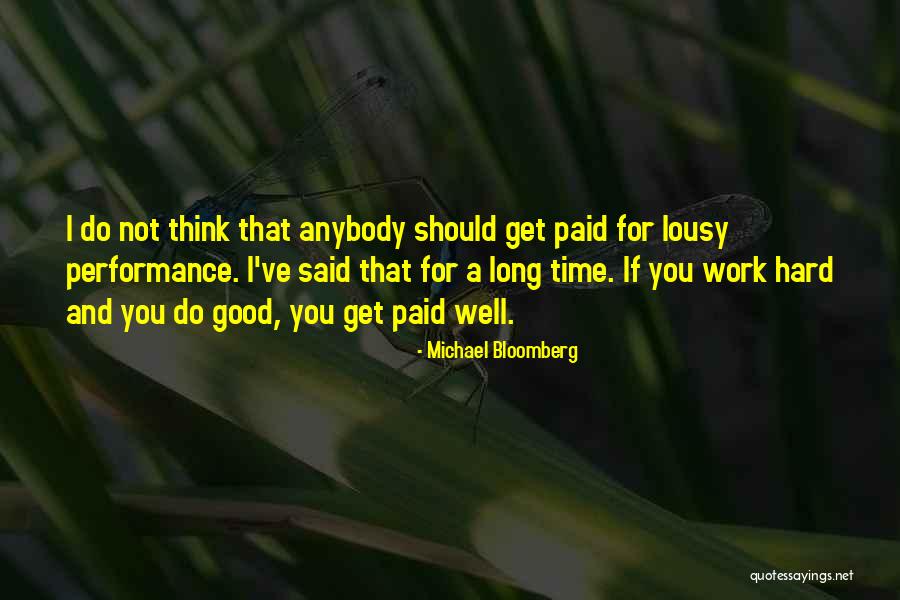 I do not think that anybody should get paid for lousy performance. I've said that for a long time. If you work hard and you do good, you get paid well. — Michael Bloomberg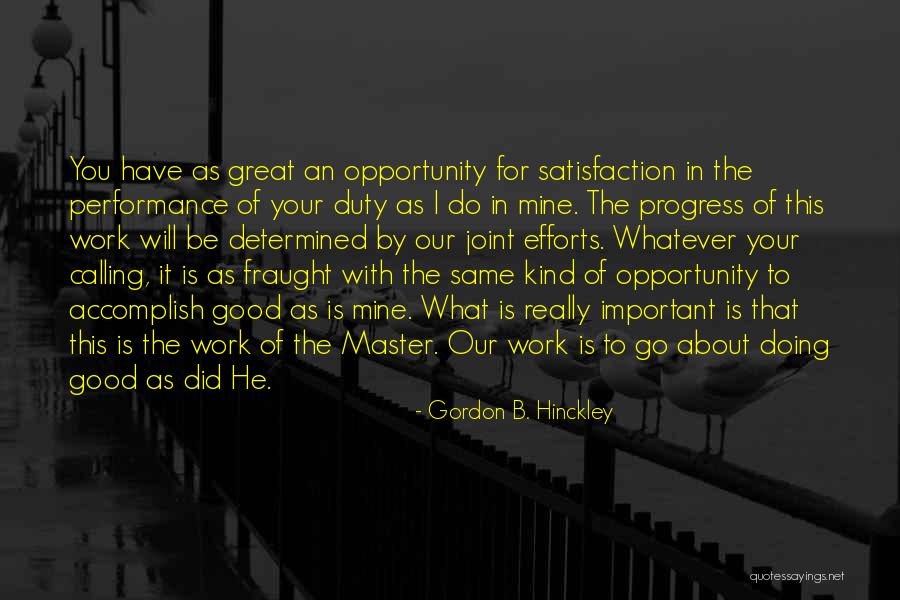 You have as great an opportunity for satisfaction in the performance of your duty as I do in mine. The progress of this work will be determined by our joint efforts. Whatever your calling, it is as fraught with the same kind of opportunity to accomplish good as is mine. What is really important is that this is the work of the Master. Our work is to go about doing good as did He. — Gordon B. Hinckley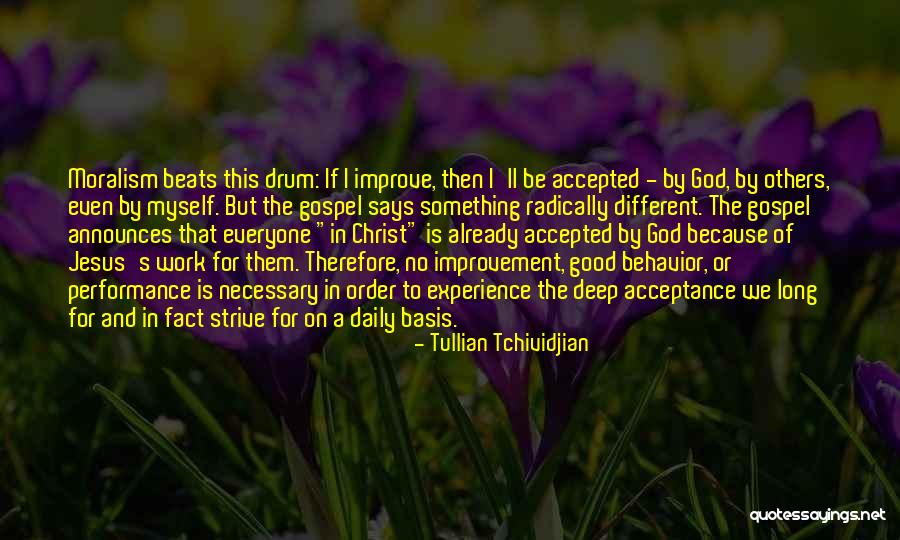 Moralism beats this drum: If I improve, then I'll be accepted - by God, by others, even by myself. But the gospel says something radically different. The gospel announces that everyone "in Christ" is already accepted by God because of Jesus's work for them. Therefore, no improvement, good behavior, or performance is necessary in order to experience the deep acceptance we long for and in fact strive for on a daily basis. — Tullian Tchividjian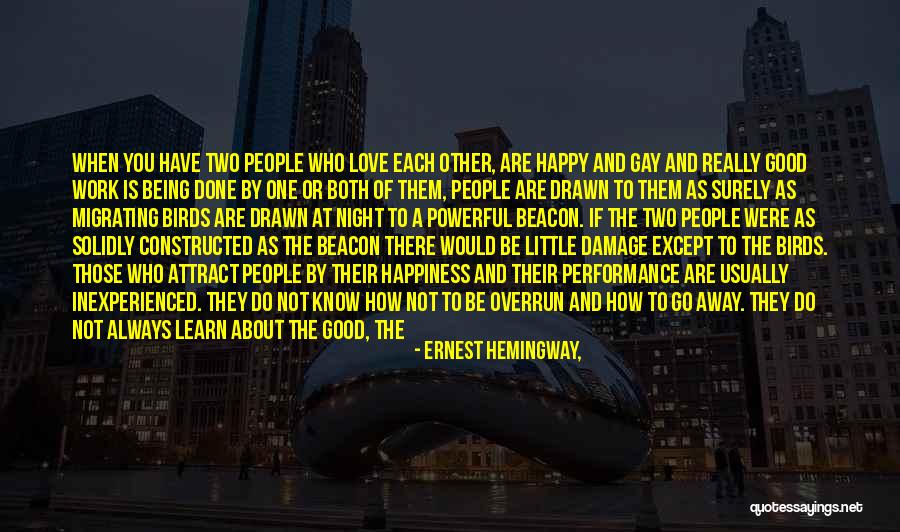 When you have two people who love each other, are happy and gay and really good work is being done by one or both of them, people are drawn to them as surely as migrating birds are drawn at night to a powerful beacon. If the two people were as solidly constructed as the beacon there would be little damage except to the birds. Those who attract people by their happiness and their performance are usually inexperienced. They do not know how not to be overrun and how to go away. They do not always learn about the good, the attractive, the charming, the soon-beloved, the generous, the understanding rich who have no bad qualities and who give each day the quality of a festival and who, when they have passed and taken the nourishment they needed, leave everything deader than the roots of any grass Attila's horses' hooves have ever scoured. — Ernest Hemingway,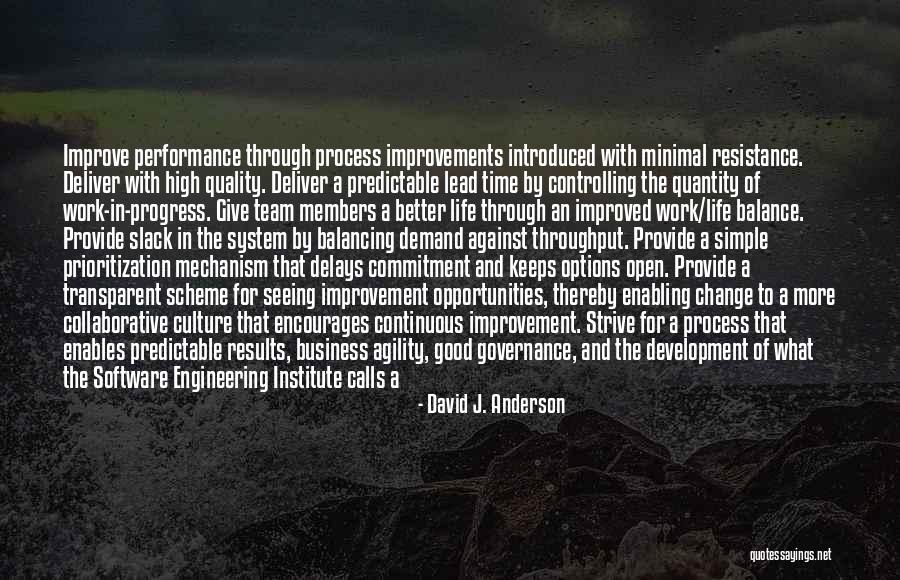 Improve performance through process improvements introduced with minimal resistance. Deliver with high quality. Deliver a predictable lead time by controlling the quantity of work-in-progress. Give team members a better life through an improved work/life balance. Provide slack in the system by balancing demand against throughput. Provide a simple prioritization mechanism that delays commitment and keeps options open. Provide a transparent scheme for seeing improvement opportunities, thereby enabling change to a more collaborative culture that encourages continuous improvement. Strive for a process that enables predictable results, business agility, good governance, and the development of what the Software Engineering Institute calls a high-maturity organization. — David J. Anderson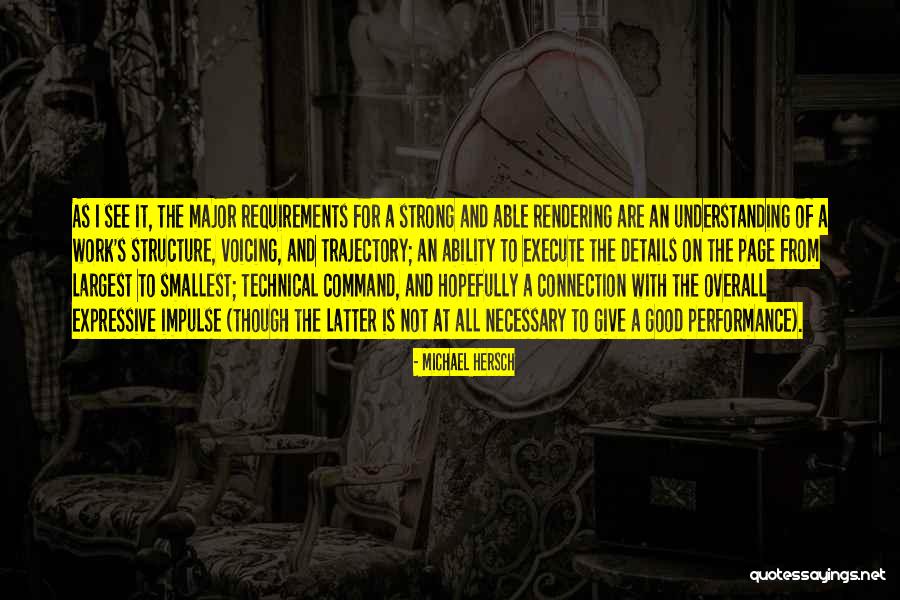 As I see it, the major requirements for a strong and able rendering are an understanding of a work's structure, voicing, and trajectory; an ability to execute the details on the page from largest to smallest; technical command, and hopefully a connection with the overall expressive impulse (though the latter is not at all necessary to give a good performance). — Michael Hersch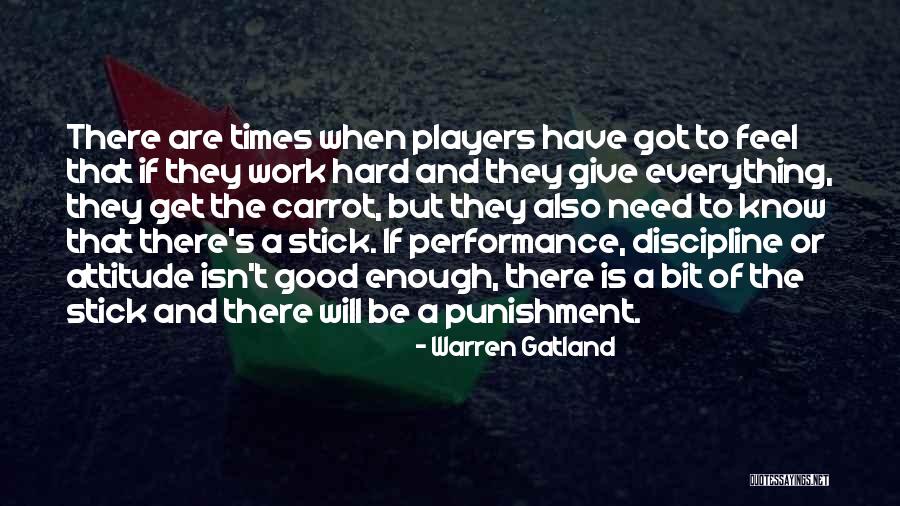 There are times when players have got to feel that if they work hard and they give everything, they get the carrot, but they also need to know that there's a stick. If performance, discipline or attitude isn't good enough, there is a bit of the stick and there will be a punishment. — Warren Gatland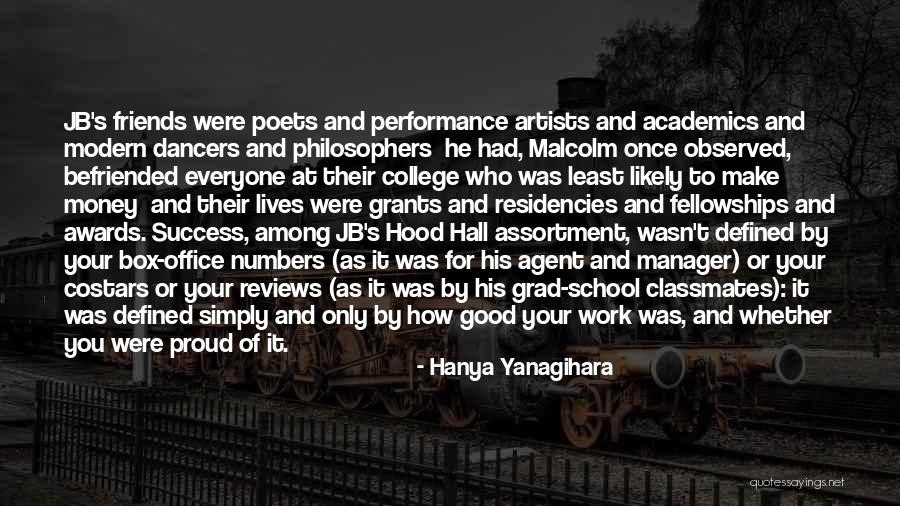 JB's friends were poets and performance artists and academics and modern dancers and philosophers
he had, Malcolm once observed, befriended everyone at their college who was least likely to make money
and their lives were grants and residencies and fellowships and awards. Success, among JB's Hood Hall assortment, wasn't defined by your box-office numbers (as it was for his agent and manager) or your costars or your reviews (as it was by his grad-school classmates): it was defined simply and only by how good your work was, and whether you were proud of it. — Hanya Yanagihara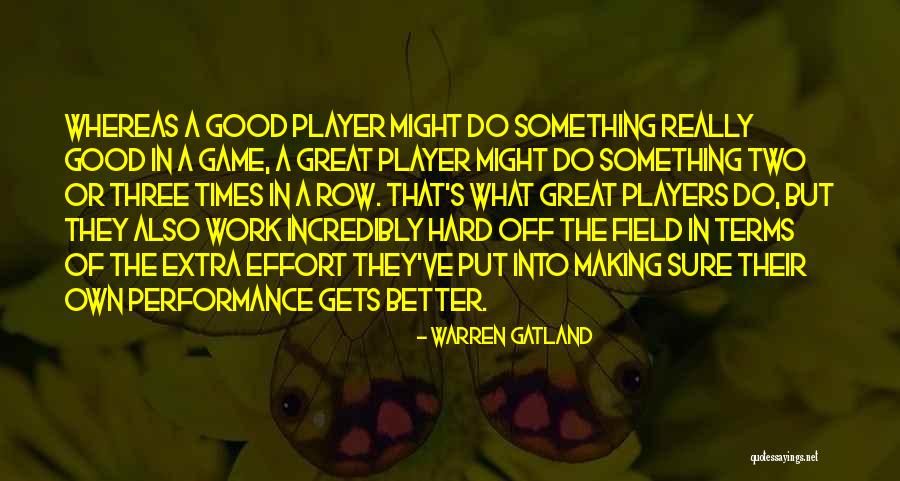 Whereas a good player might do something really good in a game, a great player might do something two or three times in a row. That's what great players do, but they also work incredibly hard off the field in terms of the extra effort they've put into making sure their own performance gets better. — Warren Gatland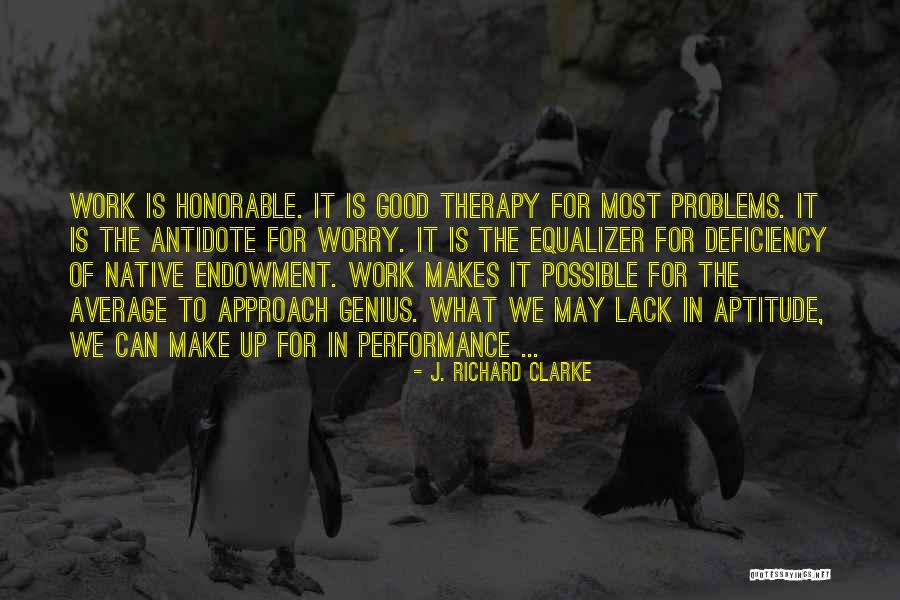 Work is honorable. It is good therapy for most problems. It is the antidote for worry. It is the equalizer for deficiency of native endowment. Work makes it possible for the average to approach genius. What we may lack in aptitude, we can make up for in performance ... — J. Richard Clarke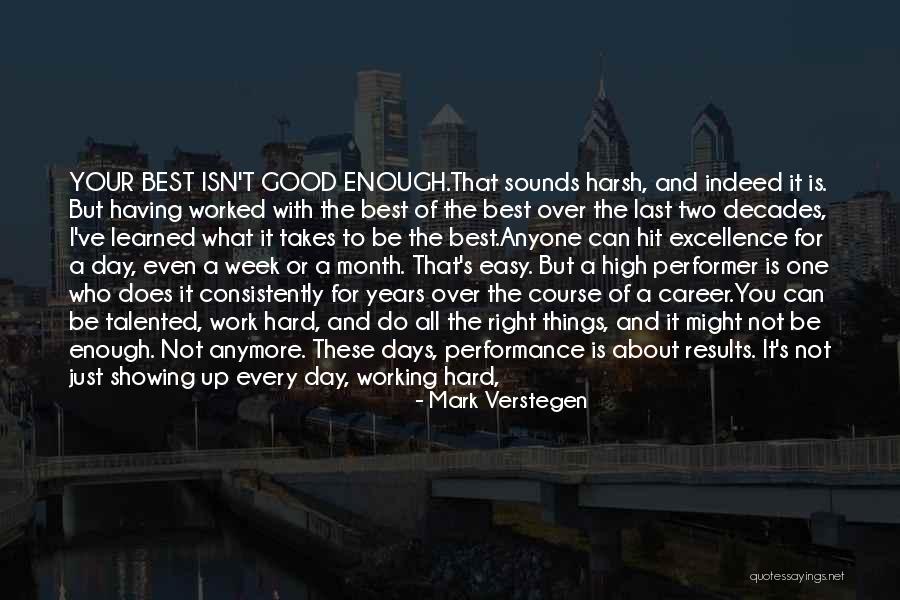 YOUR BEST ISN'T GOOD ENOUGH.
That sounds harsh, and indeed it is. But having worked with the best of the best over the last two decades, I've learned what it takes to be the best.
Anyone can hit excellence for a day, even a week or a month. That's easy. But a high performer is one who does it consistently for years over the course of a career.
You can be talented, work hard, and do all the right things, and it might not be enough. Not anymore. These days, performance is about results. It's not just showing up every day, working hard, and doing the right things. That's great. That's expected. Performance is about showing up every day and hitting the bull's eye regardless of the situation. — Mark Verstegen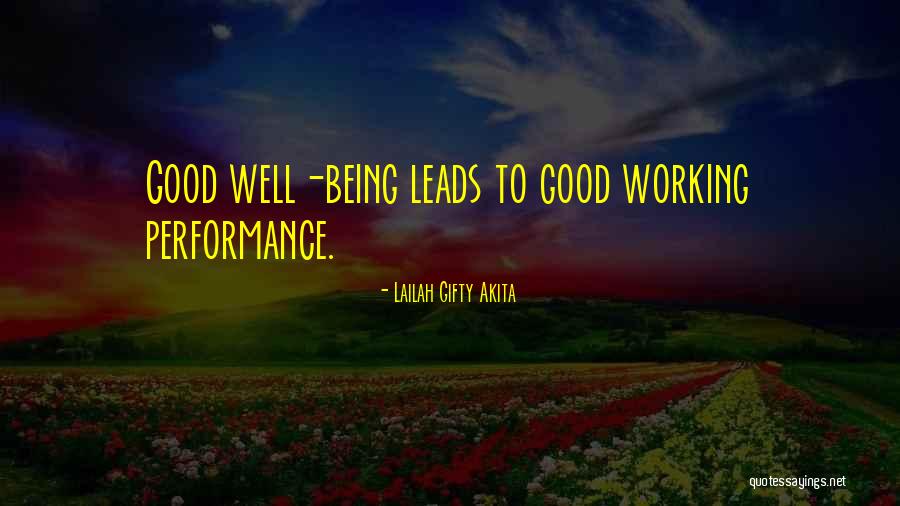 Good well-being leads to good working performance. — Lailah Gifty Akita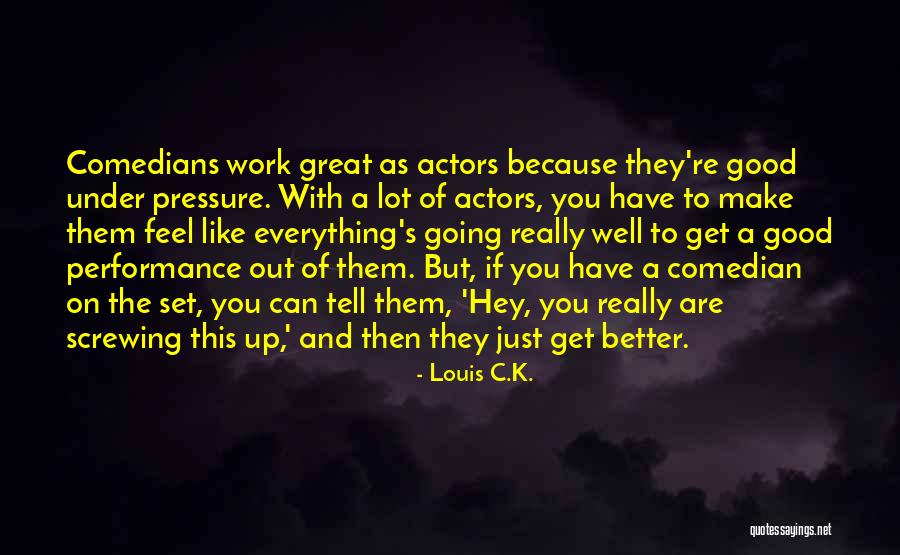 Comedians work great as actors because they're good under pressure. With a lot of actors, you have to make them feel like everything's going really well to get a good performance out of them. But, if you have a comedian on the set, you can tell them, 'Hey, you really are screwing this up,' and then they just get better. — Louis C.K.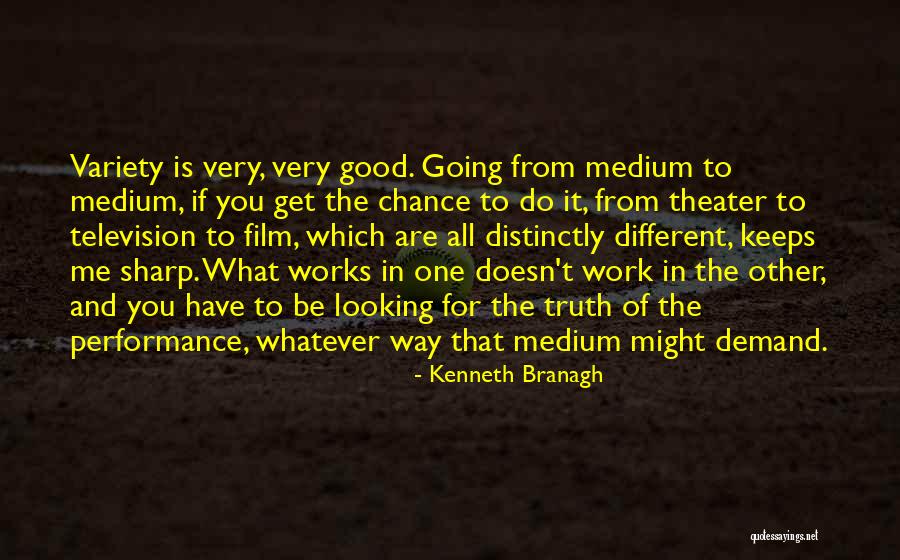 Variety is very, very good. Going from medium to medium, if you get the chance to do it, from theater to television to film, which are all distinctly different, keeps me sharp. What works in one doesn't work in the other, and you have to be looking for the truth of the performance, whatever way that medium might demand. — Kenneth Branagh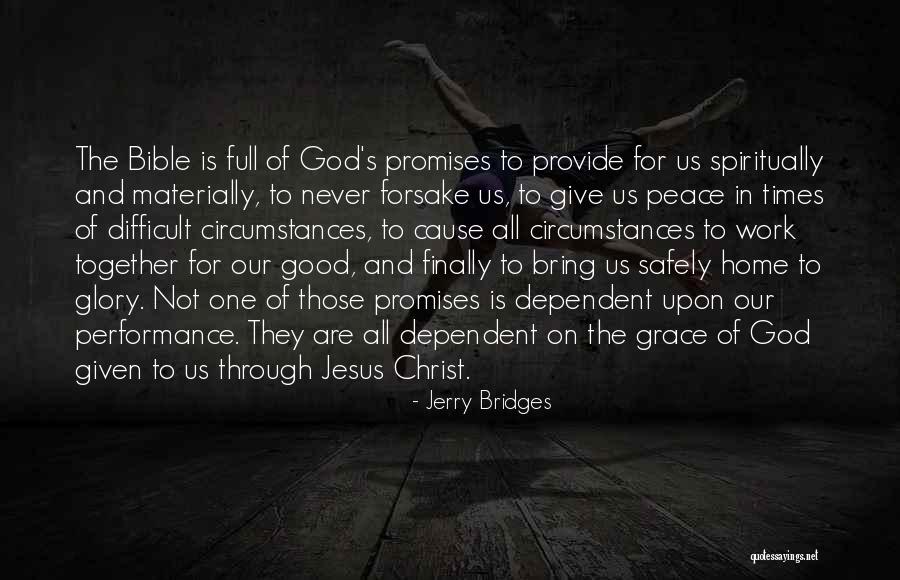 The Bible is full of God's promises to provide for us spiritually and materially, to never forsake us, to give us peace in times of difficult circumstances, to cause all circumstances to work together for our good, and finally to bring us safely home to glory. Not one of those promises is dependent upon our performance. They are all dependent on the grace of God given to us through Jesus Christ. — Jerry Bridges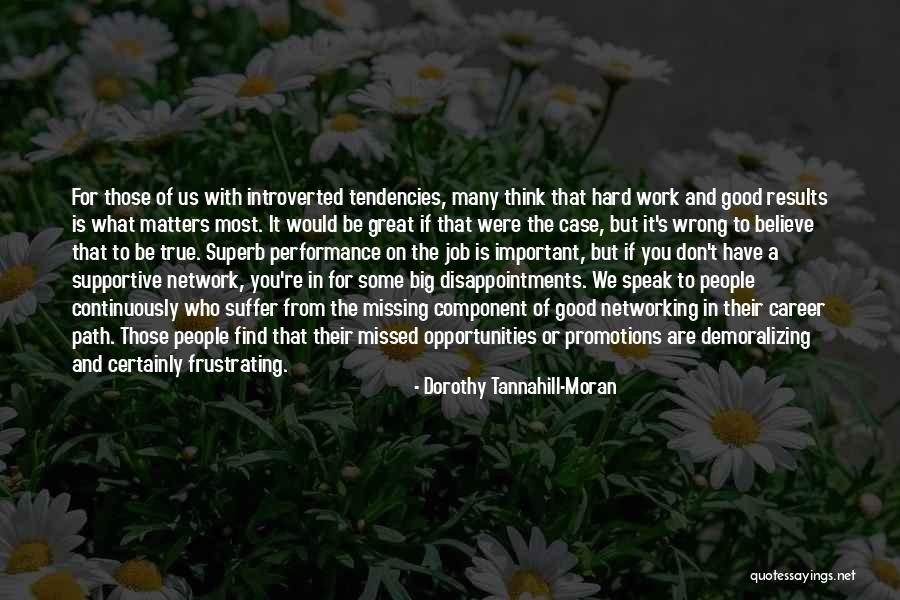 For those of us with introverted tendencies, many think that hard work and good results is what matters most. It would be great if that were the case, but it's wrong to believe that to be true. Superb performance on the job is important, but if you don't have a supportive network, you're in for some big disappointments. We speak to people continuously who suffer from the missing component of good networking in their career path. Those people find that their missed opportunities or promotions are demoralizing and certainly frustrating. — Dorothy Tannahill-Moran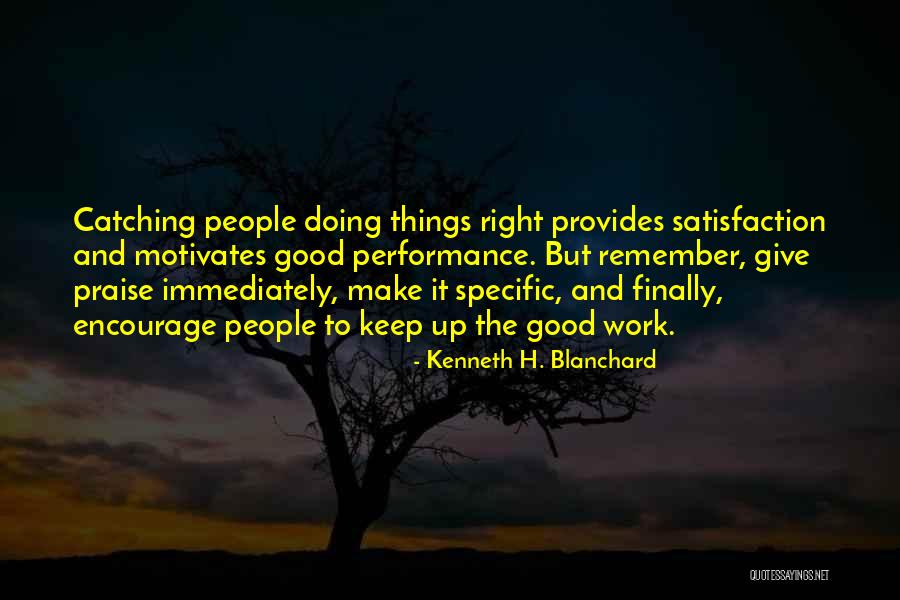 Catching people doing things right provides satisfaction and motivates good performance. But remember, give praise immediately, make it specific, and finally, encourage people to keep up the good work. — Kenneth H. Blanchard
Dieter once wrote in a letter: It is good that I work there. I am like that fruit. I am imperfect. Inside I am the same person, the same sense of humor, the same thoughts. But my words betray me. What should take three minutes to say is an hour of frustration. People lose patience with me. Aphasia means aloneness. But God hears me. My world is small, and quiet, and slow and simple. No stage. No performance. More real. Good. — John Ortberg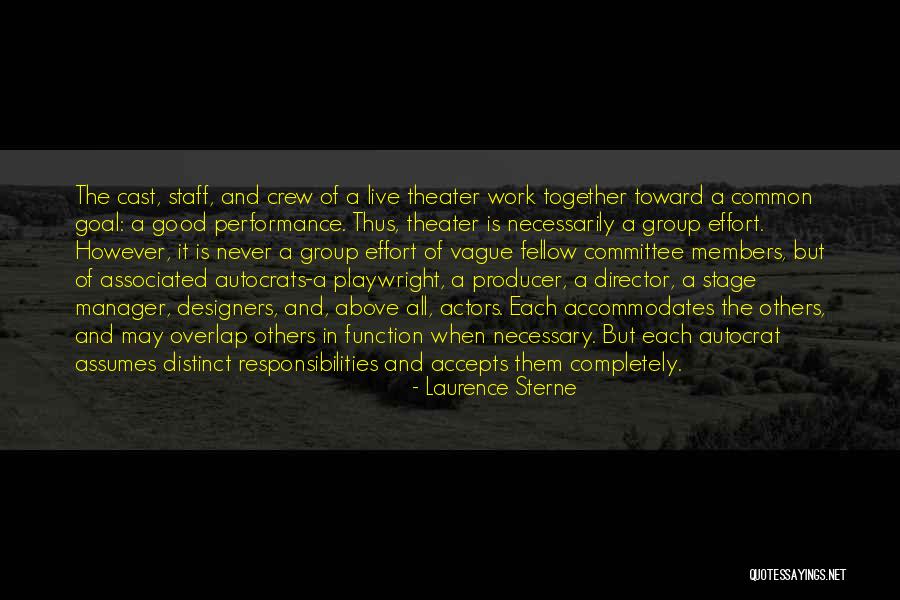 The cast, staff, and crew of a live theater work together toward a common goal: a good performance. Thus, theater is necessarily a group effort. However, it is never a group effort of vague fellow committee members, but of associated autocrats-a playwright, a producer, a director, a stage manager, designers, and, above all, actors. Each accommodates the others, and may overlap others in function when necessary. But each autocrat assumes distinct responsibilities and accepts them completely. — Laurence Sterne