Going Through Family Problems Quotes & Sayings
Enjoy reading and share 19 famous quotes about Going Through Family Problems with everyone.
Top Going Through Family Problems Quotes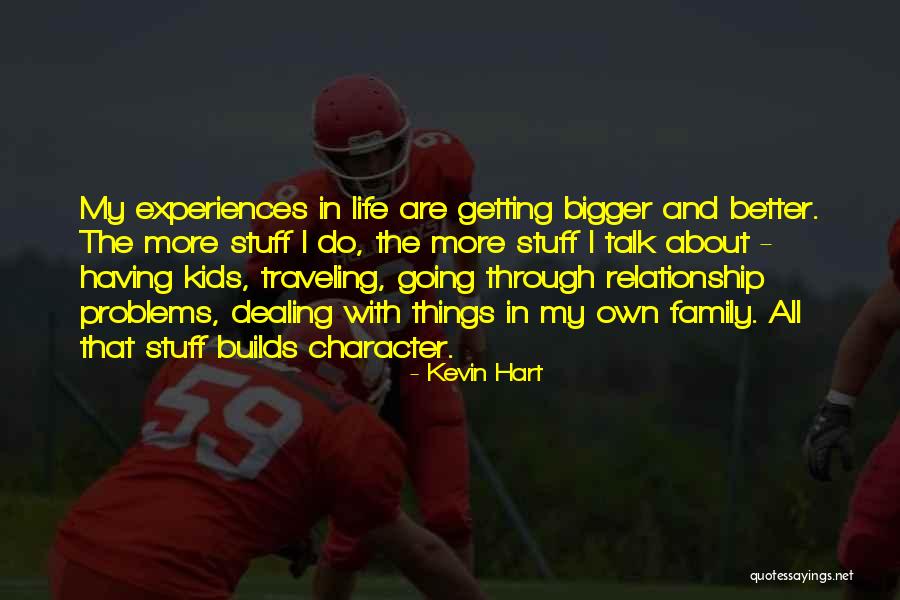 My experiences in life are getting bigger and better. The more stuff I do, the more stuff I talk about - having kids, traveling, going through relationship problems, dealing with things in my own family. All that stuff builds character. — Kevin Hart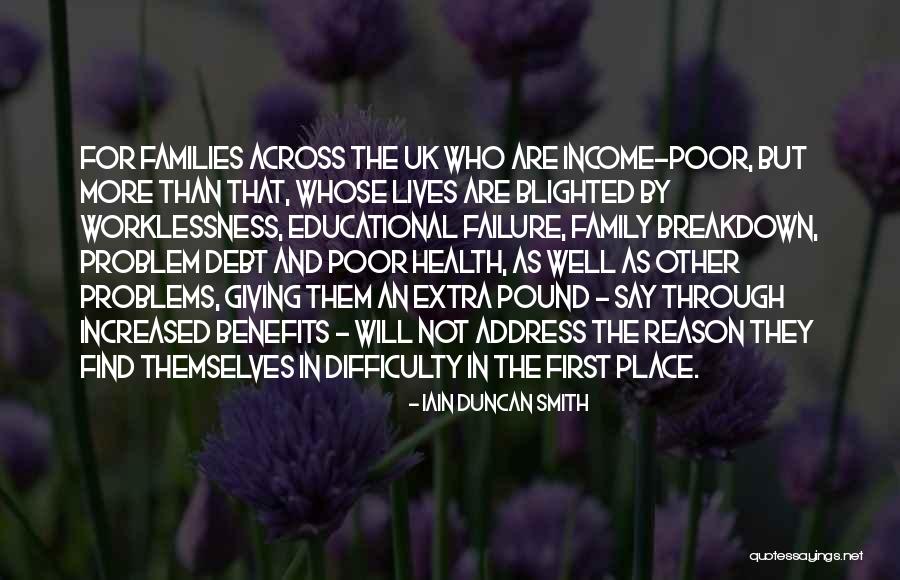 For families across the UK who are income-poor, but more than that, whose lives are blighted by worklessness, educational failure, family breakdown, problem debt and poor health, as well as other problems, giving them an extra pound - say through increased benefits - will not address the reason they find themselves in difficulty in the first place. — Iain Duncan Smith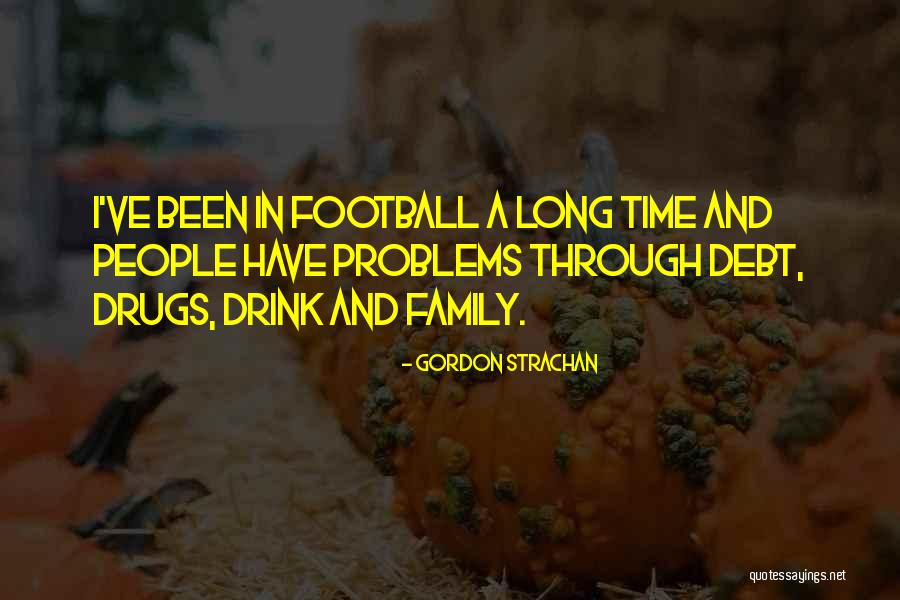 I've been in football a long time and people have problems through debt, drugs, drink and family. — Gordon Strachan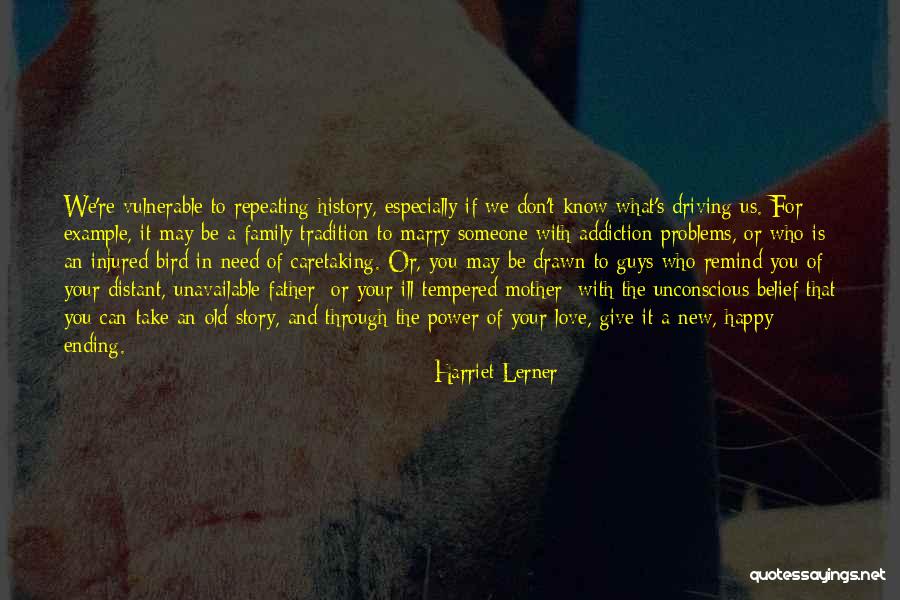 We're vulnerable to repeating history, especially if we don't know what's driving us. For example, it may be a family tradition to marry someone with addiction problems, or who is an injured bird in need of caretaking. Or, you may be drawn to guys who remind you of your distant, unavailable father
or your ill-tempered mother
with the unconscious belief that you can take an old story, and through the power of your love, give it a new, happy ending. — Harriet Lerner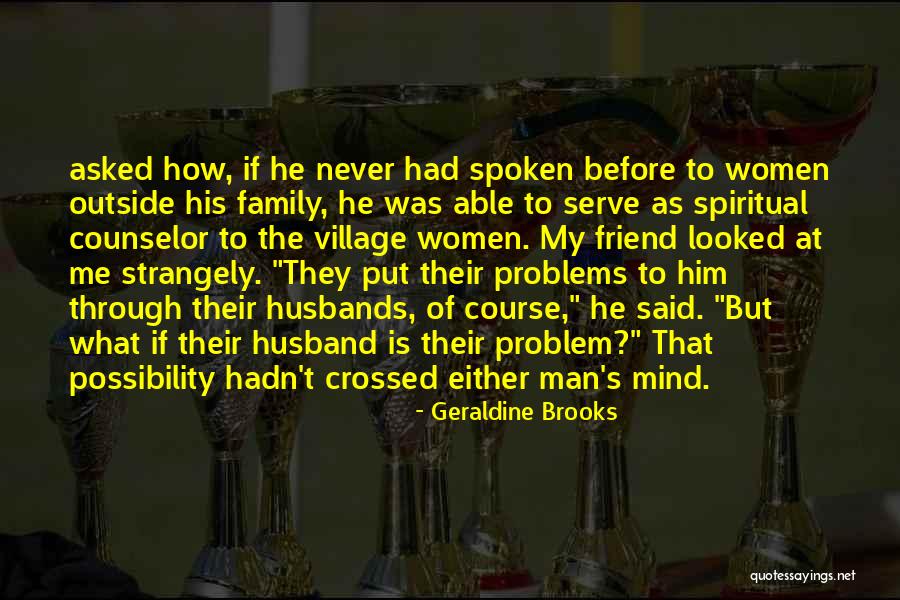 asked how, if he never had spoken before to women outside his family, he was able to serve as spiritual counselor to the village women. My friend looked at me strangely. "They put their problems to him through their husbands, of course," he said. "But what if their husband is their problem?" That possibility hadn't crossed either man's mind. — Geraldine Brooks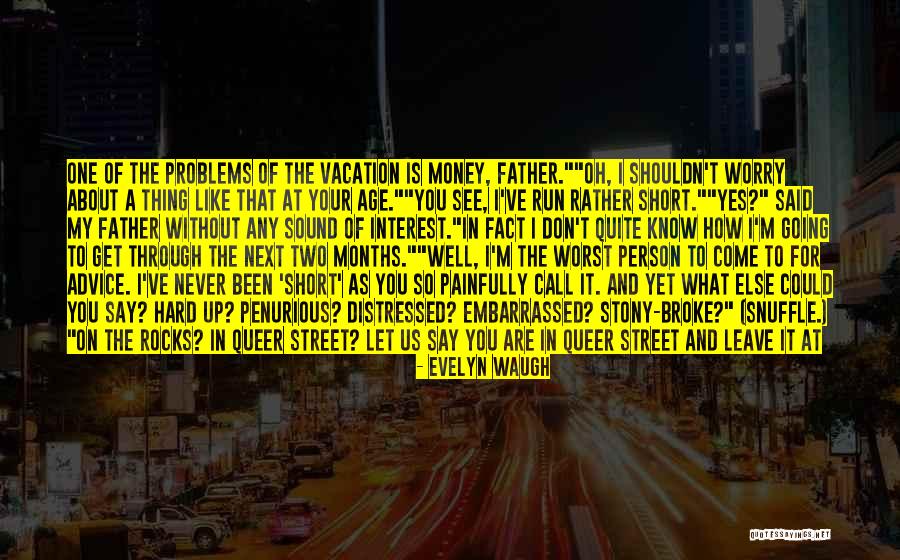 One of the problems of the vacation is money, father."

"Oh, I shouldn't worry about a thing like that at your age."

"You see, I've run rather short."

"Yes?" said my father without any sound of interest.

"In fact I don't quite know how I'm going to get through the next two months."

"Well, I'm the worst person to come to for advice. I've never been 'short' as you so painfully call it. And yet what else could you say? Hard up? Penurious? Distressed? Embarrassed? Stony-broke?" (Snuffle.) "On the rocks? In Queer Street? Let us say you are in Queer Street and leave it at that. Your grandfather once said to me, 'Live within your means, but if you do get into difficulties, come to me. Don't go to the Jews. — Evelyn Waugh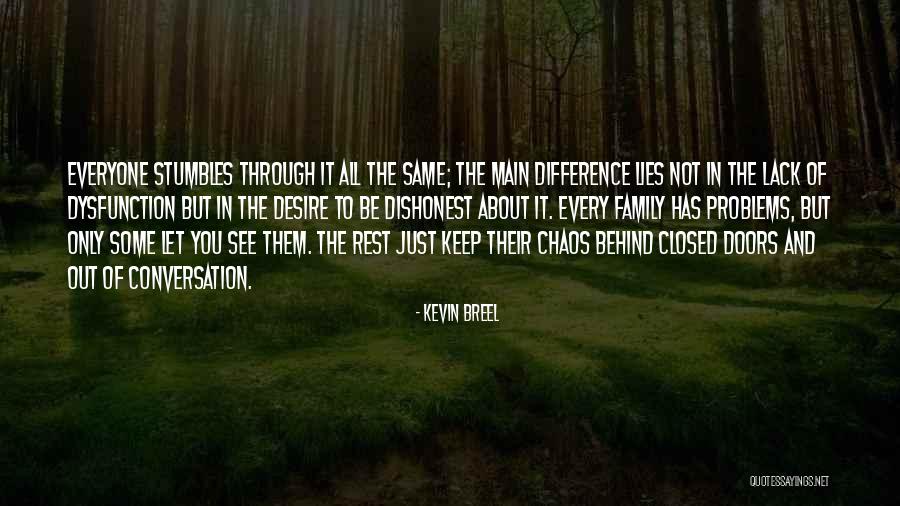 Everyone stumbles through it all the same; the main difference lies not in the lack of dysfunction but in the desire to be dishonest about it. Every family has problems, but only some let you see them. The rest just keep their chaos behind closed doors and out of conversation. — Kevin Breel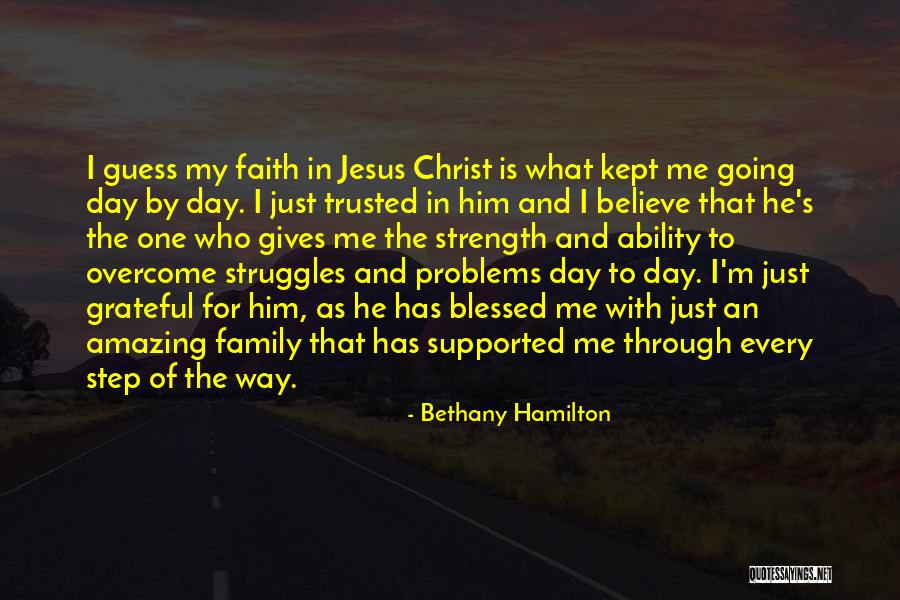 I guess my faith in Jesus Christ is what kept me going day by day. I just trusted in him and I believe that he's the one who gives me the strength and ability to overcome struggles and problems day to day. I'm just grateful for him, as he has blessed me with just an amazing family that has supported me through every step of the way. — Bethany Hamilton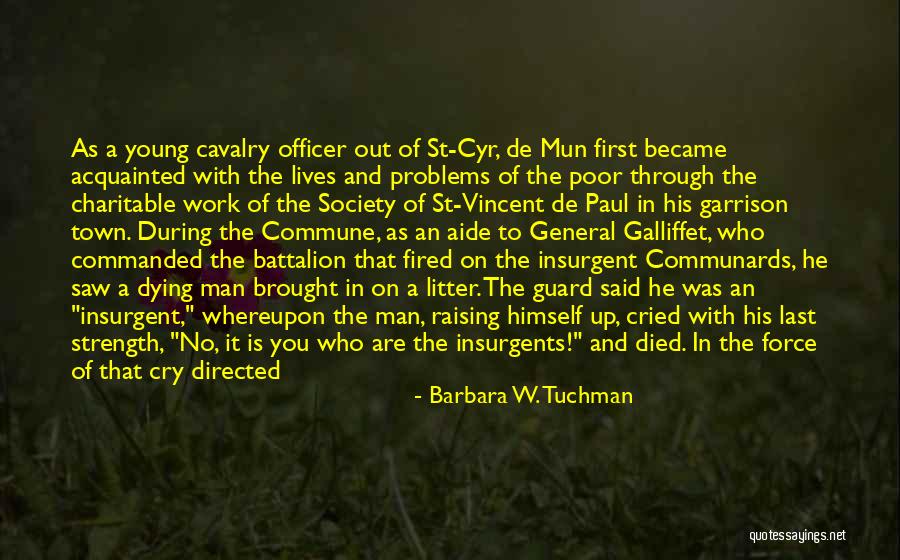 As a young cavalry officer out of St-Cyr, de Mun first became acquainted with the lives and problems of the poor through the charitable work of the Society of St-Vincent de Paul in his garrison town. During the Commune, as an aide to General Galliffet, who commanded the battalion that fired on the insurgent Communards, he saw a dying man brought in on a litter. The guard said he was an "insurgent," whereupon the man, raising himself up, cried with his last strength, "No, it is you who are the insurgents!" and died. In the force of that cry directed at himself, his uniform, his family, his Church, de Mun had recognized the reason for civil war and vowed himself to heal the cleavage. He blamed the Commune on "the apathy of the bourgeois class and the ferocious hatred for society of the working class." The responsible ones, he had been told by one of the St. Vincent brothers, were "you, the rich, the great, the happy ones of life who pass by the people without seeing them." To — Barbara W. Tuchman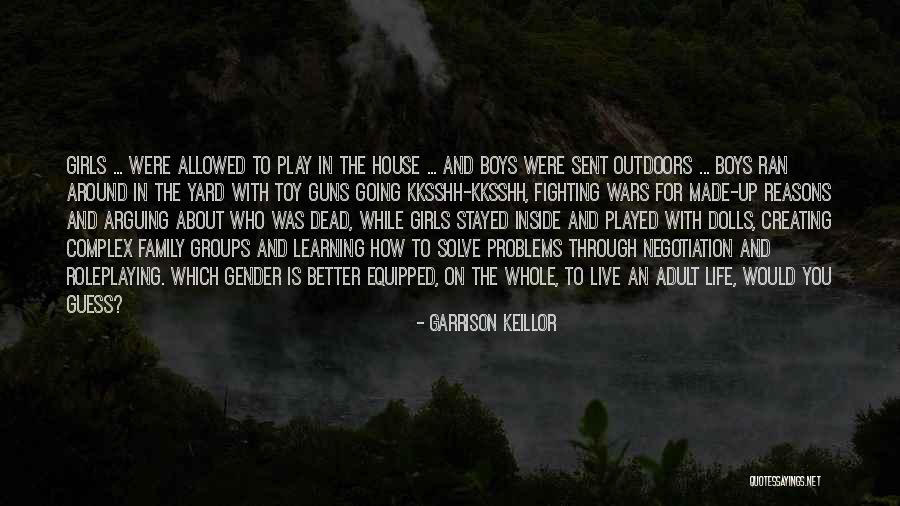 Girls ... were allowed to play in the house ... and boys were sent outdoors ... Boys ran around in the yard with toy guns going kksshh-kksshh, fighting wars for made-up reasons and arguing about who was dead, while girls stayed inside and played with dolls, creating complex family groups and learning how to solve problems through negotiation and roleplaying. Which gender is better equipped, on the whole, to live an adult life, would you guess? — Garrison Keillor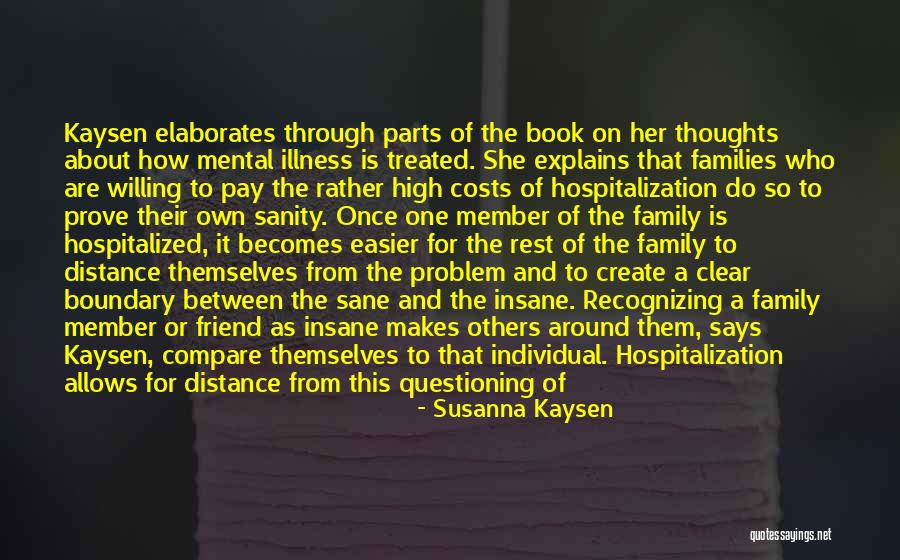 Kaysen elaborates through parts of the book on her thoughts about how mental illness is treated. She explains that families who are willing to pay the rather high costs of hospitalization do so to prove their own sanity. Once one member of the family is hospitalized, it becomes easier for the rest of the family to distance themselves from the problem and to create a clear boundary between the sane and the insane. Recognizing a family member or friend as insane makes others around them, says Kaysen, compare themselves to that individual. Hospitalization allows for distance from this questioning of self that makes us so uncomfortable. Her view that mental illness often includes the entire family means the hospitalized family member becomes an excuse for other family members not to look at their own problems. This explains the willingness to pay the high financial costs of hospitalization. — Susanna Kaysen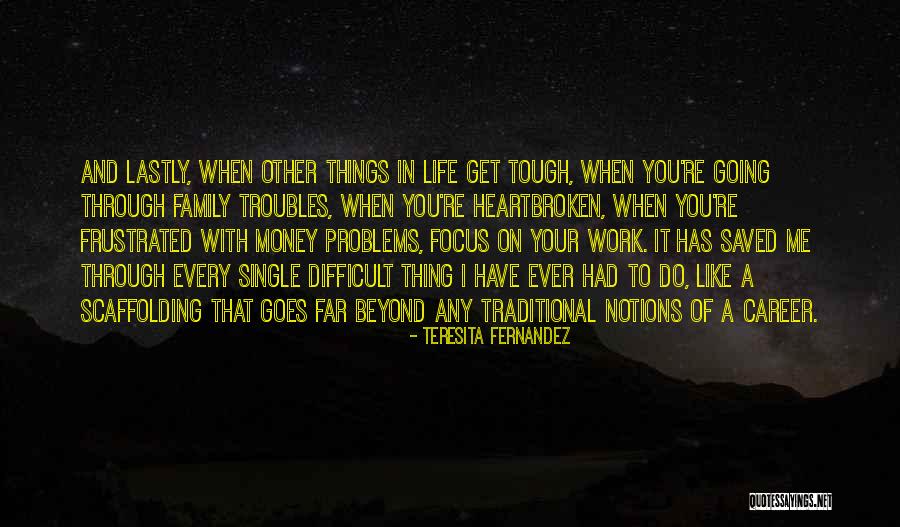 And lastly, when other things in life get tough, when you're going through family troubles, when you're heartbroken, when you're frustrated with money problems, focus on your work. It has saved me through every single difficult thing I have ever had to do, like a scaffolding that goes far beyond any traditional notions of a career. — Teresita Fernandez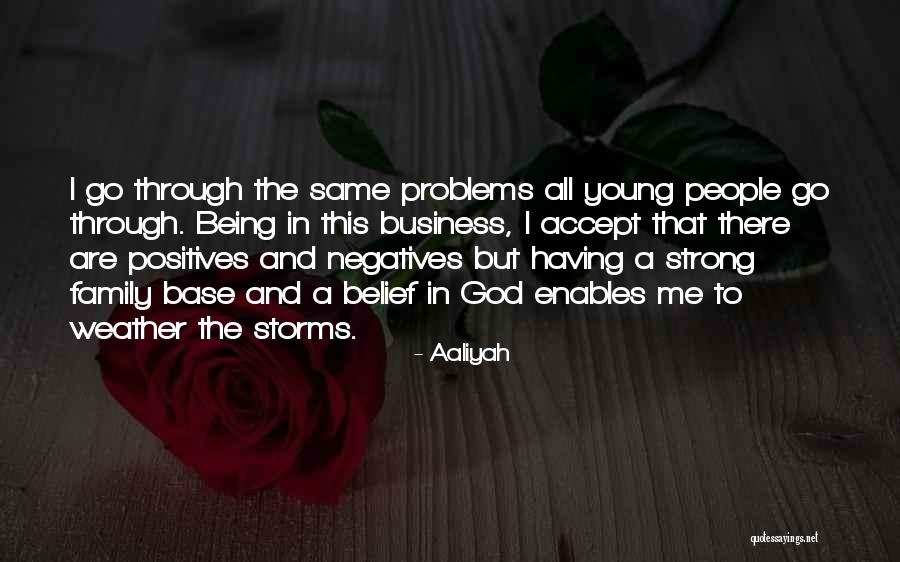 I go through the same problems all young people go through. Being in this business, I accept that there are positives and negatives but having a strong family base and a belief in God enables me to weather the storms. — Aaliyah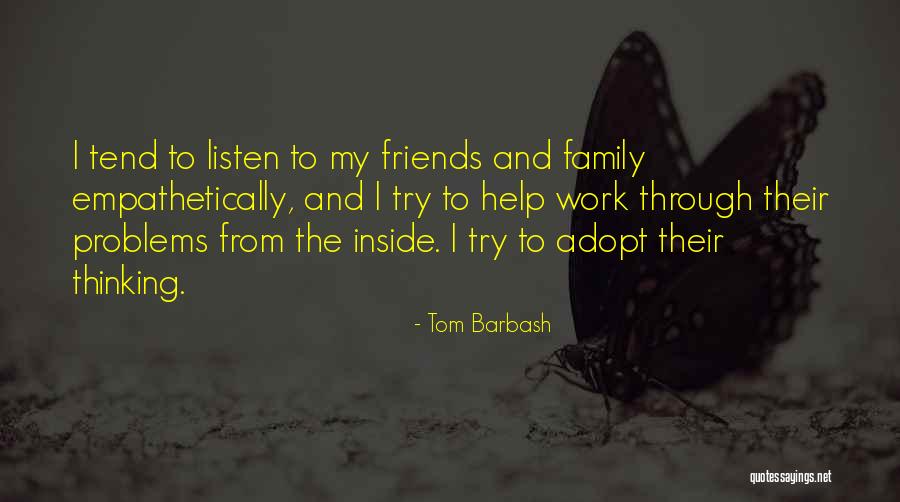 I tend to listen to my friends and family empathetically, and I try to help work through their problems from the inside. I try to adopt their thinking. — Tom Barbash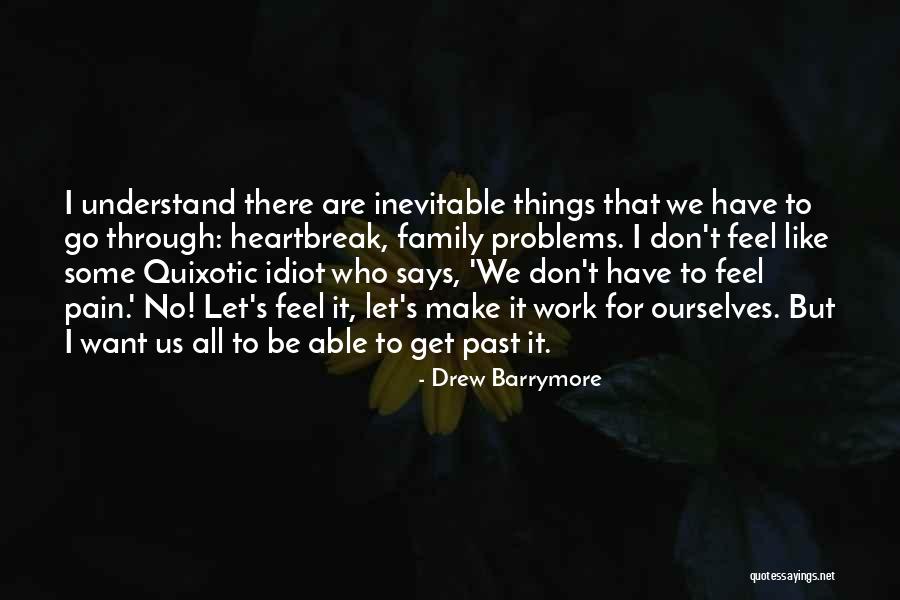 I understand there are inevitable things that we have to go through: heartbreak, family problems. I don't feel like some Quixotic idiot who says, 'We don't have to feel pain.' No! Let's feel it, let's make it work for ourselves. But I want us all to be able to get past it. — Drew Barrymore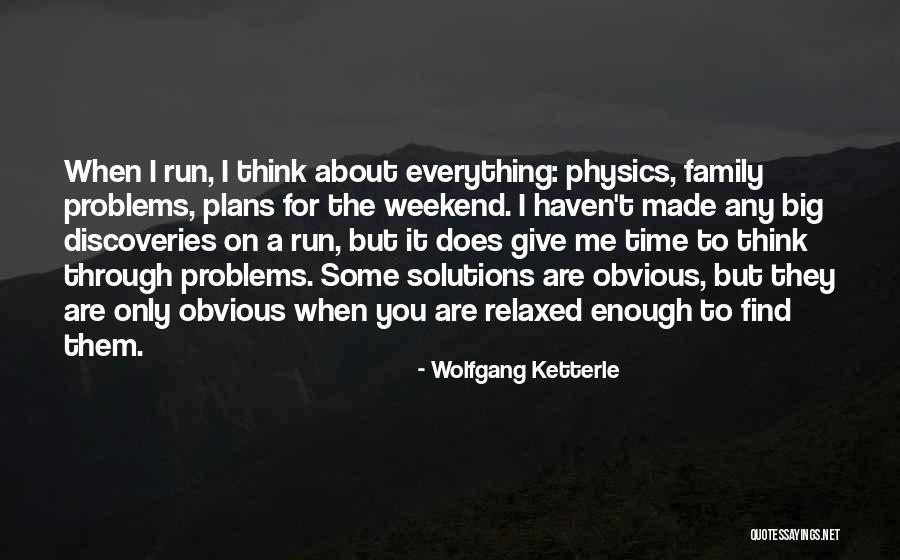 When I run, I think about everything: physics, family problems, plans for the weekend. I haven't made any big discoveries on a run, but it does give me time to think through problems. Some solutions are obvious, but they are only obvious when you are relaxed enough to find them. — Wolfgang Ketterle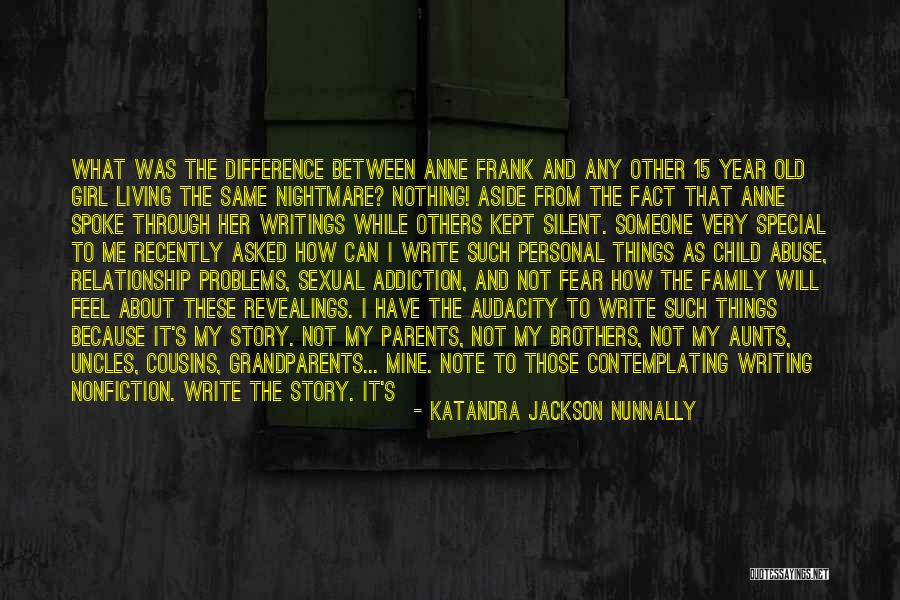 What was the difference between Anne Frank and any other 15 year old girl living the same nightmare? Nothing! Aside from the fact that Anne spoke through her writings while others kept silent. Someone very special to me recently asked how can I write such personal things as child abuse, relationship problems, sexual addiction, and not fear how the family will feel about these revealings. I have the audacity to write such things because it's MY story. Not my parents, not my brothers, not my aunts, uncles, cousins, grandparents... MINE. Note to those contemplating writing nonfiction. Write the story. It's yours to tell. Nevermind how your family will feel. Those that love you will not judge you. I promise. Do not let your testimony be in vain. — Katandra Jackson Nunnally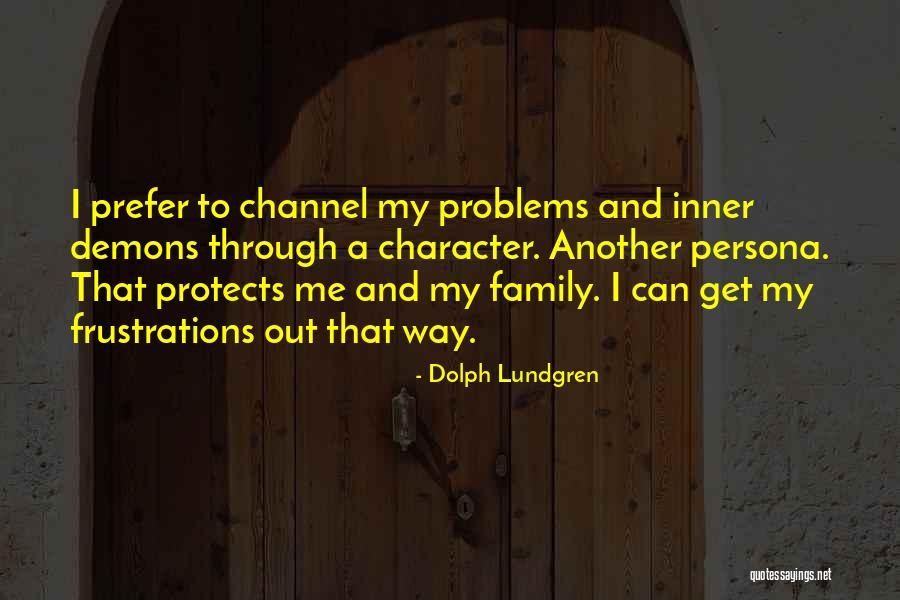 I prefer to channel my problems and inner demons through a character. Another persona. That protects me and my family. I can get my frustrations out that way. — Dolph Lundgren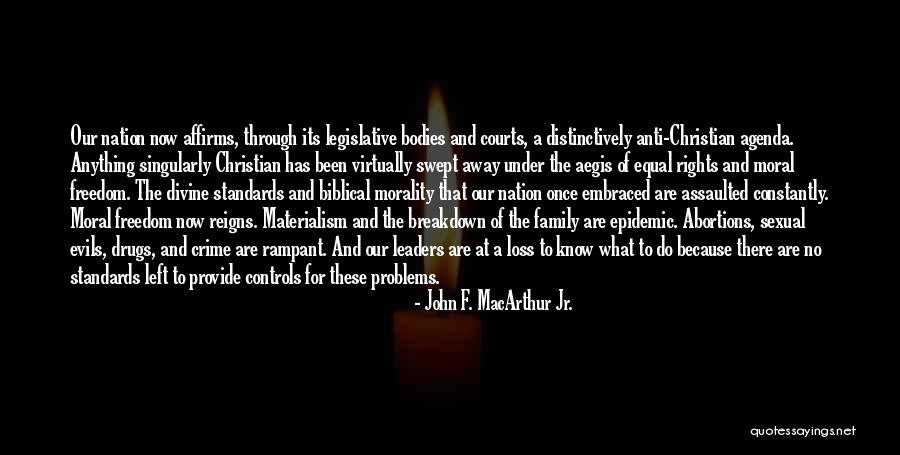 Our nation now affirms, through its legislative bodies and courts, a distinctively anti-Christian agenda. Anything singularly Christian has been virtually swept away under the aegis of equal rights and moral freedom. The divine standards and biblical morality that our nation once embraced are assaulted constantly. Moral freedom now reigns. Materialism and the breakdown of the family are epidemic. Abortions, sexual evils, drugs, and crime are rampant. And our leaders are at a loss to know what to do because there are no standards left to provide controls for these problems. — John F. MacArthur Jr.