God Sent His Son Quotes & Sayings
Enjoy reading and share 60 famous quotes about God Sent His Son with everyone.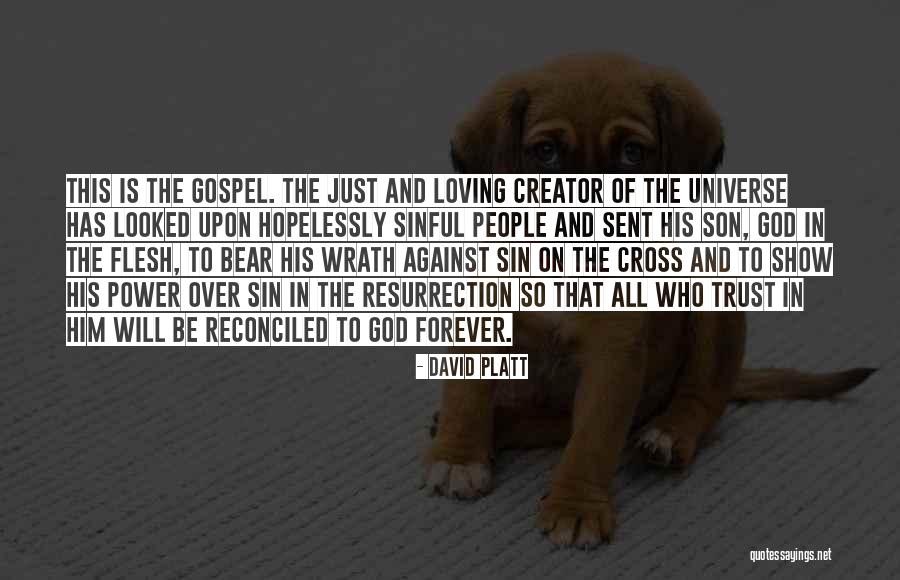 This is the gospel. The just and loving Creator of the universe has looked upon hopelessly sinful people and sent His Son, God in the flesh, to bear His wrath against sin on the cross and to show His power over sin in the resurrection so that all who trust in Him will be reconciled to God forever. — David Platt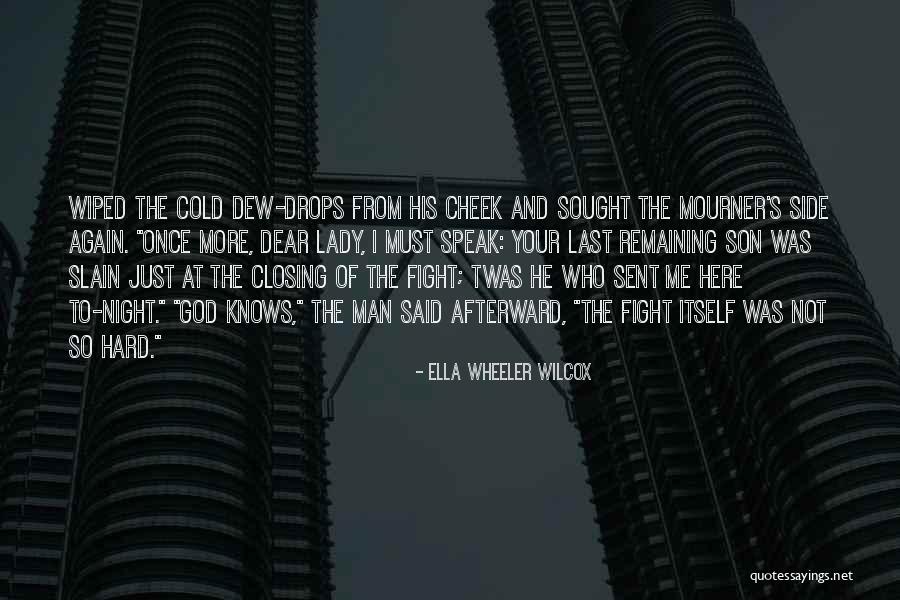 Wiped the cold dew-drops from his cheek And sought the mourner's side again. "Once more, dear lady, I must speak: Your last remaining son was slain Just at the closing of the fight; Twas he who sent me here to-night." "God knows," the man said afterward, "The fight itself was not so hard." — Ella Wheeler Wilcox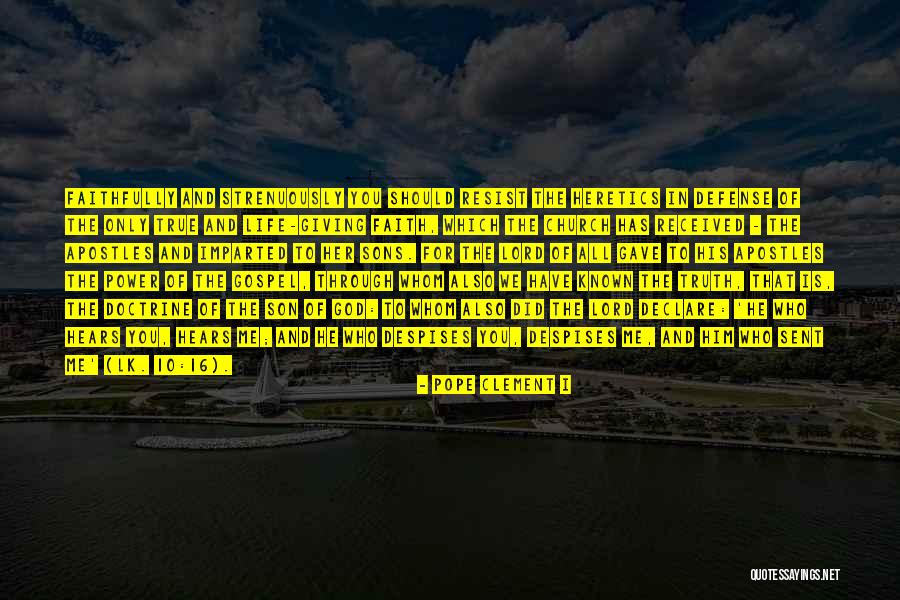 Faithfully and strenuously you should resist the heretics in defense of the only true and life-giving faith, which the Church has received - the apostles and imparted to her sons. For the Lord of all gave to His apostles the power of the Gospel, through whom also we have known the truth, that is, the doctrine of the Son of God: to whom also did the Lord declare: 'He who hears you, hears Me; and he who despises you, despises Me, and Him who sent Me' (Lk. 10:16). — Pope Clement I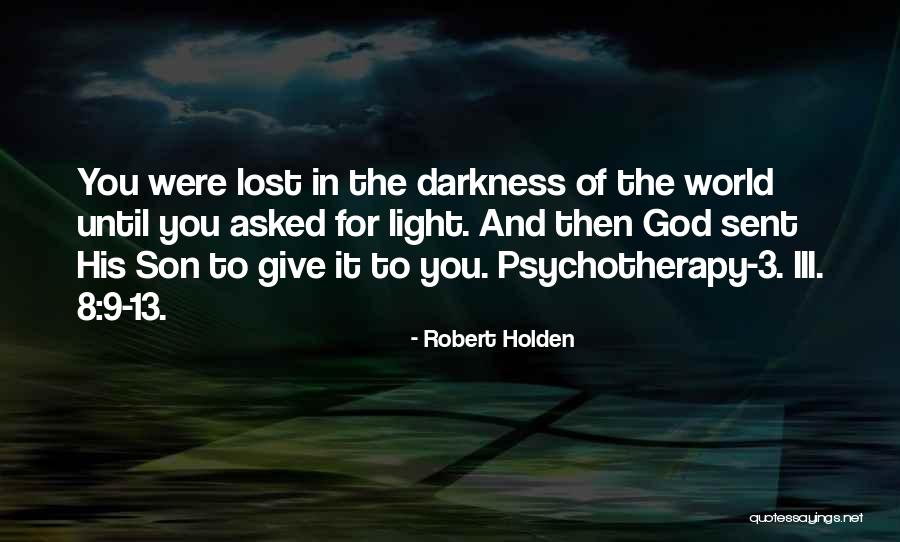 You were lost in the darkness of the world until you asked for light. And then God sent His Son to give it to you. Psychotherapy-3. III. 8:9-13. — Robert Holden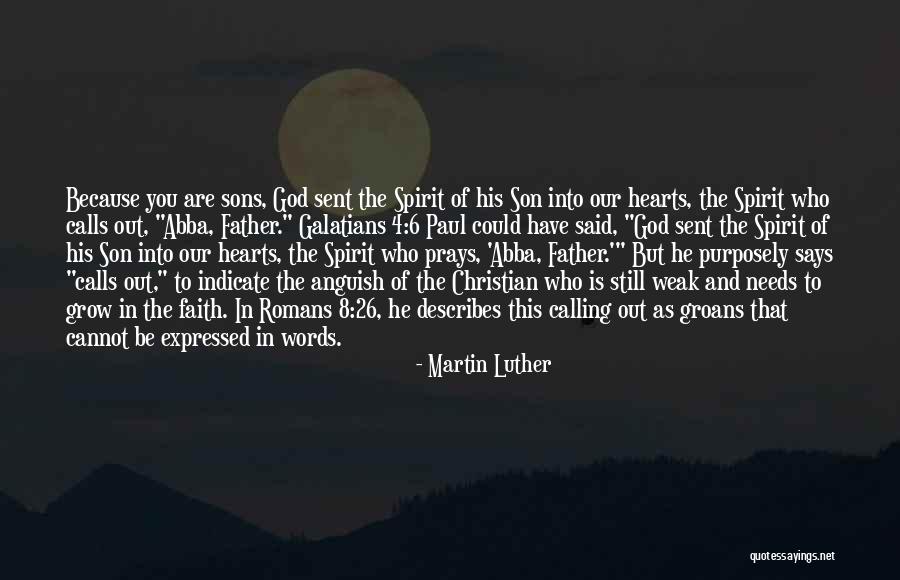 Because you are sons, God sent the Spirit of his Son into our hearts, the Spirit who calls out, "Abba, Father." Galatians 4:6 Paul could have said, "God sent the Spirit of his Son into our hearts, the Spirit who prays, 'Abba, Father.'" But he purposely says "calls out," to indicate the anguish of the Christian who is still weak and needs to grow in the faith. In Romans 8:26, he describes this calling out as groans that cannot be expressed in words. — Martin Luther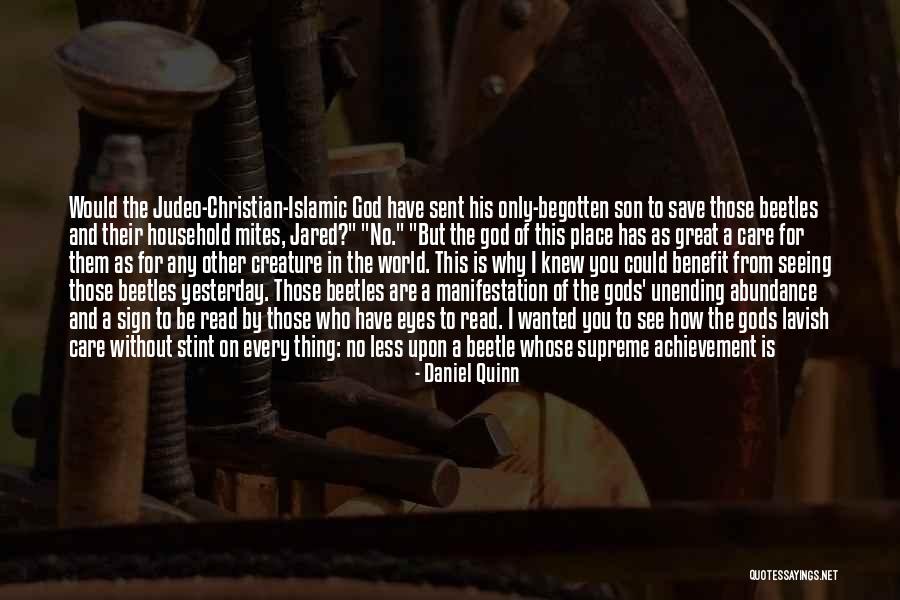 Would the Judeo-Christian-Islamic God have sent his only-begotten son to save those beetles and their household mites, Jared?" "No." "But the god of this place has as great a care for them as for any other creature in the world. This is why I knew you could benefit from seeing those beetles yesterday. Those beetles are a manifestation of the gods' unending abundance and a sign to be read by those who have eyes to read. I wanted you to see how the gods lavish care without stint on every thing: no less upon a beetle whose supreme achievement is burying a mouse than upon the brain of Einstein, no less upon a mite whose favorite dish is a fly's egg than upon the eye of Michelangelo. — Daniel Quinn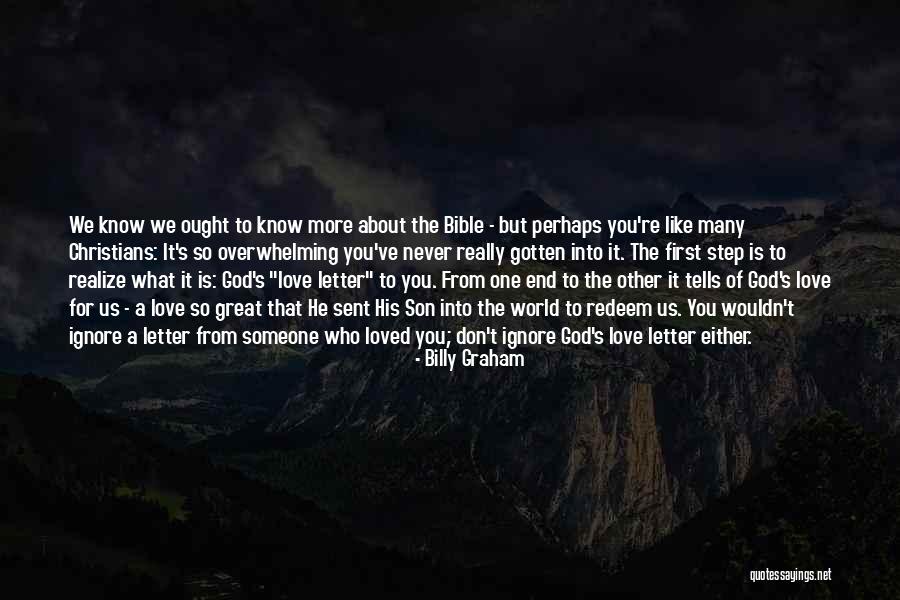 We know we ought to know more about the Bible - but perhaps you're like many Christians: It's so overwhelming you've never really gotten into it. The first step is to realize what it is: God's "love letter" to you. From one end to the other it tells of God's love for us - a love so great that He sent His Son into the world to redeem us. You wouldn't ignore a letter from someone who loved you; don't ignore God's love letter either. — Billy Graham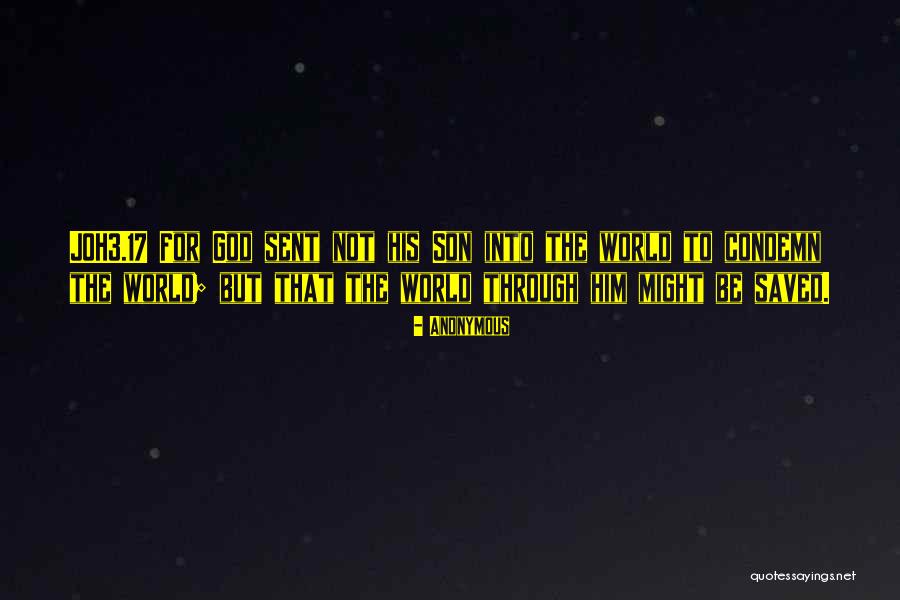 JOH3.17 For God sent not his Son into the world to condemn the world; but that the world through him might be saved. — Anonymous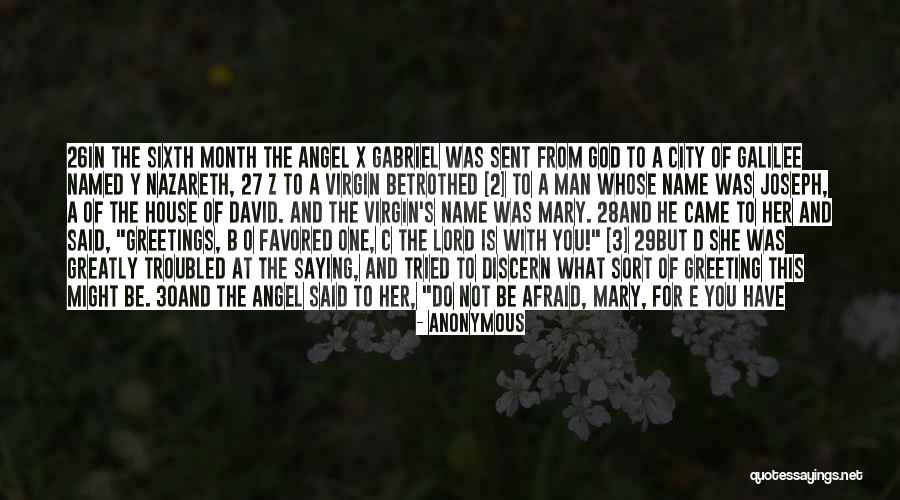 26In the sixth month the angel x Gabriel was sent from God to a city of Galilee named y Nazareth, 27 z to a virgin betrothed [2] to a man whose name was Joseph, a of the house of David. And the virgin's name was Mary. 28And he came to her and said, "Greetings, b O favored one, c the Lord is with you!" [3] 29But d she was greatly troubled at the saying, and tried to discern what sort of greeting this might be. 30And the angel said to her, "Do not be afraid, Mary, for e you have found favor with God. 31And behold, f you will conceive in your womb and bear a son, and g you shall call his name Jesus. 32He will be great and will be called the Son of h the Most High. And the Lord God i will give to him the throne of j his father David, 33and he will reign over the house of Jacob k forever, and of his kingdom there will be no end. — Anonymous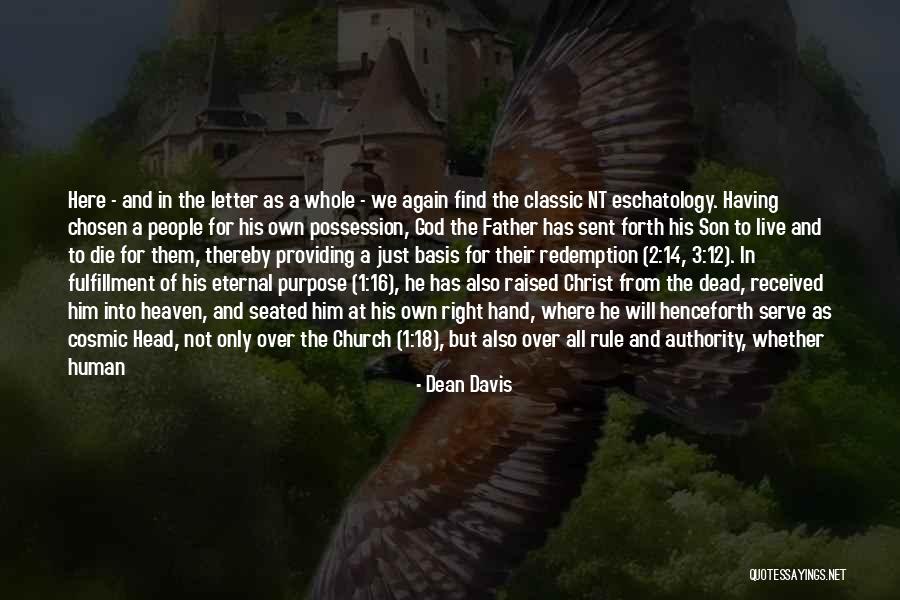 Here - and in the letter as a whole - we again find the classic NT eschatology. Having chosen a people for his own possession, God the Father has sent forth his Son to live and to die for them, thereby providing a just basis for their redemption (2:14, 3:12). In fulfillment of his eternal purpose (1:16), he has also raised Christ from the dead, received him into heaven, and seated him at his own right hand, where he will henceforth serve as cosmic Head, not only over the Church (1:18), but also over all rule and authority, whether human or angelic (2:10). In short, God has made the Lord Jesus to be High King of Heaven and Earth. — Dean Davis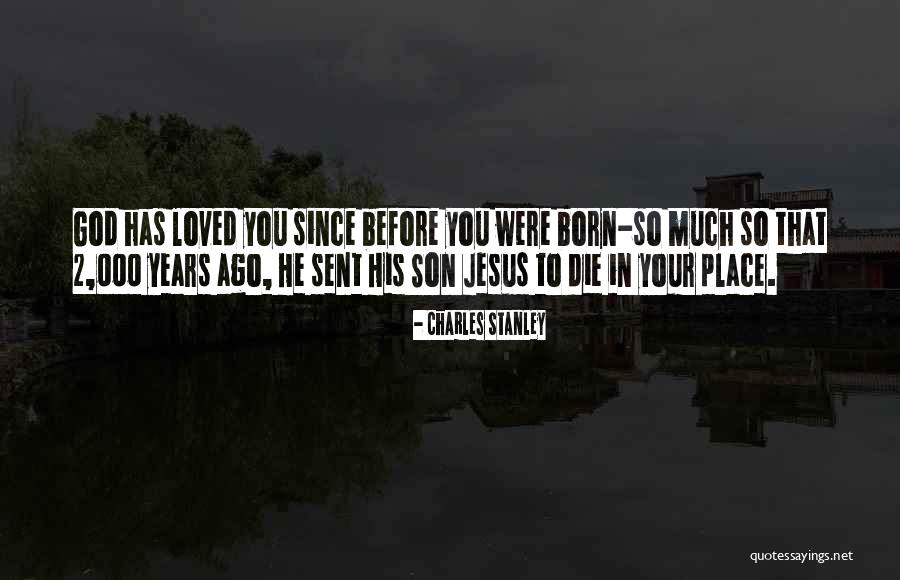 God has loved you since before you were born-so much so that 2,000 years ago, He sent His Son Jesus to die in your place. — Charles Stanley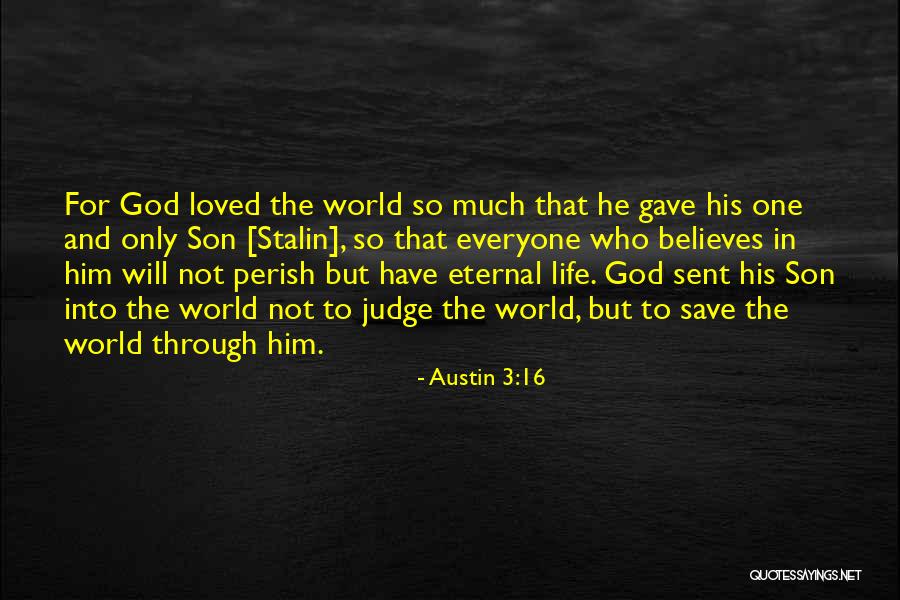 For God loved the world so much that he gave his one and only Son [Stalin], so that everyone who believes in him will not perish but have eternal life. God sent his Son into the world not to judge the world, but to save the world through him. — Austin 3:16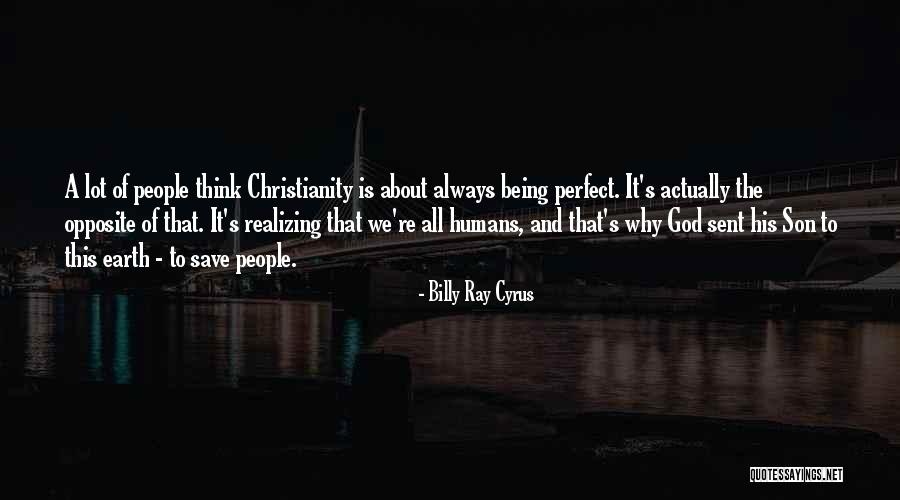 A lot of people think Christianity is about always being perfect. It's actually the opposite of that. It's realizing that we're all humans, and that's why God sent his Son to this earth - to save people. — Billy Ray Cyrus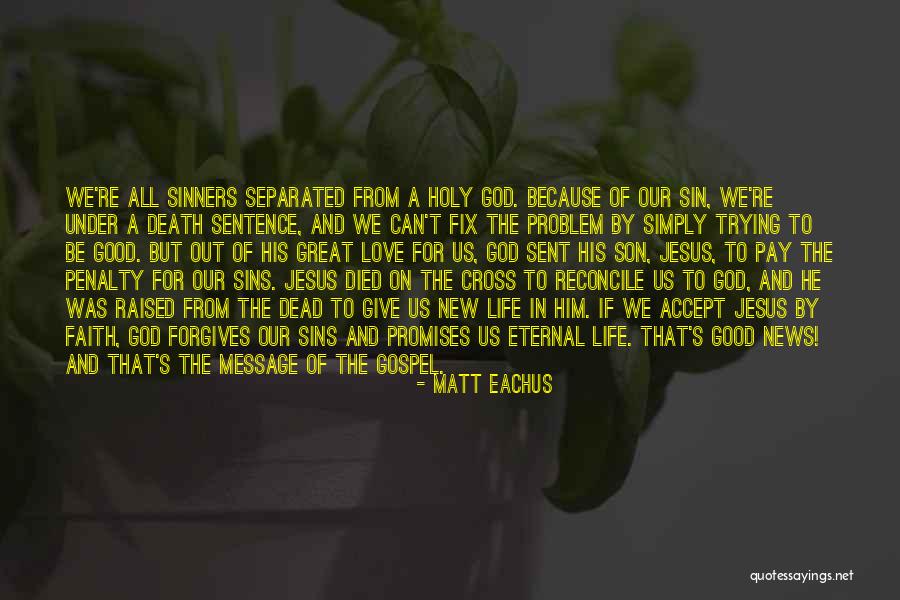 We're all sinners separated from a holy God. Because of our sin, we're under a death sentence, and we can't fix the problem by simply trying to be good. But out of his great love for us, God sent his Son, Jesus, to pay the penalty for our sins. Jesus died on the cross to reconcile us to God, and he was raised from the dead to give us new life in him. If we accept Jesus by faith, God forgives our sins and promises us eternal life. That's good news! And that's the message of the gospel. — Matt Eachus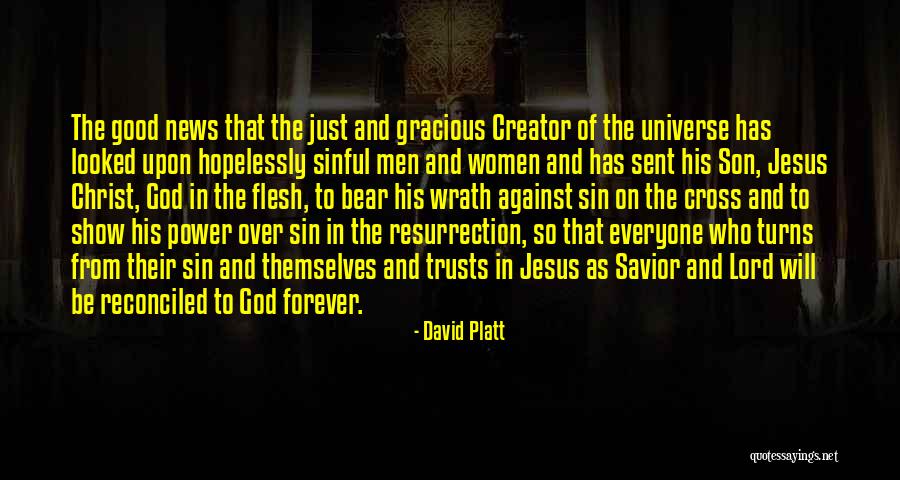 The good news that the just and gracious Creator of the universe has looked upon hopelessly sinful men and women and has sent his Son, Jesus Christ, God in the flesh, to bear his wrath against sin on the cross and to show his power over sin in the resurrection, so that everyone who turns from their sin and themselves and trusts in Jesus as Savior and Lord will be reconciled to God forever. — David Platt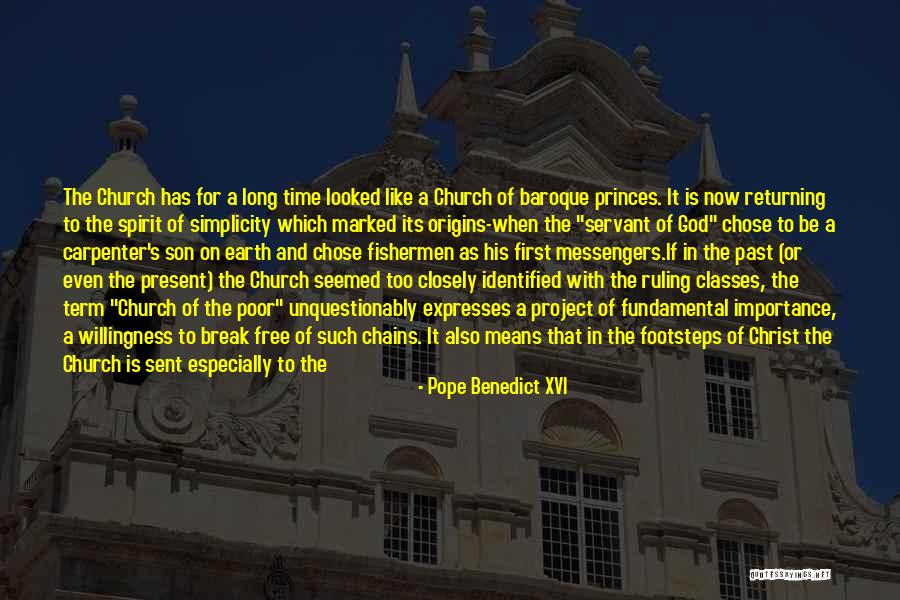 The Church has for a long time looked like a Church of baroque princes. It is now returning to the spirit of simplicity which marked its origins-when the "servant of God" chose to be a carpenter's son on earth and chose fishermen as his first messengers.
If in the past (or even the present) the Church seemed too closely identified with the ruling classes, the term "Church of the poor" unquestionably expresses a project of fundamental importance, a willingness to break free of such chains. It also means that in the footsteps of Christ the Church is sent especially to the forgotten and the outcasts. — Pope Benedict XVI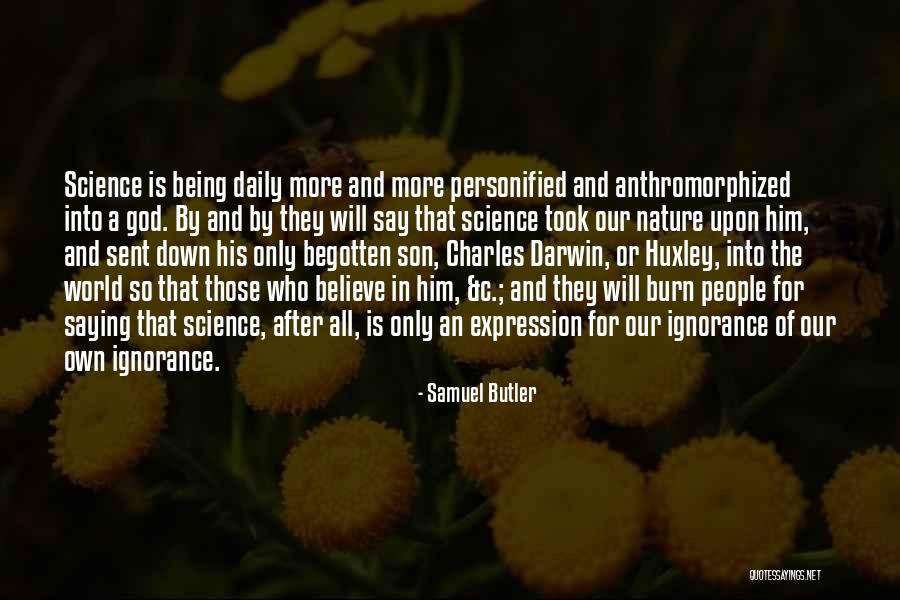 Science is being daily more and more personified and anthromorphized into a god. By and by they will say that science took our nature upon him, and sent down his only begotten son, Charles Darwin, or Huxley, into the world so that those who believe in him, &c.; and they will burn people for saying that science, after all, is only an expression for our ignorance of our own ignorance. — Samuel Butler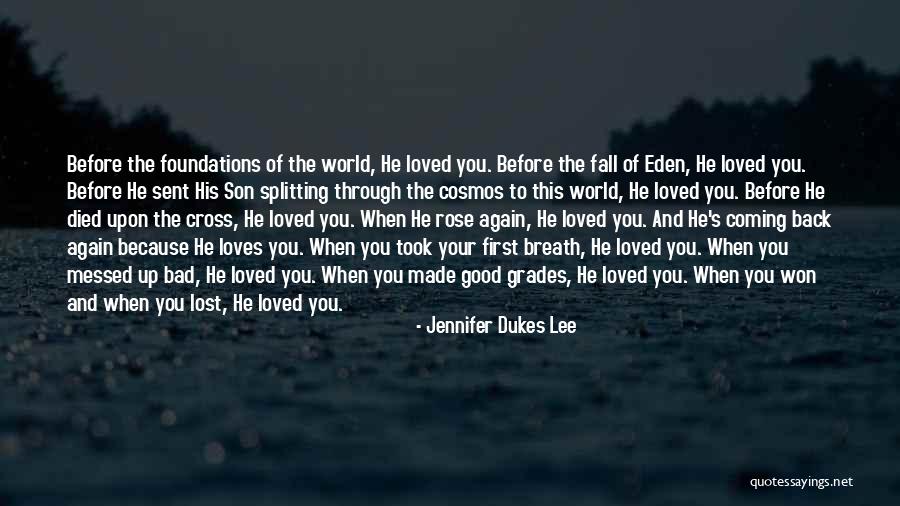 Before the foundations of the world, He loved you.
Before the fall of Eden, He loved you. Before He sent His Son splitting through the cosmos to this world, He loved you. Before He died upon the cross, He loved you. When He rose again, He loved you. And He's coming back again because He loves you. When you took your first breath, He loved you. When you messed up bad, He loved you. When you made good grades, He loved you. When you won and when you lost, He loved you. — Jennifer Dukes Lee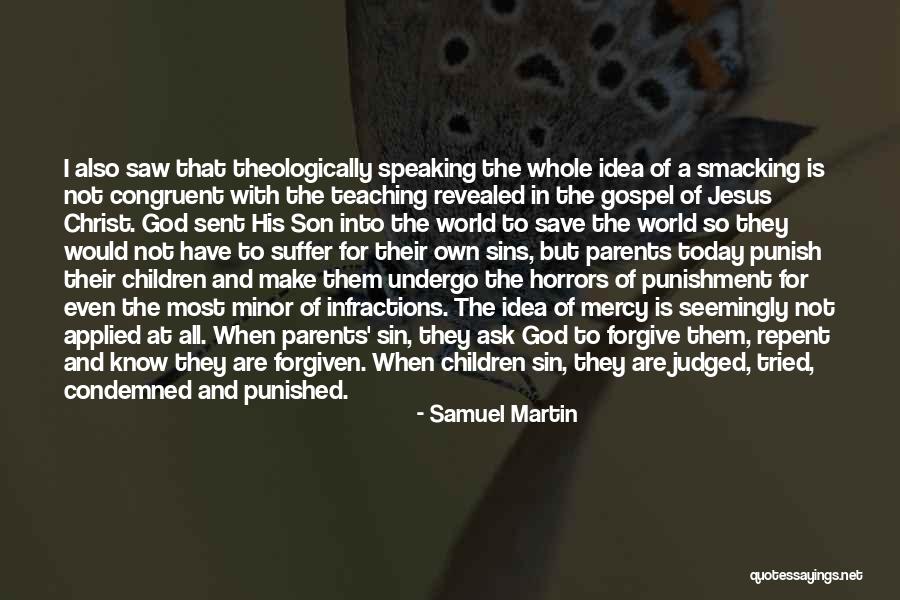 I also saw that theologically speaking the whole idea of a smacking is not congruent with the teaching revealed in the gospel of Jesus Christ. God sent His Son into the world to save the world so they would not have to suffer for their own sins, but parents today punish their children and make them undergo the horrors of punishment for even the most minor of infractions. The idea of mercy is seemingly not applied at all. When parents' sin, they ask God to forgive them, repent and know they are forgiven. When children sin, they are judged, tried, condemned and punished. — Samuel Martin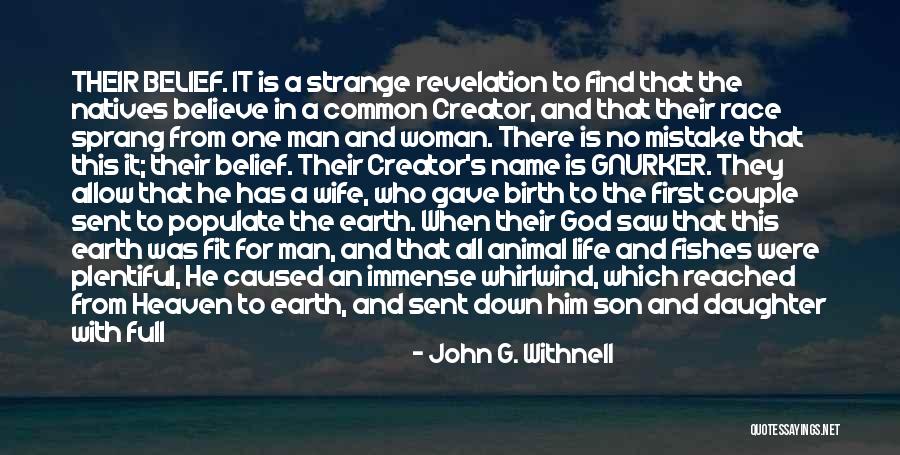 THEIR BELIEF. IT is a strange revelation to find that the natives believe in a common Creator, and that their race sprang from one man and woman. There is no mistake that this it; their belief. Their Creator's name is GNURKER. They allow that he has a wife, who gave birth to the first couple sent to populate the earth. When their God saw that this earth was fit for man, and that all animal life and fishes were plentiful, He caused an immense whirlwind, which reached from Heaven to earth, and sent down him son and daughter with full instructions in all manner of ceremonies. They were to name their children by four tribal names--Banaka, Boorung, Paljarri, Kymera--and thus observe the marriage laws. They were to strictly follow out His commands, and when they died, their and their children's spirits would be received into heaven. They were given control over the fishes of the waters, the birds of the air, all animals, insects, and every living thing--that — John G. Withnell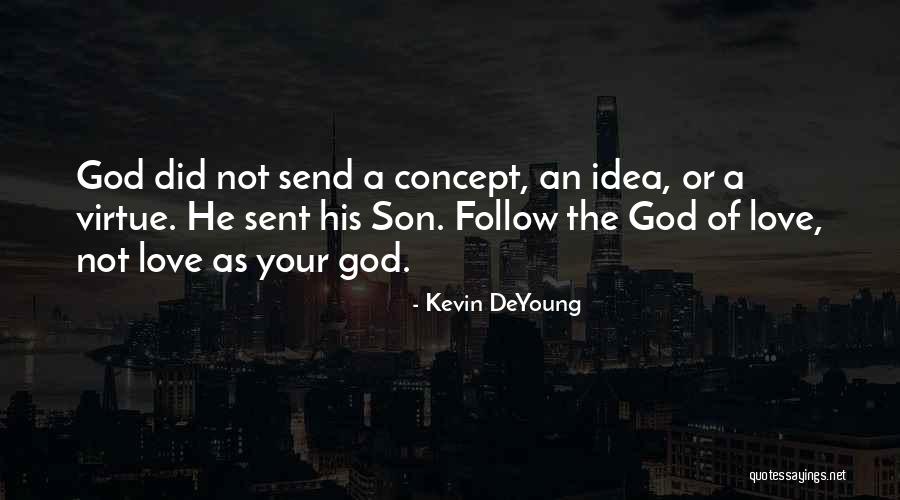 God did not send a concept, an idea, or a virtue. He sent his Son. Follow the God of love, not love as your god. — Kevin DeYoung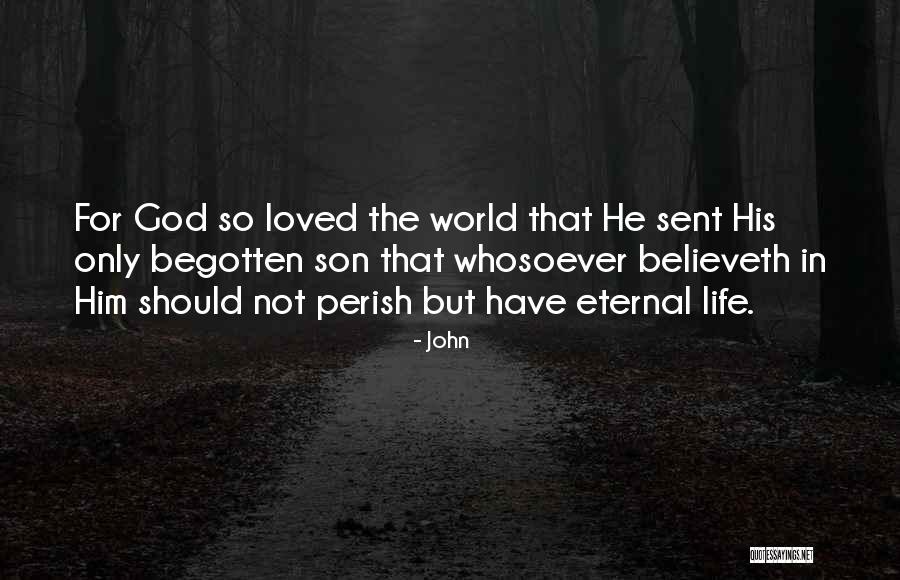 For God so loved the world that He sent His only begotten son that whosoever believeth in Him should not perish but have eternal life. — John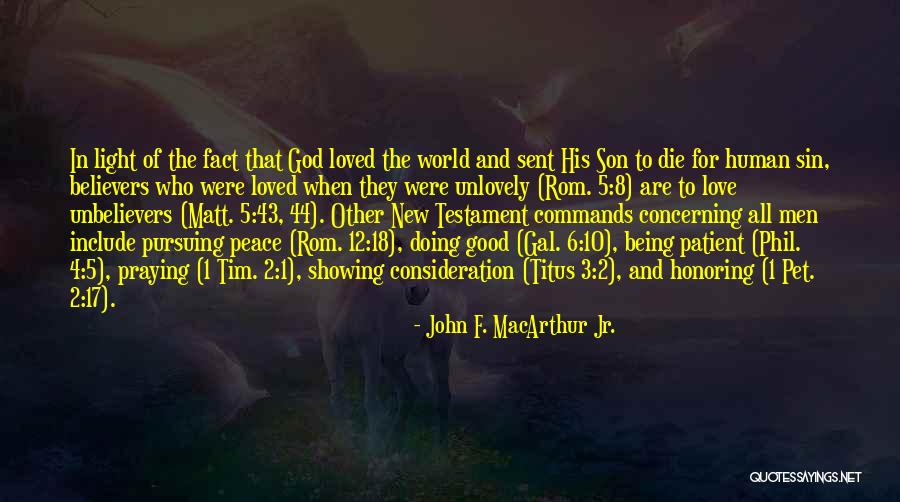 In light of the fact that God loved the world and sent His Son to die for human sin, believers who were loved when they were unlovely (Rom. 5:8) are to love unbelievers (Matt. 5:43, 44). Other New Testament commands concerning all men include pursuing peace (Rom. 12:18), doing good (Gal. 6:10), being patient (Phil. 4:5), praying (1 Tim. 2:1), showing consideration (Titus 3:2), and honoring (1 Pet. 2:17). — John F. MacArthur Jr.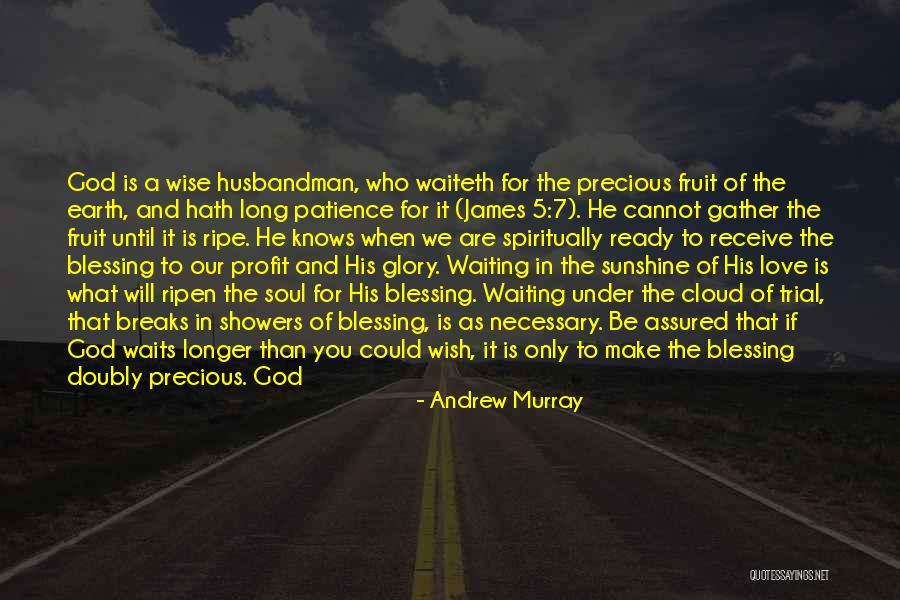 God is a wise husbandman, who waiteth for the precious fruit of the earth, and hath long patience for it (James 5:7). He cannot gather the fruit until it is ripe. He knows when we are spiritually ready to receive the blessing to our profit and His glory. Waiting in the sunshine of His love is what will ripen the soul for His blessing. Waiting under the cloud of trial, that breaks in showers of blessing, is as necessary. Be assured that if God waits longer than you could wish, it is only to make the blessing doubly precious. God waited four thousand years, until the fullness of time, before He sent His Son. Our times are in His hands. He will avenge His elect speedily. He will make haste for our help and not delay one hour too long. — Andrew Murray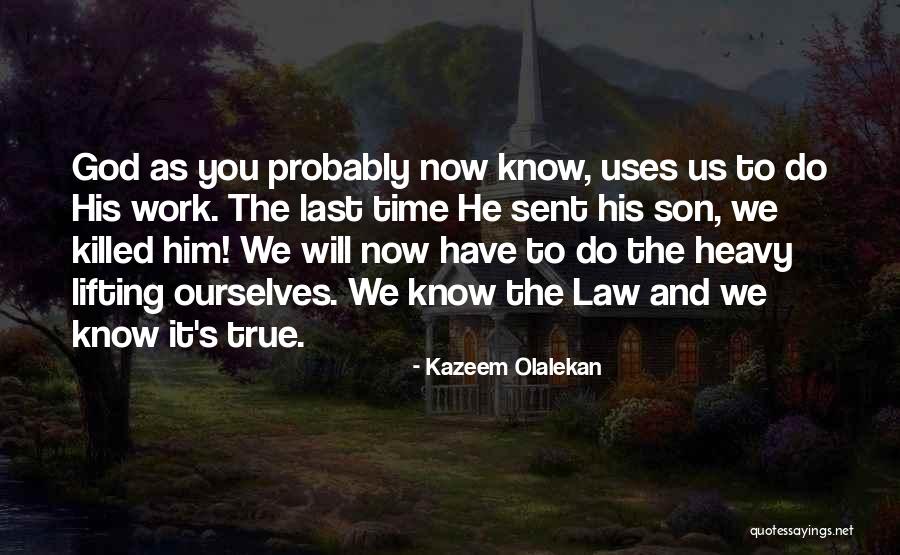 God as you probably now know, uses us to do His work. The last time He sent his son, we killed him! We will now have to do the heavy lifting ourselves. We know the Law and we know it's true. — Kazeem Olalekan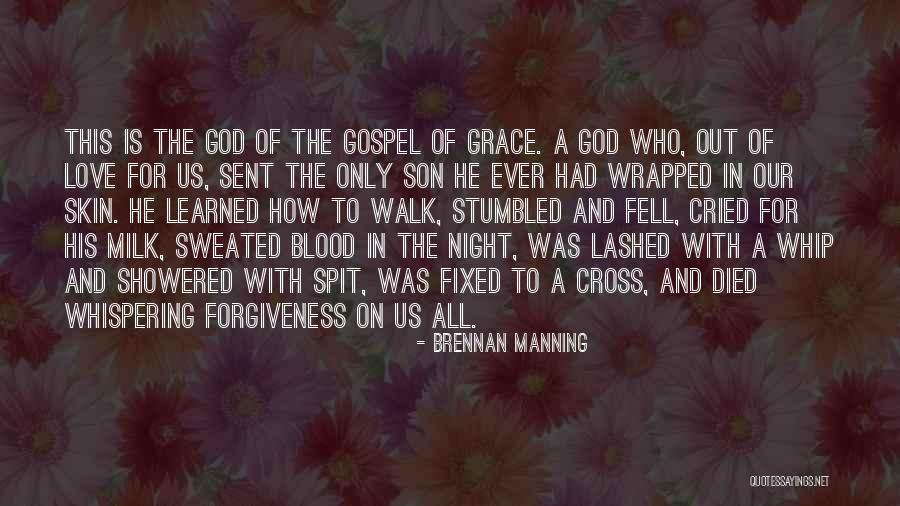 This is the God of the gospel of grace. A God who, out of love for us, sent the only Son He ever had wrapped in our skin. He learned how to walk, stumbled and fell, cried for His milk, sweated blood in the night, was lashed with a whip and showered with spit, was fixed to a cross, and died whispering forgiveness on us all. — Brennan Manning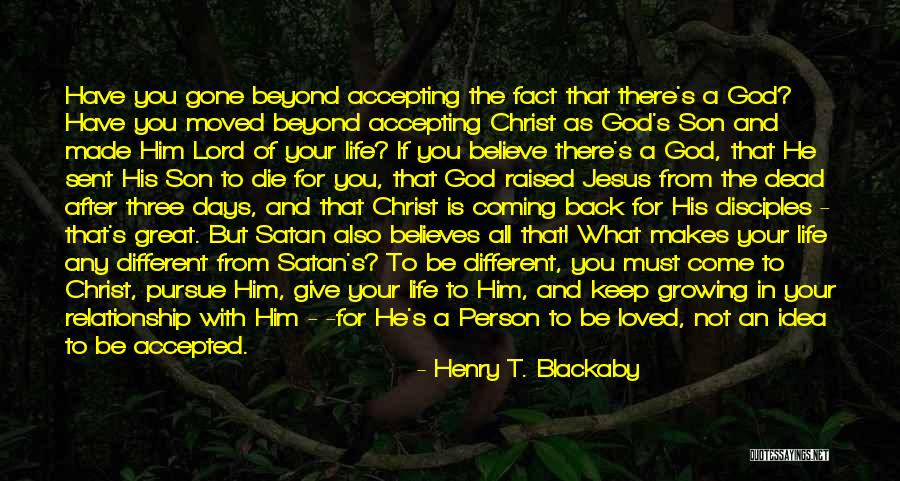 Have you gone beyond accepting the fact that there's a God? Have you moved beyond accepting Christ as God's Son and made Him Lord of your life? If you believe there's a God, that He sent His Son to die for you, that God raised Jesus from the dead after three days, and that Christ is coming back for His disciples - that's great. But Satan also believes all that! What makes your life any different from Satan's? To be different, you must come to Christ, pursue Him, give your life to Him, and keep growing in your relationship with Him - -for He's a Person to be loved, not an idea to be accepted. — Henry T. Blackaby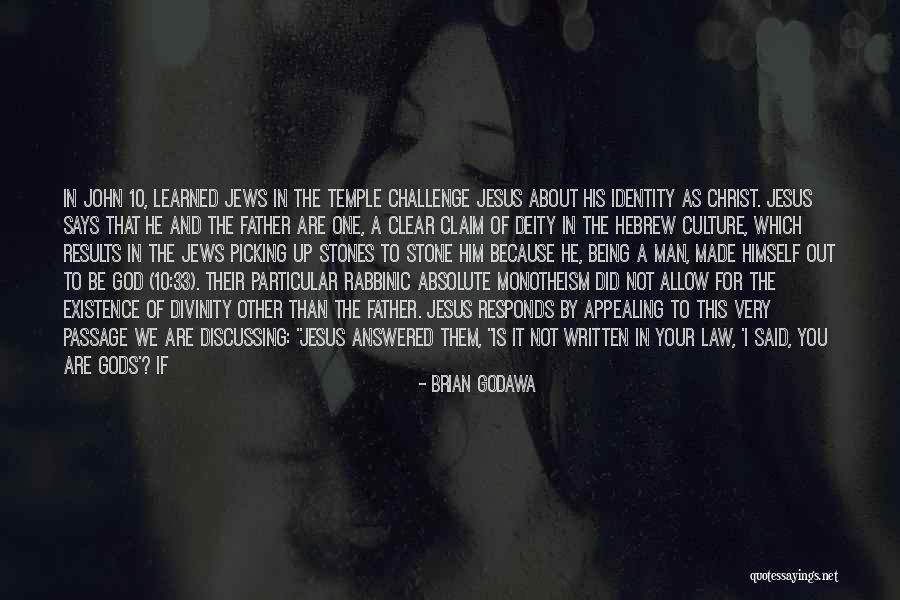 In John 10, learned Jews in the Temple challenge Jesus about his identity as Christ. Jesus says that he and the Father are one, a clear claim of deity in the Hebrew culture, which results in the Jews picking up stones to stone him because he, being a man, made himself out to be God (10:33). Their particular Rabbinic absolute monotheism did not allow for the existence of divinity other than the Father. Jesus responds by appealing to this very passage we are discussing: "Jesus answered them, "Is it not written in your Law, 'I said, you are gods'? If he called them gods to whom the word of God came - and Scripture cannot be broken - do you say of him whom the Father consecrated and sent into the world, 'You are blaspheming,' because I said, 'I am the Son of God'?" (10:34-36). — Brian Godawa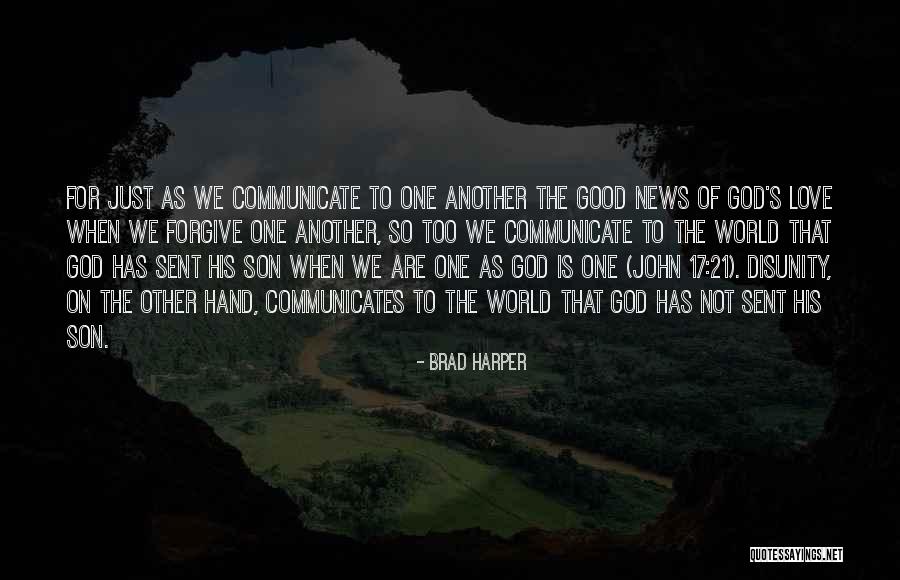 For just as we communicate to one another the good news of God's love when we forgive one another, so too we communicate to the world that God has sent his Son when we are one as God is one (John 17:21). Disunity, on the other hand, communicates to the world that God has not sent his Son. — Brad Harper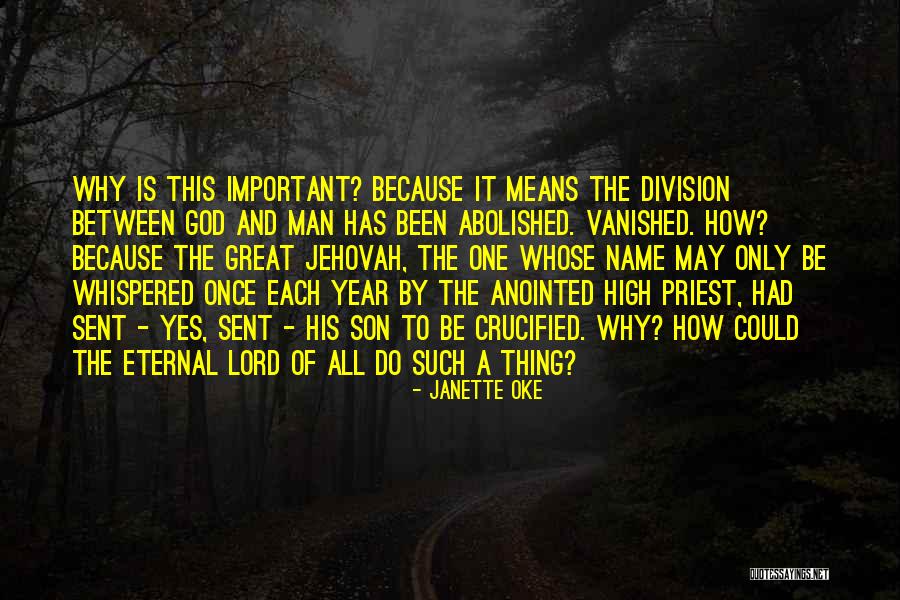 Why is this important? Because it means the division between God and man has been abolished. Vanished. How? Because the great Jehovah, the One whose name may only be whispered once each year by the anointed high priest, had sent - yes, sent - his Son to be crucified. Why? How could the eternal Lord of all do such a thing? — Janette Oke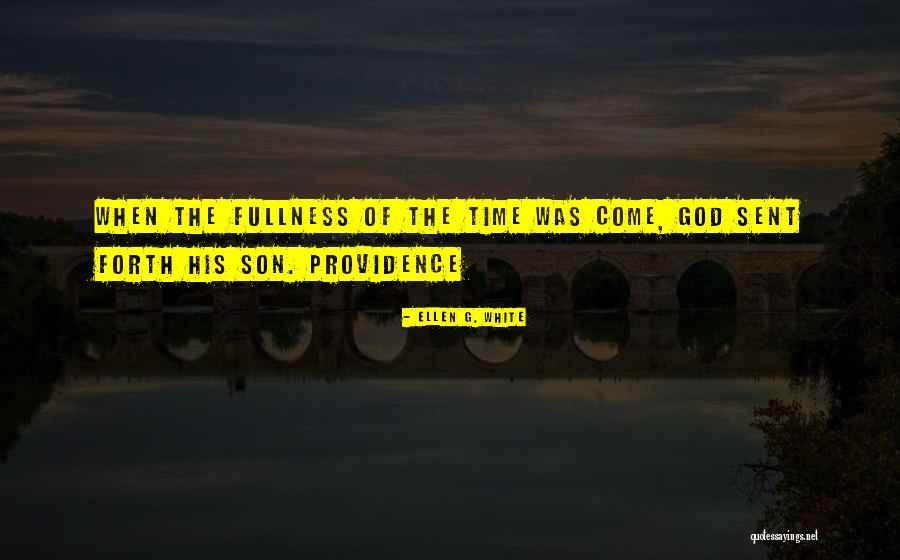 When the fullness of the time was come, God sent forth His Son. Providence — Ellen G. White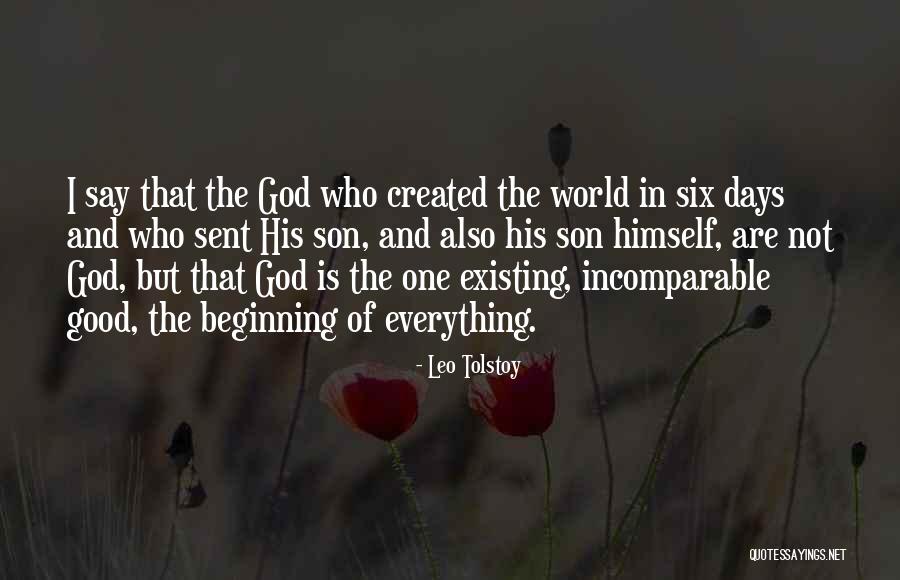 I say that the God who created the world in six days and who sent His son, and also his son himself, are not God, but that God is the one existing, incomparable good, the beginning of everything. — Leo Tolstoy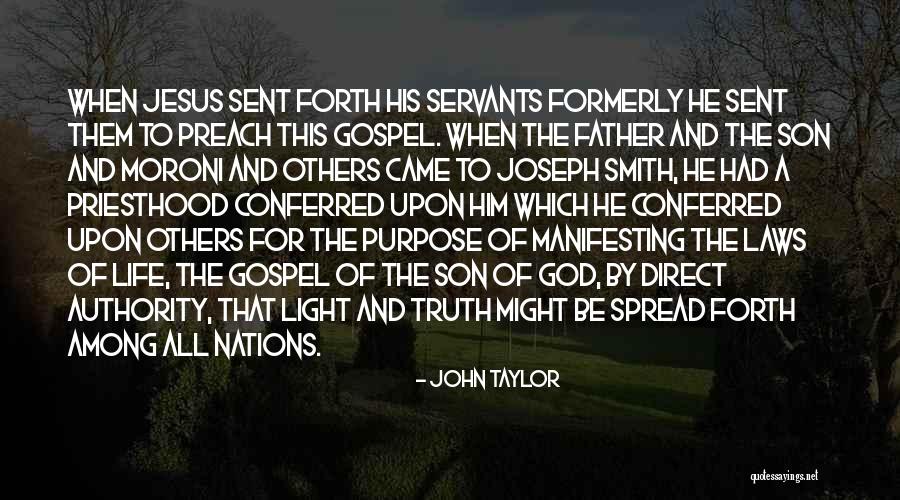 When Jesus sent forth his servants formerly he sent them to preach this Gospel. When the Father and the Son and Moroni and others came to Joseph Smith, he had a priesthood conferred upon him which he conferred upon others for the purpose of manifesting the laws of life, the Gospel of the Son of God, by direct authority, that light and truth might be spread forth among all nations. — John Taylor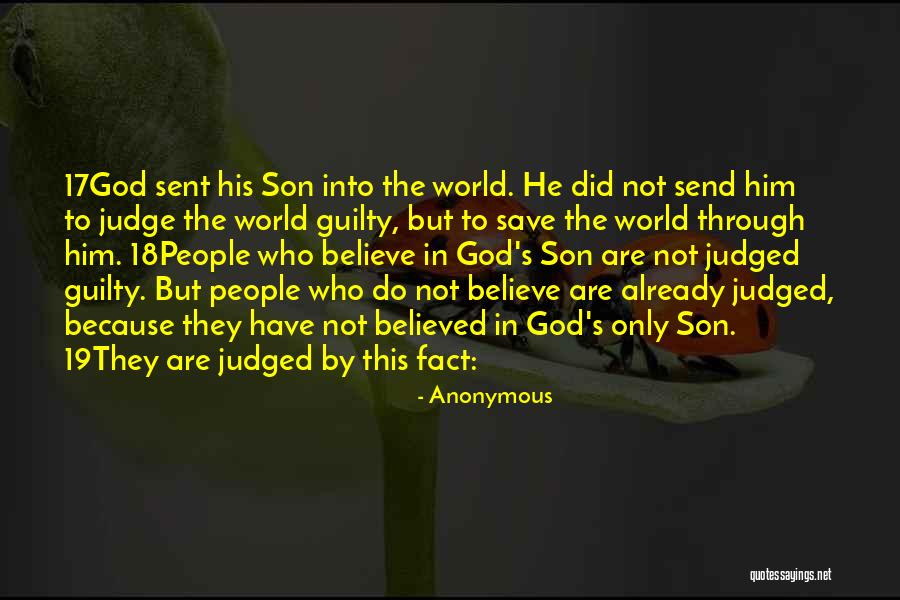 17God sent his Son into the world. He did not send him to judge the world guilty, but to save the world through him. 18People who believe in God's Son are not judged guilty. But people who do not believe are already judged, because they have not believed in God's only Son. 19They are judged by this fact: — Anonymous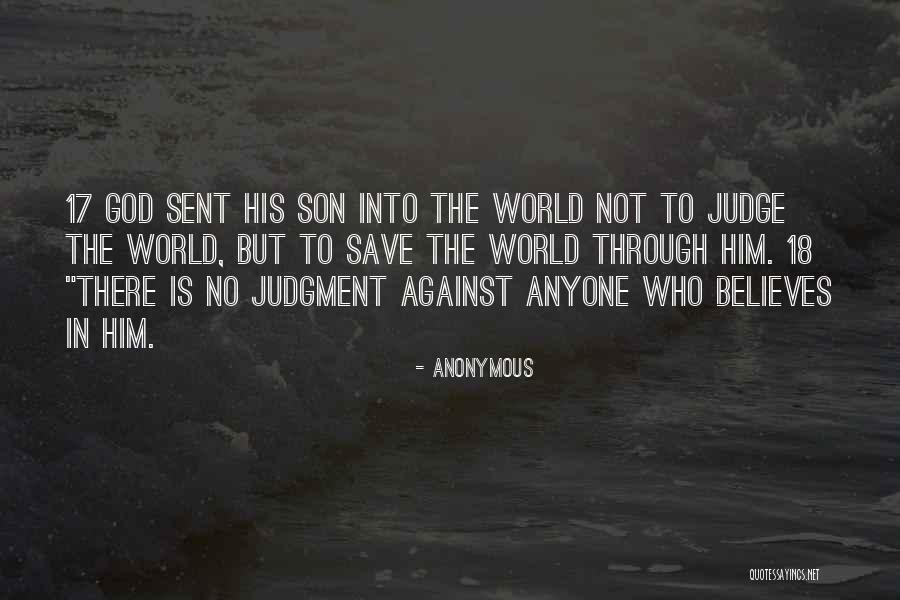 17 God sent his Son into the world not to judge the world, but to save the world through him. 18 "There is no judgment against anyone who believes in him. — Anonymous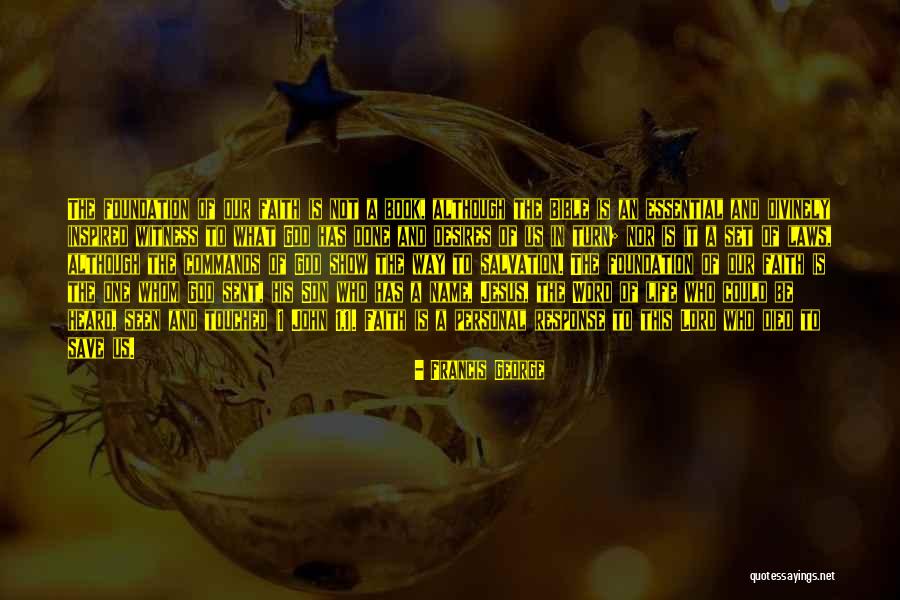 The foundation of our faith is not a book, although the Bible is an essential and divinely inspired witness to what God has done and desires of us in turn; nor is it a set of laws, although the commands of God show the way to salvation. The foundation of our faith is the one whom God sent, his Son who has a name, Jesus, the Word of life who could be heard, seen and touched (1 John 1,1). Faith is a personal response to this Lord who died to save us. — Francis George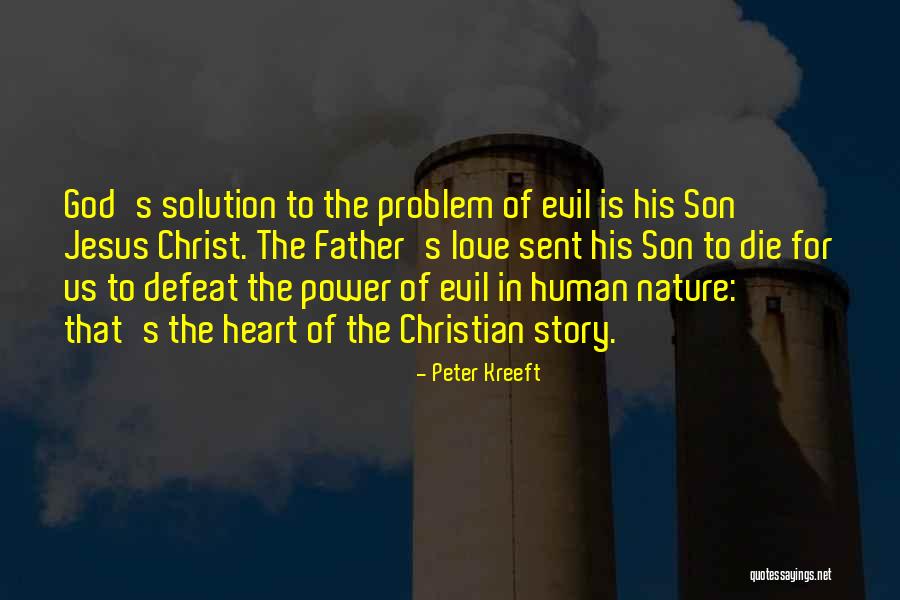 God's solution to the problem of evil is his Son Jesus Christ. The Father's love sent his Son to die for us to defeat the power of evil in human nature: that's the heart of the Christian story. — Peter Kreeft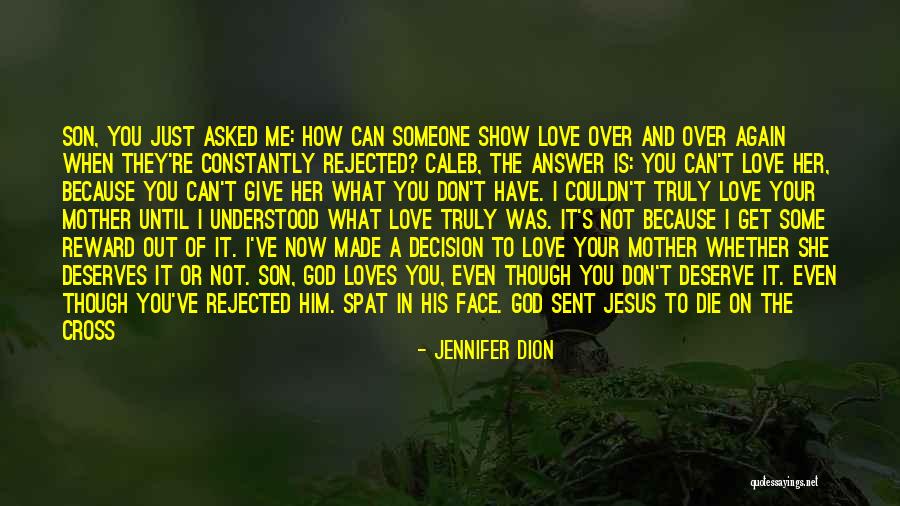 Son, you just asked me: how can someone show love over and over again when they're constantly rejected? Caleb, the answer is: you can't love her, because you can't give her what you don't have. I couldn't truly love your mother until I understood what love truly was. It's not because I get some reward out of it. I've now made a decision to love your mother whether she deserves it or not. Son, God loves you, even though you don't deserve it. Even though you've rejected Him. Spat in His face. God sent Jesus to die on the cross for your sin, because He loves you. The cross was offensive to me, until I came to it. But when I did, Jesus Christ changed my life. That's when I truly began to love your mom. Son, I can't settle this for you. This is between you and the Lord. But I love you too much not to tell you the truth. Can't you see that you need Him? Can't you see that you need His forgiveness? — Jennifer Dion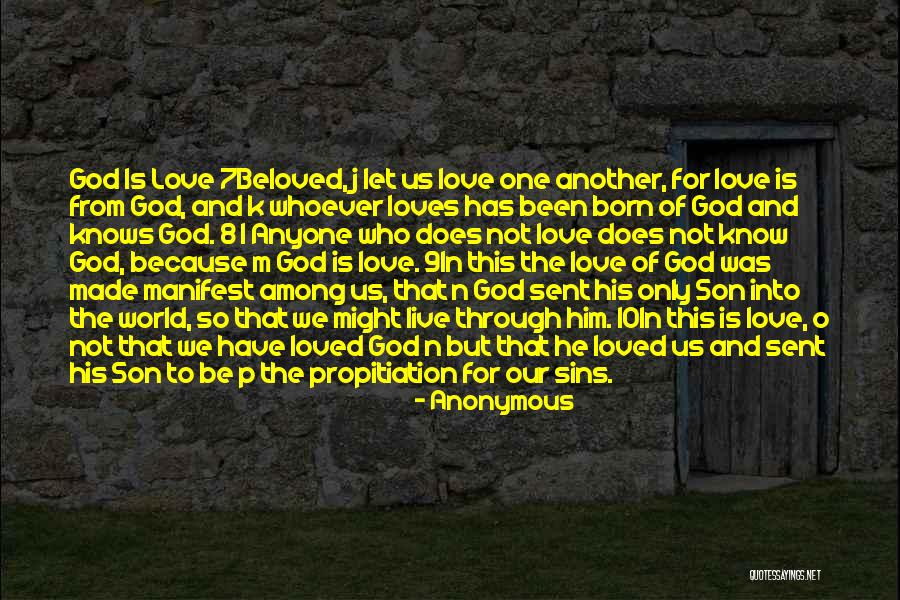 God Is Love 7Beloved, j let us love one another, for love is from God, and k whoever loves has been born of God and knows God. 8 l Anyone who does not love does not know God, because m God is love. 9In this the love of God was made manifest among us, that n God sent his only Son into the world, so that we might live through him. 10In this is love, o not that we have loved God n but that he loved us and sent his Son to be p the propitiation for our sins. 11Beloved, if God so loved us, we also ought to love one another. 12 q No one has ever seen God; if we love one another, God abides in us and r his love is perfected in us. — Anonymous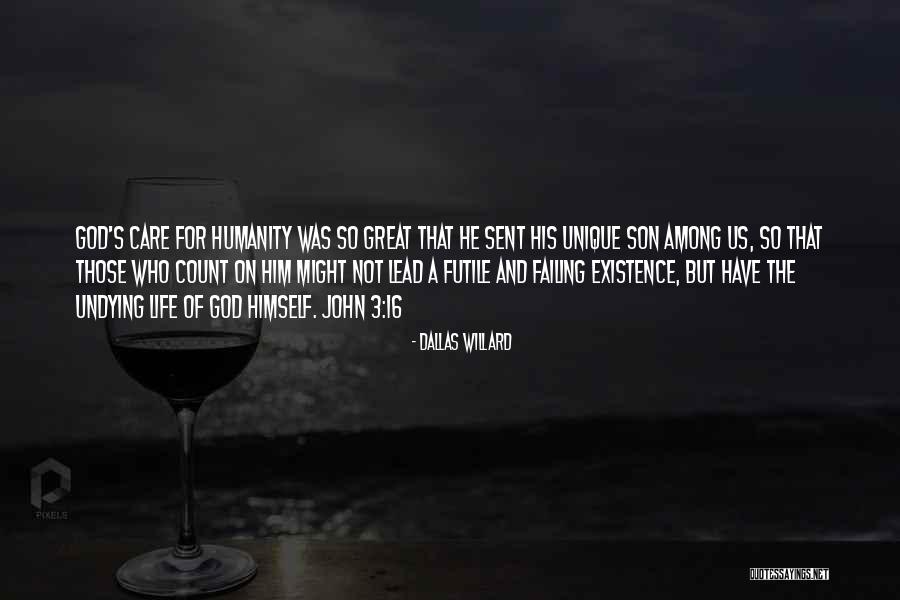 God's care for humanity was so great that he sent his unique Son among us, so that those who count on him might not lead a futile and failing existence, but have the undying life of God Himself. JOHN 3:16 — Dallas Willard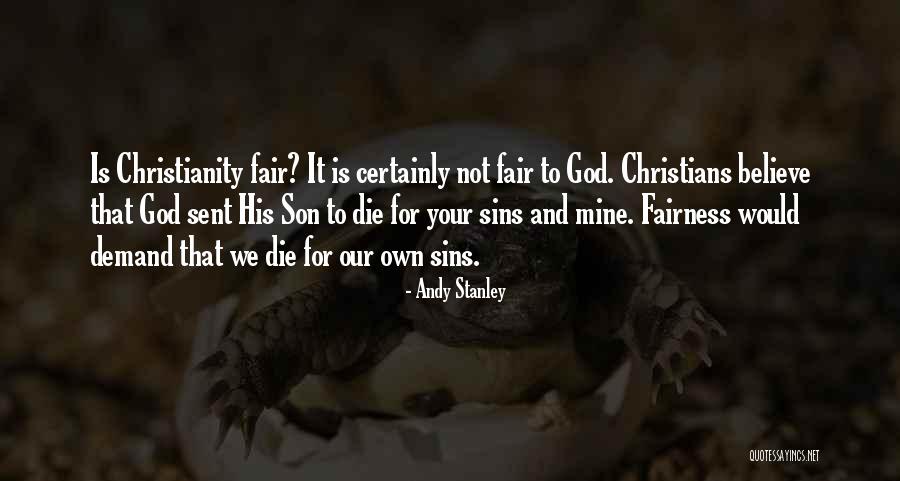 Is Christianity fair? It is certainly not fair to God. Christians believe that God sent His Son to die for your sins and mine. Fairness would demand that we die for our own sins. — Andy Stanley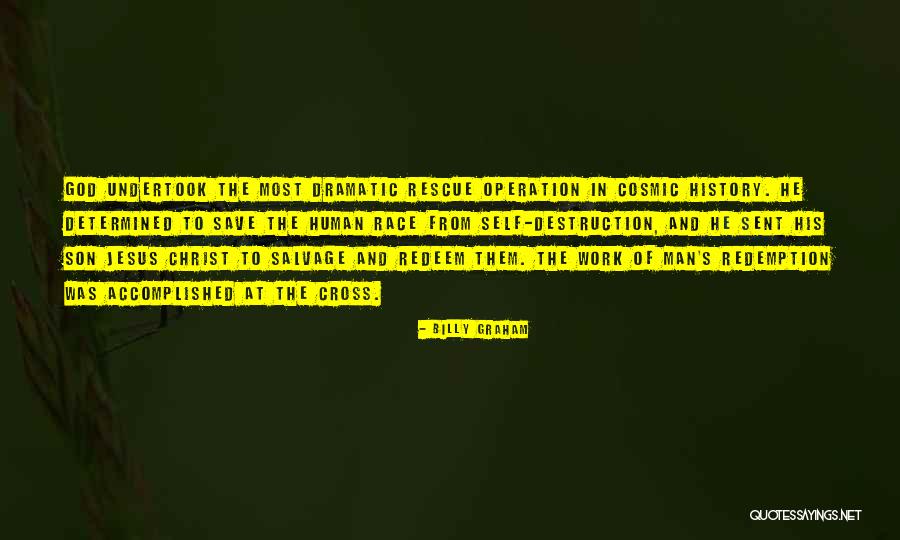 God undertook the most dramatic rescue operation in cosmic history. He determined to save the human race from self-destruction, and He sent His Son Jesus Christ to salvage and redeem them. The work of man's redemption was accomplished at the cross. — Billy Graham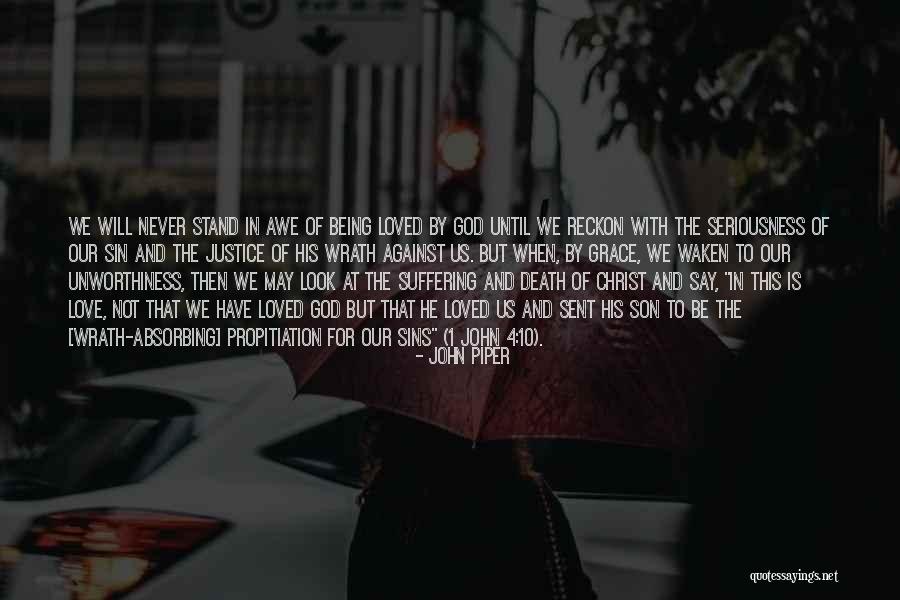 We will never stand in awe of being loved by God until we reckon with the seriousness of our sin and the justice of his wrath against us. But when, by grace, we waken to our unworthiness, then we may look at the suffering and death of Christ and say, "In this is love, not that we have loved God but that he loved us and sent his Son to be the [wrath-absorbing] propitiation for our sins" (1 John 4:10). — John Piper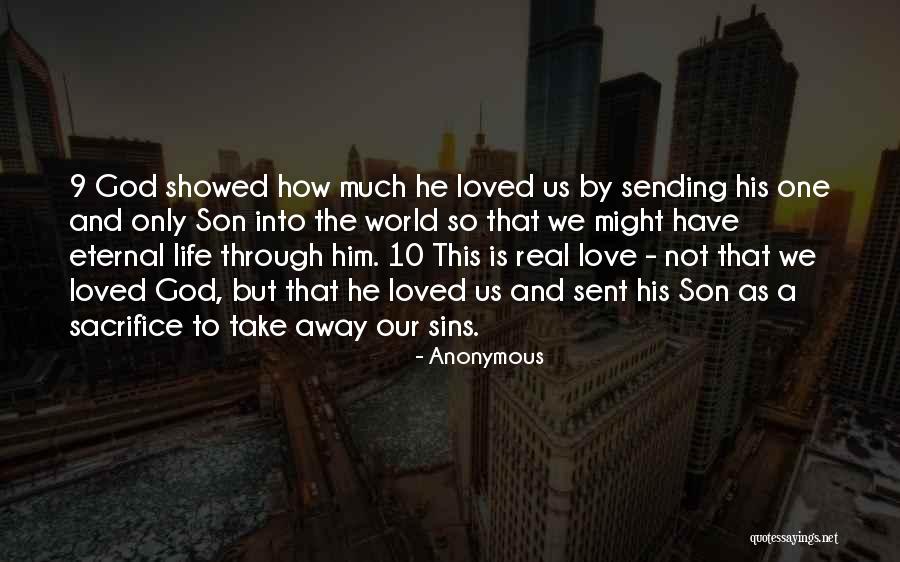 9 God showed how much he loved us by sending his one and only Son into the world so that we might have eternal life through him. 10 This is real love - not that we loved God, but that he loved us and sent his Son as a sacrifice to take away our sins. — Anonymous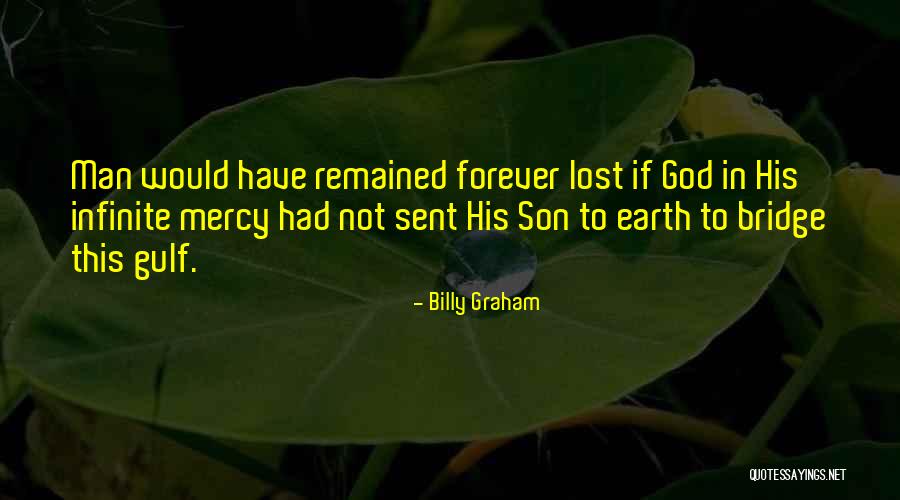 Man would have remained forever lost if God in His infinite mercy had not sent His Son to earth to bridge this gulf. — Billy Graham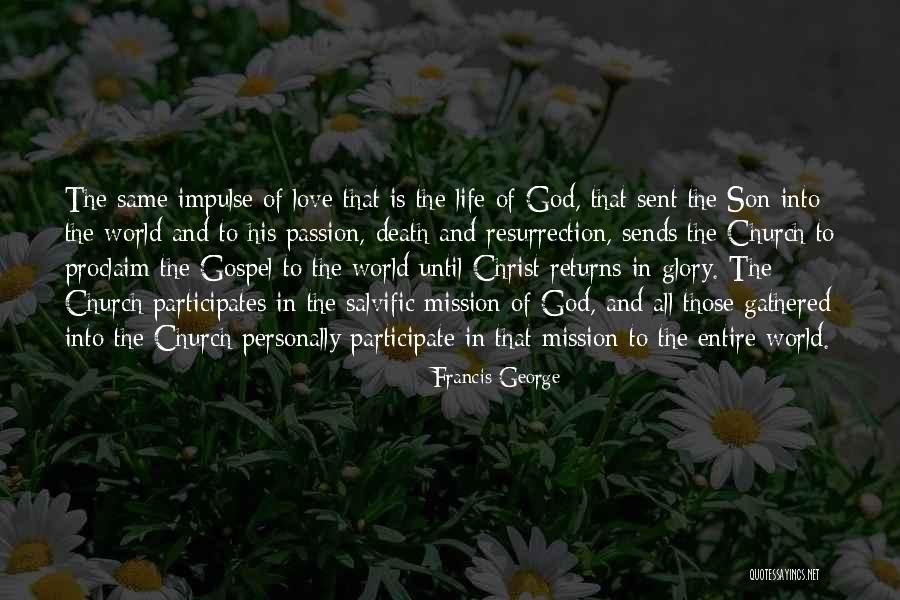 The same impulse of love that is the life of God, that sent the Son into the world and to his passion, death and resurrection, sends the Church to proclaim the Gospel to the world until Christ returns in glory. The Church participates in the salvific mission of God, and all those gathered into the Church personally participate in that mission to the entire world. — Francis George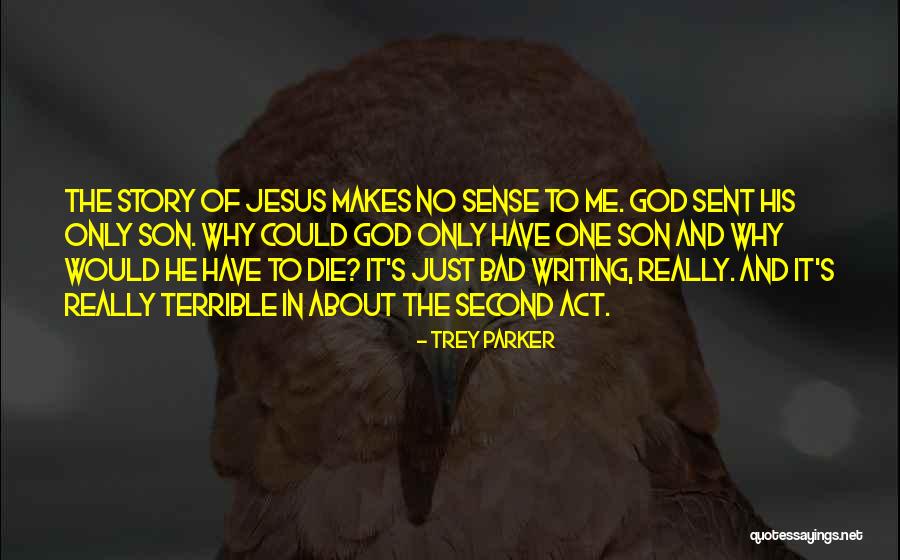 The story of Jesus makes no sense to me. God sent his only son. Why could God only have one son and why would he have to die? It's just bad writing, really. And it's really terrible in about the second act. — Trey Parker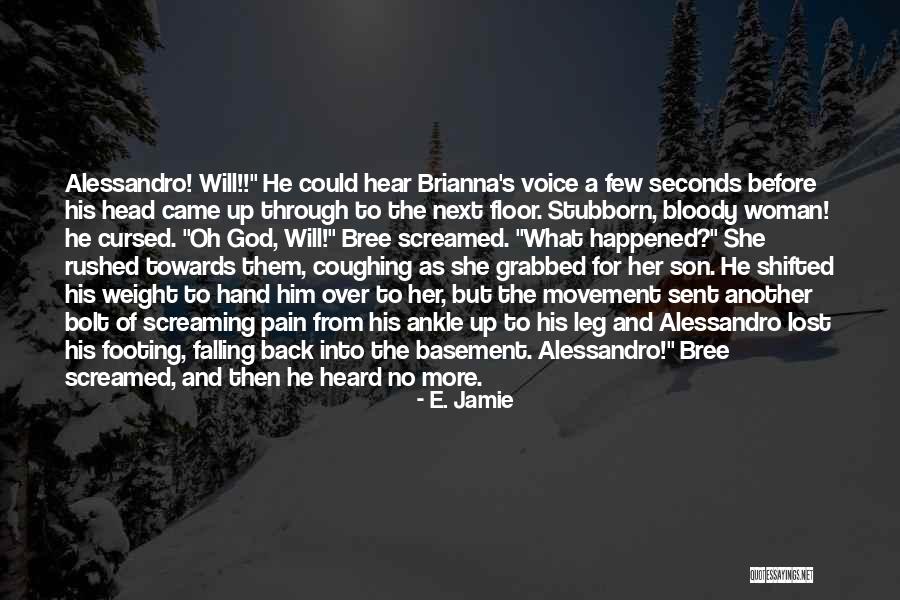 Alessandro! Will!!" He could hear Brianna's voice a few seconds before his head came up through to the next floor.
Stubborn, bloody woman! he cursed.
"Oh God, Will!" Bree screamed. "What happened?" She rushed towards them, coughing as she grabbed for her son. He shifted his weight to hand him over to her, but the movement sent another bolt of screaming pain from his ankle up to his leg and Alessandro lost his footing, falling back into the basement.
Alessandro!" Bree screamed, and then he heard no more. — E. Jamie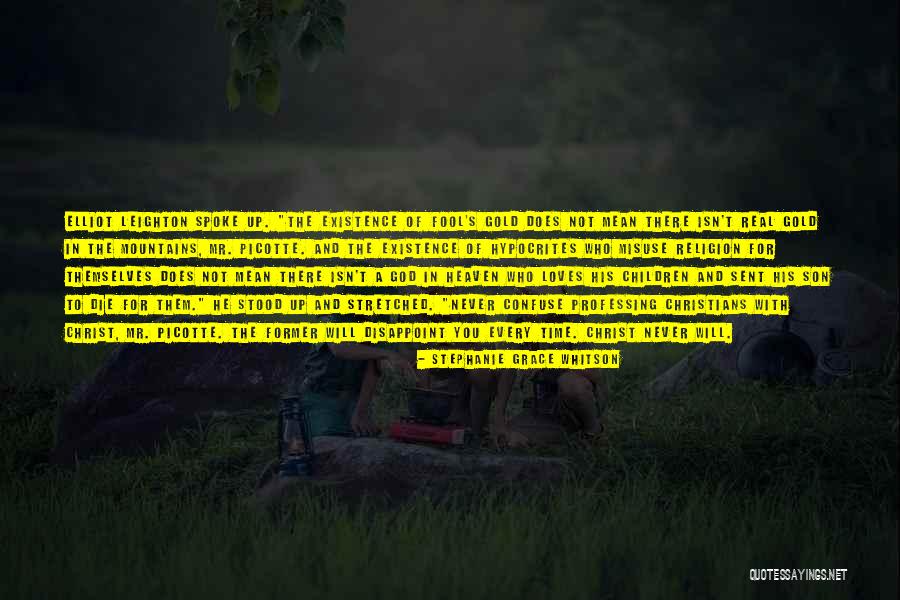 Elliot Leighton spoke up. "The existence of fool's gold does not mean there isn't real gold in the mountains, Mr. Picotte. And the existence of hypocrites who misuse religion for themselves does not mean there isn't a God in heaven who loves His children and sent His Son to die for them." He stood up and stretched. "Never confuse professing Christians with Christ, Mr. Picotte. The former will disappoint you every time. Christ never will. — Stephanie Grace Whitson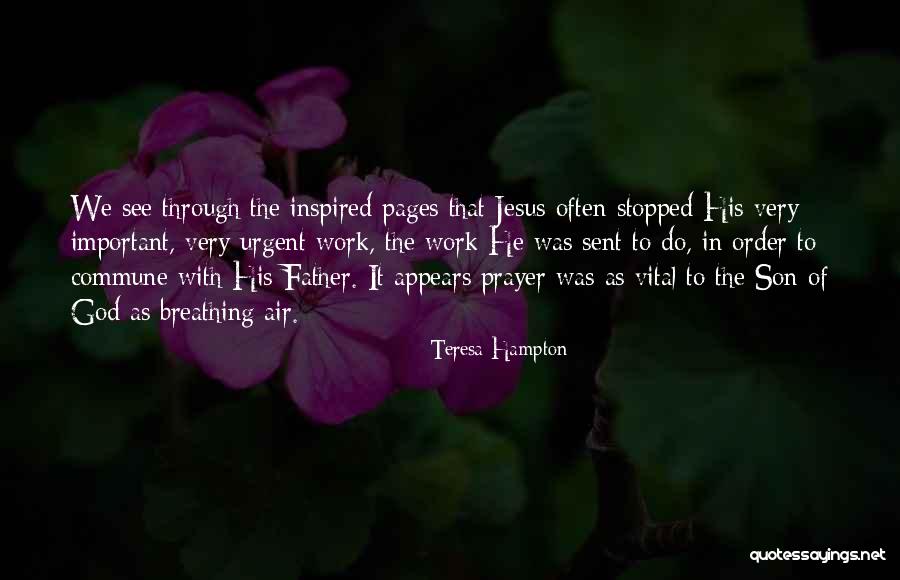 We see through the inspired pages that Jesus often stopped His very important, very urgent work, the work He was sent to do, in order to commune with His Father. It appears prayer was as vital to the Son of God as breathing air. — Teresa Hampton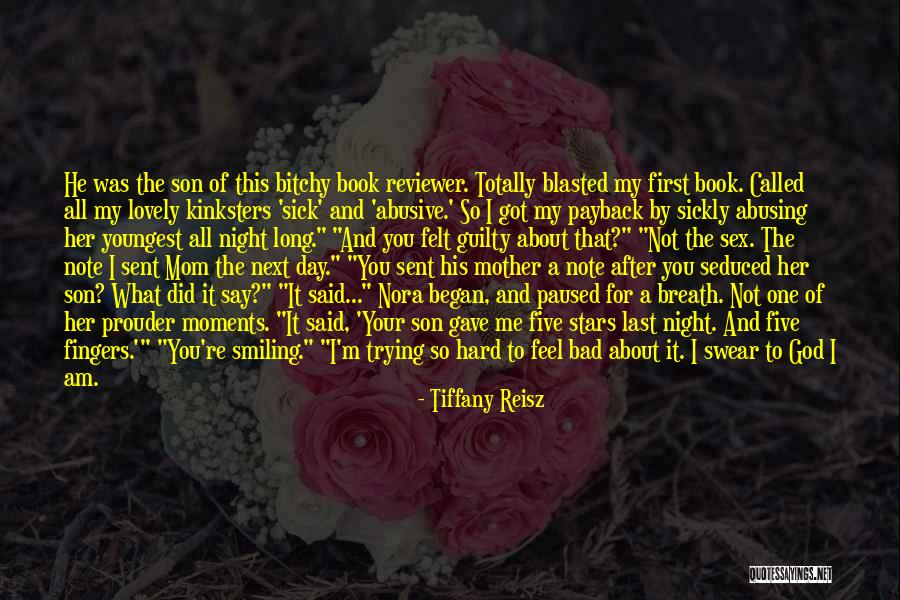 He was the son of this bitchy book reviewer. Totally blasted my first book. Called all my lovely kinksters 'sick' and 'abusive.' So I got my payback by sickly abusing her youngest all night long."
"And you felt guilty about that?"
"Not the sex. The note I sent Mom the next day."
"You sent his mother a note after you seduced her son? What did it say?"
"It said..." Nora began, and paused for a breath. Not one of her prouder moments. "It said, 'Your son gave me five stars last night. And five fingers.'"
"You're smiling."
"I'm trying so hard to feel bad about it. I swear to God I am. — Tiffany Reisz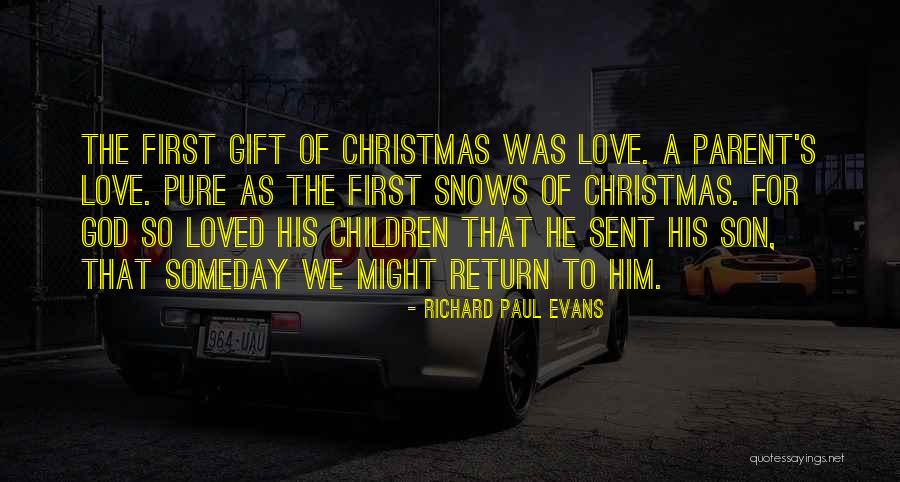 The first gift of Christmas was love. A parent's love. Pure as the first snows of Christmas. For God so loved His children that He sent His son, that someday we might return to Him. — Richard Paul Evans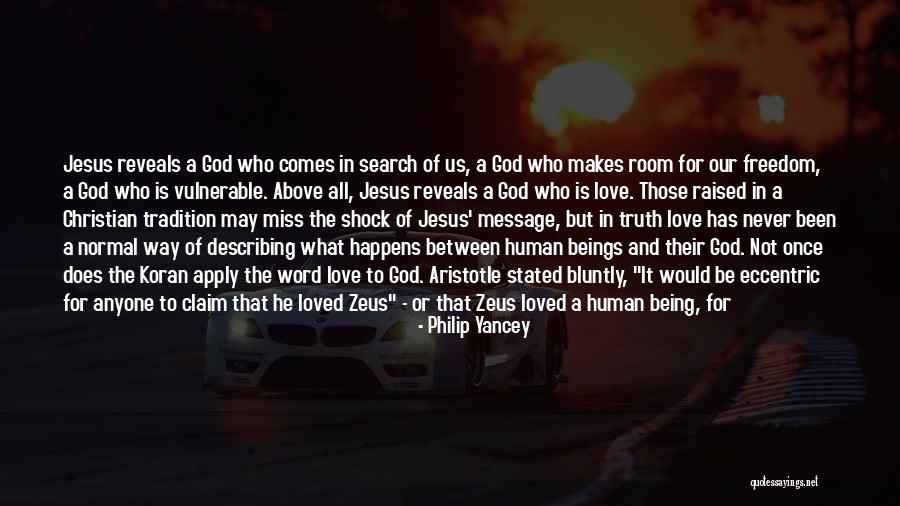 Jesus reveals a God who comes in search of us, a God who makes room for our freedom, a God who is vulnerable. Above all, Jesus reveals a God who is love. Those raised in a Christian tradition may miss the shock of Jesus' message, but in truth love has never been a normal way of describing what happens between human beings and their God. Not once does the Koran apply the word love to God. Aristotle stated bluntly, "It would be eccentric for anyone to claim that he loved Zeus" - or that Zeus loved a human being, for that matter. In dazzling contrast the Christian Bible affirms, "God is love," and cites love as the main reason Jesus came to earth: "This is how God showed his love among us: He sent his one and only Son into the world that we might live through him. — Philip Yancey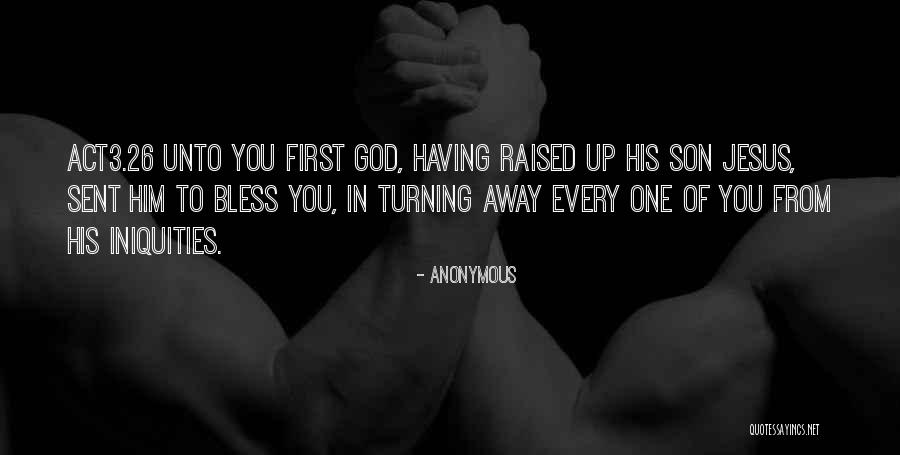 ACT3.26 Unto you first God, having raised up his Son Jesus, sent him to bless you, in turning away every one of you from his iniquities. — Anonymous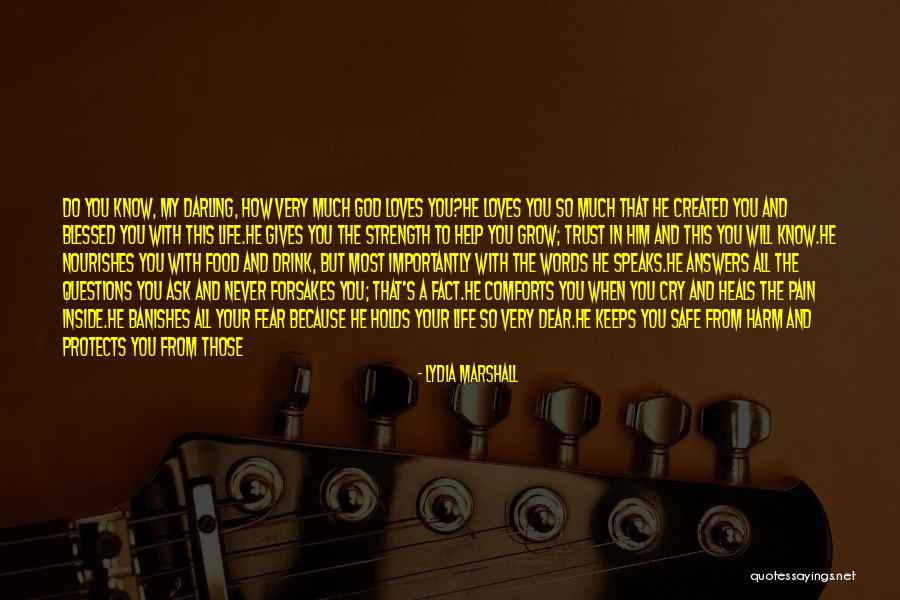 Do you know, my darling, how very much God loves you?

He loves you so much that He created you and blessed you with this life.
He gives you the strength to help you grow; trust in Him and this you will know.
He nourishes you with food and drink, but most importantly with the words He speaks.
He answers all the questions you ask and never forsakes you; that's a fact.
He comforts you when you cry and heals the pain inside.
He banishes all your fear because He holds your life so very dear.
He keeps you safe from harm and protects you from those who would do you wrong.
He forgives you for the mistakes you make; when you repent, then you find His grace.
He is patient, gentle, and kind as He leads you on this path of life.

Do you know, my darling, how very much God loves you?

He loves you so much that He sent His Son, Jesus Christ, to die for you and save your life.
Trust in Him and find true life. — Lydia Marshall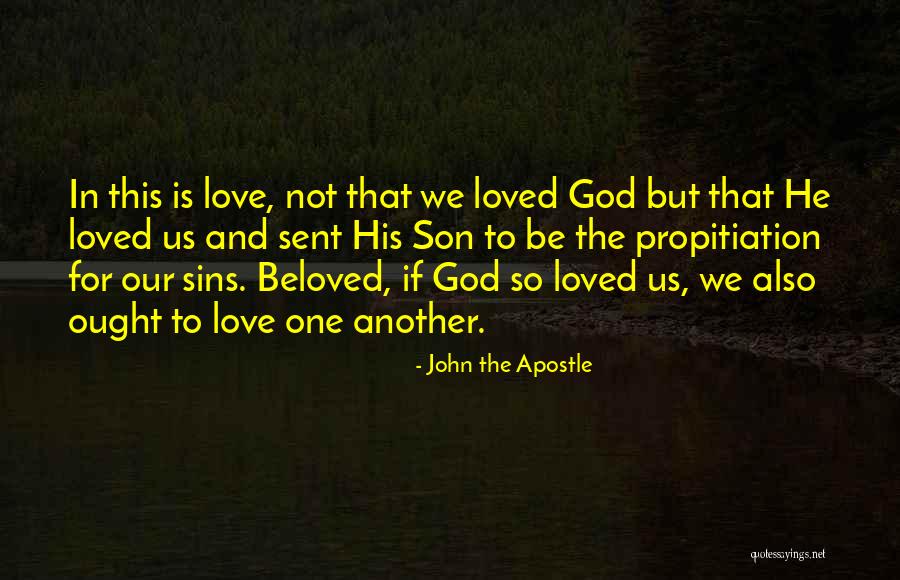 In this is love, not that we loved God but that He loved us and sent His Son to be the propitiation for our sins. Beloved, if God so loved us, we also ought to love one another. — John The Apostle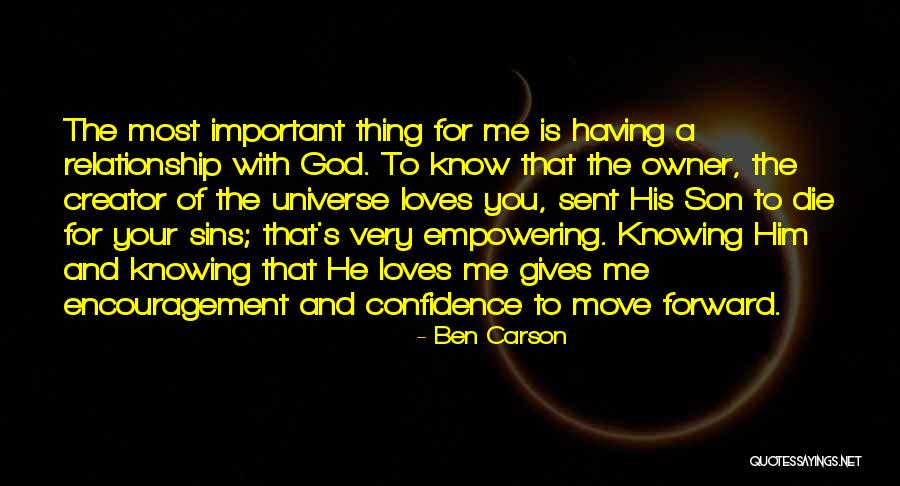 The most important thing for me is having a relationship with God. To know that the owner, the creator of the universe loves you, sent His Son to die for your sins; that's very empowering. Knowing Him and knowing that He loves me gives me encouragement and confidence to move forward. — Ben Carson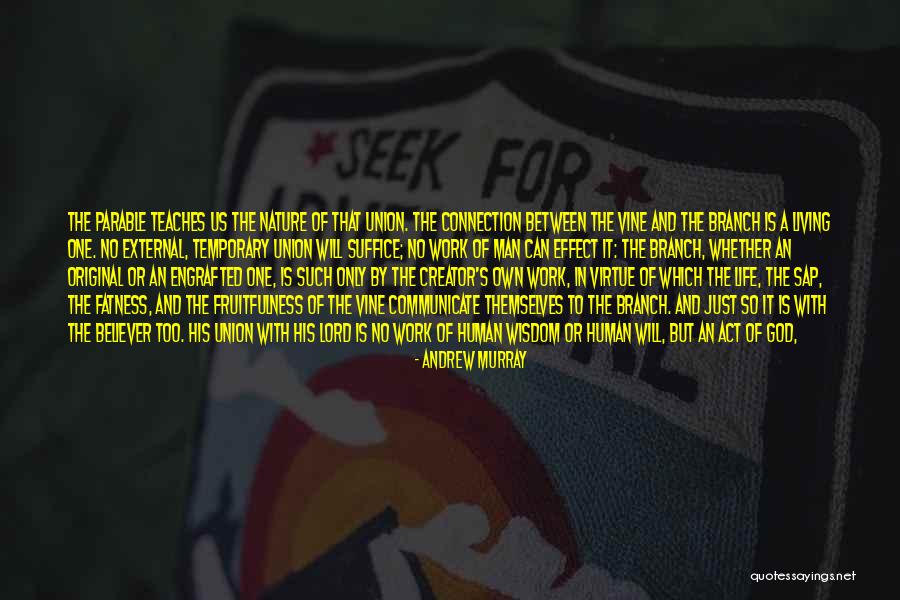 The parable teaches us the nature of that union. The connection between the vine and the branch is a living one. No external, temporary union will suffice; no work of man can effect it: the branch, whether an original or an engrafted one, is such only by the Creator's own work, in virtue of which the life, the sap, the fatness, and the fruitfulness of the vine communicate themselves to the branch. And just so it is with the believer too. His union with his Lord is no work of human wisdom or human will, but an act of God, by which the closest and most complete life-union is effected between the Son of God and the sinner. "God hath sent forth the Spirit of His Son into your hearts." The same Spirit which dwelt and still dwells in the Son, becomes the life of the believer; in the unity of that one Spirit, and the fellowship of the same life which is in Christ, he is one with Him. As between the vine and branch, it is a life-union that makes them one. — Andrew Murray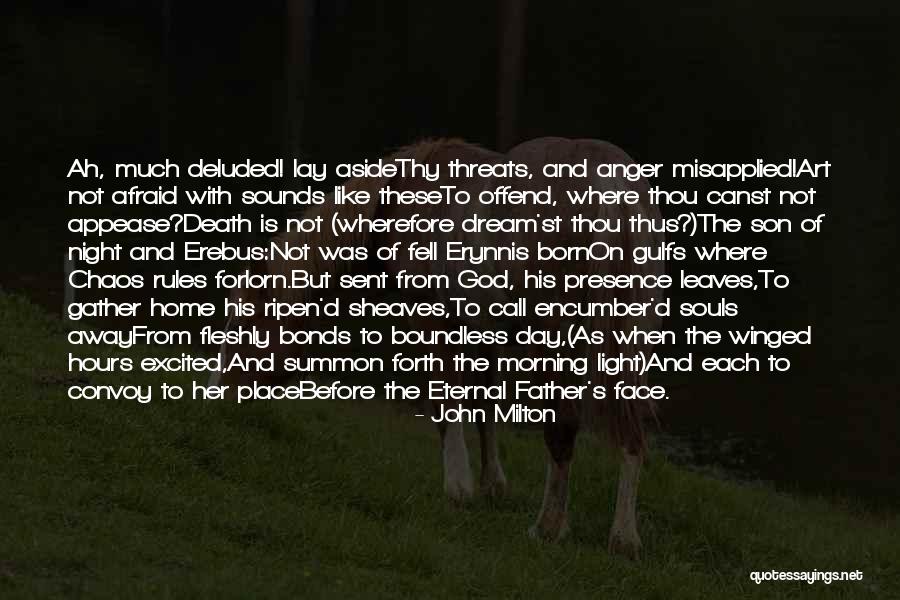 Ah, much deluded! lay aside
Thy threats, and anger misapplied!
Art not afraid with sounds like these
To offend, where thou canst not appease?
Death is not (wherefore dream'st thou thus?)
The son of night and Erebus:
Not was of fell Erynnis born
On gulfs where Chaos rules forlorn.
But sent from God, his presence leaves,
To gather home his ripen'd sheaves,
To call encumber'd souls away
From fleshly bonds to boundless day,
(As when the winged hours excited,
And summon forth the morning light)
And each to convoy to her place
Before the Eternal Father's face. — John Milton