God Has Chosen You Quotes & Sayings
Enjoy reading and share 45 famous quotes about God Has Chosen You with everyone.
Top God Has Chosen You Quotes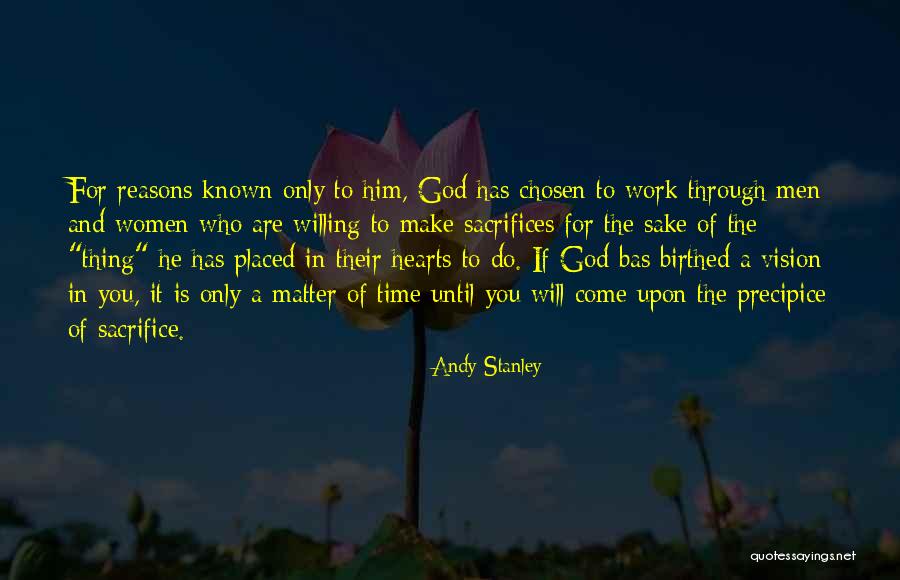 For reasons known only to him, God has chosen to work through men and women who are willing to make sacrifices for the sake of the "thing" he has placed in their hearts to do. If God bas birthed a vision in you, it is only a matter of time until you will come upon the precipice of sacrifice. — Andy Stanley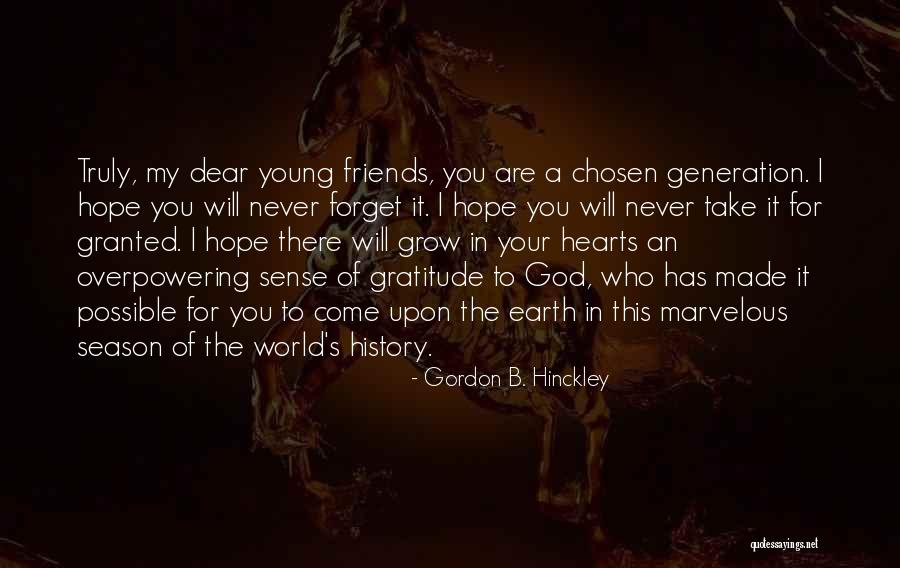 Truly, my dear young friends, you are a chosen generation. I hope you will never forget it. I hope you will never take it for granted. I hope there will grow in your hearts an overpowering sense of gratitude to God, who has made it possible for you to come upon the earth in this marvelous season of the world's history. — Gordon B. Hinckley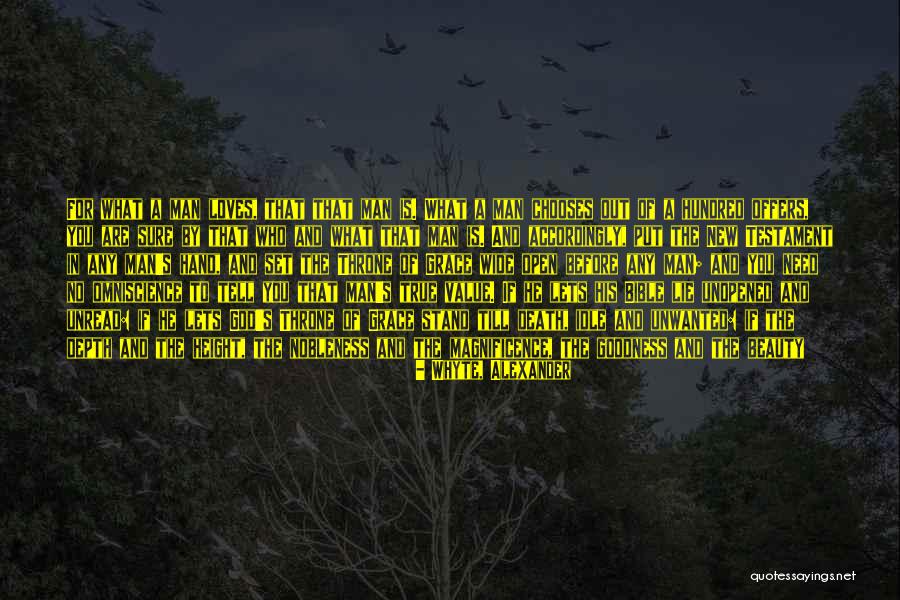 For what a man loves, that that man is. What a man chooses out of a hundred offers, you are sure by that who and what that man is. And accordingly, put the New Testament in any man's hand, and set the Throne of Grace wide open before any man; and you need no omniscience to tell you that man's true value. If he lets his Bible lie unopened and unread: if he lets God's Throne of Grace stand till death, idle and unwanted: if the depth and the height, the nobleness and the magnificence, the goodness and the beauty of divine things have no command over him, and no attraction to him - then, you do not wish me to put words upon the meanness of that man's mind. Look yourselves at what he has chosen: look and weep at what he has neglected, and has for ever lost! — Whyte, Alexander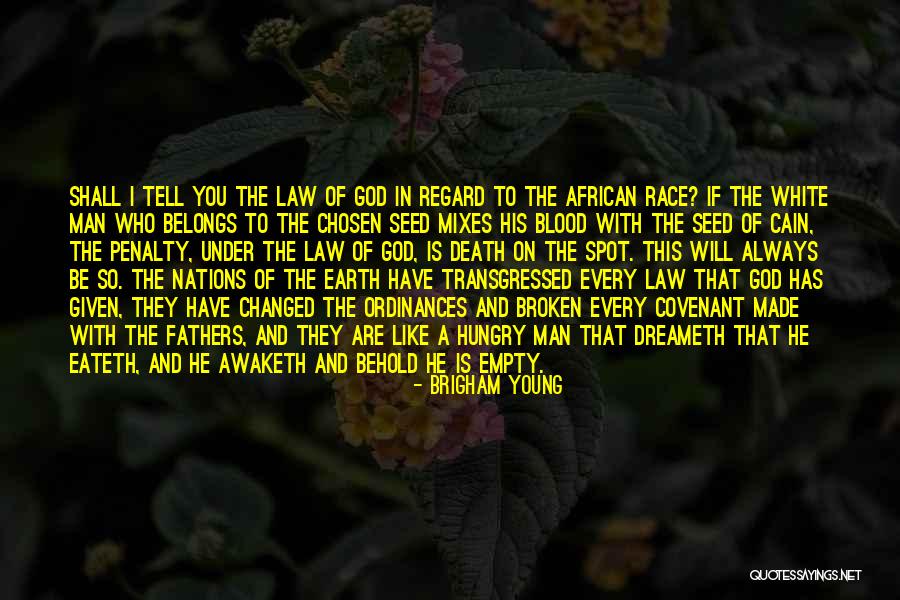 Shall I tell you the law of God in regard to the African race? If the white man who belongs to the chosen seed mixes his blood with the seed of Cain, the penalty, under the law of God, is death on the spot. This will always be so. The nations of the earth have transgressed every law that God has given, they have changed the ordinances and broken every covenant made with the fathers, and they are like a hungry man that dreameth that he eateth, and he awaketh and behold he is empty. — Brigham Young
Women will be saved by going back to that role that God has chosen for them. Ladies, if the hair on the back of your neck stands up it is because you are fighting your role in the scripture. — Mark Driscoll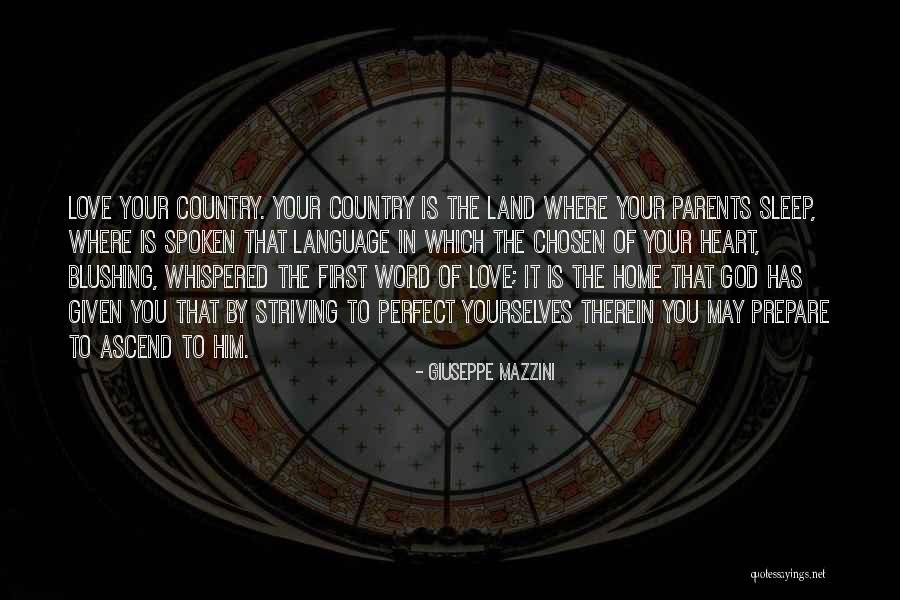 Love your country. Your country is the land where your parents sleep, where is spoken that language in which the chosen of your heart, blushing, whispered the first word of love; it is the home that God has given you that by striving to perfect yourselves therein you may prepare to ascend to him. — Giuseppe Mazzini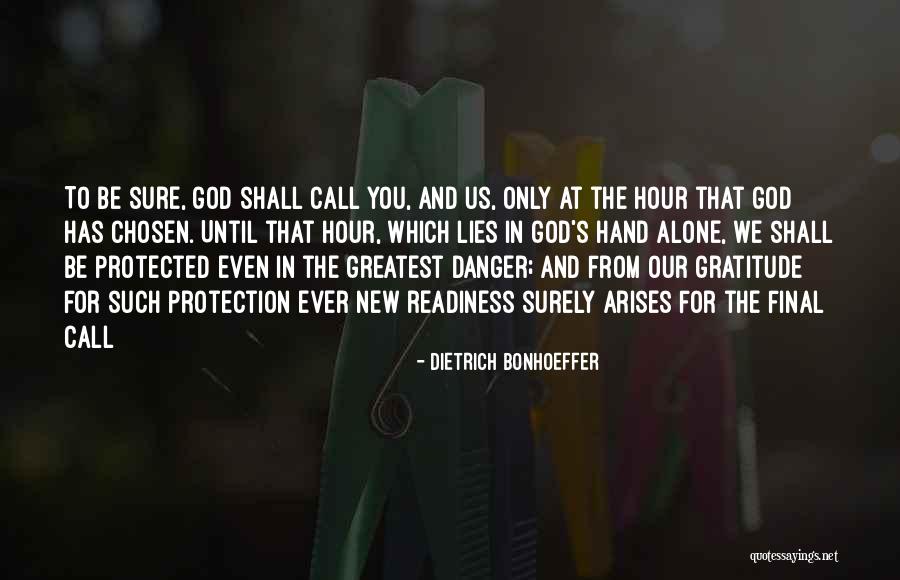 To be sure, God shall call you, and us, only at the hour that God has chosen. Until that hour, which lies in God's hand alone, we shall be protected even in the greatest danger; and from our gratitude for such protection ever new readiness surely arises for the final call — Dietrich Bonhoeffer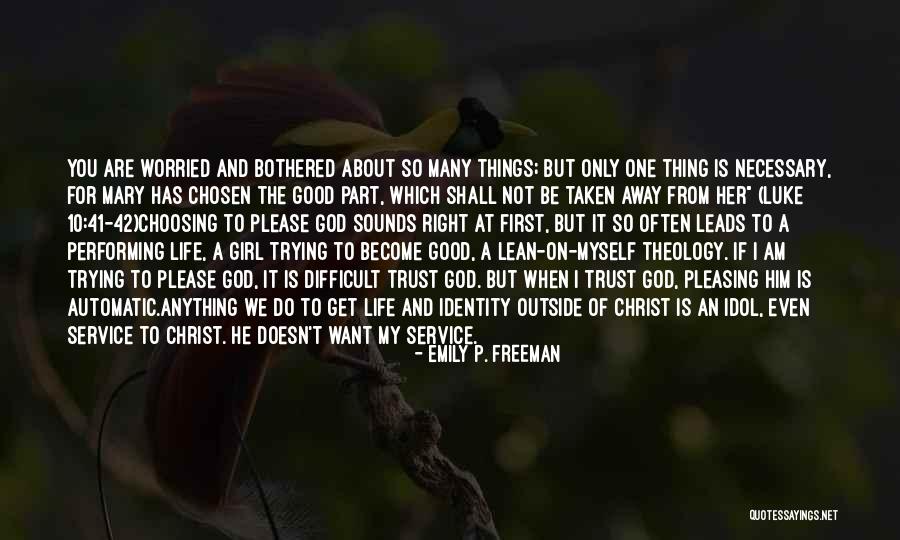 You are worried and bothered about so many things; but only one thing is necessary, for Mary has chosen the good part, which shall not be taken away from her" (Luke 10:41-42)
Choosing to please God sounds right at first, but it so often leads to a performing life, a girl trying to become good, a lean-on-myself theology. If I am trying to please God, it is difficult trust God. But when I trust God, pleasing him is automatic.
Anything we do to get life and identity outside of Christ is an idol, even service to Christ. He doesn't want my service. He wants me. And from that life-giving relationship, "streams of living water will flow from within" (John 7:38 NIV) — Emily P. Freeman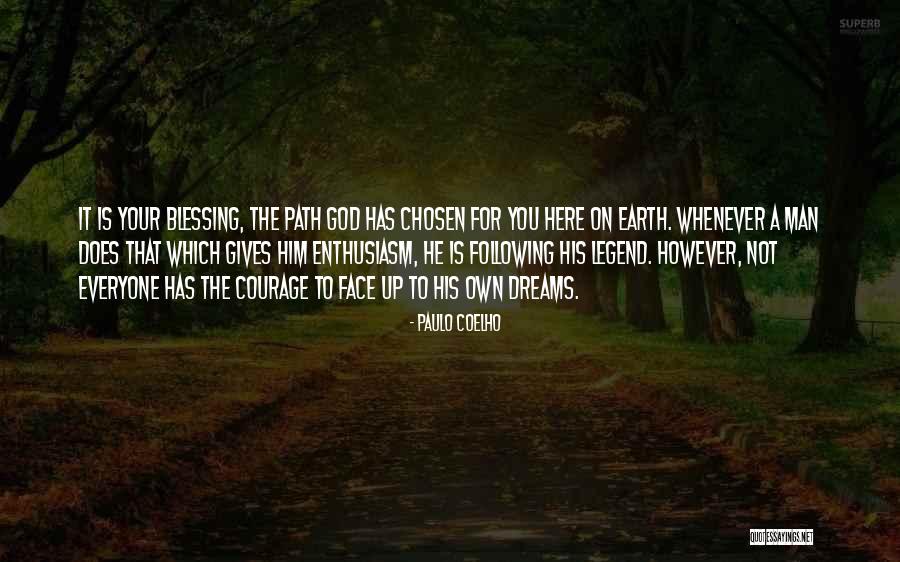 It is your blessing, the path God has chosen for you here on Earth. Whenever a man does that which gives him enthusiasm, he is following his Legend. However, not everyone has the courage to face up to his own dreams. — Paulo Coelho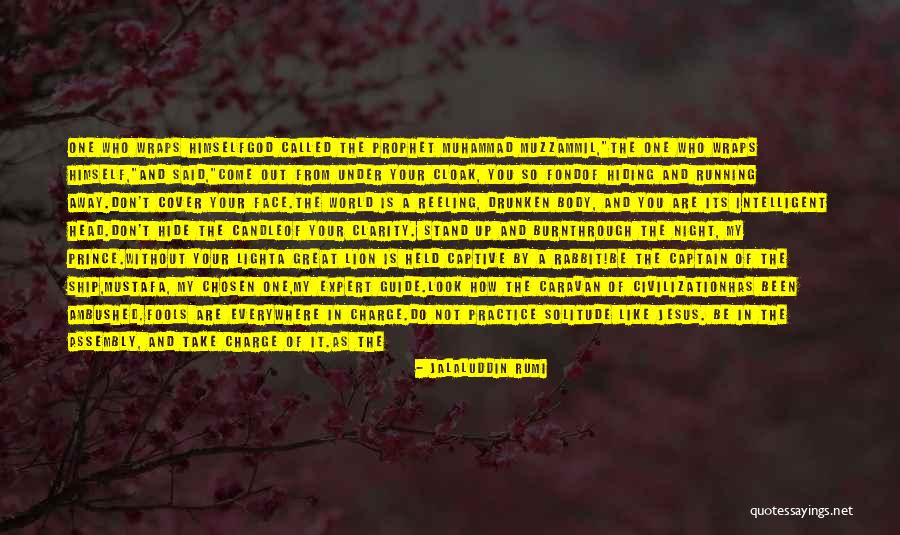 ONE WHO WRAPS HIMSELF

God called the Prophet Muhammad Muzzammil,
"The One Who Wraps Himself,"

and said,
"Come out from under your cloak, you so fond
of hiding and running away.

Don't cover your face.
The world is a reeling, drunken body, and you are its intelligent head.

Don't hide the candle
of your clarity. Stand up and burn
through the night, my prince.

Without your light
a great lion is held captive by a rabbit!

Be the captain of the ship,
Mustafa, my chosen one,
my expert guide.

Look how the caravan of civilization
has been ambushed.
Fools are everywhere in charge.
Do not practice solitude like Jesus. Be in the assembly,
and take charge of it.

As the bearded griffin, the Humay, lives on Mt. Qaf because he's native to it,
so you should live most naturally out in public
and be a communal teacher of souls. — Jalaluddin Rumi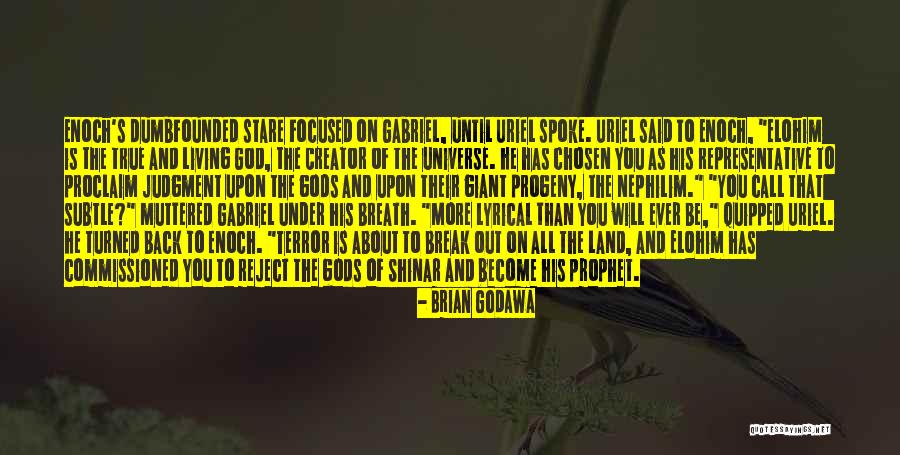 Enoch's dumbfounded stare focused on Gabriel, until Uriel spoke. Uriel said to Enoch, "Elohim is the true and living God, the Creator of the universe. He has chosen you as his representative to proclaim judgment upon the gods and upon their giant progeny, the Nephilim." "You call that subtle?" muttered Gabriel under his breath. "More lyrical than you will ever be," quipped Uriel. He turned back to Enoch. "Terror is about to break out on all the land, and Elohim has commissioned you to reject the gods of Shinar and become his prophet. — Brian Godawa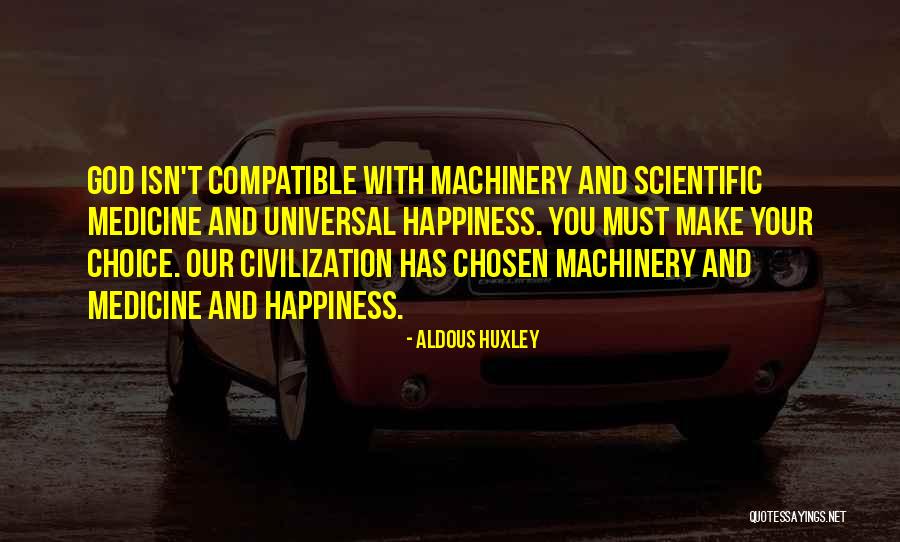 God isn't compatible with machinery and scientific medicine and universal happiness. You must make your choice. Our civilization has chosen machinery and medicine and happiness. — Aldous Huxley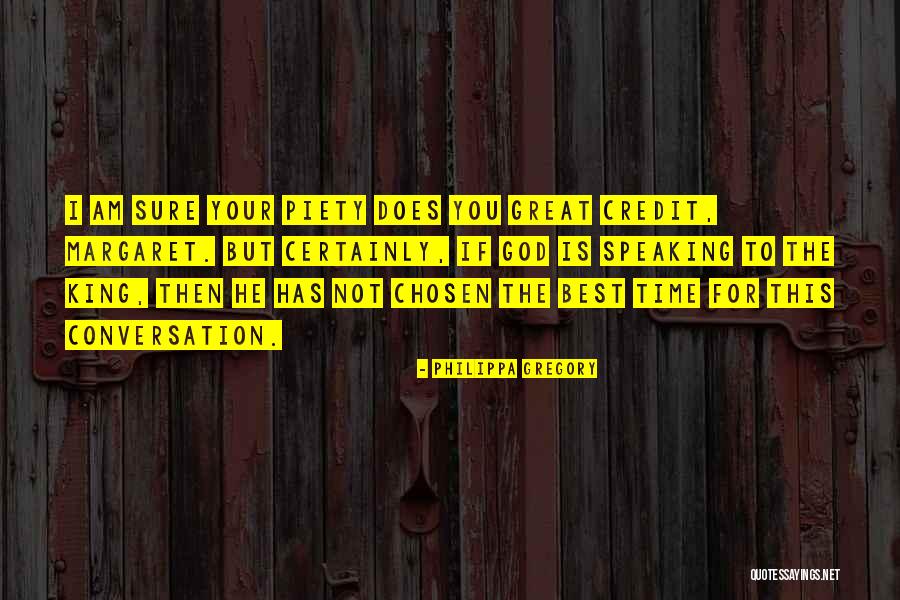 I am sure your piety does you great credit, Margaret. But certainly, if God is speaking to the king, then He has not chosen the best time for this conversation. — Philippa Gregory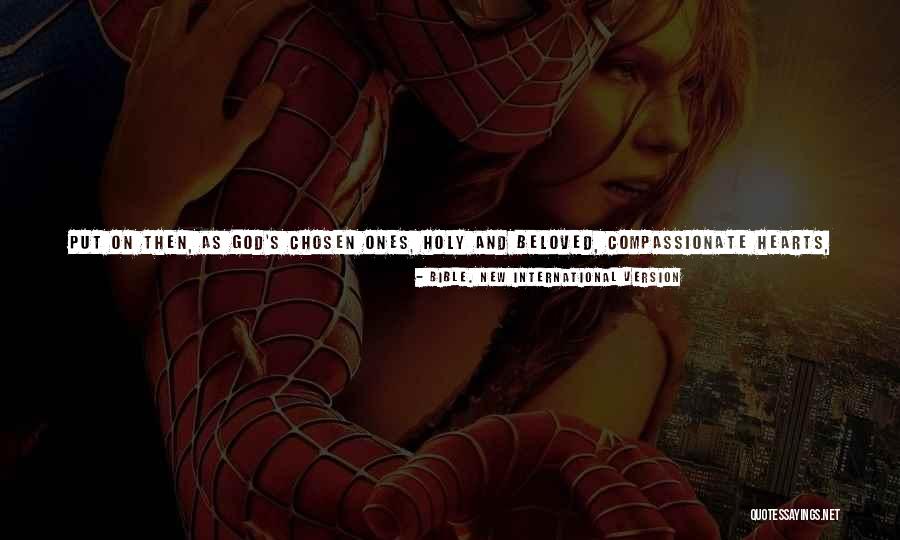 Put on then, as God's chosen ones, holy and beloved, compassionate hearts, kindness, humility, meekness, and patience, bearing with one another and, if one has a complaint against another, forgiving each other; as the Lord has forgiven you, so you also must forgive. And above all these put on love, which binds everything together in perfect harmony. — Bible. New International Version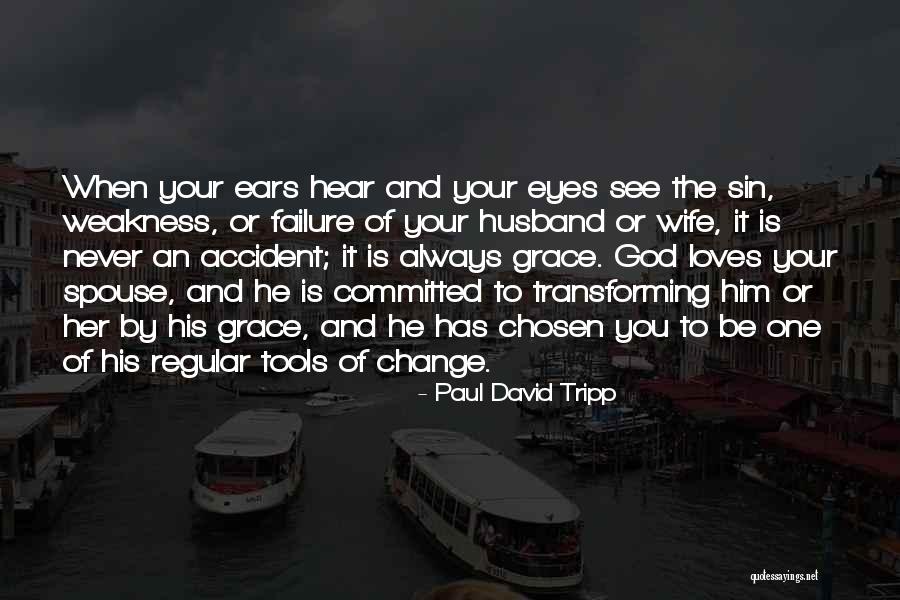 When your ears hear and your eyes see the sin, weakness, or failure of your husband or wife, it is never an accident; it is always grace. God loves your spouse, and he is committed to transforming him or her by his grace, and he has chosen you to be one of his regular tools of change. — Paul David Tripp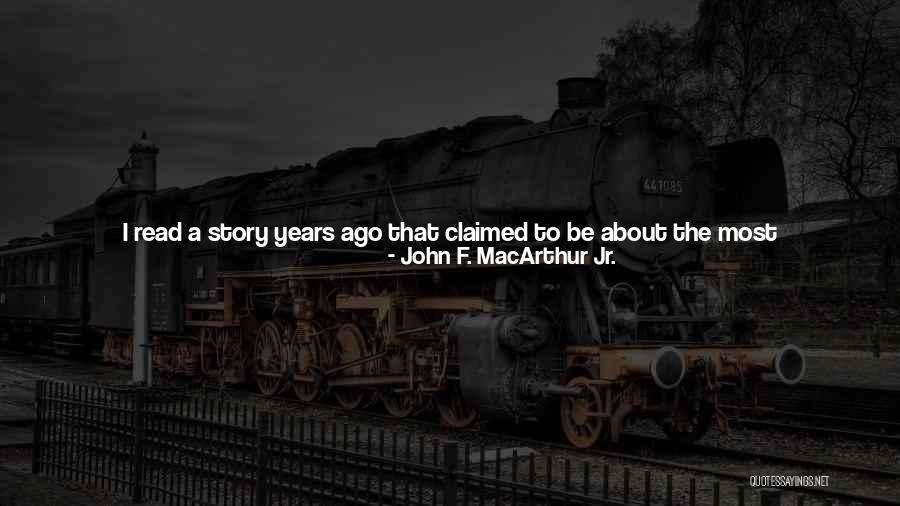 I read a story years ago that claimed to be about the most insignificant person ever born. His mother wrote his name on the birth certificate as Nosmo King. Somebody asked the mother where she got a name like that. It turned out the mother was illiterate, so she just copied down the No Smoking sign in the room and wrote it "Nosmo King." There is the ultimate nothing person, named after a No Smoking sign. If you speak the hard gospel of Jesus Christ, you may be pegged as one of the Nosmo Kings of the world: a loser, a nobody. Verse 28 of 1 Corinthians 1 says God has chosen things that are "despised," exoutheneo, considered nothing. Christians are about as low as you can go. We are "the things which are not," literally "the nonexistent ones." It's human nature to want to be somebody. So the Lord decided to do it a different way, choosing as His messengers the impotent, nonintellectual nobodies whom the world considers nothing by its standards. — John F. MacArthur Jr.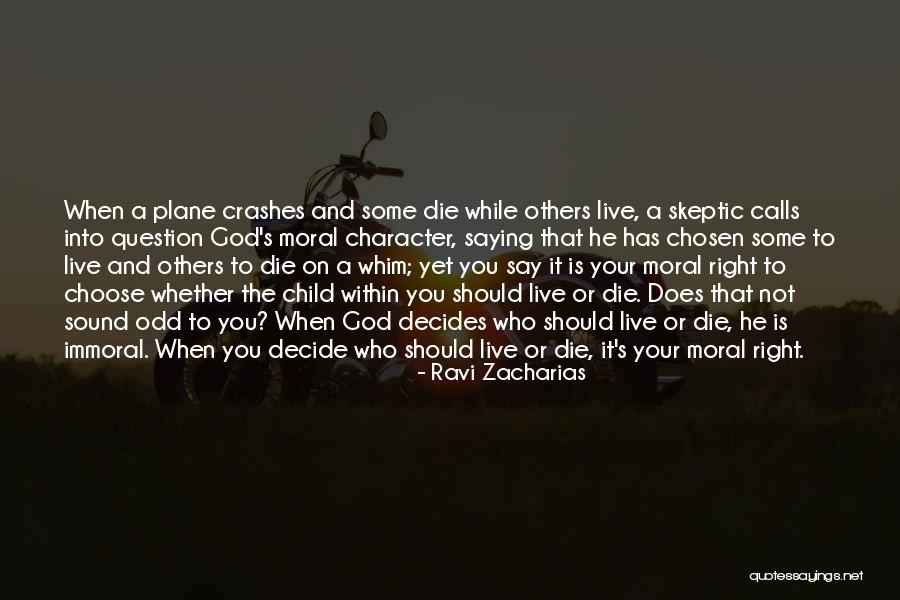 When a plane crashes and some die while others live, a skeptic calls into question God's moral character, saying that he has chosen some to live and others to die on a whim; yet you say it is your moral right to choose whether the child within you should live or die. Does that not sound odd to you? When God decides who should live or die, he is immoral. When you decide who should live or die, it's your moral right. — Ravi Zacharias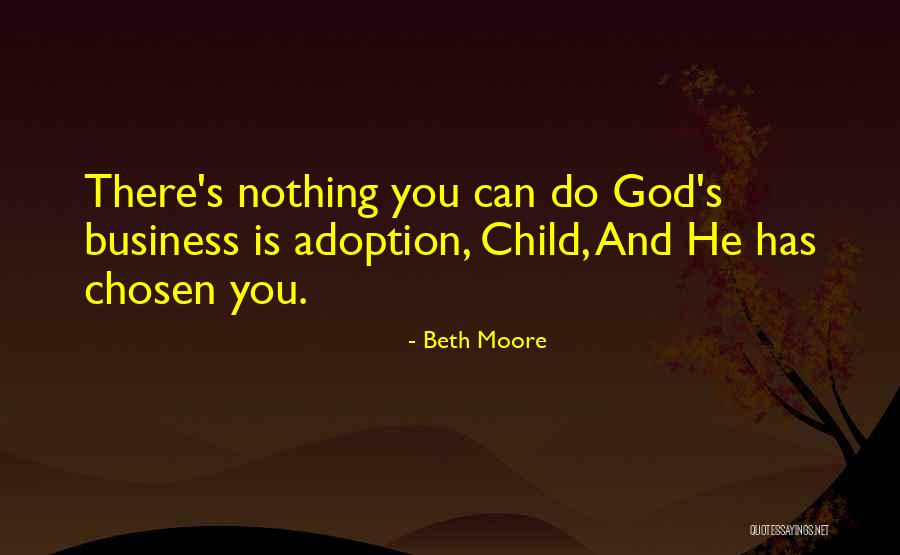 There's nothing you can do God's business is adoption, Child, And He has chosen you. — Beth Moore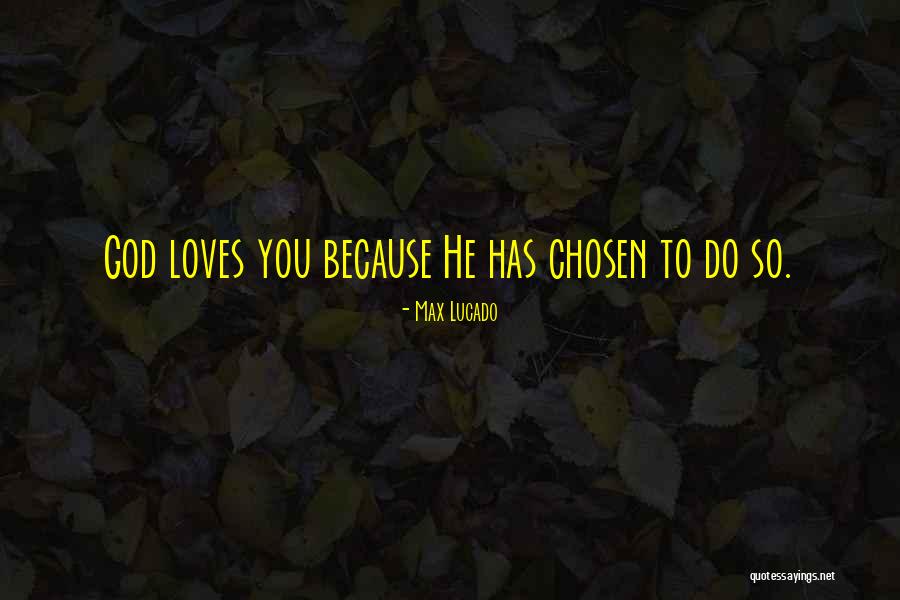 God loves you because He has chosen to do so. — Max Lucado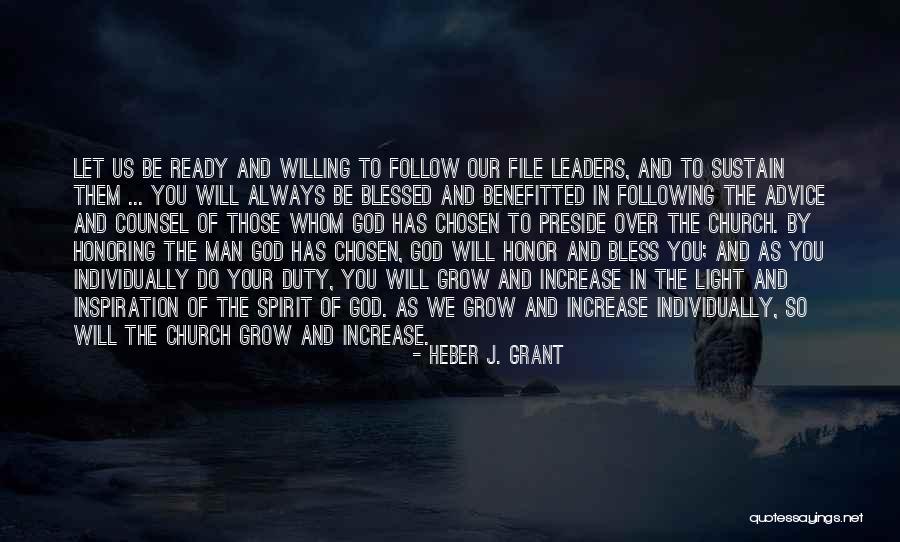 Let us be ready and willing to follow our file leaders, and to sustain them ... You will always be blessed and benefitted in following the advice and counsel of those whom God has chosen to preside over the Church. By honoring the man God has chosen, God will honor and bless you; and as you individually do your duty, you will grow and increase in the light and inspiration of the Spirit of God. As we grow and increase individually, so will the Church grow and increase. — Heber J. Grant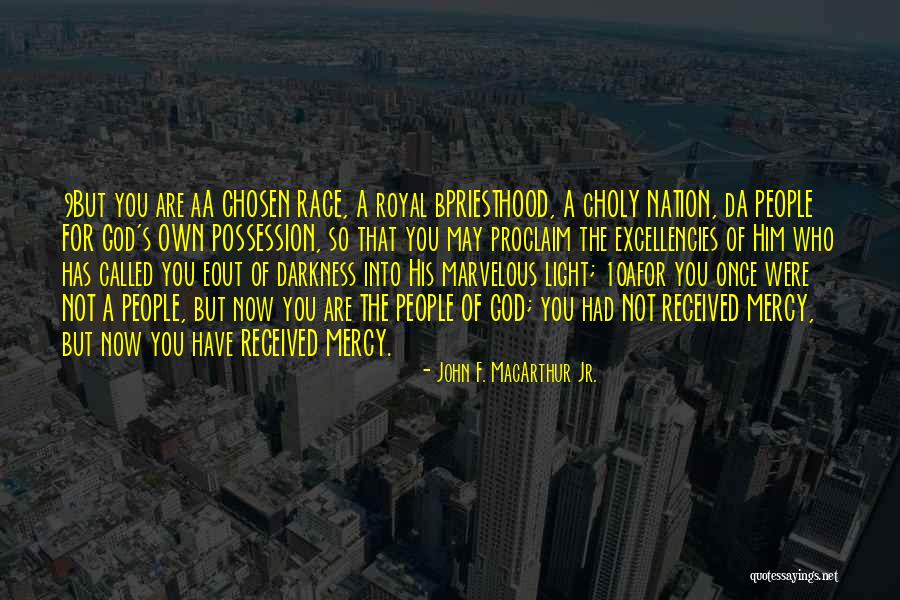 9But you are aA CHOSEN RACE, A royal bPRIESTHOOD, A cHOLY NATION, dA PEOPLE FOR God's OWN POSSESSION, so that you may proclaim the excellencies of Him who has called you eout of darkness into His marvelous light; 10afor you once were NOT A PEOPLE, but now you are THE PEOPLE OF GOD; you had NOT RECEIVED MERCY, but now you have RECEIVED MERCY. — John F. MacArthur Jr.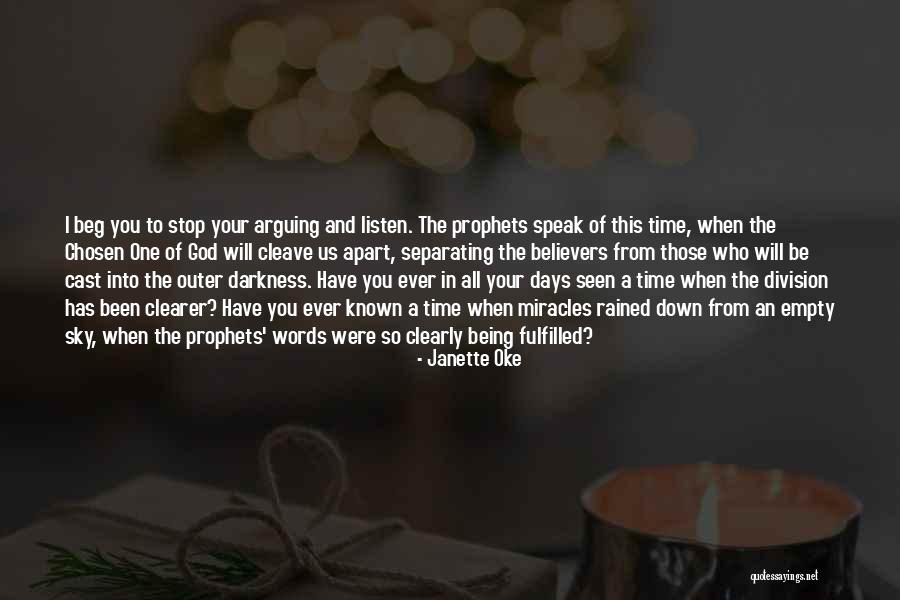 I beg you to stop your arguing and listen. The prophets speak of this time, when the Chosen One of God will cleave us apart, separating the believers from those who will be cast into the outer darkness. Have you ever in all your days seen a time when the division has been clearer? Have you ever known a time when miracles rained down from an empty sky, when the prophets' words were so clearly being fulfilled? — Janette Oke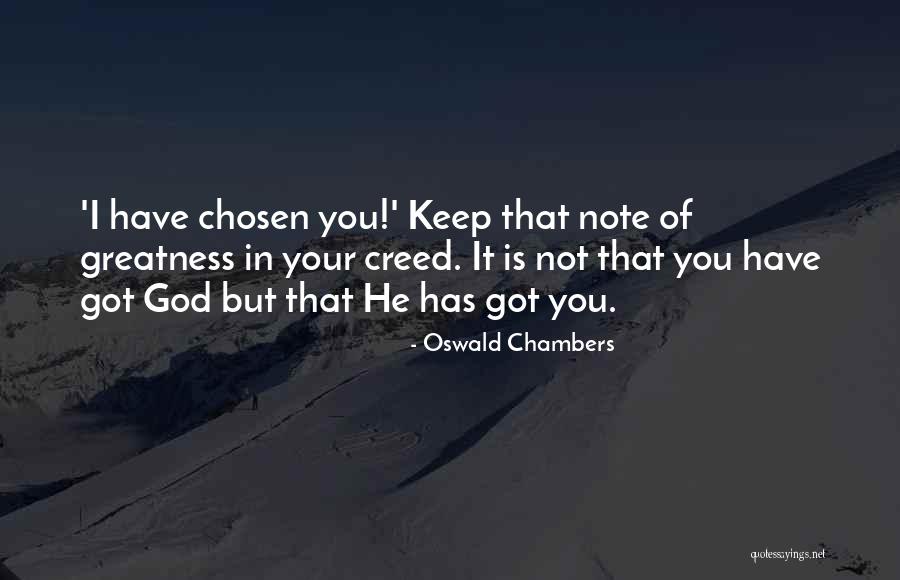 'I have chosen you!' Keep that note of greatness in your creed. It is not that you have got God but that He has got you. — Oswald Chambers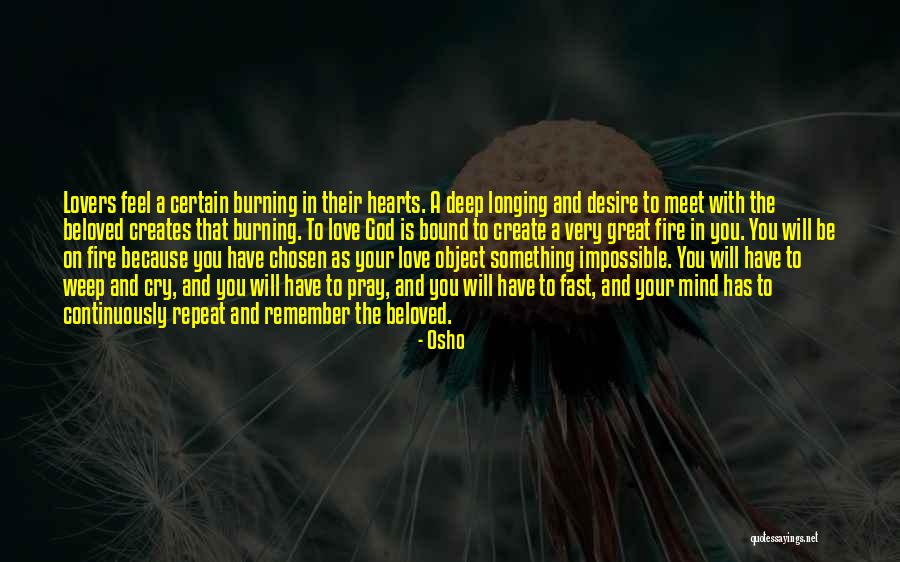 Lovers feel a certain burning in their hearts. A deep longing and desire to meet with the beloved creates that burning. To love God is bound to create a very great fire in you. You will be on fire because you have chosen as your love object something impossible. You will have to weep and cry, and you will have to pray, and you will have to fast, and your mind has to continuously repeat and remember the beloved. — Osho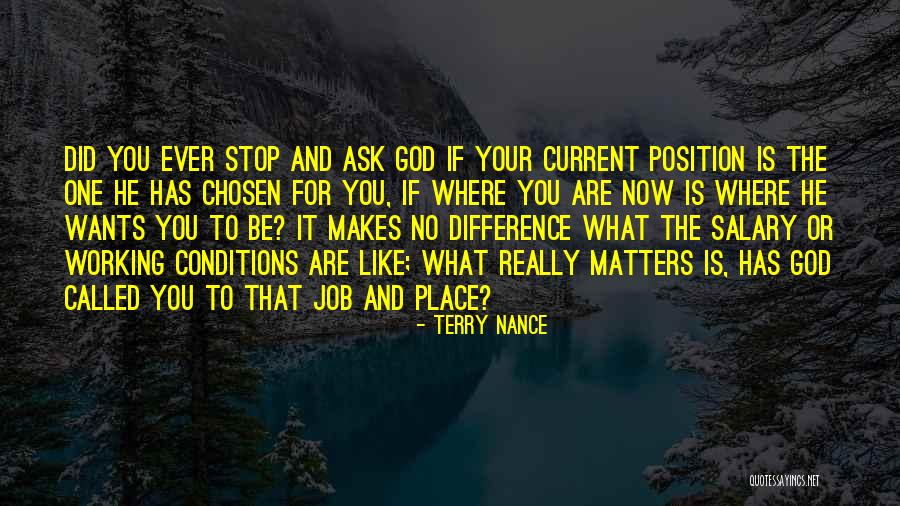 Did you ever stop and ask God if your current position is the one He has chosen for you, if where you are now is where He wants you to be? It makes no difference what the salary or working conditions are like; what really matters is, has God called you to that job and place? — Terry Nance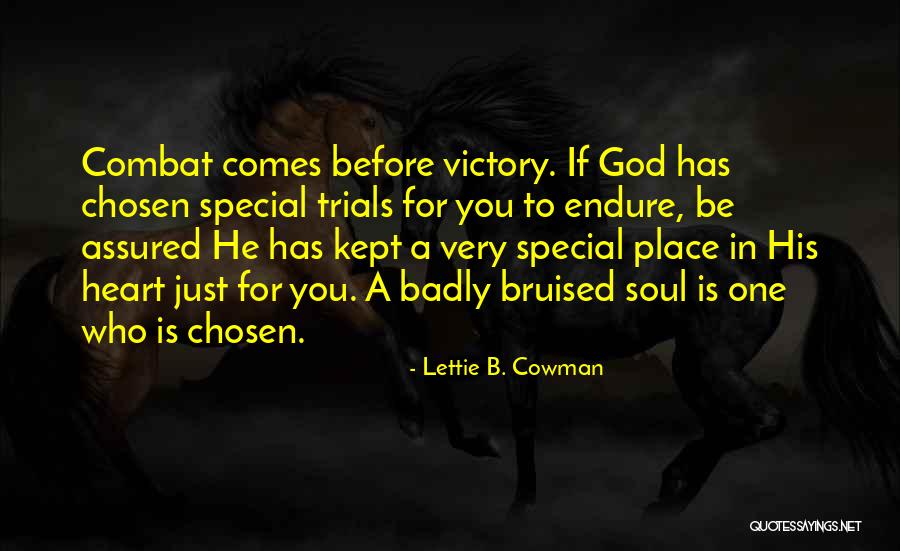 Combat comes before victory. If God has chosen special trials for you to endure, be assured He has kept a very special place in His heart just for you. A badly bruised soul is one who is chosen. — Lettie B. Cowman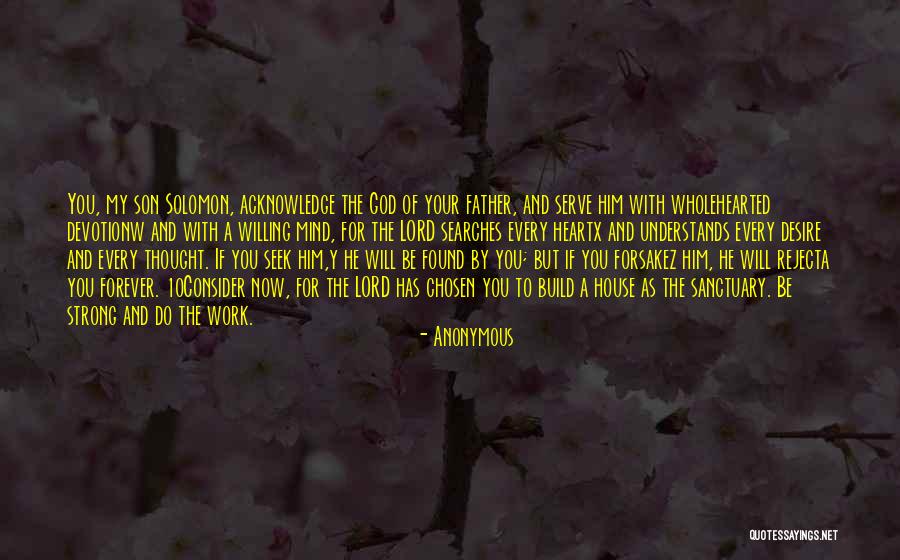 You, my son Solomon, acknowledge the God of your father, and serve him with wholehearted devotionw and with a willing mind, for the LORD searches every heartx and understands every desire and every thought. If you seek him,y he will be found by you; but if you forsakez him, he will rejecta you forever. 10Consider now, for the LORD has chosen you to build a house as the sanctuary. Be strong and do the work. — Anonymous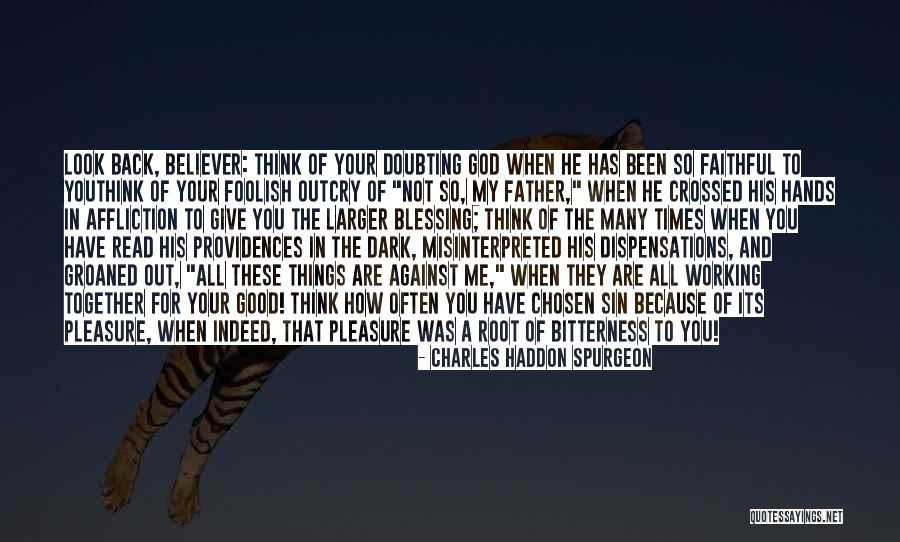 Look back, believer: think of your doubting God when he has been so faithful to you
think of your foolish outcry of "Not so, my Father," when he crossed his hands in affliction to give you the larger blessing; think of the many times when you have read his providences in the dark, misinterpreted his dispensations, and groaned out, "All these things are against me," when they are all working together for your good! Think how often you have chosen sin because of its pleasure, when indeed, that pleasure was a root of bitterness to you! — Charles Haddon Spurgeon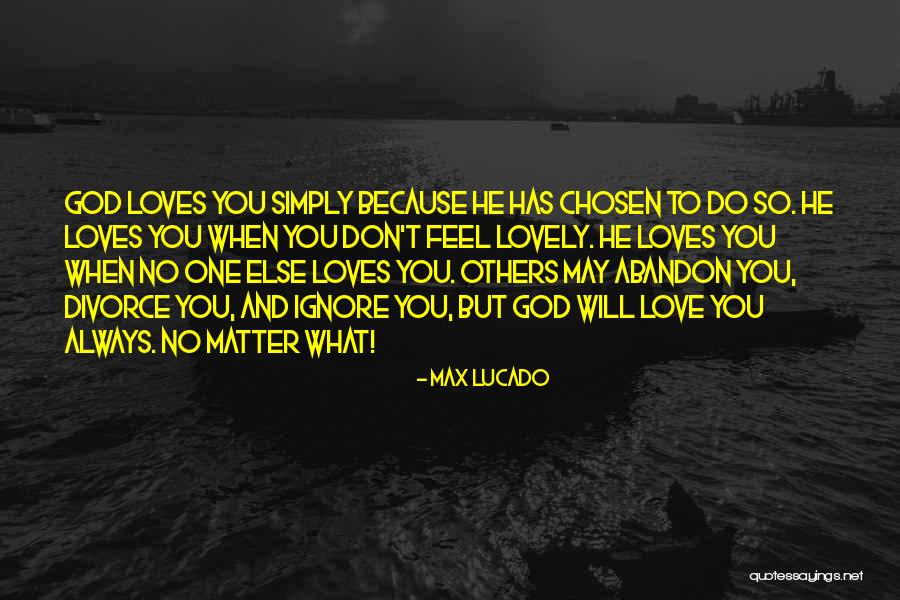 God loves you simply because He has chosen to do so. He loves you when you don't feel lovely. He loves you when no one else loves you. Others may abandon you, divorce you, and ignore you, but God will love you always. No matter what! — Max Lucado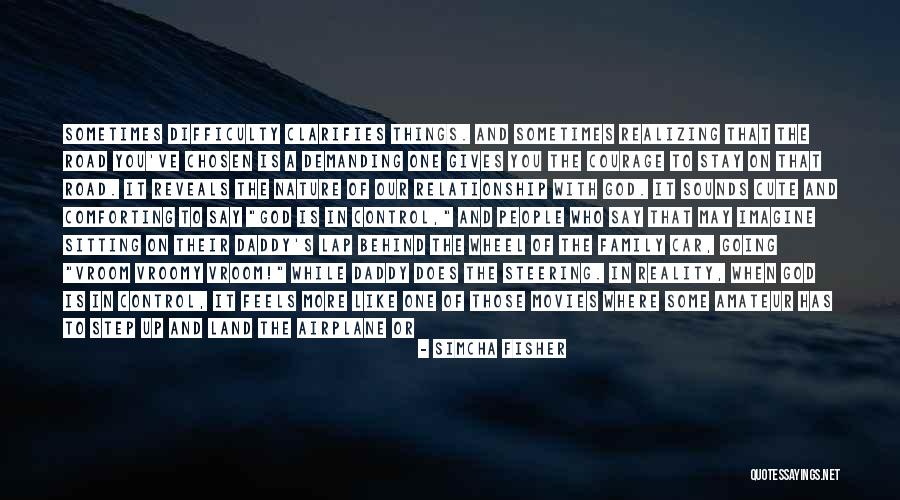 Sometimes difficulty clarifies things. And sometimes realizing that the road you've chosen is a demanding one gives you the courage to stay on that road. It reveals the nature of our relationship with God. It sounds cute and comforting to say "God is in control," and people who say that may imagine sitting on their daddy's lap behind the wheel of the family car, going "Vroom vroomy vroom!" while Daddy does the steering. In reality, when God is in control, it feels more like one of those movies where some amateur has to step up and land the airplane or steer the ship to safety through a crashing storm, with an expert giving them instructions remotely through a headset. In theory, following the expert's instructions will help us get in safely; but our fear, panic, self-doubt, and lack of skill are not exactly comforting. Yes, God is in control, but we're the ones who are in for a rough ride. — Simcha Fisher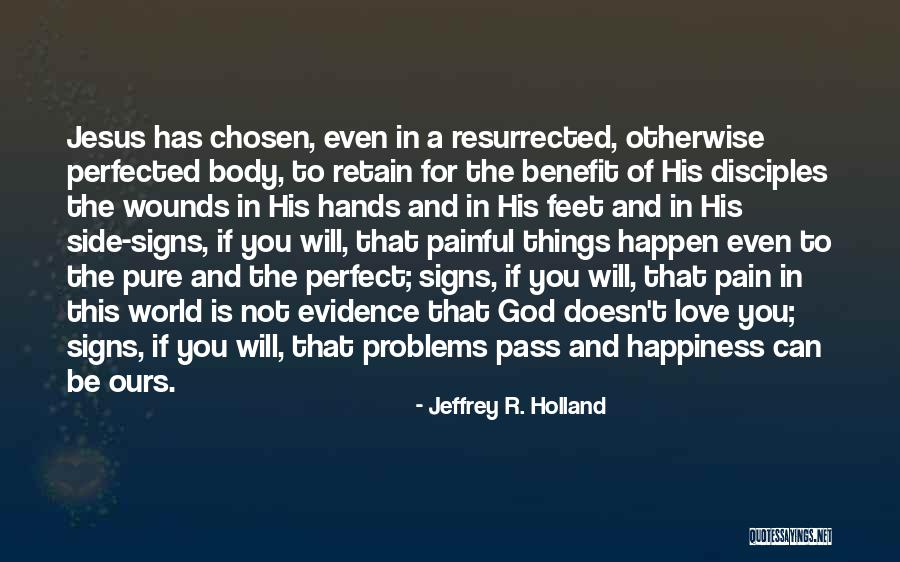 Jesus has chosen, even in a resurrected, otherwise perfected body, to retain for the benefit of His disciples the wounds in His hands and in His feet and in His side-signs, if you will, that painful things happen even to the pure and the perfect; signs, if you will, that pain in this world is not evidence that God doesn't love you; signs, if you will, that problems pass and happiness can be ours. — Jeffrey R. Holland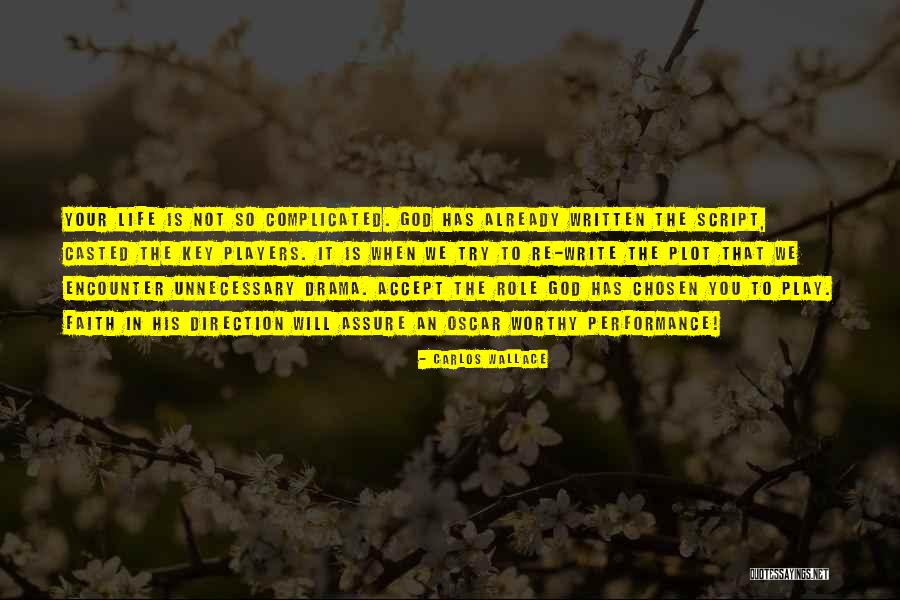 Your life is not so complicated. God has already written the script, casted the key players. It is when we try to re-write the plot that we encounter unnecessary drama. Accept the role God has chosen you to play. Faith in his direction will assure an Oscar worthy performance! — Carlos Wallace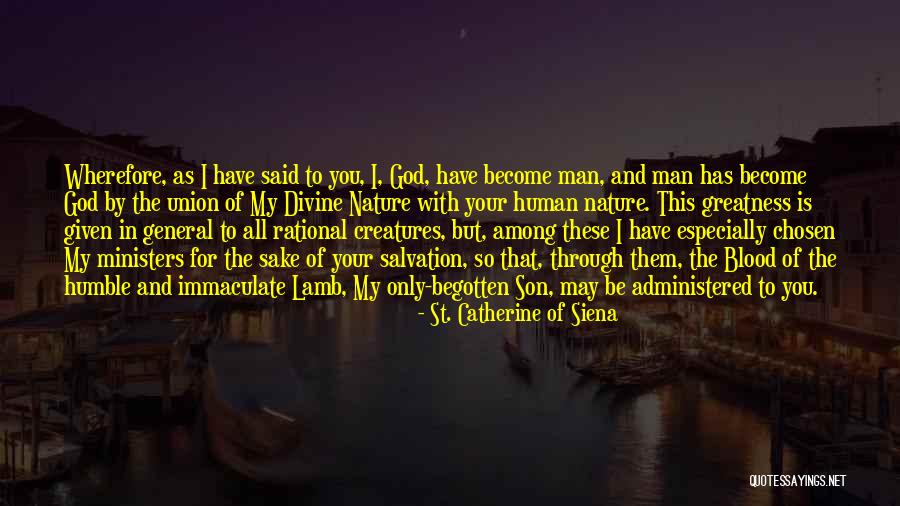 Wherefore, as I have said to you, I, God, have become man, and man has become God by the union of My Divine Nature with your human nature. This greatness is given in general to all rational creatures, but, among these I have especially chosen My ministers for the sake of your salvation, so that, through them, the Blood of the humble and immaculate Lamb, My only-begotten Son, may be administered to you. — St. Catherine Of Siena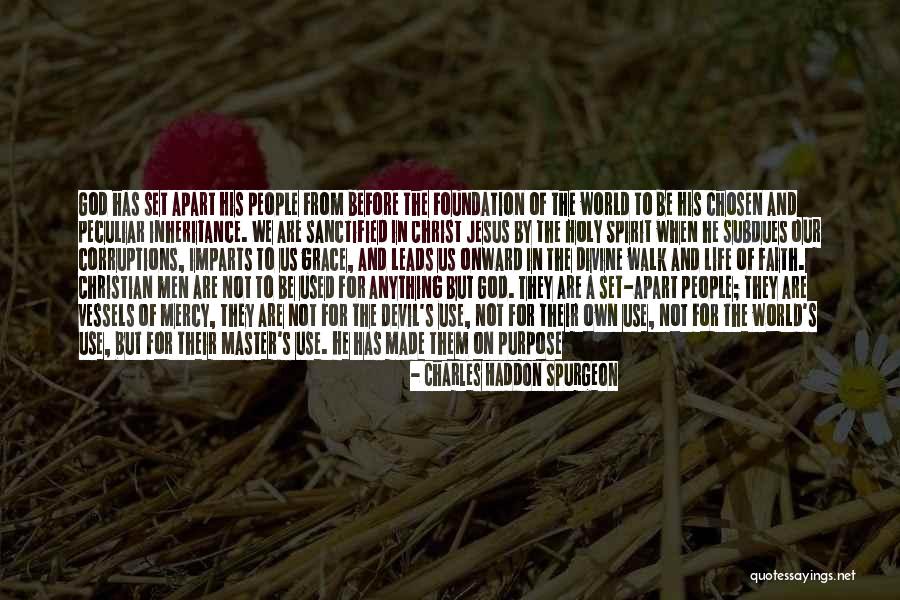 God has set apart His people from before the foundation of the world to be His chosen and peculiar inheritance. We are sanctified in Christ Jesus by the Holy Spirit when he subdues our corruptions, imparts to us grace, and leads us onward in the divine walk and life of faith. Christian men are not to be used for anything but God. They are a set-apart people; they are vessels of mercy, they are not for the devil's use, not for their own use, not for the world's use, but for their Master's use. He has made them on purpose to be used entirely, solely and wholly for Him. O Christian people, be holy, for Christ is holy. Do not pollute that holy Name wherewith you are named. Let your family life, your personal life, your business life, be as holy as Christ your Lord would have it to be. Shall saints be shams when sinners are so real? — Charles Haddon Spurgeon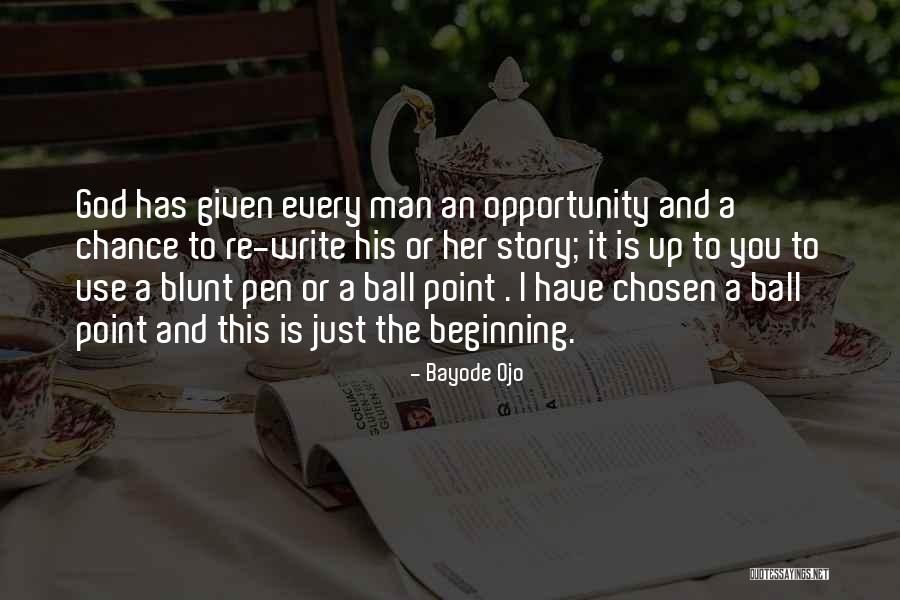 God has given every man an opportunity and a chance to re-write his or her story; it is up to you to use a blunt pen or a ball point . I have chosen a ball point and this is just the beginning. — Bayode Ojo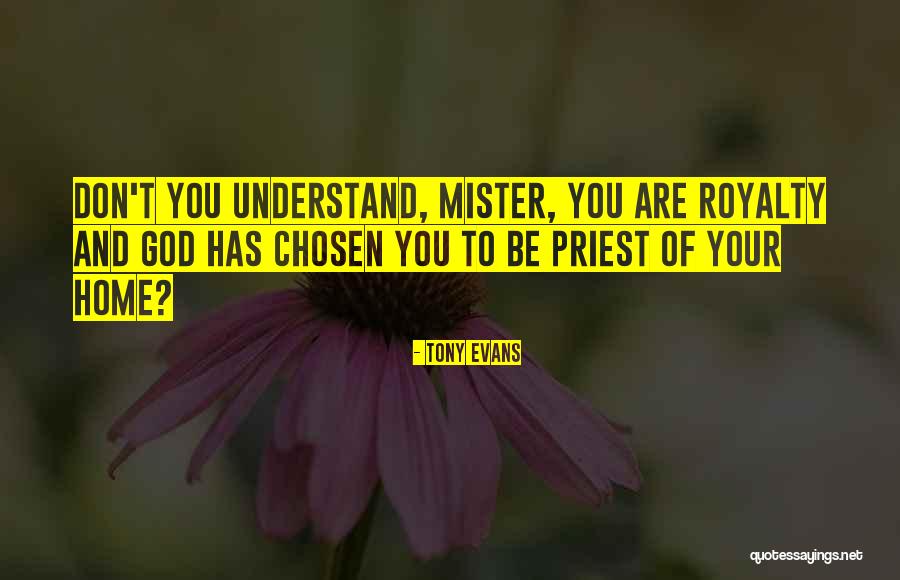 Don't you understand, mister, you are royalty and God has chosen you to be priest of your home? — Tony Evans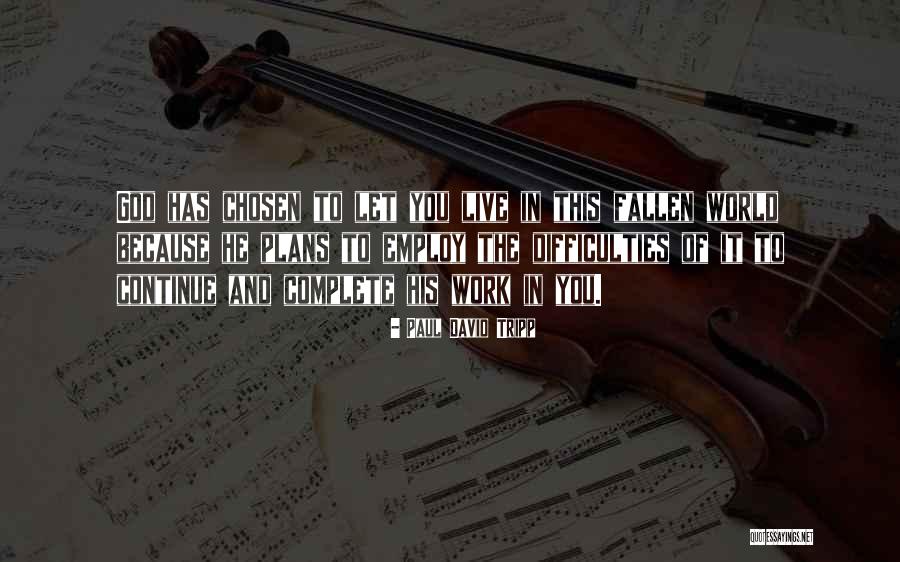 God has chosen to let you live in this fallen world because he plans to employ the difficulties of it to continue and complete his work in you. — Paul David Tripp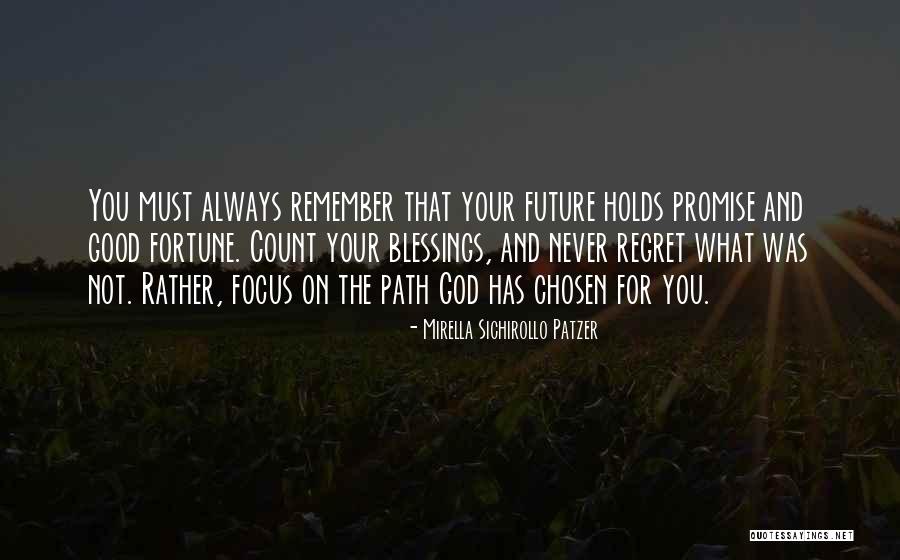 You must always remember that your future holds promise and good fortune. Count your blessings, and never regret what was not. Rather, focus on the path God has chosen for you. — Mirella Sichirollo Patzer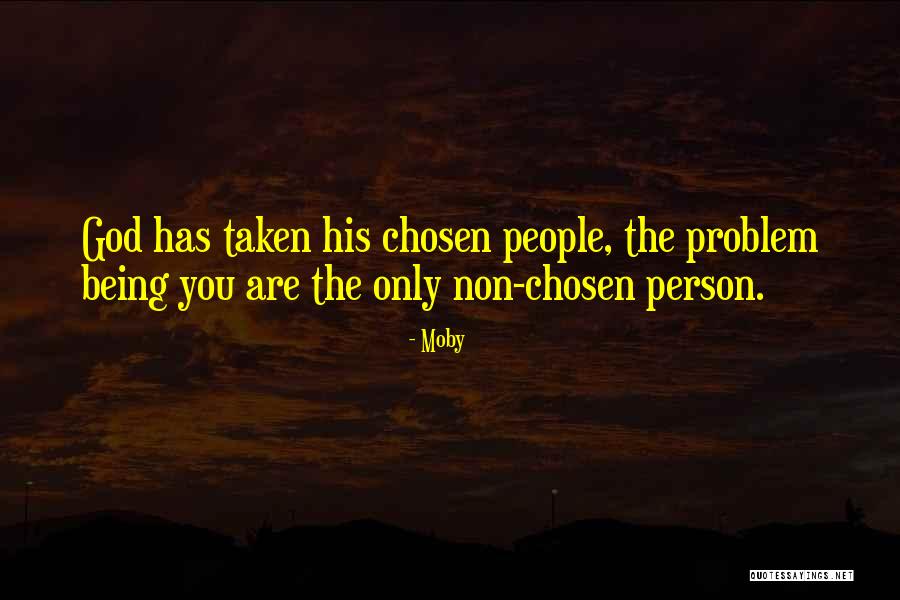 God has taken his chosen people, the problem being you are the only non-chosen person. — Moby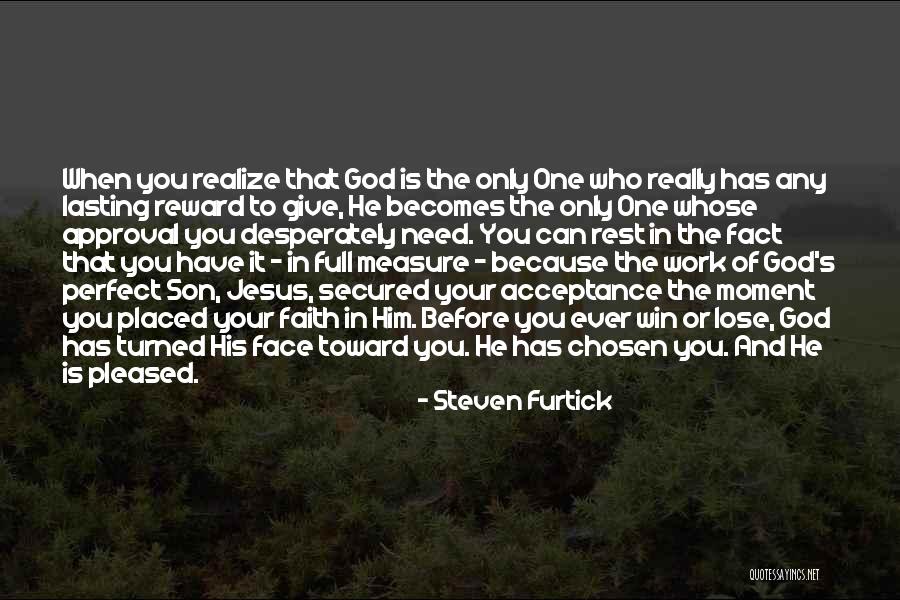 When you realize that God is the only One who really has any lasting reward to give, He becomes the only One whose approval you desperately need. You can rest in the fact that you have it - in full measure - because the work of God's perfect Son, Jesus, secured your acceptance the moment you placed your faith in Him. Before you ever win or lose, God has turned His face toward you. He has chosen you. And He is pleased. — Steven Furtick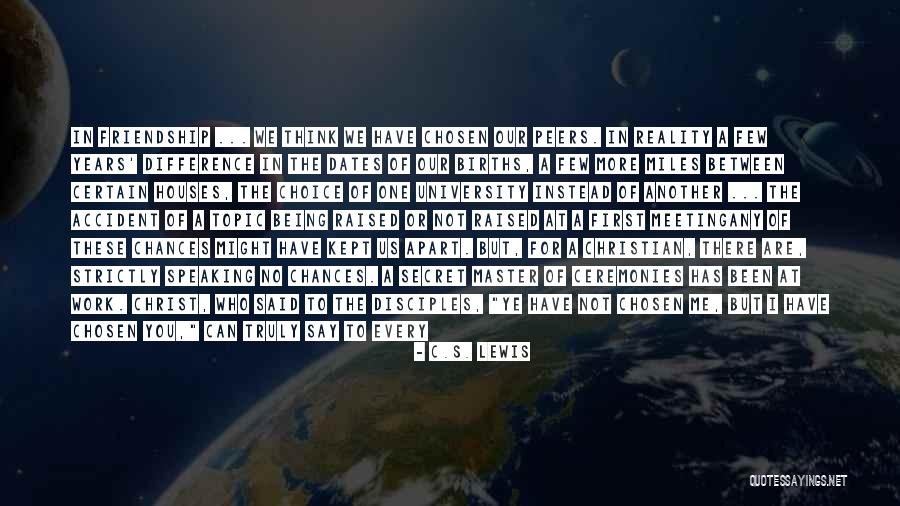 In friendship ... we think we have chosen our peers. In reality a few years' difference in the dates of our births, a few more miles between certain houses, the choice of one university instead of another ... the accident of a topic being raised or not raised at a first meeting
any of these chances might have kept us apart. But, for a Christian, there are, strictly speaking no chances. A secret master of ceremonies has been at work. Christ, who said to the disciples, "Ye have not chosen me, but I have chosen you," can truly say to every group of Christian friends, "Ye have not chosen one another but I have chosen you for one another." The friendship is not a reward for our discriminating and good taste in finding one another out. It is the instrument by which God reveals to each of us the beauties of others. — C.S. Lewis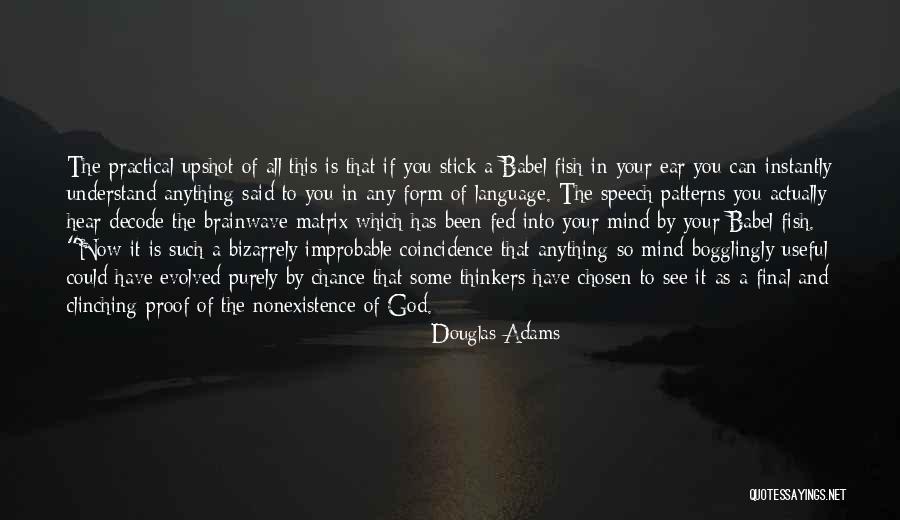 The practical upshot of all this is that if you stick a Babel fish in your ear you can instantly understand anything said to you in any form of language. The speech patterns you actually hear decode the brainwave matrix which has been fed into your mind by your Babel fish. "Now it is such a bizarrely improbable coincidence that anything so mind-bogglingly useful could have evolved purely by chance that some thinkers have chosen to see it as a final and clinching proof of the nonexistence of God. — Douglas Adams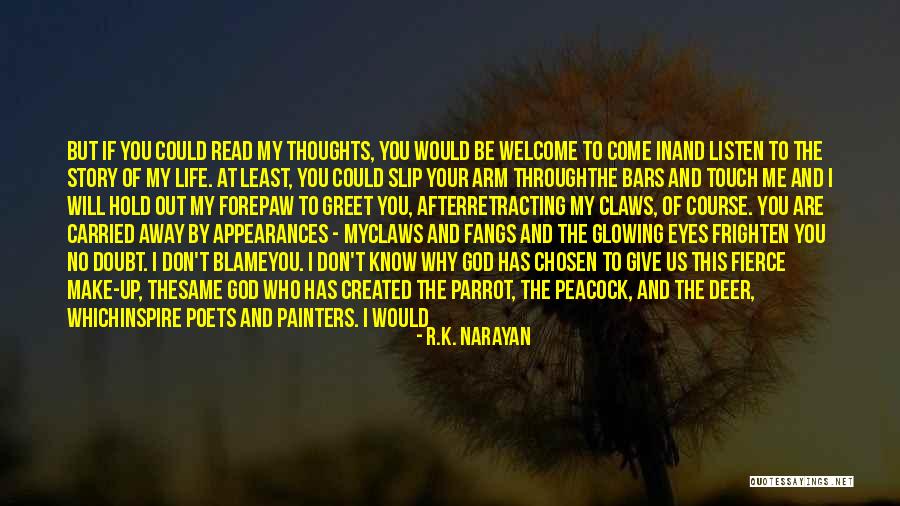 But if you could read my thoughts, you would be welcome to come in
and listen to the story of my life. At least, you could slip your arm through
the bars and touch me and I will hold out my forepaw to greet you, after
retracting my claws, of course. You are carried away by appearances - my
claws and fangs and the glowing eyes frighten you no doubt. I don't blame
you. I don't know why God has chosen to give us this fierce make-up, the
same God who has created the parrot, the peacock, and the deer, which
inspire poets and painters. I would not blame you for keeping your distance
- I myself shuddered at my own reflection on the still surface of a pond
while crouching for a drink of water, not when I was really a wild beast, but
after I came under the influence of my Master and learnt to question, 'Who
am I?' Don't laugh within yourself to hear me speak thus. I'll tell you about
my Master presently. — R.K. Narayan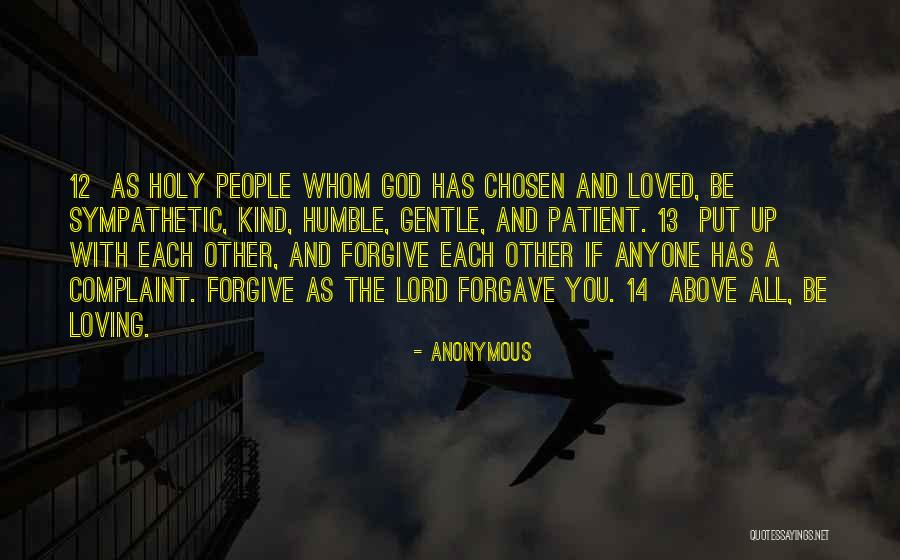 12 As holy people whom God has chosen and loved, be sympathetic, kind, humble, gentle, and patient. 13 Put up with each other, and forgive each other if anyone has a complaint. Forgive as the Lord forgave you. 14 Above all, be loving. — Anonymous