Quotes & Sayings About God And Hard Times
Enjoy reading and share 76 famous quotes about God And Hard Times with everyone.
Top God And Hard Times Quotes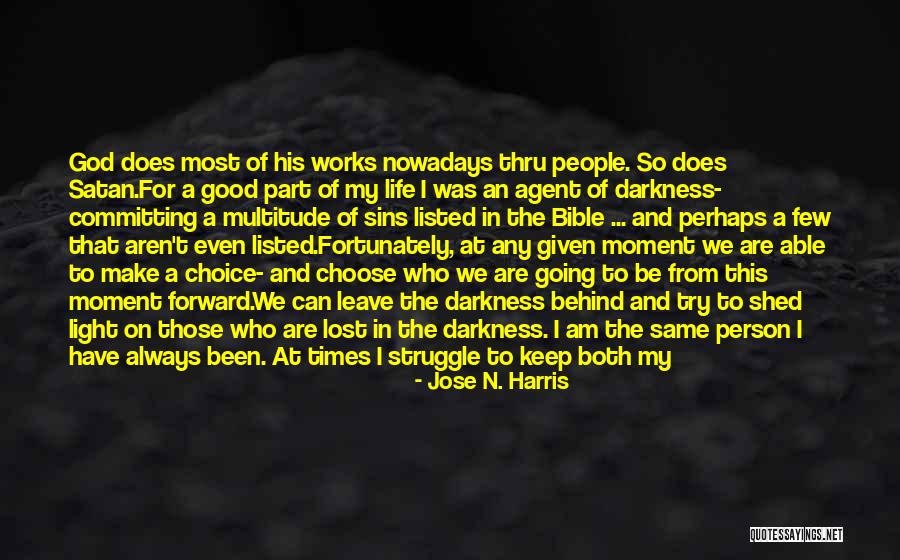 God does most of his works nowadays thru people. So does Satan.
For a good part of my life I was an agent of darkness- committing a multitude of sins listed in the Bible ... and perhaps a few that aren't even listed.
Fortunately, at any given moment we are able to make a choice- and choose who we are going to be from this moment forward.
We can leave the darkness behind and try to shed light on th
ose who are lost in the darkness. I am the same person I have always been. At times I struggle to keep both my composure and my integrity. It can be hard, as we live in a world that is rich in hate, greed and selfishness. I am that same sinner, but every morning I get to choose to leave my old ways behind.
I thank God that this morning, once again, I am strong enough to choose kindness. Its not an easy choice. But I've tried everything else. Kindness is the only choice I have left. And for that, I am grateful. — Jose N. Harris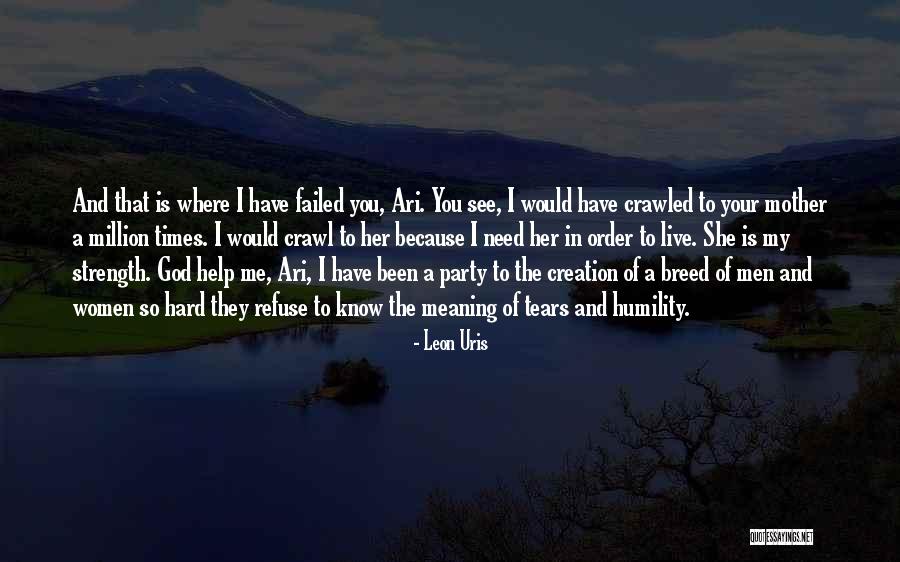 And that is where I have failed you, Ari. You see, I would have crawled to your mother a million times. I would crawl to her because I need her in order to live. She is my strength. God help me, Ari, I have been a party to the creation of a breed of men and women so hard they refuse to know the meaning of tears and humility. — Leon Uris
When you think yours is the only true path you forever chain yourself to judging others and narrow the vision of God. The road to righteousness and arrogance is a parallel road that can intersect each other several times throughout a person's life. It's often hard to recognize one road from another. What makes them different is the road to righteousness is paved with the love of humanity. The road to arrogance is paved with the love of self. — Shannon L. Alder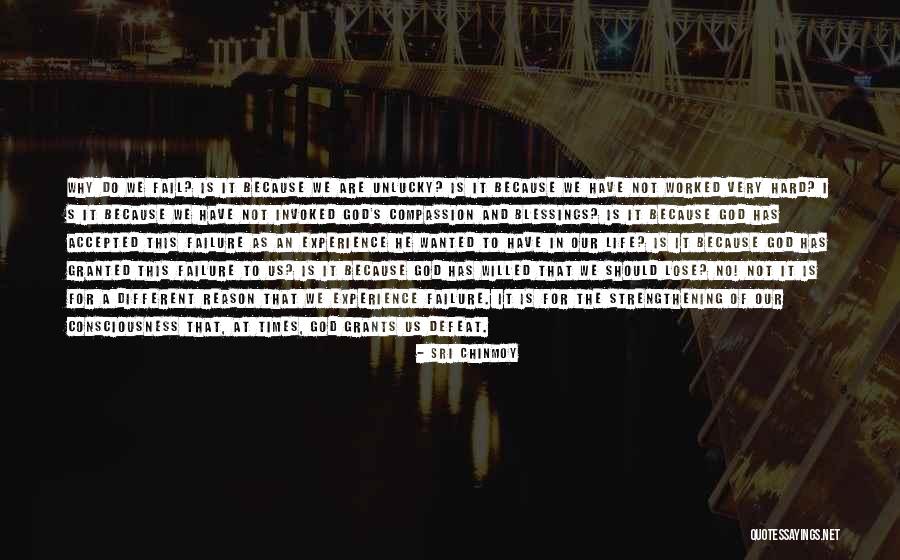 Why do we fail? Is it because we are unlucky? Is it because we have not worked very hard? I s it because we have not invoked God's Compassion and Blessings? Is it because God has accepted this failure as an experience He wanted to have in our life? Is it because God has granted this failure to us? Is it because God has willed that we should lose? No! not it is for a different reason that we experience failure. It is for the strengthening of our consciousness that, at times, God grants us defeat. — Sri Chinmoy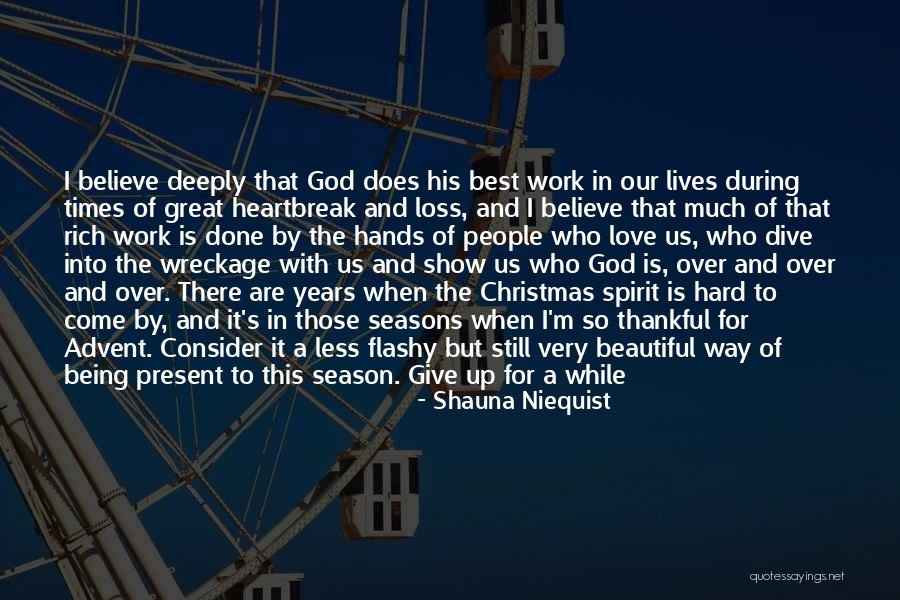 I believe deeply that God does his best work in our lives during times of great heartbreak and loss, and I believe that much of that rich work is done by the hands of people who love us, who dive into the wreckage with us and show us who God is, over and over and over. There are years when the Christmas spirit is hard to come by, and it's in those seasons when I'm so thankful for Advent. Consider it a less flashy but still very beautiful way of being present to this season. Give up for a while your false and failing attempts at merriment, and thank God for thin places, and for Advent, for a season that understands longing and loneliness and long nights. Let yourself fall open to Advent, to anticipation, to the belief that what is empty will be filled, what is broken will be repaired, and what is lost can always be found, no matter how many times it's been lost. — Shauna Niequist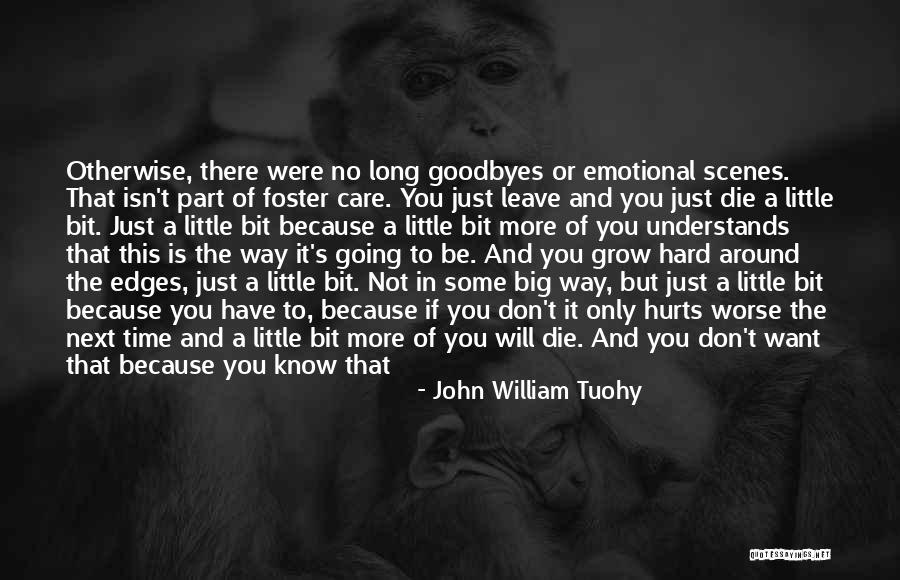 Otherwise, there were no long goodbyes or emotional scenes. That isn't part of foster care. You just leave and you just die a little bit. Just a little bit because a little bit more of you understands that this is the way it's going to be. And you grow hard around the edges, just a little bit. Not in some big way, but just a little bit because you have to, because if you don't it only hurts worse the next time and a little bit more of you will die. And you don't want that because you know that if enough little bits of you die enough times, a part of you leaves. Do you know what I mean? You're still there, but a part of you leaves until you stand on the sidelines of life, simply watching, like a ghost that everyone can see and no one is bothered by. You become the saddest thing there is: a child of God who has given up. — John William Tuohy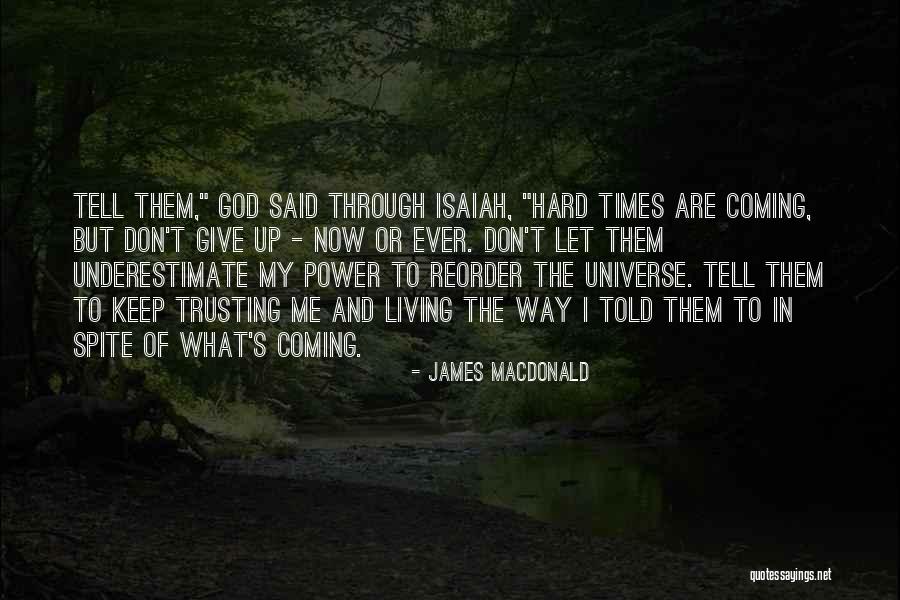 Tell them," God said through Isaiah, "hard times are coming, but don't give up - now or ever. Don't let them underestimate My power to reorder the universe. Tell them to keep trusting Me and living the way I told them to in spite of what's coming. — James MacDonald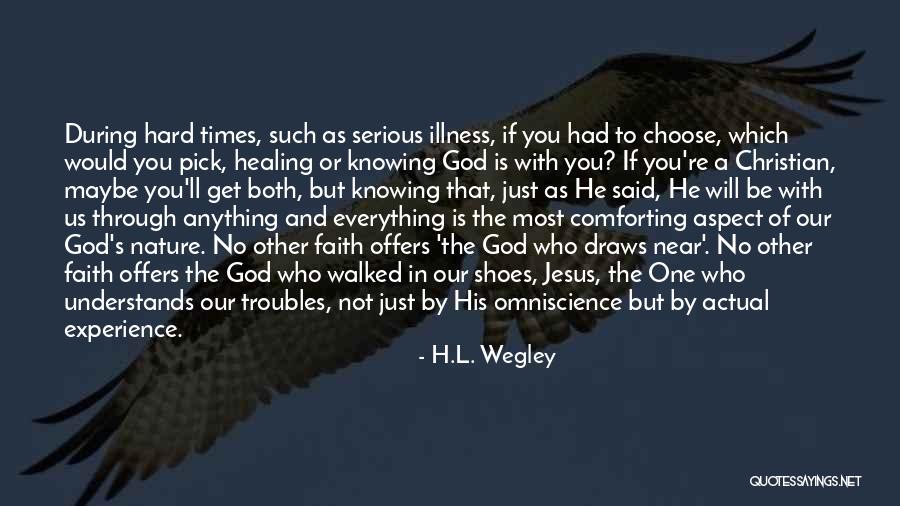 During hard times, such as serious illness, if you had to choose, which would you pick, healing or knowing God is with you? If you're a Christian, maybe you'll get both, but knowing that, just as He said, He will be with us through anything and everything is the most comforting aspect of our God's nature. No other faith offers 'the God who draws near'. No other faith offers the God who walked in our shoes, Jesus, the One who understands our troubles, not just by His omniscience but by actual experience. — H.L. Wegley
God comes alongside us when we go through hard times, and before you know it, he brings us alongside someone else who is going through hard times so that we can be there for that person just as God was there for us.-2 Corinthians 1:4 — Eugene H. Peterson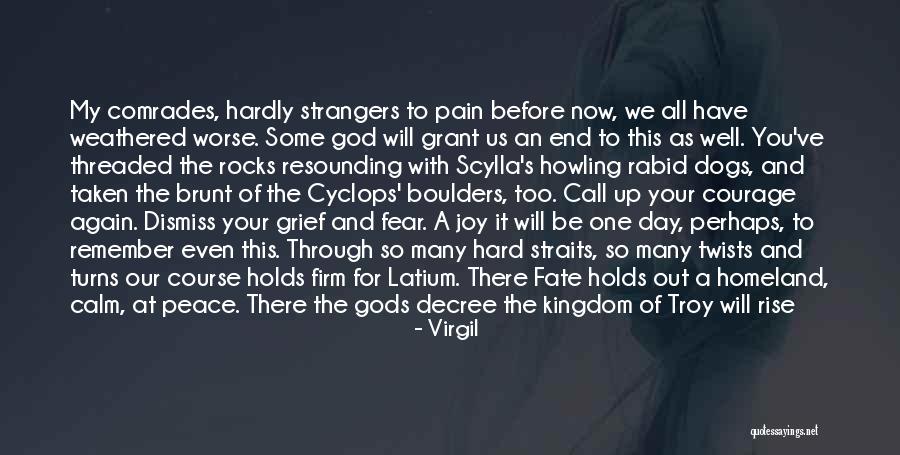 My comrades, hardly strangers to pain before now, we all have weathered worse. Some god will grant us an end to this as well. You've threaded the rocks resounding with Scylla's howling rabid dogs, and taken the brunt of the Cyclops' boulders, too. Call up your courage again. Dismiss your grief and fear. A joy it will be one day, perhaps, to remember even this. Through so many hard straits, so many twists and turns our course holds firm for Latium. There Fate holds out a homeland, calm, at peace. There the gods decree the kingdom of Troy will rise again. Bear up. Save your strength for better times to come. — Virgil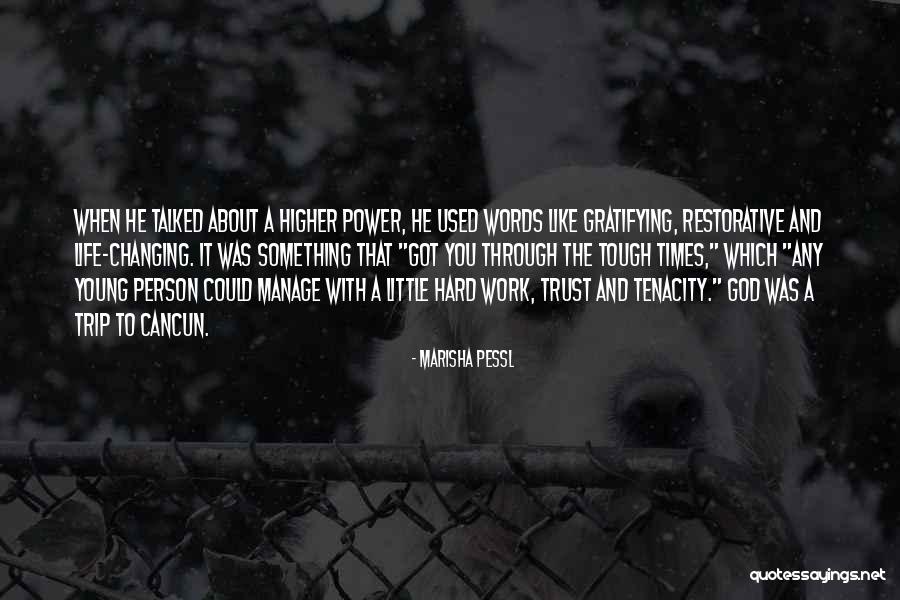 When he talked about a Higher Power, he used words like gratifying, restorative and life-changing. It was something that "got you through the tough times," which "any young person could manage with a little hard work, trust and tenacity." God was a trip to Cancun. — Marisha Pessl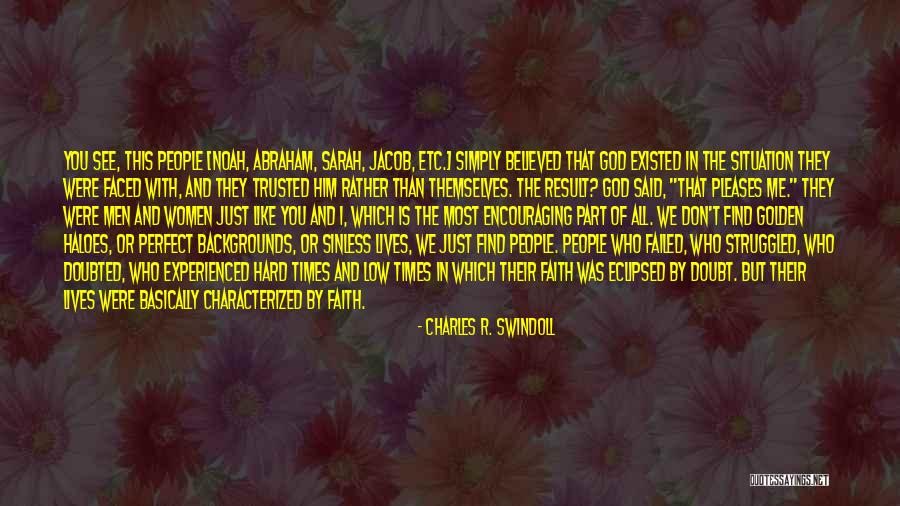 You see, this people [Noah, Abraham, Sarah, Jacob, etc.] simply believed that God existed in the situation they were faced with, and they trusted Him rather than themselves. The result? God said, "That pleases Me." They were men and women just like you and I, which is the most encouraging part of all. We don't find golden haloes, or perfect backgrounds, or sinless lives, we just find people. People who failed, who struggled, who doubted, who experienced hard times and low times in which their faith was eclipsed by doubt. But their lives were basically characterized by faith. — Charles R. Swindoll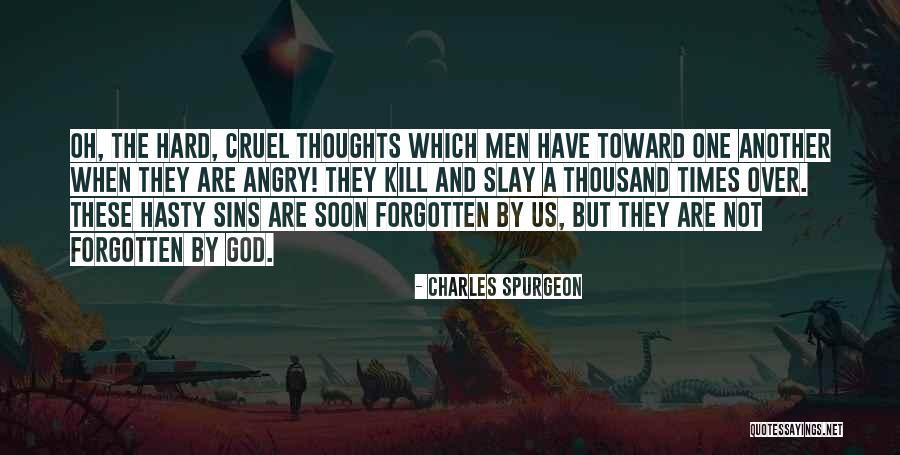 Oh, the hard, cruel thoughts which men have toward one another when they are angry! They kill and slay a thousand times over. These hasty sins are soon forgotten by us, but they are not forgotten by God. — Charles Spurgeon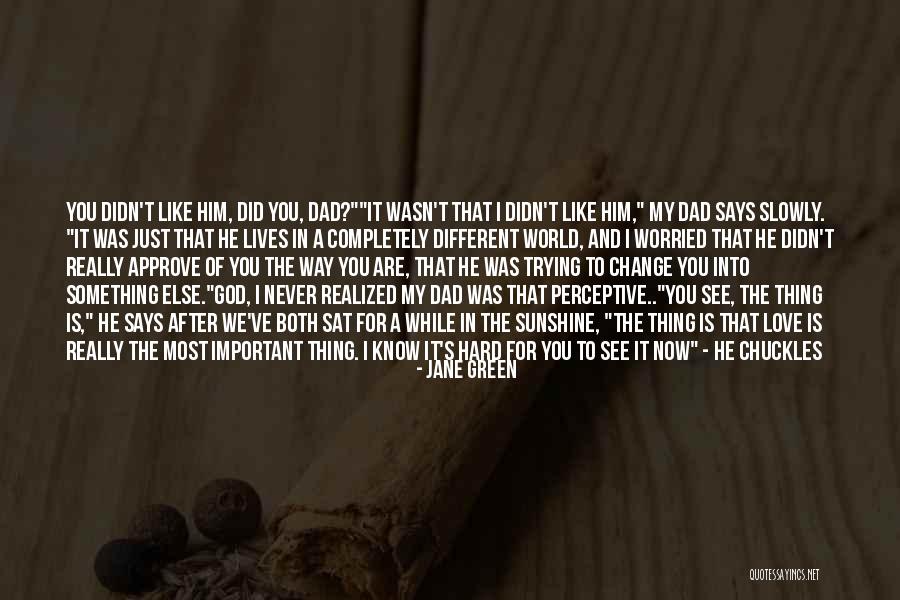 You didn't like him, did you, Dad?"
"It wasn't that I didn't like him," my dad says slowly. "It was just that he lives in a completely different world, and I worried that he didn't really approve of you the way you are, that he was trying to change you into something else."
God, I never realized my dad was that perceptive..
"You see, the thing is," he says after we've both sat for a while in the sunshine, "the thing is that love is really the most important thing. I know it's hard for you to see it now" - he chuckles quietly- "but when I first laid eyes on your mother I thought she was fantastic, and I've never stopped loving her, not for a second. Oh yes, we've had our rough patches, and she can be a bit of an old battle-ax at times, but I still love her. That in-love feeling at the beginning settles down into a different, familiar sort of love, but it has to be there right from the start, otherwise it just won't work. — Jane Green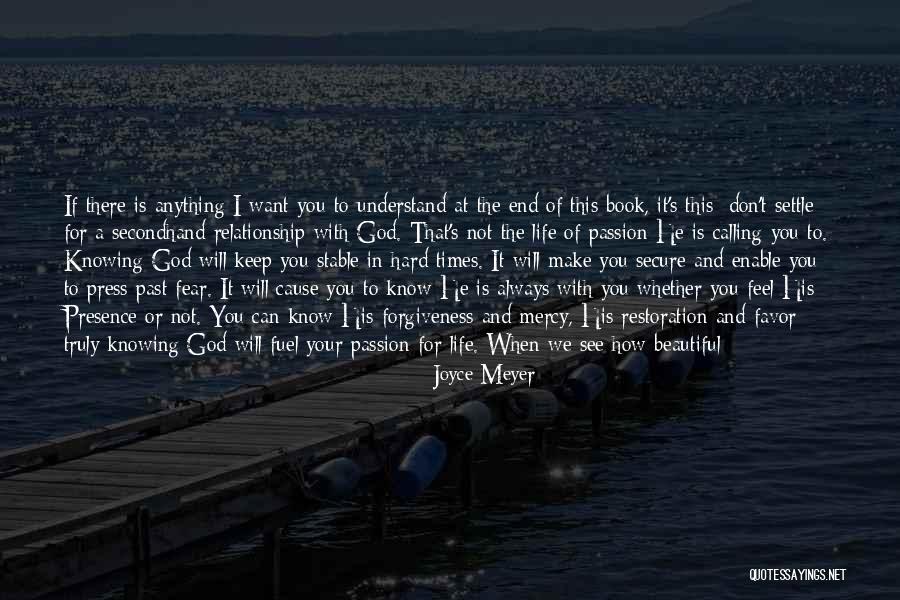 If there is anything I want you to understand at the end of this book, it's this: don't settle for a secondhand relationship with God. That's not the life of passion He is calling you to. Knowing God will keep you stable in hard times. It will make you secure and enable you to press past fear. It will cause you to know He is always with you whether you feel His Presence or not. You can know His forgiveness and mercy, His restoration and favor; truly knowing God will fuel your passion for life. When we see how beautiful and wonderful He really is, and realize all He has done for us in love, how can we not pursue Him and His will passionately? — Joyce Meyer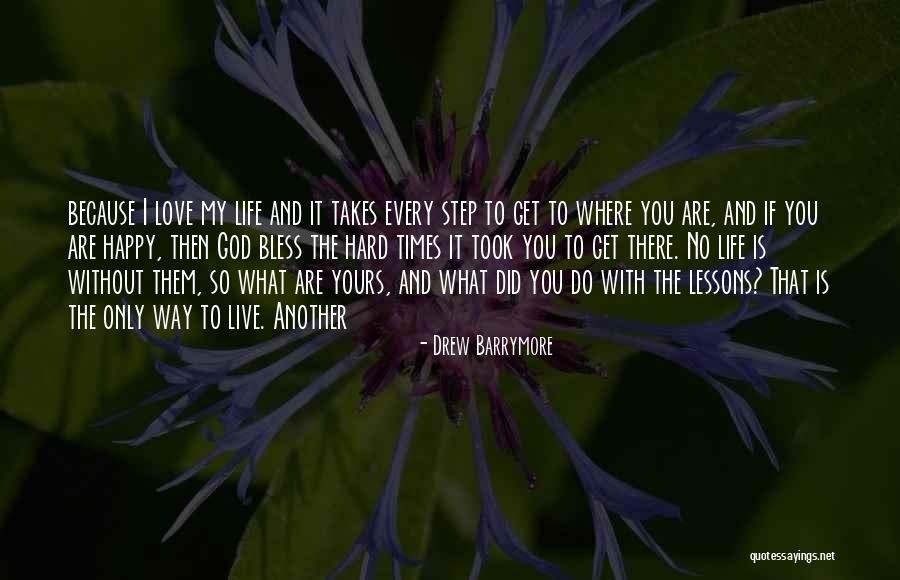 because I love my life and it takes every step to get to where you are, and if you are happy, then God bless the hard times it took you to get there. No life is without them, so what are yours, and what did you do with the lessons? That is the only way to live. Another — Drew Barrymore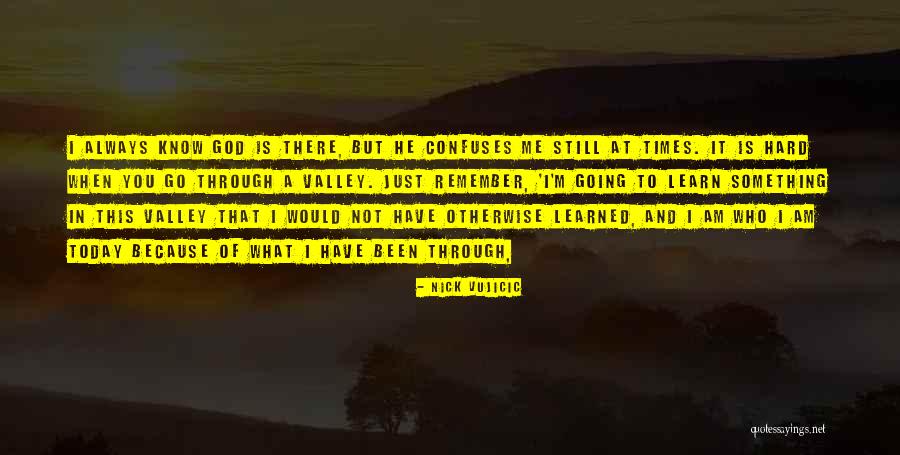 I always know God is there, but He confuses me still at times. It is hard when you go through a valley. Just remember, 'I'm going to learn something in this valley that I would not have otherwise learned, and I am who I am today because of what I have been through, — Nick Vujicic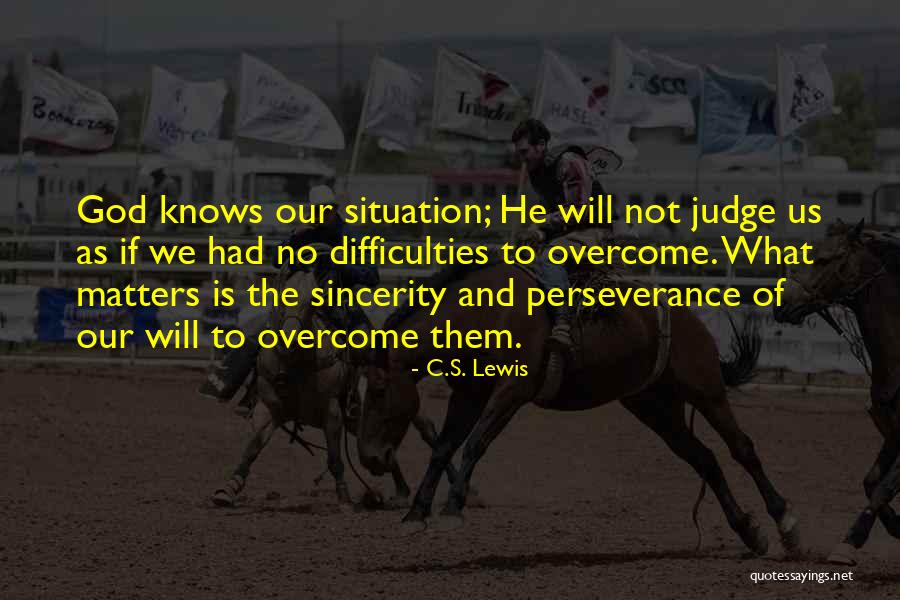 God knows our situation; He will not judge us as if we had no difficulties to overcome. What matters is the sincerity and perseverance of our will to overcome them. — C.S. Lewis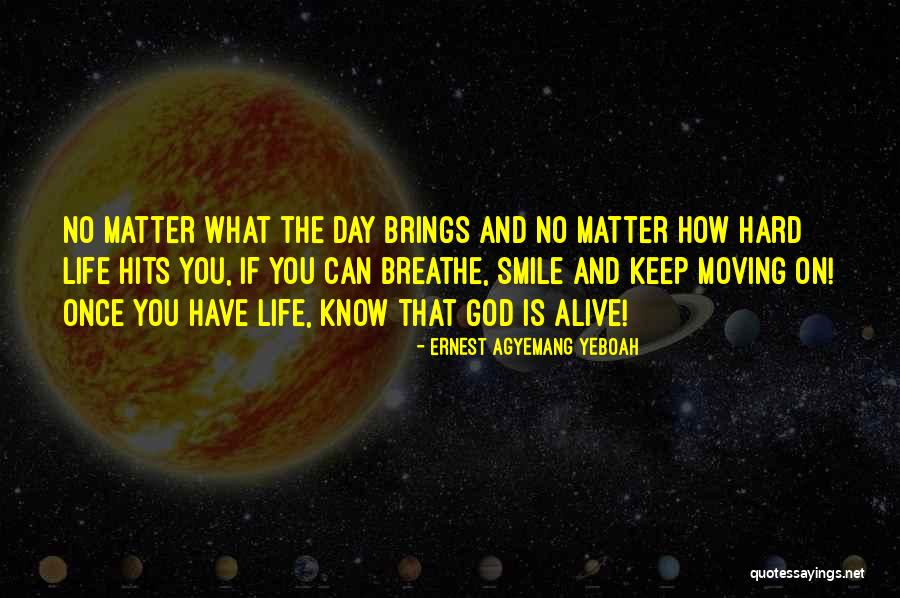 No matter what the day brings and no matter how hard life hits you, if you can breathe, smile and keep moving on! Once you have life, know that God is alive! — Ernest Agyemang Yeboah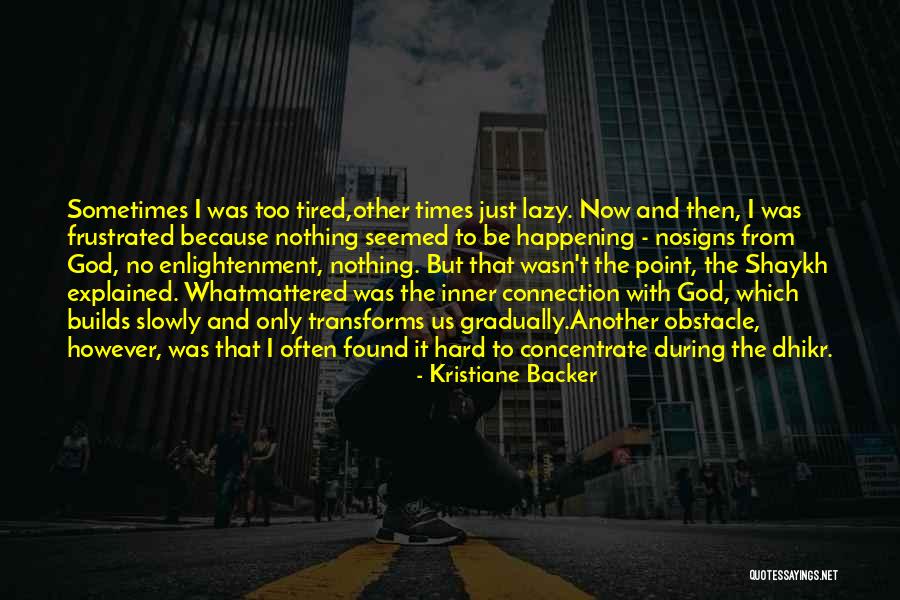 Sometimes I was too tired,
other times just lazy. Now and then, I was frustrated because nothing seemed to be happening - no
signs from God, no enlightenment, nothing. But that wasn't the point, the Shaykh explained. What
mattered was the inner connection with God, which builds slowly and only transforms us gradually.
Another obstacle, however, was that I often found it hard to concentrate during the dhikr. — Kristiane Backer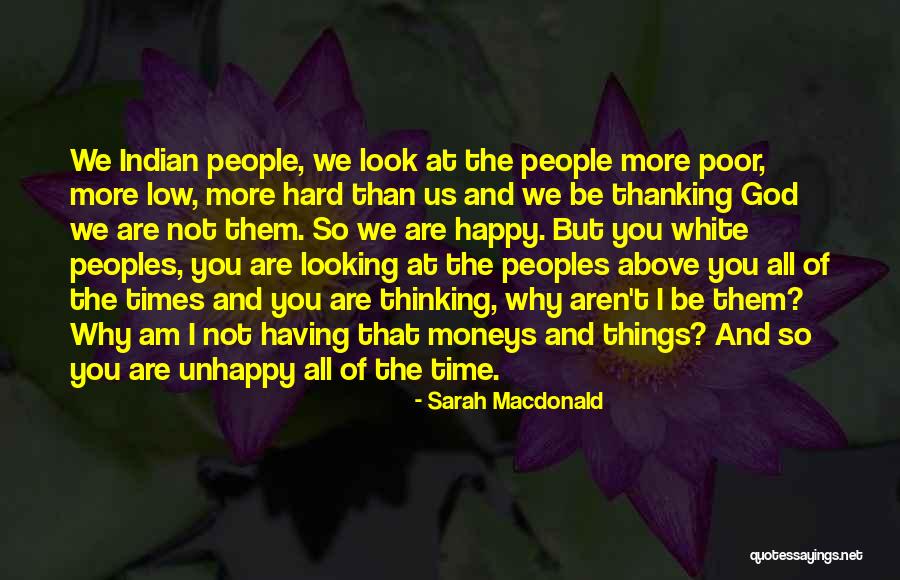 We Indian people, we look at the people more poor, more low, more hard than us and we be thanking God we are not them. So we are happy. But you white peoples, you are looking at the peoples above you all of the times and you are thinking, why aren't I be them? Why am I not having that moneys and things? And so you are unhappy all of the time. — Sarah Macdonald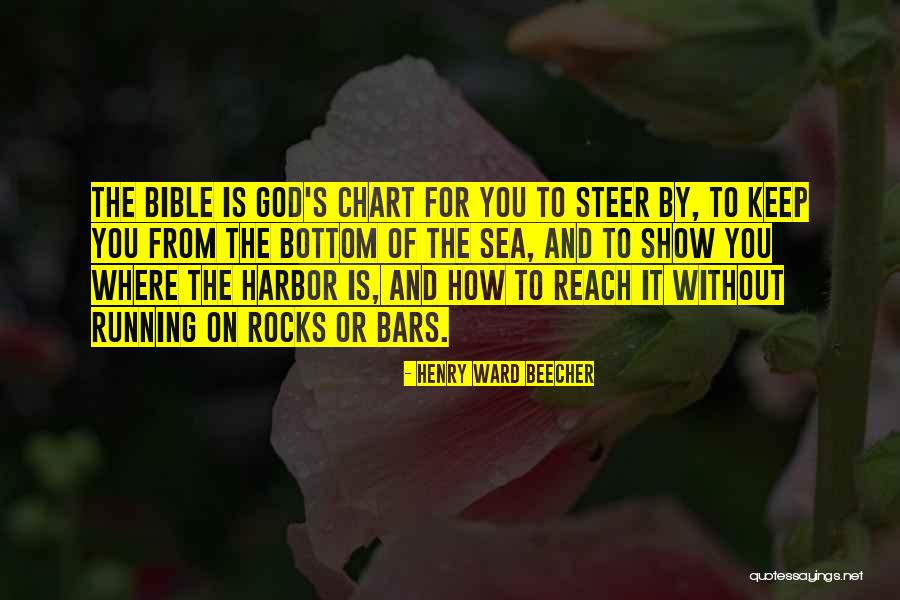 The Bible is God's chart for you to steer by, to keep you from the bottom of the sea, and to show you where the harbor is, and how to reach it without running on rocks or bars. — Henry Ward Beecher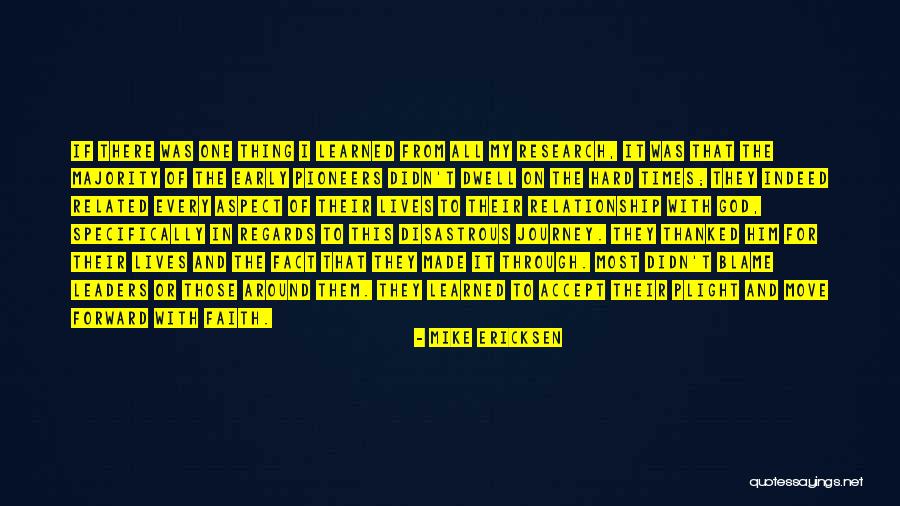 If there was one thing I learned from all my research, it was that the majority of the early pioneers didn't dwell on the hard times; they indeed related every aspect of their lives to their relationship with God, specifically in regards to this disastrous journey. They thanked Him for their lives and the fact that they made it through. Most didn't blame leaders or those around them. They learned to accept their plight and move forward with faith. — Mike Ericksen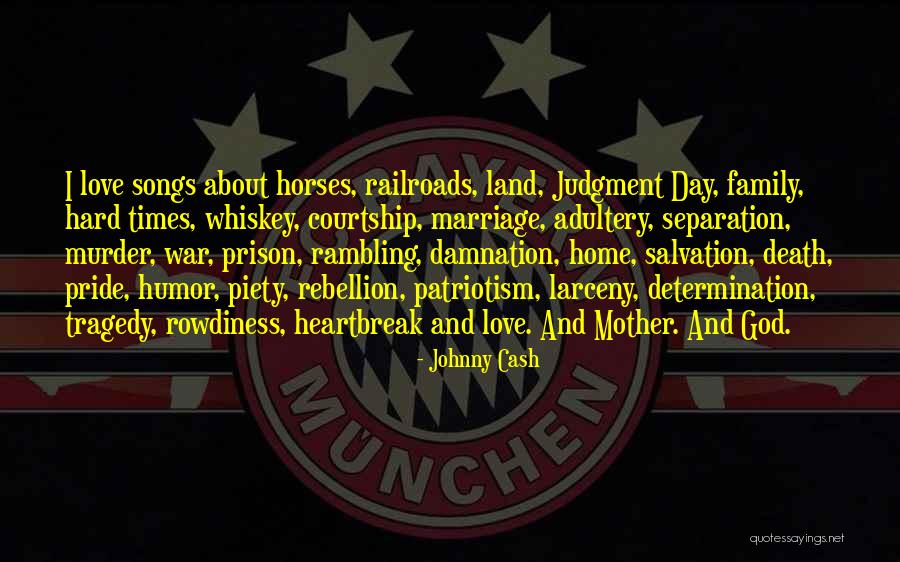 I love songs about horses, railroads, land, Judgment Day, family, hard times, whiskey, courtship, marriage, adultery, separation, murder, war, prison, rambling, damnation, home, salvation, death, pride, humor, piety, rebellion, patriotism, larceny, determination, tragedy, rowdiness, heartbreak and love. And Mother. And God. — Johnny Cash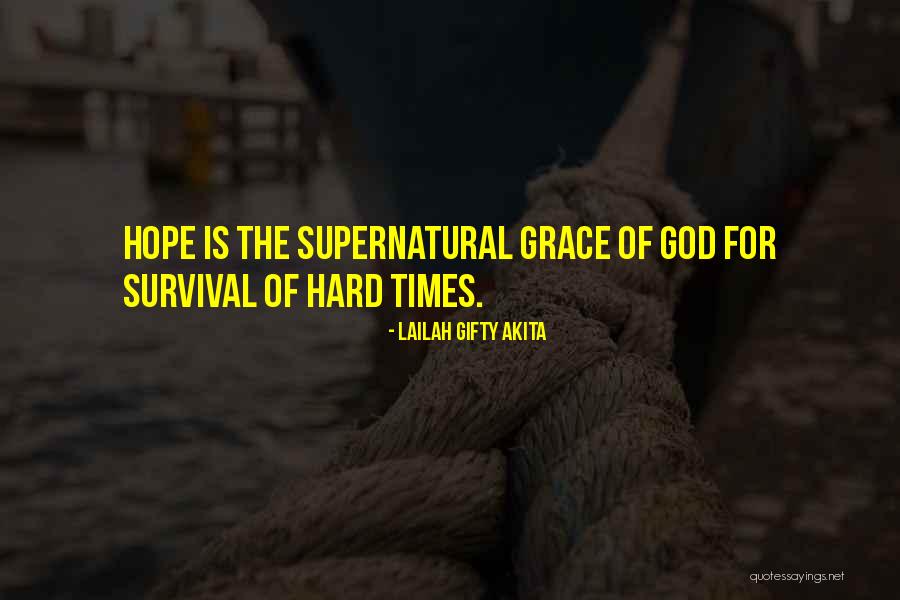 Hope is the supernatural grace of God for
survival of hard times. — Lailah Gifty Akita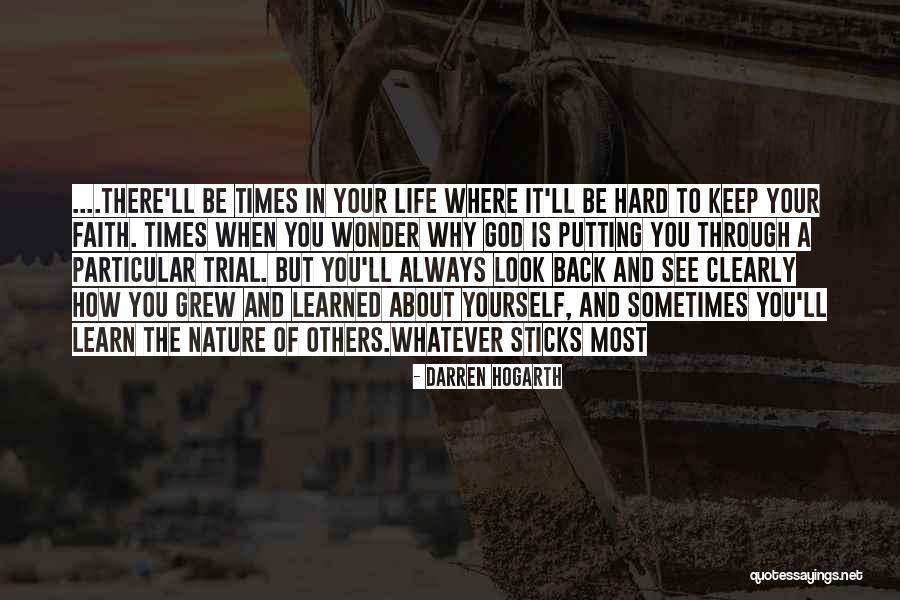 ....there'll be times in your life where it'll be hard to keep your faith. Times when you wonder why God is putting you through a particular trial. But you'll always look back and see clearly how you grew and learned about yourself, and sometimes you'll learn the nature of others.

Whatever Sticks Most — Darren Hogarth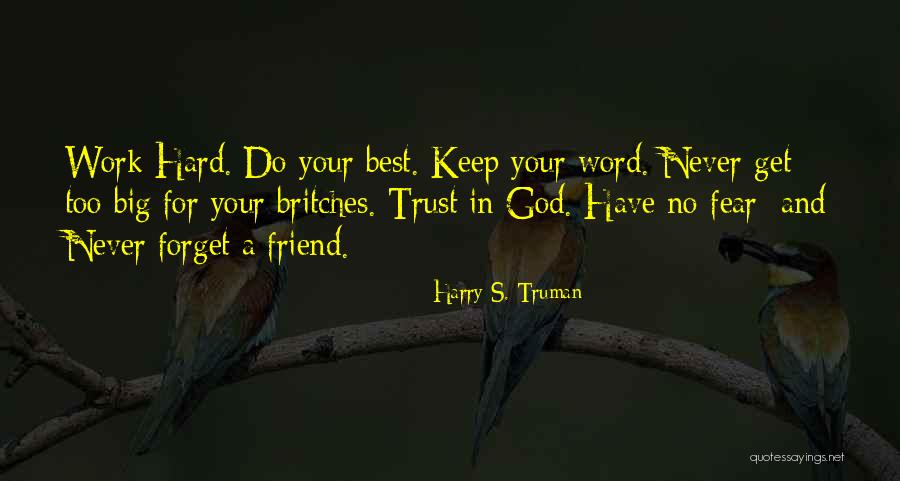 Work Hard. Do your best. Keep your word. Never get too big for your britches. Trust in God. Have no fear; and Never forget a friend. — Harry S. Truman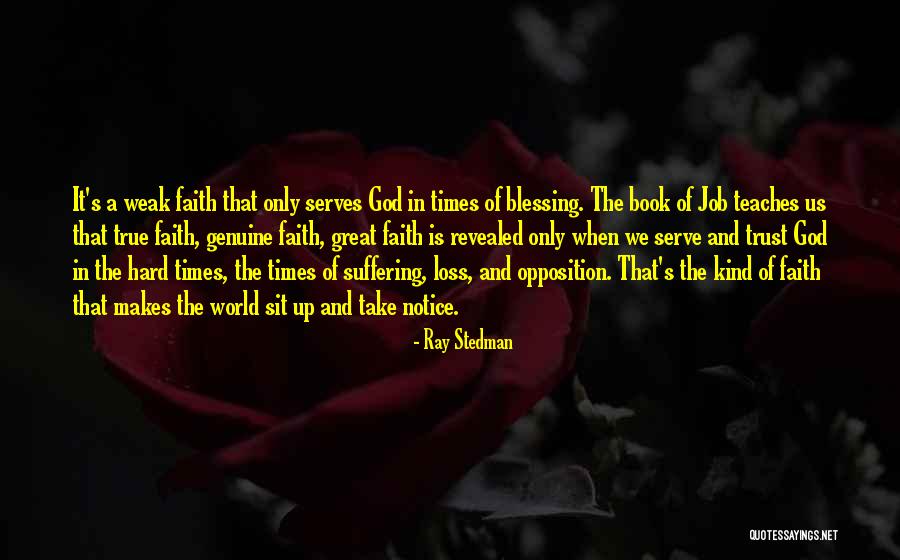 It's a weak faith that only serves God in times of blessing. The book of Job teaches us that true faith, genuine faith, great faith is revealed only when we serve and trust God in the hard times, the times of suffering, loss, and opposition. That's the kind of faith that makes the world sit up and take notice. — Ray Stedman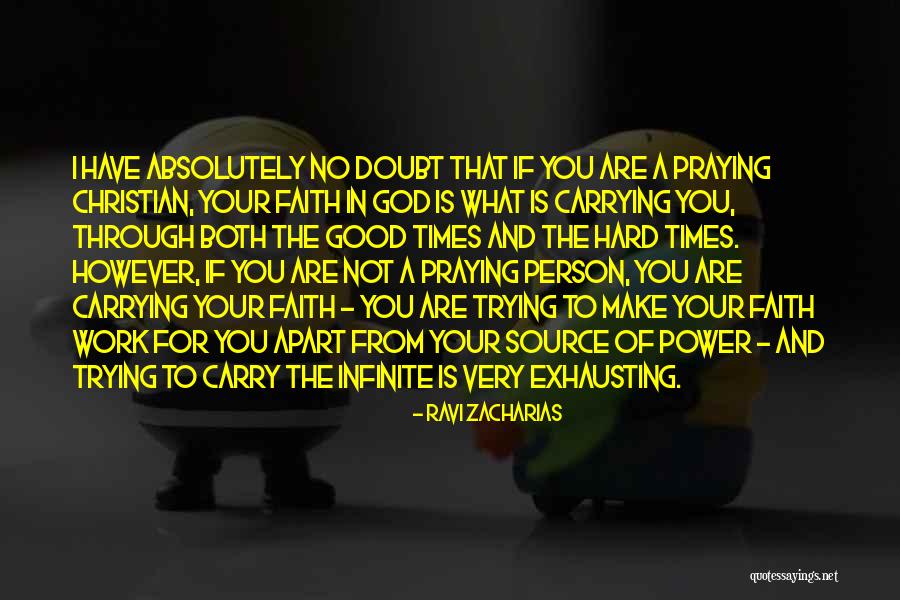 I have absolutely no doubt that if you are a praying Christian, your faith in God is what is carrying you, through both the good times and the hard times. However, if you are not a praying person, you are carrying your faith - you are trying to make your faith work for you apart from your source of power - and trying to carry the infinite is very exhausting. — Ravi Zacharias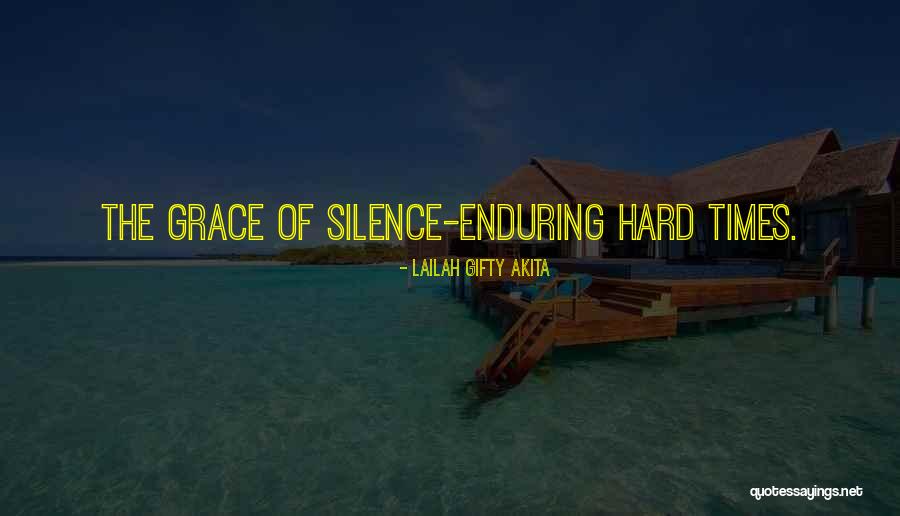 The grace of silence-enduring hard times. — Lailah Gifty Akita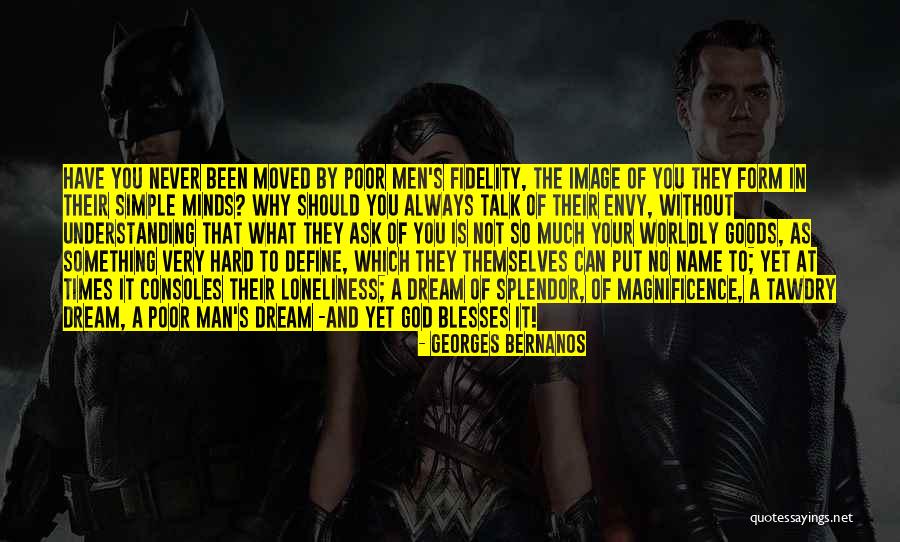 Have you never been moved by poor men's fidelity, the image of you they form in their simple minds? Why should you always talk of their envy, without understanding that what they ask of you is not so much your worldly goods, as something very hard to define, which they themselves can put no name to; yet at times it consoles their loneliness; a dream of splendor, of magnificence, a tawdry dream, a poor man's dream -and yet God blesses it! — Georges Bernanos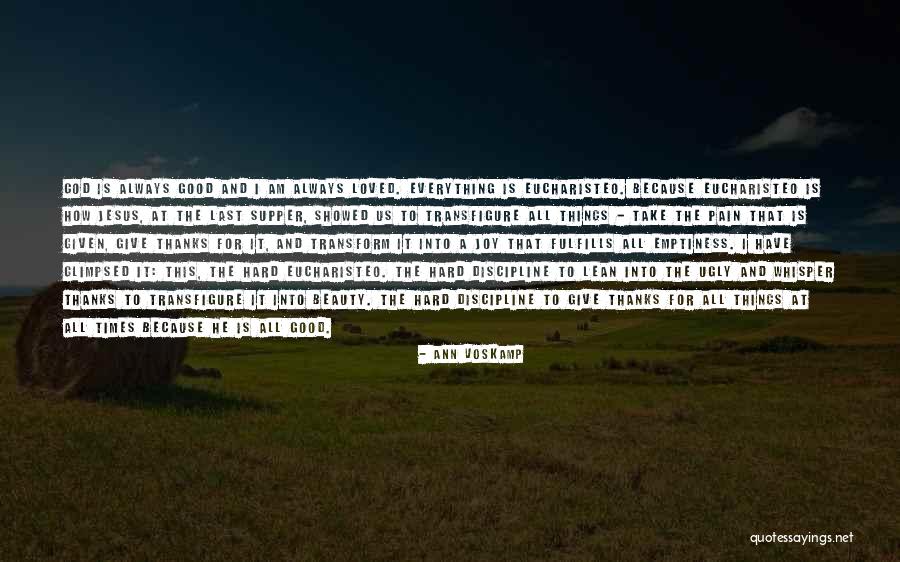 God is always good and I am always loved. Everything is eucharisteo. Because eucharisteo is how Jesus, at the Last Supper, showed us to transfigure all things - take the pain that is given, give thanks for it, and transform it into a joy that fulfills all emptiness. I have glimpsed it: This, the hard eucharisteo. The hard discipline to lean into the ugly and whisper thanks to transfigure it into beauty. The hard discipline to give thanks for all things at all times because He is all good. — Ann Voskamp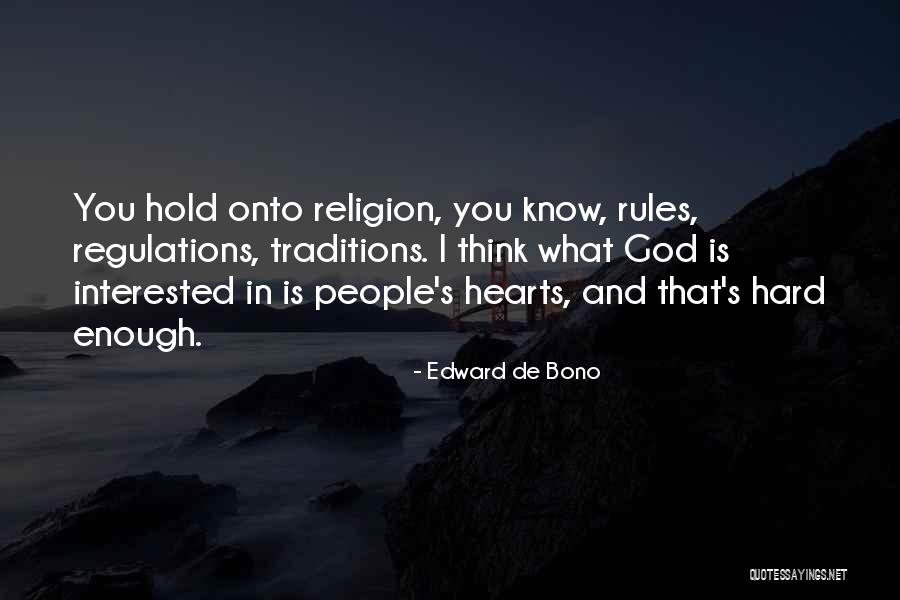 You hold onto religion, you know, rules, regulations, traditions. I think what God is interested in is people's hearts, and that's hard enough. — Edward De Bono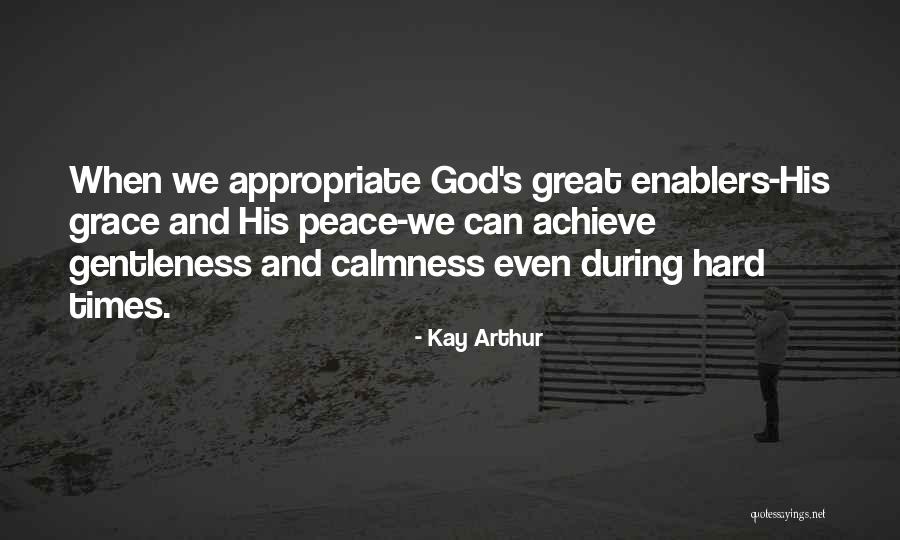 When we appropriate God's great enablers-His grace and His peace-we can achieve gentleness and calmness even during hard times. — Kay Arthur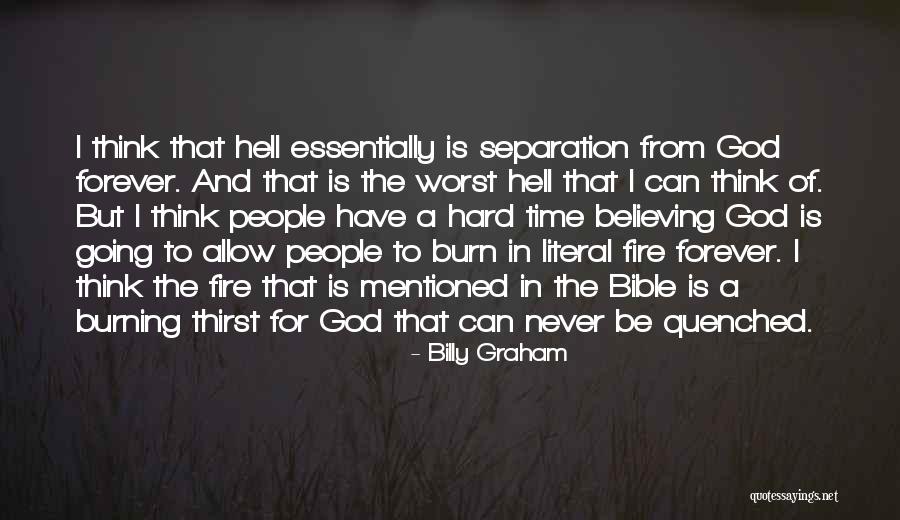 I think that hell essentially is separation from God forever. And that is the worst hell that I can think of. But I think people have a hard time believing God is going to allow people to burn in literal fire forever. I think the fire that is mentioned in the Bible is a burning thirst for God that can never be quenched. — Billy Graham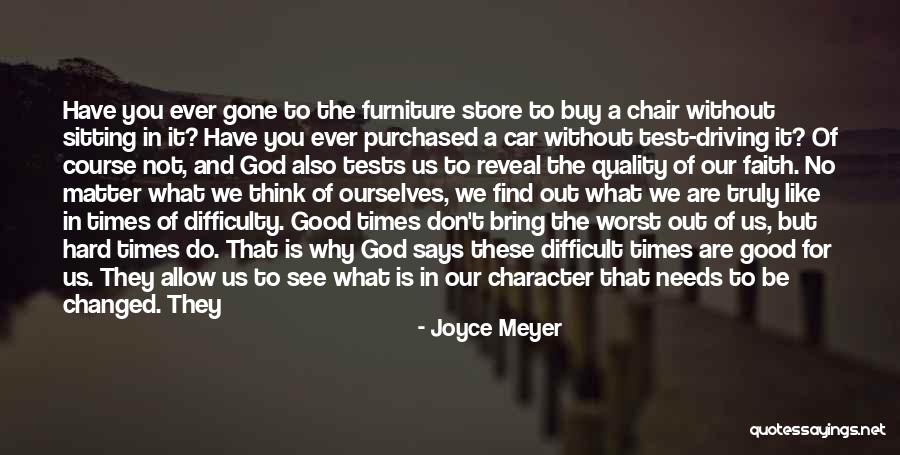 Have you ever gone to the furniture store to buy a chair without sitting in it? Have you ever purchased a car without test-driving it? Of course not, and God also tests us to reveal the quality of our faith. No matter what we think of ourselves, we find out what we are truly like in times of difficulty. Good times don't bring the worst out of us, but hard times do. That is why God says these difficult times are good for us. They allow us to see what is in our character that needs to be changed. They also give us opportunity to use our faith, and faith only grows through our using it. As we choose to learn to trust God instead of getting upset about something, we experience His faithfulness, which, in turn, increases our faith for the next time we need it. The more we use our muscles, the more they grow - and our faith is the same way. — Joyce Meyer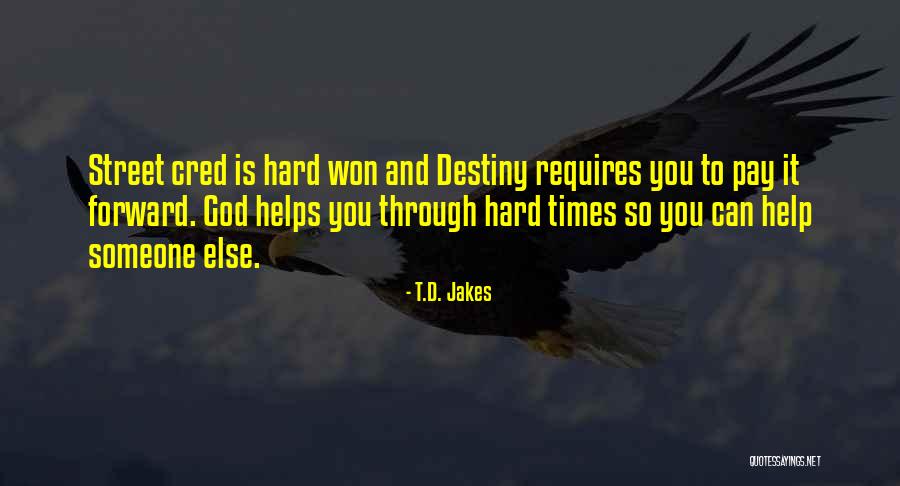 Street cred is hard won and Destiny requires you to pay it forward. God helps you through hard times so you can help someone else. — T.D. Jakes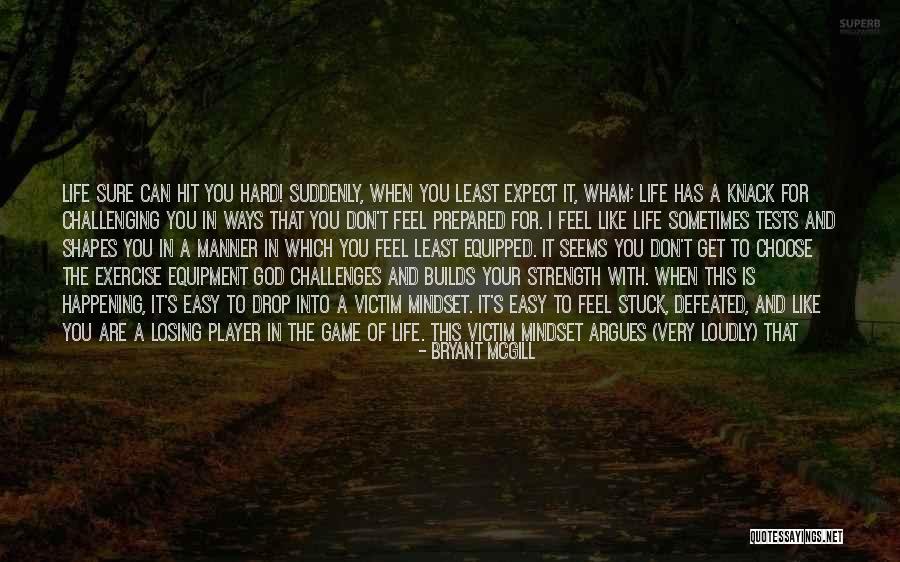 Life sure can hit you hard! Suddenly, when you least expect it, WHAM; life has a knack for challenging you in ways that you don't feel prepared for. I feel like life sometimes tests and shapes you in a manner in which you feel least equipped. It seems you don't get to choose the exercise equipment God challenges and builds your strength with. When this is happening, it's easy to drop into a victim mindset. It's easy to feel stuck, defeated, and like you are a losing player in the game of life. This victim mindset argues (very loudly) that we have lost; that nothing good is on the horizon. Never forget that the volume of an argument does not reflect the validity of the argument. Just because the victim mentality argues that we are losing, doesn't mean that it's true. In fact, I have come to realize that during the times in my life where I thought I was losing, I was actually winning. — Bryant McGill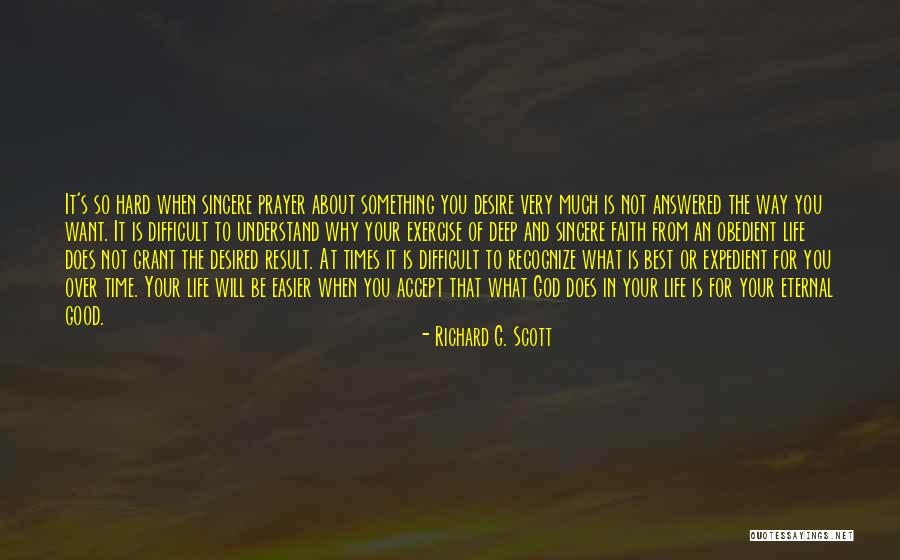 It's so hard when sincere prayer about something you desire very much is not answered the way you want. It is difficult to understand why your exercise of deep and sincere faith from an obedient life does not grant the desired result. At times it is difficult to recognize what is best or expedient for you over time. Your life will be easier when you accept that what God does in your life is for your eternal good. — Richard G. Scott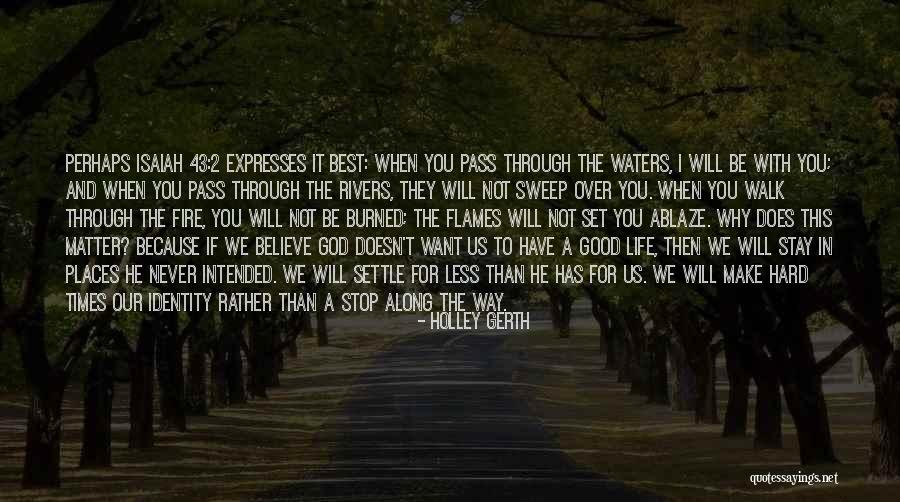 Perhaps Isaiah 43:2 expresses it best: When you pass through the waters, I will be with you; and when you pass through the rivers, they will not sweep over you. When you walk through the fire, you will not be burned; the flames will not set you ablaze. Why does this matter? Because if we believe God doesn't want us to have a good life, then we will stay in places he never intended. We will settle for less than he has for us. We will make hard times our identity rather than a stop along the way. — Holley Gerth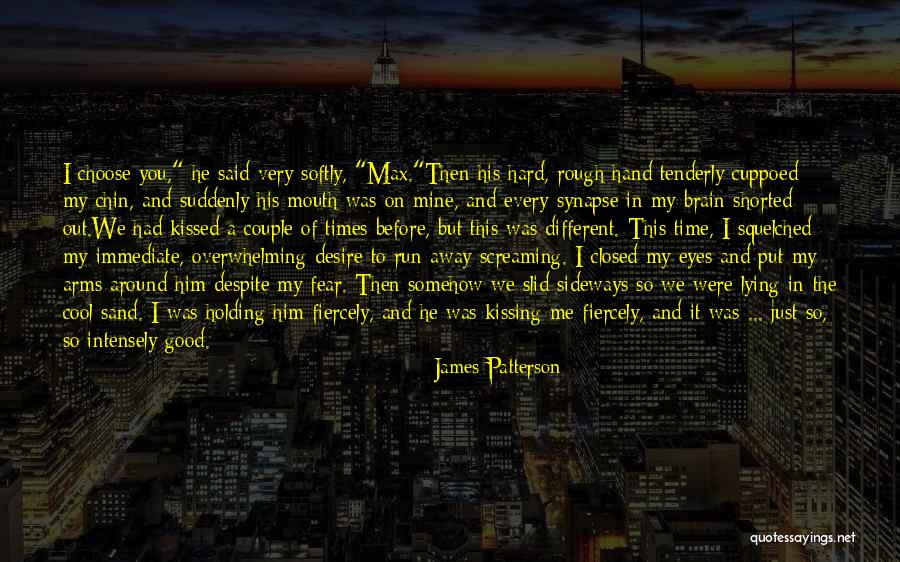 I choose you," he said very softly, "Max."
Then his hard, rough hand tenderly cuppoed my chin, and suddenly his mouth was on mine, and every synapse in my brain shorted out.
We had kissed a couple of times before, but this was different. This time, I squelched my immediate, overwhelming desire to run away screaming. I closed my eyes and put my arms around him despite my fear. Then somehow we slid sideways so we were lying in the cool sand. I was holding him fiercely, and he was kissing me fiercely, and it was ... just so, so intensely good. Once I got past my usual, gut-wrenching terror, there was a long, sweet slide into mindlessness, when all I felt was Fang, and all I heard was his breathing, and all I could think was "Oh, God, I want to do this all the time. — James Patterson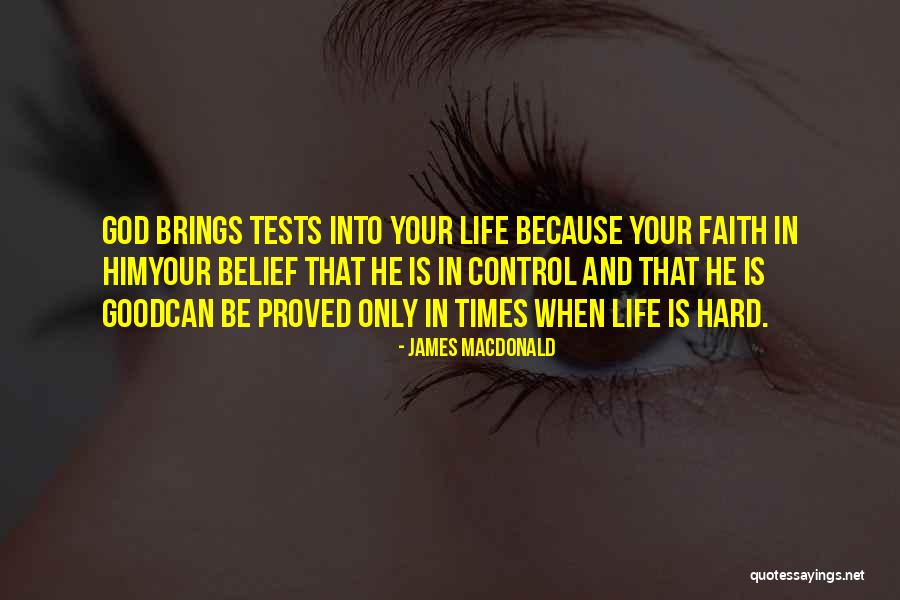 God brings tests into your life because your faith in Him
your belief that He is in control and that He is good
can be proved only in times when life is hard. — James MacDonald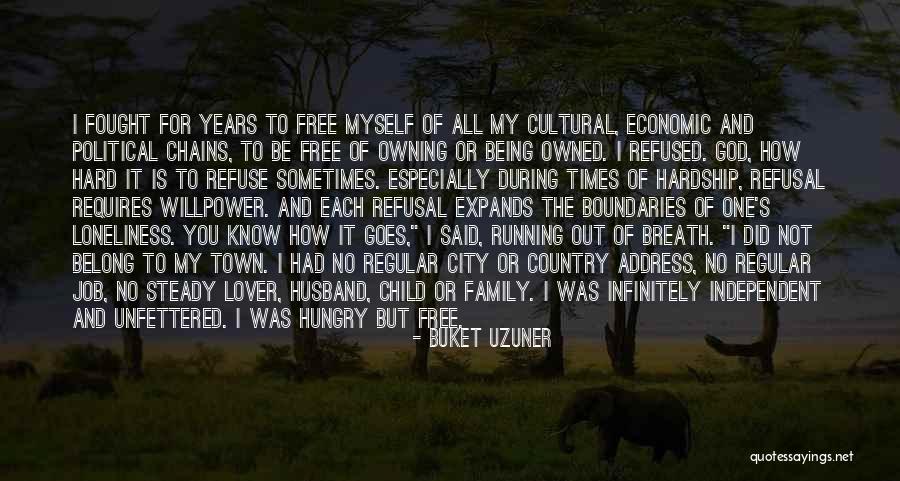 I fought for years to free myself of all my cultural, economic and political chains, to be free of owning or being owned. I refused. God, how hard it is to refuse sometimes. Especially during times of hardship, refusal requires willpower. And each refusal expands the boundaries of one's loneliness. You know how it goes," I said, running out of breath. "I did not belong to my town. I had no regular city or country address, no regular job, no steady lover, husband, child or family. I was infinitely independent and unfettered. I was hungry but free. — Buket Uzuner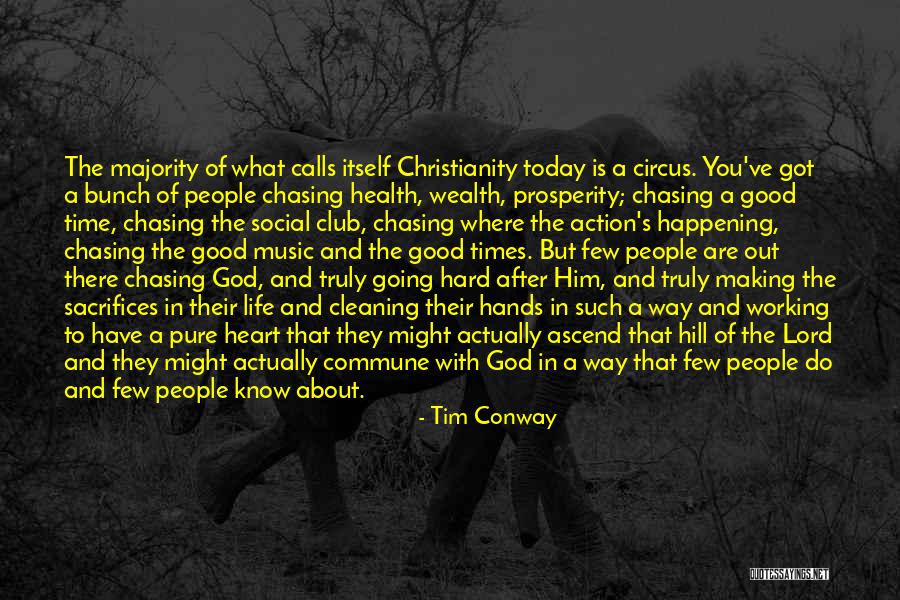 The majority of what calls itself Christianity today is a circus. You've got a bunch of people chasing health, wealth, prosperity; chasing a good time, chasing the social club, chasing where the action's happening, chasing the good music and the good times. But few people are out there chasing God, and truly going hard after Him, and truly making the sacrifices in their life and cleaning their hands in such a way and working to have a pure heart that they might actually ascend that hill of the Lord and they might actually commune with God in a way that few people do and few people know about. — Tim Conway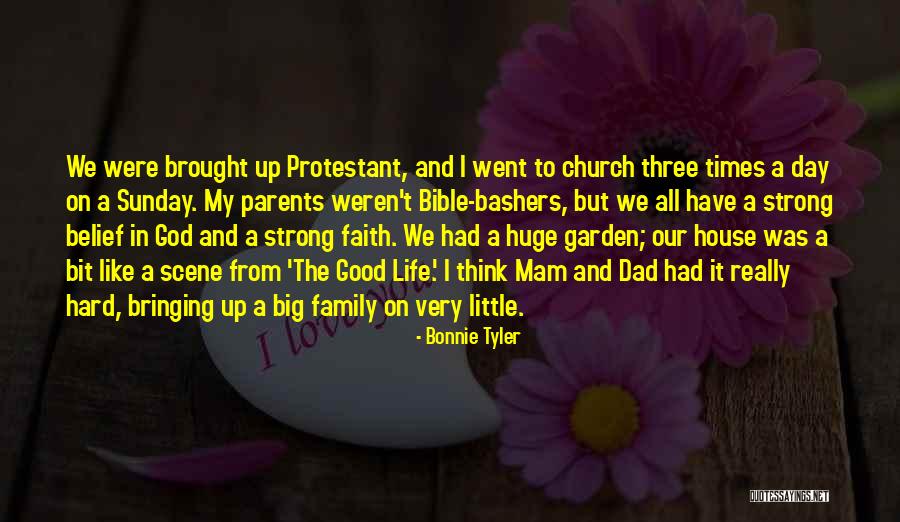 We were brought up Protestant, and I went to church three times a day on a Sunday. My parents weren't Bible-bashers, but we all have a strong belief in God and a strong faith. We had a huge garden; our house was a bit like a scene from 'The Good Life.' I think Mam and Dad had it really hard, bringing up a big family on very little. — Bonnie Tyler
Well, The Year Is Finally Wrapped up, Looking Back, I Made Mistakes Along Just like The Next Man, As a Matter of Fact, I Have Wronged, Disappointed, Been Inpatient a Little Insecure, Been Out of Control and at Times Hard to Bare With.
My Prayer Dear Family and Friend is That You Forgive Me and Continue to Bare With Me as I Look Upon Myself and Work on Myself on The Next Coming Years, I Haven't Been The Best of Friends But Sure I Will As I Continue To Seek God's Enlightenment and Wisdom. I Love You All and Bless You In God's Name. — William Nsubuga
We don't get to pick the age we will live in, and we don't get to choose all the struggles we will face. Faithfulness is ours to choose; the shape of faithfulness is God to determine. — Kevin DeYoung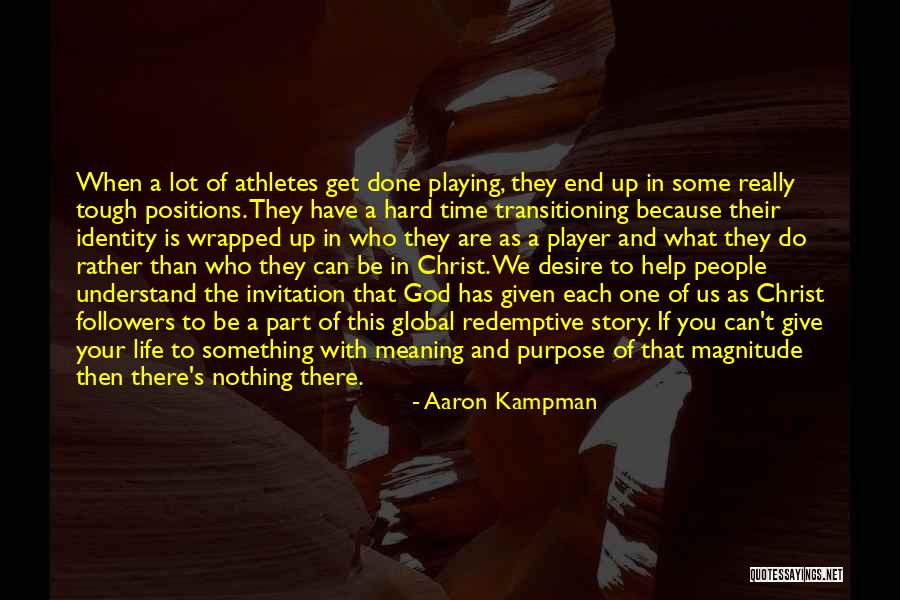 When a lot of athletes get done playing, they end up in some really tough positions. They have a hard time transitioning because their identity is wrapped up in who they are as a player and what they do rather than who they can be in Christ. We desire to help people understand the invitation that God has given each one of us as Christ followers to be a part of this global redemptive story. If you can't give your life to something with meaning and purpose of that magnitude then there's nothing there. — Aaron Kampman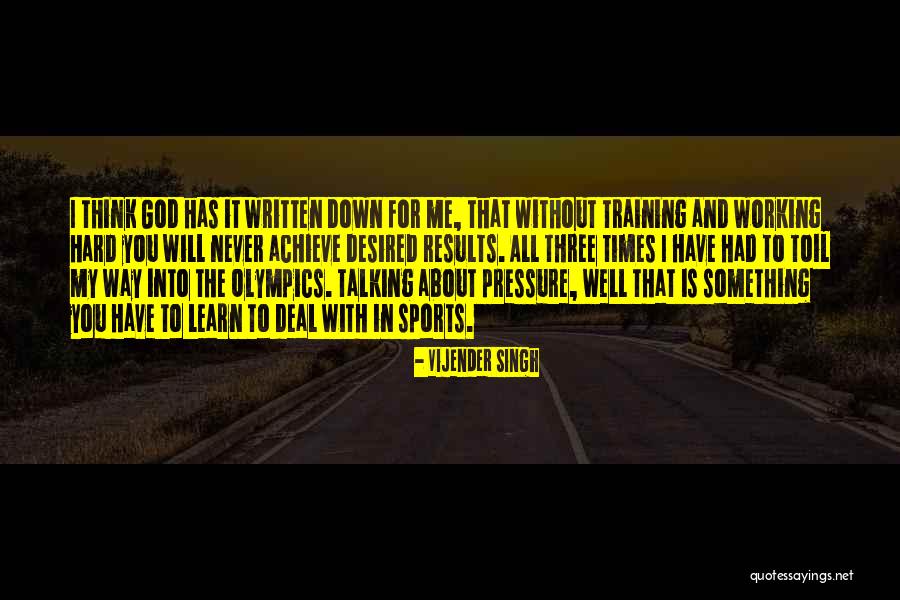 I think God has it written down for me, that without training and working hard you will never achieve desired results. All three times I have had to toil my way into the Olympics. Talking about pressure, well that is something you have to learn to deal with in sports. — Vijender Singh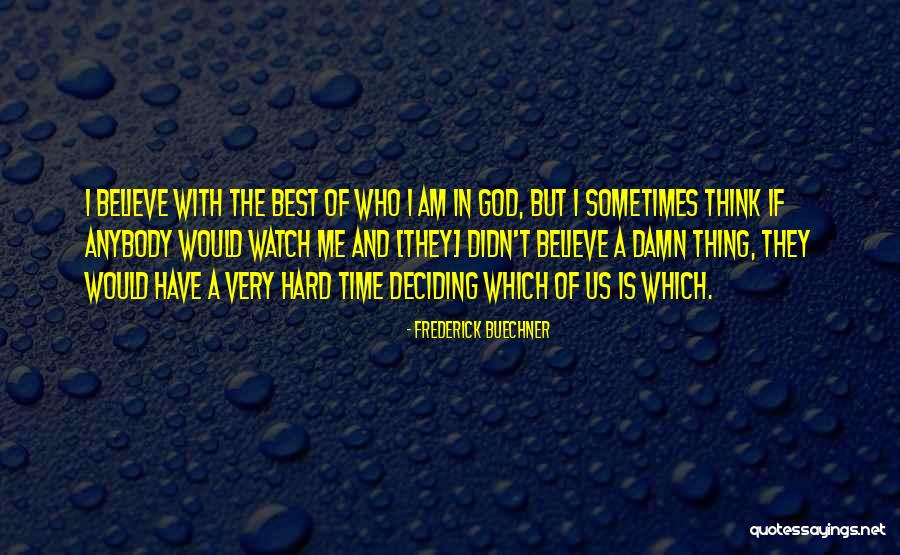 I believe with the best of who I am in God, but I sometimes think if anybody would watch me and [they] didn't believe a damn thing, they would have a very hard time deciding which of us is which. — Frederick Buechner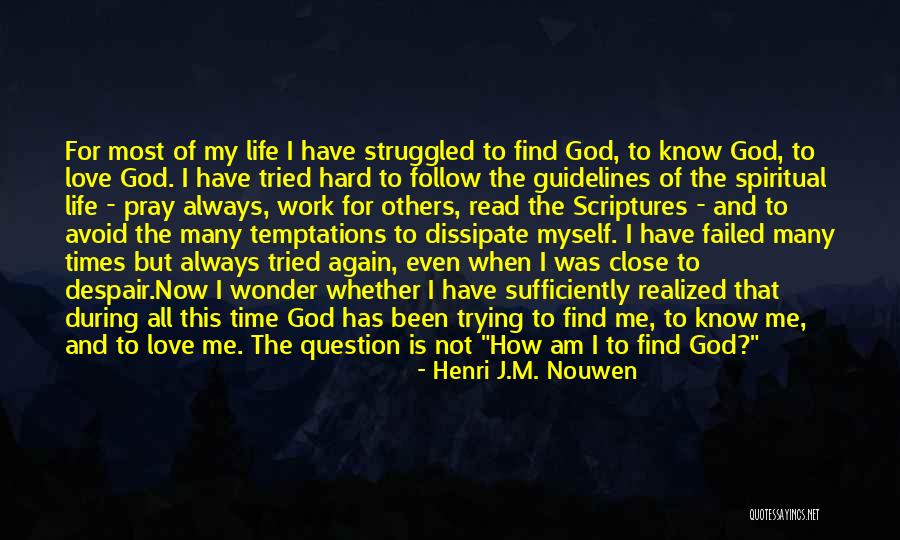 For most of my life I have struggled to find God, to know God, to love God. I have tried hard to follow the guidelines of the spiritual life - pray always, work for others, read the Scriptures - and to avoid the many temptations to dissipate myself. I have failed many times but always tried again, even when I was close to despair.
Now I wonder whether I have sufficiently realized that during all this time God has been trying to find me, to know me, and to love me. The question is not "How am I to find God?" but "How am I to let myself be found by him?" The question is not "How am I to know God?" but "How am I to let myself be known by God?" And, finally, the question is not "How am I to love God?" but "How am I to let myself be loved by God?" God is looking into the distance for me, trying to find me, and longing to bring me home. — Henri J.M. Nouwen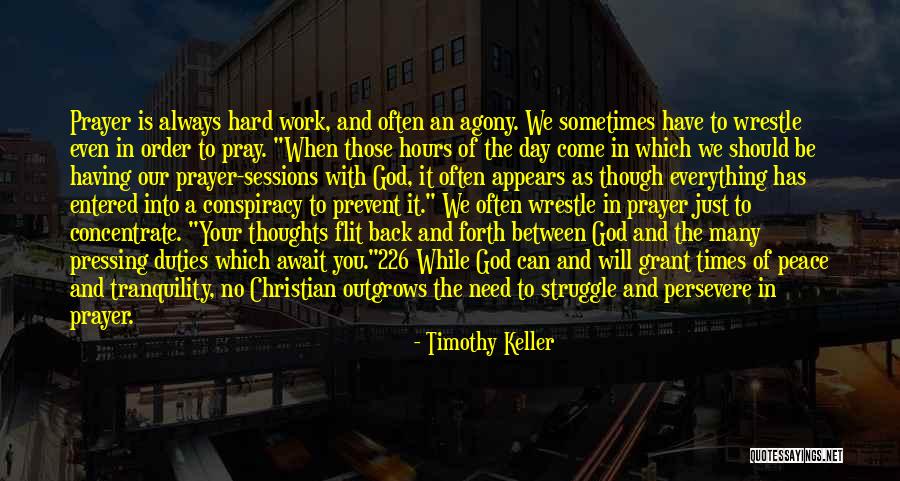 Prayer is always hard work, and often an agony. We sometimes have to wrestle even in order to pray. "When those hours of the day come in which we should be having our prayer-sessions with God, it often appears as though everything has entered into a conspiracy to prevent it." We often wrestle in prayer just to concentrate. "Your thoughts flit back and forth between God and the many pressing duties which await you."226 While God can and will grant times of peace and tranquility, no Christian outgrows the need to struggle and persevere in prayer. — Timothy Keller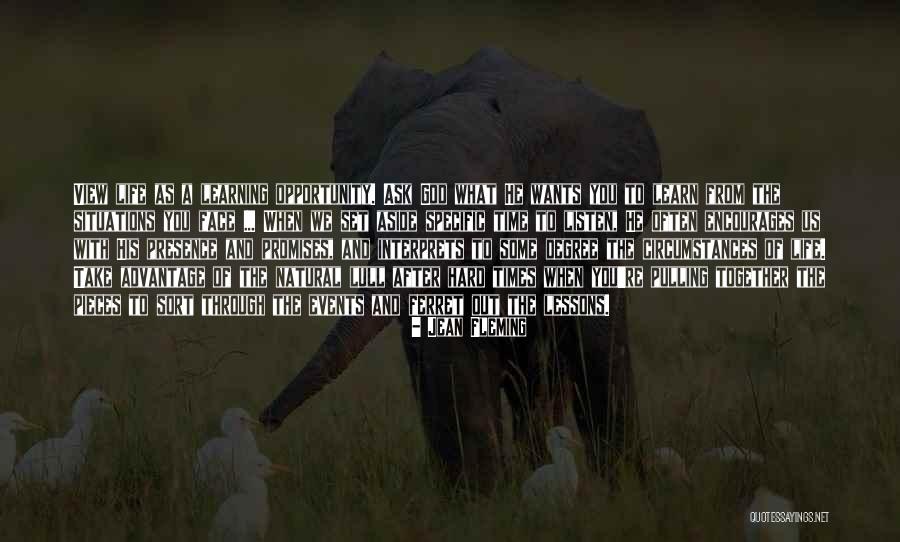 View life as a learning opportunity. Ask God what He wants you to learn from the situations you face ... When we set aside specific time to listen, He often encourages us with His presence and promises, and interprets to some degree the circumstances of life. Take advantage of the natural lull after hard times when you're pulling together the pieces to sort through the events and ferret out the lessons. — Jean Fleming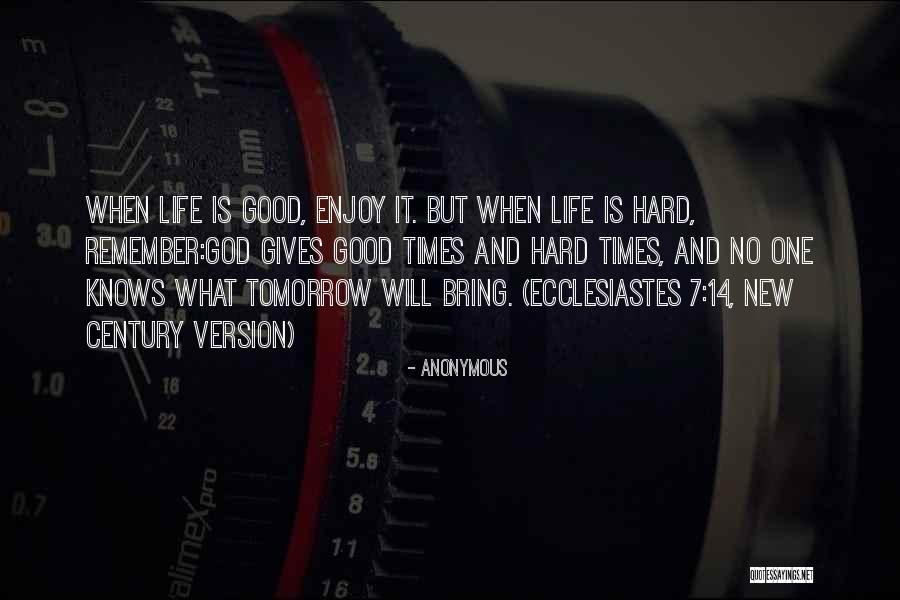 When life is good, enjoy it. But when life is hard, remember:
God gives good times and hard times, and no one knows what tomorrow will bring. (Ecclesiastes 7:14, New Century Version) — Anonymous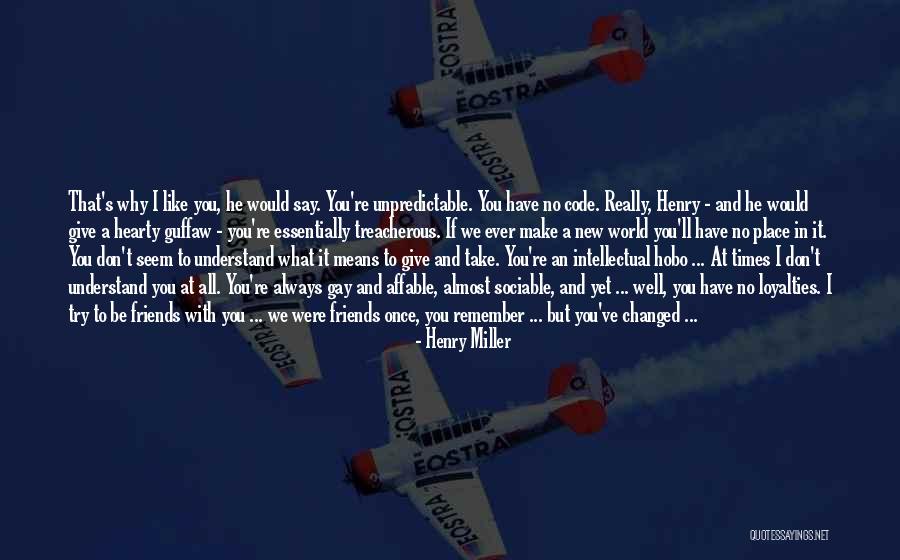 That's why I like you, he would say. You're unpredictable. You have no code. Really, Henry - and he would give a hearty guffaw - you're essentially treacherous. If we ever make a new world you'll have no place in it. You don't seem to understand what it means to give and take. You're an intellectual hobo ... At times I don't understand you at all. You're always gay and affable, almost sociable, and yet ... well, you have no loyalties. I try to be friends with you ... we were friends once, you remember ... but you've changed ... you're hard inside ... you're untouchable. God, you think I'm hard ... I'm just cocky, pugnacious, full of spirits. You're the one who's hard. You're a gangster, do you know that? He chuckled. Yes, Henry, that's what you are - you're a spiritual gangster. I don't trust you. — Henry Miller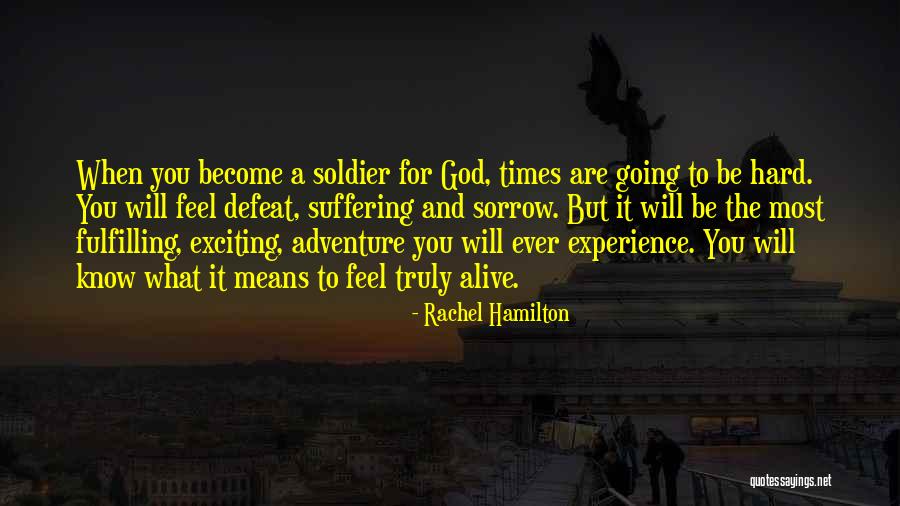 When you become a soldier for God, times are going to be hard. You will feel defeat, suffering and sorrow. But it will be the most fulfilling, exciting, adventure you will ever experience. You will know what it means to feel truly alive. — Rachel Hamilton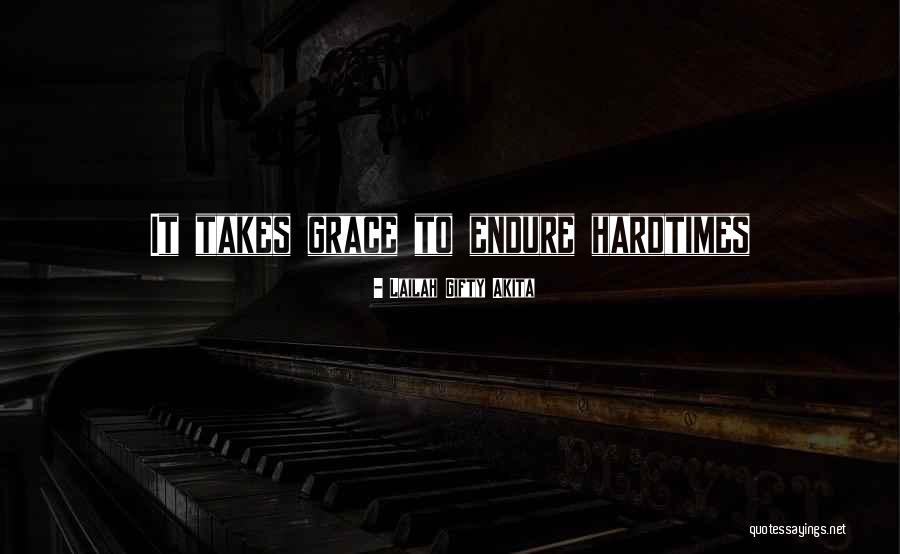 It takes grace to endure hardtimes — Lailah Gifty Akita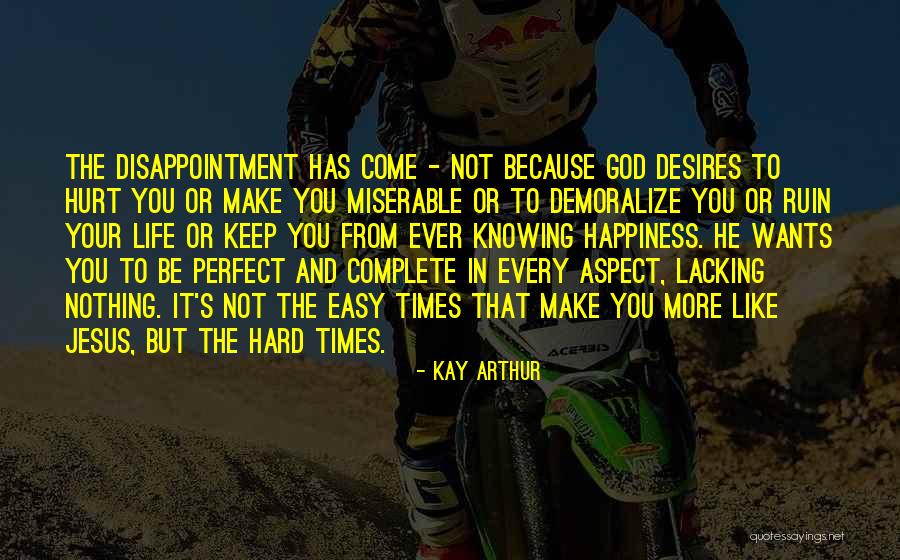 The disappointment has come - not because God desires to hurt you or make you miserable or to demoralize you or ruin your life or keep you from ever knowing happiness. He wants you to be perfect and complete in every aspect, lacking nothing. It's not the easy times that make you more like Jesus, but the hard times. — Kay Arthur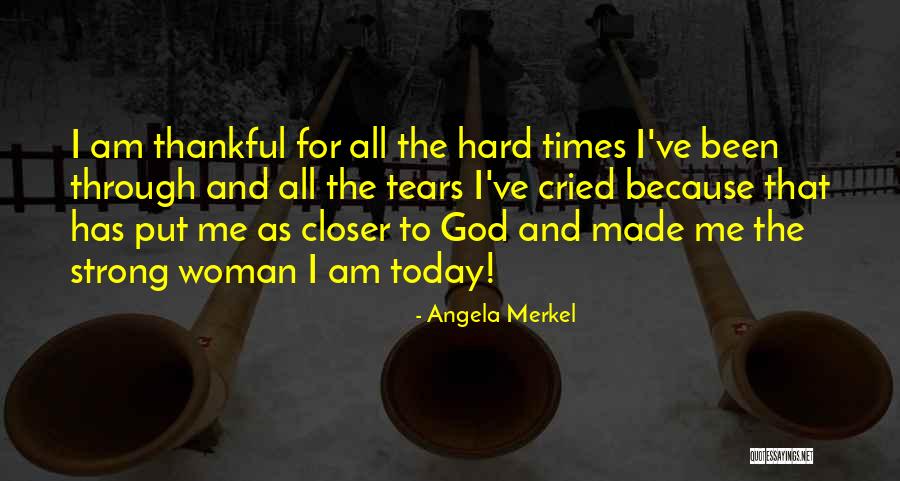 I am thankful for all the hard times I've been through and all the tears I've cried because that has put me as closer to God and made me the strong woman I am today! — Angela Merkel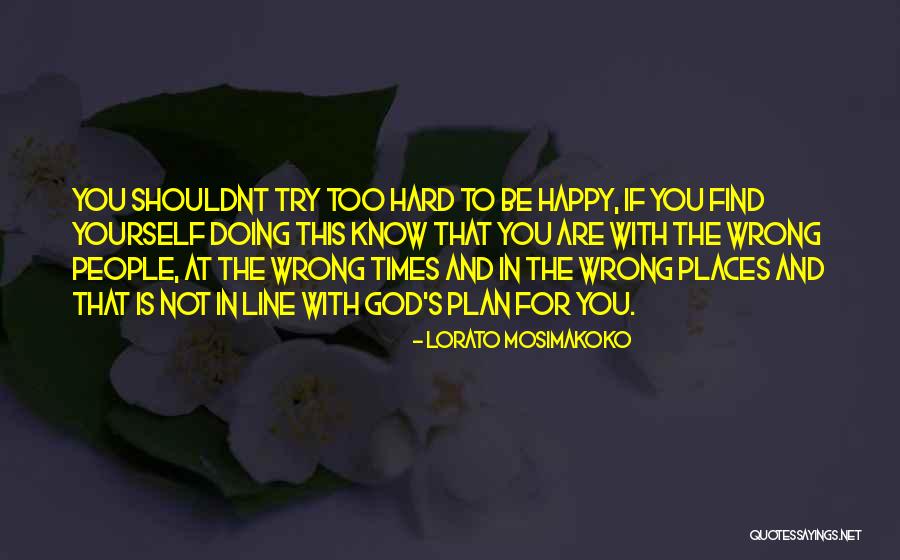 You shouldnt try too hard to be happy, if you find yourself doing this know that you are with the wrong people, at the wrong times and in the wrong places and that is not in line with God's plan for you. — Lorato Mosimakoko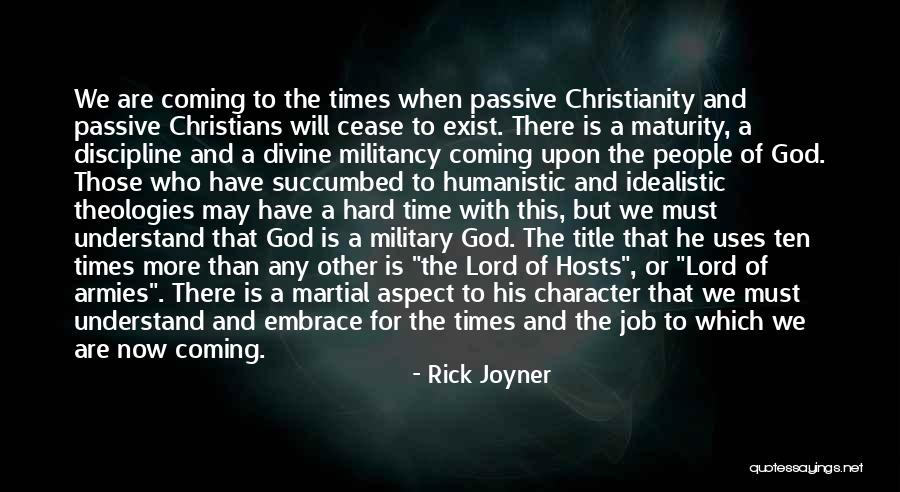 We are coming to the times when passive Christianity and passive Christians will cease to exist. There is a maturity, a discipline and a divine militancy coming upon the people of God. Those who have succumbed to humanistic and idealistic theologies may have a hard time with this, but we must understand that God is a military God. The title that he uses ten times more than any other is "the Lord of Hosts", or "Lord of armies". There is a martial aspect to his character that we must understand and embrace for the times and the job to which we are now coming. — Rick Joyner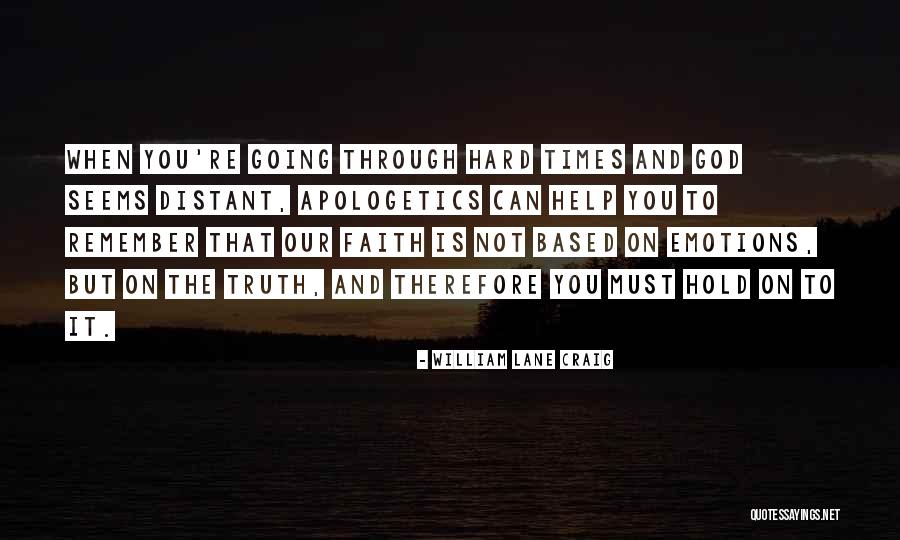 When you're going through hard times and God seems distant, apologetics can help you to remember that our faith is not based on emotions, but on the truth, and therefore you must hold on to it. — William Lane Craig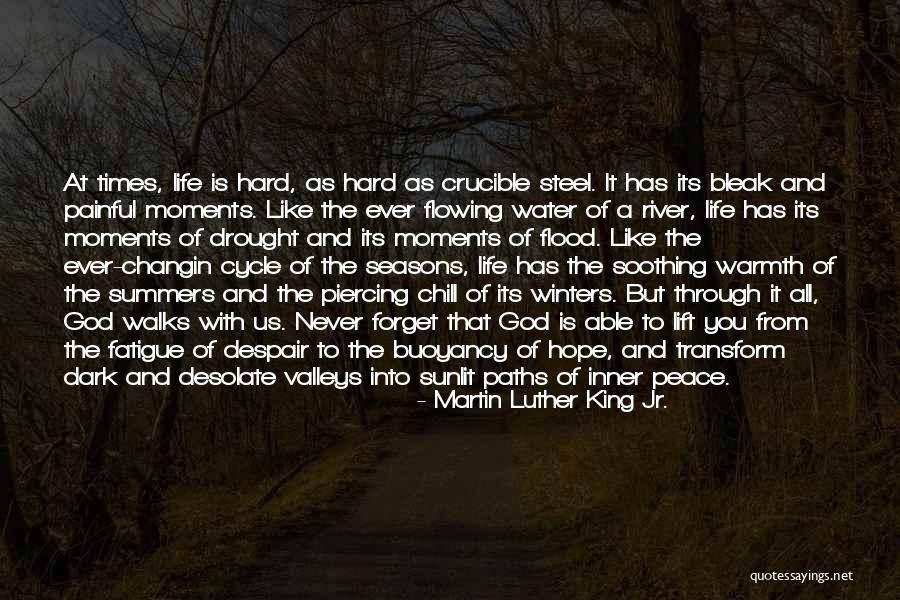 At times, life is hard, as hard as crucible steel. It has its bleak and painful moments. Like the ever flowing water of a river, life has its moments of drought and its moments of flood. Like the ever-changin cycle of the seasons, life has the soothing warmth of the summers and the piercing chill of its winters. But through it all, God walks with us. Never forget that God is able to lift you from the fatigue of despair to the buoyancy of hope, and transform dark and desolate valleys into sunlit paths of inner peace. — Martin Luther King Jr.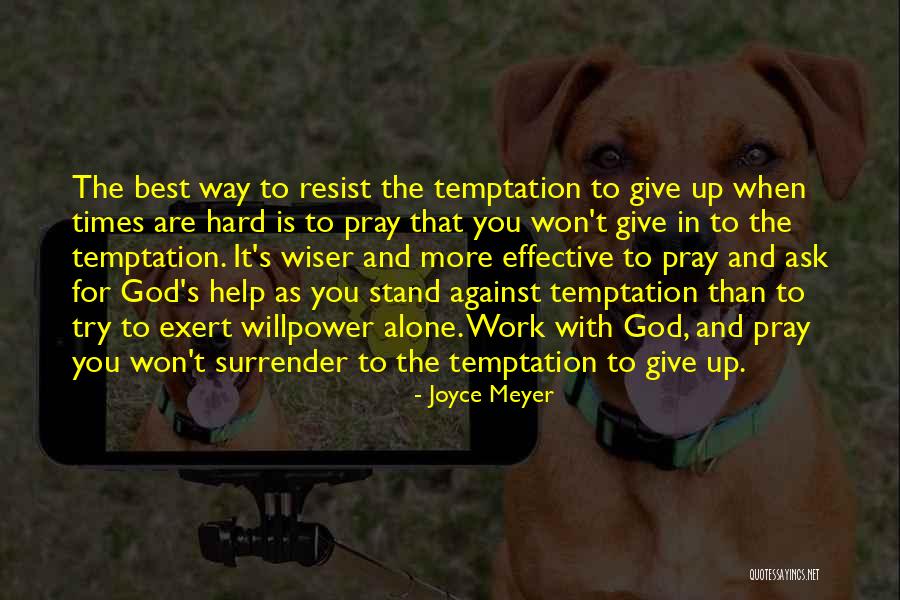 The best way to resist the temptation to give up when times are hard is to pray that you won't give in to the temptation. It's wiser and more effective to pray and ask for God's help as you stand against temptation than to try to exert willpower alone. Work with God, and pray you won't surrender to the temptation to give up. — Joyce Meyer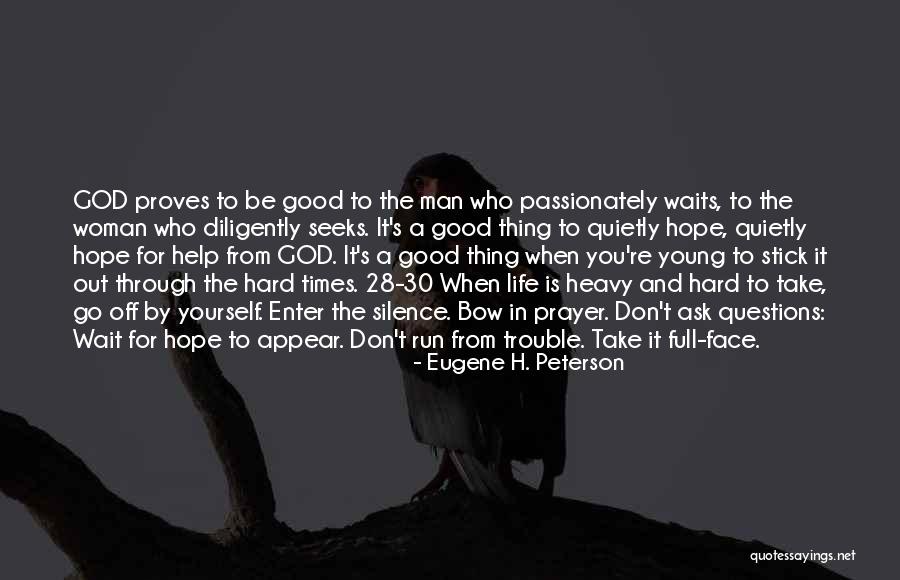 GOD proves to be good to the man who passionately waits, to the woman who diligently seeks. It's a good thing to quietly hope, quietly hope for help from GOD. It's a good thing when you're young to stick it out through the hard times. 28-30 When life is heavy and hard to take, go off by yourself. Enter the silence. Bow in prayer. Don't ask questions: Wait for hope to appear. Don't run from trouble. Take it full-face. — Eugene H. Peterson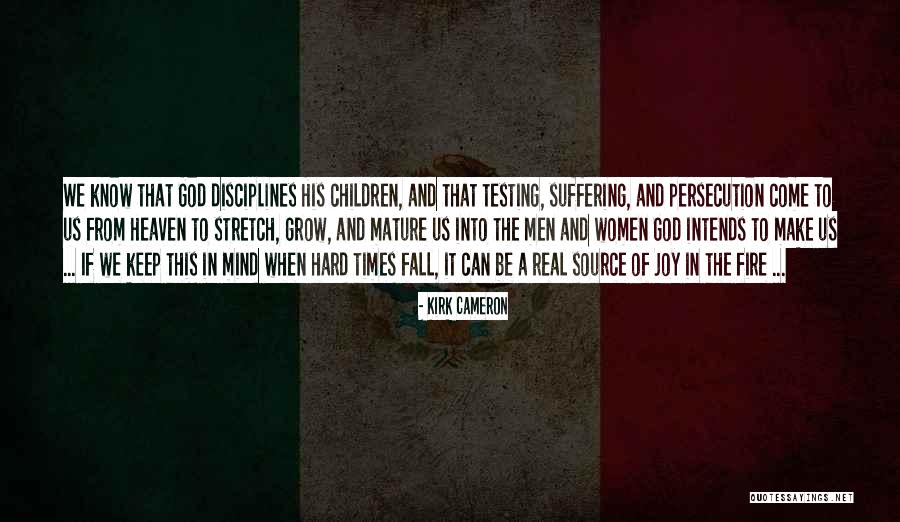 We know that God disciplines His children, and that testing, suffering, and persecution come to us from Heaven to stretch, grow, and mature us into the men and women God intends to make us ... If we keep this in mind when hard times fall, it can be a real source of joy in the fire ... — Kirk Cameron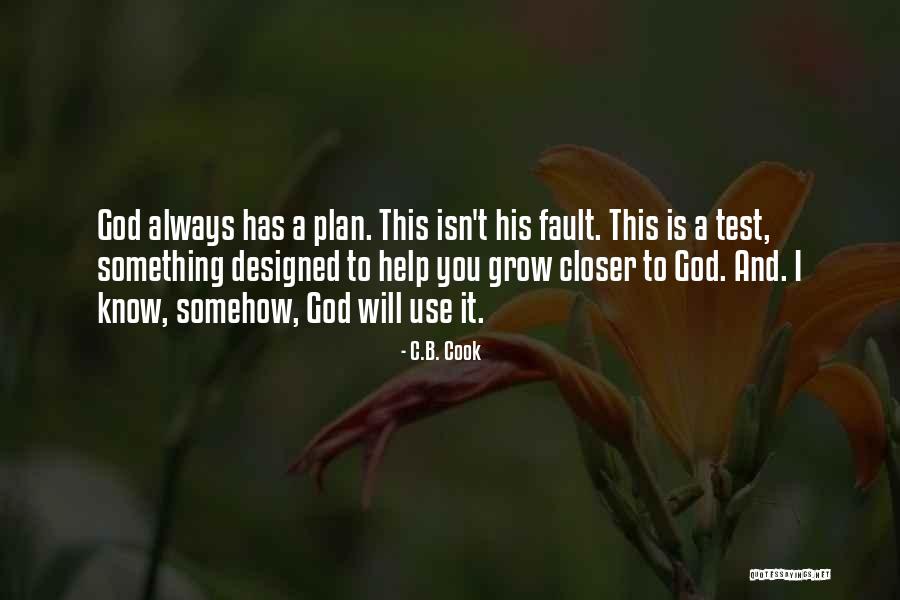 God always has a plan. This isn't his fault. This is a test, something designed to help you grow closer to God. And. I know, somehow, God will use it. — C.B. Cook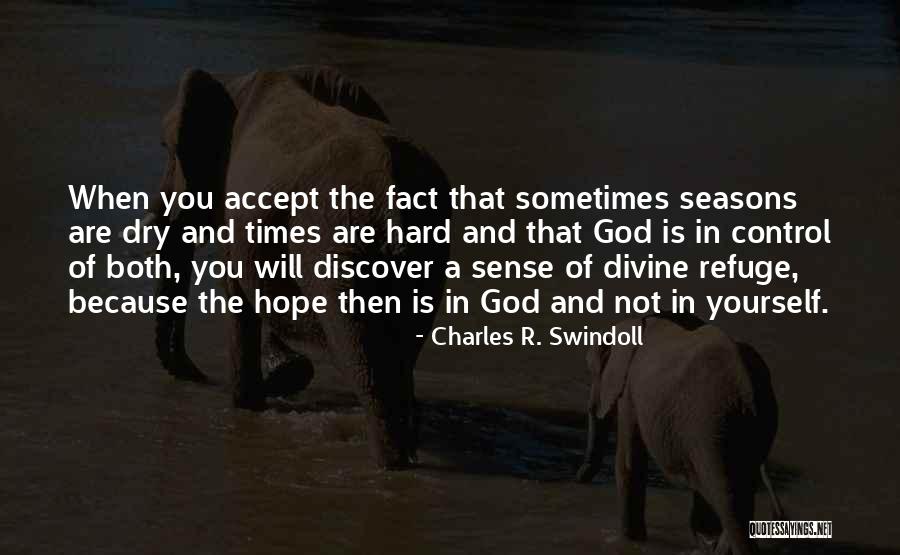 When you accept the fact that sometimes seasons are dry and times are hard and that God is in control of both, you will discover a sense of divine refuge, because the hope then is in God and not in yourself. — Charles R. Swindoll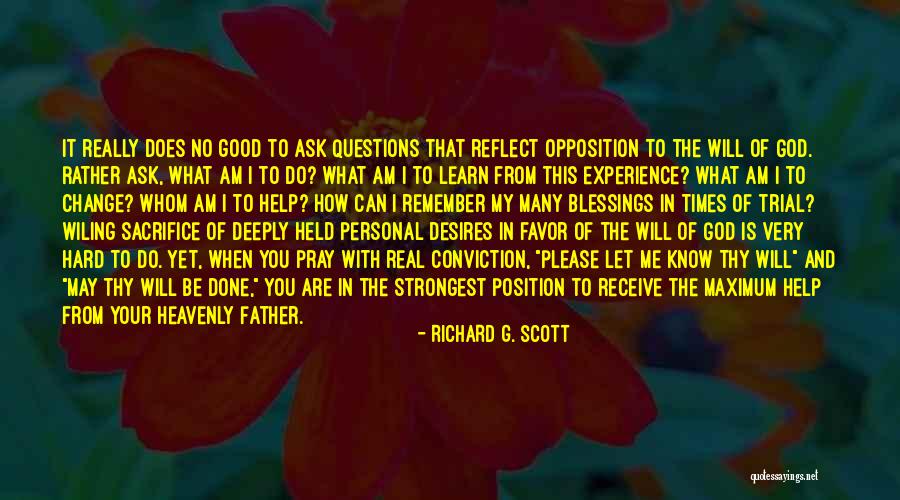 It really does no good to ask questions that reflect opposition to the will of God. Rather ask, What am I to do? What am I to learn from this experience? What am I to change? Whom am I to help? How can I remember my many blessings in times of trial? Wiling sacrifice of deeply held personal desires in favor of the will of God is very hard to do. Yet, when you pray with real conviction, "Please let me know Thy will" and "May Thy will be done," you are in the strongest position to receive the maximum help from your Heavenly Father. — Richard G. Scott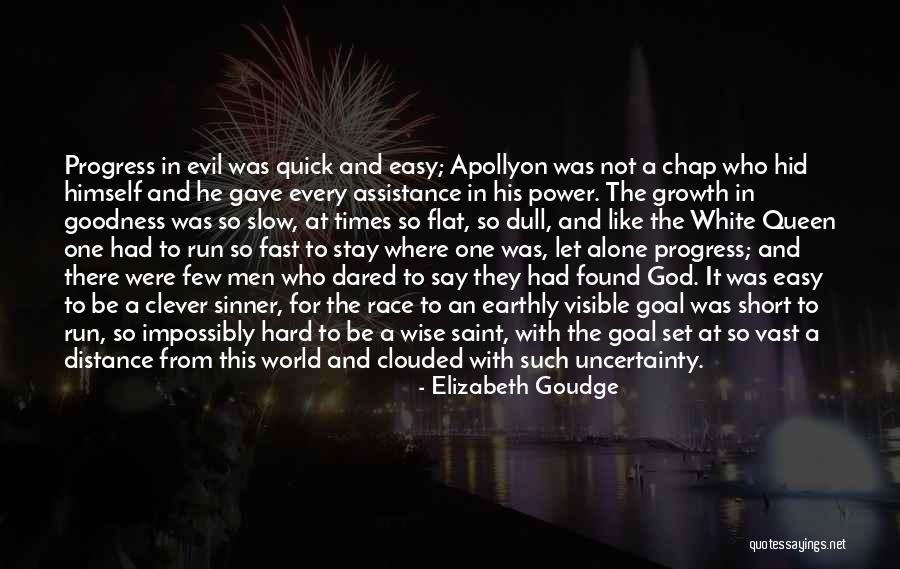 Progress in evil was quick and easy; Apollyon was not a chap who hid himself and he gave every assistance in his power. The growth in goodness was so slow, at times so flat, so dull, and like the White Queen one had to run so fast to stay where one was, let alone progress; and there were few men who dared to say they had found God. It was easy to be a clever sinner, for the race to an earthly visible goal was short to run, so impossibly hard to be a wise saint, with the goal set at so vast a distance from this world and clouded with such uncertainty. — Elizabeth Goudge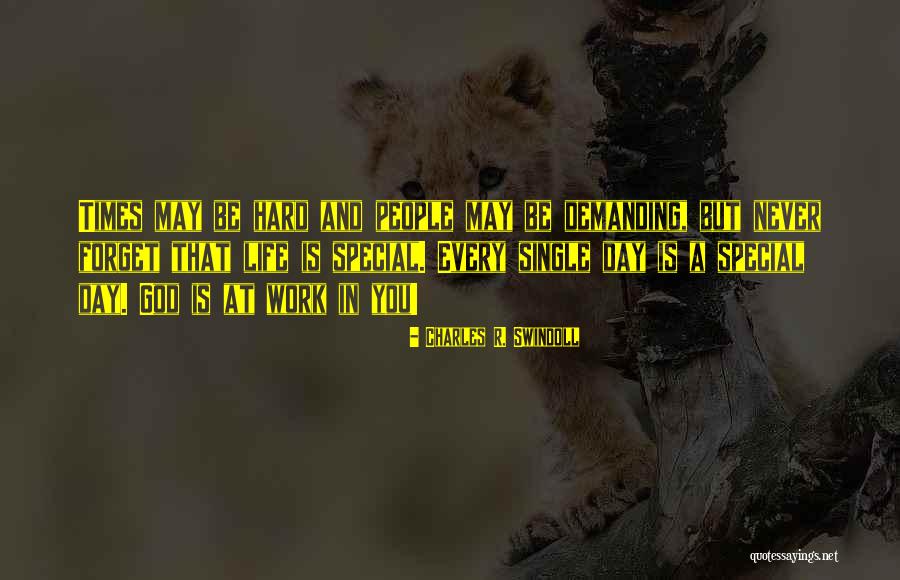 Times may be hard and people may be demanding, but never forget that life is special. Every single day is a special day. God is at work in you! — Charles R. Swindoll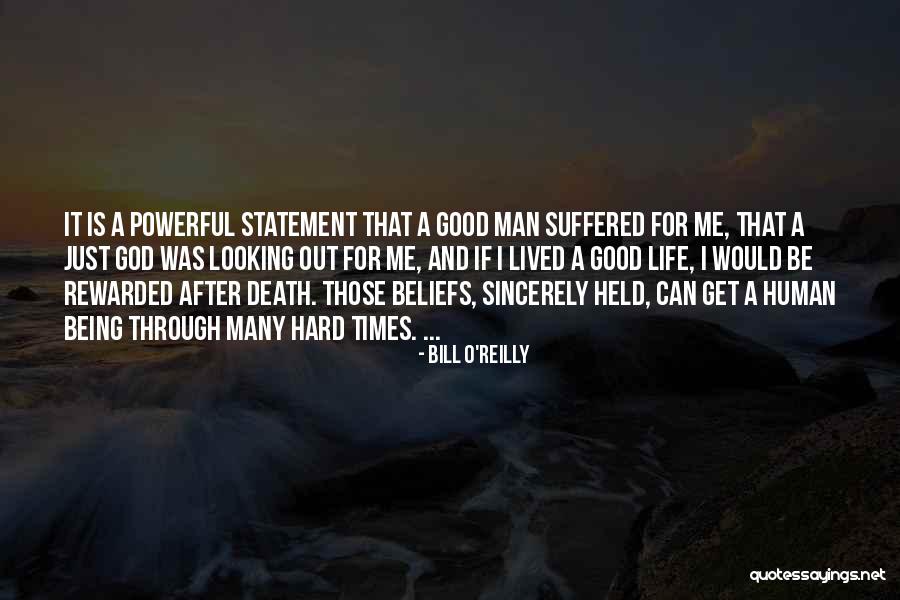 It is a powerful statement that a good man suffered for me, that a just God was looking out for me, and if I lived a good life, I would be rewarded after death. Those beliefs, sincerely held, can get a human being through many hard times. ... — Bill O'Reilly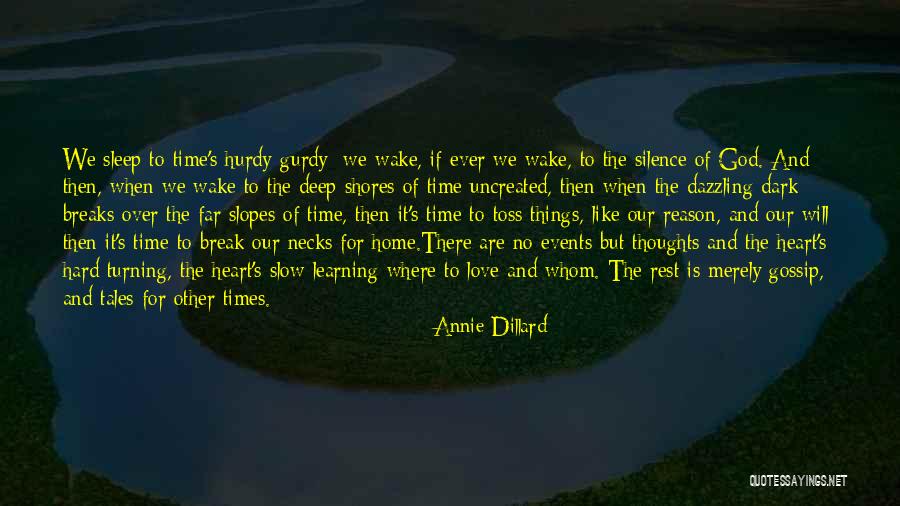 We sleep to time's hurdy-gurdy; we wake, if ever we wake, to the silence of God. And then, when we wake to the deep shores of time uncreated, then when the dazzling dark breaks over the far slopes of time, then it's time to toss things, like our reason, and our will; then it's time to break our necks for home.
There are no events but thoughts and the heart's hard turning, the heart's slow learning where to love and whom. The rest is merely gossip, and tales for other times. — Annie Dillard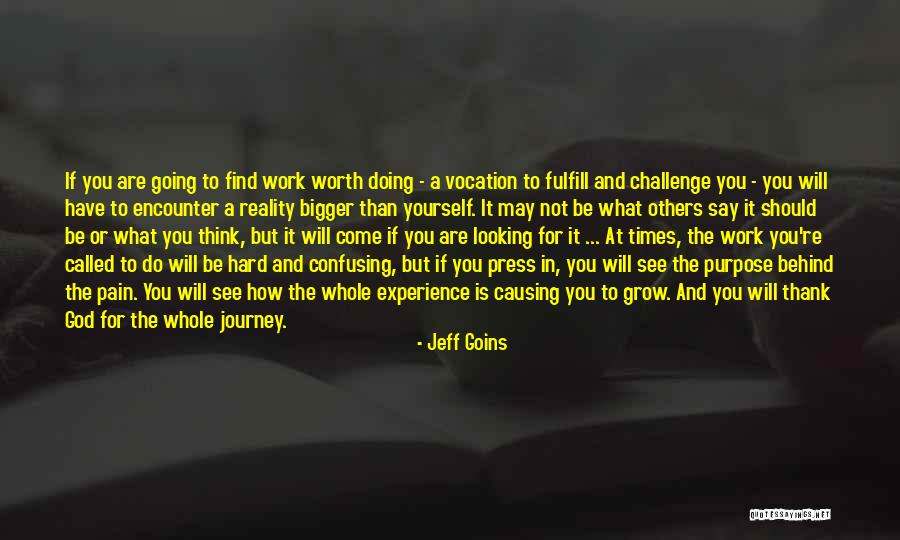 If you are going to find work worth doing - a vocation to fulfill and challenge you - you will have to encounter a reality bigger than yourself. It may not be what others say it should be or what you think, but it will come if you are looking for it ... At times, the work you're called to do will be hard and confusing, but if you press in, you will see the purpose behind the pain. You will see how the whole experience is causing you to grow. And you will thank God for the whole journey. — Jeff Goins