Glowing Woman Quotes & Sayings
Enjoy reading and share 27 famous quotes about Glowing Woman with everyone.
Top Glowing Woman Quotes
Near my feet is a glowing archway. The light is white and shimmery, like iridescent glitter, and it's so tall the top nearly brushes the ceiling. Inside, instead of seeing the cement wall of the basement, I'm looking at evenly spaced wooden pillars and a reed-mat floor. Standing on that mat is a woman with curves that would make a Playboy model jealous. She's wearing a long, butter yellow dress, and her white hair hangs down to her waist. She looks like an angel when she smiles at me, holding out her hands.
"Hudson, come with me." Her voice reminds me of the breeze rustling through the trees near the lake. Soft and subtle and calming. "Let me help you."
Did I die? Maybe the scratch on my side got infected. Maybe I've been slowly bleeding to death from internal injuries for the past week. Who knows? If this is death, if she's what's waiting for me on the other side, then fuck it. I'm letting go. — Erica Cameron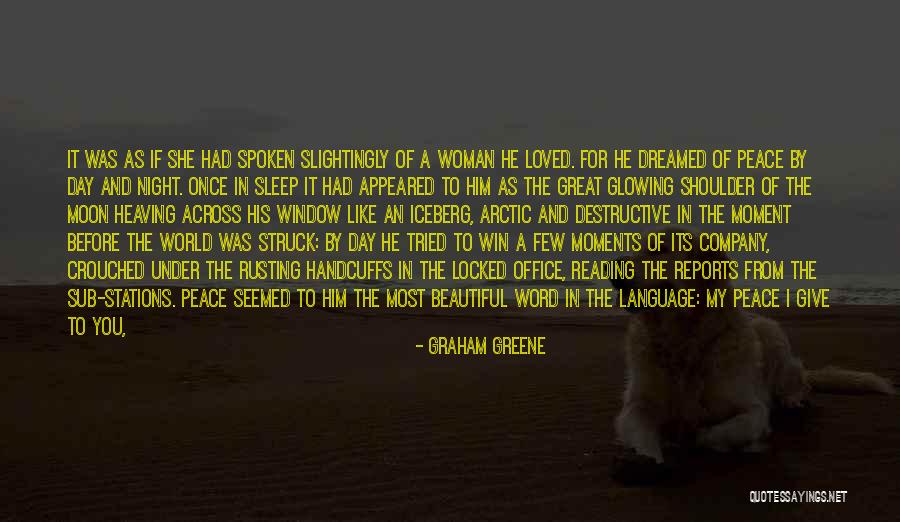 It was as if she had spoken slightingly of a woman he loved. For he dreamed of peace by day and night. Once in sleep it had appeared to him as the great glowing shoulder of the moon heaving across his window like an iceberg, arctic and destructive in the moment before the world was struck: by day he tried to win a few moments of its company, crouched under the rusting handcuffs in the locked office, reading the reports from the sub-stations. Peace seemed to him the most beautiful word in the language: My peace I give to you, my peace I leave with you: O Lamb of God, who takest away the sins of the world, grant us thy peace. In the Mass he pressed his fingers against his eyes to keep the tears of longing in. — Graham Greene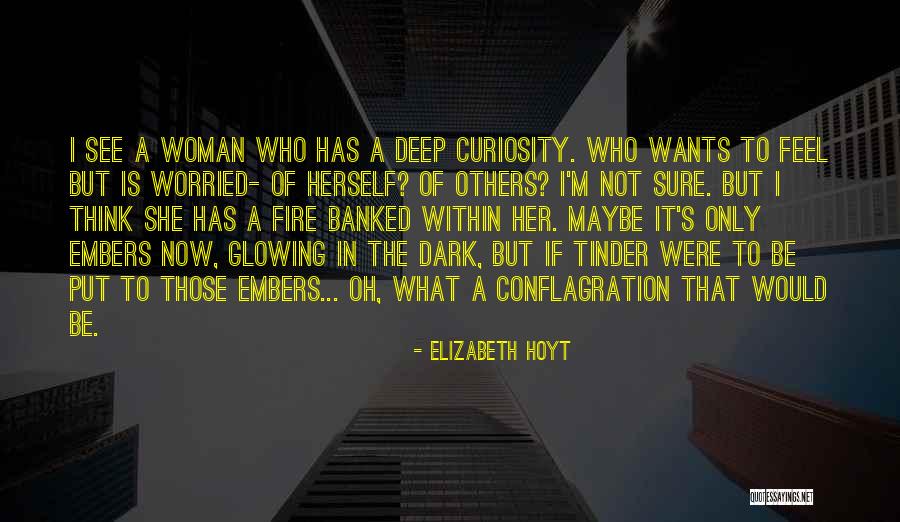 I see a woman who has a deep curiosity. Who wants to feel but is worried- of herself? Of others? I'm not sure. But I think she has a fire banked within her. Maybe it's only embers now, glowing in the dark, but if tinder were to be put to those embers... oh, what a conflagration that would be. — Elizabeth Hoyt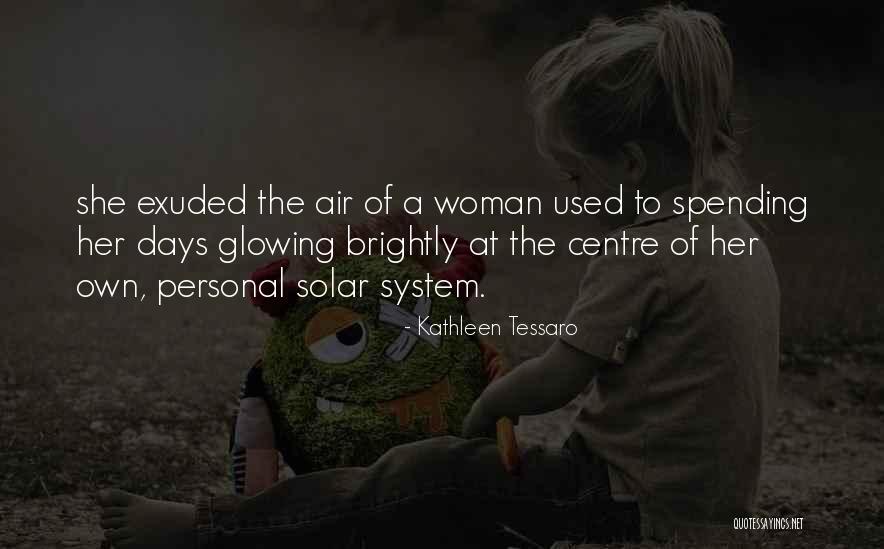 she exuded the air of a woman used to spending her days glowing brightly at the centre of her own, personal solar system. — Kathleen Tessaro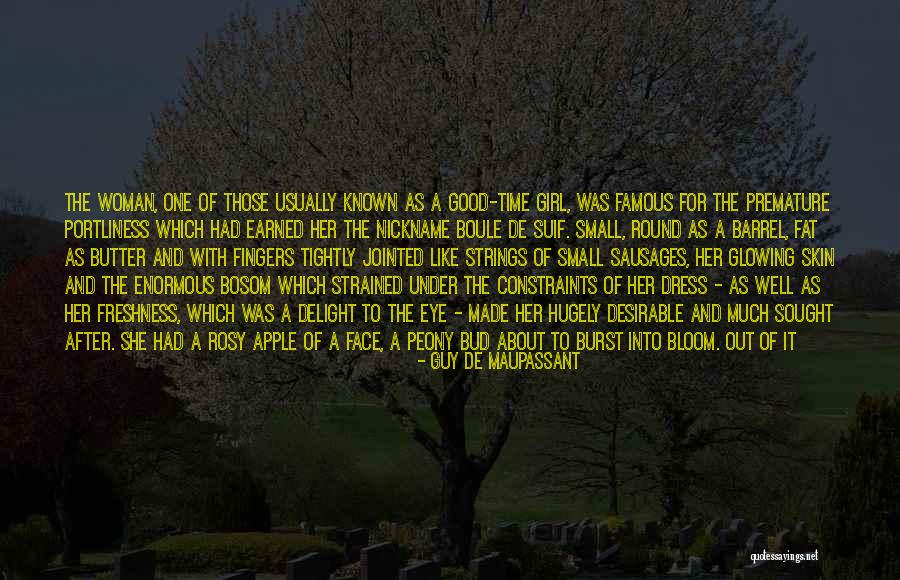 The woman, one of those usually known as a good-time girl, was famous for the premature portliness which had earned her the nickname Boule de Suif. Small, round as a barrel, fat as butter and with fingers tightly jointed like strings of small sausages, her glowing skin and the enormous bosom which strained under the constraints of her dress - as well as her freshness, which was a delight to the eye - made her hugely desirable and much sought after. She had a rosy apple of a face, a peony bud about to burst into bloom. Out of it looked two magnificent dark eyes shaded by thick black lashes. Further down was a charming little mouth complete with invitingly moist lips and tiny, gleaming pearly-white teeth. She was said to possess a variety of other inestimable qualities. — Guy De Maupassant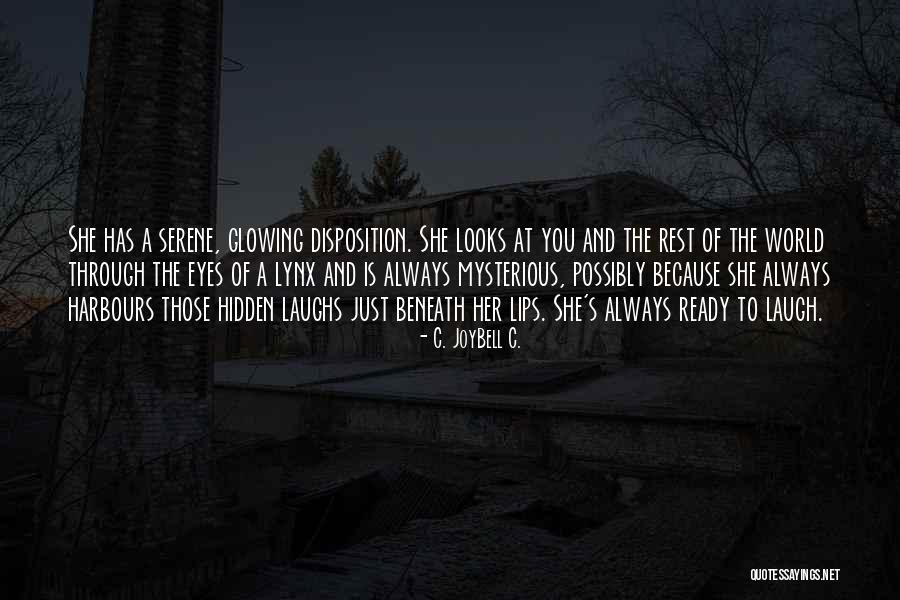 She has a serene, glowing disposition. She looks at you and the rest of the world through the eyes of a lynx and is always mysterious, possibly because she always harbours those hidden laughs just beneath her lips. She's always ready to laugh. — C. JoyBell C.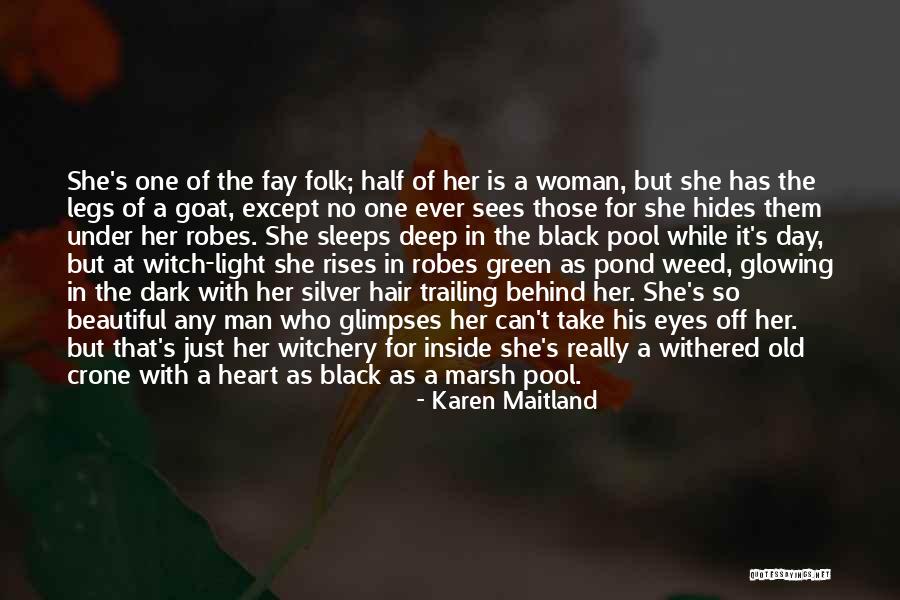 She's one of the fay folk; half of her is a woman, but she has the legs of a goat, except no one ever sees those for she hides them under her robes. She sleeps deep in the black pool while it's day, but at witch-light she rises in robes green as pond weed, glowing in the dark with her silver hair trailing behind her. She's so beautiful any man who glimpses her can't take his eyes off her. but that's just her witchery for inside she's really a withered old crone with a heart as black as a marsh pool. — Karen Maitland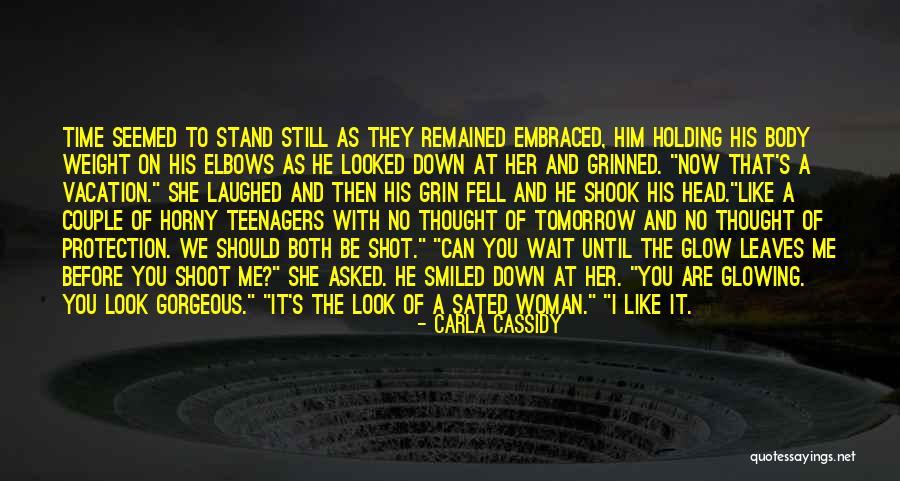 Time seemed to stand still as they remained embraced, him holding his body weight on his elbows as he looked down at her and grinned.
"Now that's a vacation." She laughed and then his grin fell and he shook his head.
"Like a couple of horny teenagers with no thought of tomorrow and no thought of protection. We should both be shot."
"Can you wait until the glow leaves me before you shoot me?" she asked.
He smiled down at her. "You are glowing. You look gorgeous." "It's the look of a sated woman." "I like it. — Carla Cassidy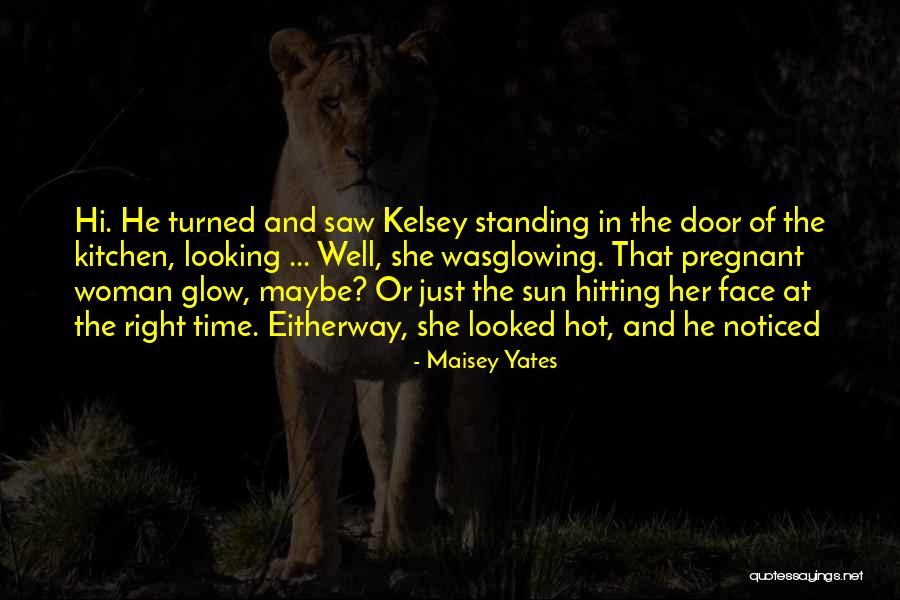 Hi. He turned and saw Kelsey standing in the door of the kitchen, looking ... Well, she was
glowing. That pregnant woman glow, maybe? Or just the sun hitting her face at the right time. Either
way, she looked hot, and he noticed — Maisey Yates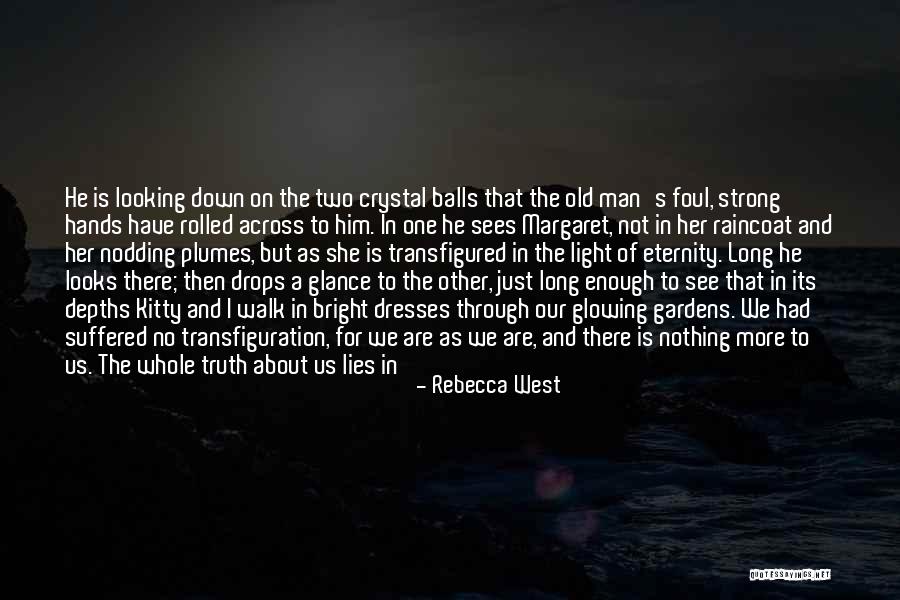 He is looking down on the two crystal balls that the old man's foul, strong hands have rolled across to him. In one he sees Margaret, not in her raincoat and her nodding plumes, but as she is transfigured in the light of eternity. Long he looks there; then drops a glance to the other, just long enough to see that in its depths Kitty and I walk in bright dresses through our glowing gardens. We had suffered no transfiguration, for we are as we are, and there is nothing more to us. The whole truth about us lies in our material seeming. He sighs a deep sigh of delight and puts out his hand to the ball where Margaret shines. His sleeve catches the other one and sends it down to crash in a thousand pieces on the floor. The old man's smile continues to be lewd and benevolent; he is still not more interested in me than in the bare-armed woman. Chris is wholly inclosed in his intentness on his chosen crystal. No one weeps for this shattering of our world. — Rebecca West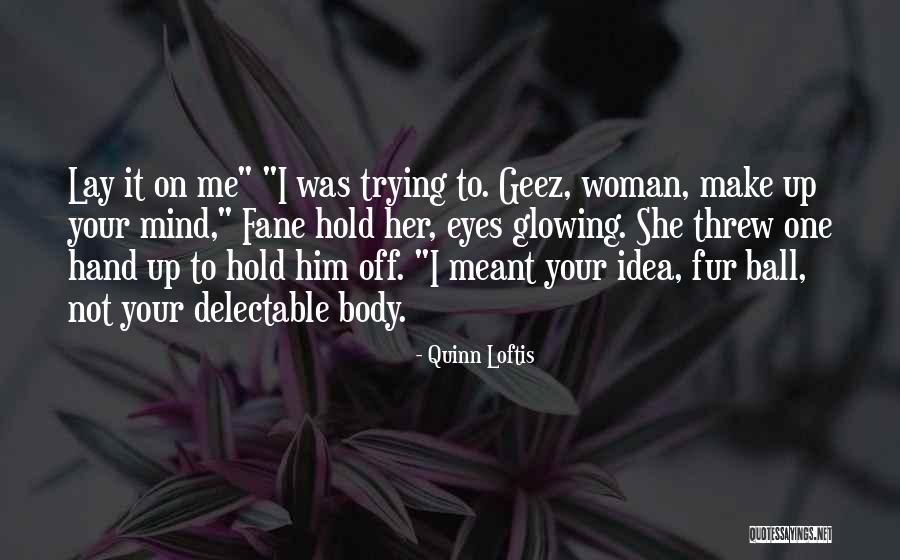 Lay it on me"
"I was trying to. Geez, woman, make up your mind," Fane hold her, eyes glowing. She threw one hand up to hold him off.
"I meant your idea, fur ball, not your delectable body. — Quinn Loftis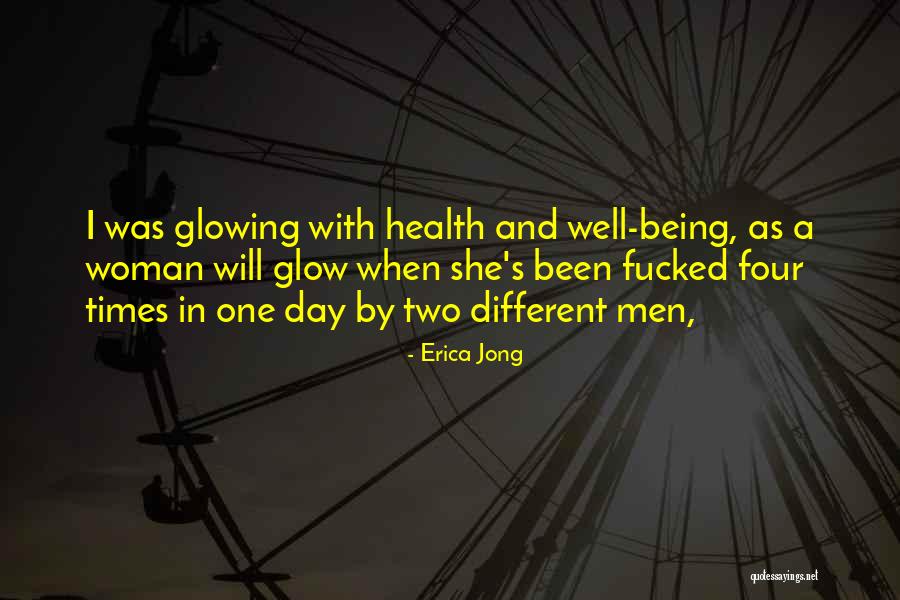 I was glowing with health and well-being, as a woman will glow when she's been fucked four times in one day by two different men, — Erica Jong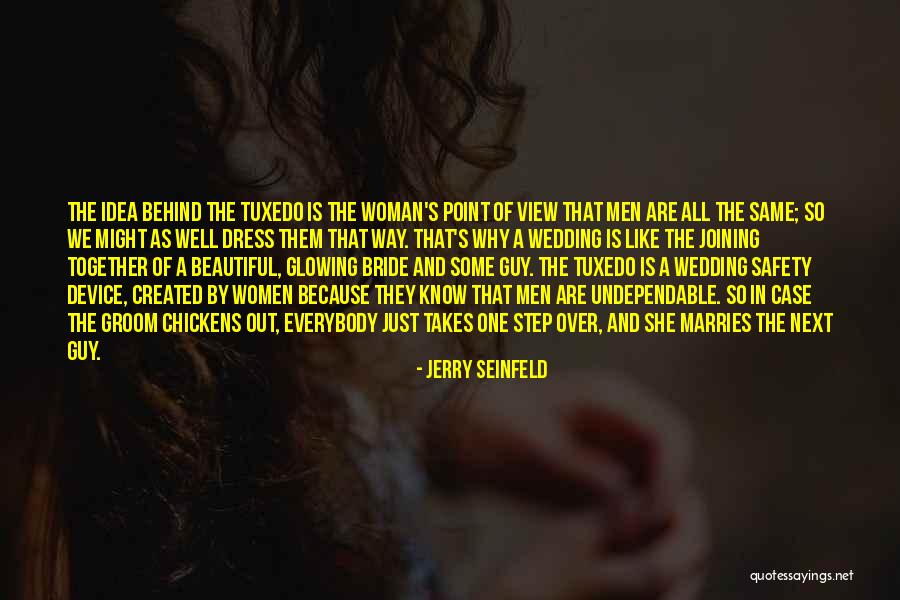 The idea behind the tuxedo is the woman's point of view that men are all the same; so we might as well dress them that way. That's why a wedding is like the joining together of a beautiful, glowing bride and some guy. The tuxedo is a wedding safety device, created by women because they know that men are undependable. So in case the groom chickens out, everybody just takes one step over, and she marries the next guy. — Jerry Seinfeld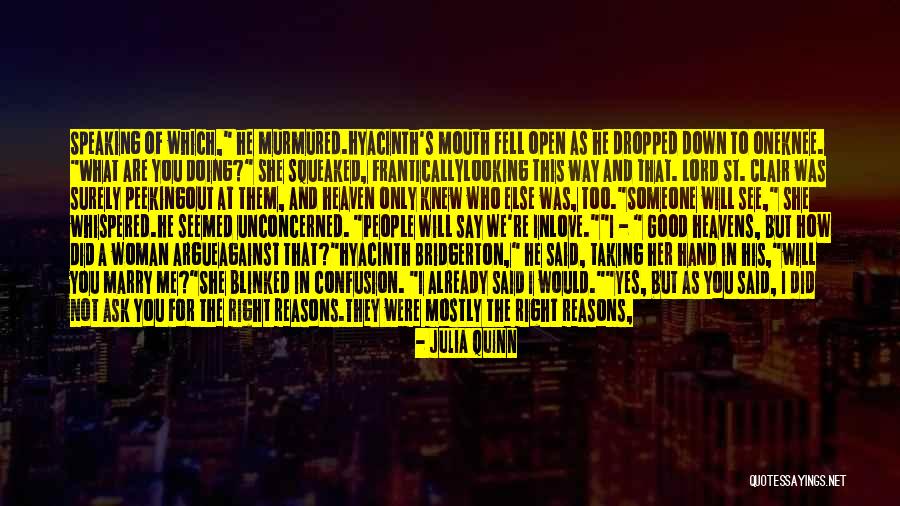 Speaking of which," he murmured.
Hyacinth's mouth fell open as he dropped down to one
knee. "What are you doing?" she squeaked, frantically
looking this way and that. Lord St. Clair was surely peeking
out at them, and heaven only knew who else was, too.
"Someone will see," she whispered.
He seemed unconcerned. "People will say we're in
love."
"I - " Good heavens, but how did a woman argue
against that?
"Hyacinth Bridgerton," he said, taking her hand in his,
"will you marry me?"
She blinked in confusion. "I already said I would."
"Yes, but as you said, I did not ask you for the right reasons.
They were mostly the right reasons, but not all."
"I - I - " She was stumbling on the words, choking on
the emotion.
He was staring up at her, his eyes glowing clear and
blue in the dim light of the streetlamps. "I am asking you
to marry me because I love you," he said — Julia Quinn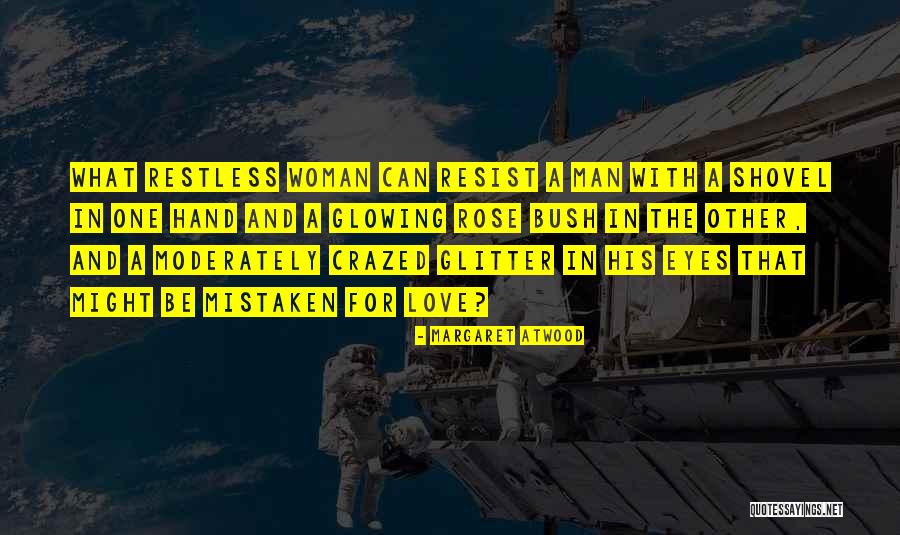 What restless woman can resist a man with a shovel in one hand and a glowing rose bush in the other, and a moderately crazed glitter in his eyes that might be mistaken for love? — Margaret Atwood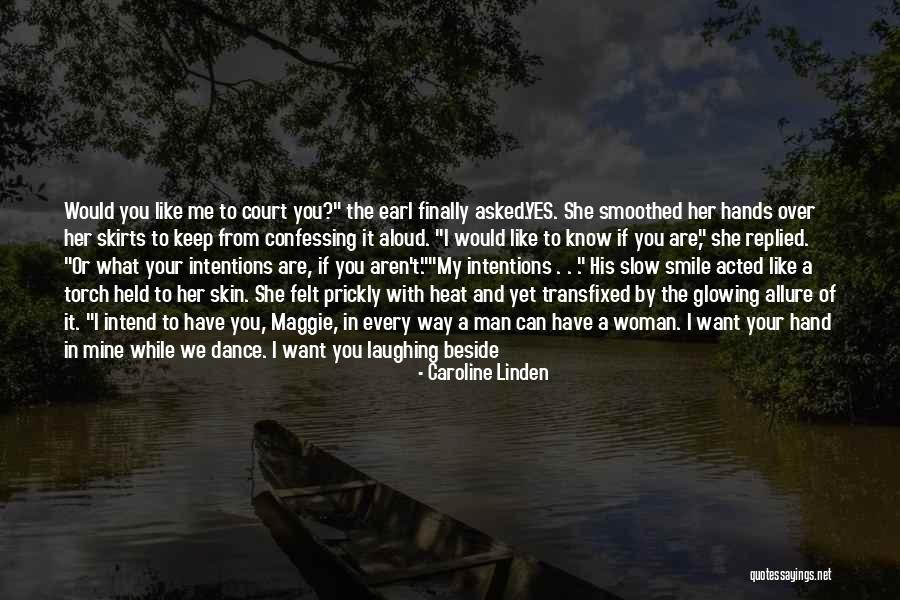 Would you like me to court you?" the earl finally asked.
YES. She smoothed her hands over her skirts to keep from confessing it aloud. "I would like to know if you are," she replied. "Or what your intentions are, if you aren't."
"My intentions . . ." His slow smile acted like a torch held to her skin. She felt prickly with heat and yet transfixed by the glowing allure of it. "I intend to have you, Maggie, in every way a man can have a woman. I want your hand in mine while we dance. I want you laughing beside me in the theater. I want you lying naked in my arms at night. And I want you standing beside me in church, saying 'I will.' — Caroline Linden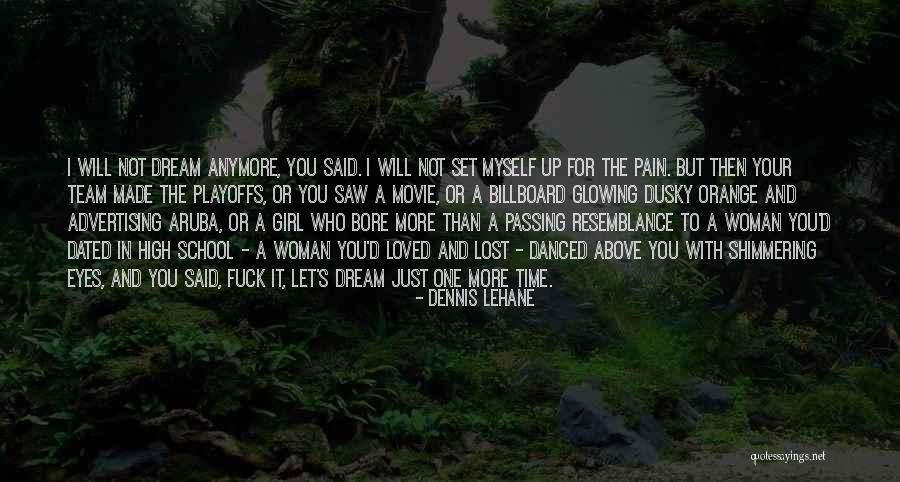 I will not dream anymore, you said. I will not set myself up for the pain. But then your team made the playoffs, or you saw a movie, or a billboard glowing dusky orange and advertising Aruba, or a girl who bore more than a passing resemblance to a woman you'd dated in high school - a woman you'd loved and lost - danced above you with shimmering eyes, and you said, fuck it, let's dream just one more time. — Dennis Lehane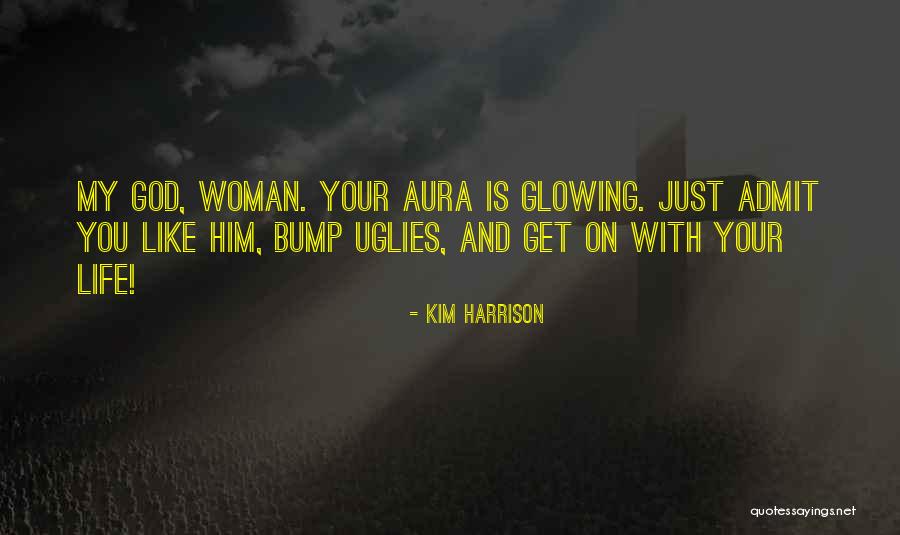 My God, woman. Your aura is glowing. Just admit you like him, bump uglies, and get on with your life! — Kim Harrison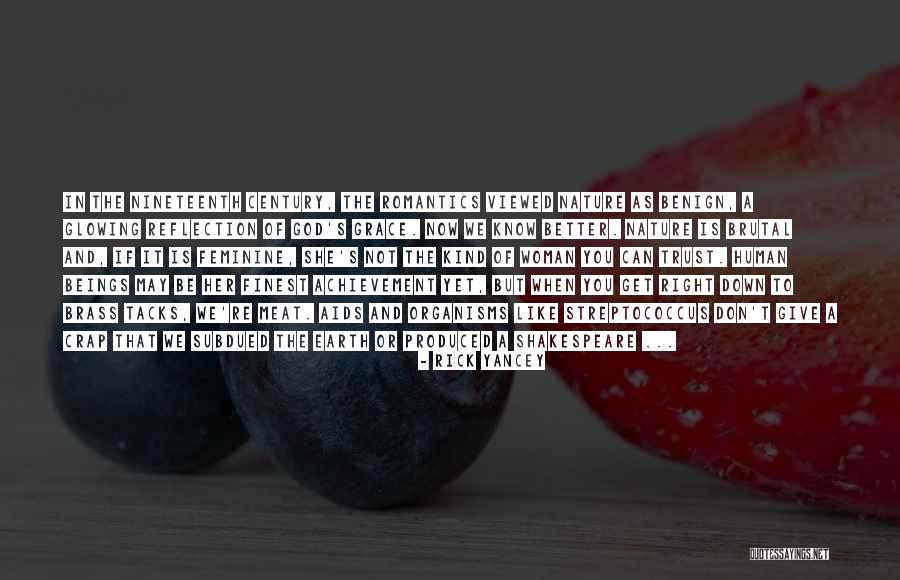 In the nineteenth century, The Romantics viewed Nature as benign, a glowing reflection of God's grace. Now we know better. Nature is brutal and, if it is feminine, she's not the kind of woman you can trust. Human beings may be her finest achievement yet, but when you get right down to brass tacks, we're meat. AIDS and organisms like streptococcus don't give a crap that we subdued the earth or produced a Shakespeare ... — Rick Yancey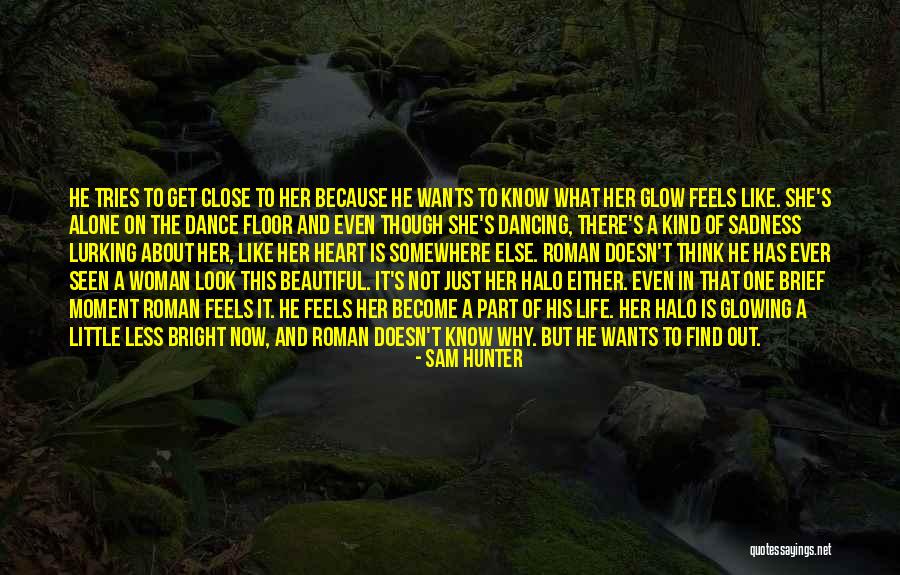 He tries to get close to her because he wants to know what her glow feels like. She's alone on the dance floor and even though she's dancing, there's a kind of sadness lurking about her, like her heart is somewhere else. Roman doesn't think he has ever seen a woman look this beautiful. It's not just her halo either. Even in that one brief moment Roman feels it. He feels her become a part of his life. Her halo is glowing a little less bright now, and Roman doesn't know why. But he wants to find out. — Sam Hunter
That's just it. It is not one of our men."
Donald's head jerked toward him. "Who then, Rufus?"
"Jacq," he spit out her name like a curse.
"What?" Donald peered through the darkness to the campfire, now glowing dimmer. "You are imagining things, my lord."
"It is she. I'm certain."
"Damnation." Donald echoed Rufus' original curse. His expression however reflected his awe. "Rufus, does your woman even know she is a woman?"
............
"When you tire of her, I'm going to marry her," Donald promised reverently. — Delilah Devlin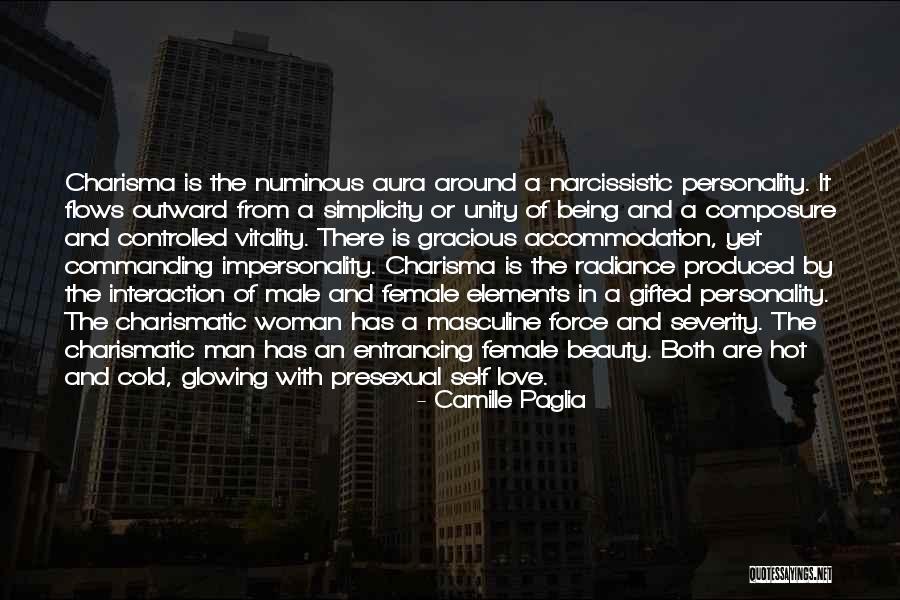 Charisma is the numinous aura around a narcissistic personality. It flows outward from a simplicity or unity of being and a composure and controlled vitality. There is gracious accommodation, yet commanding impersonality. Charisma is the radiance produced by the interaction of male and female elements in a gifted personality. The charismatic woman has a masculine force and severity. The charismatic man has an entrancing female beauty. Both are hot and cold, glowing with presexual self love. — Camille Paglia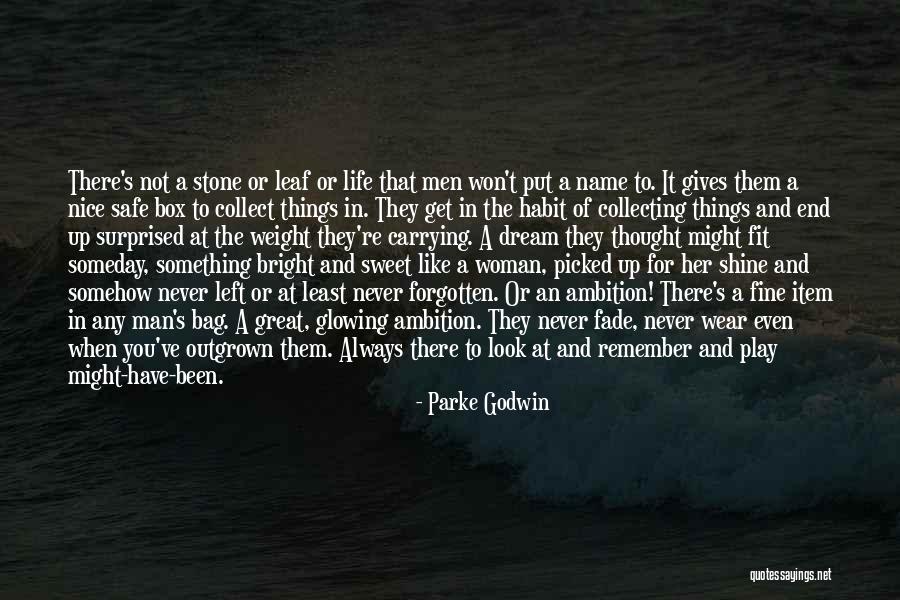 There's not a stone or leaf or life that men won't put a name to. It gives them a nice safe box to collect things in. They get in the habit of collecting things and end up surprised at the weight they're carrying. A dream they thought might fit someday, something bright and sweet like a woman, picked up for her shine and somehow never left or at least never forgotten. Or an ambition! There's a fine item in any man's bag. A great, glowing ambition. They never fade, never wear even when you've outgrown them. Always there to look at and remember and play might-have-been. — Parke Godwin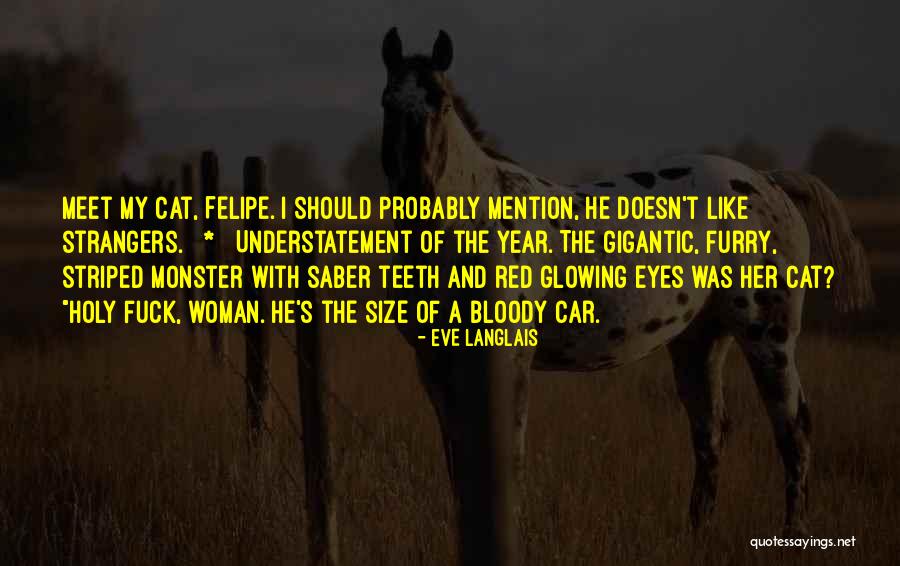 Meet my cat, Felipe. I should probably mention, he doesn't like strangers. * Understatement of the year. The gigantic, furry, striped monster with saber teeth and red glowing eyes was her cat? "Holy fuck, woman. He's the size of a bloody car. — Eve Langlais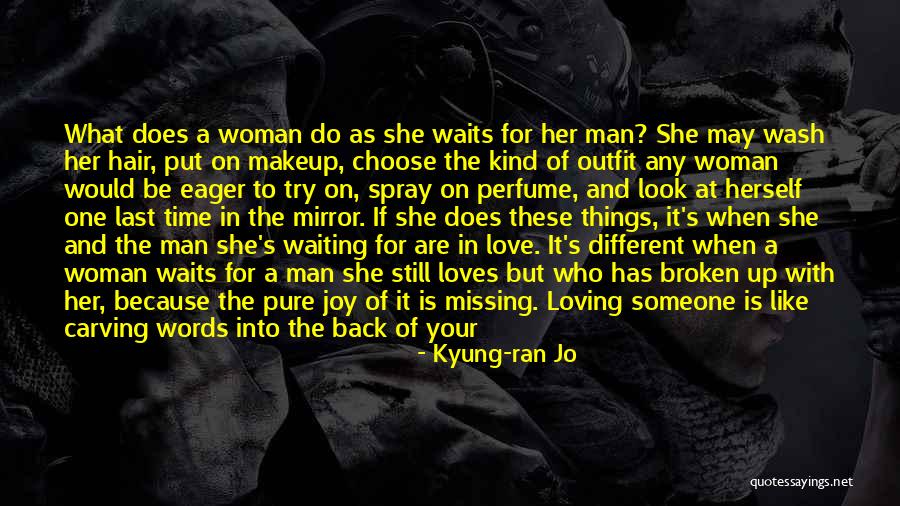 What does a woman do as she waits for her man? She may wash her hair, put on makeup, choose the kind of outfit any woman would be eager to try on, spray on perfume, and look at herself one last time in the mirror. If she does these things, it's when she and the man she's waiting for are in love. It's different when a woman waits for a man she still loves but who has broken up with her, because the pure joy of it is missing. Loving someone is like carving words into the back of your hand. Even if the others can't see the words, they, like glowing letters, stand out in the eyes of the person who's left you. Right now, that's enough for me. — Kyung-ran Jo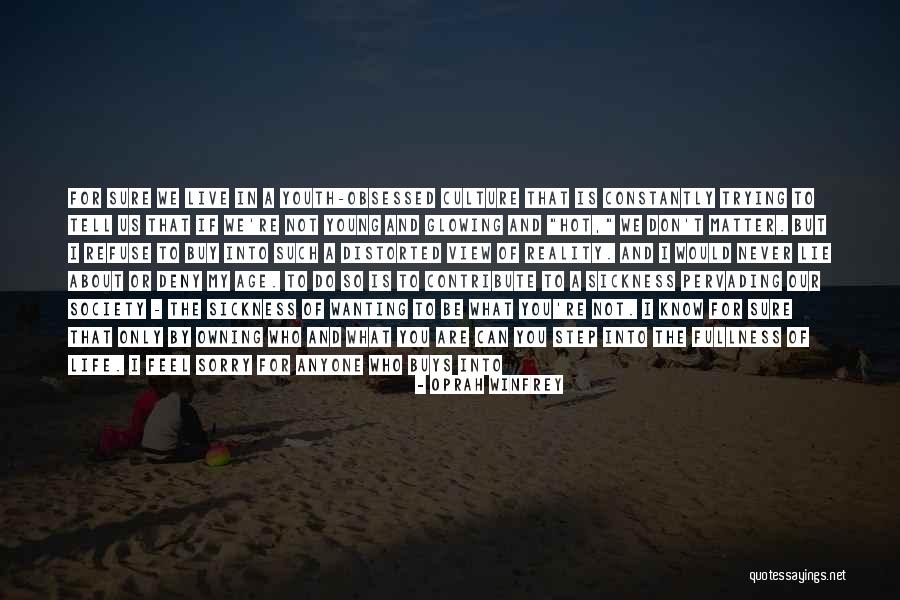 For sure we live in a youth-obsessed culture that is constantly trying to tell us that if we're not young and glowing and "hot," we don't matter. But I refuse to buy into such a distorted view of reality. And I would never lie about or deny my age. To do so is to contribute to a sickness pervading our society - the sickness of wanting to be what you're not. I know for sure that only by owning who and what you are can you step into the fullness of life. I feel sorry for anyone who buys into the myth that you can be what you once were. The way to your best life isn't denial. It's owning every moment and staking a claim to the here and now. You're not the same woman you were a decade ago; if you're lucky, you're not the same woman you were last year. The whole point of aging, as I see it, is change. If we let them, our experiences can keep teaching us about ourselves. I celebrate that. Honor it. Hold it in reverence. And I'm grateful for every age I'm blessed to become. — Oprah Winfrey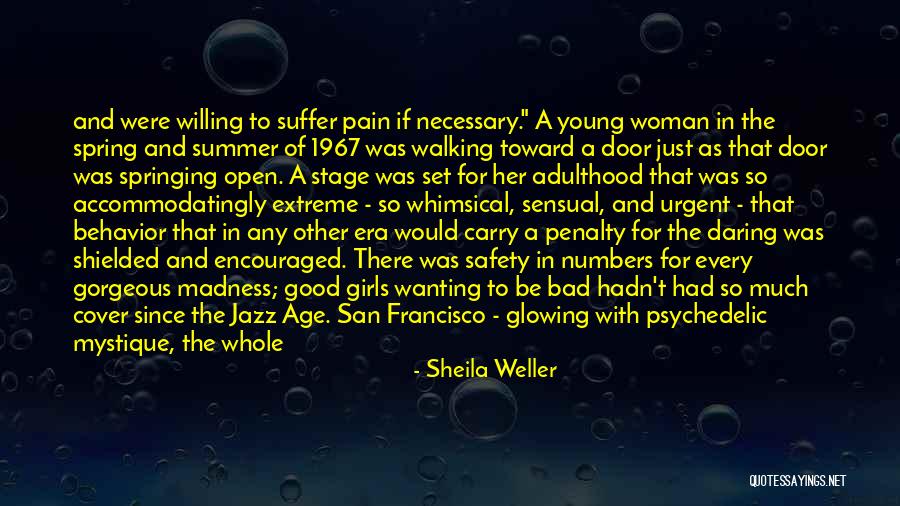 and were willing to suffer pain if necessary." A young woman in the spring and summer of 1967 was walking toward a door just as that door was springing open. A stage was set for her adulthood that was so accommodatingly extreme - so whimsical, sensual, and urgent - that behavior that in any other era would carry a penalty for the daring was shielded and encouraged. There was safety in numbers for every gorgeous madness; good girls wanting to be bad hadn't had so much cover since the Jazz Age. San Francisco - glowing with psychedelic mystique, the whole city plastered with Fillmore and Avalon posters of tangle-haired goddess girls - was preparing for a convocation (of hapless runaways from provincial suburbs, it would turn out), the Summer of Love, through which the term "flower children" would be coined, while in harsh, emotion-sparking contrast, helicopters were dropping thousands of U.S. boys into the swamps of Vietnam. — Sheila Weller