Get Your Hands Dirty Quotes & Sayings
Enjoy reading and share 31 famous quotes about Get Your Hands Dirty with everyone.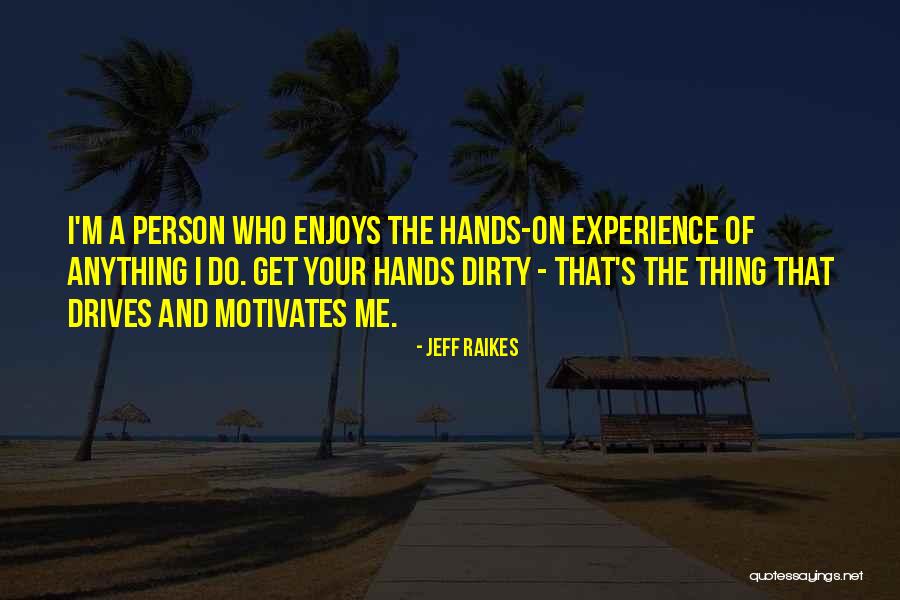 I'm a person who enjoys the hands-on experience of anything I do. Get your hands dirty - that's the thing that drives and motivates me. — Jeff Raikes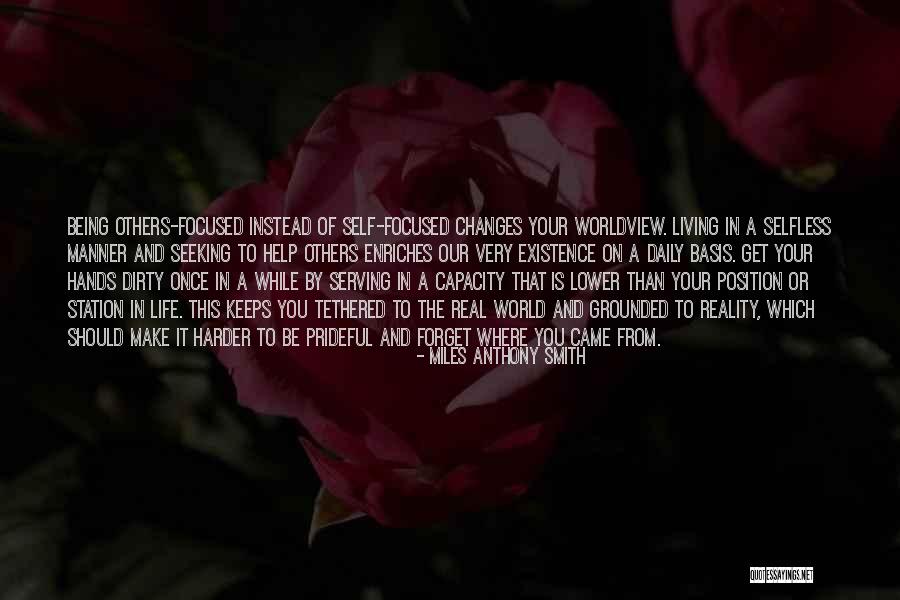 Being others-focused instead of self-focused changes your worldview. Living in a selfless manner and seeking to help others enriches our very existence on a daily basis. Get your hands dirty once in a while by serving in a capacity that is lower than your position or station in life. This keeps you tethered to the real world and grounded to reality, which should make it harder to be prideful and forget where you came from. — Miles Anthony Smith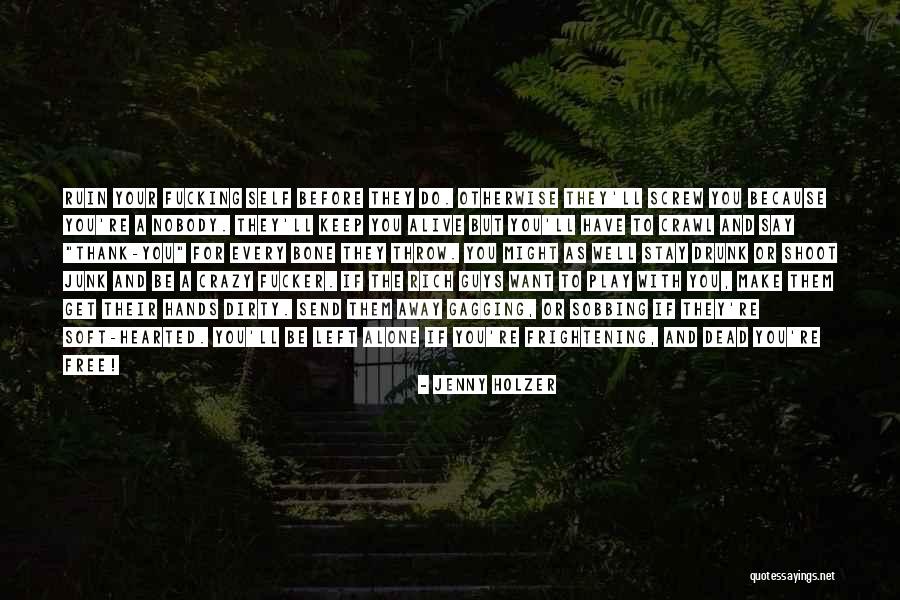 Ruin your fucking self before they do. Otherwise they'll screw you because you're a nobody. They'll keep you alive but you'll have to crawl and say "thank-you" for every bone they throw. You might as well stay drunk or shoot junk and be a crazy fucker. If the rich guys want to play with you, make them get their hands dirty. Send them away gagging, or sobbing if they're soft-hearted. You'll be left alone if you're frightening, and dead you're free! — Jenny Holzer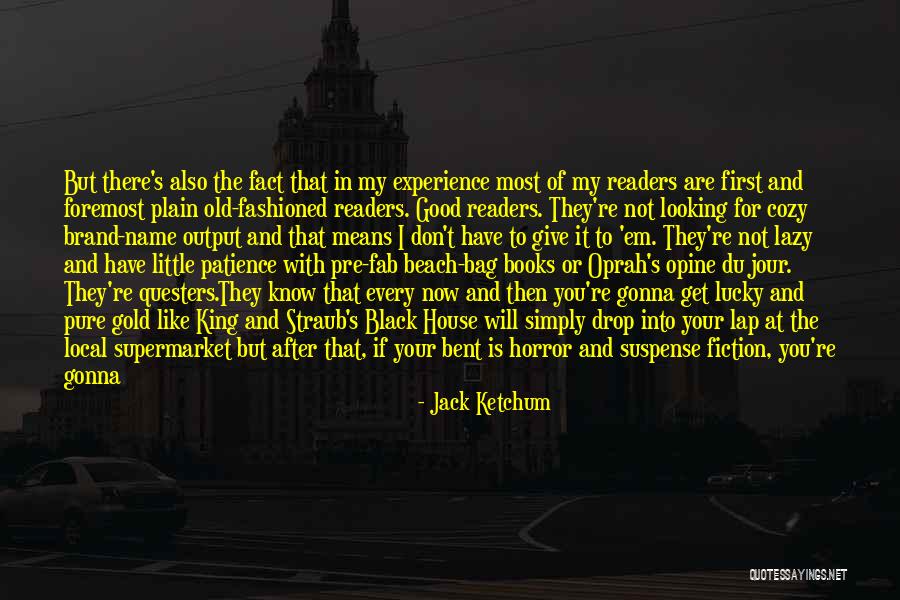 But there's also the fact that in my experience most of my readers are first and foremost plain old-fashioned readers. Good readers. They're not looking for cozy brand-name output and that means I don't have to give it to 'em. They're not lazy and have little patience with pre-fab beach-bag books or Oprah's opine du jour. They're questers.
They know that every now and then you're gonna get lucky and pure gold like King and Straub's Black House will simply drop into your lap at the local supermarket but after that, if your bent is horror and suspense fiction, you're gonna have to get your hands dirty and root around for more. Find a Ramsey Campbell or an Edward Lee. They expect diversity and search it out. They want what all good readers want - to be taken somewhere in a book or a story that's really worth visiting for a while. Maybe even worth thinking about after.
If that place happens to scare the hell out of you all the better. — Jack Ketchum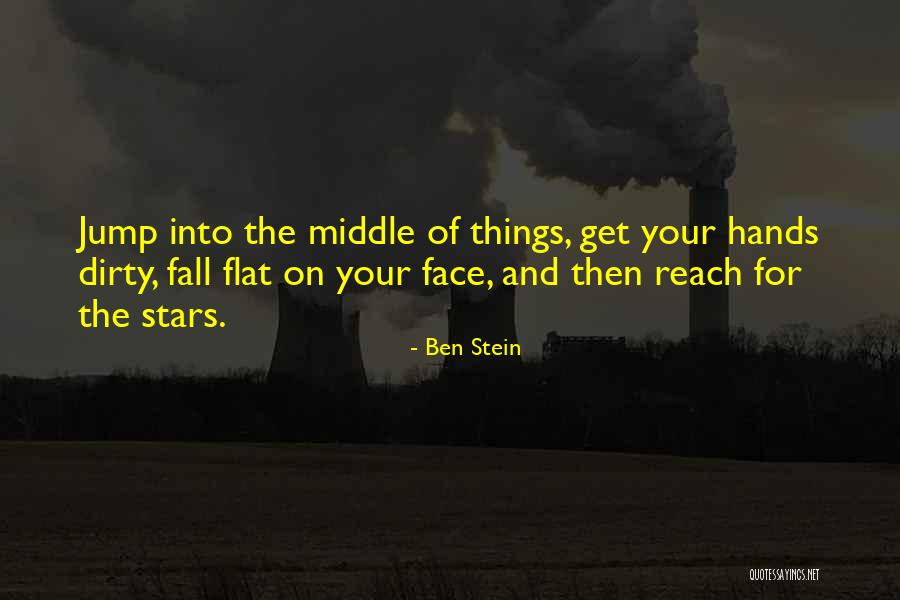 Jump into the middle of things, get your hands dirty, fall flat on your face, and then reach for the stars. — Ben Stein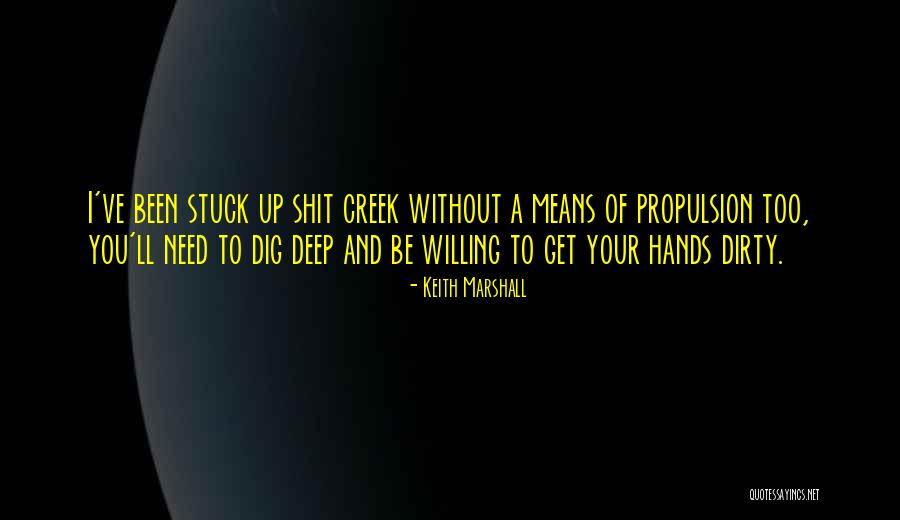 I've been stuck up shit creek without a means of propulsion too, you'll need to dig deep and be willing to get your hands dirty. — Keith Marshall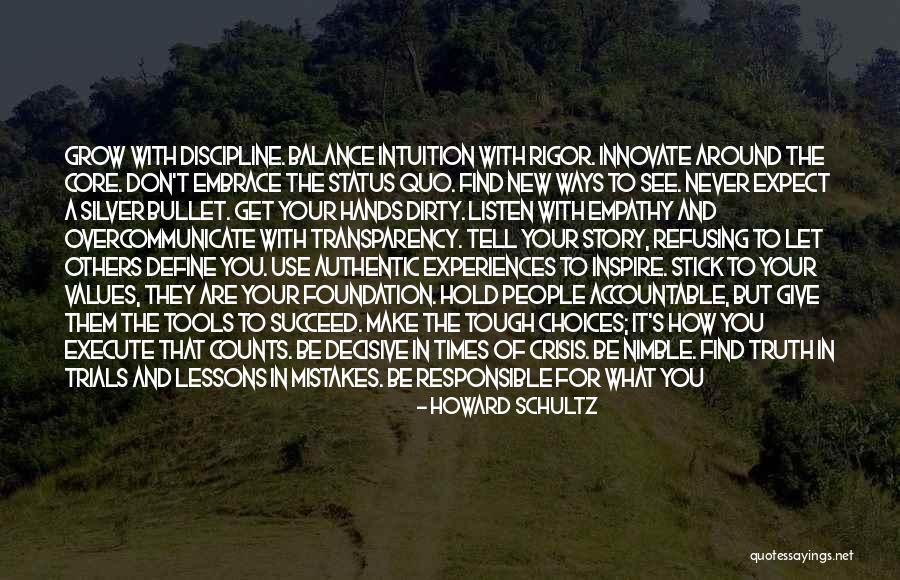 Grow with discipline. Balance intuition with rigor. Innovate around the core. Don't embrace the status quo. Find new ways to see. Never expect a silver bullet. Get your hands dirty. Listen with empathy and overcommunicate with transparency. Tell your story, refusing to let others define you. Use authentic experiences to inspire. Stick to your values, they are your foundation. Hold people accountable, but give them the tools to succeed. Make the tough choices; it's how you execute that counts. Be decisive in times of crisis. Be nimble. Find truth in trials and lessons in mistakes. Be responsible for what you see, hear, and do. Believe. — Howard Schultz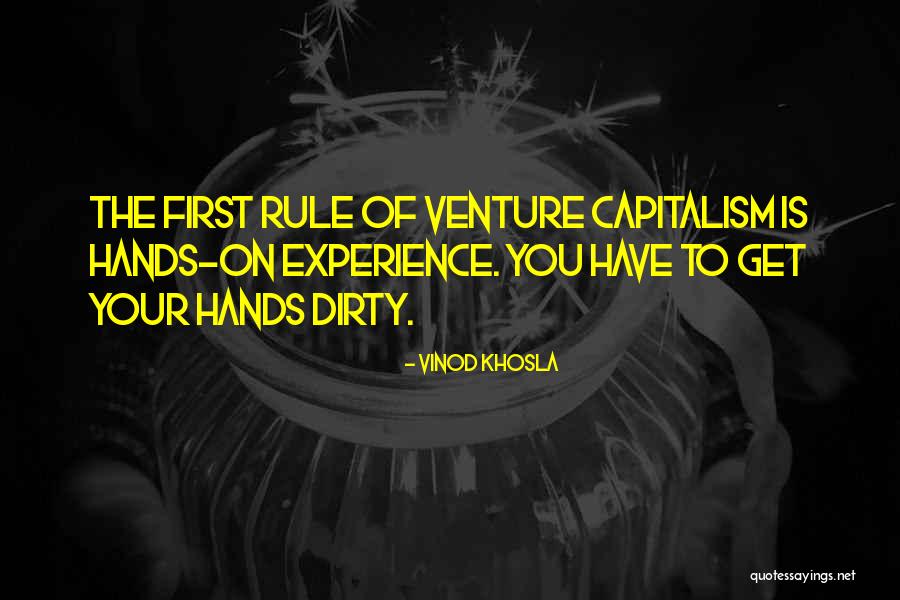 The first rule of venture capitalism is hands-on experience. You have to get your hands dirty. — Vinod Khosla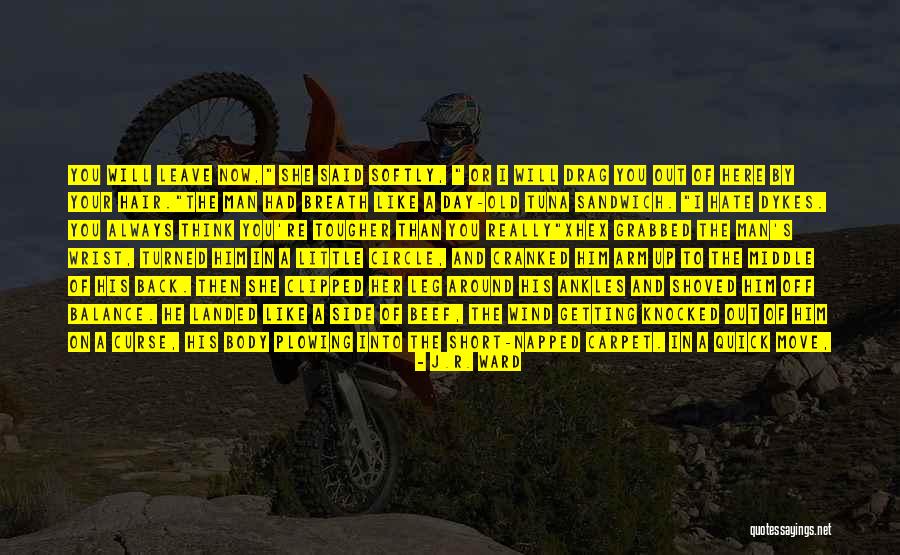 You will leave now," she said softly, " or I will drag you out of here by your hair."
The man had breath like a day-old tuna sandwich. "I hate dykes. You always think you're tougher than you really
"
Xhex grabbed the man's wrist, turned him in a little circle, and cranked him arm up to the middle of his back. Then she clipped her leg around his ankles and shoved him off balance. He landed like a side of beef, the wind getting knocked out of him on a curse, his body plowing into the short-napped carpet. In a quick move, she bent down, buried one hand in his gelled-up hair, and locked the other on the collar of his suit jacket. As she draggep him face-first to the side exit, she was multitasking : creating a scene, commiting both an assault and a battery, and running the risk of a brawl if his buddies in the Hall of Fucktards got involved. But you had to put on a show every once in a while. To keep the peace, you had to get your hands dirty every once in a while. — J.R. Ward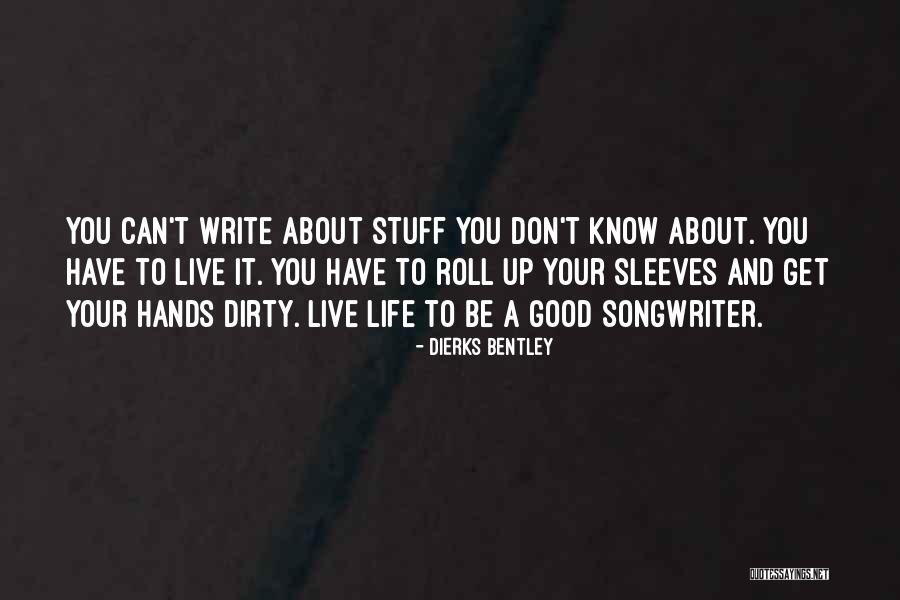 You can't write about stuff you don't know about. You have to live it. You have to roll up your sleeves and get your hands dirty. Live life to be a good songwriter. — Dierks Bentley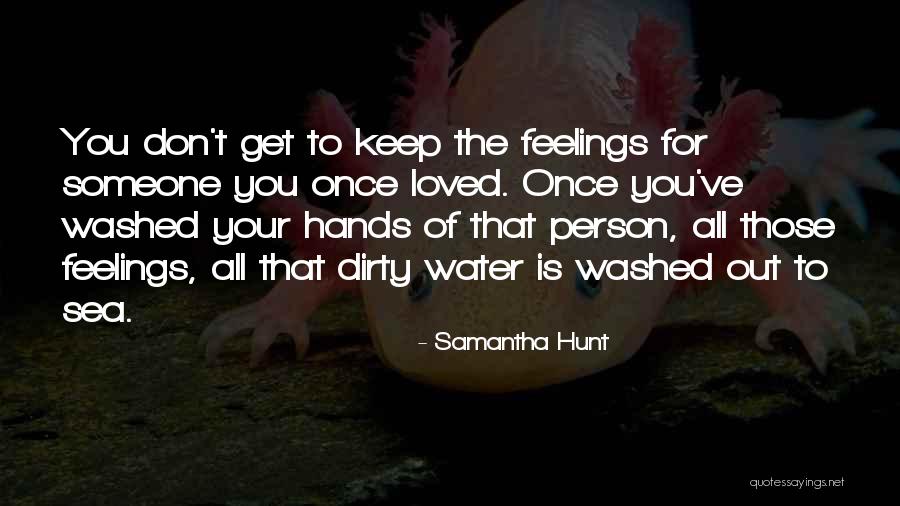 You don't get to keep the feelings for someone you once loved. Once you've washed your hands of that person, all those feelings, all that dirty water is washed out to sea. — Samantha Hunt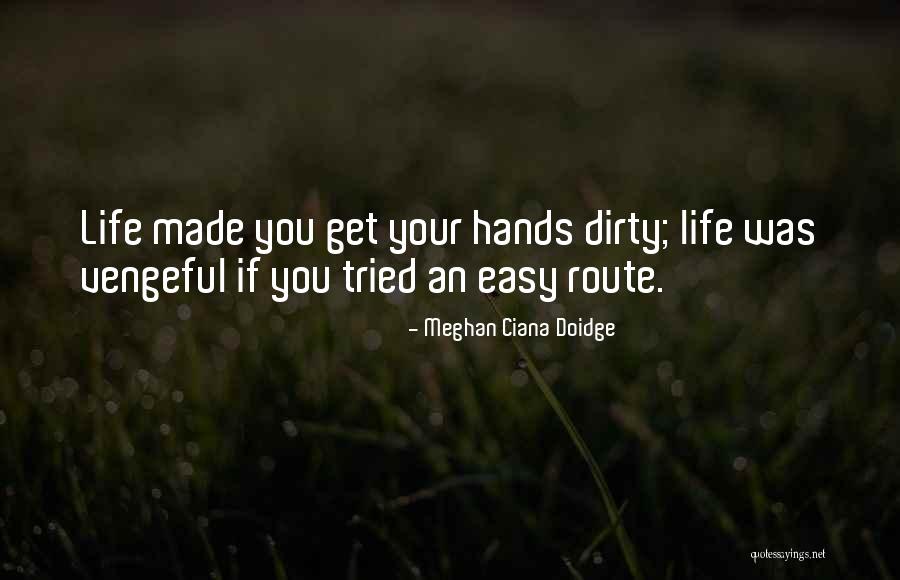 Life made you get your hands dirty; life was vengeful if you tried an easy route. — Meghan Ciana Doidge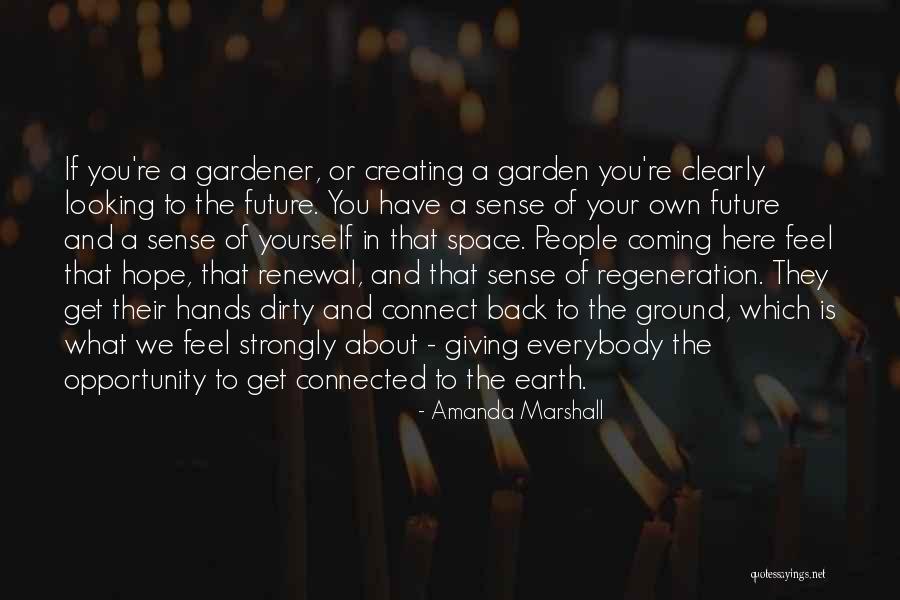 If you're a gardener, or creating a garden you're clearly looking to the future. You have a sense of your own future and a sense of yourself in that space. People coming here feel that hope, that renewal, and that sense of regeneration. They get their hands dirty and connect back to the ground, which is what we feel strongly about - giving everybody the opportunity to get connected to the earth. — Amanda Marshall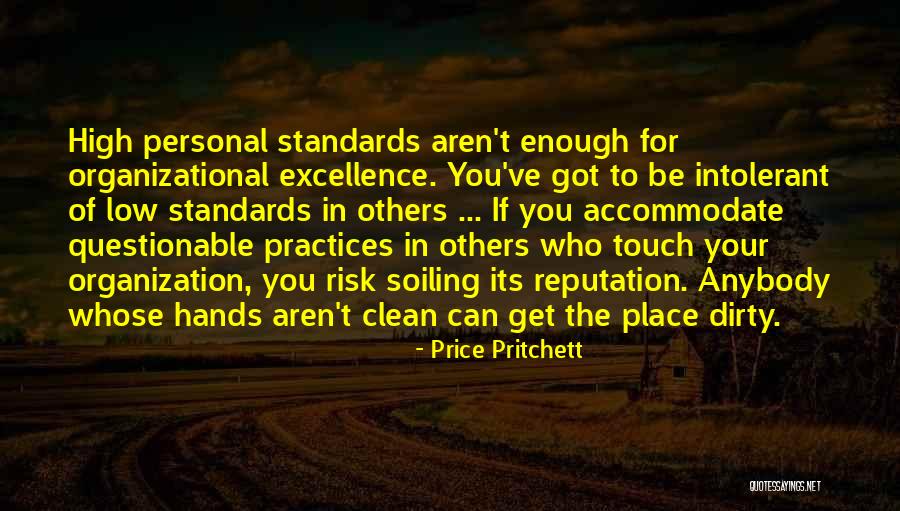 High personal standards aren't enough for organizational excellence. You've got to be intolerant of low standards in others ... If you accommodate questionable practices in others who touch your organization, you risk soiling its reputation. Anybody whose hands aren't clean can get the place dirty. — Price Pritchett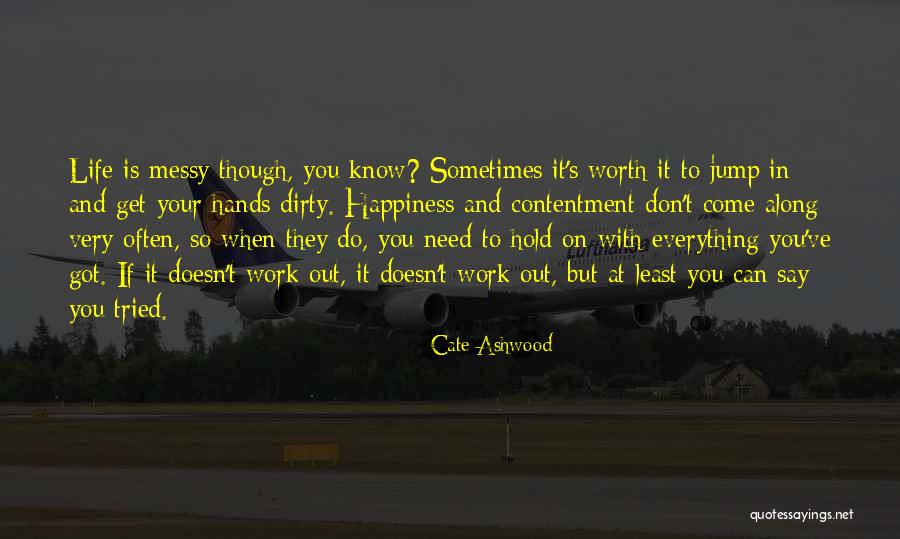 Life is messy though, you know? Sometimes it's worth it to jump in and get your hands dirty. Happiness and contentment don't come along very often, so when they do, you need to hold on with everything you've got. If it doesn't work out, it doesn't work out, but at least you can say you tried. — Cate Ashwood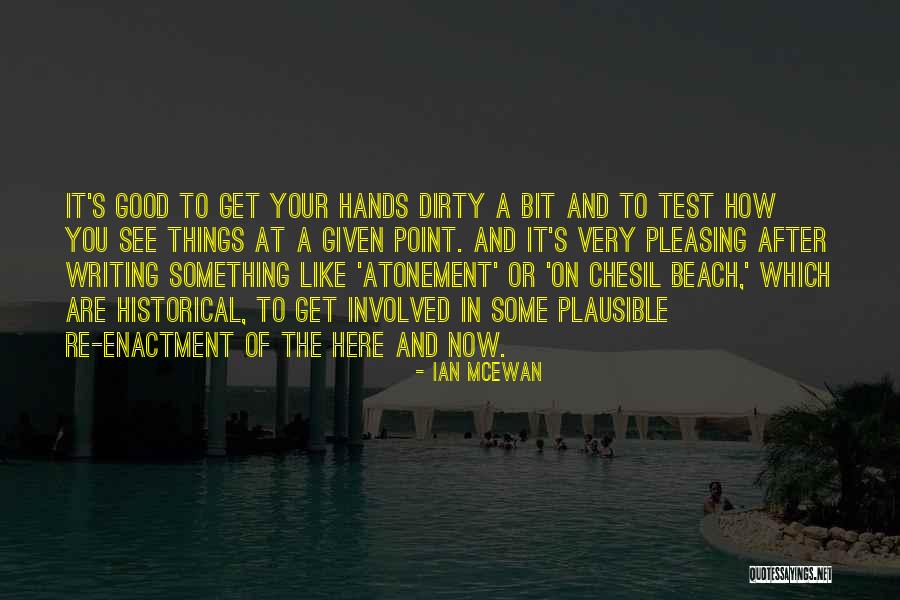 It's good to get your hands dirty a bit and to test how you see things at a given point. And it's very pleasing after writing something like 'Atonement' or 'On Chesil Beach,' which are historical, to get involved in some plausible re-enactment of the here and now. — Ian McEwan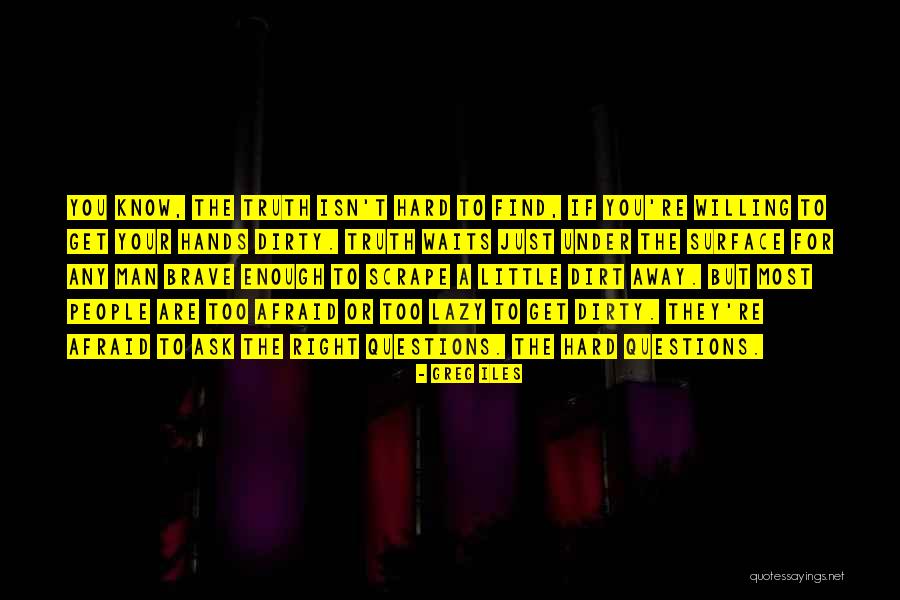 You know, the truth isn't hard to find, if you're willing to get your hands dirty. Truth waits just under the surface for any man brave enough to scrape a little dirt away. But most people are too afraid or too lazy to get dirty. They're afraid to ask the right questions. The hard questions. — Greg Iles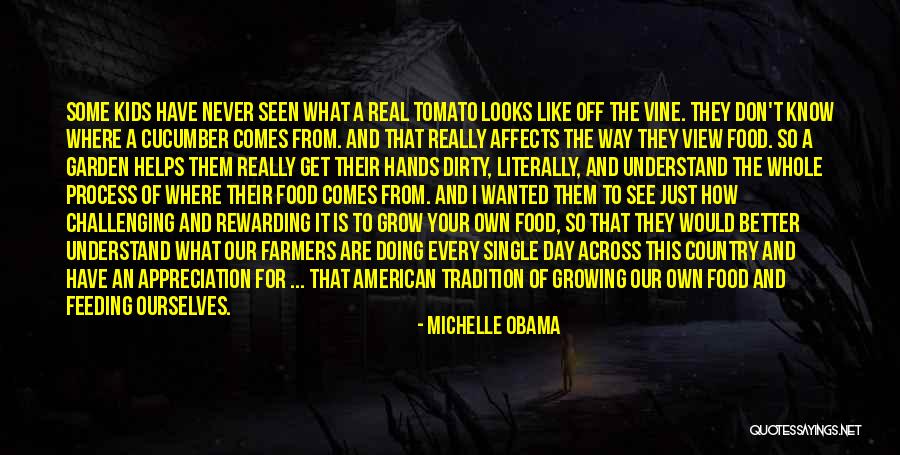 Some kids have never seen what a real tomato looks like off the vine. They don't know where a cucumber comes from. And that really affects the way they view food. So a garden helps them really get their hands dirty, literally, and understand the whole process of where their food comes from. And I wanted them to see just how challenging and rewarding it is to grow your own food, so that they would better understand what our farmers are doing every single day across this country and have an appreciation for ... that American tradition of growing our own food and feeding ourselves. — Michelle Obama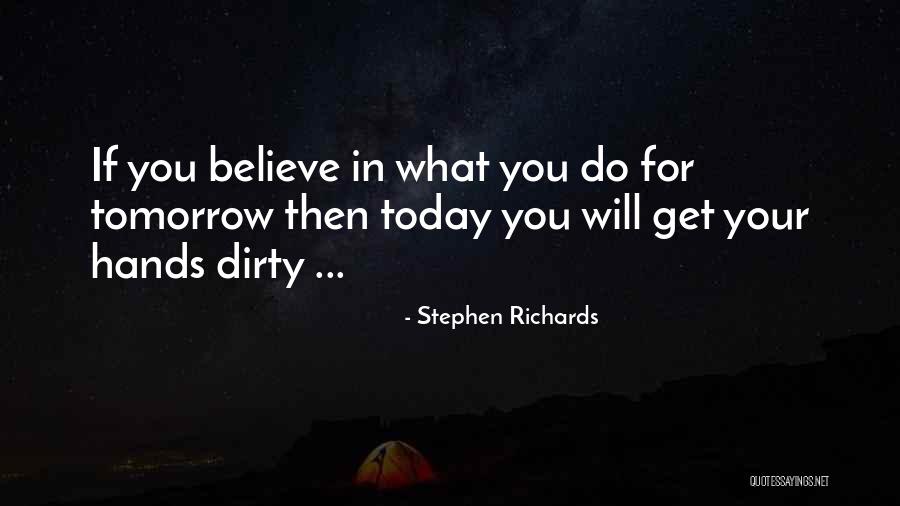 If you believe in what you do for tomorrow then today you will get your hands dirty ... — Stephen Richards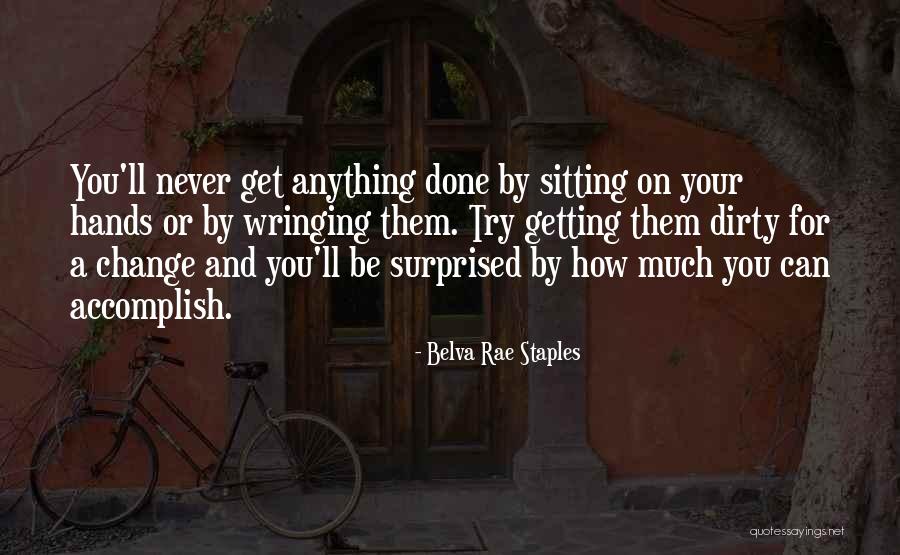 You'll never get anything done by sitting on your hands or by wringing them. Try getting them dirty for a change and you'll be surprised by how much you can accomplish. — Belva Rae Staples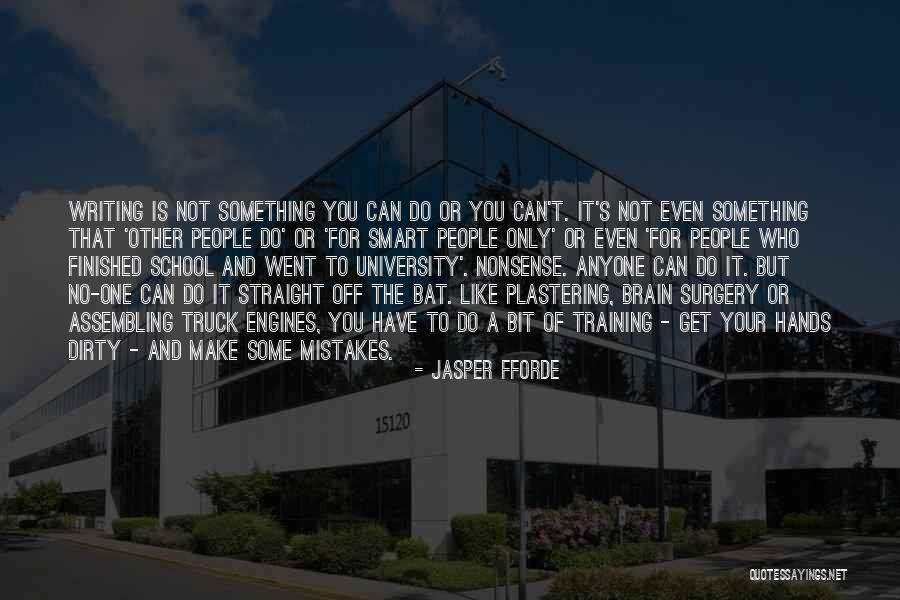 Writing is not something you can do or you can't. It's not even something that 'other people do' or 'for smart people only' or even 'for people who finished school and went to University'. Nonsense. Anyone can do it. But no-one can do it straight off the bat. Like plastering, brain surgery or assembling truck engines, you have to do a bit of training - get your hands dirty - and make some mistakes. — Jasper Fforde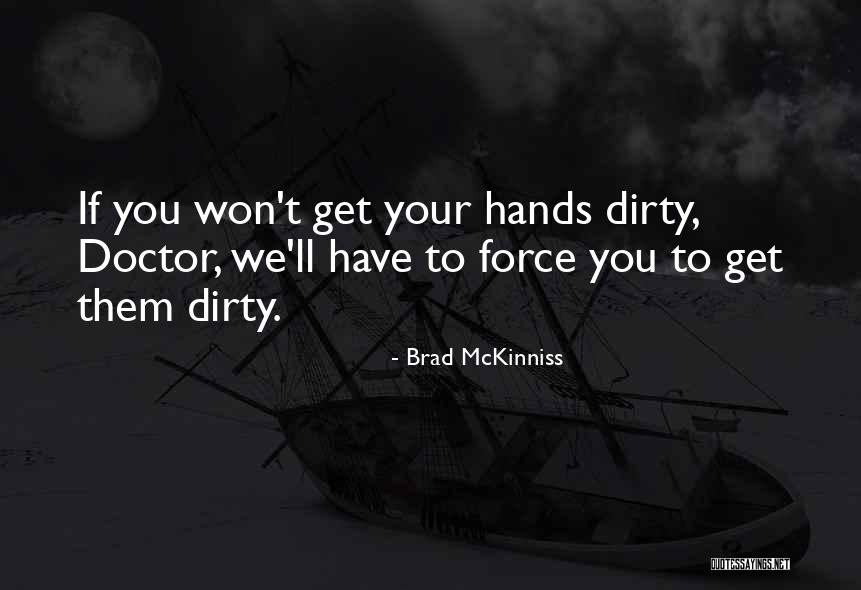 If you won't get your hands dirty, Doctor, we'll have to force you to get them dirty. — Brad McKinniss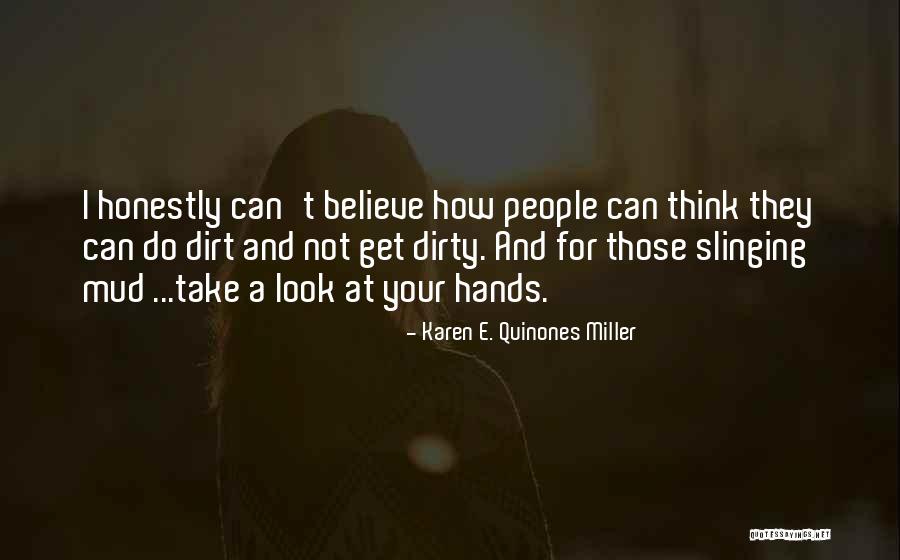 I honestly can't believe how people can think they can do dirt and not get dirty.

And for those slinging mud ...take a look at your hands. — Karen E. Quinones Miller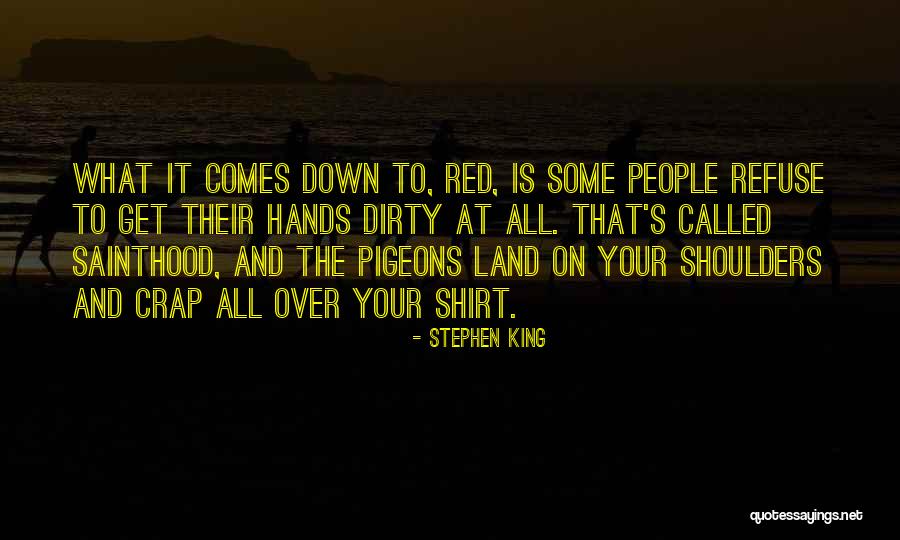 What it comes down to, Red, is some people refuse to get their hands dirty at all. That's called sainthood, and the pigeons land on your shoulders and crap all over your shirt. — Stephen King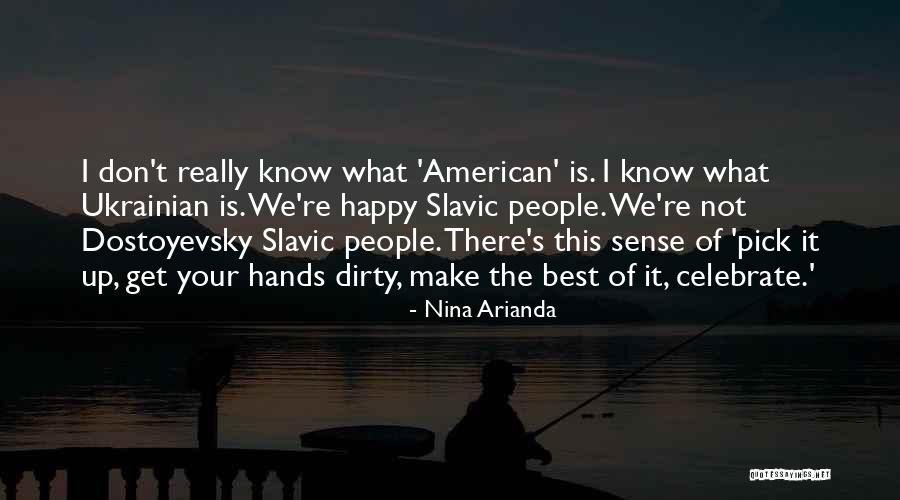 I don't really know what 'American' is. I know what Ukrainian is. We're happy Slavic people. We're not Dostoyevsky Slavic people. There's this sense of 'pick it up, get your hands dirty, make the best of it, celebrate.' — Nina Arianda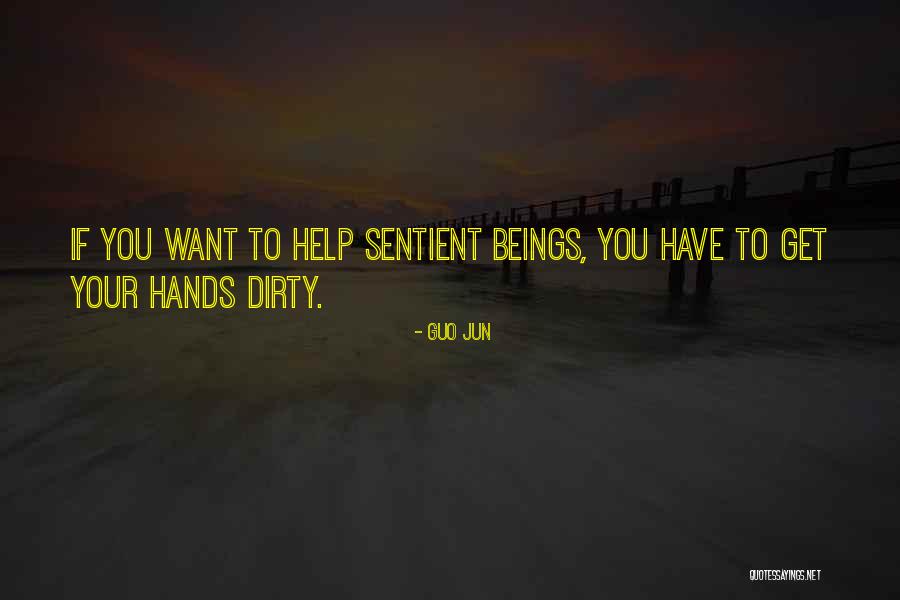 If you want to help sentient beings, you have to get your hands dirty. — Guo Jun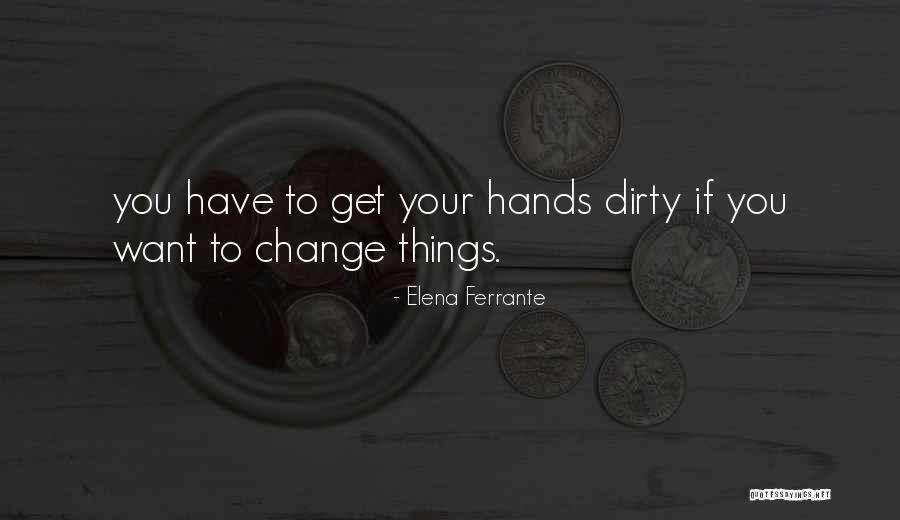 you have to get your hands dirty if you want to change things. — Elena Ferrante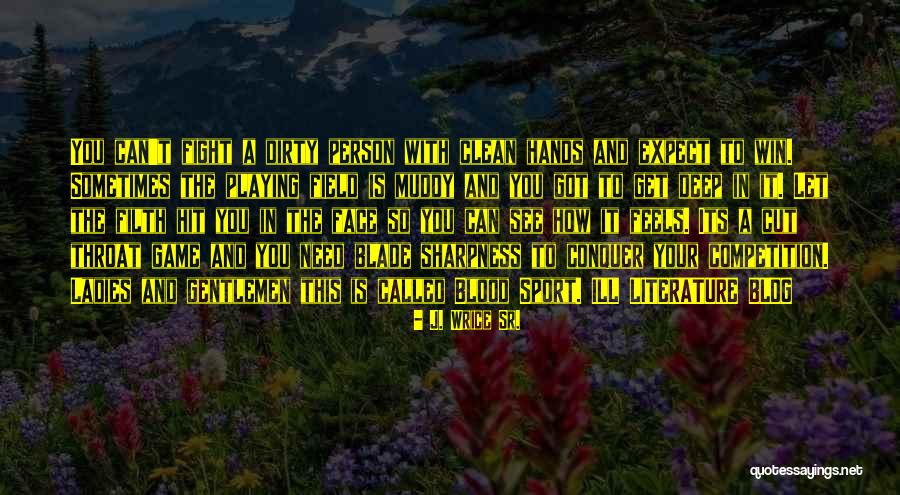 You can't fight a dirty person with clean hands and expect to win. Sometimes the playing field is muddy and you got to get deep in it. Let the filth hit you in the face so you can see how it feels. Its a cut throat game and you need blade sharpness to conquer your competition. Ladies and gentlemen this is called Blood Sport.

ILL LITERATURE BLOG — J. Wrice Sr.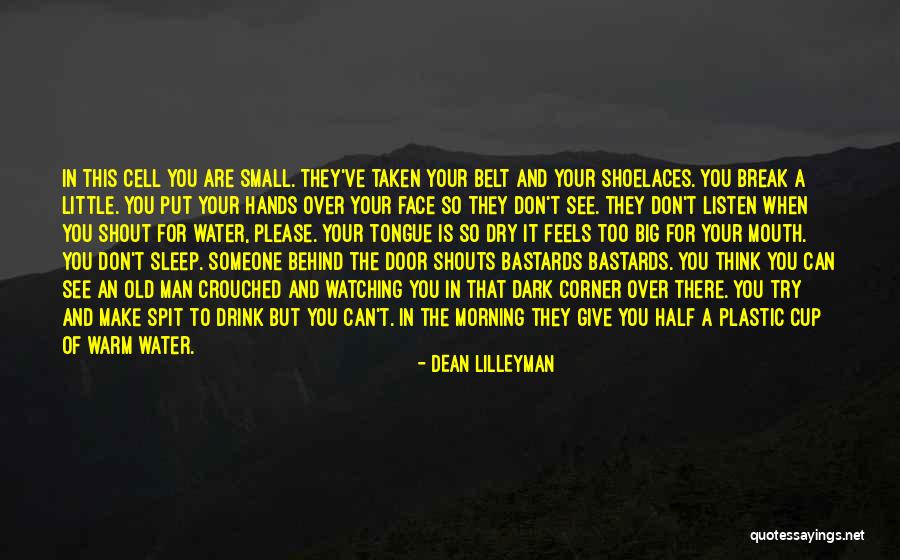 In this cell you are small. They've taken your belt and your shoelaces. You break a little. You put your hands over your face so they don't see. They don't listen when you shout for water, Please. Your tongue is so dry it feels too big for your mouth. You don't sleep. Someone behind the door shouts BASTARDS BASTARDS. You think you can see an old man crouched and watching you in that dark corner over there. You try and make spit to drink but you can't. In the morning they give you half a plastic cup of warm water. Across your tongue they drag a cotton bud which they drop into a plastic bag with your name on it. They take your fingerprints, your photograph, and then when you get home, she tells you she's pregnant. — Dean Lilleyman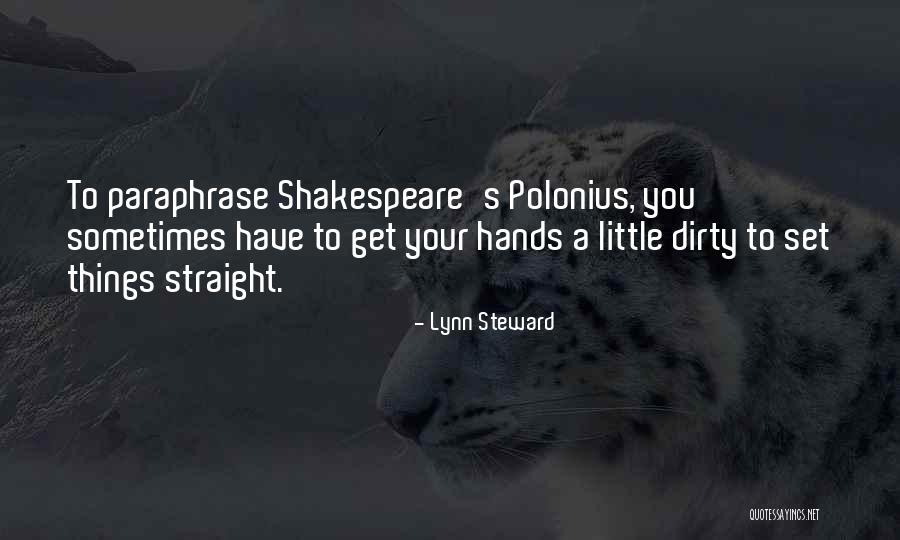 To paraphrase Shakespeare's Polonius, you sometimes have to get your hands a little dirty to set things straight. — Lynn Steward
Let me tell you what I think about your fucking rules," he said, his voice dripping with venom as he pushed past Liam. "You sit up in your room and you pretend like you want what's best for everyone, but you don't do any of the work yourself. I can't tell if you're just a spoiled little shit, or if you're too worried about getting your pretty princess hands dirty, but it sucks. You are fucking awful, and you sure as hell don't have me fooled ... You talk about us all being equals, like we're one big rainbow of peace and all that bullshit, but you never once believed that yourself, did you? You won't let anyone contact their parents, and you don't care about the kids that are still trapped in camps your father set up. You wouldn't even listen when the Watch kids brought it up. So what I want to know is, why can't we leave? ... What's the point of this place, other than for you to get off on how great you are and toy with people and their feelings? — Alexandra Bracken