Garden Soil Quotes & Sayings
Enjoy reading and share 83 famous quotes about Garden Soil with everyone.
Top Garden Soil Quotes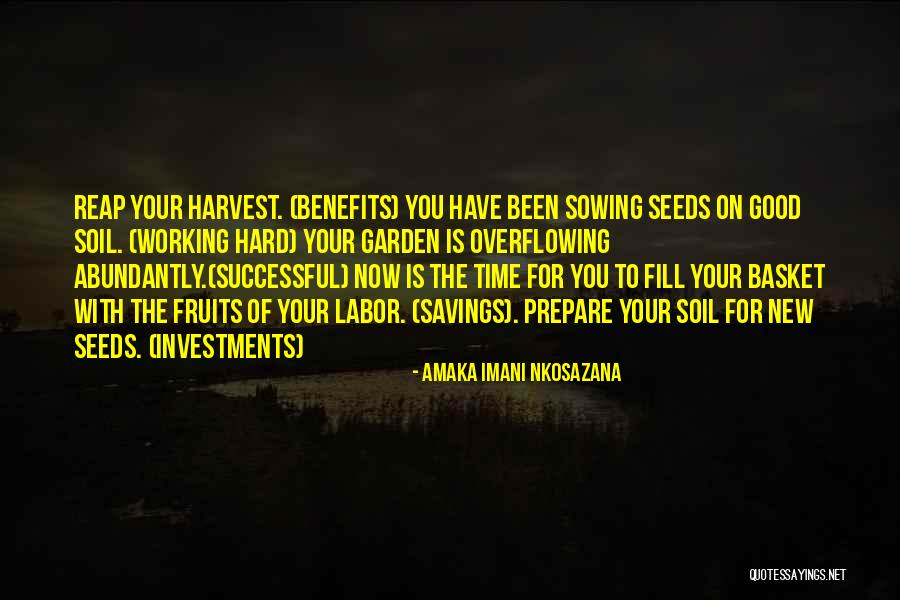 Reap your harvest. (Benefits) You have been sowing seeds on good soil. (Working Hard) Your garden is overflowing abundantly.(Successful) Now is the time for you to fill your basket with the fruits of your labor. (Savings). Prepare your soil for new seeds. (Investments) — Amaka Imani Nkosazana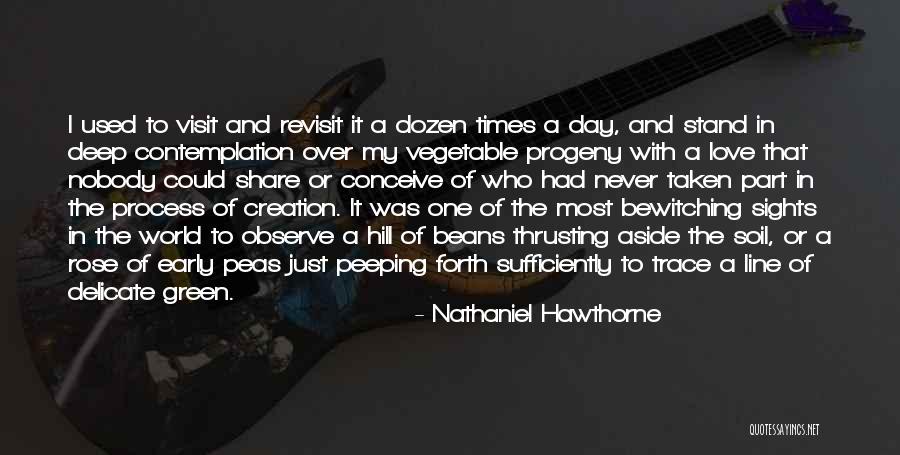 I used to visit and revisit it a dozen times a day, and stand in deep contemplation over my vegetable progeny with a love that nobody could share or conceive of who had never taken part in the process of creation. It was one of the most bewitching sights in the world to observe a hill of beans thrusting aside the soil, or a rose of early peas just peeping forth sufficiently to trace a line of delicate green. — Nathaniel Hawthorne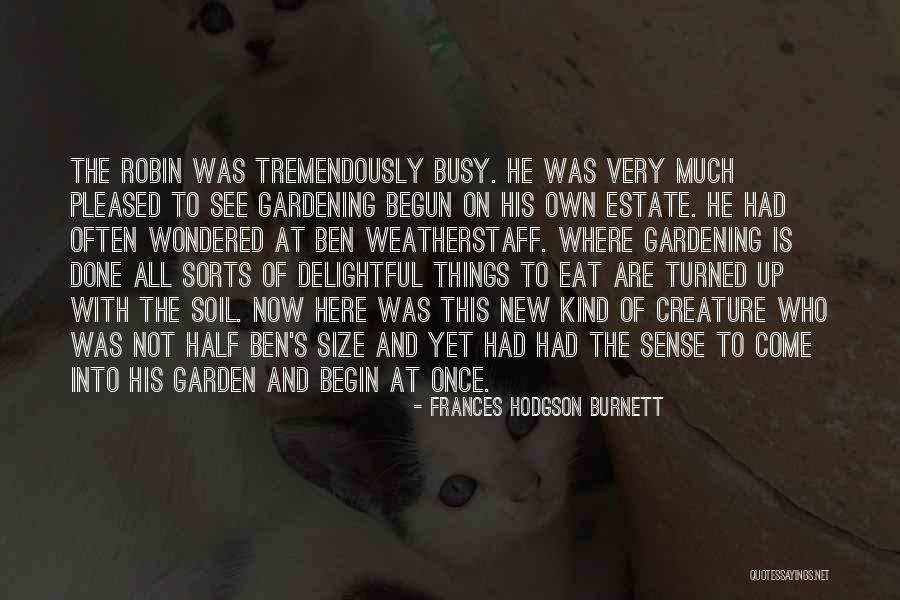 The robin was tremendously busy. He was very much pleased to see gardening begun on his own estate. He had often wondered at Ben Weatherstaff. Where gardening is done all sorts of delightful things to eat are turned up with the soil. Now here was this new kind of creature who was not half Ben's size and yet had had the sense to come into his garden and begin at once. — Frances Hodgson Burnett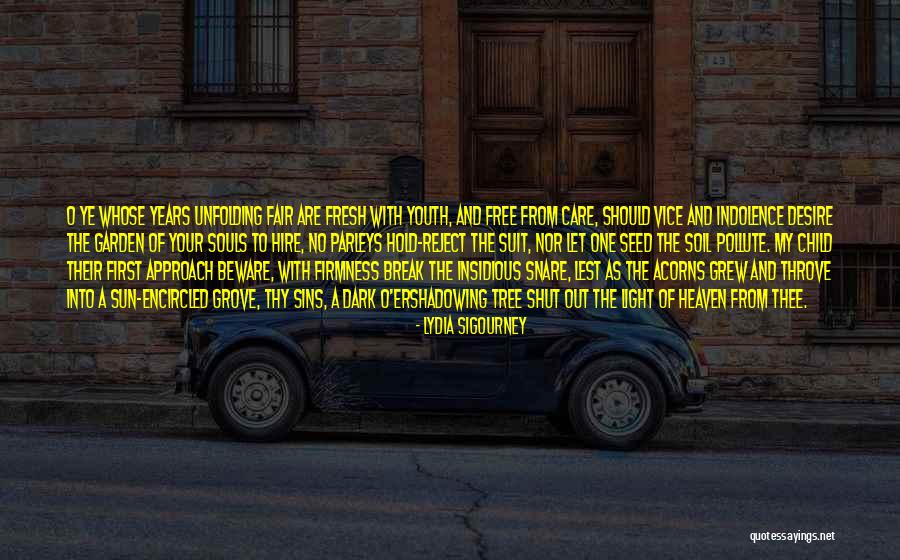 O ye whose years unfolding fair Are fresh with youth, and free from care, Should vice and indolence desire The garden of your souls to hire, No parleys hold-reject the suit, Nor let one seed the soil pollute. My child their first approach beware, With firmness break the insidious snare, Lest as the acorns grew and throve Into a sun-encircled grove, Thy sins, a dark o'ershadowing tree Shut out the light of Heaven from thee. — Lydia Sigourney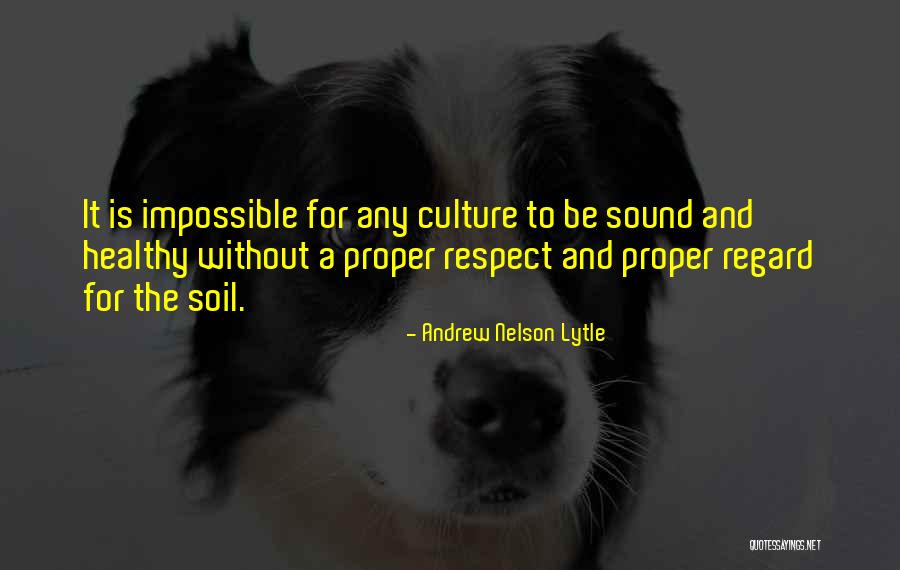 It is impossible for any culture to be sound and healthy without a proper respect and proper regard for the soil. — Andrew Nelson Lytle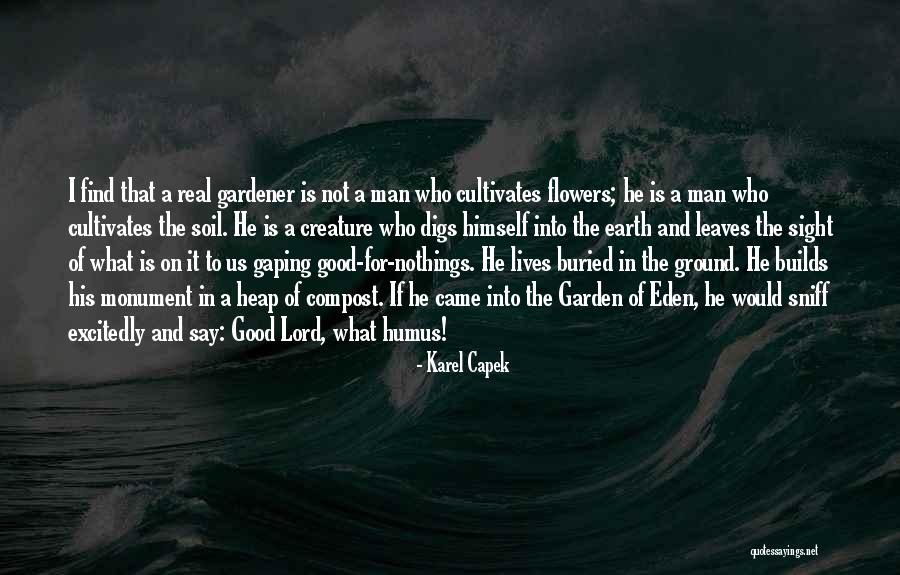 I find that a real gardener is not a man who cultivates flowers; he is a man who cultivates the soil. He is a creature who digs himself into the earth and leaves the sight of what is on it to us gaping good-for-nothings. He lives buried in the ground. He builds his monument in a heap of compost. If he came into the Garden of Eden, he would sniff excitedly and say: Good Lord, what humus! — Karel Capek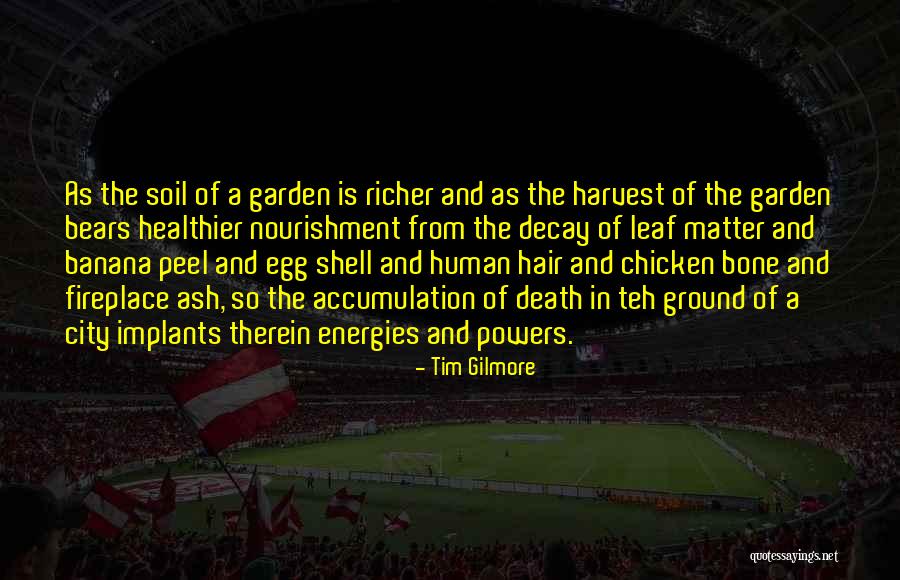 As the soil of a garden is richer and as the harvest of the garden bears healthier nourishment from the decay of leaf matter and banana peel and egg shell and human hair and chicken bone and fireplace ash, so the accumulation of death in teh ground of a city implants therein energies and powers. — Tim Gilmore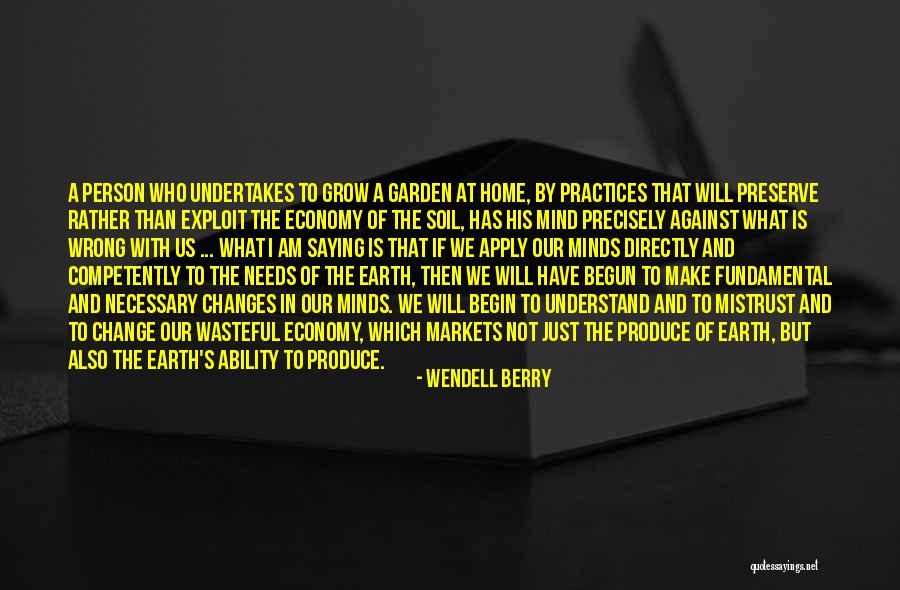 A person who undertakes to grow a garden at home, by practices that will preserve rather than exploit the economy of the soil, has his mind precisely against what is wrong with us ... What I am saying is that if we apply our minds directly and competently to the needs of the earth, then we will have begun to make fundamental and necessary changes in our minds. We will begin to understand and to mistrust and to change our wasteful economy, which markets not just the produce of earth, but also the earth's ability to produce. — Wendell Berry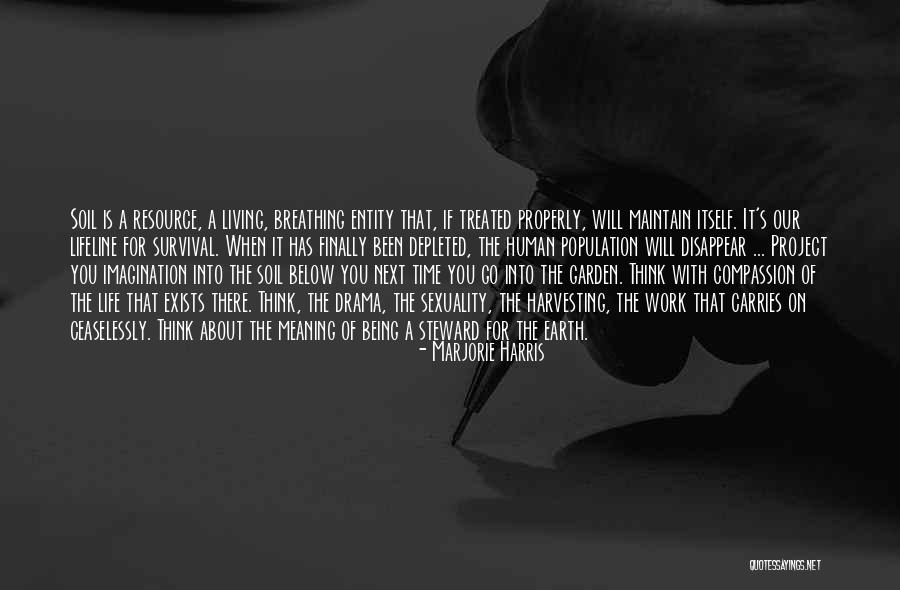 Soil is a resource, a living, breathing entity that, if treated properly, will maintain itself. It's our lifeline for survival. When it has finally been depleted, the human population will disappear ... Project you imagination into the soil below you next time you go into the garden. Think with compassion of the life that exists there. Think, the drama, the sexuality, the harvesting, the work that carries on ceaselessly. Think about the meaning of being a steward for the earth. — Marjorie Harris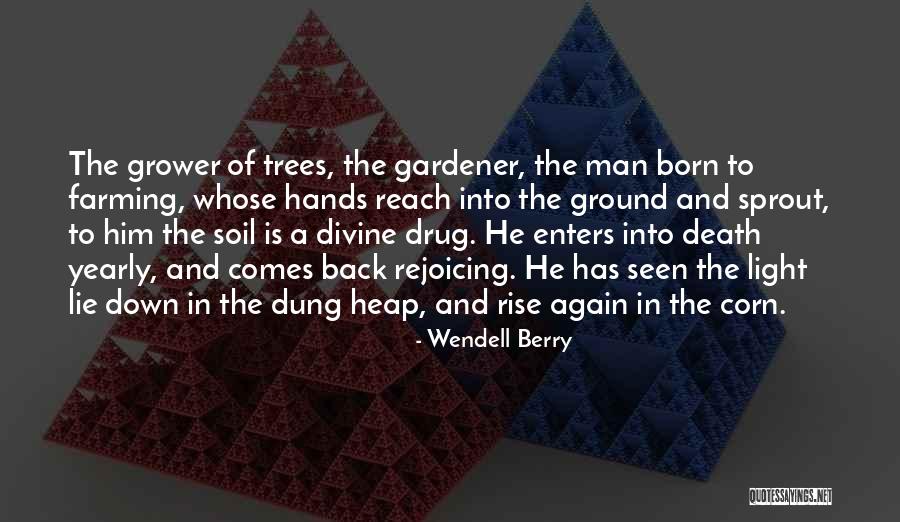 The grower of trees, the gardener, the man born to farming, whose hands reach into the ground and sprout, to him the soil is a divine drug. He enters into death yearly, and comes back rejoicing. He has seen the light lie down in the dung heap, and rise again in the corn. — Wendell Berry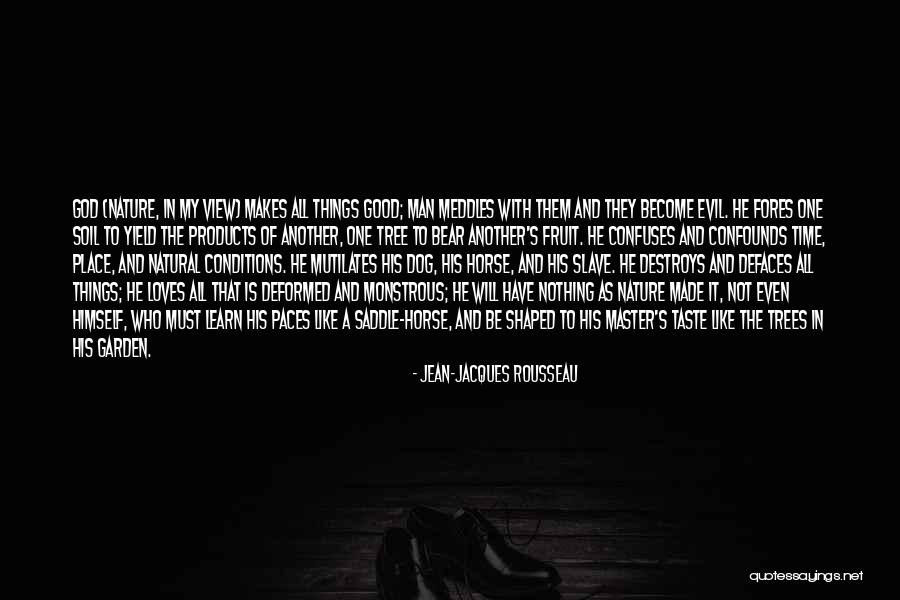 God (Nature, in my view) makes all things good; man meddles with them and they become evil. He fores one soil to yield the products of another, one tree to bear another's fruit. He confuses and confounds time, place, and natural conditions. He mutilates his dog, his horse, and his slave. He destroys and defaces all things; he loves all that is deformed and monstrous; he will have nothing as nature made it, not even himself, who must learn his paces like a saddle-horse, and be shaped to his master's taste like the trees in his garden. — Jean-Jacques Rousseau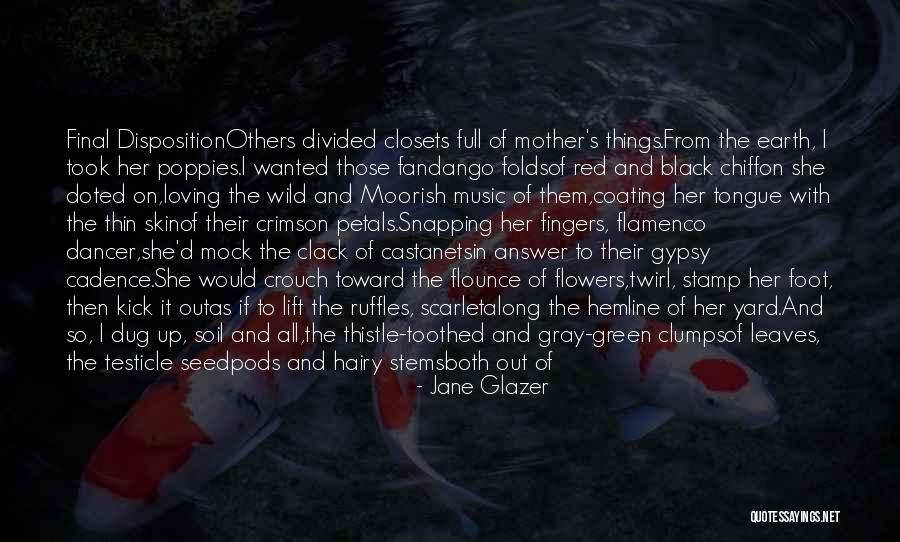 Final Disposition

Others divided closets full of mother's things.
From the earth, I took her poppies.
I wanted those fandango folds
of red and black chiffon she doted on,
loving the wild and Moorish music of them,
coating her tongue with the thin skin
of their crimson petals.

Snapping her fingers, flamenco dancer,
she'd mock the clack of castanets
in answer to their gypsy cadence.
She would crouch toward the flounce of flowers,
twirl, stamp her foot, then kick it out
as if to lift the ruffles, scarlet
along the hemline of her yard.

And so, I dug up, soil and all,
the thistle-toothed and gray-green clumps
of leaves, the testicle seedpods and hairy stems
both out of season, to transplant them in my less-exotic garden. There, they bloom
her blood's abandon, year after year,
roots holding, their poppy heads nodding
a carefree, opium-ecstatic, possibly forever sleep. — Jane Glazer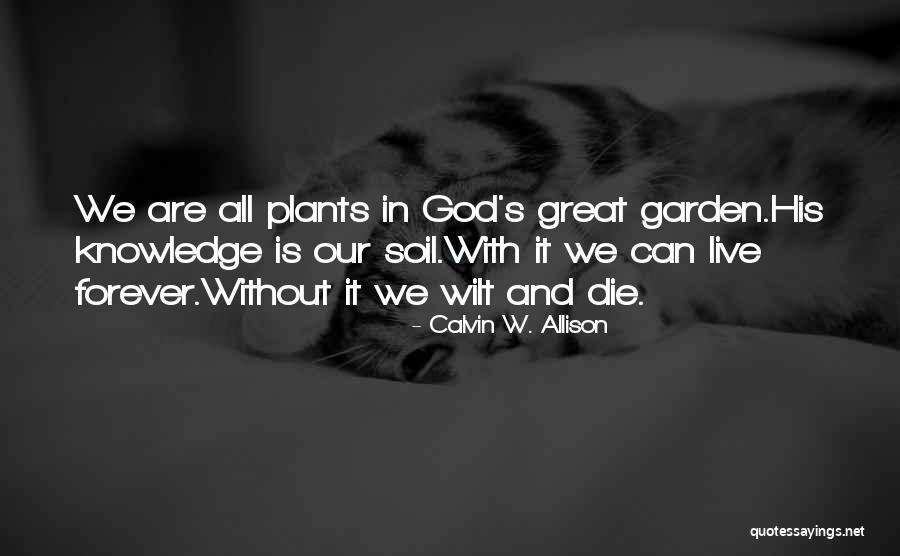 We are all plants in God's great garden.
His knowledge is our soil.
With it we can live forever.
Without it we wilt and die. — Calvin W. Allison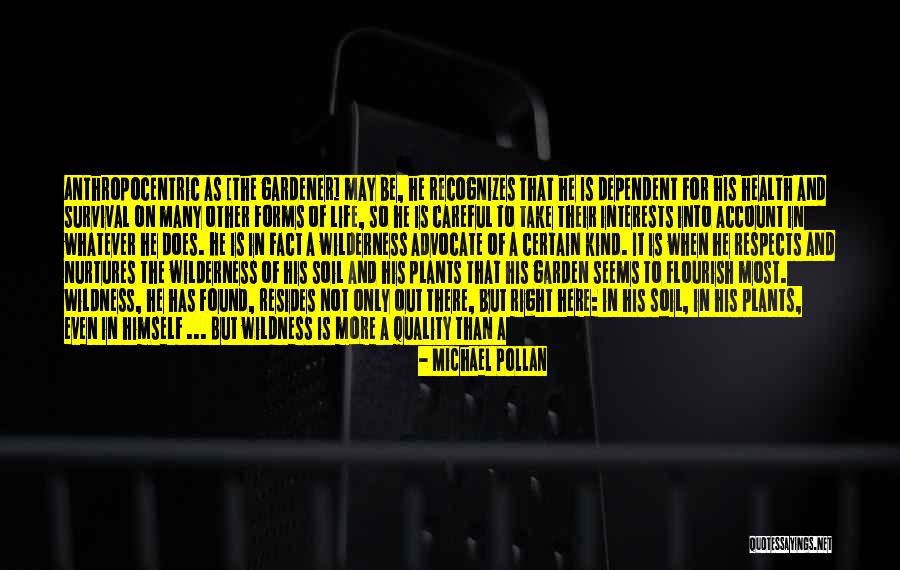 Anthropocentric as [the gardener] may be, he recognizes that he is dependent for his health and survival on many other forms of life, so he is careful to take their interests into account in whatever he does. He is in fact a wilderness advocate of a certain kind. It is when he respects and nurtures the wilderness of his soil and his plants that his garden seems to flourish most. Wildness, he has found, resides not only out there, but right here: in his soil, in his plants, even in himself ...
But wildness is more a quality than a place, and though humans can't manufacture it, they can nourish and husband it ...
The gardener cultivates wildness, but he does so carefully and respectfully, in full recognition of its mystery. — Michael Pollan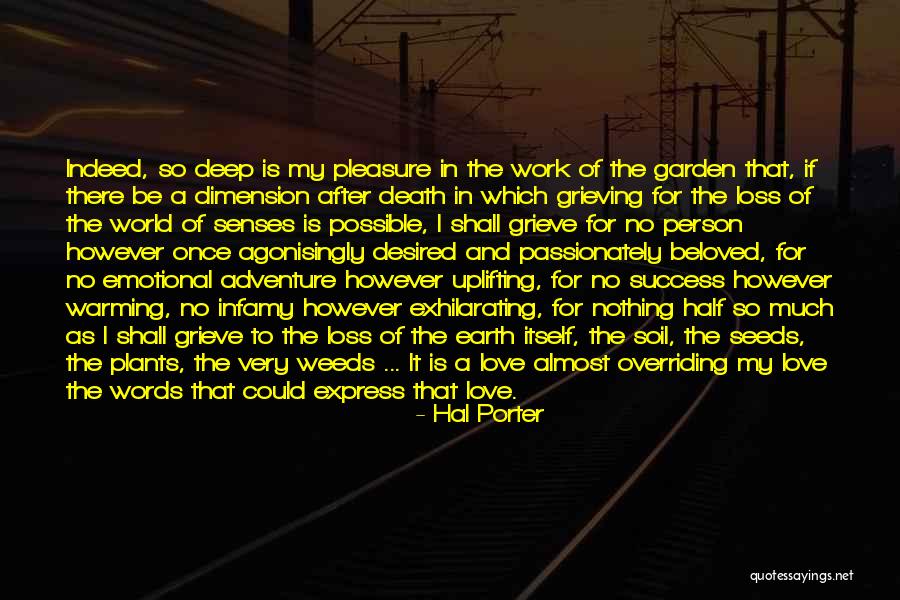 Indeed, so deep is my pleasure in the work of the garden that, if there be a dimension after death in which grieving for the loss of the world of senses is possible, I shall grieve for no person however once agonisingly desired and passionately beloved, for no emotional adventure however uplifting, for no success however warming, no infamy however exhilarating, for nothing half so much as I shall grieve to the loss of the earth itself, the soil, the seeds, the plants, the very weeds ... It is a love almost overriding my love the words that could express that love. — Hal Porter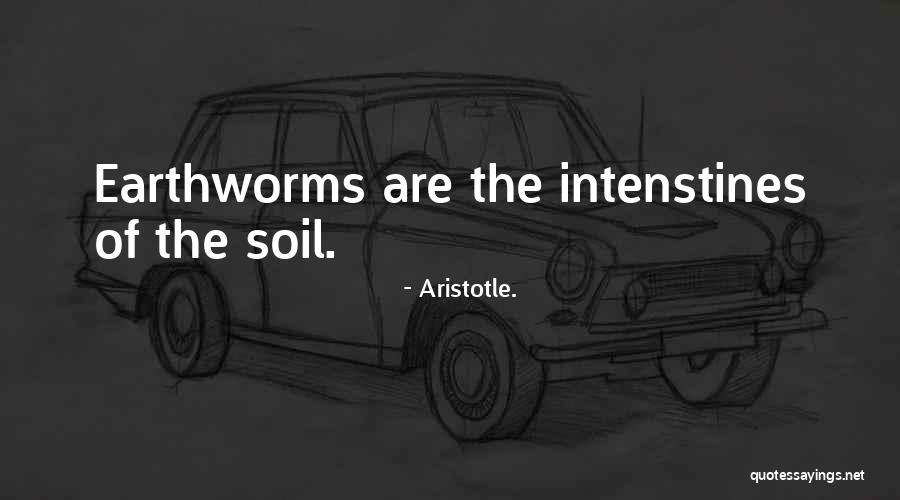 Earthworms are the intenstines of the soil. — Aristotle.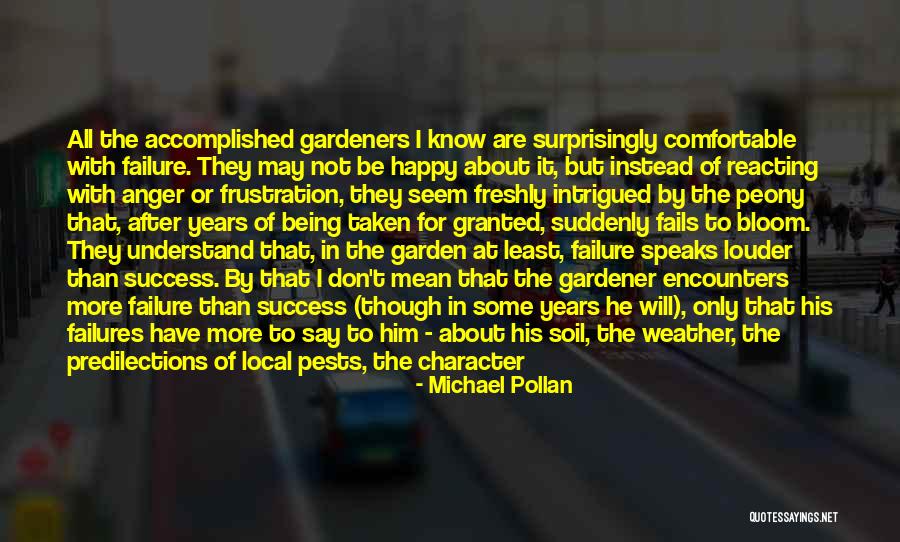 All the accomplished gardeners I know are surprisingly comfortable with failure. They may not be happy about it, but instead of reacting with anger or frustration, they seem freshly intrigued by the peony that, after years of being taken for granted, suddenly fails to bloom. They understand that, in the garden at least, failure speaks louder than success. By that I don't mean that the gardener encounters more failure than success (though in some years he will), only that his failures have more to say to him - about his soil, the weather, the predilections of local pests, the character of his land. The gardener learns nothing when his carrots thrive, unless that success is won against a background of prior disappointment. Outright success is dumb, disaster frequently eloquent. At least to the gardener who knows how to listen. — Michael Pollan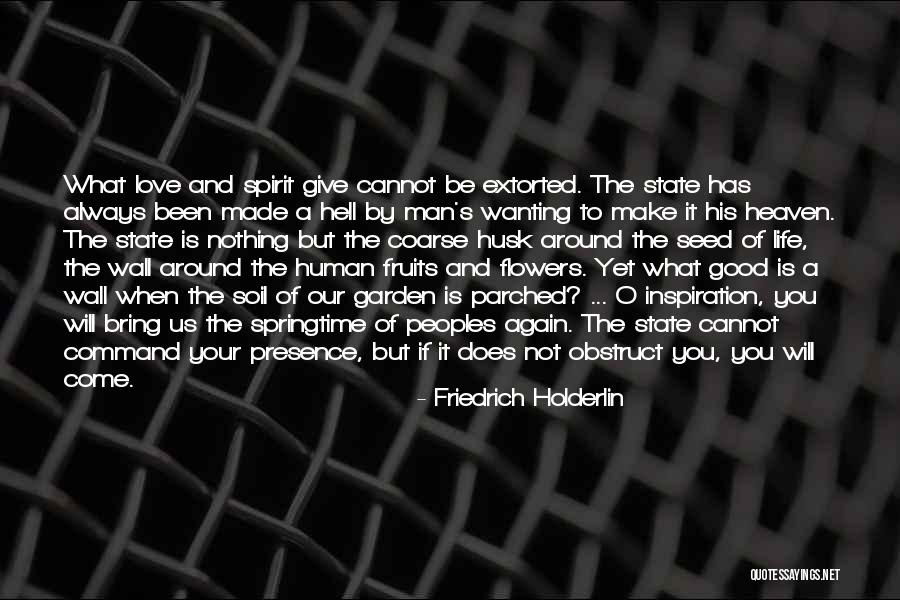 What love and spirit give cannot be extorted. The state has always been made a hell by man's wanting to make it his heaven. The state is nothing but the coarse husk around the seed of life, the wall around the human fruits and flowers. Yet what good is a wall when the soil of our garden is parched? ... O inspiration, you will bring us the springtime of peoples again. The state cannot command your presence, but if it does not obstruct you, you will come. — Friedrich Holderlin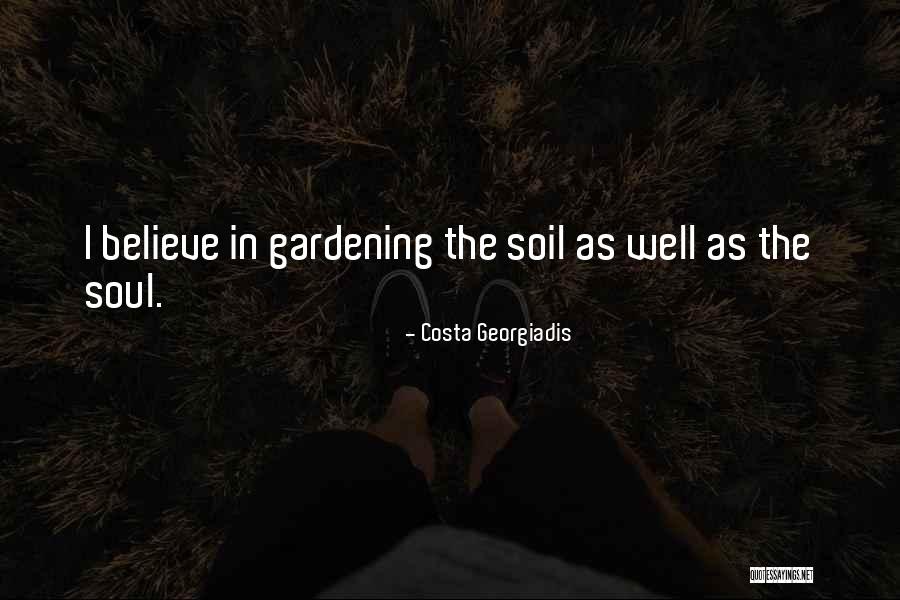 I believe in gardening the soil as well as the soul. — Costa Georgiadis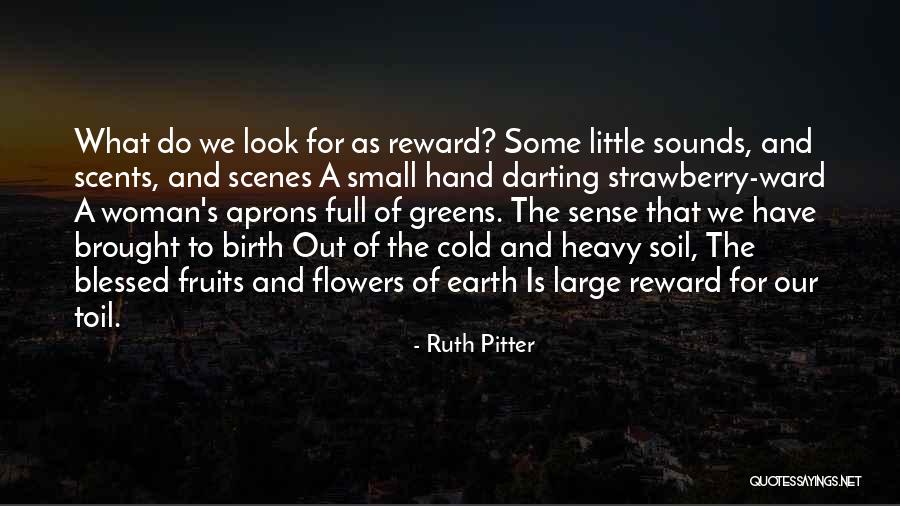 What do we look for as reward? Some little sounds, and scents, and scenes A small hand darting strawberry-ward A woman's aprons full of greens. The sense that we have brought to birth Out of the cold and heavy soil, The blessed fruits and flowers of earth Is large reward for our toil. — Ruth Pitter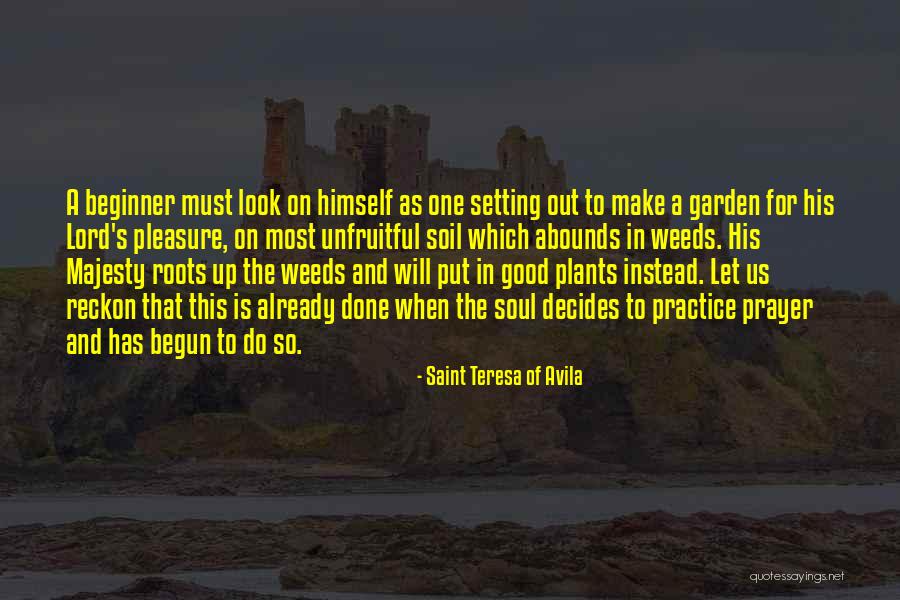 A beginner must look on himself as one setting out to make a garden for his Lord's pleasure, on most unfruitful soil which abounds in weeds. His Majesty roots up the weeds and will put in good plants instead. Let us reckon that this is already done when the soul decides to practice prayer and has begun to do so. — Saint Teresa Of Avila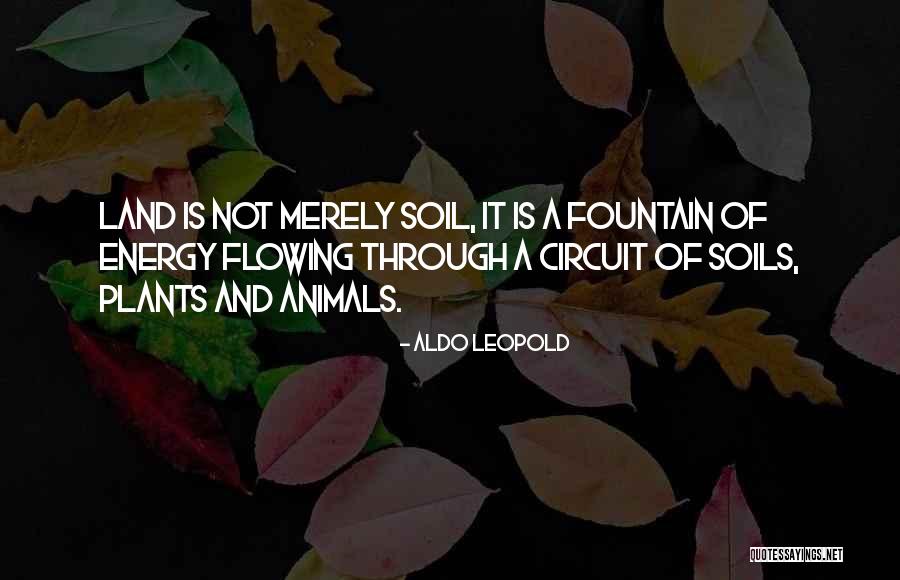 Land is not merely soil, it is a fountain of energy flowing through a circuit of soils, plants and animals. — Aldo Leopold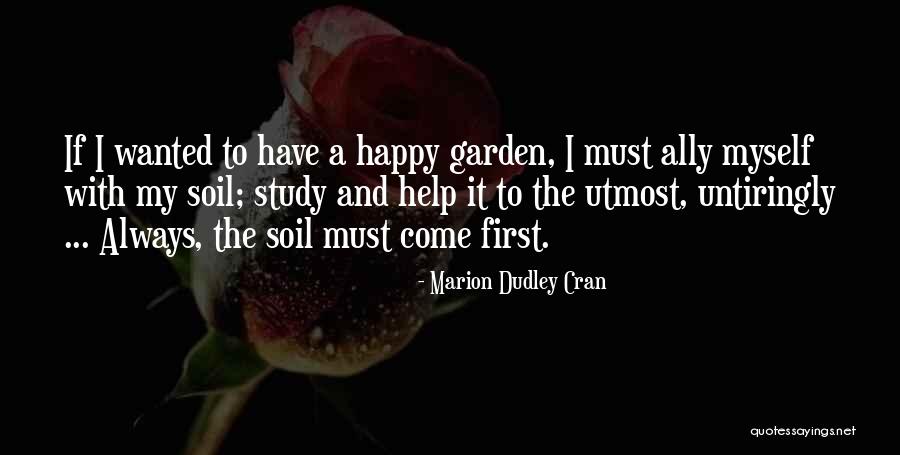 If I wanted to have a happy garden, I must ally myself with my soil; study and help it to the utmost, untiringly ... Always, the soil must come first. — Marion Dudley Cran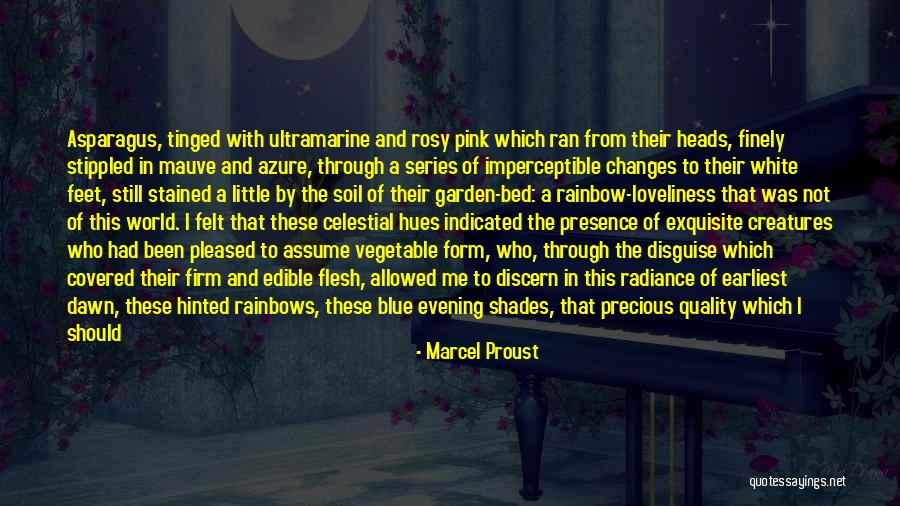 Asparagus, tinged with ultramarine and rosy pink which ran from their heads, finely stippled in mauve and azure, through a series of imperceptible changes to their white feet, still stained a little by the soil of their garden-bed: a rainbow-loveliness that was not of this world. I felt that these celestial hues indicated the presence of exquisite creatures who had been pleased to assume vegetable form, who, through the disguise which covered their firm and edible flesh, allowed me to discern in this radiance of earliest dawn, these hinted rainbows, these blue evening shades, that precious quality which I should recognise again when, all night long after a dinner at which I had partaken of them, they played (lyrical and coarse in their jesting as the fairies in Shakespeare's Dream) at transforming my humble chamberpot into a bower of aromatic perfume. — Marcel Proust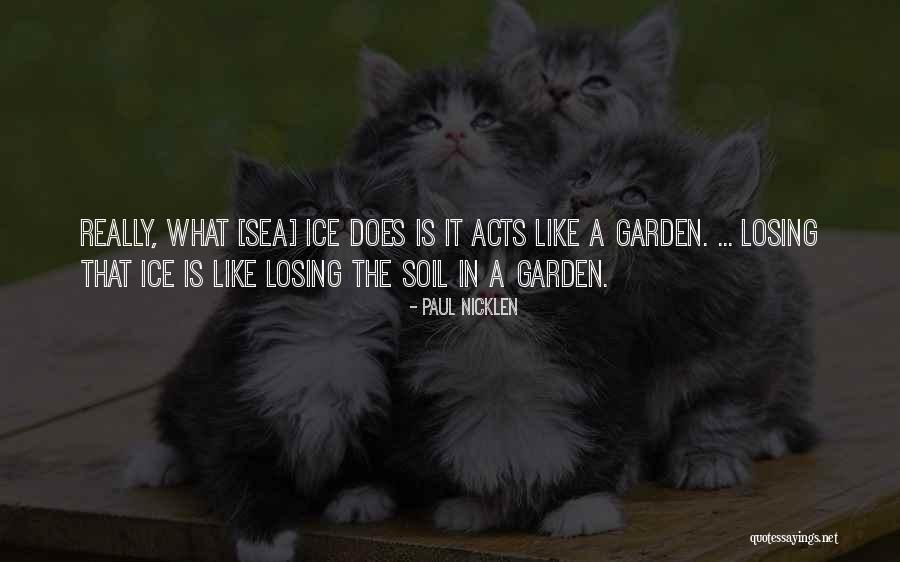 Really, what [sea] ice does is it acts like a garden. ... Losing that ice is like losing the soil in a garden. — Paul Nicklen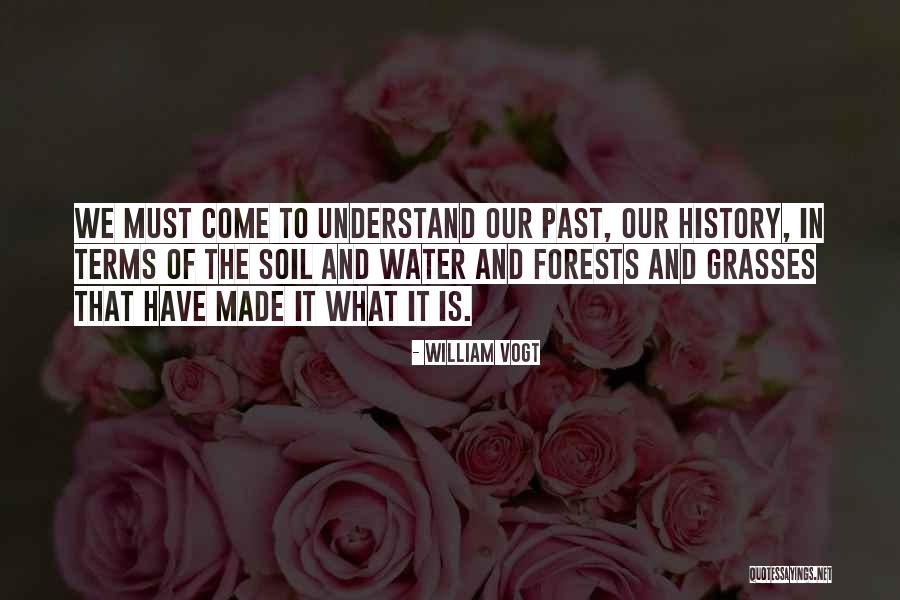 We must come to understand our past, our history, in terms of the soil and water and forests and grasses that have made it what it is. — William Vogt
Re-programming your mind, body & spirit is like planting a garden, if the soil isn't right nothing will grow. — Nikki Rowe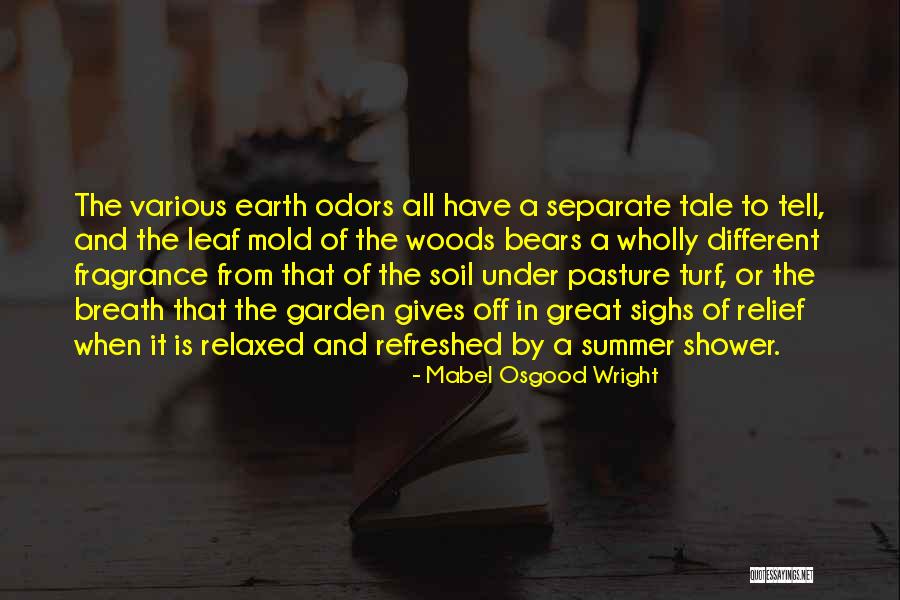 The various earth odors all have a separate tale to tell, and the leaf mold of the woods bears a wholly different fragrance from that of the soil under pasture turf, or the breath that the garden gives off in great sighs of relief when it is relaxed and refreshed by a summer shower. — Mabel Osgood Wright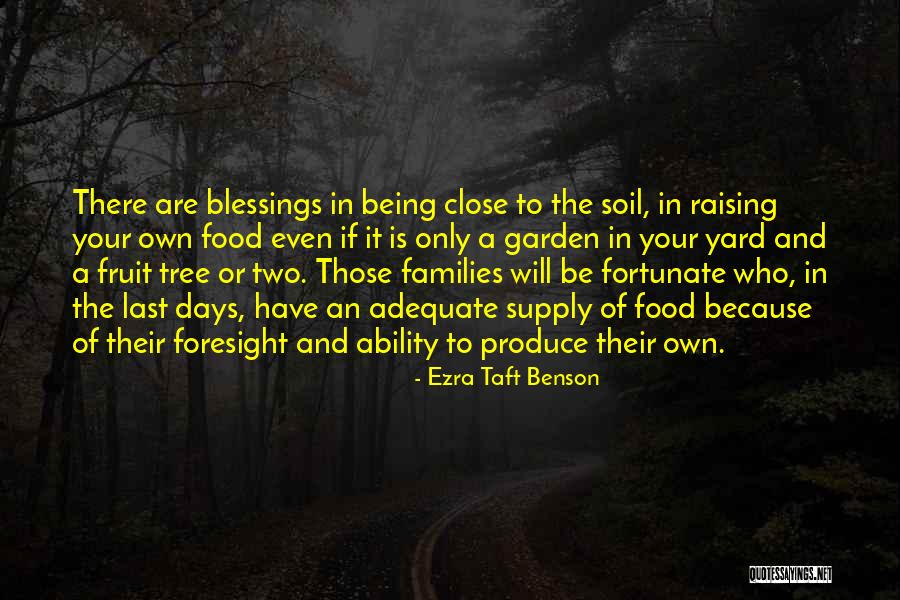 There are blessings in being close to the soil, in raising your own food even if it is only a garden in your yard and a fruit tree or two. Those families will be fortunate who, in the last days, have an adequate supply of food because of their foresight and ability to produce their own. — Ezra Taft Benson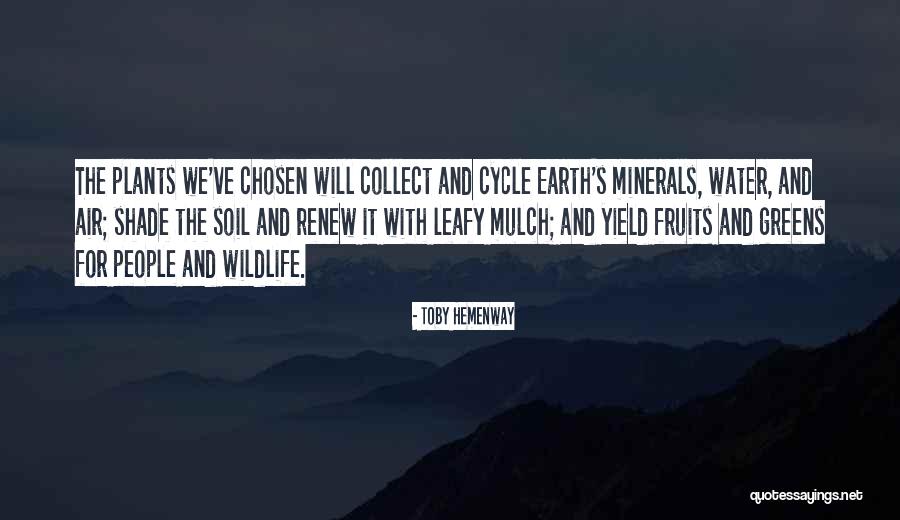 The plants we've chosen will collect and cycle Earth's minerals, water, and air; shade the soil and renew it with leafy mulch; and yield fruits and greens for people and wildlife. — Toby Hemenway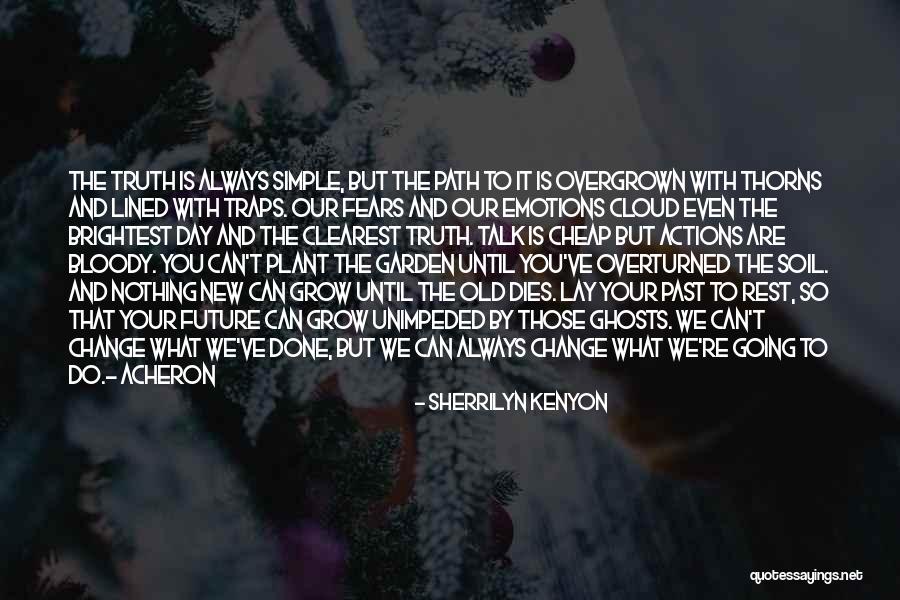 The truth is always simple, but the path to it is overgrown with thorns and lined with traps. Our fears and our emotions cloud even the brightest day and the clearest truth. Talk is cheap but actions are bloody. You can't plant the garden until you've overturned the soil. And nothing new can grow until the old dies. Lay your past to rest, so that your future can grow unimpeded by those ghosts. We can't change what we've done, but we can always change what we're going to do.
- Acheron — Sherrilyn Kenyon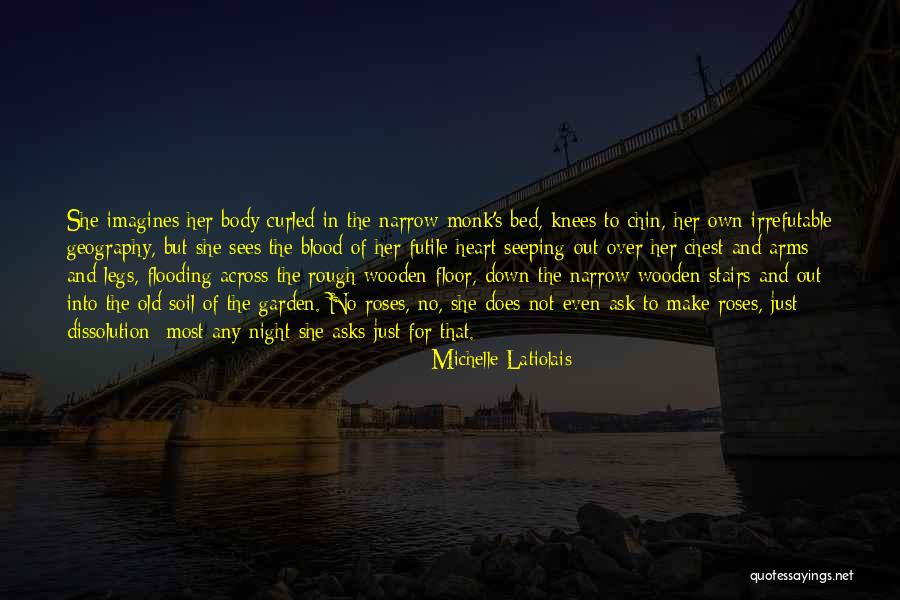 She imagines her body curled in the narrow monk's bed, knees to chin, her own irrefutable geography, but she sees the blood of her futile heart seeping out over her chest and arms and legs, flooding across the rough wooden floor, down the narrow wooden stairs and out into the old soil of the garden. No roses, no, she does not even ask to make roses, just dissolution; most any night she asks just for that. — Michelle Latiolais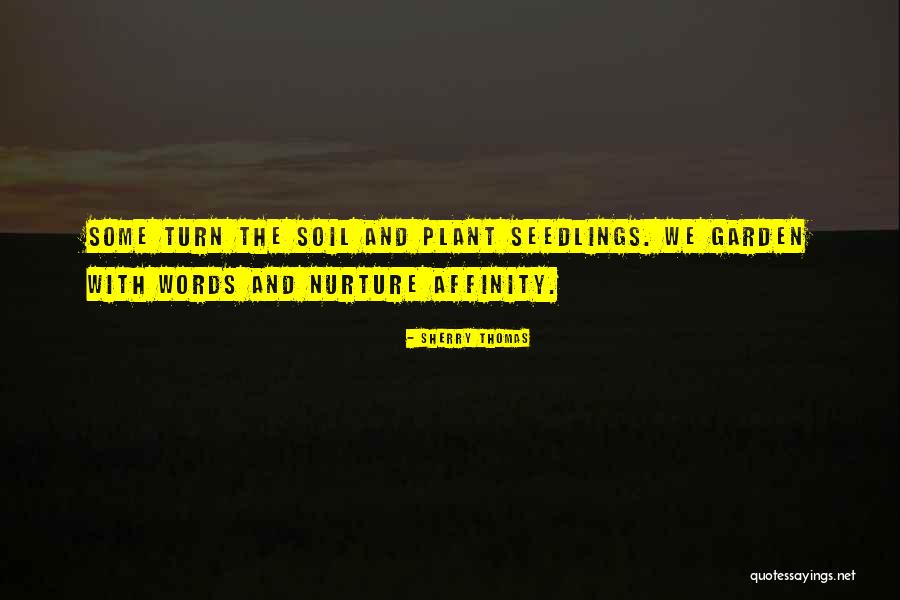 Some turn the soil and plant seedlings. We garden with words and nurture affinity. — Sherry Thomas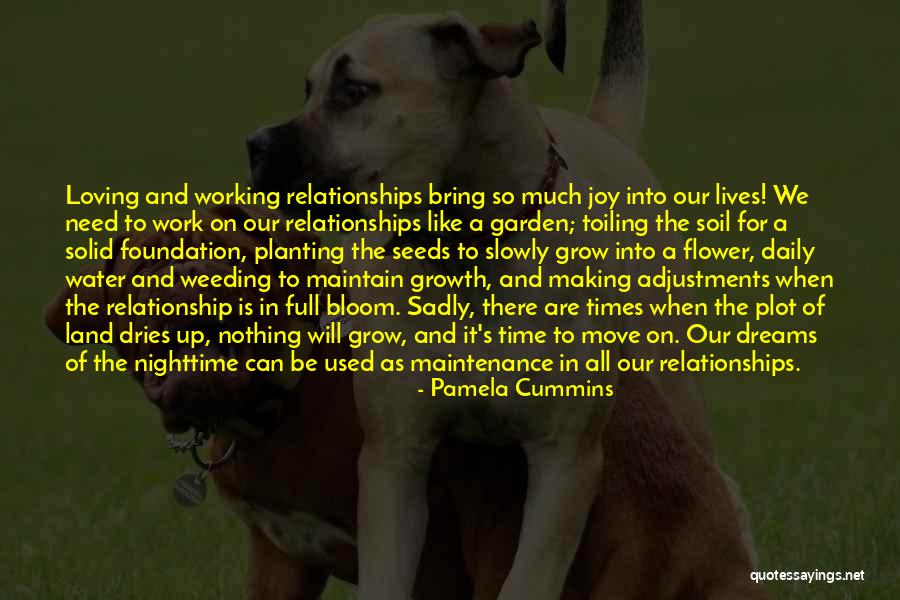 Loving and working relationships bring so much joy into our lives! We need to work on our relationships like a garden; toiling the soil for a solid foundation, planting the seeds to slowly grow into a flower, daily water and weeding to maintain growth, and making adjustments when the relationship is in full bloom. Sadly, there are times when the plot of land dries up, nothing will grow, and it's time to move on. Our dreams of the nighttime can be used as maintenance in all our relationships. — Pamela Cummins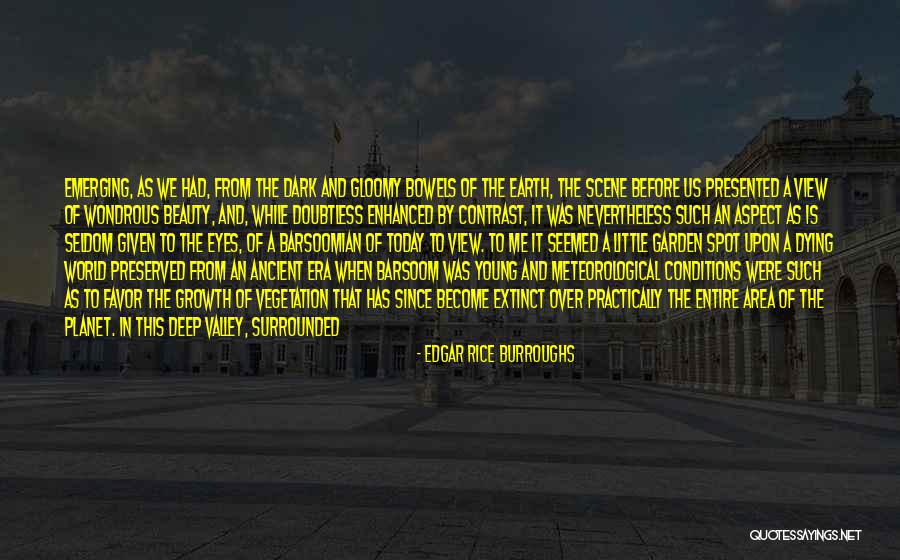 Emerging, as we had, from the dark and gloomy bowels of the earth, the scene before us presented a view of wondrous beauty, and, while doubtless enhanced by contrast, it was nevertheless such an aspect as is seldom given to the eyes, of a Barsoomian of today to view. To me it seemed a little garden spot upon a dying world preserved from an ancient era when Barsoom was young and meteorological conditions were such as to favor the growth of vegetation that has since become extinct over practically the entire area of the planet. In this deep valley, surrounded by lofty cliffs, the atmosphere doubtless was considerably denser than upon the surface of the planet above. The sun's days were reflected by the lofty escarpment, which must also hold the heat during the colder periods of night, and, in addition to this, there was ample water for irrigation which nature might easily have achieved through percolation of the waters of the river through and beneath the top soil of the valley. — Edgar Rice Burroughs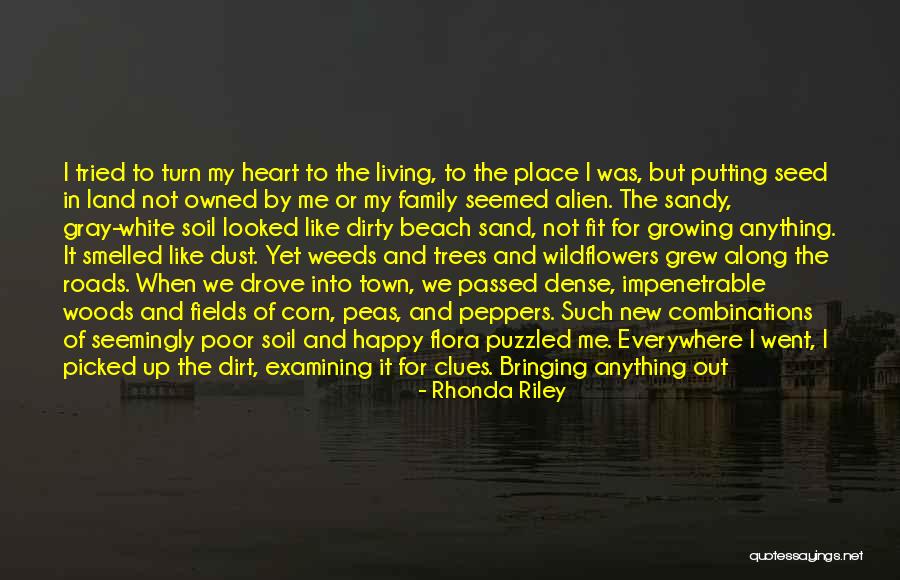 I tried to turn my heart to the living, to the place I was, but putting seed in land not owned by me or my family seemed alien. The sandy, gray-white soil looked like dirty beach sand, not fit for growing anything. It smelled like dust. Yet weeds and trees and wildflowers grew along the roads. When we drove into town, we passed dense, impenetrable woods and fields of corn, peas, and peppers. Such new combinations of seemingly poor soil and happy flora puzzled me. Everywhere I went, I picked up the dirt, examining it for clues. Bringing anything out of such soil would require a whole new language on my part. I imagined there must be something richer and darker under the gray sand, or some trick the farmers all knew. Trick or no trick, what I had always been able to do well now seemed inaccessible. Still, I searched the yard around our house for the best spot to plant my fall garden. — Rhonda Riley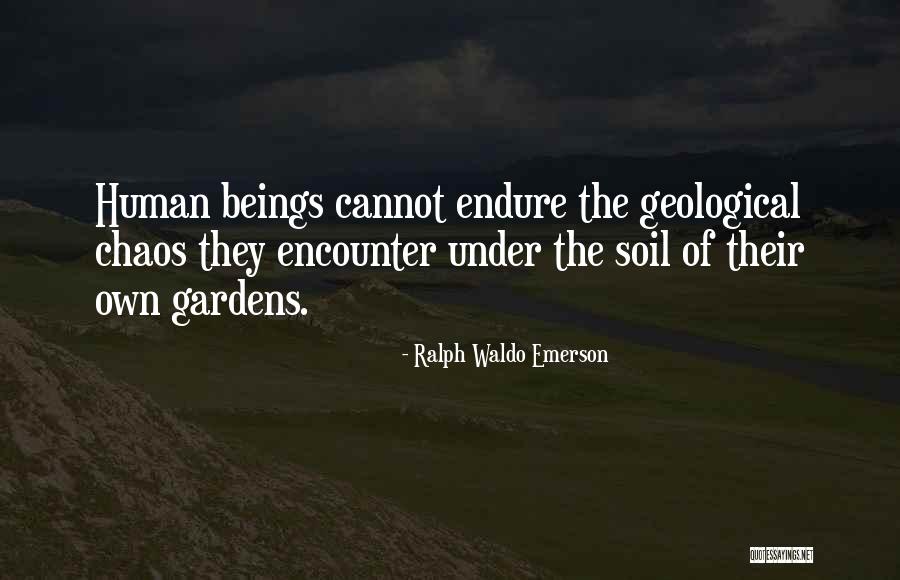 Human beings cannot endure the geological chaos they encounter under the soil of their own gardens. — Ralph Waldo Emerson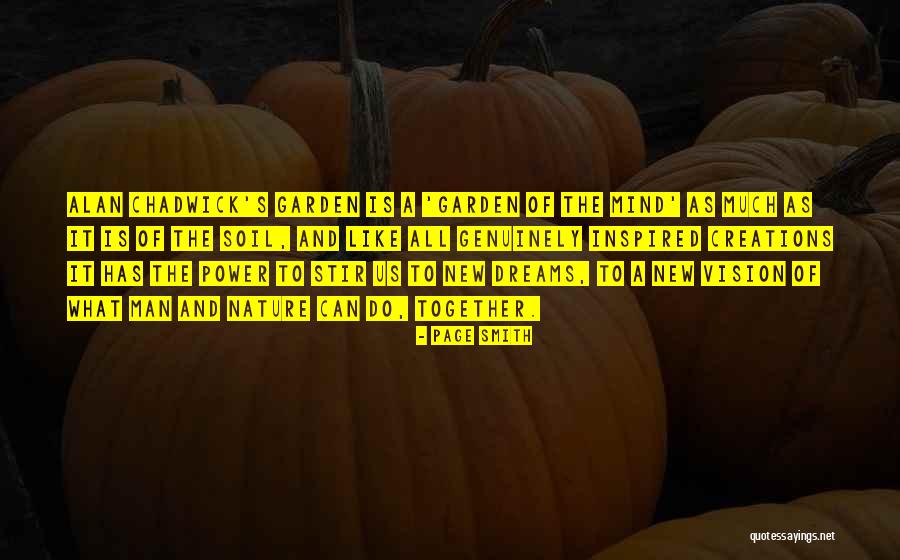 Alan Chadwick's garden is a 'garden of the mind' as much as it is of the soil, and like all genuinely inspired creations it has the power to stir us to new dreams, to a new vision of what man and nature can do, together. — Page Smith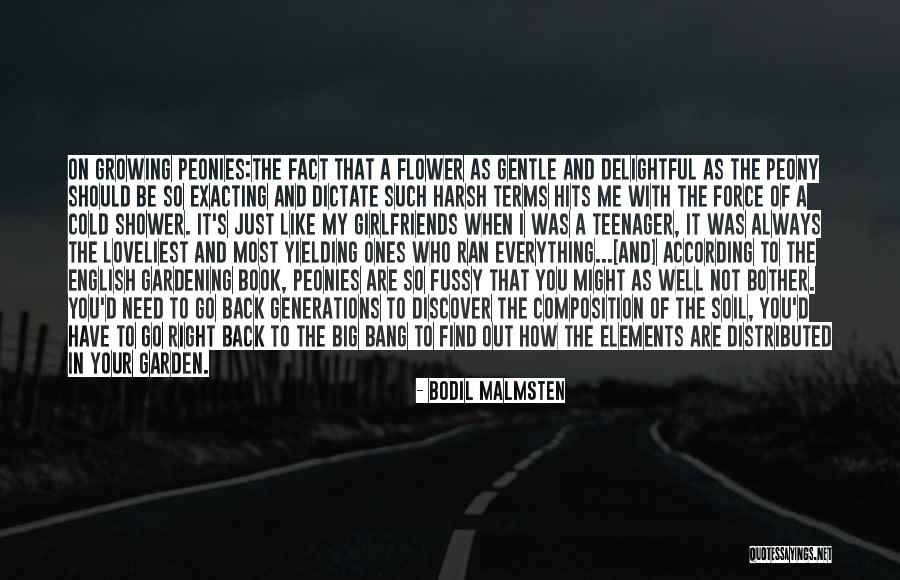 On growing peonies:
The fact that a flower as gentle and delightful as the peony should be so exacting and dictate such harsh terms hits me with the force of a cold shower. It's just like my girlfriends when I was a teenager, it was always the loveliest and most yielding ones who ran everything...[and] According to the English gardening book, peonies are so fussy that you might as well not bother. You'd need to go back generations to discover the composition of the soil, you'd have to go right back to the Big Bang to find out how the elements are distributed in your garden. — Bodil Malmsten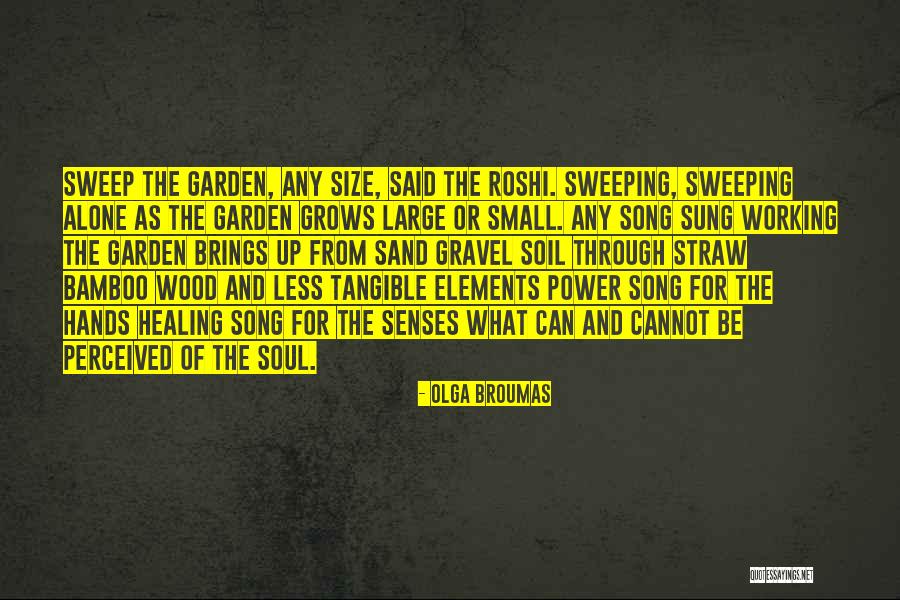 Sweep the garden, any size, said the roshi. Sweeping, sweeping alone as the garden grows large or small. Any song sung working the garden brings up from sand gravel soil through straw bamboo wood and less tangible elements Power song for the hands Healing song for the senses what can and cannot be perceived of the soul. — Olga Broumas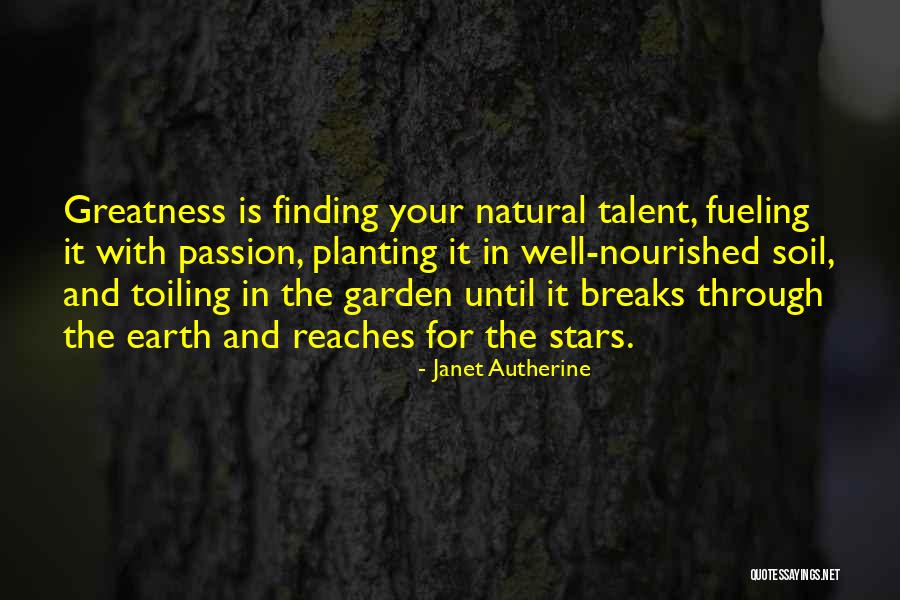 Greatness is finding your natural talent, fueling it with passion, planting it in well-nourished soil, and toiling in the garden until it breaks through the earth and reaches for the stars. — Janet Autherine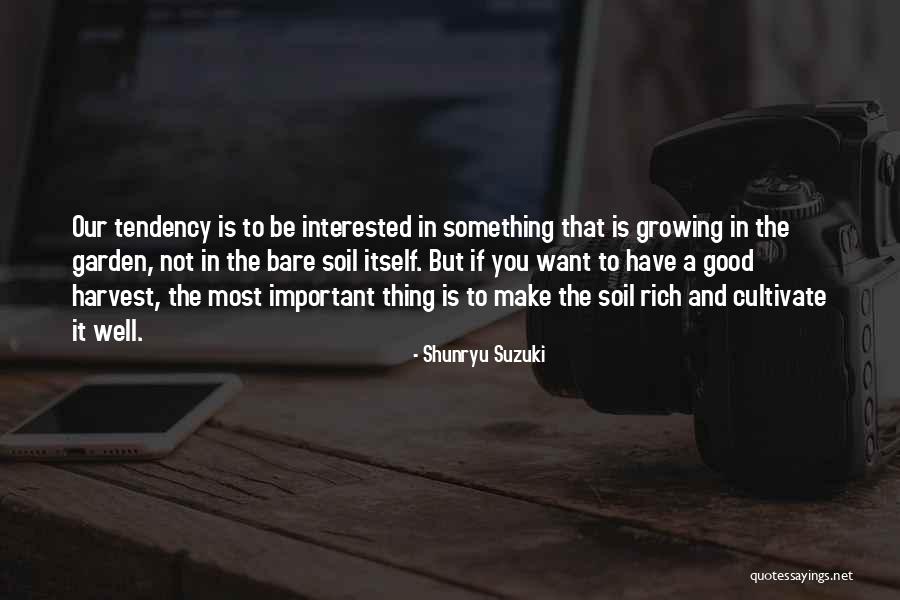 Our tendency is to be interested in something that is growing in the garden, not in the bare soil itself. But if you want to have a good harvest, the most important thing is to make the soil rich and cultivate it well. — Shunryu Suzuki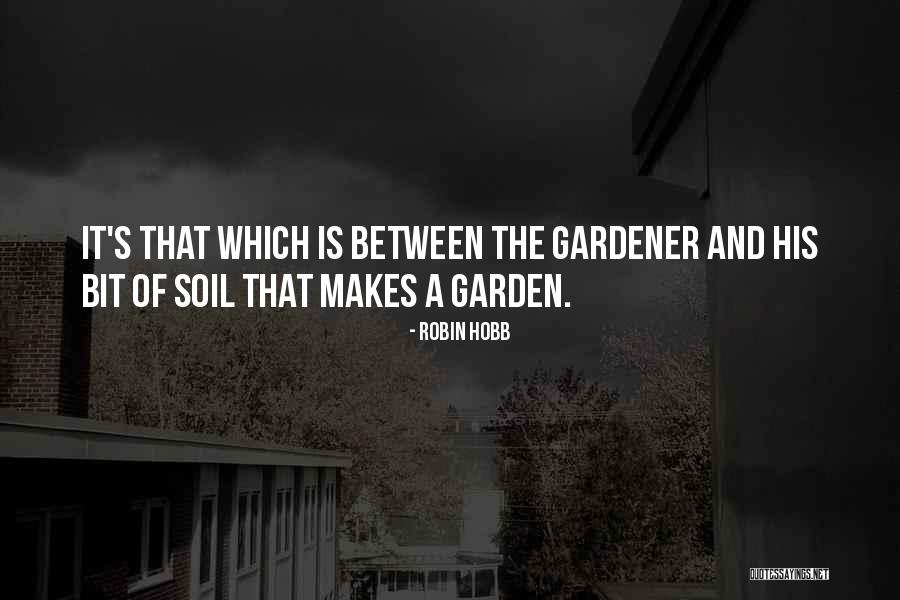 It's that which is between the gardener and his bit of soil that makes a garden. — Robin Hobb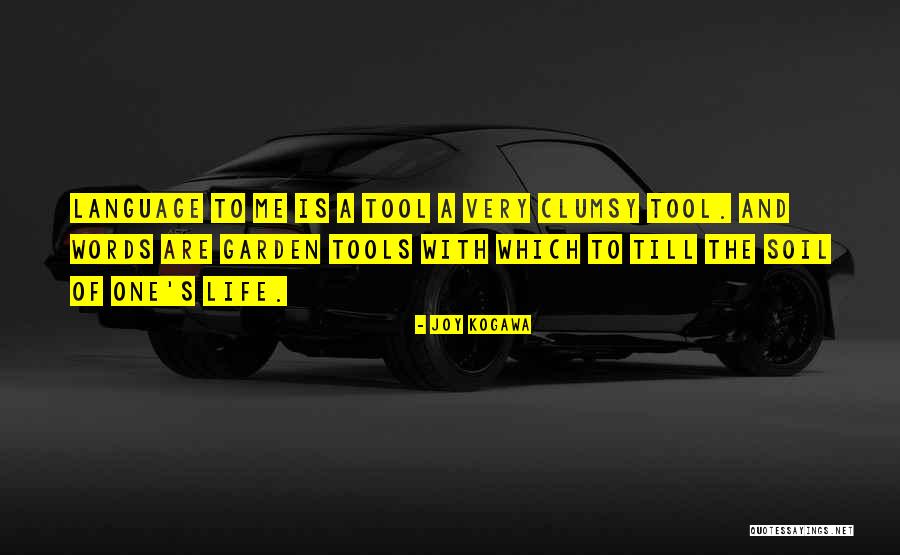 Language to me is a tool a very clumsy tool. And words are garden tools with which to till the soil of one's life. — Joy Kogawa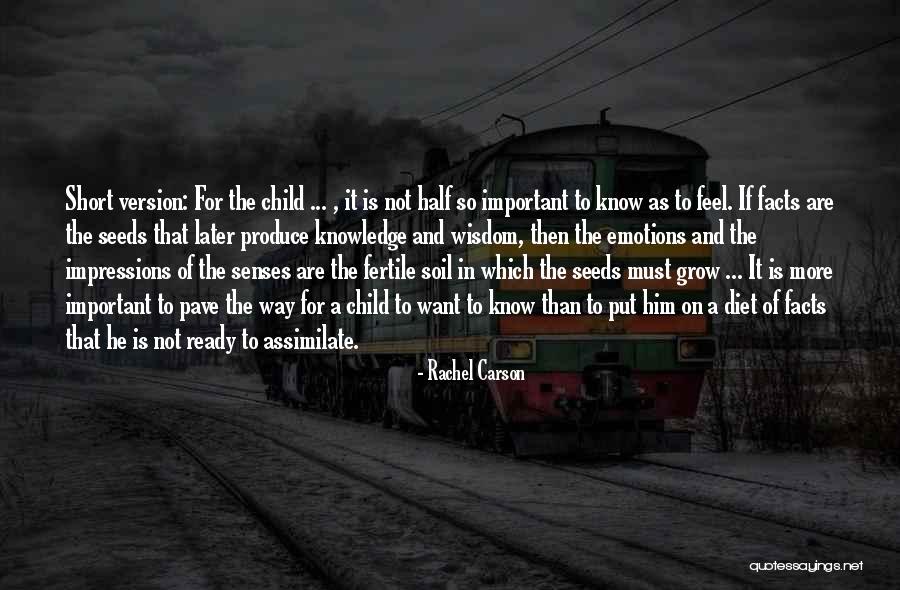 Short version: For the child ... , it is not half so important to know as to feel. If facts are the seeds that later produce knowledge and wisdom, then the emotions and the impressions of the senses are the fertile soil in which the seeds must grow ... It is more important to pave the way for a child to want to know than to put him on a diet of facts that he is not ready to assimilate. — Rachel Carson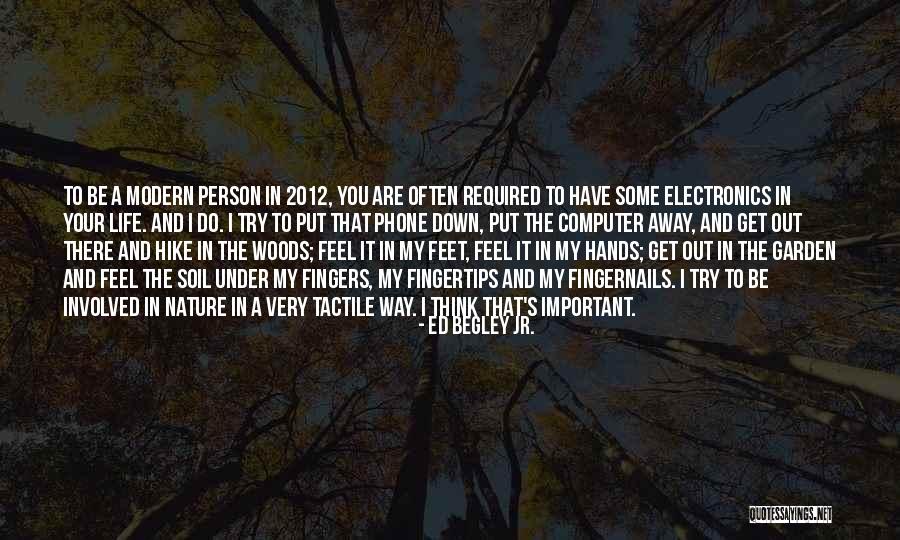 To be a modern person in 2012, you are often required to have some electronics in your life. And I do. I try to put that phone down, put the computer away, and get out there and hike in the woods; feel it in my feet, feel it in my hands; get out in the garden and feel the soil under my fingers, my fingertips and my fingernails. I try to be involved in nature in a very tactile way. I think that's important. — Ed Begley Jr.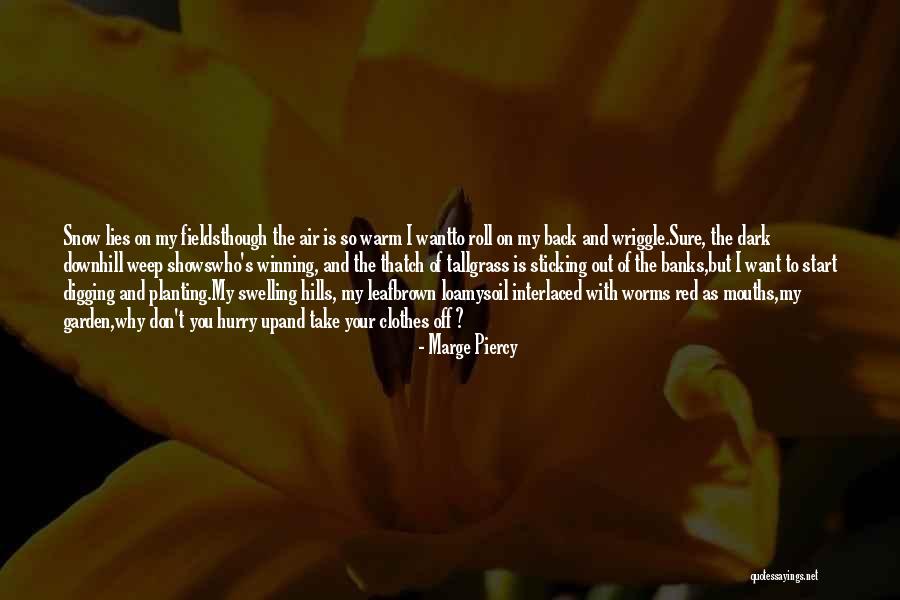 Snow lies on my fields
though the air is so warm I want
to roll on my back and wriggle.
Sure, the dark downhill weep shows
who's winning, and the thatch of tall
grass is sticking out of the banks,
but I want to start digging and planting.
My swelling hills, my leafbrown loamy
soil interlaced with worms red as mouths,
my garden,
why don't you hurry up
and take your clothes off ? — Marge Piercy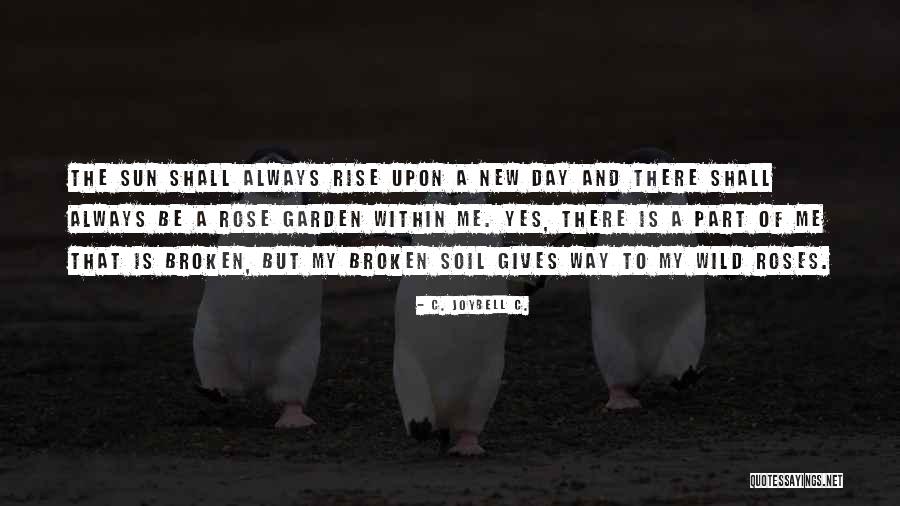 The sun shall always rise upon a new day and there shall always be a rose garden within me. Yes, there is a part of me that is broken, but my broken soil gives way to my wild roses. — C. JoyBell C.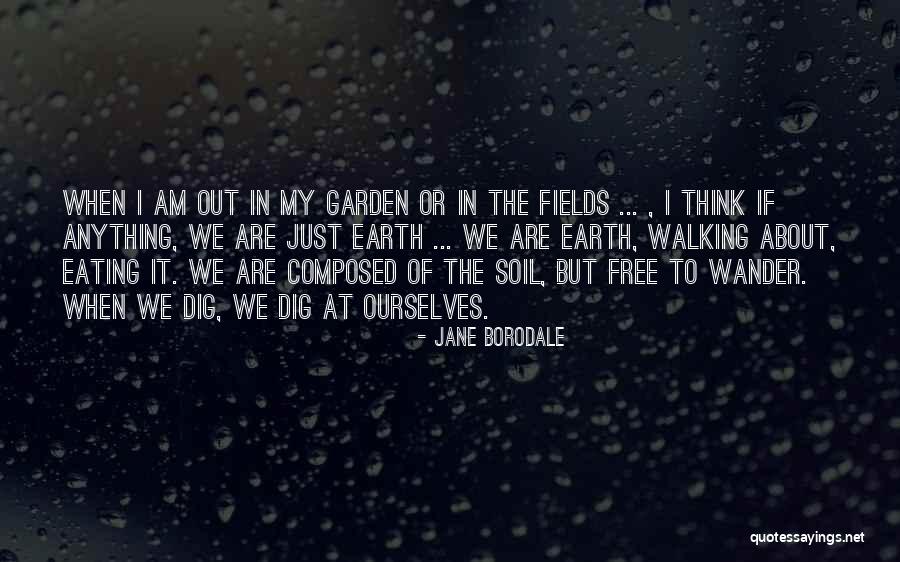 When I am out in my garden or in the fields ... , I think if anything, we are just earth ... We are earth, walking about, eating it. We are composed of the soil, but free to wander. When we dig, we dig at ourselves. — Jane Borodale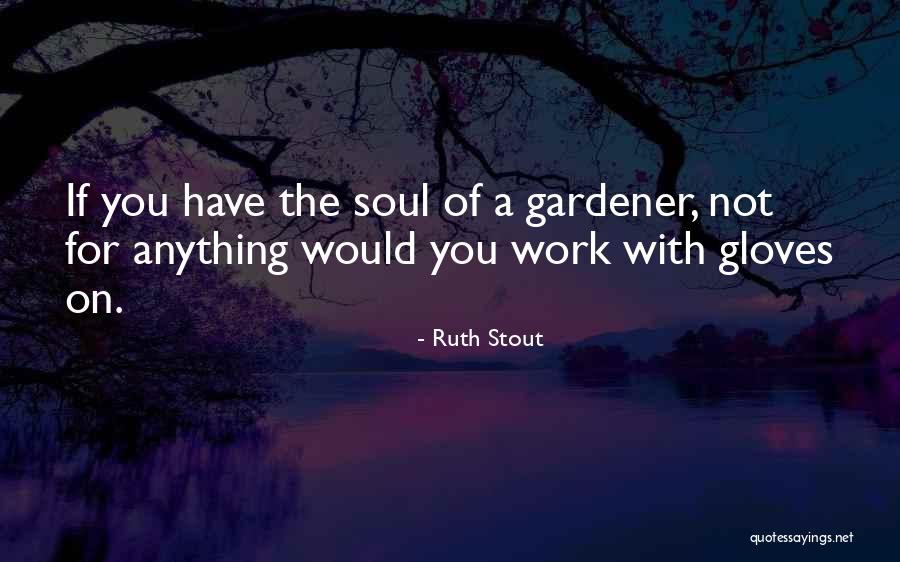 If you have the soul of a gardener, not for anything would you work with gloves on. — Ruth Stout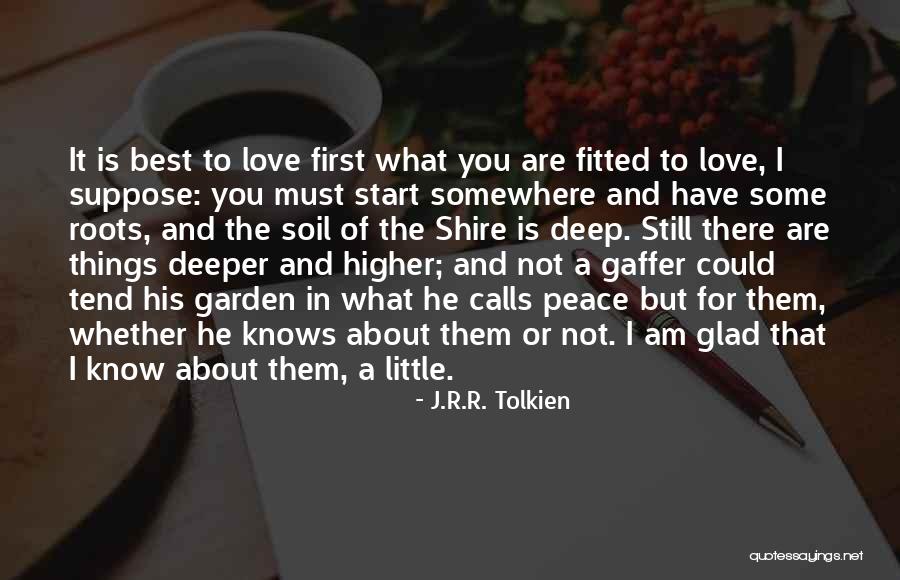 It is best to love first what you are fitted to love, I suppose: you must start somewhere and have some roots, and the soil of the Shire is deep. Still there are things deeper and higher; and not a gaffer could tend his garden in what he calls peace but for them, whether he knows about them or not. I am glad that I know about them, a little. — J.R.R. Tolkien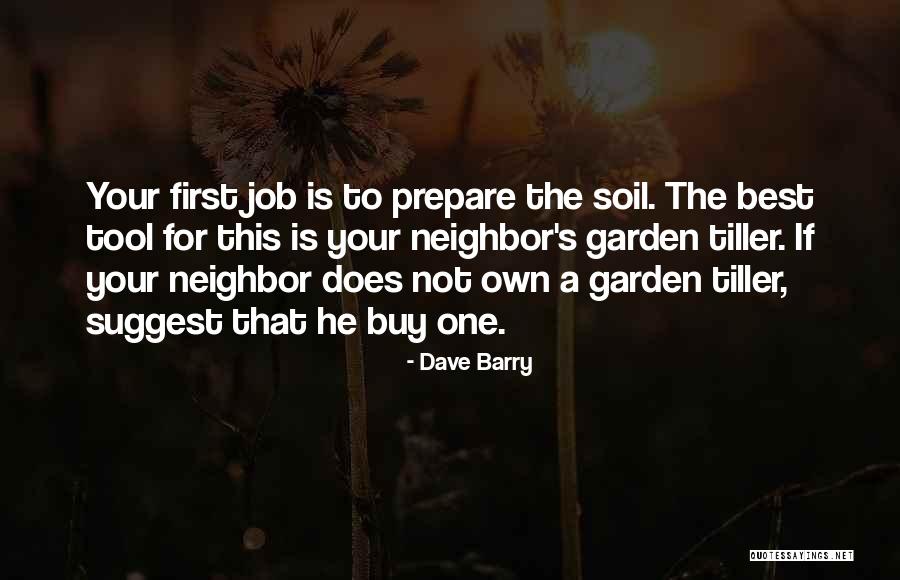 Your first job is to prepare the soil. The best tool for this is your neighbor's garden tiller. If your neighbor does not own a garden tiller, suggest that he buy one. — Dave Barry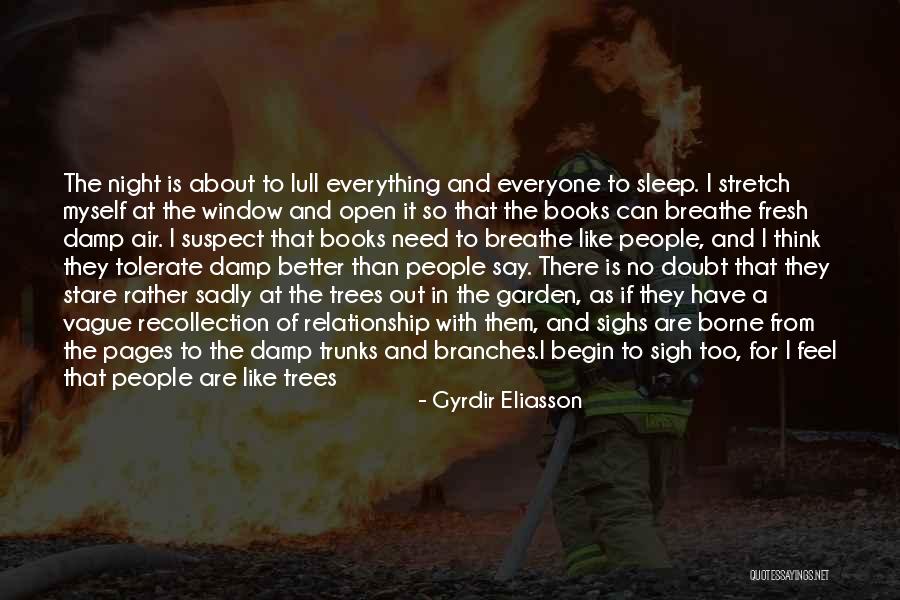 The night is about to lull everything and everyone to sleep. I stretch myself at the window and open it so that the books can breathe fresh damp air. I suspect that books need to breathe like people, and I think they tolerate damp better than people say. There is no doubt that they stare rather sadly at the trees out in the garden, as if they have a vague recollection of relationship with them, and sighs are borne from the pages to the damp trunks and branches.
I begin to sigh too, for I feel that people are like trees that move, trees that have lost their roots and are always in search of the soil. I have a hazy idea that humans have come from trees that broke off from their roots in a wild whirlwind eons ago - that is my thory of evolution. — Gyrdir Eliasson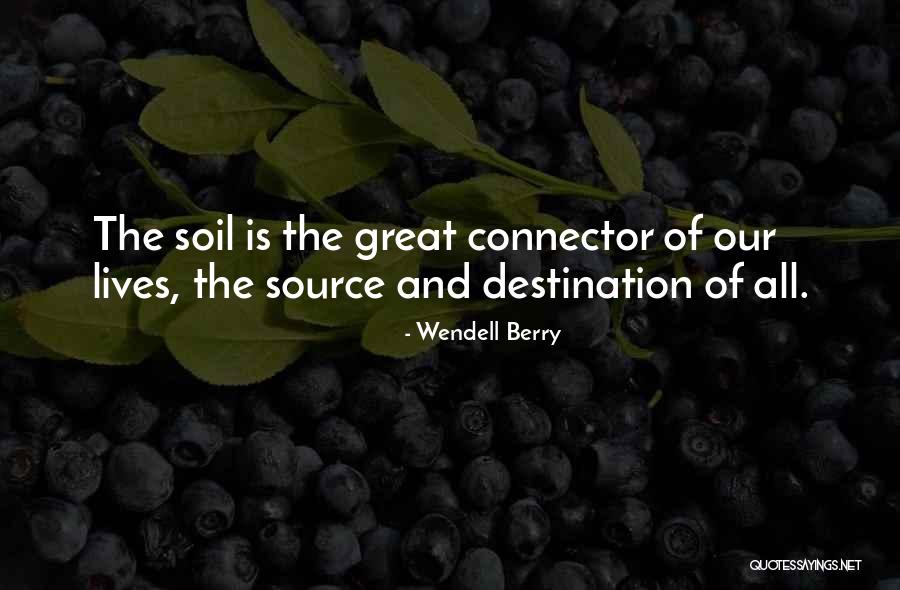 The soil is the great connector of our lives, the source and destination of all. — Wendell Berry
Anger is a weed...It grows up through the soil, choking every other plant. You must stamp it out. Don't let it enter your garden. Stamp out your anger until it never comes back. — Adam Gidwitz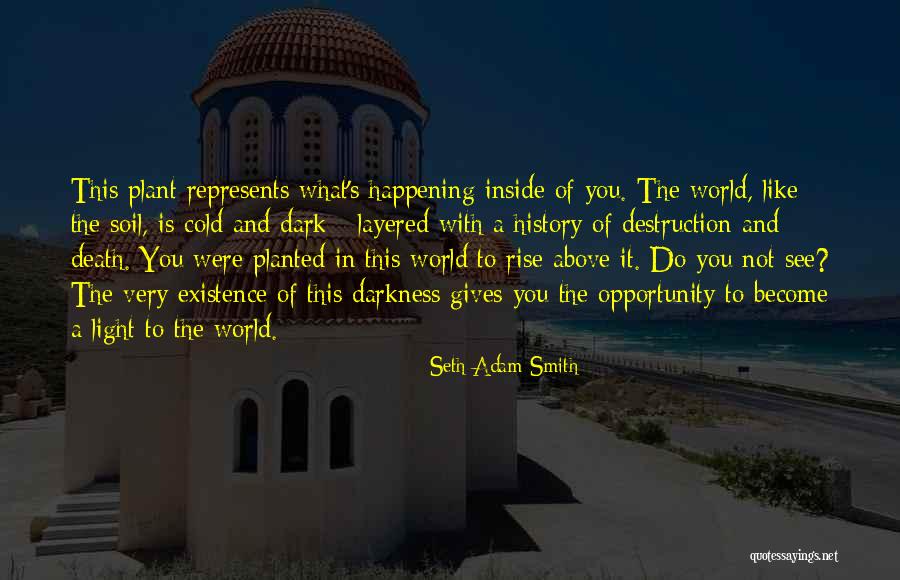 This plant represents what's happening inside of you. The world, like the soil, is cold and dark - layered with a history of destruction and death. You were planted in this world to rise above it. Do you not see? The very existence of this darkness gives you the opportunity to become a light to the world. — Seth Adam Smith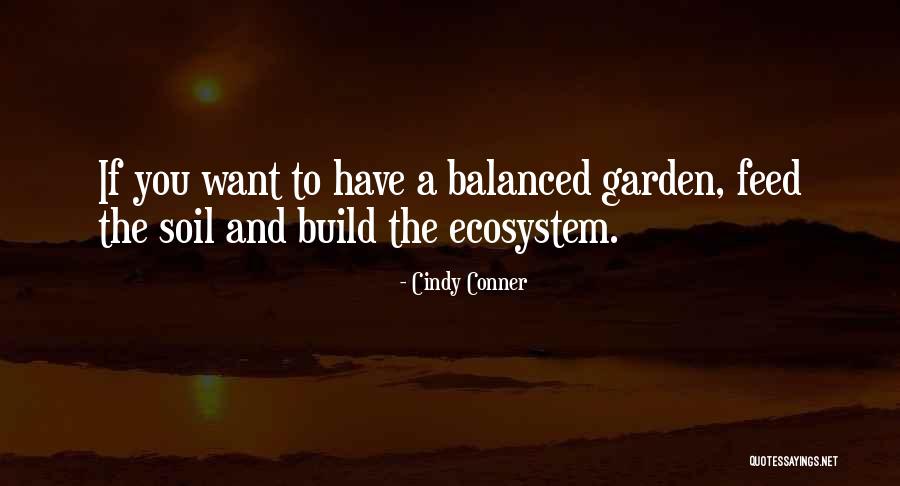 If you want to have a balanced garden, feed the soil and build the ecosystem. — Cindy Conner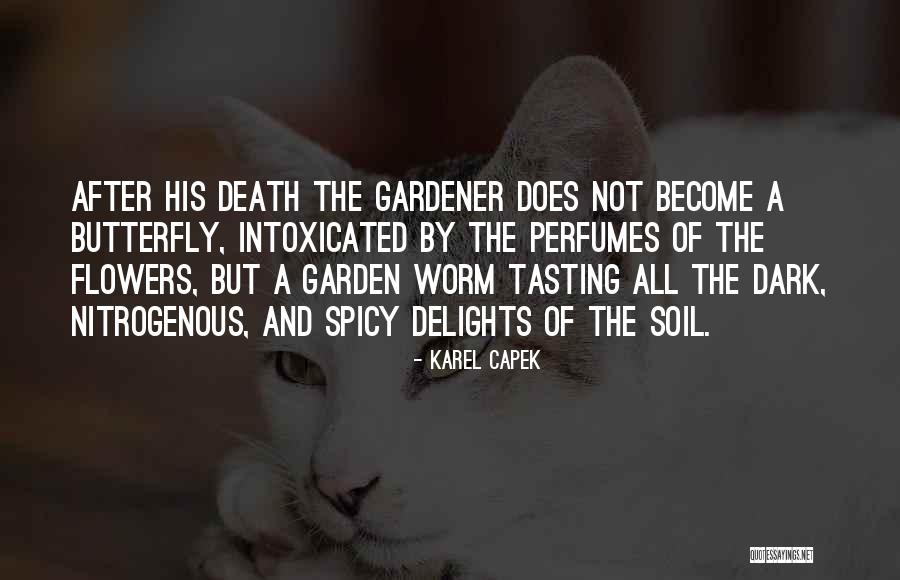 After his death the gardener does not become a butterfly, intoxicated by the perfumes of the flowers, but a garden worm tasting all the dark, nitrogenous, and spicy delights of the soil. — Karel Capek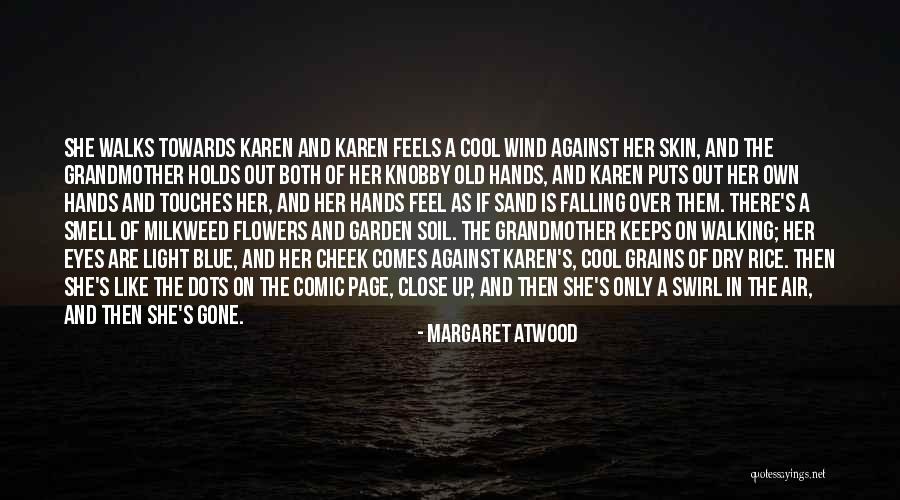 She walks towards Karen and Karen feels a cool wind against her skin, and the grandmother holds out both of her knobby old hands, and Karen puts out her own hands and touches her, and her hands feel as if sand is falling over them. There's a smell of milkweed flowers and garden soil. The grandmother keeps on walking; her eyes are light blue, and her cheek comes against Karen's, cool grains of dry rice. Then she's like the dots on the comic page, close up, and then she's only a swirl in the air, and then she's gone. — Margaret Atwood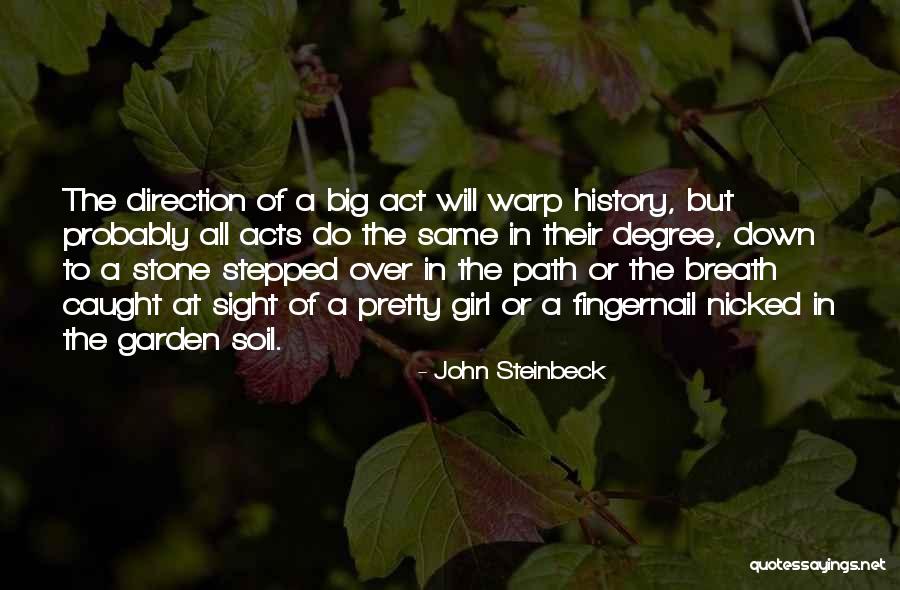 The direction of a big act will warp history, but probably all acts do the same in their degree, down to a stone stepped over in the path or the breath caught at sight of a pretty girl or a fingernail nicked in the garden soil. — John Steinbeck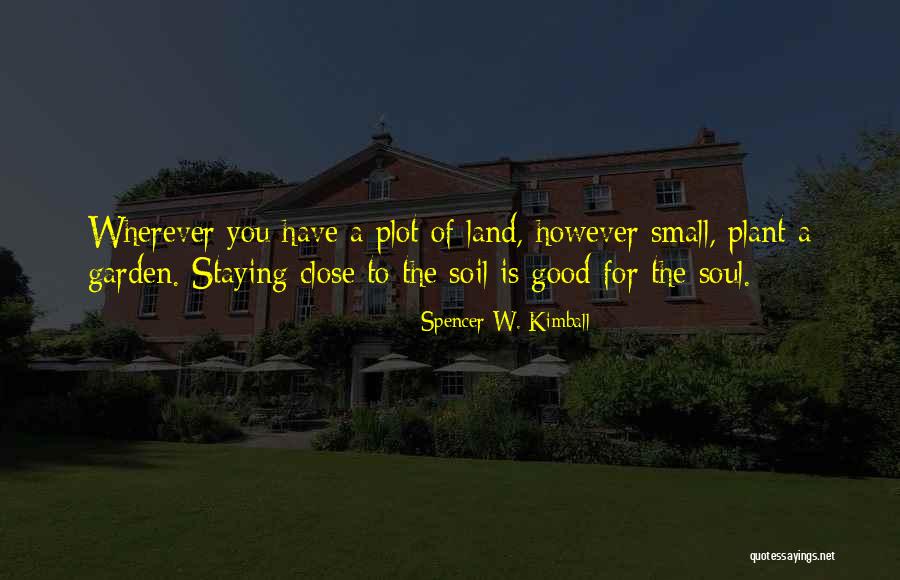 Wherever you have a plot of land, however small, plant a garden. Staying close to the soil is good for the soul. — Spencer W. Kimball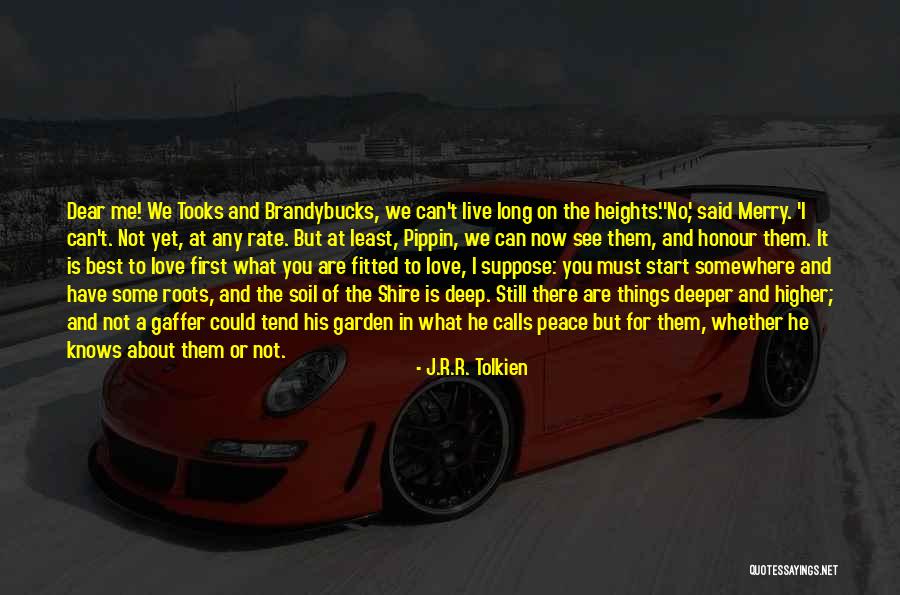 Dear me! We Tooks and Brandybucks, we can't live long on the heights.'
'No,' said Merry. 'I can't. Not yet, at any rate. But at least, Pippin, we can now see them, and honour them. It is best to love first what you are fitted to love, I suppose: you must start somewhere and have some roots, and the soil of the Shire is deep. Still there are things deeper and higher; and not a gaffer could tend his garden in what he calls peace but for them, whether he knows about them or not. — J.R.R. Tolkien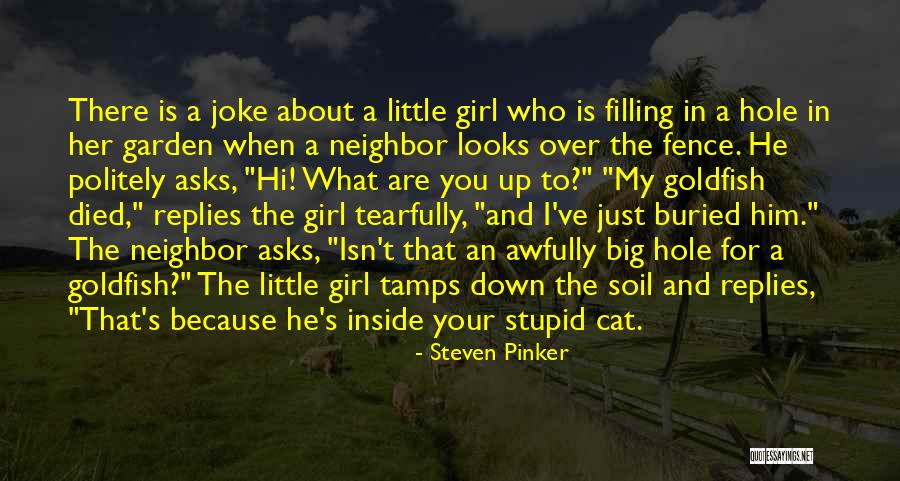 There is a joke about a little girl who is filling in a hole in her garden when a neighbor looks over the fence. He politely asks, "Hi! What are you up to?" "My goldfish died," replies the girl tearfully, "and I've just buried him." The neighbor asks, "Isn't that an awfully big hole for a goldfish?" The little girl tamps down the soil and replies, "That's because he's inside your stupid cat. — Steven Pinker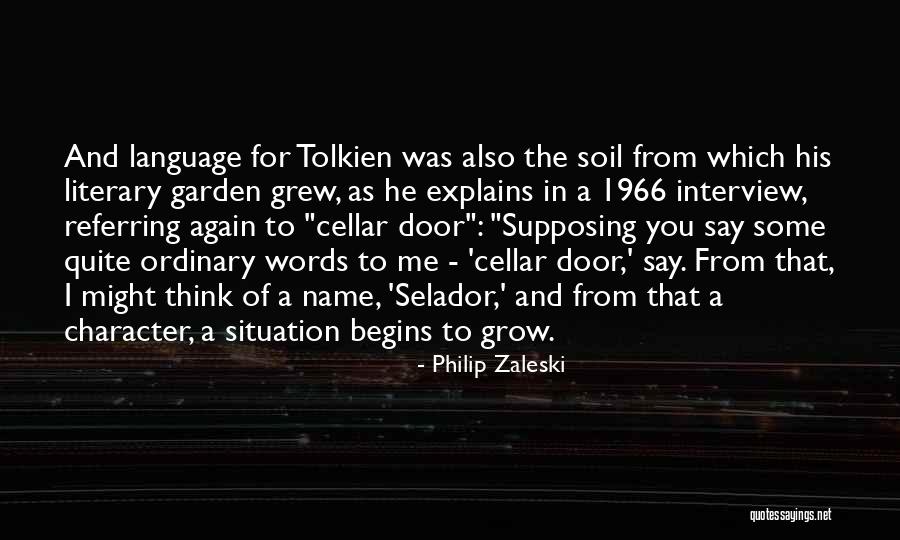 And language for Tolkien was also the soil from which his literary garden grew, as he explains in a 1966 interview, referring again to "cellar door": "Supposing you say some quite ordinary words to me - 'cellar door,' say. From that, I might think of a name, 'Selador,' and from that a character, a situation begins to grow. — Philip Zaleski
The richest soil, if uncultivated, produces the rankest weeds. — Plutarch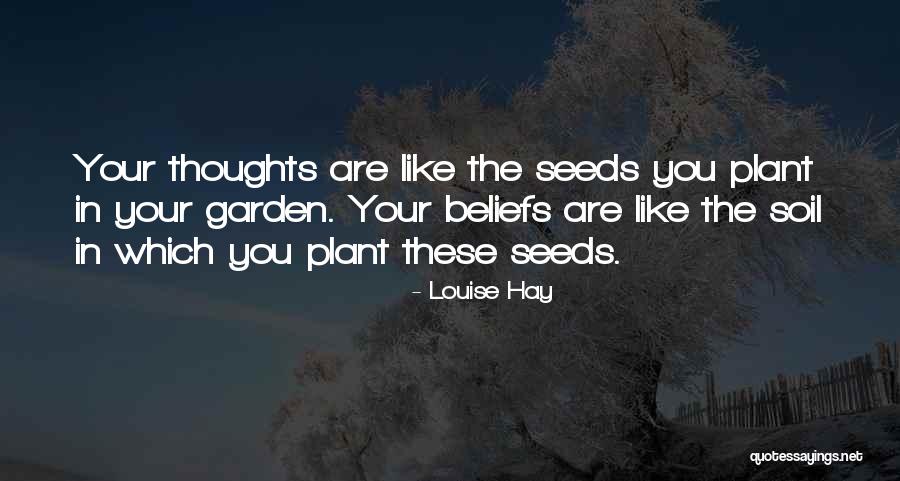 Your thoughts are like the seeds you plant in your garden. Your beliefs are like the soil in which you plant these seeds. — Louise Hay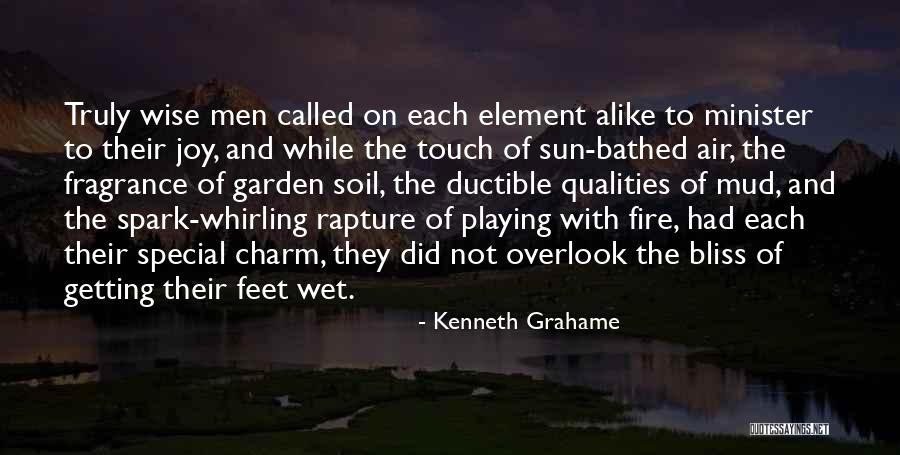 Truly wise men called on each element alike to minister to their joy, and while the touch of sun-bathed air, the fragrance of garden soil, the ductible qualities of mud, and the spark-whirling rapture of playing with fire, had each their special charm, they did not overlook the bliss of getting their feet wet. — Kenneth Grahame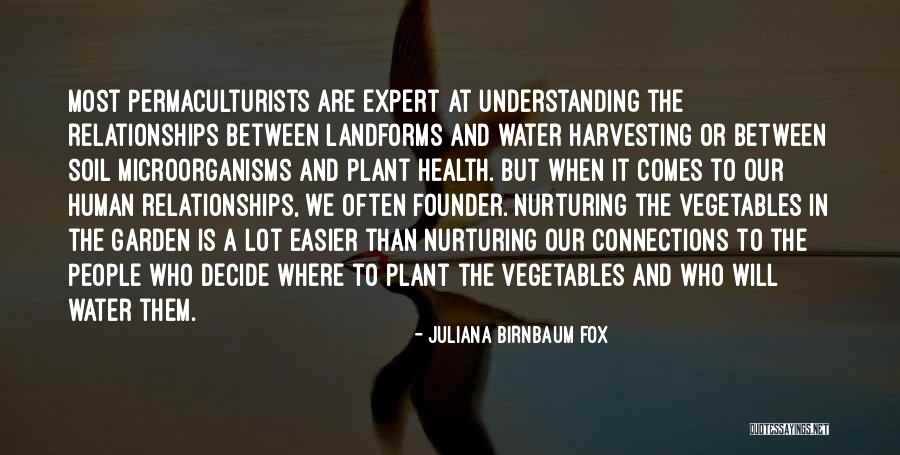 Most permaculturists are expert at understanding the relationships between landforms and water harvesting or between soil microorganisms and plant health. But when it comes to our human relationships, we often founder. Nurturing the vegetables in the garden is a lot easier than nurturing our connections to the people who decide where to plant the vegetables and who will water them. — Juliana Birnbaum Fox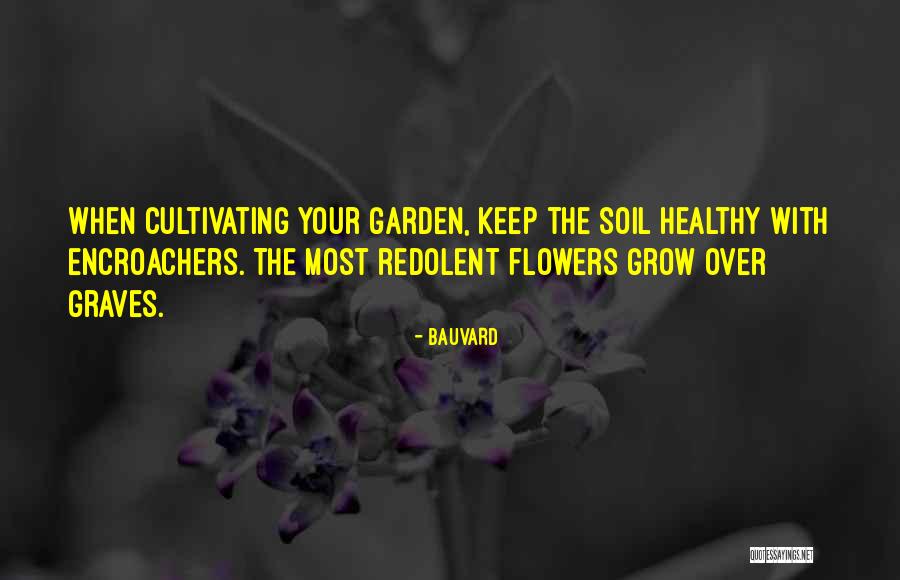 When cultivating your garden, keep the soil healthy with encroachers. The most redolent flowers grow over graves. — Bauvard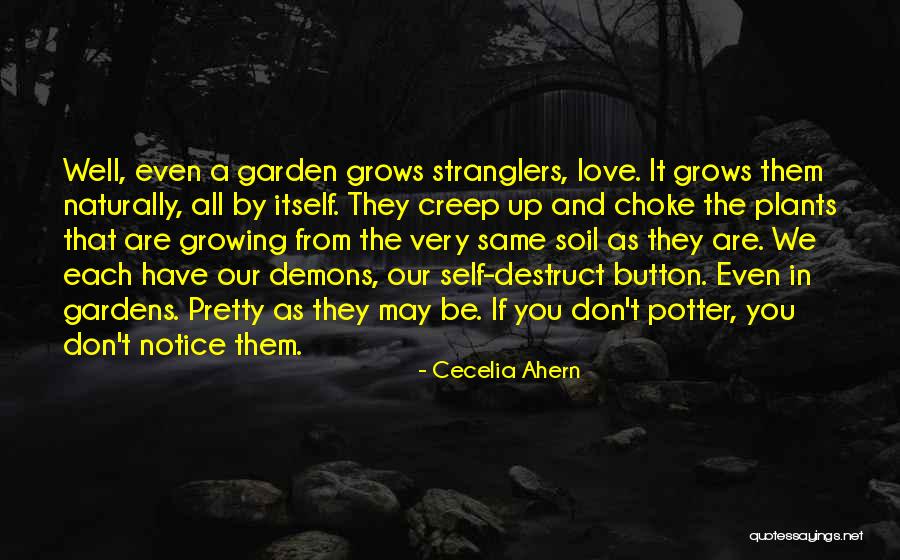 Well, even a garden grows stranglers, love. It grows them naturally, all by itself. They creep up and choke the plants that are growing from the very same soil as they are. We each have our demons, our self-destruct button. Even in gardens. Pretty as they may be. If you don't potter, you don't notice them. — Cecelia Ahern
Literature, in fact, had been concerned with virtues and vices of a perfectly healthy sort, the regular functioning of brains of a normal conformation, the practical reality of current ideas, with never a thought for morbid depravities and other-worldly aspirations; in short, the discoveries of these anaylists of human nature stopped short at the speculations good or bad, classified by the church; their efforts amounted to no more than the humdrum researches of a botanist who watches closely the expected development of ordinary flora planted in common or garden soil. — Joris-Karl Huysmans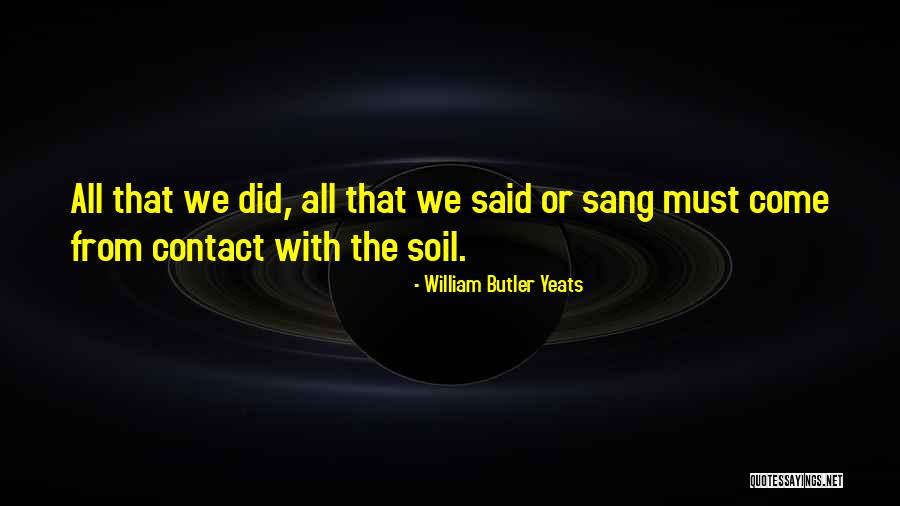 All that we did, all that we said or sang must come from contact with the soil. — William Butler Yeats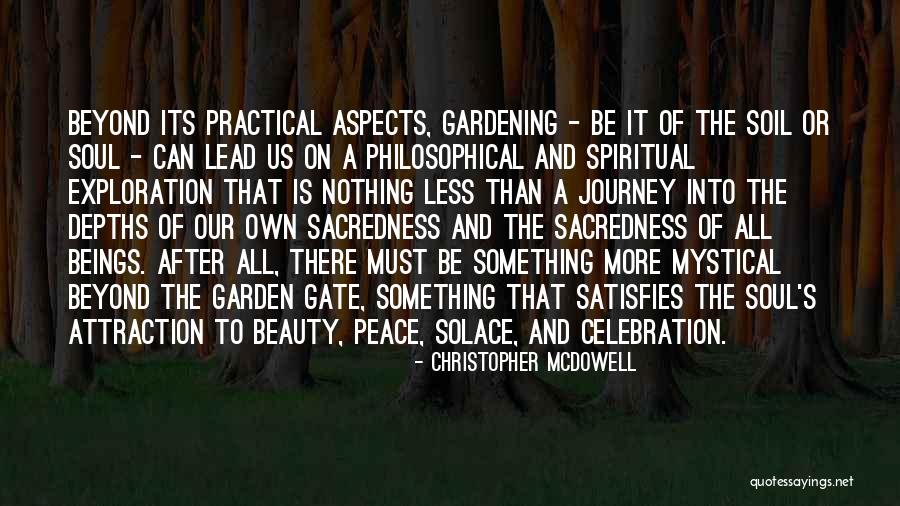 Beyond its practical aspects, gardening - be it of the soil or soul - can lead us on a philosophical and spiritual exploration that is nothing less than a journey into the depths of our own sacredness and the sacredness of all beings. After all, there must be something more mystical beyond the garden gate, something that satisfies the soul's attraction to beauty, peace, solace, and celebration. — Christopher McDowell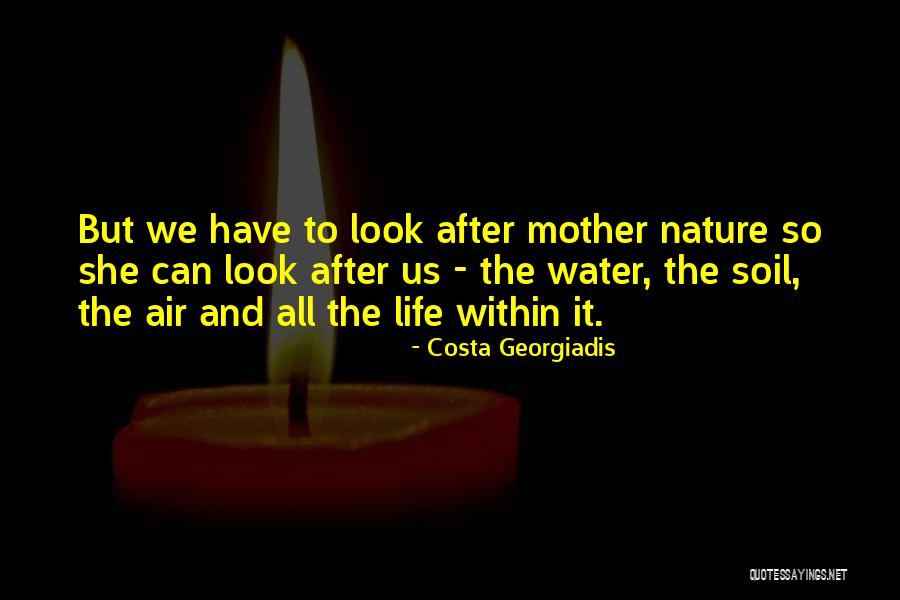 But we have to look after mother nature so she can look after us - the water, the soil, the air and all the life within it. — Costa Georgiadis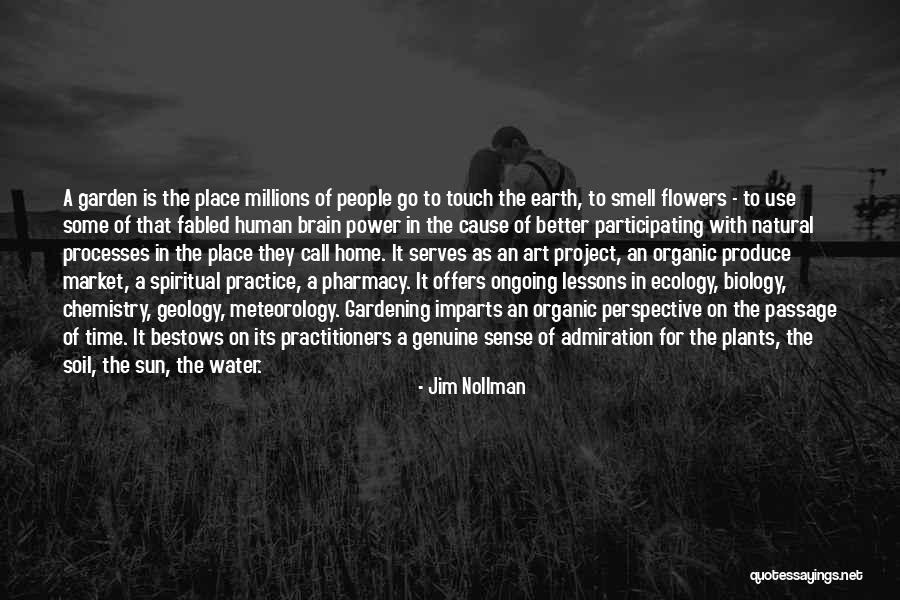 A garden is the place millions of people go to touch the earth, to smell flowers - to use some of that fabled human brain power in the cause of better participating with natural processes in the place they call home. It serves as an art project, an organic produce market, a spiritual practice, a pharmacy. It offers ongoing lessons in ecology, biology, chemistry, geology, meteorology. Gardening imparts an organic perspective on the passage of time. It bestows on its practitioners a genuine sense of admiration for the plants, the soil, the sun, the water. — Jim Nollman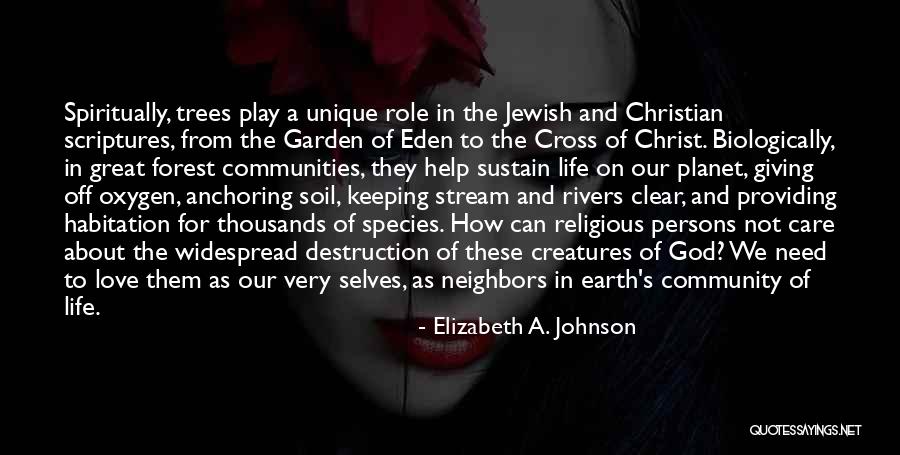 Spiritually, trees play a unique role in the Jewish and Christian scriptures, from the Garden of Eden to the Cross of Christ. Biologically, in great forest communities, they help sustain life on our planet, giving off oxygen, anchoring soil, keeping stream and rivers clear, and providing habitation for thousands of species. How can religious persons not care about the widespread destruction of these creatures of God? We need to love them as our very selves, as neighbors in earth's community of life. — Elizabeth A. Johnson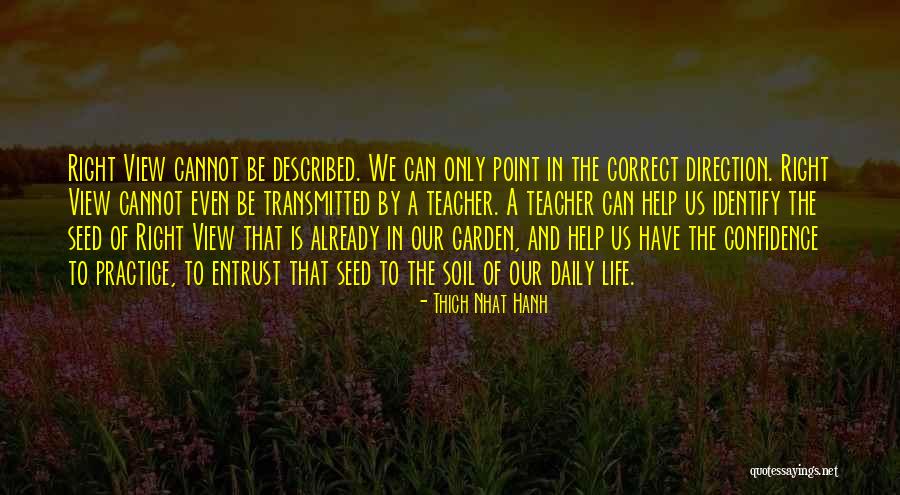 Right View cannot be described. We can only point in the correct direction. Right View cannot even be transmitted by a teacher. A teacher can help us identify the seed of Right View that is already in our garden, and help us have the confidence to practice, to entrust that seed to the soil of our daily life. — Thich Nhat Hanh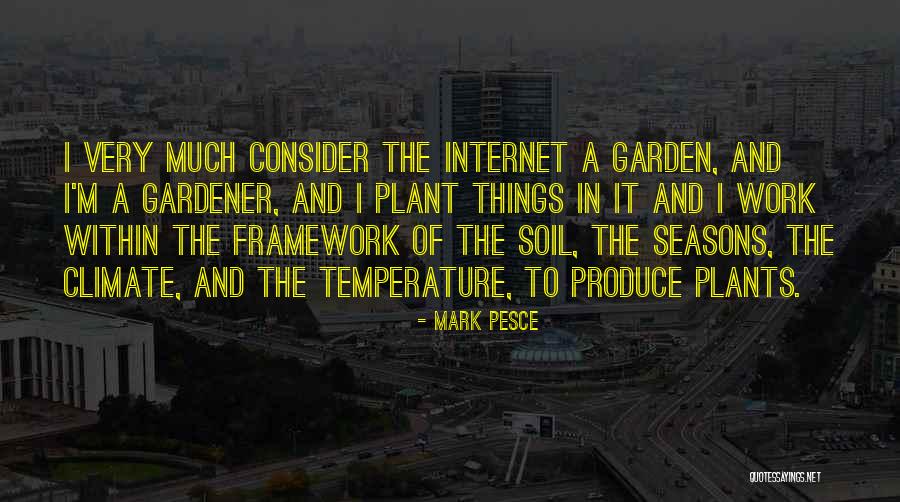 I very much consider the Internet a garden, and I'm a gardener, and I plant things in it and I work within the framework of the soil, the seasons, the climate, and the temperature, to produce plants. — Mark Pesce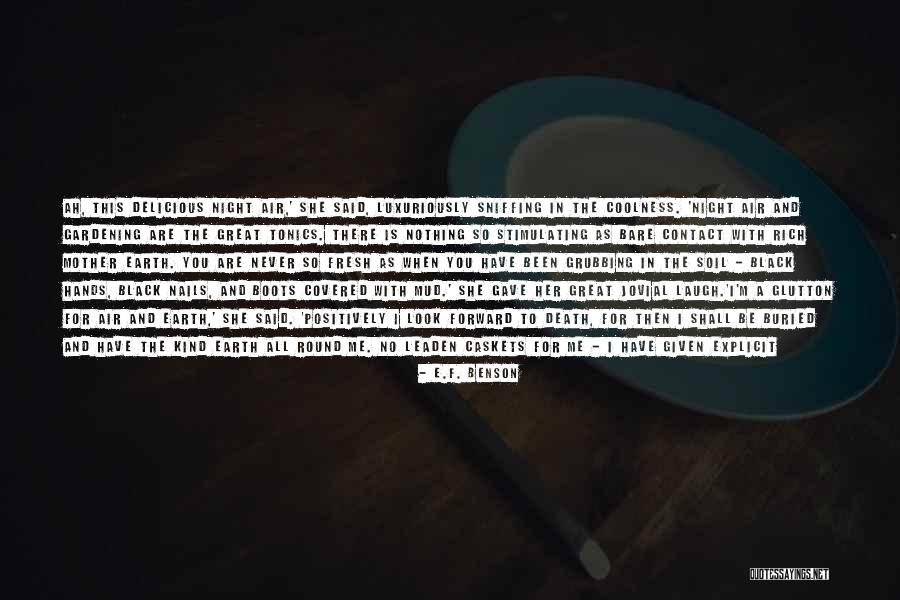 Ah, this delicious night air,' she said, luxuriously sniffing in the coolness. 'Night air and gardening are the great tonics. There is nothing so stimulating as bare contact with rich mother earth. You are never so fresh as when you have been grubbing in the soil - black hands, black nails, and boots covered with mud.' She gave her great jovial laugh.

'I'm a glutton for air and earth,' she said. 'Positively I look forward to death, for then I shall be buried and have the kind earth all round me. No leaden caskets for me - I have given explicit directions. But what shall I do about air? Well, I suppose one can't have everything.'

("Mrs. Amworth") — E.F. Benson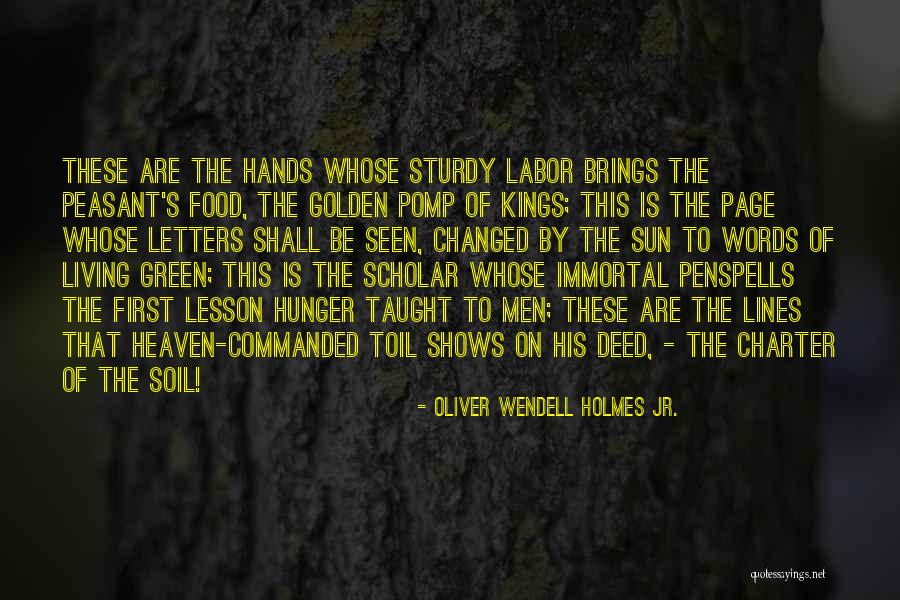 These are the hands whose sturdy labor brings The peasant's food, the golden pomp of kings; This is the page whose letters shall be seen, Changed by the sun to words of living green; This is the scholar whose immortal penSpells the first lesson hunger taught to men; These are the lines that heaven-commanded Toil Shows on his deed, - the charter of the soil! — Oliver Wendell Holmes Jr.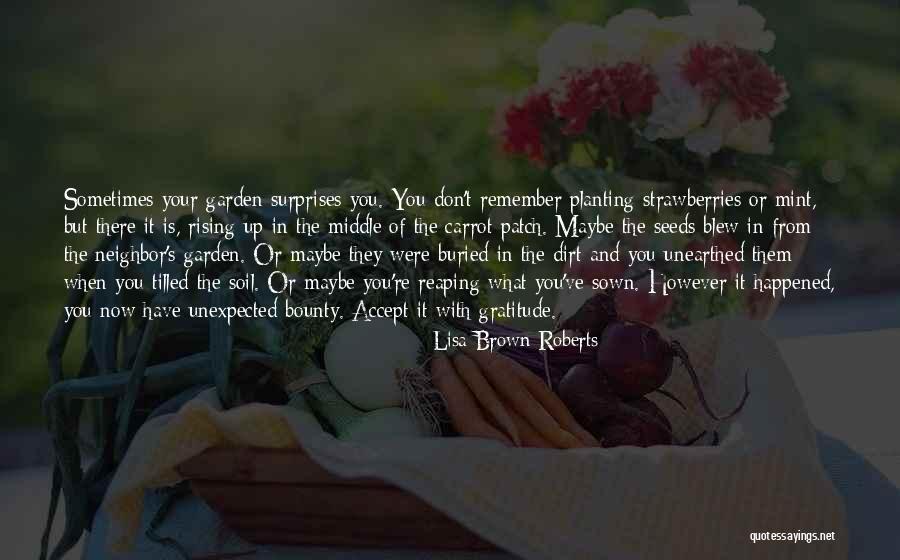 Sometimes your garden surprises you. You don't remember planting strawberries or mint, but there it is, rising up in the middle of the carrot patch. Maybe the seeds blew in from the neighbor's garden. Or maybe they were buried in the dirt and you unearthed them when you tilled the soil. Or maybe you're reaping what you've sown. However it happened, you now have unexpected bounty. Accept it with gratitude. — Lisa Brown Roberts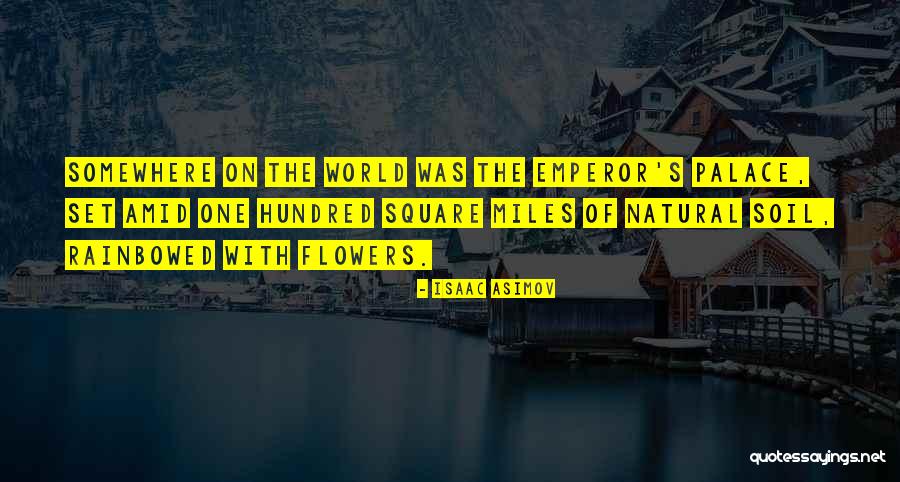 Somewhere on the world was the Emperor's palace, set amid one hundred square miles of natural soil, rainbowed with flowers. — Isaac Asimov