Quotes & Sayings About Fulfilling Your Destiny
Enjoy reading and share 39 famous quotes about Fulfilling Your Destiny with everyone.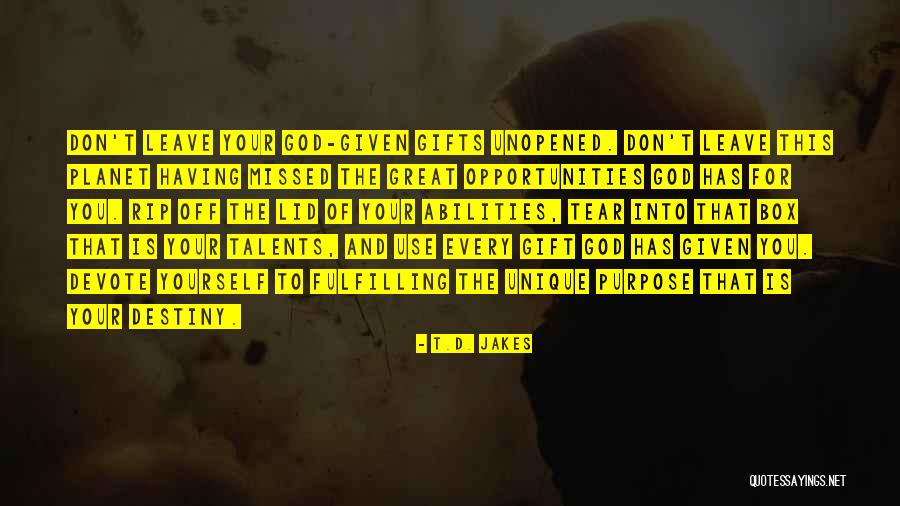 Don't leave your God-given gifts unopened. Don't leave this planet having missed the great opportunities God has for you. Rip off the lid of your abilities, tear into that box that is your talents, and use every gift God has given you. Devote yourself to fulfilling the unique purpose that is your destiny. — T.D. Jakes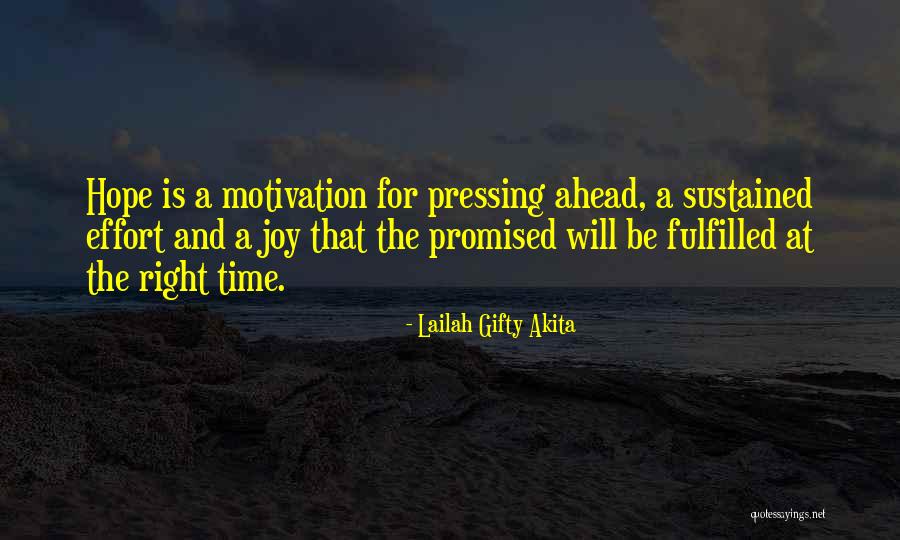 Hope is a motivation for pressing ahead, a sustained effort and a joy that the promised will be fulfilled at the right time. — Lailah Gifty Akita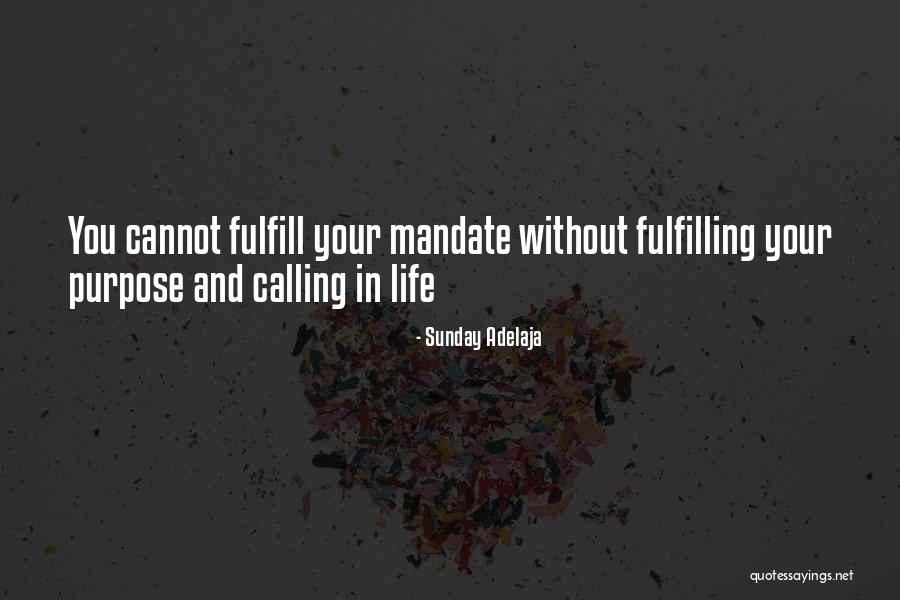 You cannot fulfill your mandate without fulfilling your purpose and calling in life — Sunday Adelaja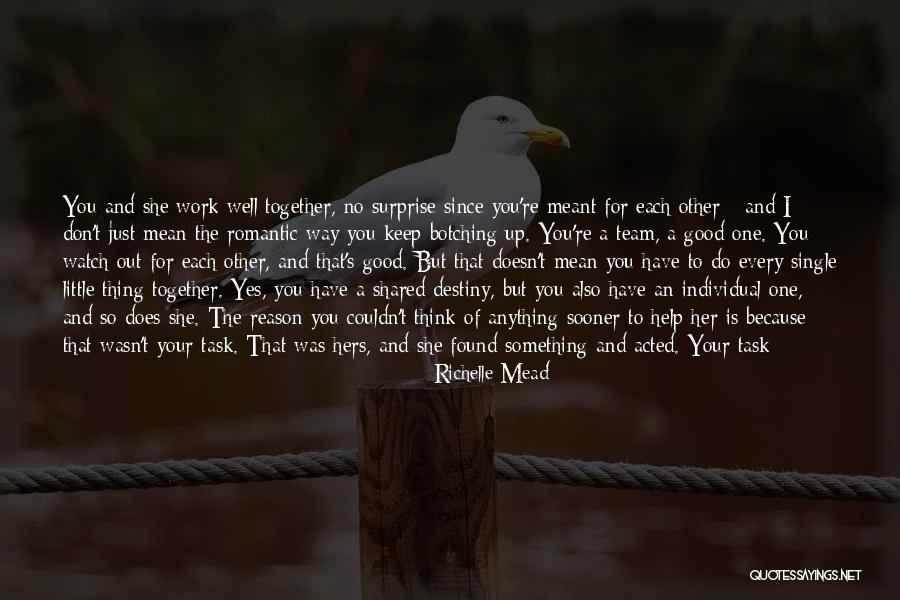 You and she work well together, no surprise since you're meant for each other - and I don't just mean the romantic way you keep botching up. You're a team, a good one. You watch out for each other, and that's good. But that doesn't mean you have to do every single little thing together. Yes, you have a shared destiny, but you also have an individual one, and so does she. The reason you couldn't think of anything sooner to help her is because that wasn't your task. That was hers, and she found something and acted. Your task was to uncover the Grand Disciple's conspiracy and bring these people to Odin. Be content with the knowledge that you're both fulfilling the duties you're supposed to."
"It's hard to feel content when mostly I'm worried I'll never see her again," said Justin. "I don't know how I could get by without her. — Richelle Mead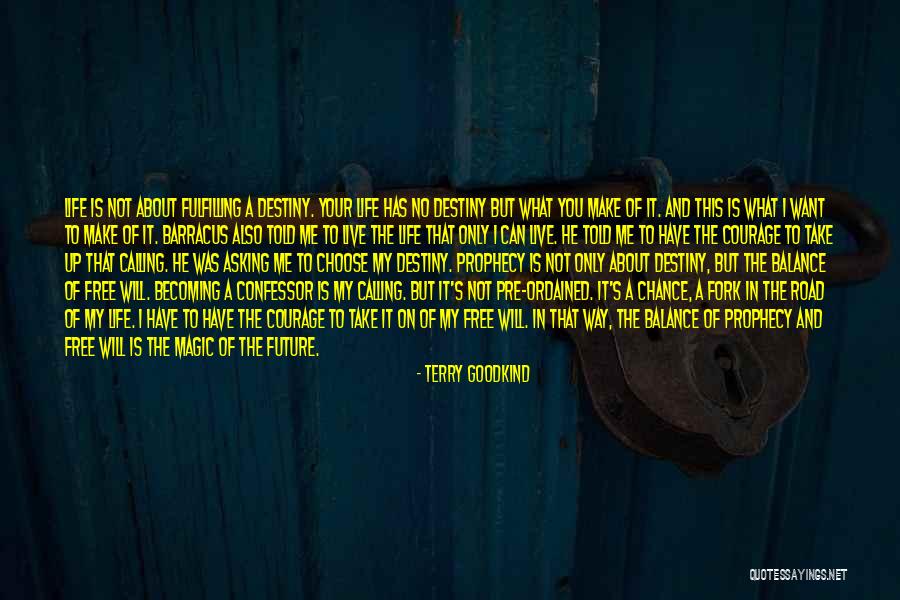 Life is not about fulfilling a destiny. Your life has no destiny but what you make of it. And this is what I want to make of it. Barracus also told me to live the life that only I can live. He told me to have the courage to take up that calling. He was asking me to choose my destiny. Prophecy is not only about destiny, but the balance of free will. Becoming a Confessor is my calling. But it's not pre-ordained. It's a chance, a fork in the road of my life. I have to have the courage to take it on of my free will. In that way, the balance of prophecy and free will is the magic of the future. — Terry Goodkind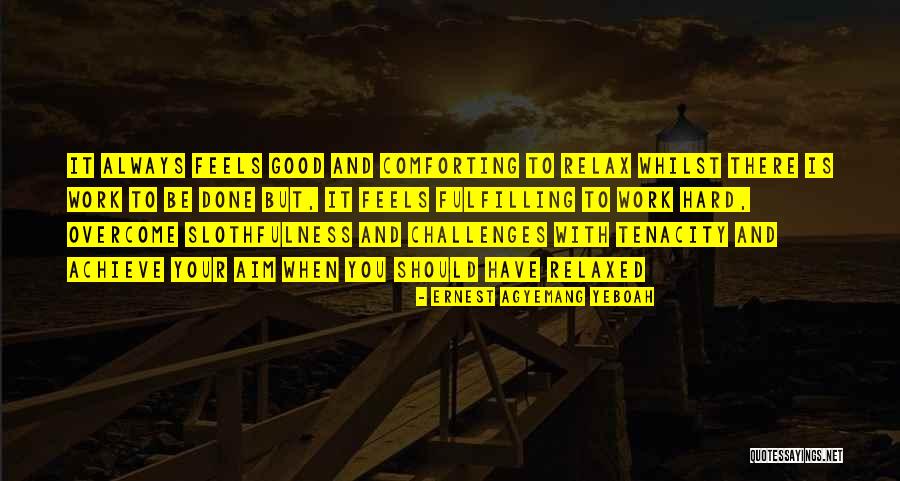 It always feels good and comforting to relax whilst there is work to be done but, it feels fulfilling to work hard, overcome slothfulness and challenges with tenacity and achieve your aim when you should have relaxed — Ernest Agyemang Yeboah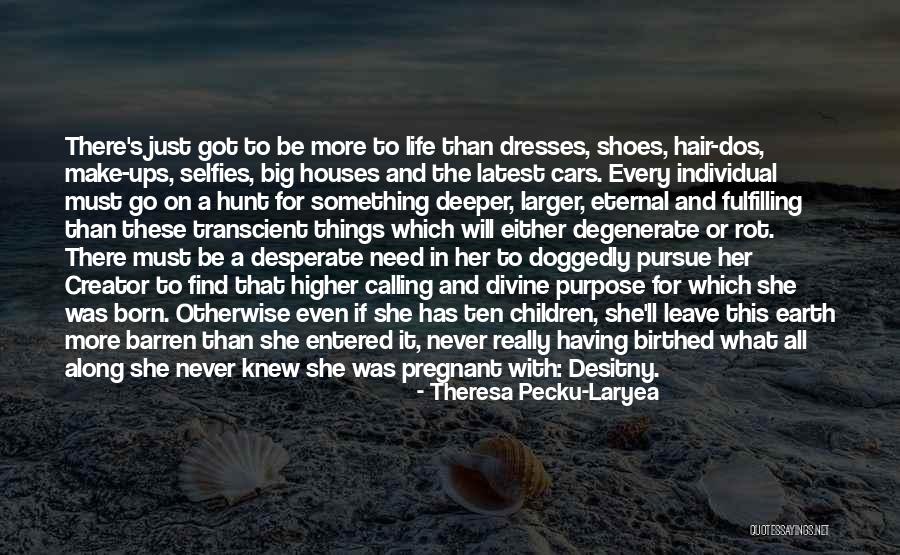 There's just got to be more to life than dresses, shoes, hair-dos, make-ups, selfies, big houses and the latest cars. Every individual must go on a hunt for something deeper, larger, eternal and fulfilling than these transcient things which will either degenerate or rot. There must be a desperate need in her to doggedly pursue her Creator to find that higher calling and divine purpose for which she was born. Otherwise even if she has ten children, she'll leave this earth more barren than she entered it, never really having birthed what all along she never knew she was pregnant with: Desitny. — Theresa Pecku-Laryea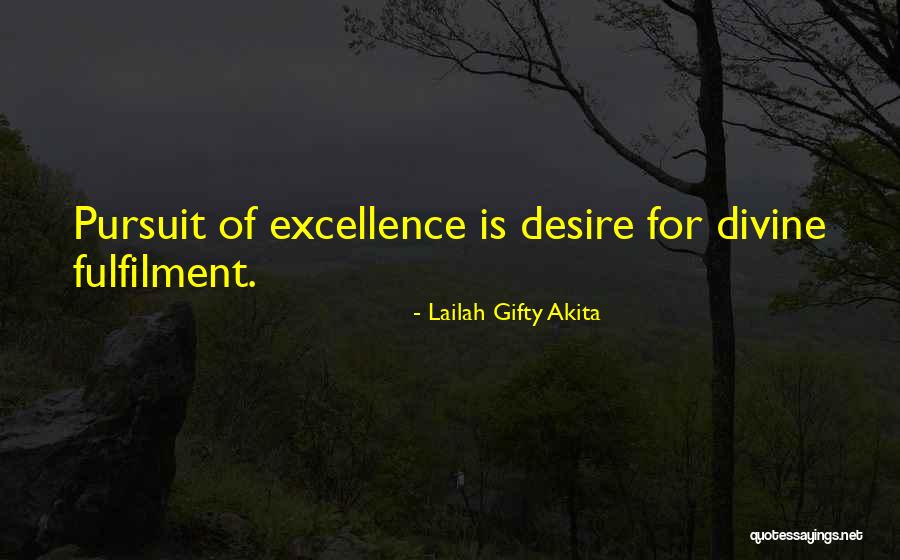 Pursuit of excellence is desire for divine fulfilment. — Lailah Gifty Akita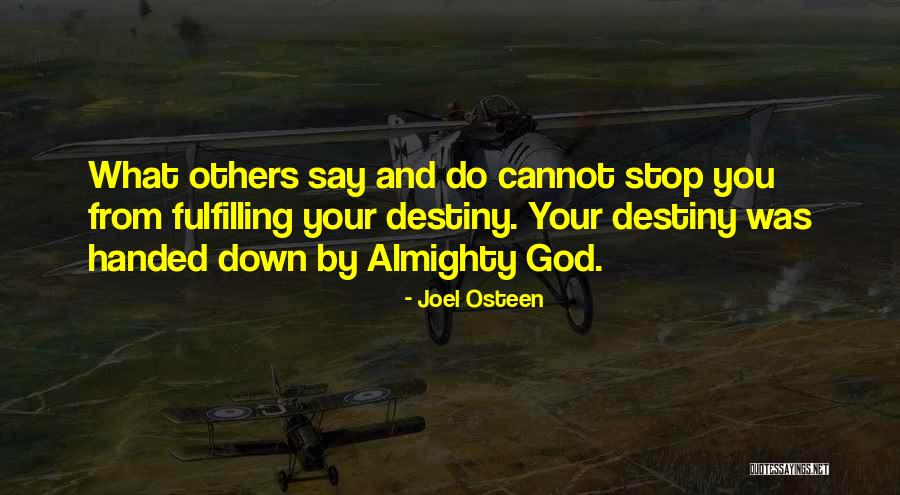 What others say and do cannot stop you from fulfilling your destiny. Your destiny was handed down by Almighty God. — Joel Osteen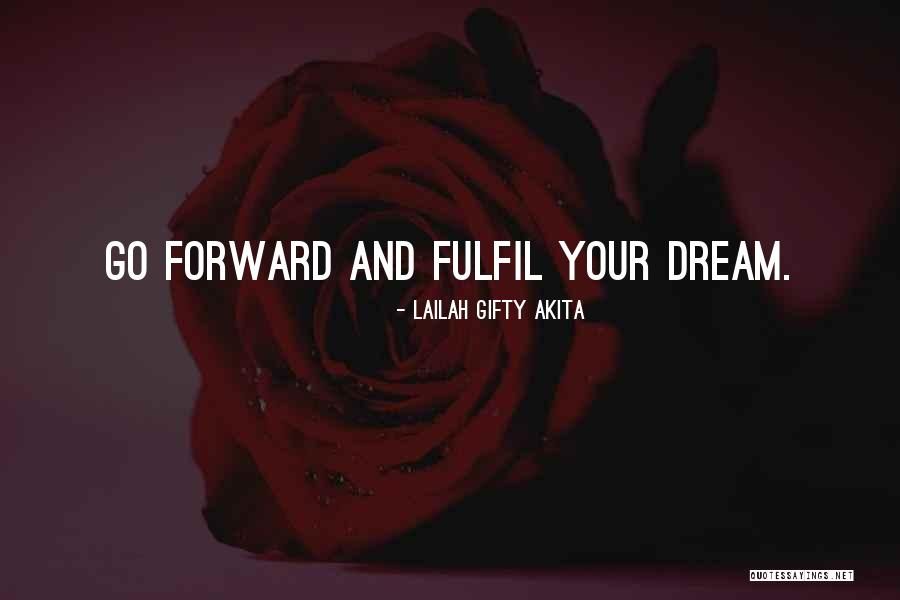 Go forward and fulfil your dream. — Lailah Gifty Akita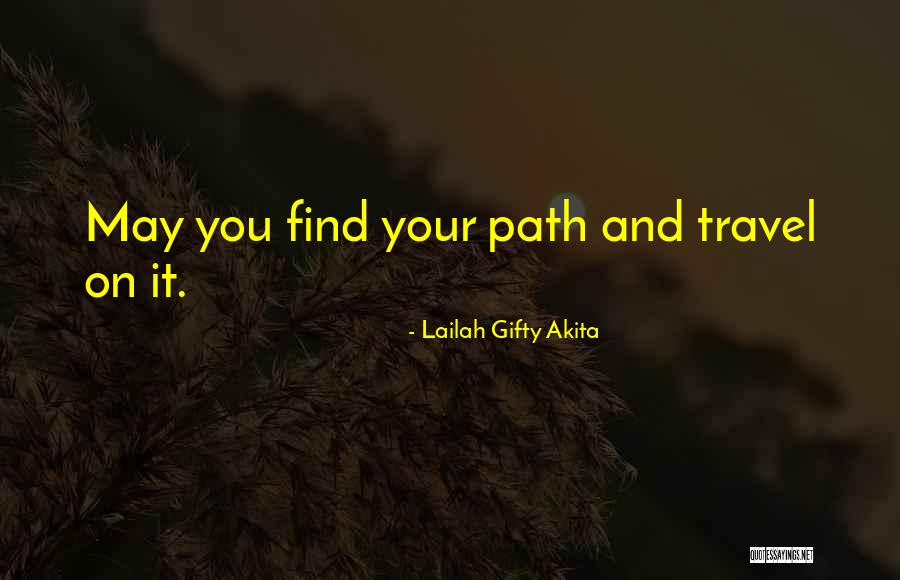 May you find your path and travel on it. — Lailah Gifty Akita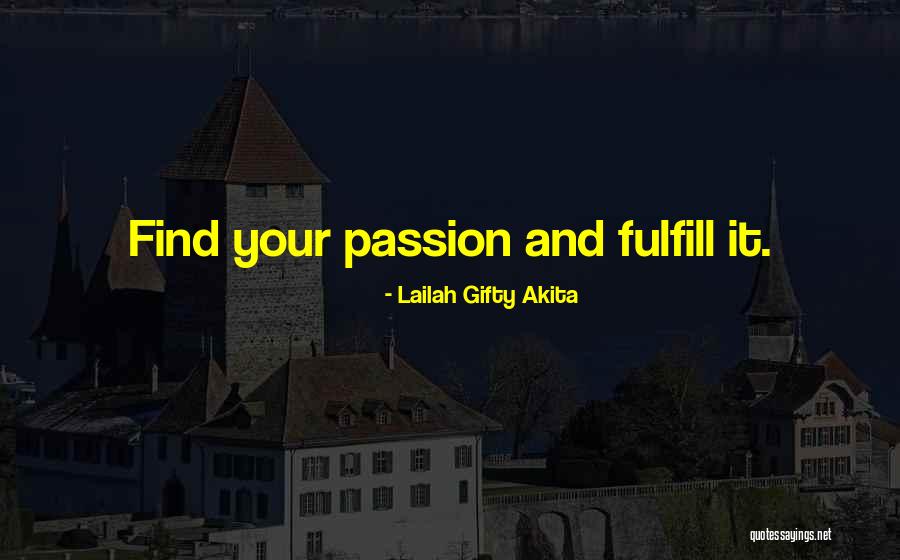 Find your passion and fulfill it. — Lailah Gifty Akita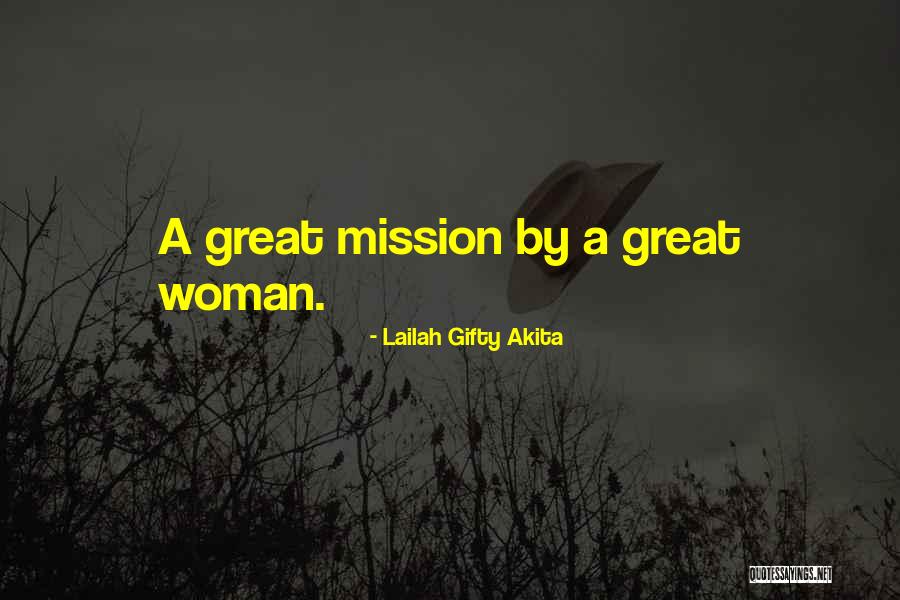 A great mission by a great woman. — Lailah Gifty Akita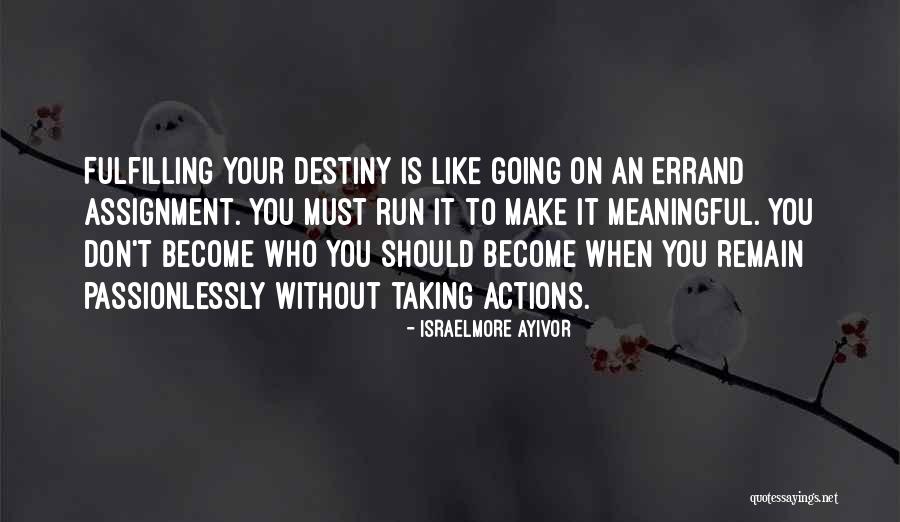 Fulfilling your destiny is like going on an errand assignment. You must run it to make it meaningful. You don't become who you should become when you remain passionlessly without taking actions. — Israelmore Ayivor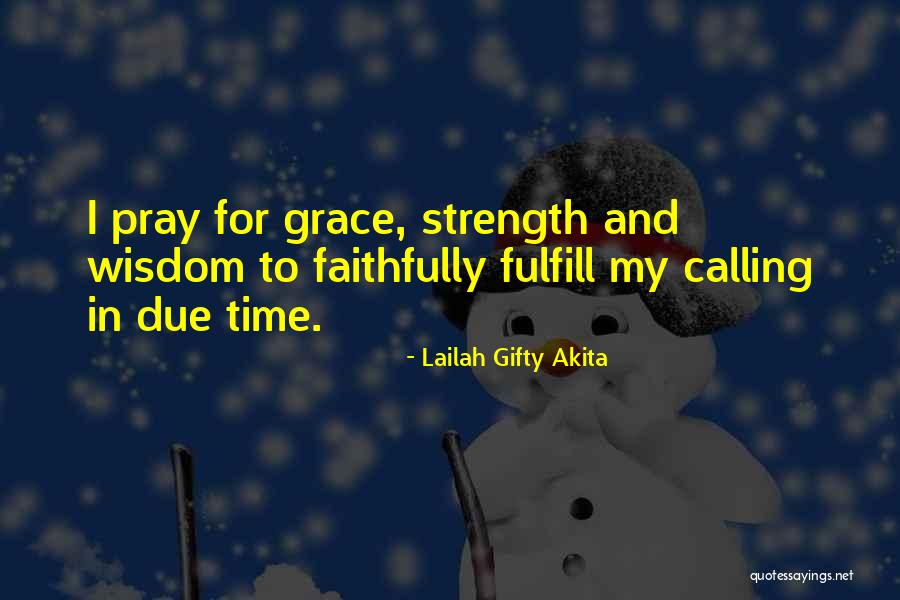 I pray for grace, strength and wisdom to faithfully fulfill my calling in due time. — Lailah Gifty Akita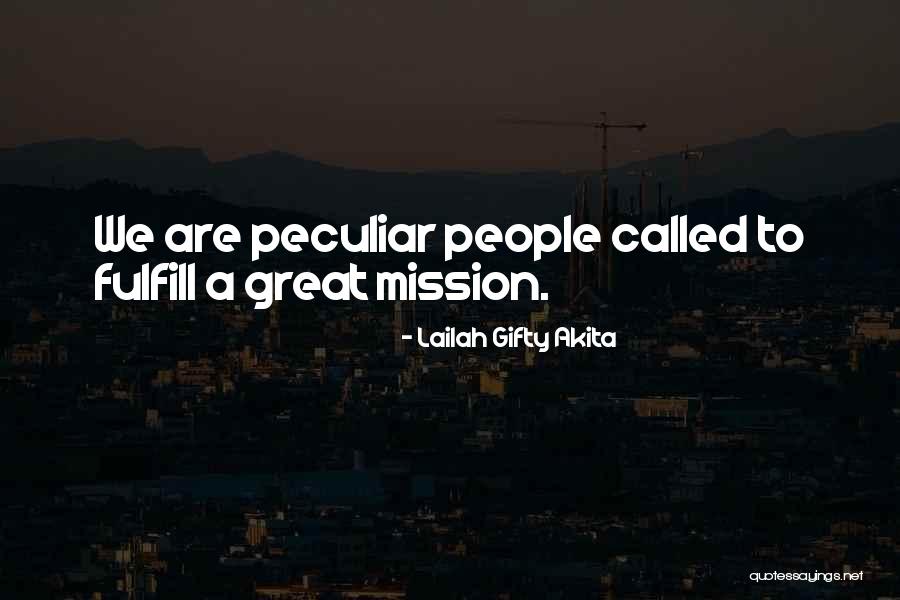 We are peculiar people called to fulfill a great mission. — Lailah Gifty Akita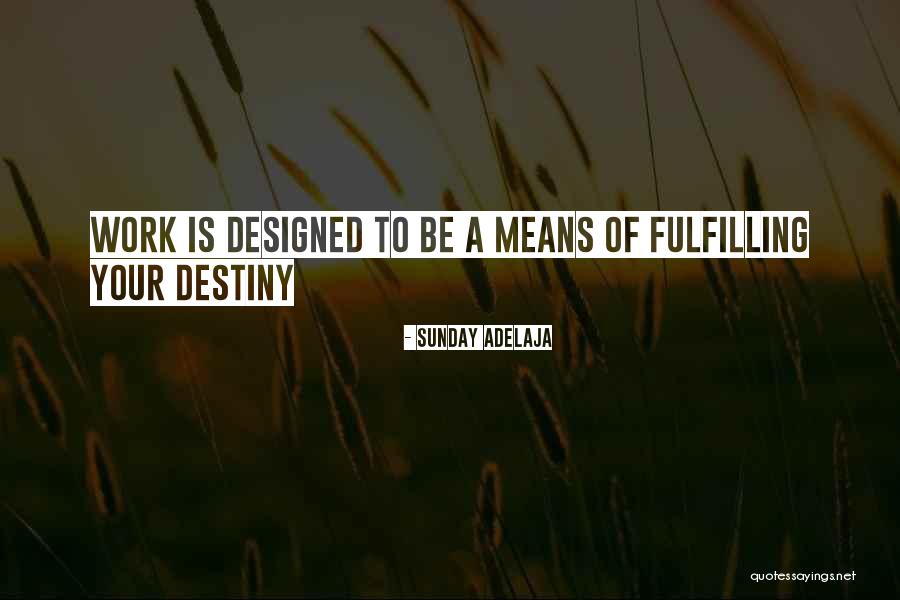 Work is designed to be a means of fulfilling your destiny — Sunday Adelaja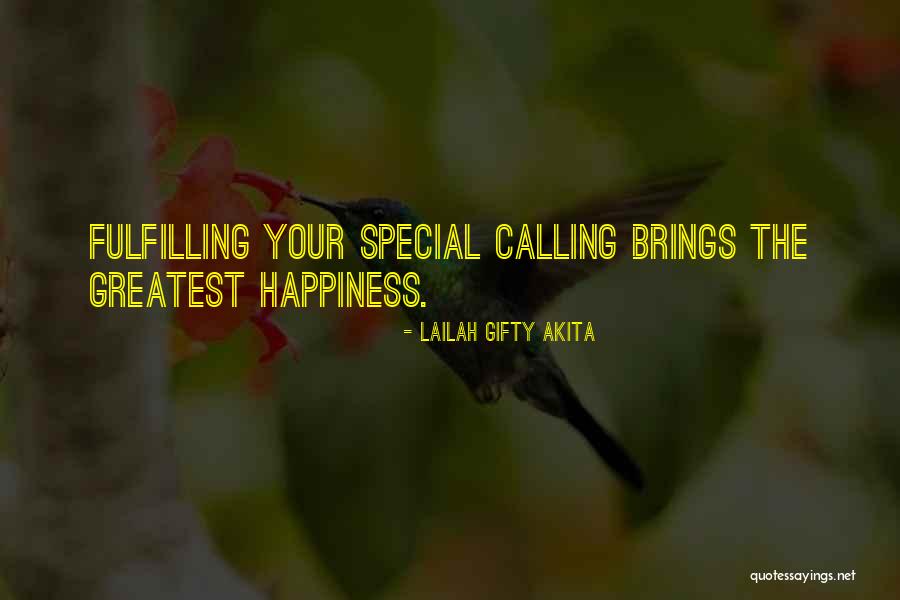 Fulfilling your special calling brings the greatest happiness. — Lailah Gifty Akita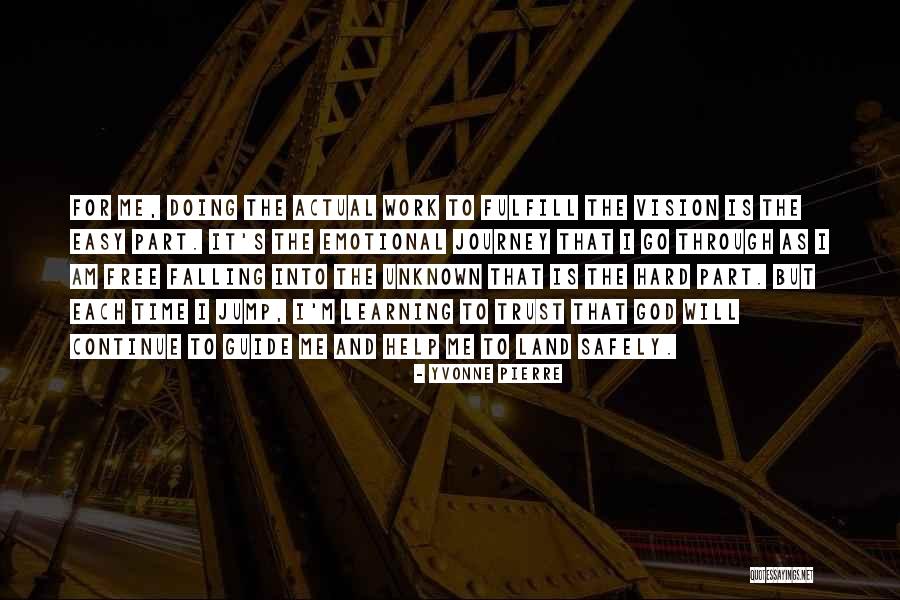 For me, doing the actual work to fulfill the vision is the easy part. It's the emotional journey that I go through as I am free falling into the unknown that is the hard part. But each time I jump, I'm learning to trust that God will continue to guide me and help me to land safely. — Yvonne Pierre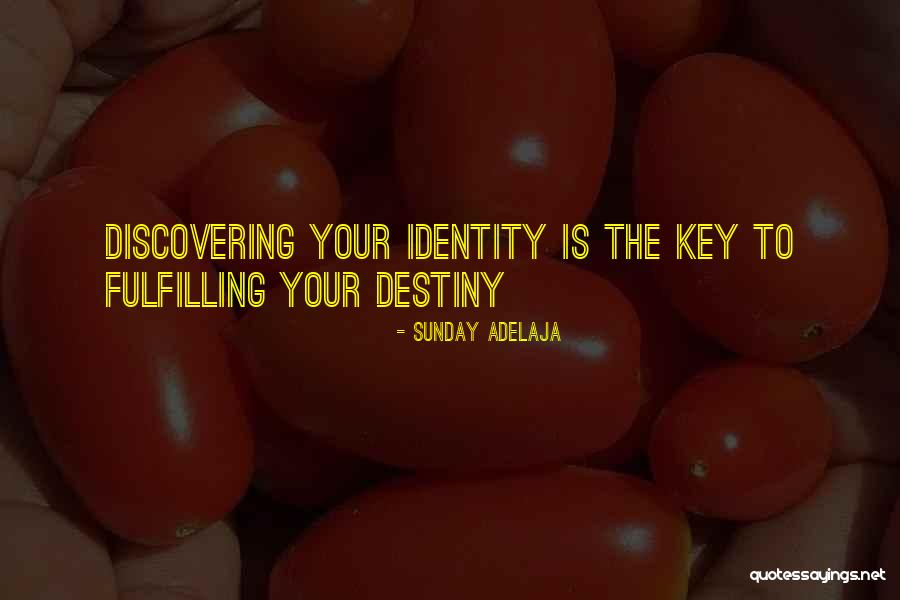 Discovering your identity is the key to fulfilling your destiny — Sunday Adelaja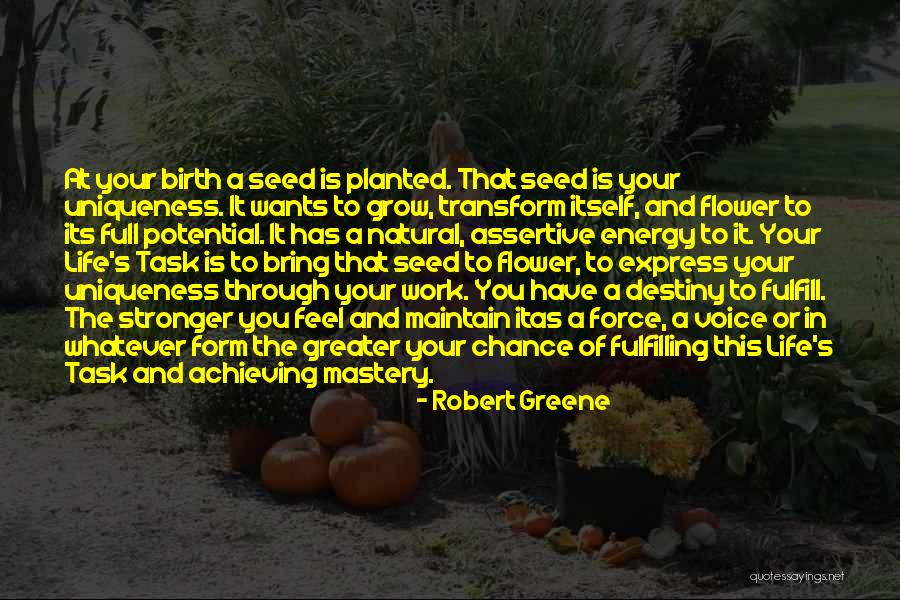 At your birth a seed is planted. That seed is your uniqueness. It wants to grow, transform itself, and flower to its full potential. It has a natural, assertive energy to it. Your Life's Task is to bring that seed to flower, to express your uniqueness through your work. You have a destiny to fulfill. The stronger you feel and maintain it
as a force, a voice or in whatever form
the greater your chance of fulfilling this Life's Task and achieving mastery. — Robert Greene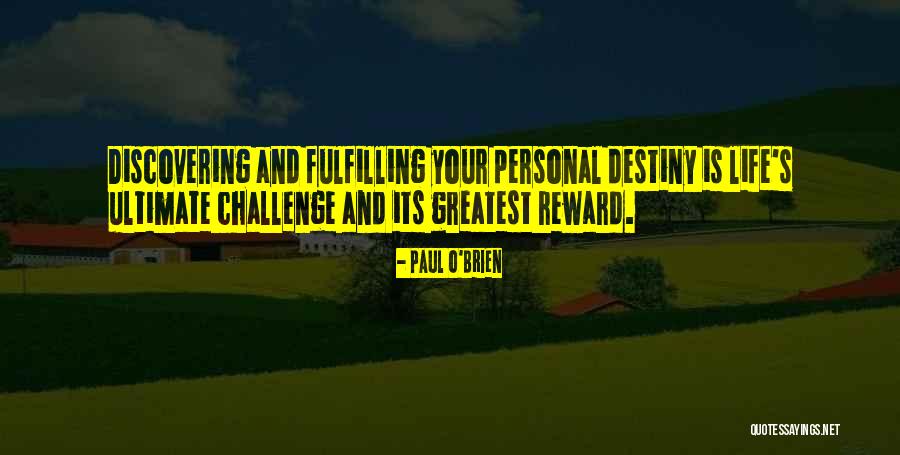 Discovering and fulfilling your personal destiny is life's ultimate challenge and its greatest reward. — Paul O'Brien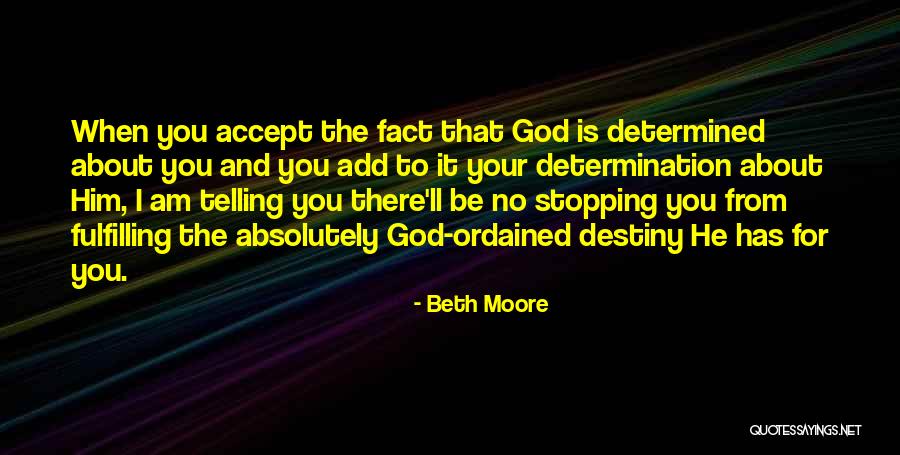 When you accept the fact that God is determined about you and you add to it your determination about Him, I am telling you there'll be no stopping you from fulfilling the absolutely God-ordained destiny He has for you. — Beth Moore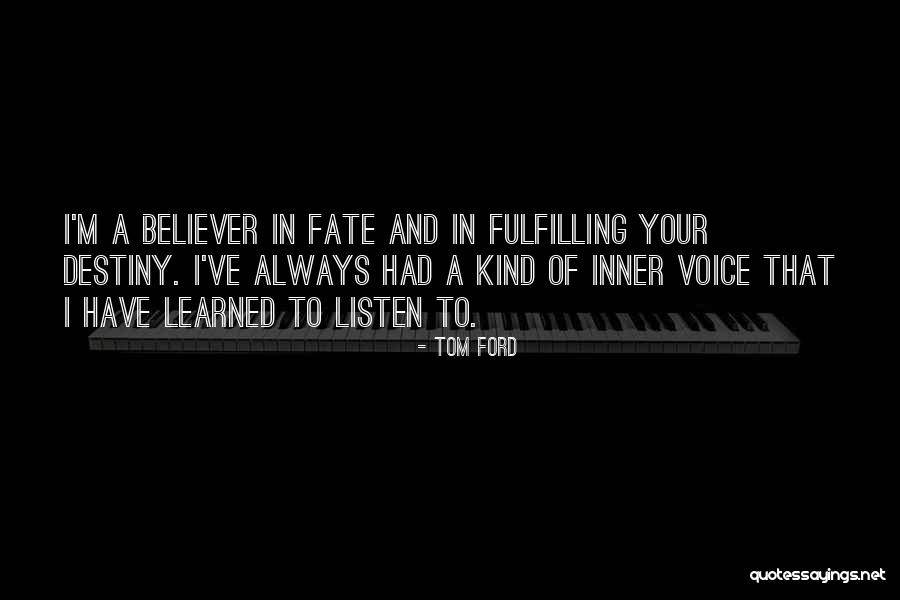 I'm a believer in fate and in fulfilling your destiny. I've always had a kind of inner voice that I have learned to listen to. — Tom Ford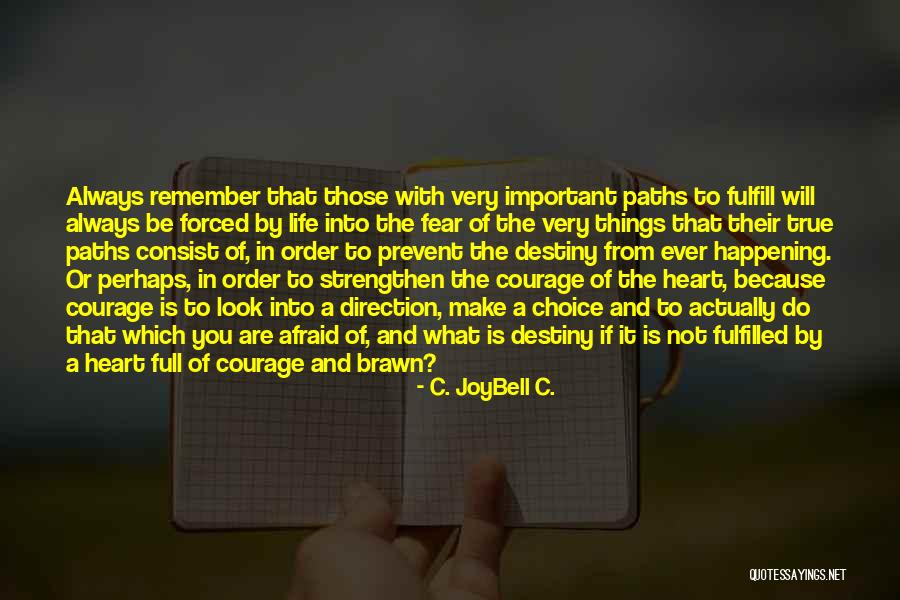 Always remember that those with very important paths to fulfill will always be forced by life into the fear of the very things that their true paths consist of, in order to prevent the destiny from ever happening. Or perhaps, in order to strengthen the courage of the heart, because courage is to look into a direction, make a choice and to actually do that which you are afraid of, and what is destiny if it is not fulfilled by a heart full of courage and brawn? — C. JoyBell C.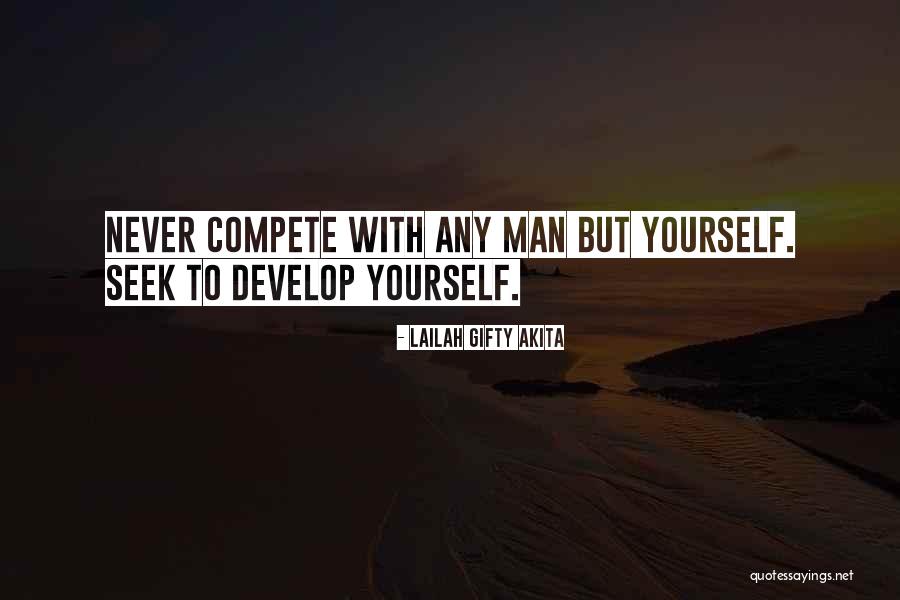 Never compete with any man but yourself. Seek to develop yourself. — Lailah Gifty Akita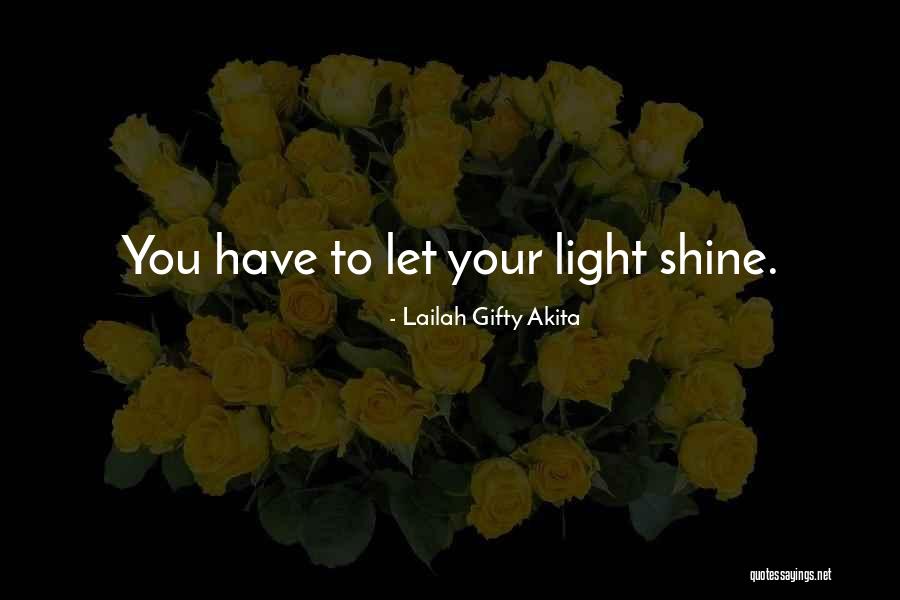 You have to let your light shine. — Lailah Gifty Akita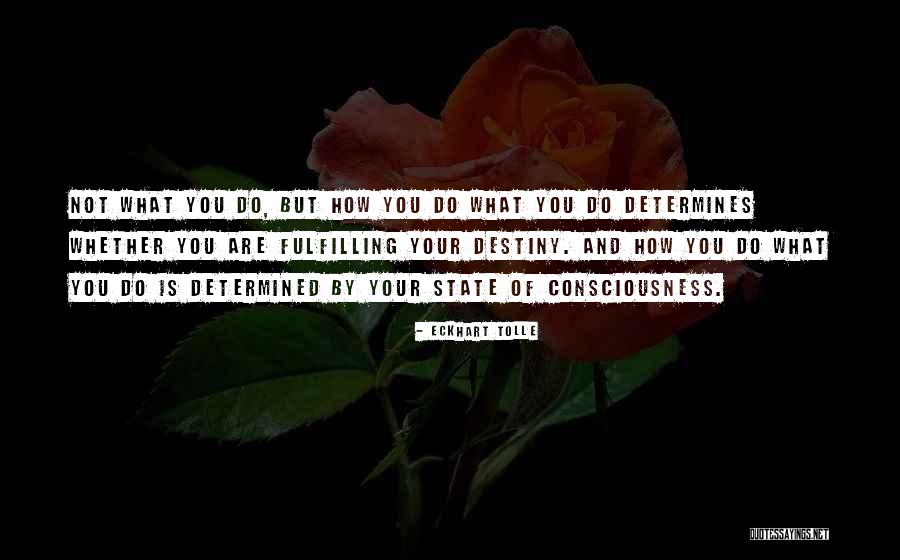 Not what you do, but how you do what you do determines whether you are fulfilling your destiny. And how you do what you do is determined by your state of consciousness. — Eckhart Tolle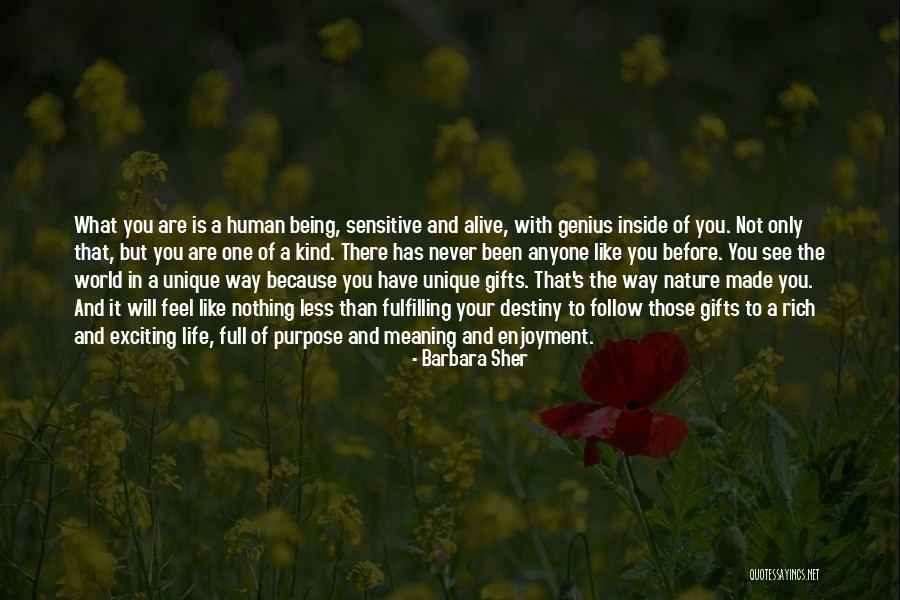 What you are is a human being, sensitive and alive, with genius inside of you. Not only that, but you are one of a kind. There has never been anyone like you before. You see the world in a unique way because you have unique gifts. That's the way nature made you. And it will feel like nothing less than fulfilling your destiny to follow those gifts to a rich and exciting life, full of purpose and meaning and enjoyment. — Barbara Sher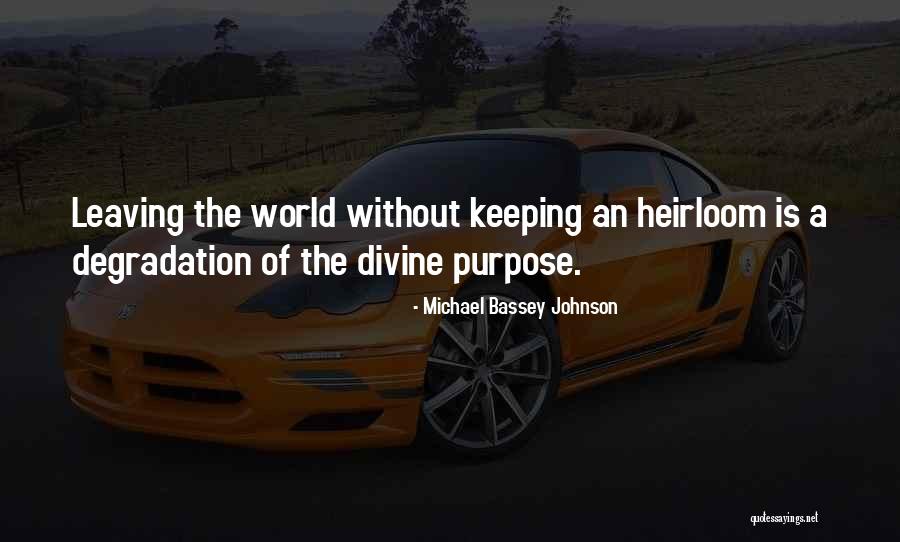 Leaving the world without keeping an heirloom is a degradation of the divine purpose. — Michael Bassey Johnson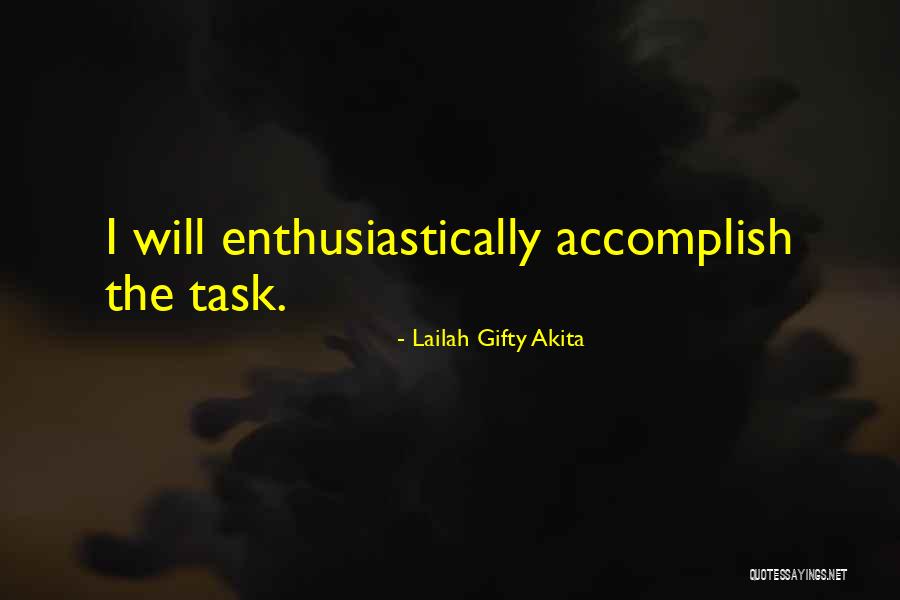 I will enthusiastically accomplish the task. — Lailah Gifty Akita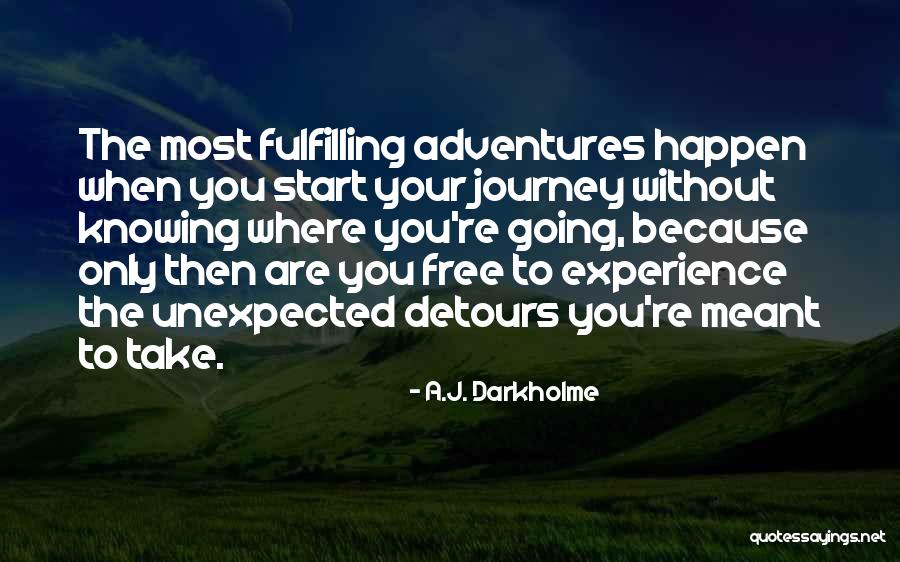 The most fulfilling adventures happen when you start your journey without knowing where you're going, because only then are you free to experience the unexpected detours you're meant to take. — A.J. Darkholme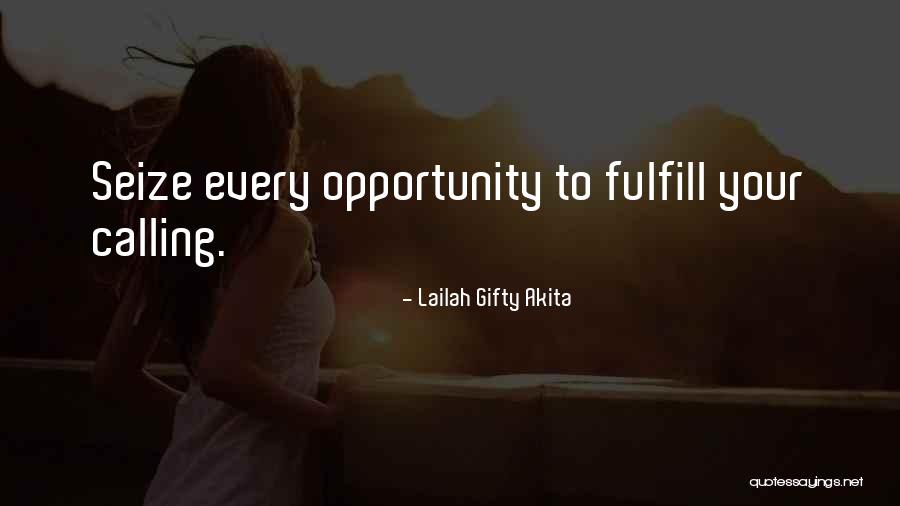 Seize every opportunity to fulfill your calling. — Lailah Gifty Akita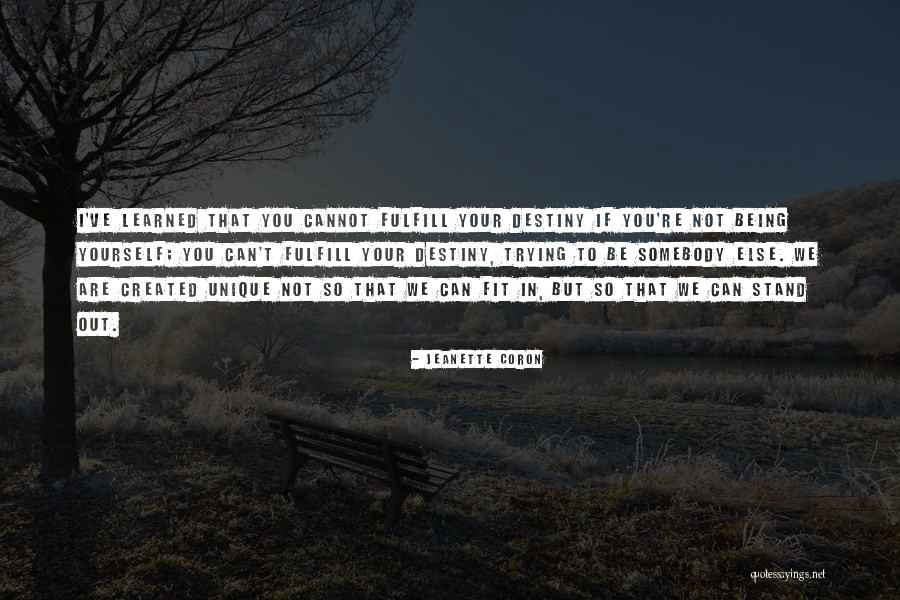 I've learned that you cannot fulfill your destiny if you're not being yourself; you can't fulfill your destiny, trying to be somebody else. We are created unique not so that we can fit in, but so that we can stand out. — Jeanette Coron