Friends Change Over Time Quotes & Sayings
Enjoy reading and share 47 famous quotes about Friends Change Over Time with everyone.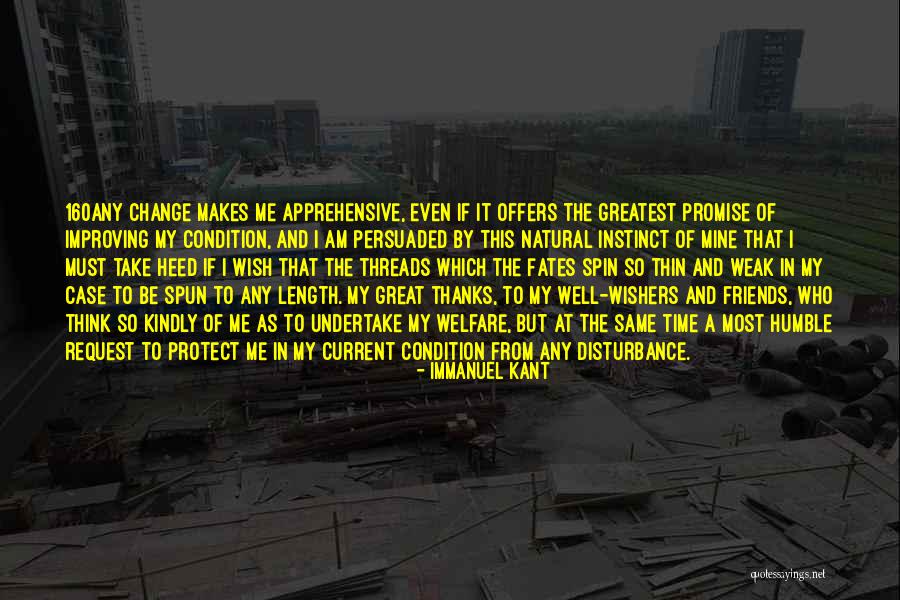 160Any change makes me apprehensive, even if it offers the greatest promise of improving my condition, and I am persuaded by this natural instinct of mine that I must take heed if I wish that the threads which the Fates spin so thin and weak in my case to be spun to any length. My great thanks, to my well-wishers and friends, who think so kindly of me as to undertake my welfare, but at the same time a most humble request to protect me in my current condition from any disturbance. — Immanuel Kant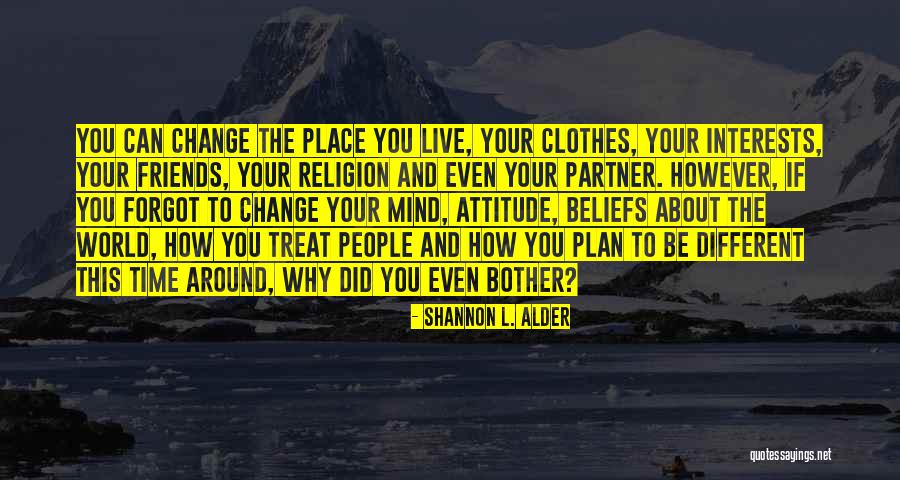 You can change the place you live, your clothes, your interests, your friends, your religion and even your partner. However, if you forgot to change your mind, attitude, beliefs about the world, how you treat people and how you plan to be different this time around, why did you even bother? — Shannon L. Alder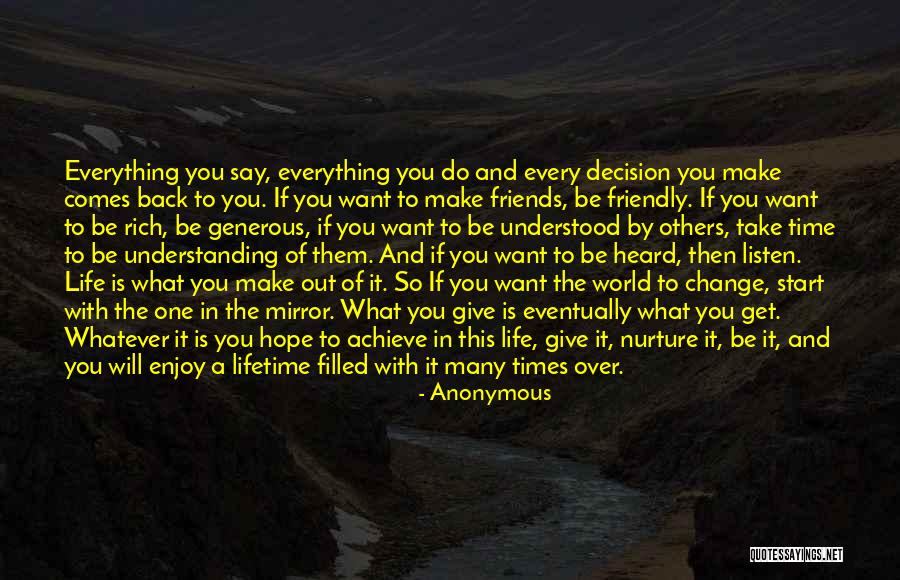 Everything you say, everything you do and every decision you make comes back to you. If you want to make friends, be friendly. If you want to be rich, be generous, if you want to be understood by others, take time to be understanding of them. And if you want to be heard, then listen. Life is what you make out of it. So If you want the world to change, start with the one in the mirror. What you give is eventually what you get. Whatever it is you hope to achieve in this life, give it, nurture it, be it, and you will enjoy a lifetime filled with it many times over. — Anonymous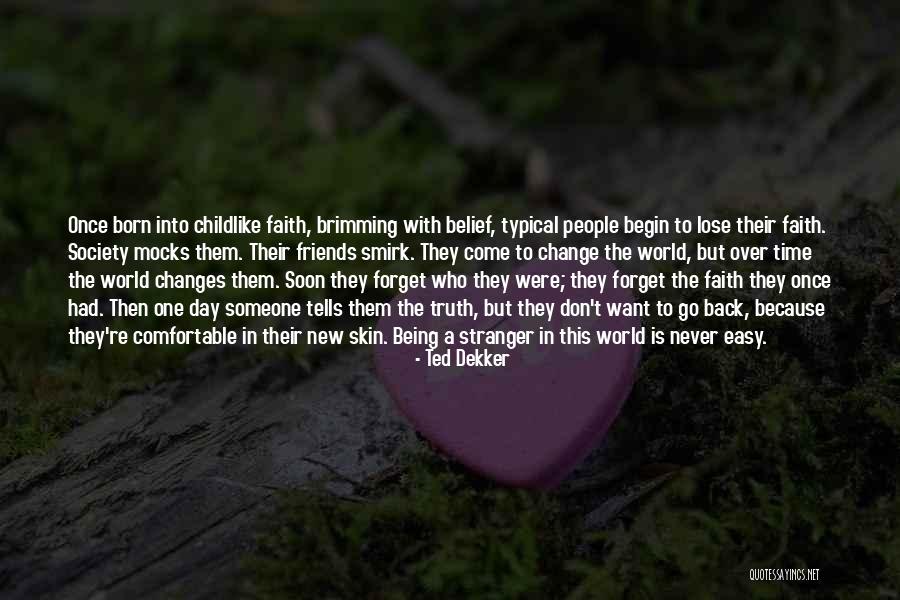 Once born into childlike faith, brimming with belief, typical people begin to lose their faith. Society mocks them. Their friends smirk. They come to change the world, but over time the world changes them. Soon they forget who they were; they forget the faith they once had. Then one day someone tells them the truth, but they don't want to go back, because they're comfortable in their new skin. Being a stranger in this world is never easy. — Ted Dekker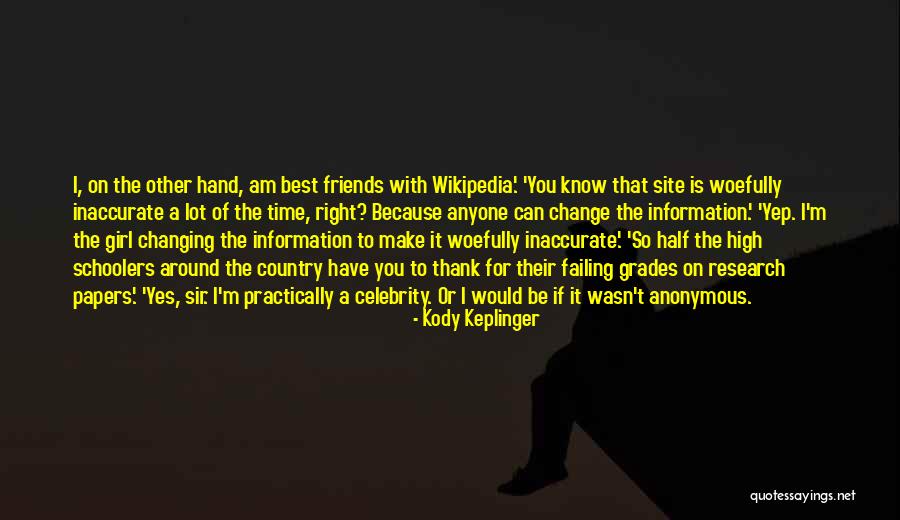 I, on the other hand, am best friends with Wikipedia.'
'You know that site is woefully inaccurate a lot of the time, right? Because anyone can change the information.'
'Yep. I'm the girl changing the information to make it woefully inaccurate.'
'So half the high schoolers around the country have you to thank for their failing grades on research papers.'
'Yes, sir. I'm practically a celebrity. Or I would be if it wasn't anonymous. — Kody Keplinger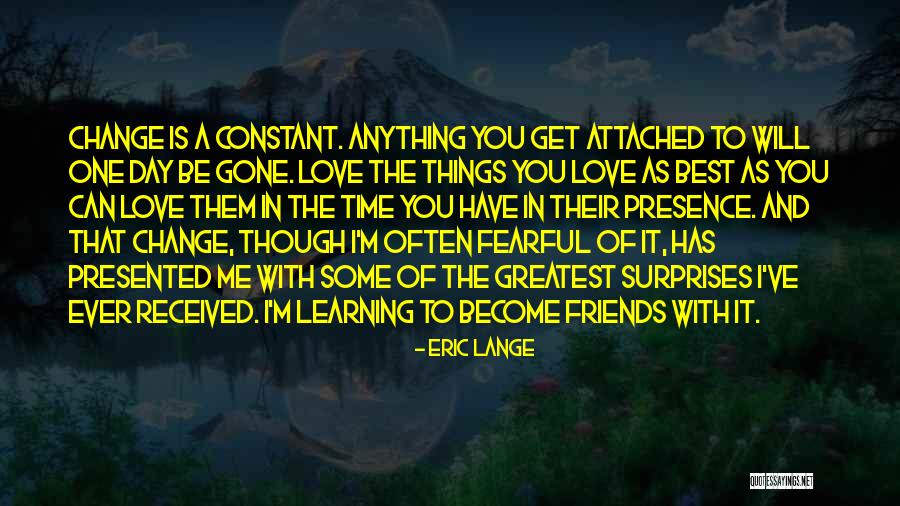 Change is a constant. Anything you get attached to will one day be gone. Love the things you love as best as you can love them in the time you have in their presence. And that change, though I'm often fearful of it, has presented me with some of the greatest surprises I've ever received. I'm learning to become friends with it. — Eric Lange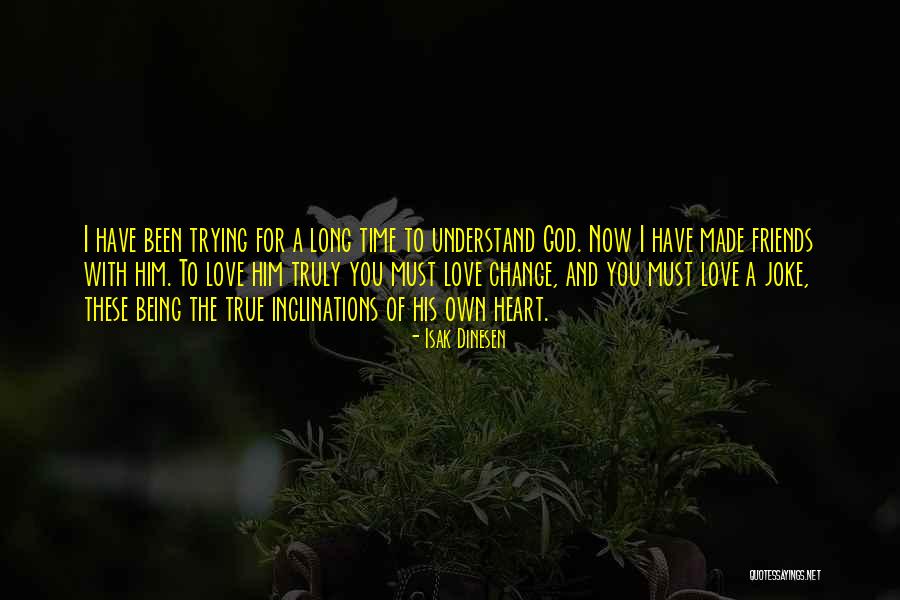 I have been trying for a long time to understand God. Now I have made friends with him. To love him truly you must love change, and you must love a joke, these being the true inclinations of his own heart. — Isak Dinesen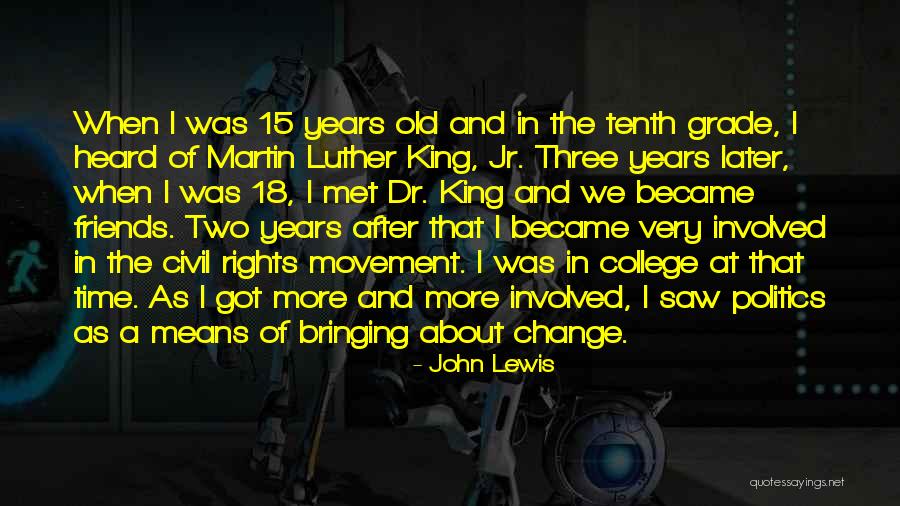 When I was 15 years old and in the tenth grade, I heard of Martin Luther King, Jr. Three years later, when I was 18, I met Dr. King and we became friends. Two years after that I became very involved in the civil rights movement. I was in college at that time. As I got more and more involved, I saw politics as a means of bringing about change. — John Lewis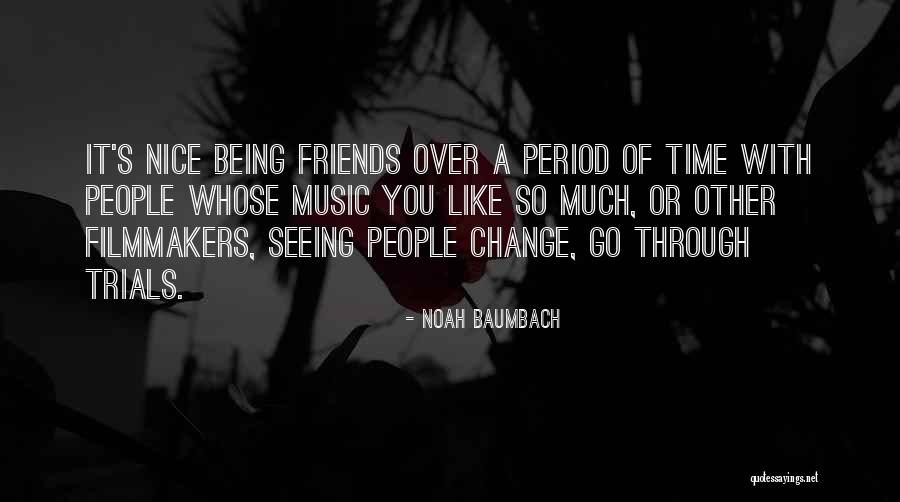 It's nice being friends over a period of time with people whose music you like so much, or other filmmakers, seeing people change, go through trials. — Noah Baumbach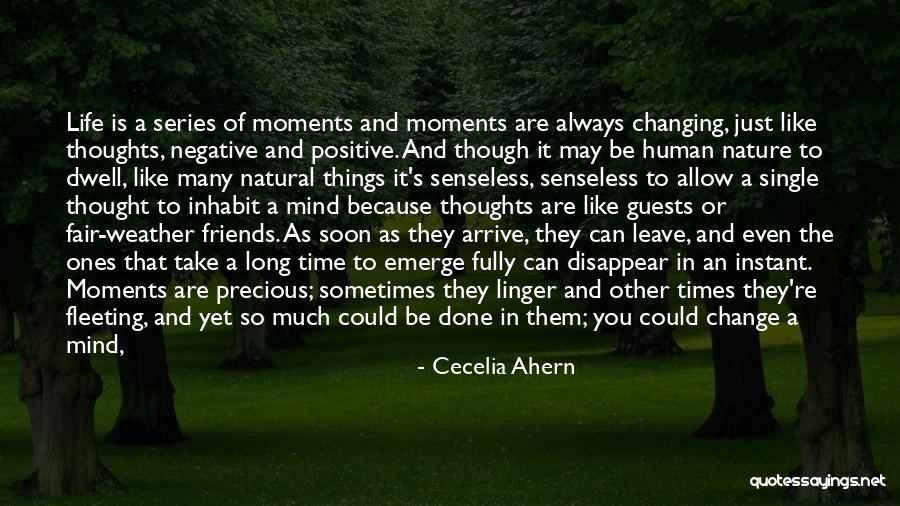 Life is a series of moments and moments are always changing, just like thoughts, negative and positive. And though it may be human nature to dwell, like many natural things it's senseless, senseless to allow a single thought to inhabit a mind because thoughts are like guests or fair-weather friends. As soon as they arrive, they can leave, and even the ones that take a long time to emerge fully can disappear in an instant. Moments are precious; sometimes they linger and other times they're fleeting, and yet so much could be done in them; you could change a mind, you could save a life and you could even fall in love. — Cecelia Ahern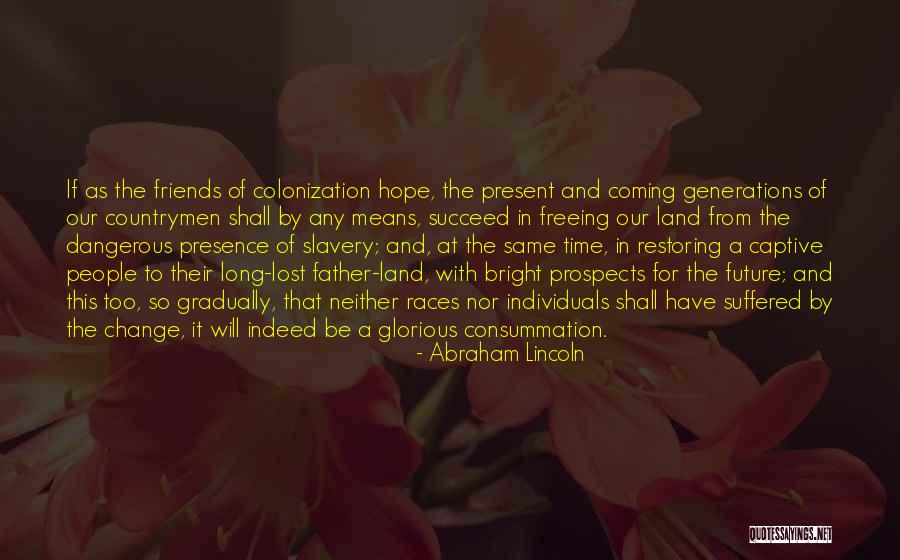 If as the friends of colonization hope, the present and coming generations of our countrymen shall by any means, succeed in freeing our land from the dangerous presence of slavery; and, at the same time, in restoring a captive people to their long-lost father-land, with bright prospects for the future; and this too, so gradually, that neither races nor individuals shall have suffered by the change, it will indeed be a glorious consummation. — Abraham Lincoln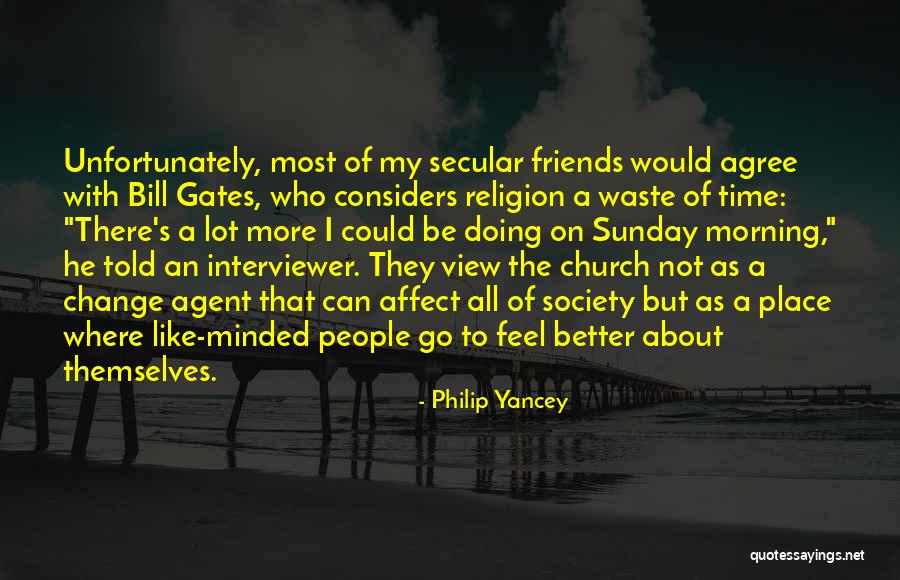 Unfortunately, most of my secular friends would agree with Bill Gates, who considers religion a waste of time: "There's a lot more I could be doing on Sunday morning," he told an interviewer. They view the church not as a change agent that can affect all of society but as a place where like-minded people go to feel better about themselves. — Philip Yancey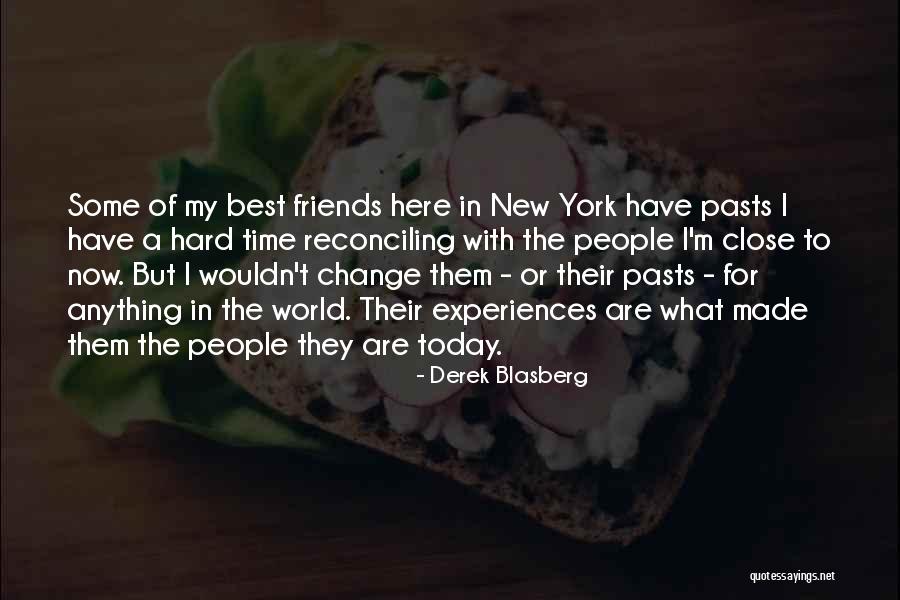 Some of my best friends here in New York have pasts I have a hard time reconciling with the people I'm close to now. But I wouldn't change them - or their pasts - for anything in the world. Their experiences are what made them the people they are today. — Derek Blasberg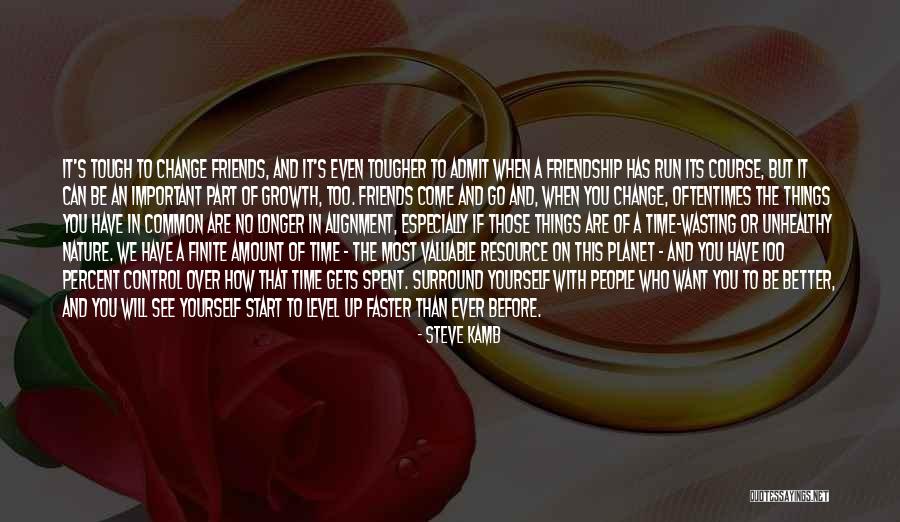 It's tough to change friends, and it's even tougher to admit when a friendship has run its course, but it can be an important part of growth, too. Friends come and go and, when you change, oftentimes the things you have in common are no longer in alignment, especially if those things are of a time-wasting or unhealthy nature. We have a finite amount of time - the most valuable resource on this planet - and you have 100 percent control over how that time gets spent. Surround yourself with people who want you to be better, and you will see yourself start to level up faster than ever before. — Steve Kamb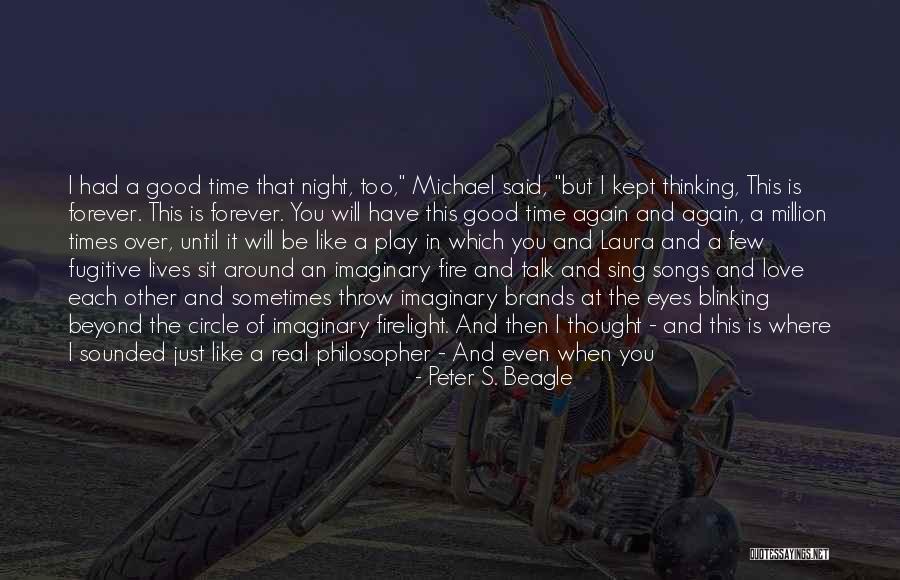 I had a good time that night, too," Michael said, "but I kept thinking, This is forever. This is forever. You will have this good time again and again, a million times over, until it will be like a play in which you and Laura and a few fugitive lives sit around an imaginary fire and talk and sing songs and love each other and sometimes throw imaginary brands at the eyes blinking beyond the circle of imaginary firelight. And then I thought - and this is where I sounded just like a real philosopher - And even when you admit that you know every line in the play and every song that will be sung, even when you know that this evening spent with friends is pleasant and joyful because you remember it as pleasant and joyful and wouldn't change it for the world, even when you know that anything you feel for these good friends has no more reality than a dream faithfully remembered every night for a thousand years - even then it goes on. Even then it has just begun. — Peter S. Beagle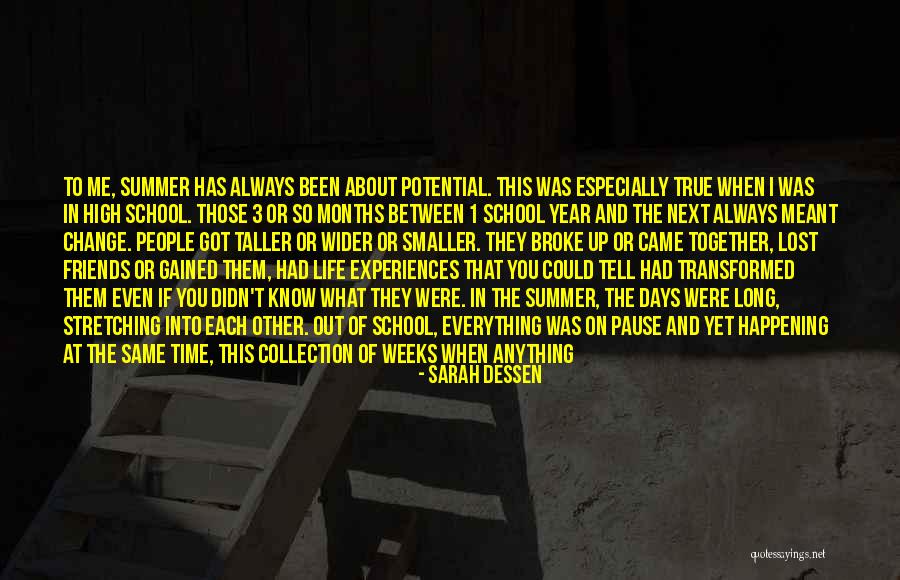 To me, summer has always been about potential. This was especially true when I was in high school. Those 3 or so months between 1 school year and the next always meant change. People got taller or wider or smaller. They broke up or came together, lost friends or gained them, had life experiences that you could tell had transformed them even if you didn't know what they were. In the summer, the days were long, stretching into each other. Out of school, everything was on pause and yet happening at the same time, this collection of weeks when anything was possible. As a teenager, I was always hoping to change, to become someone other than who I was. Each summer, I felt I had the chance to do that. All I had to do was wait and see what happened. — Sarah Dessen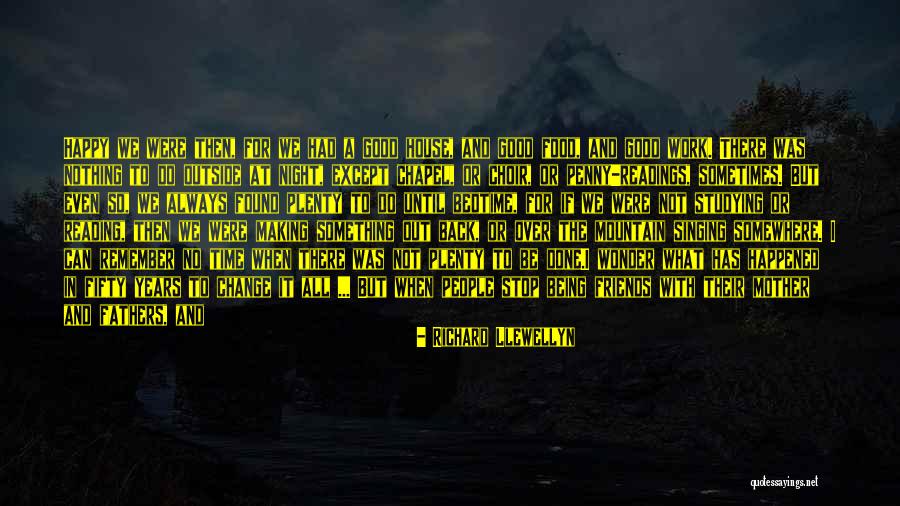 Happy we were then, for we had a good house, and good food, and good work. There was nothing to do outside at night, except chapel, or choir, or penny-readings, sometimes. But even so, we always found plenty to do until bedtime, for if we were not studying or reading, then we were making something out back, or over the mountain singing somewhere. I can remember no time when there was not plenty to be done.
I wonder what has happened in fifty years to change it all ... But when people stop being friends with their mother and fathers, and itching to be out of the house, and going mad for other things to do, I cannot think. It is like an asthma, that comes on a man quickly. He has no notion how he had it, but there it is, and nothing can cure it. — Richard Llewellyn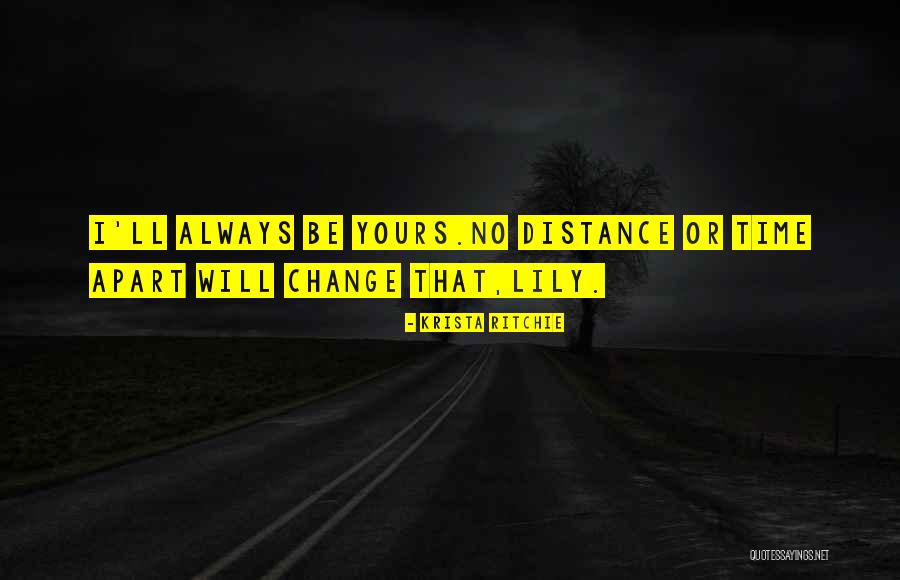 I'll always be yours.No distance or time apart will change that,Lily. — Krista Ritchie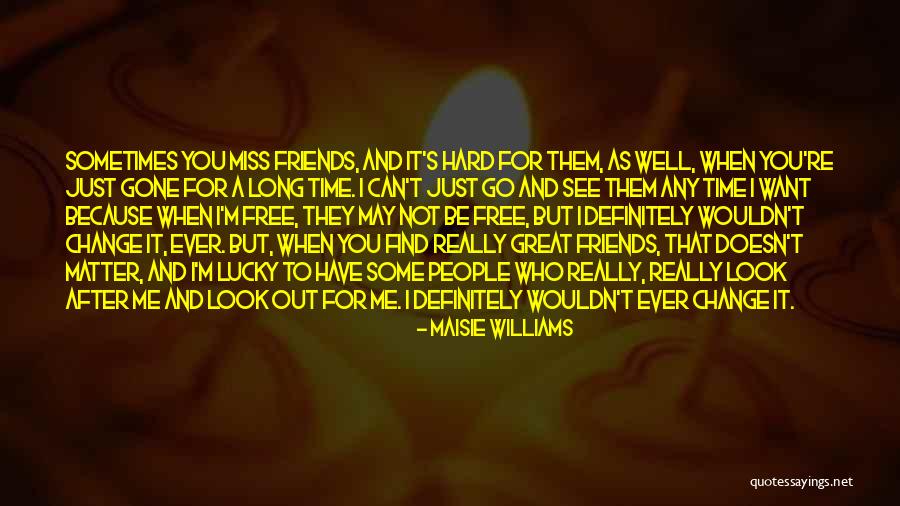 Sometimes you miss friends, and it's hard for them, as well, when you're just gone for a long time. I can't just go and see them any time I want because when I'm free, they may not be free, but I definitely wouldn't change it, ever. But, when you find really great friends, that doesn't matter, and I'm lucky to have some people who really, really look after me and look out for me. I definitely wouldn't ever change it. — Maisie Williams
dinner." Philip leaned toward her. "May I tell you to-morrow why I came?" he asked. "I think not," replied Elnora. "The fact is, I don't care why you came. It is enough for me that we are your very good friends, and that in trouble, you have found us a refuge. I fancy we had better live a week or two before you say anything. There is a possibility that what you have to say may change in that length of time. — Gene Stratton-Porter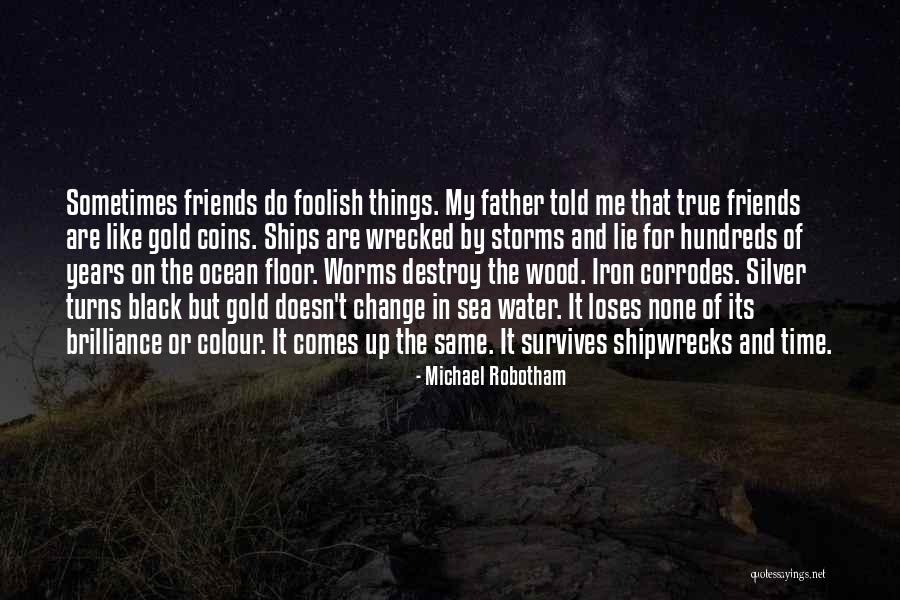 Sometimes friends do foolish things. My father told me that true friends are like gold coins. Ships are wrecked by storms and lie for hundreds of years on the ocean floor. Worms destroy the wood. Iron corrodes. Silver turns black but gold doesn't change in sea water. It loses none of its brilliance or colour. It comes up the same. It survives shipwrecks and time. — Michael Robotham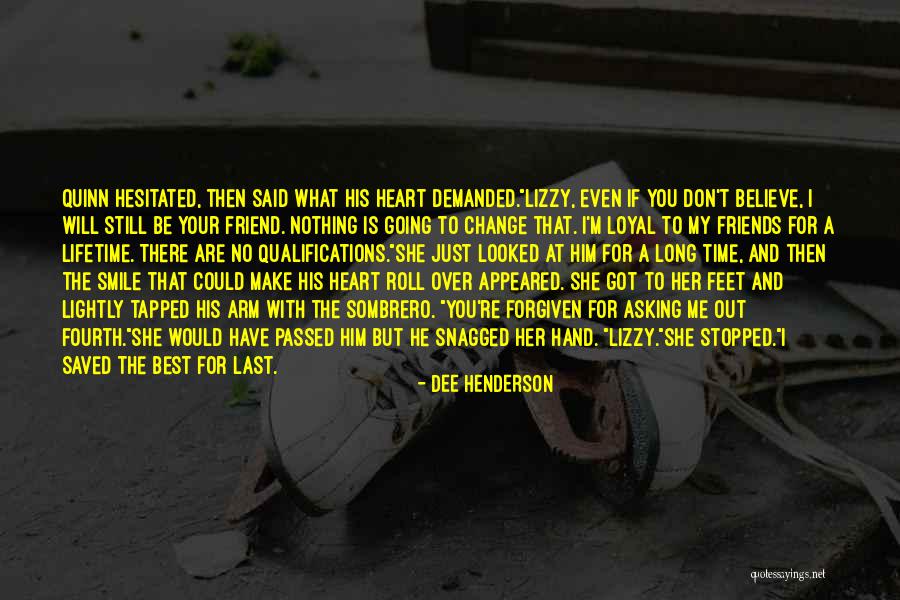 Quinn hesitated, then said what his heart demanded."Lizzy, even if you don't believe, I will still be your friend. Nothing is going to change that. I'm loyal to my friends for a lifetime. There are no qualifications."
She just looked at him for a long time, and then the smile that could make his heart roll over appeared. She got to her feet and lightly tapped his arm with the sombrero. "You're forgiven for asking me out fourth."
She would have passed him but he snagged her hand. "Lizzy."
She stopped.
"I saved the best for last. — Dee Henderson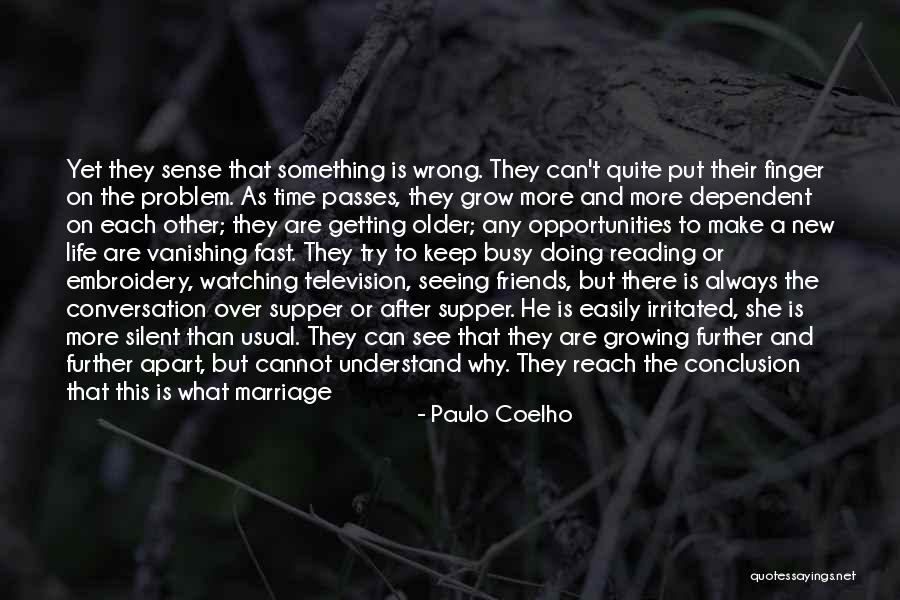 Yet they sense that something is wrong. They can't quite put their finger on the problem. As time passes, they grow more and more dependent on each other; they are getting older; any opportunities to make a new life are vanishing fast. They try to keep busy doing reading or embroidery, watching television, seeing friends, but there is always the conversation over supper or after supper. He is easily irritated, she is more silent than usual. They can see that they are growing further and further apart, but cannot understand why. They reach the conclusion that this is what marriage is like, but won't talk to their friends about it; they are the image of the happy couple who support each other and share the same interests. She takes a lover, so does he, but it's never anything serious, of course. What is important, necessary, essential, is to act as if nothing is happening, because it's too late to change. — Paulo Coelho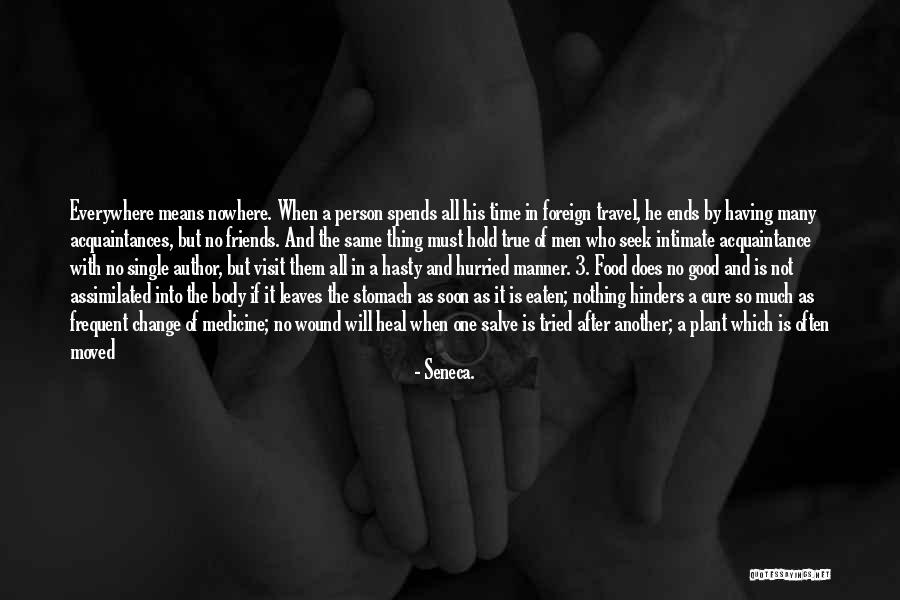 Everywhere means nowhere. When a person spends all his time in foreign travel, he ends by having many acquaintances, but no friends. And the same thing must hold true of men who seek intimate acquaintance with no single author, but visit them all in a hasty and hurried manner. 3. Food does no good and is not assimilated into the body if it leaves the stomach as soon as it is eaten; nothing hinders a cure so much as frequent change of medicine; no wound will heal when one salve is tried after another; a plant which is often moved can never grow strong. There is nothing so efficacious that it can be helpful while it is being shifted about. And in reading of many books is distraction. — Seneca.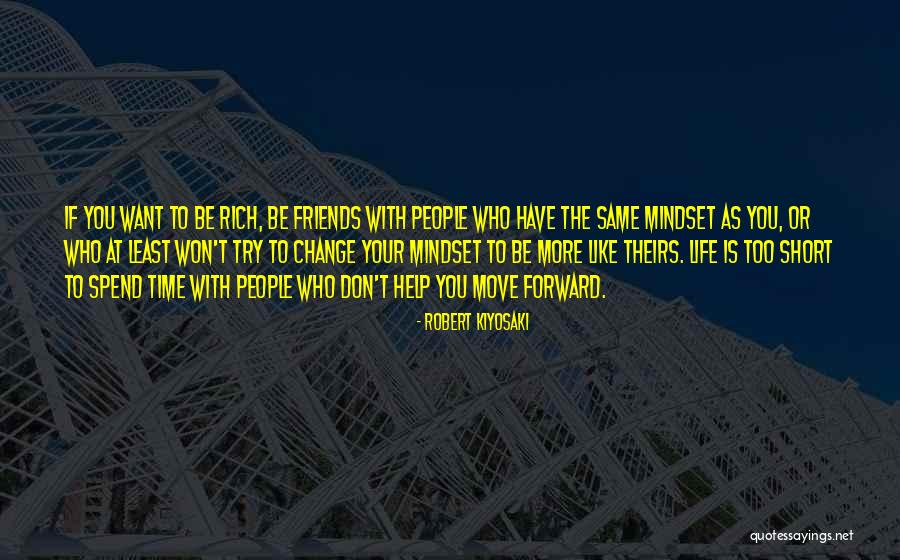 If you want to be rich, be friends with people who have the same mindset as you, or who at least won't try to change your mindset to be more like theirs. Life is too short to spend time with people who don't help you move forward. — Robert Kiyosaki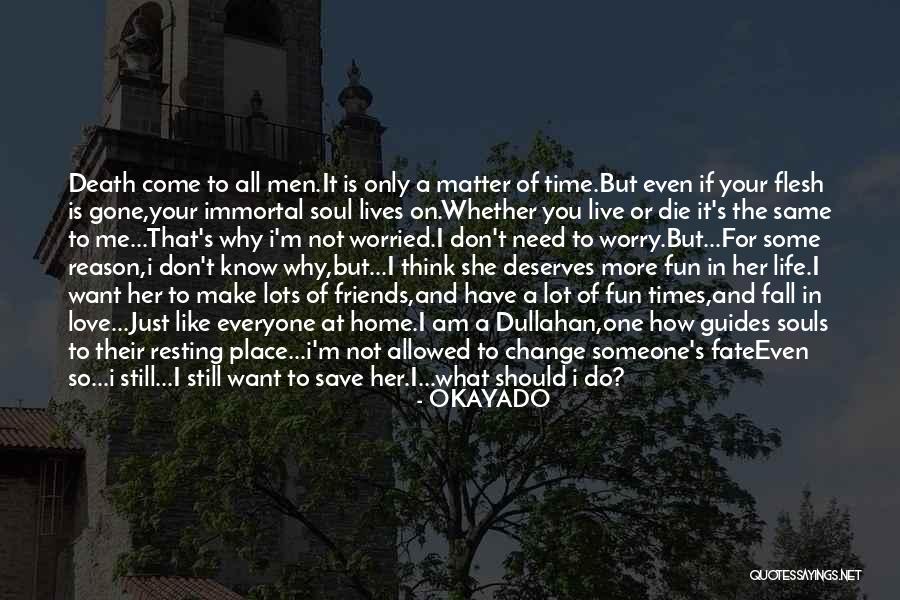 Death come to all men.
It is only a matter of time.
But even if your flesh is gone,your immortal soul lives on.
Whether you live or die it's the same to me...
That's why i'm not worried.
I don't need to worry.
But...
For some reason,i don't know why,but...
I think she deserves more fun in her life.
I want her to make lots of friends,and have a lot of fun times,and fall in love...Just like everyone at home.
I am a Dullahan,one how guides souls to their resting place...i'm not allowed to change someone's fate
Even so...i still...
I still want to save her.
I...what should i do? — OKAYADO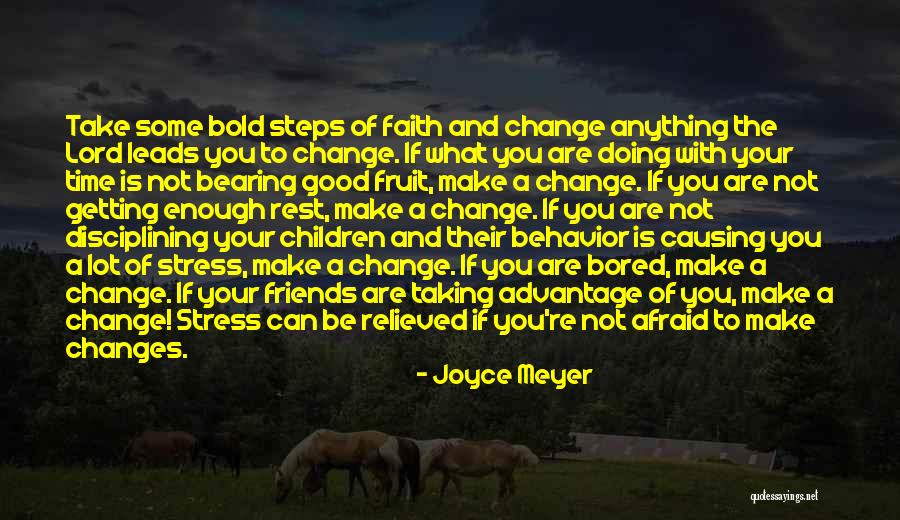 Take some bold steps of faith and change anything the Lord leads you to change. If what you are doing with your time is not bearing good fruit, make a change. If you are not getting enough rest, make a change. If you are not disciplining your children and their behavior is causing you a lot of stress, make a change. If you are bored, make a change. If your friends are taking advantage of you, make a change! Stress can be relieved if you're not afraid to make changes. — Joyce Meyer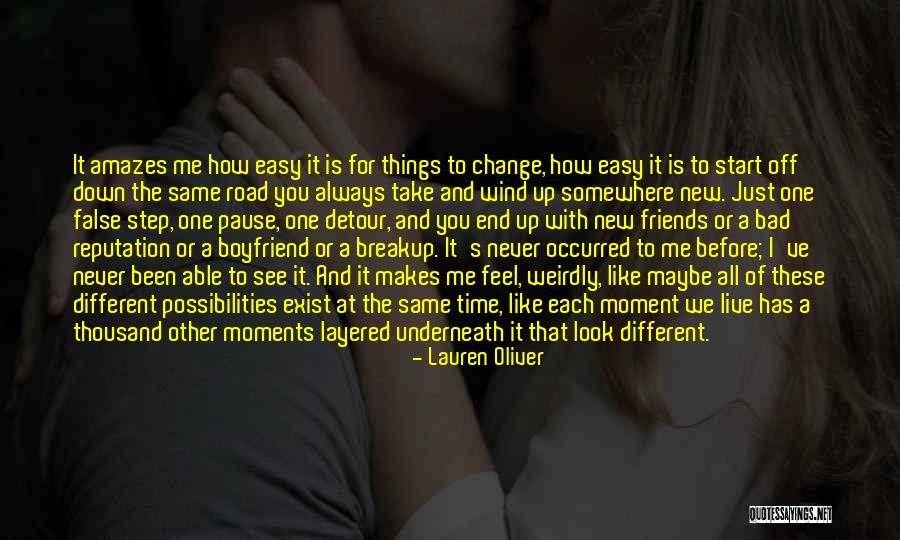 It amazes me how easy it is for things to change, how easy it is to start off down the same road you always take and wind up somewhere new. Just one false step, one pause, one detour, and you end up with new friends or a bad reputation or a boyfriend or a breakup. It's never occurred to me before; I've never been able to see it. And it makes me feel, weirdly, like maybe all of these different possibilities exist at the same time, like each moment we live has a thousand other moments layered underneath it that look different. — Lauren Oliver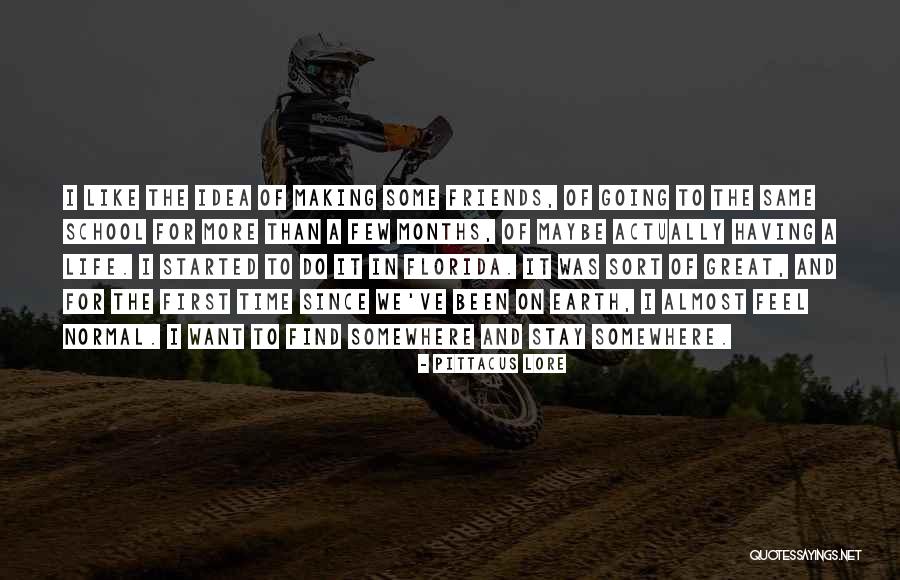 I like the idea of making some friends, of going to the same school for more than a few months, of maybe actually having a life. I started to do it in Florida. It was sort of great, and for the first time since we've been on Earth, I almost feel normal. I want to find somewhere and stay somewhere. — Pittacus Lore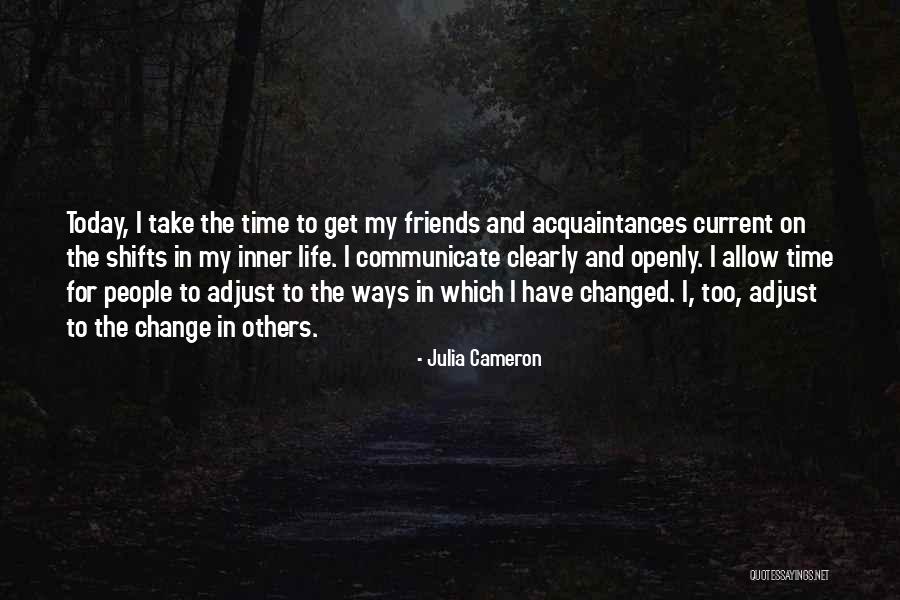 Today, I take the time to get my friends and acquaintances current on the shifts in my inner life. I communicate clearly and openly. I allow time for people to adjust to the ways in which I have changed. I, too, adjust to the change in others. — Julia Cameron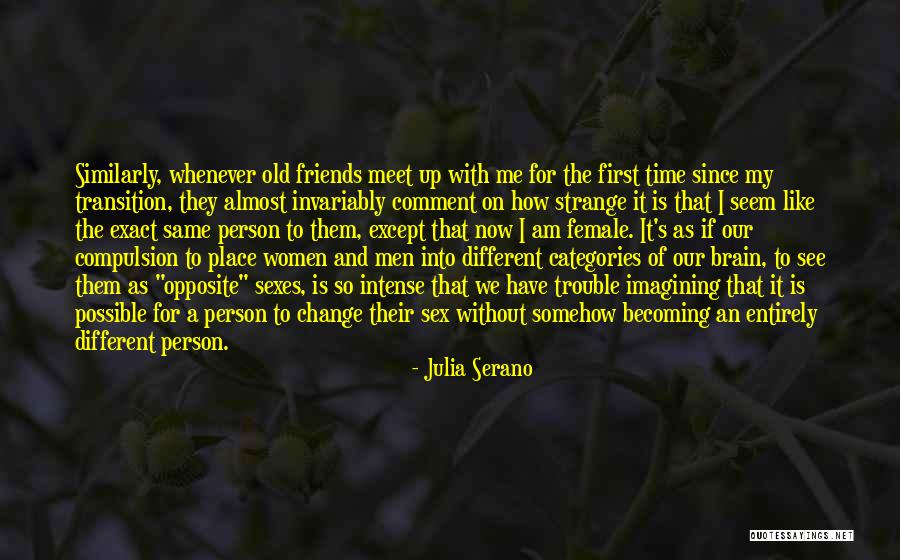 Similarly, whenever old friends meet up with me for the first time since my transition, they almost invariably comment on how strange it is that I seem like the exact same person to them, except that now I am female. It's as if our compulsion to place women and men into different categories of our brain, to see them as "opposite" sexes, is so intense that we have trouble imagining that it is possible for a person to change their sex without somehow becoming an entirely different person. — Julia Serano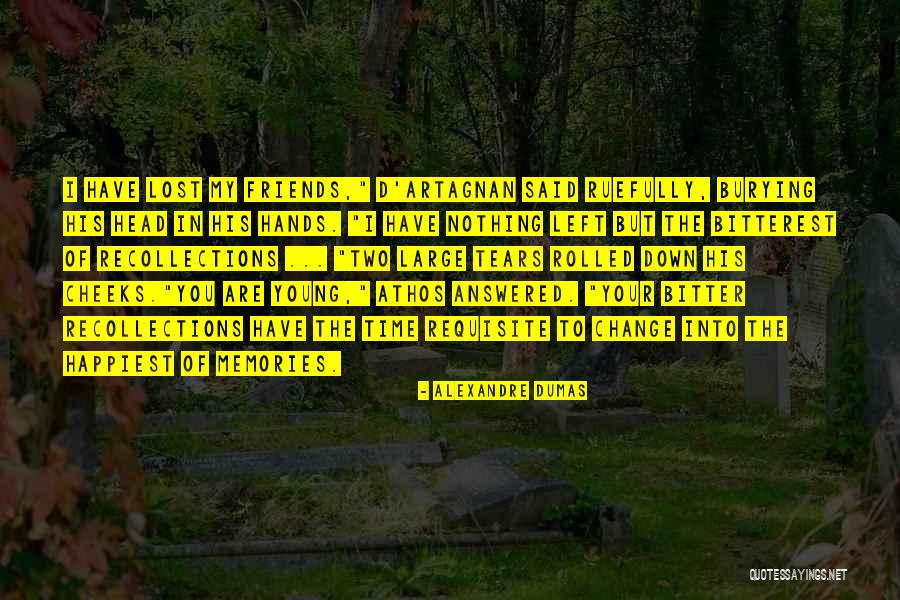 I have lost my friends," D'Artagnan said ruefully, burying his head in his hands. "I have nothing left but the bitterest of recollections ... "
Two large tears rolled down his cheeks.
"You are young," Athos answered. "Your bitter recollections have the time requisite to change into the happiest of memories. — Alexandre Dumas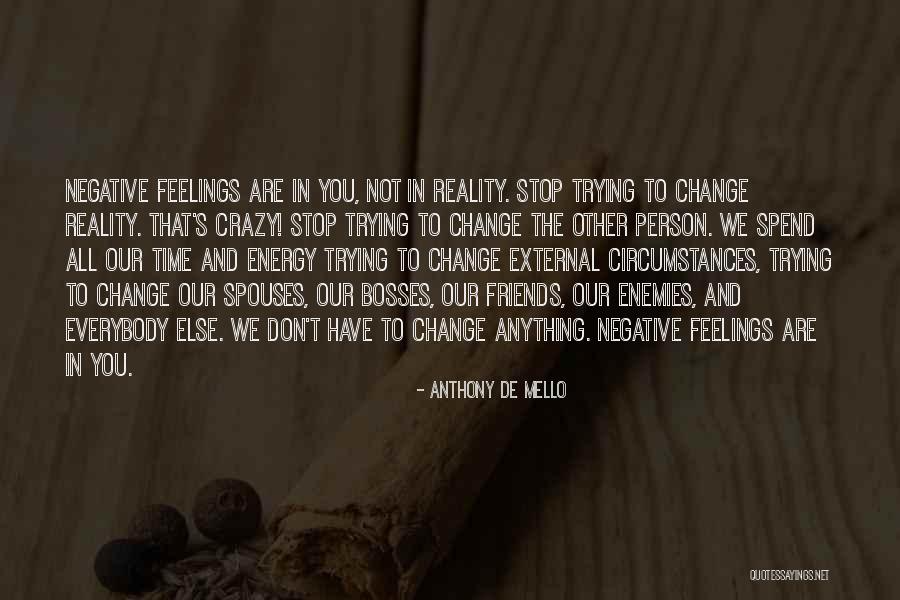 Negative feelings are in you, not in reality. Stop trying to change reality. That's crazy! Stop trying to change the other person. We spend all our time and energy trying to change external circumstances, trying to change our spouses, our bosses, our friends, our enemies, and everybody else. We don't have to change anything. Negative feelings are in you. — Anthony De Mello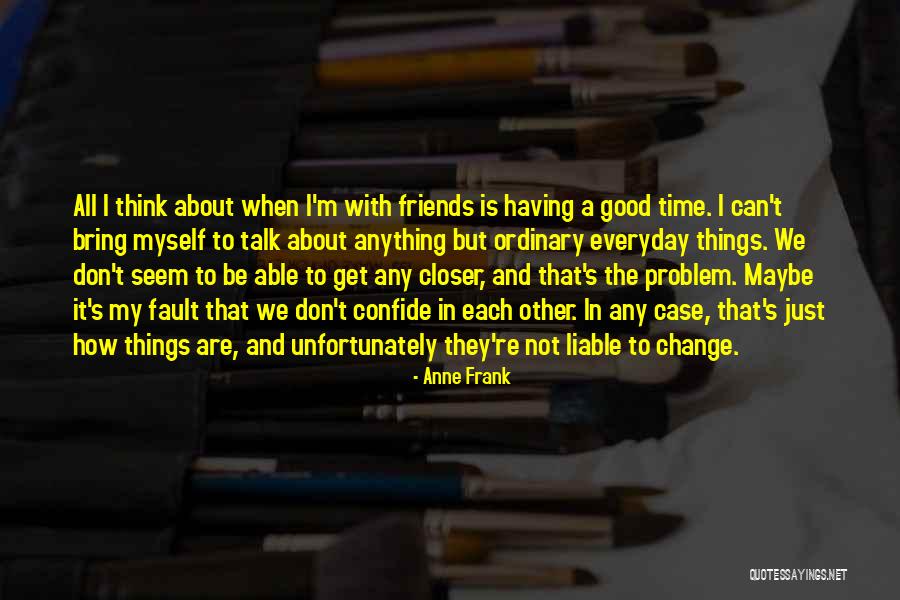 All I think about when I'm with friends is having a good time. I can't bring myself to talk about anything but ordinary everyday things. We don't seem to be able to get any closer, and that's the problem. Maybe it's my fault that we don't confide in each other. In any case, that's just how things are, and unfortunately they're not liable to change. — Anne Frank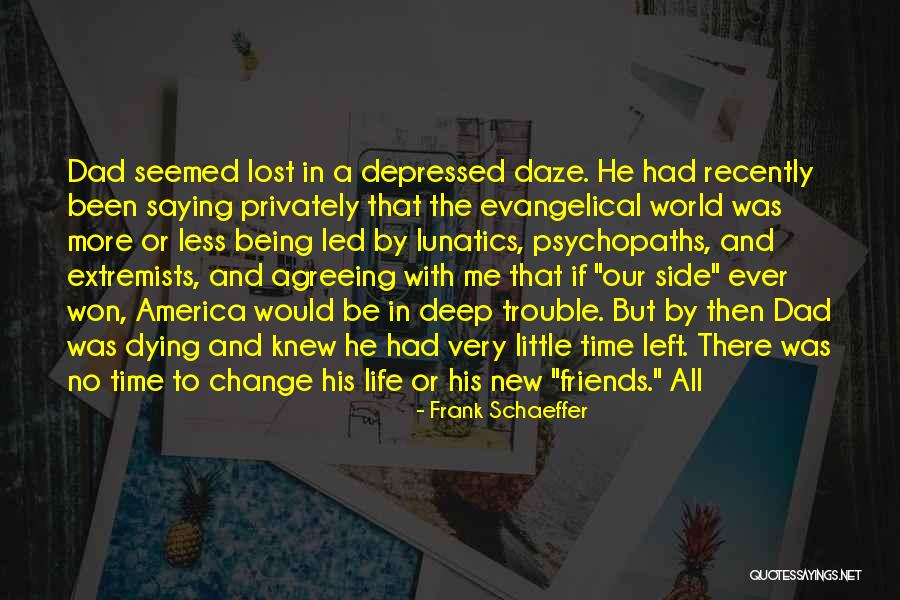 Dad seemed lost in a depressed daze. He had recently been saying privately that the evangelical world was more or less being led by lunatics, psychopaths, and extremists, and agreeing with me that if "our side" ever won, America would be in deep trouble. But by then Dad was dying and knew he had very little time left. There was no time to change his life or his new "friends." All — Frank Schaeffer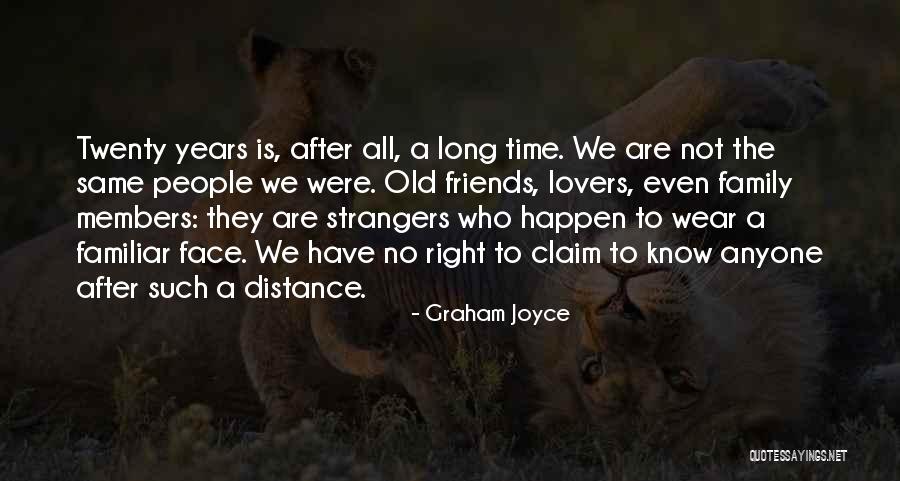 Twenty years is, after all, a long time. We are not the same people we were. Old friends, lovers, even family members: they are strangers who happen to wear a familiar face. We have no right to claim to know anyone after such a distance. — Graham Joyce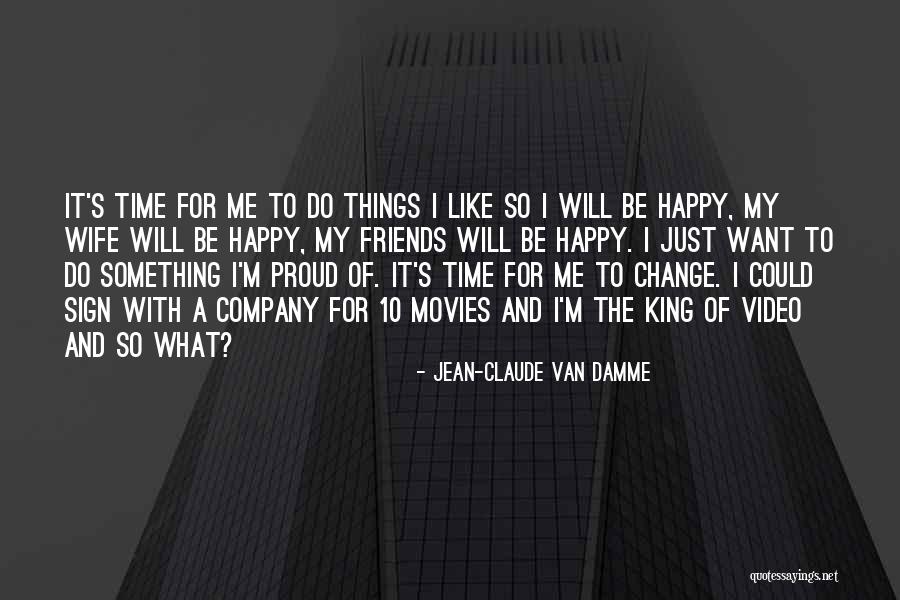 It's time for me to do things I like so I will be happy, my wife will be happy, my friends will be happy. I just want to do something I'm proud of. It's time for me to change. I could sign with a company for 10 movies and I'm the king of video and so what? — Jean-Claude Van Damme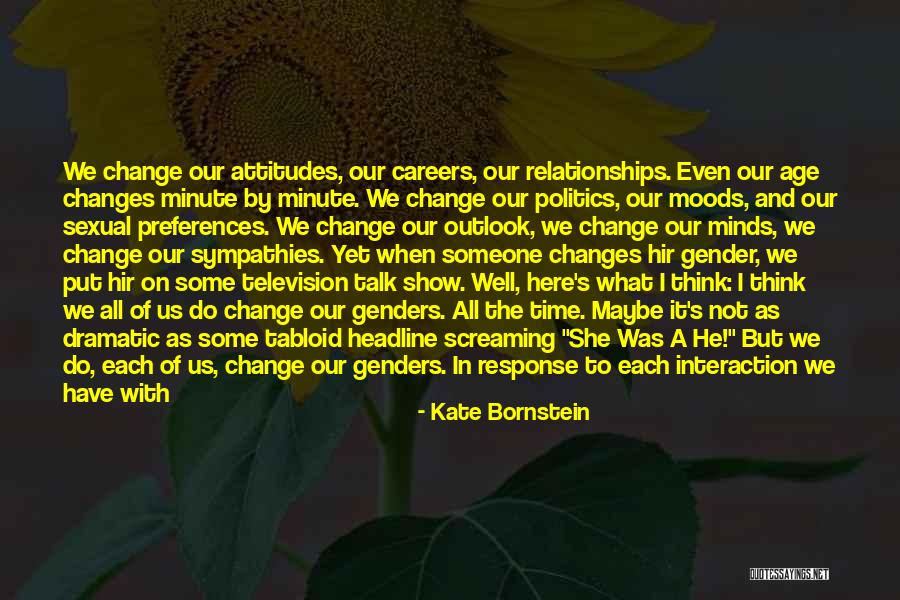 We change our attitudes, our careers, our relationships. Even our age changes minute by minute. We change our politics, our moods, and our sexual preferences. We change our outlook, we change our minds, we change our sympathies. Yet when someone changes hir gender, we put hir on some television talk show. Well, here's what I think: I think we all of us do change our genders. All the time. Maybe it's not as dramatic as some tabloid headline screaming "She Was A He!" But we do, each of us, change our genders. In response to each interaction we have with a new or different person, we subtly shift the kind of man or woman, boy or girl, or whatever gender we're being at the moment. We're usually not the same kind of man or woman with our lover as we are with our boss or a parent. When we're introduced for the first time to someone we find attractive, we shift into being a different kind of man or woman than we are with our childhood friends. We all change our genders. — Kate Bornstein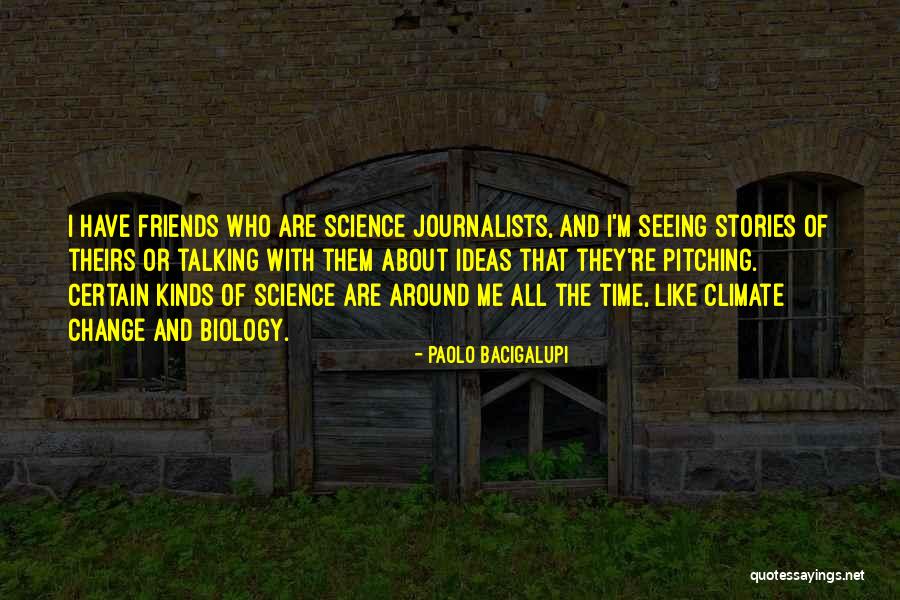 I have friends who are science journalists, and I'm seeing stories of theirs or talking with them about ideas that they're pitching. Certain kinds of science are around me all the time, like climate change and biology. — Paolo Bacigalupi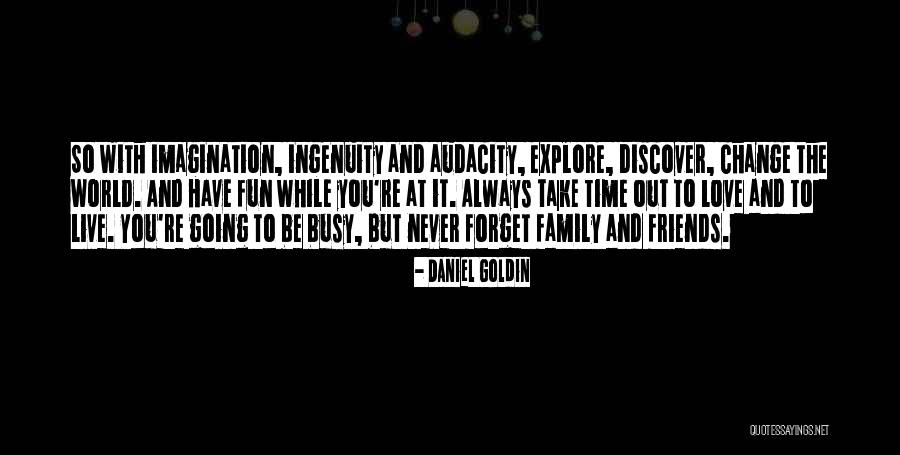 So with imagination, ingenuity and audacity, explore, discover, change the world. And have fun while you're at it. Always take time out to love and to live. You're going to be busy, but never forget family and friends. — Daniel Goldin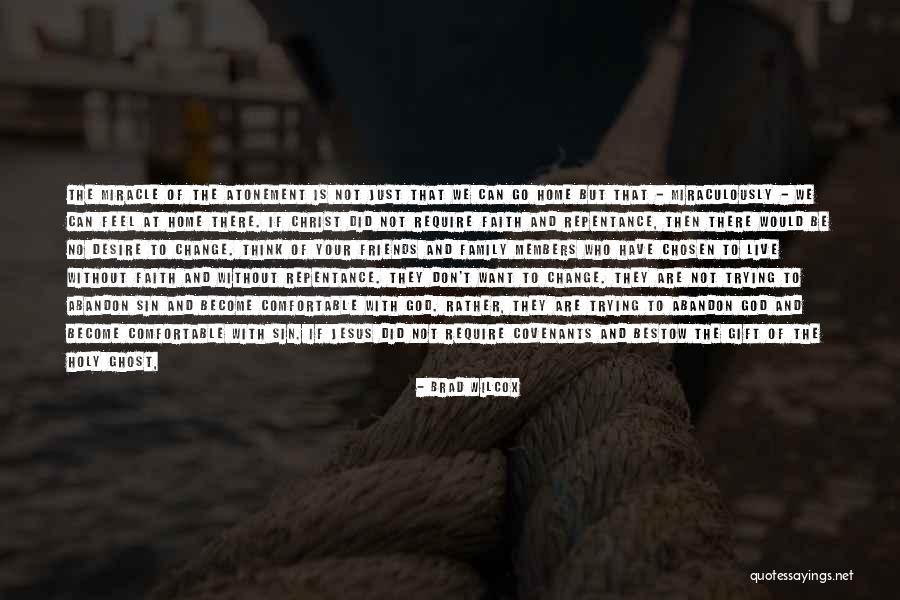 The miracle of the Atonement is not just that we can go home but that - miraculously - we can feel at home there. If Christ did not require faith and repentance, then there would be no desire to change. Think of your friends and family members who have chosen to live without faith and without repentance. They don't want to change. They are not trying to abandon sin and become comfortable with God. Rather, they are trying to abandon God and become comfortable with sin. If Jesus did not require covenants and bestow the gift of the Holy Ghost, then there would be no way to change. We would be left forever with only willpower, with no access to His power. If Jesus did not require endurance to the end, then there would be no internalization of those changes over time. They would forever be surface and cosmetic rather than sinking inside us and becoming part of us - part of who we are. — Brad Wilcox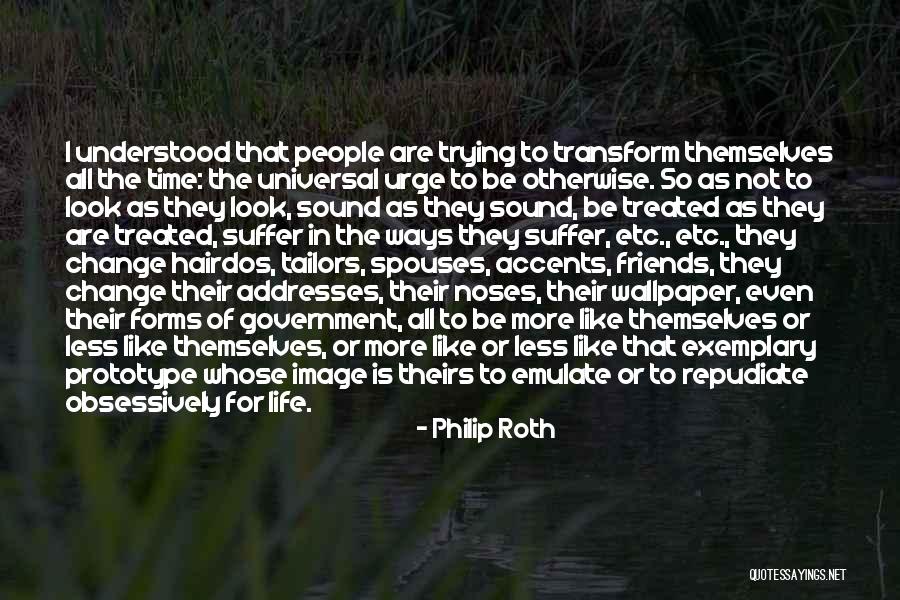 I understood that people are trying to transform themselves all the time: the universal urge to be otherwise. So as not to look as they look, sound as they sound, be treated as they are treated, suffer in the ways they suffer, etc., etc., they change hairdos, tailors, spouses, accents, friends, they change their addresses, their noses, their wallpaper, even their forms of government, all to be more like themselves or less like themselves, or more like or less like that exemplary prototype whose image is theirs to emulate or to repudiate obsessively for life. — Philip Roth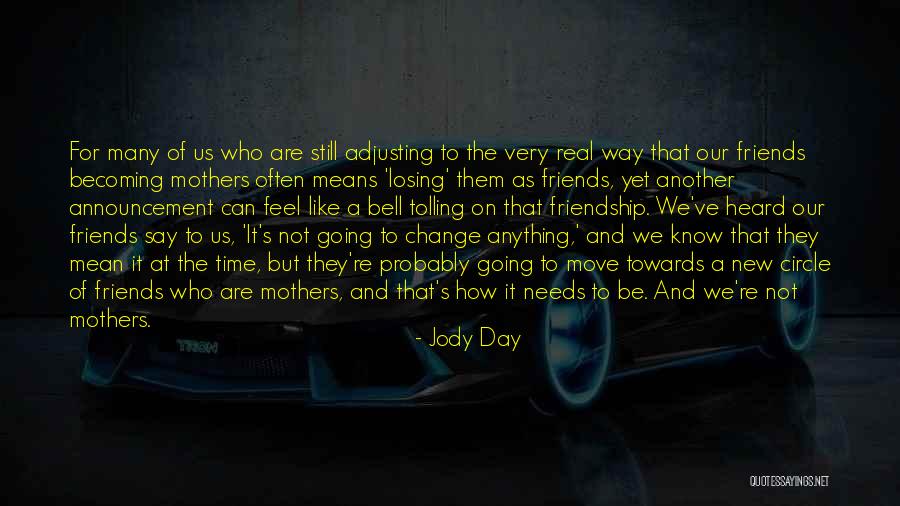 For many of us who are still adjusting to the very real way that our friends becoming mothers often means 'losing' them as friends, yet another announcement can feel like a bell tolling on that friendship. We've heard our friends say to us, 'It's not going to change anything,' and we know that they mean it at the time, but they're probably going to move towards a new circle of friends who are mothers, and that's how it needs to be. And we're not mothers. — Jody Day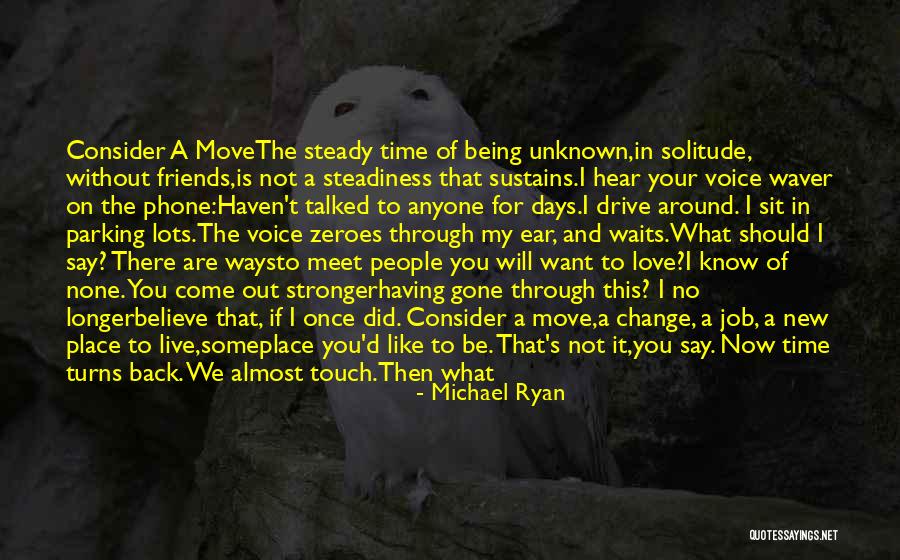 Consider A Move
The steady time of being unknown,
in solitude, without friends,
is not a steadiness that sustains.
I hear your voice waver on the phone:
Haven't talked to anyone for days.
I drive around. I sit in parking lots.
The voice zeroes through my ear, and waits.
What should I say? There are ways
to meet people you will want to love?
I know of none. You come out stronger
having gone through this? I no longer
believe that, if I once did. Consider a move,
a change, a job, a new place to live,
someplace you'd like to be. That's not it,
you say. Now time turns back. We almost touch.
Then what is? I ask. What is? — Michael Ryan
As important as your obligations as a doctor, lawyer or business leader will be, you are a human being first. And these human connections with spouse, with children and with friends are the most important investments you will ever make. At the end of your life, you will never regret not having passed one more test, not winning one more verdict, or closing one more deal. You will regret time not spent with a husband, a friend, a child or a parent. One thing will never change. Fathers and Mothers, if you have children, they must come first. You must read to your children, you must hug your children and you must love your children ... . Your success as a family, our success as a society depends not what happens at the White House, but what happens inside YOUR house. — Barbara Bush
Time goes forward because energy itself is always moving from an available to an unavailable state. Our consciousness is continually recording the entropy change in the world around us. We watch our friends get old and die. We sit next to a fire and watch it's red-hot embers turn slowly into cold white ashes. We experience the world always changing around us, and that experience is the unfolding of the second law. It is the irreversible process of dissipation of energy in the world. What does it mean to say, 'The world is running out of time'? Simply this: we experience the passage of time by the succession of one event after another. And every time an event occurs anywhere in this world energy is expended and the overall entropy is increased. To say the world is running out of time then, to say the world is running out of usable energy. In the words of Sir Arthur Eddington, 'Entropy is time's arrow'. — Jeremy Rifkin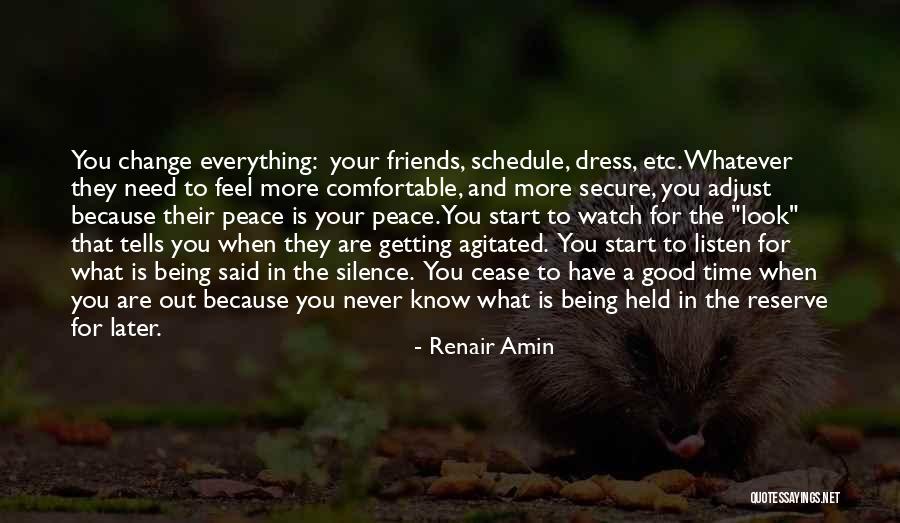 You change everything: your friends, schedule, dress, etc. Whatever they need to feel more comfortable, and more secure, you adjust because their peace is your peace. You start to watch for the "look" that tells you when they are getting agitated. You start to listen for what is being said in the silence. You cease to have a good time when you are out because you never know what is being held in the reserve for later. — Renair Amin