Friends Are Selfish Quotes & Sayings
Enjoy reading and share 49 famous quotes about Friends Are Selfish with everyone.
Top Friends Are Selfish Quotes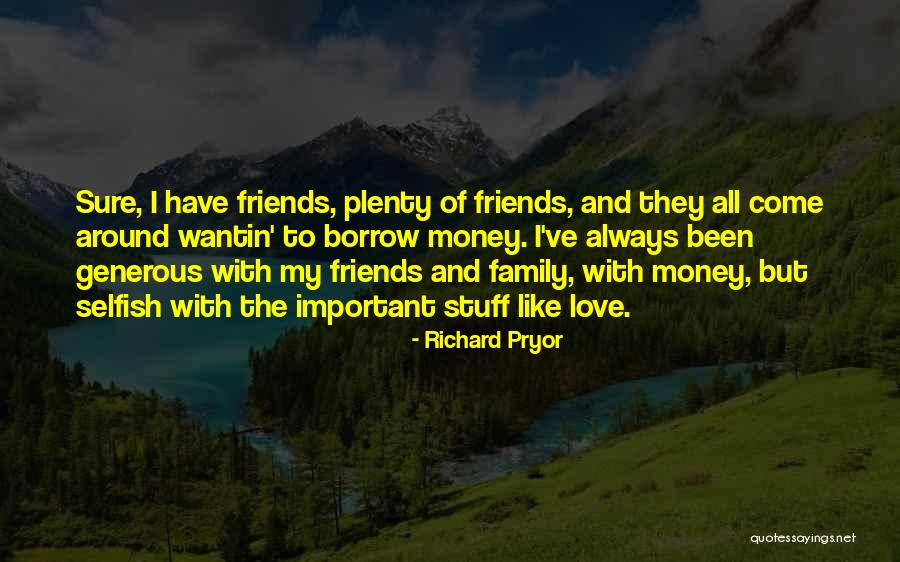 Sure, I have friends, plenty of friends, and they all come around wantin' to borrow money. I've always been generous with my friends and family, with money, but selfish with the important stuff like love. — Richard Pryor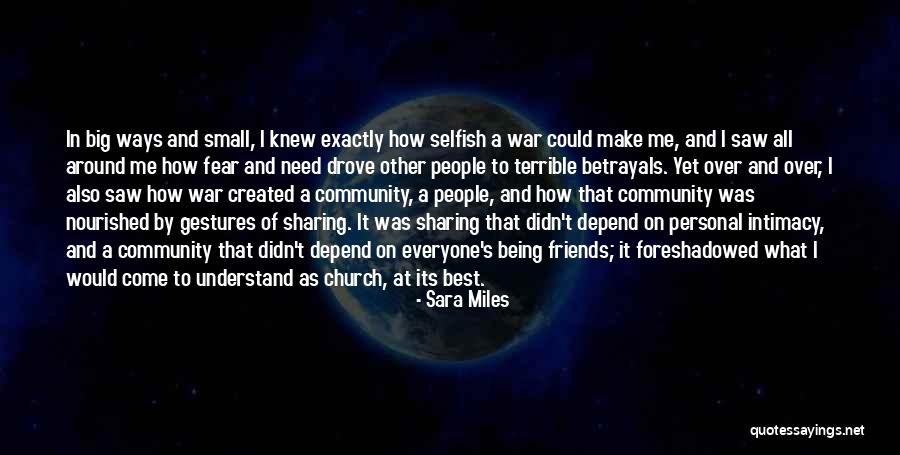 In big ways and small, I knew exactly how selfish a war could make me, and I saw all around me how fear and need drove other people to terrible betrayals. Yet over and over, I also saw how war created a community, a people, and how that community was nourished by gestures of sharing. It was sharing that didn't depend on personal intimacy, and a community that didn't depend on everyone's being friends; it foreshadowed what I would come to understand as church, at its best. — Sara Miles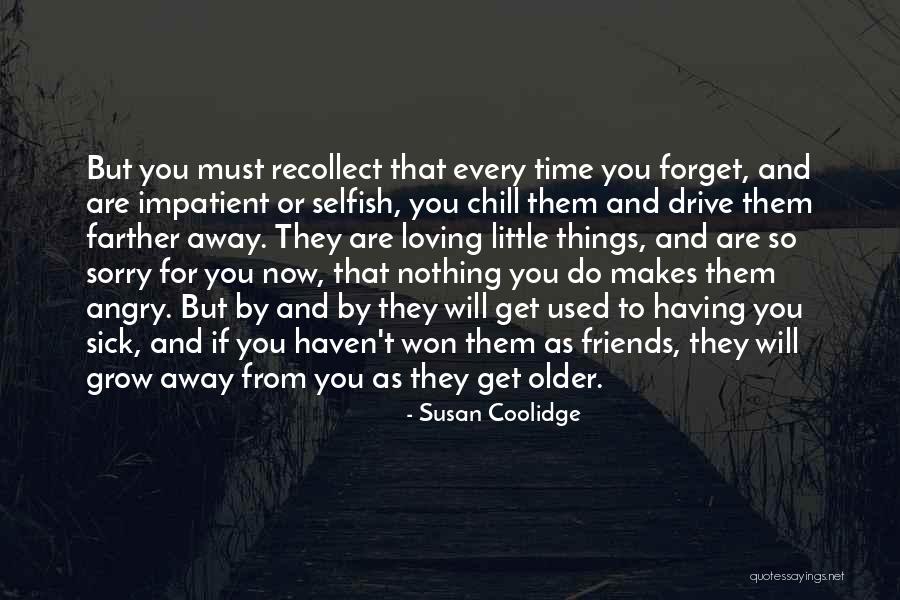 But you must recollect that every time you forget, and are impatient or selfish, you chill them and drive them farther away. They are loving little things, and are so sorry for you now, that nothing you do makes them angry. But by and by they will get used to having you sick, and if you haven't won them as friends, they will grow away from you as they get older. — Susan Coolidge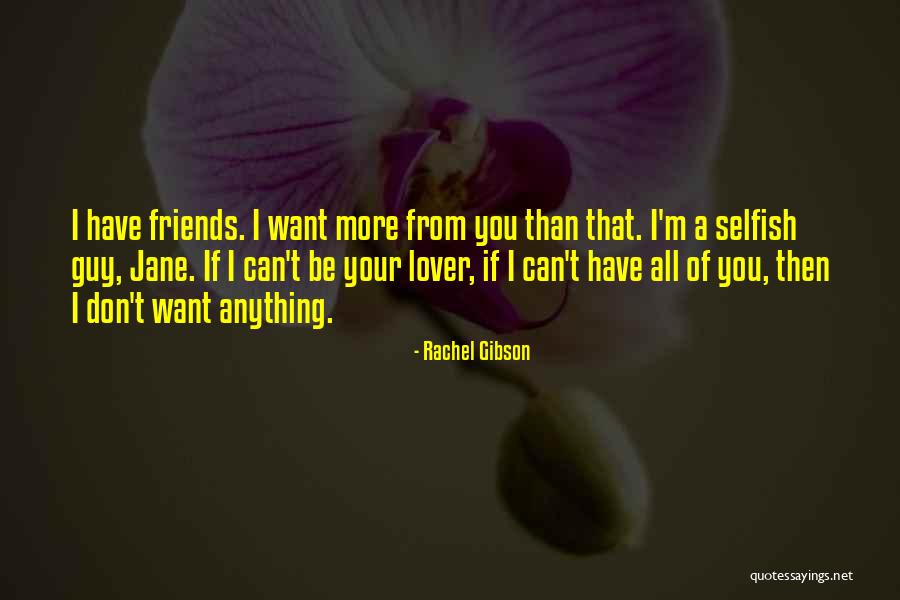 I have friends. I want more from you than that. I'm a selfish guy, Jane. If I can't be your lover, if I can't have all of you, then I don't want anything. — Rachel Gibson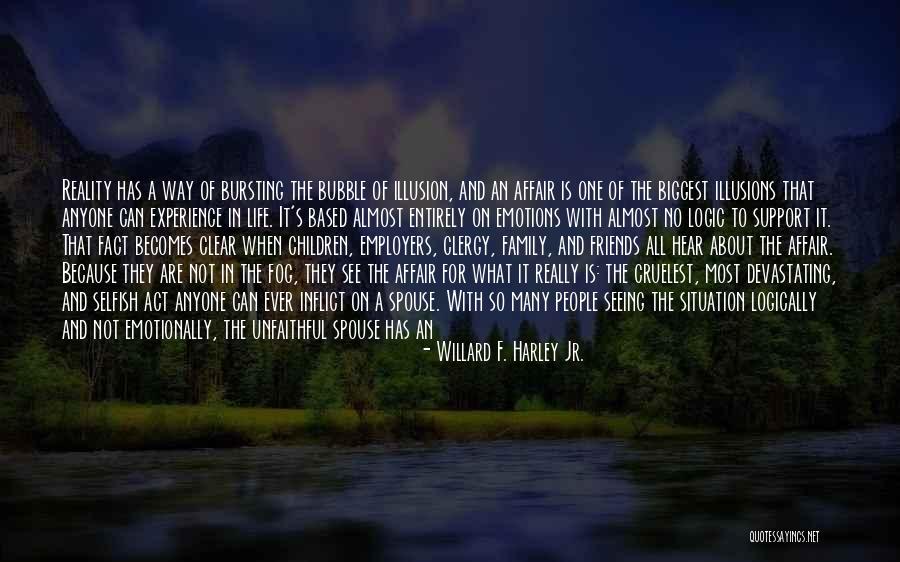 Reality has a way of bursting the bubble of illusion, and an affair is one of the biggest illusions that anyone can experience in life. It's based almost entirely on emotions with almost no logic to support it.

That fact becomes clear when children, employers, clergy, family, and friends all hear about the affair. Because they are not in the fog, they see the affair for what it really is: the cruelest, most devastating, and selfish act anyone can ever inflict on a spouse. With so many people seeing the situation logically and not emotionally, the unfaithful spouse has an opportunity to be advised and influenced by these people. Furthermore, the betrayed spouse gains support when he or she needs it the most. — Willard F. Harley Jr.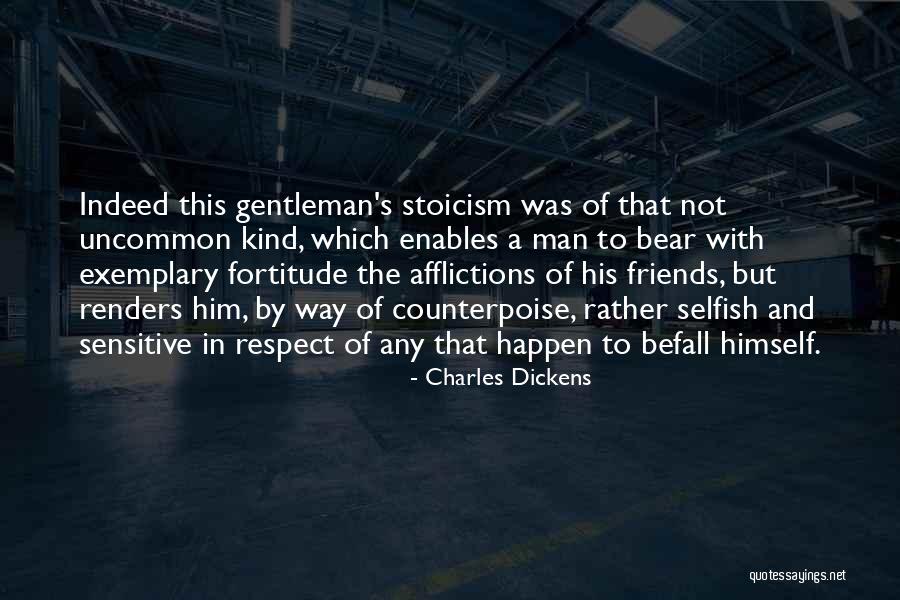 Indeed this gentleman's stoicism was of that not uncommon kind, which enables a man to bear with exemplary fortitude the afflictions of his friends, but renders him, by way of counterpoise, rather selfish and sensitive in respect of any that happen to befall himself. — Charles Dickens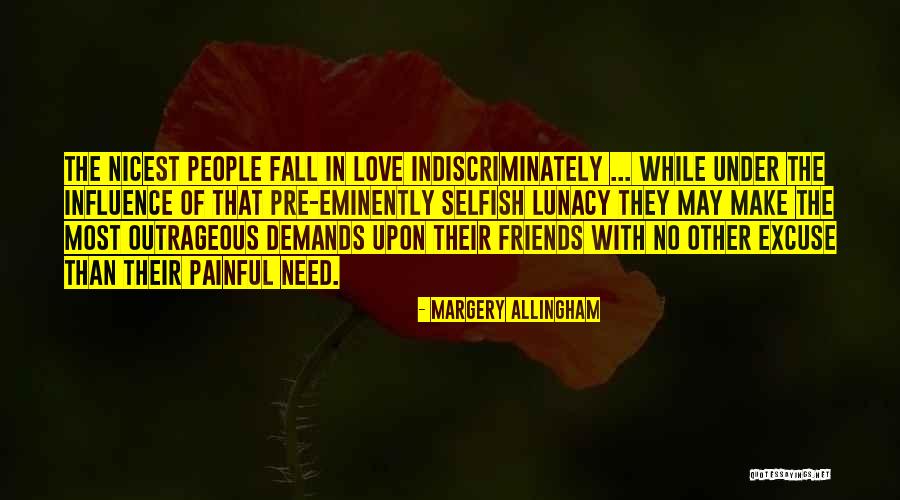 The nicest people fall in love indiscriminately ... while under the influence of that pre-eminently selfish lunacy they may make the most outrageous demands upon their friends with no other excuse than their painful need. — Margery Allingham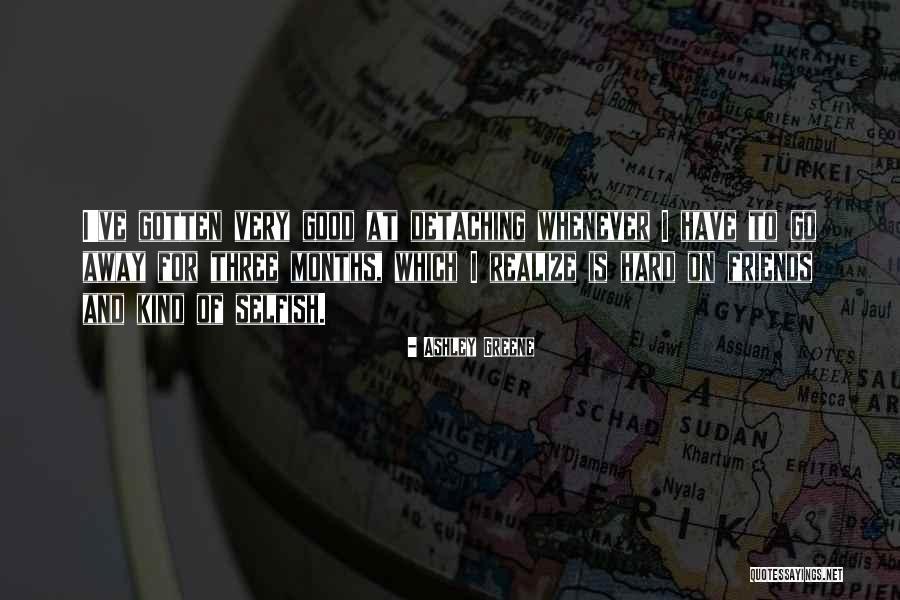 I've gotten very good at detaching whenever I have to go away for three months, which I realize is hard on friends and kind of selfish. — Ashley Greene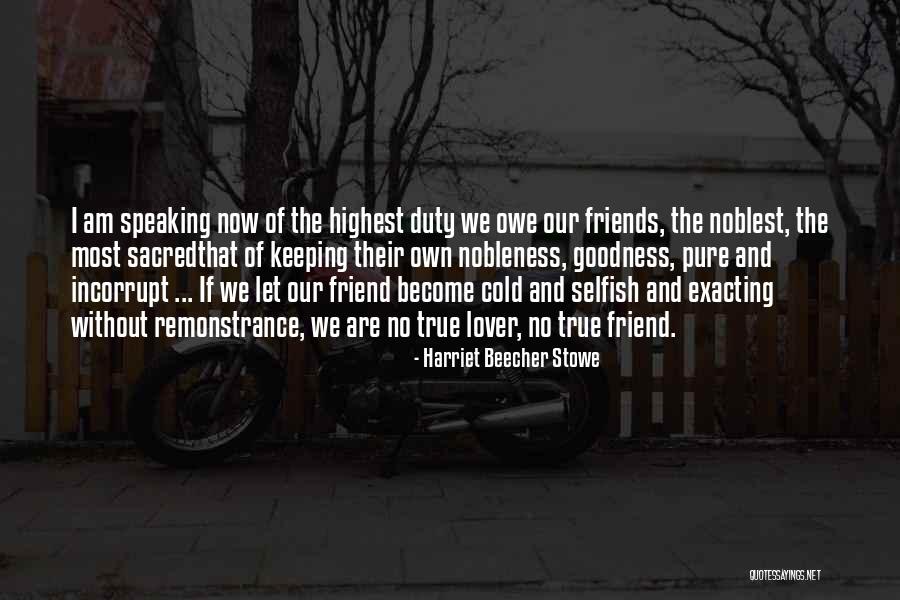 I am speaking now of the highest duty we owe our friends, the noblest, the most sacred
that of keeping their own nobleness, goodness, pure and incorrupt ... If we let our friend become cold and selfish and exacting without remonstrance, we are no true lover, no true friend. — Harriet Beecher Stowe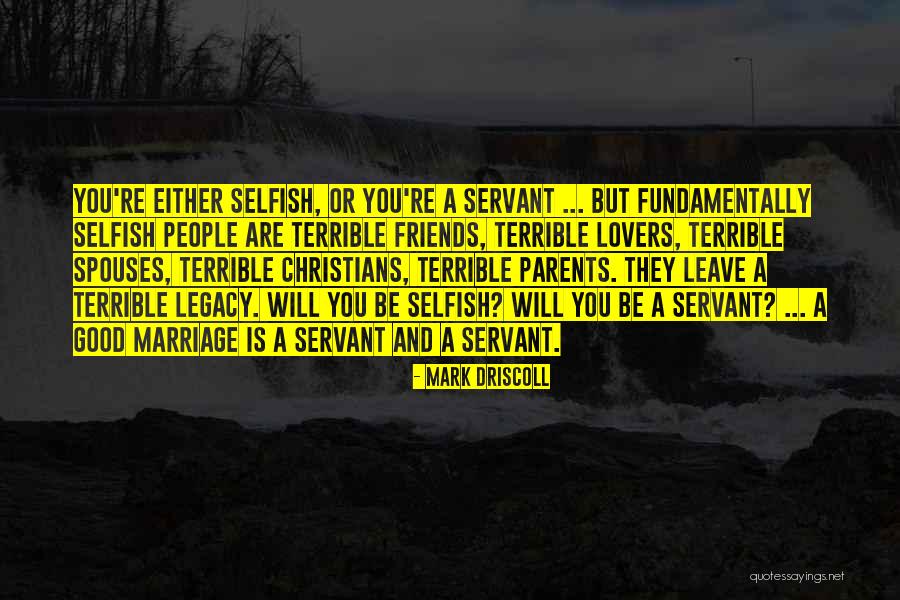 You're either selfish, or you're a servant ... but fundamentally selfish people are terrible friends, terrible lovers, terrible spouses, terrible Christians, terrible parents. They leave a terrible legacy. Will you be selfish? Will you be a servant? ... A good marriage is a servant and a servant. — Mark Driscoll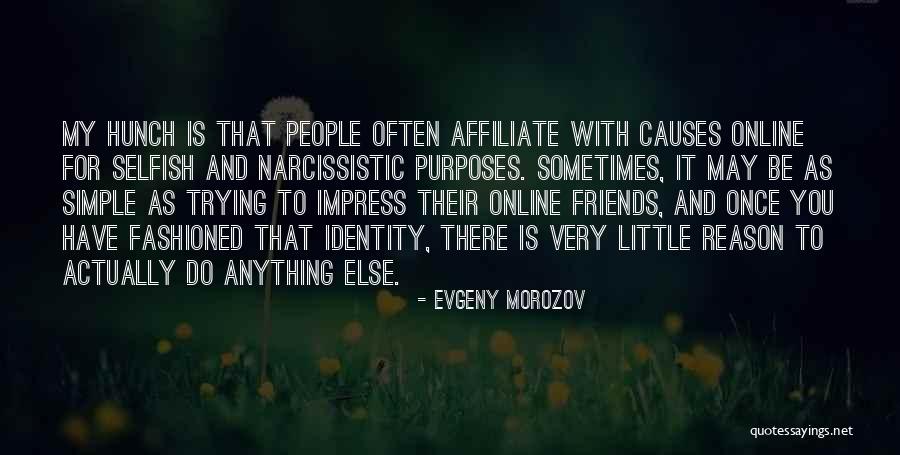 My hunch is that people often affiliate with causes online for selfish and narcissistic purposes. Sometimes, it may be as simple as trying to impress their online friends, and once you have fashioned that identity, there is very little reason to actually do anything else. — Evgeny Morozov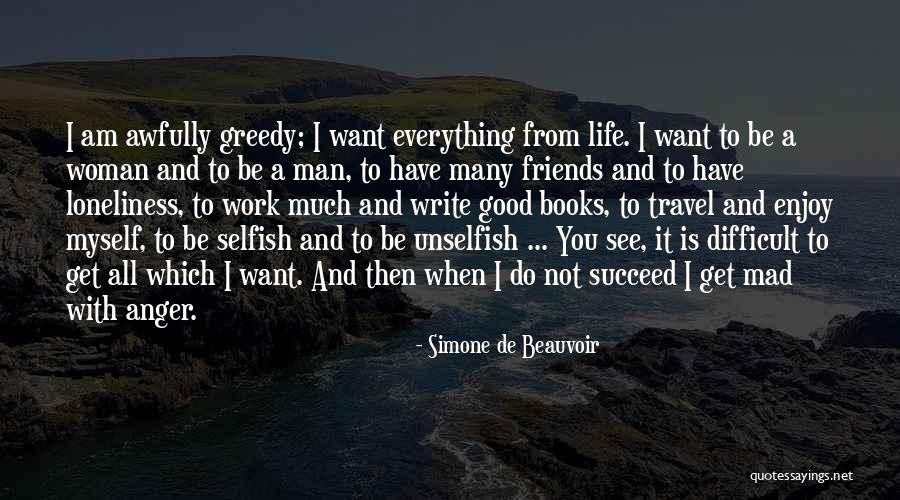 I am awfully greedy; I want everything from life. I want to be a woman and to be a man, to have many friends and to have loneliness, to work much and write good books, to travel and enjoy myself, to be selfish and to be unselfish ... You see, it is difficult to get all which I want. And then when I do not succeed I get mad with anger. — Simone De Beauvoir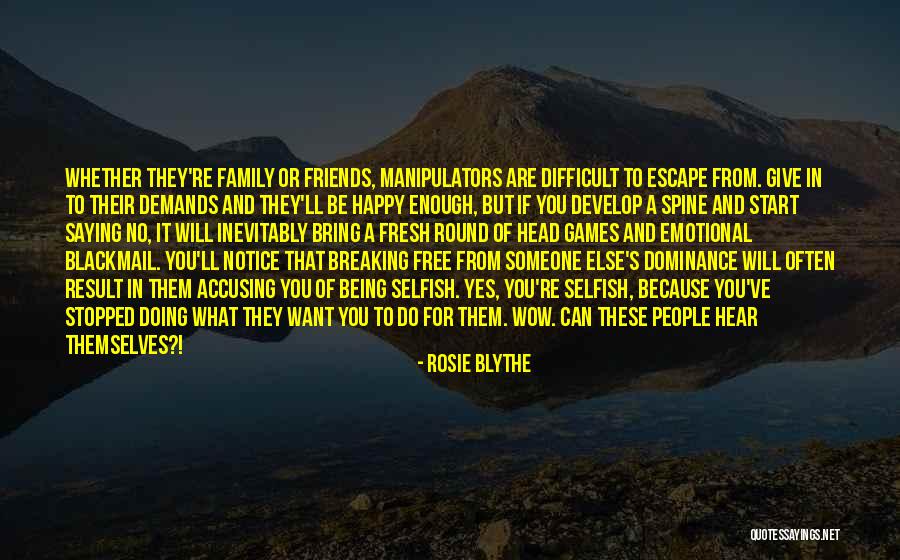 Whether they're family or friends, manipulators are difficult to escape from. Give in to their demands and they'll be happy enough, but if you develop a spine and start saying no, it will inevitably bring a fresh round of head games and emotional blackmail. You'll notice that breaking free from someone else's dominance will often result in them accusing you of being selfish. Yes, you're selfish, because you've stopped doing what they want you to do for them. Wow. Can these people hear themselves?! — Rosie Blythe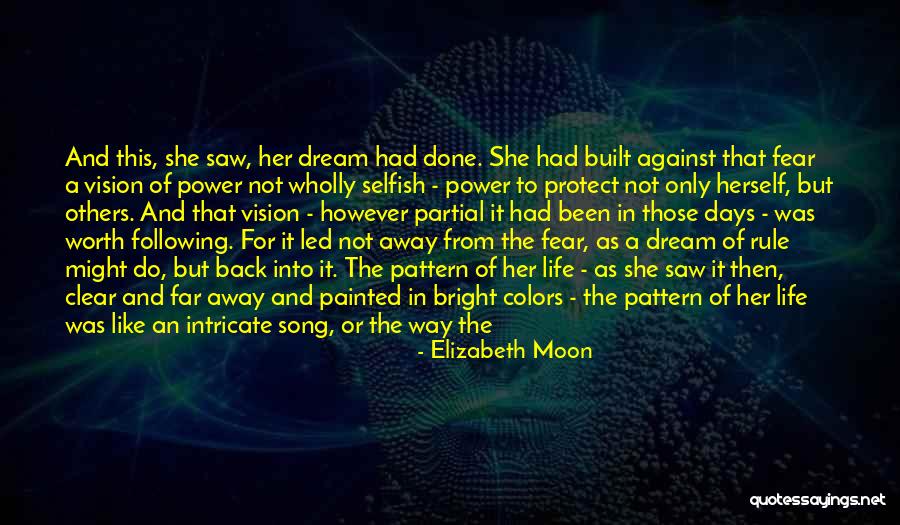 And this, she saw, her dream had done. She had built against that fear a vision of power not wholly selfish - power to protect not only herself, but others. And that vision - however partial it had been in those days - was worth following. For it led not away from the fear, as a dream of rule might do, but back into it. The pattern of her life - as she saw it then, clear and far away and painted in bright colors - the pattern of her life was like an intricate song, or the way the Kuakgan talked of the grove's interlacing trees. There below were the dream's roots, tangled in fear and despair, nourished in the death of friends, the bones of the strong, the blood of the living, and there high above were the dream's images, bright in the sun like banners or the flowering trees of spring. And to be that banner, or that flowering branch, meant being nourished by the same fears: meant encompassing them, not rejecting them. — Elizabeth Moon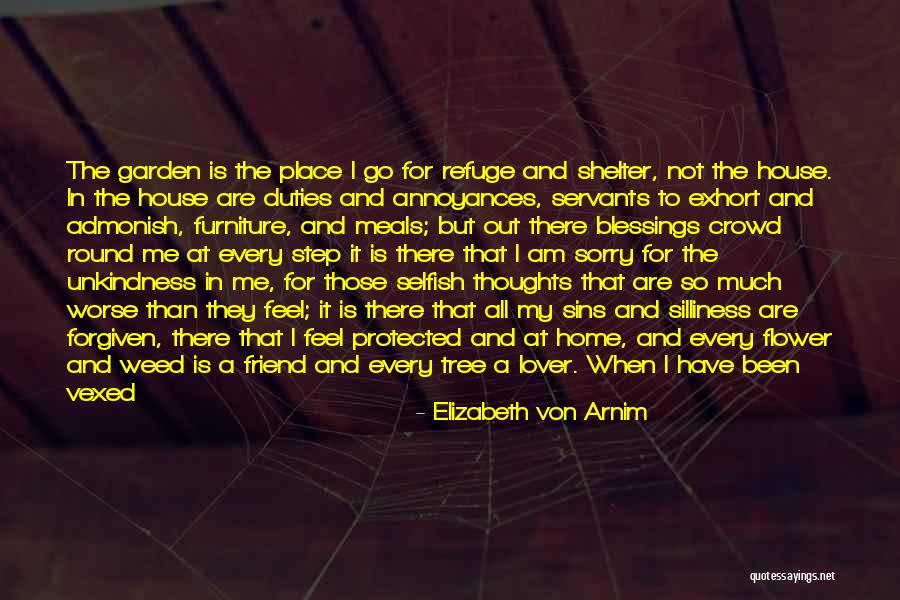 The garden is the place I go for refuge and shelter, not the house. In the house are duties and annoyances, servants to exhort and admonish, furniture, and meals; but out there blessings crowd round me at every step
it is there that I am sorry for the unkindness in me, for those selfish thoughts that are so much worse than they feel; it is there that all my sins and silliness are forgiven, there that I feel protected and at home, and every flower and weed is a friend and every tree a lover. When I have been vexed I run to them for comfort, and when I have been angry without just cause, it is there I find absolution. Did ever a woman have so many friends? And always the same, always ready to welcome me and fill me with cheerful thoughts. Happy children of a common Father, why should I, their own sister, be less content and joyous than they? — Elizabeth Von Arnim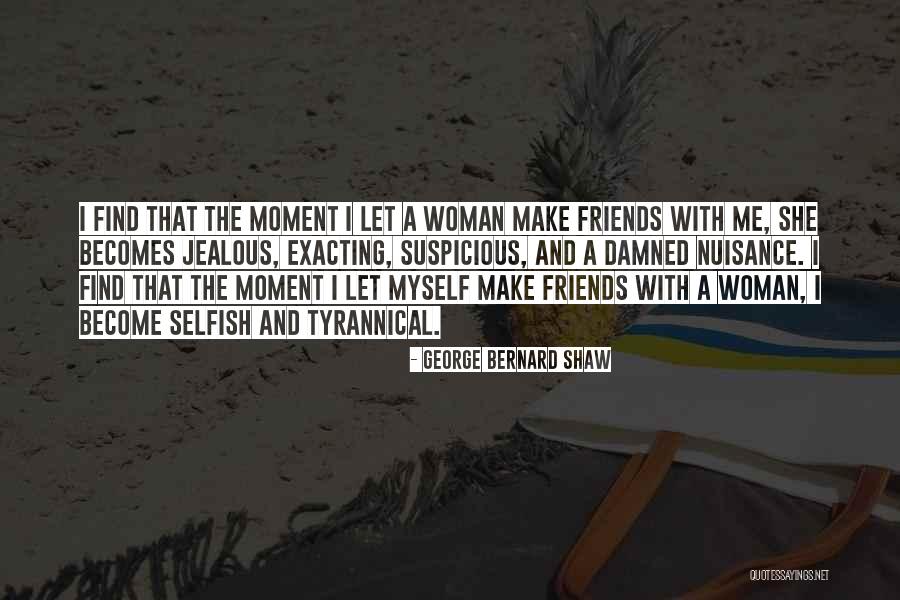 I find that the moment I let a woman make friends with me, she becomes jealous, exacting, suspicious, and a damned nuisance. I find that the moment I let myself make friends with a woman, I become selfish and tyrannical. — George Bernard Shaw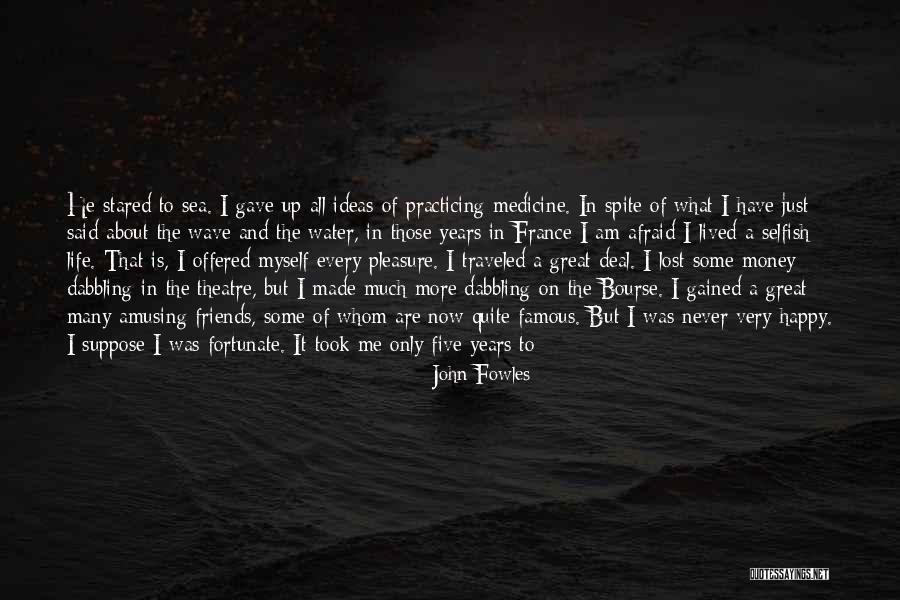 He stared to sea. I gave up all ideas of practicing medicine. In spite of what I have just said about the wave and the water, in those years in France I am afraid I lived a selfish life. That is, I offered myself every pleasure. I traveled a great deal. I lost some money dabbling in the theatre, but I made much more dabbling on the Bourse. I gained a great many amusing friends, some of whom are now quite famous. But I was never very happy. I suppose I was fortunate. It took me only five years to discover what some rich people never discover - that we all have a certain capacity for happiness and unhappiness. And that the economic hazards of life do not seriously affect it. — John Fowles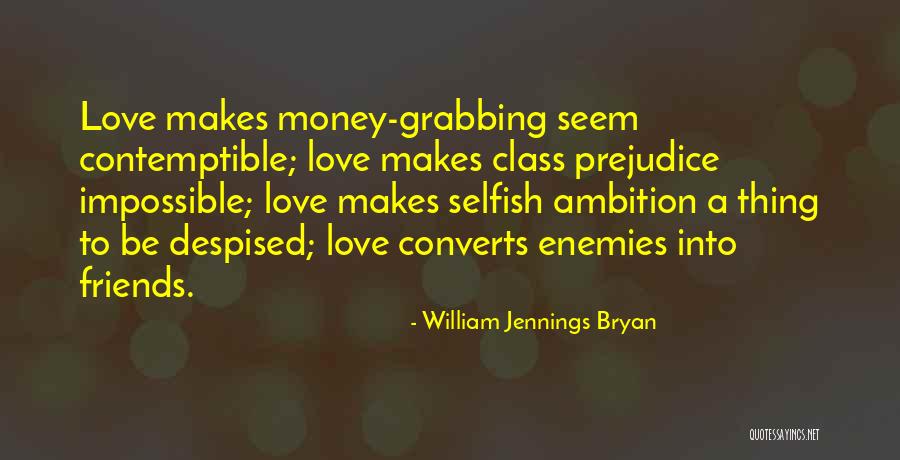 Love makes money-grabbing seem contemptible; love makes class prejudice impossible; love makes selfish ambition a thing to be despised; love converts enemies into friends. — William Jennings Bryan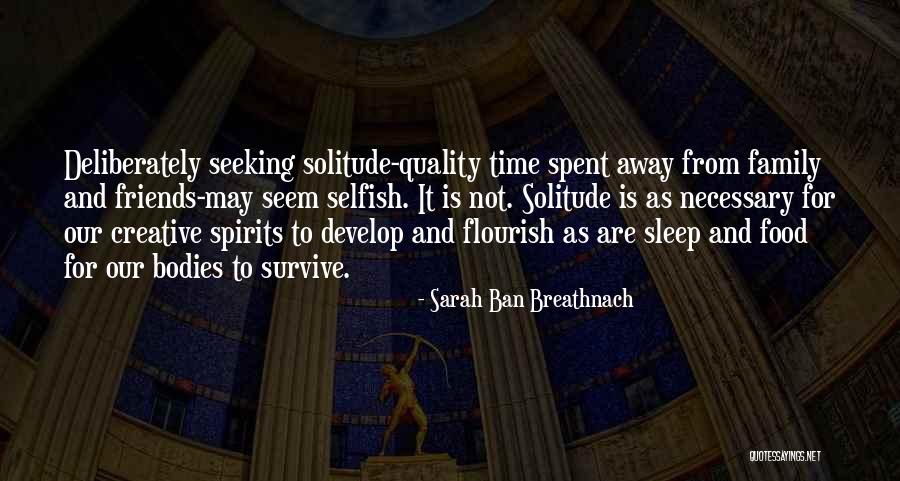 Deliberately seeking solitude-quality time spent away from family and friends-may seem selfish. It is not. Solitude is as necessary for our creative spirits to develop and flourish as are sleep and food for our bodies to survive. — Sarah Ban Breathnach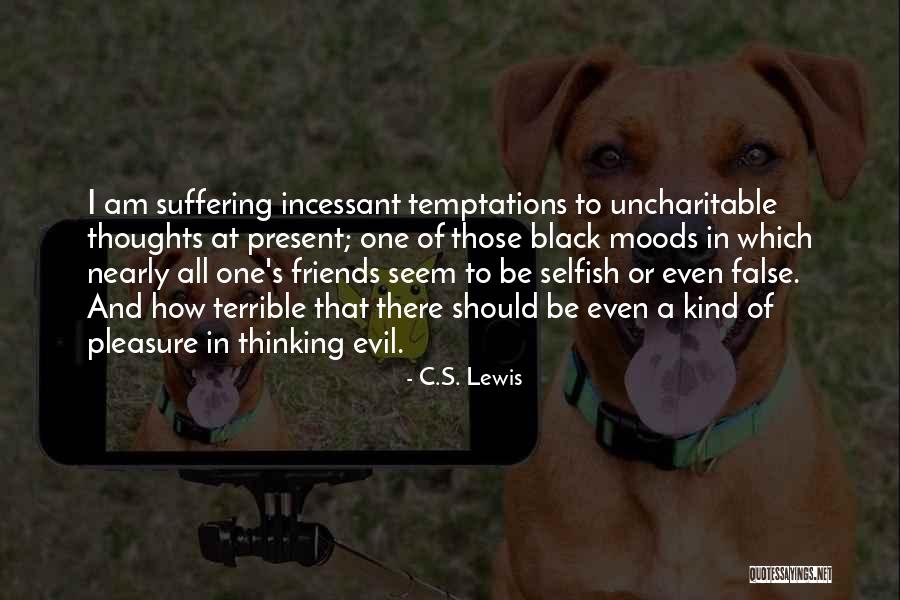 I am suffering incessant temptations to uncharitable thoughts at present; one of those black moods in which nearly all one's friends seem to be selfish or even false. And how terrible that there should be even a kind of pleasure in thinking evil. — C.S. Lewis
Though no law was written, there was a crude rule of law, adherence to a covenant that transcended their selfish interests. It was biblical in its depth, and its importance grew with each step into wilderness. When the need arose, a man extended a helping hand to his friends, to his partners, to strangers. In so doing, each knew that his own survival might one day depend upon the reaching grasp of another. — Michael Punke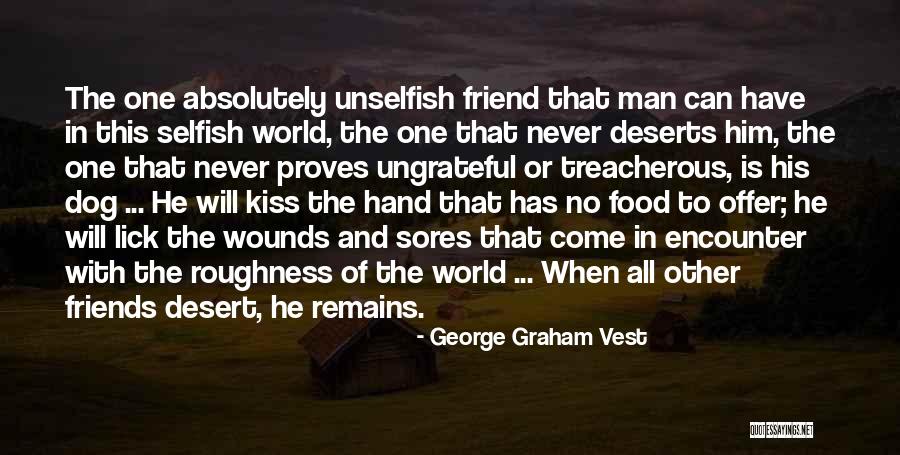 The one absolutely unselfish friend that man can have in this selfish world, the one that never deserts him, the one that never proves ungrateful or treacherous, is his dog ... He will kiss the hand that has no food to offer; he will lick the wounds and sores that come in encounter with the roughness of the world ... When all other friends desert, he remains. — George Graham Vest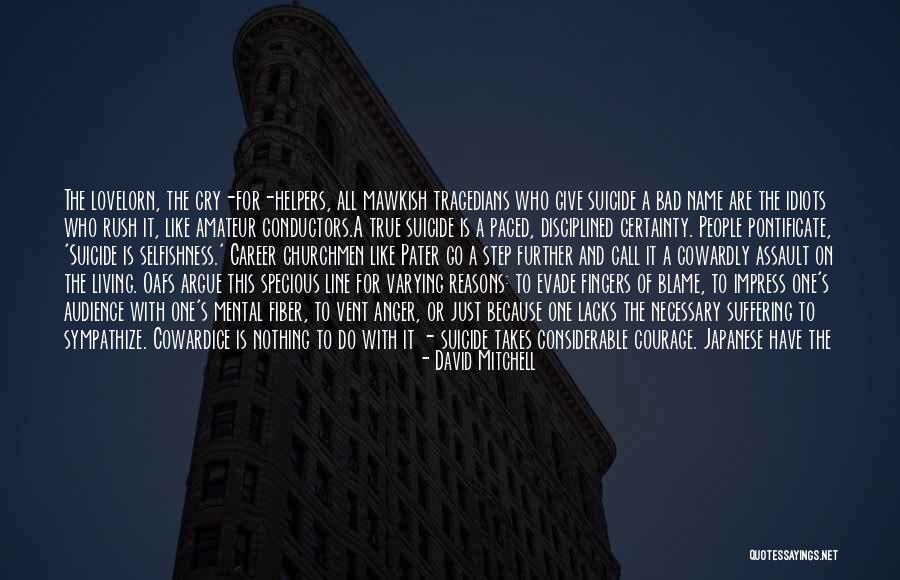 The lovelorn, the cry-for-helpers, all mawkish tragedians who give suicide a bad name are the idiots who rush it, like amateur conductors.A true suicide is a paced, disciplined certainty. People pontificate, 'Suicide is selfishness.' Career churchmen like Pater go a step further and call it a cowardly assault on the living. Oafs argue this specious line for varying reasons: to evade fingers of blame, to impress one's audience with one's mental fiber, to vent anger, or just because one lacks the necessary suffering to sympathize. Cowardice is nothing to do with it - suicide takes considerable courage. Japanese have the right idea. No, what's selfish is to demand another to endure an intolerable existence, just to spare families, friends, and enemies a bit of soul-searching. The only selfishness lies in ruining strangers' days by forcing 'em to witness a grotesqueness. — David Mitchell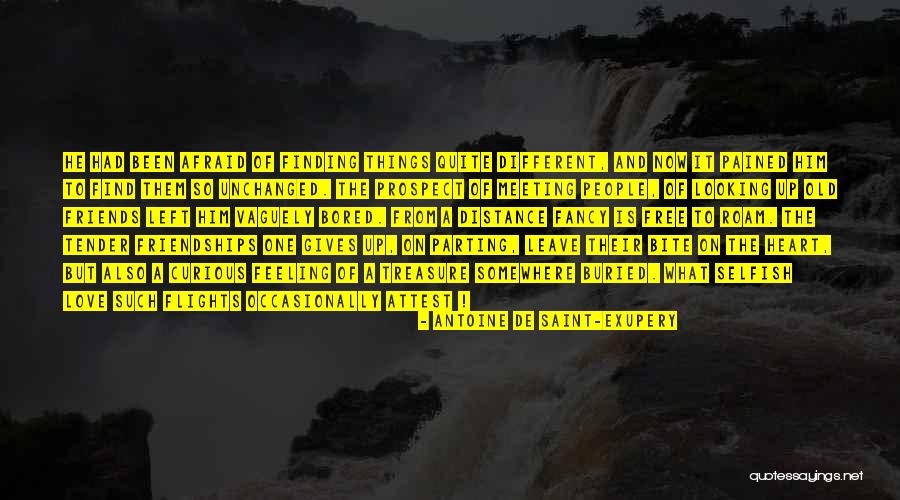 He had been afraid of finding things quite different, and now it pained him to find them so unchanged. the prospect of meeting people, of looking up old friends left him vaguely bored. from a distance fancy is free to roam. the tender friendships one gives up, on parting, leave their bite on the heart, but also a curious feeling of a treasure somewhere buried. what selfish love such flights occasionally attest ! — Antoine De Saint-Exupery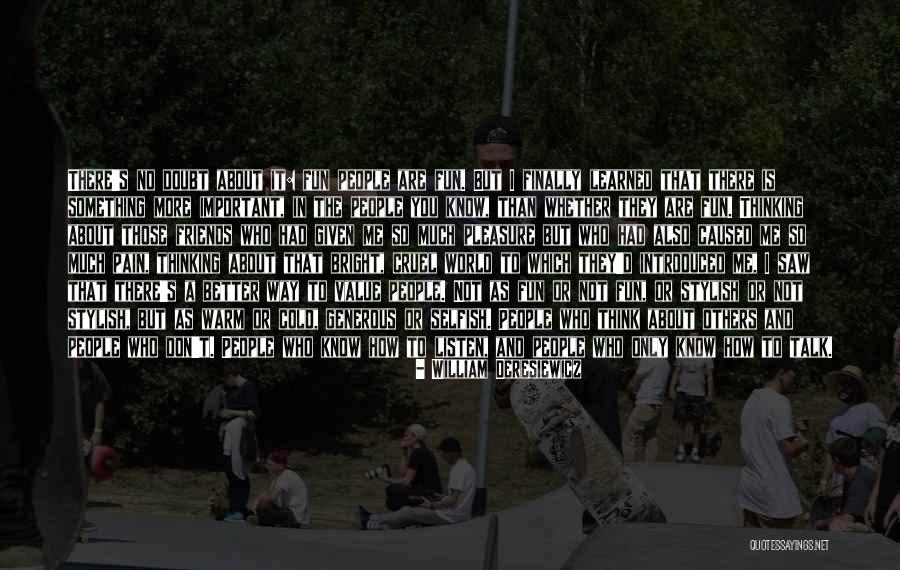 There's no doubt about it: fun people are fun. But I finally learned that there is something more important, in the people you know, than whether they are fun. Thinking about those friends who had given me so much pleasure but who had also caused me so much pain, thinking about that bright, cruel world to which they'd introduced me, I saw that there's a better way to value people. Not as fun or not fun, or stylish or not stylish, but as warm or cold, generous or selfish. People who think about others and people who don't. People who know how to listen, and people who only know how to talk. — William Deresiewicz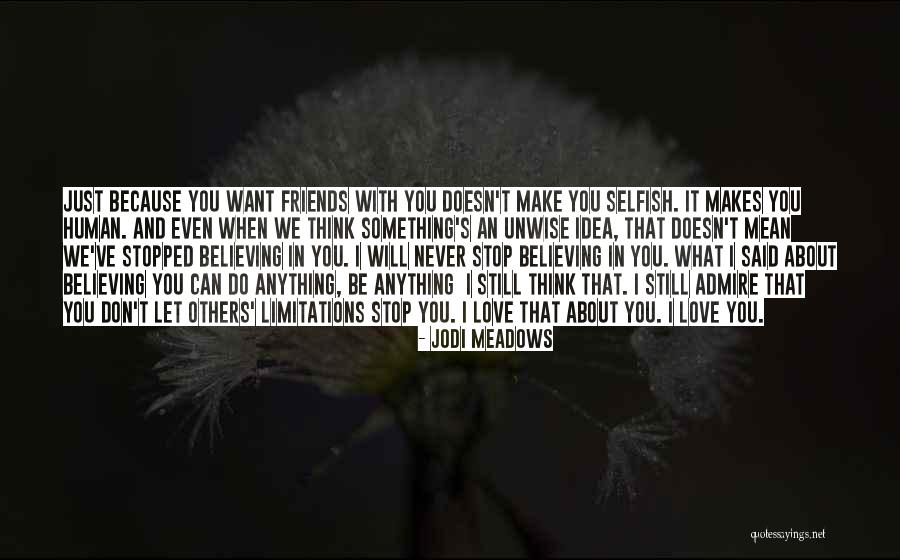 Just because you want friends with you doesn't make you selfish. It makes you human. And even when we think something's an unwise idea, that doesn't mean we've stopped believing in you. I will never stop believing in you. What I said about believing you can do anything, be anything
I still think that. I still admire that you don't let others' limitations stop you. I love that about you. I love you. — Jodi Meadows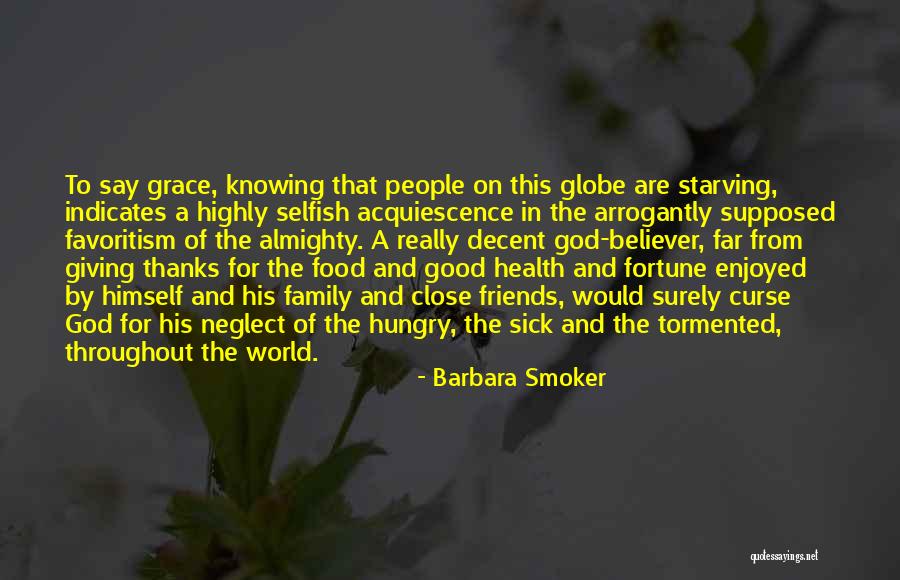 To say grace, knowing that people on this globe are starving, indicates a highly selfish acquiescence in the arrogantly supposed favoritism of the almighty. A really decent god-believer, far from giving thanks for the food and good health and fortune enjoyed by himself and his family and close friends, would surely curse God for his neglect of the hungry, the sick and the tormented, throughout the world. — Barbara Smoker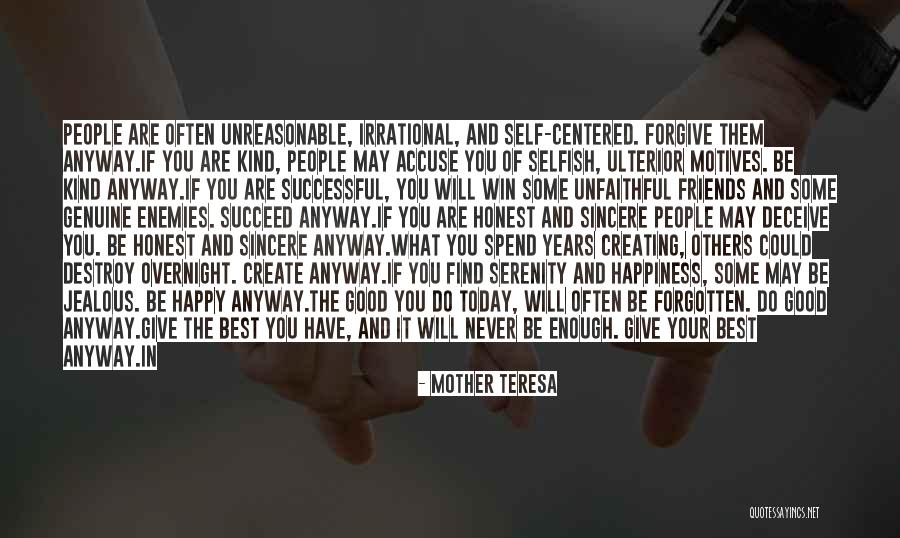 People are often unreasonable, irrational, and self-centered. Forgive them anyway.

If you are kind, people may accuse you of selfish, ulterior motives. Be kind anyway.

If you are successful, you will win some unfaithful friends and some genuine enemies. Succeed anyway.

If you are honest and sincere people may deceive you. Be honest and sincere anyway.

What you spend years creating, others could destroy overnight. Create anyway.

If you find serenity and happiness, some may be jealous. Be happy anyway.

The good you do today, will often be forgotten. Do good anyway.

Give the best you have, and it will never be enough. Give your best anyway.

In the final analysis, it is between you and God. It was never between you and them anyway.

~Mother Teresa — Mother Teresa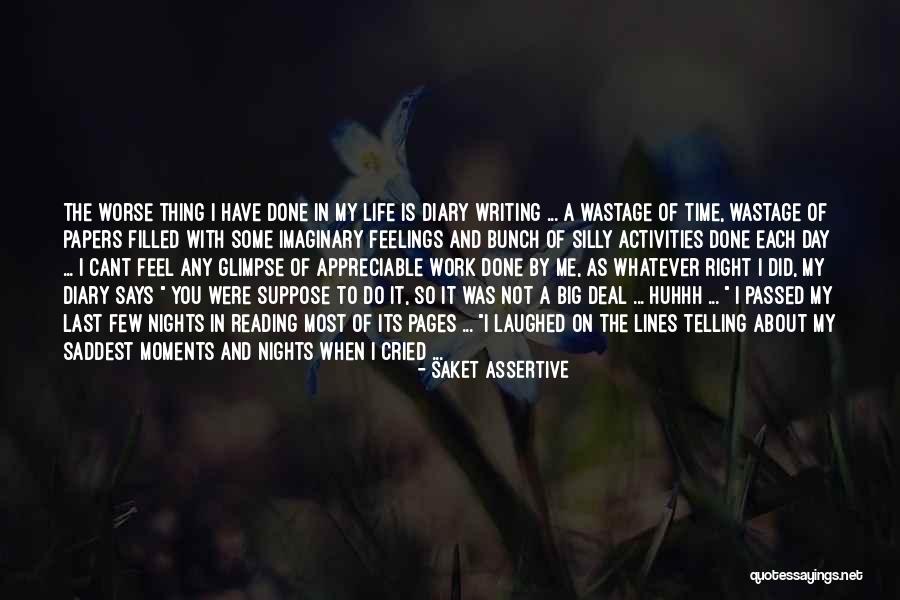 The worse thing I have done in my life is Diary writing ... a wastage of time, wastage of papers filled with some imaginary feelings and bunch of silly activities done each day ... I cant feel any glimpse of appreciable work done by me, as whatever right I did, my Diary says " you were suppose to do it, so it was not a big deal ... huhhh ... "
I passed my last few nights in reading most of its pages ... "I laughed on the lines telling about my saddest moments and nights when I cried ... .. but I felt woeful and downhearted on the lines telling about the moments when I shared my smile with someone, when I enjoyed the moments with my friends and near and dear ones, who r far and far now, and we can't get those moments back in this busy selfish life"
So now its better in busy life to live evry day and forget it in night ... enjoy life ... save papers ... no diary writing from today ... Sorry Diary, You will Miss Me ... — Saket Assertive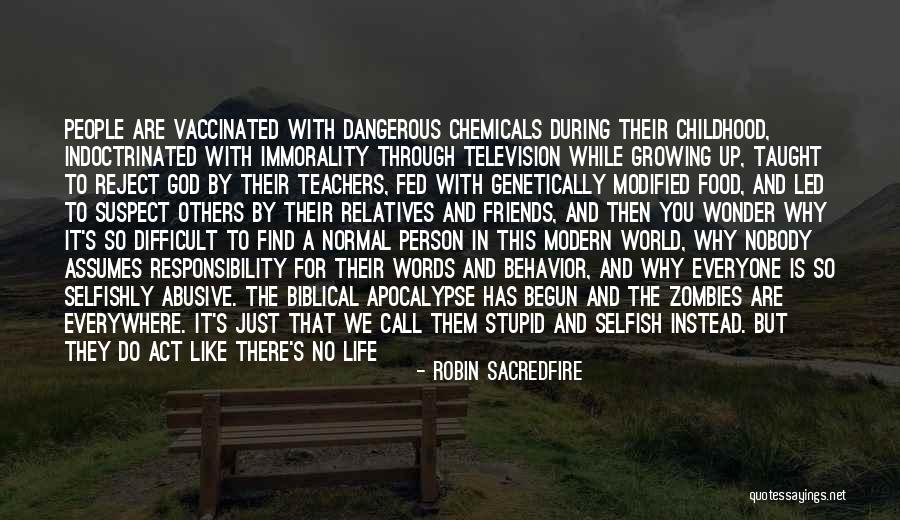 People are vaccinated with dangerous chemicals during their childhood, indoctrinated with immorality through television while growing up, taught to reject God by their teachers, fed with genetically modified food, and led to suspect others by their relatives and friends, and then you wonder why it's so difficult to find a normal person in this modern world, why nobody assumes responsibility for their words and behavior, and why everyone is so selfishly abusive. The biblical apocalypse has begun and the zombies are everywhere. It's just that we call them stupid and selfish instead. But they do act like there's no life inside of them anymore. There are no more normal human beings around. The survivors of this apocalypse are extremely scarce and must be treasured. — Robin Sacredfire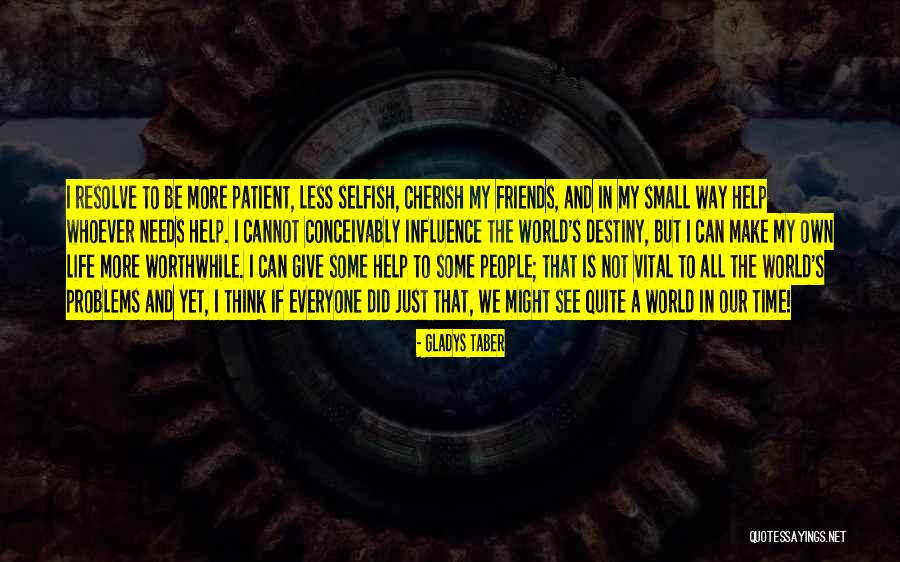 I resolve to be more patient, less selfish, cherish my friends, and in my small way help whoever needs help. I cannot conceivably influence the world's destiny, but I can make my own life more worthwhile. I can give some help to some people; that is not vital to all the world's problems and yet, I think if everyone did just that, we might see quite a world in our time! — Gladys Taber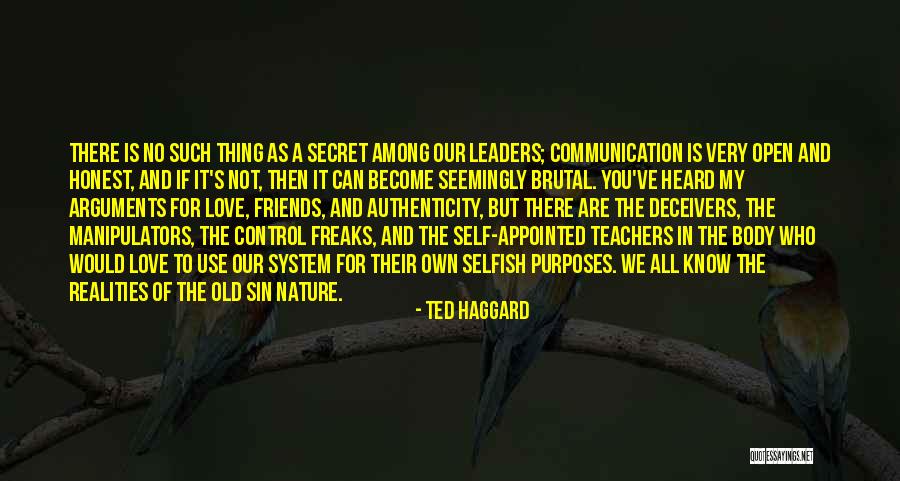 There is no such thing as a secret among our leaders; communication is very open and honest, and if it's not, then it can become seemingly brutal. You've heard my arguments for love, friends, and authenticity, but there are the deceivers, the manipulators, the control freaks, and the self-appointed teachers in the Body who would love to use our system for their own selfish purposes. We all know the realities of the old sin nature. — Ted Haggard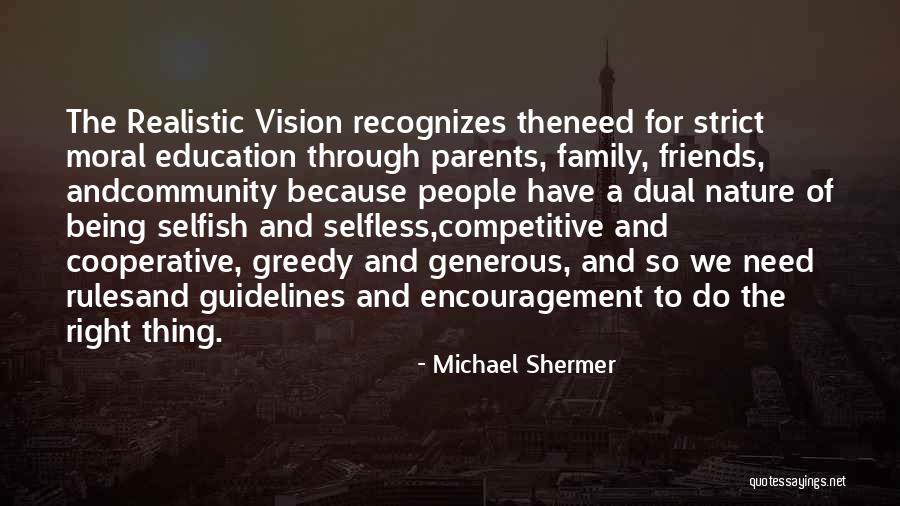 The Realistic Vision recognizes the
need for strict moral education through parents, family, friends, and
community because people have a dual nature of being selfish and selfless,
competitive and cooperative, greedy and generous, and so we need rules
and guidelines and encouragement to do the right thing. — Michael Shermer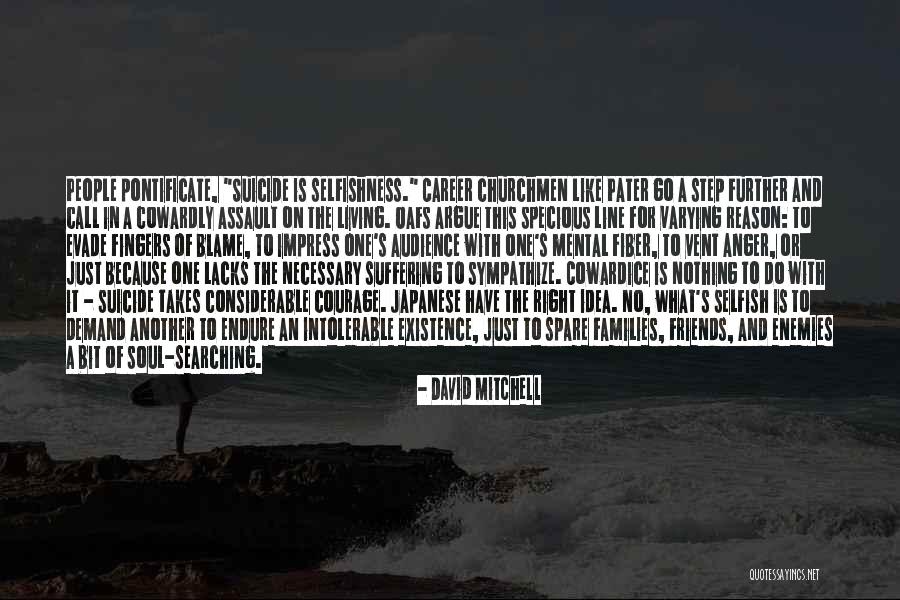 People pontificate, "Suicide is selfishness." Career churchmen like Pater go a step further and call in a cowardly assault on the living. Oafs argue this specious line for varying reason: to evade fingers of blame, to impress one's audience with one's mental fiber, to vent anger, or just because one lacks the necessary suffering to sympathize. Cowardice is nothing to do with it - suicide takes considerable courage. Japanese have the right idea. No, what's selfish is to demand another to endure an intolerable existence, just to spare families, friends, and enemies a bit of soul-searching. — David Mitchell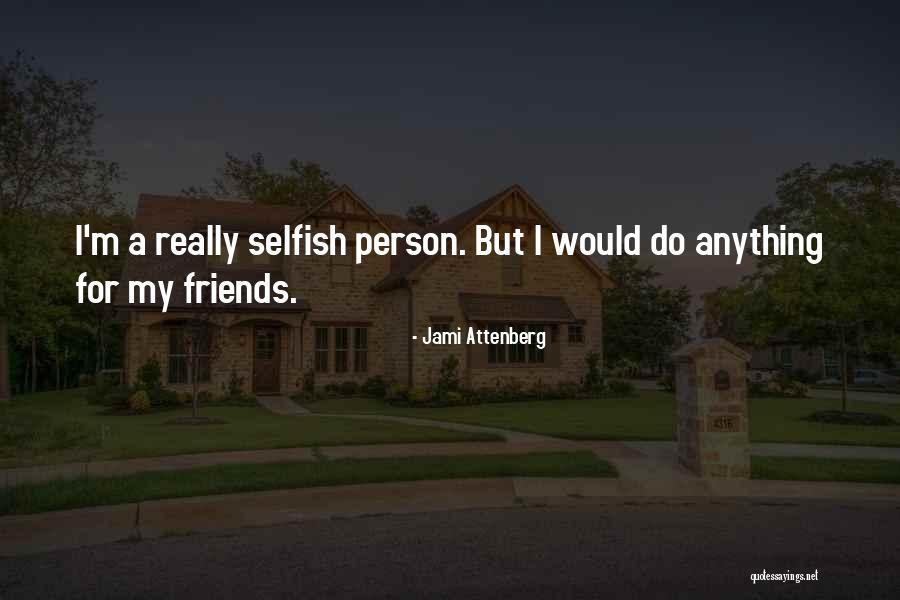 I'm a really selfish person. But I would do anything for my friends. — Jami Attenberg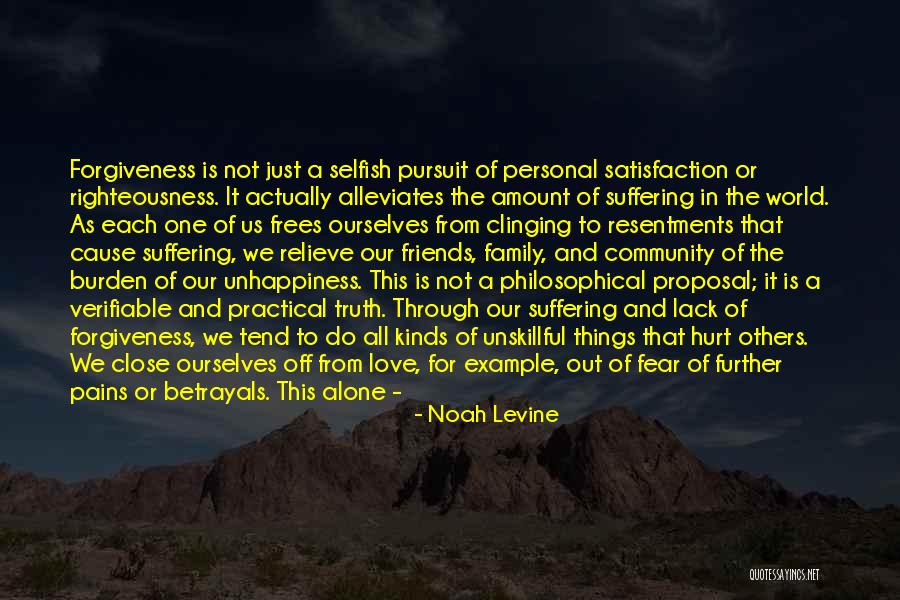 Forgiveness is not just a selfish pursuit of personal satisfaction or righteousness. It actually alleviates the amount of suffering in the world. As each one of us frees ourselves from clinging to resentments that cause suffering, we relieve our friends, family, and community of the burden of our unhappiness. This is not a philosophical proposal; it is a verifiable and practical truth. Through our suffering and lack of forgiveness, we tend to do all kinds of unskillful things that hurt others. We close ourselves off from love, for example, out of fear of further pains or betrayals. This alone - a lack of openness to the love shown to us - is a way that we cause harm to our loved ones. The closed heart lets no one in or out. — Noah Levine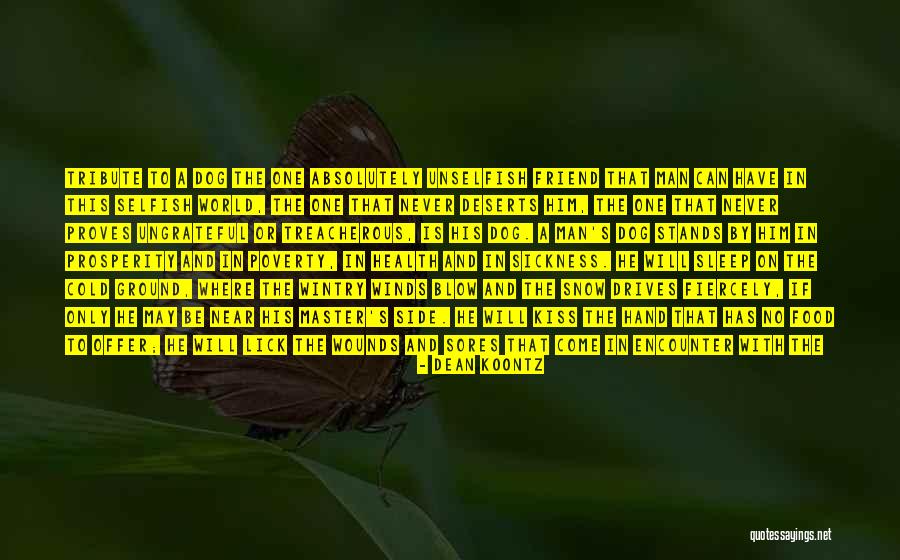 TRIBUTE TO A DOG The one absolutely unselfish friend that man can have in this selfish world, the one that never deserts him, the one that never proves ungrateful or treacherous, is his dog. A man's dog stands by him in prosperity and in poverty, in health and in sickness. He will sleep on the cold ground, where the wintry winds blow and the snow drives fiercely, if only he may be near his master's side. He will kiss the hand that has no food to offer; he will lick the wounds and sores that come in encounter with the roughness of the world. He guards the sleep of his pauper master as if he were a prince. When all other friends desert, he remains. When riches take wing and reputation falls to pieces, he is as constant in his love as the sun in its journey through the heavens. — Dean Koontz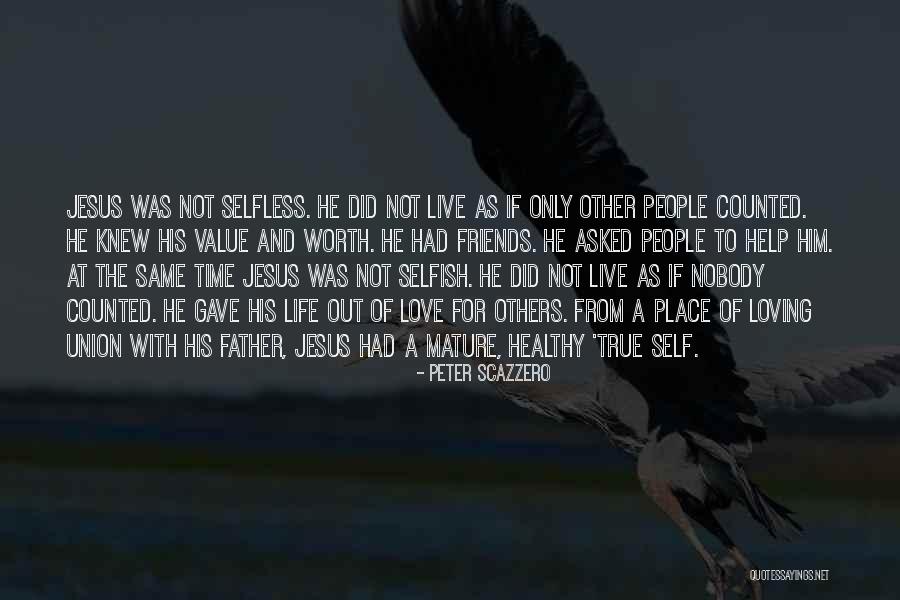 Jesus was not SELFLESS. He did not live as if ONLY other people counted. He knew his value and worth. He had friends. He asked people to help him. At the same time Jesus was not SELFISH. He did not live as if nobody counted. He gave his life out of love for others. From a place of loving union with his Father, Jesus had a mature, healthy 'true self. — Peter Scazzero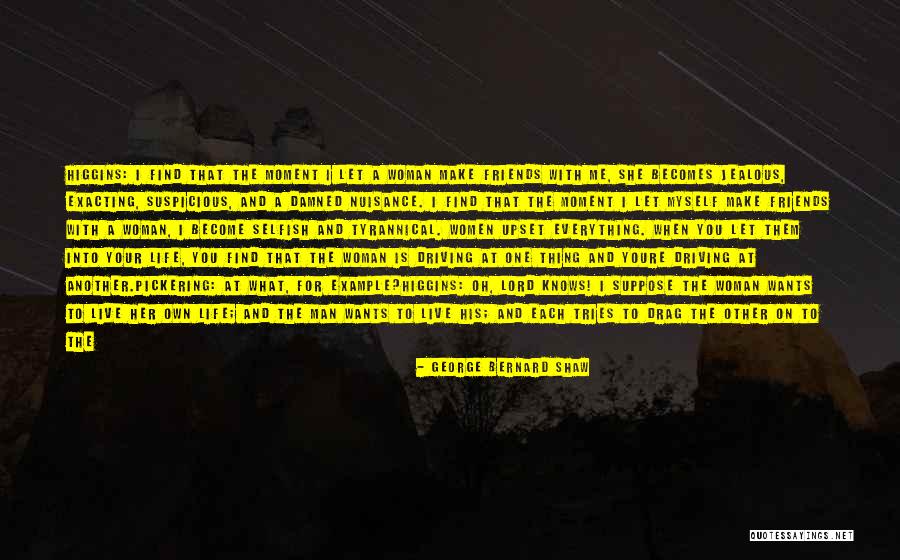 Higgins: I find that the moment I let a woman make friends with me, she becomes jealous, exacting, suspicious, and a damned nuisance. I find that the moment I let myself make friends with a woman, I become selfish and tyrannical. Women upset everything. When you let them into your life, you find that the woman is driving at one thing and youre driving at another.
Pickering: At what, for example?
Higgins: Oh, Lord knows! I suppose the woman wants to live her own life; and the man wants to live his; and each tries to drag the other on to the wrong track. One wants to go north and the other south; and the result is that both have to go east, though they both hate the east wind. — George Bernard Shaw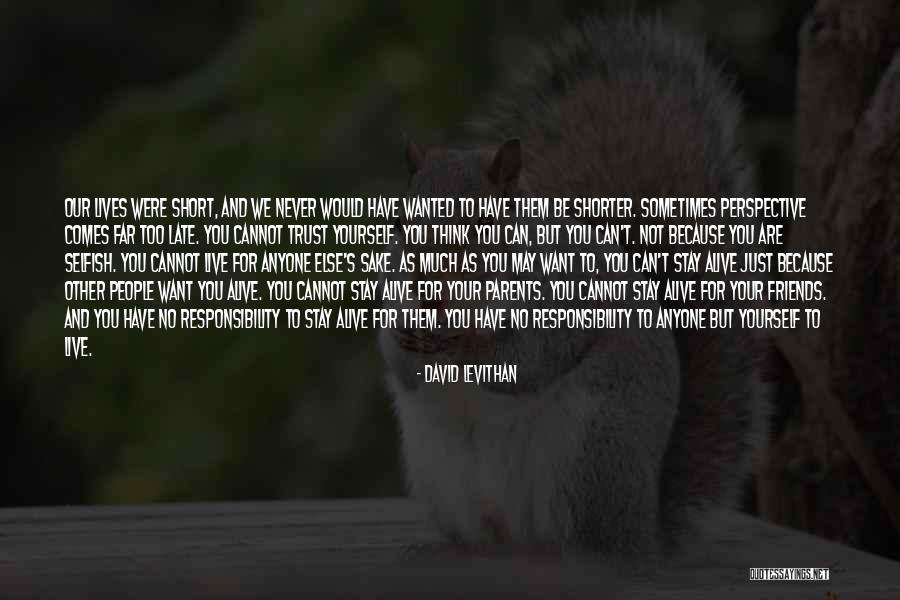 Our lives were short, and we never would have wanted to have them be shorter. Sometimes perspective comes far too late. You cannot trust yourself. You think you can, but you can't. Not because you are selfish. You cannot live for anyone else's sake. As much as you may want to, you can't stay alive just because other people want you alive. You cannot stay alive for your parents. You cannot stay alive for your friends. And you have no responsibility to stay alive for them. You have no responsibility to anyone but yourself to live. — David Levithan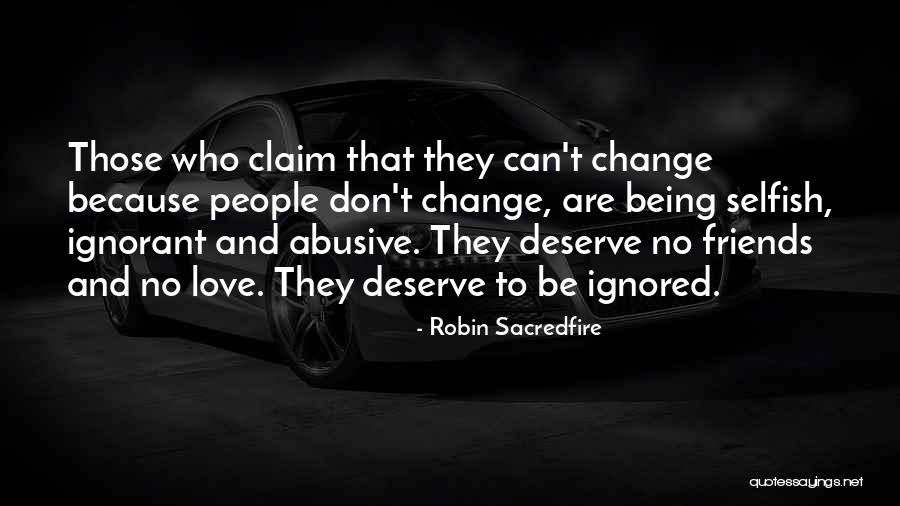 Those who claim that they can't change because people don't change, are being selfish, ignorant and abusive. They deserve no friends and no love. They deserve to be ignored. — Robin Sacredfire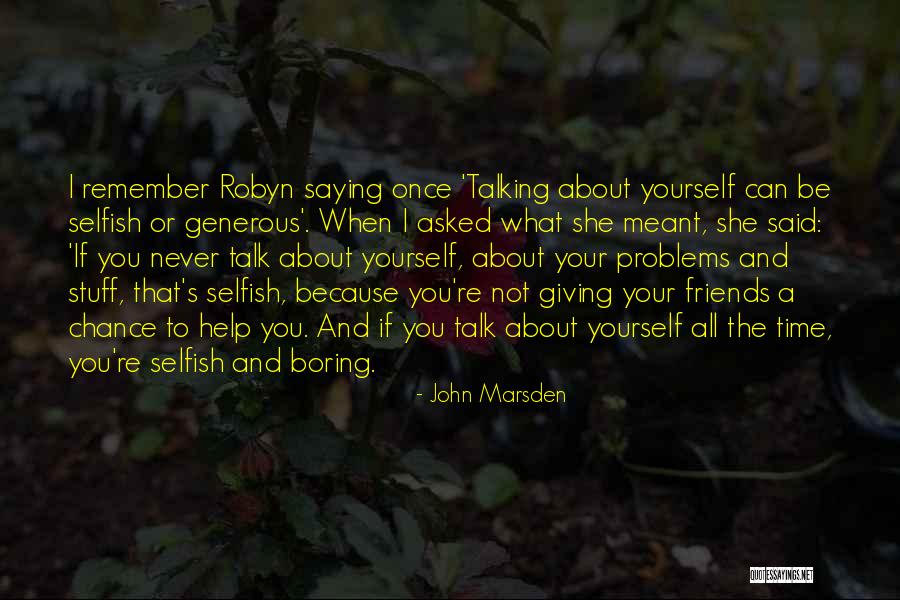 I remember Robyn saying once 'Talking about yourself can be selfish or generous'. When I asked what she meant, she said: 'If you never talk about yourself, about your problems and stuff, that's selfish, because you're not giving your friends a chance to help you. And if you talk about yourself all the time, you're selfish and boring. — John Marsden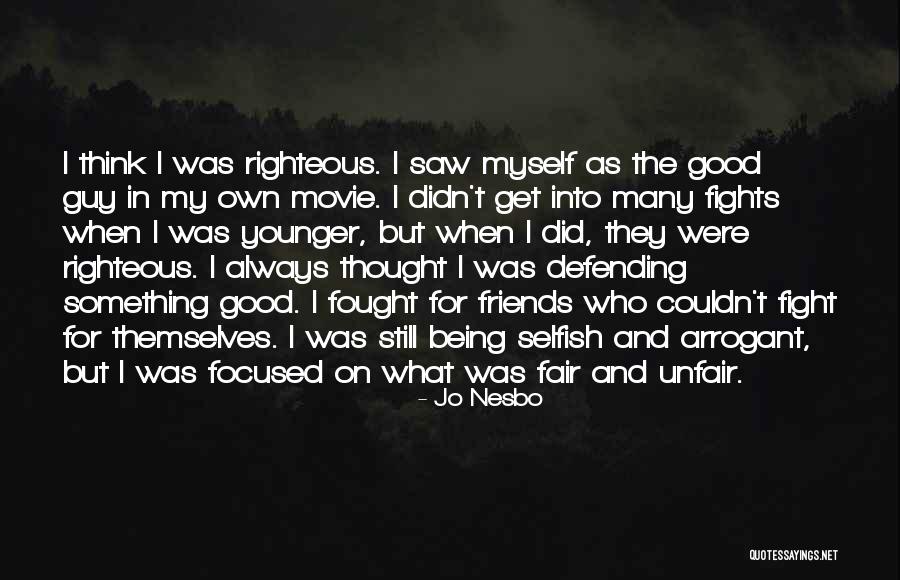 I think I was righteous. I saw myself as the good guy in my own movie. I didn't get into many fights when I was younger, but when I did, they were righteous. I always thought I was defending something good. I fought for friends who couldn't fight for themselves. I was still being selfish and arrogant, but I was focused on what was fair and unfair. — Jo Nesbo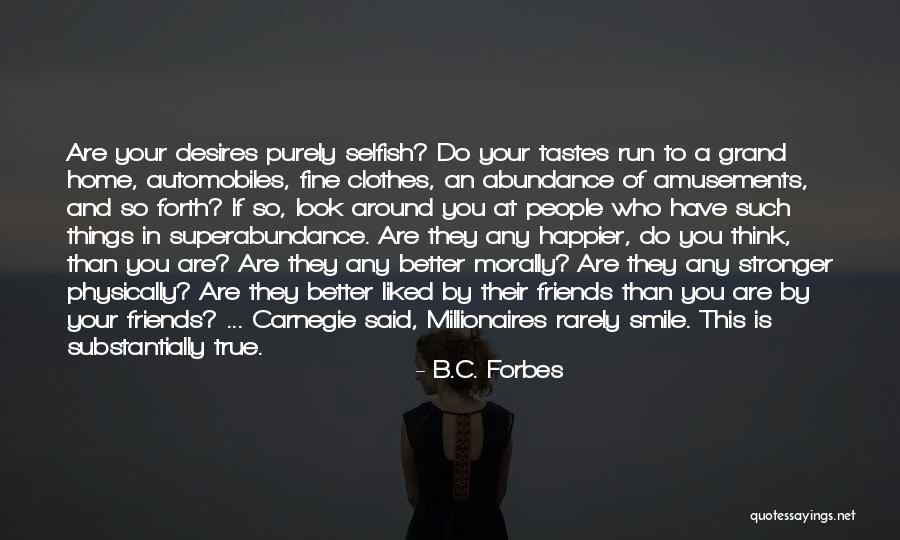 Are your desires purely selfish? Do your tastes run to a grand home, automobiles, fine clothes, an abundance of amusements, and so forth? If so, look around you at people who have such things in superabundance. Are they any happier, do you think, than you are? Are they any better morally? Are they any stronger physically? Are they better liked by their friends than you are by your friends? ... Carnegie said, Millionaires rarely smile. This is substantially true. — B.C. Forbes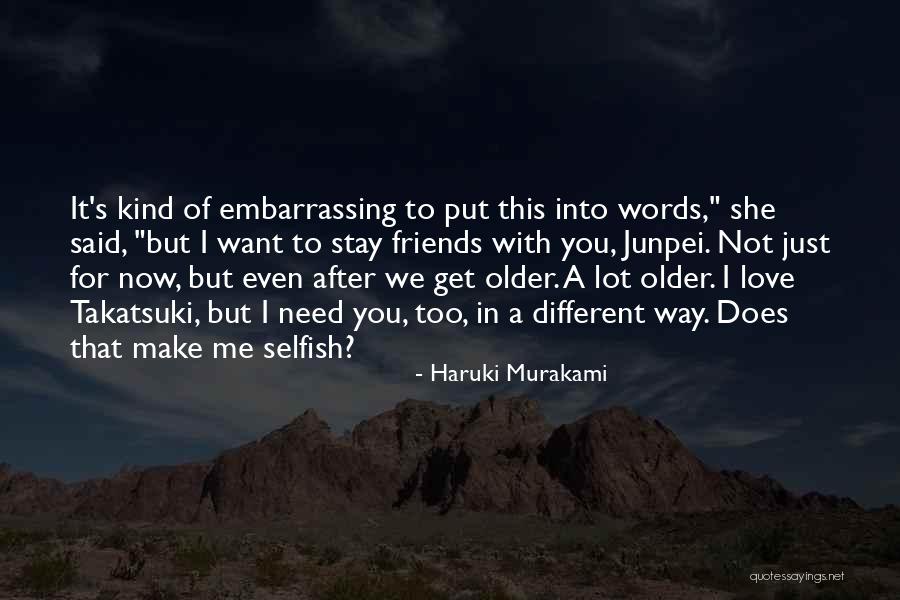 It's kind of embarrassing to put this into words," she said, "but I want to stay friends with you, Junpei. Not just for now, but even after we get older. A lot older. I love Takatsuki, but I need you, too, in a different way. Does that make me selfish? — Haruki Murakami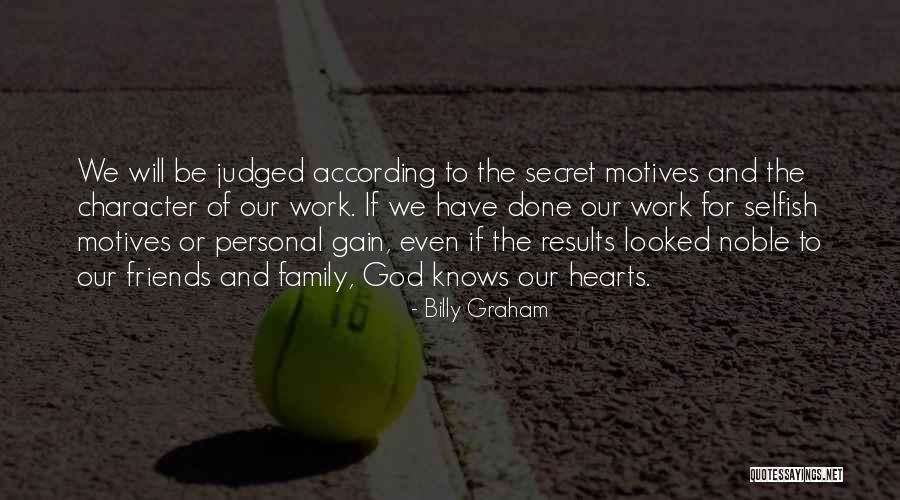 We will be judged according to the secret motives and the character of our work. If we have done our work for selfish motives or personal gain, even if the results looked noble to our friends and family, God knows our hearts. — Billy Graham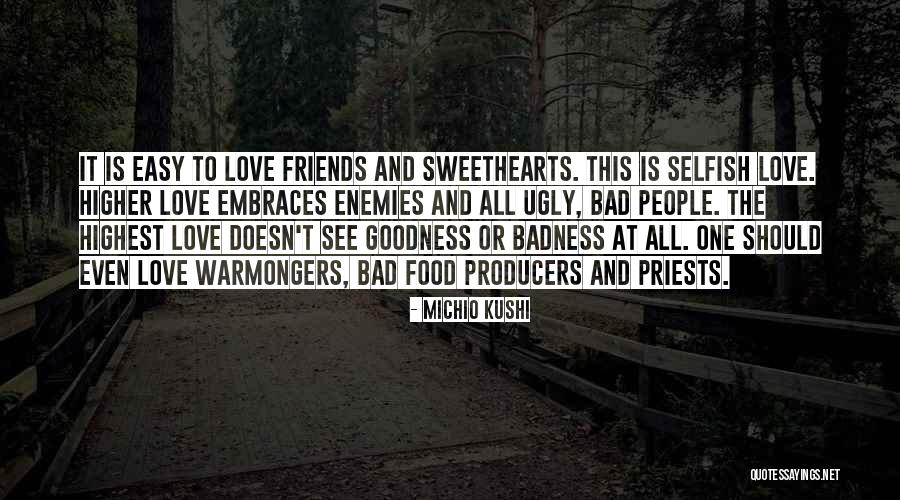 It is easy to love friends and sweethearts. This is selfish love. Higher love embraces enemies and all ugly, bad people. The highest love doesn't see goodness or badness at all. One should even love warmongers, bad food producers and priests. — Michio Kushi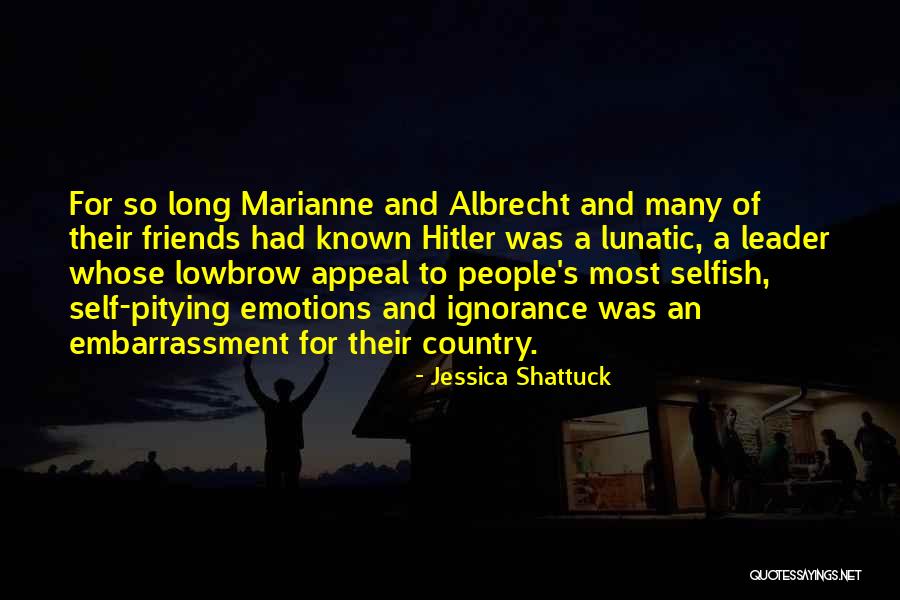 For so long Marianne and Albrecht and many of their friends had known Hitler was a lunatic, a leader whose lowbrow appeal to people's most selfish, self-pitying emotions and ignorance was an embarrassment for their country. — Jessica Shattuck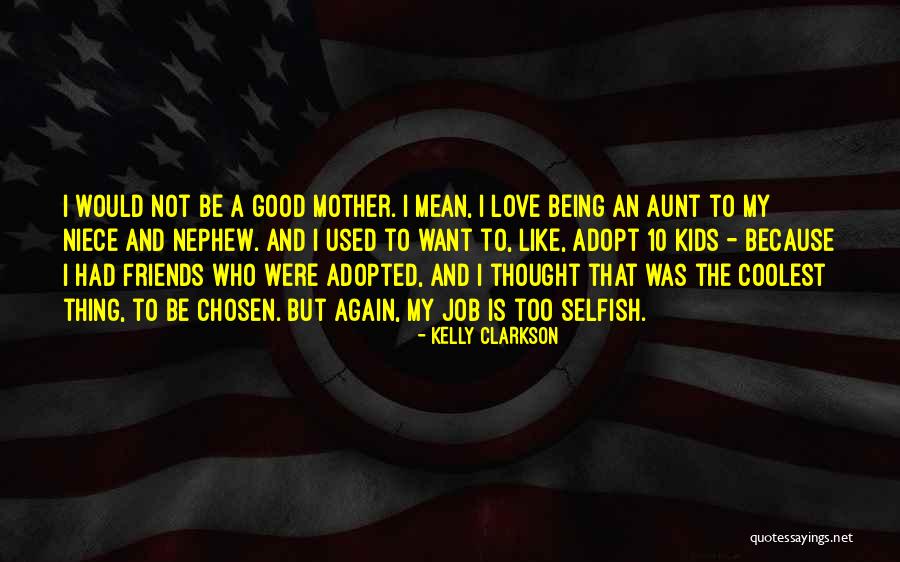 I would not be a good mother. I mean, I love being an aunt to my niece and nephew. And I used to want to, like, adopt 10 kids - because I had friends who were adopted, and I thought that was the coolest thing, to be chosen. But again, my job is too selfish. — Kelly Clarkson