Frequent Change Quotes & Sayings
Enjoy reading and share 17 famous quotes about Frequent Change with everyone.
Top Frequent Change Quotes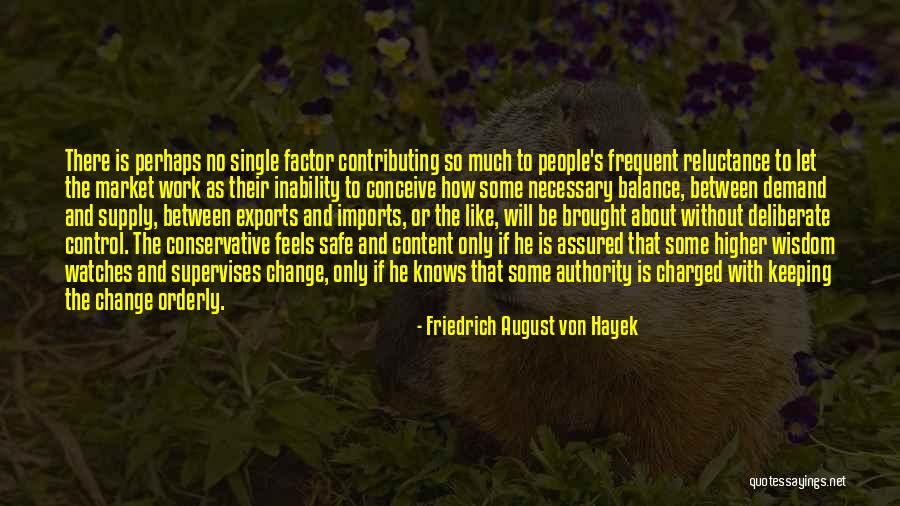 There is perhaps no single factor contributing so much to people's frequent reluctance to let the market work as their inability to conceive how some necessary balance, between demand and supply, between exports and imports, or the like, will be brought about without deliberate control. The conservative feels safe and content only if he is assured that some higher wisdom watches and supervises change, only if he knows that some authority is charged with keeping the change orderly. — Friedrich August Von Hayek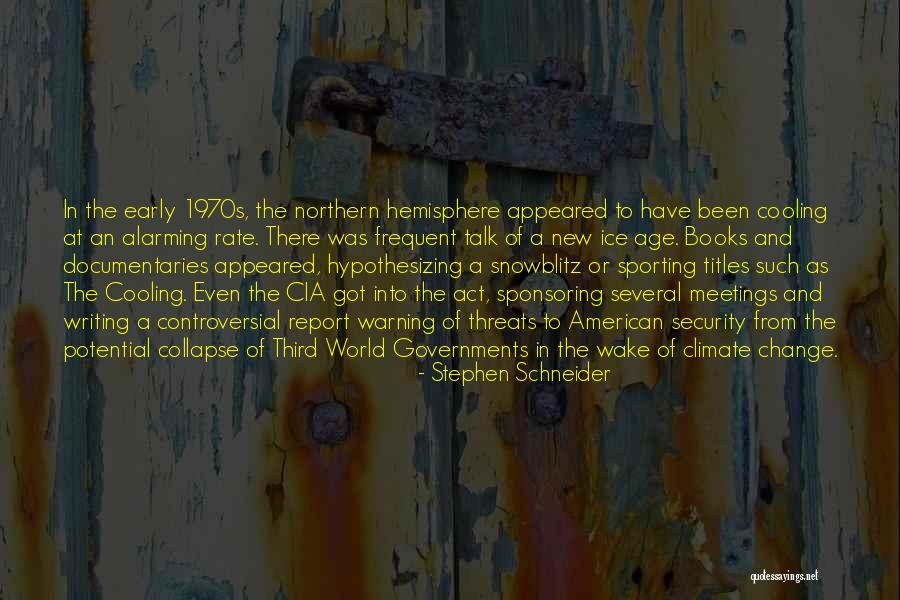 In the early 1970s, the northern hemisphere appeared to have been cooling at an alarming rate. There was frequent talk of a new ice age. Books and documentaries appeared, hypothesizing a snowblitz or sporting titles such as The Cooling. Even the CIA got into the act, sponsoring several meetings and writing a controversial report warning of threats to American security from the potential collapse of Third World Governments in the wake of climate change. — Stephen Schneider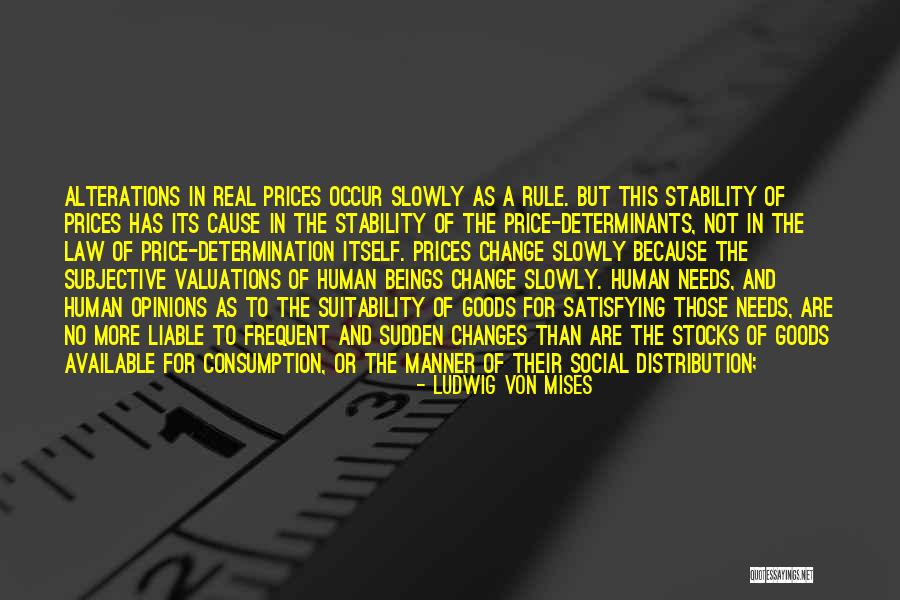 Alterations in real prices occur slowly as a rule. But this stability of prices has its cause in the stability of the price-determinants, not in the Law of Price-determination itself. Prices change slowly because the subjective valuations of human beings change slowly. Human needs, and human opinions as to the suitability of goods for satisfying those needs, are no more liable to frequent and sudden changes than are the stocks of goods available for consumption, or the manner of their social distribution; — Ludwig Von Mises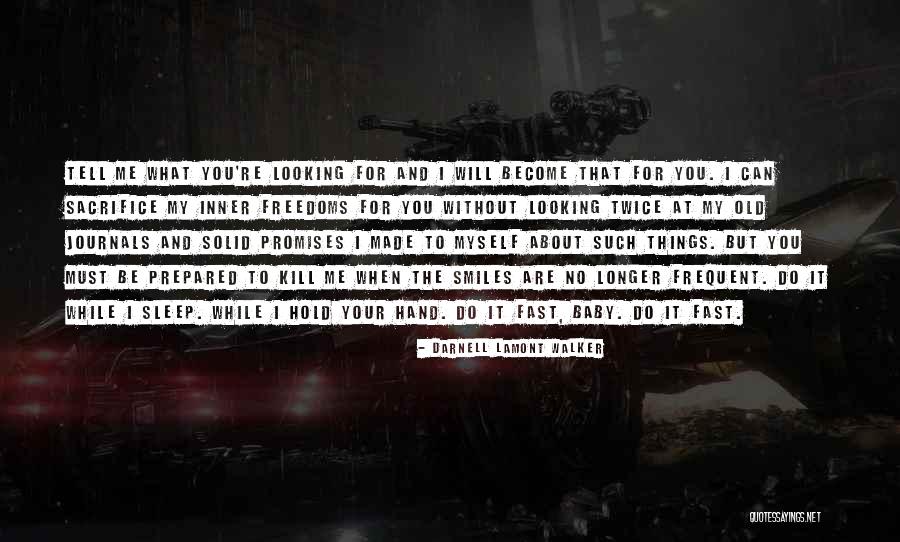 Tell me what you're looking for and i will become that for you. I can sacrifice my inner freedoms for you without looking twice at my old journals and solid promises I made to myself about such things. But you must be prepared to kill me when the smiles are no longer frequent. Do it while I sleep. While I hold your hand. Do it fast, baby. Do it fast. — Darnell Lamont Walker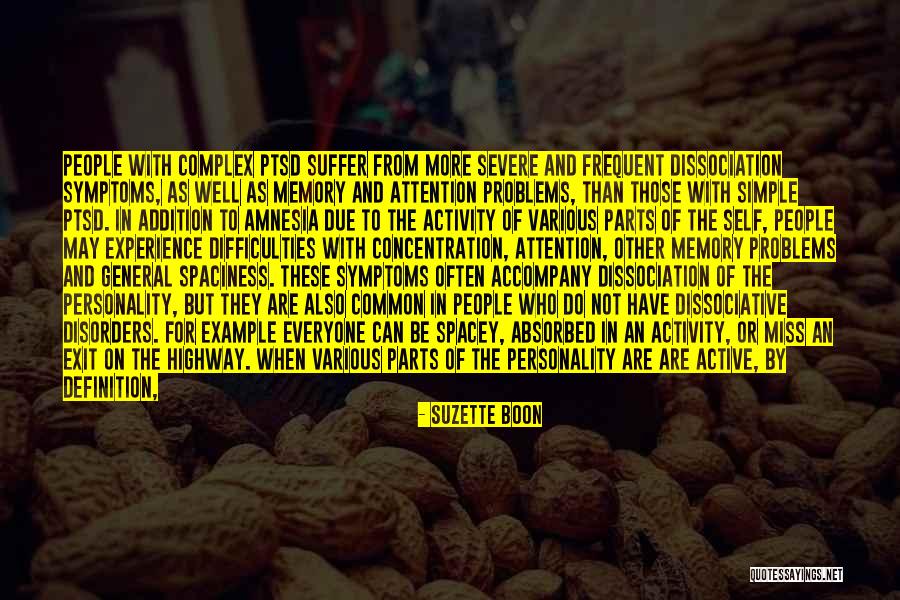 People with Complex PTSD suffer from more severe and frequent dissociation symptoms, as well as memory and attention problems, than those with simple PTSD. In addition to amnesia due to the activity of various parts of the self, people may experience difficulties with concentration, attention, other memory problems and general spaciness. These symptoms often accompany dissociation of the personality, but they are also common in people who do not have dissociative disorders. For example everyone can be spacey, absorbed in an activity, or miss an exit on the highway. When various parts of the personality are are active, by definition, a person experiences some kind of abrupt change in attention and consciousness. — Suzette Boon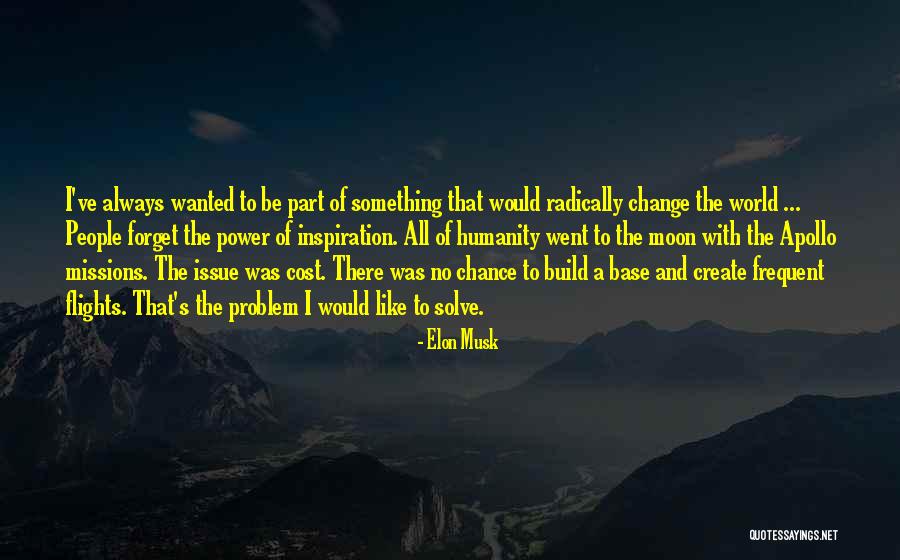 I've always wanted to be part of something that would radically change the world ... People forget the power of inspiration. All of humanity went to the moon with the Apollo missions. The issue was cost. There was no chance to build a base and create frequent flights. That's the problem I would like to solve. — Elon Musk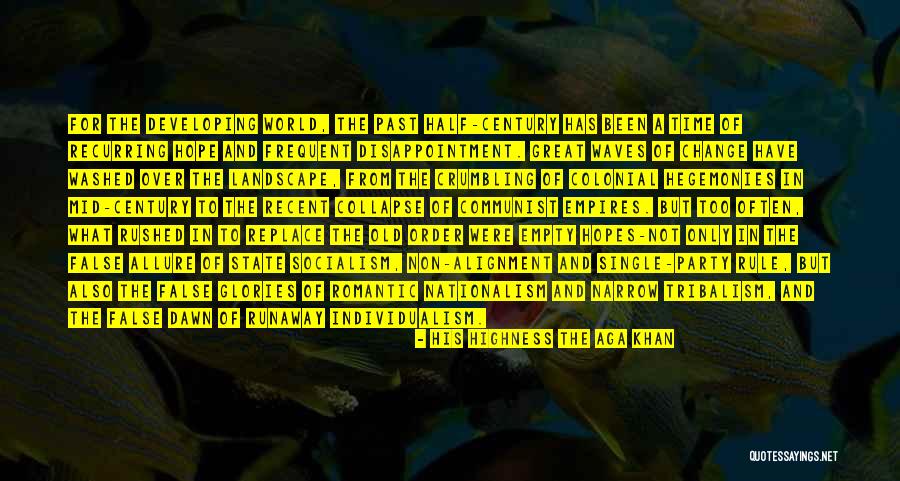 For the developing world, the past half-century has been a time of recurring hope and frequent disappointment. Great waves of change have washed over the landscape, from the crumbling of colonial hegemonies in mid-century to the recent collapse of Communist empires. But too often, what rushed in to replace the old order were empty hopes-not only in the false allure of state socialism, non-alignment and single-party rule, but also the false glories of romantic nationalism and narrow tribalism, and the false dawn of runaway individualism. — His Highness The Aga Khan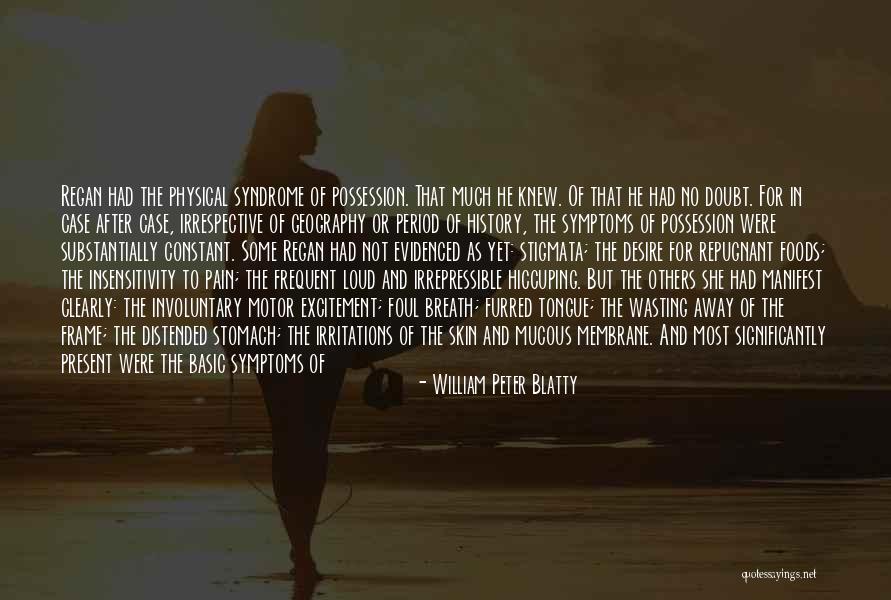 Regan had the physical syndrome of possession. That much he knew. Of that he had no doubt. For in case after case, irrespective of geography or period of history, the symptoms of possession were substantially constant. Some Regan had not evidenced as yet: stigmata; the desire for repugnant foods; the insensitivity to pain; the frequent loud and irrepressible hiccuping. But the others she had manifest clearly: the involuntary motor excitement; foul breath; furred tongue; the wasting away of the frame; the distended stomach; the irritations of the skin and mucous membrane. And most significantly present were the basic symptoms of the hard core of cases which Oesterreich had characterized as genuine possession: the striking change in the voice and the features, plus the manifestation of a new personality. — William Peter Blatty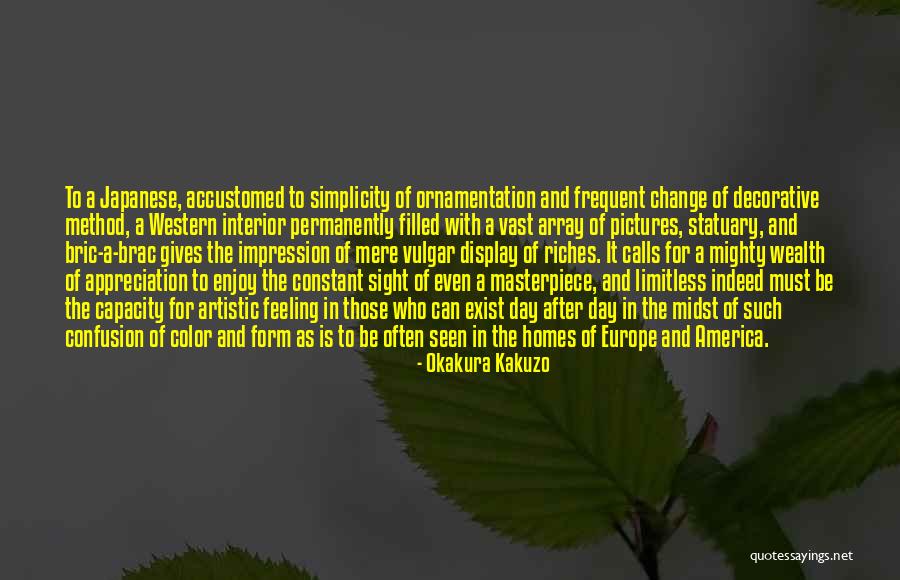 To a Japanese, accustomed to simplicity of ornamentation and frequent change of decorative method, a Western interior permanently filled with a vast array of pictures, statuary, and bric-a-brac gives the impression of mere vulgar display of riches. It calls for a mighty wealth of appreciation to enjoy the constant sight of even a masterpiece, and limitless indeed must be the capacity for artistic feeling in those who can exist day after day in the midst of such confusion of color and form as is to be often seen in the homes of Europe and America. — Okakura Kakuzo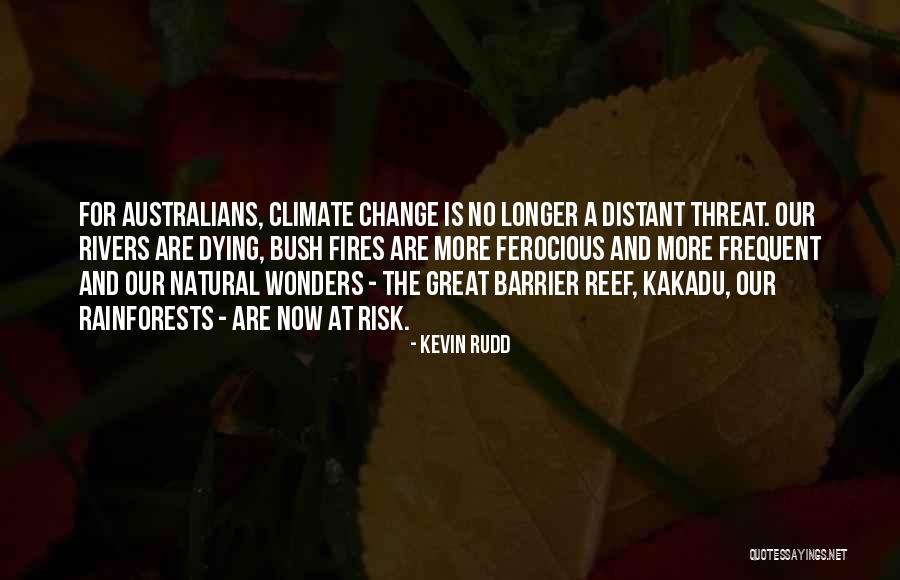 For Australians, climate change is no longer a distant threat. Our rivers are dying, bush fires are more ferocious and more frequent and our natural wonders - the Great Barrier Reef, Kakadu, our rainforests - are now at risk. — Kevin Rudd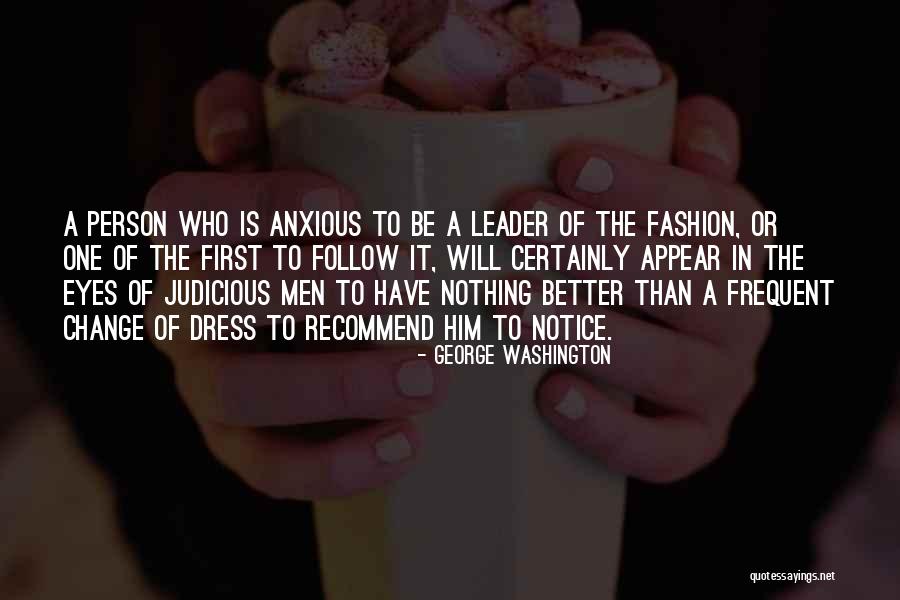 A person who is anxious to be a leader of the fashion, or one of the first to follow it, will certainly appear in the eyes of judicious men to have nothing better than a frequent change of dress to recommend him to notice. — George Washington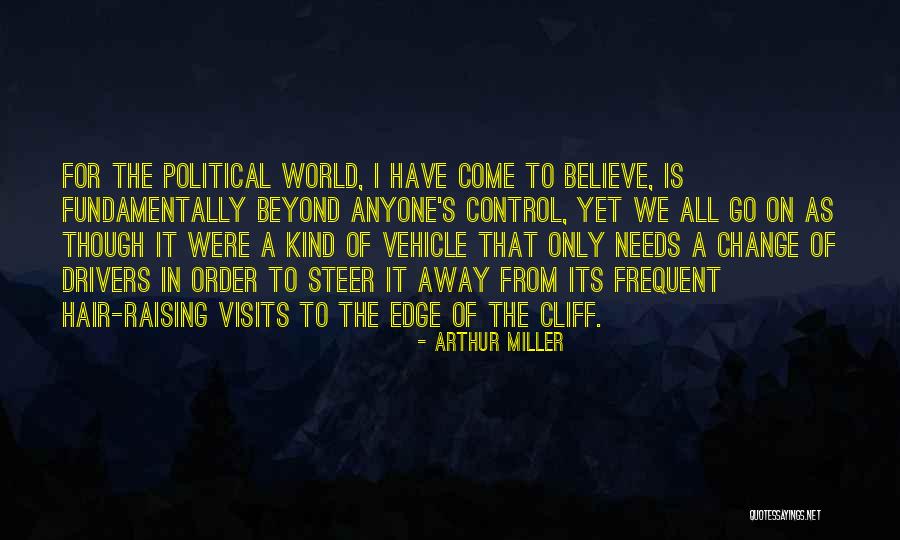 For the political world, I have come to believe, is fundamentally beyond anyone's control, yet we all go on as though it were a kind of vehicle that only needs a change of drivers in order to steer it away from its frequent hair-raising visits to the edge of the cliff. — Arthur Miller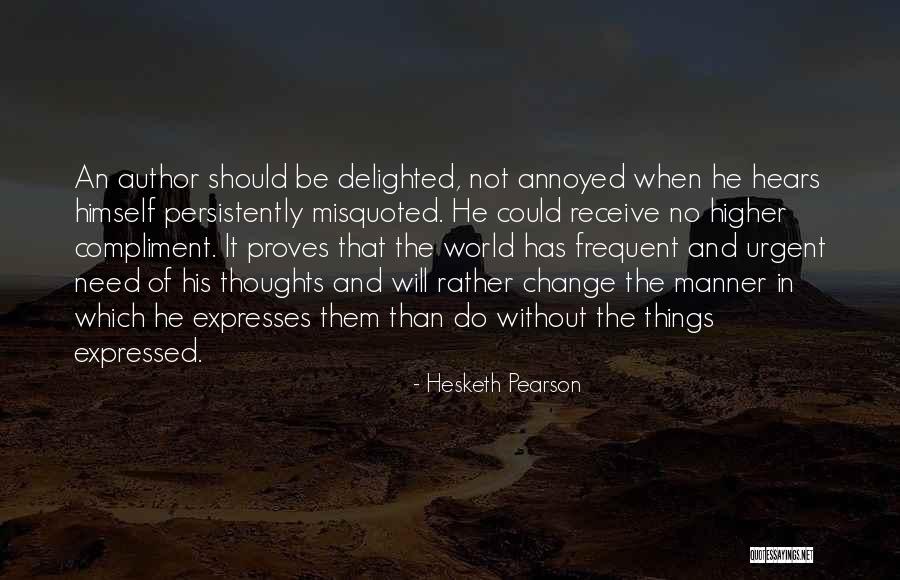 An author should be delighted, not annoyed when he hears himself persistently misquoted. He could receive no higher compliment. It proves that the world has frequent and urgent need of his thoughts and will rather change the manner in which he expresses them than do without the things expressed. — Hesketh Pearson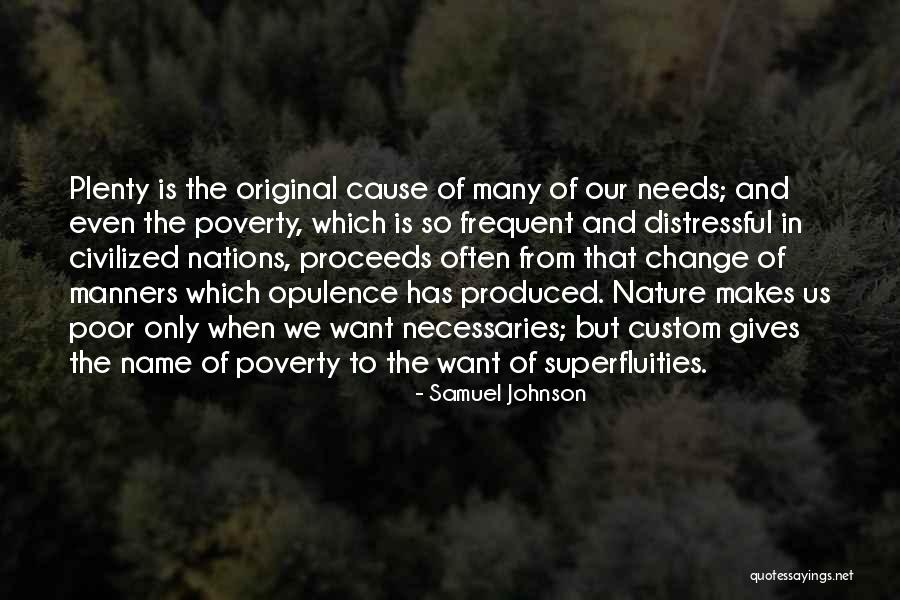 Plenty is the original cause of many of our needs; and even the poverty, which is so frequent and distressful in civilized nations, proceeds often from that change of manners which opulence has produced. Nature makes us poor only when we want necessaries; but custom gives the name of poverty to the want of superfluities. — Samuel Johnson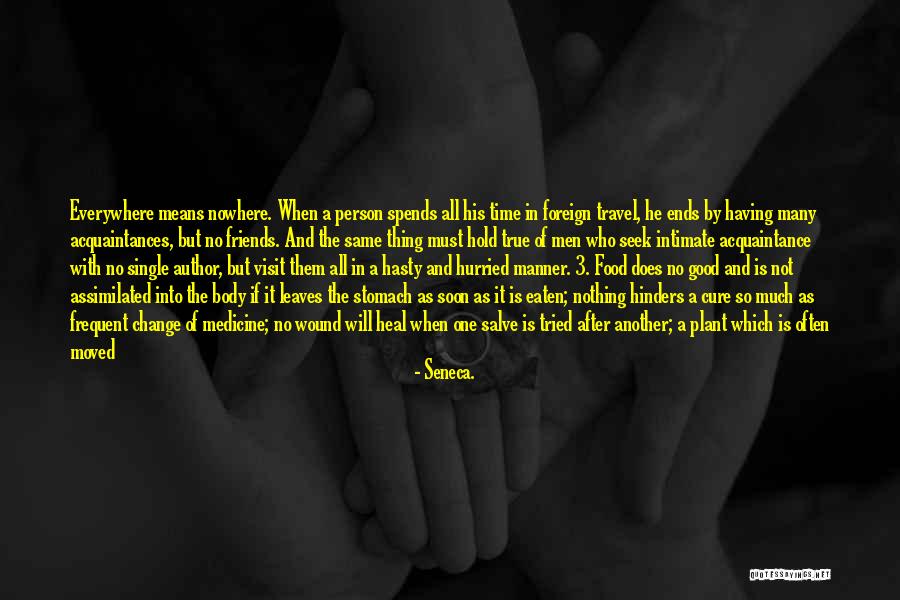 Everywhere means nowhere. When a person spends all his time in foreign travel, he ends by having many acquaintances, but no friends. And the same thing must hold true of men who seek intimate acquaintance with no single author, but visit them all in a hasty and hurried manner. 3. Food does no good and is not assimilated into the body if it leaves the stomach as soon as it is eaten; nothing hinders a cure so much as frequent change of medicine; no wound will heal when one salve is tried after another; a plant which is often moved can never grow strong. There is nothing so efficacious that it can be helpful while it is being shifted about. And in reading of many books is distraction. — Seneca.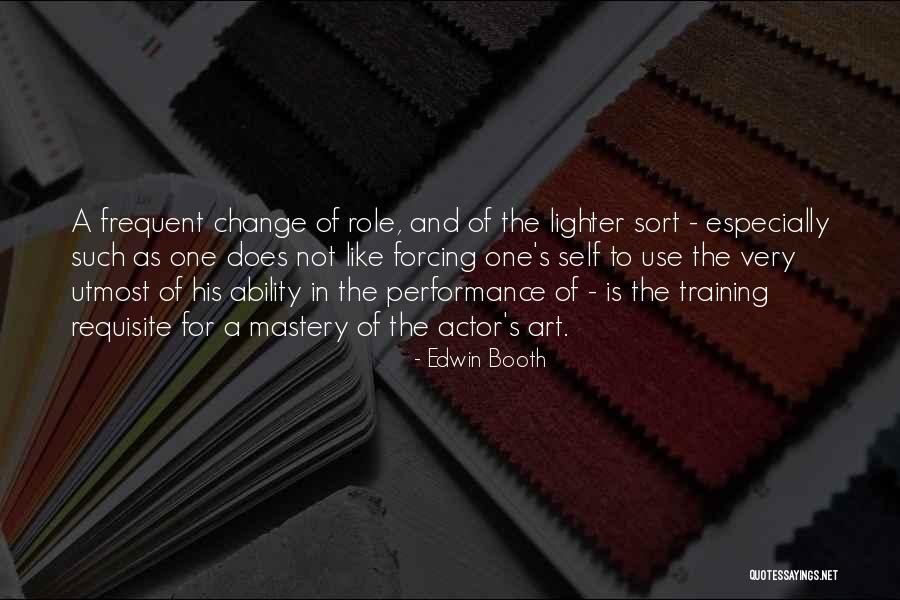 A frequent change of role, and of the lighter sort - especially such as one does not like forcing one's self to use the very utmost of his ability in the performance of - is the training requisite for a mastery of the actor's art. — Edwin Booth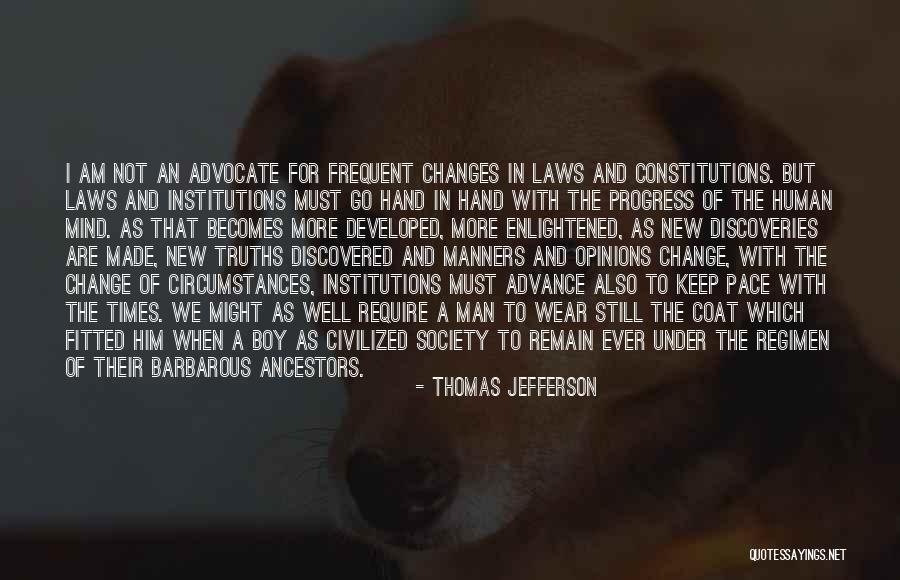 I am not an advocate for frequent changes in laws and Constitutions. But laws and institutions must go hand in hand with the progress of the human mind. As that becomes more developed, more enlightened, as new discoveries are made, new truths discovered and manners and opinions change, with the change of circumstances, institutions must advance also to keep pace with the times. We might as well require a man to wear still the coat which fitted him when a boy as civilized society to remain ever under the regimen of their barbarous ancestors. — Thomas Jefferson