Freedom Trail Quotes & Sayings
Enjoy reading and share 9 famous quotes about Freedom Trail with everyone.
Top Freedom Trail Quotes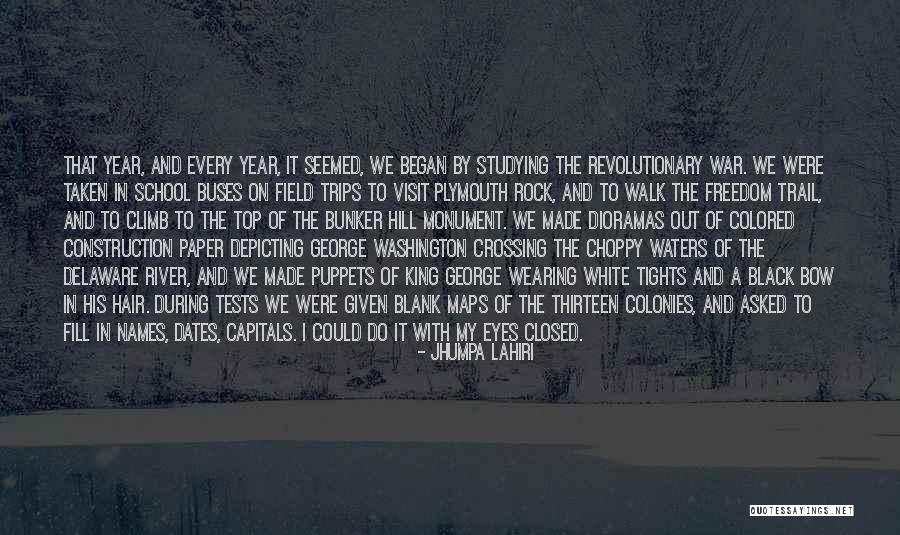 That year, and every year, it seemed, we began by studying the Revolutionary War. We were taken in school buses on field trips to visit Plymouth Rock, and to walk the Freedom Trail, and to climb to the top of the Bunker Hill Monument. We made dioramas out of colored construction paper depicting George Washington crossing the choppy waters of the Delaware River, and we made puppets of King George wearing white tights and a black bow in his hair. During tests we were given blank maps of the thirteen colonies, and asked to fill in names, dates, capitals. I could do it with my eyes closed. — Jhumpa Lahiri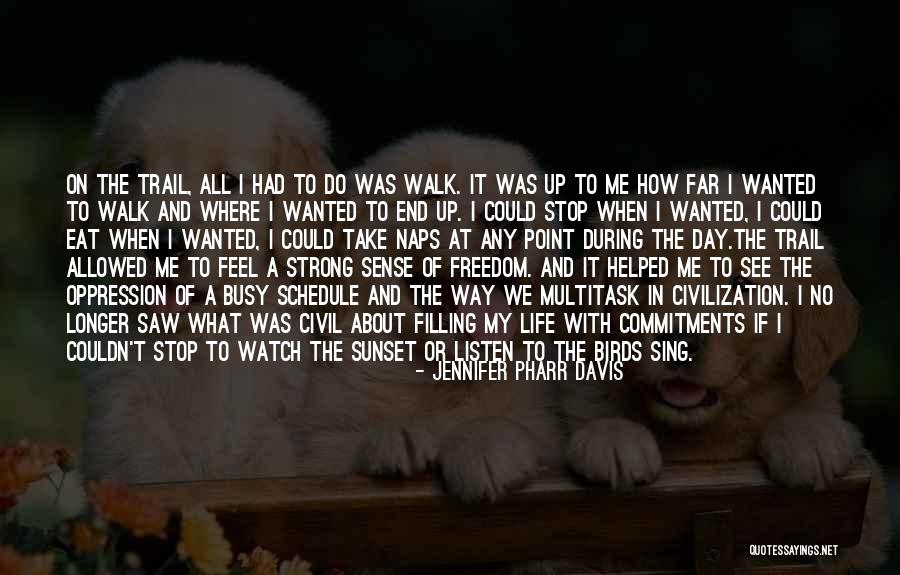 On the trail, all I had to do was walk. It was up to me how far I wanted to walk and where I wanted to end up. I could stop when I wanted, I could eat when I wanted, I could take naps at any point during the day.The trail allowed me to feel a strong sense of freedom. And it helped me to see the oppression of a busy schedule and the way we multitask in civilization. I no longer saw what was civil about filling my life with commitments if I couldn't stop to watch the sunset or listen to the birds sing. — Jennifer Pharr Davis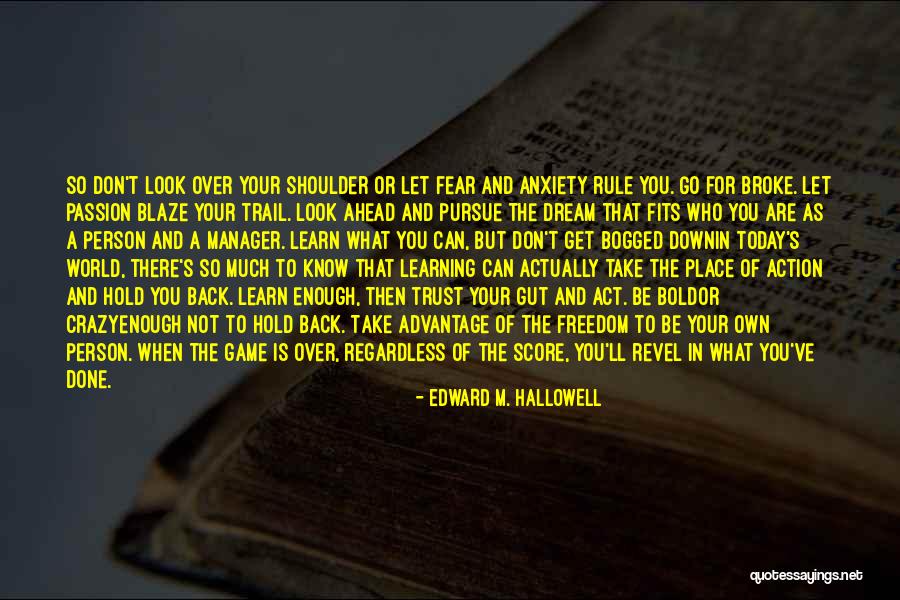 So don't look over your shoulder or let fear and anxiety rule you. Go for broke. Let passion blaze your trail. Look ahead and pursue the dream that fits who you are as a person and a manager. Learn what you can, but don't get bogged down
in today's world, there's so much to know that learning can actually take the place of action and hold you back. Learn enough, then trust your gut and act. Be bold
or crazy
enough not to hold back. Take advantage of the freedom to be your own person. When the game is over, regardless of the score, you'll revel in what you've done. — Edward M. Hallowell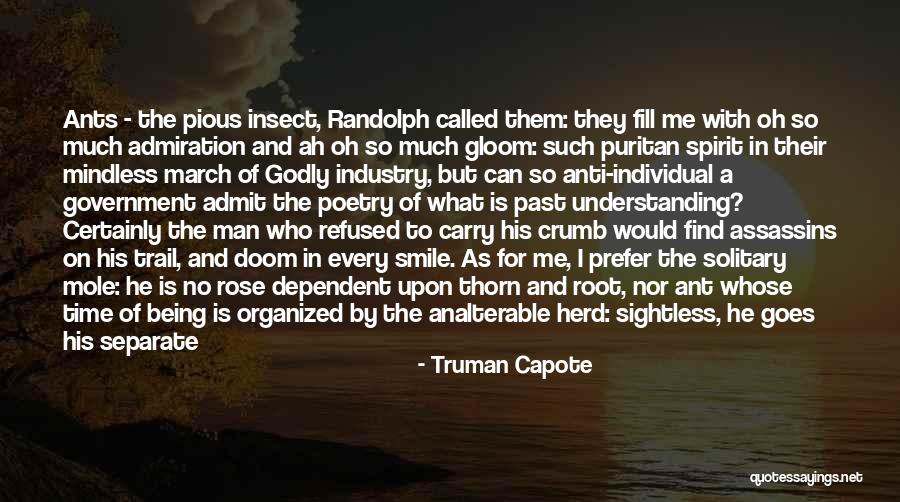 Ants - the pious insect, Randolph called them: they fill me with oh so much admiration and ah oh so much gloom: such puritan spirit in their mindless march of Godly industry, but can so anti-individual a government admit the poetry of what is past understanding? Certainly the man who refused to carry his crumb would find assassins on his trail, and doom in every smile. As for me, I prefer the solitary mole: he is no rose dependent upon thorn and root, nor ant whose time of being is organized by the analterable herd: sightless, he goes his separate way, knowing truth and freedom are attitudes of the spirit. — Truman Capote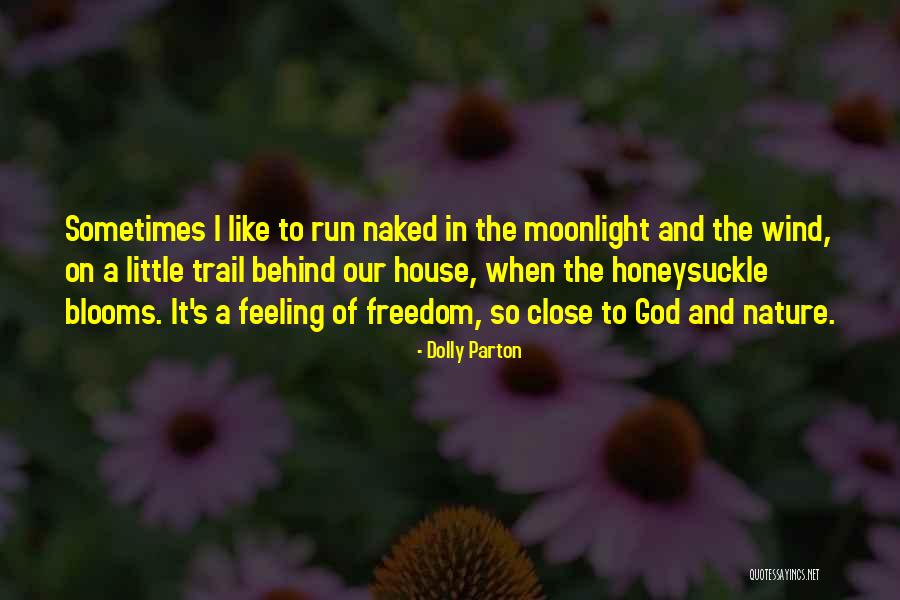 Sometimes I like to run naked in the moonlight and the wind, on a little trail behind our house, when the honeysuckle blooms. It's a feeling of freedom, so close to God and nature. — Dolly Parton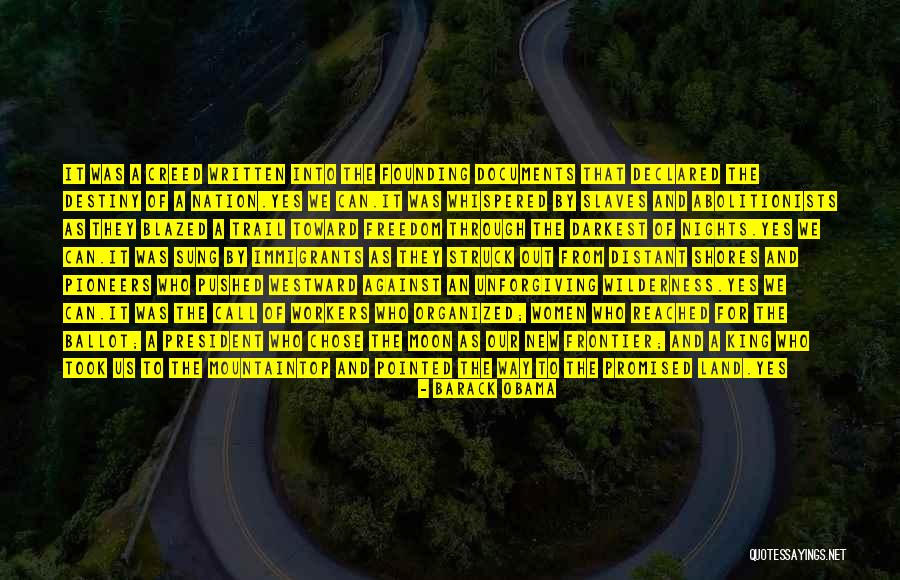 It was a creed written into the founding documents that declared the destiny of a nation.
Yes we can.
It was whispered by slaves and abolitionists as they blazed a trail toward freedom through the darkest of nights.
Yes we can.
It was sung by immigrants as they struck out from distant shores and pioneers who pushed westward against an unforgiving wilderness.
Yes we can.
It was the call of workers who organized; women who reached for the ballot; a President who chose the moon as our new frontier; and a King who took us to the mountaintop and pointed the way to the Promised Land.
Yes we can to justice and equality. Yes we can to opportunity and prosperity. Yes we can heal this nation. Yes we can repair this world. Yes we can — Barack Obama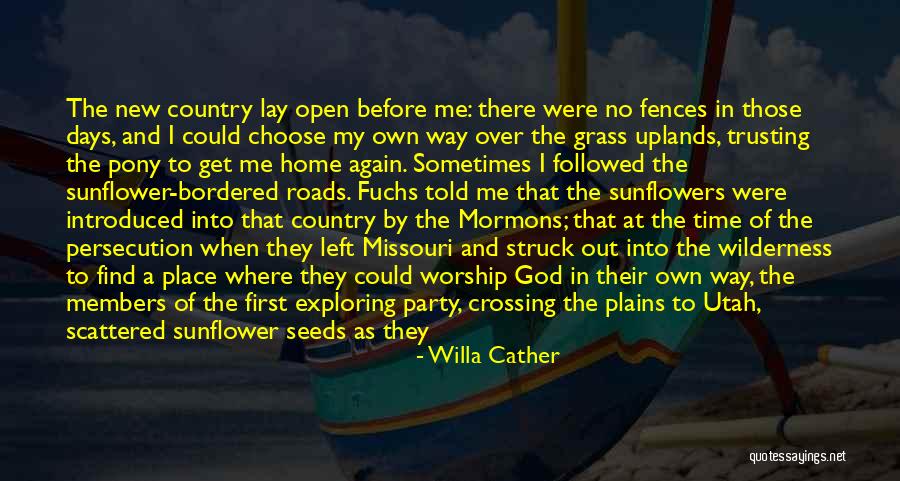 The new country lay open before me: there were no fences in those days, and I could choose my own way over the grass uplands, trusting the pony to get me home again. Sometimes I followed the sunflower-bordered roads. Fuchs told me that the sunflowers were introduced into that country by the Mormons; that at the time of the persecution when they left Missouri and struck out into the wilderness to find a place where they could worship God in their own way, the members of the first exploring party, crossing the plains to Utah, scattered sunflower seeds as they went. The next summer, when the long trains of wagons came through with all the women and children, they had a sunflower trail to follow. I believe that botanists do not confirm Jake's story but, insist that the sunflower was native to those plains. Nevertheless, that legend has stuck in my mind, and sunflower-bordered roads always seem to me the roads to freedom. — Willa Cather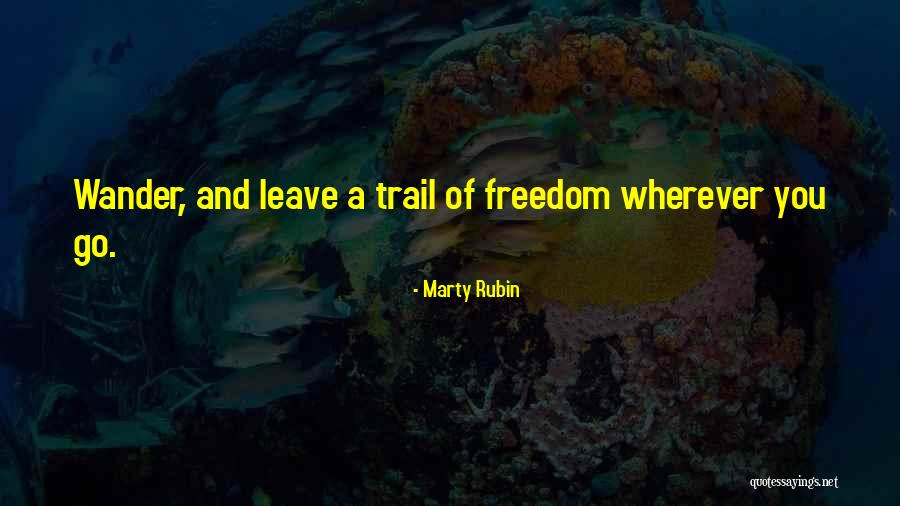 Wander, and leave a trail of freedom wherever you go. — Marty Rubin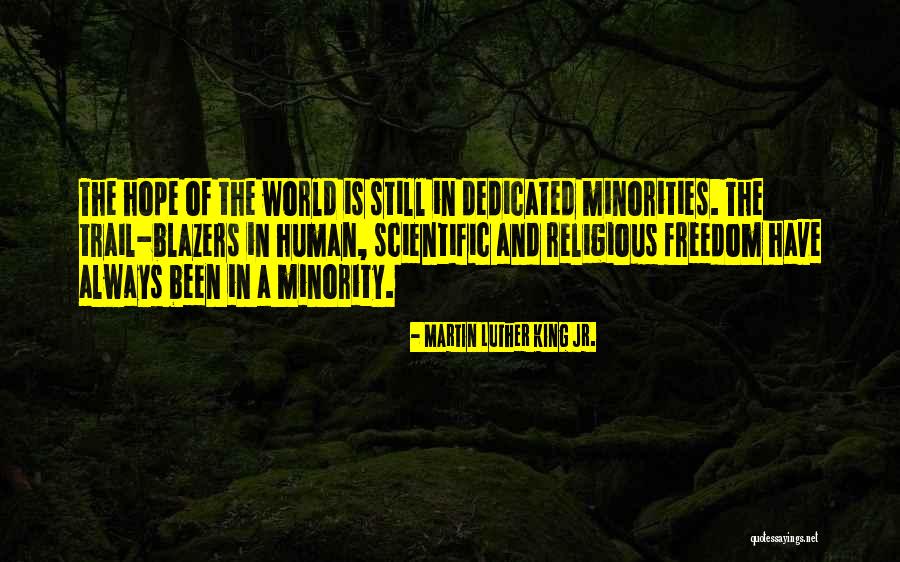 The hope of the world is still in dedicated minorities. The trail-blazers in human, scientific and religious freedom have always been in a minority. — Martin Luther King Jr.