Four Freedoms Quotes & Sayings
Enjoy reading and share 15 famous quotes about Four Freedoms with everyone.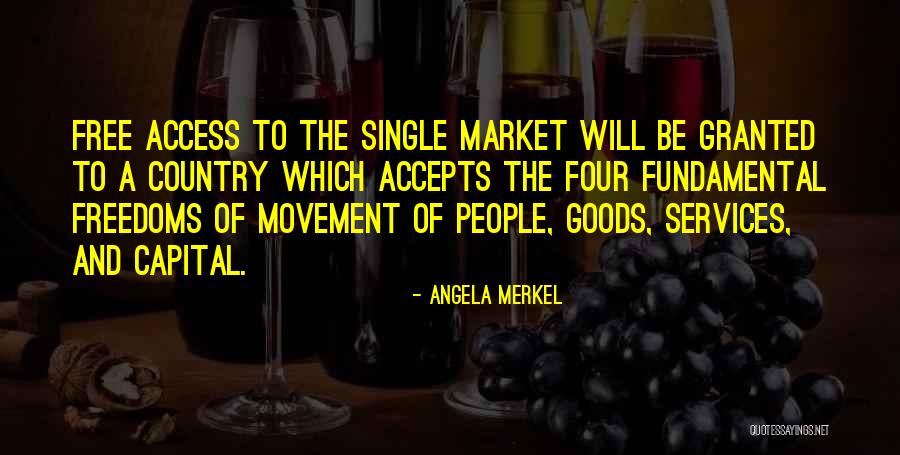 Free access to the single market will be granted to a country which accepts the four fundamental freedoms of movement of people, goods, services, and capital. — Angela Merkel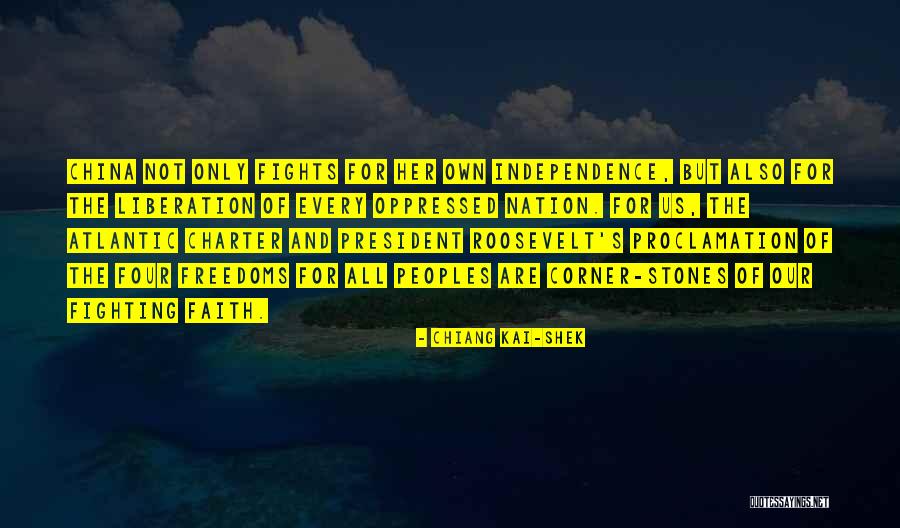 China not only fights for her own independence, but also for the liberation of every oppressed nation. For us, the Atlantic Charter and President Roosevelt's proclamation of the Four Freedoms for all peoples are corner-stones of our fighting faith. — Chiang Kai-shek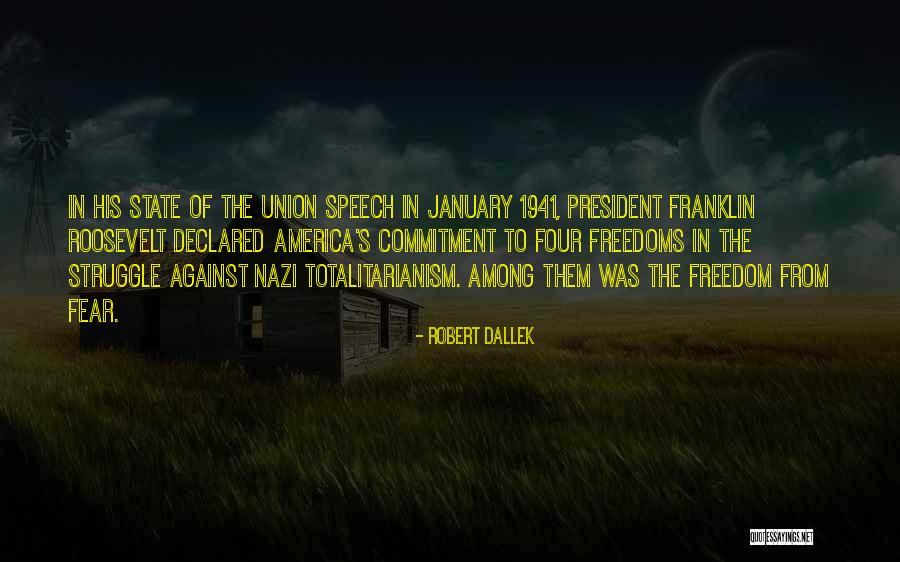 In his State of the Union speech in January 1941, President Franklin Roosevelt declared America's commitment to Four Freedoms in the struggle against Nazi totalitarianism. Among them was the freedom from fear. — Robert Dallek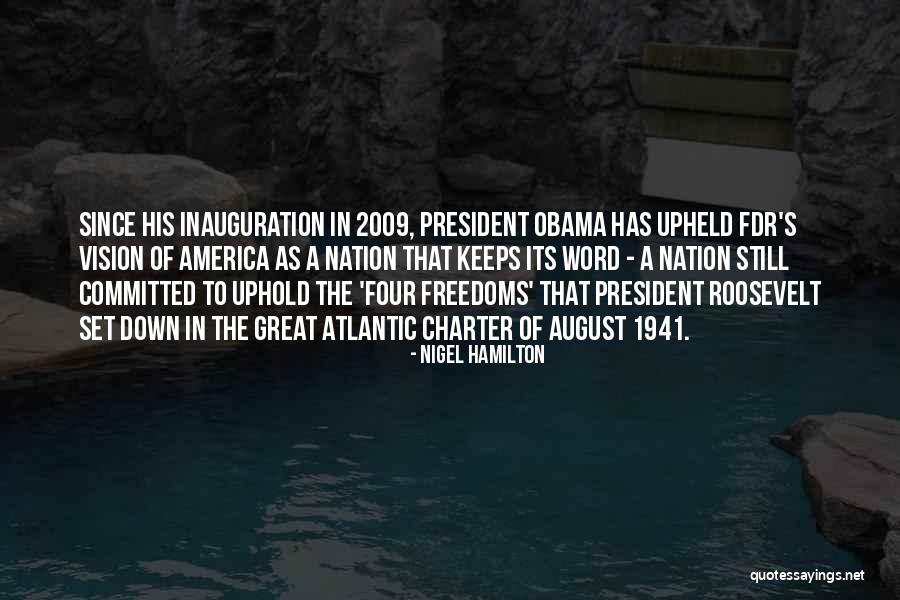 Since his inauguration in 2009, President Obama has upheld FDR's vision of America as a nation that keeps its word - a nation still committed to uphold the 'four freedoms' that President Roosevelt set down in the great Atlantic Charter of August 1941. — Nigel Hamilton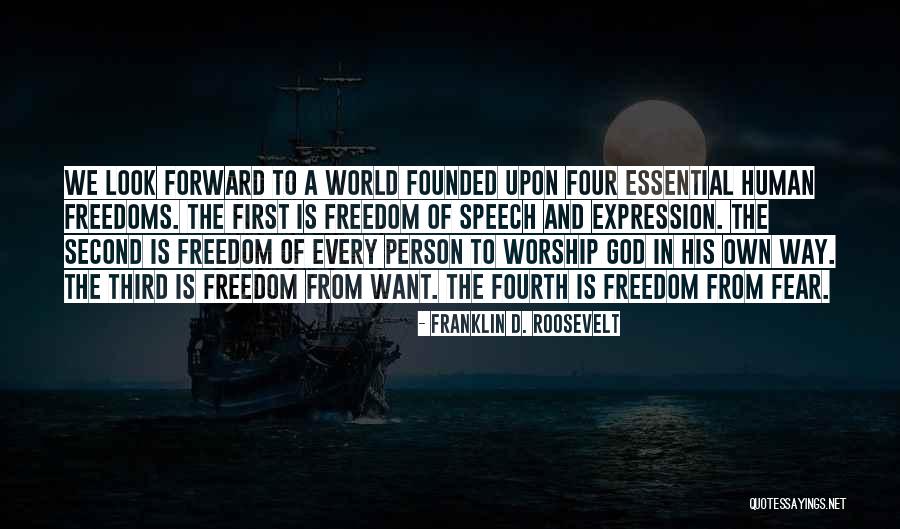 We look forward to a world founded upon four essential human freedoms. The first is freedom of speech and expression. The second is freedom of every person to worship God in his own way. The third is freedom from want. The fourth is freedom from fear. — Franklin D. Roosevelt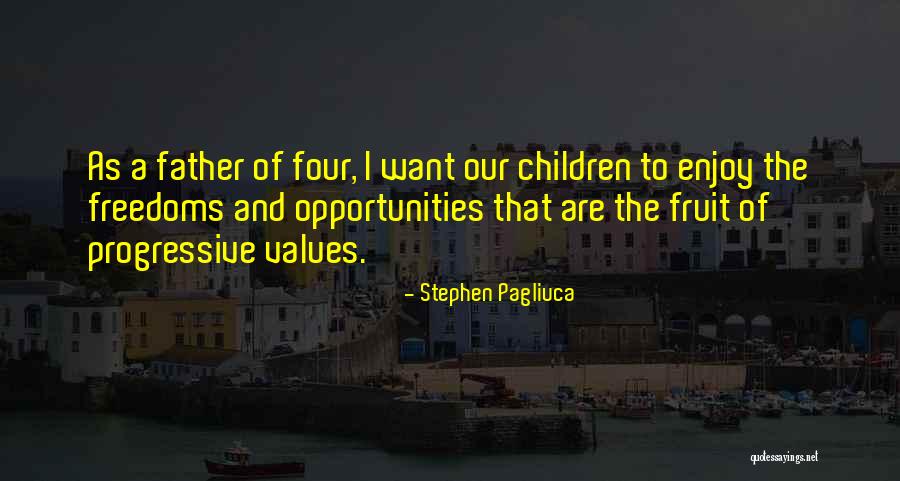 As a father of four, I want our children to enjoy the freedoms and opportunities that are the fruit of progressive values. — Stephen Pagliuca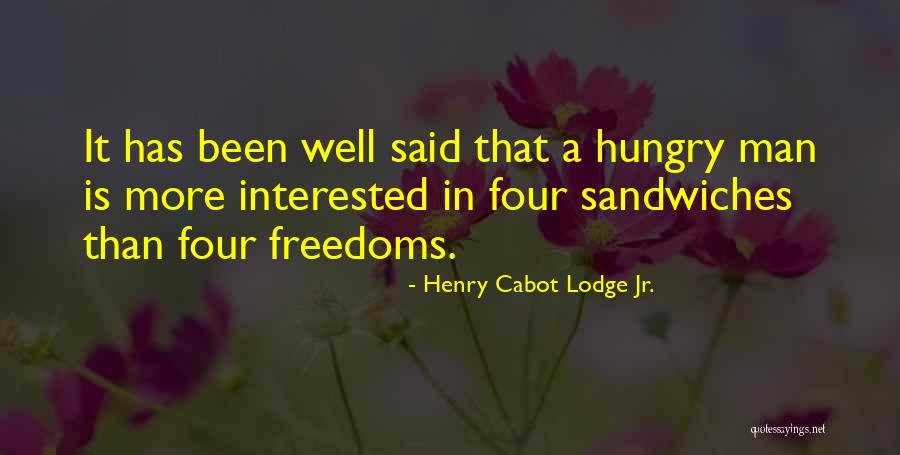 It has been well said that a hungry man is more interested in four sandwiches than four freedoms. — Henry Cabot Lodge Jr.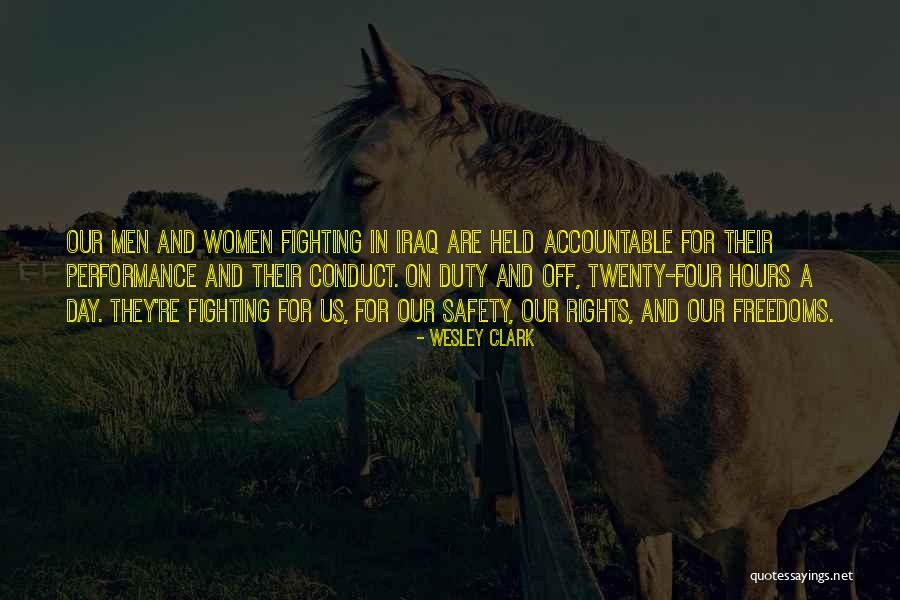 Our men and women fighting in Iraq are held accountable for their performance and their conduct. On duty and off, twenty-four hours a day. They're fighting for us, for our safety, our rights, and our freedoms. — Wesley Clark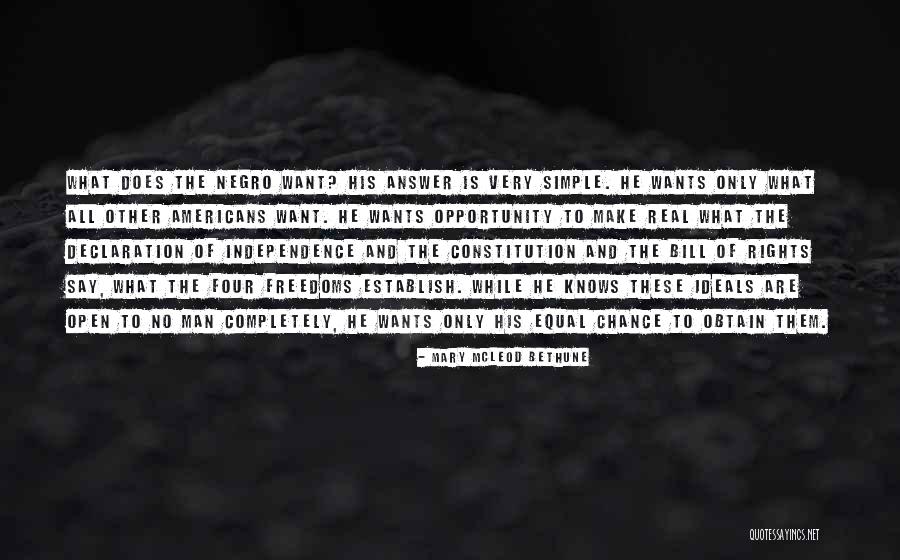 What does the Negro want? His answer is very simple. He wants only what all other Americans want. He wants opportunity to make real what the Declaration of Independence and the Constitution and the Bill of Rights say, what the Four Freedoms establish. While he knows these ideals are open to no man completely, he wants only his equal chance to obtain them. — Mary McLeod Bethune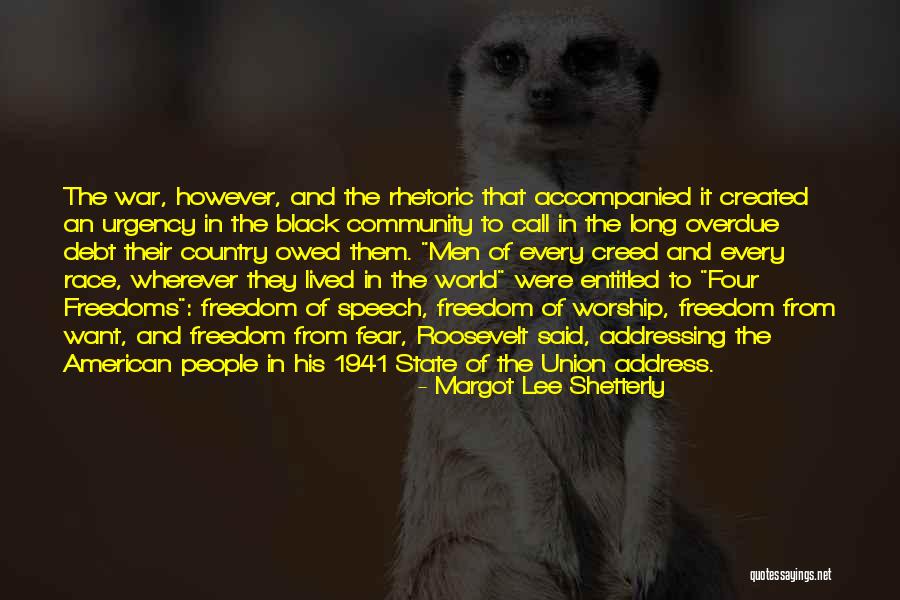 The war, however, and the rhetoric that accompanied it created an urgency in the black community to call in the long overdue debt their country owed them. "Men of every creed and every race, wherever they lived in the world" were entitled to "Four Freedoms": freedom of speech, freedom of worship, freedom from want, and freedom from fear, Roosevelt said, addressing the American people in his 1941 State of the Union address. — Margot Lee Shetterly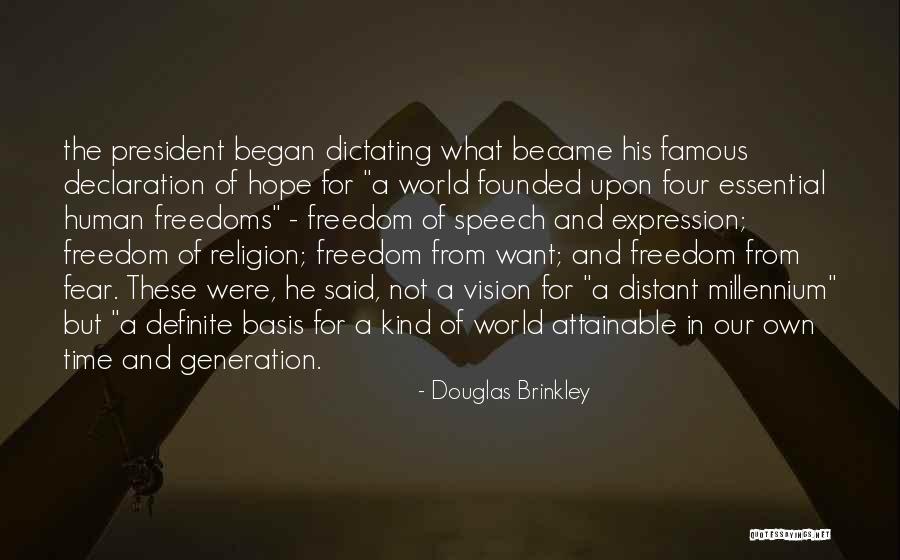 the president began dictating what became his famous declaration of hope for "a world founded upon four essential human freedoms" - freedom of speech and expression; freedom of religion; freedom from want; and freedom from fear. These were, he said, not a vision for "a distant millennium" but "a definite basis for a kind of world attainable in our own time and generation. — Douglas Brinkley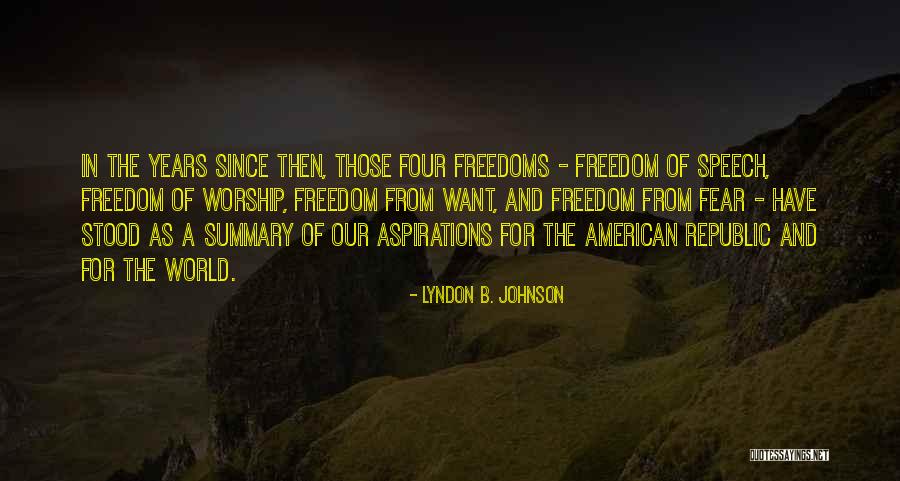 In the years since then, those four freedoms - freedom of speech, freedom of worship, freedom from want, and freedom from fear - have stood as a summary of our aspirations for the American Republic and for the world. — Lyndon B. Johnson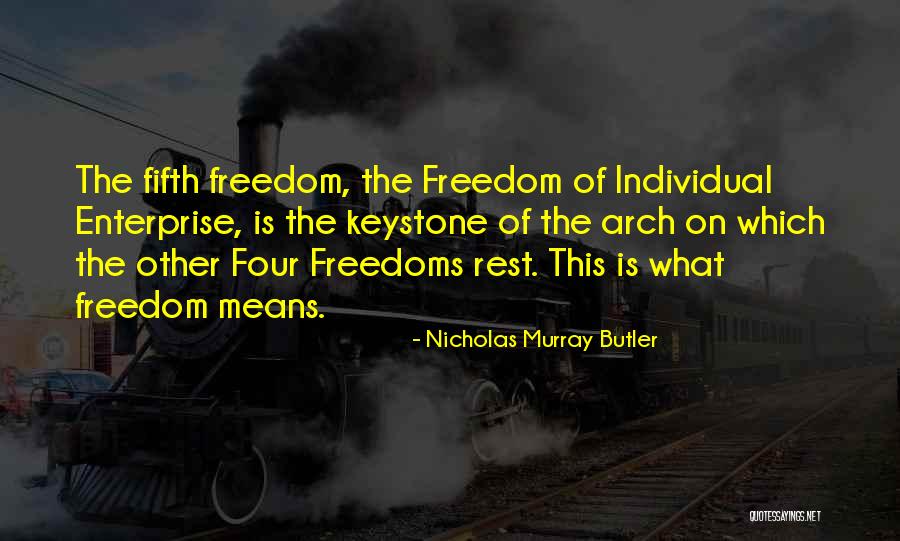 The fifth freedom, the Freedom of Individual Enterprise, is the keystone of the arch on which the other Four Freedoms rest. This is what freedom means. — Nicholas Murray Butler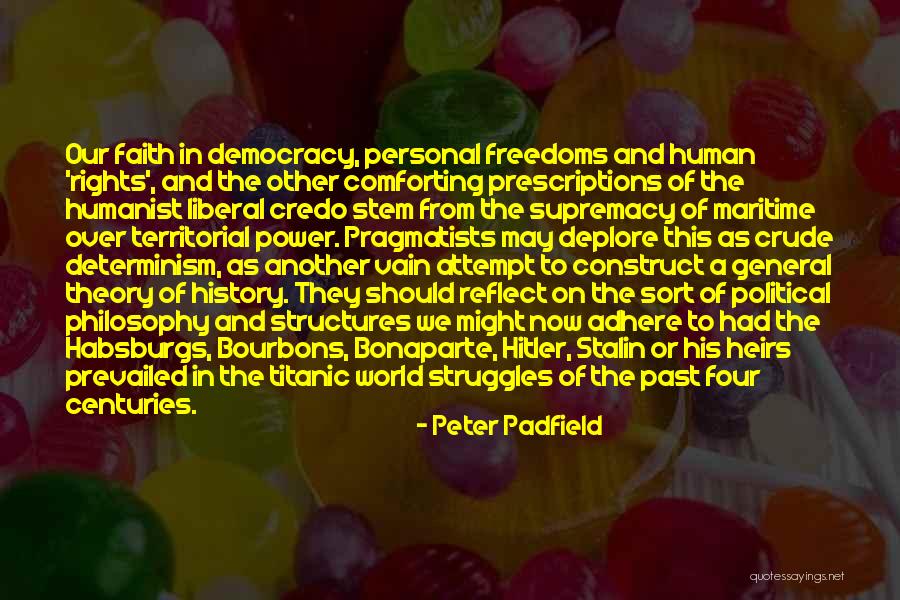 Our faith in democracy, personal freedoms and human 'rights', and the other comforting prescriptions of the humanist liberal credo stem from the supremacy of maritime over territorial power. Pragmatists may deplore this as crude determinism, as another vain attempt to construct a general theory of history. They should reflect on the sort of political philosophy and structures we might now adhere to had the Habsburgs, Bourbons, Bonaparte, Hitler, Stalin or his heirs prevailed in the titanic world struggles of the past four centuries. — Peter Padfield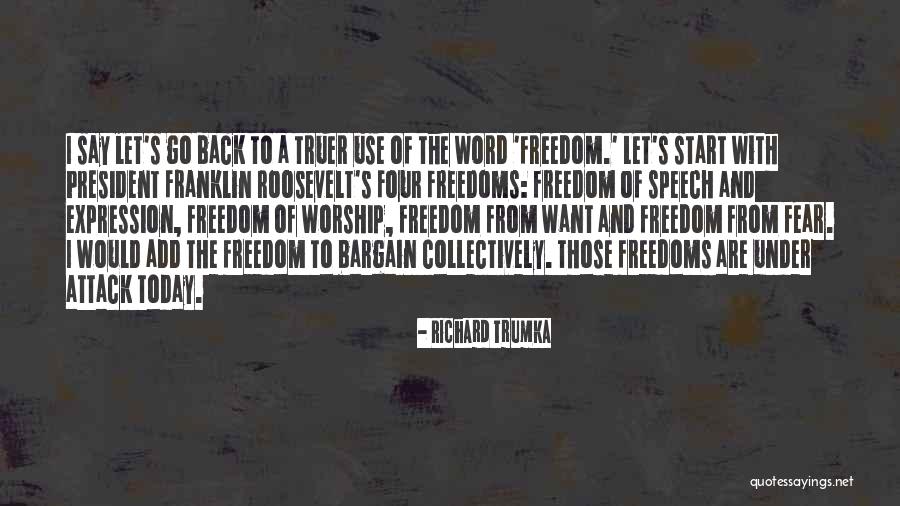 I say let's go back to a truer use of the word 'freedom.' Let's start with President Franklin Roosevelt's Four Freedoms: freedom of speech and expression, freedom of worship, freedom from want and freedom from fear. I would add the freedom to bargain collectively. Those freedoms are under attack today. — Richard Trumka