Quotes & Sayings About Forgetting Important Things
Enjoy reading and share 41 famous quotes about Forgetting Important Things with everyone.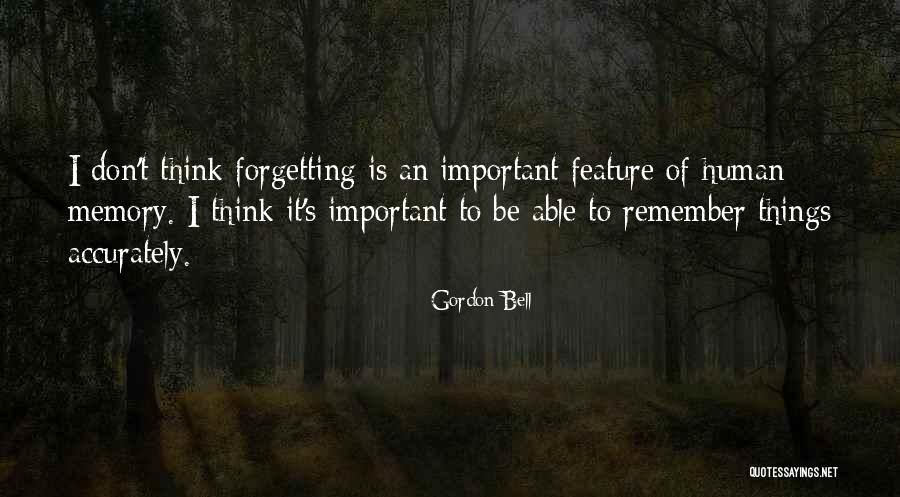 I don't think forgetting is an important feature of human memory. I think it's important to be able to remember things accurately. — Gordon Bell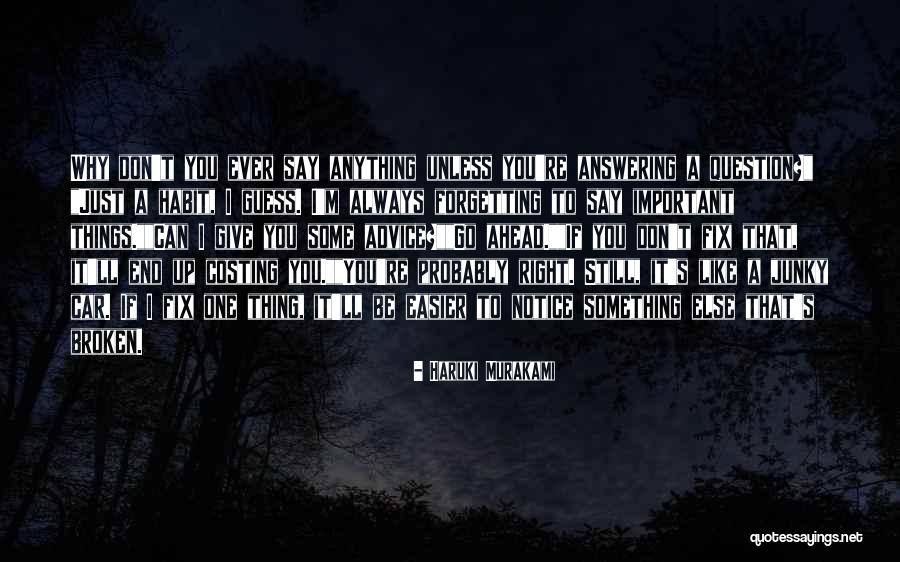 Why don't you ever say anything unless you're answering a question?"
"Just a habit, I guess. I'm always forgetting to say important things."
"Can I give you some advice?"
"Go ahead."
"If you don't fix that, it'll end up costing you."
"You're probably right. Still, it's like a junky car. If I fix one thing, it'll be easier to notice something else that's broken. — Haruki Murakami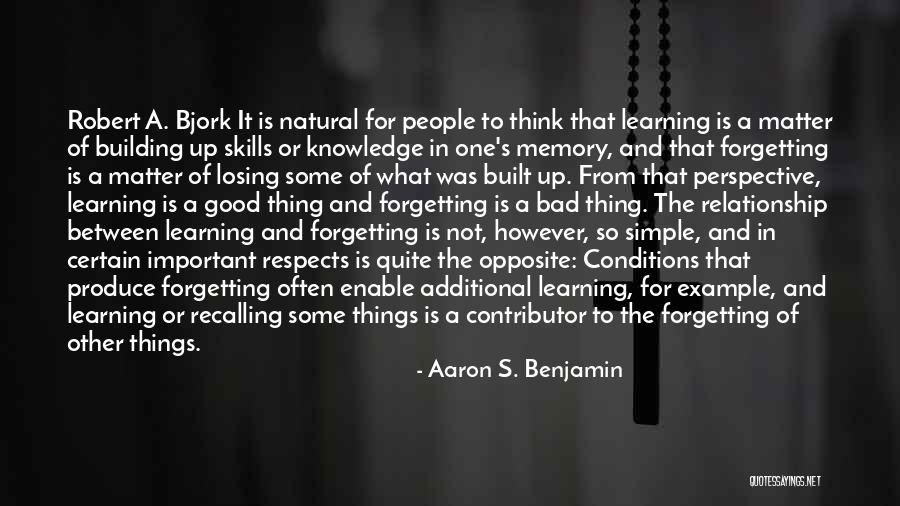 Robert A. Bjork It is natural for people to think that learning is a matter of building up skills or knowledge in one's memory, and that forgetting is a matter of losing some of what was built up. From that perspective, learning is a good thing and forgetting is a bad thing. The relationship between learning and forgetting is not, however, so simple, and in certain important respects is quite the opposite: Conditions that produce forgetting often enable additional learning, for example, and learning or recalling some things is a contributor to the forgetting of other things. — Aaron S. Benjamin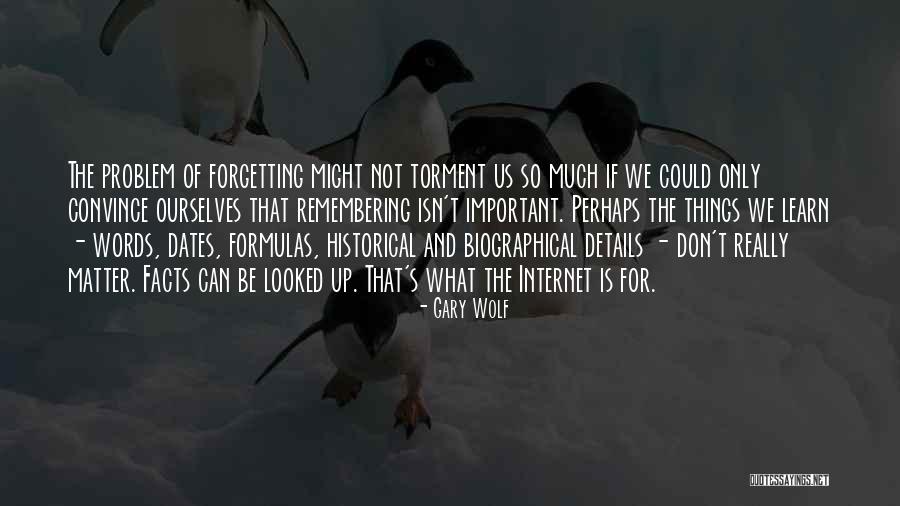 The problem of forgetting might not torment us so much if we could only convince ourselves that remembering isn't important. Perhaps the things we learn - words, dates, formulas, historical and biographical details - don't really matter. Facts can be looked up. That's what the Internet is for. — Gary Wolf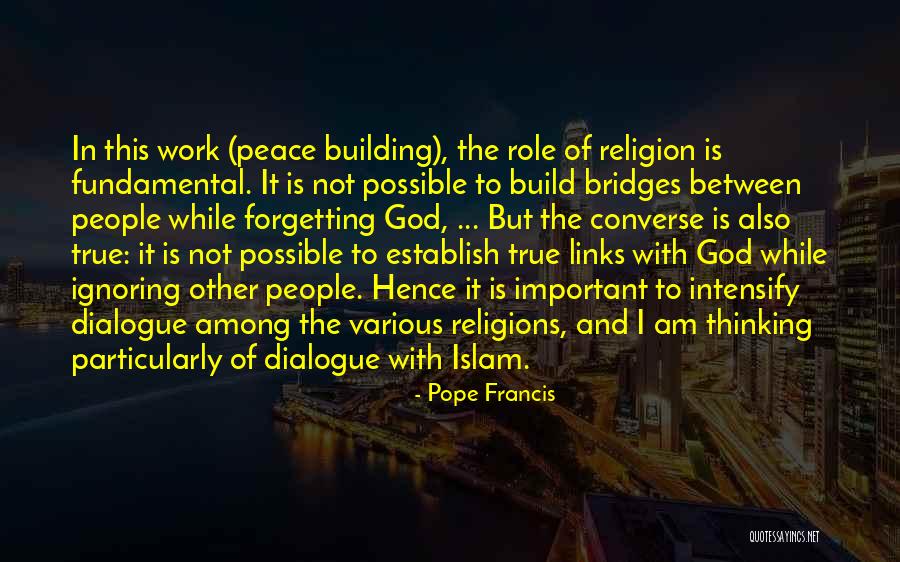 In this work (peace building), the role of religion is fundamental. It is not possible to build bridges between people while forgetting God, ... But the converse is also true: it is not possible to establish true links with God while ignoring other people. Hence it is important to intensify dialogue among the various religions, and I am thinking particularly of dialogue with Islam. — Pope Francis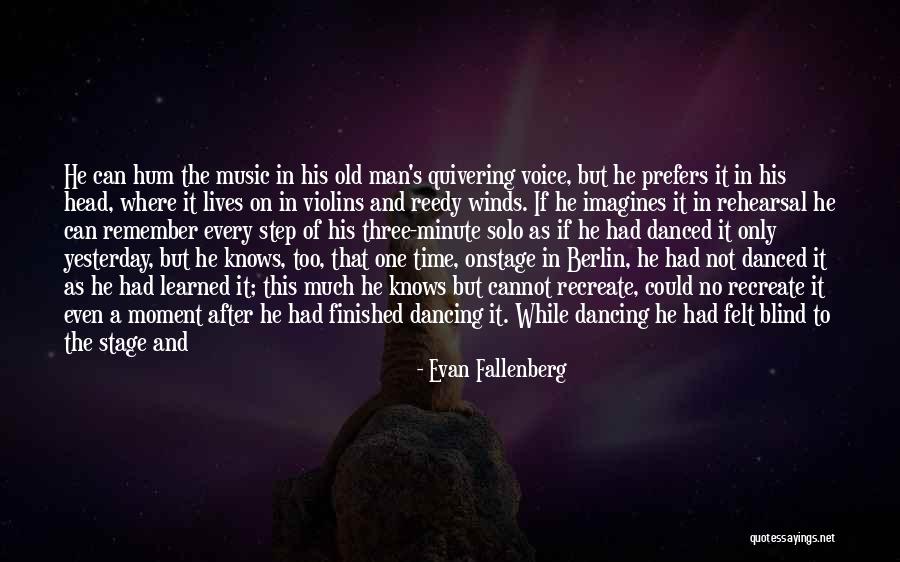 He can hum the music in his old man's quivering voice, but he prefers it in his head, where it lives on in violins and reedy winds. If he imagines it in rehearsal he can remember every step of his three-minute solo as if he had danced it only yesterday, but he knows, too, that one time, onstage in Berlin, he had not danced it as he had learned it; this much he knows but cannot recreate, could no recreate it even a moment after he had finished dancing it. While dancing he had felt blind to the stage and audience, deaf to the music. He had let his body do what it needed to do, free to expand and contract in space, to soar and spin. So, accordingly, when he tries to remember the way he danced it on stage, he cannot hear the music or feel his feet or get a sense of the audience. He is embryonic, momentarily cut off from the world around him. The three most important minutes of his life, the ones that determined his fate and future, are the three to which he cannot gain access, ever. — Evan Fallenberg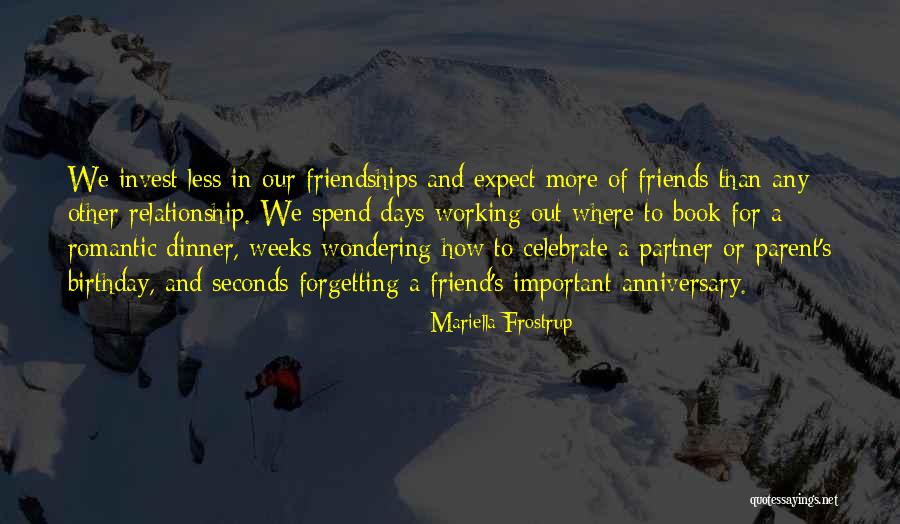 We invest less in our friendships and expect more of friends than any other relationship. We spend days working out where to book for a romantic dinner, weeks wondering how to celebrate a partner or parent's birthday, and seconds forgetting a friend's important anniversary. — Mariella Frostrup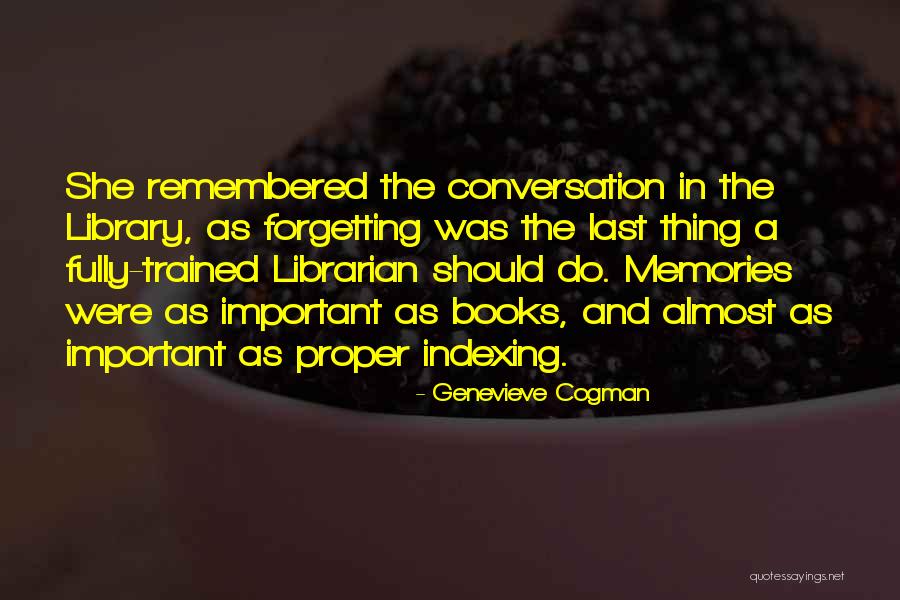 She remembered the conversation in the Library, as forgetting was the last thing a fully-trained Librarian should do. Memories were as important as books, and almost as important as proper indexing. — Genevieve Cogman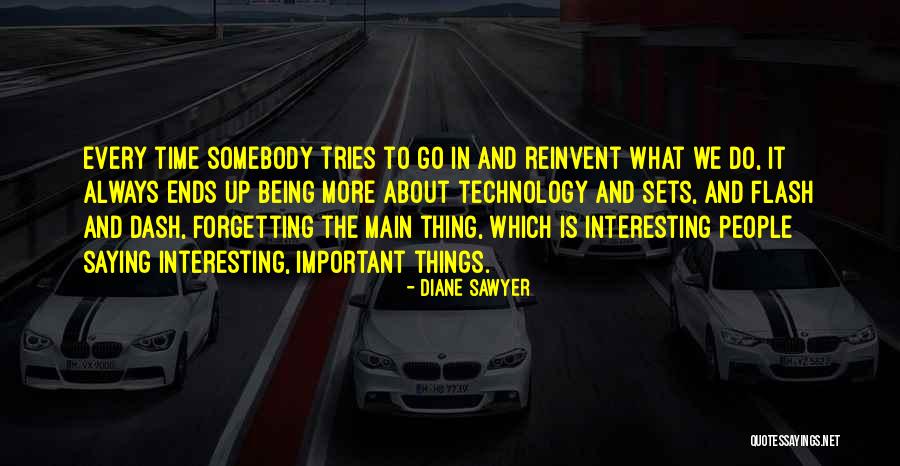 Every time somebody tries to go in and reinvent what we do, it always ends up being more about technology and sets, and flash and dash, forgetting the main thing, which is interesting people saying interesting, important things. — Diane Sawyer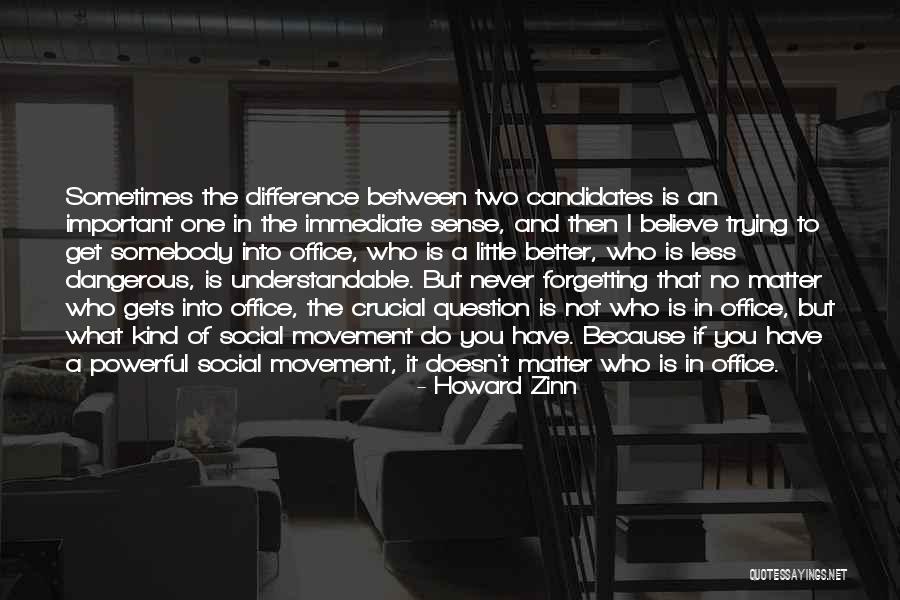 Sometimes the difference between two candidates is an important one in the immediate sense, and then I believe trying to get somebody into office, who is a little better, who is less dangerous, is understandable. But never forgetting that no matter who gets into office, the crucial question is not who is in office, but what kind of social movement do you have. Because if you have a powerful social movement, it doesn't matter who is in office. — Howard Zinn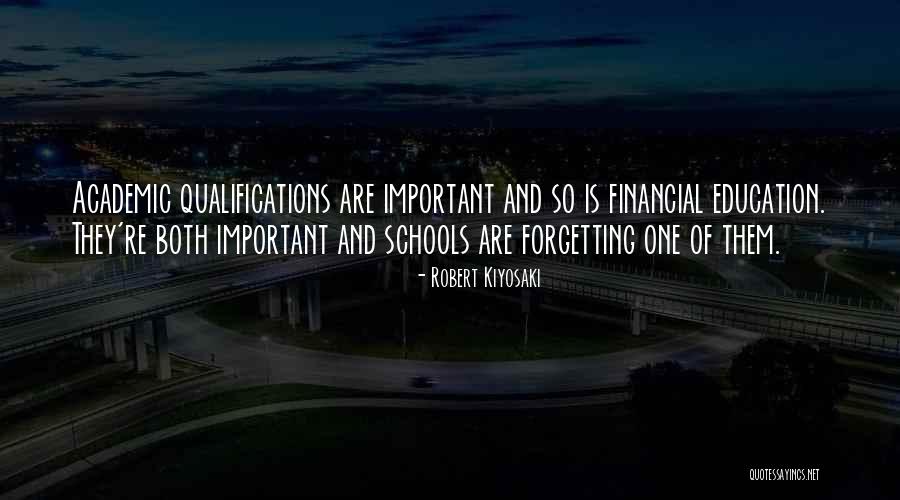 Academic qualifications are important and so is financial education. They're both important and schools are forgetting one of them. — Robert Kiyosaki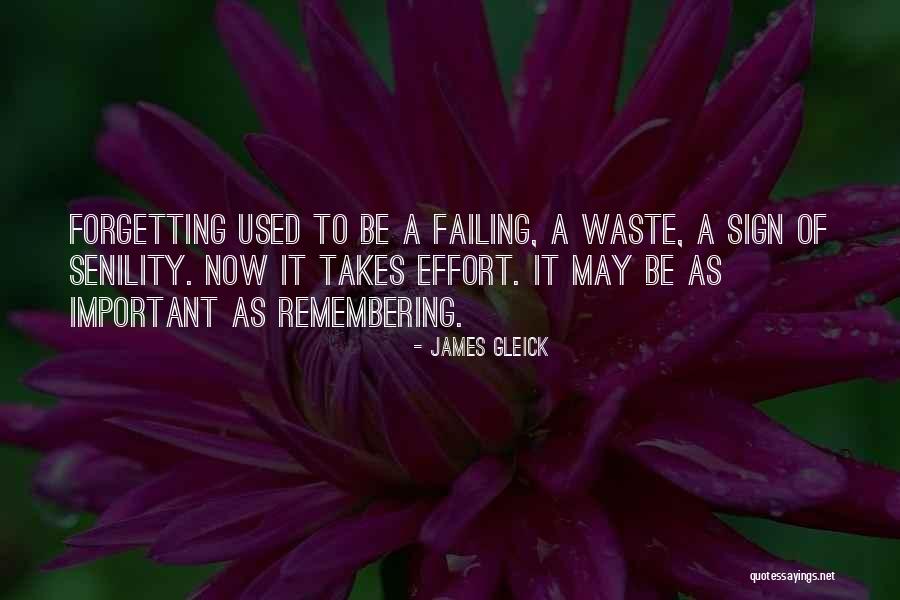 Forgetting used to be a failing, a waste, a sign of senility. Now it takes effort. It may be as important as remembering. — James Gleick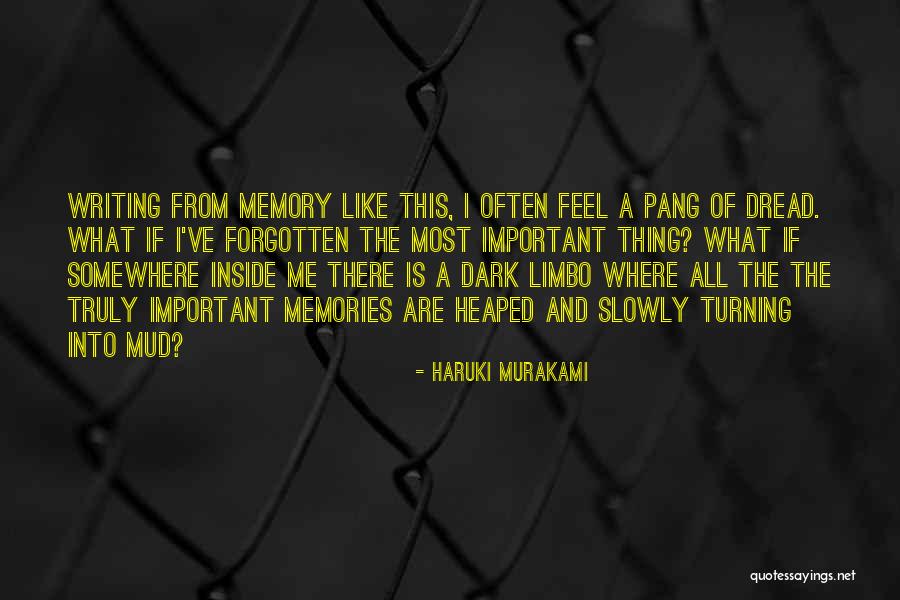 Writing from memory like this, I often feel a pang of dread. What if I've forgotten the most important thing? What if somewhere inside me there is a dark limbo where all the the truly important memories are heaped and slowly turning into mud? — Haruki Murakami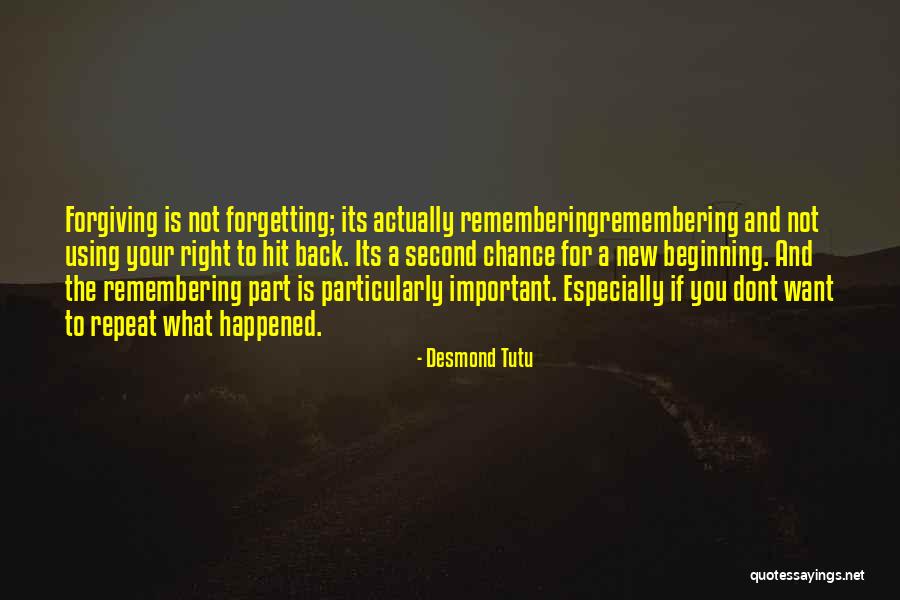 Forgiving is not forgetting; its actually remembering
remembering and not using your right to hit back. Its a second chance for a new beginning. And the remembering part is particularly important. Especially if you dont want to repeat what happened. — Desmond Tutu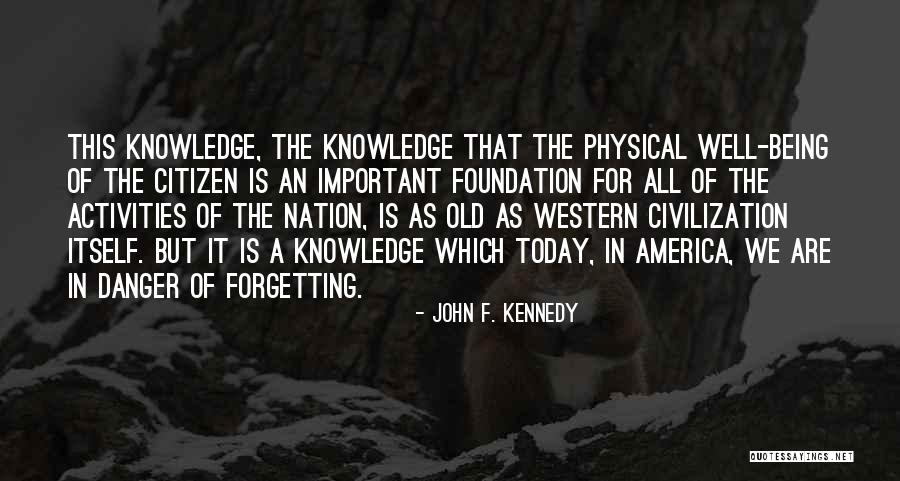 This knowledge, the knowledge that the physical well-being of the citizen is an important foundation for all of the activities of the nation, is as old as Western civilization itself. But it is a knowledge which today, in America, we are in danger of forgetting. — John F. Kennedy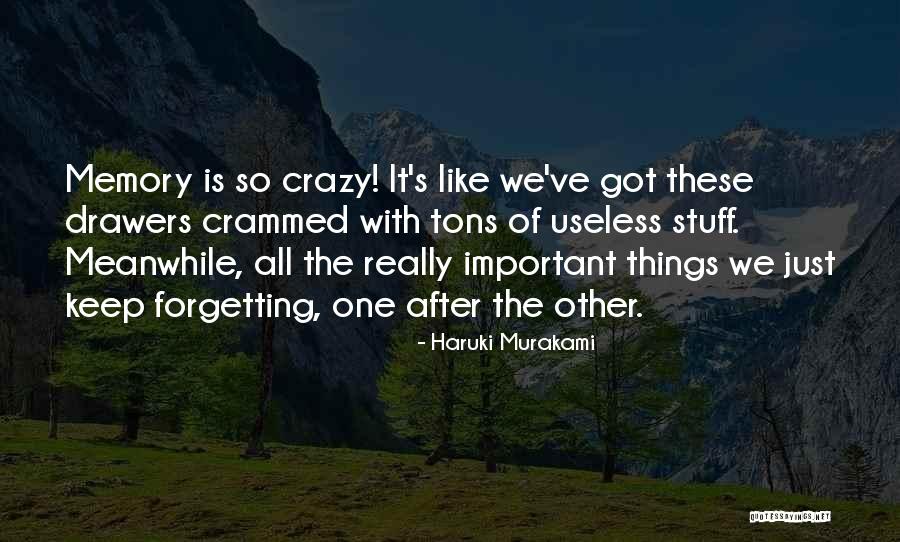 Memory is so crazy! It's like we've got these drawers crammed with tons of useless stuff. Meanwhile, all the really important things we just keep forgetting, one after the other. — Haruki Murakami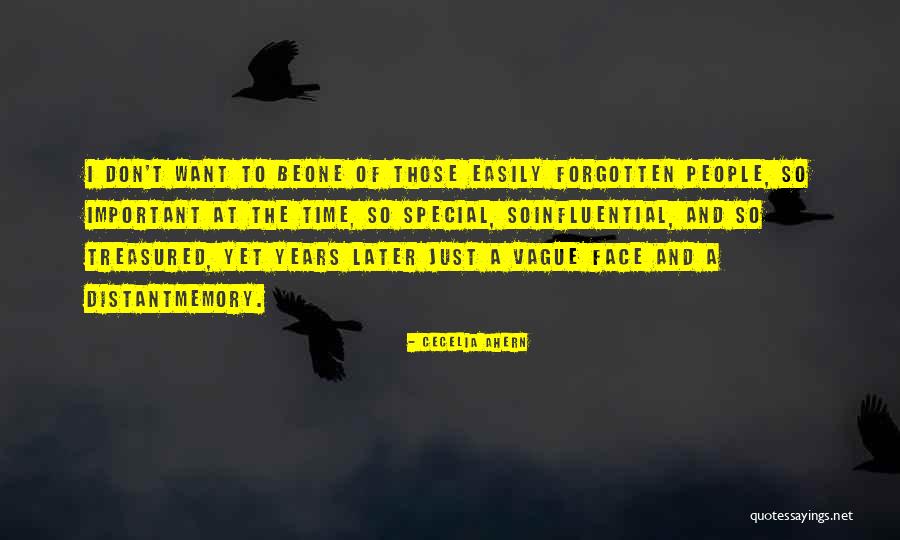 I don't want to be
one of those easily forgotten people, so important at the time, so special, so
influential, and so treasured, yet years later just a vague face and a distant
memory. — Cecelia Ahern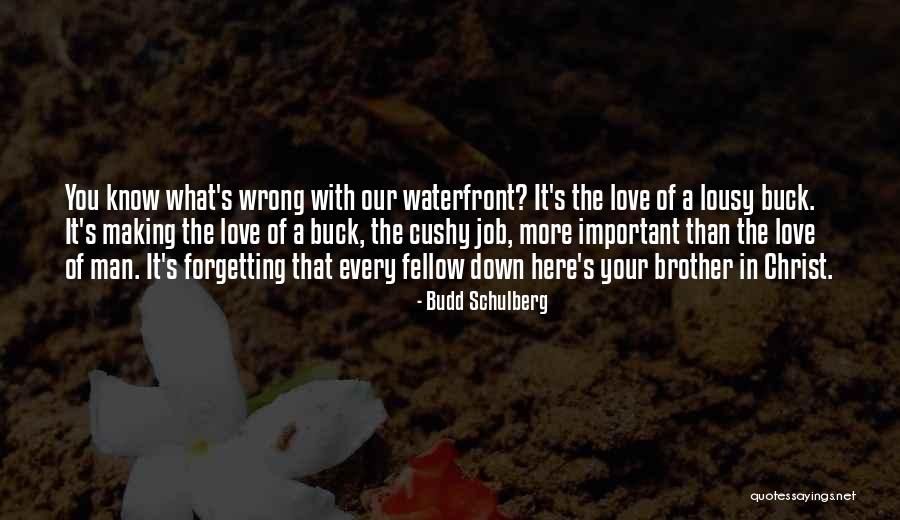 You know what's wrong with our waterfront? It's the love of a lousy buck. It's making the love of a buck, the cushy job, more important than the love of man. It's forgetting that every fellow down here's your brother in Christ. — Budd Schulberg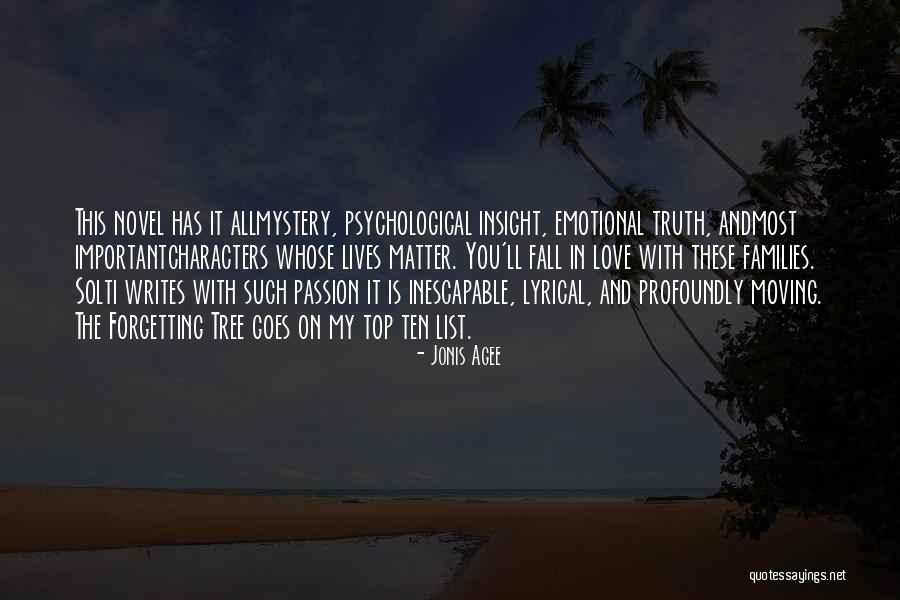 This novel has it all
mystery, psychological insight, emotional truth, and
most important
characters whose lives matter. You'll fall in love with these families. Solti writes with such passion it is inescapable, lyrical, and profoundly moving. The Forgetting Tree goes on my top ten list. — Jonis Agee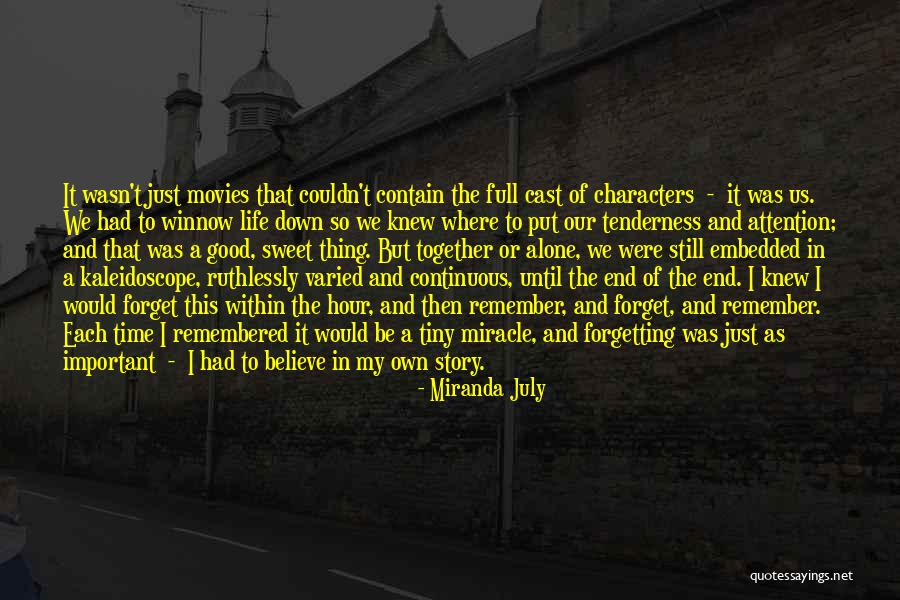 It wasn't just movies that couldn't contain the full cast of characters - it was us. We had to winnow life down so we knew where to put our tenderness and attention; and that was a good, sweet thing. But together or alone, we were still embedded in a kaleidoscope, ruthlessly varied and continuous, until the end of the end. I knew I would forget this within the hour, and then remember, and forget, and remember. Each time I remembered it would be a tiny miracle, and forgetting was just as important - I had to believe in my own story. — Miranda July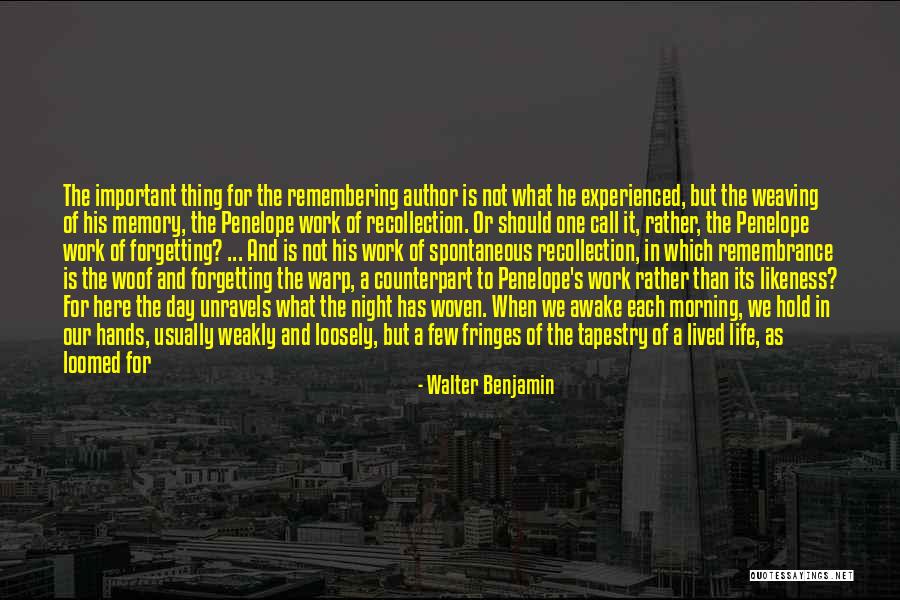 The important thing for the remembering author is not what he experienced, but the weaving of his memory, the Penelope work of recollection. Or should one call it, rather, the Penelope work of forgetting? ... And is not his work of spontaneous recollection, in which remembrance is the woof and forgetting the warp, a counterpart to Penelope's work rather than its likeness? For here the day unravels what the night has woven. When we awake each morning, we hold in our hands, usually weakly and loosely, but a few fringes of the tapestry of a lived life, as loomed for us by forgetting. However, with our purposeful activity and, even more, our purposive remembering each day unravels the web and the ornaments of forgetting. — Walter Benjamin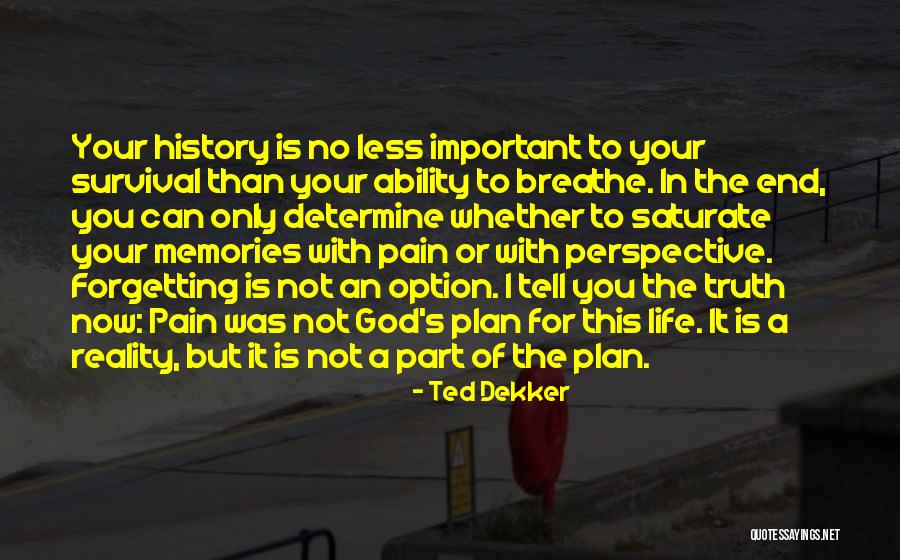 Your history is no less important to your survival than your ability to breathe. In the end, you can only determine whether to saturate your memories with pain or with perspective. Forgetting is not an option. I tell you the truth now: Pain was not God's plan for this life. It is a reality, but it is not a part of the plan. — Ted Dekker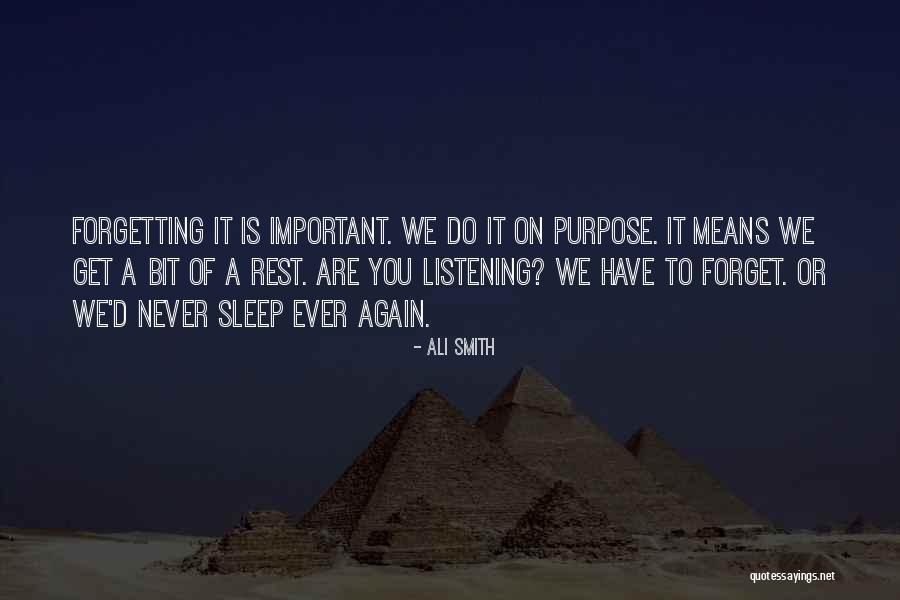 Forgetting it is important. We do it on purpose. It means we get a bit of a rest. Are you listening? We have to forget. Or we'd never sleep ever again. — Ali Smith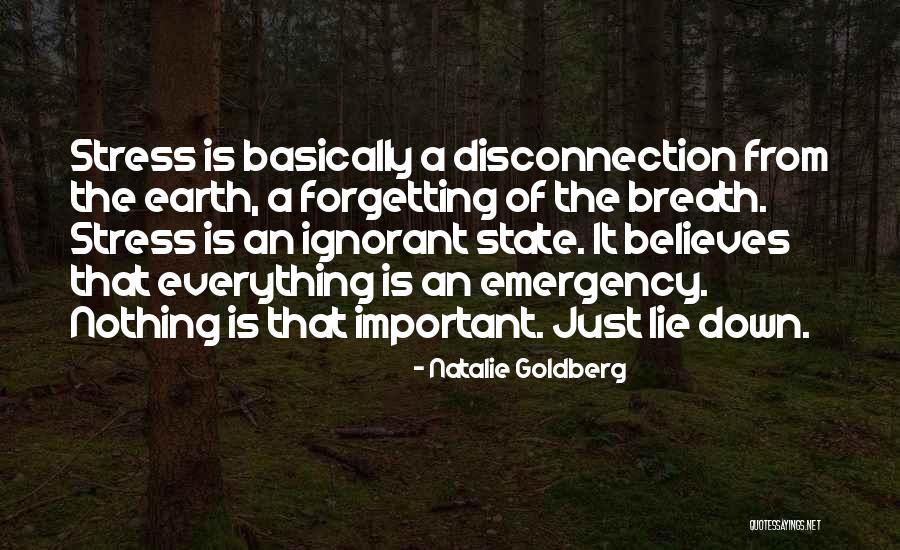 Stress is basically a disconnection from the earth, a forgetting of the breath. Stress is an ignorant state. It believes that everything is an emergency. Nothing is that important. Just lie down. — Natalie Goldberg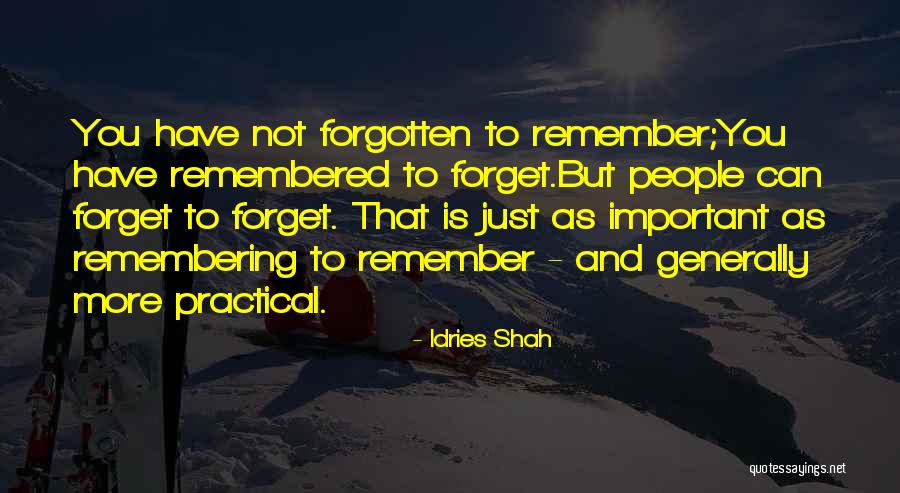 You have not forgotten to remember;
You have remembered to forget.
But people can forget to forget. That is just as important as remembering to remember - and generally more practical. — Idries Shah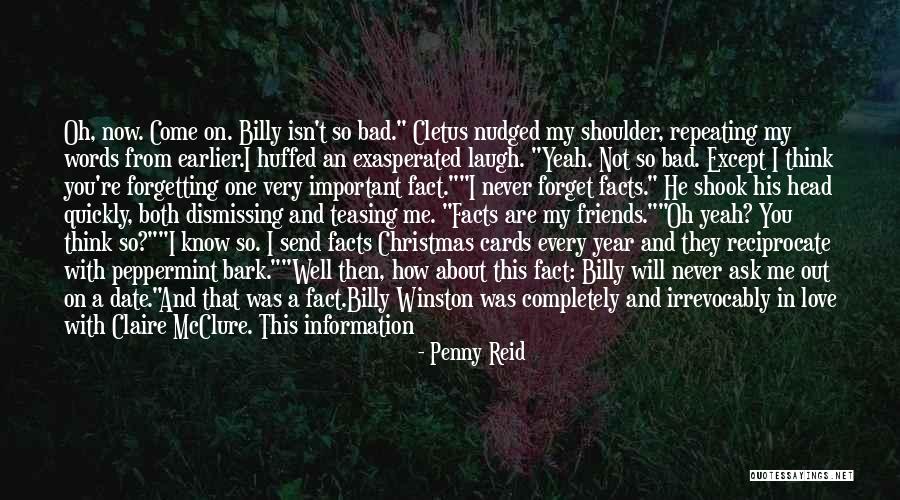 Oh, now. Come on. Billy isn't so bad." Cletus nudged my shoulder, repeating my words from earlier.

I huffed an exasperated laugh. "Yeah. Not so bad. Except I think you're forgetting one very important fact."

"I never forget facts." He shook his head quickly, both dismissing and teasing me. "Facts are my friends."

"Oh yeah? You think so?"

"I know so. I send facts Christmas cards every year and they reciprocate with peppermint bark."

"Well then, how about this fact: Billy will never ask me out on a date."

And that was a fact.

Billy Winston was completely and irrevocably in love with Claire McClure. This information was not widely known, but I knew. I was a people watcher. — Penny Reid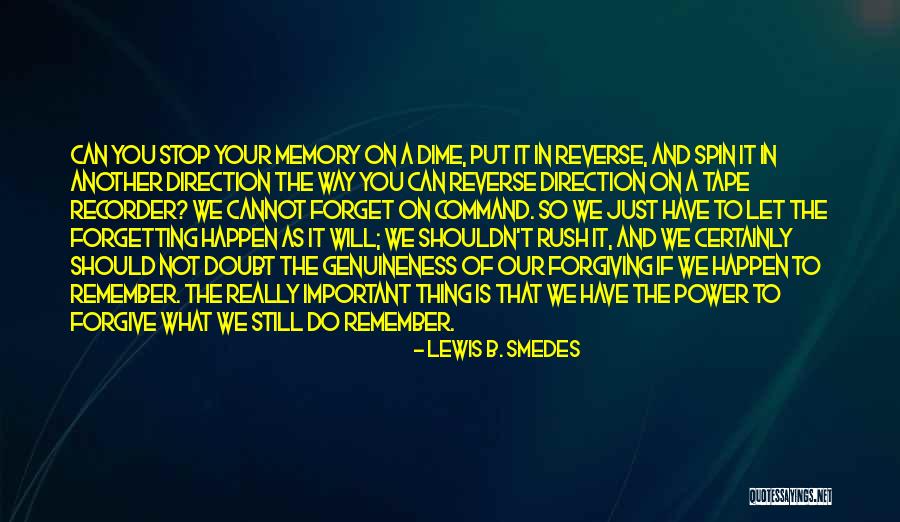 Can you stop your memory on a dime, put it in reverse, and spin it in another direction the way you can reverse direction on a tape recorder? We cannot forget on command. So we just have to let the forgetting happen as it will; we shouldn't rush it, and we certainly should not doubt the genuineness of our forgiving if we happen to remember. The really important thing is that we have the power to forgive what we still do remember. — Lewis B. Smedes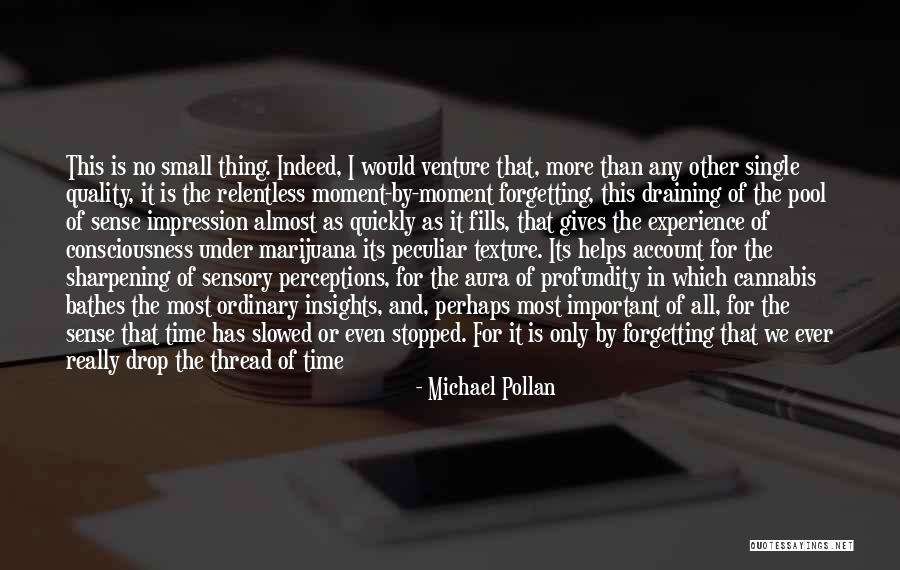 This is no small thing. Indeed, I would venture that, more than any other single quality, it is the relentless moment-by-moment forgetting, this draining of the pool of sense impression almost as quickly as it fills, that gives the experience of consciousness under marijuana its peculiar texture. Its helps account for the sharpening of sensory perceptions, for the aura of profundity in which cannabis bathes the most ordinary insights, and, perhaps most important of all, for the sense that time has slowed or even stopped. For it is only by forgetting that we ever really drop the thread of time and approach the experience of living in the present moment, so elusive in ordinary hours. And the wonder of that experience, perhaps more than any other, seems to be at the very heart of the human desire to change consciousness, whether by means of drugs or any other technique. — Michael Pollan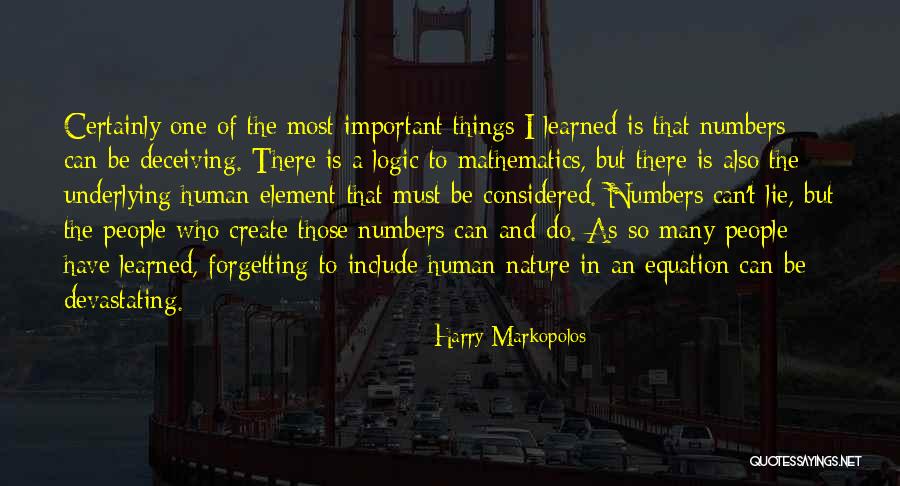 Certainly one of the most important things I learned is that numbers can be deceiving. There is a logic to mathematics, but there is also the underlying human element that must be considered. Numbers can't lie, but the people who create those numbers can and do. As so many people have learned, forgetting to include human nature in an equation can be devastating. — Harry Markopolos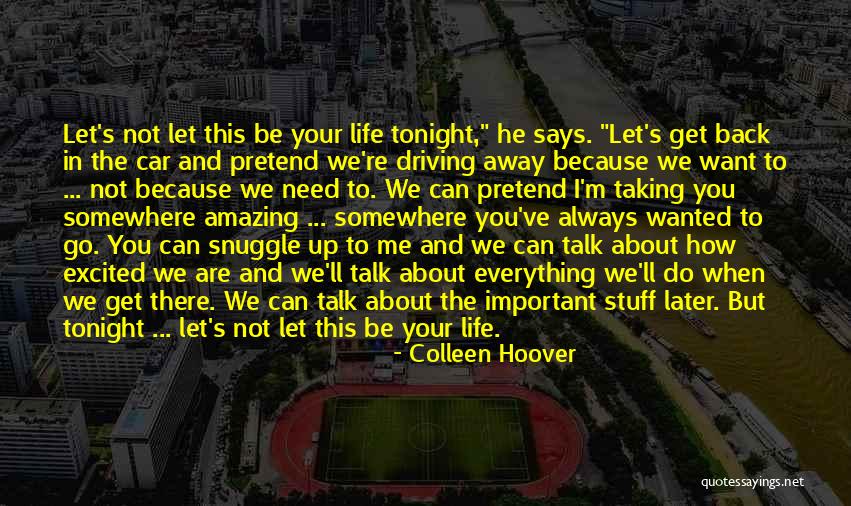 Let's not let this be your life tonight," he says. "Let's get back in the car and pretend we're driving away because we want to ... not because we need to. We can pretend I'm taking you somewhere amazing ... somewhere you've always wanted to go. You can snuggle up to me and we can talk about how excited we are and we'll talk about everything we'll do when we get there. We can talk about the important stuff later. But tonight ... let's not let this be your life. — Colleen Hoover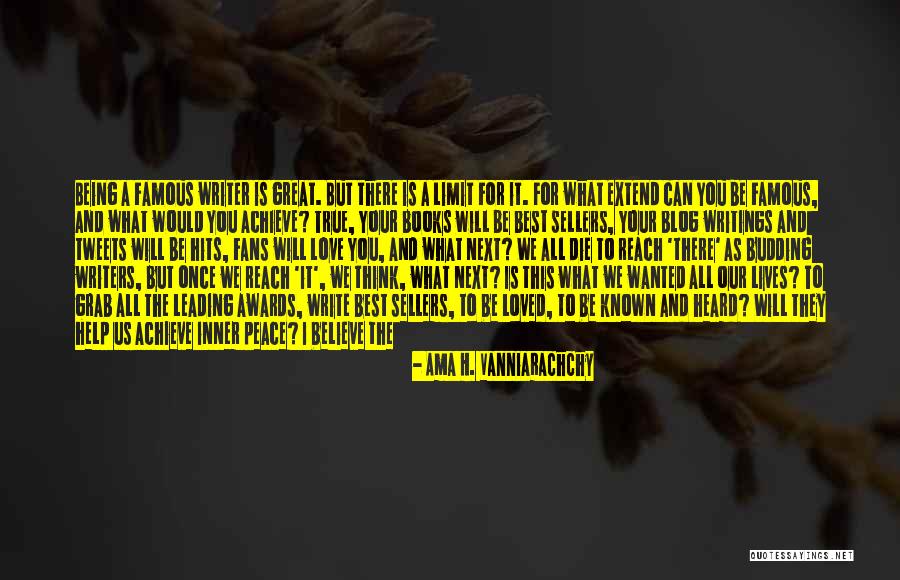 Being a famous writer is great. But there is a limit for it. For what extend can you be famous, and what would you achieve? True, your books will be best sellers, your blog writings and tweets will be hits, fans will love you, and what next? We all die to reach 'there' as budding writers, but once we reach 'it', we think, what next? Is this what we wanted all our lives? To grab all the leading awards, write best sellers, to be loved, to be known and heard? Will they help us achieve inner peace? I believe the utmost important thing is achieving inner peace, not money and fame. A writer should write to achieve inner peace forgetting all other things. Money, fame, fans are not going to last forever, but inner peace is. — Ama H. Vanniarachchy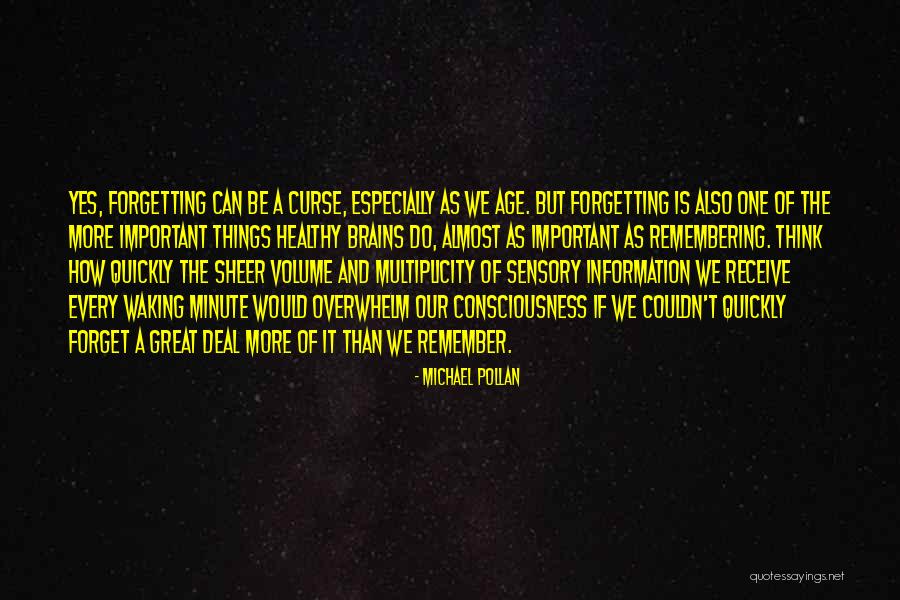 Yes, forgetting can be a curse, especially as we age. But forgetting is also one of the more important things healthy brains do, almost as important as remembering. Think how quickly the sheer volume and multiplicity of sensory information we receive every waking minute would overwhelm our consciousness if we couldn't quickly forget a great deal more of it than we remember. — Michael Pollan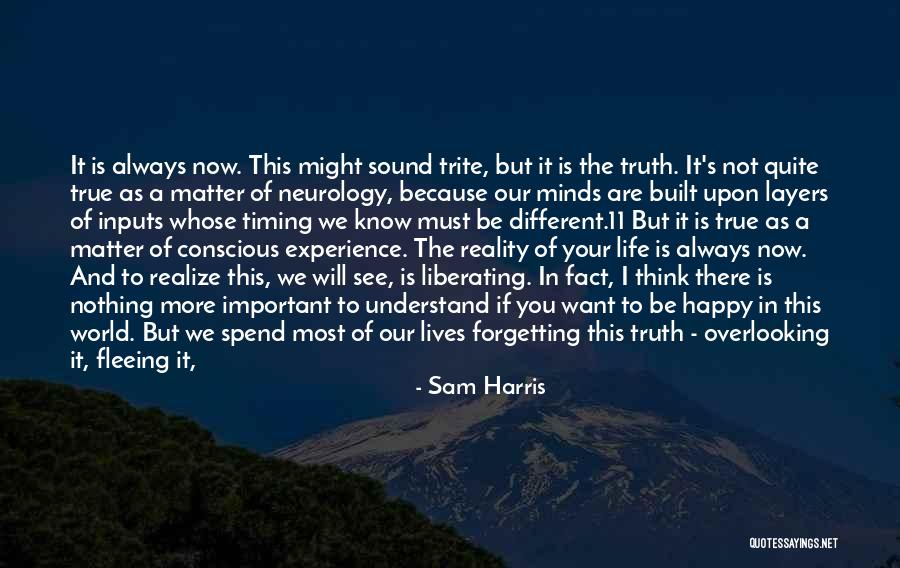 It is always now. This might sound trite, but it is the truth. It's not quite true as a matter of neurology, because our minds are built upon layers of inputs whose timing we know must be different.11 But it is true as a matter of conscious experience. The reality of your life is always now. And to realize this, we will see, is liberating. In fact, I think there is nothing more important to understand if you want to be happy in this world. But we spend most of our lives forgetting this truth - overlooking it, fleeing it, repudiating it. And the horror is that we succeed. We manage to avoid being happy while struggling to become happy, fulfilling one desire after the next, banishing our fears, grasping at pleasure, recoiling from pain - and thinking, interminably, about how best to keep the whole works up and running. — Sam Harris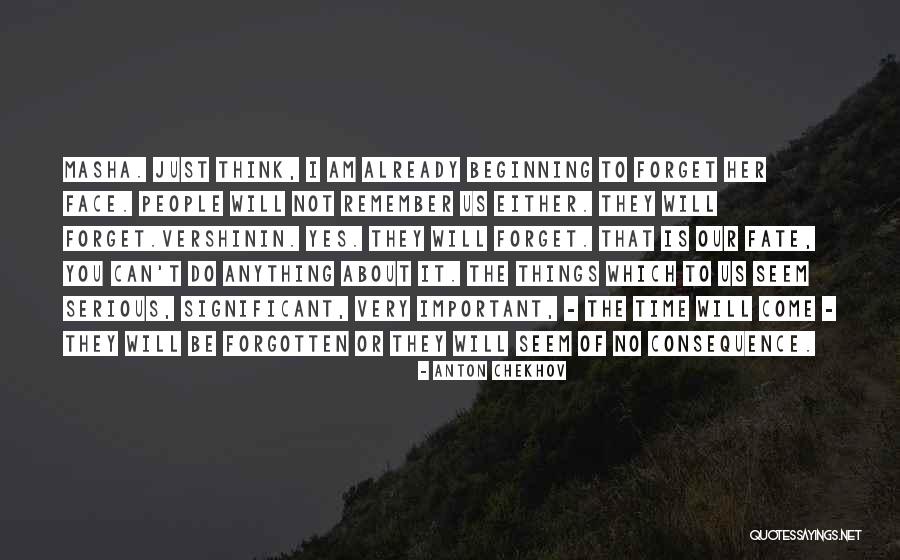 MASHA. Just think, I am already beginning to forget her face. People will not remember us either. They will forget.
VERSHININ. Yes. They will forget. That is our fate, you can't do anything about it. The things which to us seem serious, significant, very important, - the time will come - they will be forgotten or they will seem of no consequence. — Anton Chekhov
Play exists for its own sake. Play is for the moment; it is not hurried, even when the pace is fast and timing seems important. When we play, we also celebrate holy uselessness. Like the calf frolicking in the meadow, we need no pretense or excuses. Work is productive; play, in its disinterestedness and self-forgetting, can be fruitful. — Margaret Guenther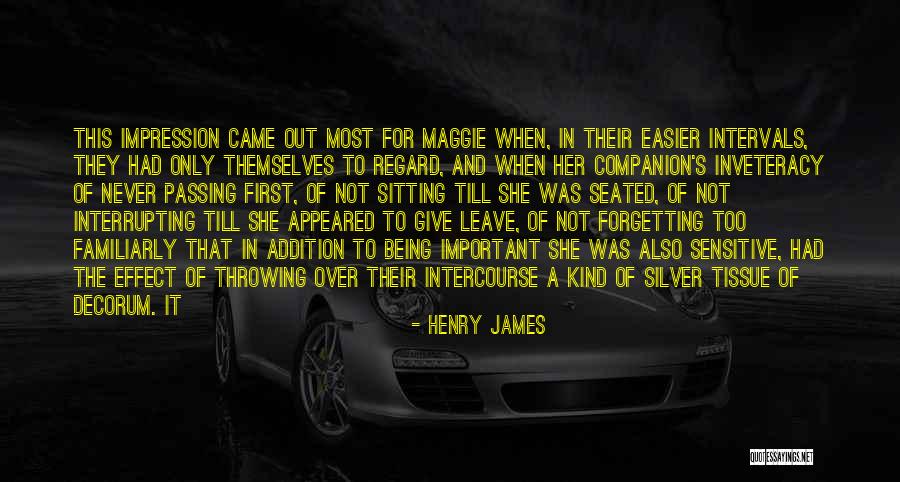 This impression came out most for Maggie when, in their easier intervals, they had only themselves to regard, and when her companion's inveteracy of never passing first, of not sitting till she was seated, of not interrupting till she appeared to give leave, of not forgetting too familiarly that in addition to being important she was also sensitive, had the effect of throwing over their intercourse a kind of silver tissue of decorum. It — Henry James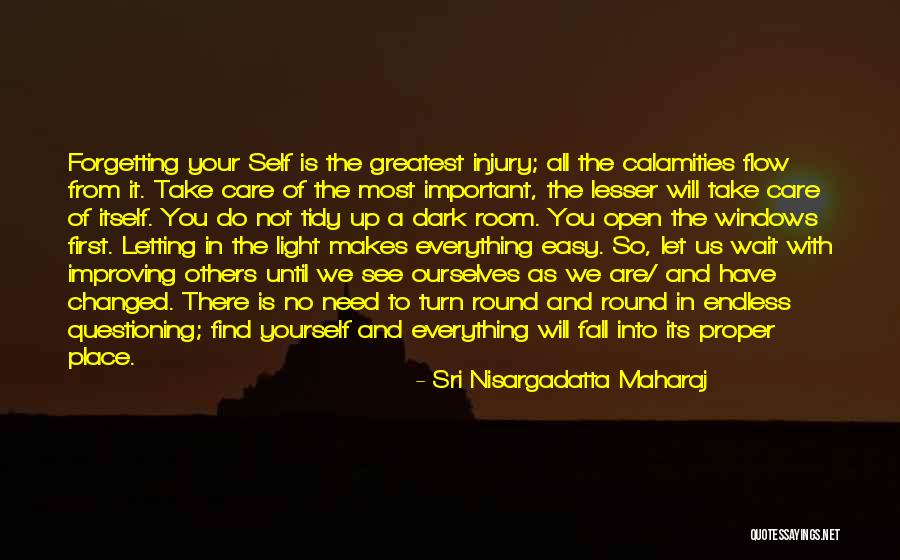 Forgetting your Self is the greatest injury; all the calamities flow from it. Take care of the most important, the lesser will take care of itself. You do not tidy up a dark room. You open the windows first. Letting in the light makes everything easy. So, let us wait with improving others until we see ourselves as we are/ and have changed. There is no need to turn round and round in endless questioning; find yourself and everything will fall into its proper place. — Sri Nisargadatta Maharaj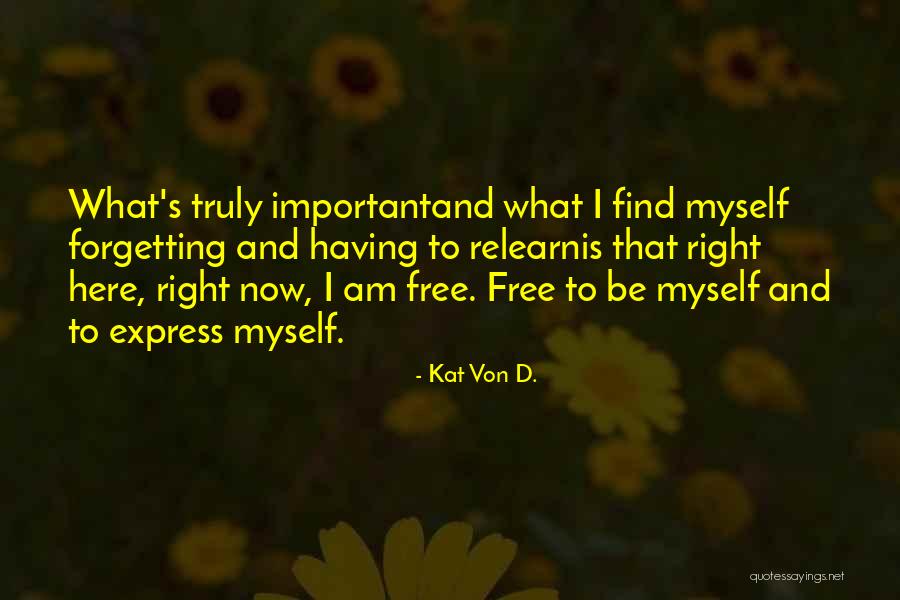 What's truly important
and what I find myself forgetting and having to relearn
is that right here, right now, I am free. Free to be myself and to express myself. — Kat Von D.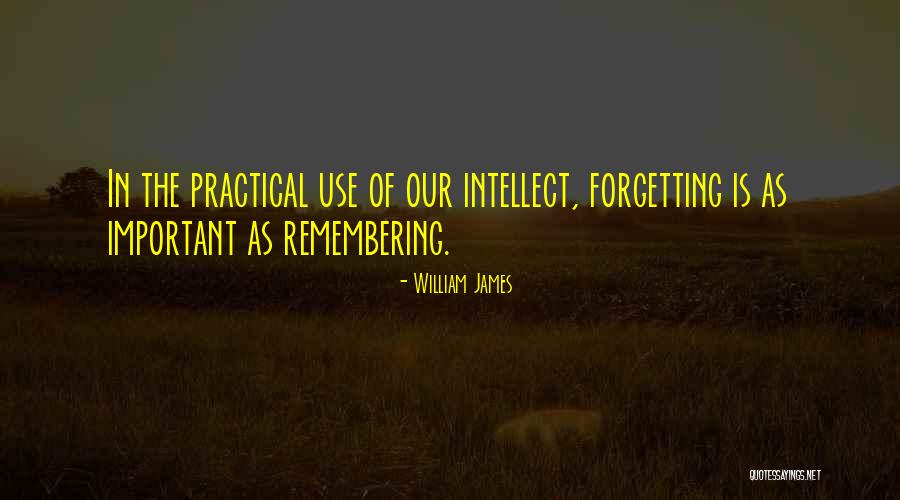 In the practical use of our intellect, forgetting is as important as remembering. — William James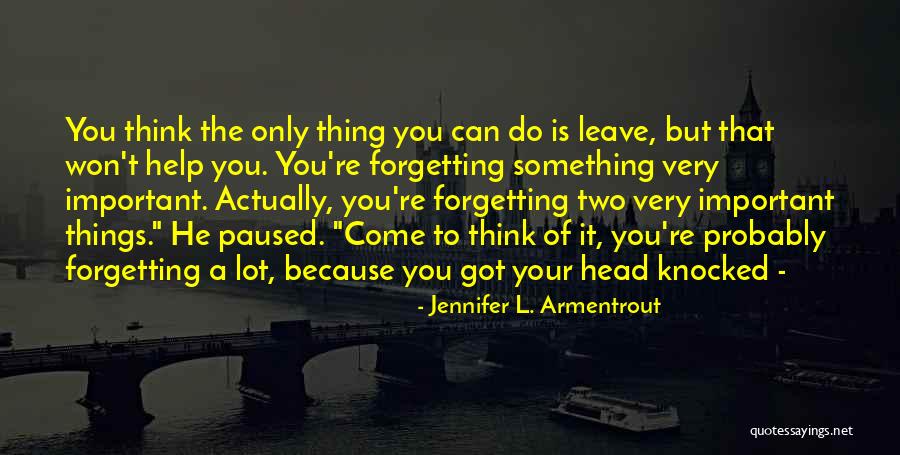 You think the only thing you can do is leave, but that won't help you. You're forgetting something very important. Actually, you're forgetting two very important things." He paused. "Come to think of it, you're probably forgetting a lot, because you got your head knocked - — Jennifer L. Armentrout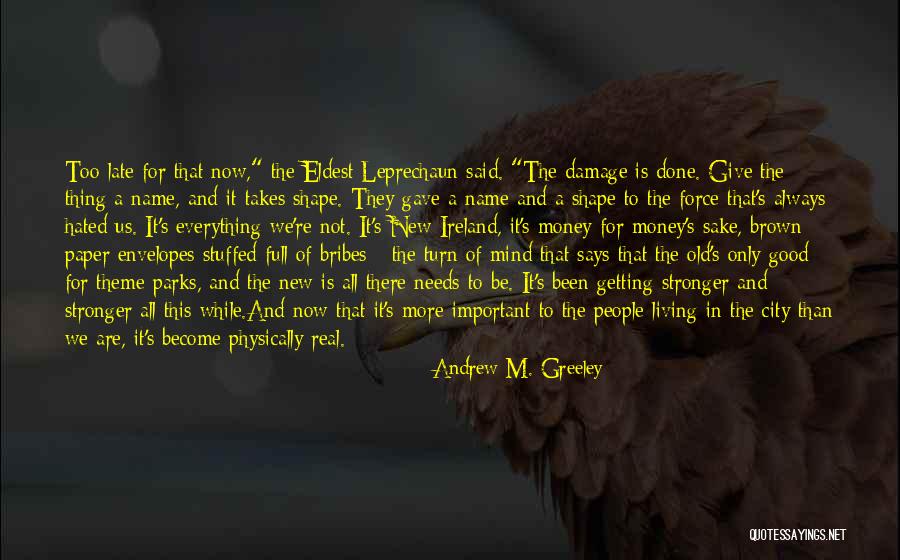 Too late for that now," the Eldest Leprechaun said. "The damage is done. Give the thing a name, and it takes shape. They gave a name and a shape to the force that's always hated us. It's everything we're not. It's New Ireland, it's money for money's sake, brown paper envelopes stuffed full of bribes - the turn of mind that says that the old's only good for theme parks, and the new is all there needs to be. It's been getting stronger and stronger all this while.And now that it's more important to the people living in the city than we are, it's become physically real. — Andrew M. Greeley