Fitness Level Quotes & Sayings
Enjoy reading and share 23 famous quotes about Fitness Level with everyone.
Top Fitness Level Quotes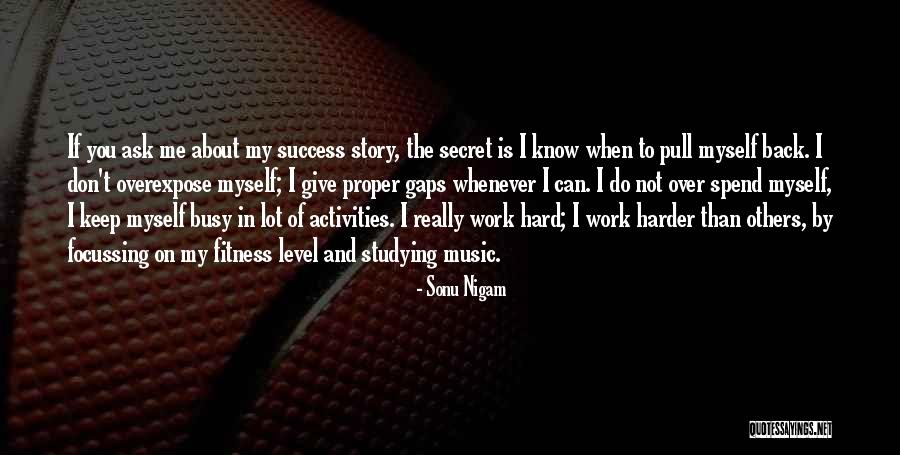 If you ask me about my success story, the secret is I know when to pull myself back. I don't overexpose myself; I give proper gaps whenever I can. I do not over spend myself, I keep myself busy in lot of activities. I really work hard; I work harder than others, by focussing on my fitness level and studying music. — Sonu Nigam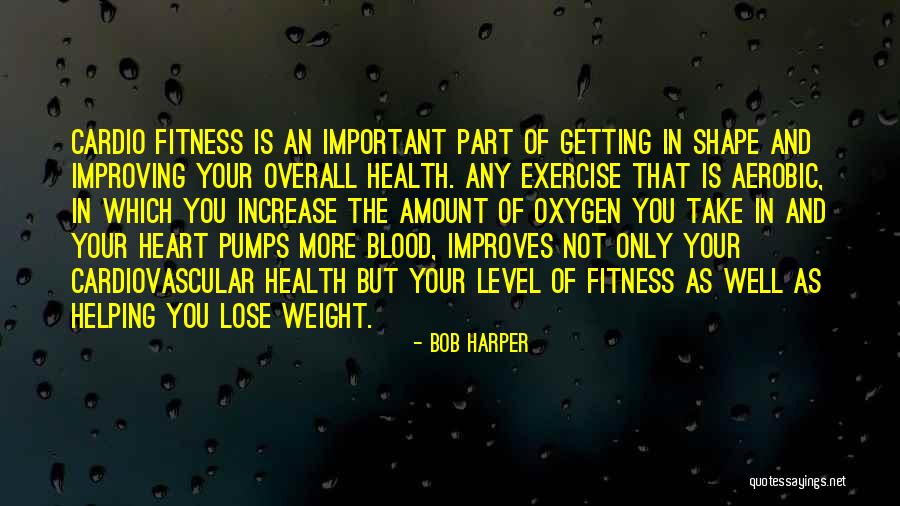 Cardio fitness is an important part of getting in shape and improving your overall health. Any exercise that is aerobic, in which you increase the amount of oxygen you take in and your heart pumps more blood, improves not only your cardiovascular health but your level of fitness as well as helping you lose weight. — Bob Harper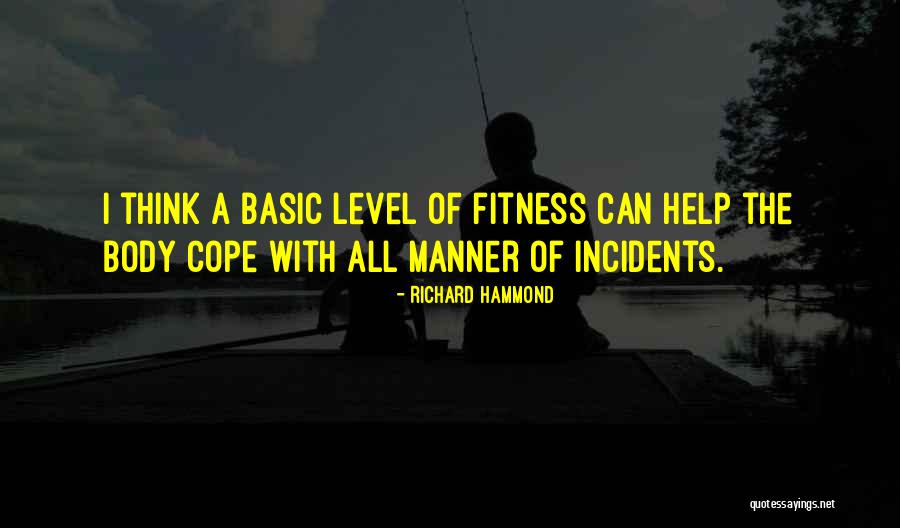 I think a basic level of fitness can help the body cope with all manner of incidents. — Richard Hammond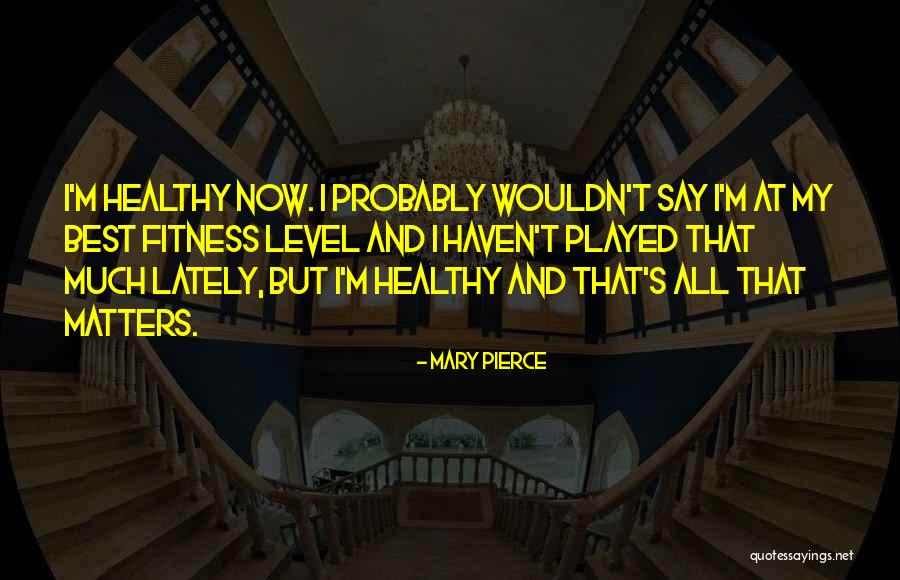 I'm healthy now. I probably wouldn't say I'm at my best fitness level and I haven't played that much lately, but I'm healthy and that's all that matters. — Mary Pierce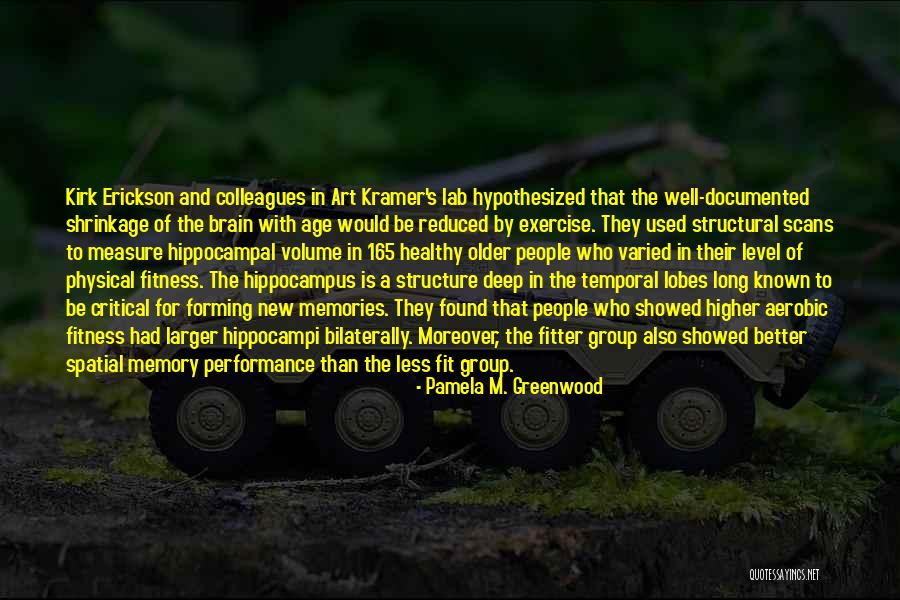 Kirk Erickson and colleagues in Art Kramer's lab hypothesized that the well-documented shrinkage of the brain with age would be reduced by exercise. They used structural scans to measure hippocampal volume in 165 healthy older people who varied in their level of physical fitness. The hippocampus is a structure deep in the temporal lobes long known to be critical for forming new memories. They found that people who showed higher aerobic fitness had larger hippocampi bilaterally. Moreover, the fitter group also showed better spatial memory performance than the less fit group. — Pamela M. Greenwood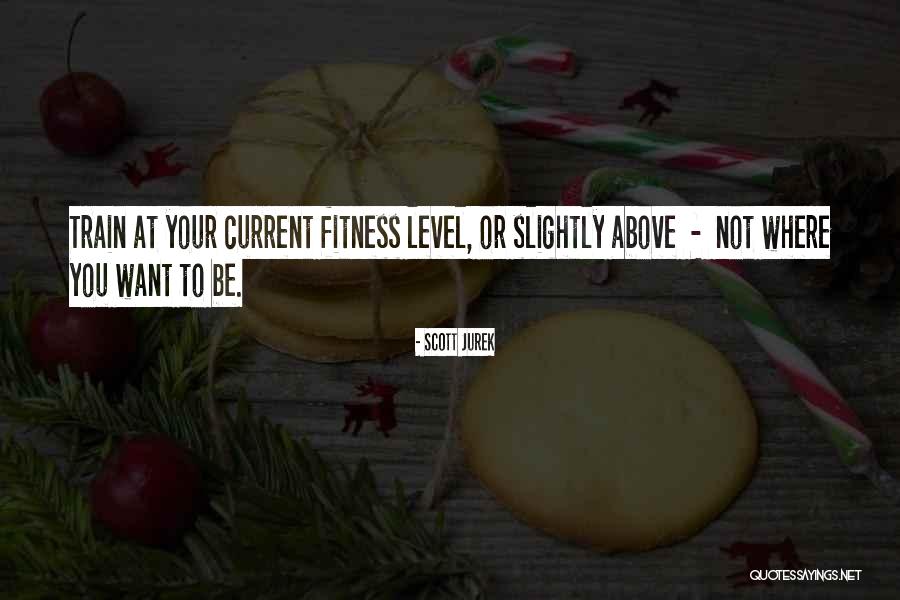 Train at your current fitness level, or slightly above - not where you want to be. — Scott Jurek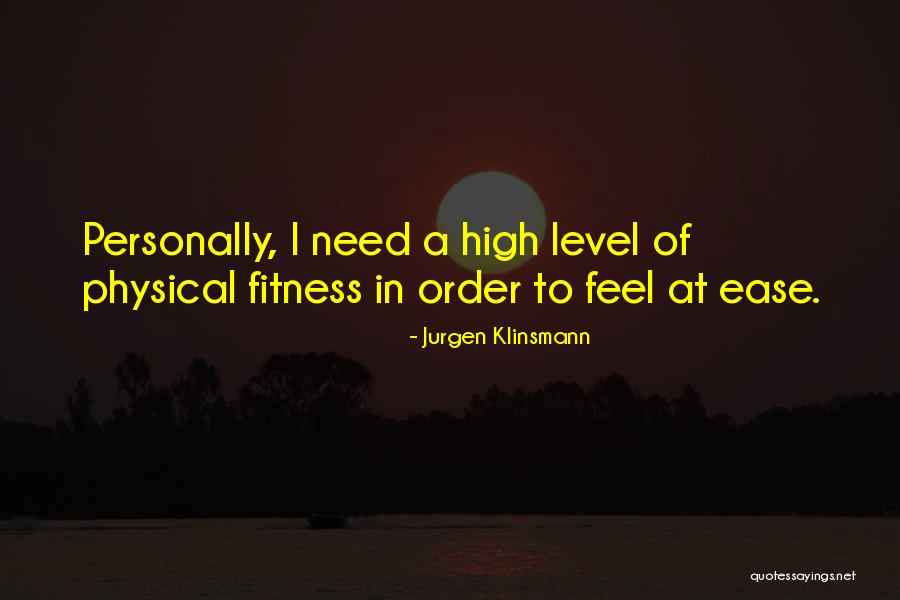 Personally, I need a high level of physical fitness in order to feel at ease. — Jurgen Klinsmann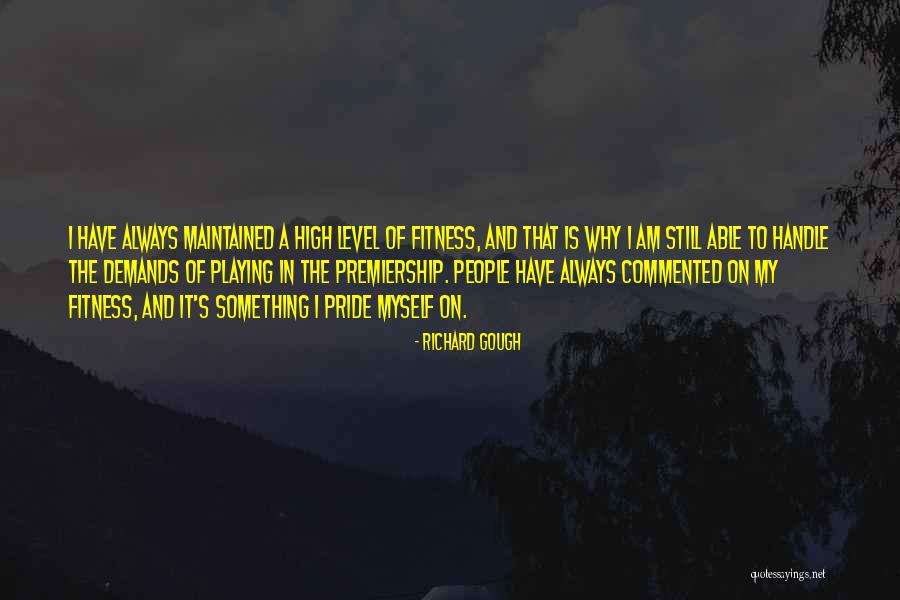 I have always maintained a high level of fitness, and that is why I am still able to handle the demands of playing in the Premiership. People have always commented on my fitness, and it's something I pride myself on. — Richard Gough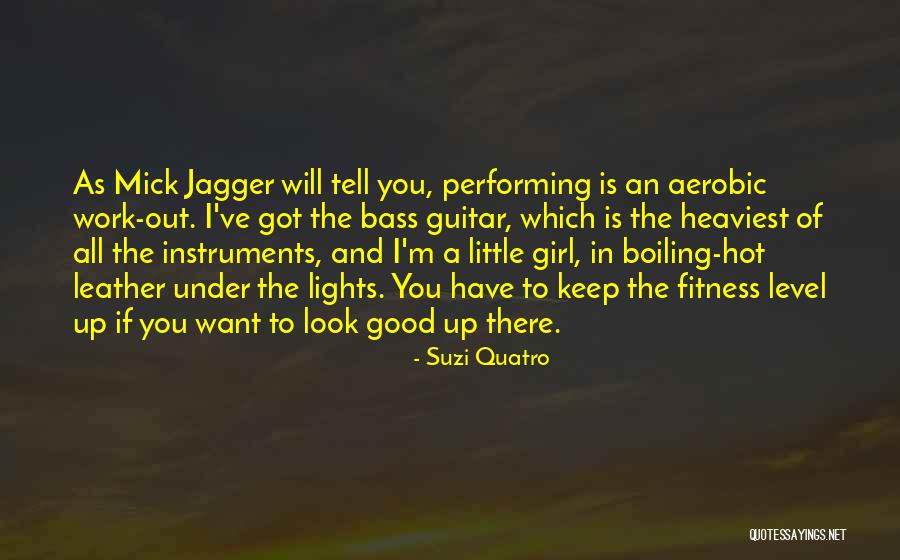 As Mick Jagger will tell you, performing is an aerobic work-out. I've got the bass guitar, which is the heaviest of all the instruments, and I'm a little girl, in boiling-hot leather under the lights. You have to keep the fitness level up if you want to look good up there. — Suzi Quatro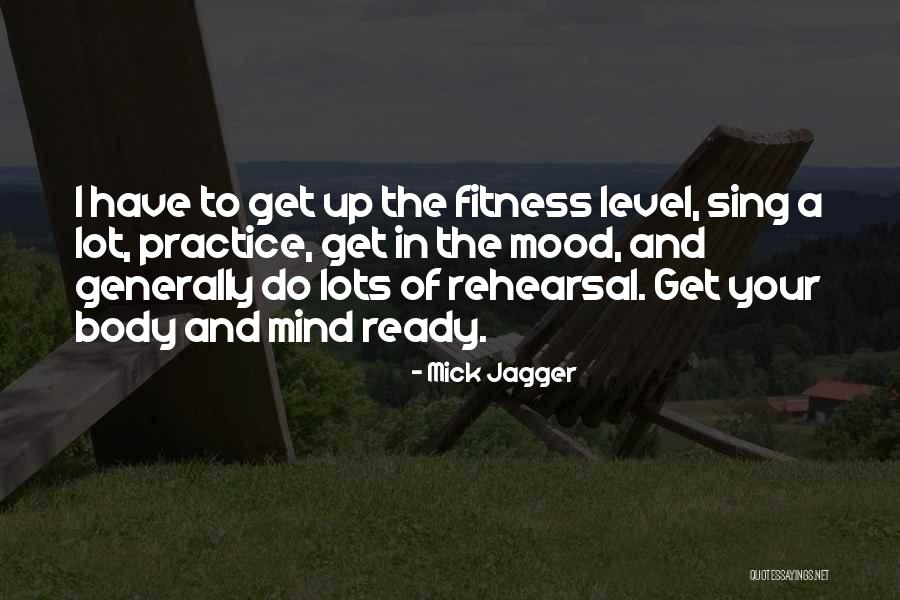 I have to get up the fitness level, sing a lot, practice, get in the mood, and generally do lots of rehearsal. Get your body and mind ready. — Mick Jagger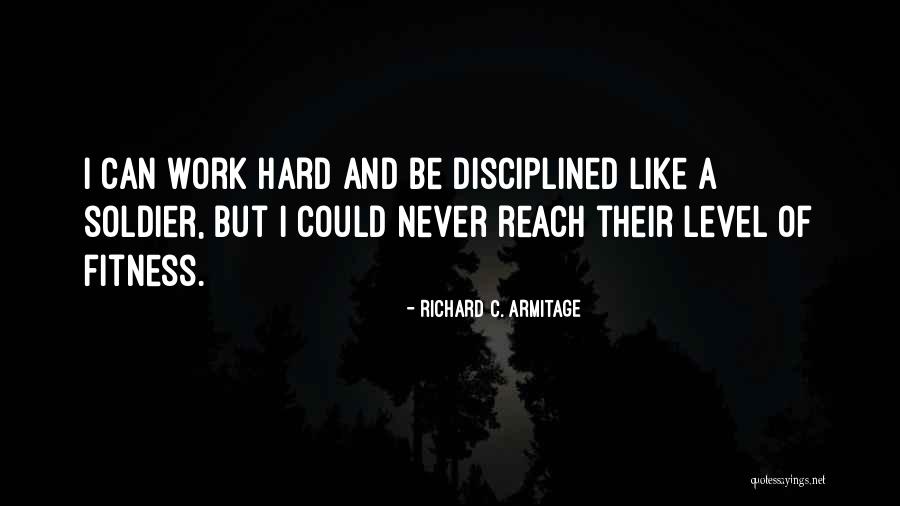 I can work hard and be disciplined like a soldier, but I could never reach their level of fitness. — Richard C. Armitage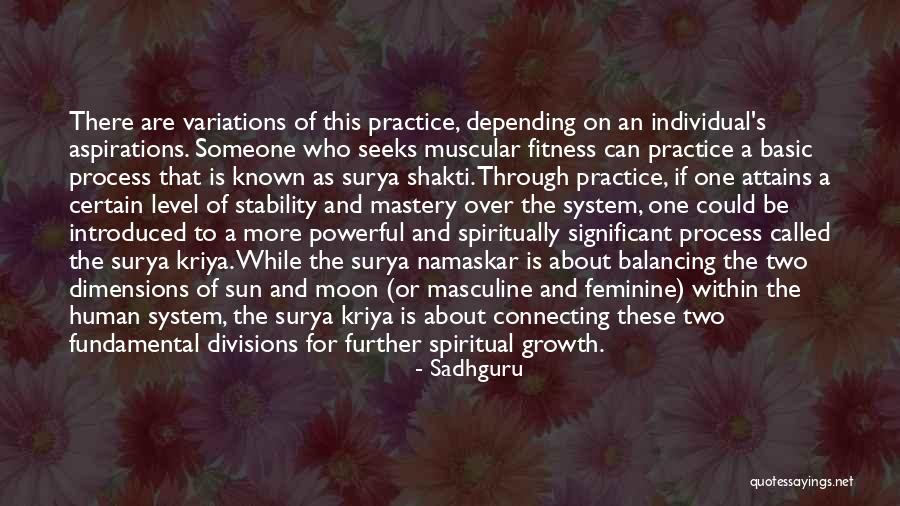 There are variations of this practice, depending on an individual's aspirations. Someone who seeks muscular fitness can practice a basic process that is known as surya shakti. Through practice, if one attains a certain level of stability and mastery over the system, one could be introduced to a more powerful and spiritually significant process called the surya kriya. While the surya namaskar is about balancing the two dimensions of sun and moon (or masculine and feminine) within the human system, the surya kriya is about connecting these two fundamental divisions for further spiritual growth. — Sadhguru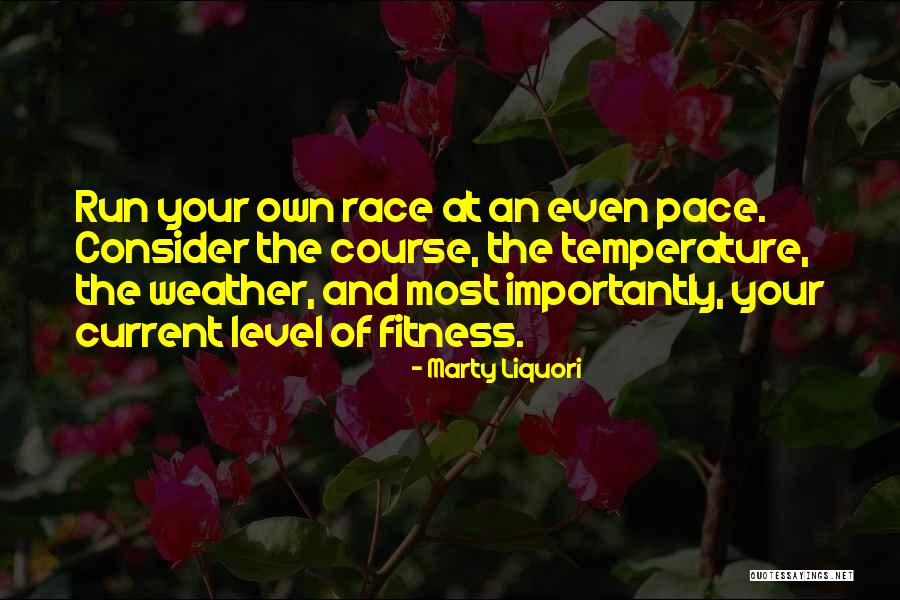 Run your own race at an even pace. Consider the course, the temperature, the weather, and most importantly, your current level of fitness. — Marty Liquori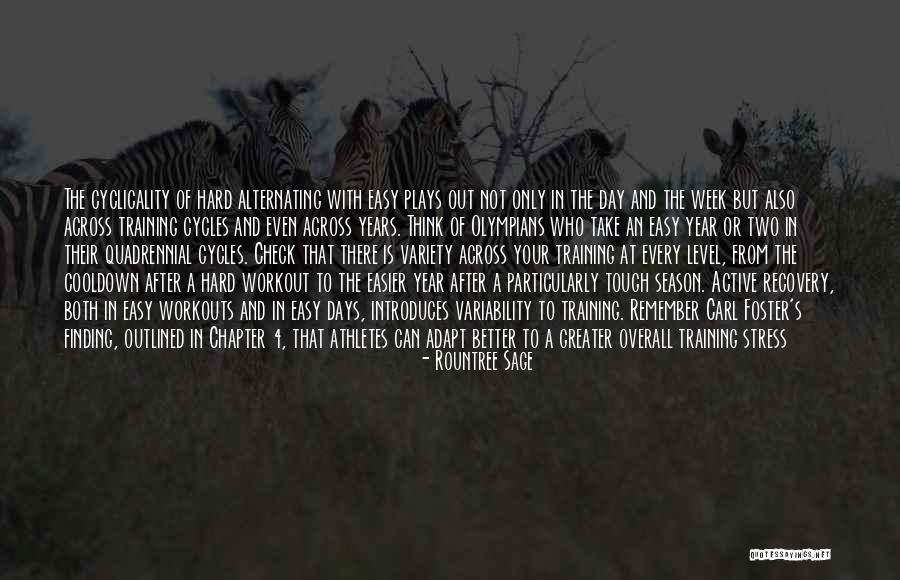 The cyclicality of hard alternating with easy plays out not only in the day and the week but also across training cycles and even across years. Think of Olympians who take an easy year or two in their quadrennial cycles. Check that there is variety across your training at every level, from the cooldown after a hard workout to the easier year after a particularly tough season. Active recovery, both in easy workouts and in easy days, introduces variability to training. Remember Carl Foster's finding, outlined in Chapter 4, that athletes can adapt better to a greater overall training stress when it is variable instead of monotonous. Make the easy days really easy so that the hard days can be truly hard. If you can rein in your effort on your easy days, you'll have room to push a little faster or a little longer on your hard days, yielding a much bigger fitness reward than simply muddling through with easy days that are too hard and hard days that therefore become too slow or short. — Rountree Sage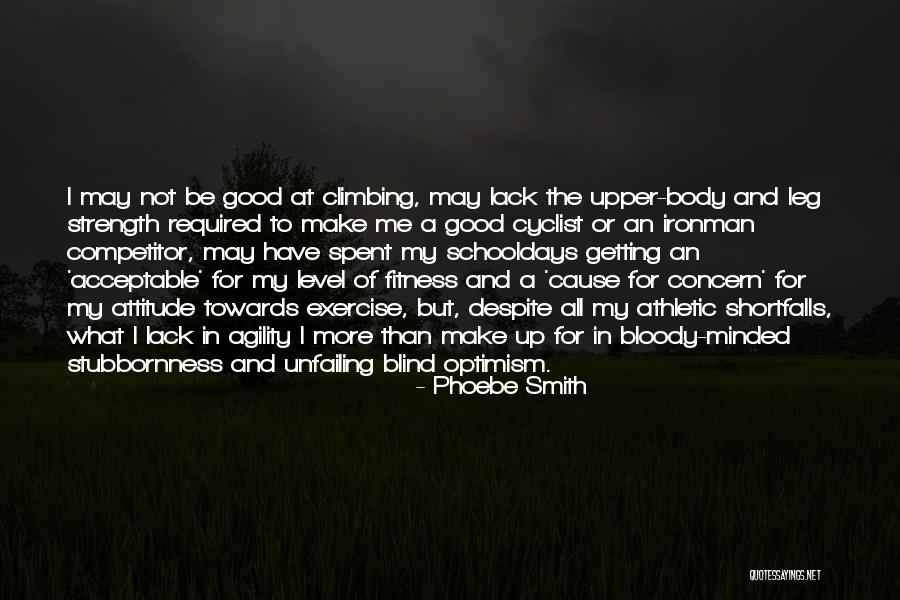 I may not be good at climbing, may lack the upper-body and leg strength required to make me a good cyclist or an ironman competitor, may have spent my schooldays getting an 'acceptable' for my level of fitness and a 'cause for concern' for my attitude towards exercise, but, despite all my athletic shortfalls, what I lack in agility I more than make up for in bloody-minded stubbornness and unfailing blind optimism. — Phoebe Smith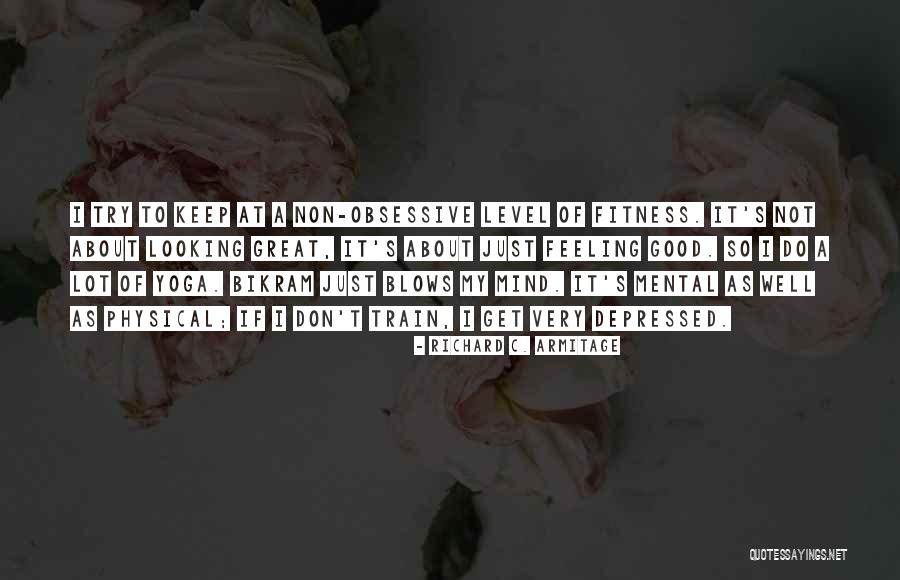 I try to keep at a non-obsessive level of fitness. It's not about looking great, it's about just feeling good. So I do a lot of yoga. Bikram just blows my mind. It's mental as well as physical; if I don't train, I get very depressed. — Richard C. Armitage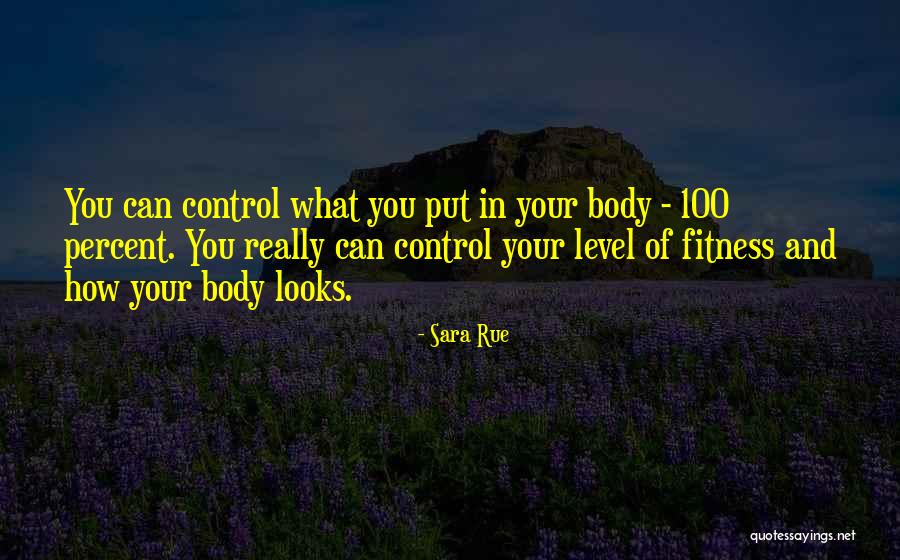 You can control what you put in your body - 100 percent. You really can control your level of fitness and how your body looks. — Sara Rue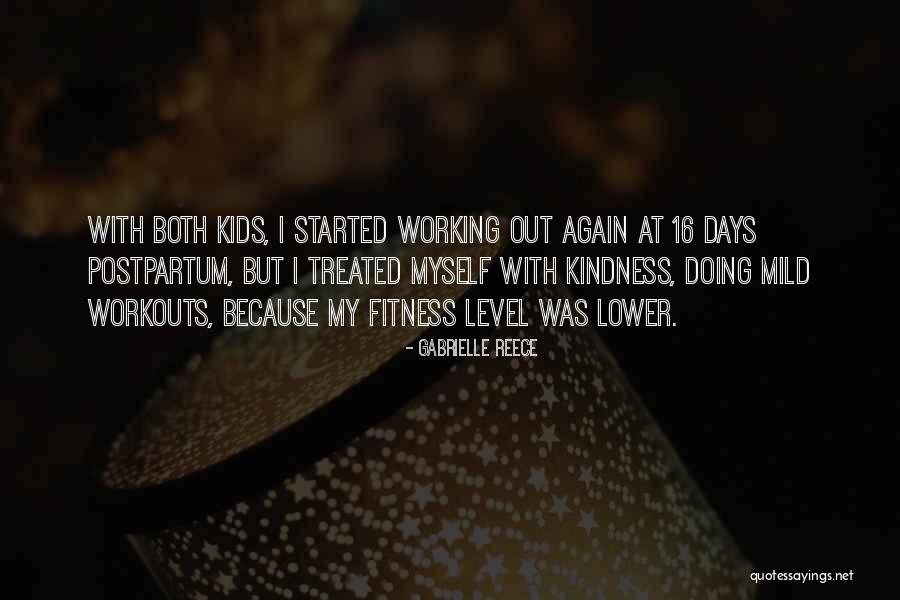 With both kids, I started working out again at 16 days postpartum, but I treated myself with kindness, doing mild workouts, because my fitness level was lower. — Gabrielle Reece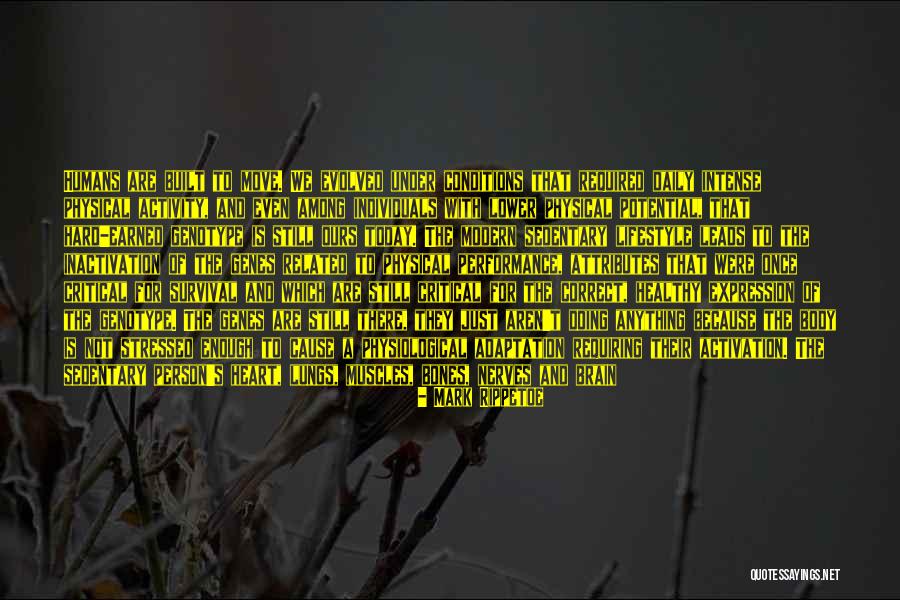 Humans are built to move. We evolved under conditions that required daily intense physical activity, and even among individuals with lower physical potential, that hard-earned genotype is still ours today. The modern sedentary lifestyle leads to the inactivation of the genes related to physical performance, attributes that were once critical for survival and which are still critical for the correct, healthy expression of the genotype. The genes are still there, they just aren't doing anything because the body is not stressed enough to cause a physiological adaptation requiring their activation. The sedentary person's heart, lungs, muscles, bones, nerves and brain all operate far below the level at which they evolved to function, and at which they still function best. — Mark Rippetoe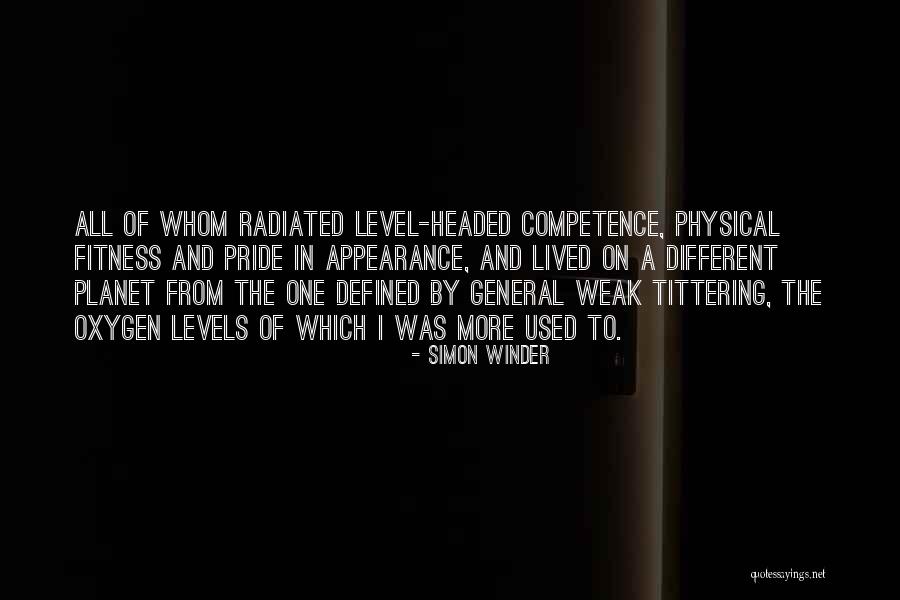 all of whom radiated level-headed competence, physical fitness and pride in appearance, and lived on a different planet from the one defined by general weak tittering, the oxygen levels of which I was more used to. — Simon Winder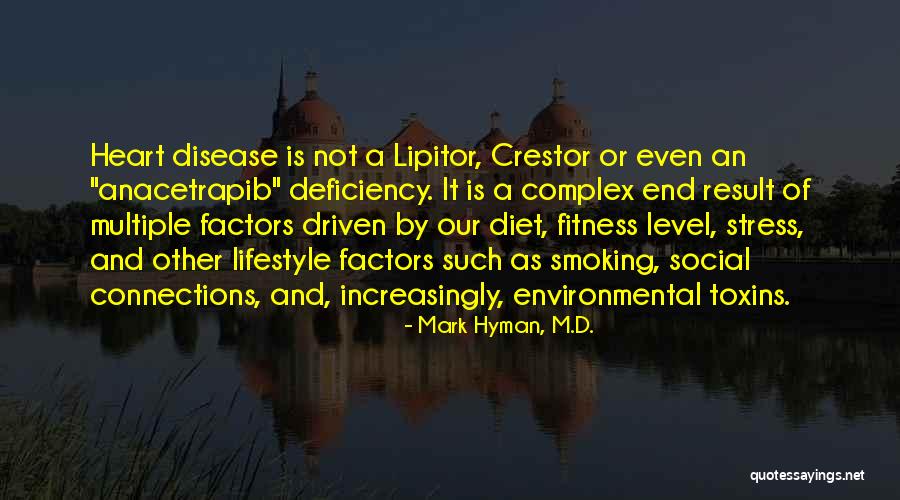 Heart disease is not a Lipitor, Crestor or even an "anacetrapib" deficiency. It is a complex end result of multiple factors driven by our diet, fitness level, stress, and other lifestyle factors such as smoking, social connections, and, increasingly, environmental toxins. — Mark Hyman, M.D.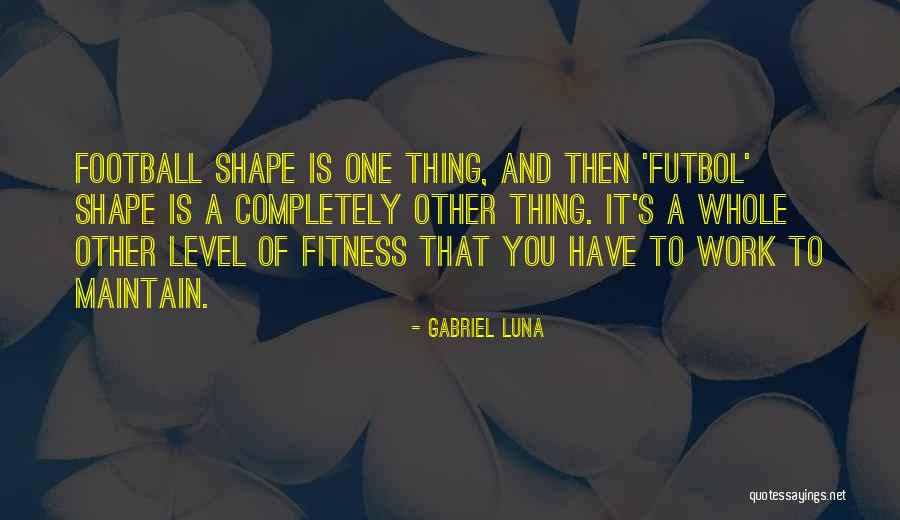 Football shape is one thing, and then 'futbol' shape is a completely other thing. It's a whole other level of fitness that you have to work to maintain. — Gabriel Luna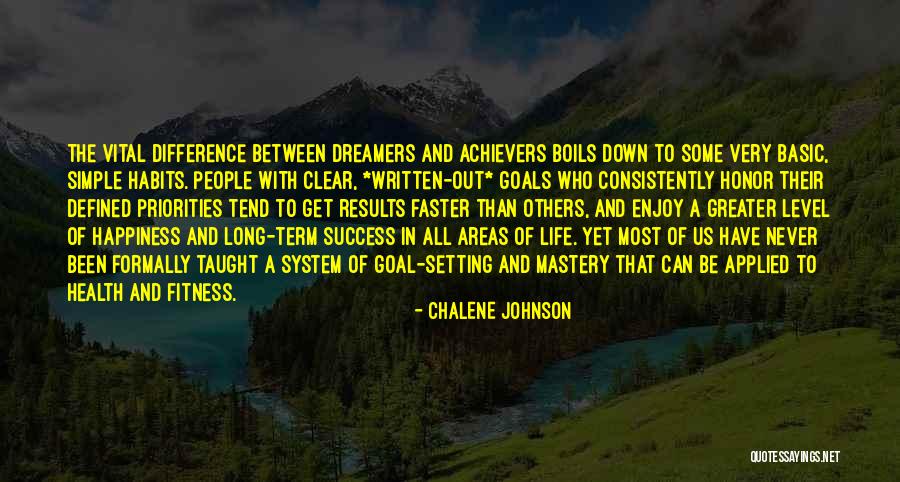 The vital difference between dreamers and achievers boils down to some very basic, simple habits. People with clear, *written-out* goals who consistently honor their defined priorities tend to get results faster than others, and enjoy a greater level of happiness and long-term success in all areas of life. Yet most of us have never been formally taught a system of goal-setting and mastery that can be applied to health and fitness. — Chalene Johnson