First Date Love Quotes & Sayings
Enjoy reading and share 48 famous quotes about First Date Love with everyone.
Top First Date Love Quotes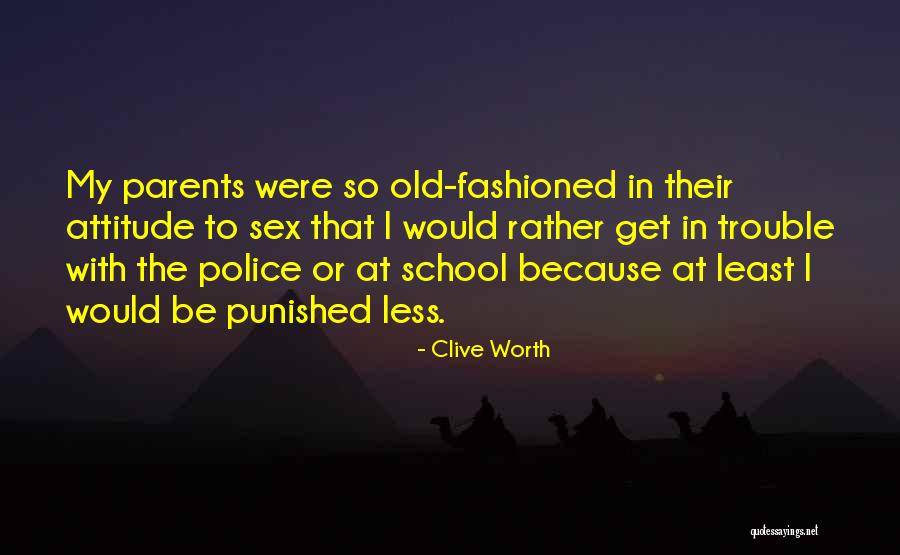 My parents were so old-fashioned in their attitude to sex that I would rather get in trouble with the police or at school because at least I would be punished less. — Clive Worth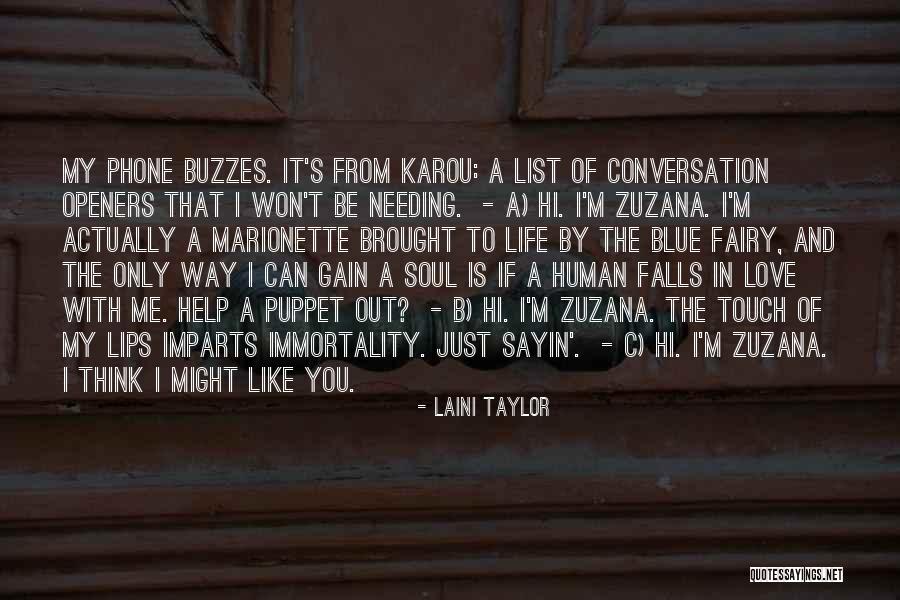 My phone buzzes. It's from Karou: a list of conversation openers that I won't be needing. - a) Hi. I'm Zuzana. I'm actually a marionette brought to life by the Blue Fairy, and the only way I can gain a soul is if a human falls in love with me. Help a puppet out? - b) Hi. I'm Zuzana. The touch of my lips imparts immortality. Just sayin'. - c) Hi. I'm Zuzana. I think I might like you. — Laini Taylor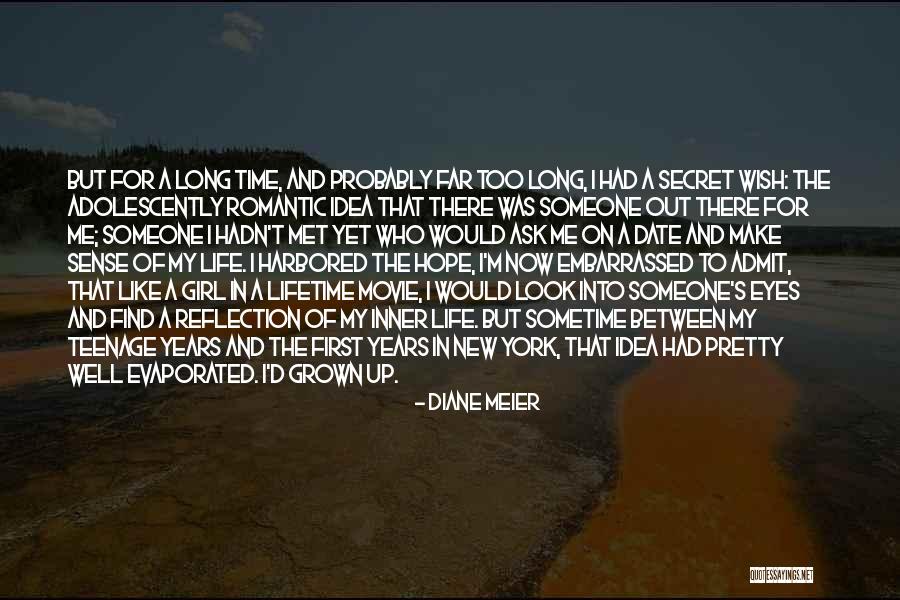 But for a long time, and probably far too long, I had a secret wish: the adolescently romantic idea that there was someone out there for me; someone I hadn't met yet who would ask me on a date and make sense of my life. I harbored the hope, I'm now embarrassed to admit, that like a girl in a Lifetime movie, I would look into someone's eyes and find a reflection of my inner life. But sometime between my teenage years and the first years in New York, that idea had pretty well evaporated. I'd grown up. — Diane Meier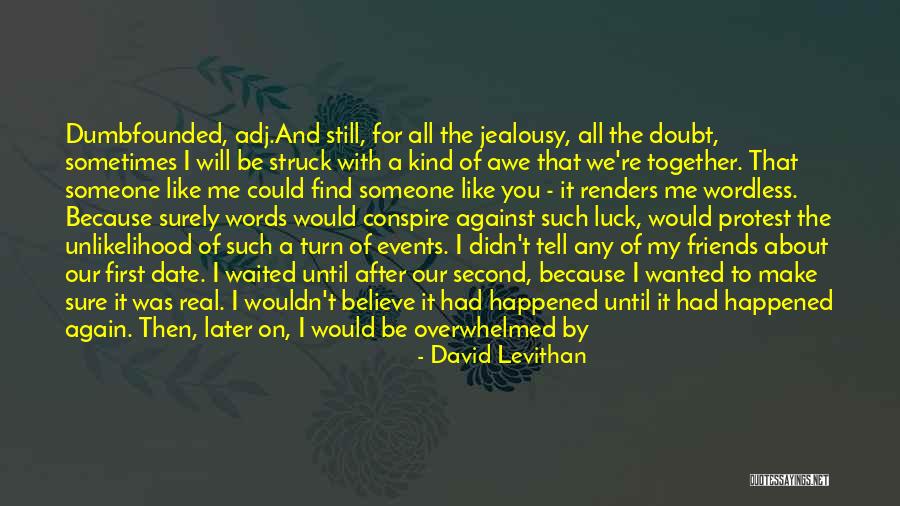 Dumbfounded, adj.
And still, for all the jealousy, all the doubt, sometimes I will be struck with a kind of awe that we're together. That someone like me could find someone like you - it renders me wordless. Because surely words would conspire against such luck, would protest the unlikelihood of such a turn of events.
I didn't tell any of my friends about our first date. I waited until after our second, because I wanted to make sure it was real. I wouldn't believe it had happened until it had happened again. Then, later on, I would be overwhelmed by the evidence, by all the lines connecting you to me, and us to love. — David Levithan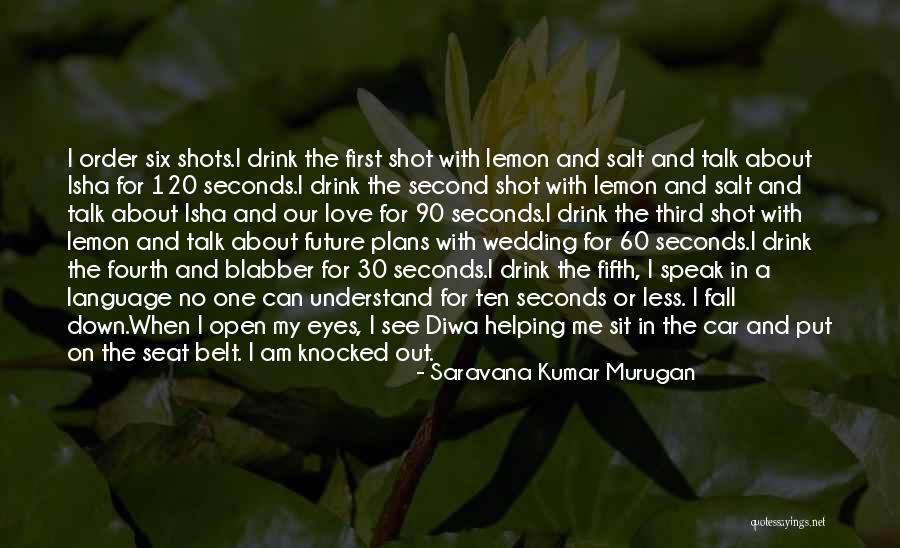 I order six shots.
I drink the first shot with lemon and salt and talk about Isha for 120 seconds.
I drink the second shot with lemon and salt and talk about Isha and our love for 90 seconds.
I drink the third shot with lemon and talk about future plans with wedding for 60 seconds.
I drink the fourth and blabber for 30 seconds.
I drink the fifth, I speak in a language no one can understand for ten seconds or less. I fall down.
When I open my eyes, I see Diwa helping me sit in the car and put on the seat belt. I am knocked out. — Saravana Kumar Murugan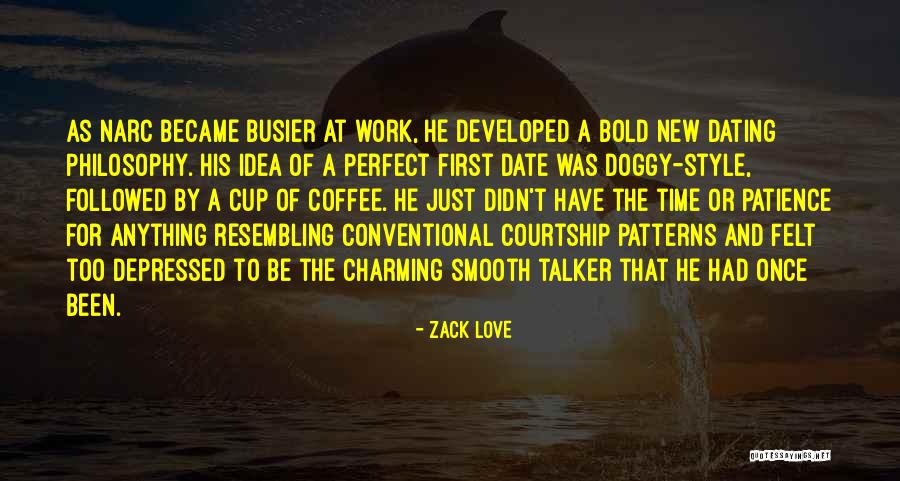 As Narc became busier at work, he developed a bold new dating philosophy. His idea of a perfect first date was doggy-style, followed by a cup of coffee. He just didn't have the time or patience for anything resembling conventional courtship patterns and felt too depressed to be the charming smooth talker that he had once been. — Zack Love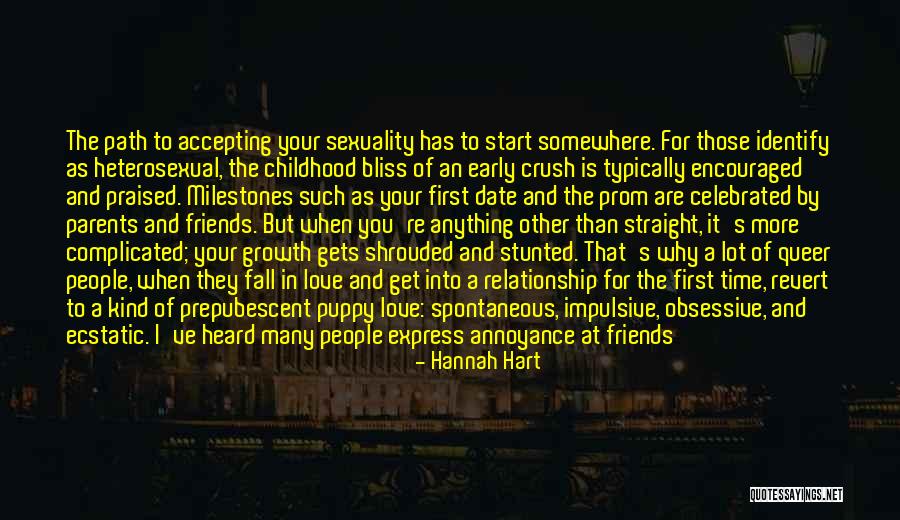 The path to accepting your sexuality has to start somewhere. For those identify as heterosexual, the childhood bliss of an early crush is typically encouraged and praised. Milestones such as your first date and the prom are celebrated by parents and friends.
But when you're anything other than straight, it's more complicated; your growth gets shrouded and stunted. That's why a lot of queer people, when they fall in love and get into a relationship for the first time, revert to a kind of prepubescent puppy love: spontaneous, impulsive, obsessive, and ecstatic. I've heard many people express annoyance at friends who "just came out and it's totally cool and whatever, but do they have to talk about it all the time?" My answer to that is "Yes. Yes, they do. Don't you remember puppy love? Well, imagine if you had to hide it for twenty years. So yeah, if they wanna gush about it, let them gush. There's a first time for everything. — Hannah Hart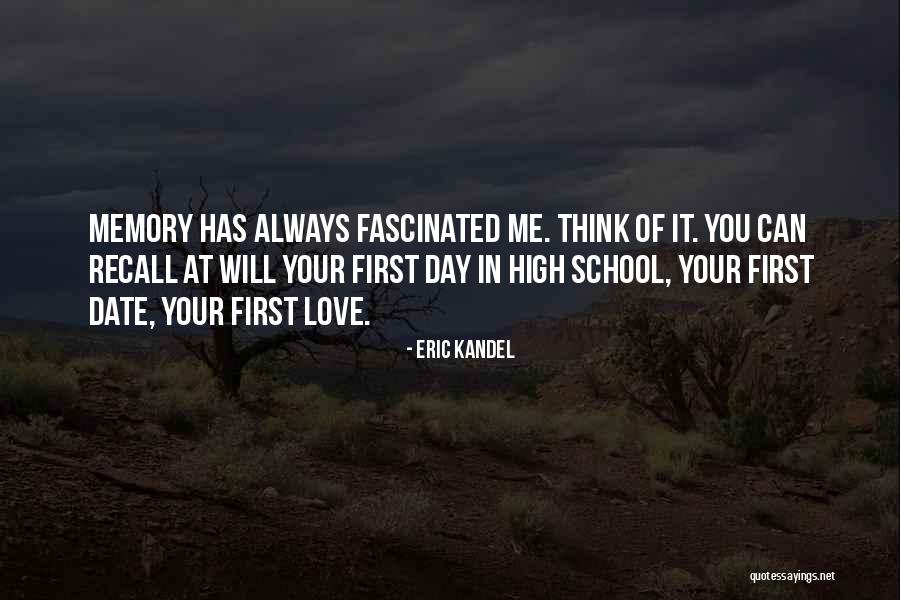 Memory has always fascinated me. Think of it. You can recall at will your first day in high school, your first date, your first love. — Eric Kandel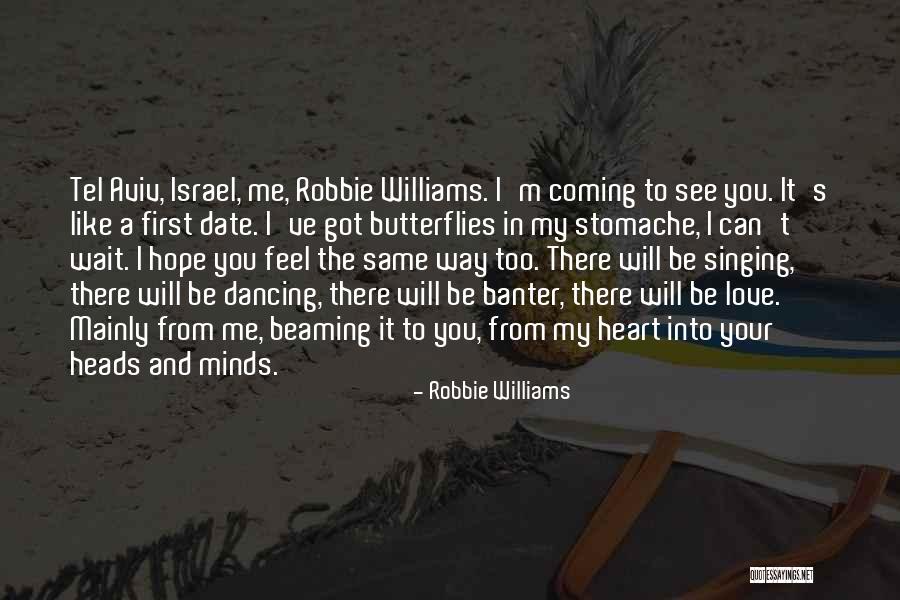 Tel Aviv, Israel, me, Robbie Williams. I'm coming to see you. It's like a first date. I've got butterflies in my stomache, I can't wait. I hope you feel the same way too. There will be singing, there will be dancing, there will be banter, there will be love. Mainly from me, beaming it to you, from my heart into your heads and minds. — Robbie Williams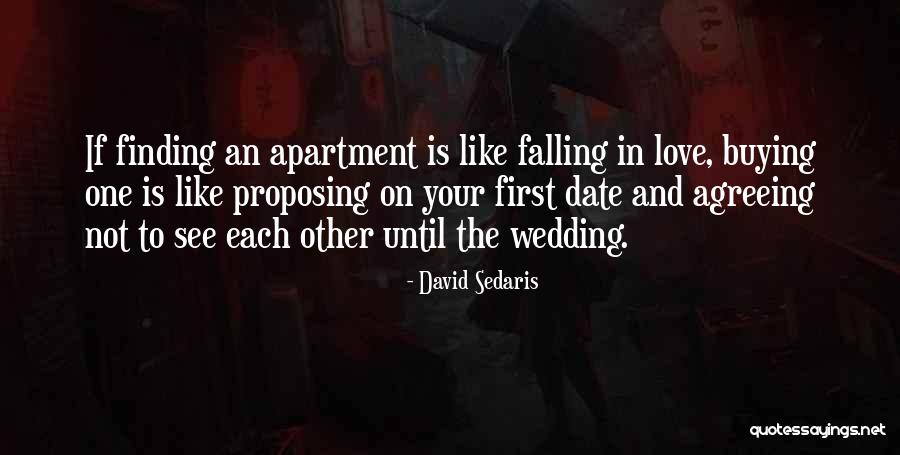 If finding an apartment is like falling in love, buying one is like proposing on your first date and agreeing not to see each other until the wedding. — David Sedaris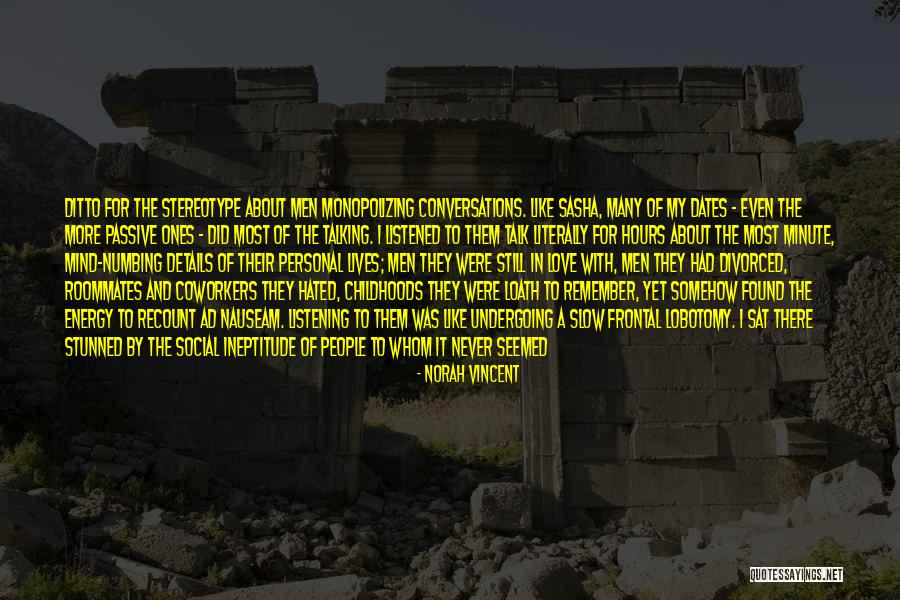 Ditto for the stereotype about men monopolizing conversations. Like Sasha, many of my dates - even the more passive ones - did most of the talking. I listened to them talk literally for hours about the most minute, mind-numbing details of their personal lives; men they were still in love with, men they had divorced, roommates and coworkers they hated, childhoods they were loath to remember, yet somehow found the energy to recount ad nauseam. Listening to them was like undergoing a slow frontal lobotomy. I sat there stunned by the social ineptitude of people to whom it never seemed to occur that no one, much less a first date, would have any interest in enduring this ordeal. — Norah Vincent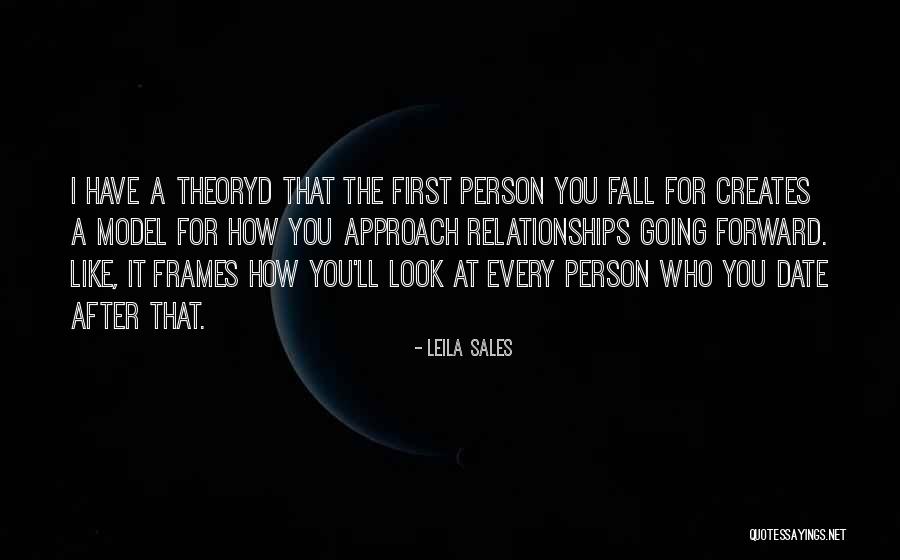 I have a theoryd that the first person you fall for creates a model for how you approach relationships going forward. Like, it frames how you'll look at every person who you date after that. — Leila Sales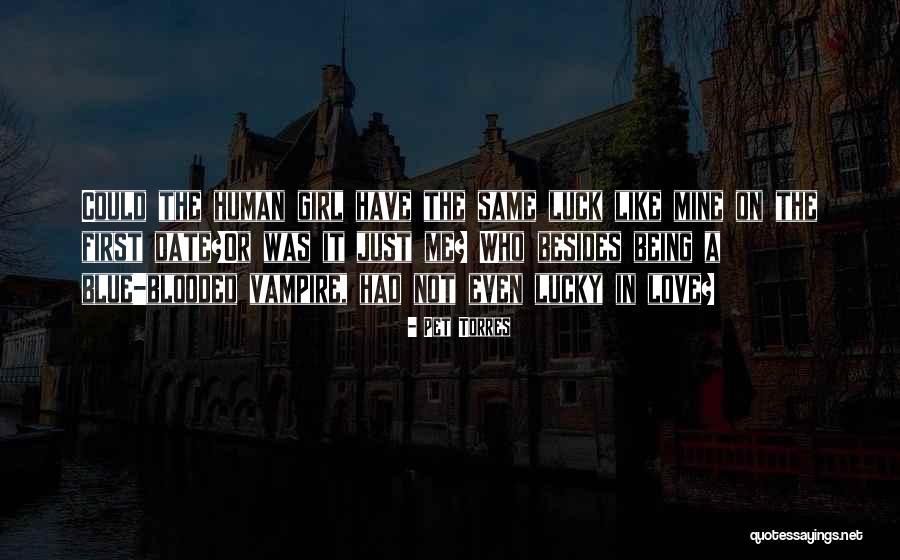 Could the human girl have the same luck like mine on the first date?
Or was it just me? Who besides being a blue-blooded vampire, had not even lucky in love? — Pet Torres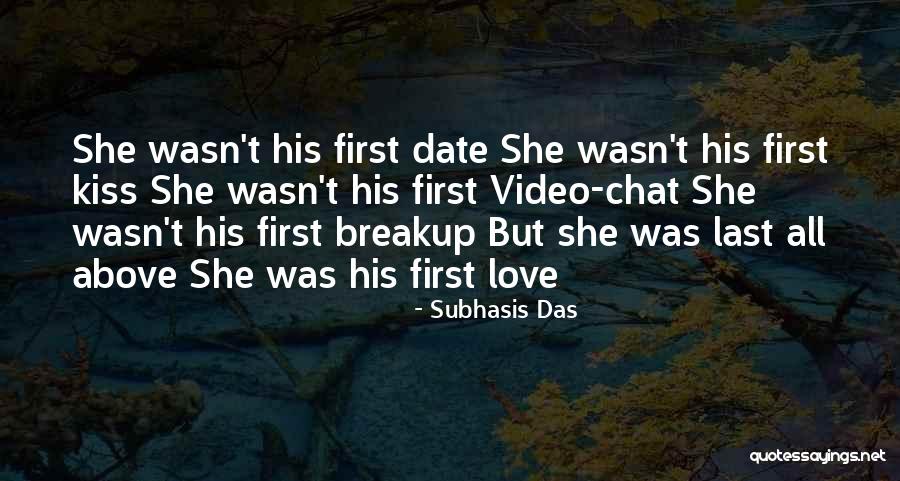 She wasn't his first date
She wasn't his first kiss
She wasn't his first Video-chat
She wasn't his first breakup
But she was last all above
She was his first love — Subhasis Das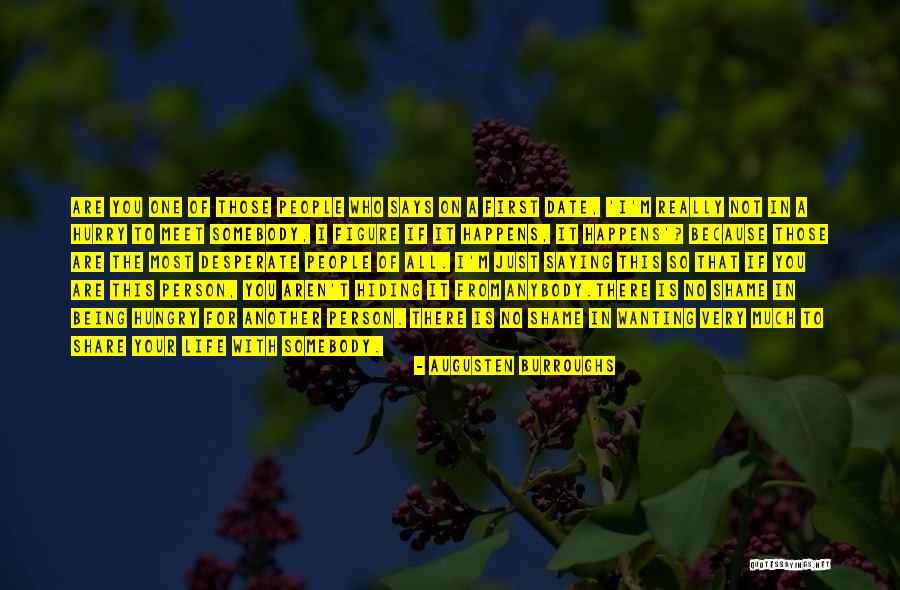 Are you one of those people who says on a first date, 'I'm really not in a hurry to meet somebody, I figure if it happens, it happens'? Because those are the most desperate people of all. I'm just saying this so that if you are this person, you aren't hiding it from anybody.
There is no shame in being hungry for another person. There is no shame in wanting very much to share your life with somebody. — Augusten Burroughs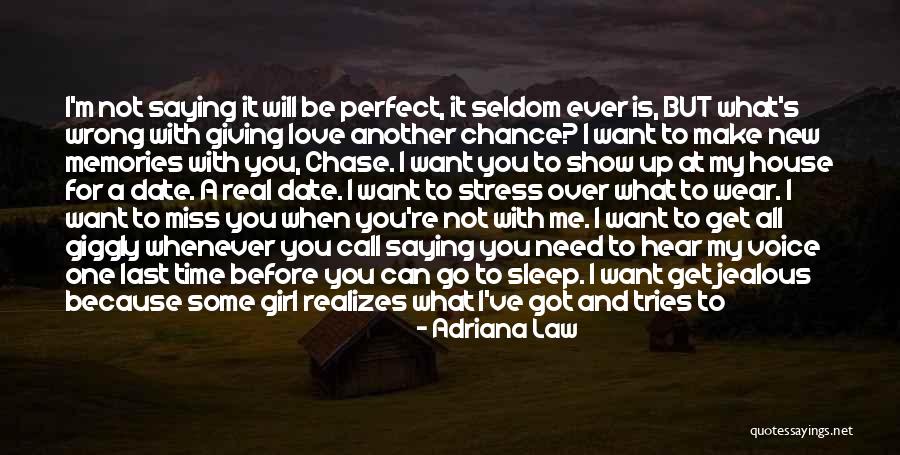 I'm not saying it will be perfect, it seldom ever is, BUT what's wrong with giving love another chance? I want to make new memories with you, Chase. I want you to show up at my house for a date. A real date. I want to stress over what to wear. I want to miss you when you're not with me. I want to get all giggly whenever you call saying you need to hear my voice one last time before you can go to sleep. I want get jealous because some girl realizes what I've got and tries to convince you ... you can do better. I want to smile when you tell her that she doesn't have a chance ... . -Chasing Memories — Adriana Law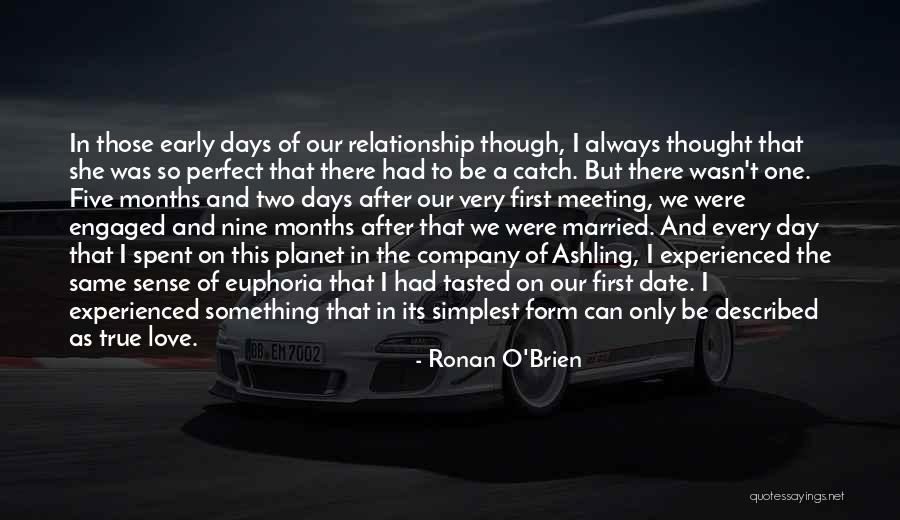 In those early days of our relationship though, I always thought that she was so perfect that there had to be a catch. But there wasn't one. Five months and two days after our very first meeting, we were engaged and nine months after that we were married. And every day that I spent on this planet in the company of Ashling, I experienced the same sense of euphoria that I had tasted on our first date. I experienced something that in its simplest form can only be described as true love. — Ronan O'Brien
Theo and Sugar dated, just like normal people only slower.
He bought her heart-shaped boxes of candy and living plants for her rooftop and sent her cards, one every day by U.S. mail, each with a handwritten message.
'Can't wait to see you tonight,' the first one said.
'I love your laugh,' read the second.
'Sorry for spilling ketchup on your dress,' came the third.
She made him pork chops with honey mustard sauce and her favorite date-and-honey nut loaf and a fetching gingham jacket for Princess, who ate it the moment they turned their back on him. — Sarah-Kate Lynch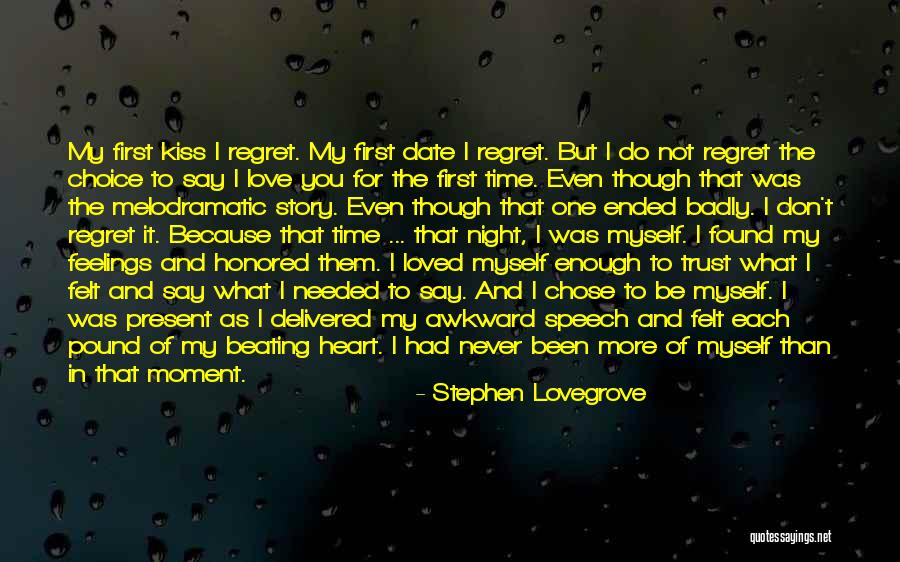 My first kiss I regret. My first date I regret. But I do not regret the choice to say I love you for the first time. Even though that was the melodramatic story. Even though that one ended badly. I don't regret it.

Because that time ... that night, I was myself. I found my feelings and honored them. I loved myself enough to trust what I felt and say what I needed to say. And I chose to be myself. I was present as I delivered my awkward speech and felt each pound of my beating heart. I had never been more of myself than in that moment. — Stephen Lovegrove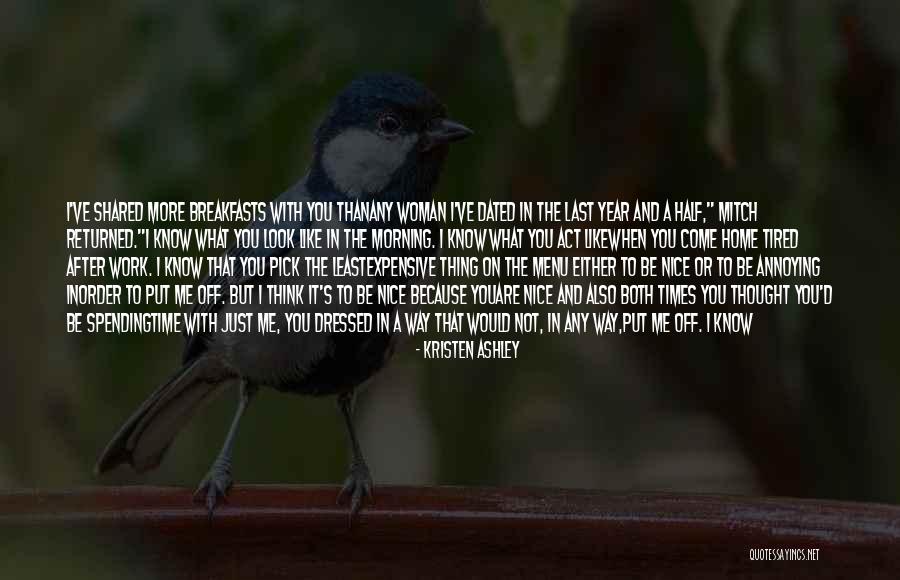 I've shared more breakfasts with you than
any woman I've dated in the last year and a half," Mitch returned.
"I know what you look like in the morning. I know what you act like
when you come home tired after work. I know that you pick the least
expensive thing on the menu either to be nice or to be annoying in
order to put me off. But I think it's to be nice because you
are nice and also both times you thought you'd be spending
time with just me, you dressed in a way that would not, in any way,
put me off. I know you cuddle when you're sleeping. I know you take
only milk in your coffee and you make coffee strong. I know you're
really good with kids. And I know that you use music and scents to
regulate your mood. So I'm thinking this is not a first date. This
is more like us hittin' the six month mark. And the six month mark
is when you stop talkin' about shit that really doesn't matter and
start talkin' about shit that means everything. — Kristen Ashley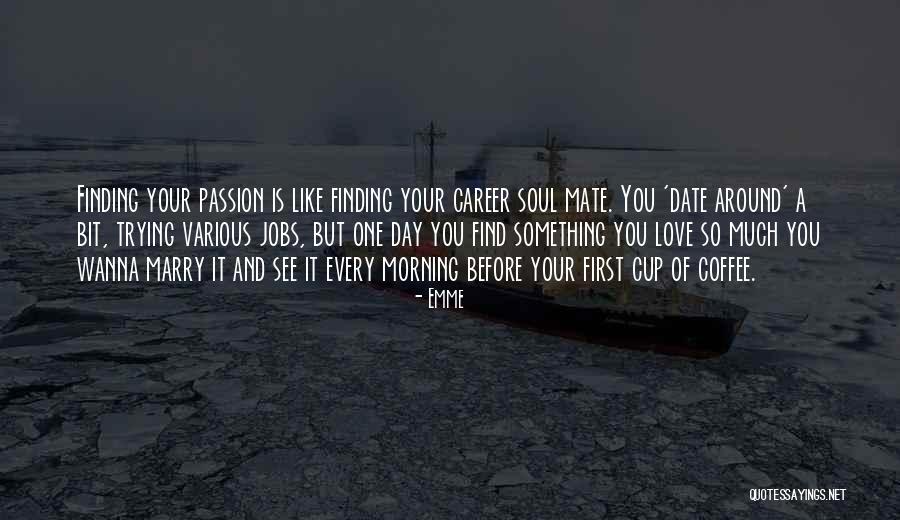 Finding your passion is like finding your career soul mate. You 'date around' a bit, trying various jobs, but one day you find something you love so much you wanna marry it and see it every morning before your first cup of coffee. — Emme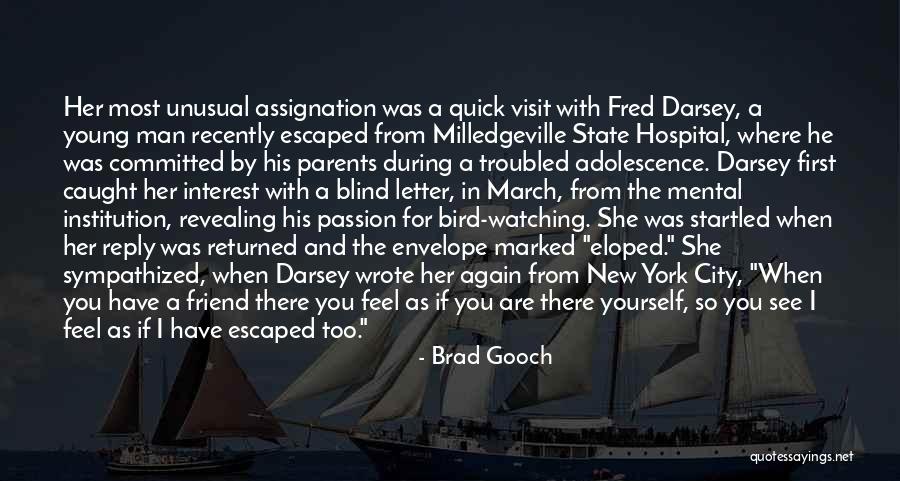 Her most unusual assignation was a quick visit with Fred Darsey, a young man recently escaped from Milledgeville State Hospital, where he was committed by his parents during a troubled adolescence. Darsey first caught her interest with a blind letter, in March, from the mental institution, revealing his passion for bird-watching. She was startled when her reply was returned and the envelope marked "eloped." She sympathized, when Darsey wrote her again from New York City, "When you have a friend there you feel as if you are there yourself, so you see I feel as if I have escaped too." Carver helped arrange the date, which Flannery kept secret from Regina, in Bryant Park, at the rear of the New York Public Library, with the pen pal she had never met. "I just love to sit and look at the people in New York, or anywhere," she told him, "even in Milledgeville." Flannery wound up her trip north spending the — Brad Gooch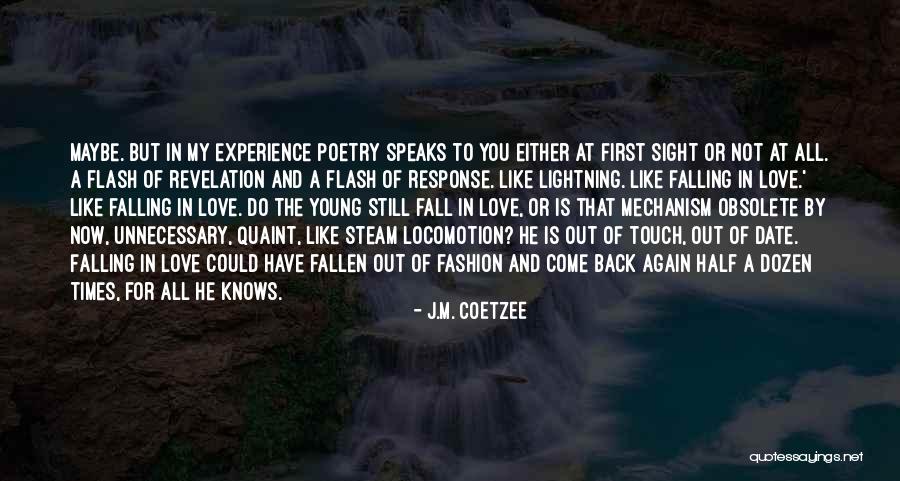 Maybe. But in my experience poetry speaks to you either at first sight or not at all. A flash of revelation and a flash of response. Like lightning. Like falling in love.' Like falling in love. Do the young still fall in love, or is that mechanism obsolete by now, unnecessary, quaint, like steam locomotion? He is out of touch, out of date. Falling in love could have fallen out of fashion and come back again half a dozen times, for all he knows. — J.M. Coetzee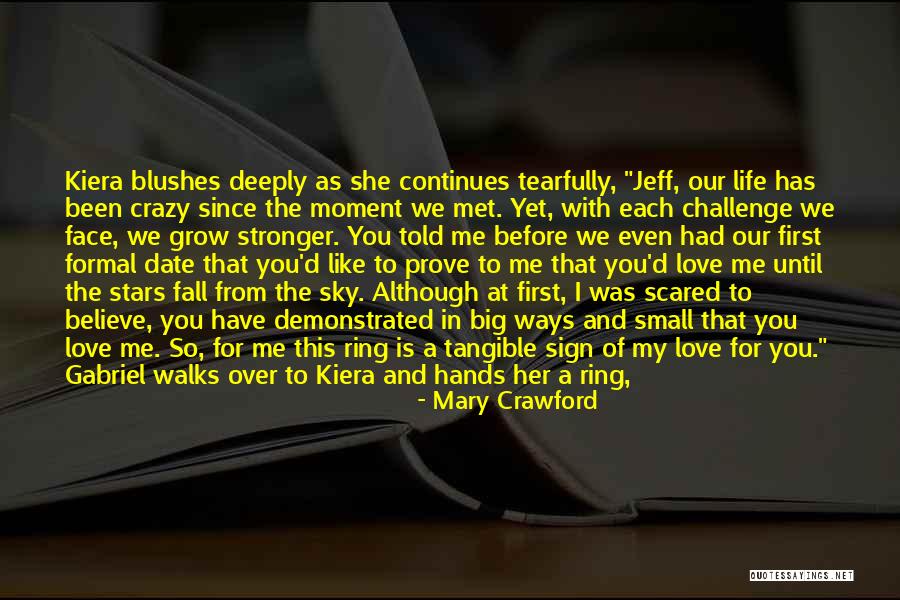 Kiera blushes deeply as she continues tearfully, "Jeff, our life has been crazy since the moment we met. Yet, with each challenge we face, we grow stronger. You told me before we even had our first formal date that you'd like to prove to me that you'd love me until the stars fall from the sky. Although at first, I was scared to believe, you have demonstrated in big ways and small that you love me. So, for me this ring is a tangible sign of my love for you."
Gabriel walks over to Kiera and hands her a ring, which she slides on my finger as she asks, "Jeffery Charles Whitaker, will you take this ring as a symbol of my love and faithfulness until the stars fall from the sky?"
To my shock, it is the simple gold band that I've seen my dad wear in countless pictures before he died. My eyes tear up as I breathe, "Oh Pip, this is perfect. I wanted him to be here." In a much louder voice, I reply, "Of course I will. — Mary Crawford
What to go out with me tonight after work, Vaughan?"
... "You asking me out on a date, Lydia?"
"Yes," I said. "I am."
"Babe, I'd love to." His hand rose to the back of my neck, stroking, drawing me closer. Hot damn, did he have the moves. The man turned my mind to mush.
"Something you need to know," he said. "Before tonight."
"What's that?"
"I put out on the first date," he told me with a perfectly straight face. "That okay with you?"
"Oh, I'm counting on it" ... "I mean ... it would have been so awkward if you expected me to respect you for your mind or something. Yikes, how embarrassing. Between you and me, I'm really only interested in getting into your pants."
The corner of his mouth twitched.
"I'm sure you're a nice guy and all, but, priorities, you know?"
"I know." The man's smile would have made a nun think twice. I never stood a chance. — Kylie Scott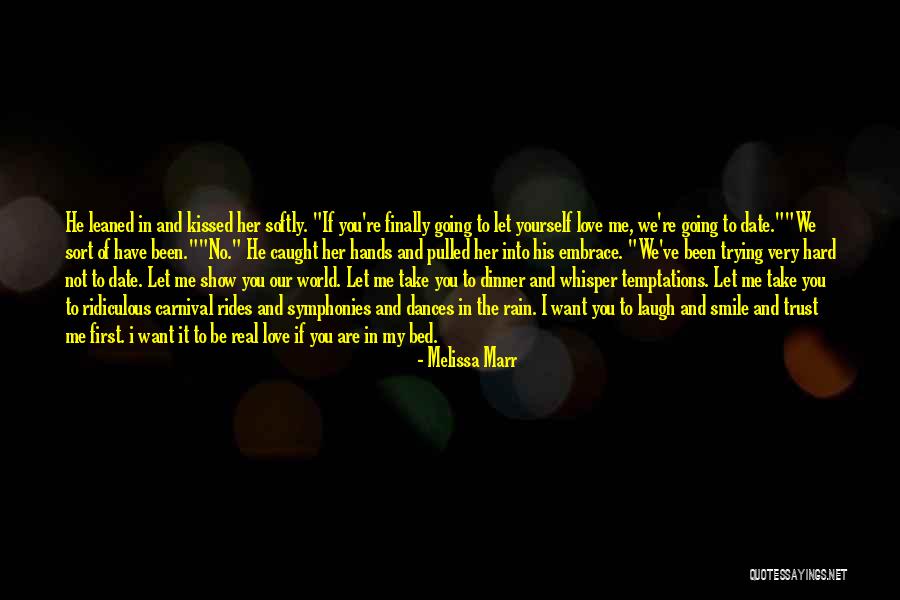 He leaned in and kissed her softly. "If you're finally going to let yourself love me, we're going to date."
"We sort of have been."
"No." He caught her hands and pulled her into his embrace. "We've been trying very hard not to date. Let me show you our world. Let me take you to dinner and whisper temptations. Let me take you to ridiculous carnival rides and symphonies and dances in the rain. I want you to laugh and smile and trust me first. i want it to be real love if you are in my bed. — Melissa Marr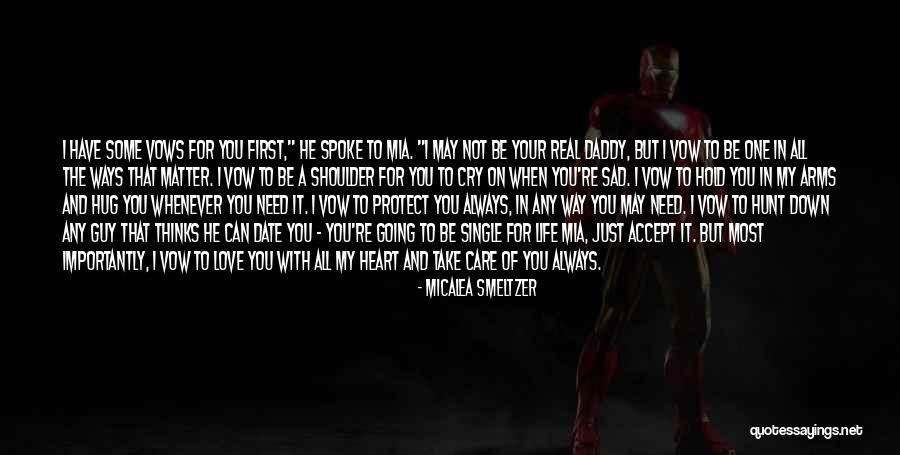 I have some vows for you first," he spoke to Mia. "I may not be your real daddy, but I vow to be one in all the ways that matter. I vow to be a shoulder for you to cry on when you're sad. I vow to hold you in my arms and hug you whenever you need it. I vow to protect you always, in any way you may need. I vow to hunt down any guy that thinks he can date you - you're going to be single for life Mia, just accept it. But most importantly, I vow to love you with all my heart and take care of you always. — Micalea Smeltzer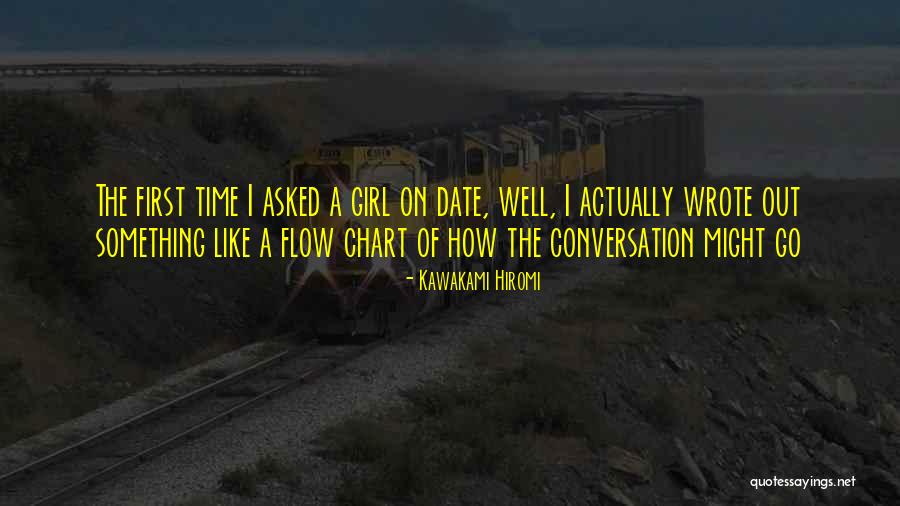 The first time I asked a girl on date, well, I actually wrote out something like a flow chart of how the conversation might go — Kawakami Hiromi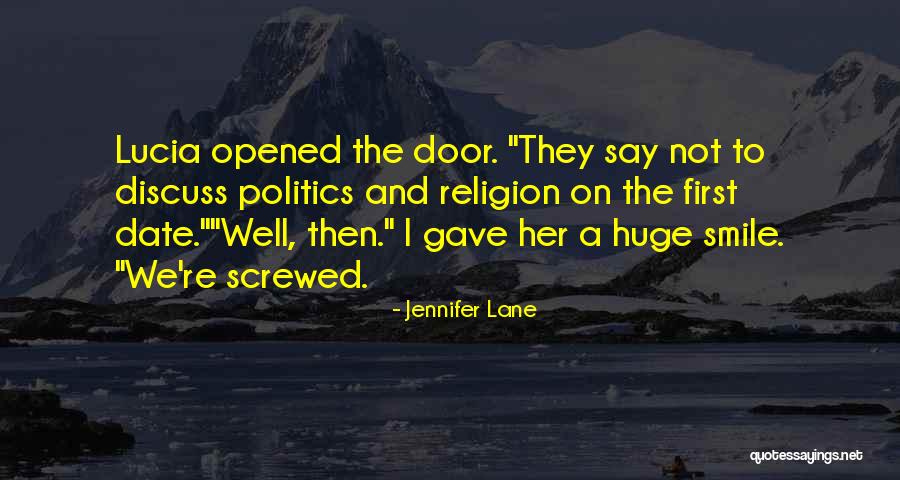 Lucia opened the door. "They say not to discuss politics and religion on the first date."
"Well, then." I gave her a huge smile. "We're screwed. — Jennifer Lane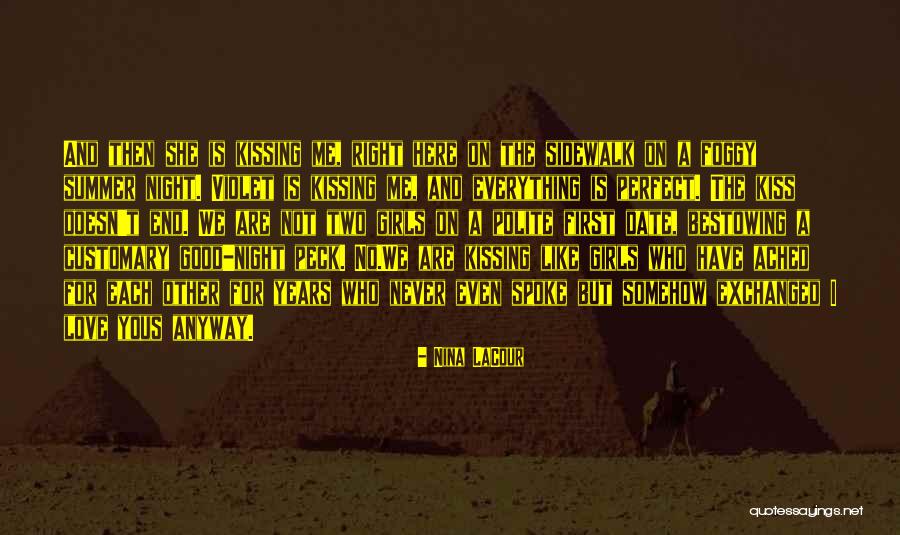 And then she is kissing me, right here on the sidewalk on a foggy summer night. Violet is kissing me, and everything is perfect. The kiss doesn't end. We are not two girls on a polite first date, bestowing a customary good-night peck.
No.
We are kissing like girls who have ached for each other for years who never even spoke but somehow exchanged I love yous anyway. — Nina LaCour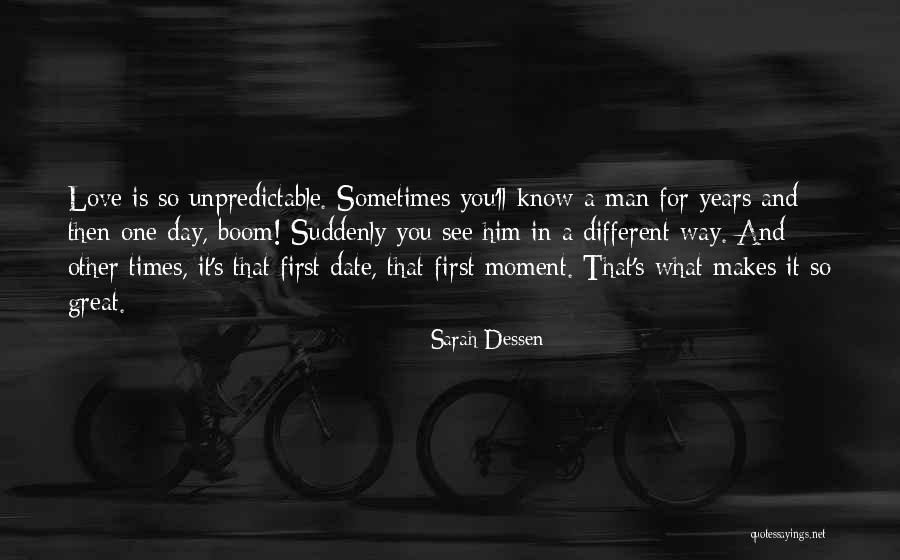 Love is so unpredictable. Sometimes you'll know a man for years and then one day, boom! Suddenly you see him in a different way. And other times, it's that first date, that first moment. That's what makes it so great. — Sarah Dessen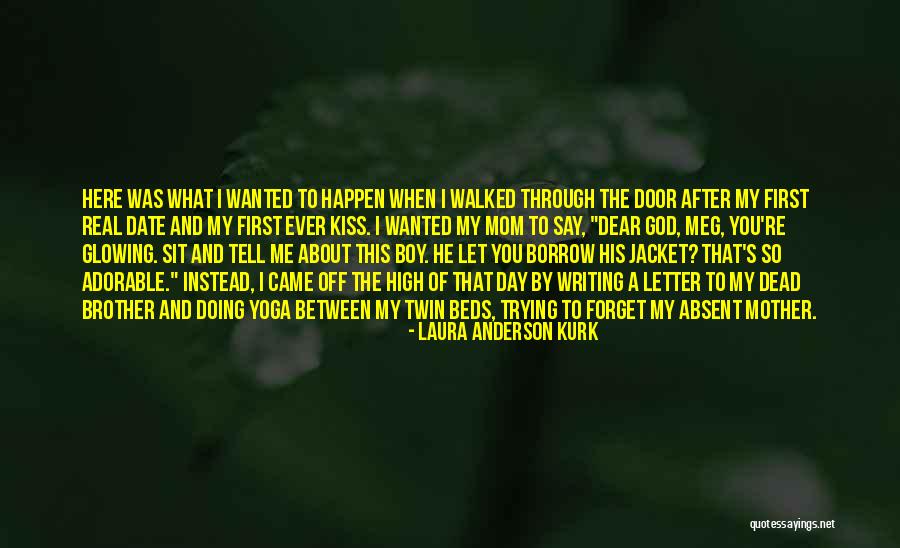 Here was what I wanted to happen when I walked through the door after my first real date and my first ever kiss. I wanted my mom to say, "Dear God, Meg, you're glowing. Sit and tell me about this boy. He let you borrow his jacket? That's so adorable." Instead, I came off the high of that day by writing a letter to my dead brother and doing yoga between my twin beds, trying to forget my absent mother. — Laura Anderson Kurk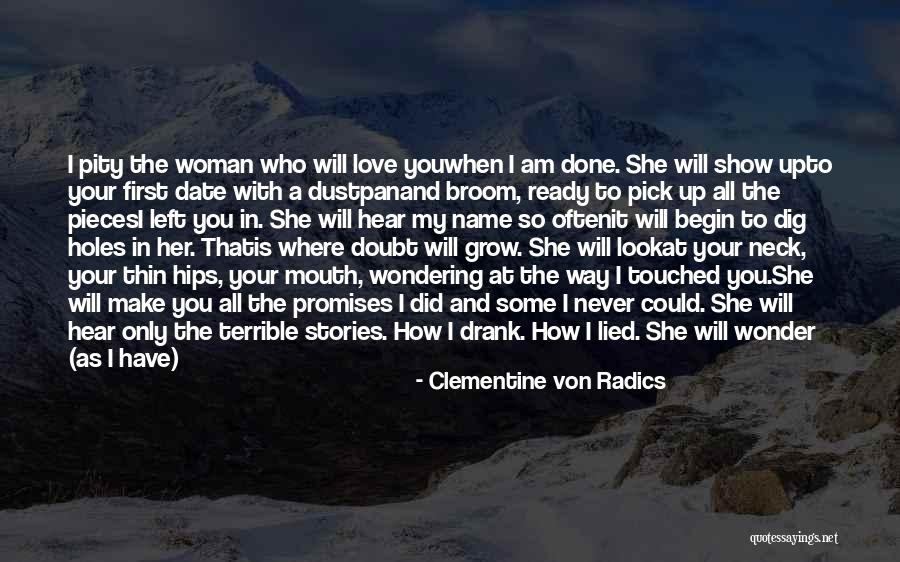 I pity the woman who will love you
when I am done. She will show up
to your first date with a dustpan
and broom, ready to pick up all the pieces
I left you in. She will hear my name so often
it will begin to dig holes in her. That
is where doubt will grow. She will look
at your neck, your thin hips, your mouth,
wondering at the way I touched you.
She will make you all the promises I did
and some I never could. She will hear only
the terrible stories. How I drank. How I lied.
She will wonder (as I have) how someone
as wonderful as you could love a monster
like the woman who came before her. Still,
she will compete with my ghost.
She will understand why you do not look
in the back of closets. Why you are afraid
of what's under the bed. She will know
every corner of you is haunted
by me. — Clementine Von Radics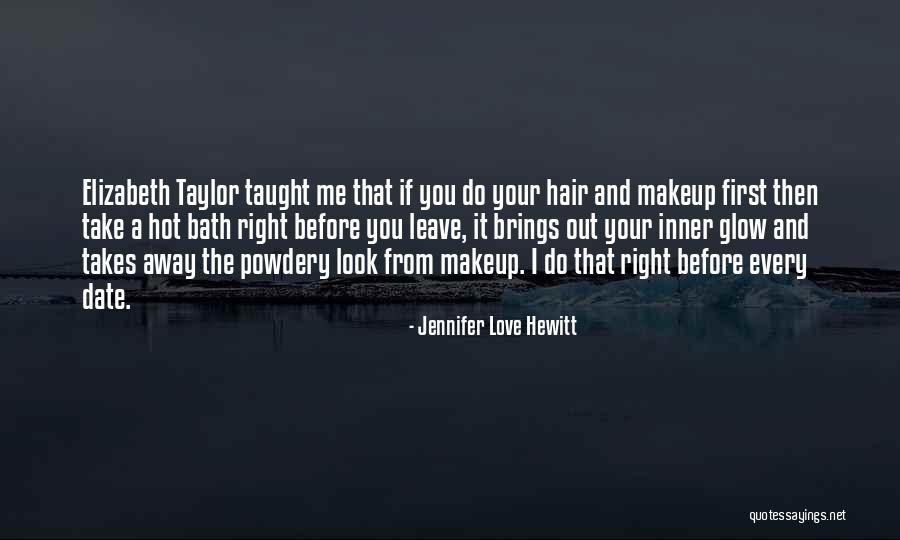 Elizabeth Taylor taught me that if you do your hair and makeup first then take a hot bath right before you leave, it brings out your inner glow and takes away the powdery look from makeup. I do that right before every date. — Jennifer Love Hewitt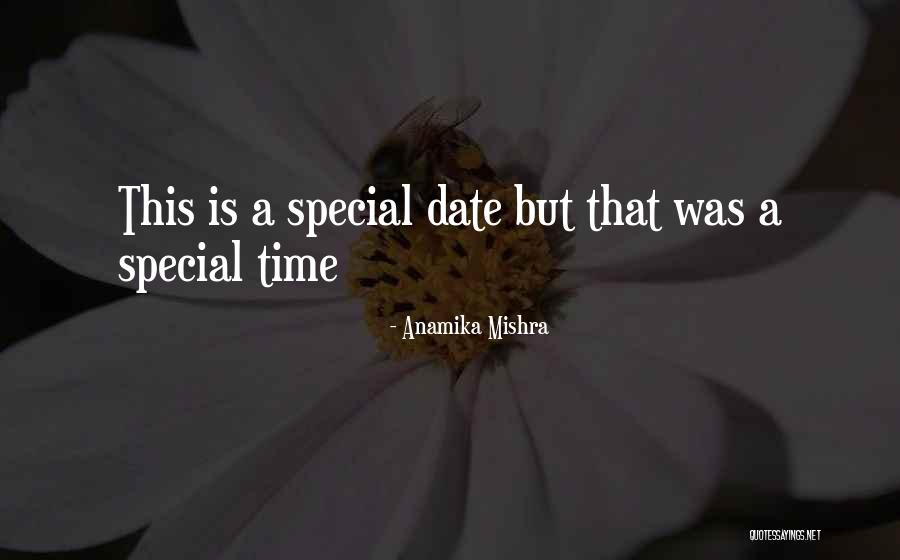 This is a special date but that was a special time — Anamika Mishra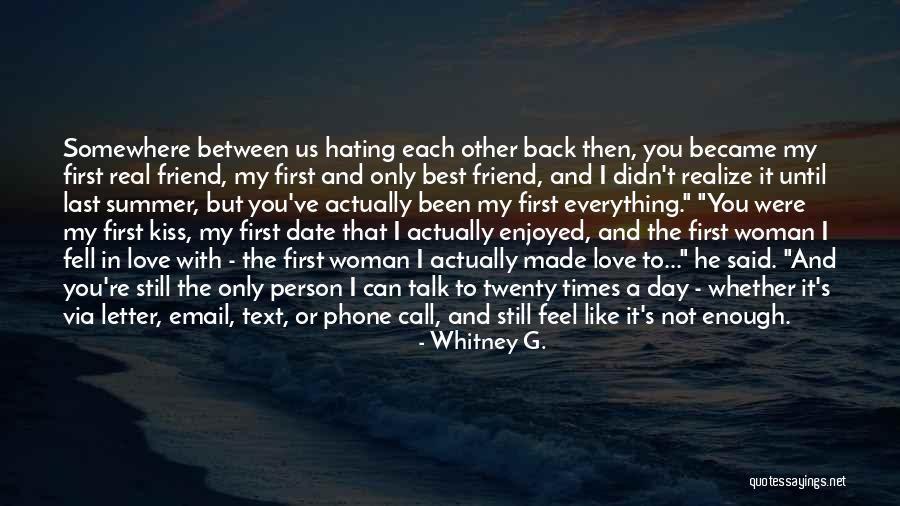 Somewhere between us hating each other back then, you became my first real friend, my first and only best friend, and I didn't realize it until last summer, but you've actually been my first everything." "You were my first kiss, my first date that I actually enjoyed, and the first woman I fell in love with - the first woman I actually made love to..." he said. "And you're still the only person I can talk to twenty times a day - whether it's via letter, email, text, or phone call, and still feel like it's not enough. — Whitney G.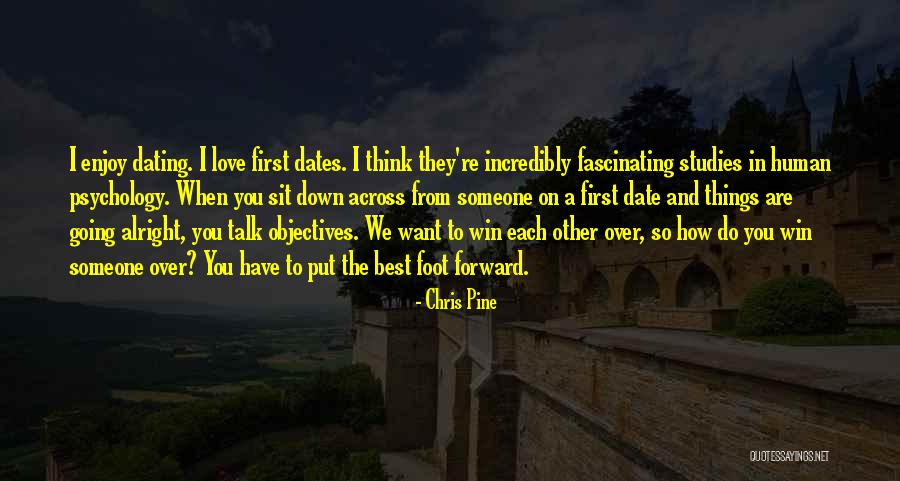 I enjoy dating. I love first dates. I think they're incredibly fascinating studies in human psychology. When you sit down across from someone on a first date and things are going alright, you talk objectives. We want to win each other over, so how do you win someone over? You have to put the best foot forward. — Chris Pine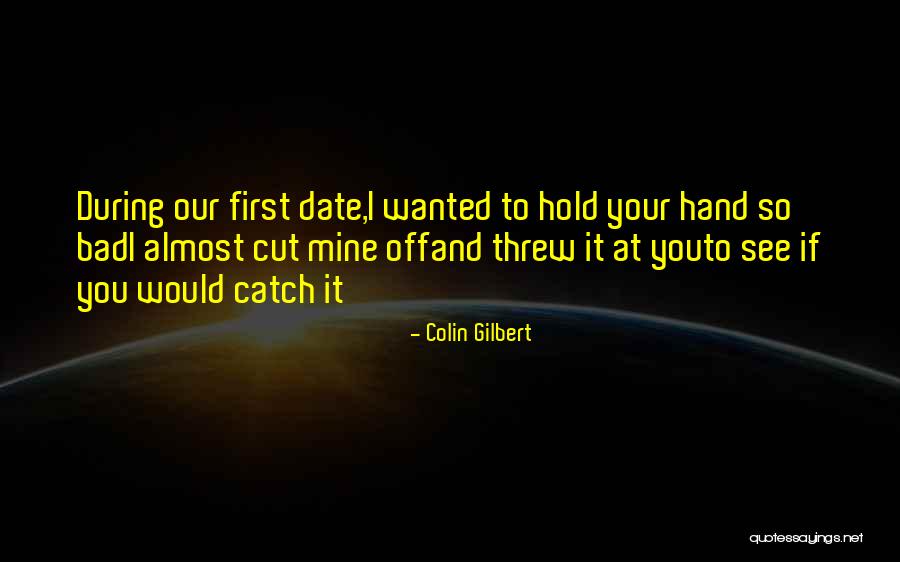 During our first date,
I wanted to hold your hand so bad
I almost cut mine off
and threw it at you
to see if you would catch it — Colin Gilbert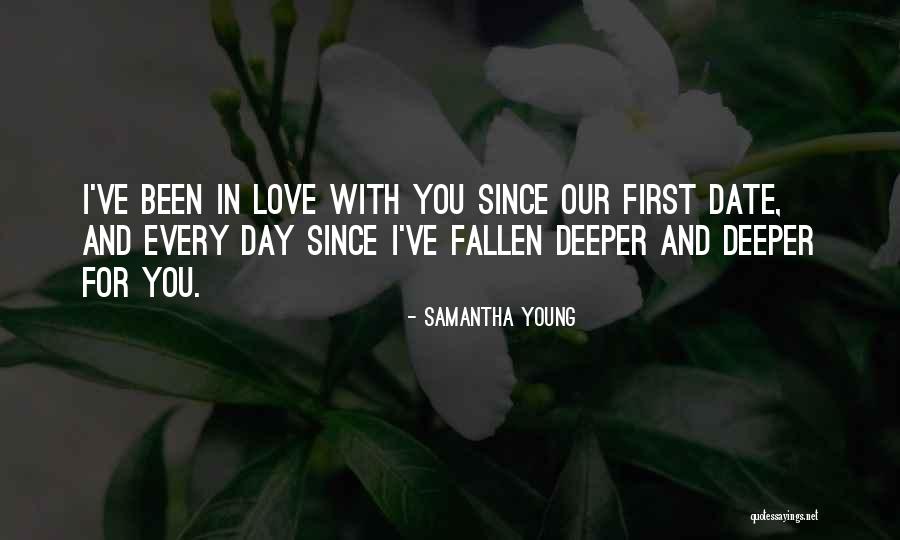 I've been in love with you since our first date, and every day since I've fallen deeper and deeper for you. — Samantha Young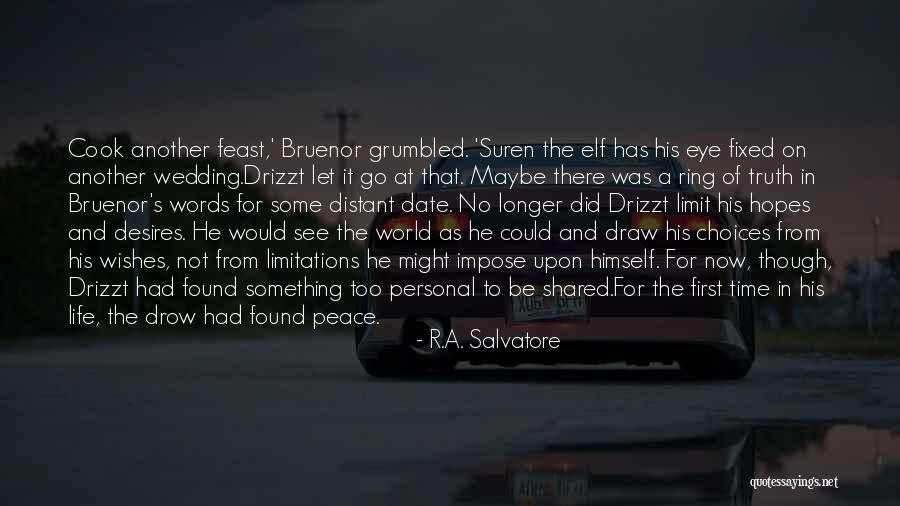 Cook another feast,' Bruenor grumbled. 'Suren the elf has his eye fixed on another wedding.
Drizzt let it go at that. Maybe there was a ring of truth in Bruenor's words for some distant date. No longer did Drizzt limit his hopes and desires. He would see the world as he could and draw his choices from his wishes, not from limitations he might impose upon himself. For now, though, Drizzt had found something too personal to be shared.
For the first time in his life, the drow had found peace. — R.A. Salvatore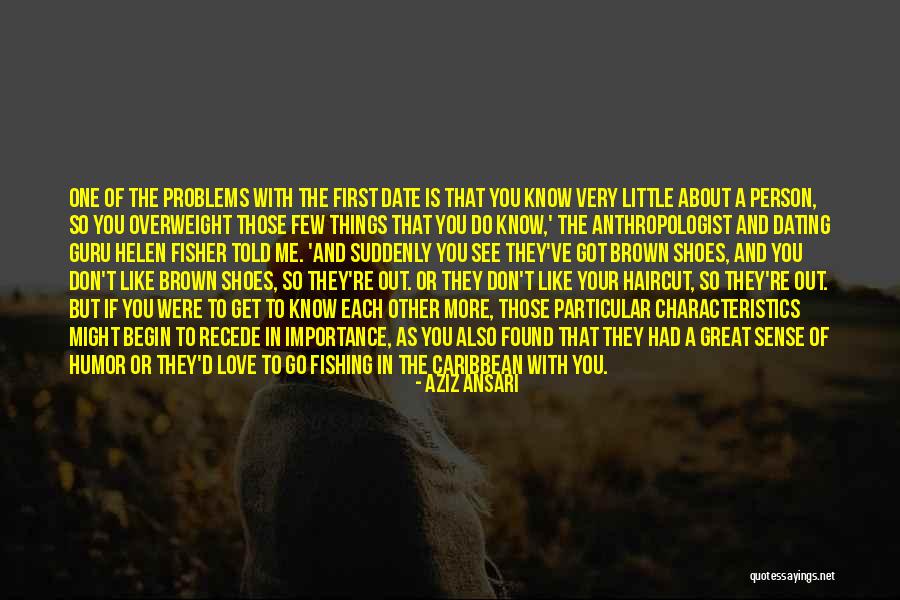 One of the problems with the first date is that you know very little about a person, so you overweight those few things that you do know,' the anthropologist and dating guru Helen Fisher told me. 'And suddenly you see they've got brown shoes, and you don't like brown shoes, so they're out. Or they don't like your haircut, so they're out. But if you were to get to know each other more, those particular characteristics might begin to recede in importance, as you also found that they had a great sense of humor or they'd love to go fishing in the Caribbean with you. — Aziz Ansari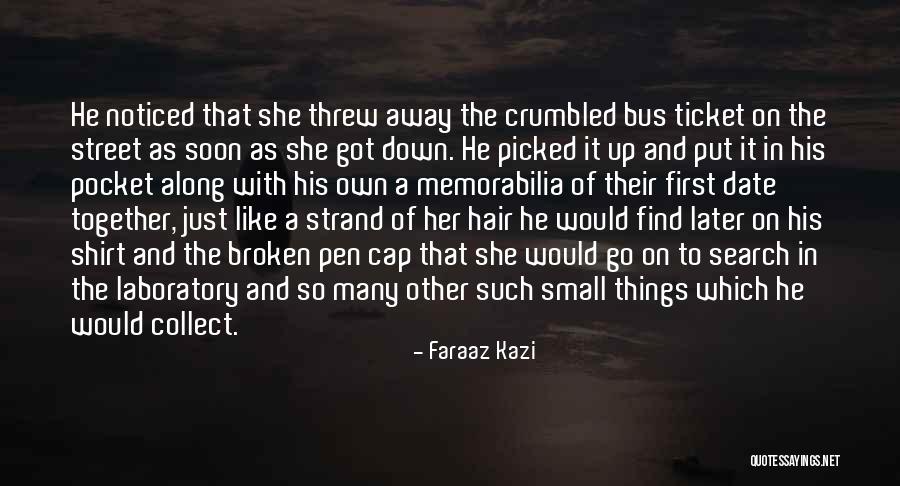 He noticed that she threw away the crumbled bus ticket on the street as soon as she got down. He picked it up and put it in his pocket along with his own a memorabilia of their first date together, just like a strand of her hair he would find later on his shirt and the broken pen cap that she would go on to search in the laboratory and so many other such small things which he would collect. — Faraaz Kazi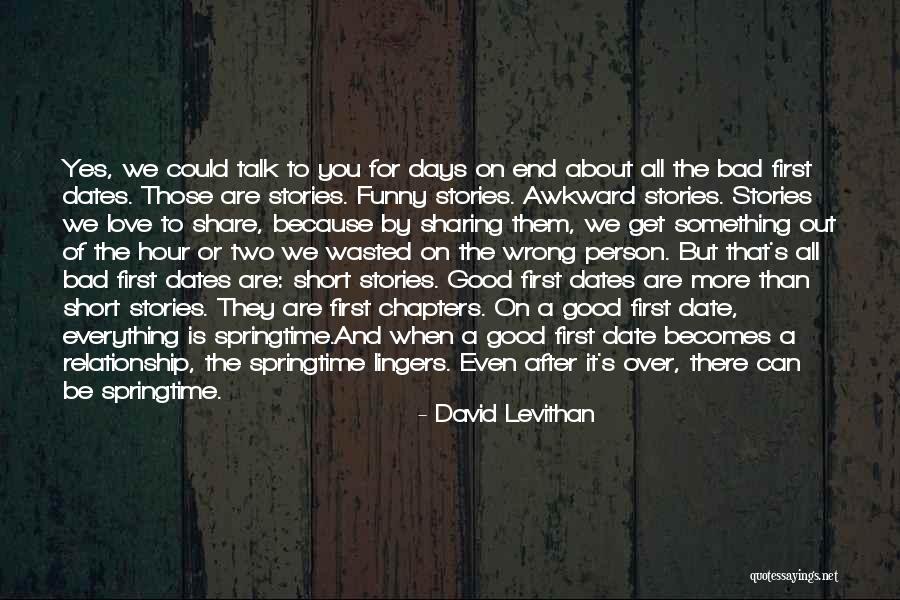 Yes, we could talk to you for days on end about all the bad first dates. Those are stories. Funny stories. Awkward stories. Stories we love to share, because by sharing them, we get something out of the hour or two we wasted on the wrong person. But that's all bad first dates are: short stories. Good first dates are more than short stories. They are first chapters. On a good first date, everything is springtime.
And when a good first date becomes a relationship, the springtime lingers. Even after it's over, there can be springtime. — David Levithan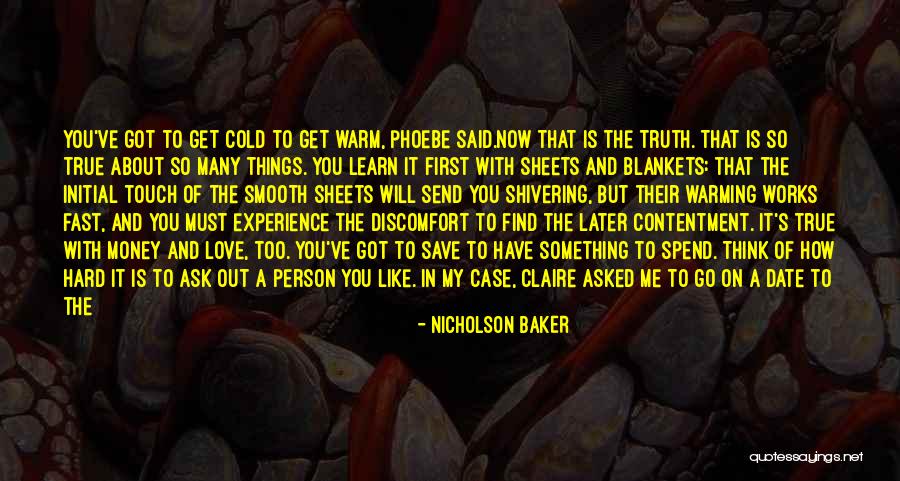 You've got to get cold to get warm, Phoebe said.
Now that is the truth. That is so true about so many things. You learn it first with sheets and blankets: that the initial touch of the smooth sheets will send you shivering, but their warming works fast, and you must experience the discomfort to find the later contentment. It's true with money and love, too. You've got to save to have something to spend. Think of how hard it is to ask out a person you like. In my case, Claire asked me to go on a date to the cash machine, so I didn't actually have to ask her. Still, her lips were cold, but her tongue was warm. — Nicholson Baker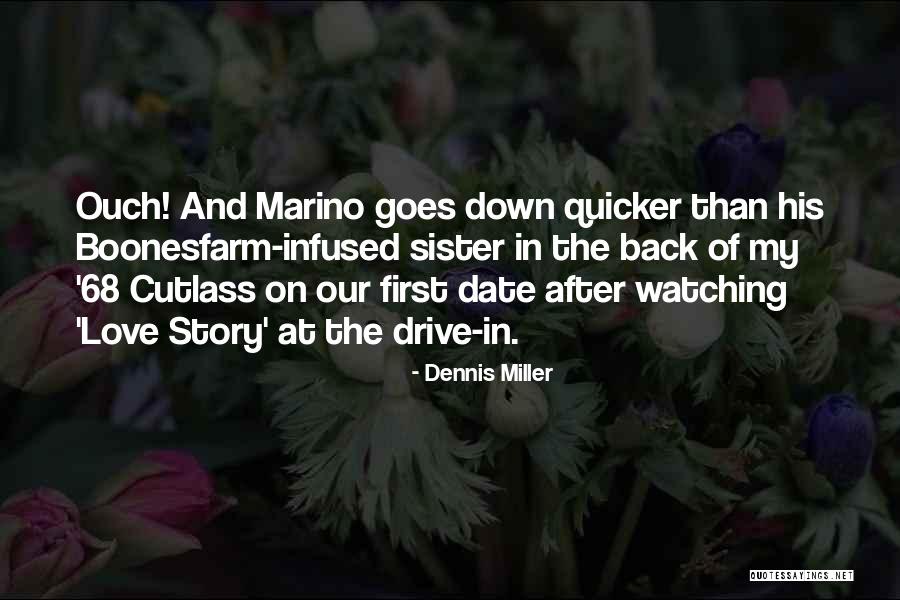 Ouch! And Marino goes down quicker than his Boonesfarm-infused sister in the back of my '68 Cutlass on our first date after watching 'Love Story' at the drive-in. — Dennis Miller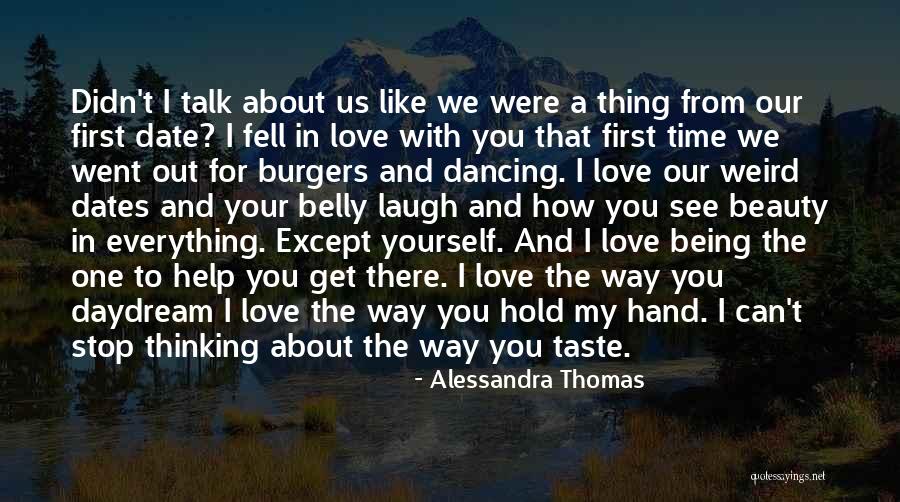 Didn't I talk about us like we were a thing from our first date? I fell in love with you that first time we went out for burgers and dancing. I love our weird dates and your belly laugh and how you see beauty in everything. Except yourself. And I love being the one to help you get there. I love the way you daydream I love the way you hold my hand. I can't stop thinking about the way you taste. — Alessandra Thomas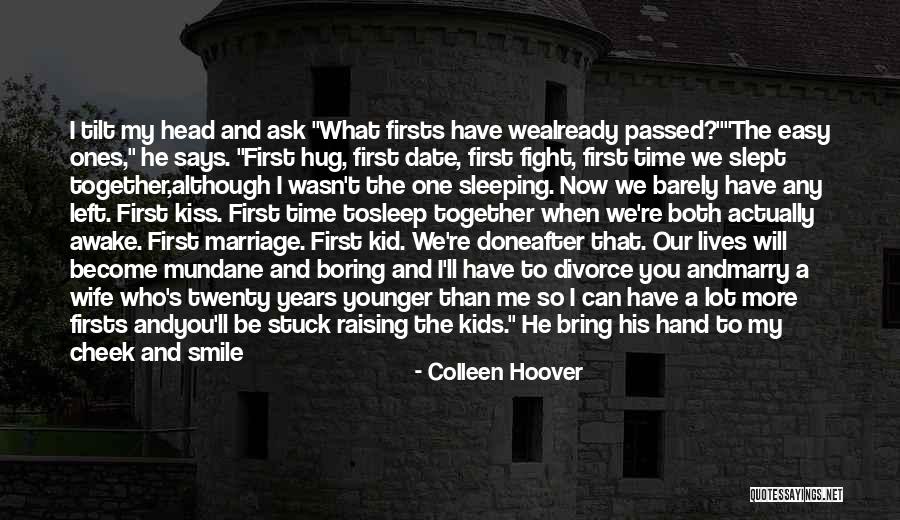 I tilt my head and ask "What firsts have we
already passed?"
"The easy ones," he says. "First hug, first date, first fight, first time we slept together,
although I wasn't the one sleeping. Now we barely have any left. First kiss. First time to
sleep together when we're both actually awake. First marriage. First kid. We're done
after that. Our lives will become mundane and boring and I'll have to divorce you and
marry a wife who's twenty years younger than me so I can have a lot more firsts and
you'll be stuck raising the kids." He bring his hand to my cheek and smile at me. "So you
see, babe? I'm only doing this for your benefit. The longer I wait to kiss you, the longer
it'll be before I'm forced to leave you high and dry. — Colleen Hoover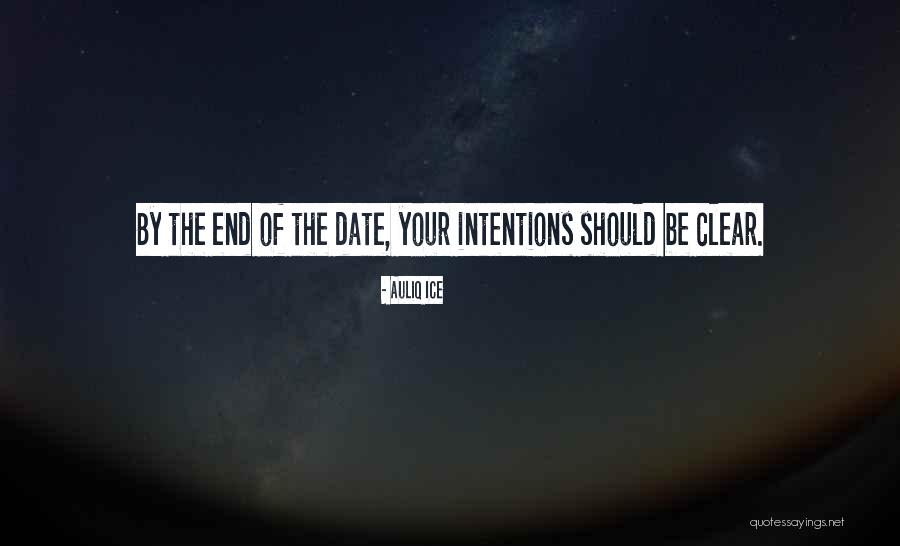 By the end of the date, your intentions should be clear. — Auliq Ice