Quotes & Sayings About Finding Your True Friends
Enjoy reading and share 6 famous quotes about Finding Your True Friends with everyone.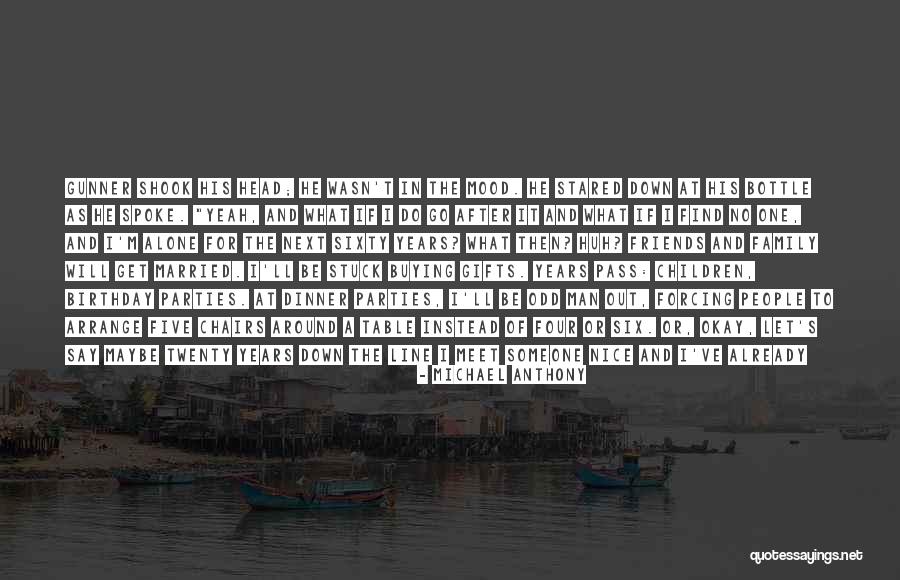 Gunner shook his head; he wasn't in the mood. He stared down at his bottle as he spoke. "Yeah, and what if I do go after it and what if I find no one, and I'm alone for the next sixty years? What then? Huh? Friends and family will get married. I'll be stuck buying gifts. Years pass: children, birthday parties. At dinner parties, I'll be odd man out, forcing people to arrange five chairs around a table instead of four or six. Or, okay, let's say maybe twenty years down the line I meet someone nice and I've already given up on ever finding true love. Let's say the girl is a few pounds overweight, has fizzy hair and an annoying laugh, but at this point, I'm also a few pounds overweight and my hair is thinning and my laughter is annoying. Maybe then the two of us get married, and both our groups of friends will say, 'See I told you that you'd find true love. It just took a while.' And we'll smile, but we'll both know it's a lie-- — Michael Anthony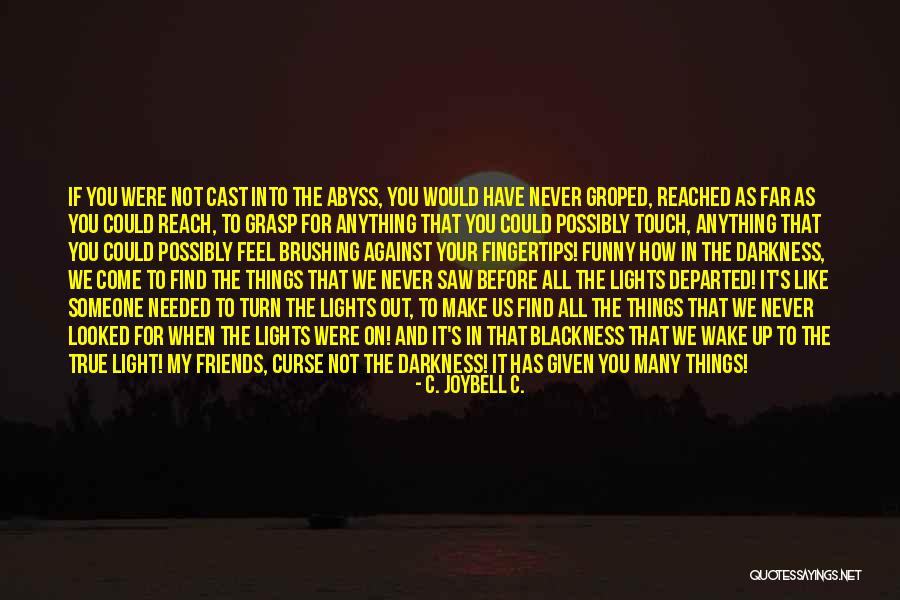 If you were not cast into the abyss, you would have never groped, reached as far as you could reach, to grasp for anything that you could possibly touch, anything that you could possibly feel brushing against your fingertips! Funny how in the darkness, we come to find the things that we never saw before all the lights departed! It's like someone needed to turn the lights out, to make us find all the things that we never looked for when the lights were on! And it's in that blackness that we wake up to the true light! My friends, curse not the darkness! It has given you many things! — C. JoyBell C.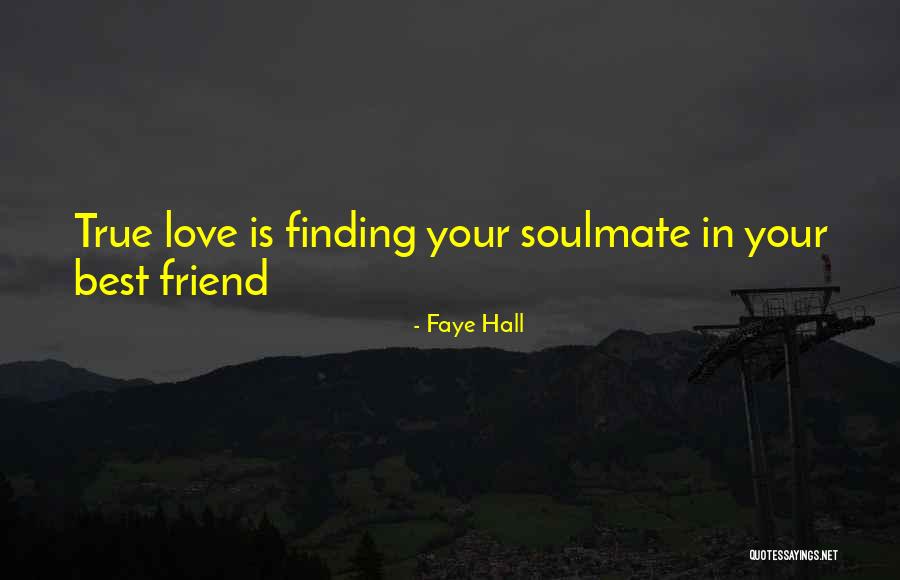 True love is finding your soulmate in your best friend — Faye Hall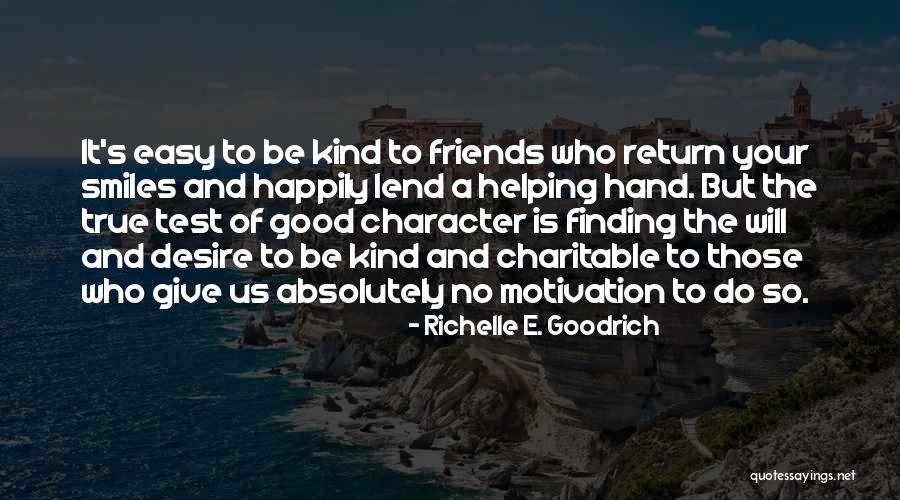 It's easy to be kind to friends who return your smiles and happily lend a helping hand. But the true test of good character is finding the will and desire to be kind and charitable to those who give us absolutely no motivation to do so. — Richelle E. Goodrich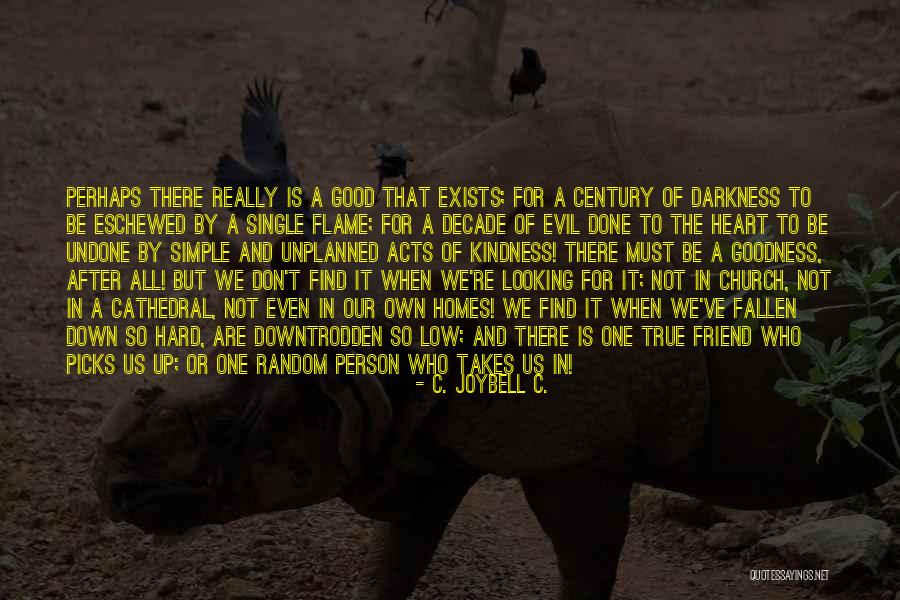 Perhaps there really is a good that exists; for a century of darkness to be eschewed by a single flame; for a decade of evil done to the heart to be undone by simple and unplanned acts of kindness! There must be a goodness, after all! But we don't find it when we're looking for it; not in church, not in a cathedral, not even in our own homes! We find it when we've fallen down so hard, are downtrodden so low; and there is one true friend who picks us up; or one random person who takes us in! And we realize goodness was never in the places we thought it was! It was all along in the most humble of places: bound up in the heart of a true friend. — C. JoyBell C.