Fill Shoes Quotes & Sayings
Enjoy reading and share 35 famous quotes about Fill Shoes with everyone.
Top Fill Shoes Quotes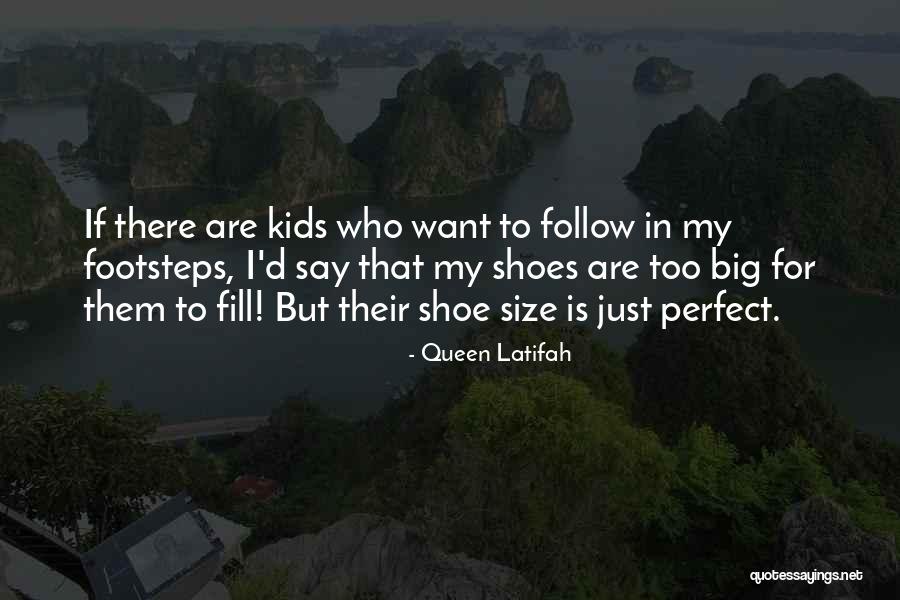 If there are kids who want to follow in my footsteps, I'd say that my shoes are too big for them to fill! But their shoe size is just perfect. — Queen Latifah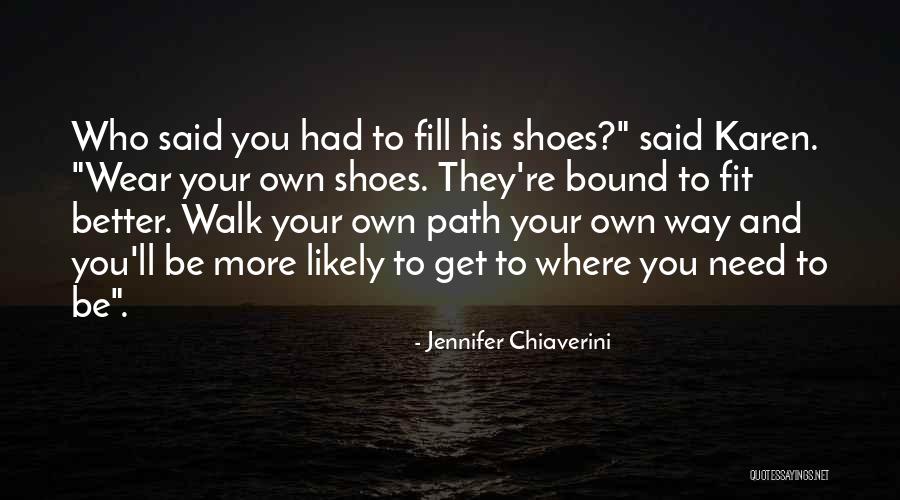 Who said you had to fill his shoes?" said Karen. "Wear your own shoes. They're bound to fit better. Walk your own path your own way and you'll be more likely to get to where you need to be". — Jennifer Chiaverini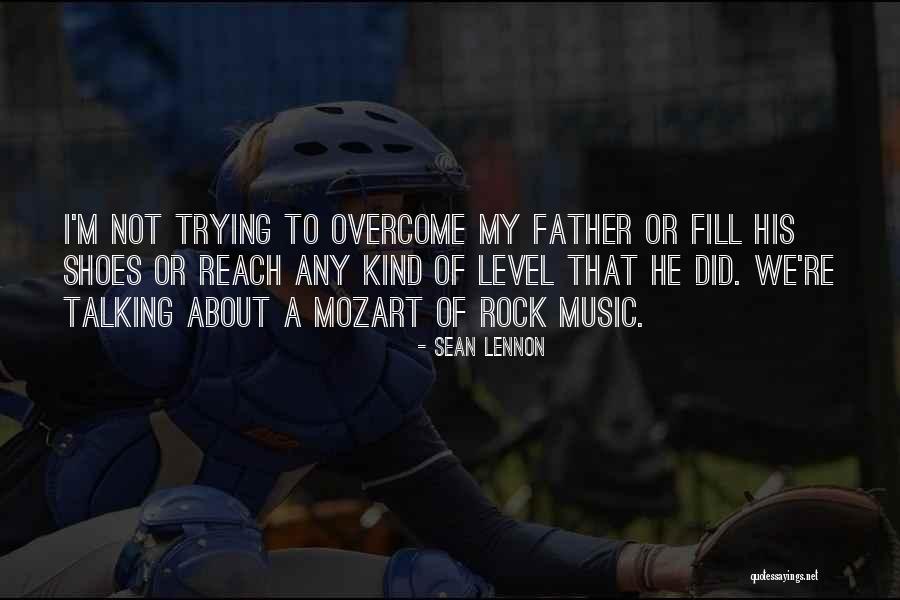 I'm not trying to overcome my father or fill his shoes or reach any kind of level that he did. We're talking about a Mozart of rock music. — Sean Lennon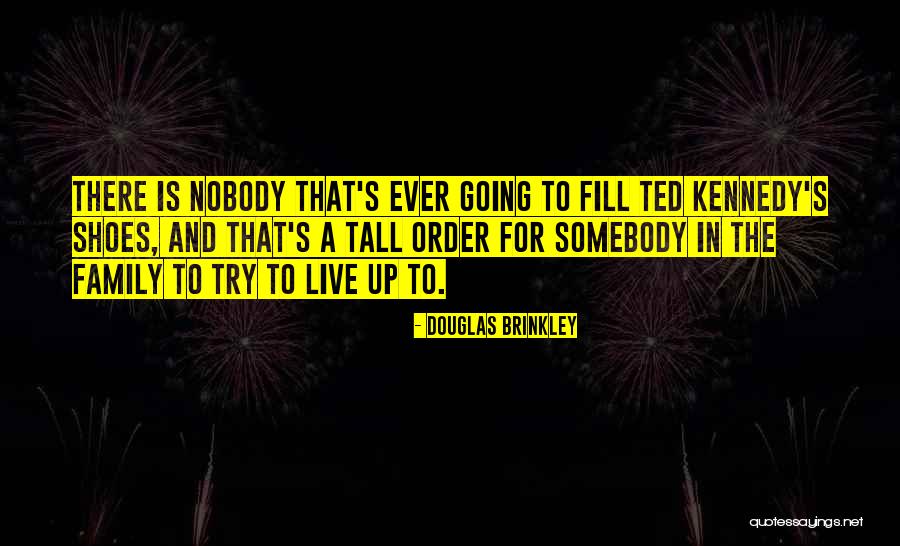 There is nobody that's ever going to fill Ted Kennedy's shoes, and that's a tall order for somebody in the family to try to live up to. — Douglas Brinkley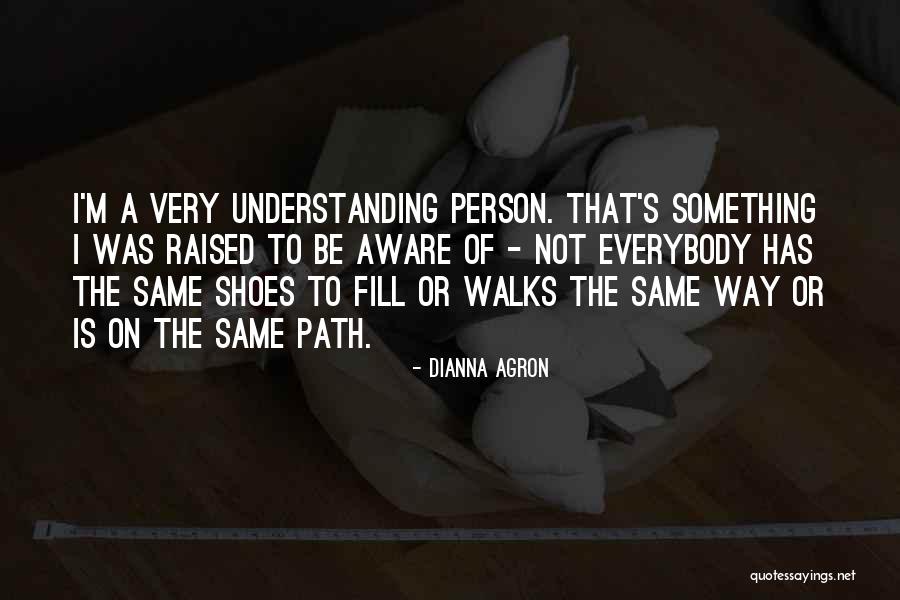 I'm a very understanding person. That's something I was raised to be aware of - not everybody has the same shoes to fill or walks the same way or is on the same path. — Dianna Agron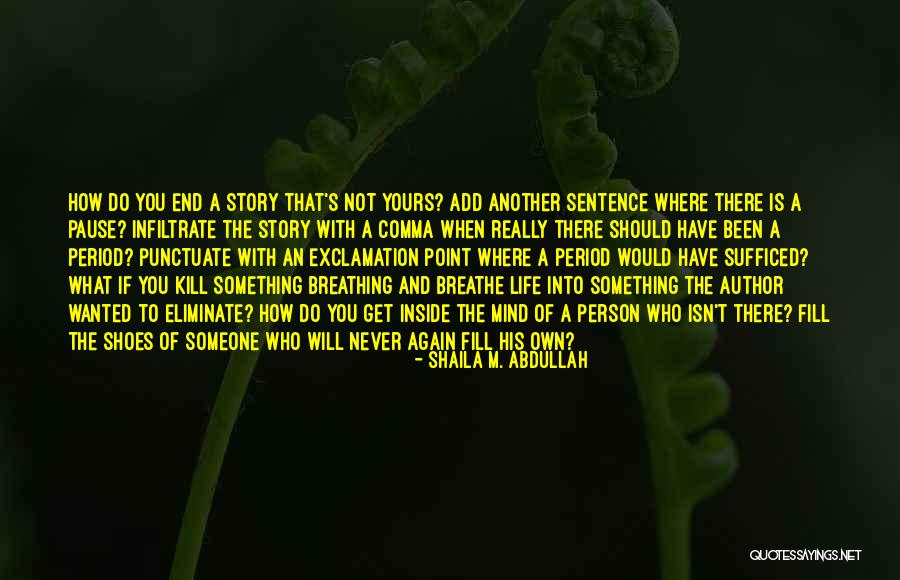 How do you end a story that's not yours? Add another sentence where there is a pause? Infiltrate the story with a comma when really there should have been a period? Punctuate with an exclamation point where a period would have sufficed? What if you kill something breathing and breathe life into something the author wanted to eliminate? How do you get inside the mind of a person who isn't there? Fill the shoes of someone who will never again fill his own? — Shaila M. Abdullah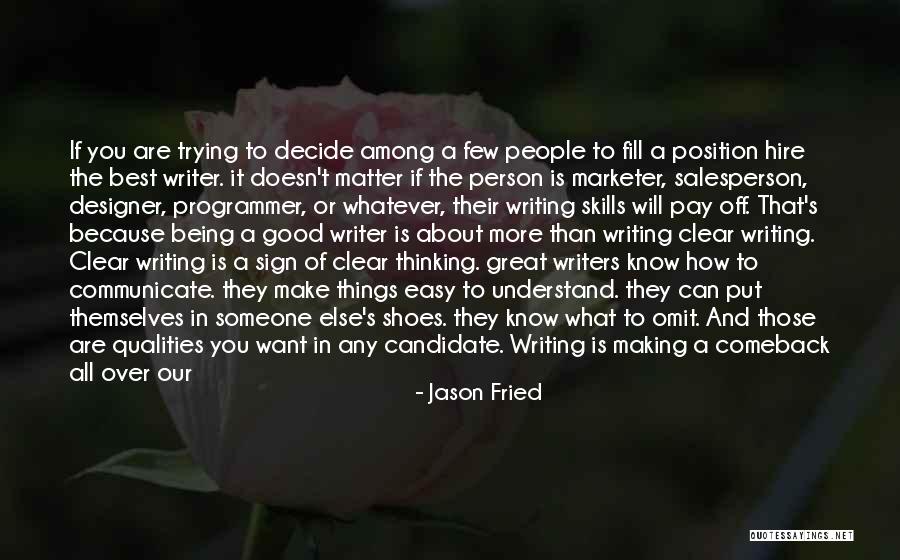 If you are trying to decide among a few people to fill a position hire the best writer. it doesn't matter if the person is marketer, salesperson, designer, programmer, or whatever, their writing skills will pay off. That's because being a good writer is about more than writing clear writing. Clear writing is a sign of clear thinking. great writers know how to communicate. they make things easy to understand. they can put themselves in someone else's shoes. they know what to omit. And those are qualities you want in any candidate. Writing is making a comeback all over our society ... Writing is today's currency for good ideas. — Jason Fried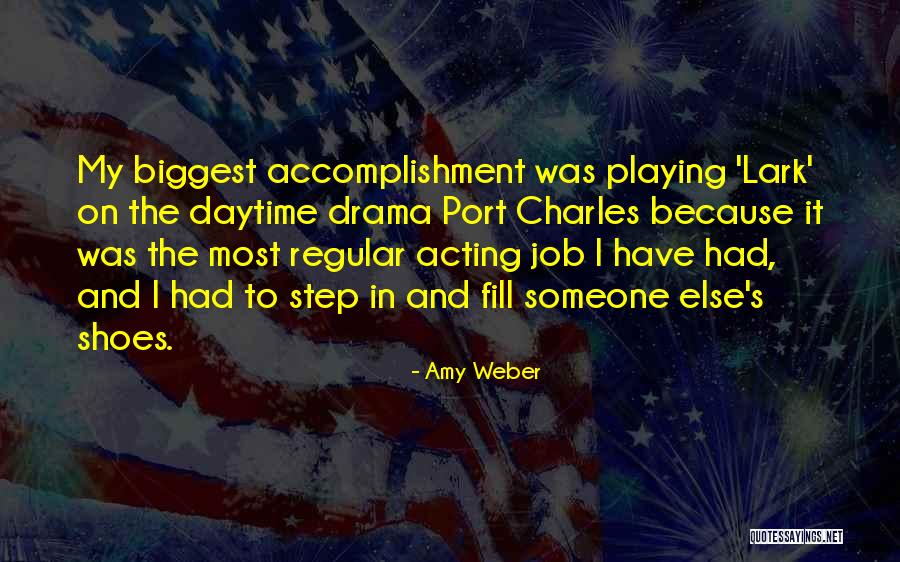 My biggest accomplishment was playing 'Lark' on the daytime drama Port Charles because it was the most regular acting job I have had, and I had to step in and fill someone else's shoes. — Amy Weber
Everybody's got opinions on the way you're livin',
But see, they can't fill your shoes. — Andre Benjamin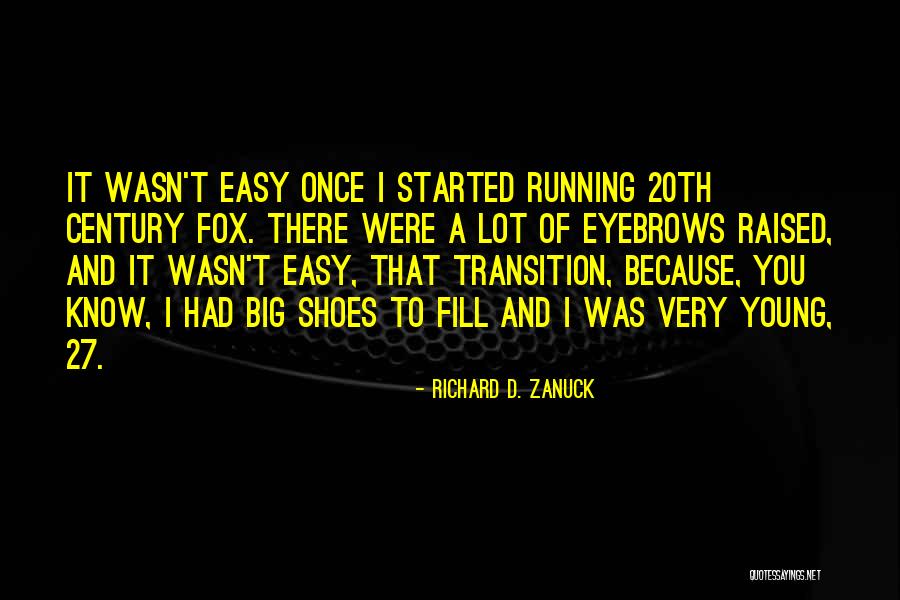 It wasn't easy once I started running 20th Century Fox. There were a lot of eyebrows raised, and it wasn't easy, that transition, because, you know, I had big shoes to fill and I was very young, 27. — Richard D. Zanuck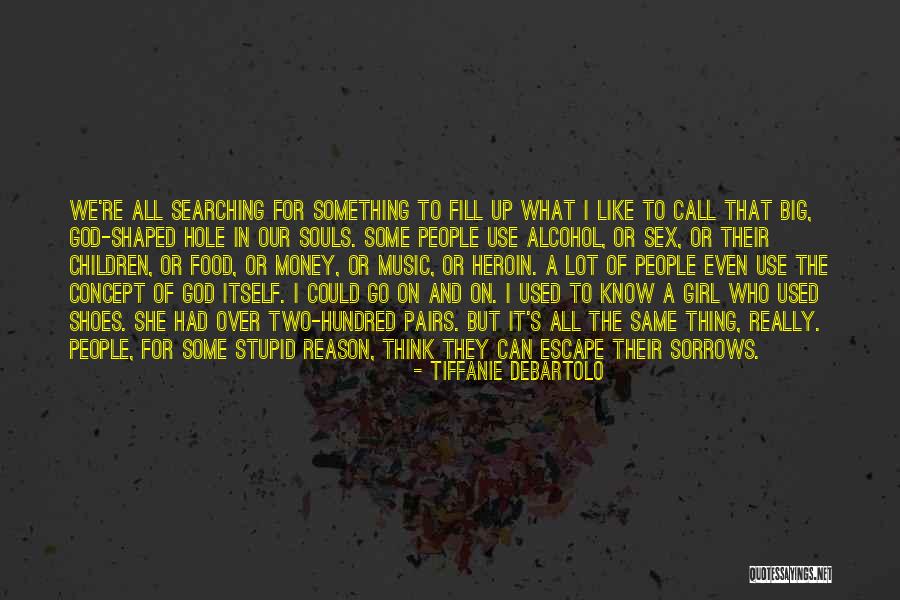 We're all searching for something to fill up what I like to call that big, God-shaped hole in our souls. Some people use alcohol, or sex, or their children, or food, or money, or music, or heroin. A lot of people even use the concept of God itself. I could go on and on. I used to know a girl who used shoes. She had over two-hundred pairs. But it's all the same thing, really. People, for some stupid reason, think they can escape their sorrows. — Tiffanie DeBartolo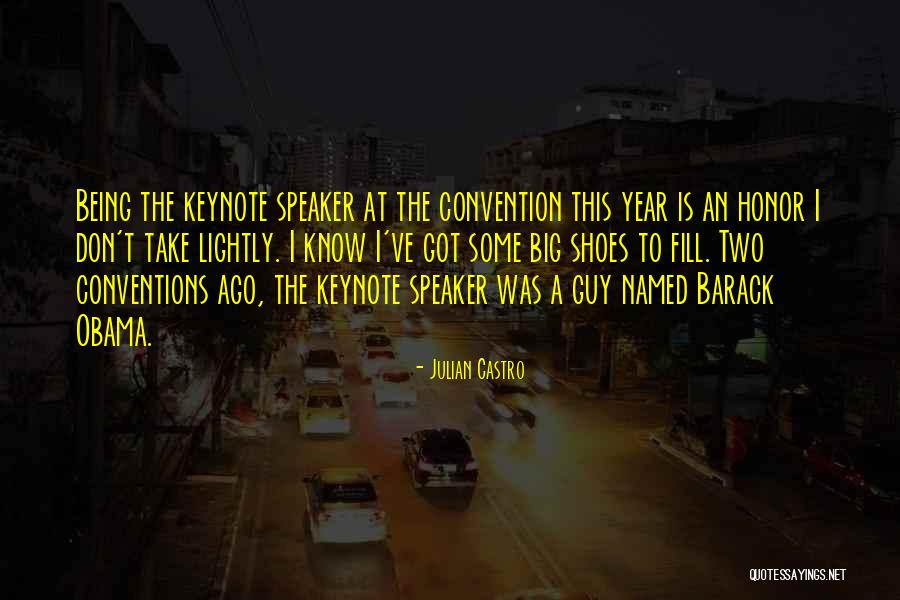 Being the keynote speaker at the convention this year is an honor I don't take lightly. I know I've got some big shoes to fill. Two conventions ago, the keynote speaker was a guy named Barack Obama. — Julian Castro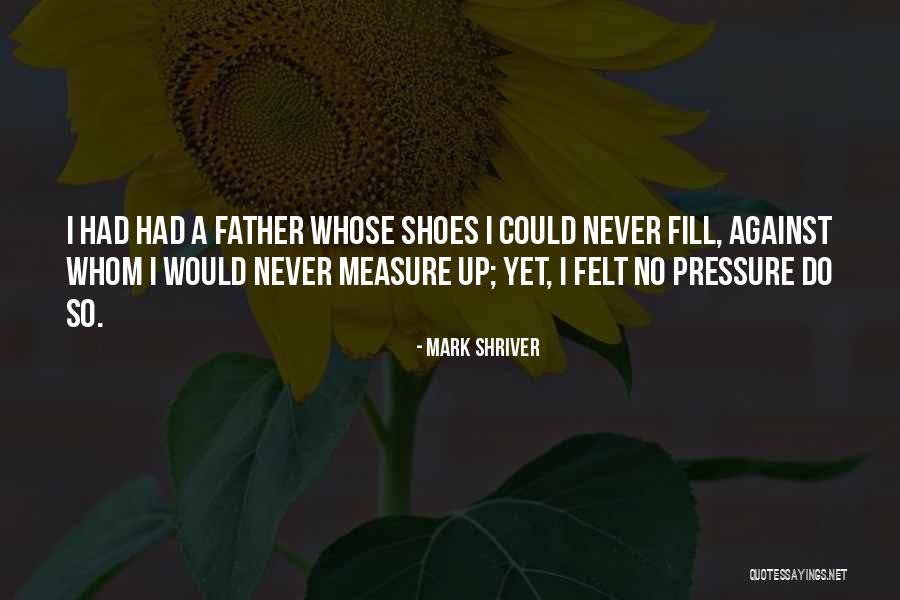 I had had a father whose shoes I could never fill, against whom I would never measure up; yet, I felt no pressure do so. — Mark Shriver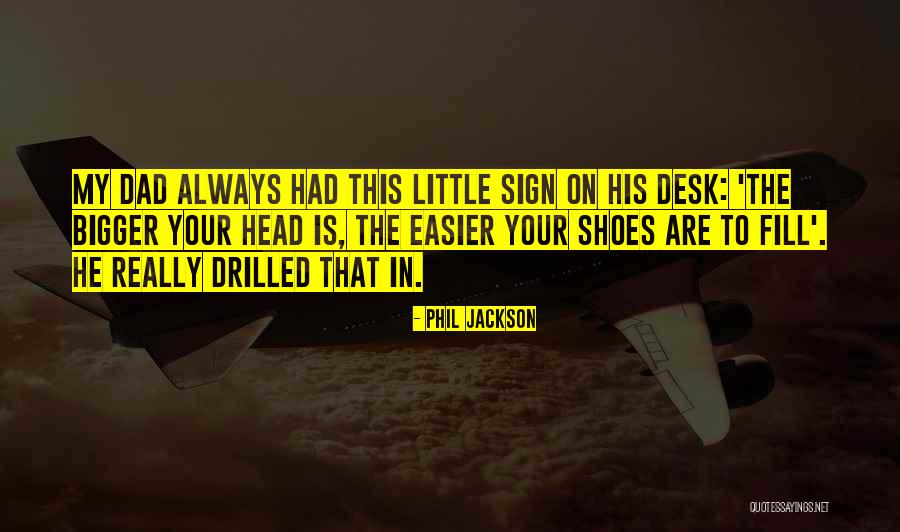 My dad always had this little sign on his desk: 'The bigger your head is, the easier your shoes are to fill'. He really drilled that in. — Phil Jackson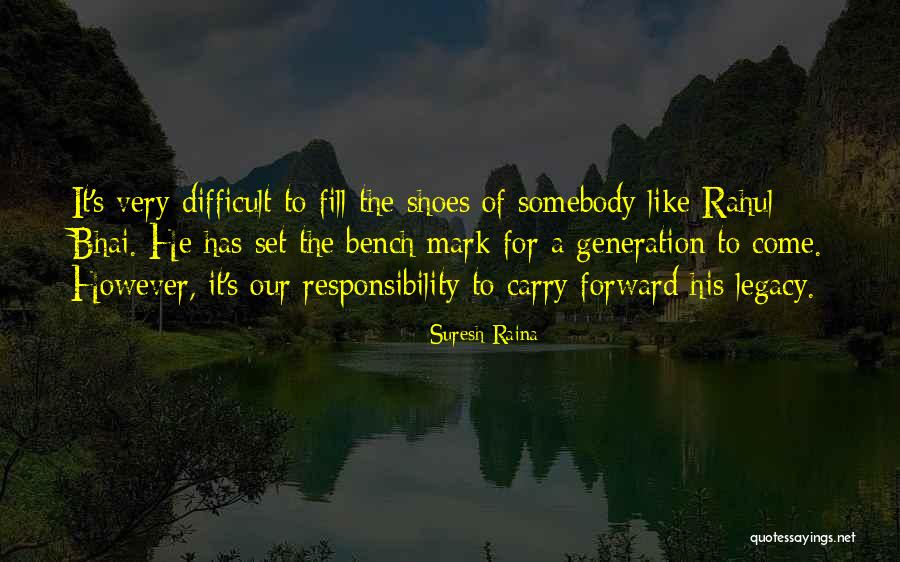 It's very difficult to fill the shoes of somebody like Rahul Bhai. He has set the bench mark for a generation to come. However, it's our responsibility to carry forward his legacy. — Suresh Raina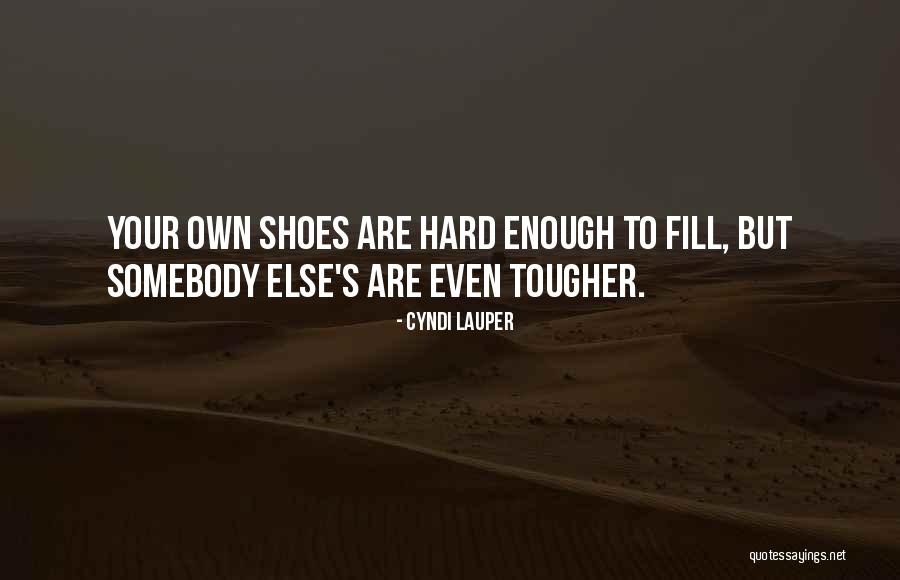 Your own shoes are hard enough to fill, but somebody else's are even tougher. — Cyndi Lauper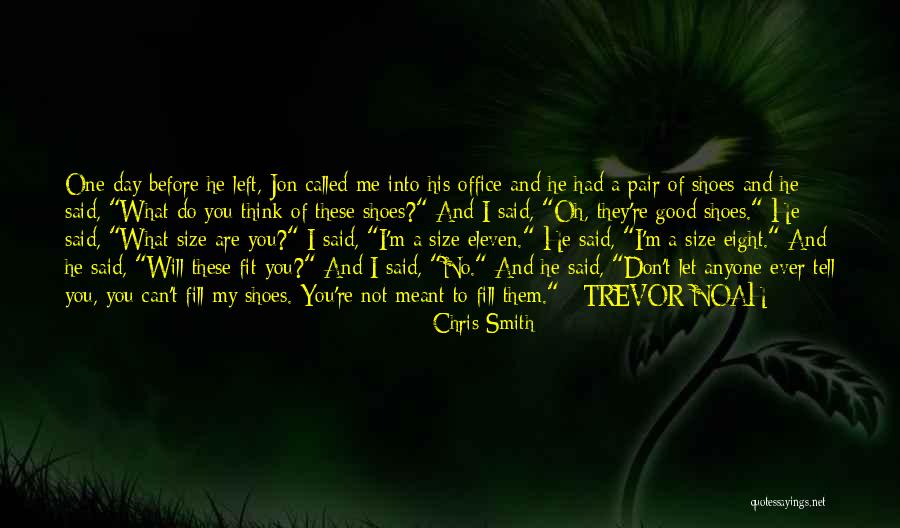 One day before he left, Jon called me into his office and he had a pair of shoes and he said, "What do you think of these shoes?" And I said, "Oh, they're good shoes." He said, "What size are you?" I said, "I'm a size eleven." He said, "I'm a size eight." And he said, "Will these fit you?" And I said, "No." And he said, "Don't let anyone ever tell you, you can't fill my shoes. You're not meant to fill them."
~ TREVOR NOAH — Chris Smith
My father was truly a great man. I remember one day putting my feet in my father's shoes. I was amazed at the size. Would I ever be big enough to fill his shoes? Could I ever grow into the man my father was? I wondered. — Joseph B. Wirthlin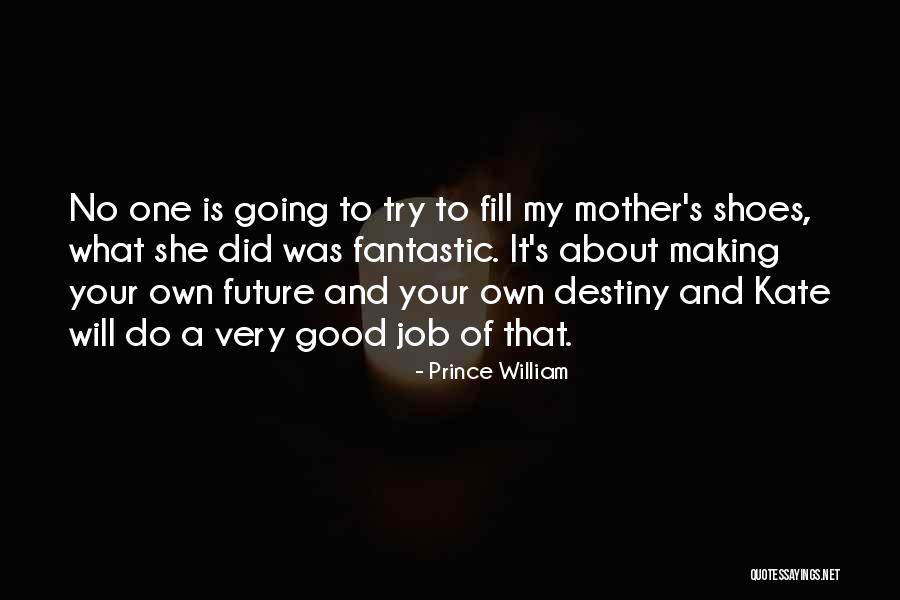 No one is going to try to fill my mother's shoes, what she did was fantastic. It's about making your own future and your own destiny and Kate will do a very good job of that. — Prince William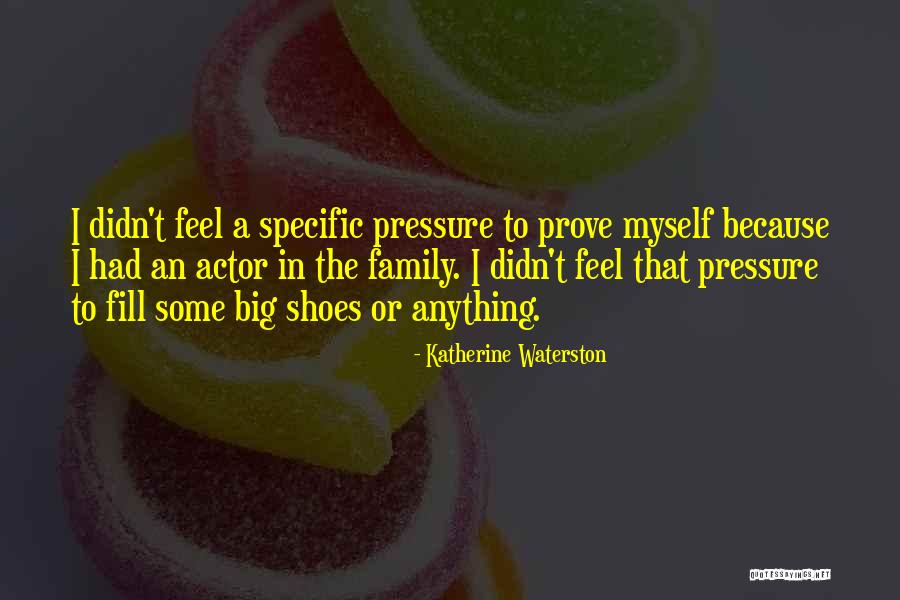 I didn't feel a specific pressure to prove myself because I had an actor in the family. I didn't feel that pressure to fill some big shoes or anything. — Katherine Waterston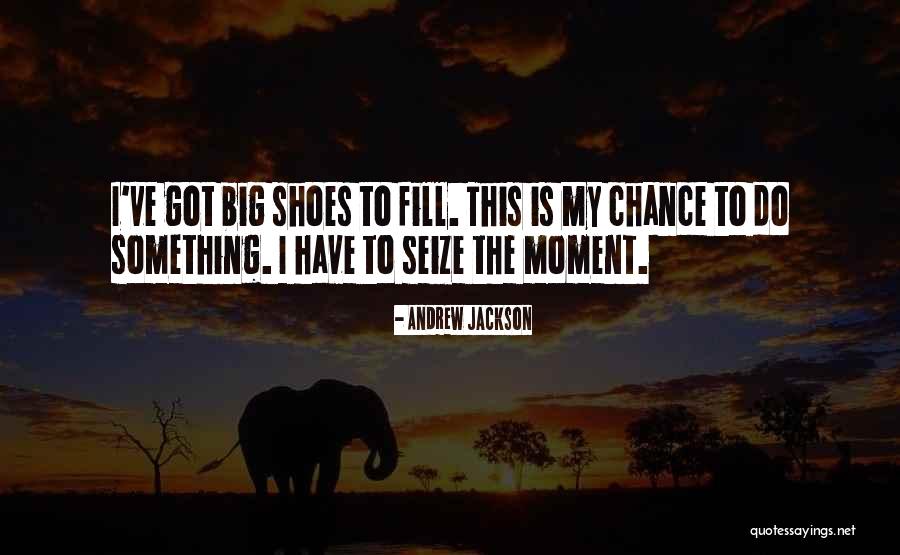 I've got big shoes to fill. This is my chance to do something. I have to seize the moment. — Andrew Jackson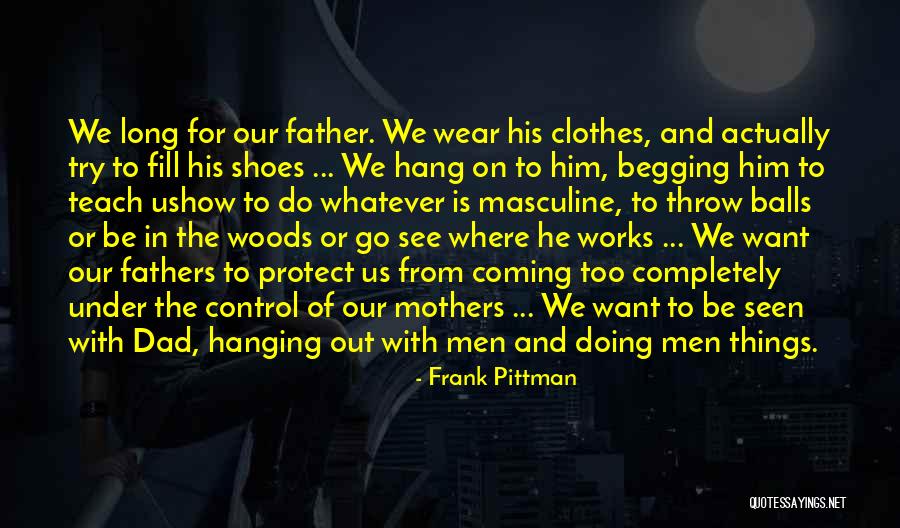 We long for our father. We wear his clothes, and actually try to fill his shoes ... We hang on to him, begging him to teach ushow to do whatever is masculine, to throw balls or be in the woods or go see where he works ... We want our fathers to protect us from coming too completely under the control of our mothers ... We want to be seen with Dad, hanging out with men and doing men things. — Frank Pittman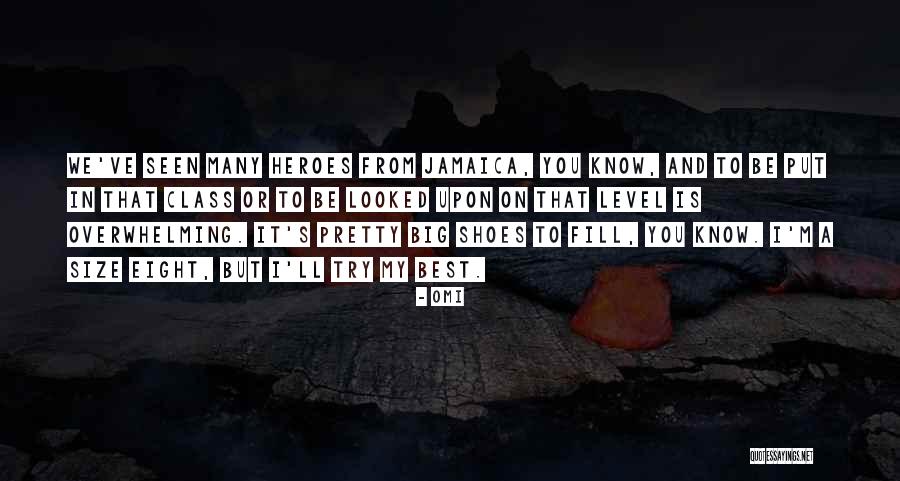 We've seen many heroes from Jamaica, you know, and to be put in that class or to be looked upon on that level is overwhelming. It's pretty big shoes to fill, you know. I'm a size eight, but I'll try my best. — OMI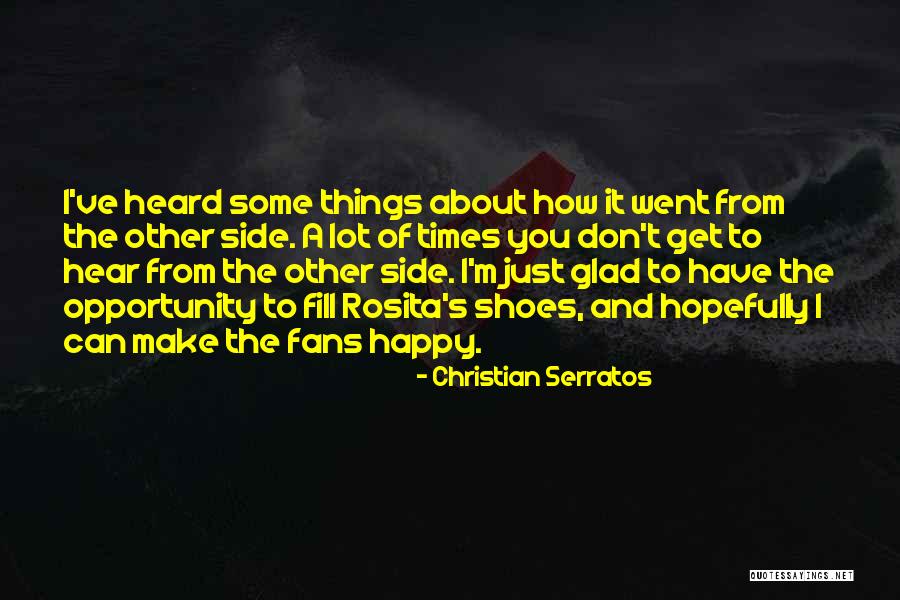 I've heard some things about how it went from the other side. A lot of times you don't get to hear from the other side. I'm just glad to have the opportunity to fill Rosita's shoes, and hopefully I can make the fans happy. — Christian Serratos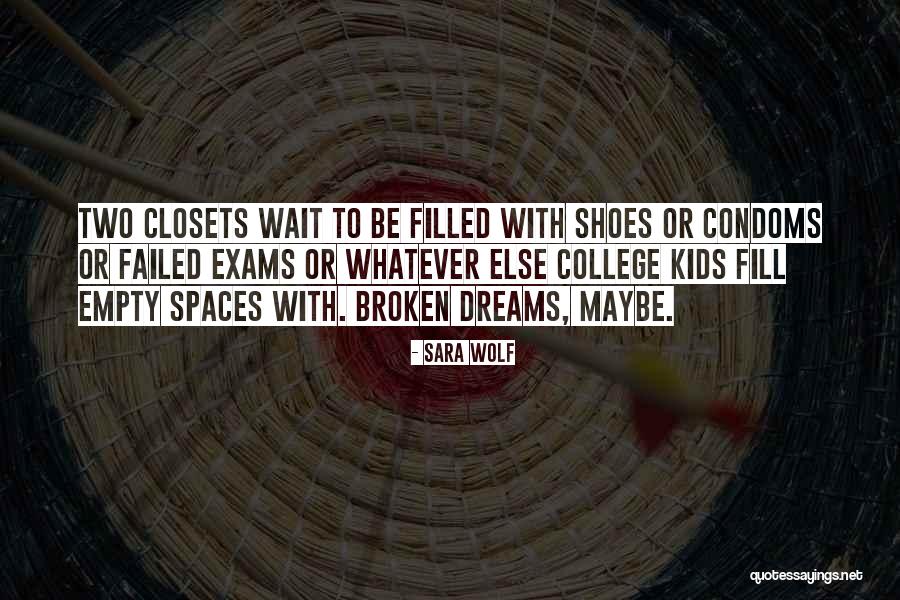 Two closets wait to be filled with shoes or condoms or failed exams or whatever else college kids fill empty spaces with. Broken dreams, maybe. — Sara Wolf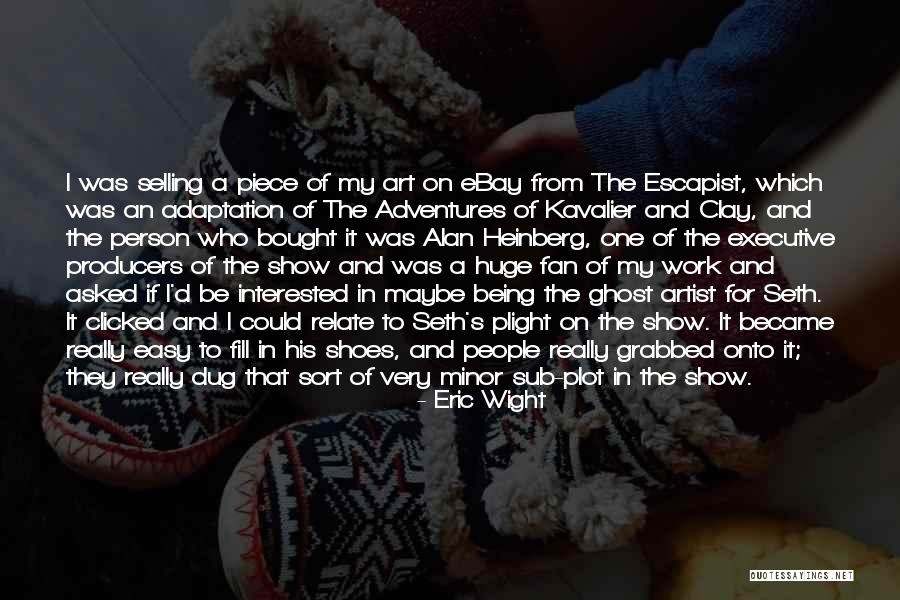 I was selling a piece of my art on eBay from The Escapist, which was an adaptation of The Adventures of Kavalier and Clay, and the person who bought it was Alan Heinberg, one of the executive producers of the show and was a huge fan of my work and asked if I'd be interested in maybe being the ghost artist for Seth. It clicked and I could relate to Seth's plight on the show. It became really easy to fill in his shoes, and people really grabbed onto it; they really dug that sort of very minor sub-plot in the show. — Eric Wight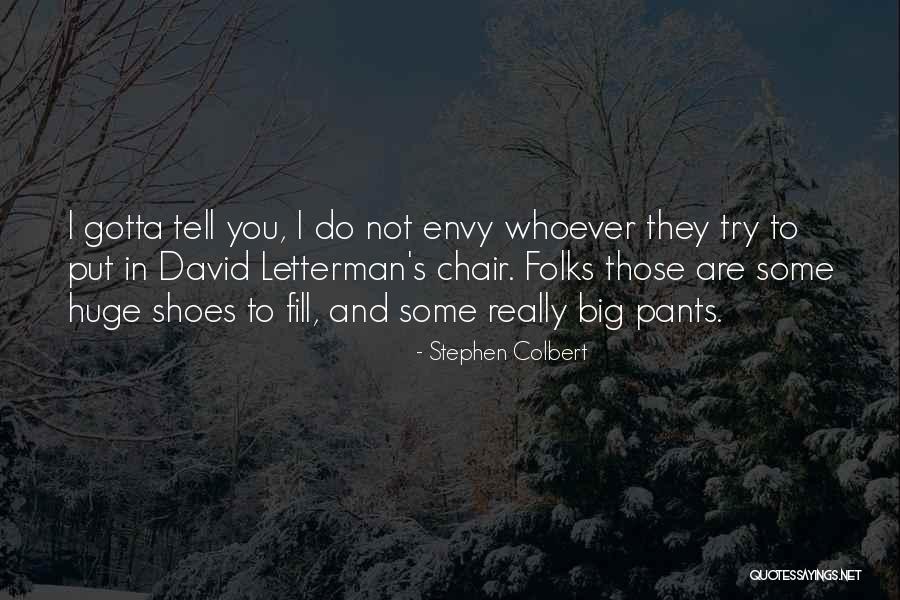 I gotta tell you, I do not envy whoever they try to put in David Letterman's chair. Folks those are some huge shoes to fill, and some really big pants. — Stephen Colbert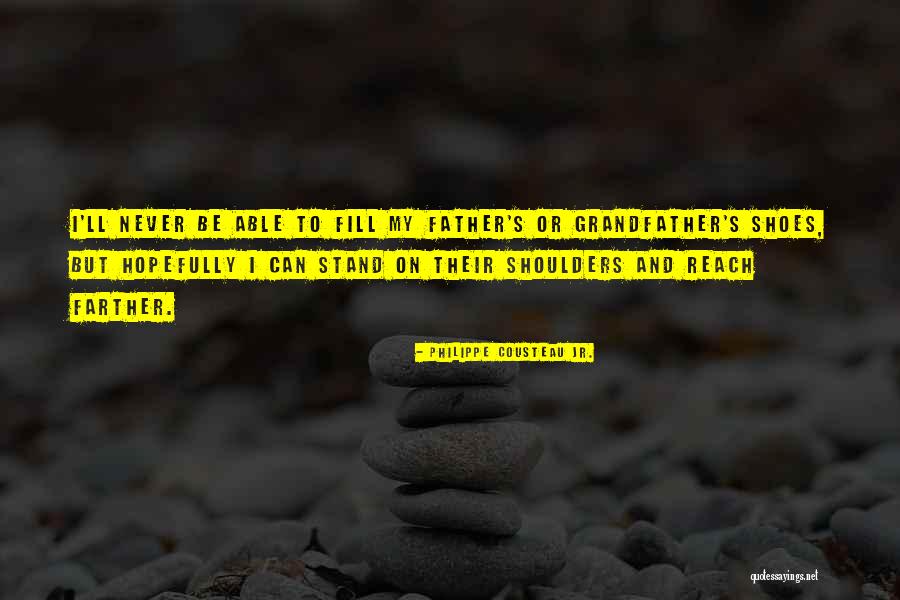 I'll never be able to fill my father's or grandfather's shoes, but hopefully I can stand on their shoulders and reach farther. — Philippe Cousteau Jr.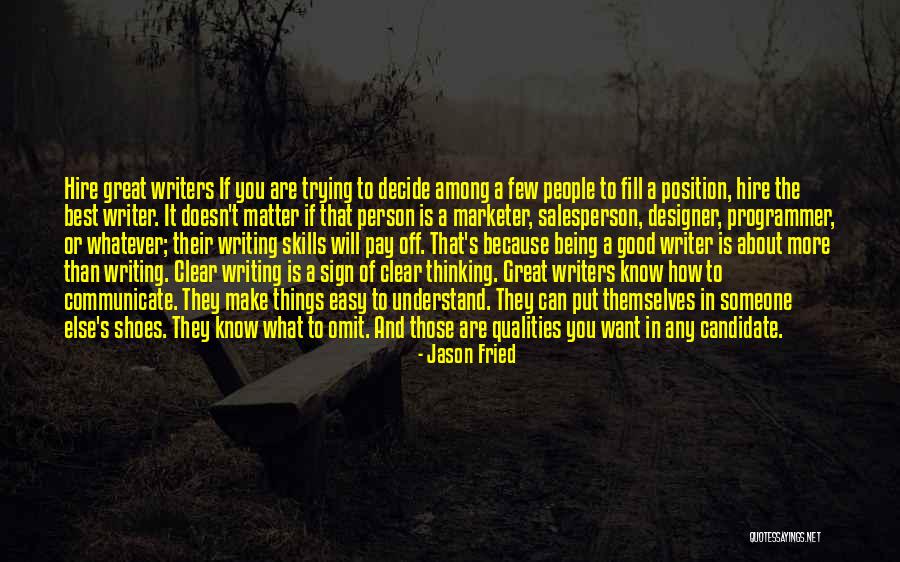 Hire great writers If you are trying to decide among a few people to fill a position, hire the best writer. It doesn't matter if that person is a marketer, salesperson, designer, programmer, or whatever; their writing skills will pay off. That's because being a good writer is about more than writing. Clear writing is a sign of clear thinking. Great writers know how to communicate. They make things easy to understand. They can put themselves in someone else's shoes. They know what to omit. And those are qualities you want in any candidate. — Jason Fried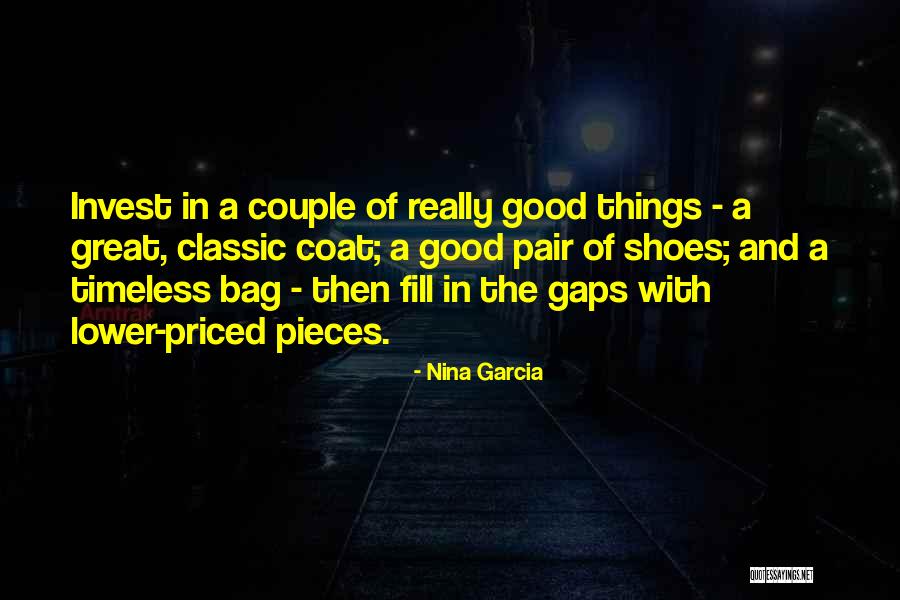 Invest in a couple of really good things - a great, classic coat; a good pair of shoes; and a timeless bag - then fill in the gaps with lower-priced pieces. — Nina Garcia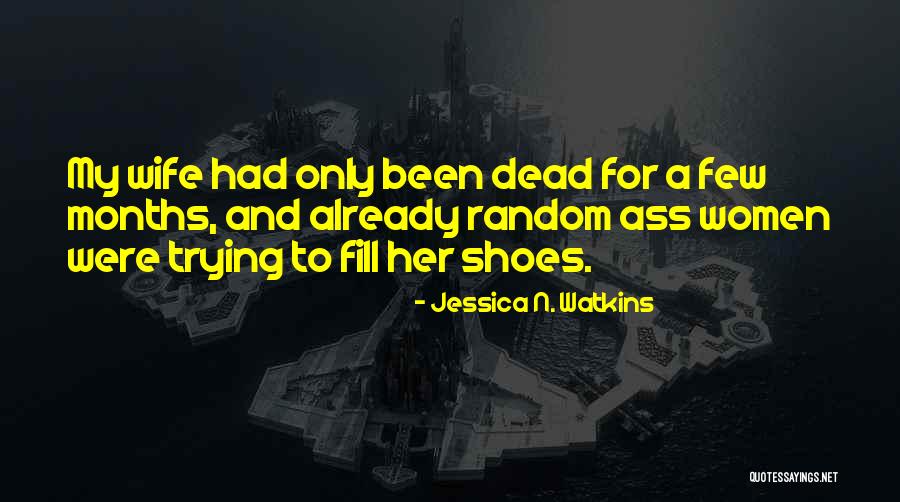 My wife had only been dead for a few months, and already random ass women were trying to fill her shoes. — Jessica N. Watkins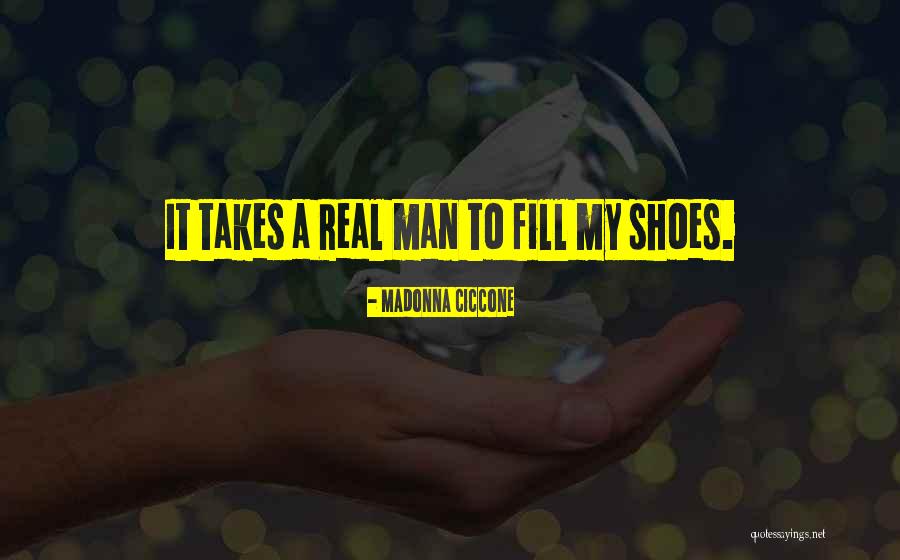 It takes a Real man to fill my shoes. — Madonna Ciccone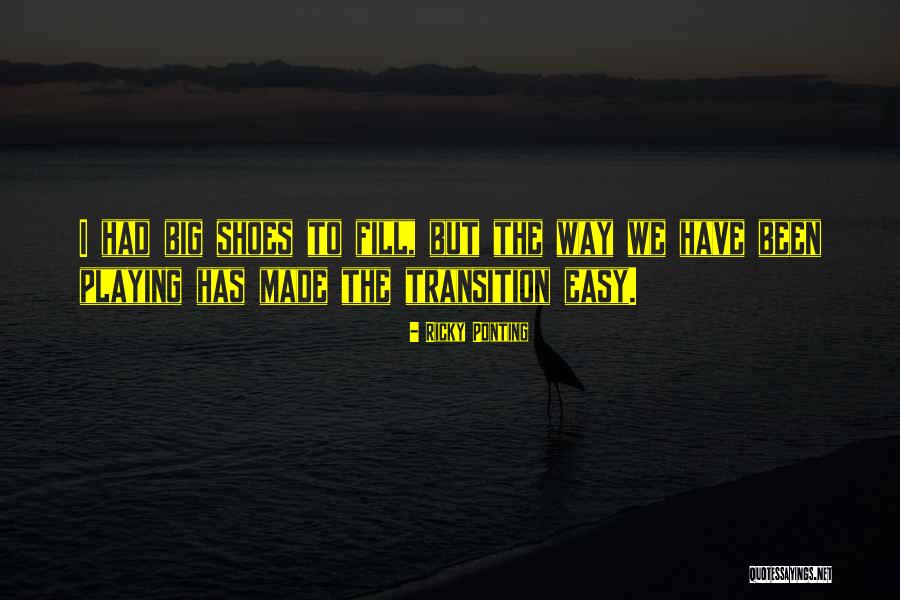 I had big shoes to fill, but the way we have been playing has made the transition easy. — Ricky Ponting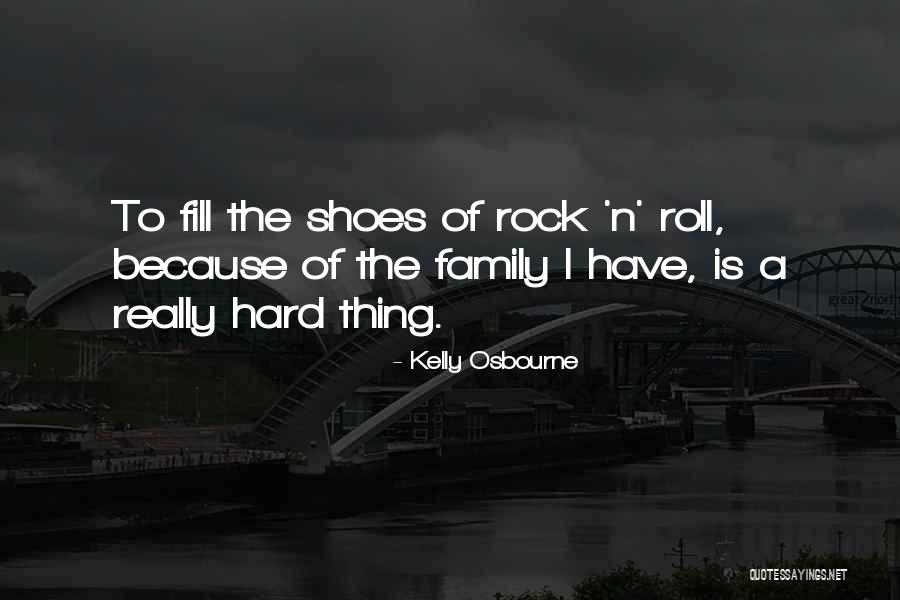 To fill the shoes of rock 'n' roll, because of the family I have, is a really hard thing. — Kelly Osbourne