Fight The Devil Quotes & Sayings
Enjoy reading and share 54 famous quotes about Fight The Devil with everyone.
Top Fight The Devil Quotes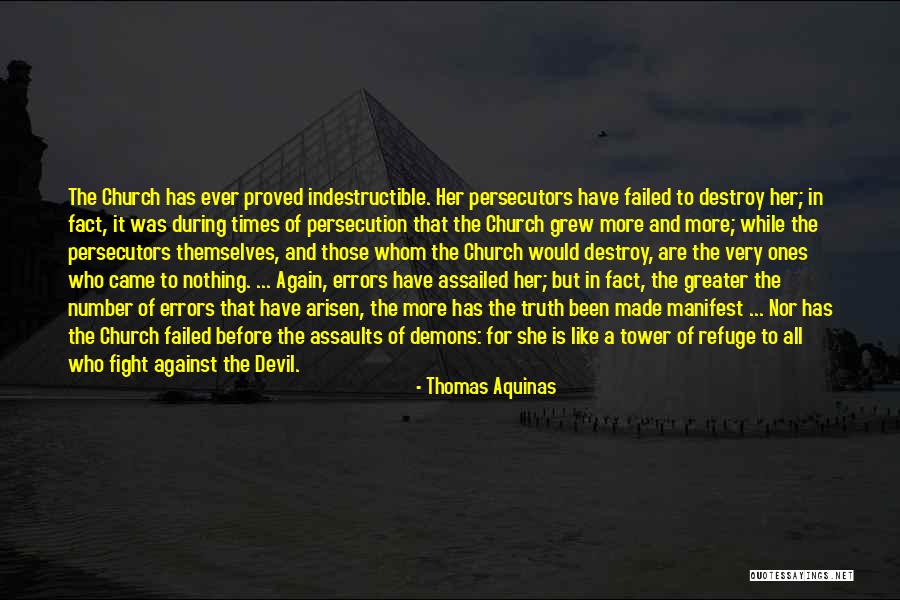 The Church has ever proved indestructible. Her persecutors have failed to destroy her; in fact, it was during times of persecution that the Church grew more and more; while the persecutors themselves, and those whom the Church would destroy, are the very ones who came to nothing. ... Again, errors have assailed her; but in fact, the greater the number of errors that have arisen, the more has the truth been made manifest ... Nor has the Church failed before the assaults of demons: for she is like a tower of refuge to all who fight against the Devil. — Thomas Aquinas
You don't stare the devil in the eyes and come out without some of his sin. You can't beat the devil without becoming like him. You can't appeal to his kindness, so you have to learn to play his games. You lie, you fuck, you manipulate, you fight, you hurl insults, until you do whatever it takes to win the battle. Every time you do those things, you understand him a little more. Until finally, he becomes your ally. You think you've won, that you've made him more like you. But the truth is, it's the other way around. So that even when you win, you've lost. — Nina G. Jones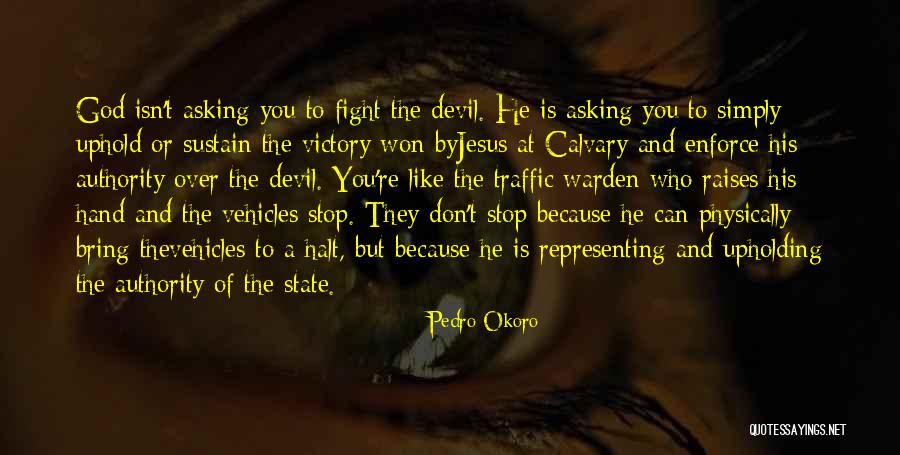 God isn't asking you to fight the devil. He is asking you to simply uphold or sustain the victory won by
Jesus at Calvary and enforce his authority over the devil. You're like the traffic warden who raises his hand and the vehicles stop. They don't stop because he can physically bring the
vehicles to a halt, but because he is representing and upholding the authority of the state. — Pedro Okoro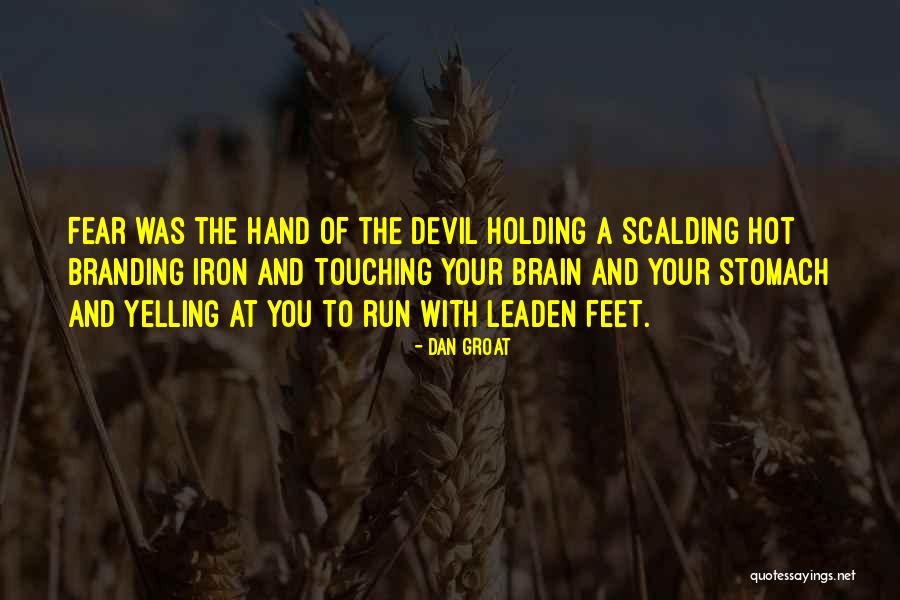 Fear was the hand of the devil holding a scalding hot branding iron and touching your brain and your stomach and yelling at you to run with leaden feet. — Dan Groat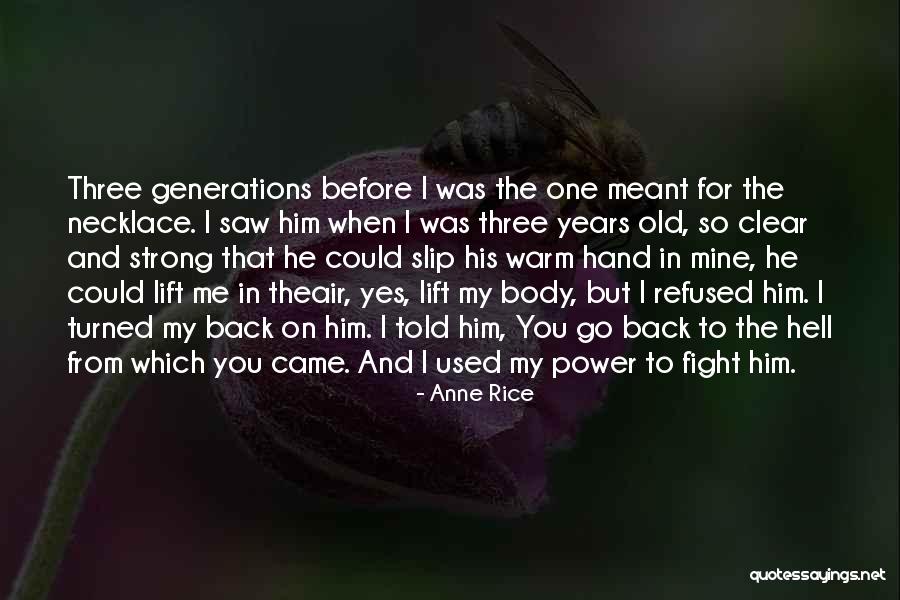 Three generations before I was the one meant for the necklace. I saw him when I was three years old, so clear and strong that he could slip his warm hand in mine, he could lift me in the
air, yes, lift my body, but I refused him. I turned my back on him. I told him, You go back to the hell from which you came. And I used my power to fight him. — Anne Rice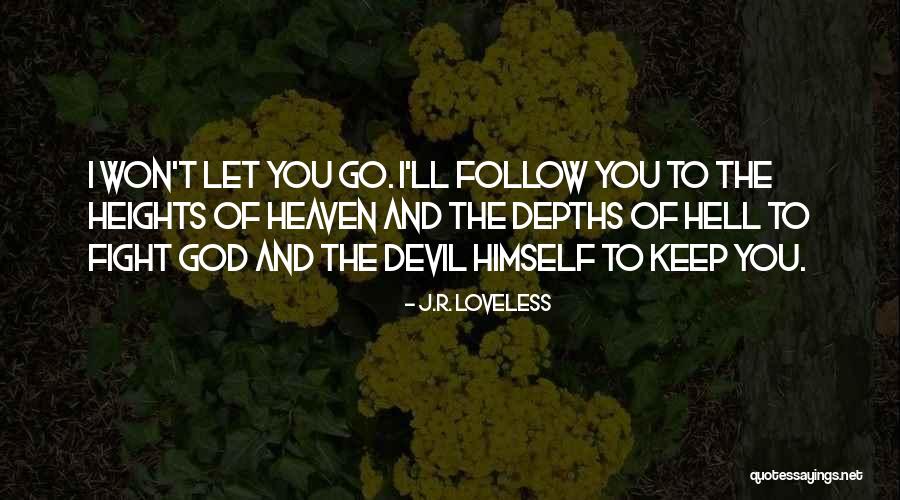 I won't let you go. I'll follow you to the heights of heaven and the depths of hell to fight God and the devil himself to keep you. — J.R. Loveless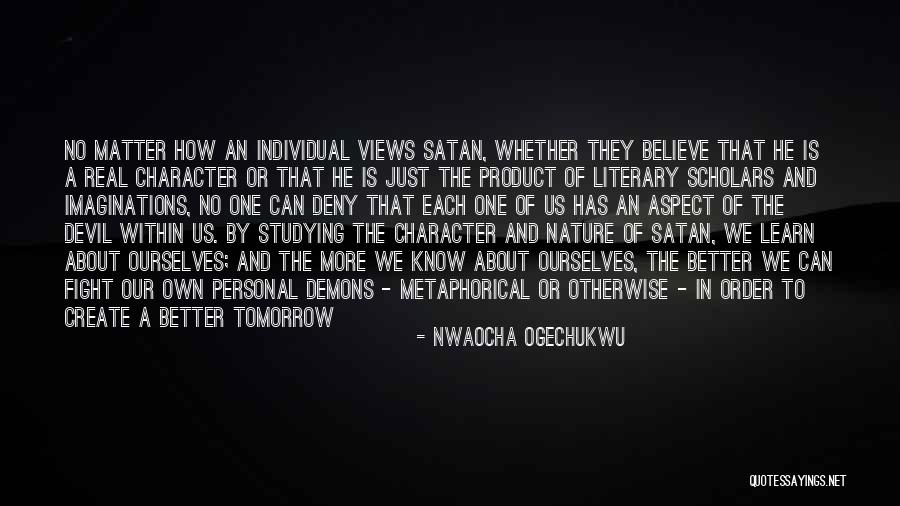 No matter how an individual views Satan, whether they believe that he is a real character or that he is just the product of literary scholars and imaginations, no one can deny that each one of us has an aspect of the devil within us. By studying the character and nature of Satan, we learn about ourselves; and the more we know about ourselves, the better we can fight our own personal demons - metaphorical or otherwise - in order to create a better tomorrow — Nwaocha Ogechukwu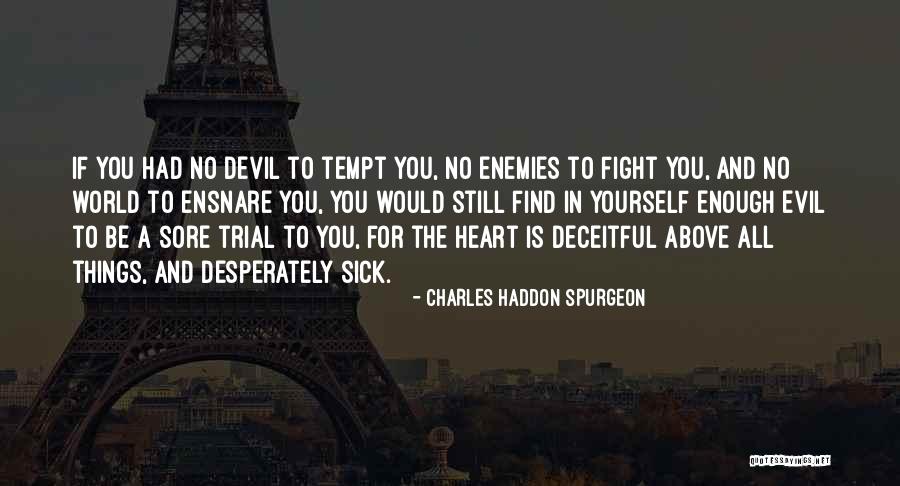 If you had no devil to tempt you, no enemies to fight you, and no world to ensnare you, you would still find in yourself enough evil to be a sore trial to you, for the heart is deceitful above all things, and desperately sick. — Charles Haddon Spurgeon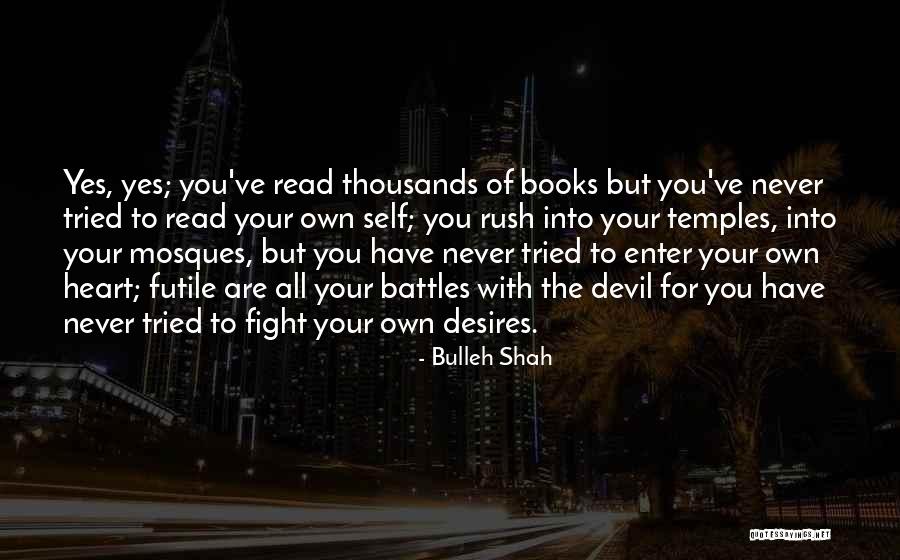 Yes, yes; you've read thousands of books but you've never tried to read your own self; you rush into your temples, into your mosques, but you have never tried to enter your own heart; futile are all your battles with the devil for you have never tried to fight your own desires. — Bulleh Shah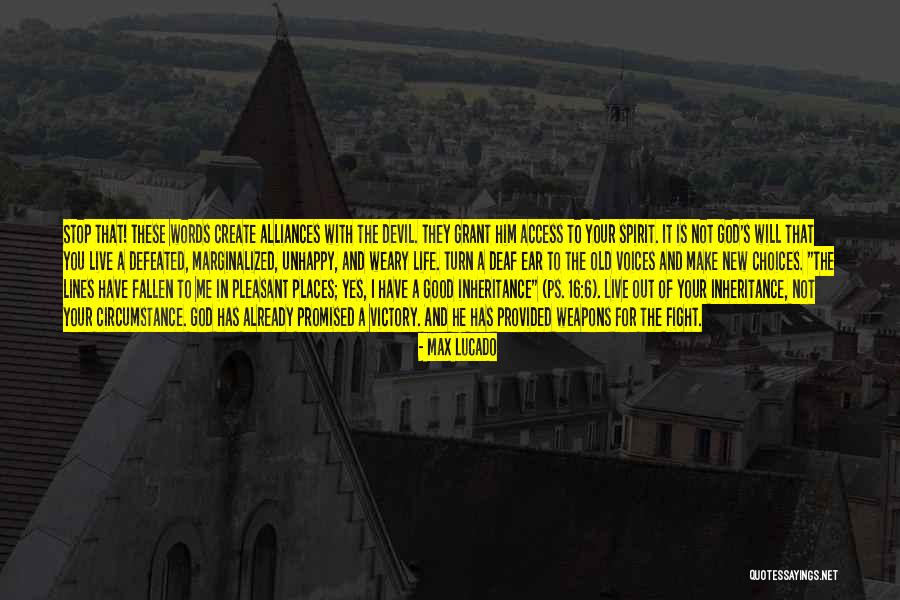 Stop that! These words create alliances with the devil. They grant him access to your spirit. It is not God's will that you live a defeated, marginalized, unhappy, and weary life. Turn a deaf ear to the old voices and make new choices. "The lines have fallen to me in pleasant places; yes, I have a good inheritance" (Ps. 16:6). Live out of your inheritance, not your circumstance. God has already promised a victory. And he has provided weapons for the fight. — Max Lucado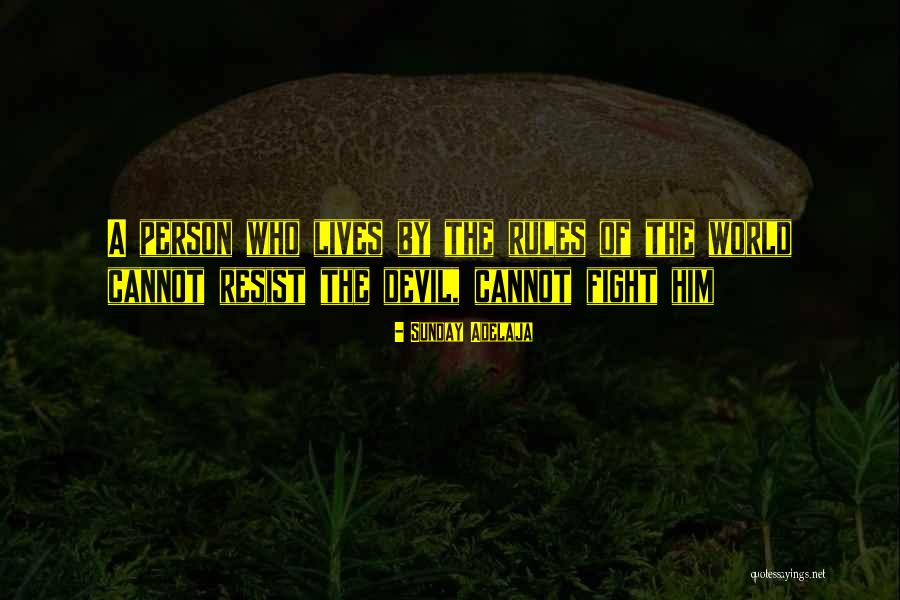 A person who lives by the rules of the world cannot resist the devil, cannot fight him — Sunday Adelaja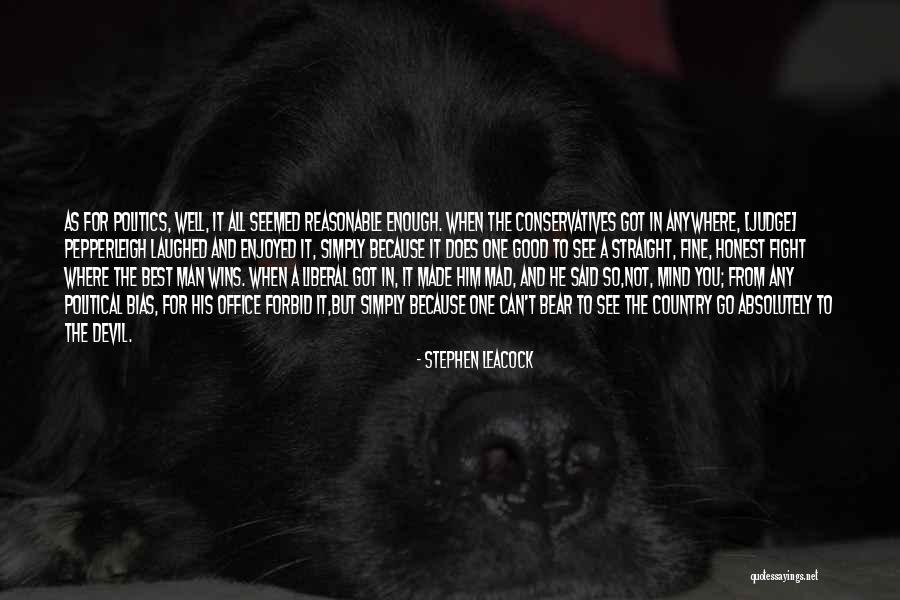 As for politics, well, it all seemed reasonable enough. When the Conservatives got in anywhere, [Judge] Pepperleigh laughed and enjoyed it, simply because it does one good to see a straight, fine, honest fight where the best man wins. When a Liberal got in, it made him mad, and he said so,
not, mind you; from any political bias, for his office forbid it,
but simply because one can't bear to see the country go absolutely to the devil. — Stephen Leacock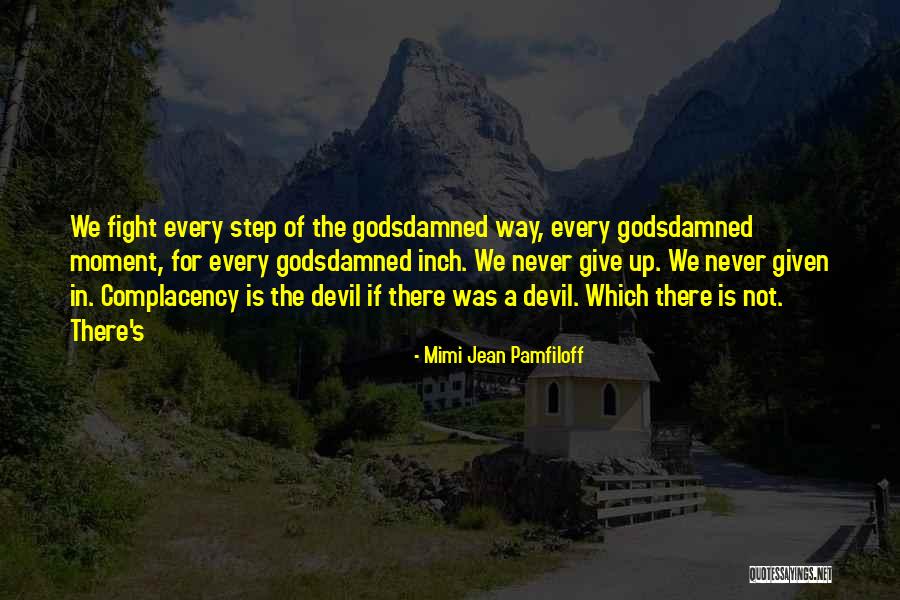 We fight every step of the godsdamned way, every godsdamned moment, for every godsdamned inch. We never give up. We never given in. Complacency is the devil if there was a devil. Which there is not. There's — Mimi Jean Pamfiloff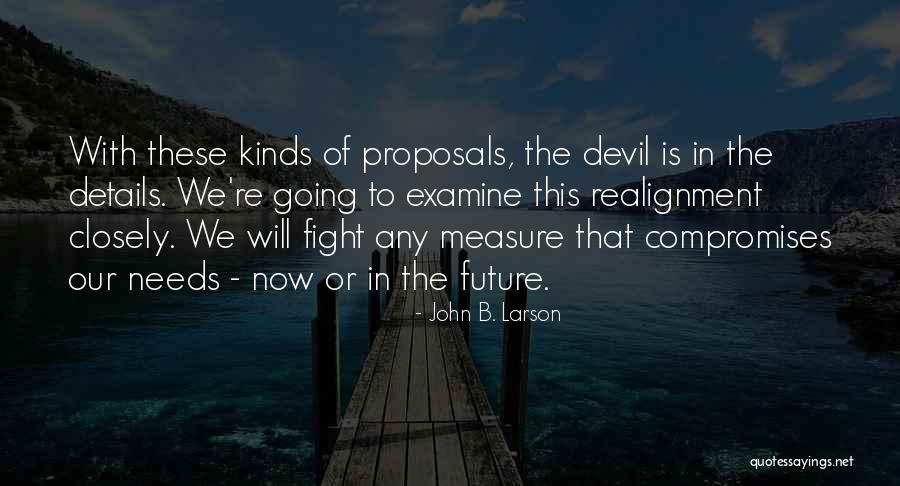 With these kinds of proposals, the devil is in the details. We're going to examine this realignment closely. We will fight any measure that compromises our needs - now or in the future. — John B. Larson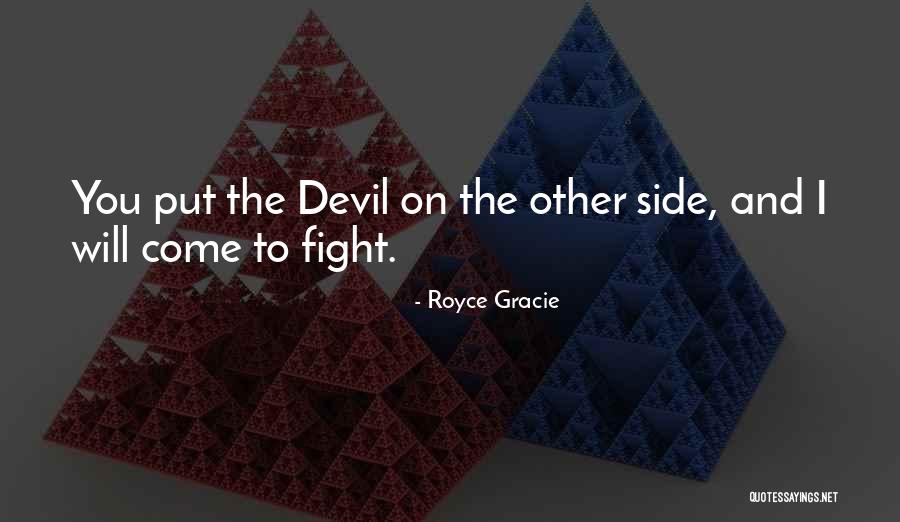 You put the Devil on the other side, and I will come to fight. — Royce Gracie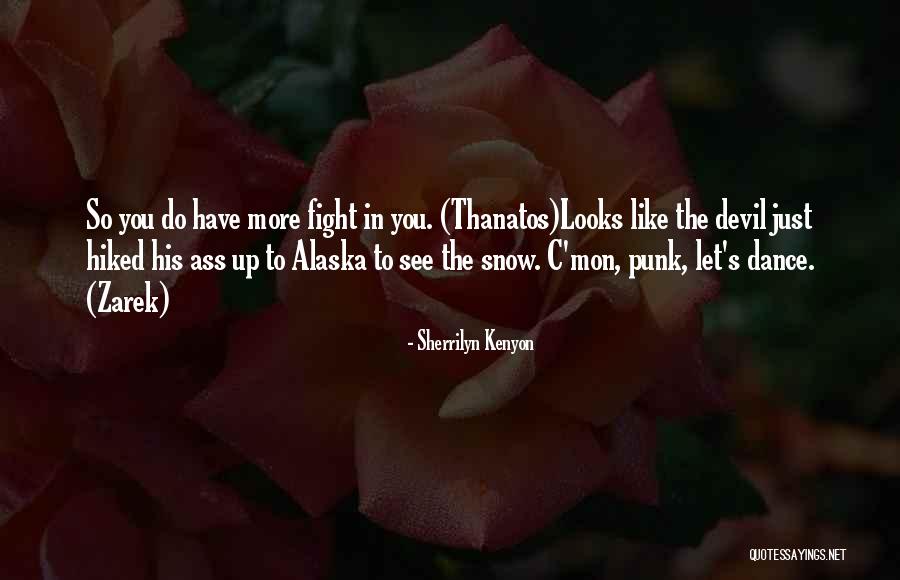 So you do have more fight in you. (Thanatos)
Looks like the devil just hiked his ass up to Alaska to see the snow. C'mon, punk, let's dance. (Zarek) — Sherrilyn Kenyon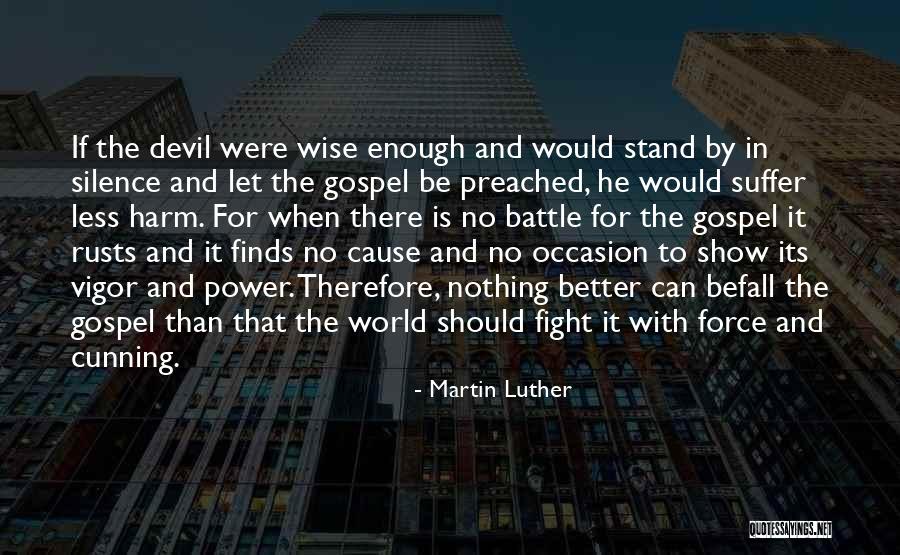 If the devil were wise enough and would stand by in silence and let the gospel be preached, he would suffer less harm. For when there is no battle for the gospel it rusts and it finds no cause and no occasion to show its vigor and power. Therefore, nothing better can befall the gospel than that the world should fight it with force and cunning. — Martin Luther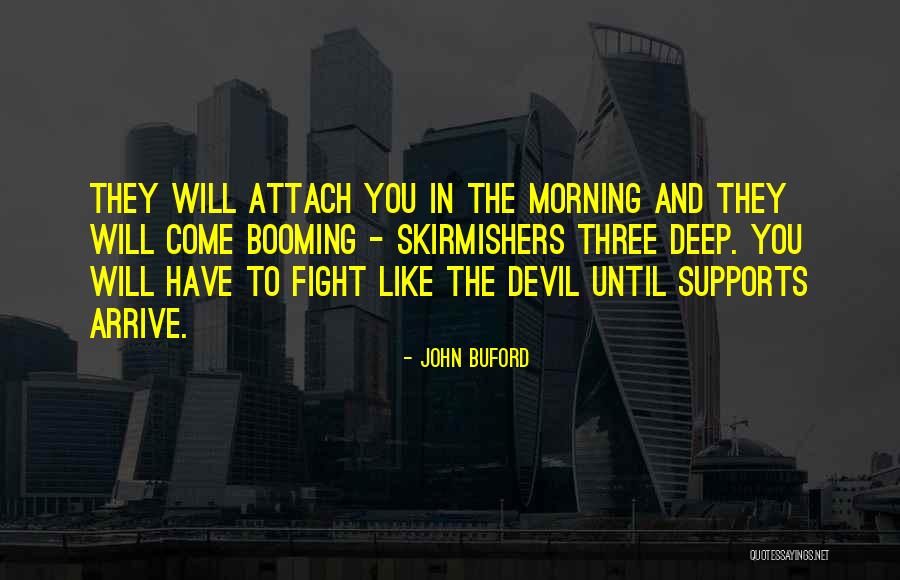 They will attach you in the morning and they will come booming - skirmishers three deep. You will have to fight like the devil until supports arrive. — John Buford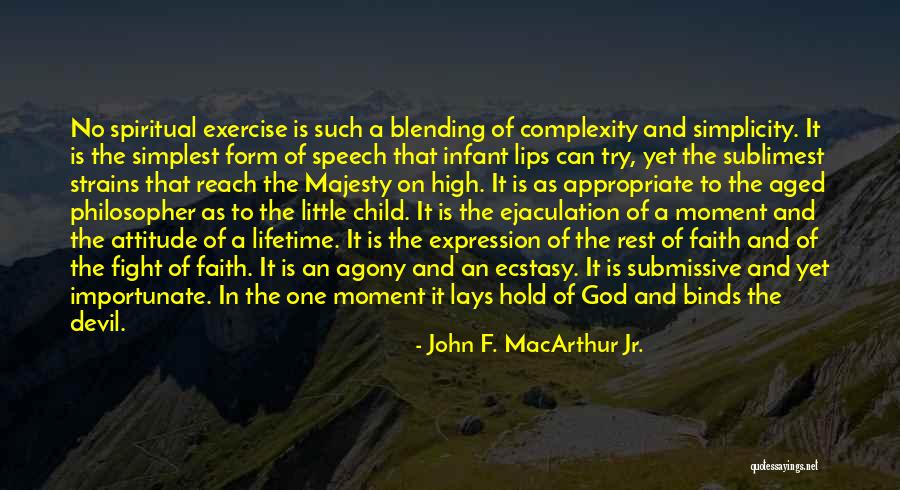 No spiritual exercise is such a blending of complexity and simplicity. It is the simplest form of speech that infant lips can try, yet the sublimest strains that reach the Majesty on high. It is as appropriate to the aged philosopher as to the little child. It is the ejaculation of a moment and the attitude of a lifetime. It is the expression of the rest of faith and of the fight of faith. It is an agony and an ecstasy. It is submissive and yet importunate. In the one moment it lays hold of God and binds the devil. It can be focused on a single objective and it can roam the world. It can be abject confession and rapt adoration. — John F. MacArthur Jr.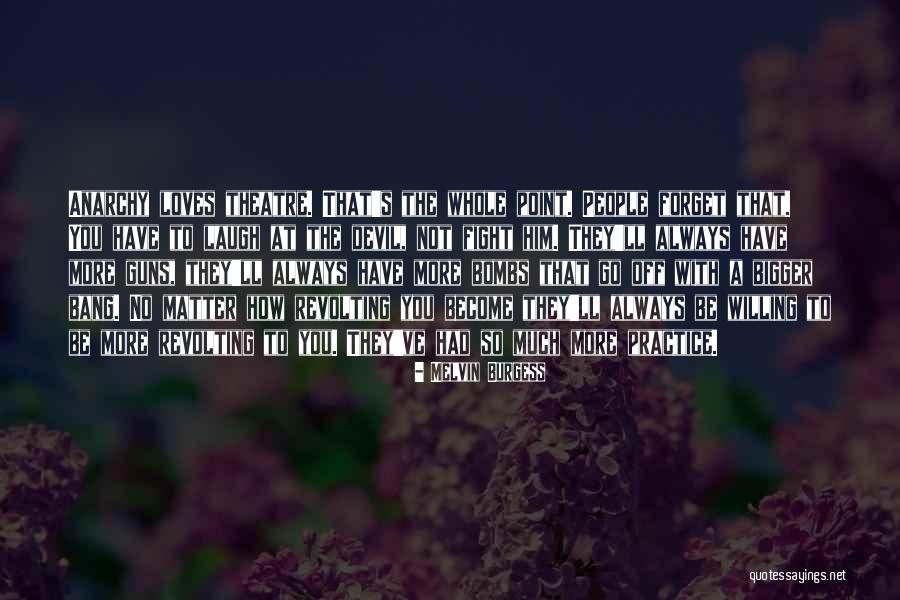 Anarchy loves theatre. That's the whole point. People forget that. You have to laugh at the devil, not fight him. They'll always have more guns, they'll always have more bombs that go off with a bigger bang. No matter how revolting you become they'll always be willing to be more revolting to you. They've had so much more practice. — Melvin Burgess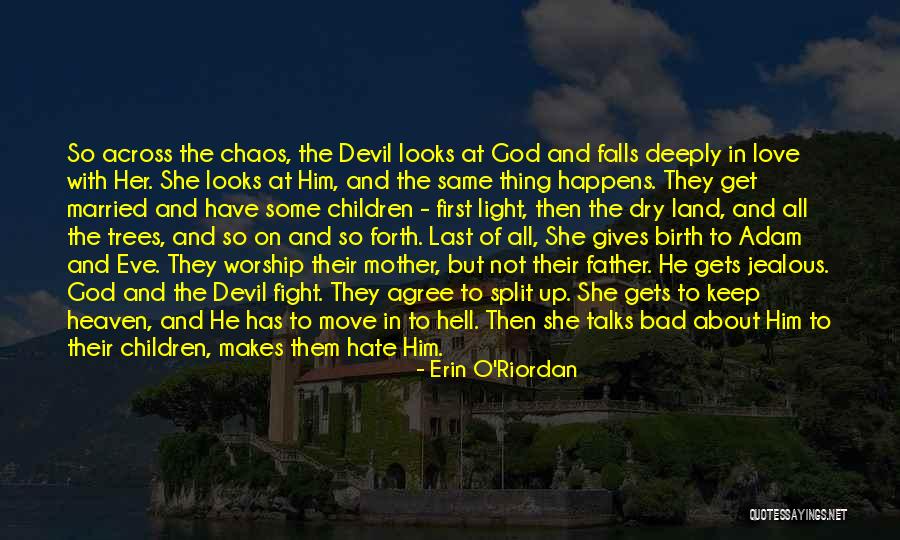 So across the chaos, the Devil looks at God and falls deeply in love with Her. She looks at Him, and the same thing happens. They get married and have some children - first light, then the dry land, and all the trees, and so on and so forth. Last of all, She gives birth to Adam and Eve. They worship their mother, but not their father. He gets jealous. God and the Devil fight. They agree to split up. She gets to keep heaven, and He has to move in to hell. Then she talks bad about Him to their children, makes them hate Him. — Erin O'Riordan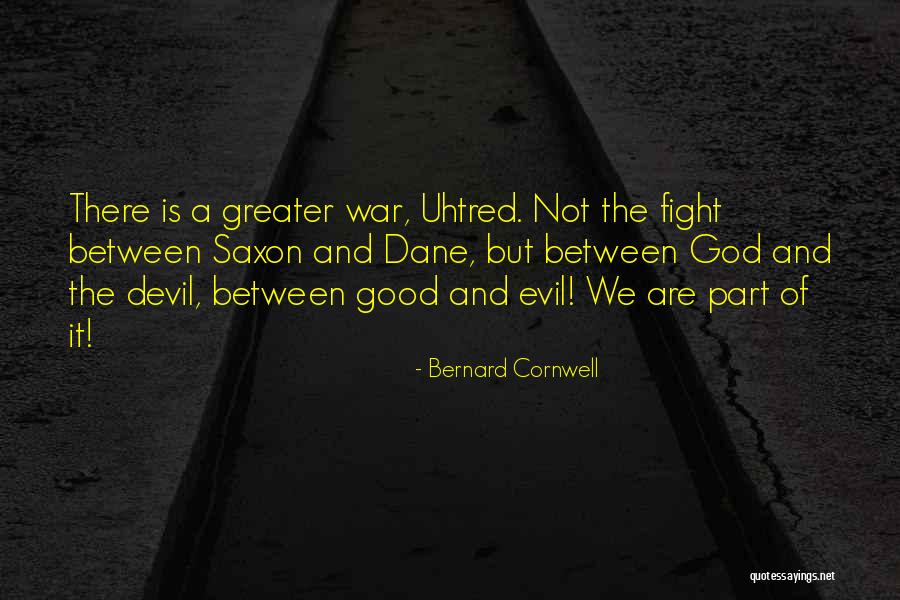 There is a greater war, Uhtred. Not the fight between Saxon and Dane, but between God and the devil, between good and evil! We are part of it! — Bernard Cornwell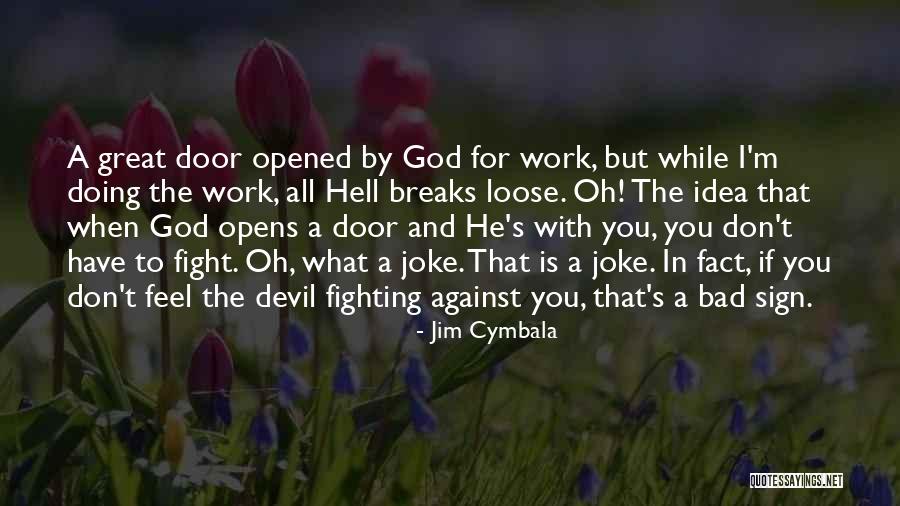 A great door opened by God for work, but while I'm doing the work, all Hell breaks loose. Oh! The idea that when God opens a door and He's with you, you don't have to fight. Oh, what a joke. That is a joke. In fact, if you don't feel the devil fighting against you, that's a bad sign. — Jim Cymbala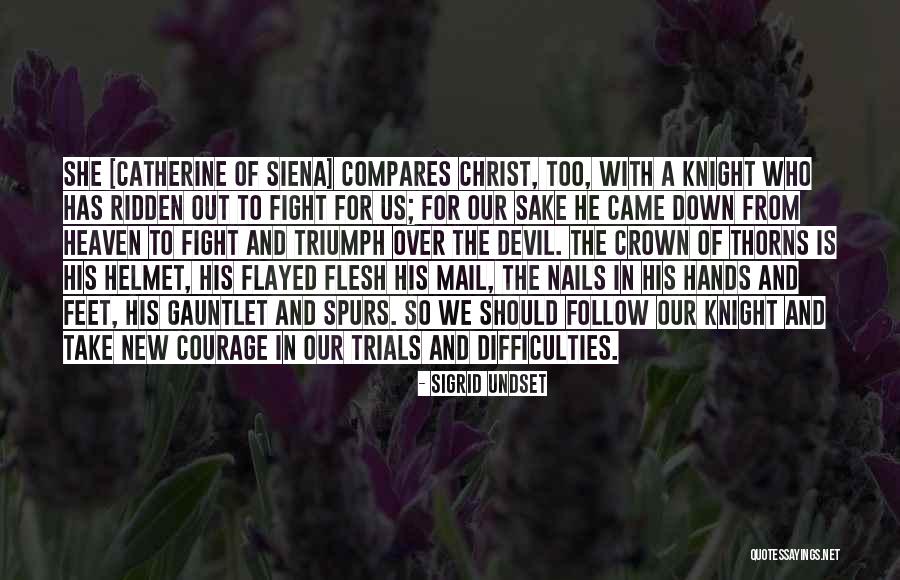 She [Catherine of Siena] compares Christ, too, with a knight who has ridden out to fight for us; for our sake He came down from Heaven to fight and triumph over the devil. The crown of thorns is His helmet, his flayed flesh His mail, the nails in His Hands and Feet, His gauntlet and spurs. So we should follow our Knight and take new courage in our trials and difficulties. — Sigrid Undset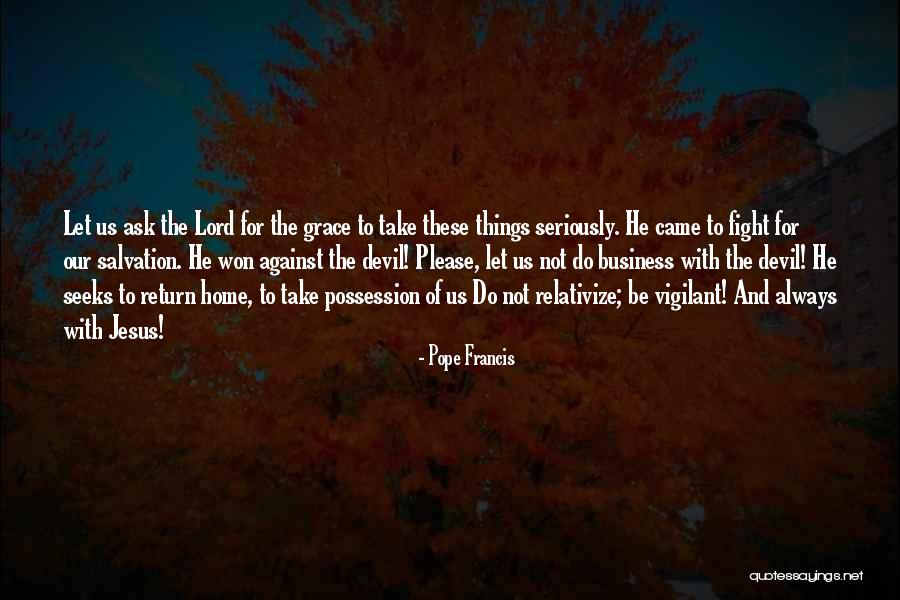 Let us ask the Lord for the grace to take these things seriously. He came to fight for our salvation. He won against the devil! Please, let us not do business with the devil! He seeks to return home, to take possession of us Do not relativize; be vigilant! And always with Jesus! — Pope Francis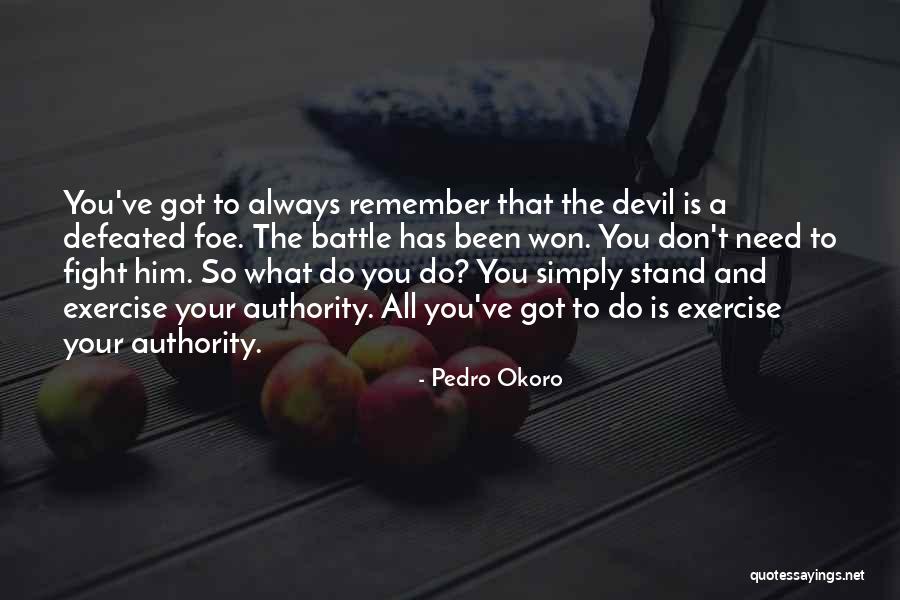 You've got to always remember that the devil is a defeated foe. The battle has been won. You don't need to fight him. So what do you do? You simply stand and exercise your authority. All you've got to do is exercise your authority. — Pedro Okoro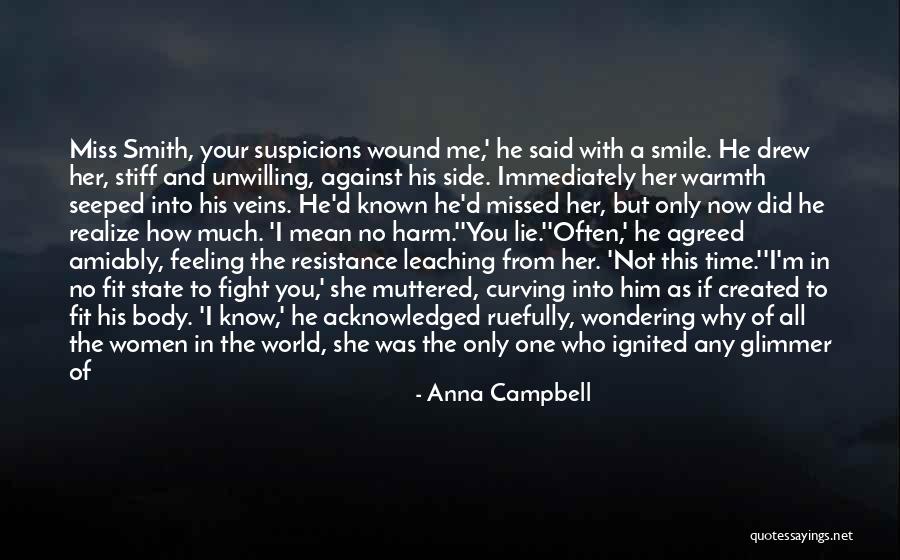 Miss Smith, your suspicions wound me,' he said with a smile. He drew her, stiff and unwilling, against his side. Immediately her warmth seeped into his veins. He'd known he'd missed her, but only now did he realize how much. 'I mean no harm.'
'You lie.'
'Often,' he agreed amiably, feeling the resistance leaching from her. 'Not this time.'
'I'm in no fit state to fight you,' she muttered, curving into him as if created to fit his body.
'I know,' he acknowledged ruefully, wondering why of all the women in the world, she was the only one who ignited any glimmer of chivalry in his soul. 'But it's no fun when you just give in. I'll wait until you're up for another bout.'
She hid her face in his shoulder. She inhaled on a shudder, as if she hadn't taken a full breath in days. 'You're an evil devil, Ranelaw.'
'Absolutely,' he said softly, firming his hold as she shifted, not away as she should, but closer. — Anna Campbell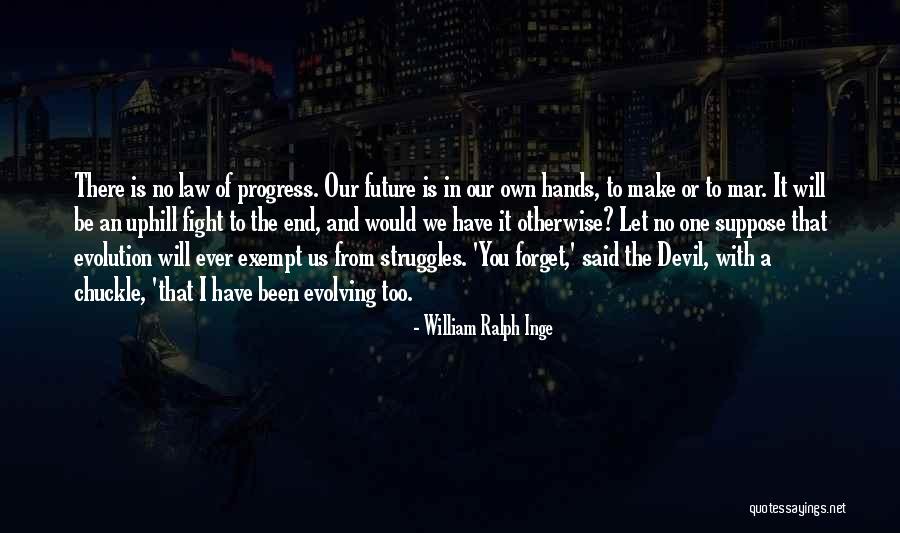 There is no law of progress. Our future is in our own hands, to make or to mar. It will be an uphill fight to the end, and would we have it otherwise? Let no one suppose that evolution will ever exempt us from struggles. 'You forget,' said the Devil, with a chuckle, 'that I have been evolving too. — William Ralph Inge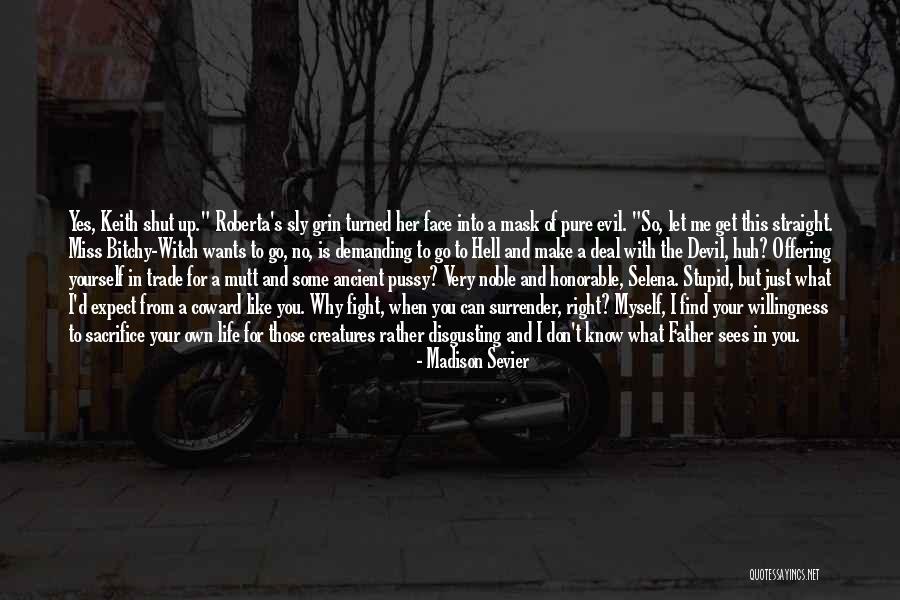 Yes, Keith shut up." Roberta's sly grin turned her face into a mask of pure evil. "So, let me get this straight. Miss Bitchy-Witch wants to go, no, is demanding to go to Hell and make a deal with the Devil, huh? Offering yourself in trade for a mutt and some ancient pussy? Very noble and honorable, Selena. Stupid, but just what I'd expect from a coward like you. Why fight, when you can surrender, right? Myself, I find your willingness to sacrifice your own life for those creatures rather disgusting and I don't know what Father sees in you. — Madison Sevier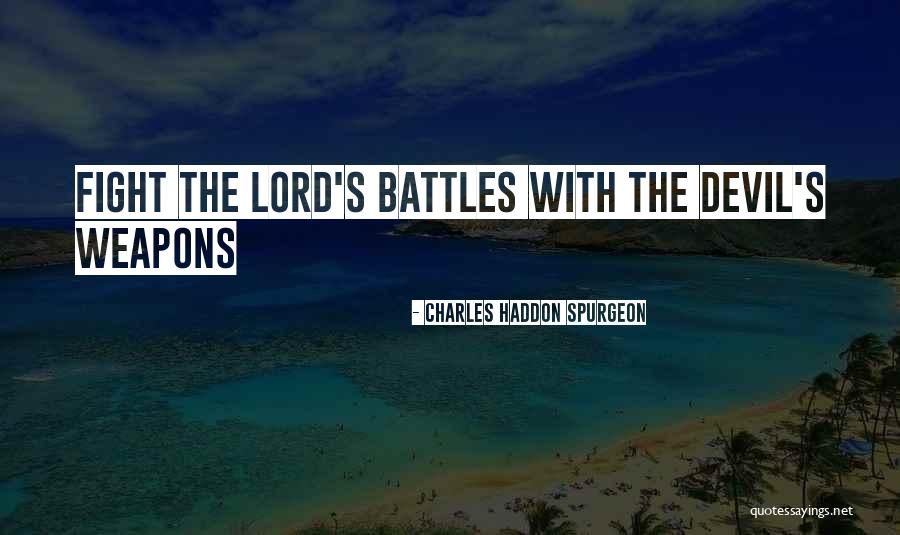 Fight the Lord's battles with the devil's weapons — Charles Haddon Spurgeon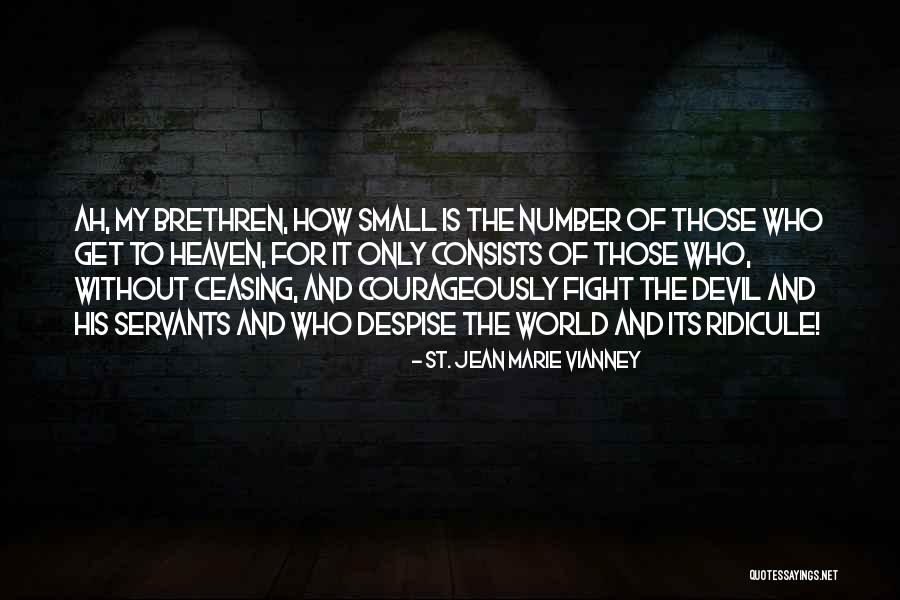 Ah, my brethren, how small is the number of those who get to Heaven, for it only consists of those who, without ceasing, and courageously fight the devil and his servants and who despise the world and its ridicule! — St. Jean Marie Vianney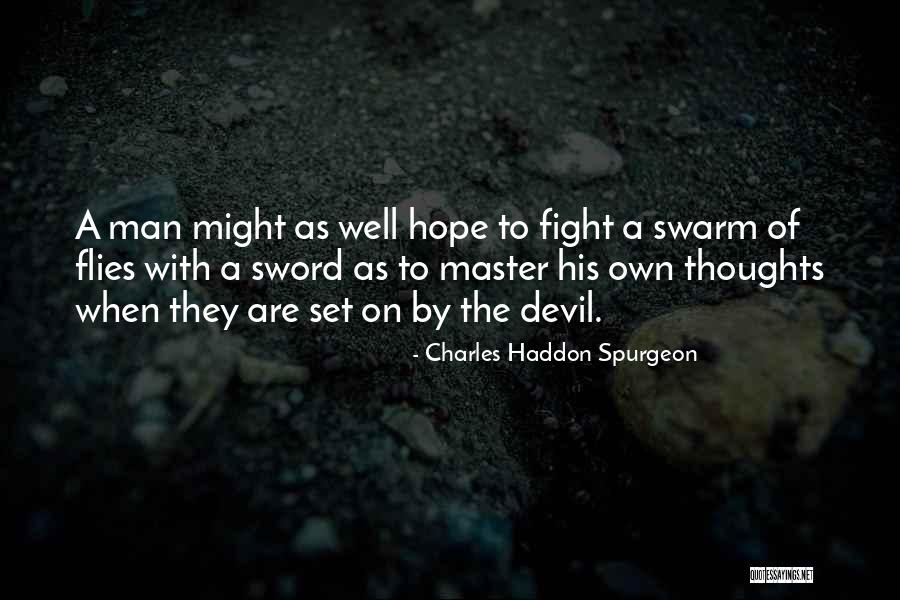 A man might as well hope to fight a swarm of flies with a sword as to master his own thoughts when they are set on by the devil. — Charles Haddon Spurgeon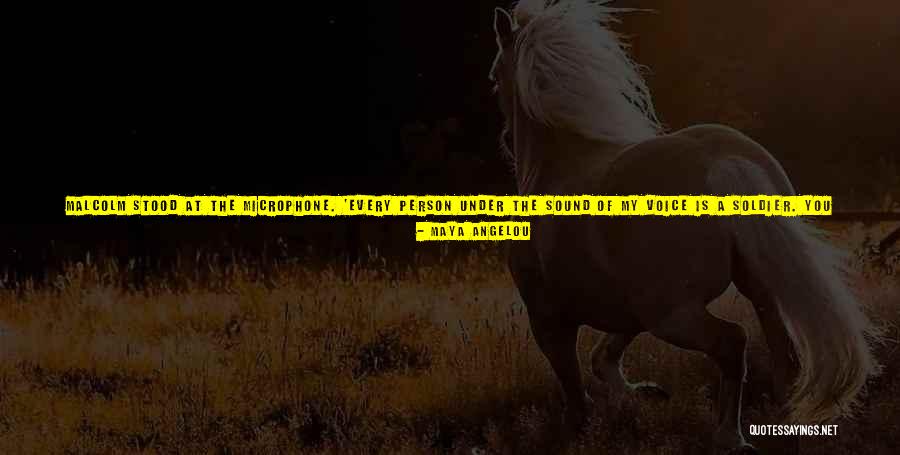 Malcolm stood at the microphone. 'Every person under the sound of my voice is a soldier. You are either fighting for your freedom or betraying the fight for freedom or enlisted in the army to deny somebody else's freedom.' His voice, deep and textured, reached through the crowd, across the street to the tenement windows where listeners leaned half their bodies out into the spring air. 'The black man has been programmed to die. To die either by his own hand, the hand of his brother or at the hand of a blue-eyed devil trained to do one thing: take the black man's life.' The — Maya Angelou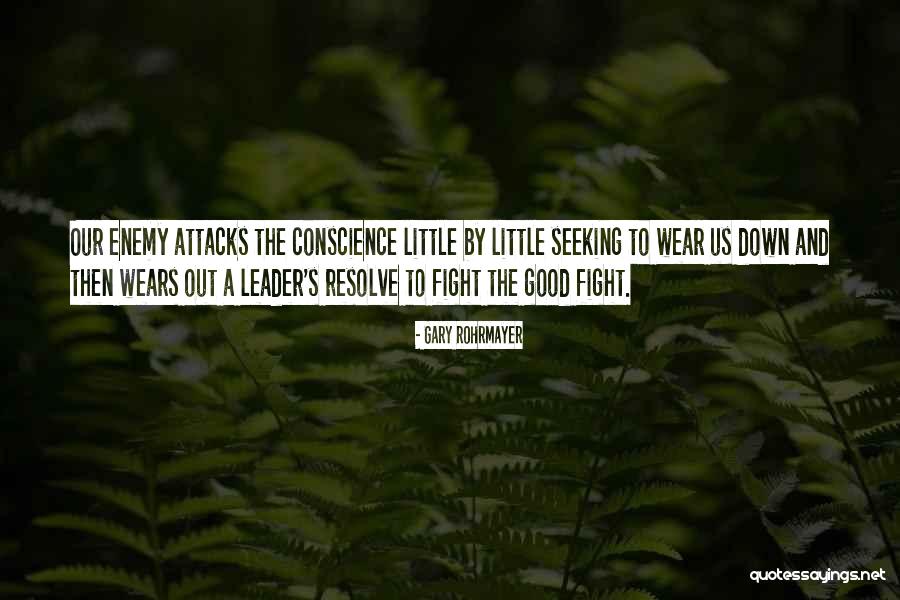 Our enemy attacks the conscience little by little seeking to wear us down and then wears out a leader's resolve to fight the good fight. — Gary Rohrmayer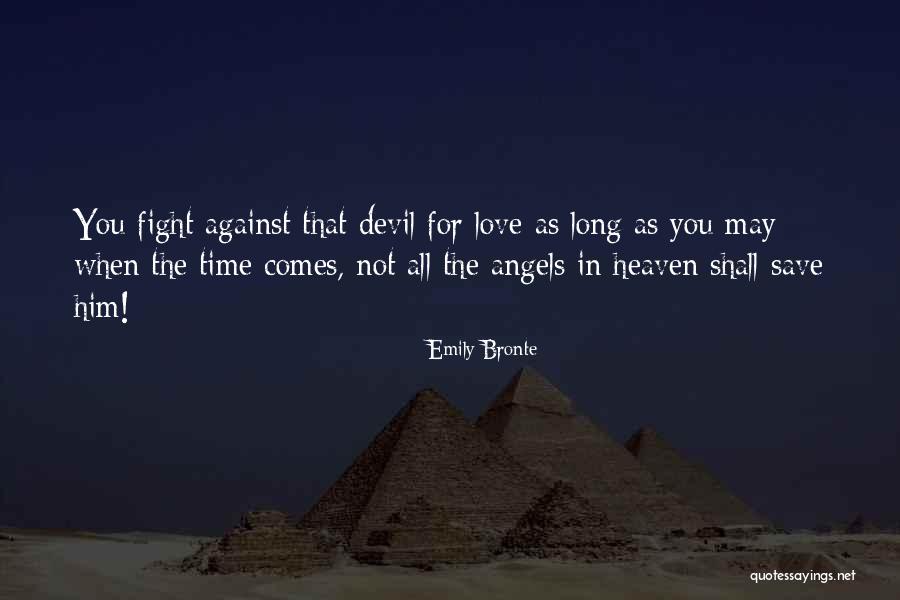 You fight against that devil for love as long as you may; when the time comes, not all the angels in heaven shall save him! — Emily Bronte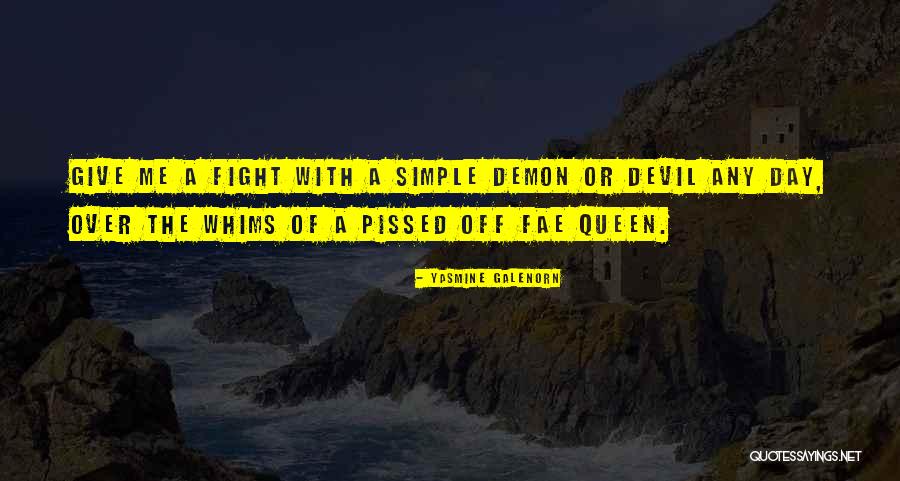 Give me a fight with a simple demon or devil any day, over the whims of a pissed off Fae Queen. — Yasmine Galenorn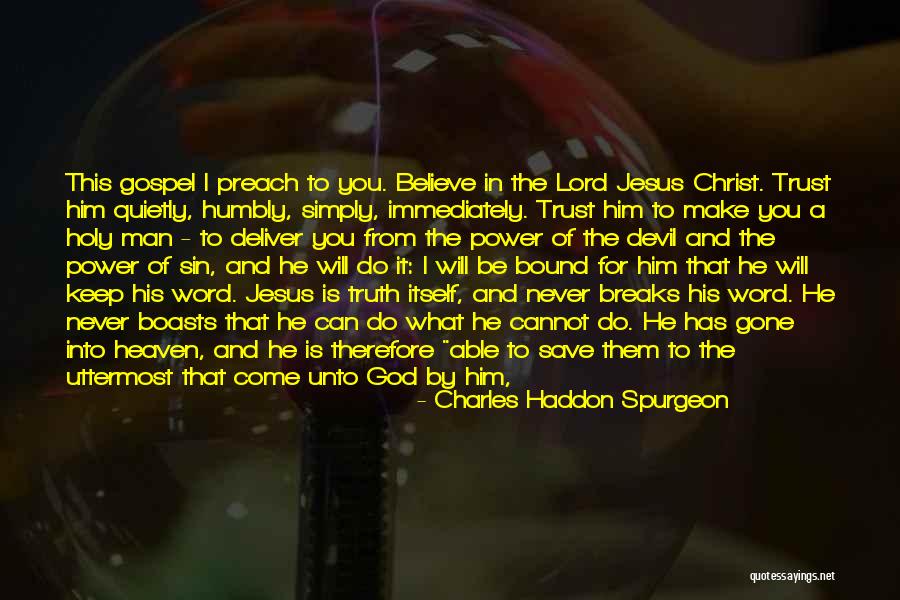 This gospel I preach to you. Believe in the Lord Jesus Christ. Trust him quietly, humbly, simply, immediately. Trust him to make you a holy man - to deliver you from the power of the devil and the power of sin, and he will do it: I will be bound for him that he will keep his word. Jesus is truth itself, and never breaks his word. He never boasts that he can do what he cannot do. He has gone into heaven, and he is therefore "able to save them to the uttermost that come unto God by him, seeing he ever liveth to make intercession for them." Only trust him. Trust him to overcome the evil you have to fight with. You will conquer it, man, if you will only trust Jesus. Woman, there is hope for you if you will trust the wounded, bleeding, dying, risen, living Savior. He will battle for you, and you shall get the victory. — Charles Haddon Spurgeon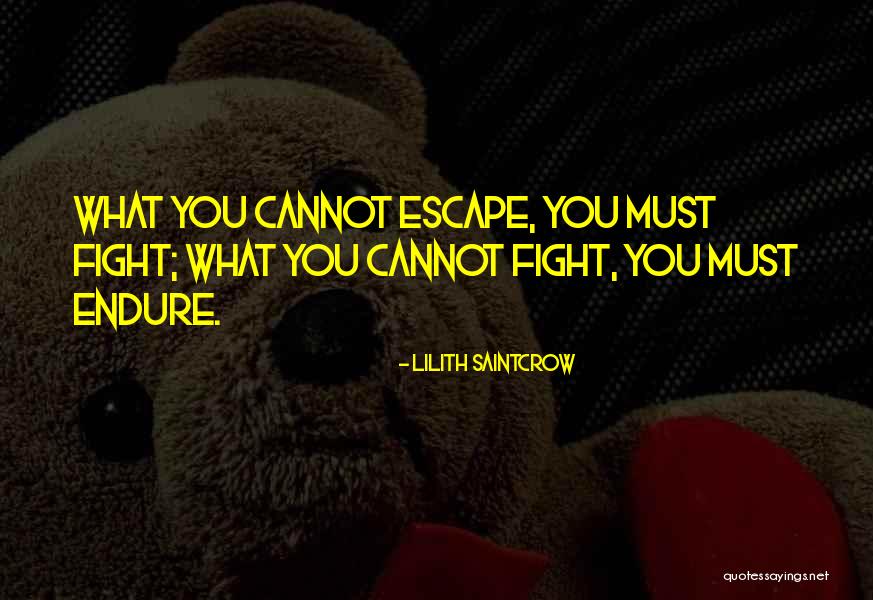 What you cannot escape, you must fight; what you cannot fight, you must endure. — Lilith Saintcrow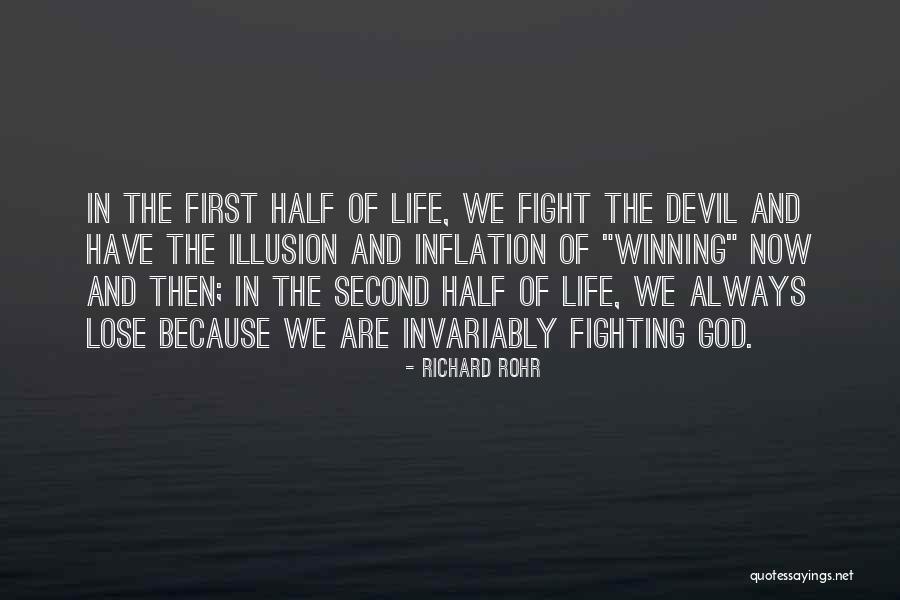 In the first half of life, we fight the devil and have the illusion and inflation of "winning" now and then; in the second half of life, we always lose because we are invariably fighting God. — Richard Rohr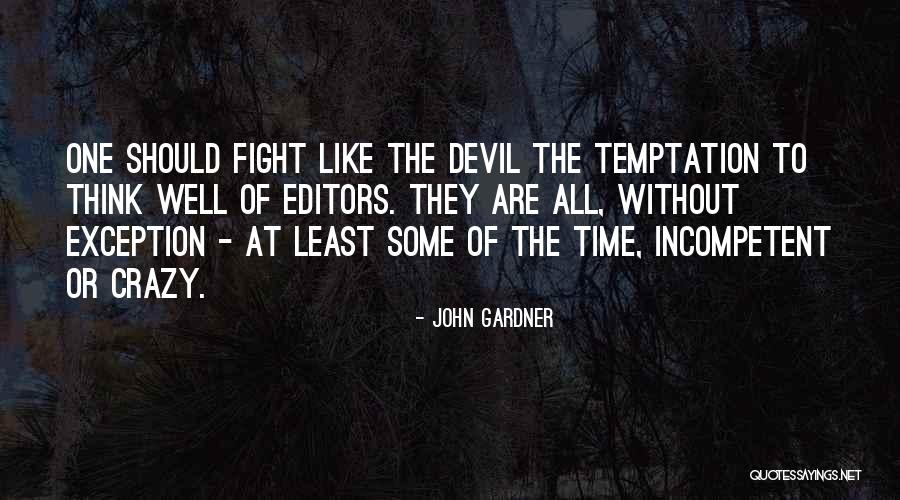 One should fight like the devil the temptation to think well of editors. They are all, without exception - at least some of the time, incompetent or crazy. — John Gardner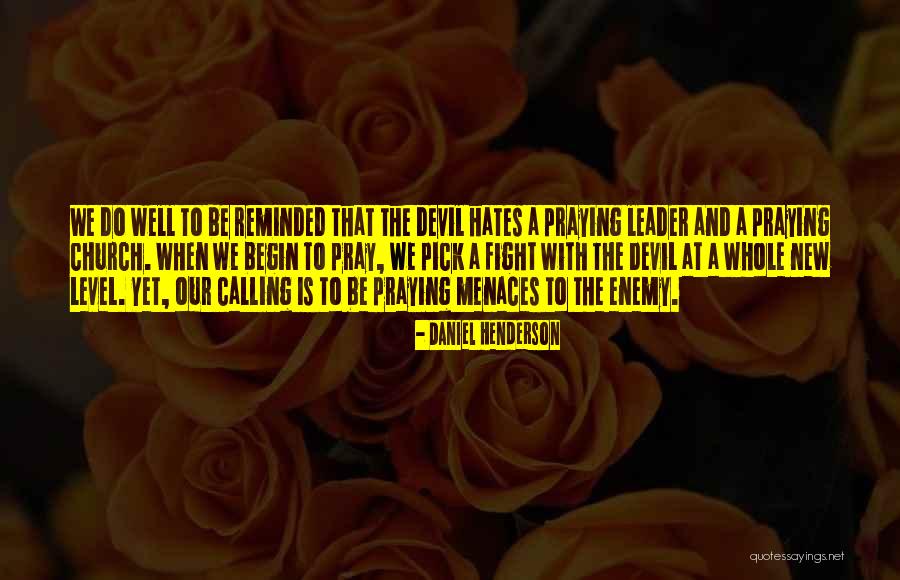 We do well to be reminded that the devil hates a praying leader and a praying church. When we begin to pray, we pick a fight with the devil at a whole new level. Yet, our calling is to be praying menaces to the enemy. — Daniel Henderson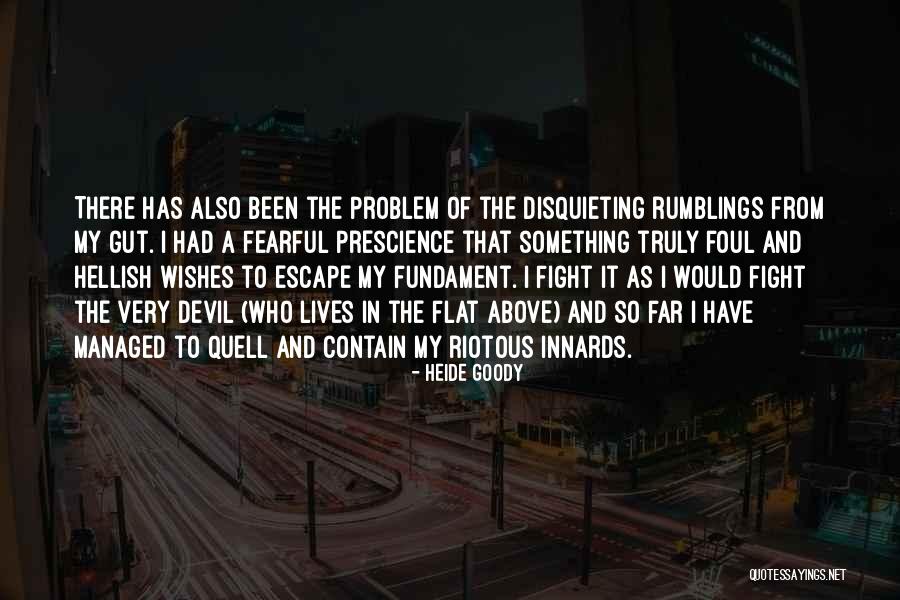 There has also been the problem of the disquieting rumblings from my gut. I had a fearful prescience that something truly foul and hellish wishes to escape my fundament. I fight it as I would fight the very devil (who lives in the flat above) and so far I have managed to quell and contain my riotous innards. — Heide Goody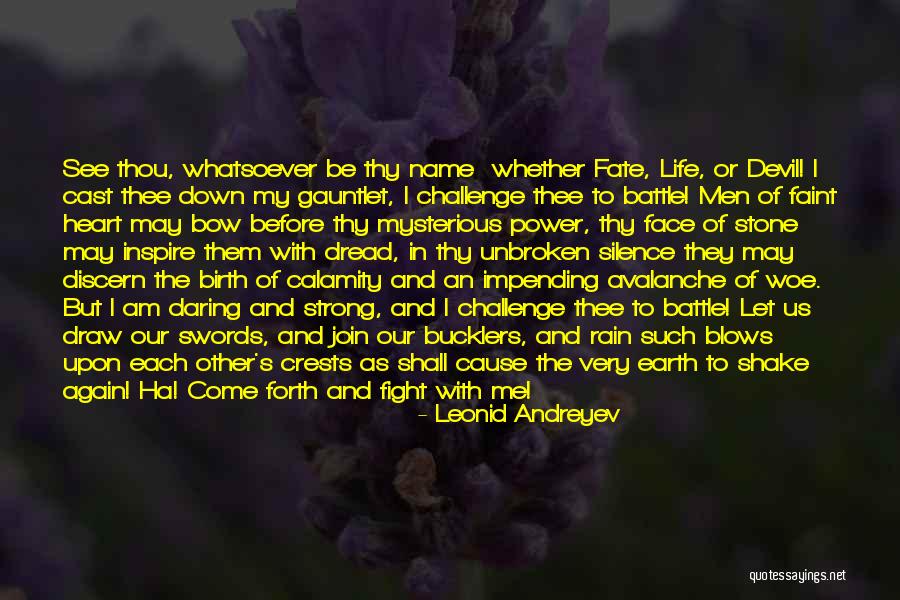 See thou, whatsoever be thy name
whether Fate, Life, or Devil! I cast thee down my gauntlet, I challenge thee to battle! Men of faint heart may bow before thy mysterious power, thy face of stone may inspire them with dread, in thy unbroken silence they may discern the birth of calamity and an impending avalanche of woe. But I am daring and strong, and I challenge thee to battle! Let us draw our swords, and join our bucklers, and rain such blows upon each other's crests as shall cause the very earth to shake again! Ha! Come forth and fight with me! — Leonid Andreyev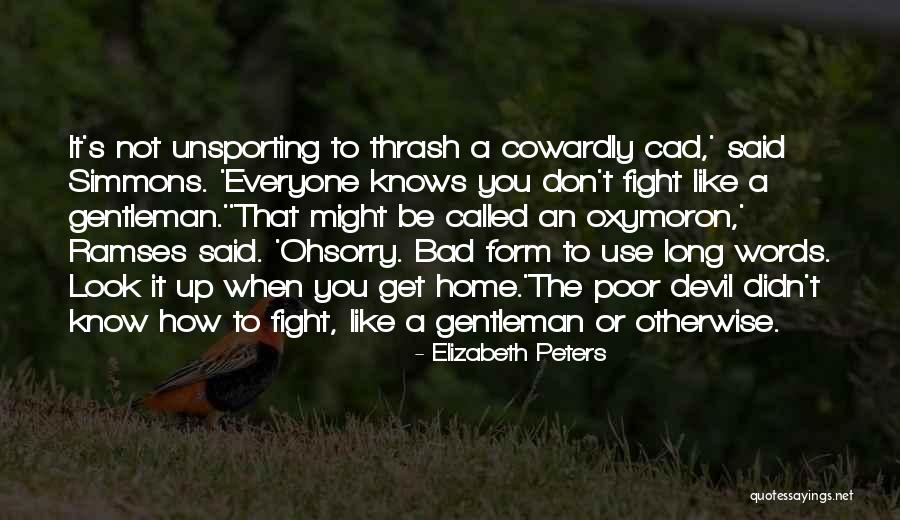 It's not unsporting to thrash a cowardly cad,' said Simmons. 'Everyone knows you don't fight like a gentleman.'
'That might be called an oxymoron,' Ramses said. 'Oh
sorry. Bad form to use long words. Look it up when you get home.'
The poor devil didn't know how to fight, like a gentleman or otherwise. — Elizabeth Peters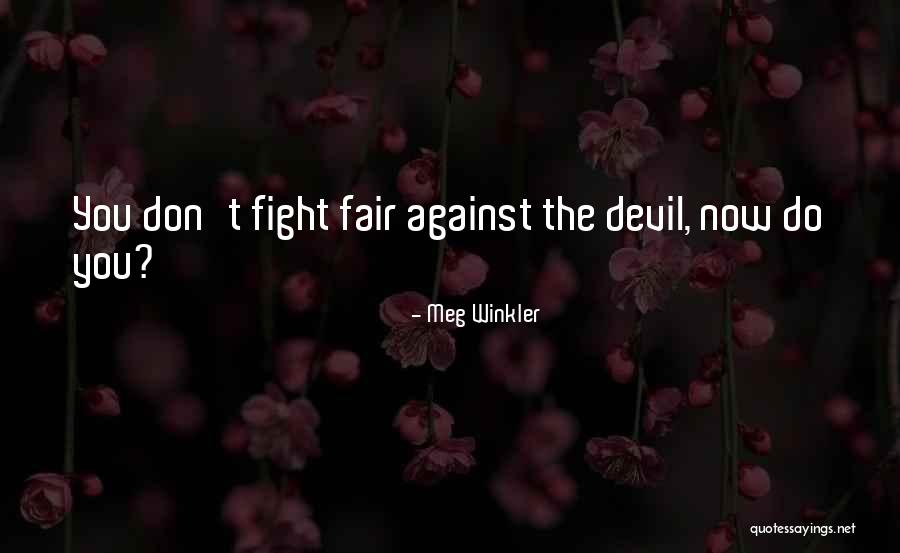 You don't fight fair against the devil, now do you? — Meg Winkler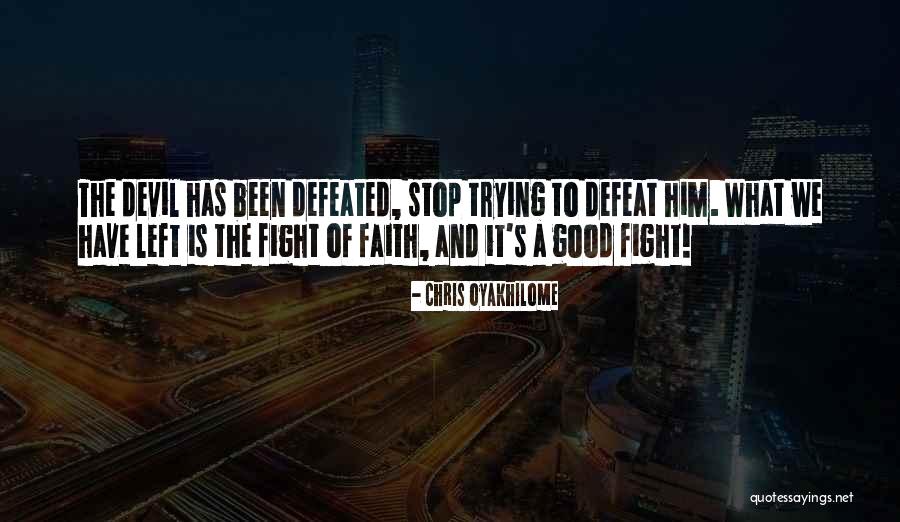 The devil has been defeated, stop trying to defeat him. What we have left is the fight of faith, and it's a good fight! — Chris Oyakhilome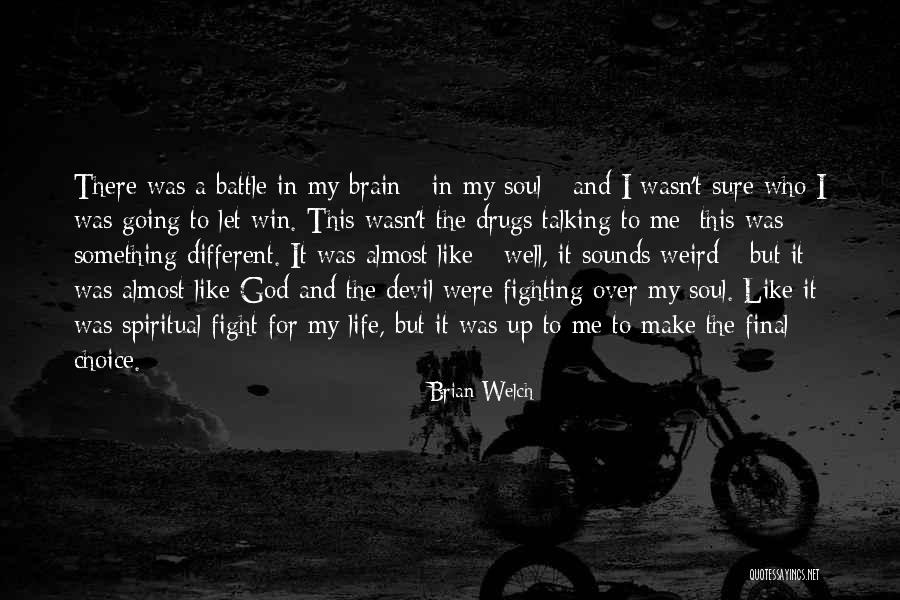 There was a battle in my brain - in my soul - and I wasn't sure who I was going to let win. This wasn't the drugs talking to me; this was something different. It was almost like - well, it sounds weird - but it was almost like God and the devil were fighting over my soul. Like it was spiritual fight for my life, but it was up to me to make the final choice. — Brian Welch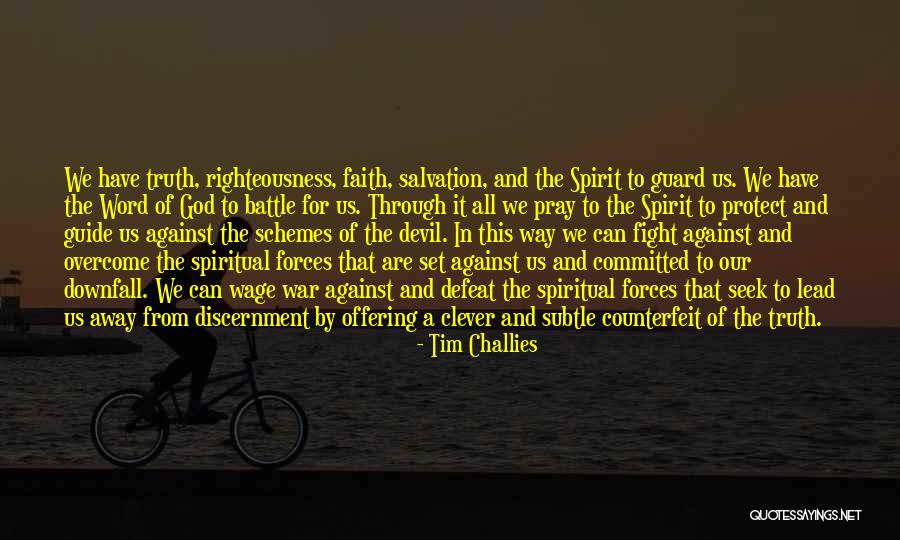 We have truth, righteousness, faith, salvation, and the Spirit to guard us. We have the Word of God to battle for us. Through it all we pray to the Spirit to protect and guide us against the schemes of the devil. In this way we can fight against and overcome the spiritual forces that are set against us and committed to our downfall. We can wage war against and defeat the spiritual forces that seek to lead us away from discernment by offering a clever and subtle counterfeit of the truth. — Tim Challies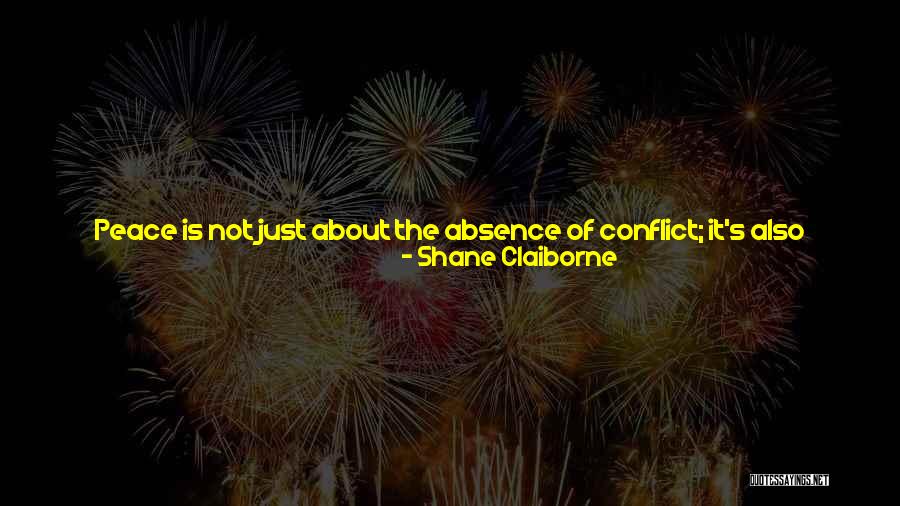 Peace is not just about the absence of conflict; it's also about the presence of justice. Martin Luther King Jr. even distinguished between "the devil's peace" and God's true peace. A counterfeit peace exists when people are pacified or distracted or so beat up and tired of fighting that all seems calm. But true peace does not exist until there is justice, restoration, forgiveness. Peacemaking doesn't mean passivity. It is the act of interrupting injustice without mirroring injustice, the act of disarming evil without destroying the evildoer, the act of finding a third way that is neither fight nor flight but the careful, arduous pursuit of reconciliation and justice. It is about a revolution of love that is big enough to set both the oppressed and the oppressors free. — Shane Claiborne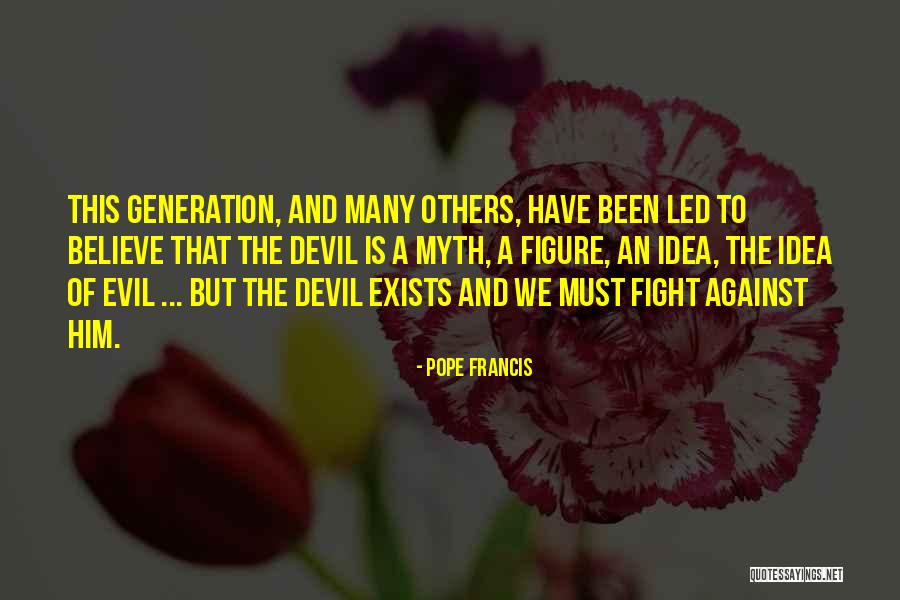 This generation, and many others, have been led to believe that the devil is a myth, a figure, an idea, the idea of evil ... But the devil exists and we must fight against him. — Pope Francis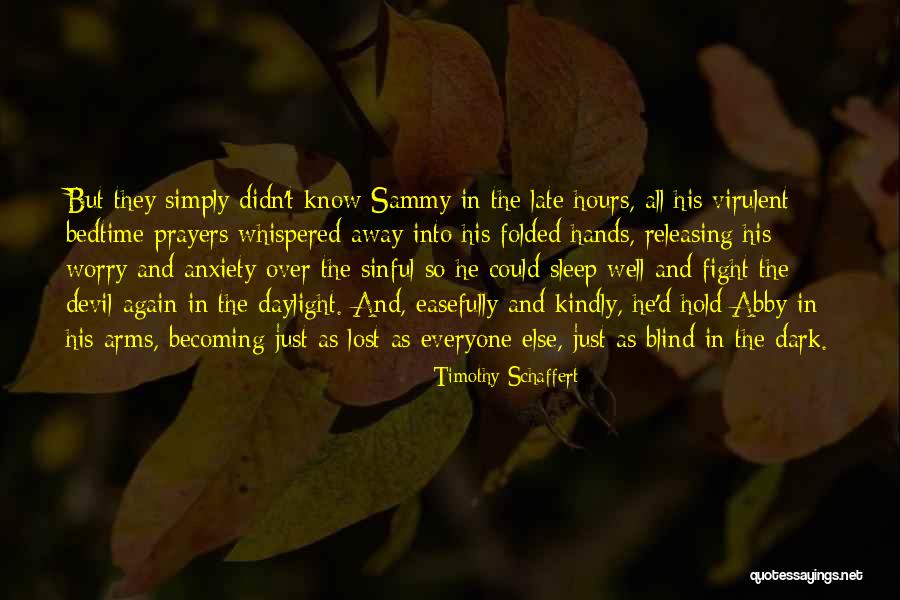 But they simply didn't know Sammy in the late hours, all his virulent bedtime prayers whispered away into his folded hands, releasing his worry and anxiety over the sinful so he could sleep well and fight the devil again in the daylight. And, easefully and kindly, he'd hold Abby in his arms, becoming just as lost as everyone else, just as blind in the dark. — Timothy Schaffert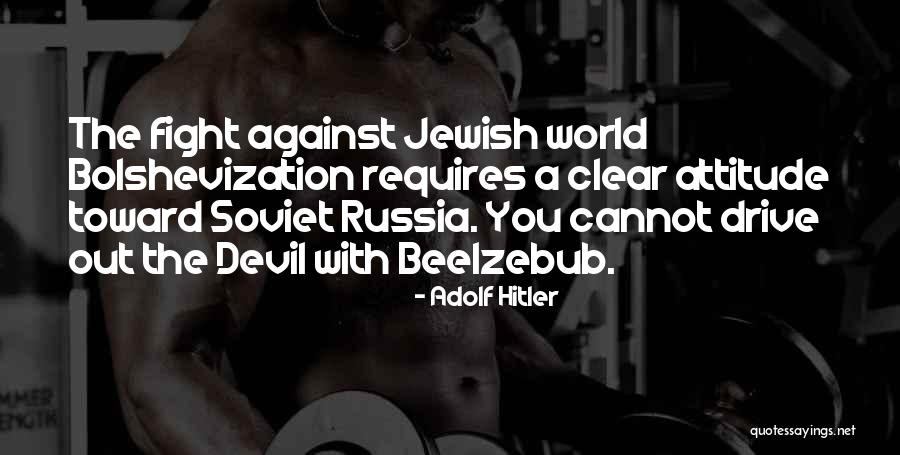 The fight against Jewish world Bolshevization requires a clear attitude toward Soviet Russia. You cannot drive out the Devil with Beelzebub. — Adolf Hitler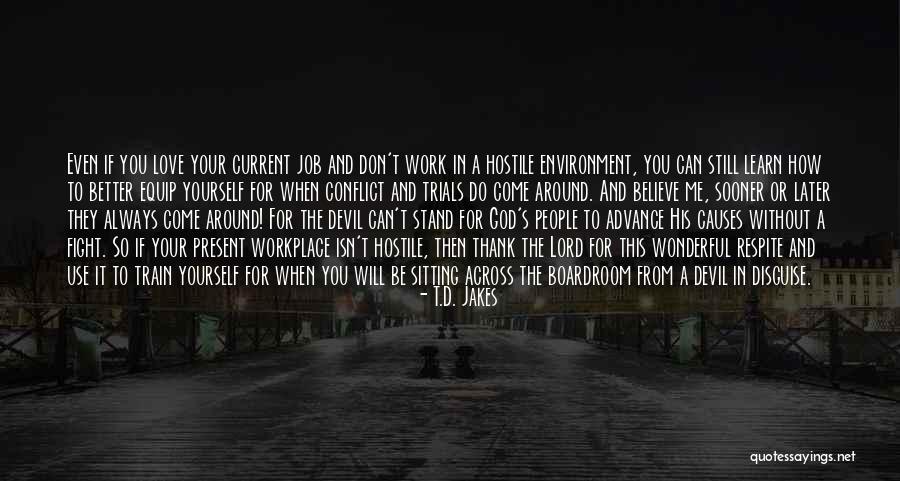 Even if you love your current job and don't work in a hostile environment, you can still learn how to better equip yourself for when conflict and trials do come around. And believe me, sooner or later they always come around! For the devil can't stand for God's people to advance His causes without a fight. So if your present workplace isn't hostile, then thank the Lord for this wonderful respite and use it to train yourself for when you will be sitting across the boardroom from a devil in disguise. — T.D. Jakes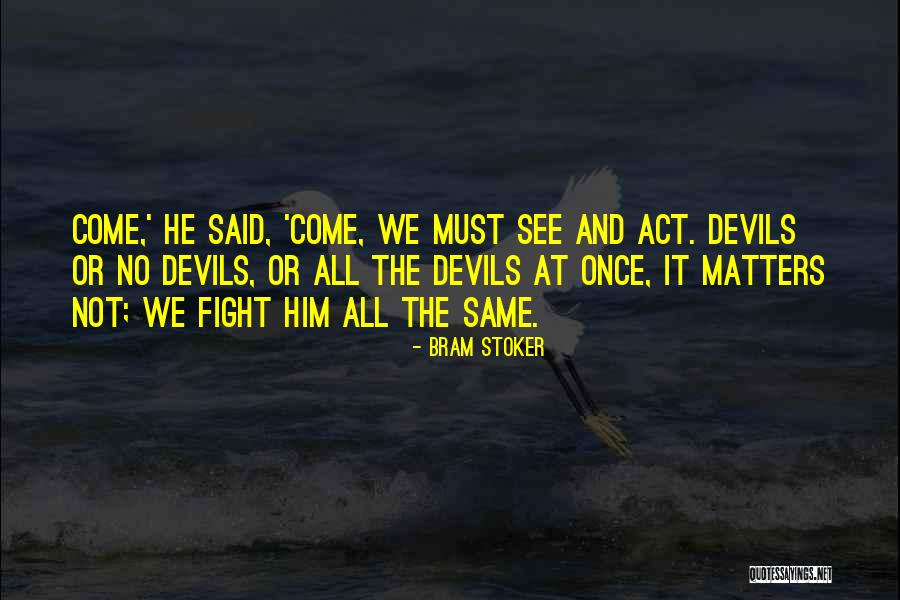 Come,' he said, 'come, we must see and act. Devils or no devils, or all the devils at once, it matters not; we fight him all the same. — Bram Stoker