Quotes & Sayings About Femininity And Strength
Enjoy reading and share 21 famous quotes about Femininity And Strength with everyone.
Top Femininity And Strength Quotes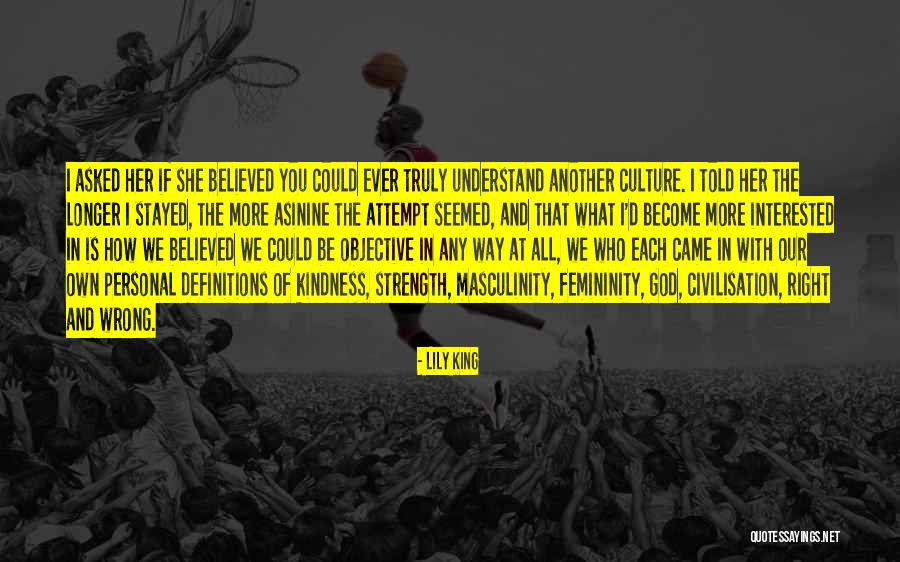 I asked her if she believed you could ever truly understand another culture. I told her the longer I stayed, the more asinine the attempt seemed, and that what I'd become more interested in is how we believed we could be objective in any way at all, we who each came in with our own personal definitions of kindness, strength, masculinity, femininity, God, civilisation, right and wrong. — Lily King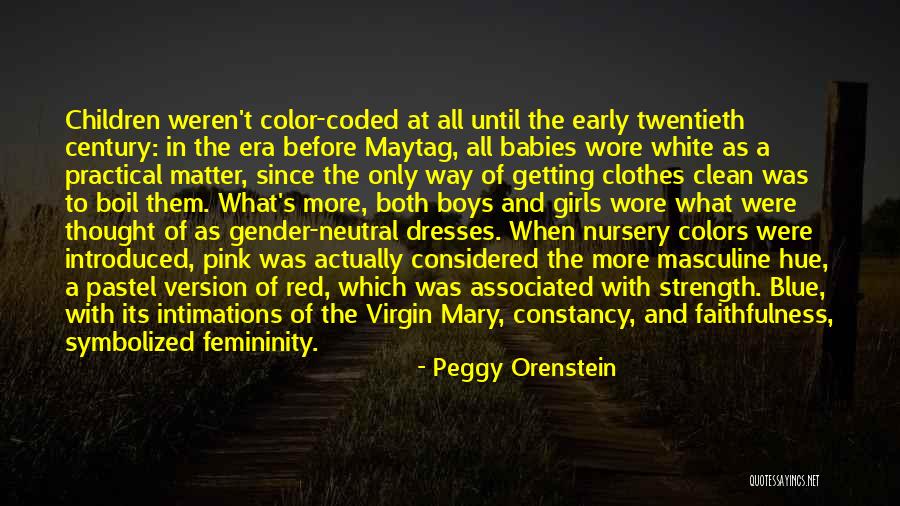 Children weren't color-coded at all until the early twentieth century: in the era before Maytag, all babies wore white as a practical matter, since the only way of getting clothes clean was to boil them. What's more, both boys and girls wore what were thought of as gender-neutral dresses. When nursery colors were introduced, pink was actually considered the more masculine hue, a pastel version of red, which was associated with strength. Blue, with its intimations of the Virgin Mary, constancy, and faithfulness, symbolized femininity. — Peggy Orenstein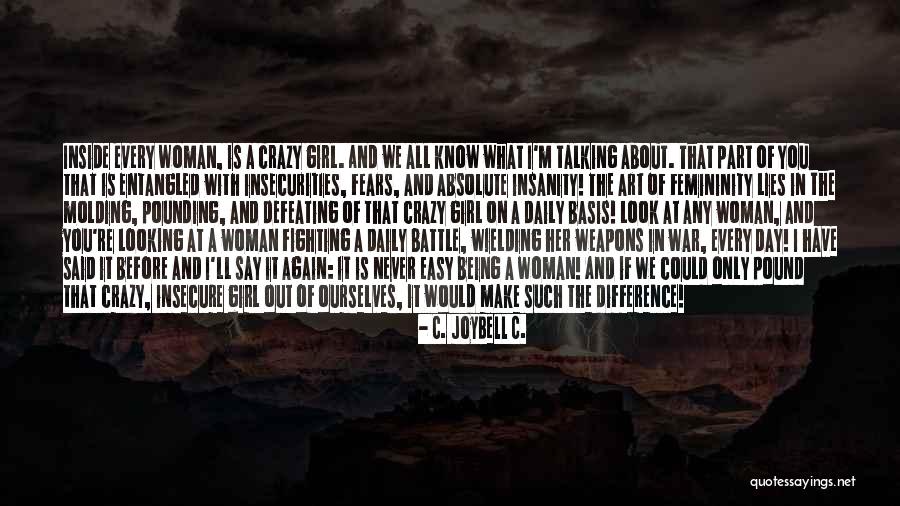 Inside every woman, is a crazy girl. And we all know what I'm talking about. That part of you that is entangled with insecurities, fears, and absolute insanity! The art of femininity lies in the molding, pounding, and defeating of that crazy girl on a daily basis! Look at any woman, and you're looking at a woman fighting a daily battle, wielding her weapons in war, every day! I have said it before and I'll say it again: it is never easy being a woman! And if we could only pound that crazy, insecure girl out of ourselves, it would make such the difference! — C. JoyBell C.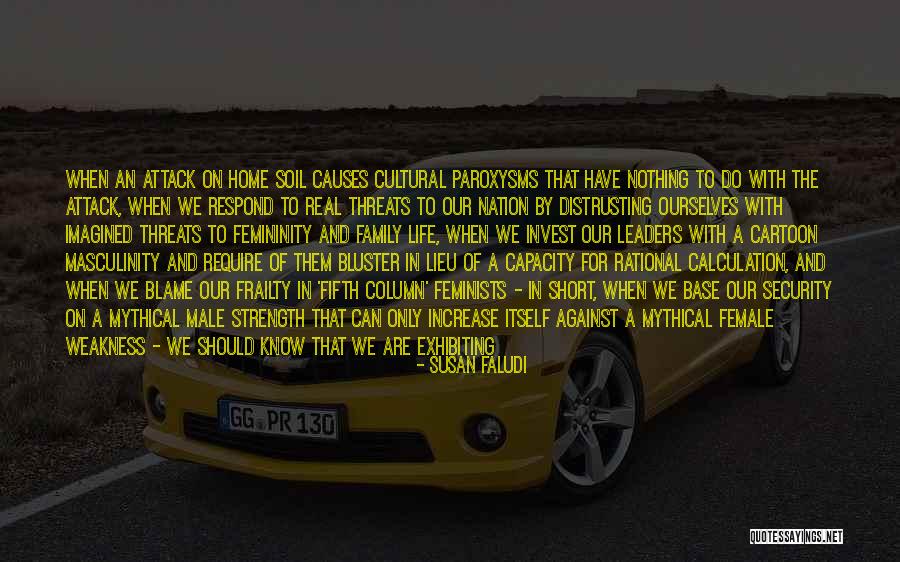 When an attack on home soil causes cultural paroxysms that have nothing to do with the attack, when we respond to real threats to our nation by distrusting ourselves with imagined threats to femininity and family life, when we invest our leaders with a cartoon masculinity and require of them bluster in lieu of a capacity for rational calculation, and when we blame our frailty in 'fifth column' feminists - in short, when we base our security on a mythical male strength that can only increase itself against a mythical female weakness - we should know that we are exhibiting the symptoms of a lethal, albeit curable, cultural affliction (p. 295). — Susan Faludi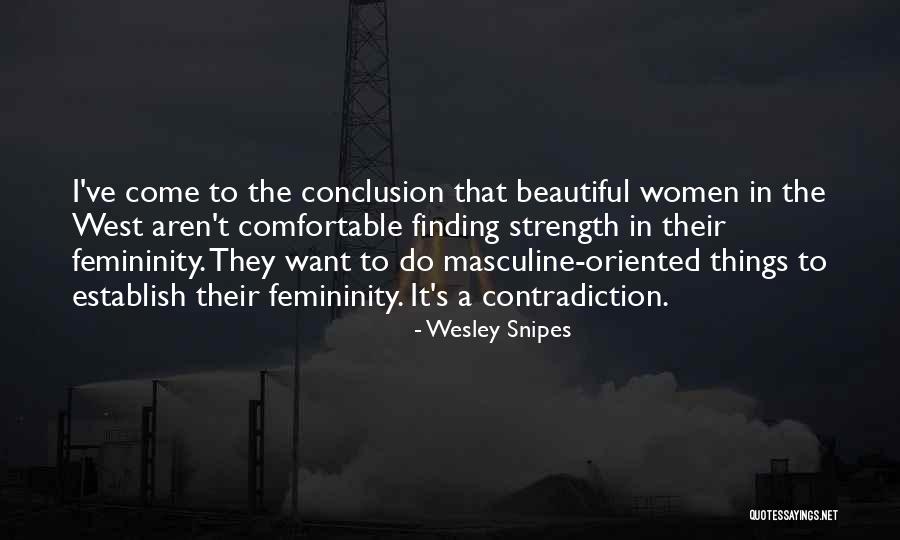 I've come to the conclusion that beautiful women in the West aren't comfortable finding strength in their femininity. They want to do masculine-oriented things to establish their femininity. It's a contradiction. — Wesley Snipes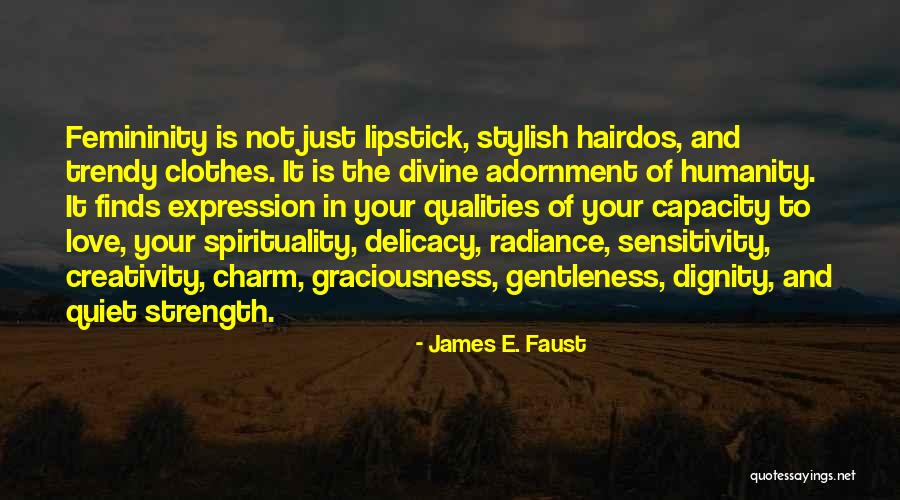 Femininity is not just lipstick, stylish hairdos, and trendy clothes. It is the divine adornment of humanity. It finds expression in your qualities of your capacity to love, your spirituality, delicacy, radiance, sensitivity, creativity, charm, graciousness, gentleness, dignity, and quiet strength. — James E. Faust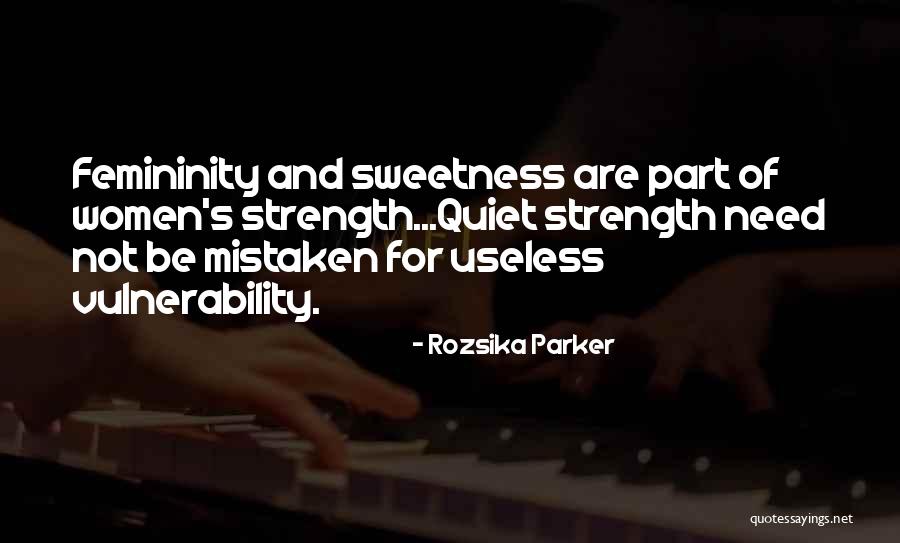 Femininity and sweetness are part of women's strength...Quiet strength need not be mistaken for useless vulnerability. — Rozsika Parker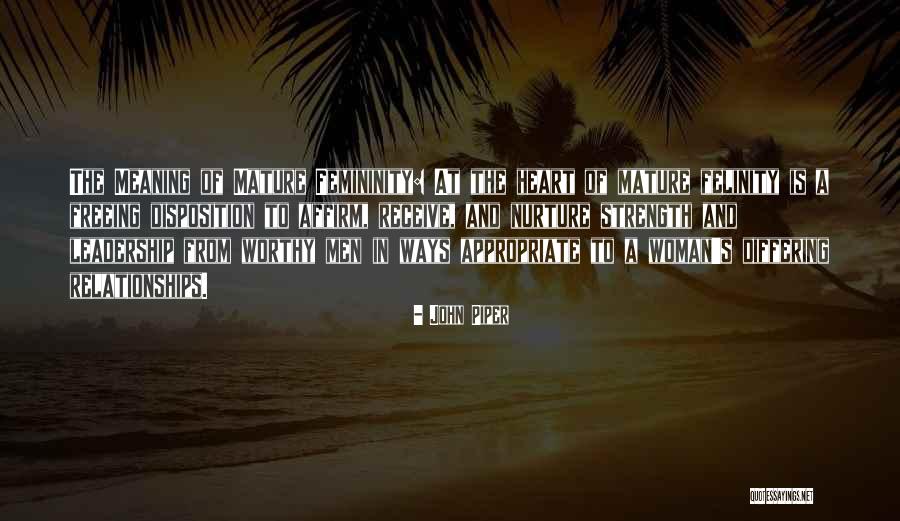 The Meaning of Mature Femininity: At the heart of mature felinity is a freeing disposition to affirm, receive, and nurture strength and leadership from worthy men in ways appropriate to a woman's differing relationships. — John Piper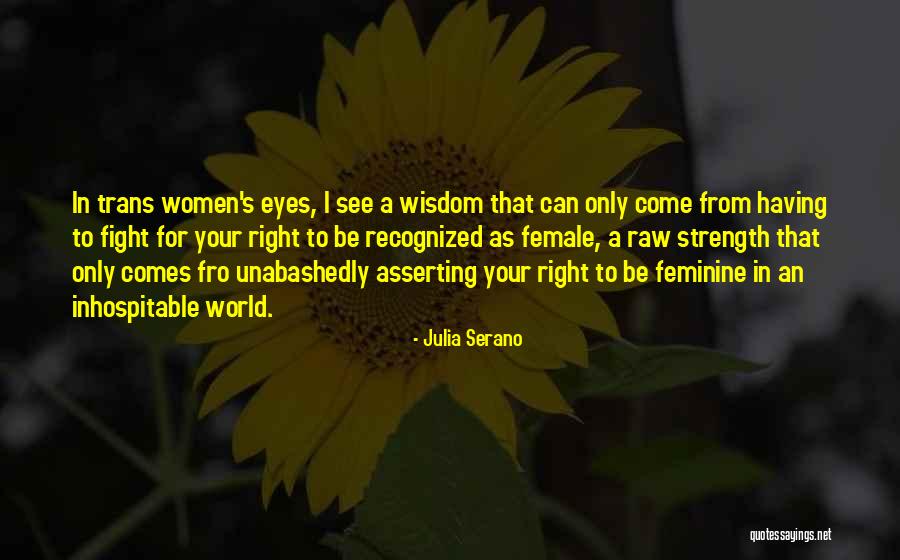 In trans women's eyes, I see a wisdom that can only come from having to fight for your right to be recognized as female, a raw strength that only comes fro unabashedly asserting your right to be feminine in an inhospitable world. — Julia Serano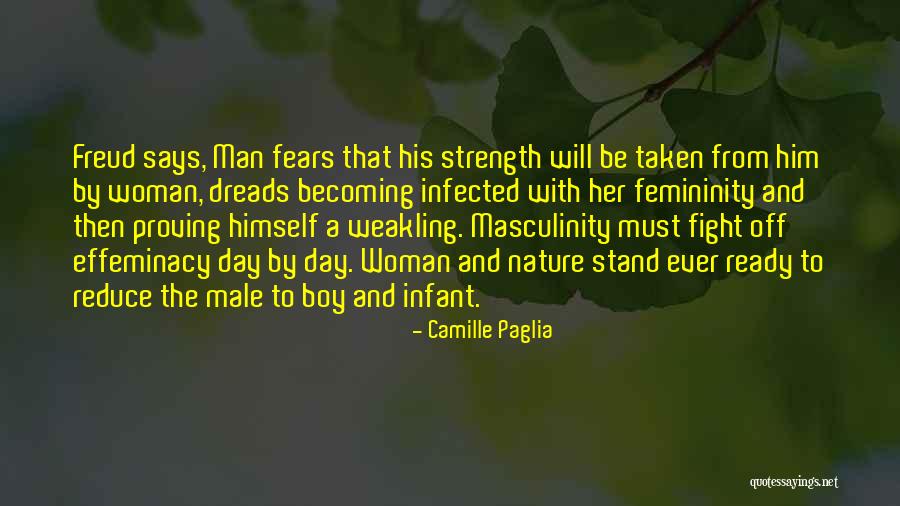 Freud says, Man fears that his strength will be taken from him by woman, dreads becoming infected with her femininity and then proving himself a weakling. Masculinity must fight off effeminacy day by day. Woman and nature stand ever ready to reduce the male to boy and infant. — Camille Paglia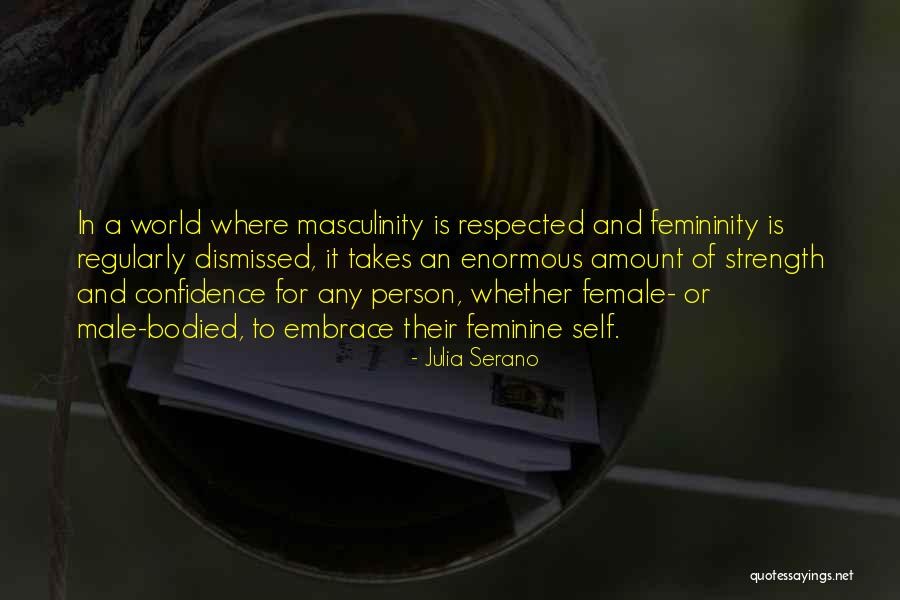 In a world where masculinity is respected and femininity is regularly dismissed, it takes an enormous amount of strength and confidence for any person, whether female- or male-bodied, to embrace their feminine self. — Julia Serano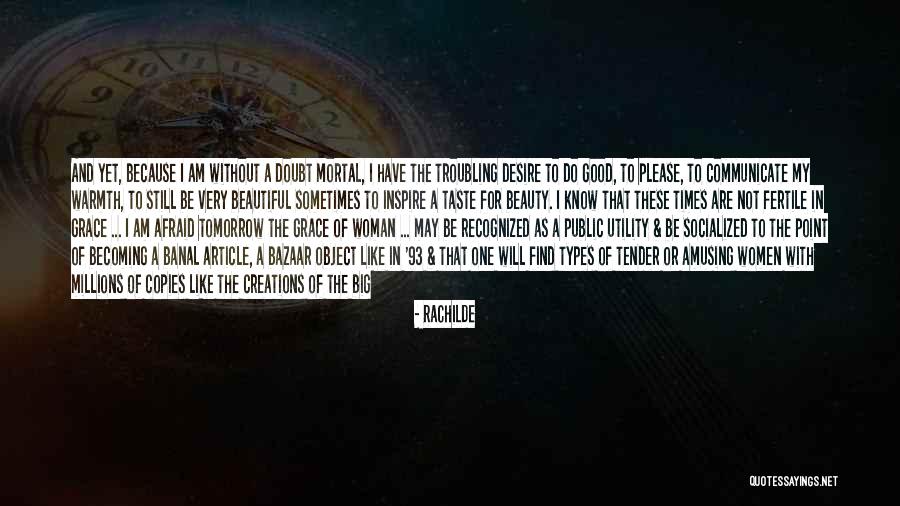 And yet, because I am without a doubt mortal, I have the troubling desire to do good, to please, to communicate my warmth, to still be very beautiful sometimes to inspire a taste for beauty. I know that these times are not fertile in grace ... I am afraid tomorrow the grace of woman ... may be recognized as a public utility & be socialized to the point of becoming a banal article, a bazaar object like in '93 & that one will find types of tender or amusing women with millions of copies like the creations of the big ... fashion stores where it is always the same thing. I want to affirm the superiority of the god over that of the organizer of concerts for the poor. — Rachilde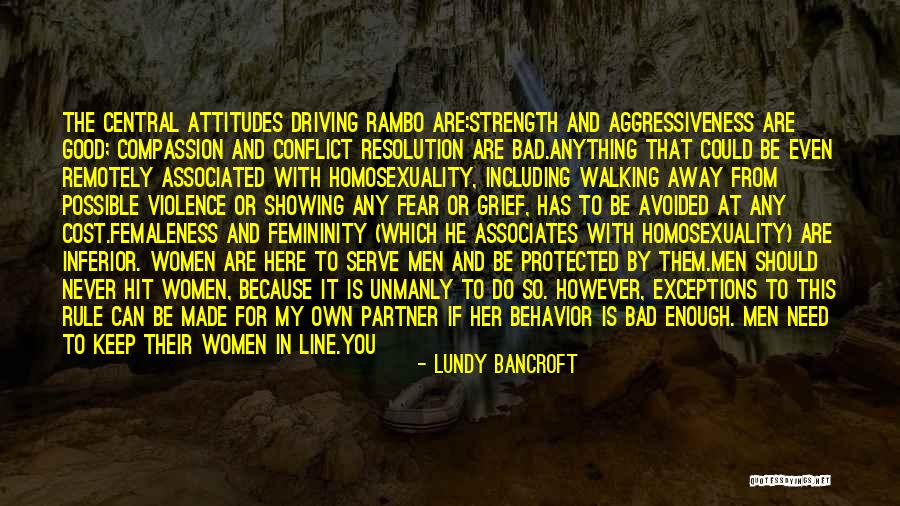 The central attitudes driving Rambo are:
Strength and aggressiveness are good; compassion and conflict resolution are bad.
Anything that could be even remotely associated with homosexuality, including walking away from possible violence or showing any fear or grief, has to be avoided at any cost.
Femaleness and femininity (which he associates with homosexuality) are inferior. Women are here to serve men and be protected by them.
Men should never hit women, because it is unmanly to do so. However, exceptions to this rule can be made for my own partner if her behavior is bad enough. Men need to keep their women in line.
You are a thing that belongs to me, akin to a trophy. — Lundy Bancroft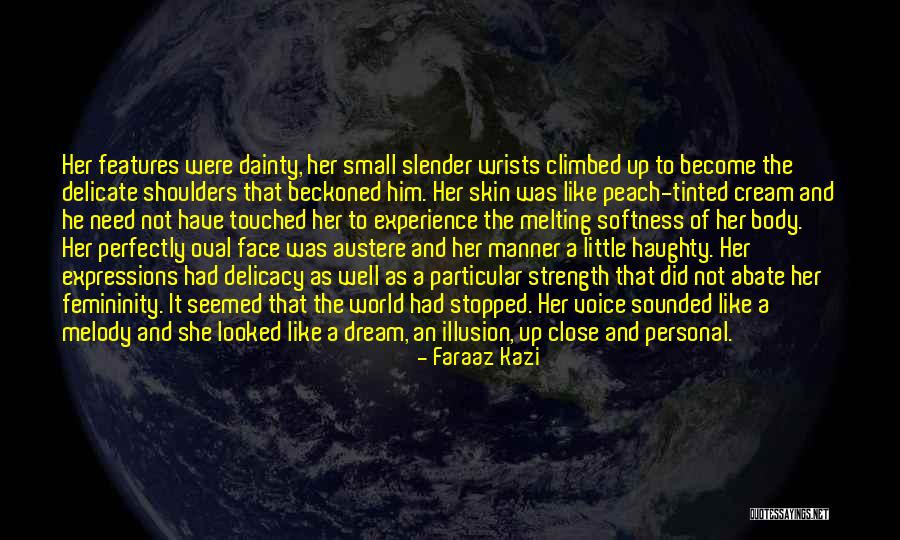 Her features were dainty, her small slender wrists climbed up to become the delicate shoulders that beckoned him. Her skin was like peach-tinted cream and he need not have touched her to experience the melting softness of her body. Her perfectly oval face was austere and her manner a little haughty. Her expressions had delicacy as well as a particular strength that did not abate her femininity. It seemed that the world had stopped. Her voice sounded like a melody and she looked like a dream, an illusion, up close and personal. — Faraaz Kazi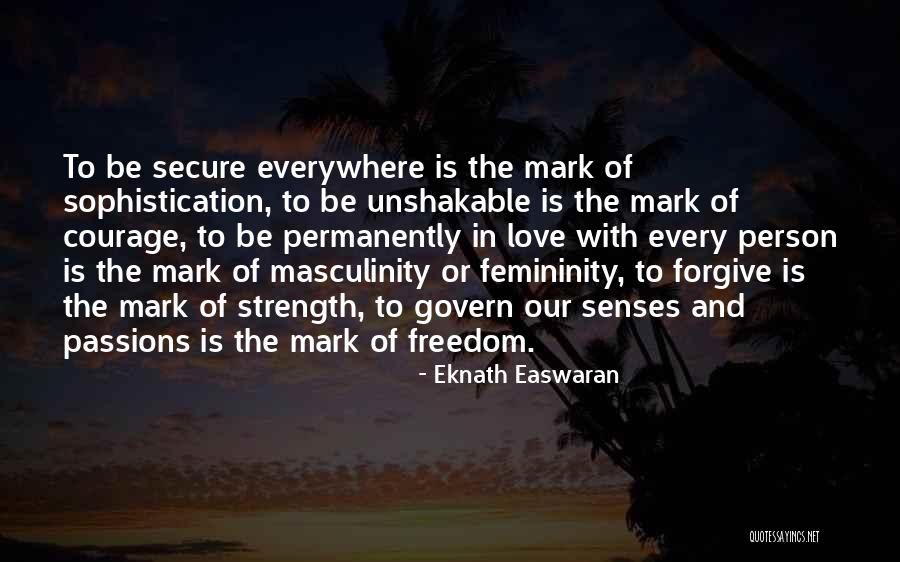 To be secure everywhere is the mark of sophistication, to be unshakable is the mark of courage, to be permanently in love with every person is the mark of masculinity or femininity, to forgive is the mark of strength, to govern our senses and passions is the mark of freedom. — Eknath Easwaran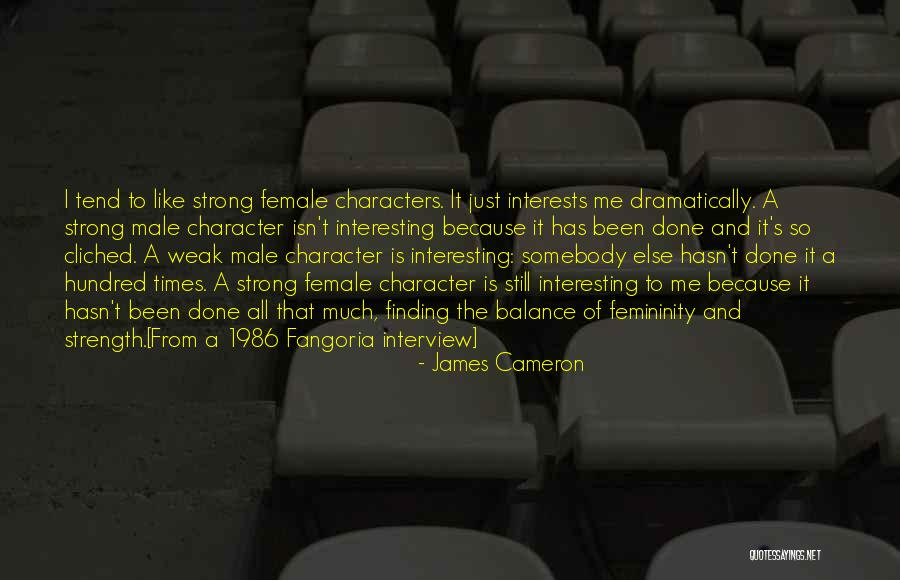 I tend to like strong female characters. It just interests me dramatically.
A strong male character isn't interesting because it has been done and it's so cliched. A weak male character is interesting: somebody else hasn't done it a hundred times. A strong female character is still interesting to me because it hasn't been done all that much, finding the balance of femininity and strength.
[From a 1986 Fangoria interview] — James Cameron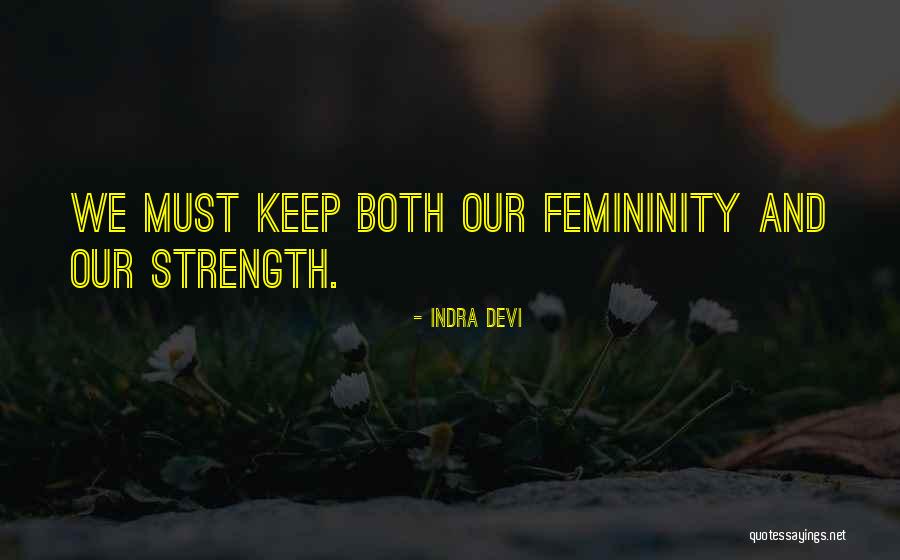 We must keep both our femininity and our strength. — Indra Devi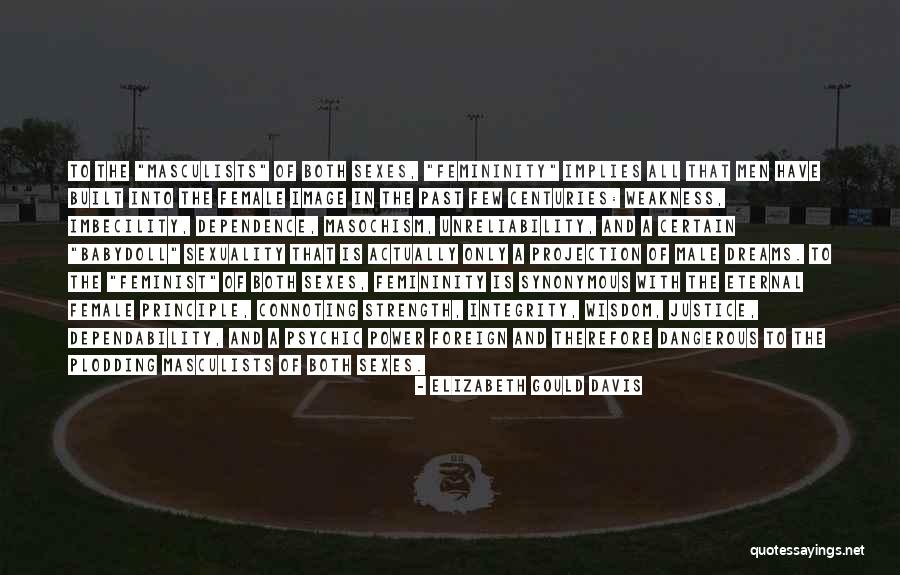 To the "masculists" of both sexes, "femininity" implies all that men have built into the female image in the past few centuries: weakness, imbecility, dependence, masochism, unreliability, and a certain "babydoll" sexuality that is actually only a projection of male dreams. To the "feminist" of both sexes, femininity is synonymous with the eternal female principle, connoting strength, integrity, wisdom, justice, dependability, and a psychic power foreign and therefore dangerous to the plodding masculists of both sexes. — Elizabeth Gould Davis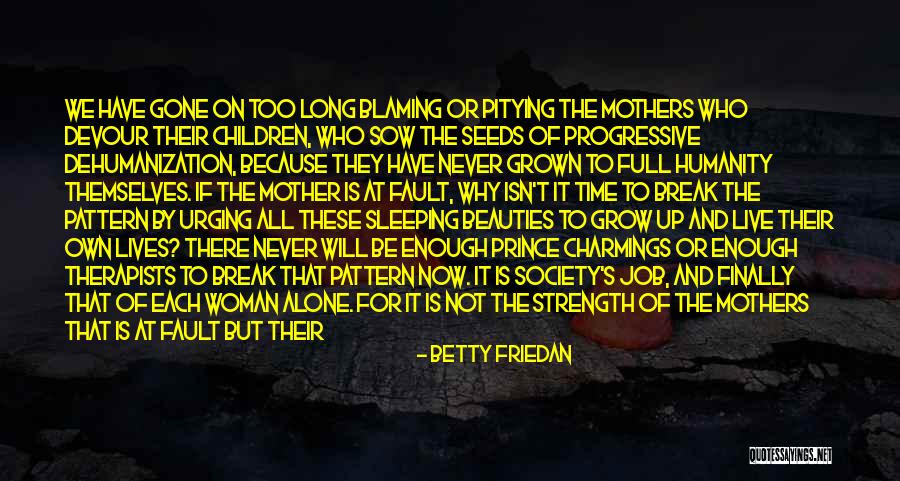 We have gone on too long blaming or pitying the mothers who devour their children, who sow the seeds of progressive dehumanization, because they have never grown to full humanity themselves. If the mother is at fault, why isn't it time to break the pattern by urging all these Sleeping Beauties to grow up and live their own lives? There never will be enough Prince Charmings or enough therapists to break that pattern now. It is society's job, and finally that of each woman alone. For it is not the strength of the mothers that is at fault but their weakness, their passive childlike dependency and immaturity that is mistaken for "femininity." Our society forces boys, insofar as it can, to grow up, to endure the pains of growth, to educate themselves to work, to move on. Why aren't girls forced to grow up - to achieve somehow the core of self that will end the unnecessary dilemma, the mistaken choice between femaleness and humanness that is implied in the feminine mystique? — Betty Friedan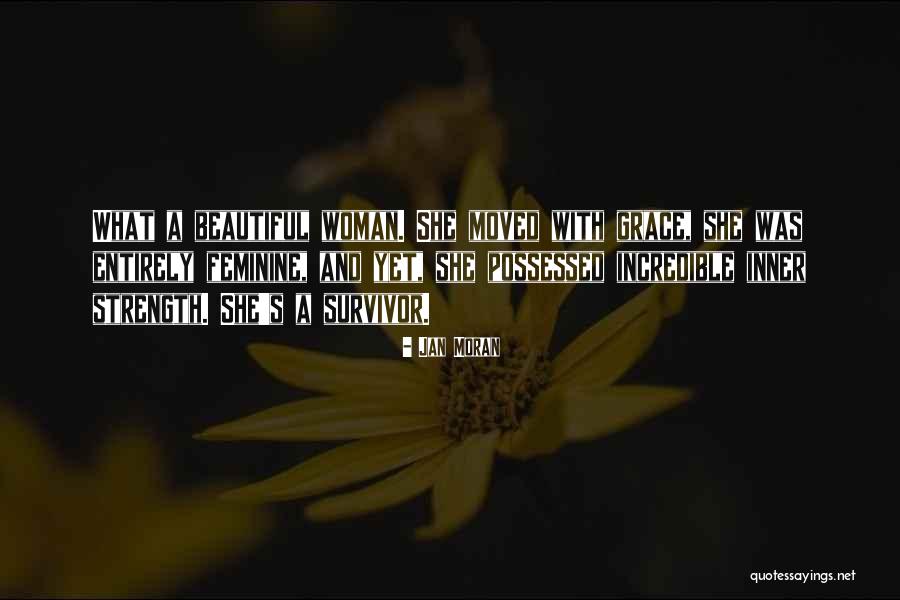 What a beautiful woman. She moved with grace, she was entirely feminine, and yet, she possessed incredible inner strength. She's a survivor. — Jan Moran