Quotes & Sayings About Feeling Bothered
Enjoy reading and share 15 famous quotes about Feeling Bothered with everyone.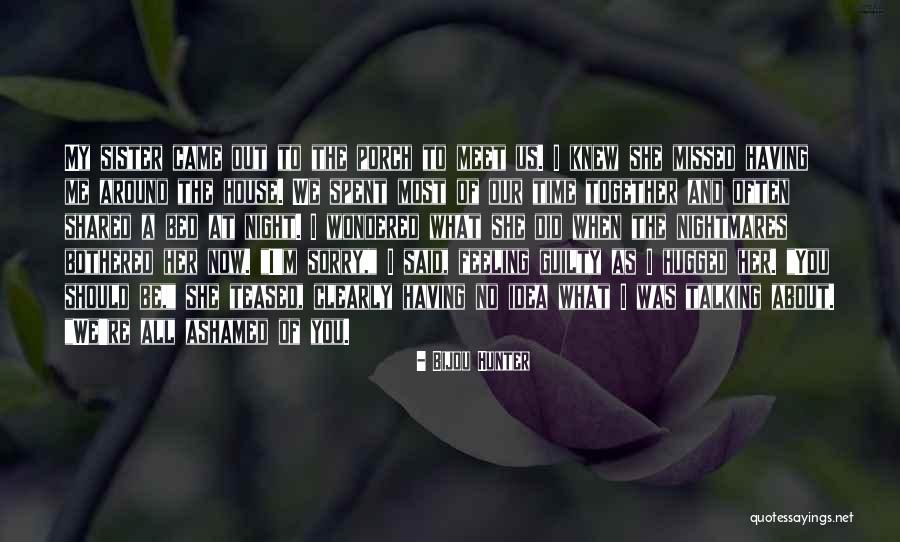 My sister came out to the porch to meet us. I knew she missed having me around the house. We spent most of our time together and often shared a bed at night. I wondered what she did when the nightmares bothered her now.
"I'm sorry," I said, feeling guilty as I hugged her.
"You should be," she teased, clearly having no idea what I was talking about. "We're all ashamed of you. — Bijou Hunter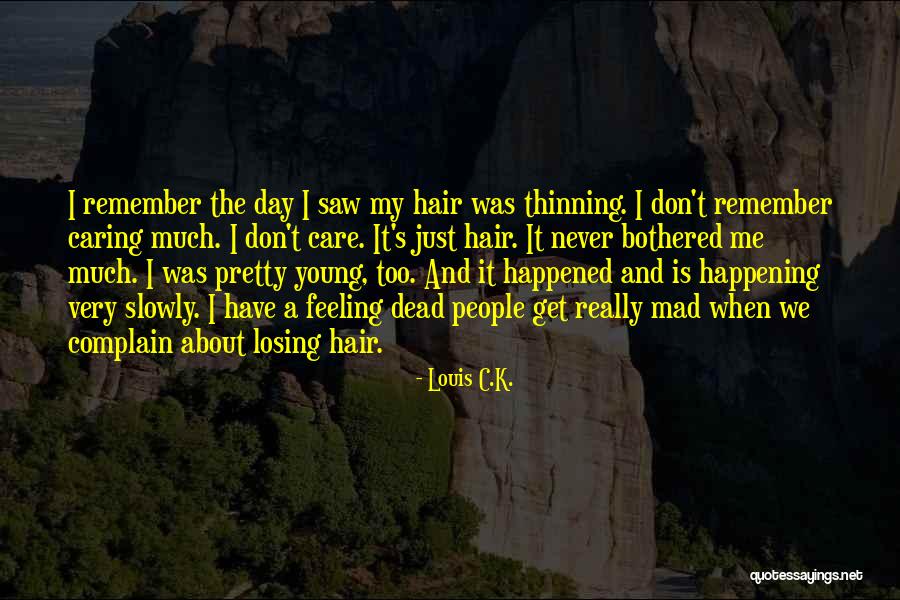 I remember the day I saw my hair was thinning. I don't remember caring much. I don't care. It's just hair. It never bothered me much. I was pretty young, too. And it happened and is happening very slowly. I have a feeling dead people get really mad when we complain about losing hair. — Louis C.K.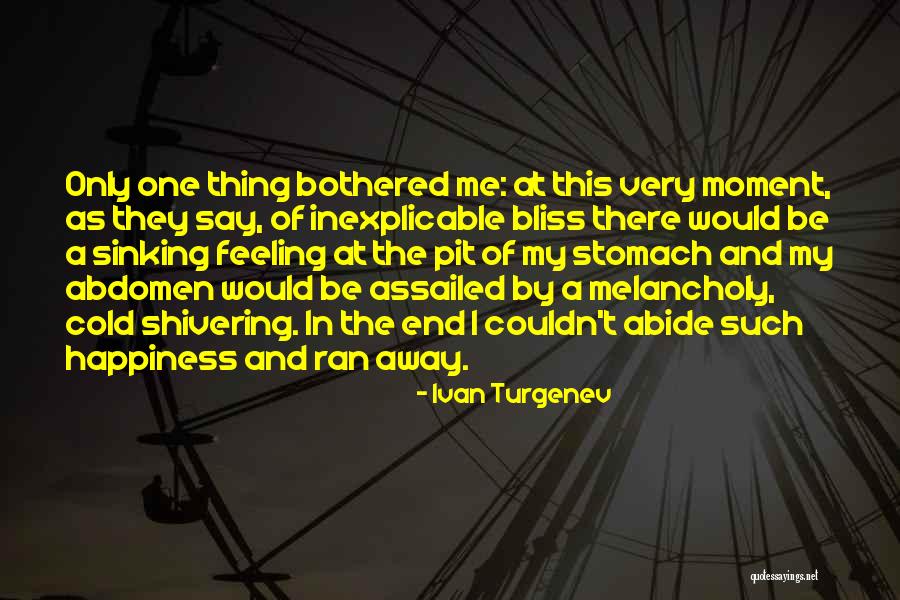 Only one thing bothered me: at this very moment, as they say, of inexplicable bliss there would be a sinking feeling at the pit of my stomach and my abdomen would be assailed by a melancholy, cold shivering. In the end I couldn't abide such happiness and ran away. — Ivan Turgenev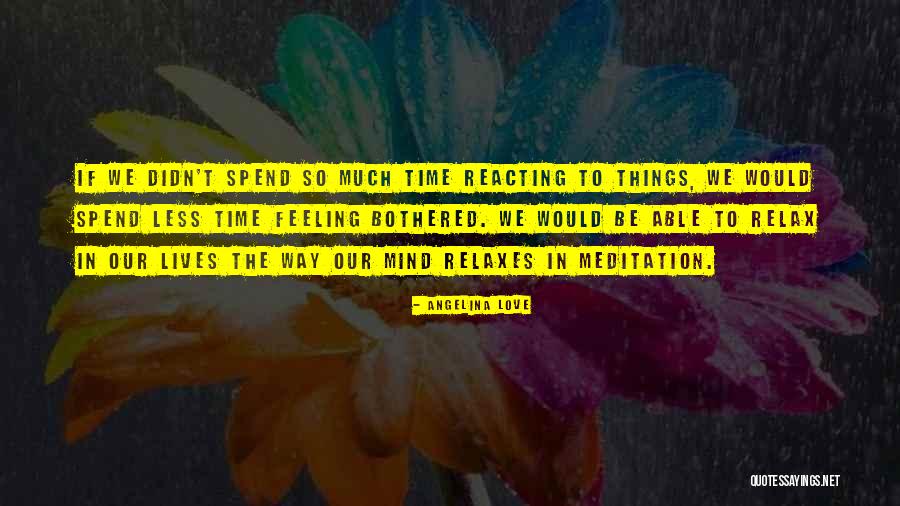 If we didn't spend so much time reacting to things, we would spend less time feeling bothered. We would be able to relax in our lives the way our mind relaxes in meditation. — Angelina Love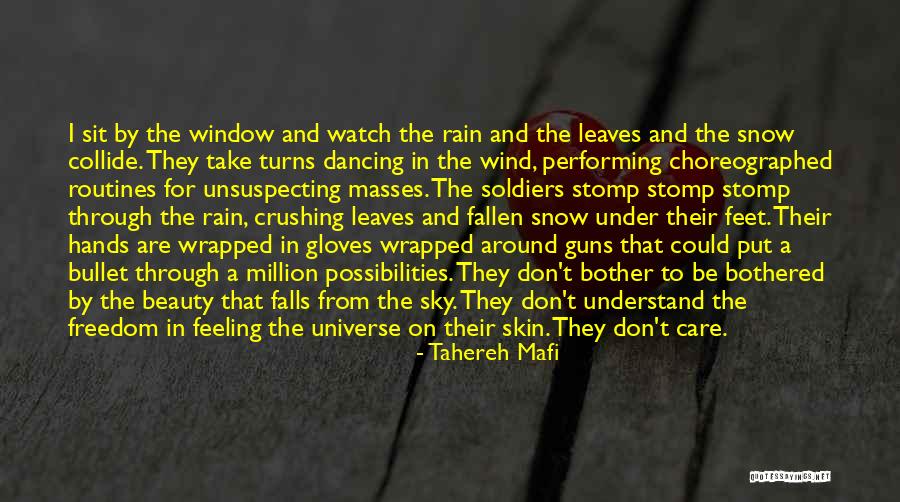 I sit by the window and watch the rain and the leaves and the snow collide. They take turns dancing in the wind, performing choreographed routines for unsuspecting masses. The soldiers stomp stomp stomp through the rain, crushing leaves and fallen snow under their feet. Their hands are wrapped in gloves wrapped around guns that could put a bullet through a million possibilities. They don't bother to be bothered by the beauty that falls from the sky. They don't understand the freedom in feeling the universe on their skin. They don't care. — Tahereh Mafi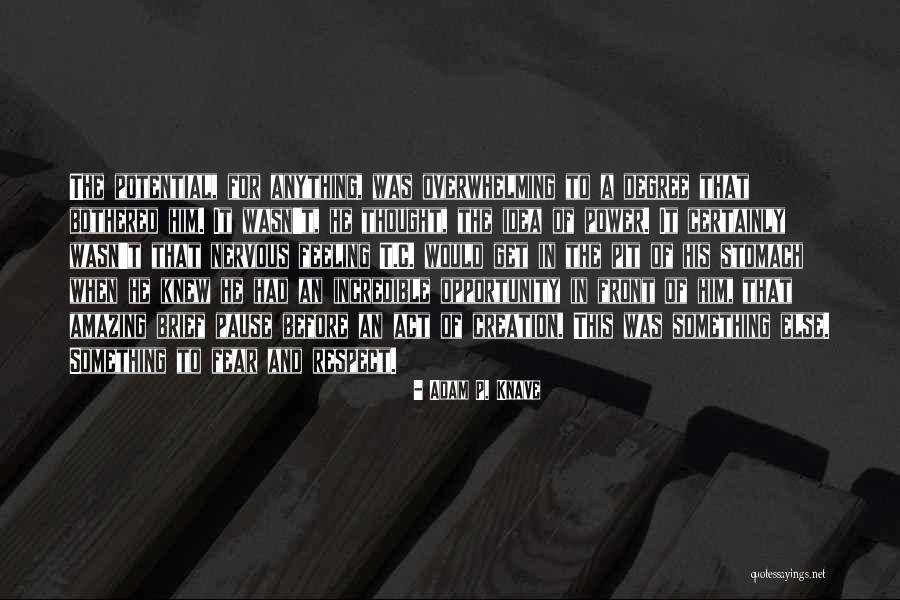 The potential, for anything, was overwhelming to a degree that bothered him. It wasn't, he thought, the idea of power. It certainly wasn't that nervous feeling T.C. would get in the pit of his stomach when he knew he had an incredible opportunity in front of him, that amazing brief pause before an act of creation. This was something else. Something to fear and respect. — Adam P. Knave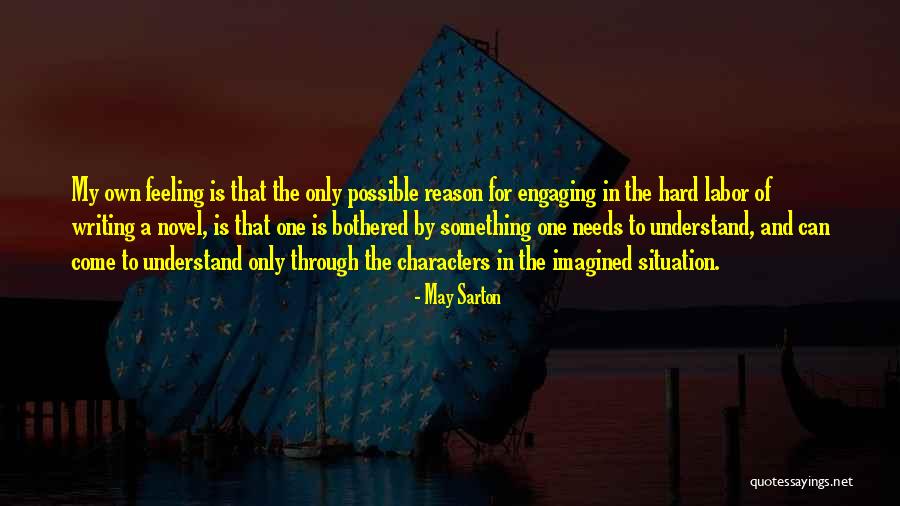 My own feeling is that the only possible reason for engaging in the hard labor of writing a novel, is that one is bothered by something one needs to understand, and can come to understand only through the characters in the imagined situation. — May Sarton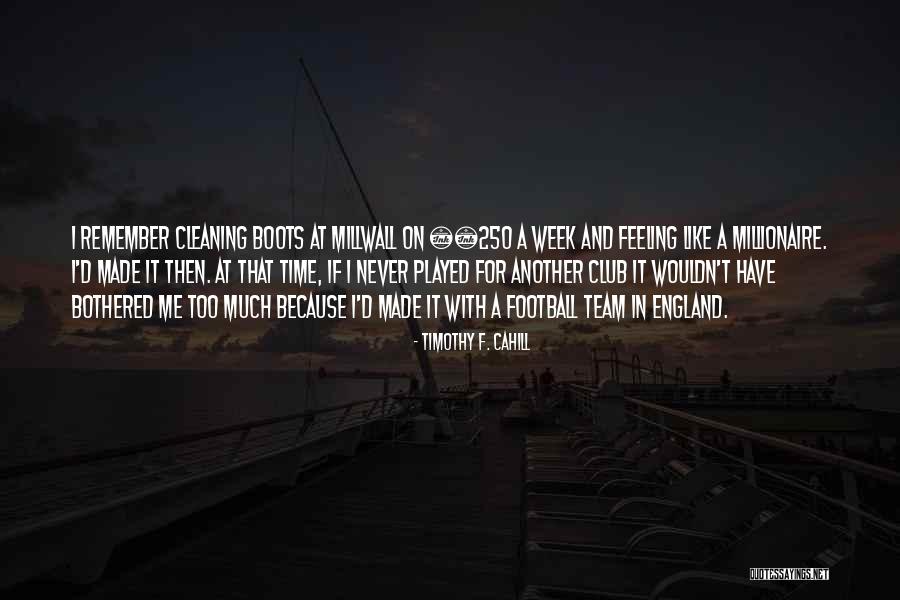 I remember cleaning boots at Millwall on £250 a week and feeling like a millionaire. I'd made it then. At that time, if I never played for another club it wouldn't have bothered me too much because I'd made it with a football team in England. — Timothy F. Cahill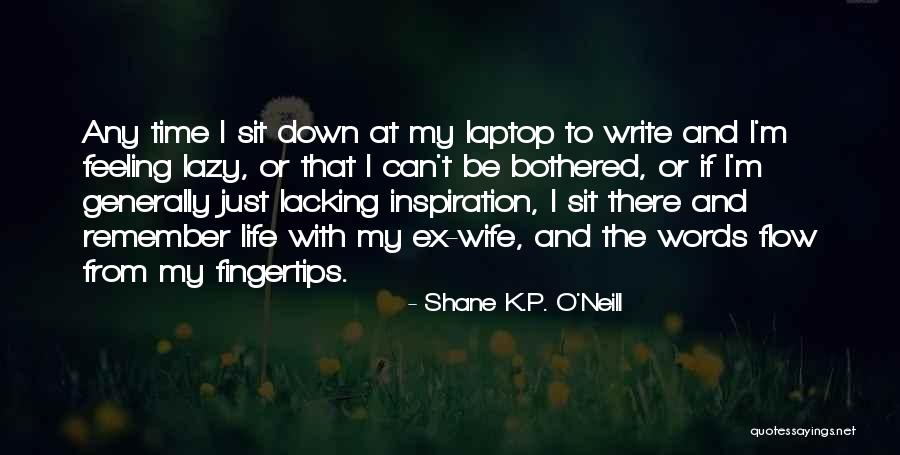 Any time I sit down at my laptop to write and I'm feeling lazy, or that I can't be bothered, or if I'm generally just lacking inspiration, I sit there and remember life with my ex-wife, and the words flow from my fingertips. — Shane K.P. O'Neill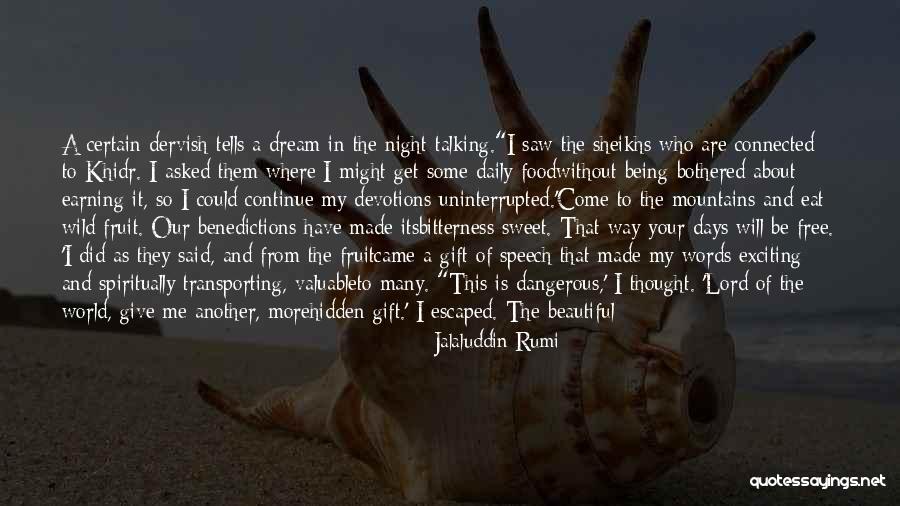 A certain dervish tells a dream in the night-talking.

"I saw the sheikhs who are connected to Khidr. I asked them where I might get some daily food

without being bothered about earning it, so I could continue my devotions uninterrupted.

'Come to the mountains and eat wild fruit. Our benedictions have made its

bitterness sweet. That way your days will be free. 'I did as they said, and from the fruit

came a gift of speech that made my words exciting and spiritually transporting, valuable

to many. "This is dangerous,' I thought. 'Lord of the world, give me another, more

hidden gift.' I escaped. The beautiful speech left, and a joy came that I have

never known. I burst open like a pomegranate. 'If heaven is nothing but this feeling,

I have no further wish. — Jalaluddin Rumi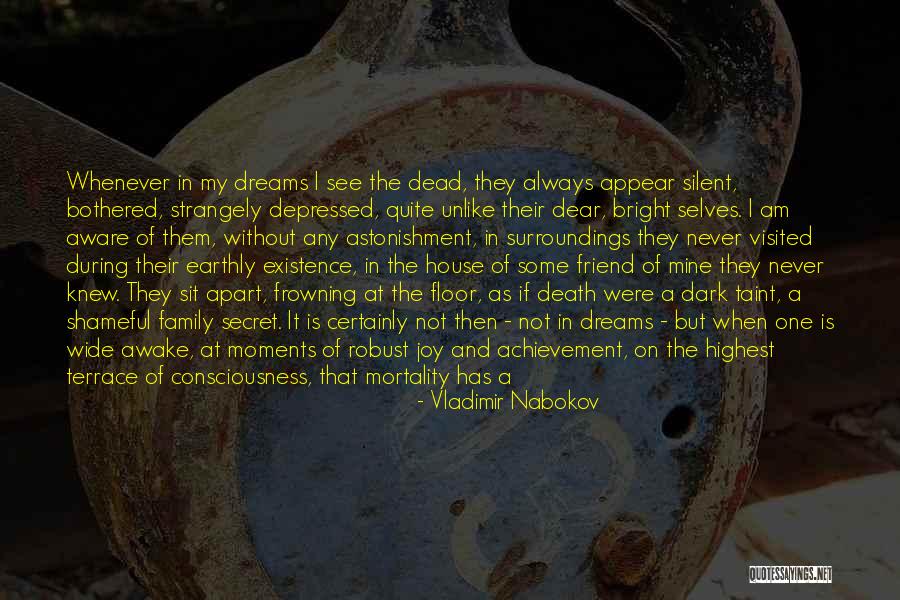 Whenever in my dreams I see the dead, they always appear silent, bothered, strangely depressed, quite unlike their dear, bright selves. I am aware of them, without any astonishment, in surroundings they never visited during their earthly existence, in the house of some friend of mine they never knew. They sit apart, frowning at the floor, as if death were a dark taint, a shameful family secret. It is certainly not then - not in dreams - but when one is wide awake, at moments of robust joy and achievement, on the highest terrace of consciousness, that mortality has a chance to peer beyond its own limits, from the mast, from the past and its castle tower. And although nothing much can be seen through the mist, there is somehow the blissful feeling that one is looking in the right direction. — Vladimir Nabokov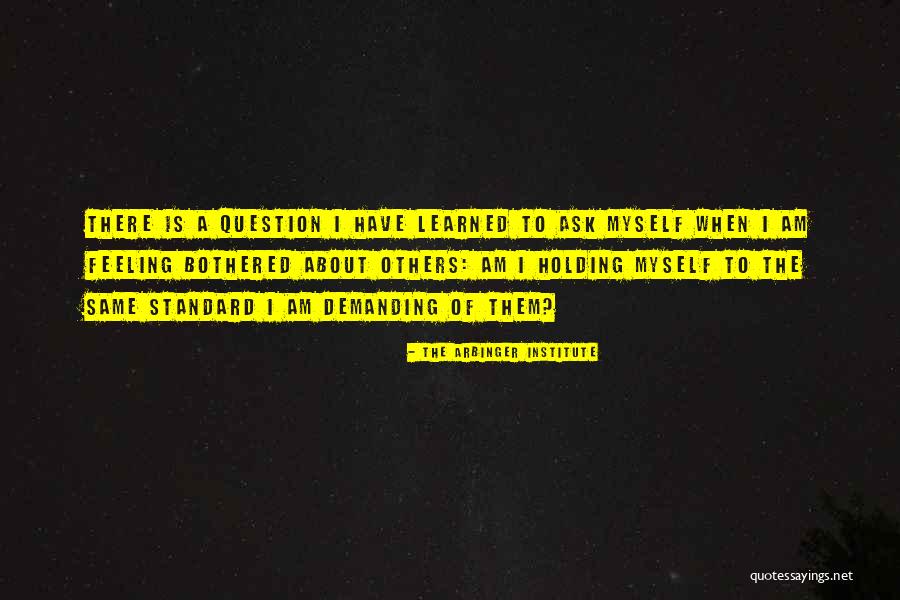 There is a question I have learned to ask myself when I am feeling bothered about others: am I holding myself to the same standard I am demanding of them? — The Arbinger Institute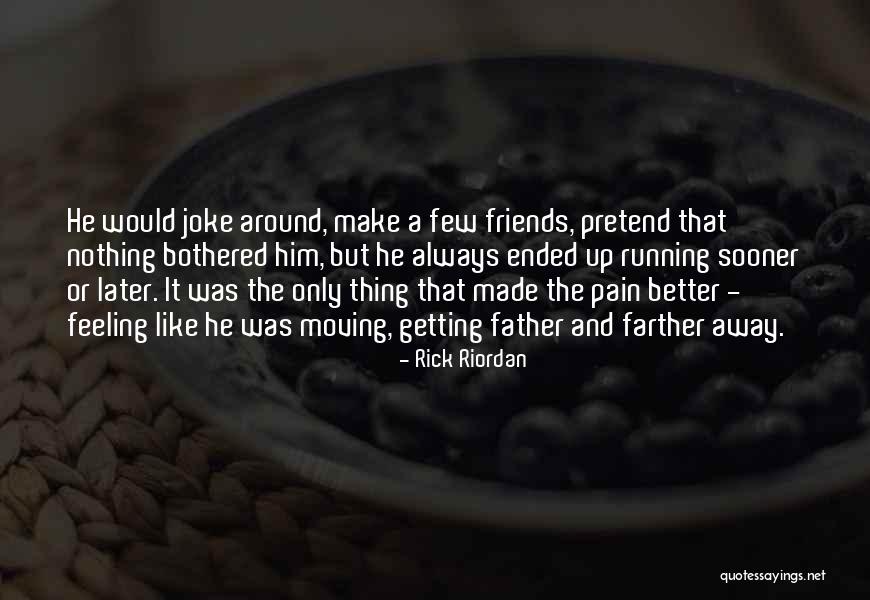 He would joke around, make a few friends, pretend that nothing bothered him, but he always ended up running sooner or later. It was the only thing that made the pain better - feeling like he was moving, getting father and farther away. — Rick Riordan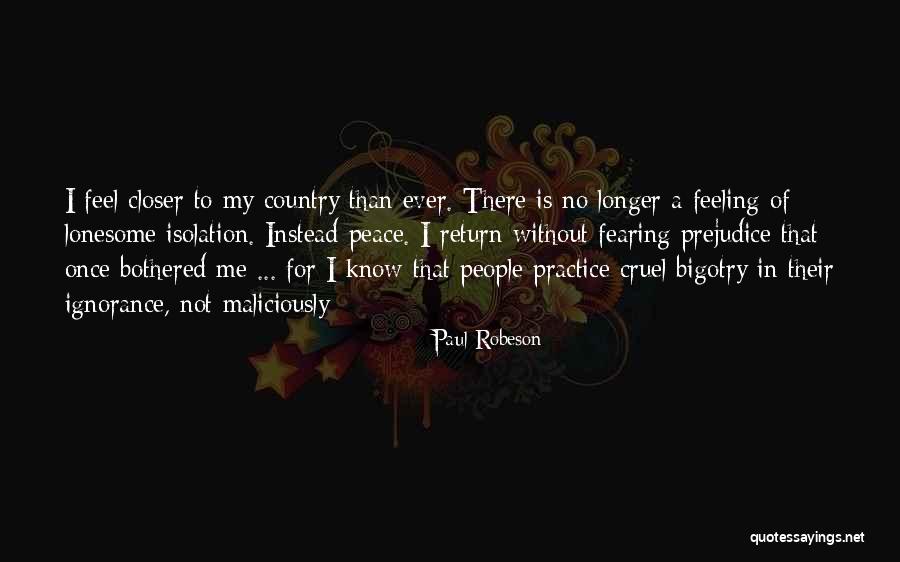 I feel closer to my country than ever. There is no longer a feeling of lonesome isolation. Instead-peace. I return without fearing prejudice that once bothered me ... for I know that people practice cruel bigotry in their ignorance, not maliciously — Paul Robeson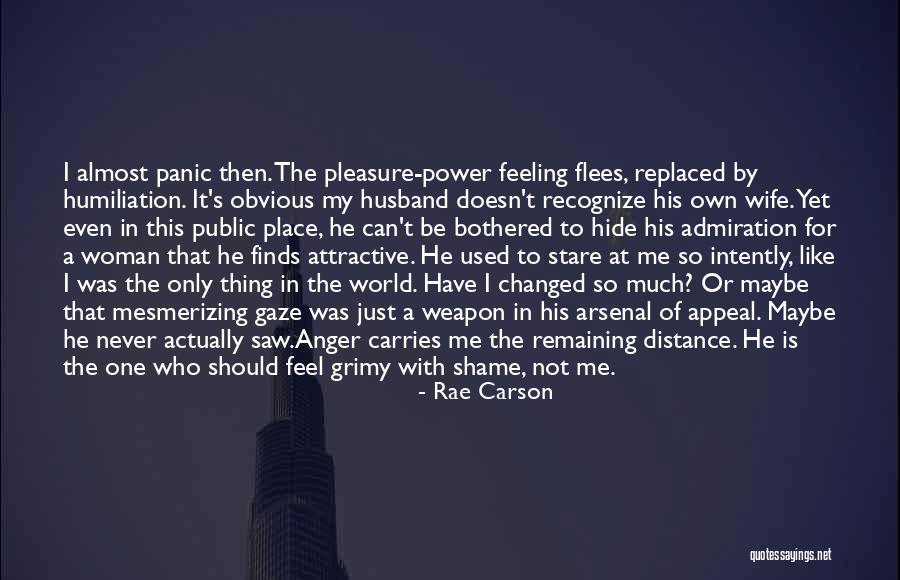 I almost panic then. The pleasure-power feeling flees, replaced by humiliation. It's obvious my husband doesn't recognize his own wife. Yet even in this public place, he can't be bothered to hide his admiration for a woman that he finds attractive.
He used to stare at me so intently, like I was the only thing in the world. Have I changed so much? Or maybe that mesmerizing gaze was just a weapon in his arsenal of appeal. Maybe he never actually saw.
Anger carries me the remaining distance. He is the one who should feel grimy with shame, not me. — Rae Carson