Feel The Fear But Do It Anyway Quotes & Sayings
Enjoy reading and share 27 famous quotes about Feel The Fear But Do It Anyway with everyone.
Top Feel The Fear But Do It Anyway Quotes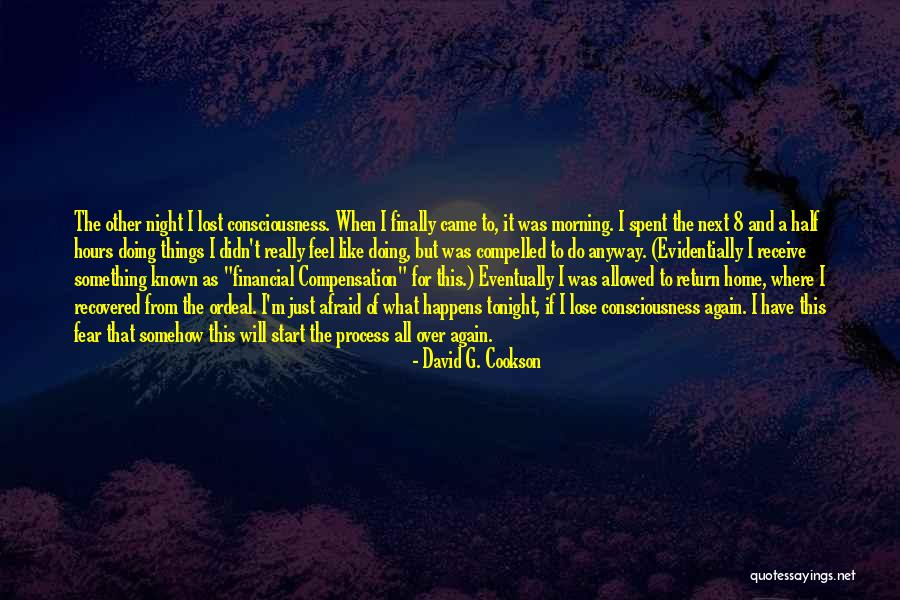 The other night I lost consciousness. When I finally came to, it was morning. I spent the next 8 and a half hours doing things I didn't really feel like doing, but was compelled to do anyway. (Evidentially I receive something known as "financial Compensation" for this.) Eventually I was allowed to return home, where I recovered from the ordeal. I'm just afraid of what happens tonight, if I lose consciousness again. I have this fear that somehow this will start the process all over again. — David G. Cookson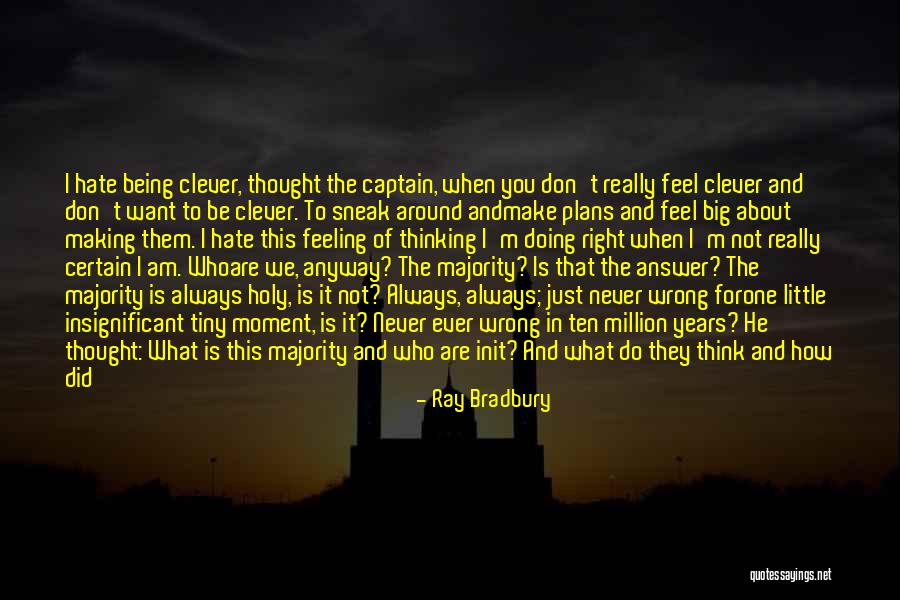 I hate being clever, thought the captain, when you don't really feel clever and don't want to be clever. To sneak around and
make plans and feel big about making them. I hate this feeling of thinking I'm doing right when I'm not really certain I am. Who
are we, anyway? The majority? Is that the answer? The majority is always holy, is it not? Always, always; just never wrong for
one little insignificant tiny moment, is it? Never ever wrong in ten million years? He thought: What is this majority and who are in
it? And what do they think and how did they get that way and will they ever change and how the devil did I get caught in this
rotten majority? I don't feel comfortable. Is it claustrophobia, fear of crowds, or common sense? Can one man be right, while all
the world thinks they are right? Let's not think about it. Let's crawl around and act exciting and pull the trigger. There, and there! — Ray Bradbury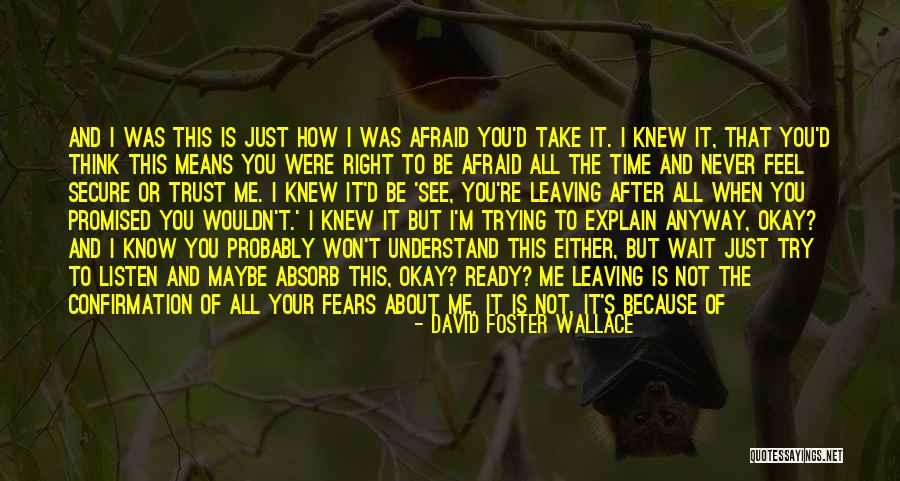 And I was
this is just how I was afraid you'd take it. I knew it, that you'd think this means you were right to be afraid all the time and never feel secure or trust me. I knew it'd be 'See, you're leaving after all when you promised you wouldn't.' I knew it but I'm trying to explain anyway, okay? And I know you probably won't understand this either, but
wait
just try to listen and maybe absorb this, okay? Ready? Me leaving is not the confirmation of all your fears about me. It is not. It's because of them. Okay? Can you see that? It's your fear I can't take. It's your distrust and fear I've been trying to fight. And I can't anymore. I'm out of gas on it. If I loved you even a little less maybe I could take it. But this is killing me, this constant feeling that I am always scaring you and never making you feel secure. Can you see that? — David Foster Wallace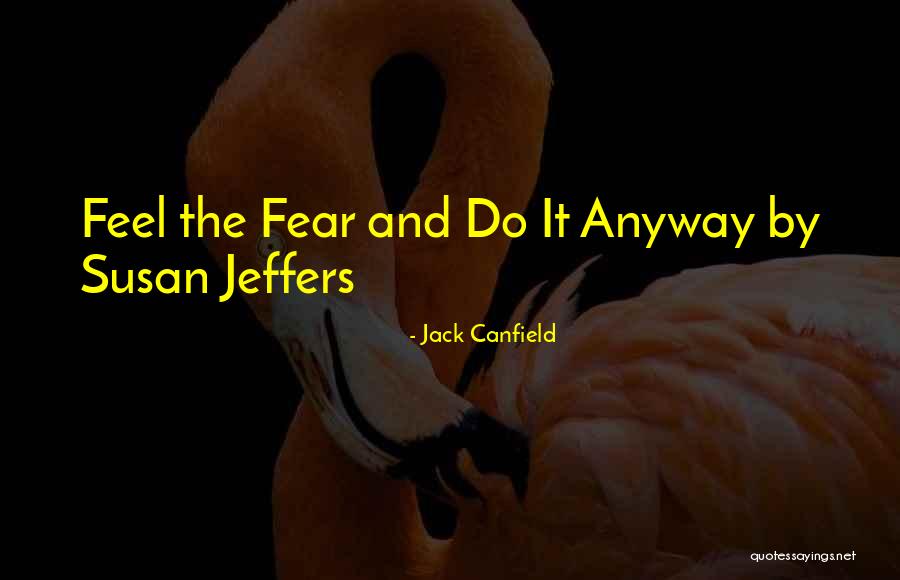 Feel the Fear and Do It Anyway by Susan Jeffers — Jack Canfield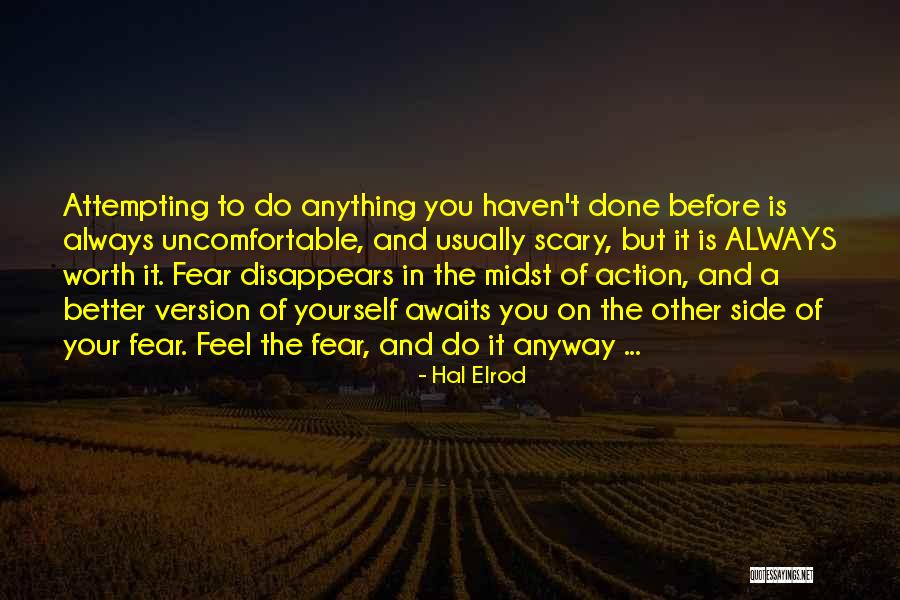 Attempting to do anything you haven't done before is always uncomfortable, and usually scary, but it is ALWAYS worth it. Fear disappears in the midst of action, and a better version of yourself awaits you on the other side of your fear. Feel the fear, and do it anyway ... — Hal Elrod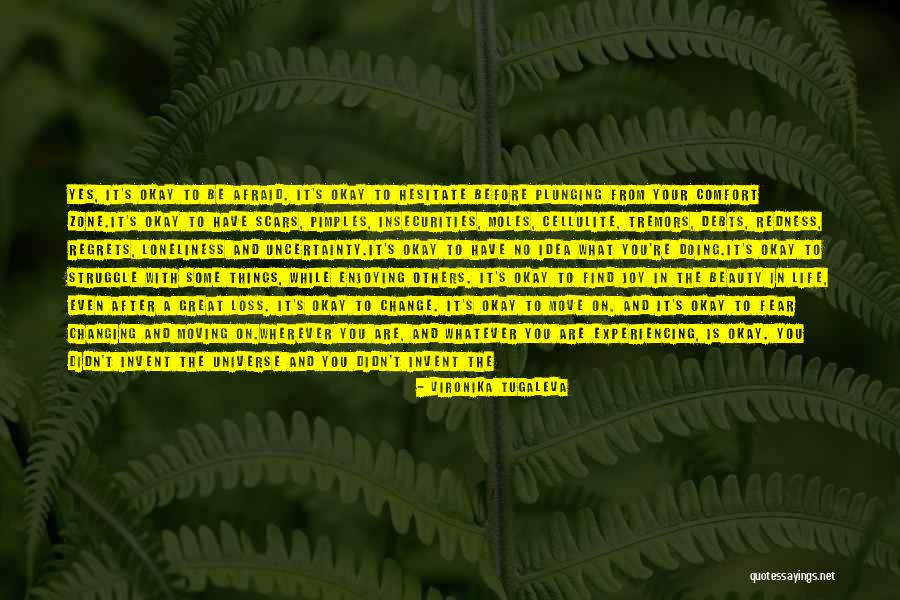 Yes, it's okay to be afraid. It's okay to hesitate before plunging from your comfort zone.
It's okay to have scars, pimples, insecurities, moles, cellulite, tremors, debts, redness, regrets, loneliness and uncertainty.
It's okay to have no idea what you're doing.
It's okay to struggle with some things, while enjoying others. It's okay to find joy in the beauty in life, even after a great loss. It's okay to change. It's okay to move on. And it's okay to fear changing and moving on.
Wherever you are, and whatever you are experiencing, is okay. You didn't invent the universe and you didn't invent the human condition.
You don't need permission to live whatever you're living, even if it looks and feels different from anyone else's life around you. And it's okay to feel like you need that permission anyway. — Vironika Tugaleva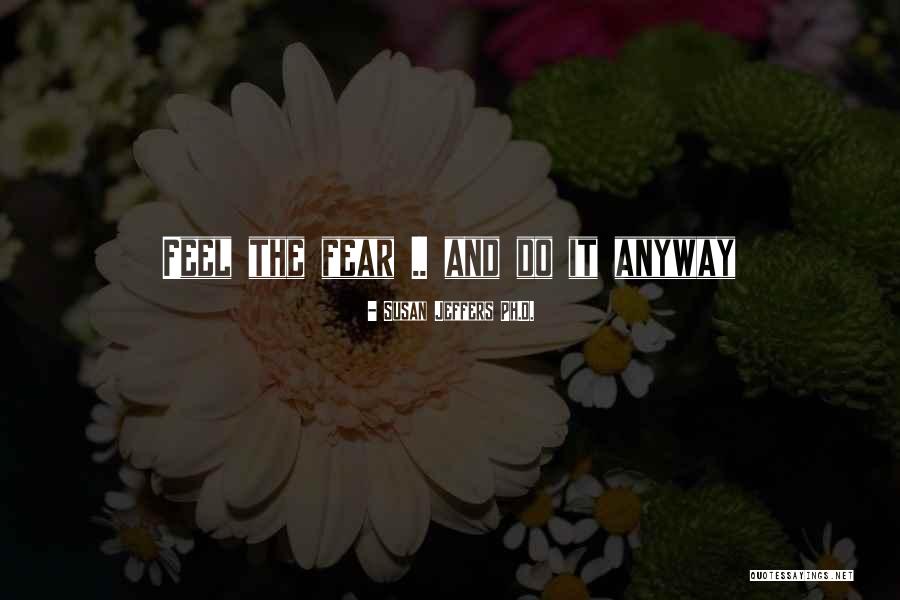 Feel the fear .. and do it anyway — Susan Jeffers Ph.D.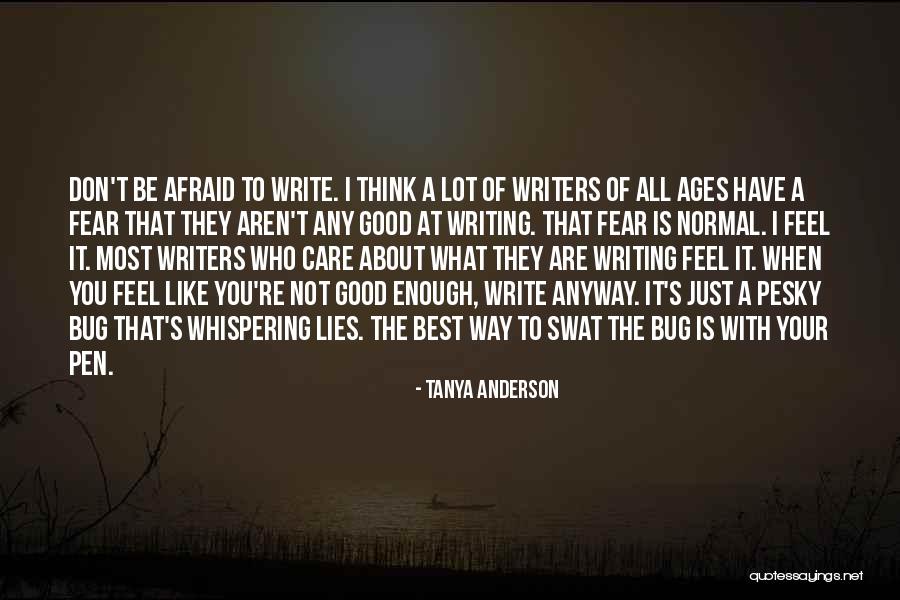 Don't be afraid to write. I think a lot of writers of all ages have a fear that they aren't any good at writing. That fear is normal. I feel it. Most writers who care about what they are writing feel it. When you feel like you're not good enough, write anyway. It's just a pesky bug that's whispering lies. The best way to swat the bug is with your pen. — Tanya Anderson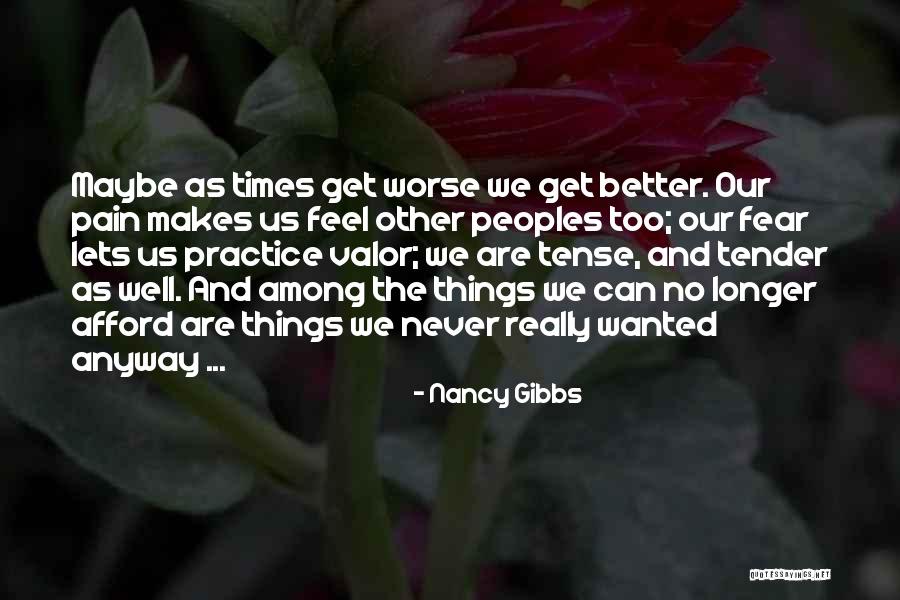 Maybe as times get worse we get better. Our pain makes us feel other peoples too; our fear lets us practice valor; we are tense, and tender as well. And among the things we can no longer afford are things we never really wanted anyway ... — Nancy Gibbs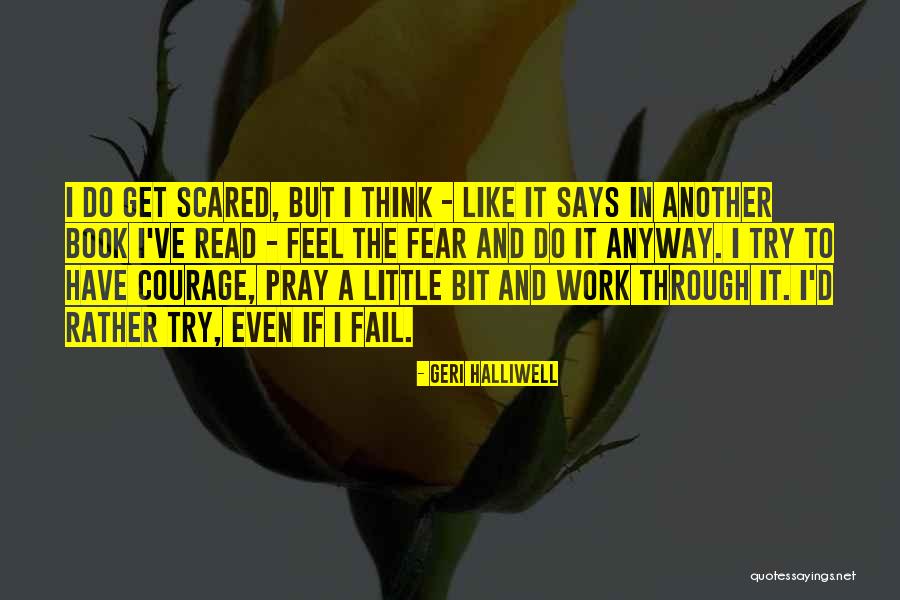 I do get scared, but I think - like it says in another book I've read - feel the fear and do it anyway. I try to have courage, pray a little bit and work through it. I'd rather try, even if I fail. — Geri Halliwell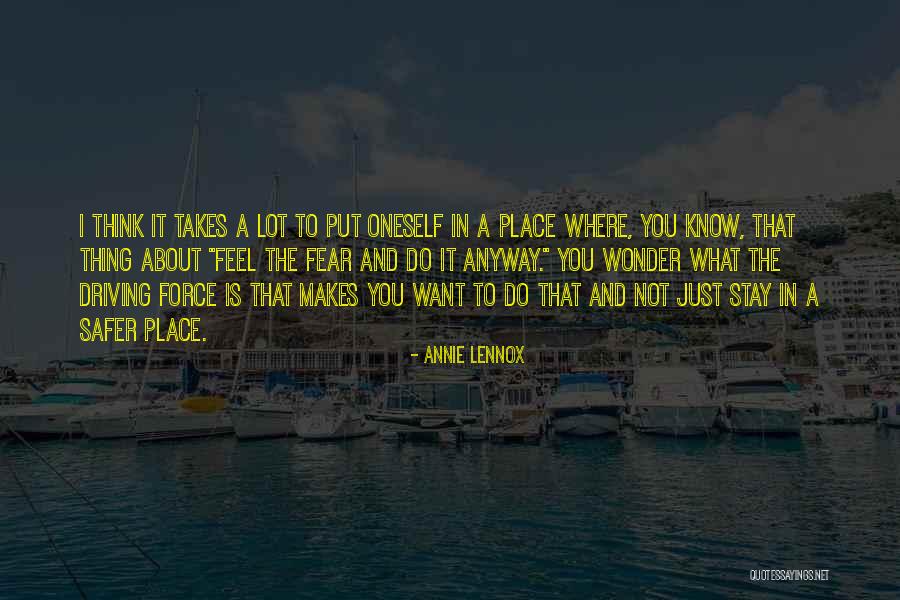 I think it takes a lot to put oneself in a place where, you know, that thing about "Feel the fear and do it anyway." You wonder what the driving force is that makes you want to do that and not just stay in a safer place. — Annie Lennox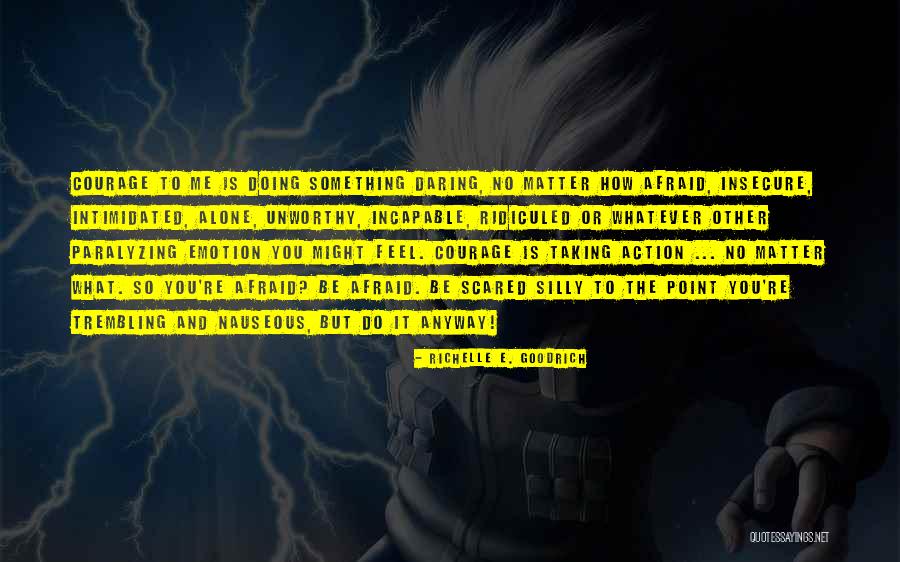 Courage to me is doing something daring, no matter how afraid, insecure, intimidated, alone, unworthy, incapable, ridiculed or whatever other paralyzing emotion you might feel. Courage is taking action ... no matter what. So you're afraid? Be afraid. Be scared silly to the point you're trembling and nauseous, but do it anyway! — Richelle E. Goodrich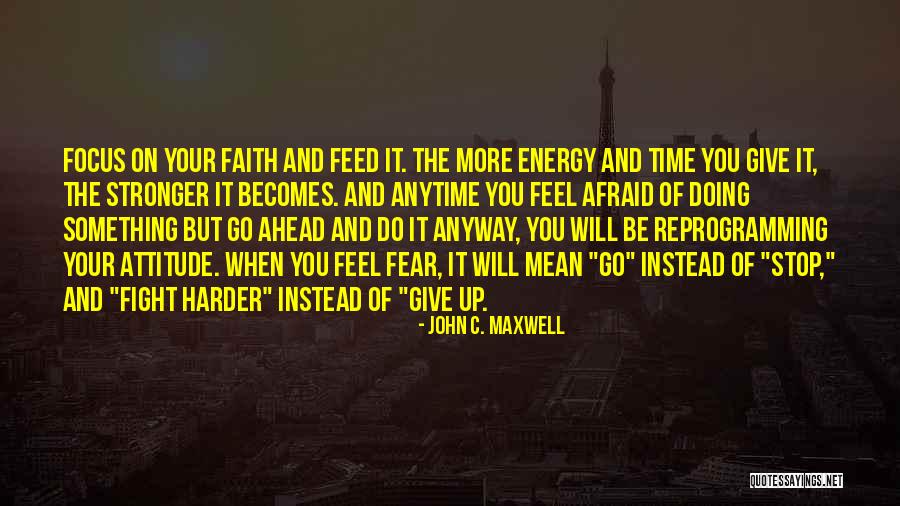 Focus on your faith and feed it. The more energy and time you give it, the stronger it becomes. And anytime you feel afraid of doing something but go ahead and do it anyway, you will be reprogramming your attitude. When you feel fear, it will mean "go" instead of "stop," and "fight harder" instead of "give up. — John C. Maxwell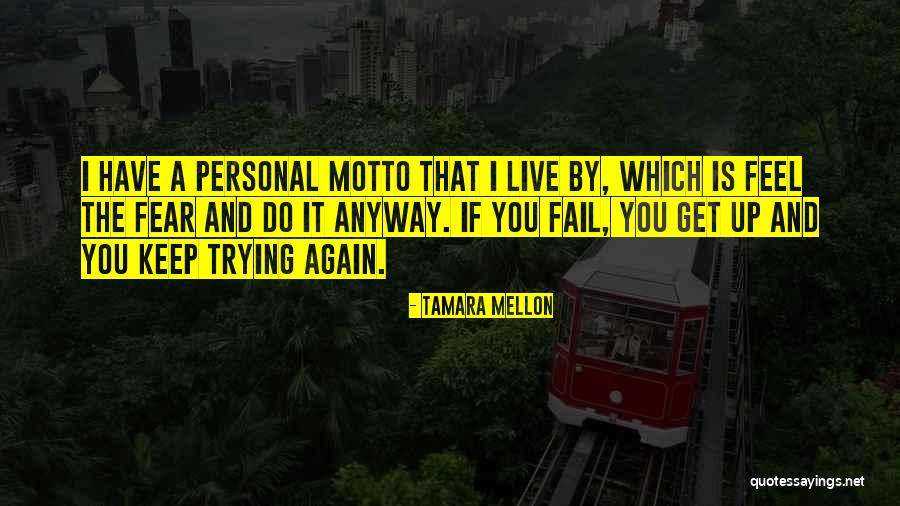 I have a personal motto that I live by, which is feel the fear and do it anyway. If you fail, you get up and you keep trying again. — Tamara Mellon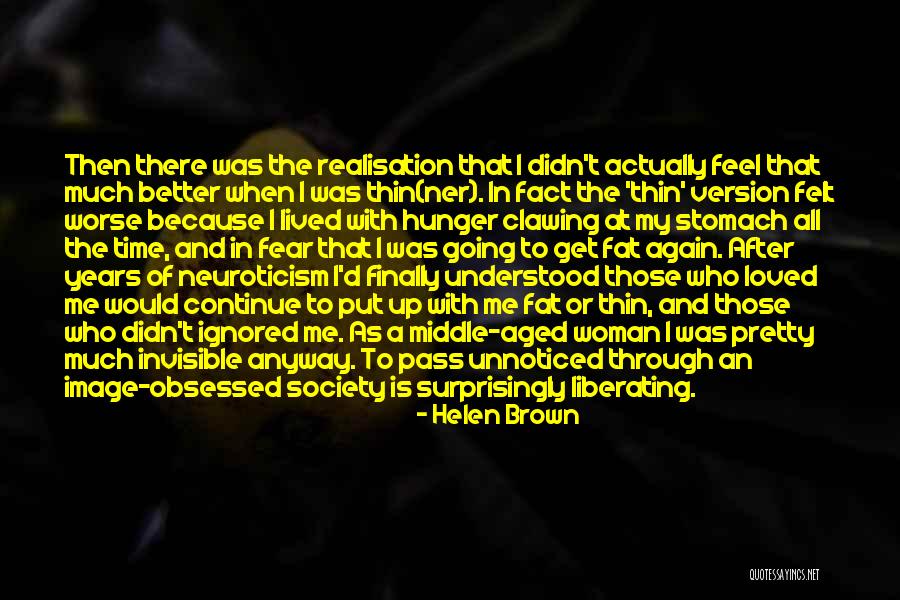 Then there was the realisation that I didn't actually feel that much better when I was thin(ner). In fact the 'thin' version felt worse because I lived with hunger clawing at my stomach all the time, and in fear that I was going to get fat again. After years of neuroticism I'd finally understood those who loved me would continue to put up with me fat or thin, and those who didn't ignored me. As a middle-aged woman I was pretty much invisible anyway. To pass unnoticed through an image-obsessed society is surprisingly liberating. — Helen Brown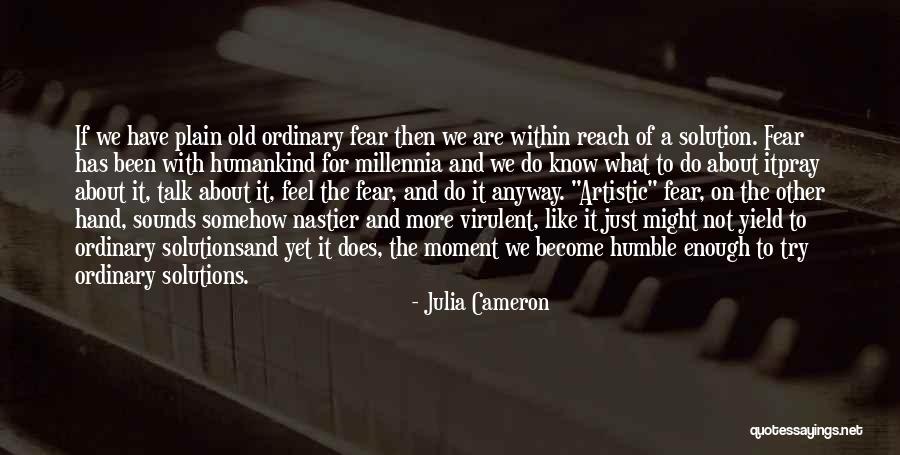 If we have plain old ordinary fear then we are within reach of a solution. Fear has been with humankind for millennia and we do know what to do about it
pray about it, talk about it, feel the fear, and do it anyway. "Artistic" fear, on the other hand, sounds somehow nastier and more virulent, like it just might not yield to ordinary solutions
and yet it does, the moment we become humble enough to try ordinary solutions. — Julia Cameron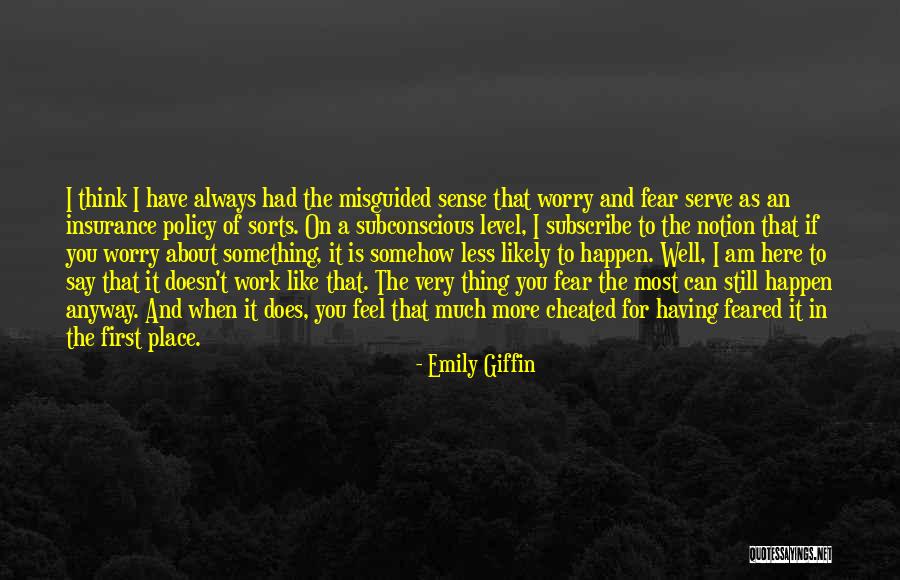 I think I have always had the misguided sense that worry and fear serve as an insurance policy of sorts. On a subconscious level, I subscribe to the notion that if you worry about something, it is somehow less likely to happen. Well, I am here to say that it doesn't work like that. The very thing you fear the most can still happen anyway. And when it does, you feel that much more cheated for having feared it in the first place. — Emily Giffin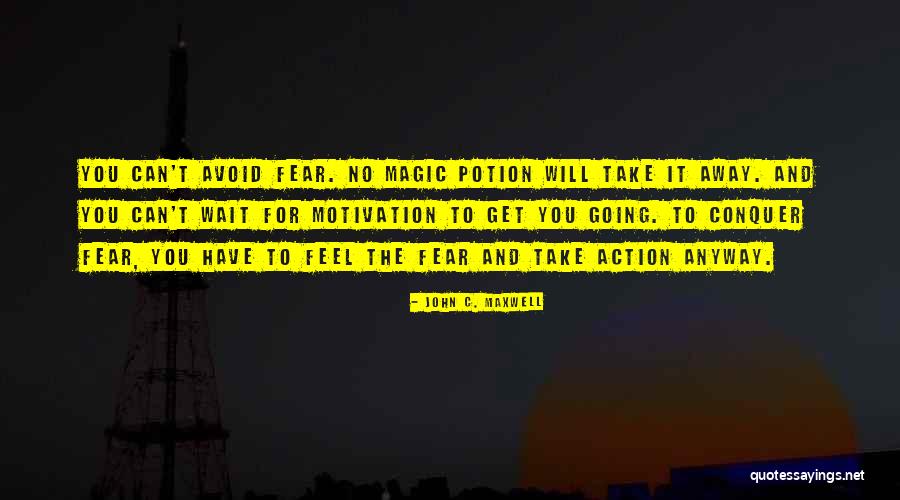 You can't avoid fear. No magic potion will take it away. And you can't wait for motivation to get you going. To conquer fear, you have to feel the fear and take action anyway. — John C. Maxwell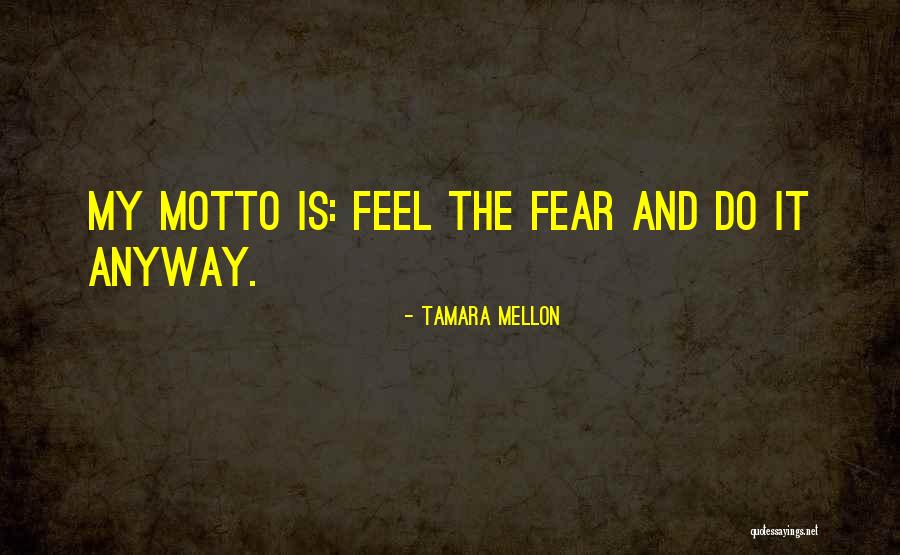 My motto is: feel the fear and do it anyway. — Tamara Mellon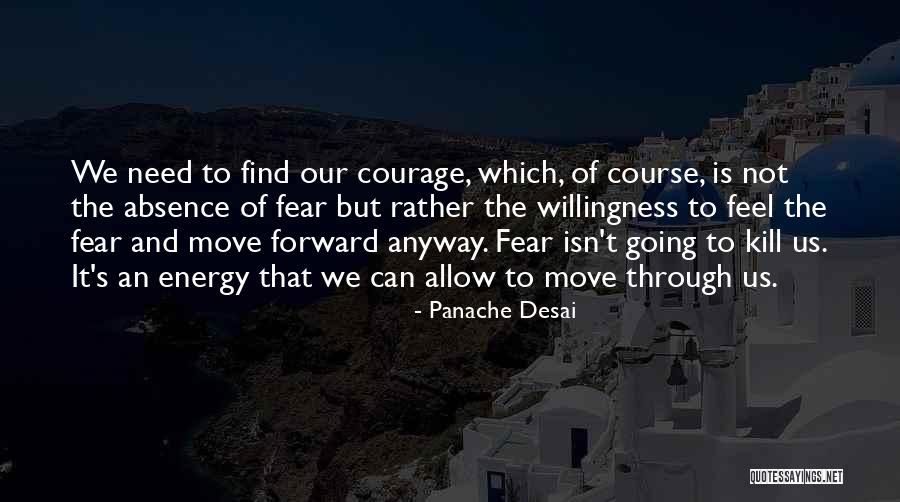 We need to find our courage, which, of course, is not the absence of fear but rather the willingness to feel the fear and move forward anyway. Fear isn't going to kill us. It's an energy that we can allow to move through us. — Panache Desai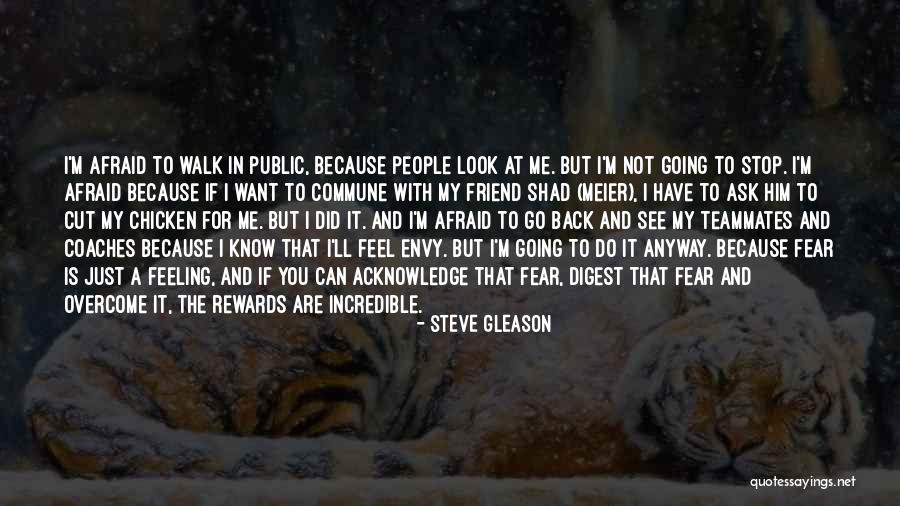 I'm afraid to walk in public, because people look at me. But I'm not going to stop. I'm afraid because if I want to commune with my friend Shad (Meier), I have to ask him to cut my chicken for me. But I did it. And I'm afraid to go back and see my teammates and coaches because I know that I'll feel envy. But I'm going to do it anyway. Because fear is just a feeling, and if you can acknowledge that fear, digest that fear and overcome it, the rewards are incredible. — Steve Gleason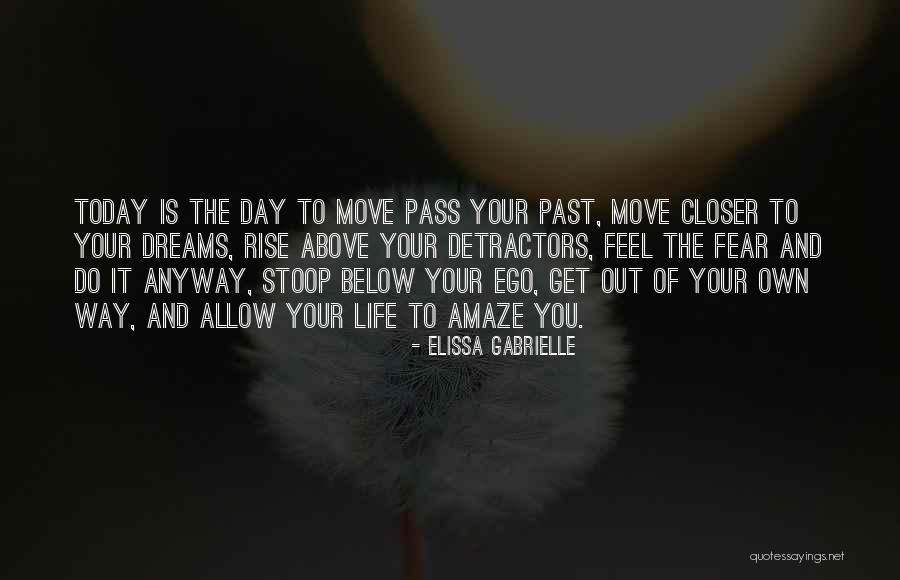 Today is the day to move pass your past, move closer to your dreams, rise above your detractors, feel the fear and do it anyway, stoop below your ego, get out of your own way, and allow your life to amaze you. — Elissa Gabrielle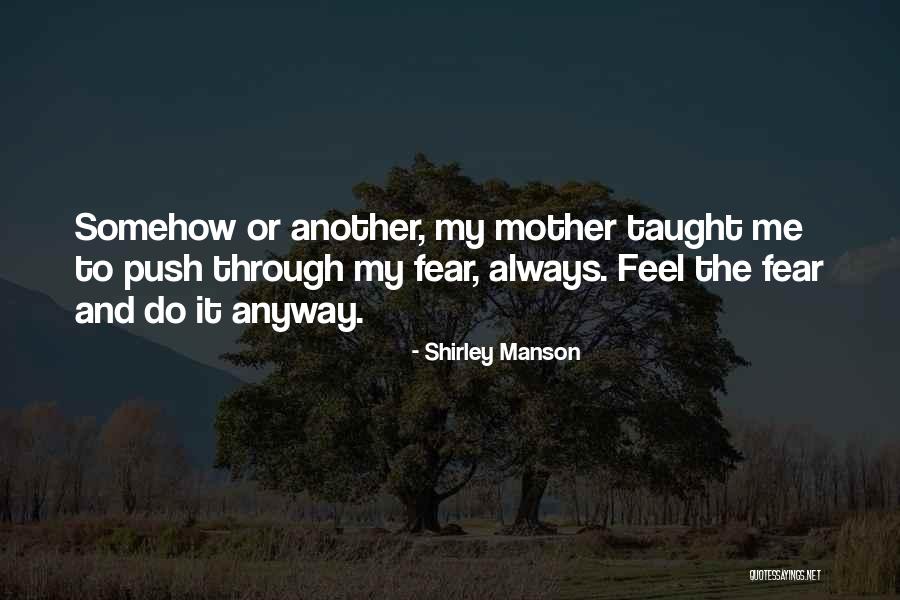 Somehow or another, my mother taught me to push through my fear, always. Feel the fear and do it anyway. — Shirley Manson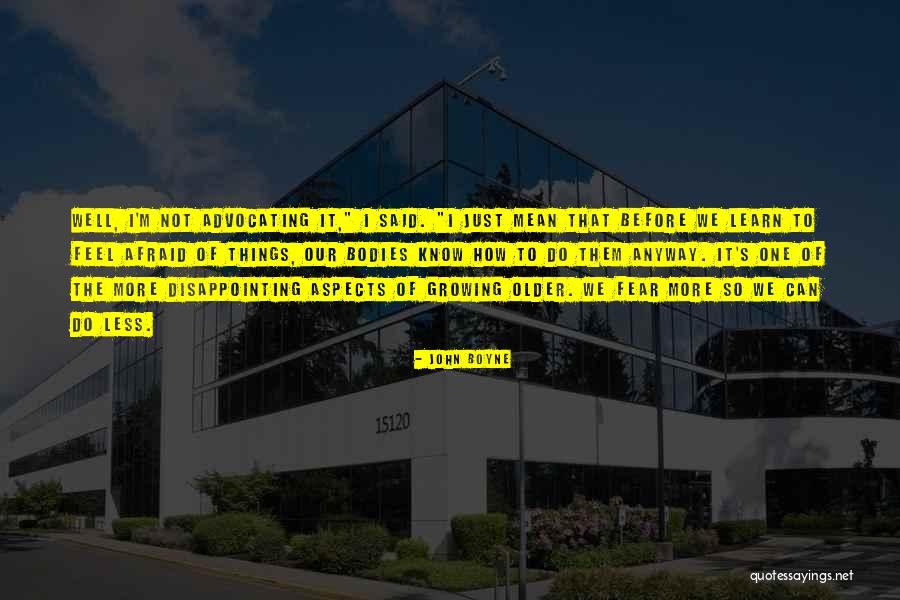 Well, I'm not advocating it," I said. "I just mean that before we learn to feel afraid of things, our bodies know how to do them anyway. It's one of the more disappointing aspects of growing older. We fear more so we can do less. — John Boyne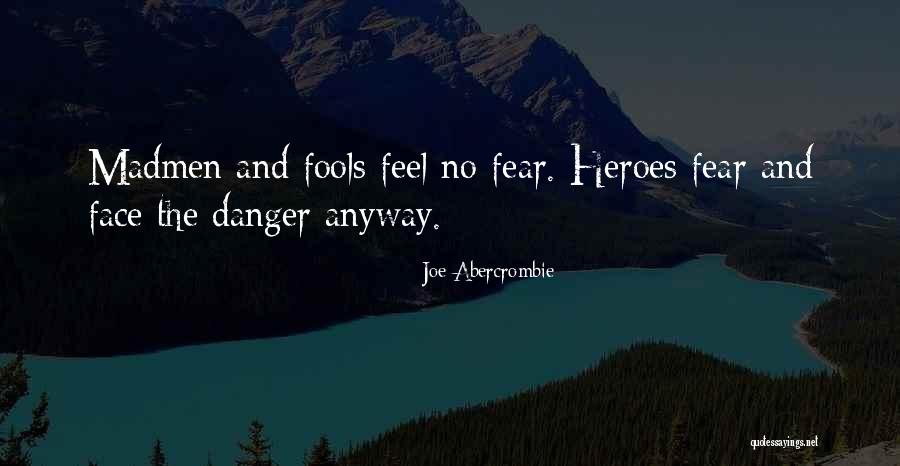 Madmen and fools feel no fear. Heroes fear and face the danger anyway. — Joe Abercrombie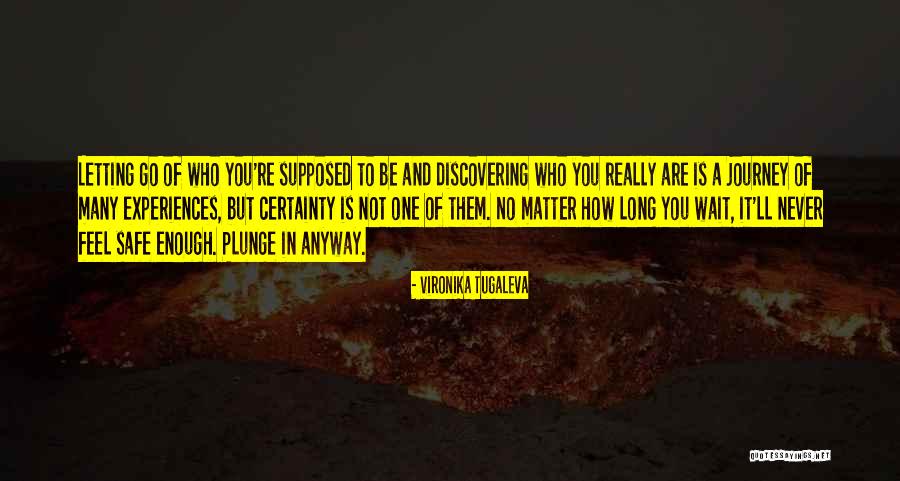 Letting go of who you're supposed to be and discovering who you really are is a journey of many experiences, but certainty is not one of them. No matter how long you wait, it'll never feel safe enough. Plunge in anyway. — Vironika Tugaleva