Everything Has Limitations Quotes & Sayings
Enjoy reading and share 44 famous quotes about Everything Has Limitations with everyone.
Top Everything Has Limitations Quotes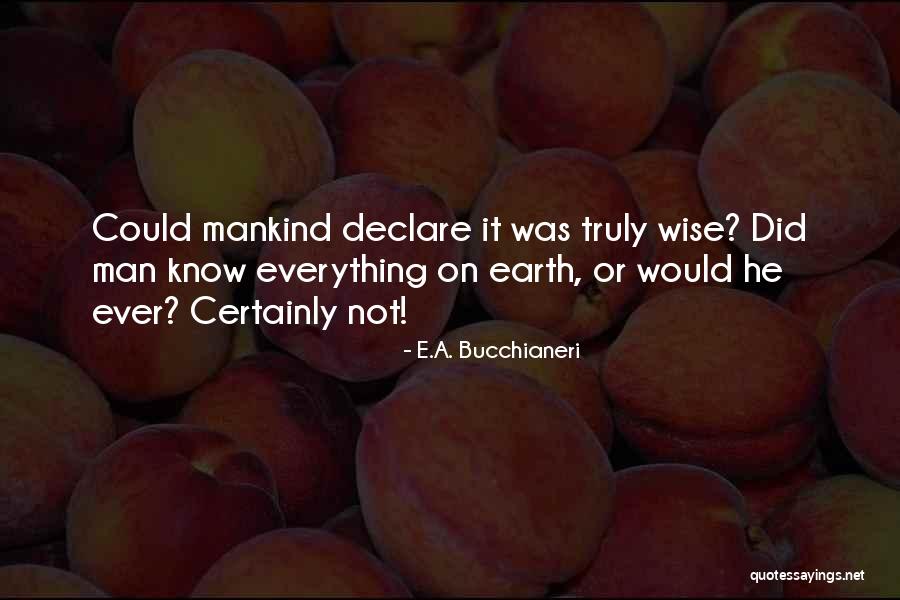 Could mankind declare it was truly wise? Did man know everything on earth, or would he ever? Certainly not! — E.A. Bucchianeri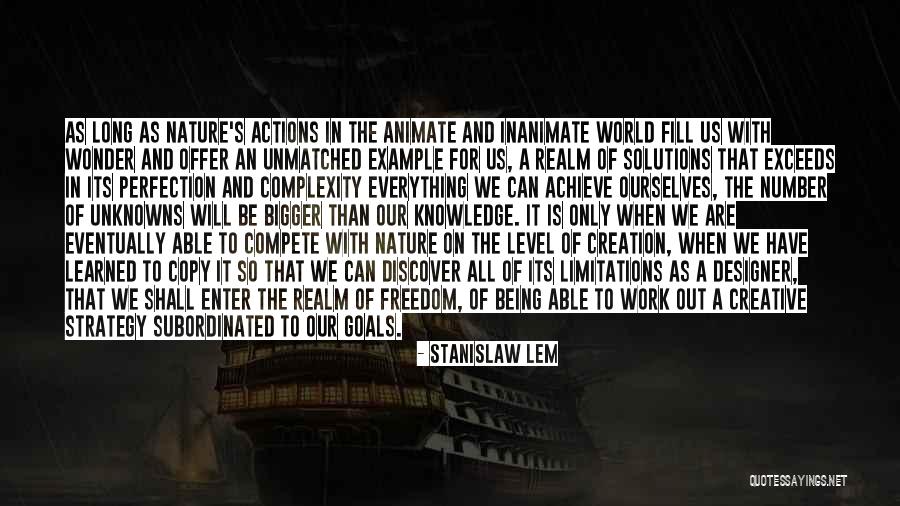 As long as Nature's actions in the animate and inanimate world fill us with wonder and offer an unmatched example for us, a realm of solutions that exceeds in its perfection and complexity everything we can achieve ourselves, the number of unknowns will be bigger than our knowledge. It is only when we are eventually able to compete with Nature on the level of creation, when we have learned to copy it so that we can discover all of its limitations as a Designer, that we shall enter the realm of freedom, of being able to work out a creative strategy subordinated to our goals. — Stanislaw Lem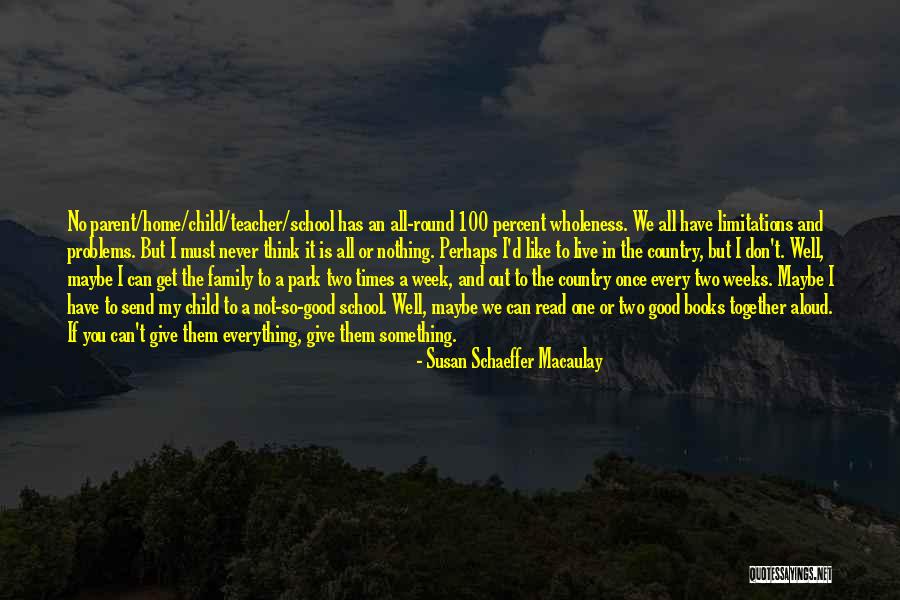 No parent/home/child/teacher/school has an all-round 100 percent wholeness. We all have limitations and problems. But I must never think it is all or nothing.
Perhaps I'd like to live in the country, but I don't. Well, maybe I can get the family to a park two times a week, and out to the country once every two weeks.
Maybe I have to send my child to a not-so-good school. Well, maybe we can read one or two good books together aloud. If you can't give them everything, give them something. — Susan Schaeffer Macaulay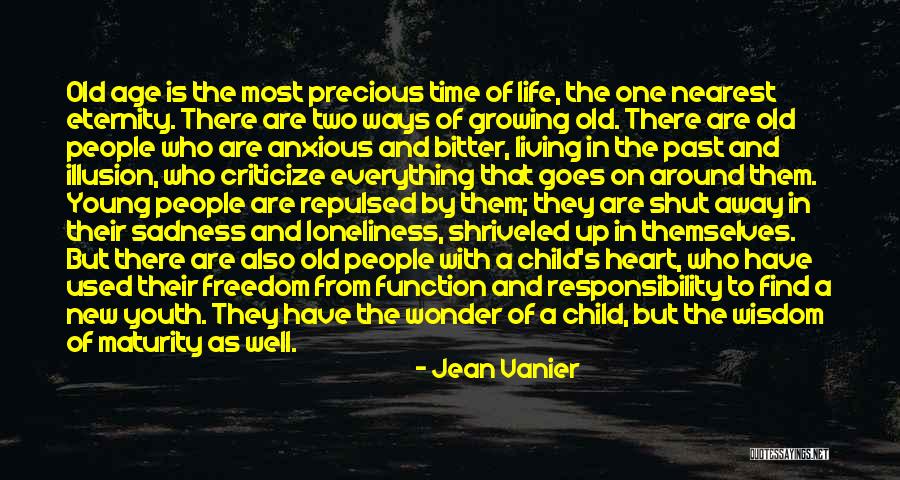 Old age is the most precious time of life, the one nearest eternity. There are two ways of growing old. There are old people who are anxious and bitter, living in the past and illusion, who criticize everything that goes on around them. Young people are repulsed by them; they are shut away in their sadness and loneliness, shriveled up in themselves. But there are also old people with a child's heart, who have used their freedom from function and responsibility to find a new youth. They have the wonder of a child, but the wisdom of maturity as well. They have integrated their years of activity and so can live without being attached to power. Their freedom of heart and their acceptance of their limitations and weakness makes them people whose radiance illuminates the whole community. They are gentle and merciful, symbols of compassion and forgiveness. They become a community's hidden treasures, sources of unity and life. They are true contemplatives at the heart of community. — Jean Vanier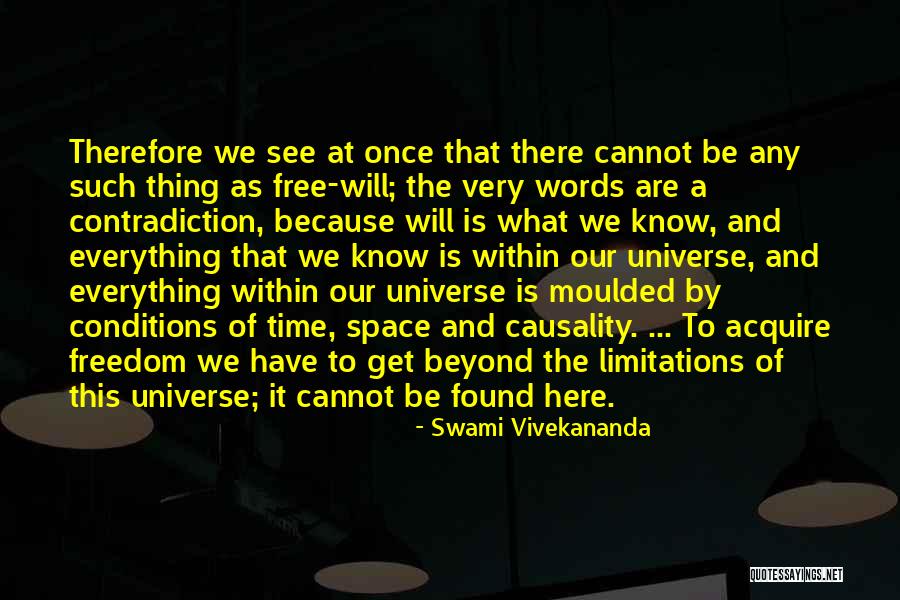 Therefore we see at once that there cannot be any such thing as free-will; the very words are a contradiction, because will is what we know, and everything that we know is within our universe, and everything within our universe is moulded by conditions of time, space and causality. ... To acquire freedom we have to get beyond the limitations of this universe; it cannot be found here. — Swami Vivekananda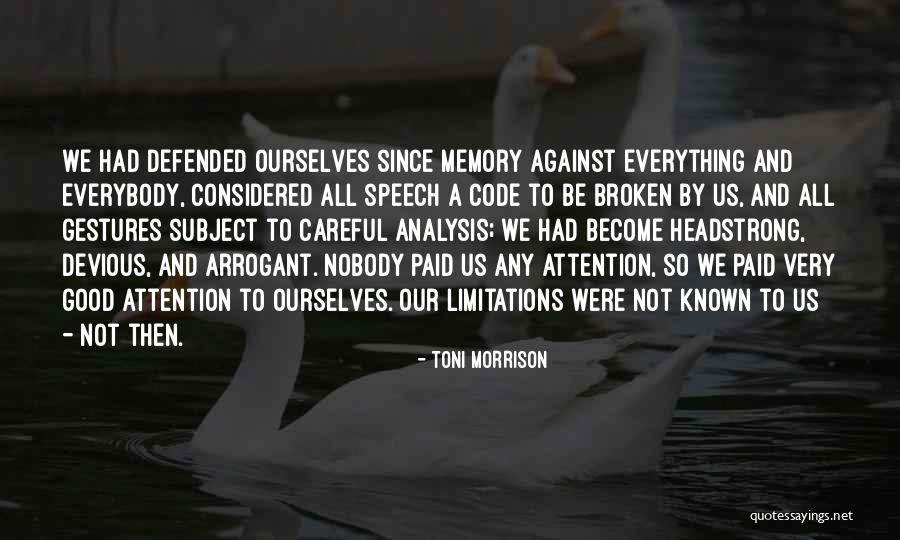 We had defended ourselves since memory against everything and everybody, considered all speech a code to be broken by us, and all gestures subject to careful analysis; we had become headstrong, devious, and arrogant. Nobody paid us any attention, so we paid very good attention to ourselves. Our limitations were not known to us - not then. — Toni Morrison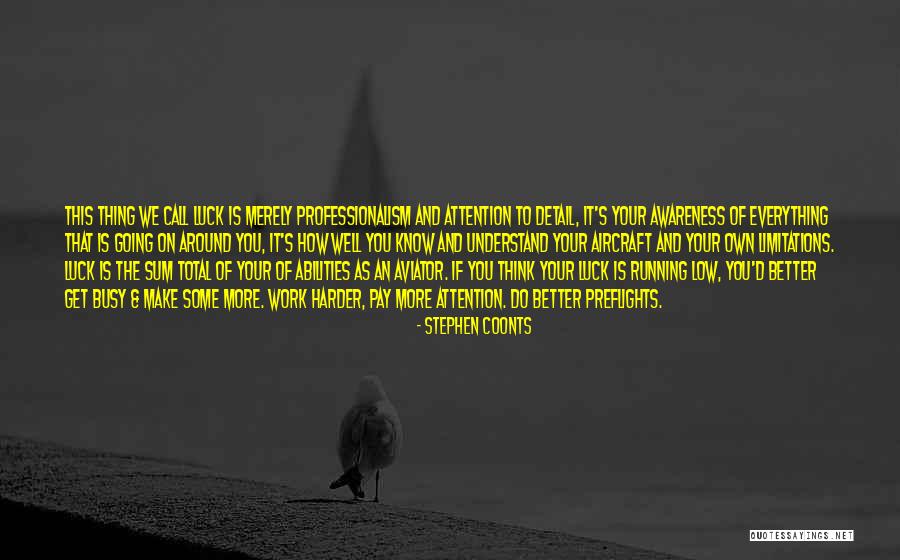 This thing we call luck is merely professionalism and attention to detail, it's your awareness of everything that is going on around you, it's how well you know and understand your aircraft and your own limitations. Luck is the sum total of your of abilities as an aviator. If you think your luck is running low, you'd better get busy & make some more. Work harder, pay more attention. Do better preflights. — Stephen Coonts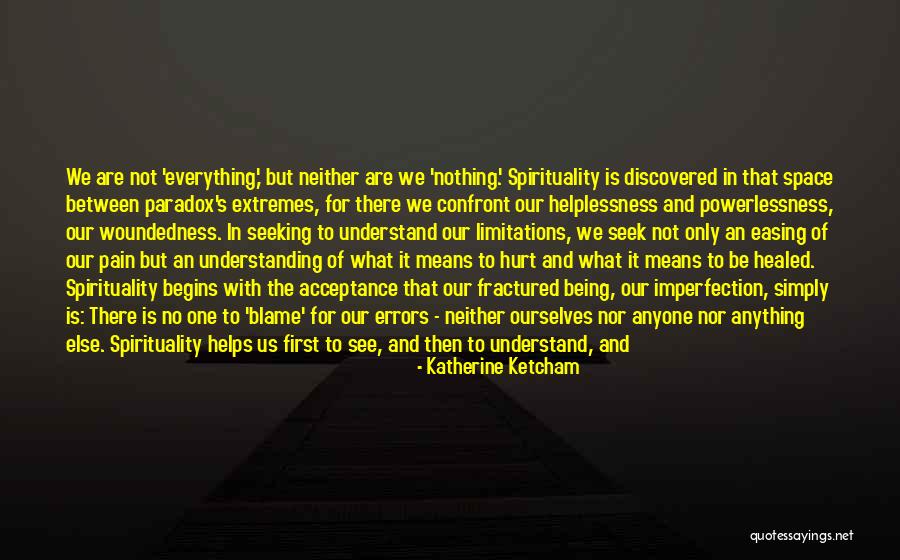 We are not 'everything,' but neither are we 'nothing.' Spirituality is discovered in that space between paradox's extremes, for there we confront our helplessness and powerlessness, our woundedness. In seeking to understand our limitations, we seek not only an easing of our pain but an understanding of what it means to hurt and what it means to be healed. Spirituality begins with the acceptance that our fractured being, our imperfection, simply is: There is no one to 'blame' for our errors - neither ourselves nor anyone nor anything else. Spirituality helps us first to see, and then to understand, and eventually to accept the imperfection that lies at the very core of our human be-ing. — Katherine Ketcham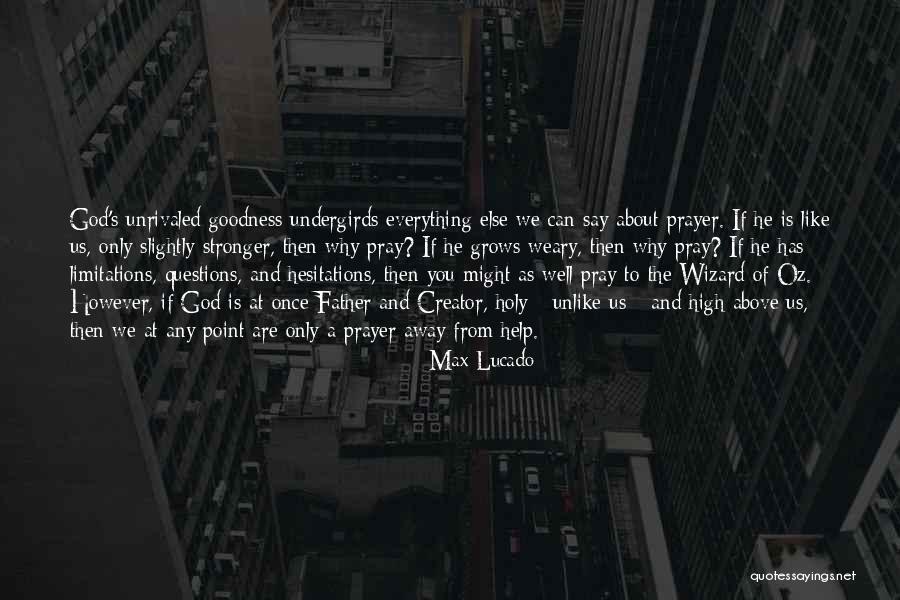 God's unrivaled goodness undergirds everything else we can say about prayer. If he is like us, only slightly stronger, then why pray? If he grows weary, then why pray? If he has limitations, questions, and hesitations, then you might as well pray to the Wizard of Oz. However, if God is at once Father and Creator, holy - unlike us - and high above us, then we at any point are only a prayer away from help. — Max Lucado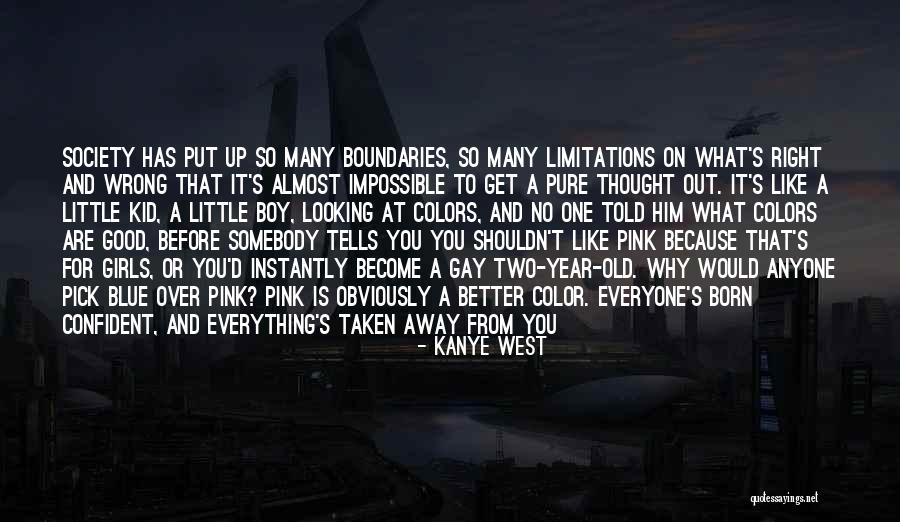 Society has put up so many boundaries, so many limitations on what's right and wrong that it's almost impossible to get a pure thought out. It's like a little kid, a little boy, looking at colors, and no one told him what colors are good, before somebody tells you you shouldn't like pink because that's for girls, or you'd instantly become a gay two-year-old. Why would anyone pick blue over pink? Pink is obviously a better color. Everyone's born confident, and everything's taken away from you — Kanye West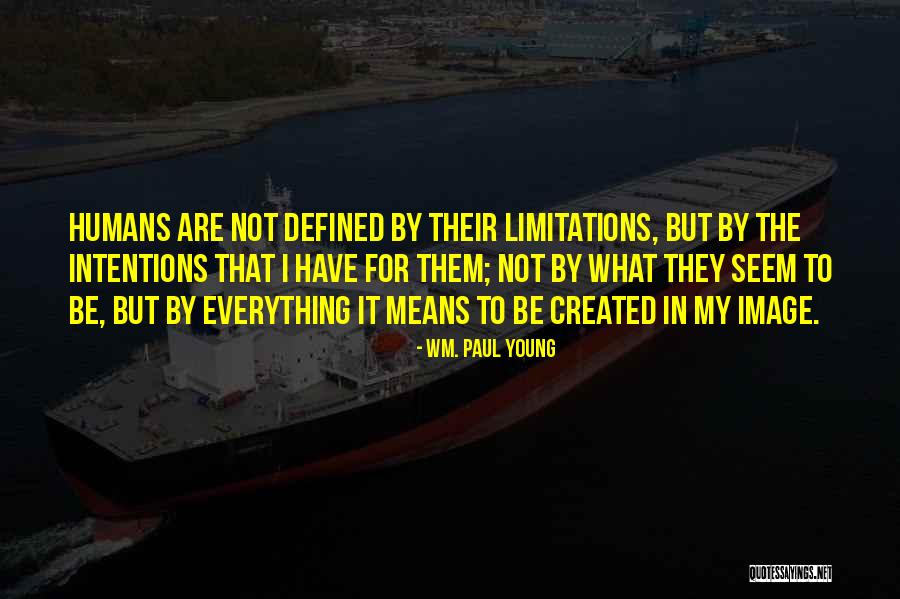 Humans are not defined by their limitations, but by the intentions that I have for them; not by what they seem to be, but by everything it means to be created in my image. — Wm. Paul Young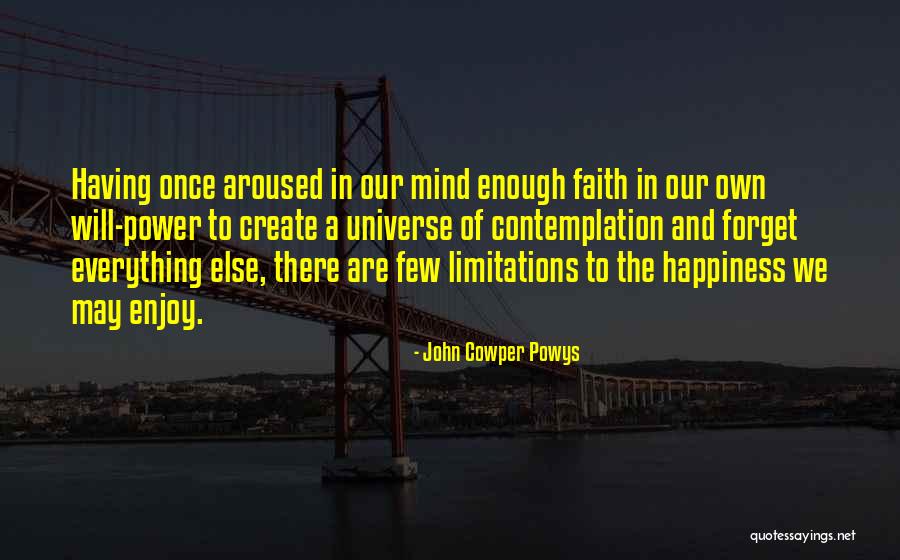 Having once aroused in our mind enough faith in our own will-power to create a universe of contemplation and forget everything else, there are few limitations to the happiness we may enjoy. — John Cowper Powys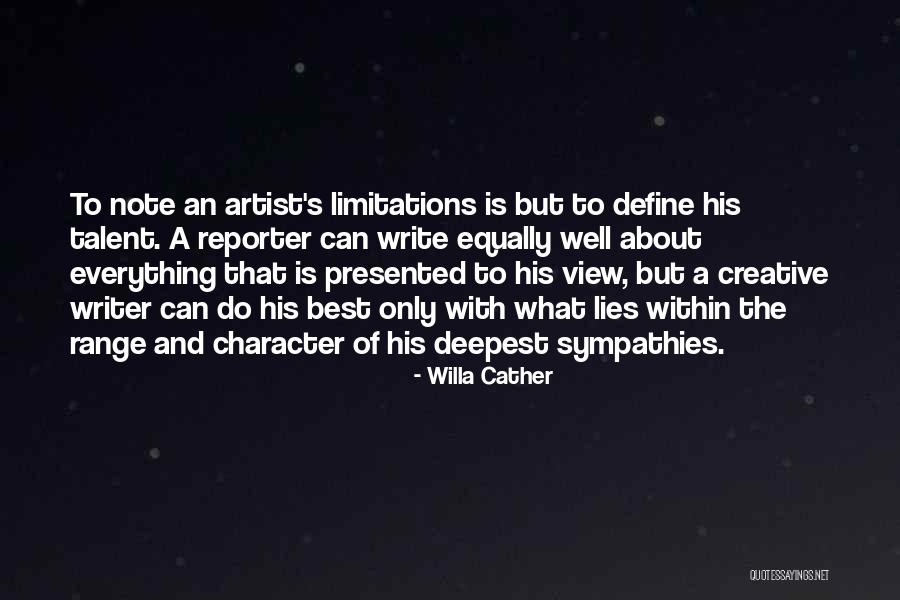 To note an artist's limitations is but to define his talent. A reporter can write equally well about everything that is presented to his view, but a creative writer can do his best only with what lies within the range and character of his deepest sympathies. — Willa Cather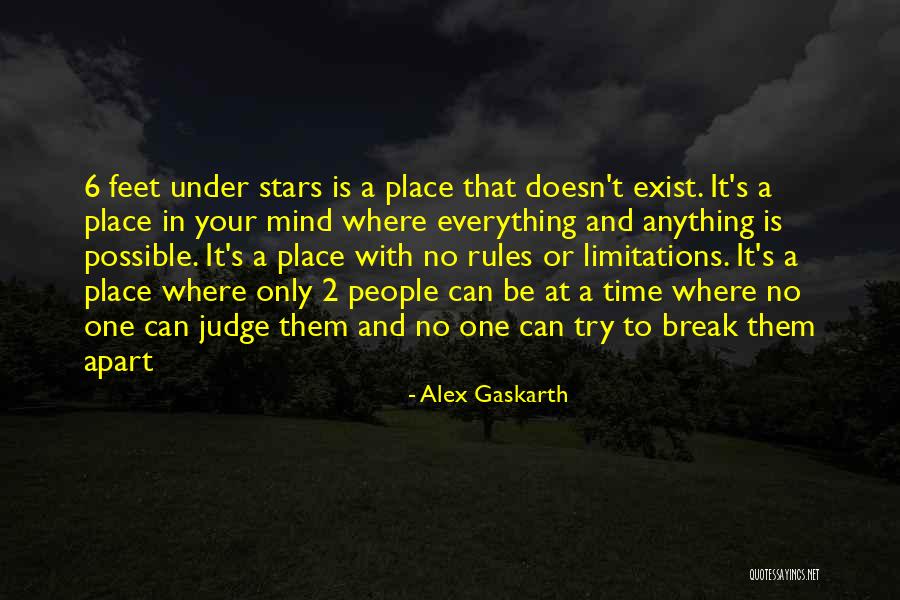 6 feet under stars is a place that doesn't exist. It's a place in your mind where everything and anything is possible. It's a place with no rules or limitations. It's a place where only 2 people can be at a time where no one can judge them and no one can try to break them apart — Alex Gaskarth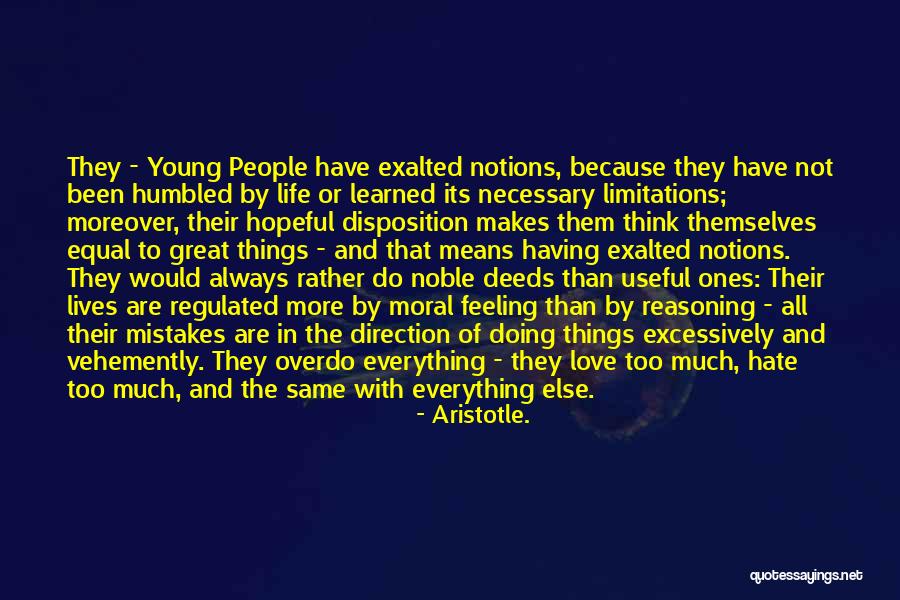 They - Young People have exalted notions, because they have not been humbled by life or learned its necessary limitations; moreover, their hopeful disposition makes them think themselves equal to great things - and that means having exalted notions. They would always rather do noble deeds than useful ones: Their lives are regulated more by moral feeling than by reasoning - all their mistakes are in the direction of doing things excessively and vehemently. They overdo everything - they love too much, hate too much, and the same with everything else. — Aristotle.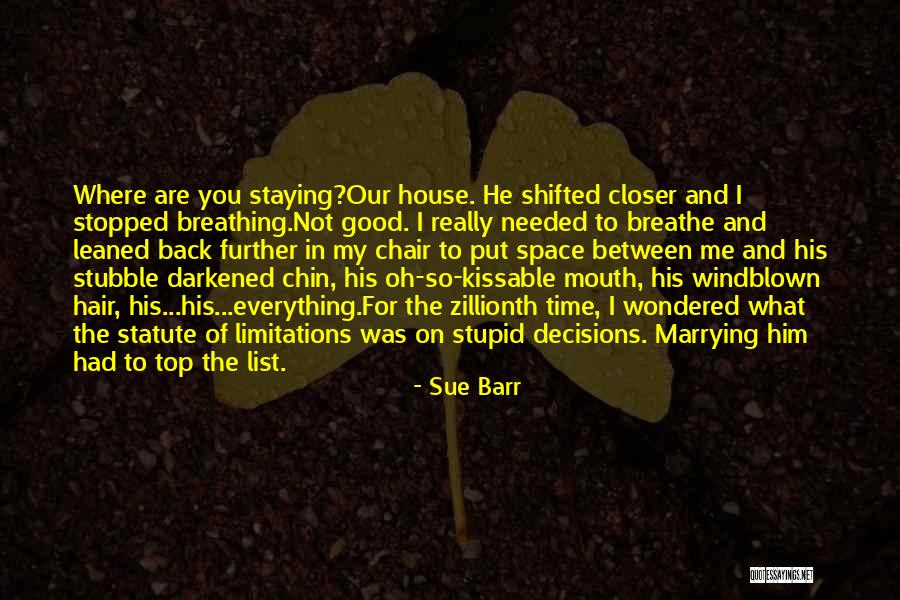 Where are you staying?
Our house. He shifted closer and I stopped breathing.
Not good. I really needed to breathe and leaned back further in my chair to put space between me and his stubble darkened chin, his oh-so-kissable mouth, his windblown hair, his...his...everything.
For the zillionth time, I wondered what the statute of limitations was on stupid decisions. Marrying him had to top the list. — Sue Barr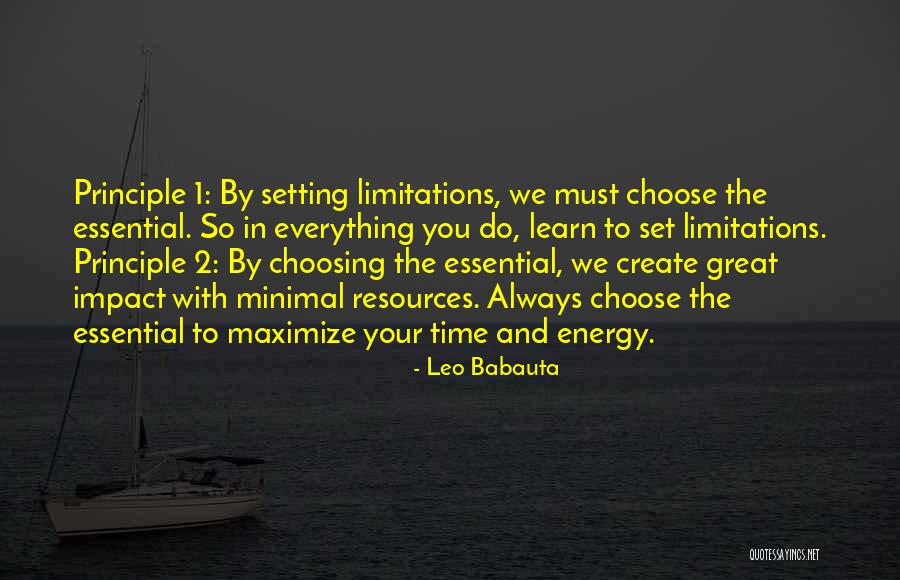 Principle 1: By setting limitations, we must choose the essential. So in everything you do, learn to set limitations. Principle 2: By choosing the essential, we create great impact with minimal resources. Always choose the essential to maximize your time and energy. — Leo Babauta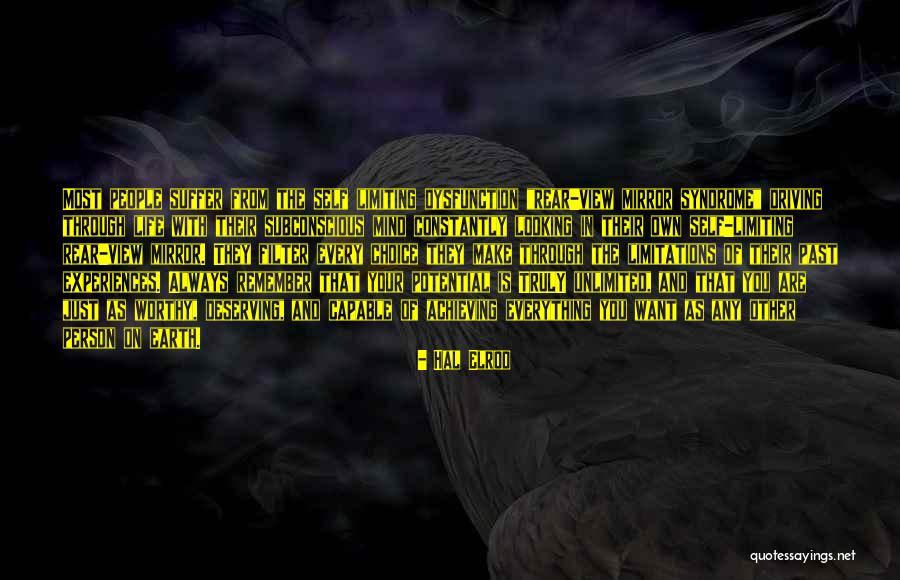 Most people suffer from the self limiting dysfunction "rear-view mirror syndrome" driving through life with their subconscious mind constantly looking in their own self-limiting rear-view mirror. They filter every choice they make through the limitations of their past experiences. Always remember that your potential is TRULY unlimited, and that you are just as worthy, deserving, and capable of achieving everything you want as any other person on earth. — Hal Elrod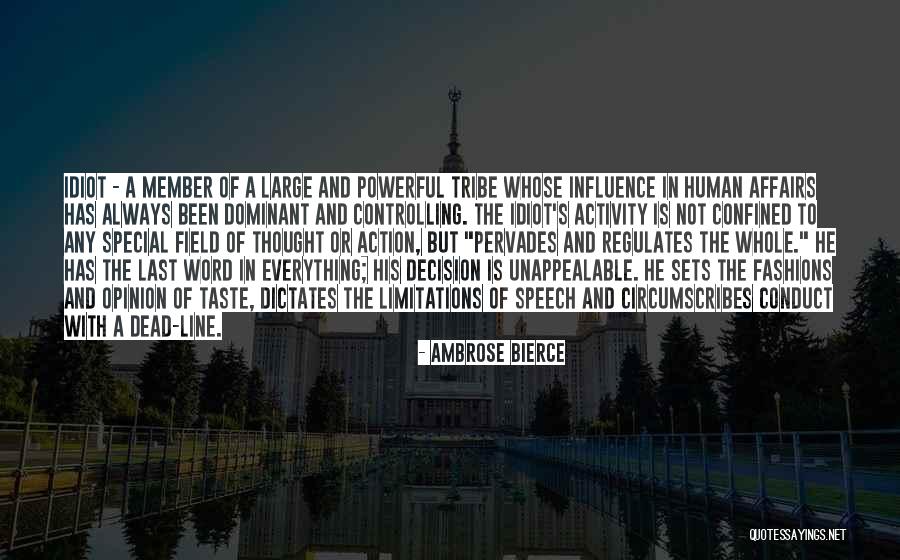 Idiot - A member of a large and powerful tribe whose influence in human affairs has always been dominant and controlling. The Idiot's activity is not confined to any special field of thought or action, but "pervades and regulates the whole." He has the last word in everything; his decision is unappealable. He sets the fashions and opinion of taste, dictates the limitations of speech and circumscribes conduct with a dead-line. — Ambrose Bierce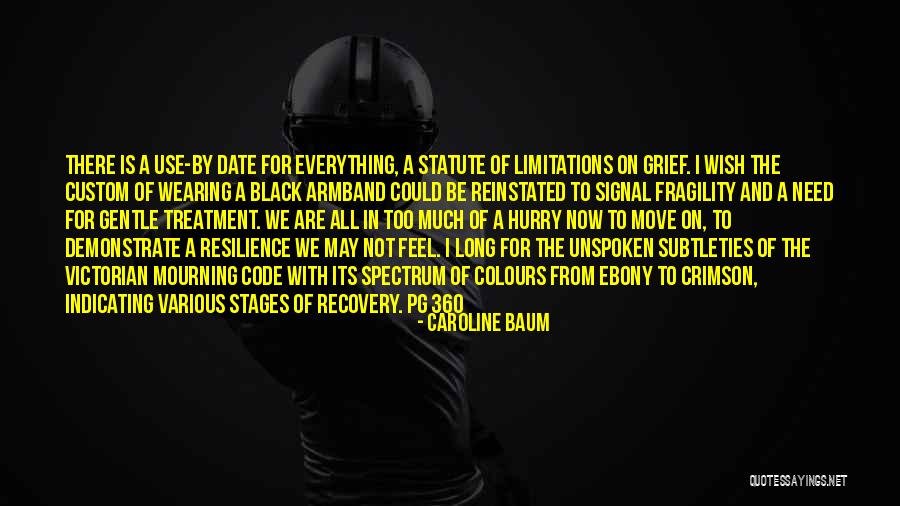 there is a use-by date for everything, a statute of limitations on grief. I wish the custom of wearing a black armband could be reinstated to signal fragility and a need for gentle treatment. We are all in too much of a hurry now to move on, to demonstrate a resilience we may not feel. I long for the unspoken subtleties of the Victorian mourning code with its spectrum of colours from ebony to crimson, indicating various stages of recovery.
Pg 360 — Caroline Baum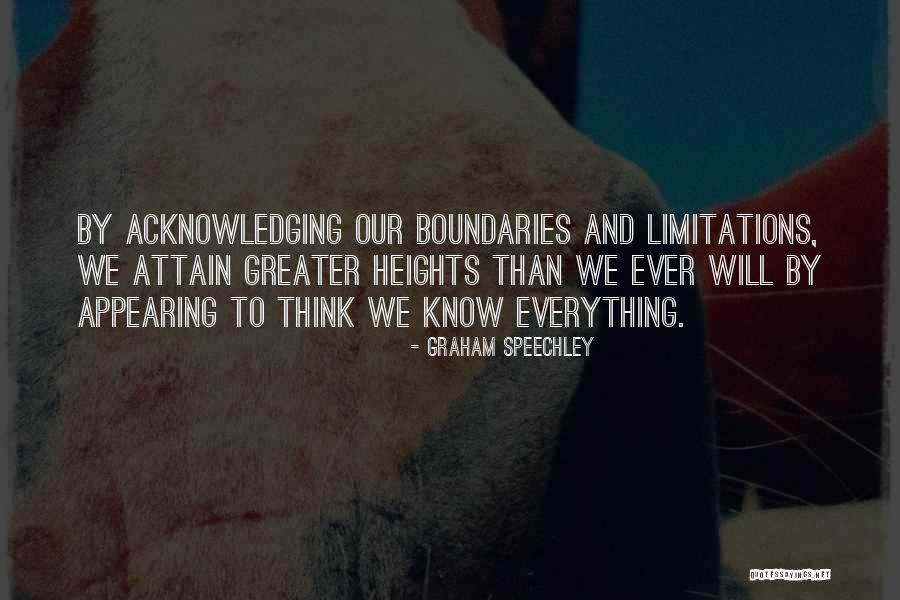 By acknowledging our boundaries and limitations, we attain greater heights than we ever will by appearing to think we know everything. — Graham Speechley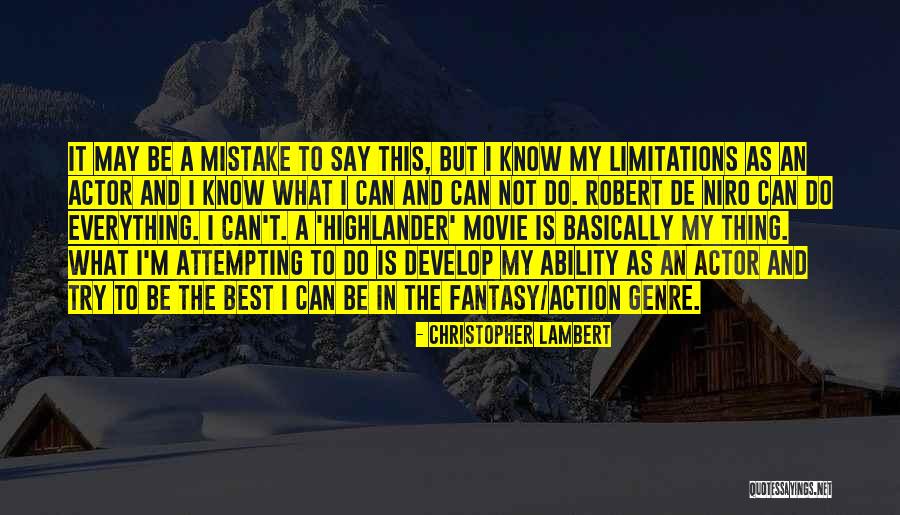 It may be a mistake to say this, but I know my limitations as an actor and I know what I can and can not do. Robert De Niro can do everything. I can't. A 'Highlander' movie is basically my thing. What I'm attempting to do is develop my ability as an actor and try to be the best I can be in the fantasy/action genre. — Christopher Lambert
The comic world has its own limitations, as everything does. I adore it, I respect it, but it's not going to take over all of me. — Joss Whedon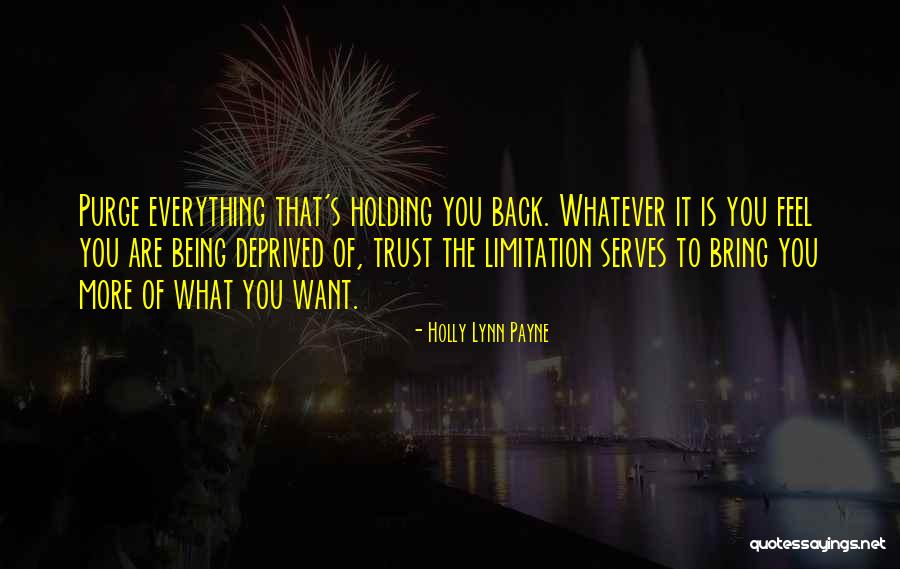 Purge everything that's holding you back. Whatever it is you feel you are being deprived of, trust the limitation serves to bring you more of what you want. — Holly Lynn Payne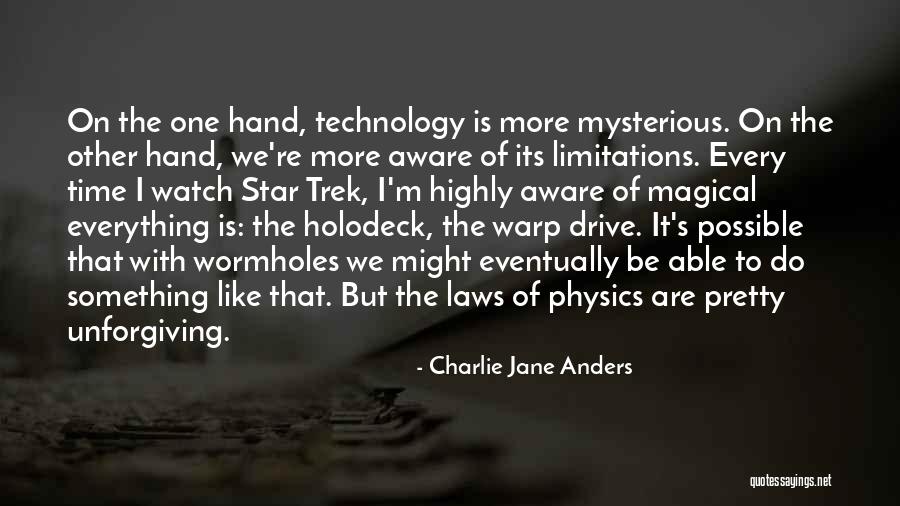 On the one hand, technology is more mysterious. On the other hand, we're more aware of its limitations. Every time I watch Star Trek, I'm highly aware of magical everything is: the holodeck, the warp drive. It's possible that with wormholes we might eventually be able to do something like that. But the laws of physics are pretty unforgiving. — Charlie Jane Anders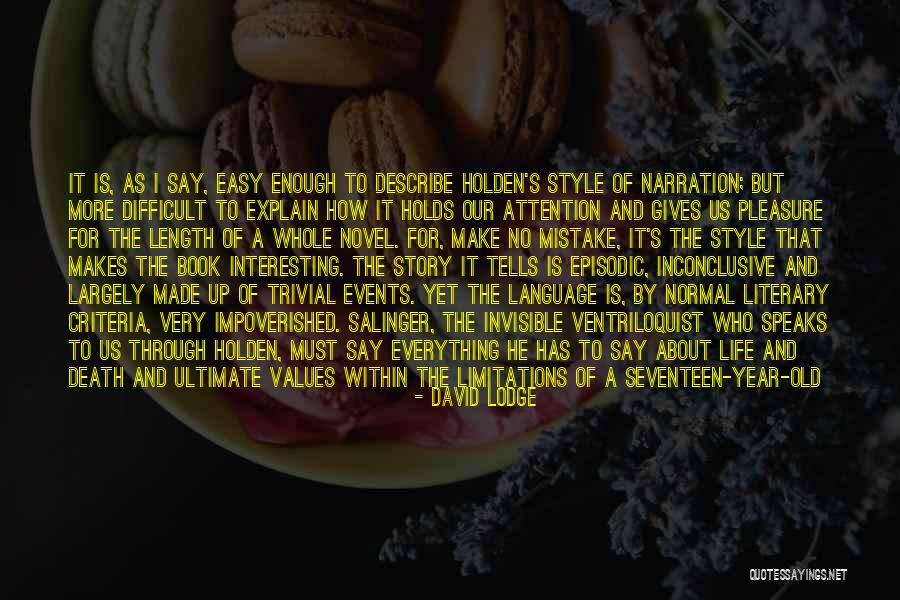 It is, as I say, easy enough to describe Holden's style of narration; but more difficult to explain how it holds our attention and gives us pleasure for the length of a whole novel. For, make no mistake, it's the style that makes the book interesting. The story it tells is episodic, inconclusive and largely made up of trivial events. Yet the language is, by normal literary criteria, very impoverished. Salinger, the invisible ventriloquist who speaks to us through Holden, must say everything he has to say about life and death and ultimate values within the limitations of a seventeen-year-old New Yorker's argot, eschewing poetic metaphors, periodic cadences, fine writing of any kind. — David Lodge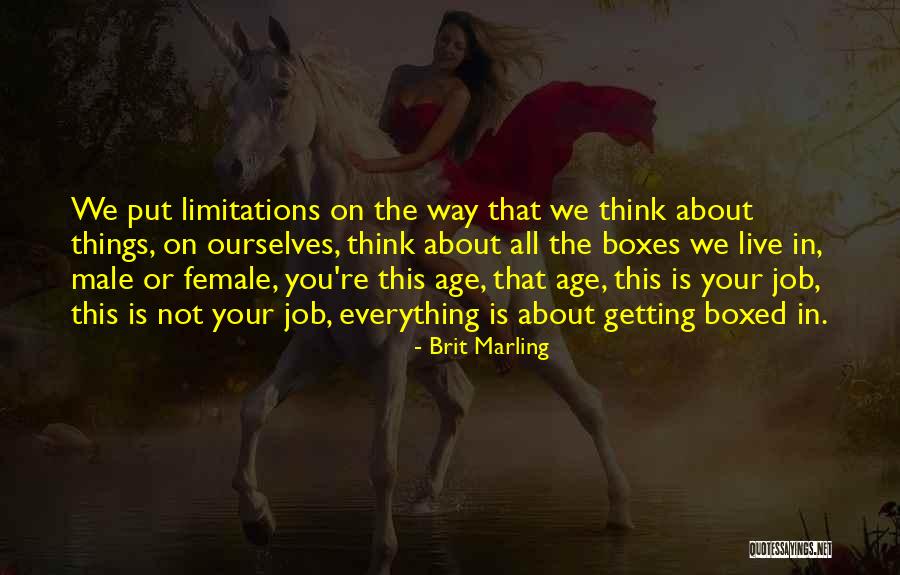 We put limitations on the way that we think about things, on ourselves, think about all the boxes we live in, male or female, you're this age, that age, this is your job, this is not your job, everything is about getting boxed in. — Brit Marling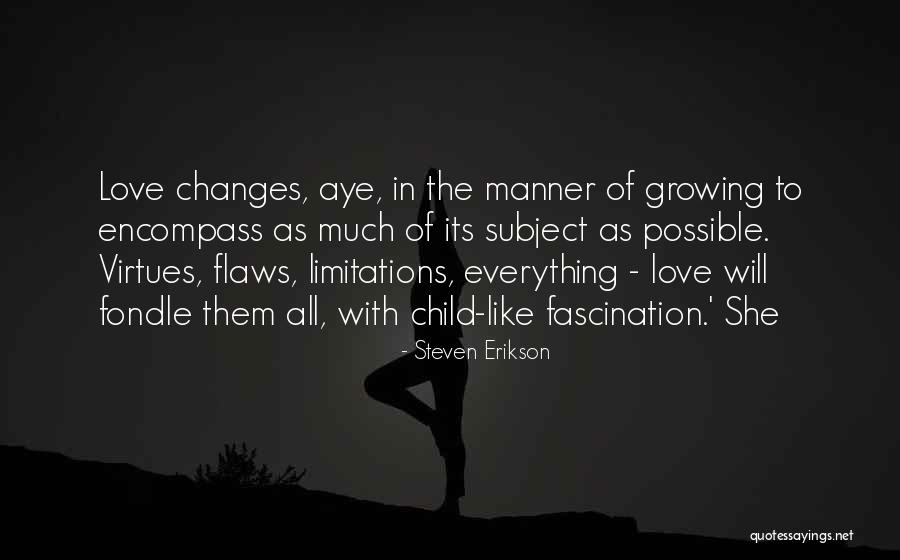 Love changes, aye, in the manner of growing to encompass as much of its subject as possible. Virtues, flaws, limitations, everything - love will fondle them all, with child-like fascination.' She — Steven Erikson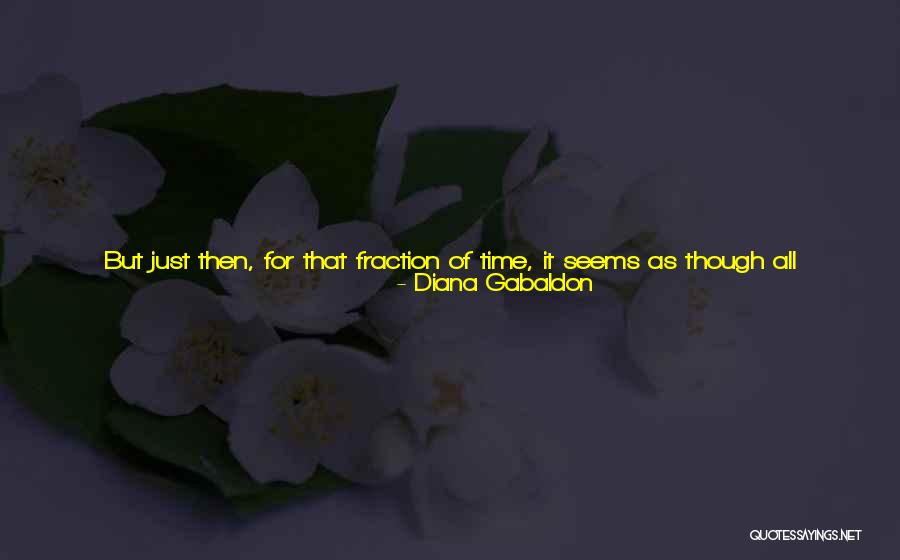 But just then, for that fraction of time, it seems as though all things are possible. You can look across the limitations of your own life, and see that they are really nothing. In that moment when time stops, it is as though you know you could undertake any venture, complete it and come back to yourself, to find the world unchanged, and everything just as you left it a moment before. And it's as though knowing that everything is possible, suddenly nothing is necessary. — Diana Gabaldon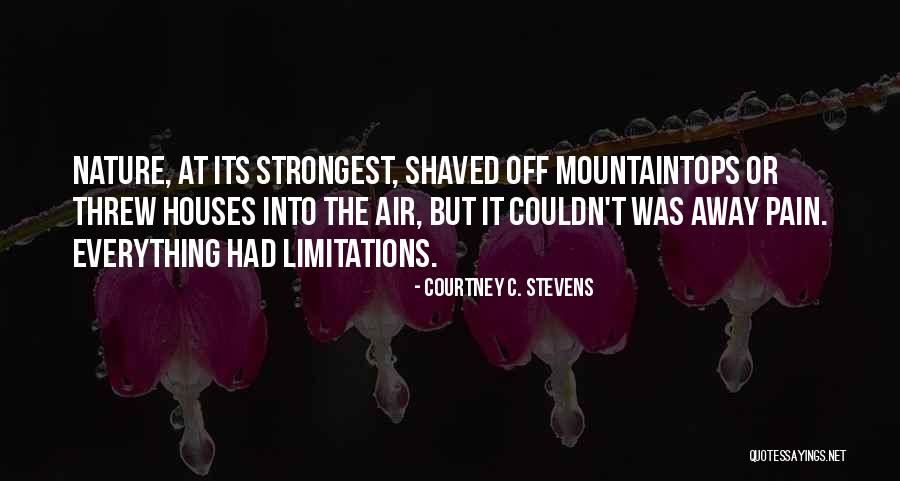 Nature, at its strongest, shaved off mountaintops or threw houses into the air, but it couldn't was away pain. Everything had limitations. — Courtney C. Stevens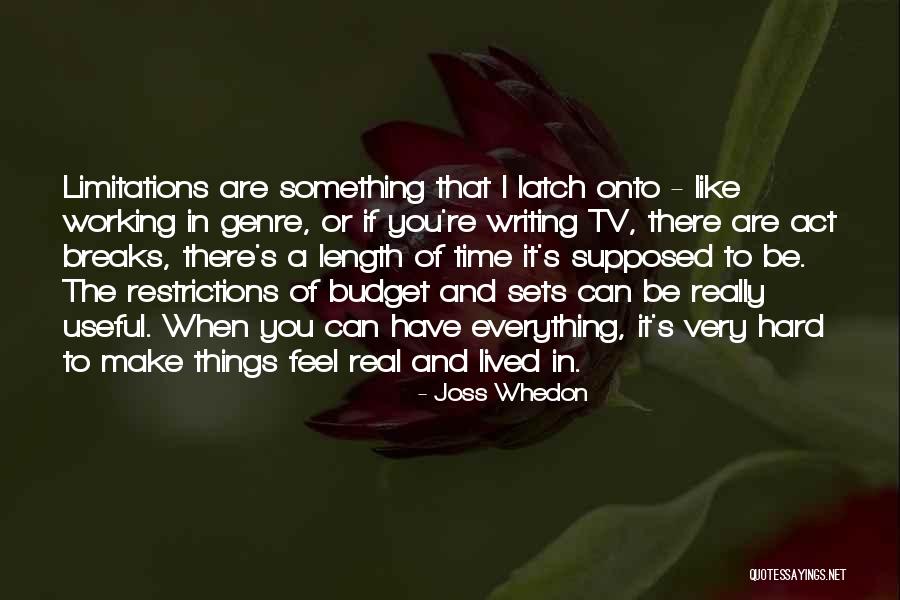 Limitations are something that I latch onto - like working in genre, or if you're writing TV, there are act breaks, there's a length of time it's supposed to be. The restrictions of budget and sets can be really useful. When you can have everything, it's very hard to make things feel real and lived in. — Joss Whedon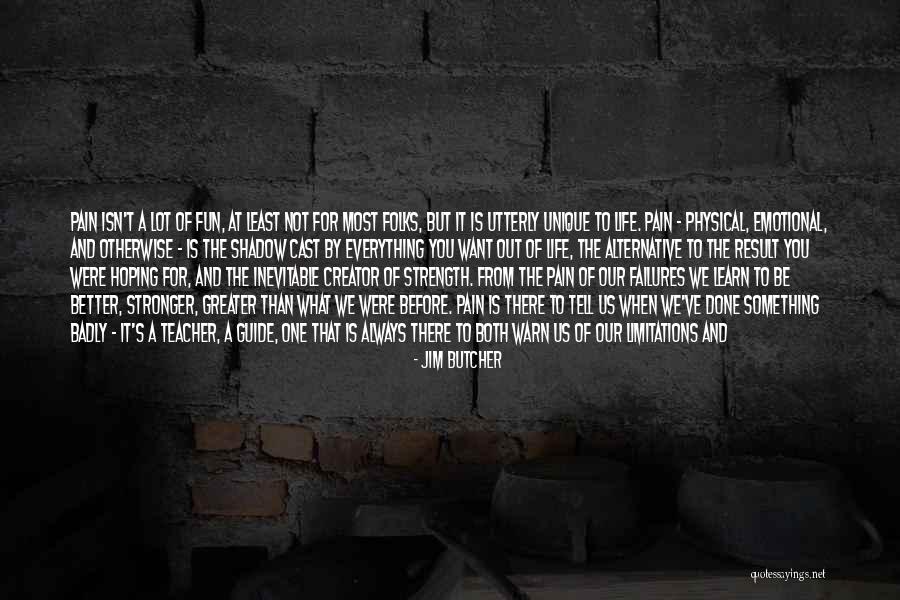 Pain isn't a lot of fun, at least not for most folks, but it is utterly unique to life. Pain - physical, emotional, and otherwise - is the shadow cast by everything you want out of life, the alternative to the result you were hoping for, and the inevitable creator of strength. From the pain of our failures we learn to be better, stronger, greater than what we were before. Pain is there to tell us when we've done something badly - it's a teacher, a guide, one that is always there to both warn us of our limitations and challenge us to overcome them.
For something no one likes, pain does us a whole hell of a lot of good. — Jim Butcher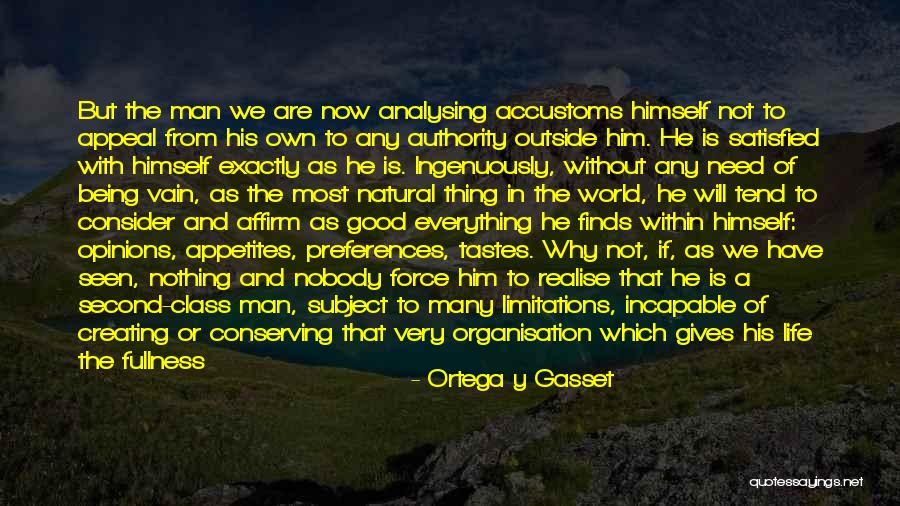 But the man we are now analysing accustoms himself not to appeal from his own to any authority outside him. He is satisfied with himself exactly as he is. Ingenuously, without any need of being vain, as the most natural thing in the world, he will tend to consider and affirm as good everything he finds within himself: opinions, appetites, preferences, tastes. Why not, if, as we have seen, nothing and nobody force him to realise that he is a second-class man, subject to many limitations, incapable of creating or conserving that very organisation which gives his life the fullness and contentedness on which he bases this assertion of his personality? — Ortega Y Gasset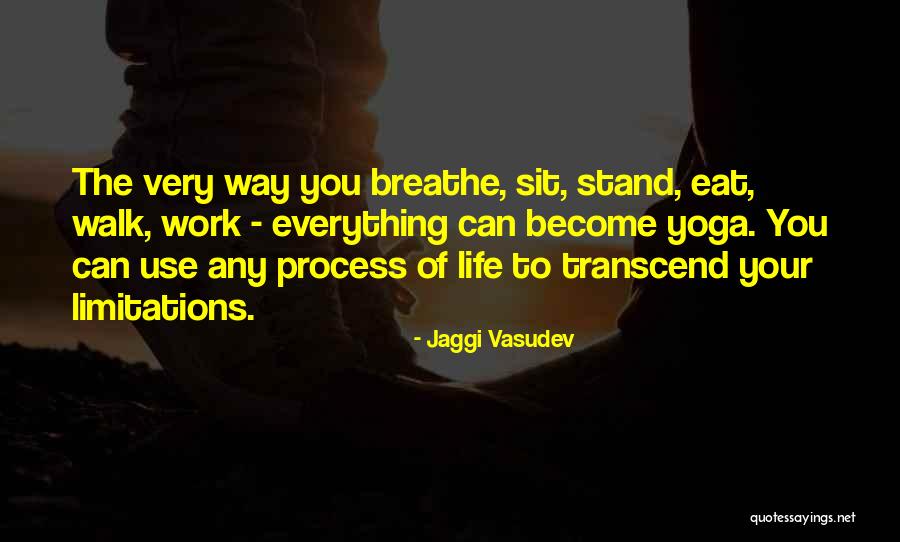 The very way you breathe, sit, stand, eat, walk, work - everything can become yoga. You can use any process of life to transcend your limitations. — Jaggi Vasudev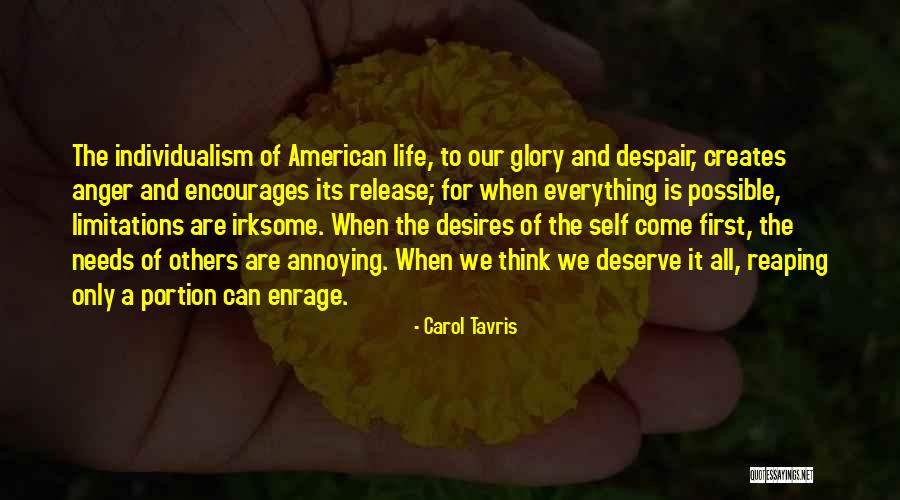 The individualism of American life, to our glory and despair, creates anger and encourages its release; for when everything is possible, limitations are irksome. When the desires of the self come first, the needs of others are annoying. When we think we deserve it all, reaping only a portion can enrage. — Carol Tavris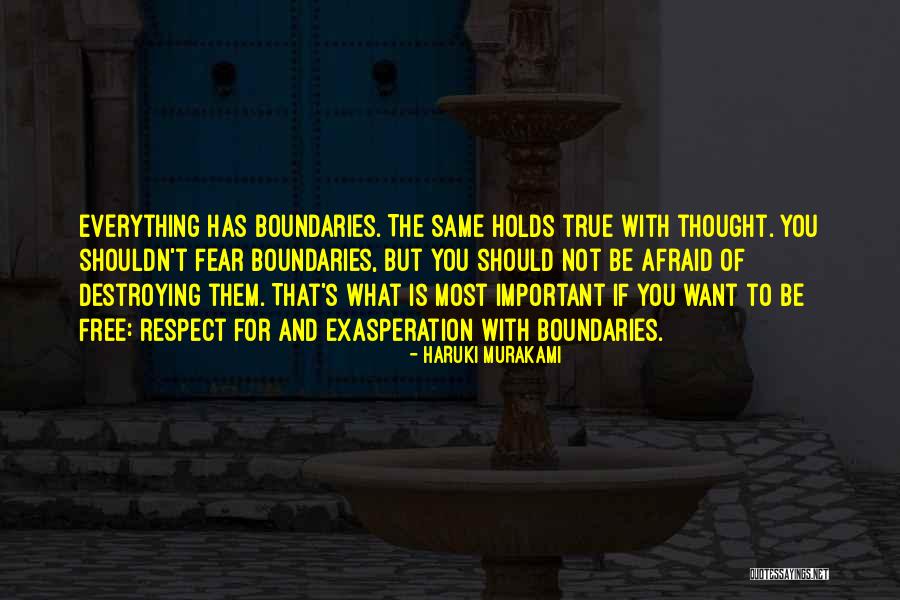 Everything has boundaries. The same holds true with thought. You shouldn't fear boundaries, but you should not be afraid of destroying them. That's what is most important if you want to be free: respect for and exasperation with boundaries. — Haruki Murakami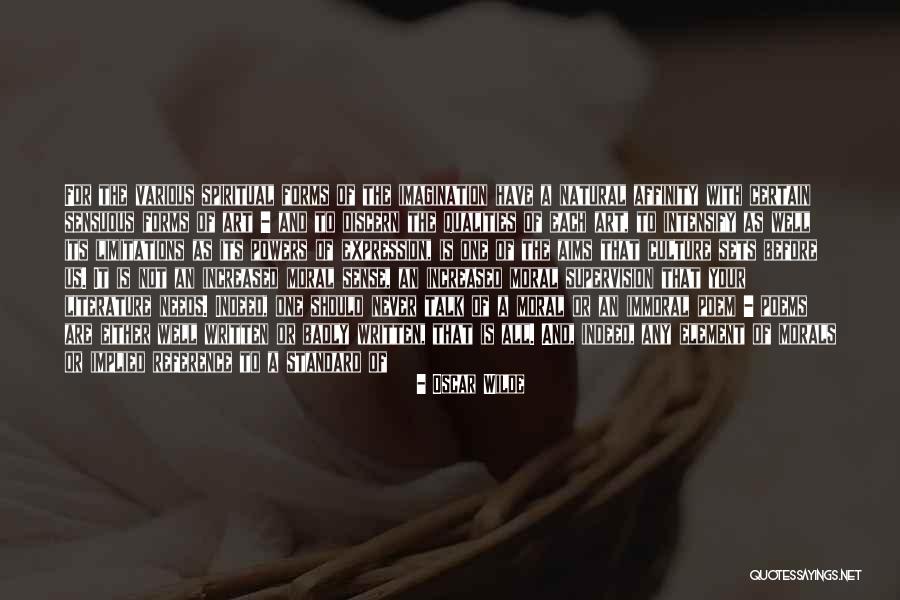 For the various spiritual forms of the imagination have a natural affinity with certain sensuous forms of art - and to discern the qualities of each art, to intensify as well its limitations as its powers of expression, is one of the aims that culture sets before us. It is not an increased moral sense, an increased moral supervision that your literature needs. Indeed, one should never talk of a moral or an immoral poem - poems are either well written or badly written, that is all. And, indeed, any element of morals or implied reference to a standard of good or evil in art is often a sign of a certain incompleteness of vision, often a note of discord in the harmony of an imaginative creation; for all good work aims at a purely artistic effect. 'We must be careful,' said Goethe, 'not to be always looking for culture merely in what is obviously moral. Everything that is great promotes civilisation as soon as we are aware of it. — Oscar Wilde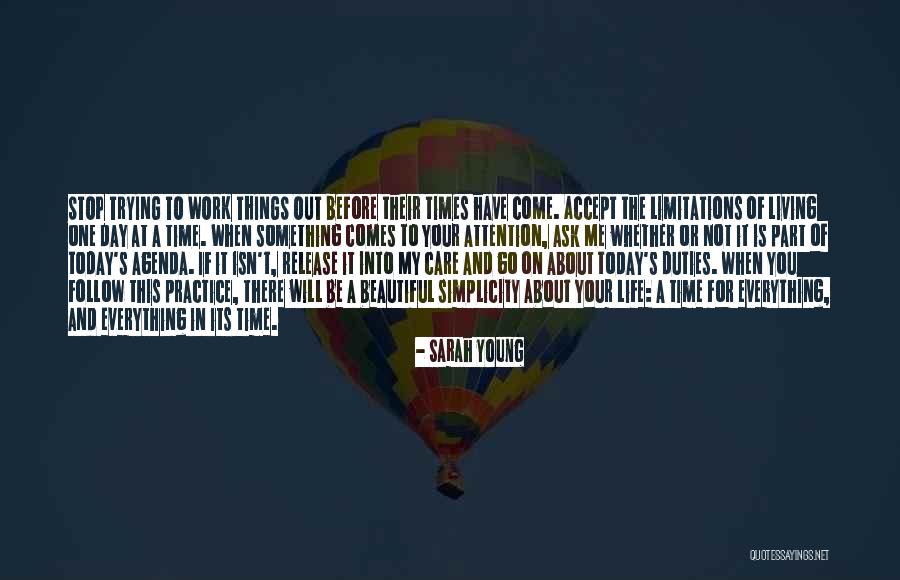 STOP TRYING TO WORK THINGS OUT before their times have come. Accept the limitations of living one day at a time. When something comes to your attention, ask Me whether or not it is part of today's agenda. If it isn't, release it into My care and go on about today's duties. When you follow this practice, there will be a beautiful simplicity about your life: a time for everything, and everything in its time. — Sarah Young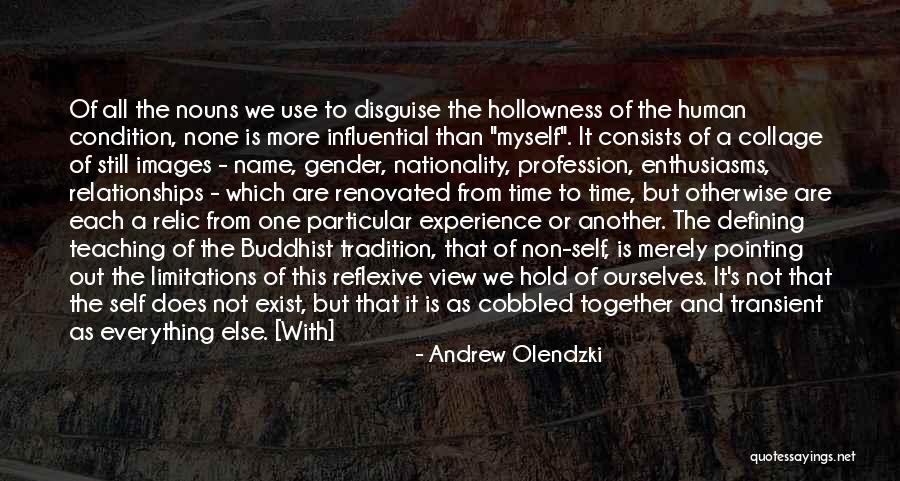 Of all the nouns we use to disguise the hollowness of the human condition, none is more influential than "myself". It consists of a collage of still images - name, gender, nationality, profession, enthusiasms, relationships - which are renovated from time to time, but otherwise are each a relic from one particular experience or another. The defining teaching of the Buddhist tradition, that of non-self, is merely pointing out the limitations of this reflexive view we hold of ourselves. It's not that the self does not exist, but that it is as cobbled together and transient as everything else. [With] the practice of meditation, ... we can begin to see how each artifact of the mind is raised and lowered to view, like so many flashcards. But we can also glimpse, once in a while, the sleight-of-hand shuffling the card and pulling them off the deck. Behind the objects lies a process. Self is a process. Self is a verb. — Andrew Olendzki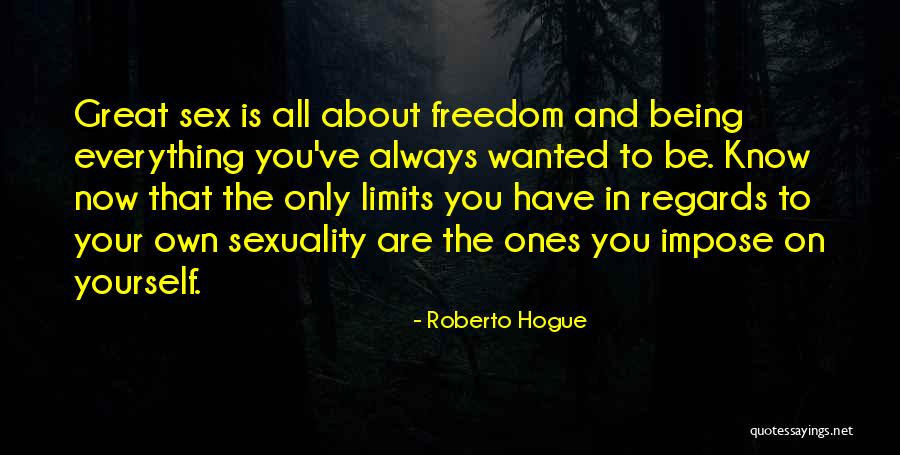 Great sex is all about freedom and being everything you've always wanted to be. Know now that the only limits you have in regards to your own sexuality are the ones you impose on yourself. — Roberto Hogue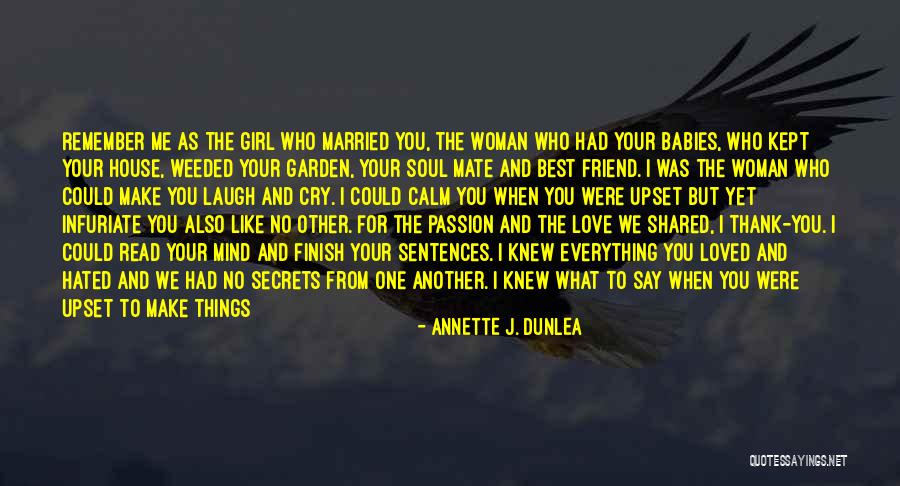 Remember me as the girl who married you, the woman who had your babies, who kept your house, weeded your garden, your soul mate and best friend. I was the woman who could make you laugh and cry. I could calm you when you were upset but yet infuriate you also like no other. For the passion and the love we shared, I thank-you. I could read your mind and finish your sentences. I knew everything you loved and hated and we had no secrets from one another. I knew what to say when you were upset to make things alright again. I felt your pain and I shared your joy. I embraced your strengths and celebrated your differences. I love you and everything about you and the physical limitations of worlds will not change that". — Annette J. Dunlea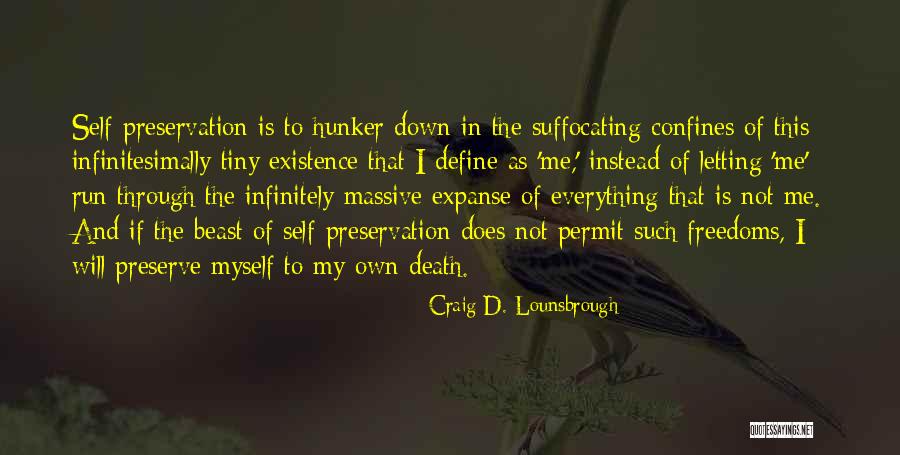 Self-preservation is to hunker down in the suffocating confines of this infinitesimally tiny existence that I define as 'me,' instead of letting 'me' run through the infinitely massive expanse of everything that is not me. And if the beast of self-preservation does not permit such freedoms, I will preserve myself to my own death. — Craig D. Lounsbrough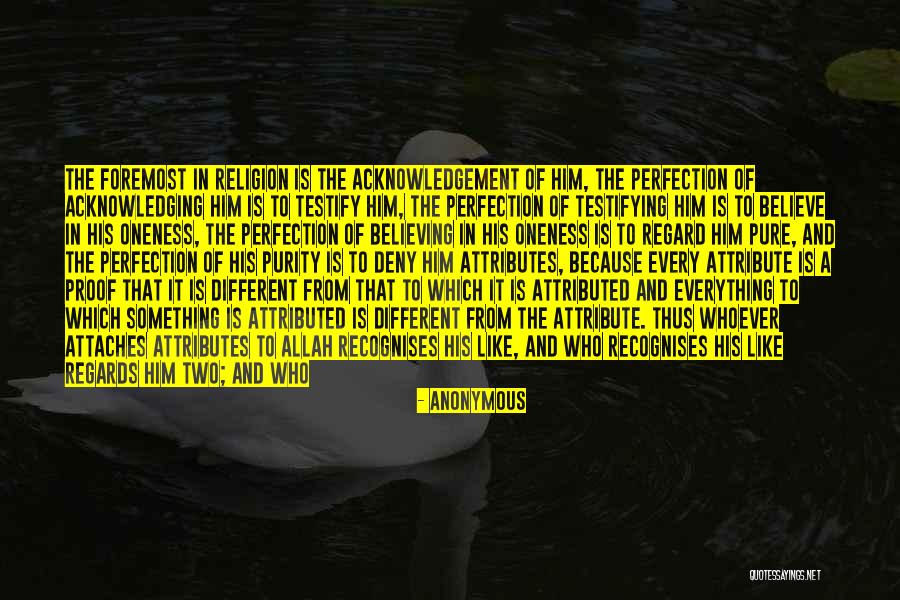 The foremost in religion is the acknowledgement of Him, the perfection of acknowledging Him is to testify Him, the perfection of testifying Him is to believe in His Oneness, the perfection of believing in His Oneness is to regard Him Pure, and the perfection of His purity is to deny Him attributes, because every attribute is a proof that it is different from that to which it is attributed and everything to which something is attributed is different from the attribute. Thus whoever attaches attributes to Allah recognises His like, and who recognises His like regards Him two; and who regards Him two recognises parts for Him; and who recognises parts for Him mistook Him; and who mistook Him pointed at Him; and who pointed at Him admitted limitations for Him; and who admitted limitations for Him numbered Him. — Anonymous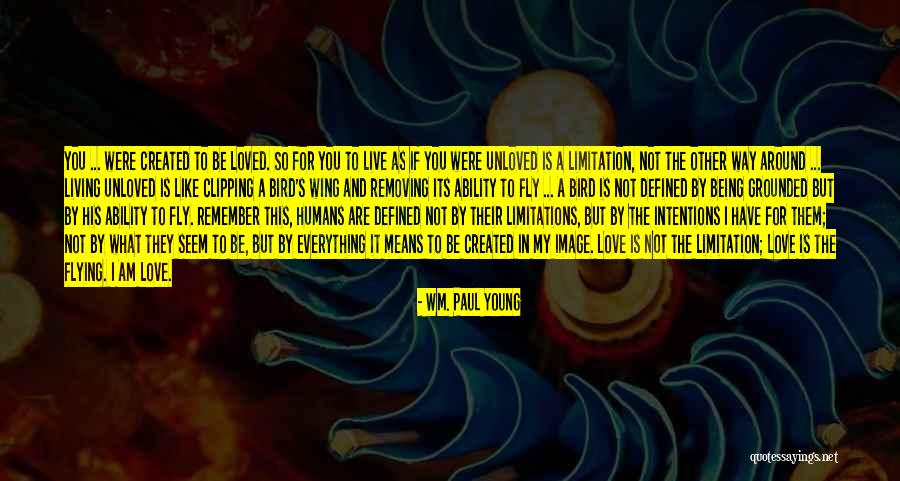 You ... were created to be loved. So for you to live as if you were unloved is a limitation, not the other way around ... Living unloved is like clipping a bird's wing and removing its ability to fly ... A bird is not defined by being grounded but by his ability to fly. Remember this, humans are defined not by their limitations, but by the intentions I have for them; not by what they seem to be, but by everything it means to be created in my image. Love is NOT the limitation; love is the flying. I AM love. — Wm. Paul Young