Every Woman Needs A Man Quotes & Sayings
Enjoy reading and share 14 famous quotes about Every Woman Needs A Man with everyone.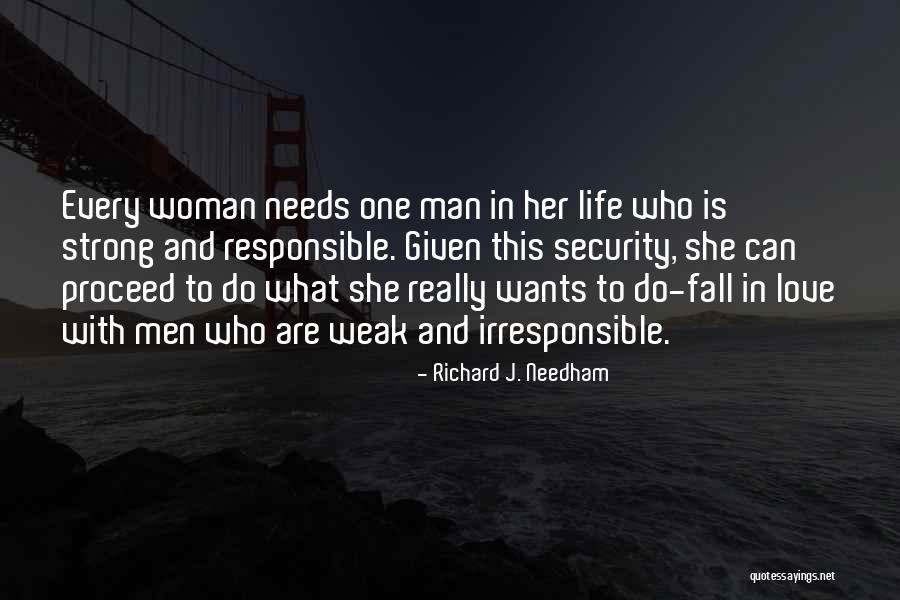 Every woman needs one man in her life who is strong and responsible. Given this security, she can proceed to do what she really wants to do-fall in love with men who are weak and irresponsible. — Richard J. Needham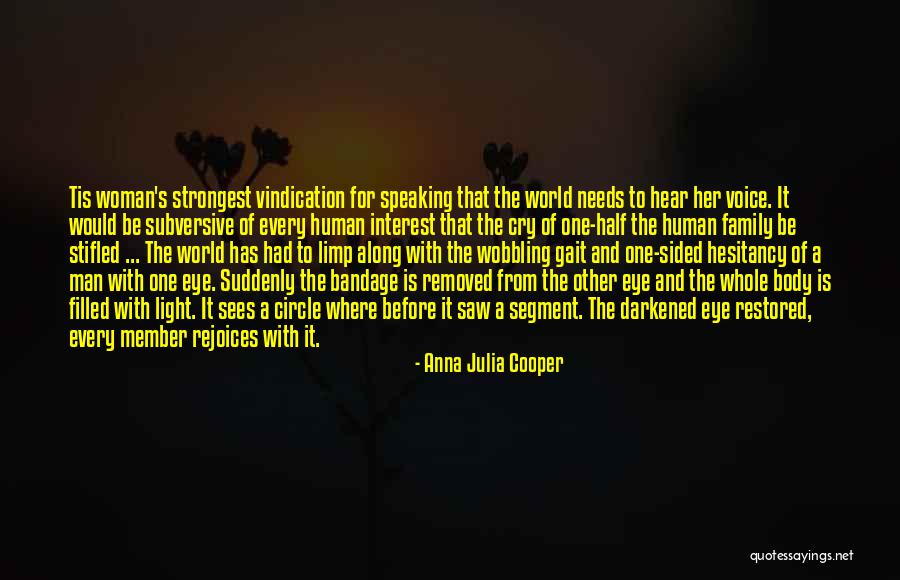 Tis woman's strongest vindication for speaking that the world needs to hear her voice. It would be subversive of every human interest that the cry of one-half the human family be stifled ... The world has had to limp along with the wobbling gait and one-sided hesitancy of a man with one eye. Suddenly the bandage is removed from the other eye and the whole body is filled with light. It sees a circle where before it saw a segment. The darkened eye restored, every member rejoices with it. — Anna Julia Cooper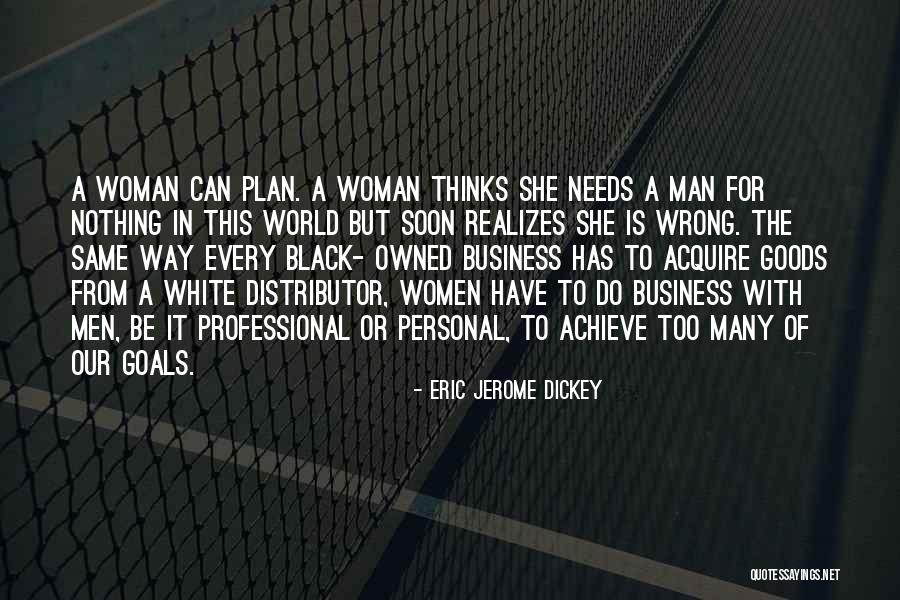 A woman can plan. A woman thinks she needs a man for nothing in this world but soon realizes she is wrong. The same way every black- owned business has to acquire goods from a white distributor, women have to do business with men, be it professional or personal, to achieve too many of our goals. — Eric Jerome Dickey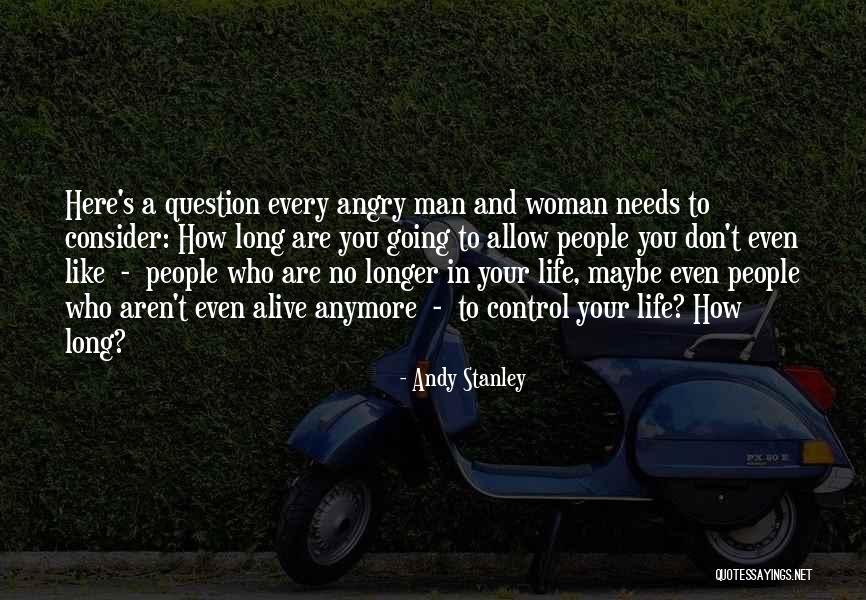 Here's a question every angry man and woman needs to consider: How long are you going to allow people you don't even like - people who are no longer in your life, maybe even people who aren't even alive anymore - to control your life? How long? — Andy Stanley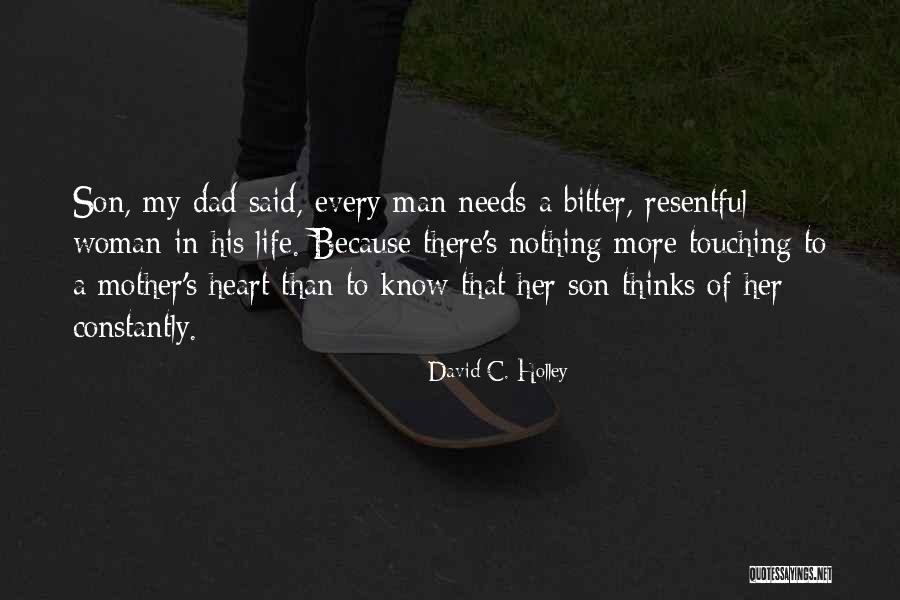 Son, my dad said, every man needs a bitter, resentful woman in his life. Because there's nothing more touching to a mother's heart than to know that her son thinks of her constantly. — David C. Holley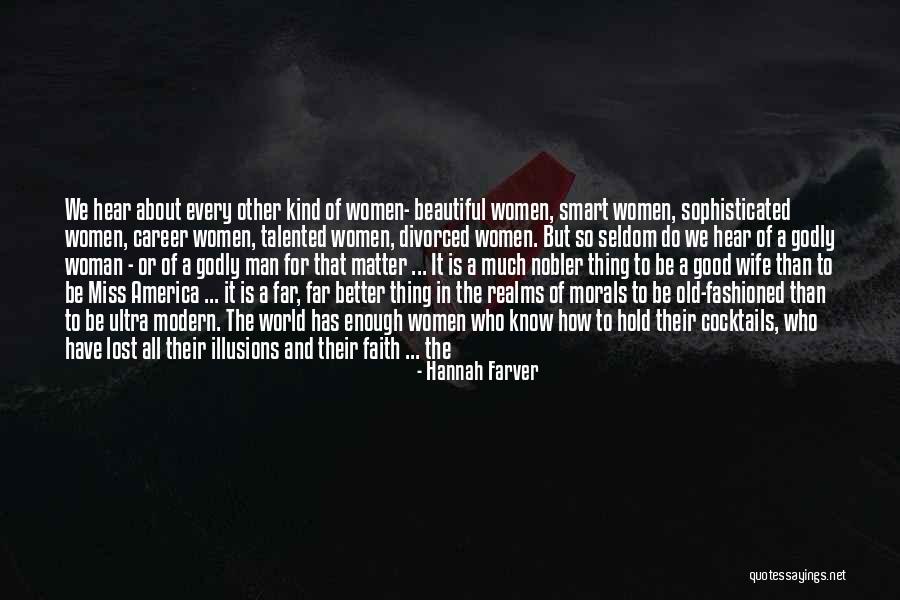 We hear about every other kind of women- beautiful women, smart women, sophisticated women, career women, talented women, divorced women. But so seldom do we hear of a godly woman - or of a godly man for that matter ... It is a much nobler thing to be a good wife than to be Miss America ... it is a far, far better thing in the realms of morals to be old-fashioned than to be ultra modern. The world has enough women who know how to hold their cocktails, who have lost all their illusions and their faith ... the world has enough woman who know how to be brilliant. It needs some who will be brave. The World had enough woman who are popular. It needs more who are pure. We need women, and men, too, who would rather be morally right than socially correct. Quote from Peter Marshall in the book Un Compromising — Hannah Farver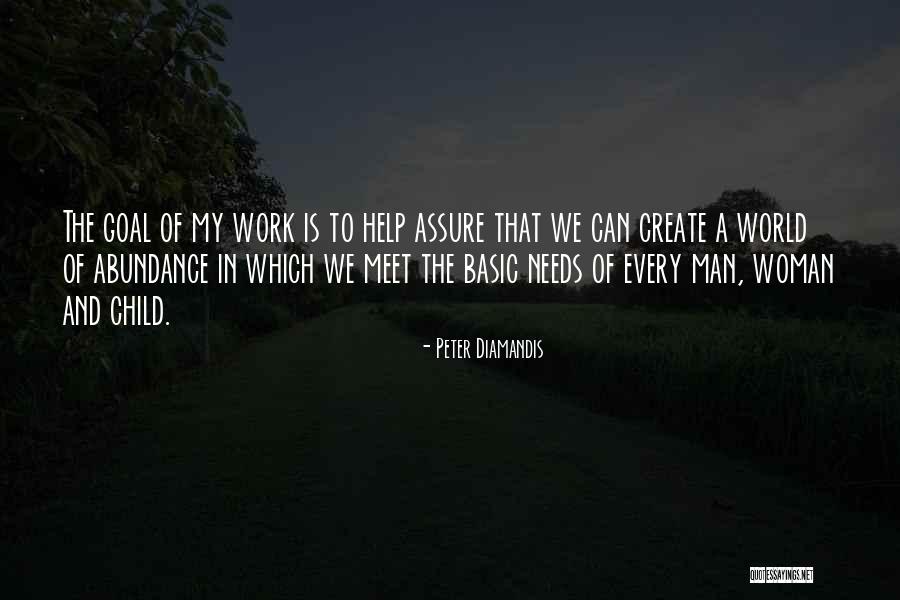 The goal of my work is to help assure that we can create a world of abundance in which we meet the basic needs of every man, woman and child. — Peter Diamandis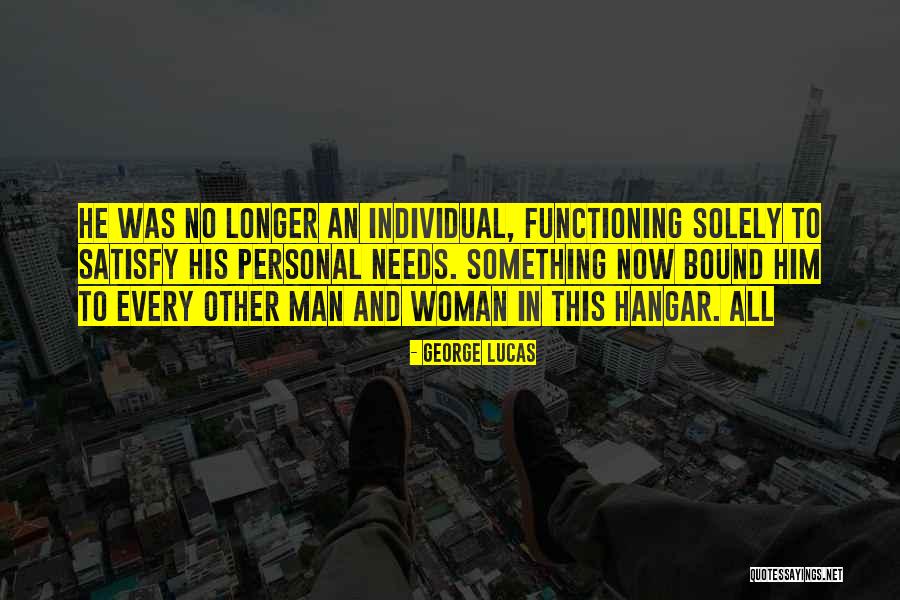 He was no longer an individual, functioning solely to satisfy his personal needs. Something now bound him to every other man and woman in this hangar. All — George Lucas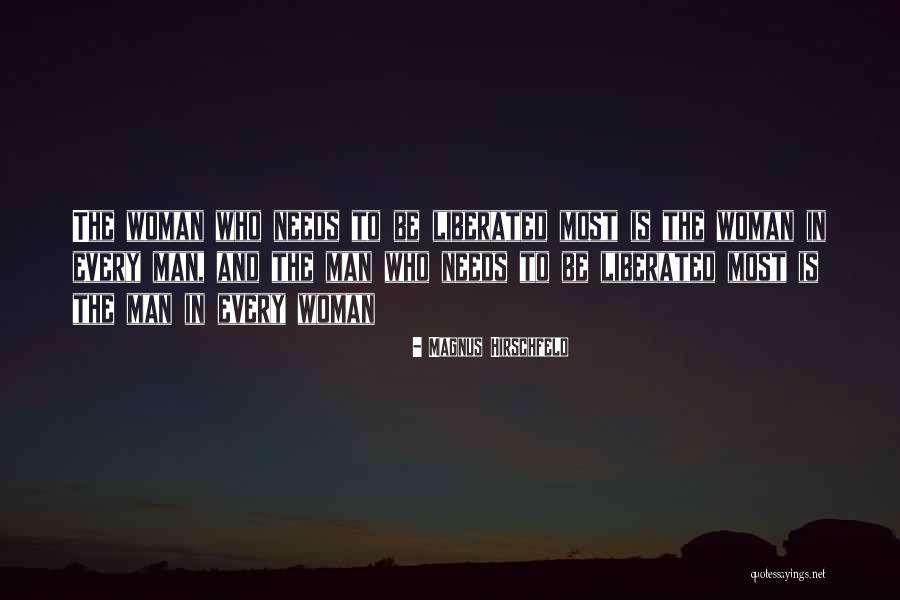 The woman who needs to be liberated most is the woman in every man, and the man who needs to be liberated most is the man in every woman — Magnus Hirschfeld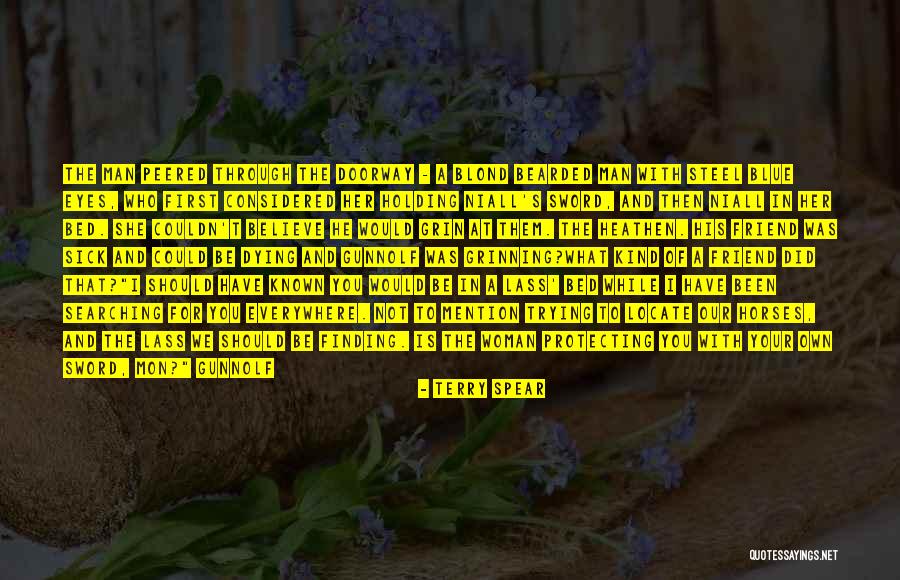 The man peered through the doorway - a blond bearded man with steel blue eyes, who first considered her holding Niall's sword, and then Niall in her bed. She couldn't believe he would grin at them. The heathen. His friend was sick and could be dying and Gunnolf was grinning?
What kind of a friend did that?
"I should have known you would be in a lass' bed while I have been searching for you everywhere. Not to mention trying to locate our horses, and the lass we should be finding. Is the woman protecting you with your own sword, mon?" Gunnolf laughed.
"He was wounded and is now feverish. There is naught to jest about," Anora said harshly.
Gunnolf laughed again. "I hope you plan to wed the lass, Niall. She appears to be just the one for you. Every mon needs a woman who will fight to protect him. — Terry Spear
Most people carry an ideal man and woman in their head, and when the practical relations of the men and women of every day are discussed with reference only to these impossible ideals, we need not marvel at any ridiculous conclusions. — Mary C. Ames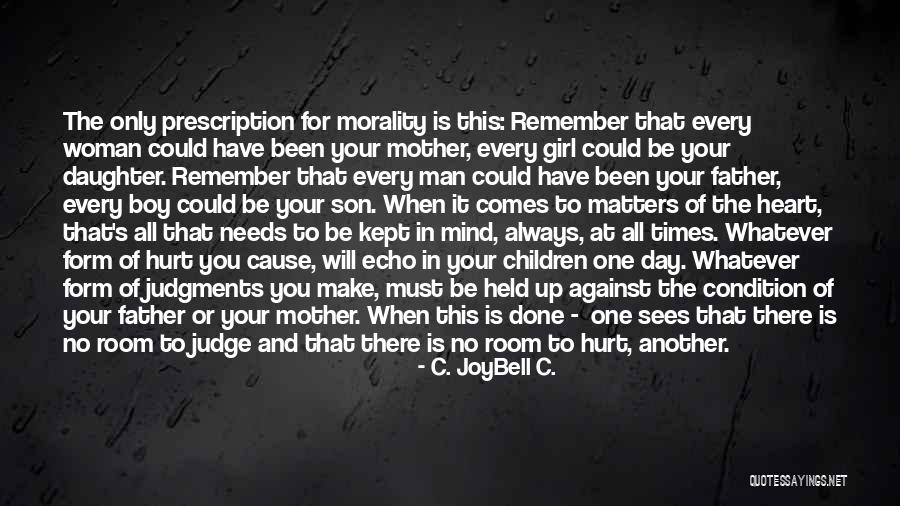 The only prescription for morality is this: Remember that every woman could have been your mother, every girl could be your daughter. Remember that every man could have been your father, every boy could be your son. When it comes to matters of the heart, that's all that needs to be kept in mind, always, at all times. Whatever form of hurt you cause, will echo in your children one day. Whatever form of judgments you make, must be held up against the condition of your father or your mother. When this is done - one sees that there is no room to judge and that there is no room to hurt, another. — C. JoyBell C.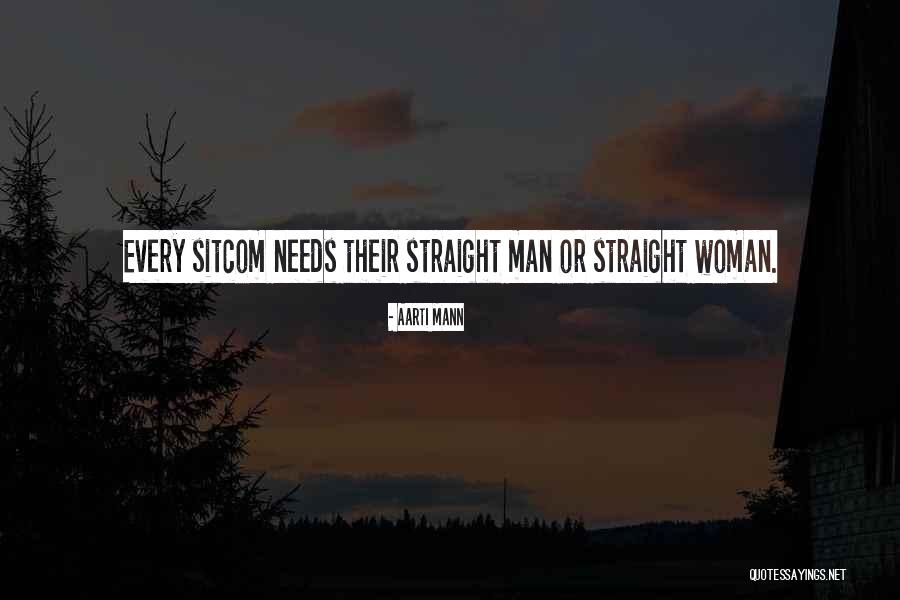 Every sitcom needs their straight man or straight woman. — Aarti Mann