Enjoy The Present And The Future Quotes & Sayings
Enjoy reading and share 49 famous quotes about Enjoy The Present And The Future with everyone.
Top Enjoy The Present And The Future Quotes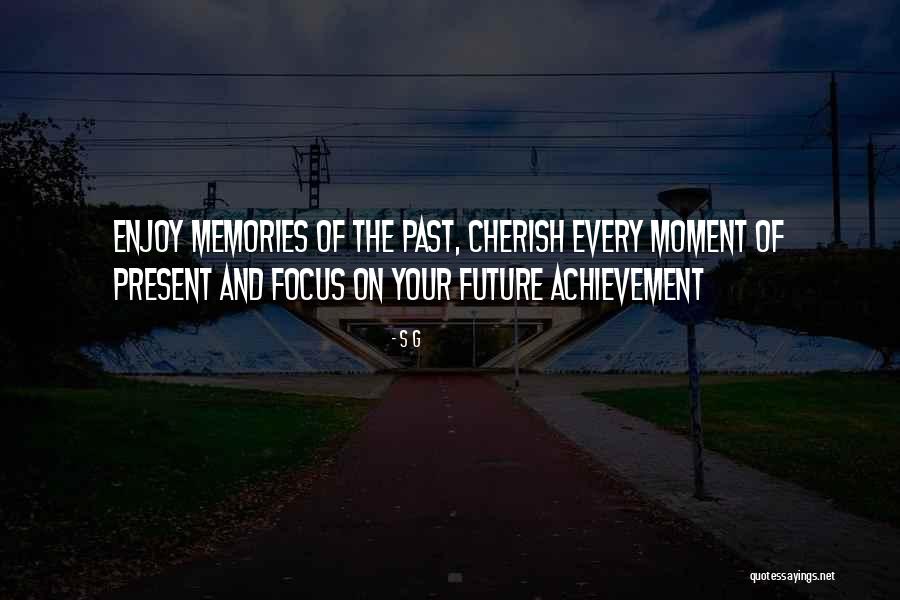 Enjoy memories of the past, cherish every moment of present and focus on your future achievement — S G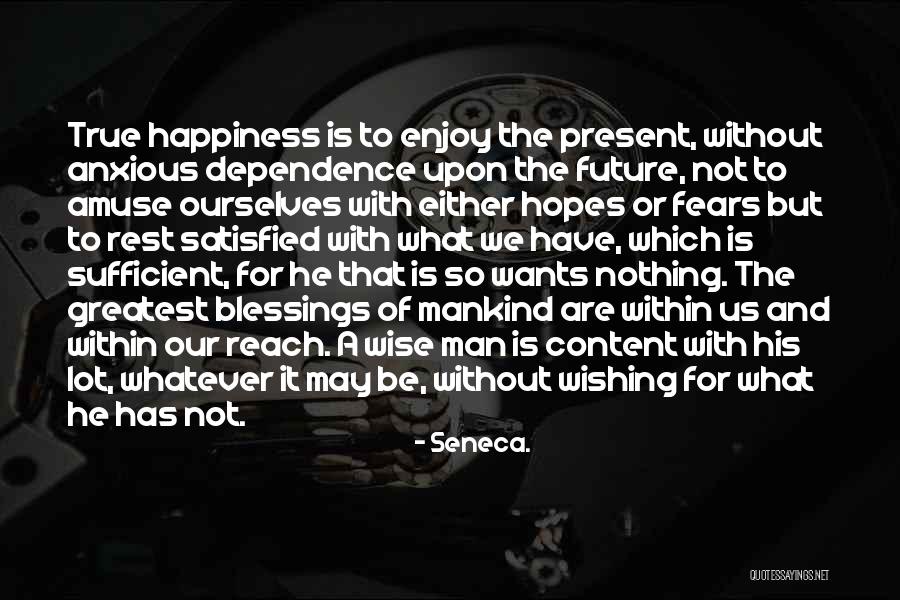 True happiness is to enjoy the present, without anxious dependence upon the future, not to amuse ourselves with either hopes or fears but to rest satisfied with what we have, which is sufficient, for he that is so wants nothing. The greatest blessings of mankind are within us and within our reach. A wise man is content with his lot, whatever it may be, without wishing for what he has not. — Seneca.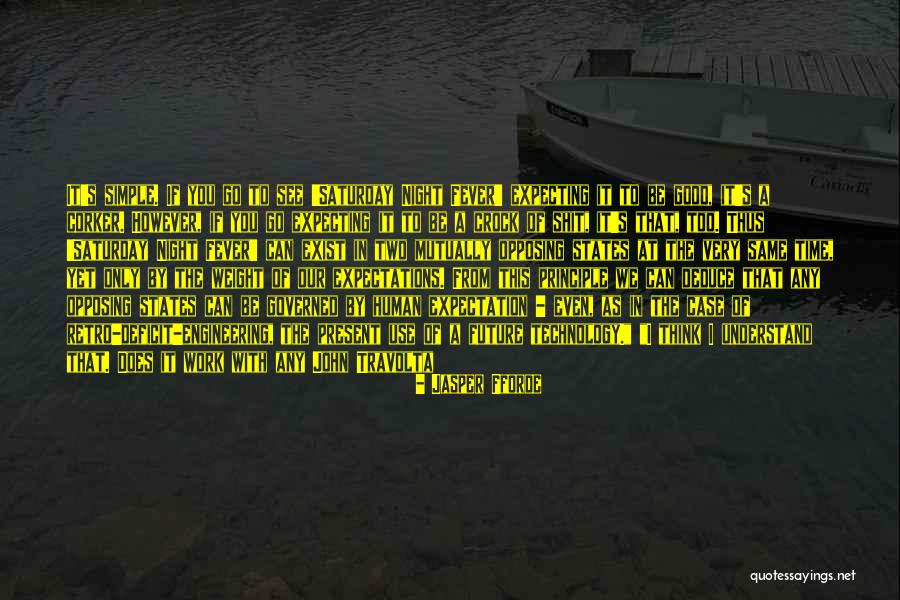 It's simple. If you go to see 'Saturday Night Fever' expecting it to be good, it's a corker. However, if you go expecting it to be a crock of shit, it's that, too. Thus 'Saturday Night Fever' can exist in two mutually opposing states at the very same time, yet only by the weight of our expectations. From this principle we can deduce that any opposing states can be governed by human expectation - even, as in the case of retro-deficit-engineering, the present use of a future technology."
"I think I understand that. Does it work with any John Travolta movie?"
"Only the artistically ambiguous ones such as 'Pulp Fiction' or 'Face/Off.' 'Battlefield Earth' doesn't work, because it's a stinker no matter how much you think you're going to like it, and 'Get Shorty' doesn't work either, because you'd be hard-pressed not to enjoy it, irrespective of any preconceived notions. — Jasper Fforde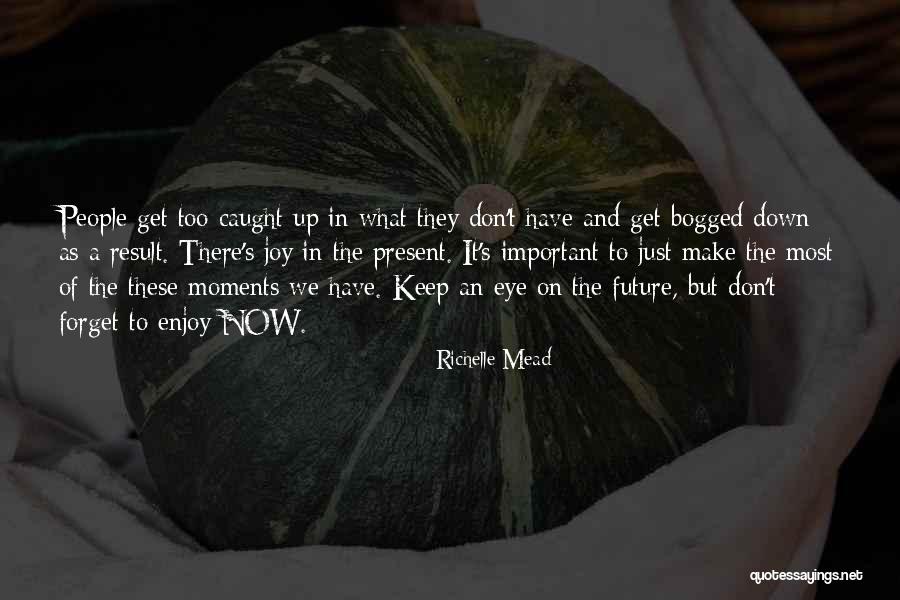 People get too caught up in what they don't have and get bogged down as a result. There's joy in the present. It's important to just make the most of the these moments we have. Keep an eye on the future, but don't forget to enjoy NOW. — Richelle Mead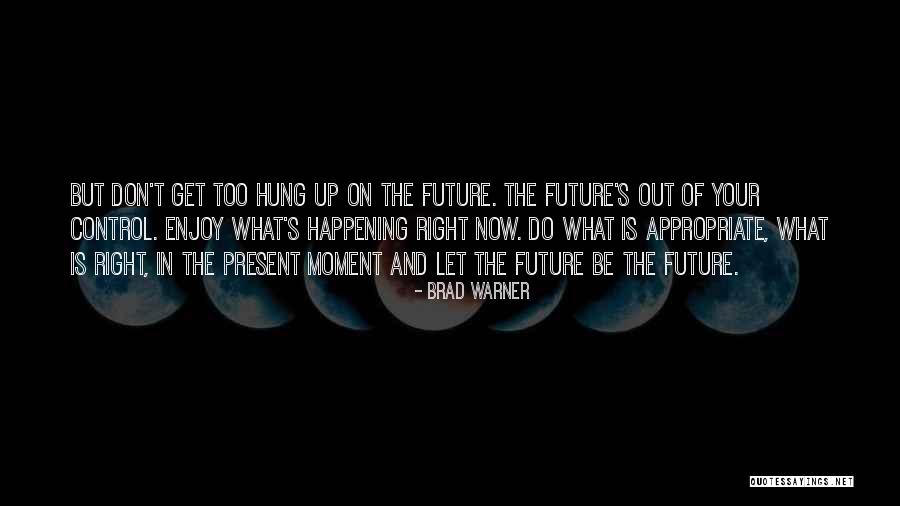 But don't get too hung up on the future. The future's out of your control. Enjoy what's happening right now. Do what is appropriate, what is right, in the present moment and let the future be the future. — Brad Warner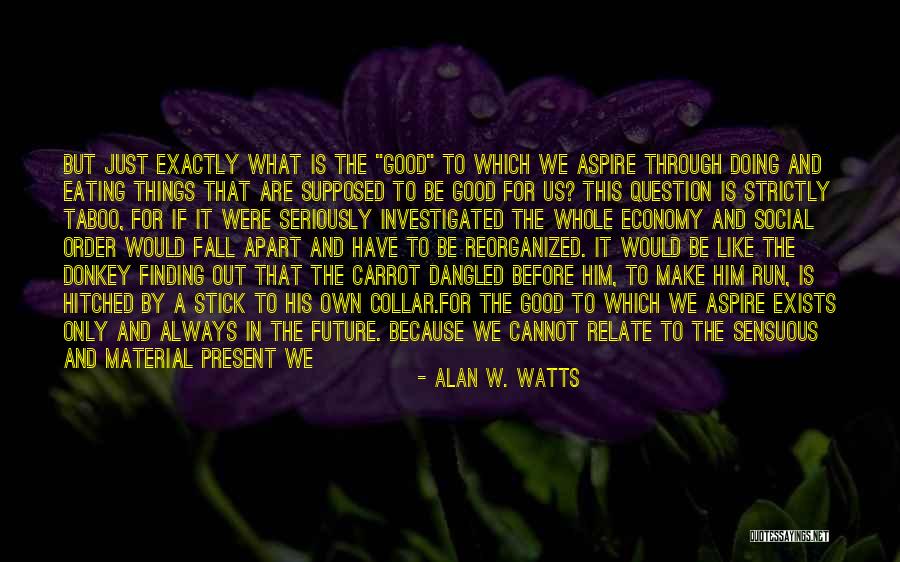 But just exactly what is the "good" to which we aspire through doing and eating things that are supposed to be good for us? This question is strictly taboo, for if it were seriously investigated the whole economy and social order would fall apart and have to be reorganized. It would be like the donkey finding out that the carrot dangled before him, to make him run, is hitched by a stick to his own collar.
For the good to which we aspire exists only and always in the future. Because we cannot relate to the sensuous and material present we are most happy when good things are expected to happen, not when they are happening. We get such a kick out of looking forward to pleasures and rushing ahead to meet them that we can't slow down enough to enjoy them when they come. We are therefore a civilization which suffers from chronic disappointment - a formidable swarm of spoiled children smashing their toys. — Alan W. Watts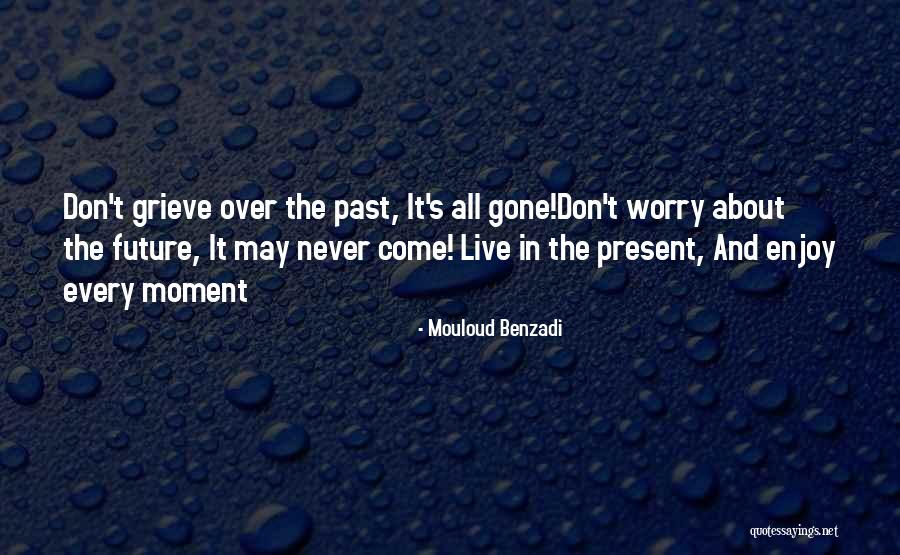 Don't grieve over the past,
It's all gone!
Don't worry about the future, It may never come!
Live in the present,
And enjoy every moment — Mouloud Benzadi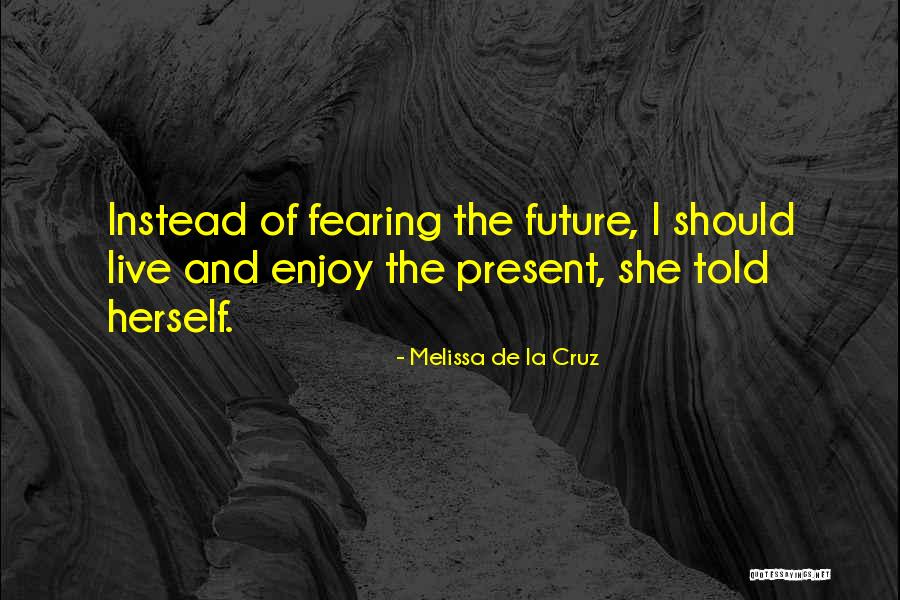 Instead of fearing the future, I should live and enjoy the present, she told herself. — Melissa De La Cruz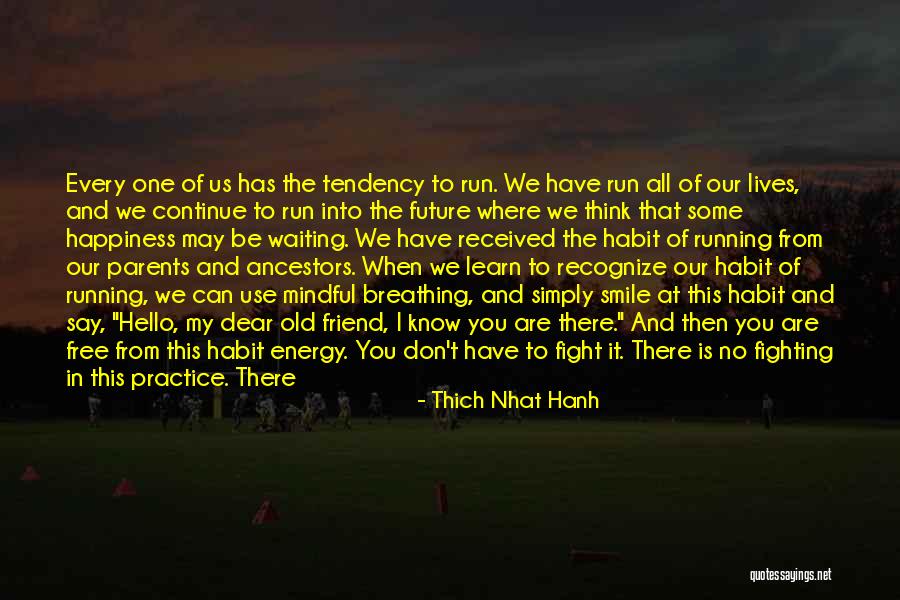 Every one of us has the tendency to run. We have run all of our lives, and we continue to run into the future where we think that some happiness may be waiting. We have received the habit of running from our parents and ancestors. When we learn to recognize our habit of running, we can use mindful breathing, and simply smile at this habit and say, "Hello, my dear old friend, I know you are there." And then you are free from this habit energy. You don't have to fight it. There is no fighting in this practice. There is only recognition and awareness of what is going on. When the habit energy of running manifests itself, you just smile and come back to your mindful breathing. Then you are free from it, and you continue to breathe in, breathe out, and enjoy the present moment. — Thich Nhat Hanh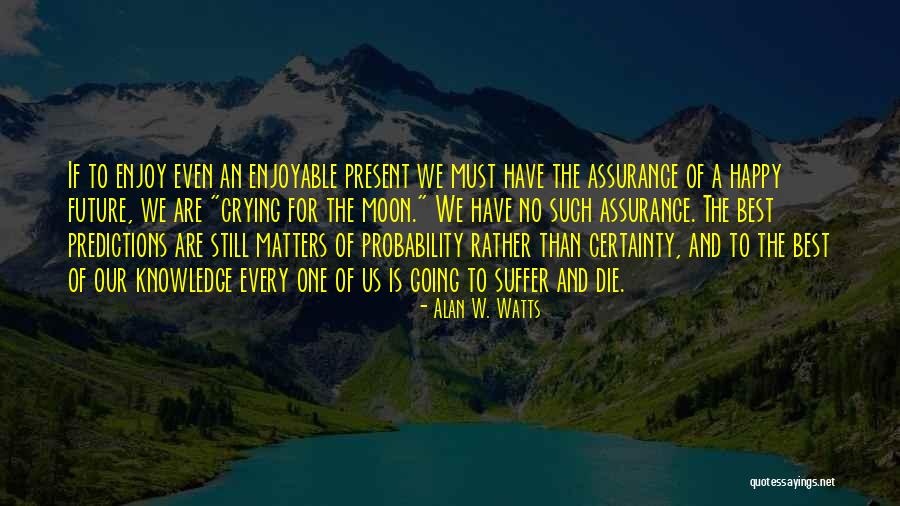 If to enjoy even an enjoyable present we must have the assurance of a happy future, we are "crying for the moon." We have no such assurance. The best predictions are still matters of probability rather than certainty, and to the best of our knowledge every one of us is going to suffer and die. — Alan W. Watts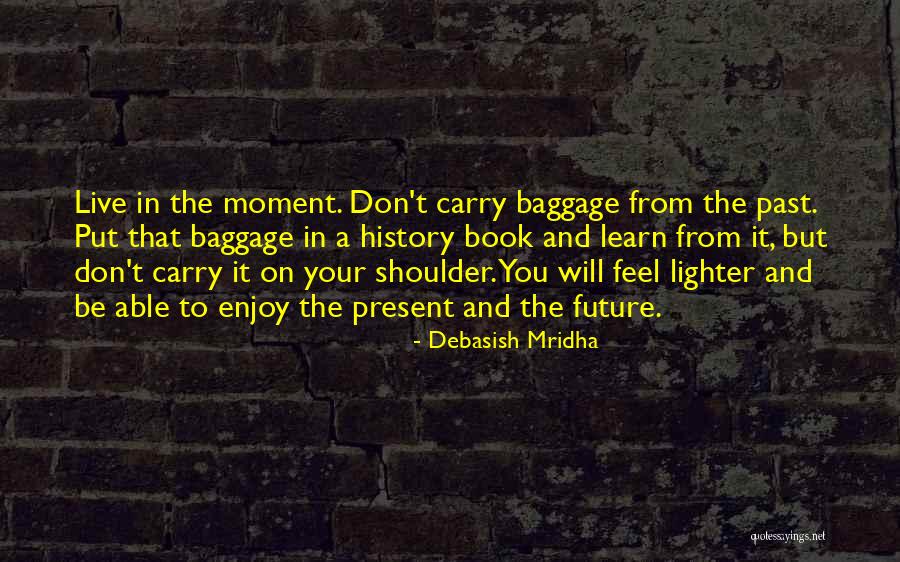 Live in the moment. Don't carry baggage from the past. Put that baggage in a history book and learn from it, but don't carry it on your shoulder. You will feel lighter and be able to enjoy the present and the future. — Debasish Mridha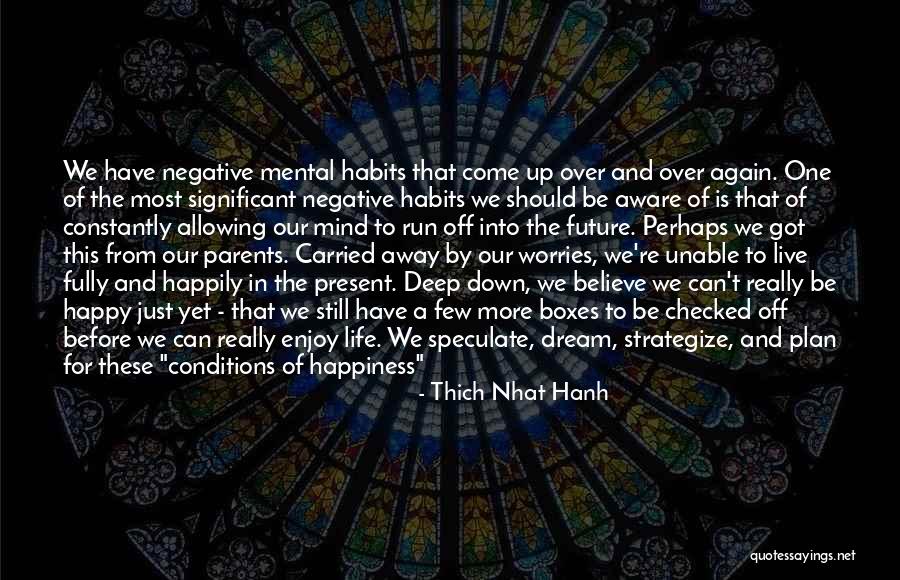 We have negative mental habits that come up over and over again. One of the most significant negative habits we should be aware of is that of constantly allowing our mind to run off into the future. Perhaps we got this from our parents. Carried away by our worries, we're unable to live fully and happily in the present. Deep down, we believe we can't really be happy just yet - that we still have a few more boxes to be checked off before we can really enjoy life. We speculate, dream, strategize, and plan for these "conditions of happiness" we want to have in the future; and we continually chase after that future, even while we sleep. We may have fears about the future because we don't know how it's going to turn out, and these worries and anxieties keep us from enjoying being here now. — Thich Nhat Hanh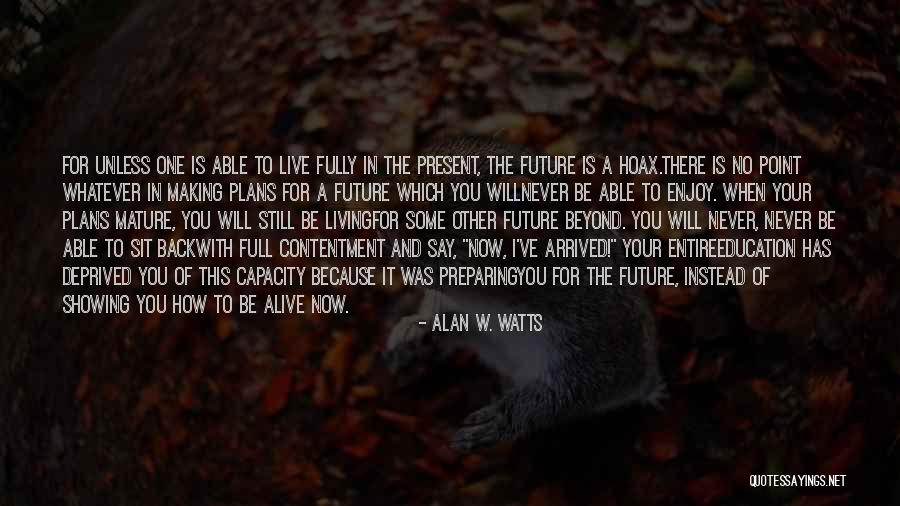 For unless one is able to live fully in the present, the future is a hoax.
There is no point whatever in making plans for a future which you will
never be able to enjoy. When your plans mature, you will still be living
for some other future beyond. You will never, never be able to sit back
with full contentment and say, "Now, I've arrived!" Your entire
education has deprived you of this capacity because it was preparing
you for the future, instead of showing you how to be alive now. — Alan W. Watts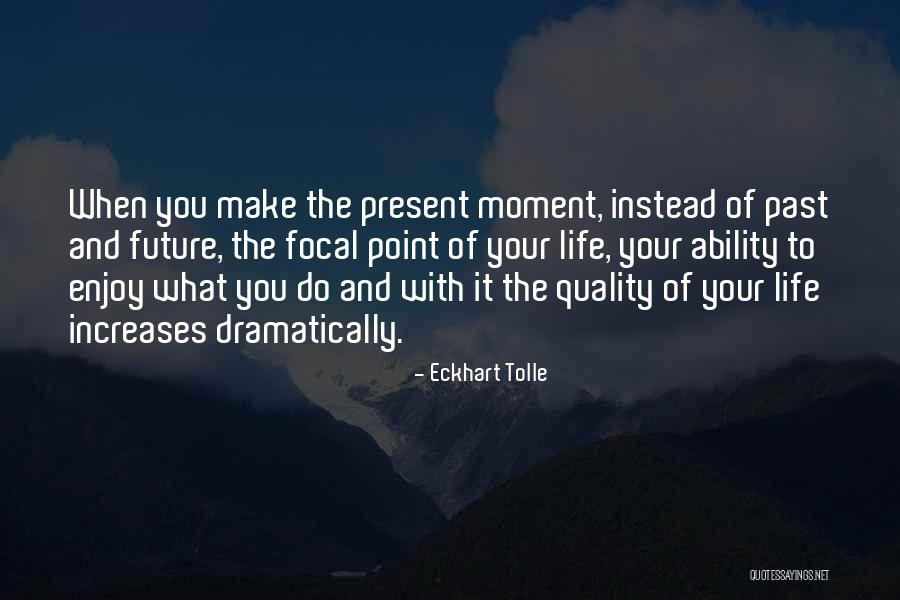 When you make the present moment, instead of past and future, the focal point of your life, your ability to enjoy what you do and with it the quality of your life increases dramatically. — Eckhart Tolle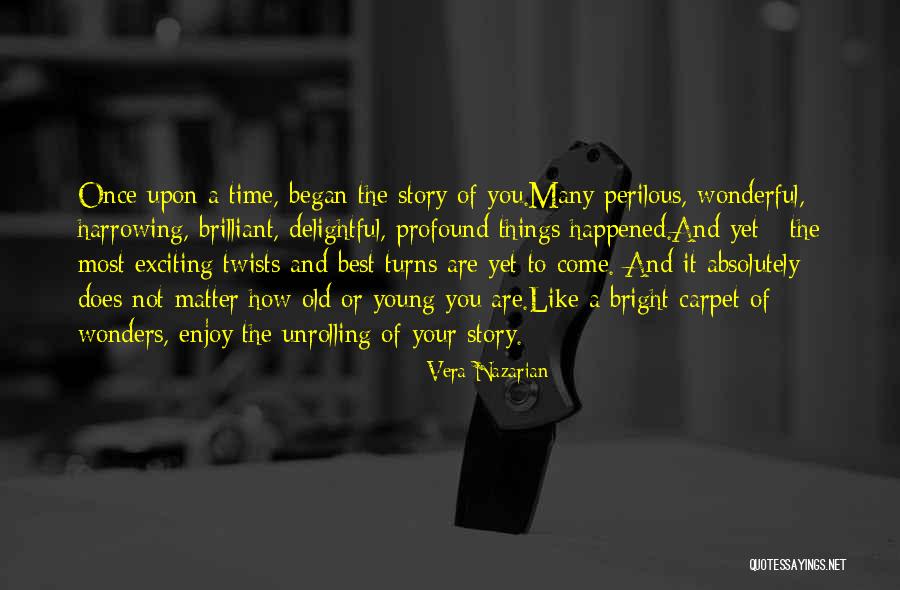 Once upon a time, began the story of you.
Many perilous, wonderful, harrowing, brilliant, delightful, profound things happened.
And yet - the most exciting twists and best turns are yet to come. And it absolutely does not matter how old or young you are.
Like a bright carpet of wonders, enjoy the unrolling of your story. — Vera Nazarian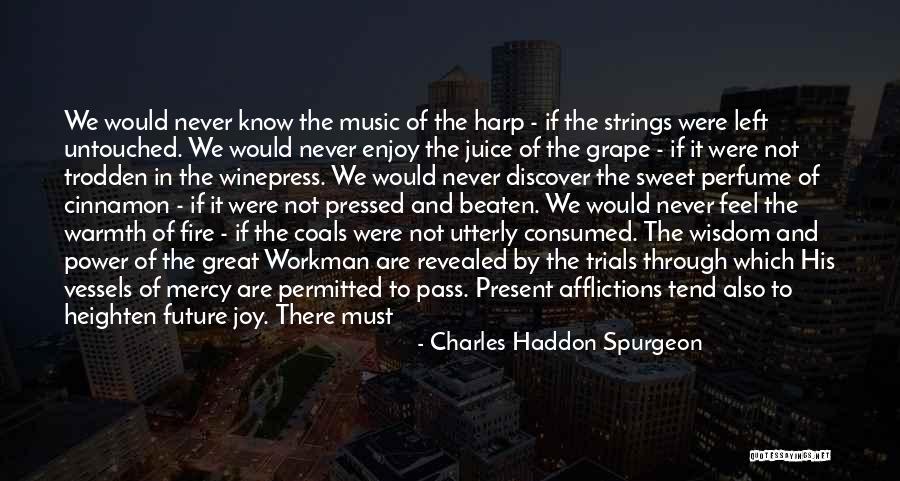 We would never know the music of the harp - if the strings were left untouched. We would never enjoy the juice of the grape - if it were not trodden in the winepress. We would never discover the sweet perfume of cinnamon - if it were not pressed and beaten. We would never feel the warmth of fire - if the coals were not utterly consumed. The wisdom and power of the great Workman are revealed by the trials through which His vessels of mercy are permitted to pass. Present afflictions tend also to heighten future joy. There must be dark shadows in the picture - to bring out the beauty of the lights. Could we be so supremely blessed in heaven - if we had not known the curse of sin and the sorrow of earth? Will not peace be sweeter - after conflict? Will not rest be more welcome - after toil? Will not the bliss of the glorified - be enhanced the recollection of past sufferings? — Charles Haddon Spurgeon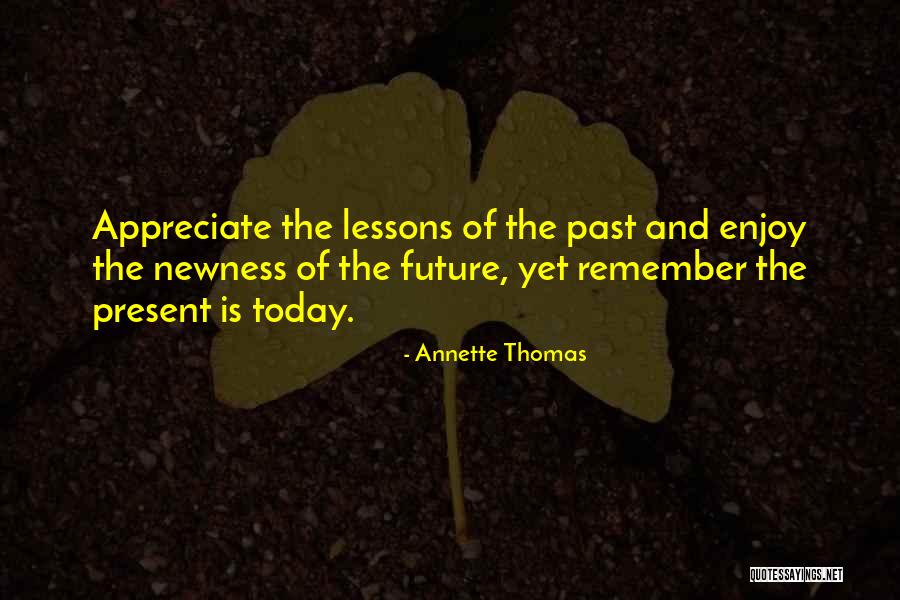 Appreciate the lessons of the past and enjoy the newness of the future, yet remember the present is today. — Annette Thomas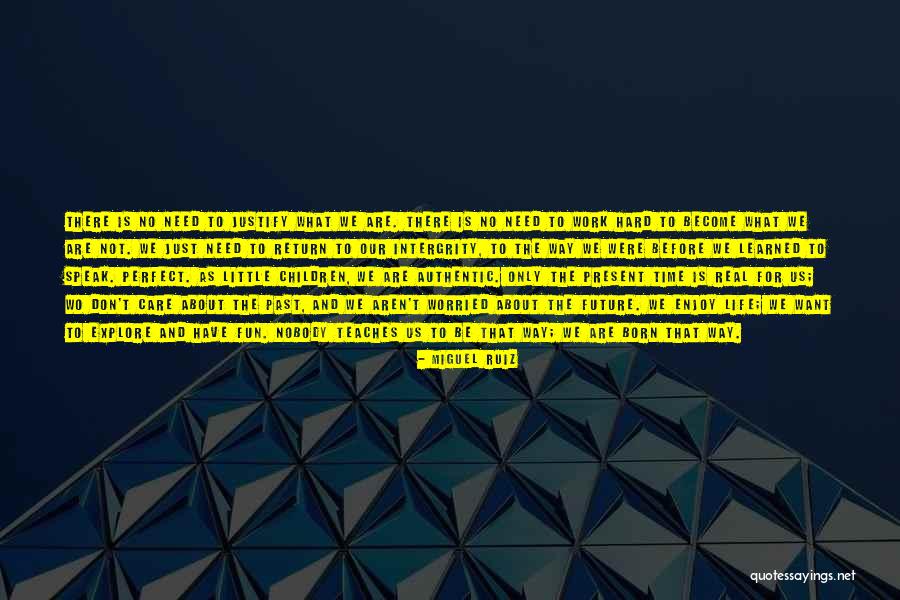 There is no need to justify what we are. there is no need to work hard to become what we are not. we just need to return to our intergrity, to the way we were before we learned to speak. perfect. as little children, we are authentic. only the present time is real for us; wo don't care about the past, and we aren't worried about the future. we enjoy life; we want to explore and have fun. nobody teaches us to be that way; we are born that way. — Miguel Ruiz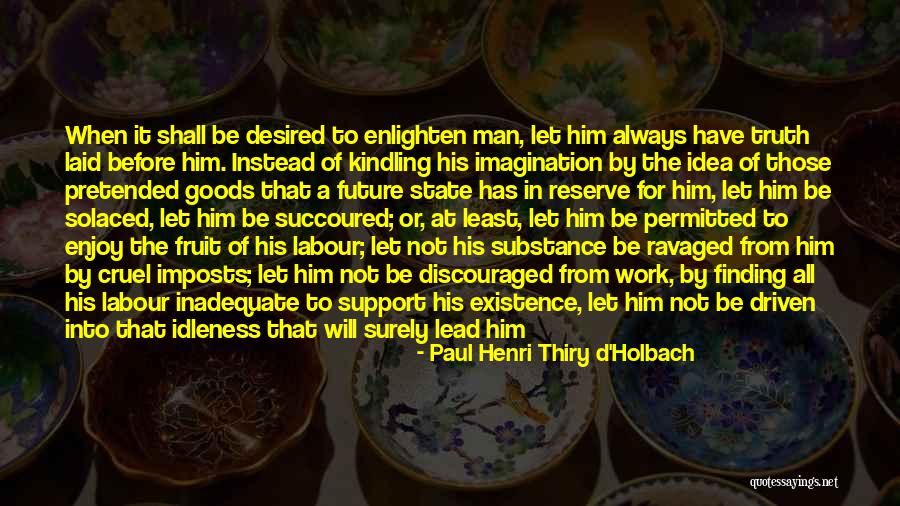 When it shall be desired to enlighten man, let him always have truth laid before him. Instead of kindling his imagination by the idea of those pretended goods that a future state has in reserve for him, let him be solaced, let him be succoured; or, at least, let him be permitted to enjoy the fruit of his labour; let not his substance be ravaged from him by cruel imposts; let him not be discouraged from work, by finding all his labour inadequate to support his existence, let him not be driven into that idleness that will surely lead him on to crime: let him consider his present existence, without carrying his views to that which may attend him after his death: let his industry be excited; let his talents be rewarded; let him be rendered active, laborious, beneficent, and virtuous, in the world he inhabits; let it be shown to him that his actions are capable of having an influence over his fellow men, but not on those imaginary beings located in an ideal world. — Paul Henri Thiry D'Holbach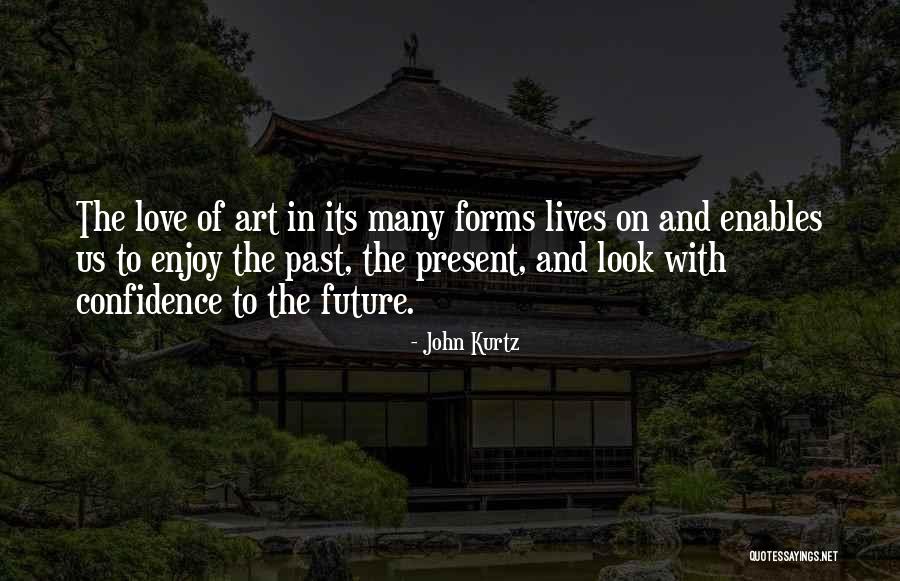 The love of art in its many forms lives on and enables us to enjoy the past, the present, and look with confidence to the future. — John Kurtz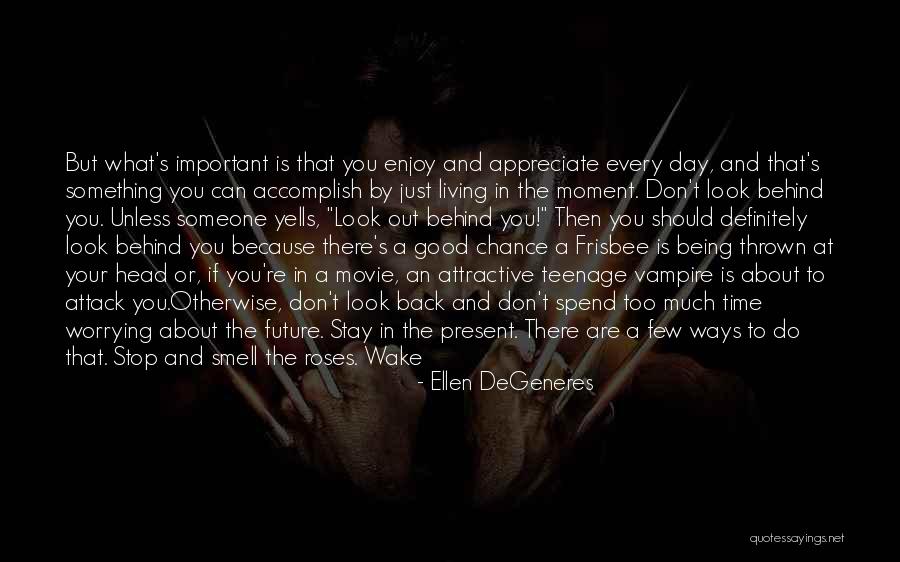 But what's important is that you enjoy and appreciate every day, and that's something you can accomplish by just living in the moment. Don't look behind you. Unless someone yells, "Look out behind you!" Then you should definitely look behind you because there's a good chance a Frisbee is being thrown at your head or, if you're in a movie, an attractive teenage vampire is about to attack you.
Otherwise, don't look back and don't spend too much time worrying about the future. Stay in the present. There are a few ways to do that. Stop and smell the roses. Wake up and smell the coffee. Enjoy the sweet smell of success. I guess just keep taking big whiffs of stuff because it seems like the more we smell, the happier we are going to be. You know what I mean. — Ellen DeGeneres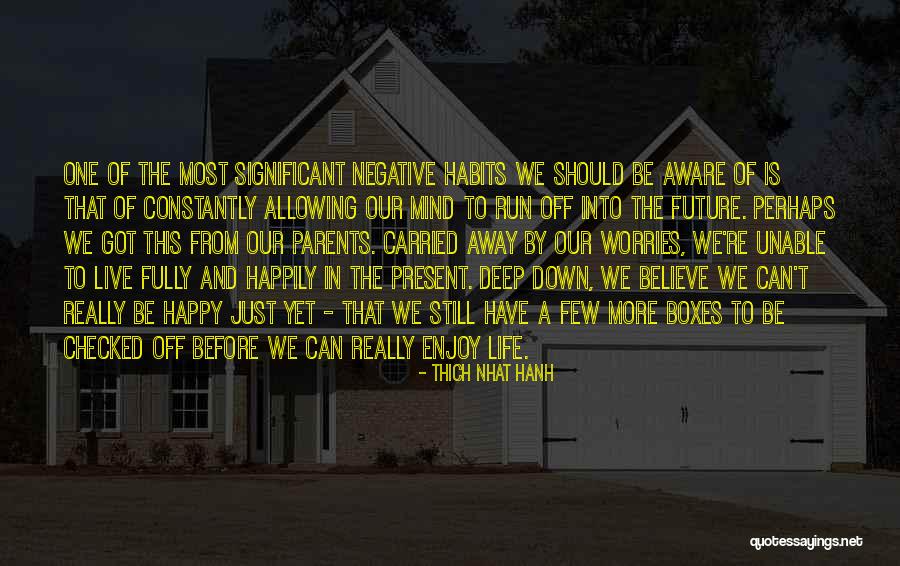 One of the most significant negative habits we should be aware of is that of constantly allowing our mind to run off into the future. Perhaps we got this from our parents. Carried away by our worries, we're unable to live fully and happily in the present. Deep down, we believe we can't really be happy just yet - that we still have a few more boxes to be checked off before we can really enjoy life. — Thich Nhat Hanh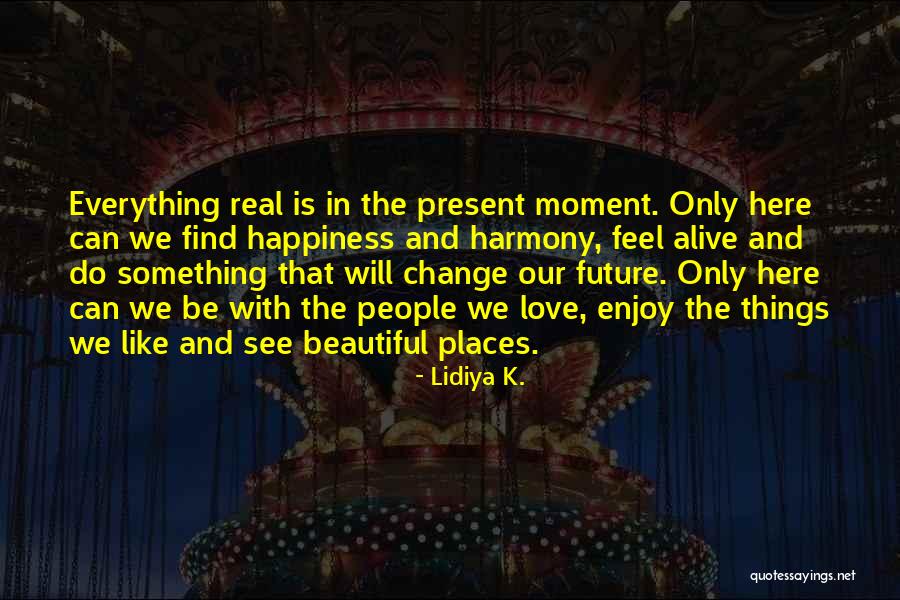 Everything real is in the present moment. Only here can we find happiness and harmony, feel alive and do something that will change our future. Only here can we be with the people we love, enjoy the things we like and see beautiful places. — Lidiya K.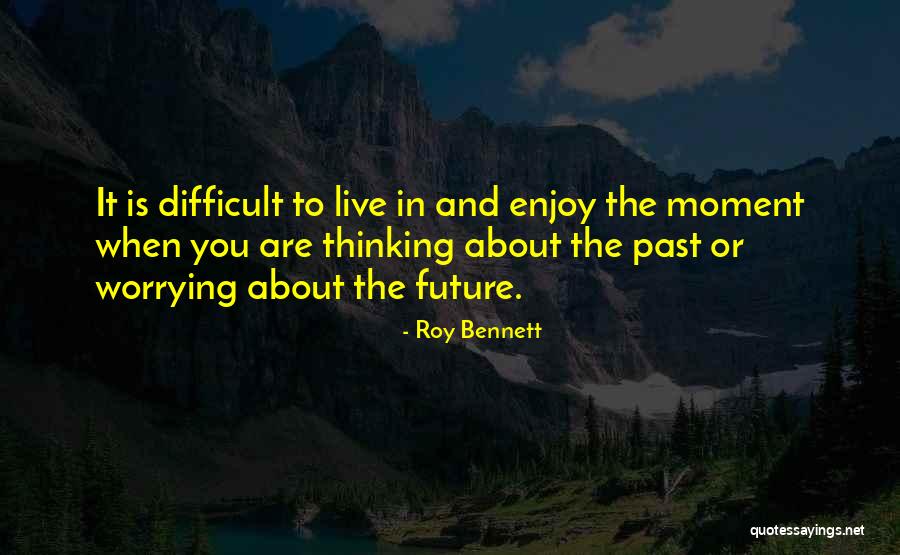 It is difficult to live in and enjoy the moment when you are thinking about the past or worrying about the future. — Roy Bennett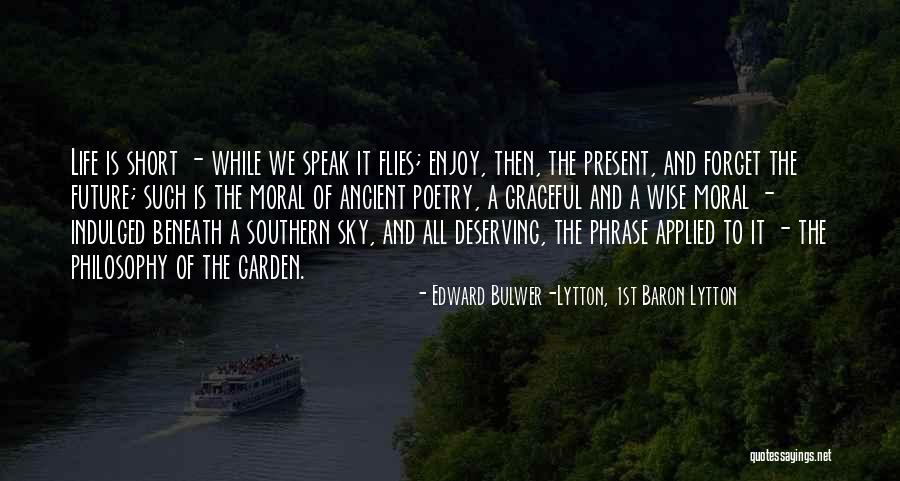 Life is short - while we speak it flies; enjoy, then, the present, and forget the future; such is the moral of ancient poetry, a graceful and a wise moral - indulged beneath a southern sky, and all deserving, the phrase applied to it - the philosophy of the garden. — Edward Bulwer-Lytton, 1st Baron Lytton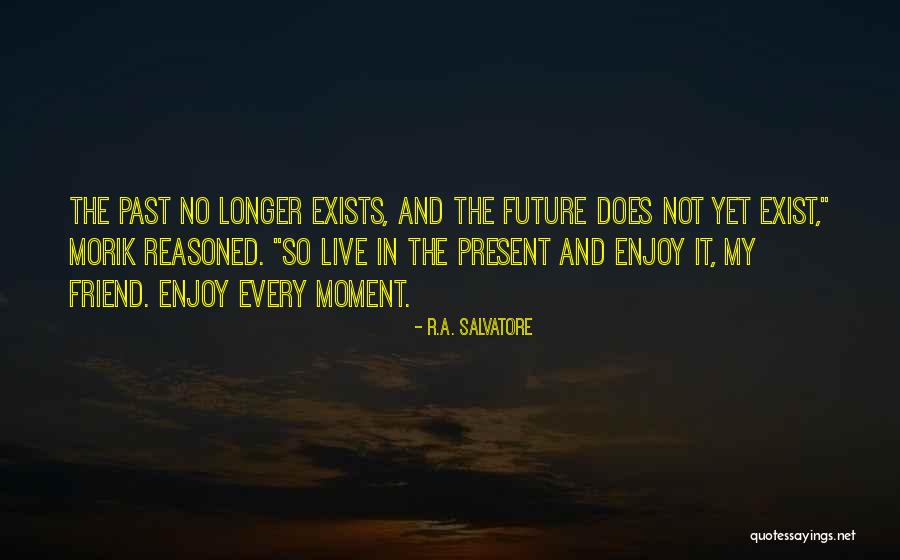 The past no longer exists, and the future does not yet exist," Morik reasoned. "So live in the present and enjoy it, my friend. Enjoy every moment. — R.A. Salvatore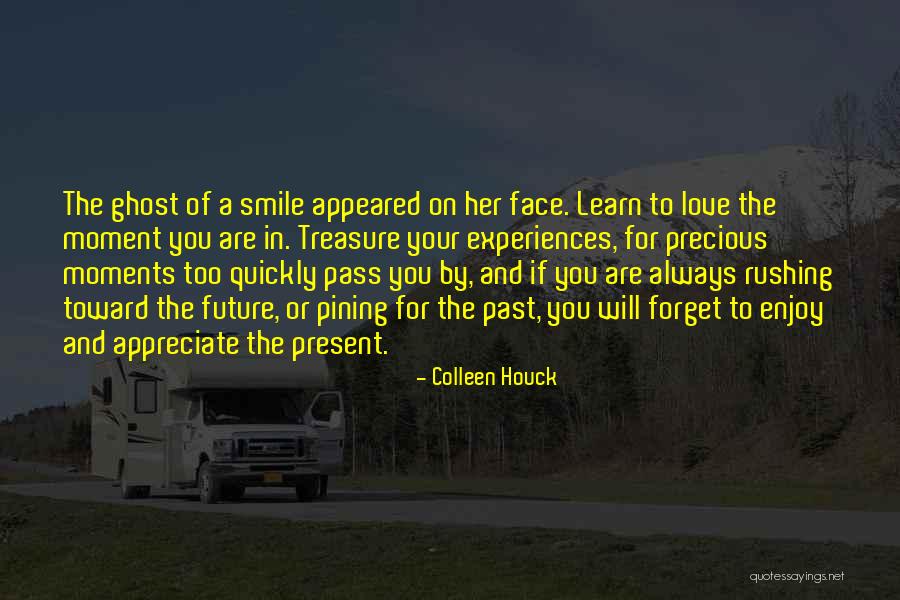 The ghost of a smile appeared on her face. Learn to love the moment you are in. Treasure your experiences, for precious moments too quickly pass you by, and if you are always rushing toward the future, or pining for the past, you will forget to enjoy and appreciate the present. — Colleen Houck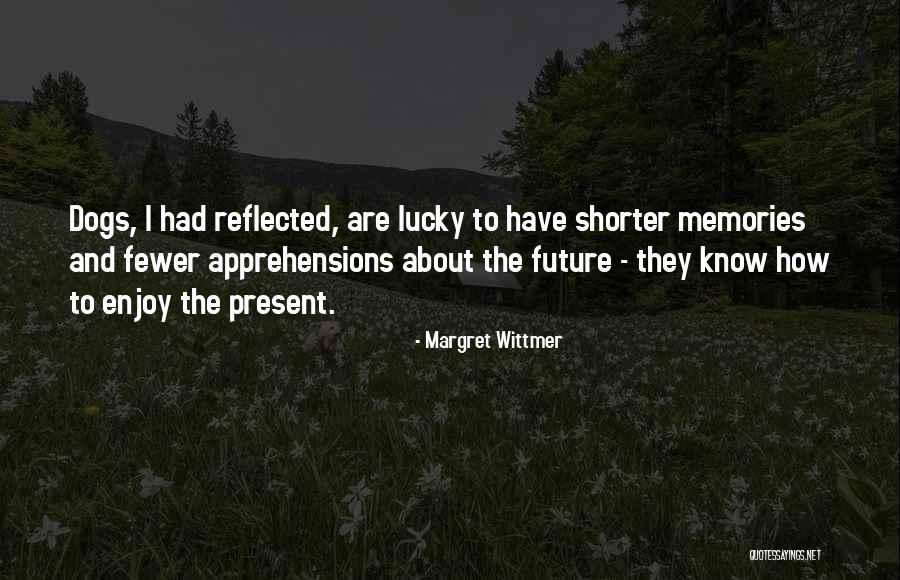 Dogs, I had reflected, are lucky to have shorter memories and fewer apprehensions about the future - they know how to enjoy the present. — Margret Wittmer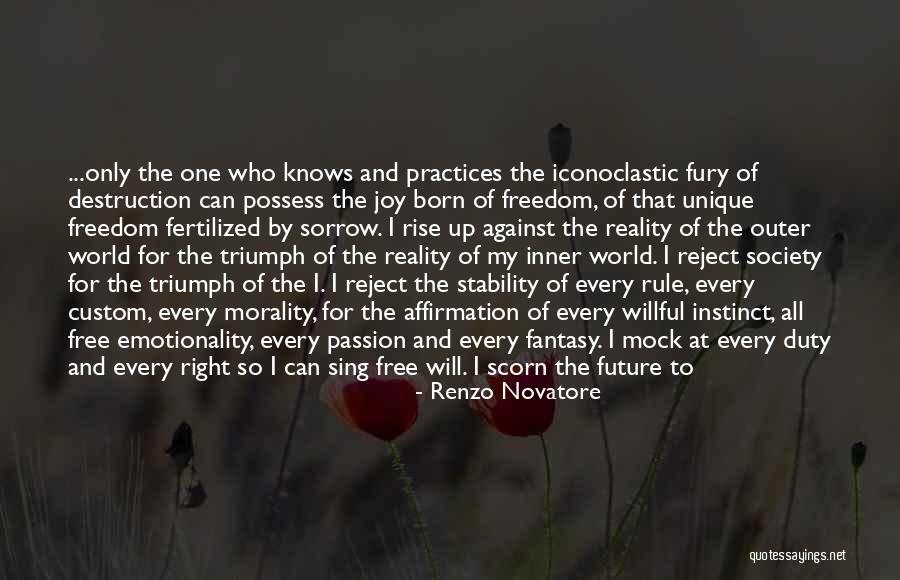 ...only the one who knows and practices the iconoclastic fury of destruction can possess the joy born of freedom, of that unique freedom fertilized by sorrow. I rise up against the reality of the outer world for the triumph of the reality of my inner world. I reject society for the triumph of the I. I reject the stability of every rule, every custom, every morality, for the affirmation of every willful instinct, all free emotionality, every passion and every fantasy. I mock at every duty and every right so I can sing free will. I scorn the future to suffer and enjoy my good and my bad in the present. I despise humanity because it is not my humanity. I hate tyrants and I detest slaves. I don't want and I don't grant solidarity, because I am convinced that it is a new chain, and because I believe with Ibsen that the one who is most alone is the strongest one. This is my Nihilism. — Renzo Novatore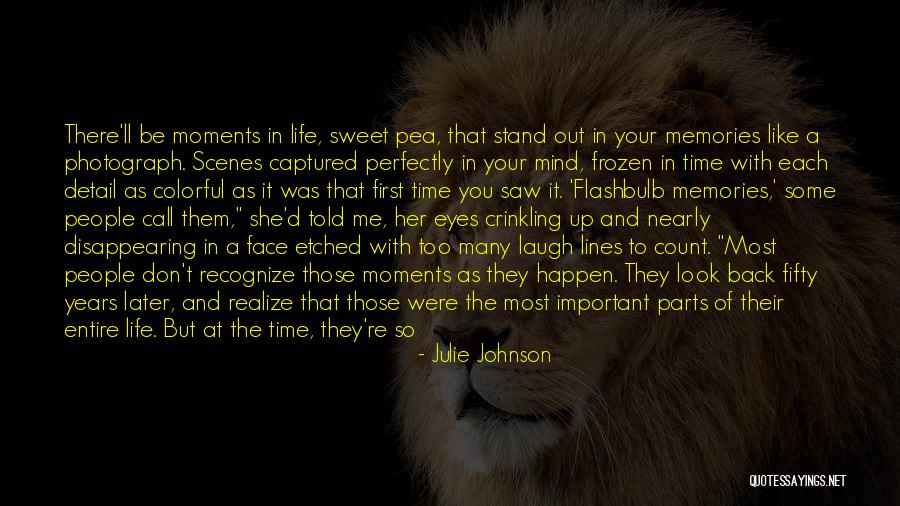 There'll be moments in life, sweet pea, that stand out in your memories like a photograph. Scenes captured perfectly in your mind, frozen in time with each detail as colorful as it was that first time you saw it. 'Flashbulb memories,' some people call them," she'd told me, her eyes crinkling up and nearly disappearing in a face etched with too many laugh lines to count. "Most people don't recognize those moments as they happen. They look back fifty years later, and realize that those were the most important parts of their entire life. But at the time, they're so busy looking ahead to what's coming down the line or worrying about their future, they don't enjoy their present. Don't be like them, sweet pea. Don't get so caught up in chasing your dreams that you forget to live them. — Julie Johnson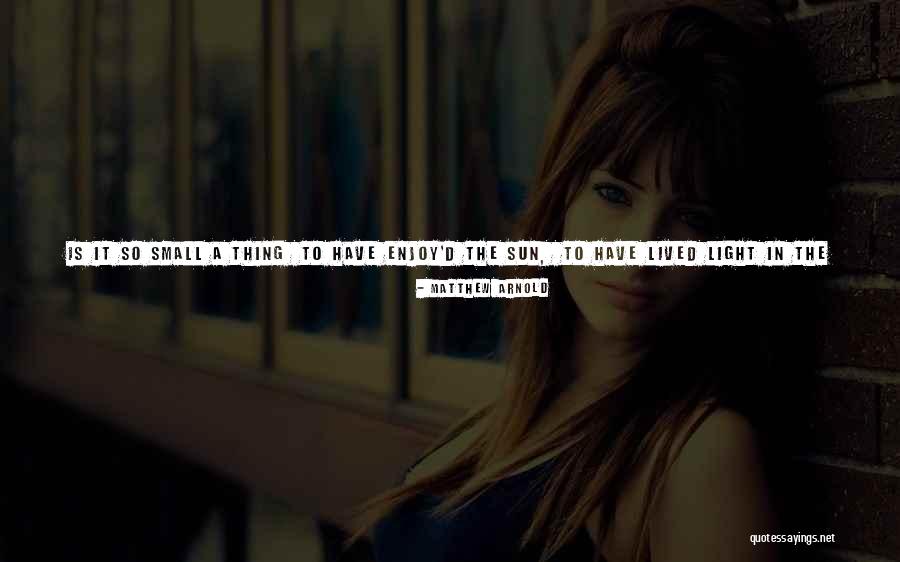 Is it so small a thing
To have enjoy'd the sun,
To have lived light in the spring,
To have loved, to have thought, to have done;
To have advanc'd true friends, and beat down baffling foes;
That we must feign a bliss
Of doubtful future date,
And, while we dream on this,
Lose all our present state,
And relegate to worlds yet distant our repose? — Matthew Arnold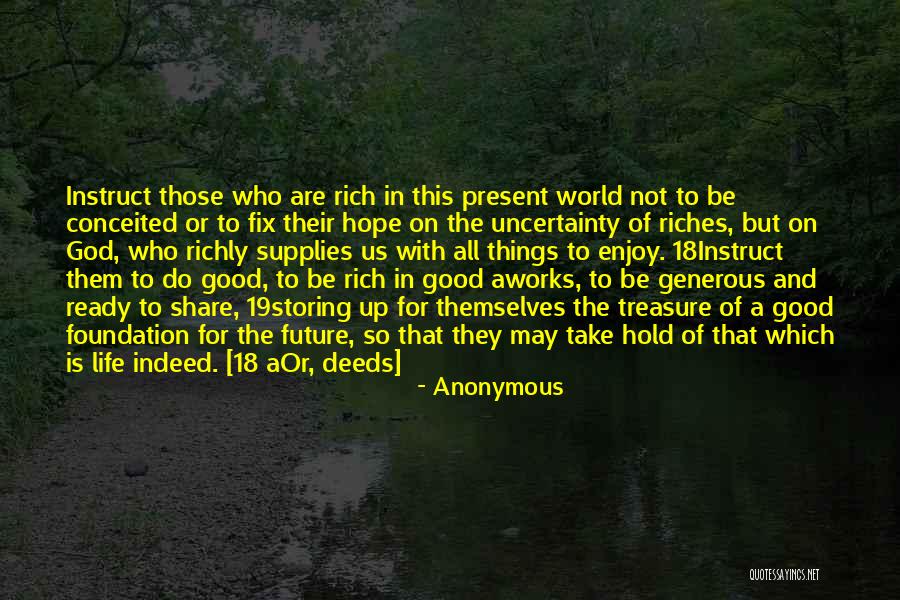 Instruct those who are rich in this present world not to be conceited or to fix their hope on the uncertainty of riches, but on God, who richly supplies us with all things to enjoy. 18Instruct them to do good, to be rich in good aworks, to be generous and ready to share, 19storing up for themselves the treasure of a good foundation for the future, so that they may take hold of that which is life indeed. [18 aOr, deeds] — Anonymous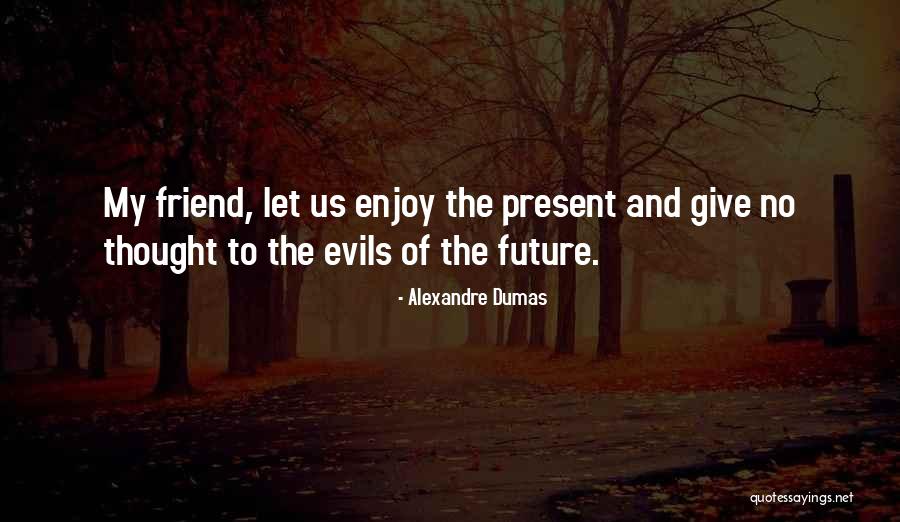 My friend, let us enjoy the present and give no thought to the evils of the future. — Alexandre Dumas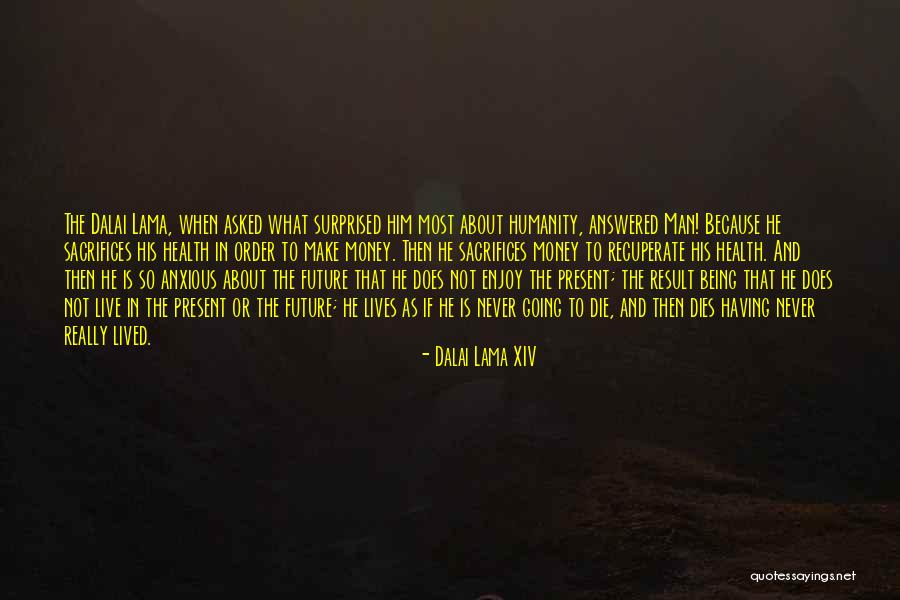 The Dalai Lama, when asked what surprised him most about humanity, answered Man! Because he sacrifices his health in order to make money. Then he sacrifices money to recuperate his health. And then he is so anxious about the future that he does not enjoy the present; the result being that he does not live in the present or the future; he lives as if he is never going to die, and then dies having never really lived. — Dalai Lama XIV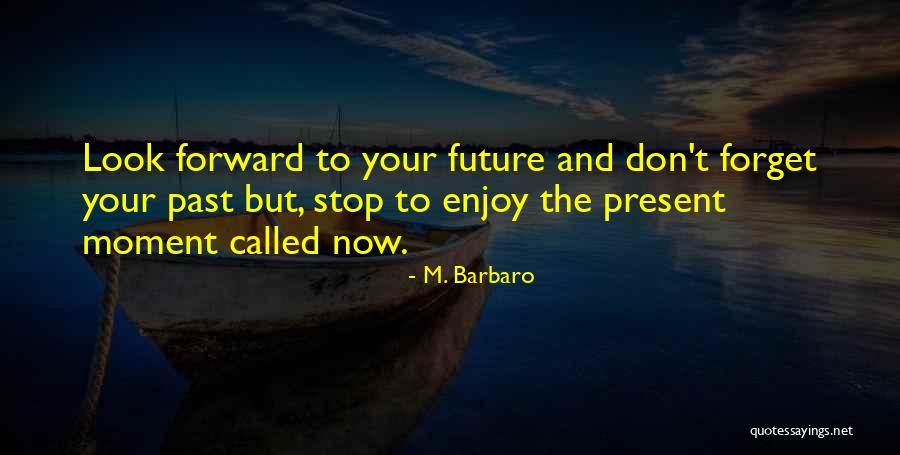 Look forward to your future and don't forget your past but, stop to enjoy the present moment called now. — M. Barbaro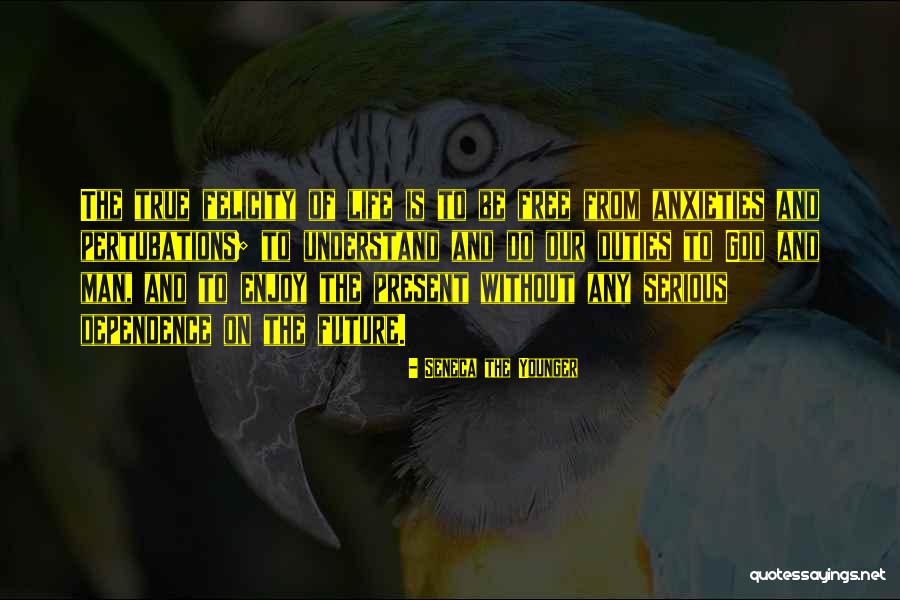 The true felicity of life is to be free from anxieties and pertubations; to understand and do our duties to God and man, and to enjoy the present without any serious dependence on the future. — Seneca The Younger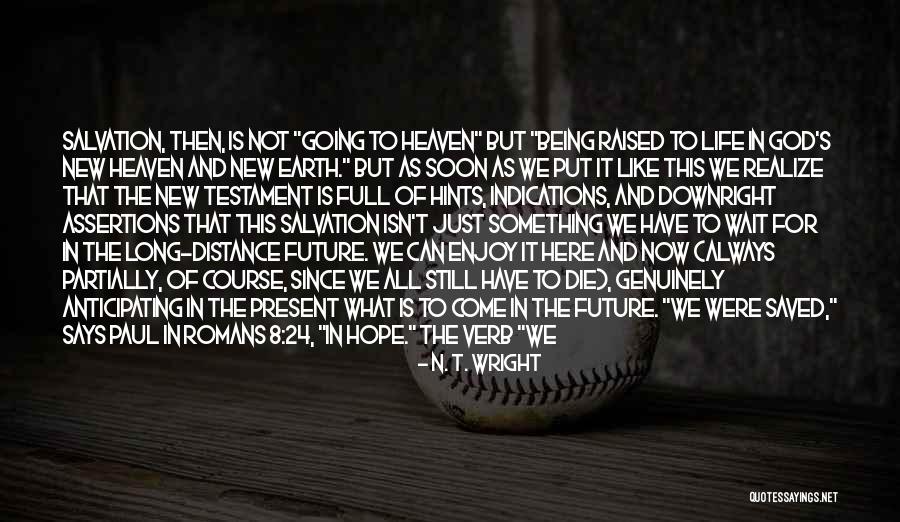 Salvation, then, is not "going to heaven" but "being raised to life in God's new heaven and new earth." But as soon as we put it like this we realize that the New Testament is full of hints, indications, and downright assertions that this salvation isn't just something we have to wait for in the long-distance future. We can enjoy it here and now (always partially, of course, since we all still have to die), genuinely anticipating in the present what is to come in the future. "We were saved," says Paul in Romans 8:24, "in hope." The verb "we were saved" indicates a past action, something that has already taken place, referring obviously to the complex of faith and baptism of which Paul has been speaking in the letter so far. But this remains "in hope" because we still look forward to the ultimate future salvation of which he speaks in (for instance) Romans 5:9, 10. — N. T. Wright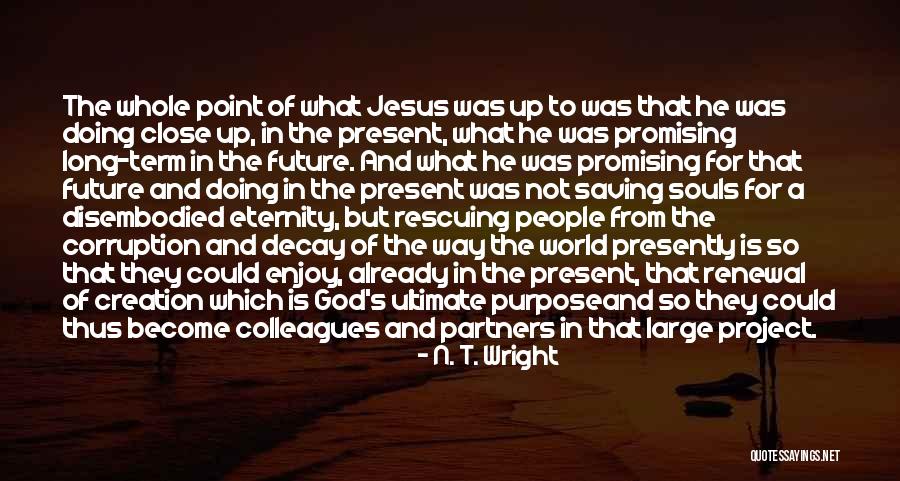 The whole point of what Jesus was up to was that he was doing close up, in the present, what he was promising long-term in the future. And what he was promising for that future and doing in the present was not saving souls for a disembodied eternity, but rescuing people from the corruption and decay of the way the world presently is so that they could enjoy, already in the present, that renewal of creation which is God's ultimate purpose
and so they could thus become colleagues and partners in that large project. — N. T. Wright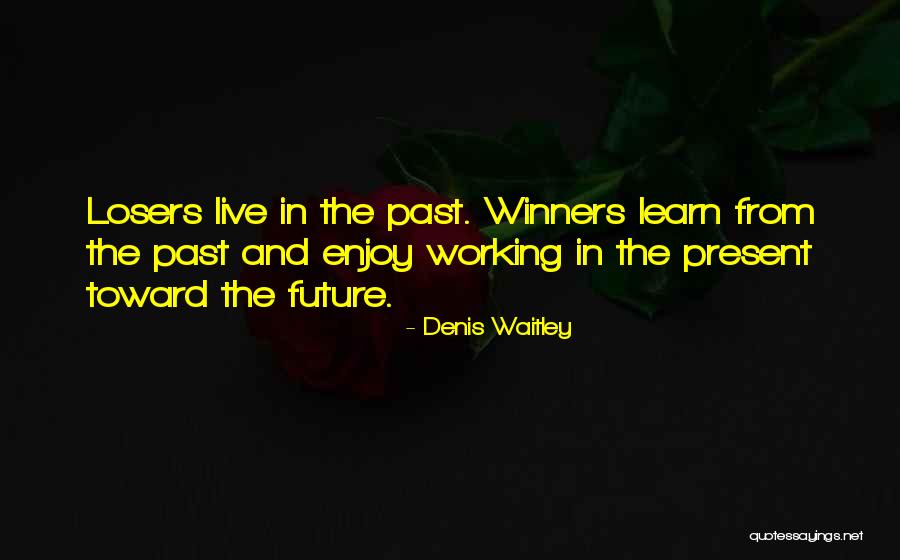 Losers live in the past. Winners learn from the past and enjoy working in the present toward the future. — Denis Waitley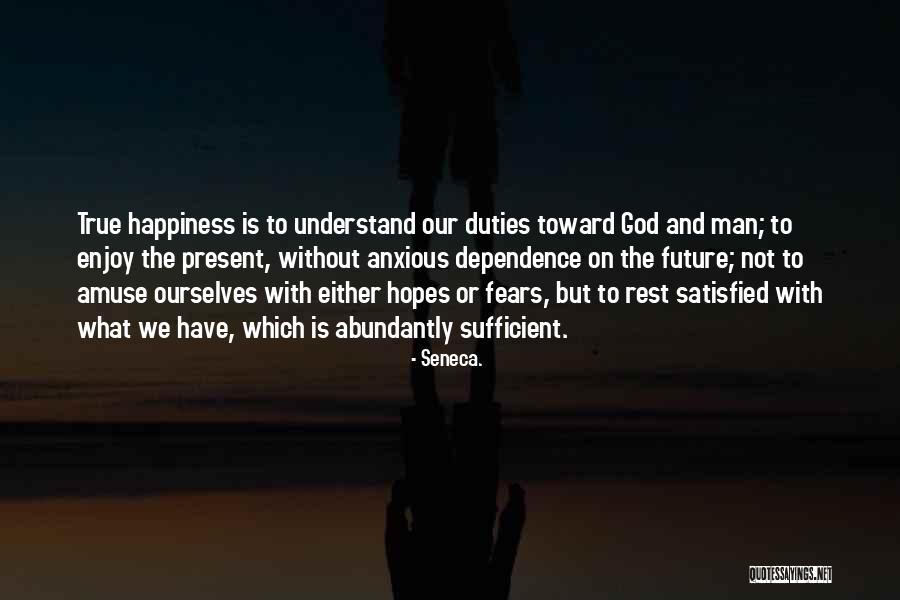 True happiness is to understand our duties toward God and man; to enjoy the present, without anxious dependence on the future; not to amuse ourselves with either hopes or fears, but to rest satisfied with what we have, which is abundantly sufficient. — Seneca.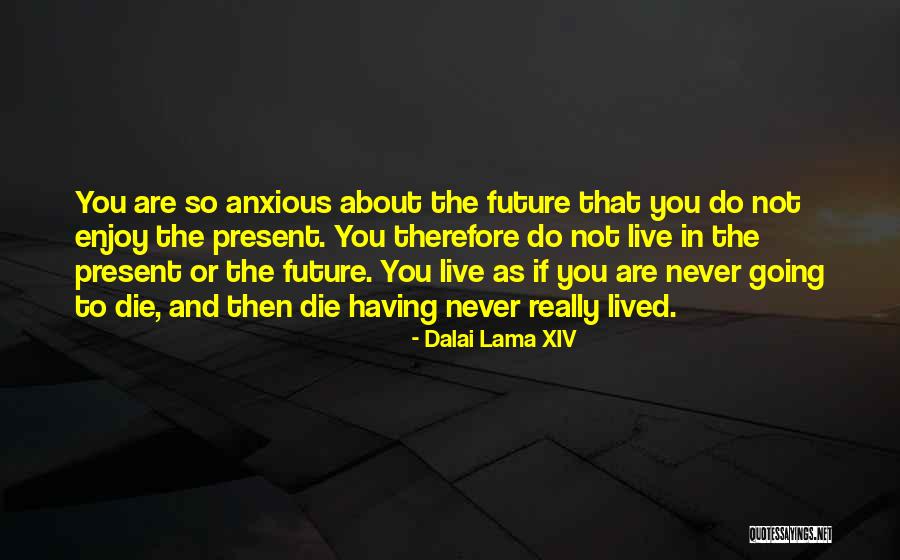 You are so anxious about the future that you do not enjoy the present. You therefore do not live in the present or the future. You live as if you are never going to die, and then die having never really lived. — Dalai Lama XIV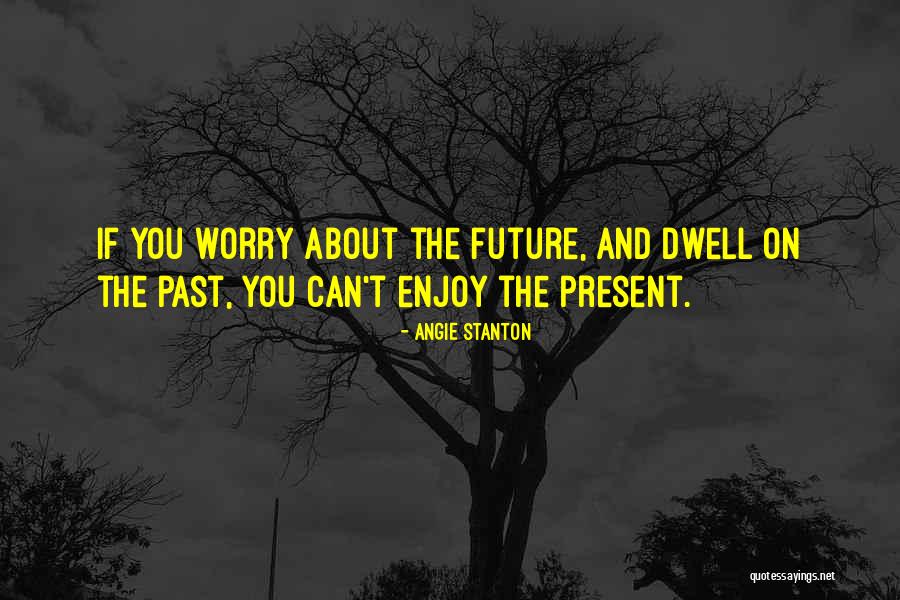 If you worry about the future, and dwell on the past, you can't enjoy the present. — Angie Stanton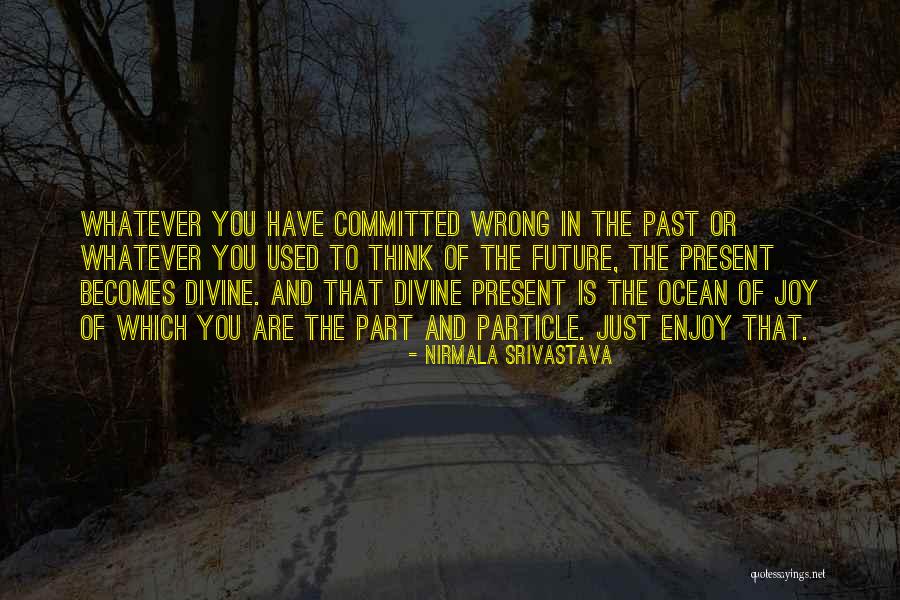 Whatever you have committed wrong in the past or whatever you used to think of the future, the present becomes divine. And that divine present is the ocean of joy of which you are the part and particle. Just enjoy that. — Nirmala Srivastava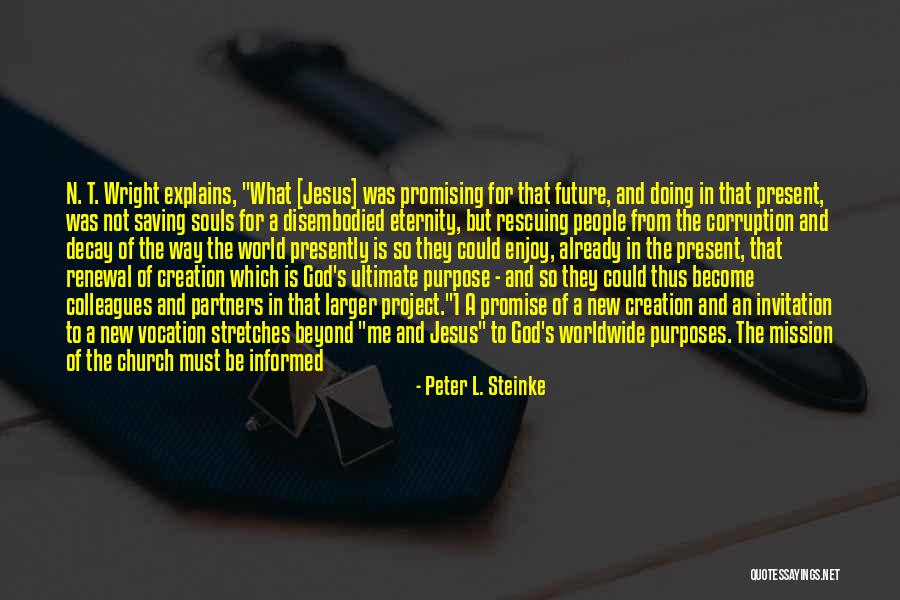 N. T. Wright explains, "What [Jesus] was promising for that future, and doing in that present, was not saving souls for a disembodied eternity, but rescuing people from the corruption and decay of the way the world presently is so they could enjoy, already in the present, that renewal of creation which is God's ultimate purpose - and so they could thus become colleagues and partners in that larger project."1 A promise of a new creation and an invitation to a new vocation stretches beyond "me and Jesus" to God's worldwide purposes. The mission of the church must be informed and shaped by how the New Testament presents the future hope. — Peter L. Steinke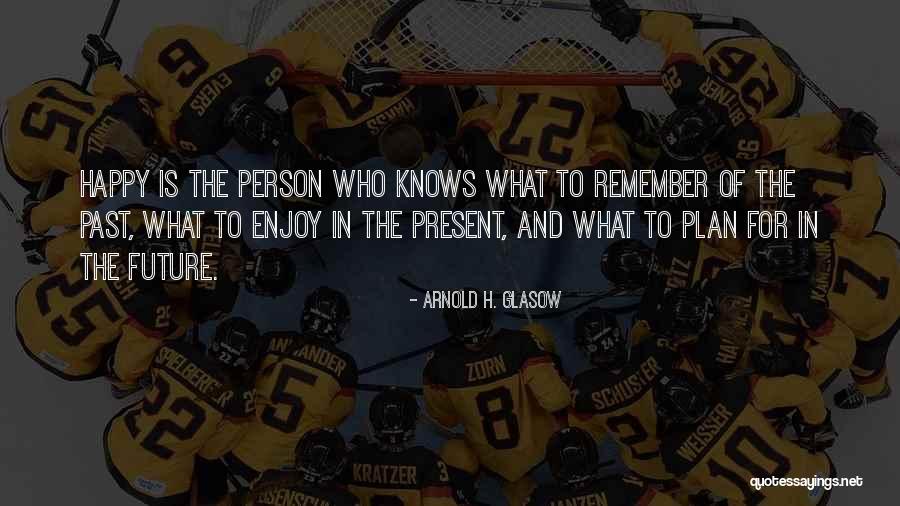 Happy is the person who knows what to remember of the past, what to enjoy in the present, and what to plan for in the future. — Arnold H. Glasow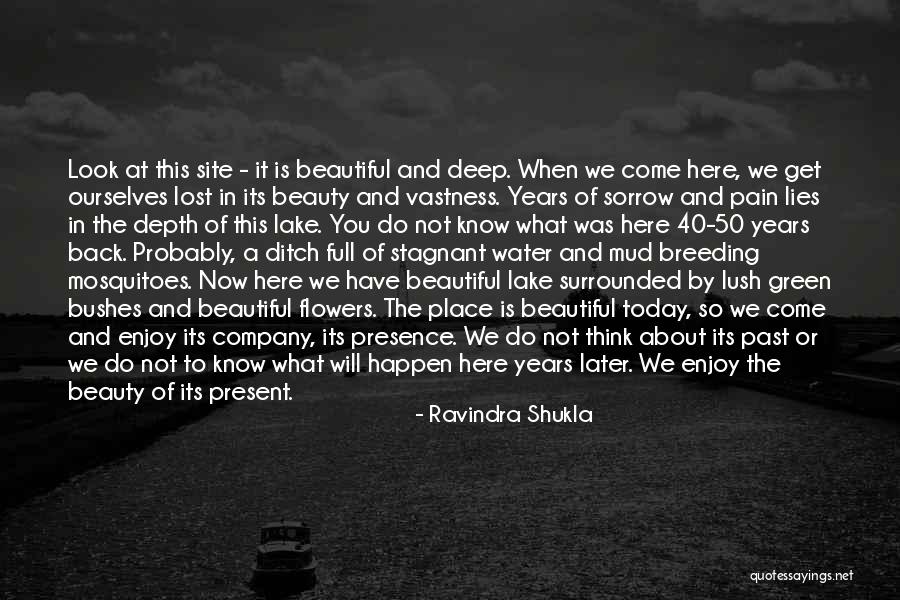 Look at this site - it is beautiful and deep. When we come here, we get ourselves lost in its beauty and vastness. Years of sorrow and pain lies in the depth of this lake. You do not know what was here 40-50 years back. Probably, a ditch full of stagnant water and mud breeding mosquitoes. Now here we have beautiful lake surrounded by lush green bushes and beautiful flowers. The place is beautiful today, so we come and enjoy its company, its presence. We do not think about its past or we do not to know what will happen here years later. We enjoy the beauty of its present. — Ravindra Shukla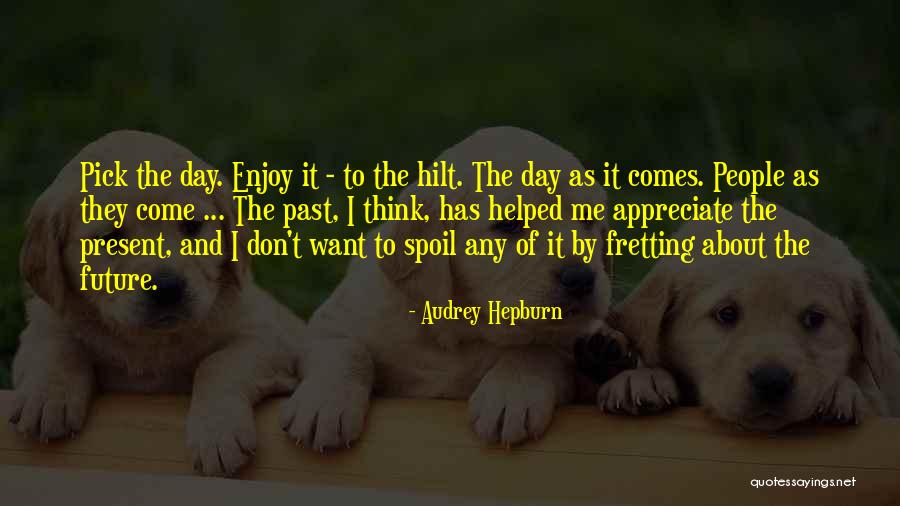 Pick the day. Enjoy it - to the hilt. The day as it comes. People as they come ... The past, I think, has helped me appreciate the present, and I don't want to spoil any of it by fretting about the future. — Audrey Hepburn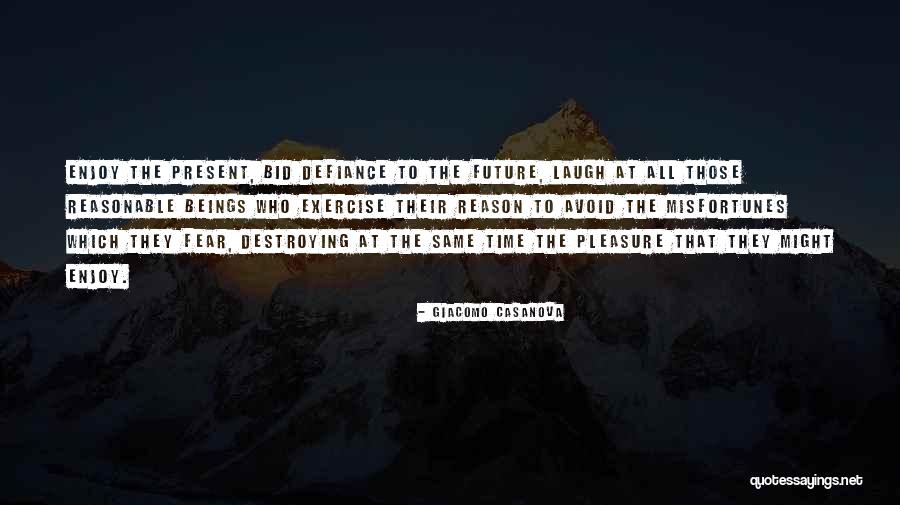 Enjoy the present, bid defiance to the future, laugh at all those reasonable beings who exercise their reason to avoid the misfortunes which they fear, destroying at the same time the pleasure that they might enjoy. — Giacomo Casanova