Earth Wind Fire Quotes & Sayings
Enjoy reading and share 62 famous quotes about Earth Wind Fire with everyone.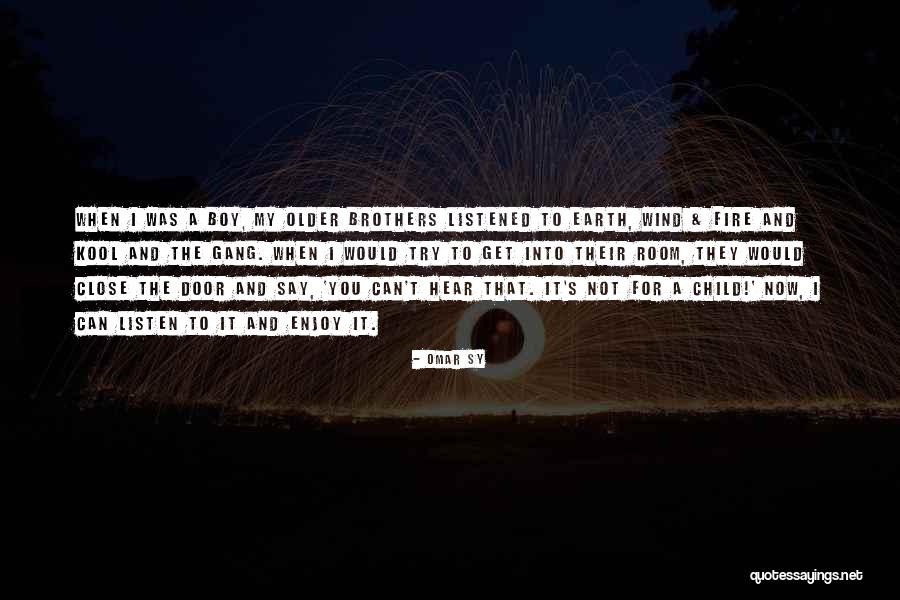 When I was a boy, my older brothers listened to Earth, Wind & Fire and Kool and the Gang. When I would try to get into their room, they would close the door and say, 'You can't hear that. It's not for a child!' Now, I can listen to it and enjoy it. — Omar Sy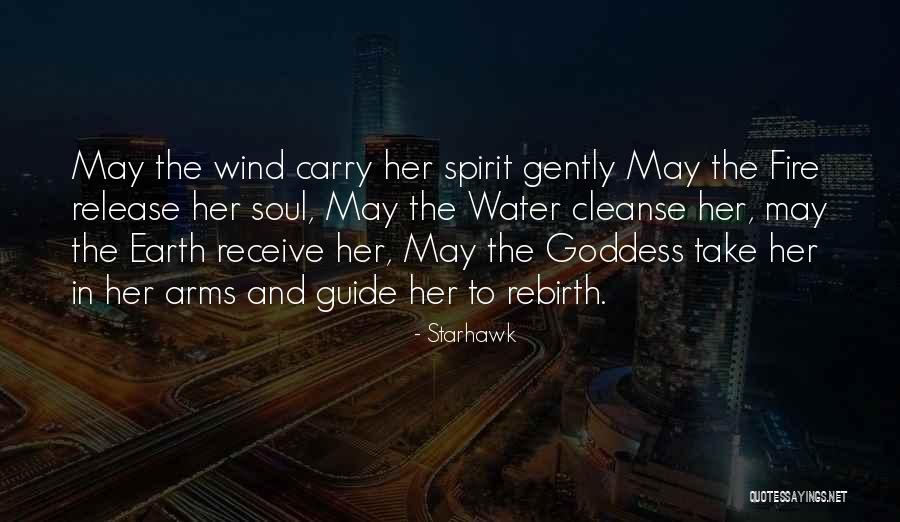 May the wind carry her spirit gently May the Fire release her soul, May the Water cleanse her, may the Earth receive her, May the Goddess take her in her arms and guide her to rebirth. — Starhawk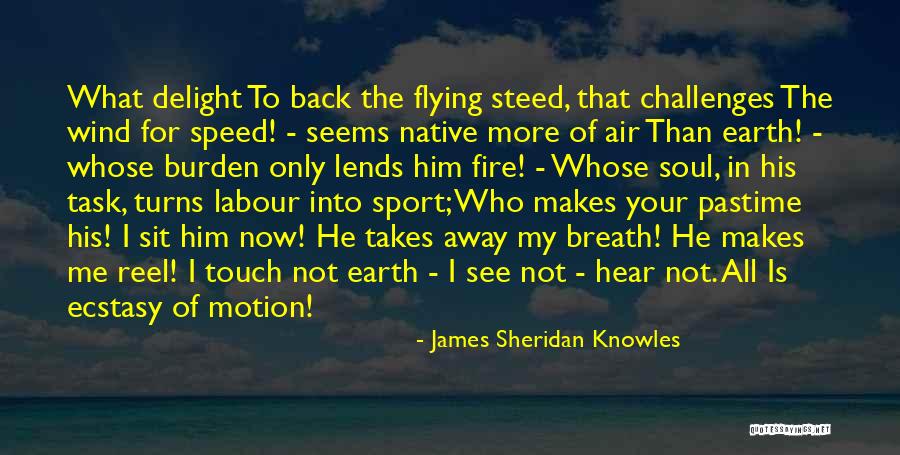 What delight To back the flying steed, that challenges The wind for speed! - seems native more of air Than earth! - whose burden only lends him fire! - Whose soul, in his task, turns labour into sport; Who makes your pastime his! I sit him now! He takes away my breath! He makes me reel! I touch not earth - I see not - hear not. All Is ecstasy of motion! — James Sheridan Knowles
At the head of all these laws, in and through every particle of matter and force, stands One through whose command the wind blows, the fire burns, the clouds rain, and death stalks upon the earth. And what is His nature? He is everywhere the pure and formless One, the Almighty and the All Merciful. Thou art our Father. Thou art our beloved Friend. — Swami Vivekananda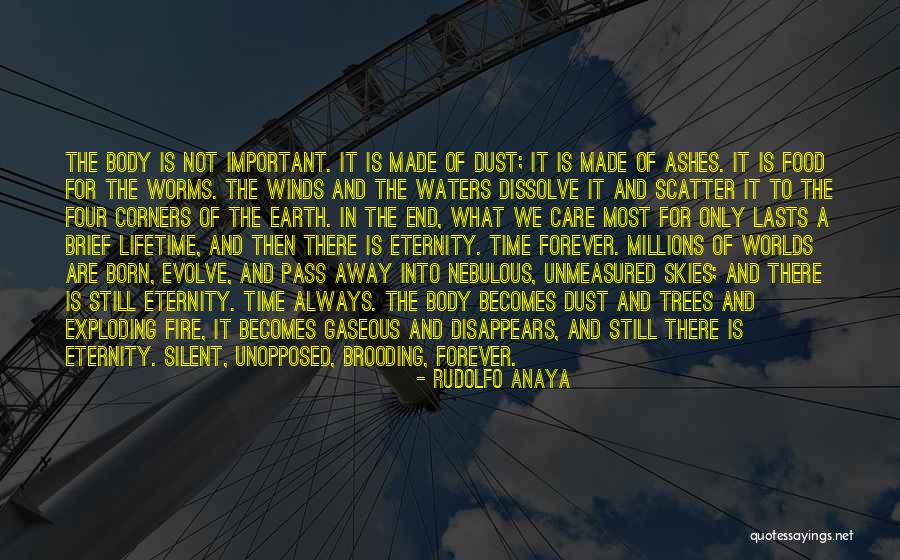 The body is not important. It is made of dust; it is made of ashes. It is food for the worms. The winds and the waters dissolve it and scatter it to the four corners of the earth. In the end, what we care most for only lasts a brief lifetime, and then there is eternity. Time forever. Millions of worlds are born, evolve, and pass away into nebulous, unmeasured skies; and there is still eternity. Time always. The body becomes dust and trees and exploding fire, it becomes gaseous and disappears, and still there is eternity. Silent, unopposed, brooding, forever. — Rudolfo Anaya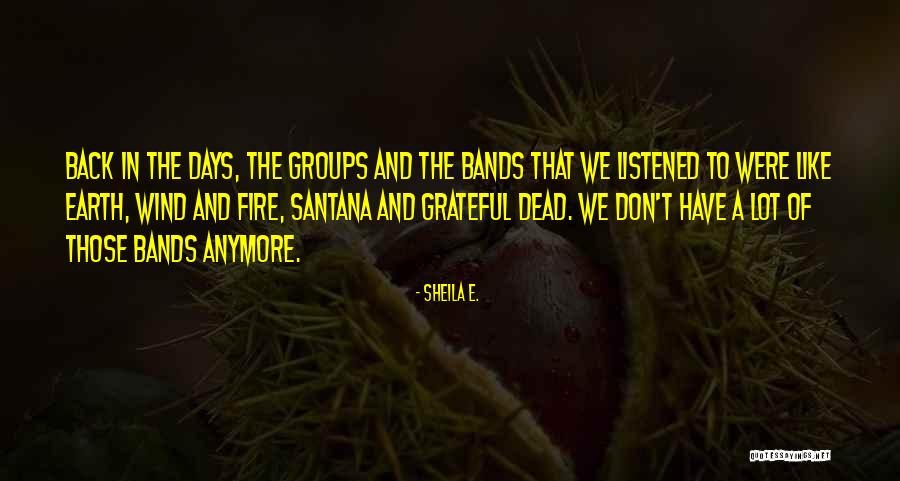 Back in the days, the groups and the bands that we listened to were like Earth, Wind and Fire, Santana and Grateful Dead. We don't have a lot of those bands anymore. — Sheila E.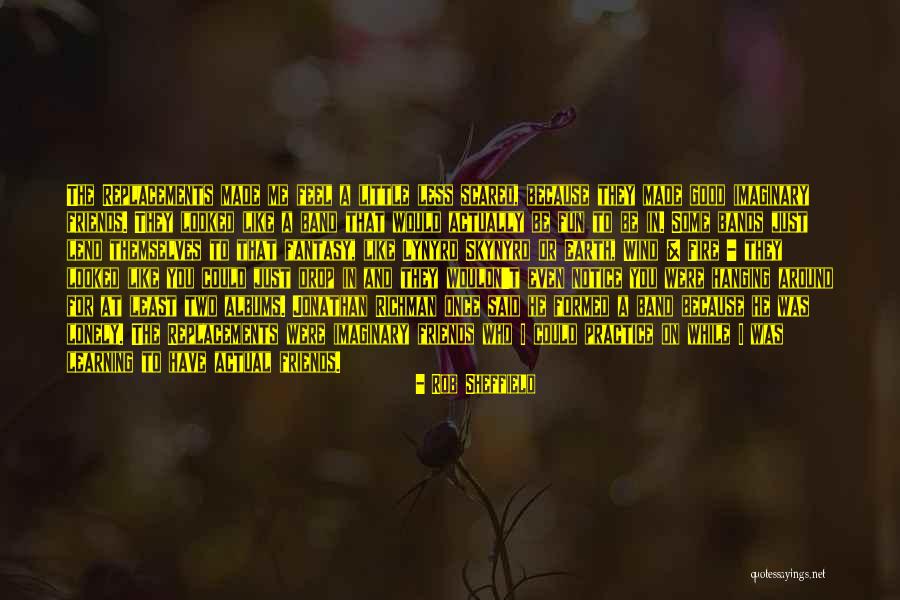 The Replacements made me feel a little less scared, because they made good imaginary friends. They looked like a band that would actually be fun to be in. Some bands just lend themselves to that fantasy, like Lynyrd Skynyrd or Earth, Wind & Fire - they looked like you could just drop in and they wouldn't even notice you were hanging around for at least two albums. Jonathan Richman once said he formed a band because he was lonely. The Replacements were imaginary friends who I could practice on while I was learning to have actual friends. — Rob Sheffield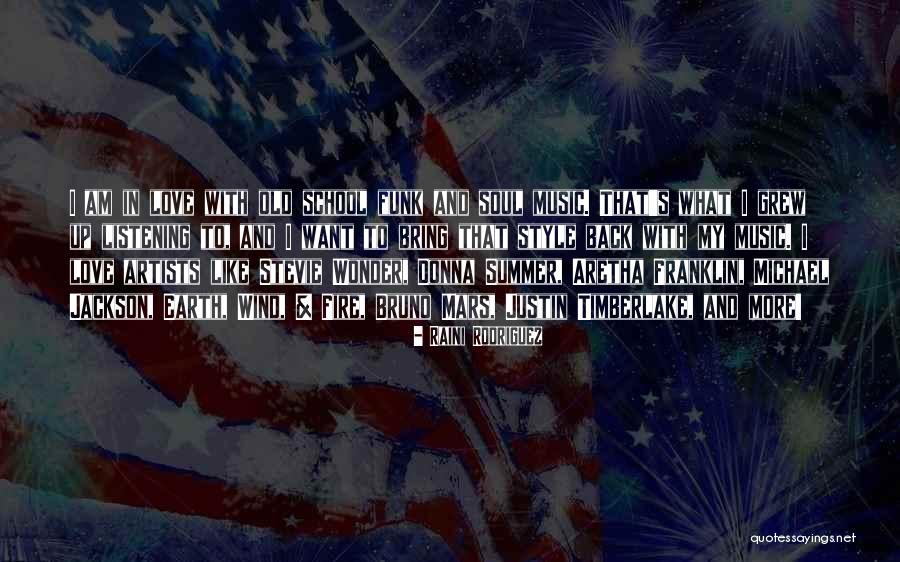 I am in love with old school funk and soul music. That's what I grew up listening to, and I want to bring that style back with my music. I love artists like Stevie Wonder, Donna Summer, Aretha Franklin, Michael Jackson, Earth, Wind, & Fire, Bruno Mars, Justin Timberlake, and more! — Raini Rodriguez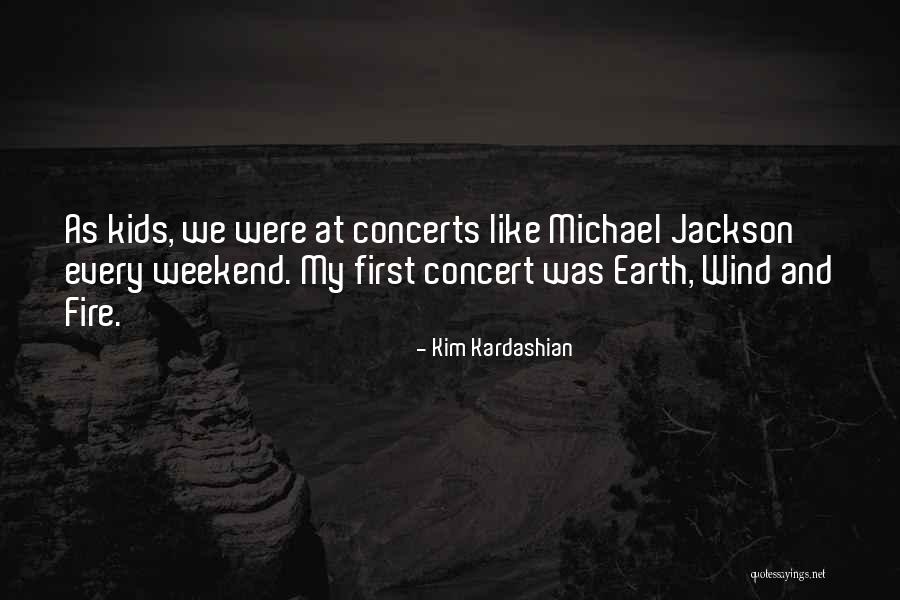 As kids, we were at concerts like Michael Jackson every weekend. My first concert was Earth, Wind and Fire. — Kim Kardashian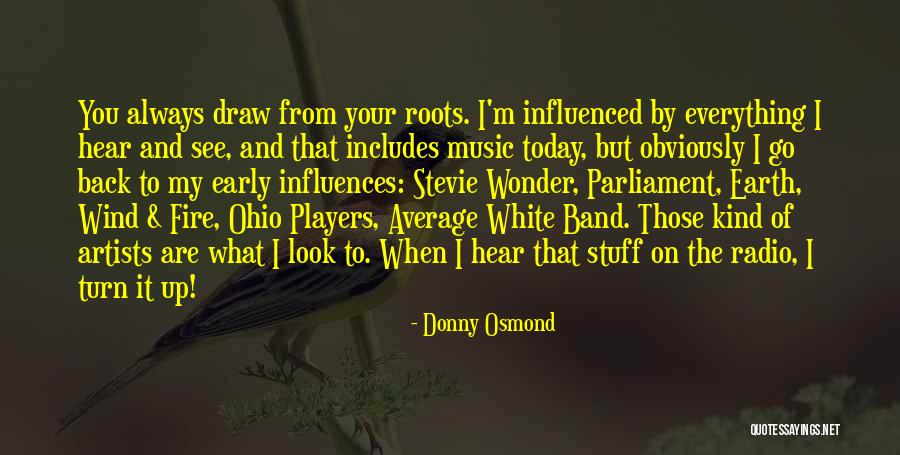 You always draw from your roots. I'm influenced by everything I hear and see, and that includes music today, but obviously I go back to my early influences: Stevie Wonder, Parliament, Earth, Wind & Fire, Ohio Players, Average White Band. Those kind of artists are what I look to. When I hear that stuff on the radio, I turn it up! — Donny Osmond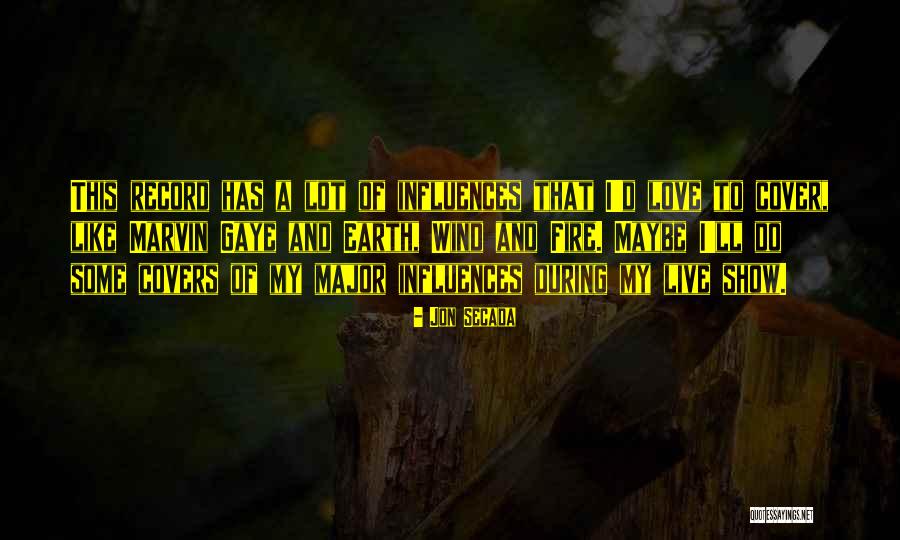 This record has a lot of influences that I'd love to cover, like Marvin Gaye and Earth, Wind and Fire. Maybe I'll do some covers of my major influences during my live show. — Jon Secada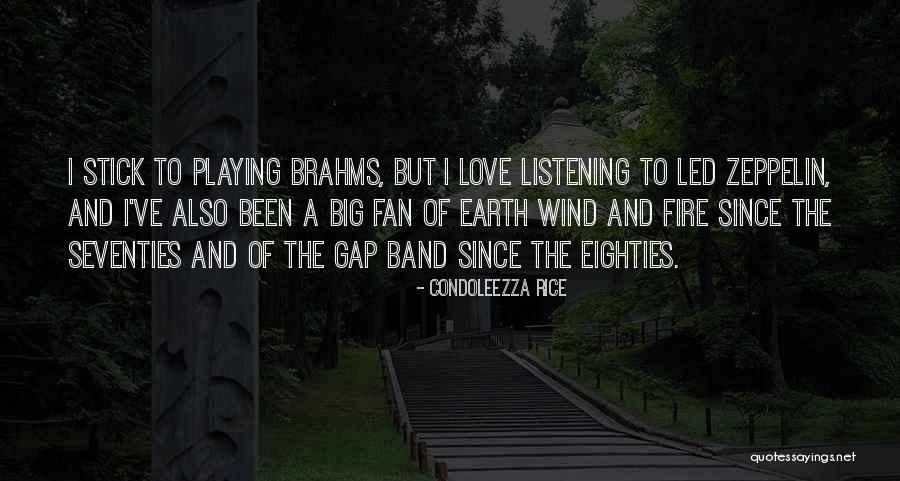 I stick to playing Brahms, but I love listening to Led Zeppelin, and I've also been a big fan of Earth Wind and Fire since the Seventies and of The Gap Band since the Eighties. — Condoleezza Rice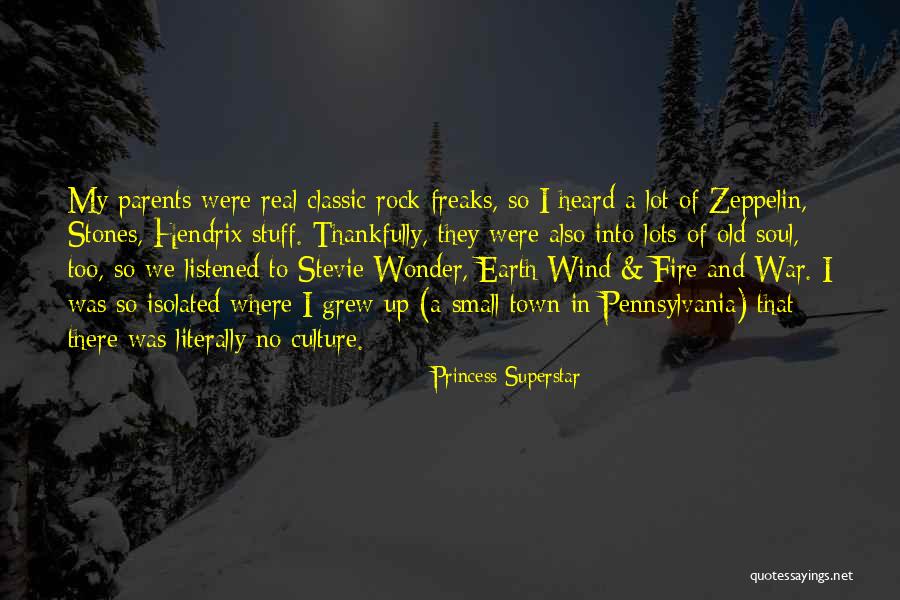 My parents were real classic rock freaks, so I heard a lot of Zeppelin, Stones, Hendrix stuff. Thankfully, they were also into lots of old soul, too, so we listened to Stevie Wonder, Earth Wind & Fire and War. I was so isolated where I grew up (a small town in Pennsylvania) that there was literally no culture. — Princess Superstar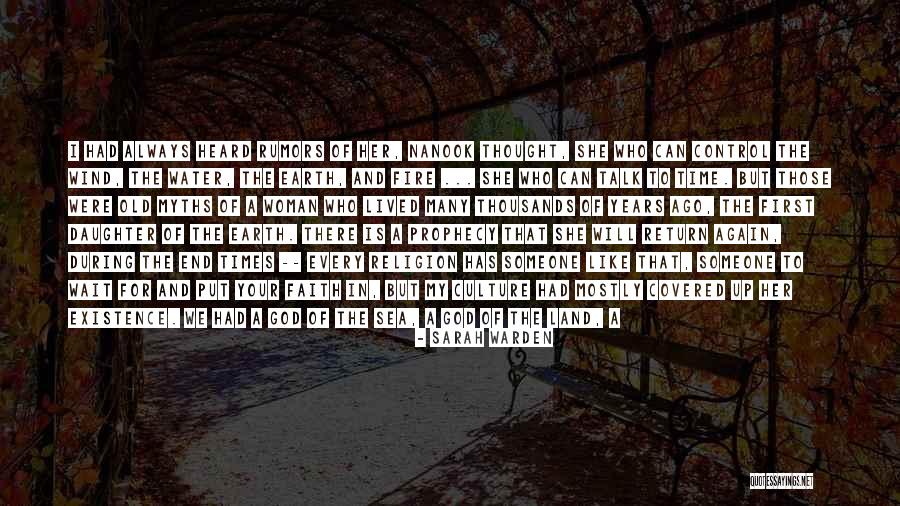 I had always heard rumors of her, Nanook thought, she who can control the wind, the water, the earth, and fire ... she who can talk to time. But those were old myths of a woman who lived many thousands of years ago, the first daughter of the Earth. There is a prophecy that she will return again, during the end times -- every religion has someone like that, someone to wait for and put your faith in, but my culture had mostly covered up her existence. We had a god of the sea, a god of the land, a god of the air, a god of fire, but no one who could control all of the elements. We spoke, only in whispers, of the ancient bloodline -- the descendents of the Great Mother. Too many superstitious minds, too many men concerned only with their own power and position, had heard these whispers in the past and taken gruesome steps to erase the descendents. The lineage was said to be broken, the blood of the Great Mother spilled for the last time. — Sarah Warden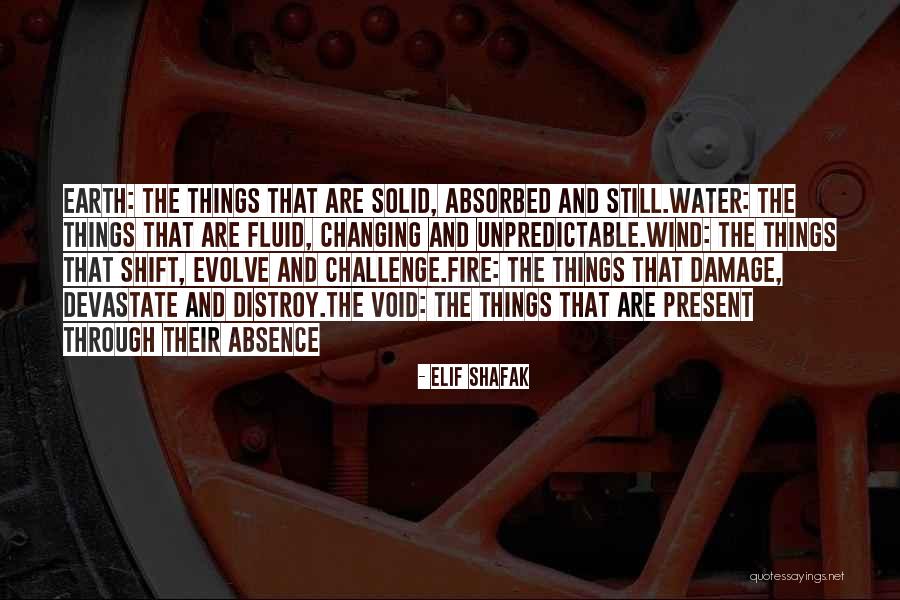 Earth: the things that are solid, absorbed and still.
Water: the things that are fluid, changing and unpredictable.
Wind: the things that shift, evolve and challenge.
Fire: the things that damage, devastate and distroy.
The void: the things that are present through their absence — Elif Shafak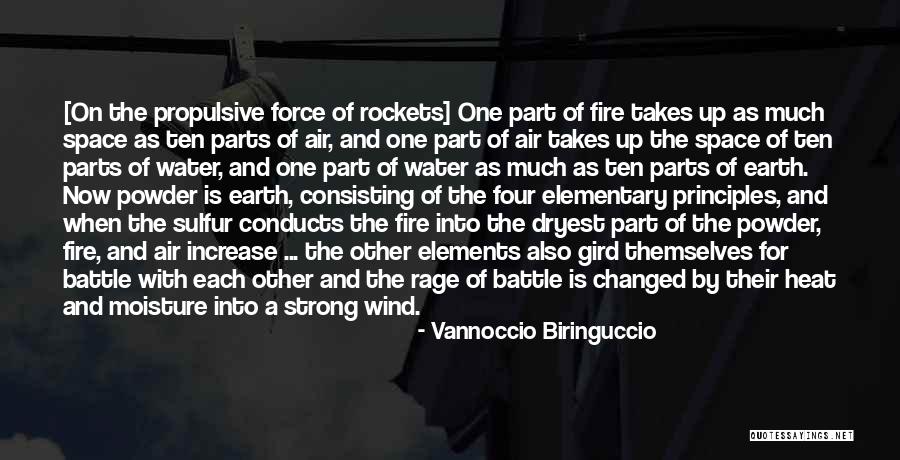 [On the propulsive force of rockets] One part of fire takes up as much space as ten parts of air, and one part of air takes up the space of ten parts of water, and one part of water as much as ten parts of earth. Now powder is earth, consisting of the four elementary principles, and when the sulfur conducts the fire into the dryest part of the powder, fire, and air increase ... the other elements also gird themselves for battle with each other and the rage of battle is changed by their heat and moisture into a strong wind. — Vannoccio Biringuccio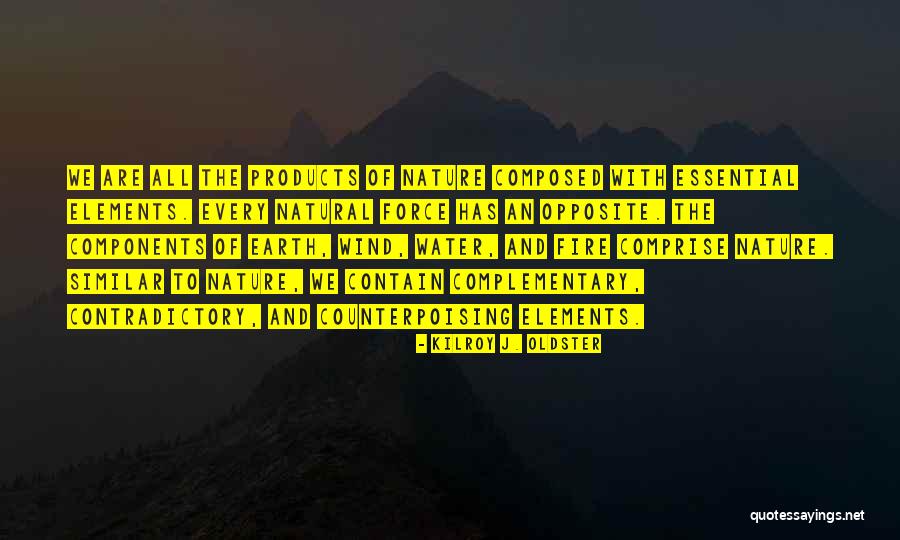 We are all the products of nature composed with essential elements. Every natural force has an opposite. The components of earth, wind, water, and fire comprise nature. Similar to nature, we contain complementary, contradictory, and counterpoising elements. — Kilroy J. Oldster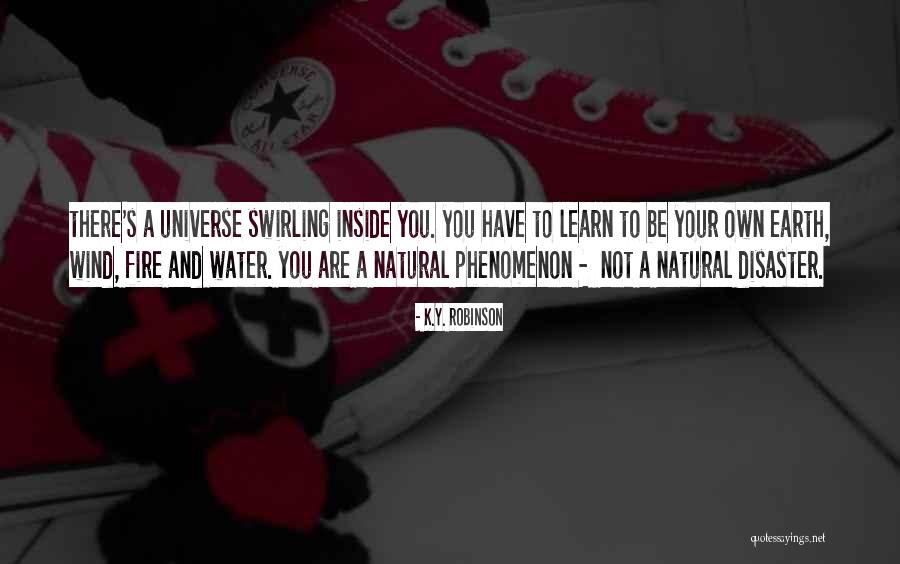 there's a universe swirling inside you. you have to learn to be your own earth, wind, fire and water. you are a natural phenomenon - not a natural disaster. — K.Y. Robinson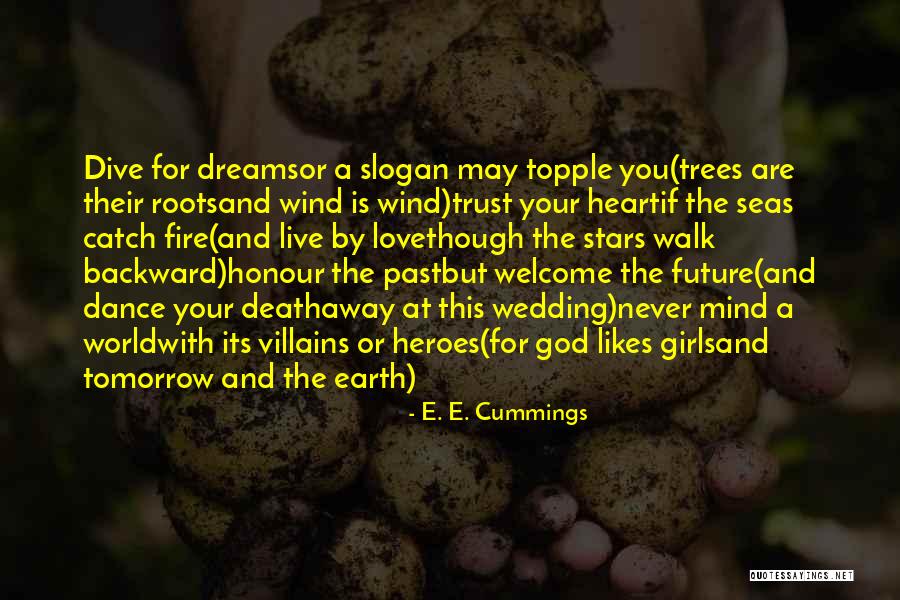 Dive for dreams
or a slogan may topple you
(trees are their roots
and wind is wind)
trust your heart
if the seas catch fire
(and live by love
though the stars walk backward)
honour the past
but welcome the future
(and dance your death
away at this wedding)
never mind a world
with its villains or heroes
(for god likes girls
and tomorrow and the earth) — E. E. Cummings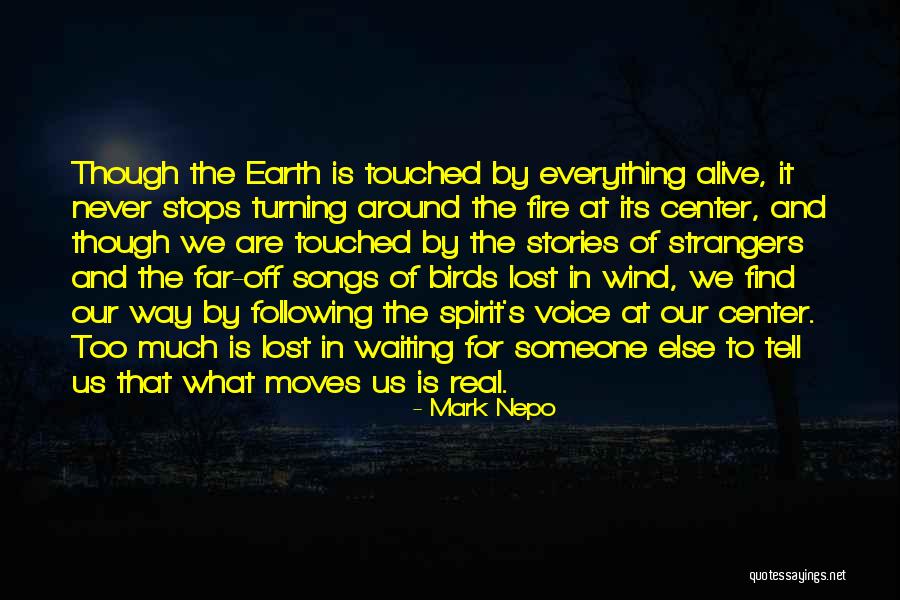 Though the Earth is touched by everything alive, it never stops turning around the fire at its center, and though we are touched by the stories of strangers and the far-off songs of birds lost in wind, we find our way by following the spirit's voice at our center. Too much is lost in waiting for someone else to tell us that what moves us is real. — Mark Nepo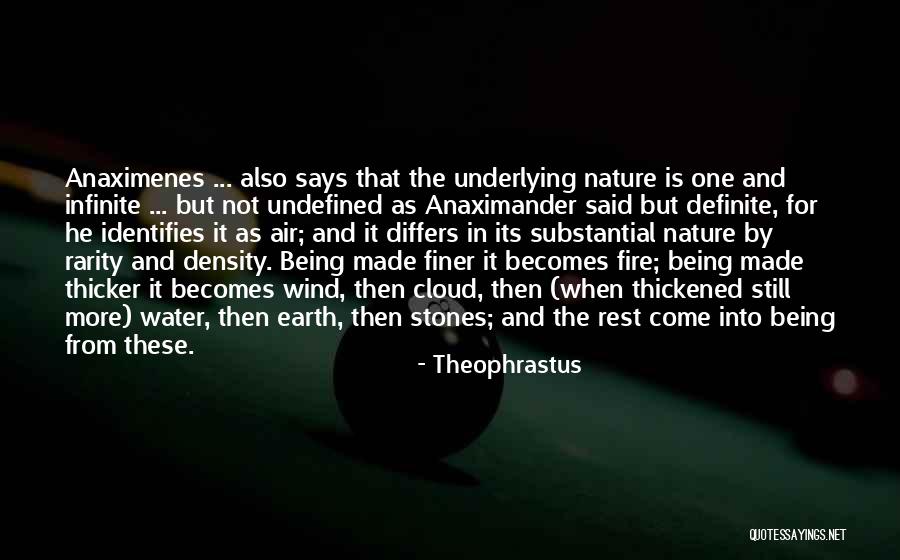 Anaximenes ... also says that the underlying nature is one and infinite ... but not undefined as Anaximander said but definite, for he identifies it as air; and it differs in its substantial nature by rarity and density. Being made finer it becomes fire; being made thicker it becomes wind, then cloud, then (when thickened still more) water, then earth, then stones; and the rest come into being from these. — Theophrastus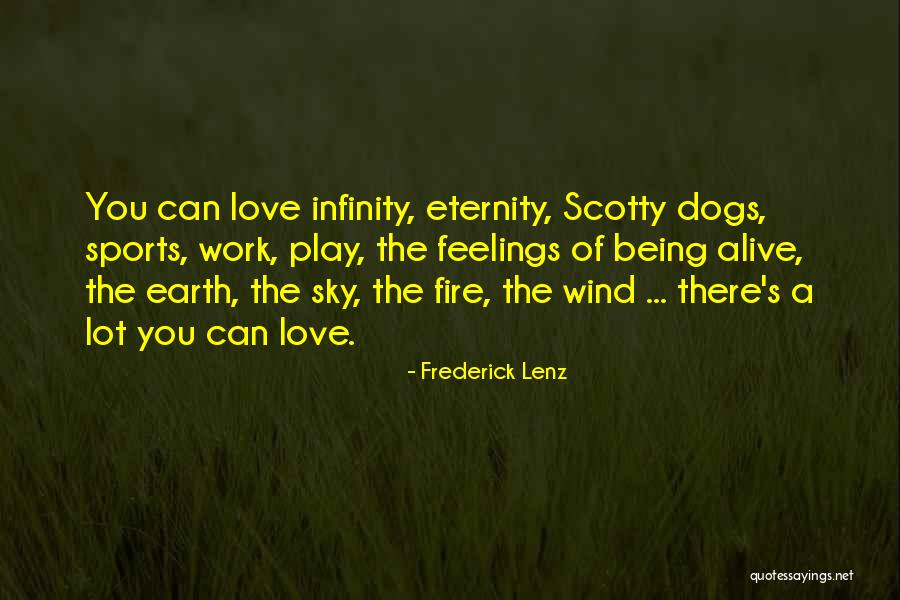 You can love infinity, eternity, Scotty dogs, sports, work, play, the feelings of being alive, the earth, the sky, the fire, the wind ... there's a lot you can love. — Frederick Lenz
I arise today Through the strength of heaven: Light of sun, Radiance of moon, Splendour of fire. Speed of lightning, Swiftness of wind, Depth of sea, Stability of earth, Firmness of rock. — Saint Patrick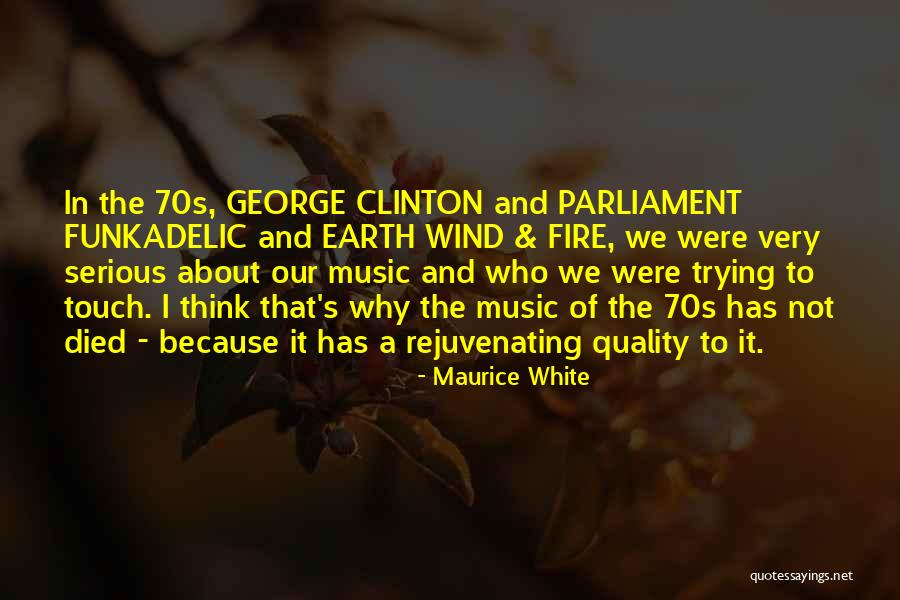 In the 70s, GEORGE CLINTON and PARLIAMENT FUNKADELIC and EARTH WIND & FIRE, we were very serious about our music and who we were trying to touch. I think that's why the music of the 70s has not died - because it has a rejuvenating quality to it. — Maurice White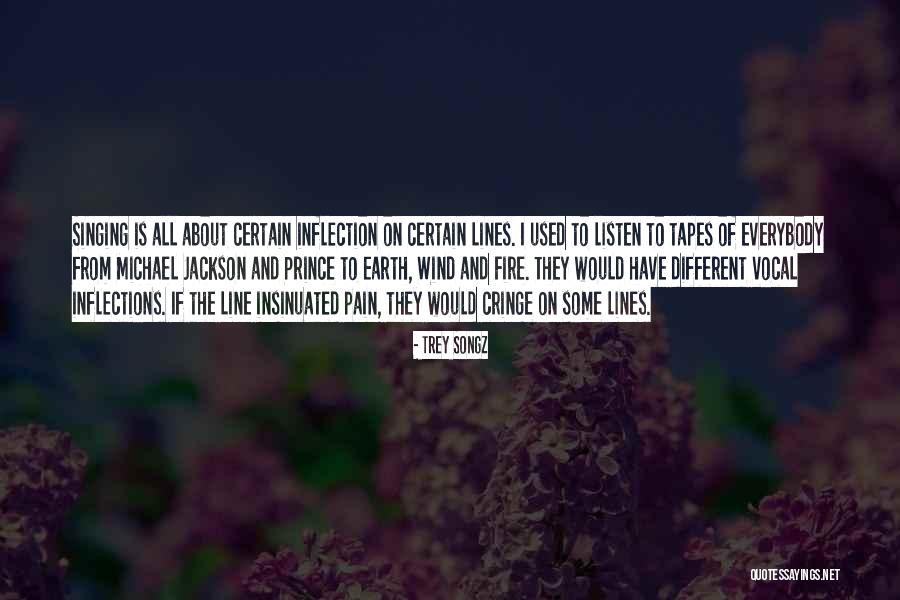 Singing is all about certain inflection on certain lines. I used to listen to tapes of everybody from Michael Jackson and Prince to Earth, Wind and Fire. They would have different vocal inflections. If the line insinuated pain, they would cringe on some lines. — Trey Songz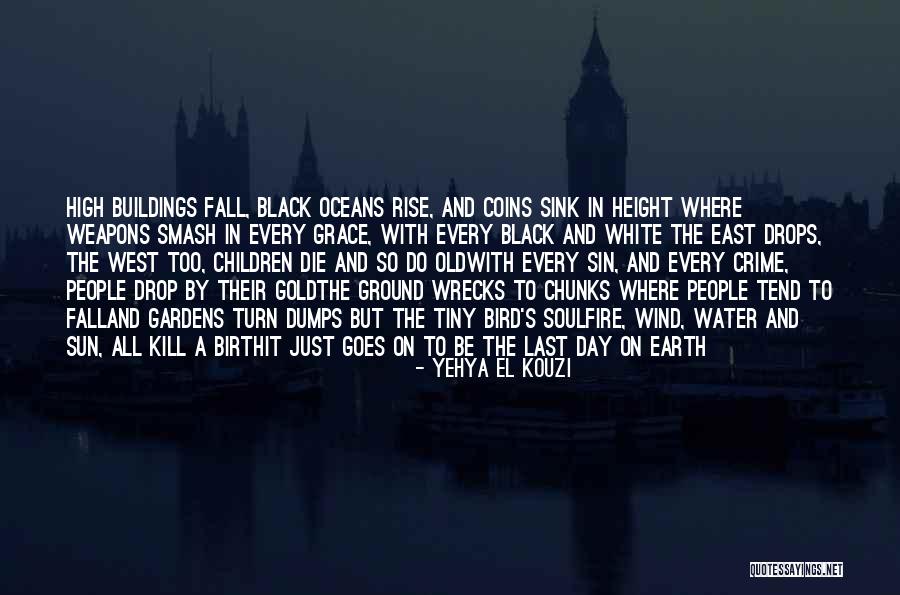 High buildings fall, black oceans rise, and coins sink in height
Where weapons smash in every grace, with every black and white
The east drops, the west too, children die and so do old
With every sin, and every crime, people drop by their gold

The ground wrecks to chunks where people tend to fall
And gardens turn dumps but the tiny bird's soul
Fire, Wind, Water and Sun, all kill a birth
It just goes on to be the Last day on earth — Yehya El Kouzi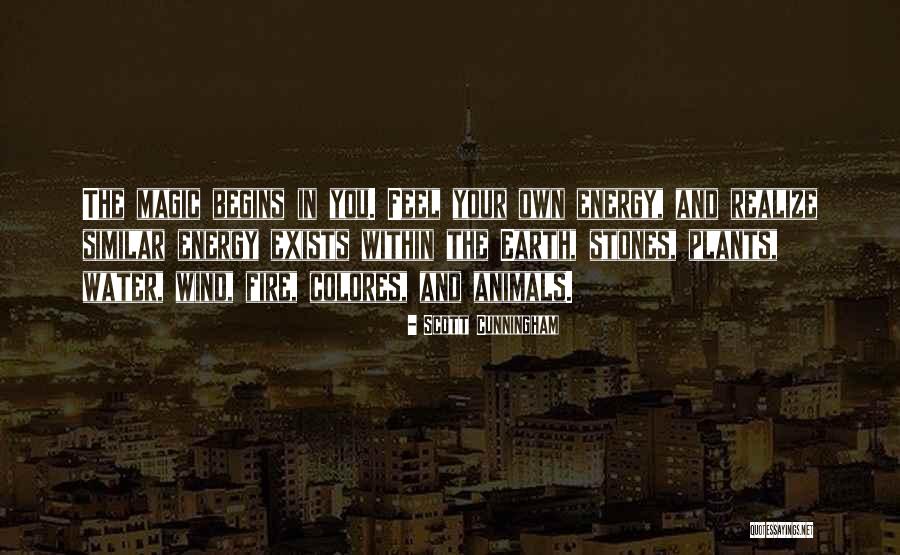 The magic begins in you. Feel your own energy, and realize similar energy exists within the Earth, stones, plants, water, wind, fire, colores, and animals. — Scott Cunningham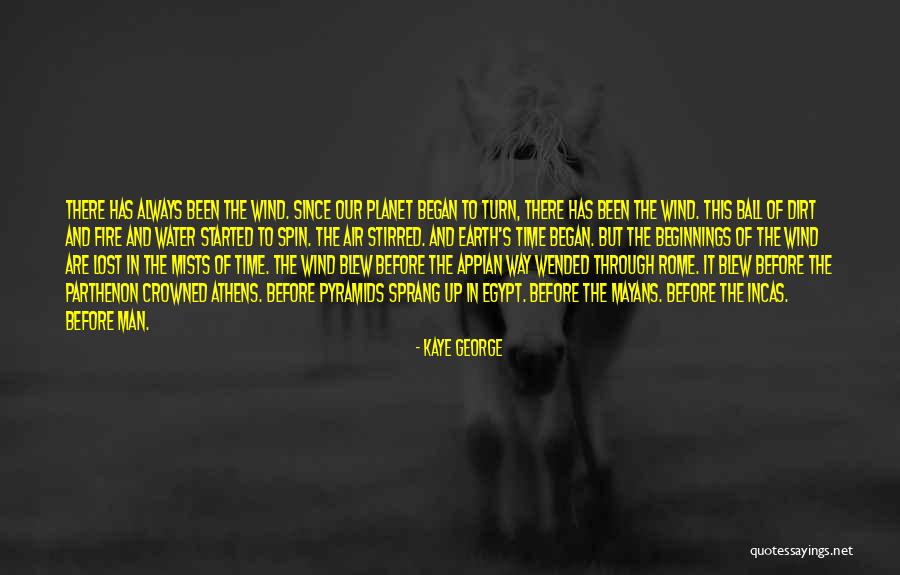 There has always been the wind.
Since our planet began to turn, there has been the wind. This ball of dirt and fire and water started to spin. The air stirred. And Earth's time began.
But the beginnings of the wind are lost in the mists of time. The wind blew before the Appian Way wended through Rome. It blew before the Parthenon crowned Athens. Before pyramids sprang up in Egypt.
Before the Mayans. Before the Incas.
Before Man. — Kaye George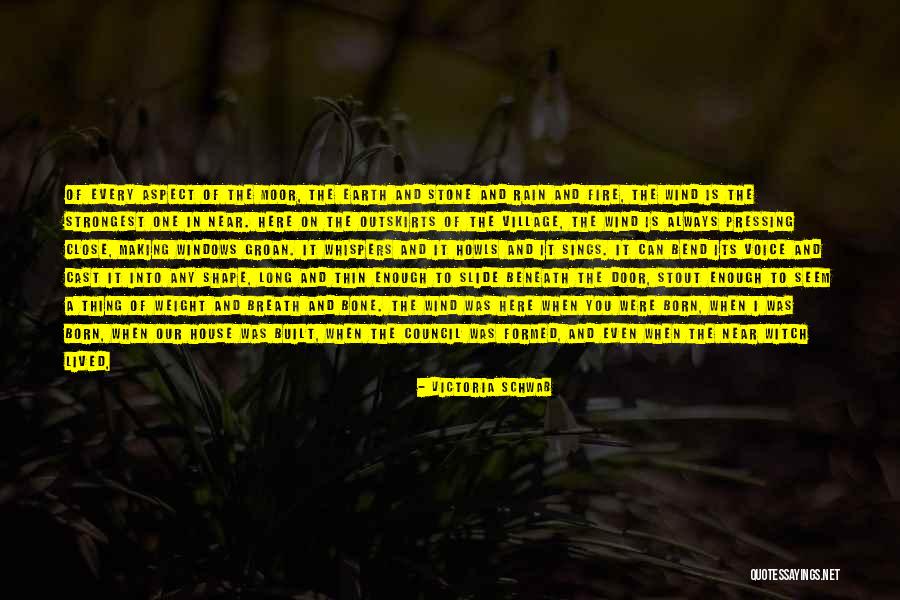 Of every aspect of the moor, the earth and stone and rain and fire, the wind is the strongest one in Near. Here on the outskirts of the village, the wind is always pressing close, making windows groan. It whispers and it howls and it sings. It can bend its voice and cast it into any shape, long and thin enough to slide beneath the door, stout enough to seem a thing of weight and breath and bone. The wind was here when you were born, when I was born, when our house was built, when the Council was formed, and even when the Near Witch lived, — Victoria Schwab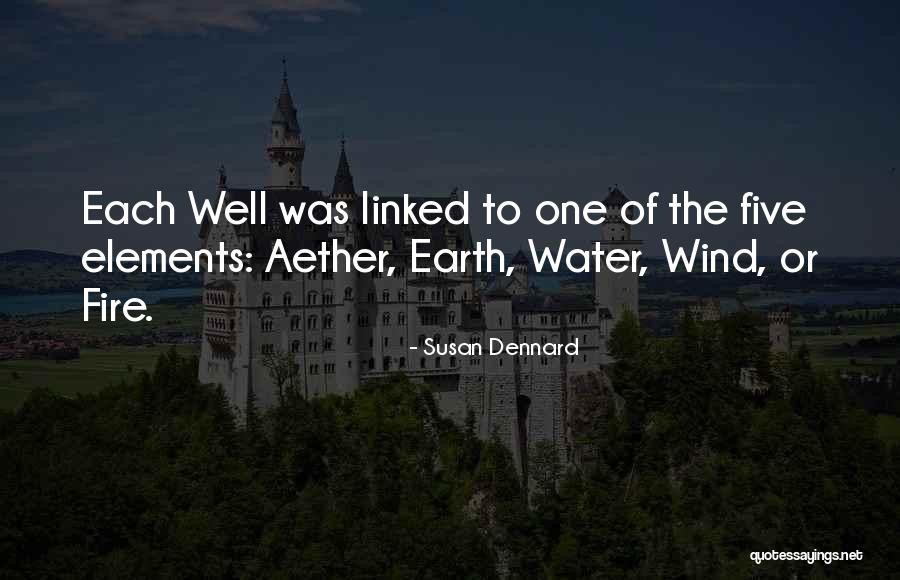 Each Well was linked to one of the five elements: Aether, Earth, Water, Wind, or Fire. — Susan Dennard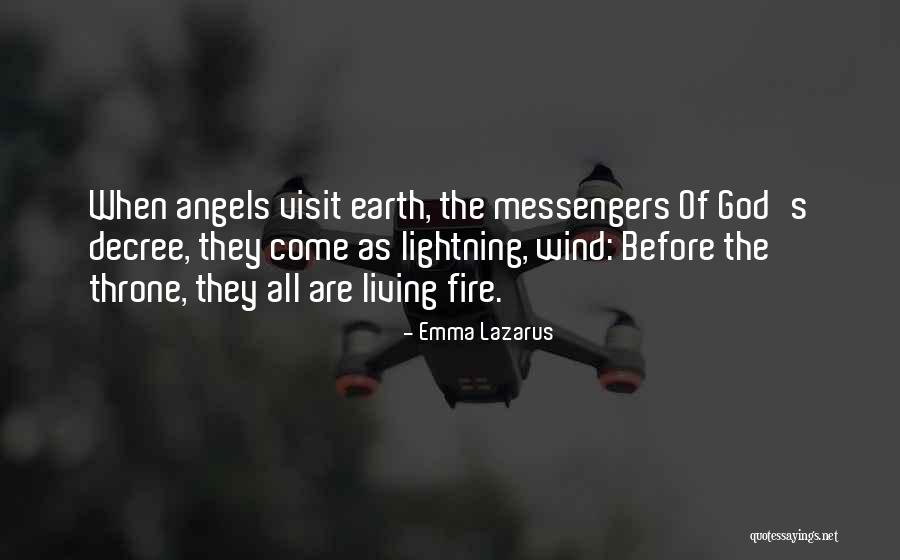 When angels visit earth, the messengers Of God's decree, they come as lightning, wind: Before the throne, they all are living fire. — Emma Lazarus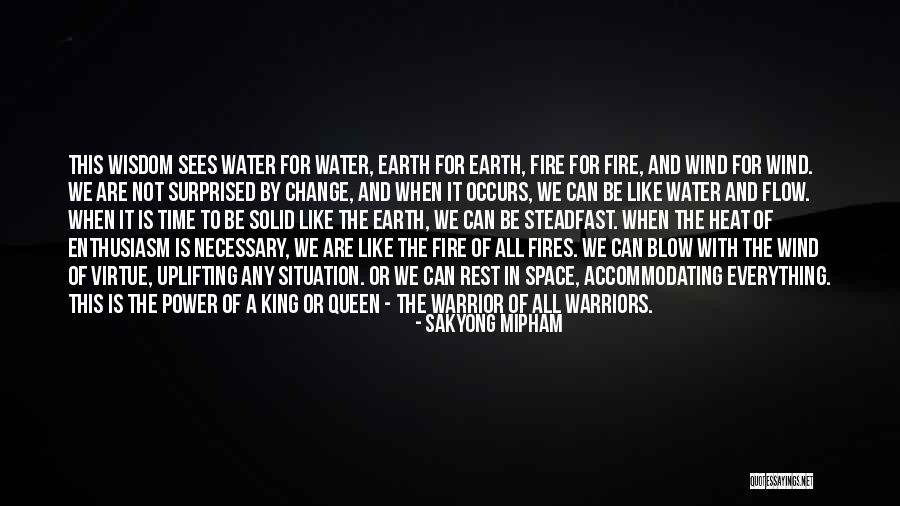 This wisdom sees water for water, earth for earth, fire for fire, and wind for wind. We are not surprised by change, and when it occurs, we can be like water and flow. When it is time to be solid like the earth, we can be steadfast. When the heat of enthusiasm is necessary, we are like the fire of all fires. We can blow with the wind of virtue, uplifting any situation. Or we can rest in space, accommodating everything. This is the power of a king or queen - the warrior of all warriors. — Sakyong Mipham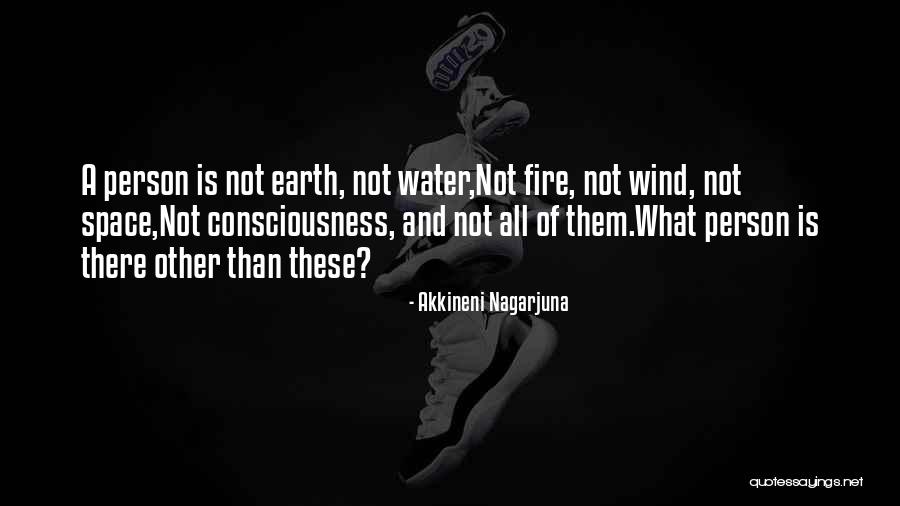 A person is not earth, not water,
Not fire, not wind, not space,
Not consciousness, and not all of them.
What person is there other than these? — Akkineni Nagarjuna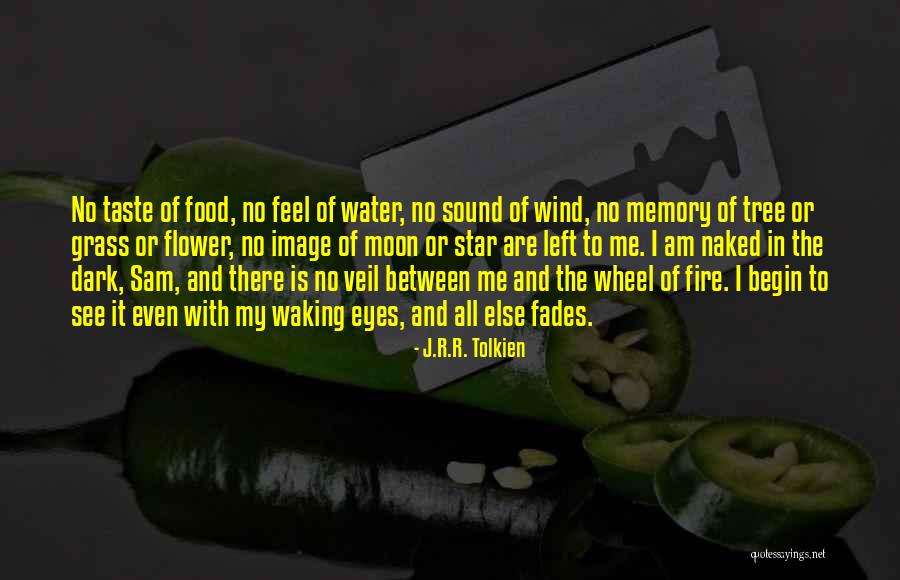 No taste of food, no feel of water, no sound of wind, no memory of tree or grass or flower, no image of moon or star are left to me. I am naked in the dark, Sam, and there is no veil between me and the wheel of fire. I begin to see it even with my waking eyes, and all else fades. — J.R.R. Tolkien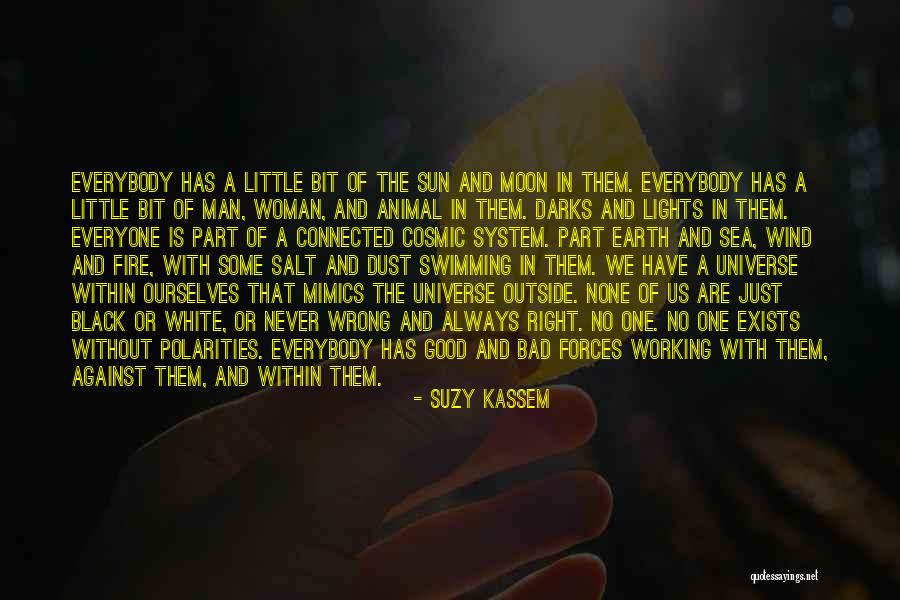 Everybody has a little bit of the sun and moon in them. Everybody has a little bit of man, woman, and animal in them. Darks and lights in them. Everyone is part of a connected cosmic system. Part earth and sea, wind and fire, with some salt and dust swimming in them. We have a universe within ourselves that mimics the universe outside. None of us are just black or white, or never wrong and always right. No one. No one exists without polarities. Everybody has good and bad forces working with them, against them, and within them. — Suzy Kassem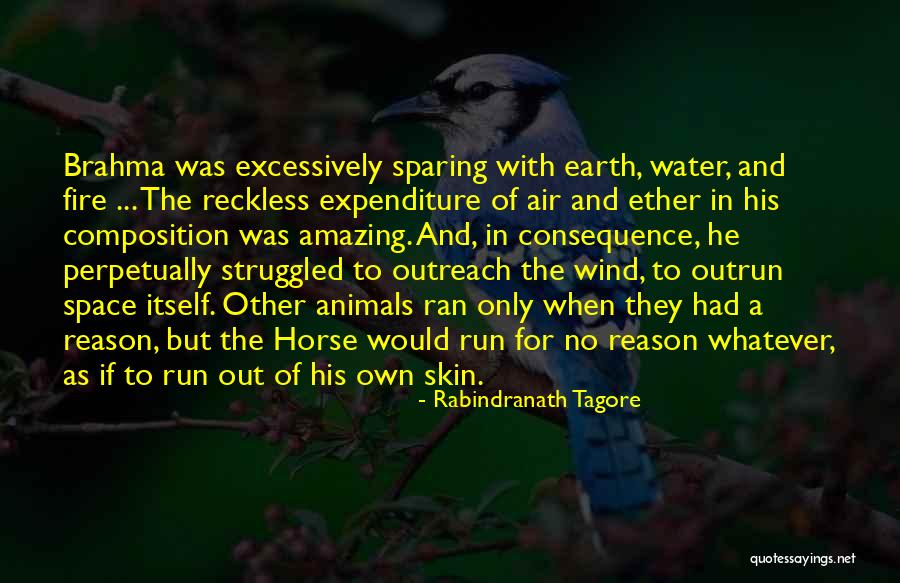 Brahma was excessively sparing with earth, water, and fire ... The reckless expenditure of air and ether in his composition was amazing. And, in consequence, he perpetually struggled to outreach the wind, to outrun space itself. Other animals ran only when they had a reason, but the Horse would run for no reason whatever, as if to run out of his own skin. — Rabindranath Tagore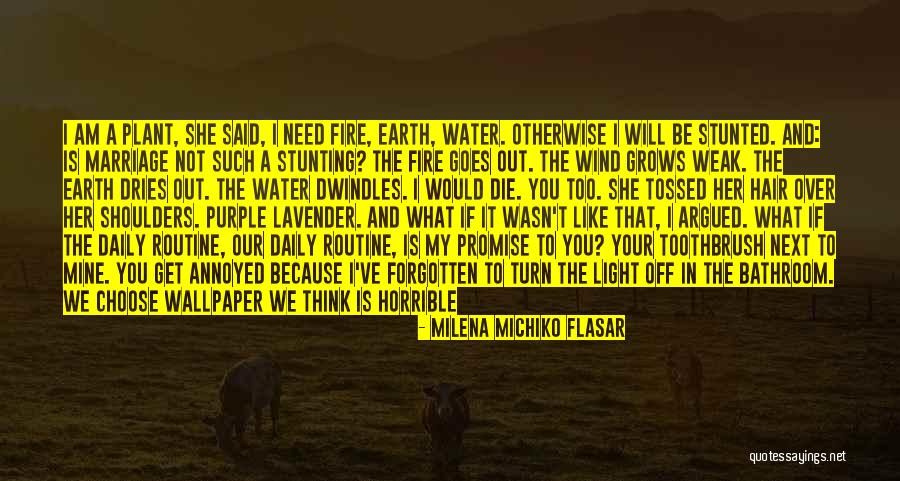 I am a plant, she said, I need fire, earth, water. Otherwise I will be stunted. And: Is marriage not such a stunting? The fire goes out. The wind grows weak. The earth dries out. The water dwindles. I would die. You too. She tossed her hair over her shoulders. Purple lavender. And what if it wasn't like that, I argued. What if the daily routine, our daily routine, is my promise to you? Your toothbrush next to mine. You get annoyed because I've forgotten to turn the light off in the bathroom. We choose wallpaper we think is horrible a year later. You tell me I'm getting a belly. Your forgetfulness. You've left your umbrella somewhere again. I snore, you can't sleep. In my dream I whisper your name...You tie my tie. Wave goodbye to me as I go to work. I think: you are like a fluttering flag. I think it with a stabbing pain in my heart. For Heaven's sake, is that not enough? Is that not enough to be happy? She turned away: Give me time. I'll think about it. — Milena Michiko Flasar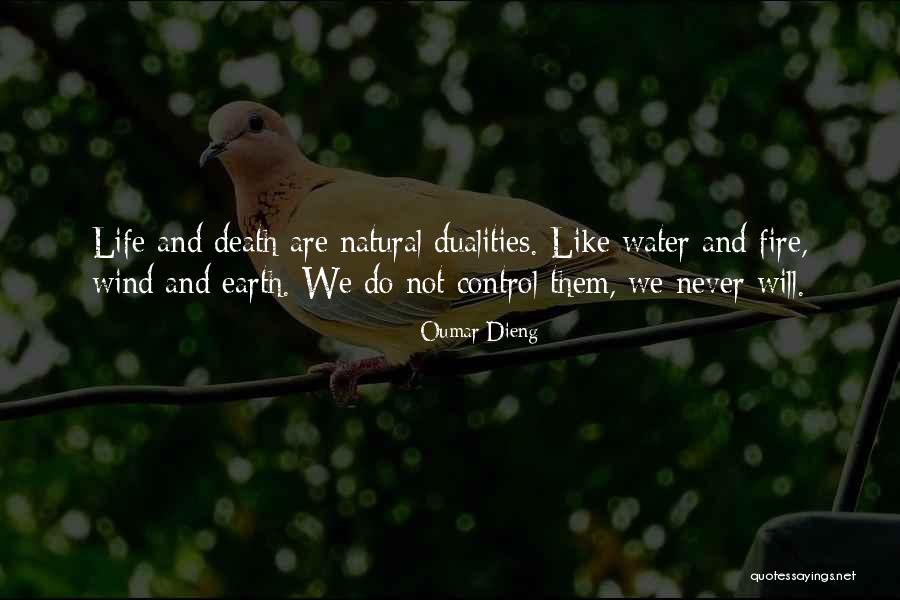 Life and death are natural dualities. Like water and fire, wind and earth. We do not control them, we never will. — Oumar Dieng
Earth and sky, rock and wind, bear witness!
By the power of the Swift Sure Hand, I claim this ground and sain it with a name: Bwgan Bwlch!

Power of fire I have over it,
Power of wind I have over it,
Power of thunder I have over it,
Power of wrath I have over it,
Power of heavens I have over it,
Power of earth I have over it,
Power of worlds I have over it!

As tramples the swan upon the lake,
As tramples the horse upon the plain,
As tramples the ox upon the meadow,
As tramples the boar upon the track,
As tramples the forest host of heart and hind,
As tramples all quick things upon the earth,
I do trample and subdue it,
And drive all evil from it!

In the name of the Secret One,
In the name of the Living One,
In the name of the All-Encircling One,
In the name of the One True Word, it is Bwgan Bwlch,
Let it so remain as long as men survive
To breath the name. — Stephen R. Lawhead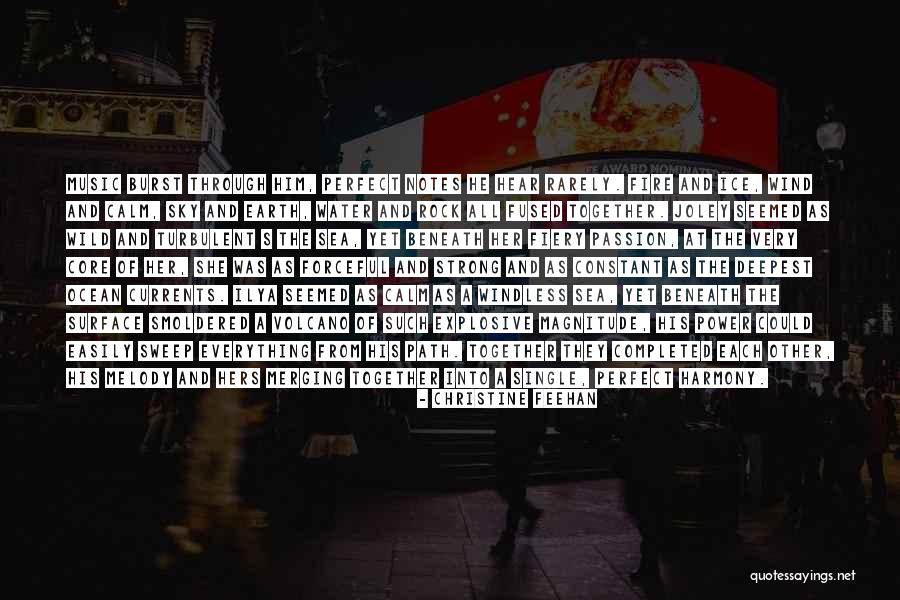 Music burst through him, perfect notes he hear rarely. Fire and ice, wind and calm, sky and earth, water and rock all fused together. Joley seemed as wild and turbulent s the sea, yet beneath her fiery passion, at the very core of her, she was as forceful and strong and as constant as the deepest ocean currents. Ilya seemed as calm as a windless sea, yet beneath the surface smoldered a volcano of such explosive magnitude, his power could easily sweep everything from his path. Together they completed each other, his melody and hers merging together into a single, perfect harmony. — Christine Feehan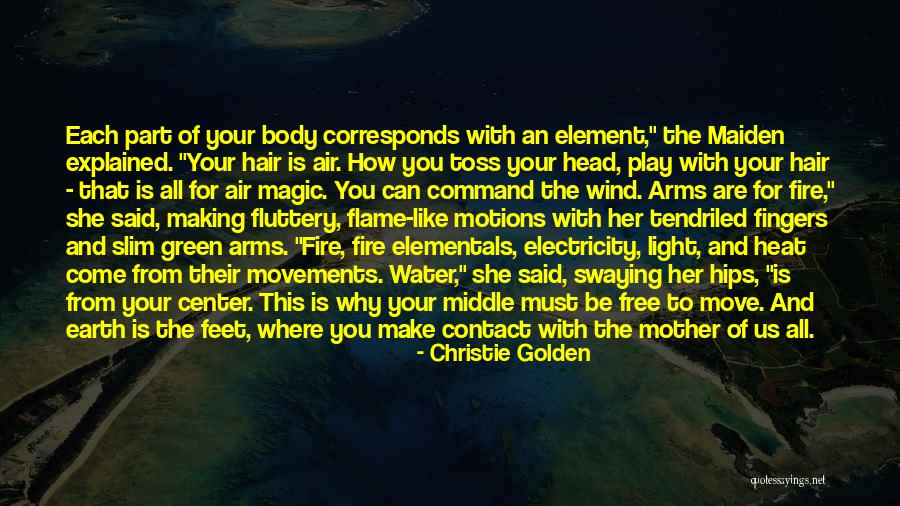 Each part of your body corresponds with an element," the Maiden explained. "Your hair is air. How you toss your head, play with your hair - that is all for air magic. You can command the wind. Arms are for fire," she said, making fluttery, flame-like motions with her tendriled fingers and slim green arms. "Fire, fire elementals, electricity, light, and heat come from their movements. Water," she said, swaying her hips, "is from your center. This is why your middle must be free to move. And earth is the feet, where you make contact with the mother of us all. — Christie Golden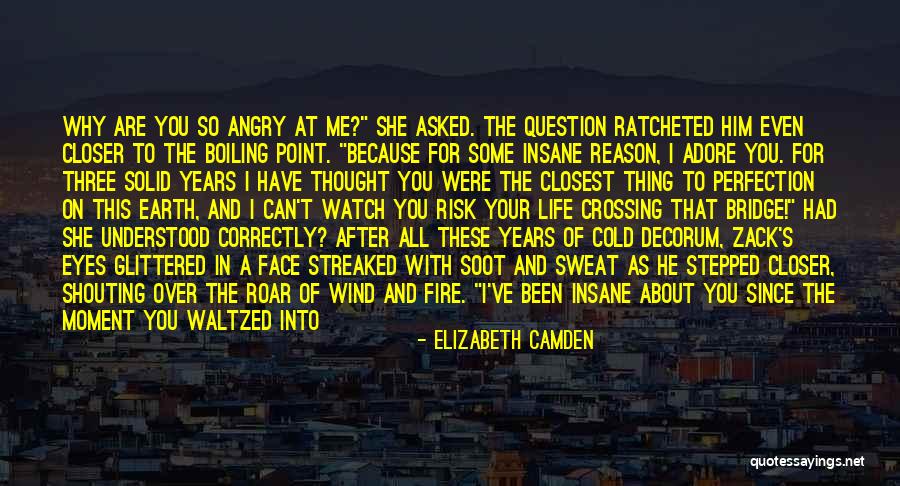 Why are you so angry at me?" she asked. The question ratcheted him even closer to the boiling point. "Because for some insane reason, I adore you. For three solid years I have thought you were the closest thing to perfection on this earth, and I can't watch you risk your life crossing that bridge!" Had she understood correctly? After all these years of cold decorum, Zack's eyes glittered in a face streaked with soot and sweat as he stepped closer, shouting over the roar of wind and fire. "I've been insane about you since the moment you waltzed into my office three years ago in that ridiculous suit and your hair as prim as a schoolmarm," he shouted. "Don't you dare get yourself killed on me now! — Elizabeth Camden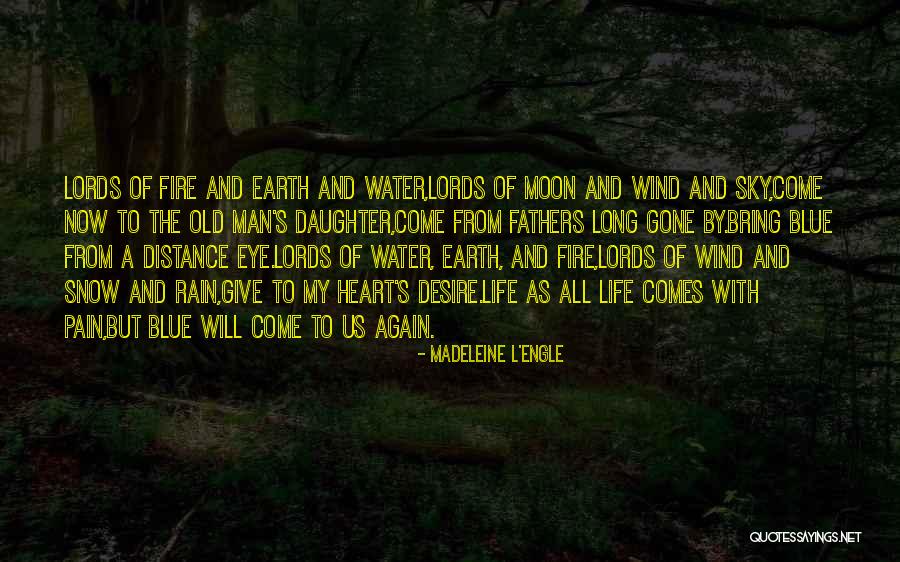 Lords of fire and earth and water,
Lords of moon and wind and sky,
Come now to the Old Man's daughter,
Come from fathers long gone by.
Bring blue from a distance eye.
Lords of water, earth, and fire,
Lords of wind and snow and rain,
Give to my heart's desire.
Life as all life comes with pain,
But blue will come to us again. — Madeleine L'Engle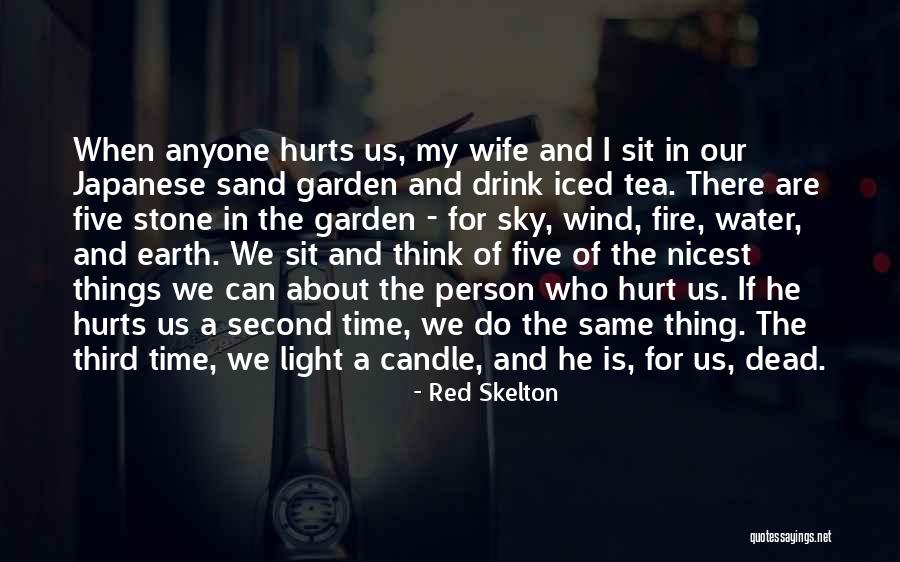 When anyone hurts us, my wife and I sit in our Japanese sand garden and drink iced tea. There are five stone in the garden - for sky, wind, fire, water, and earth. We sit and think of five of the nicest things we can about the person who hurt us. If he hurts us a second time, we do the same thing. The third time, we light a candle, and he is, for us, dead. — Red Skelton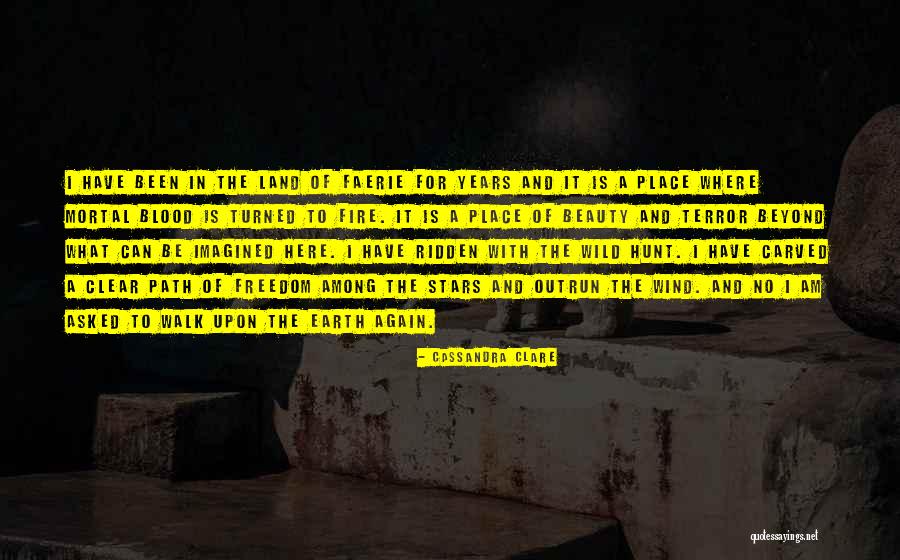 I have been in the land of Faerie for years and it is a place where mortal blood is turned to fire. It is a place of beauty and terror beyond what can be imagined here. I have ridden with the Wild Hunt. I have carved a clear path of freedom among the stars and outrun the wind. And no I am asked to walk upon the earth again. — Cassandra Clare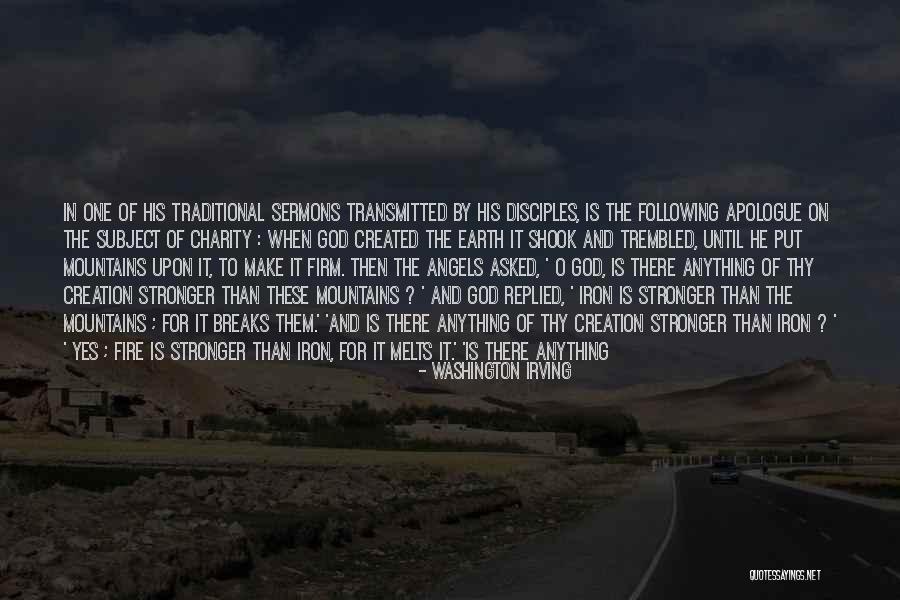 In one of his traditional sermons transmitted by his disciples, is the following apologue on the subject of charity : When God created the earth it shook and trembled, until he put mountains upon it, to make it firm. Then the angels asked, ' O God, is there anything of thy creation stronger than these mountains ? ' And God replied, ' Iron is stronger than the mountains ; for it breaks them.' 'And is there anything of thy creation stronger than iron ? ' ' Yes ; fire is stronger than iron, for it melts it.' 'Is there anything of thy creation stronger than fire?' 'Yes; water, for it quenches fire.' ' O Lord, is there anything of thy creation stronger than water ? ' ' Yes, wind ; for it overcomes water and puts it in motion.' 'O, our Sustainer ! is there anything of thy creation stronger than wind ? ' ' Yes, a good man giving alms ; if he give with his right hand and conceal it from his left, he overcomes all things.' — Washington Irving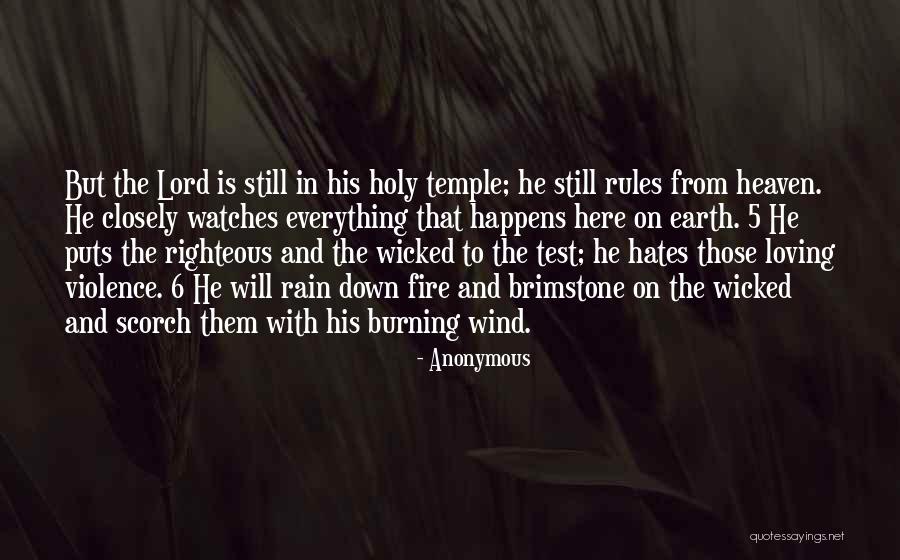 But the Lord is still in his holy temple; he still rules from heaven. He closely watches everything that happens here on earth. 5 He puts the righteous and the wicked to the test; he hates those loving violence. 6 He will rain down fire and brimstone on the wicked and scorch them with his burning wind. — Anonymous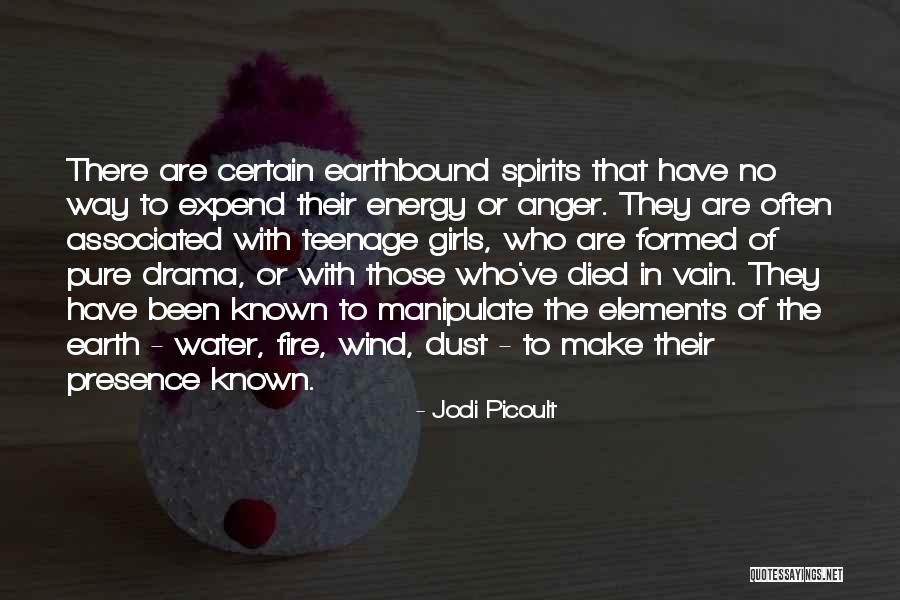 There are certain earthbound spirits that have no way to expend their energy or anger. They are often associated with teenage girls, who are formed of pure drama, or with those who've died in vain. They have been known to manipulate the elements of the earth - water, fire, wind, dust - to make their presence known. — Jodi Picoult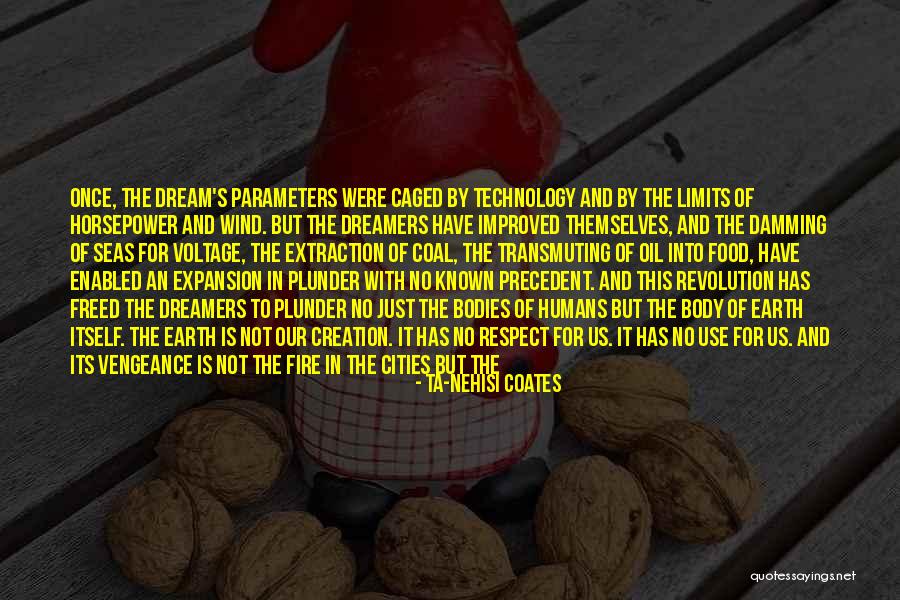 Once, the Dream's parameters were caged by technology and by the limits of horsepower and wind. But the Dreamers have improved themselves, and the damming of seas for voltage, the extraction of coal, the transmuting of oil into food, have enabled an expansion in plunder with no known precedent. And this revolution has freed the Dreamers to plunder no just the bodies of humans but the body of Earth itself. The Earth is not our creation. It has no respect for us. It has no use for us. And its vengeance is not the fire in the cities but the fire in the sky. Something more fierce than Marcus Garvey is riding on the whirlwind. Something more awful than all our African ancestors is rising with the seas. — Ta-Nehisi Coates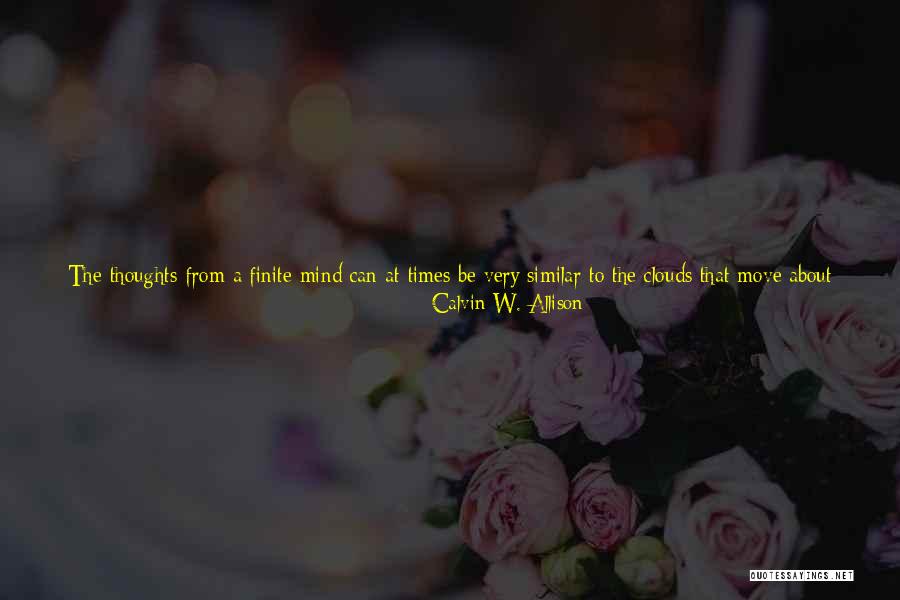 The thoughts from a finite mind can at times be very similar to the clouds that move about over the surface of the earth. Both can cover a lot of ground, and can either disperse or increase in formation. Likewise - both are heavily influenced by the surrounding climate. Furthermore - a hard wind increases a fire's spread, thunder proceeds a lightning strike, and when atmospheric water vapor accumulates, it produces clouds. Then, after an abundance of water has been condensed, the clouds will at some point release moisture; the rain/precipitation amount will range from the degree of abundance condensed.
Similarly: an abundance of thoughts can also accumulate - eventually resulting in an overflow of emotion. The overflow can either be positive or negative - the determining factor relying on the characterization of the thoughts - whether they be positive or negative. — Calvin W. Allison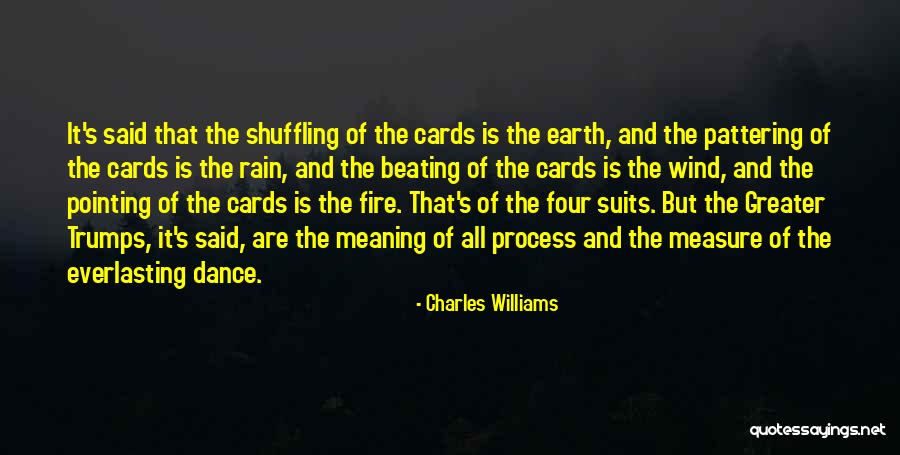 It's said that the shuffling of the cards is the earth, and the pattering of the cards is the rain, and the beating of the cards is the wind, and the pointing of the cards is the fire. That's of the four suits. But the Greater Trumps, it's said, are the meaning of all process and the measure of the everlasting dance. — Charles Williams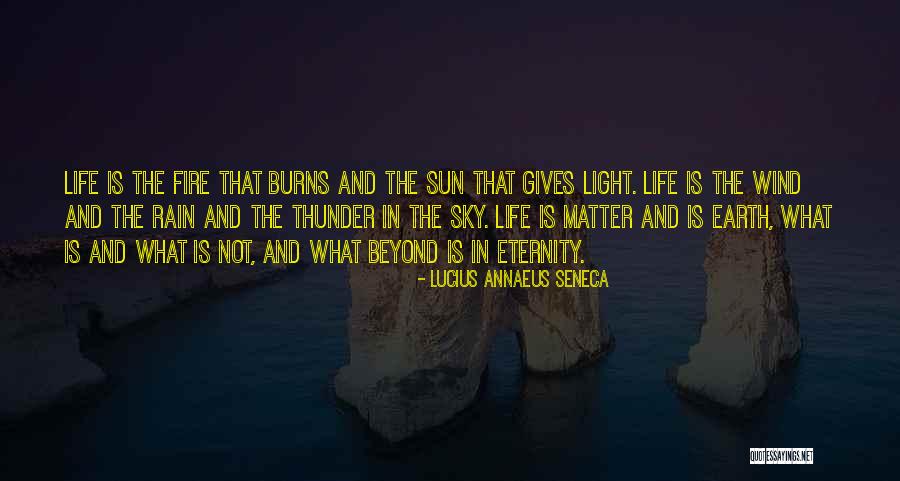 Life is the fire that burns and the sun that gives light. Life is the wind and the rain and the thunder in the sky. Life is matter and is earth, what is and what is not, and what beyond is in Eternity. — Lucius Annaeus Seneca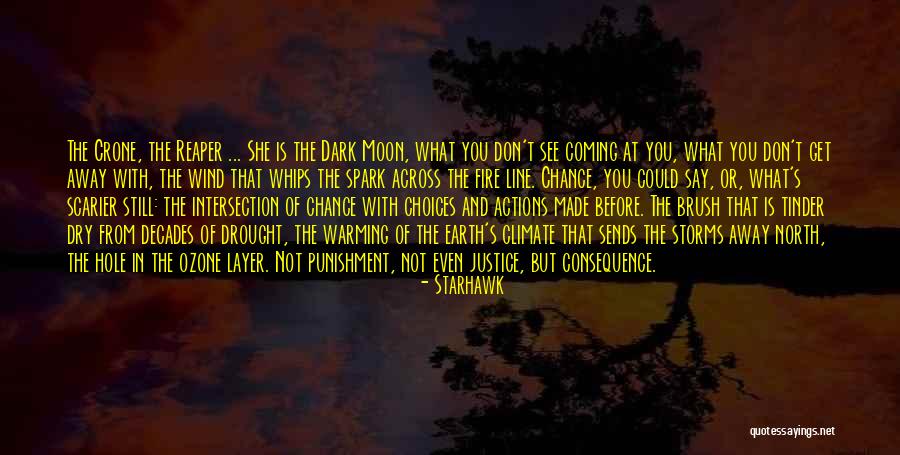 The Crone, the Reaper ... She is the Dark Moon, what you don't see coming at you, what you don't get away with, the wind that whips the spark across the fire line. Chance, you could say, or, what's scarier still: the intersection of chance with choices and actions made before. The brush that is tinder dry from decades of drought, the warming of the earth's climate that sends the storms away north, the hole in the ozone layer. Not punishment, not even justice, but consequence. — Starhawk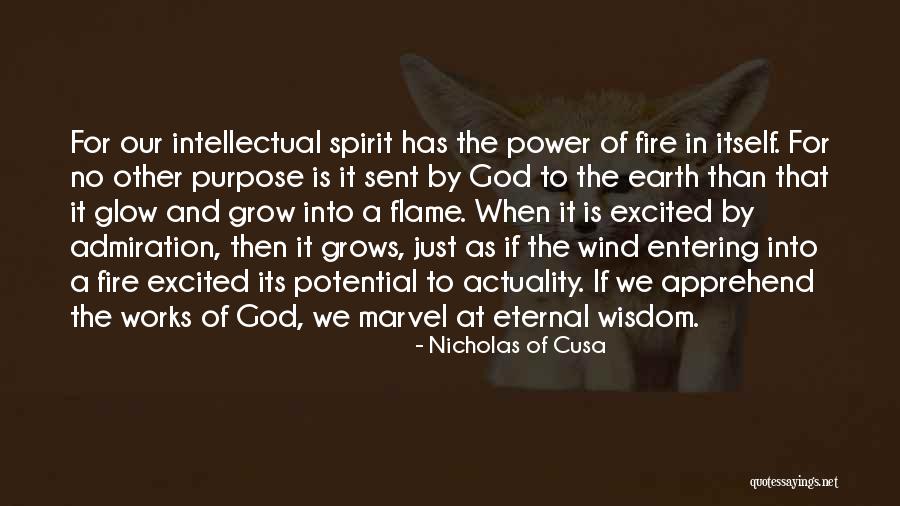 For our intellectual spirit has the power of fire in itself. For no other purpose is it sent by God to the earth than that it glow and grow into a flame. When it is excited by admiration, then it grows, just as if the wind entering into a fire excited its potential to actuality. If we apprehend the works of God, we marvel at eternal wisdom. — Nicholas Of Cusa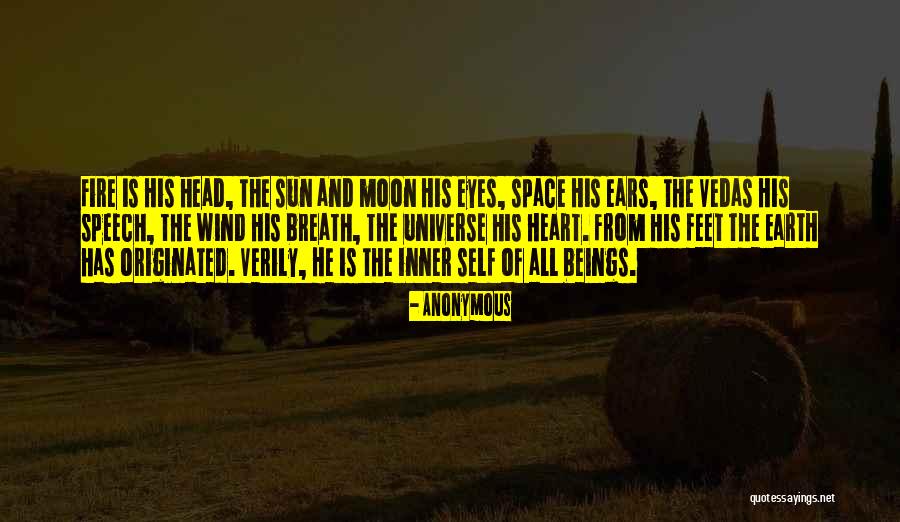 Fire is His head, the sun and moon His eyes, space His ears, the Vedas His speech, the wind His breath, the universe His heart. From His feet the Earth has originated. Verily, He is the inner self of all beings. — Anonymous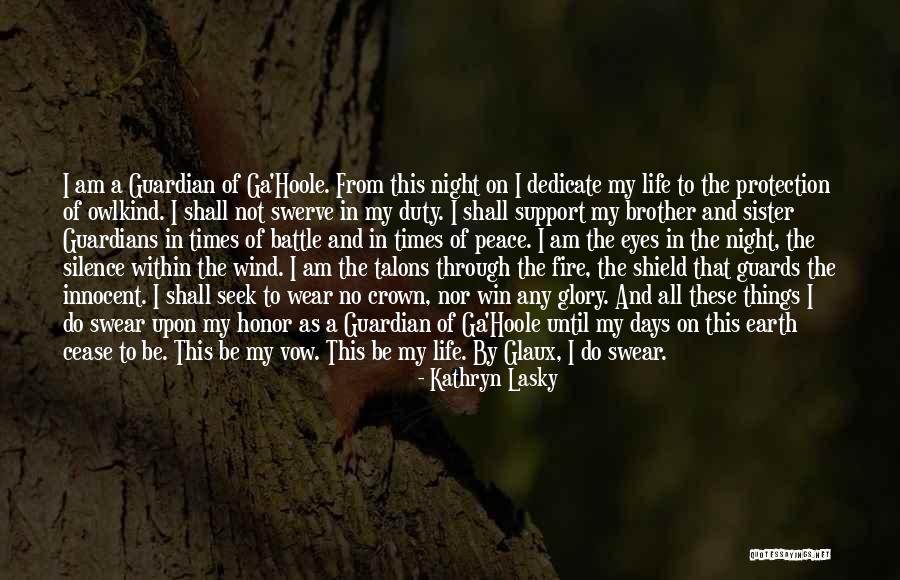 I am a Guardian of Ga'Hoole. From this night on I dedicate my life to the protection of owlkind. I shall not swerve in my duty. I shall support my brother and sister Guardians in times of battle and in times of peace. I am the eyes in the night, the silence within the wind. I am the talons through the fire, the shield that guards the innocent. I shall seek to wear no crown, nor win any glory. And all these things I do swear upon my honor as a Guardian of Ga'Hoole until my days on this earth cease to be. This be my vow. This be my life. By Glaux, I do swear. — Kathryn Lasky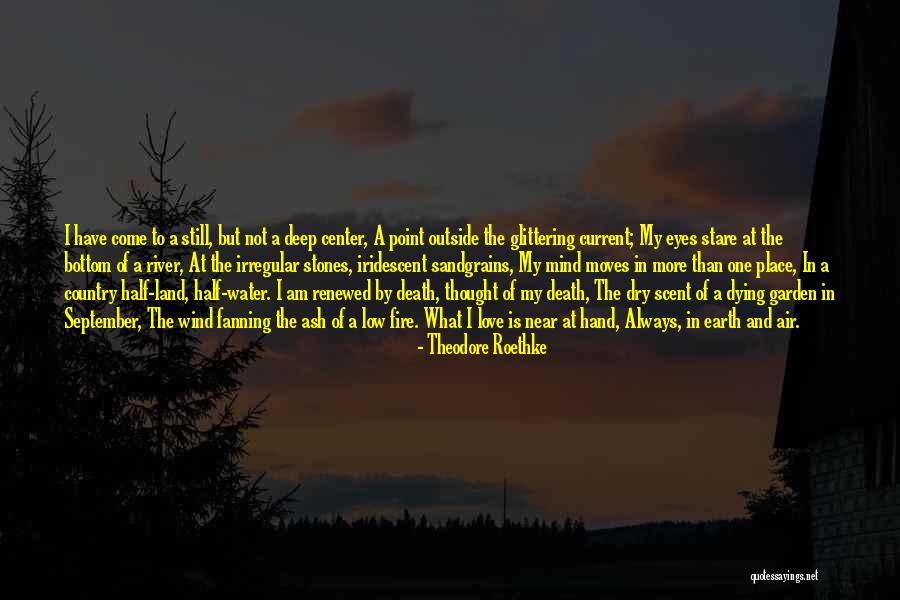 I have come to a still, but not a deep center,
A point outside the glittering current;
My eyes stare at the bottom of a river,
At the irregular stones, iridescent sandgrains,
My mind moves in more than one place,
In a country half-land, half-water.
I am renewed by death, thought of my death,
The dry scent of a dying garden in September,
The wind fanning the ash of a low fire.
What I love is near at hand,
Always, in earth and air. — Theodore Roethke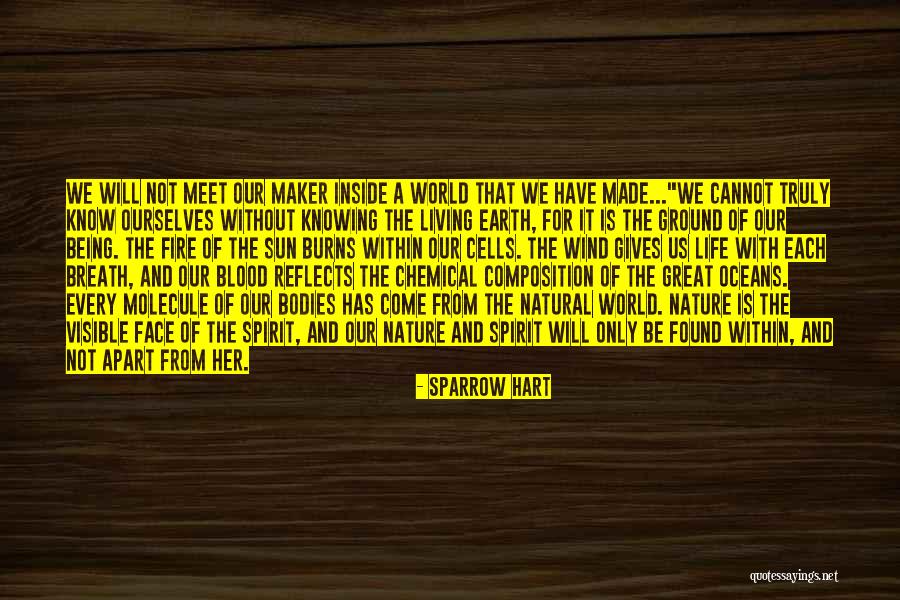 We will not meet our maker inside a world that we have made..."

We cannot truly know ourselves without knowing the living Earth, for it is the ground of our being. The fire of the sun burns within our cells. The wind gives us life with each breath, and our blood reflects the chemical composition of the great oceans. Every molecule of our bodies has come from the natural world.

Nature is the visible face of the spirit, and our nature and spirit will only be found within, and not apart from her. — Sparrow Hart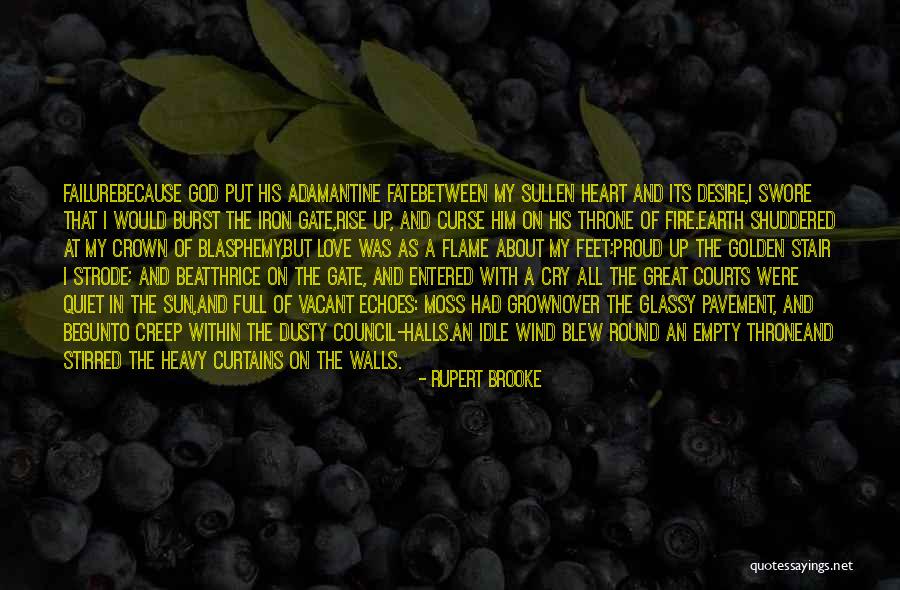 Failure
Because God put His adamantine fate
Between my sullen heart and its desire,
I swore that I would burst the Iron Gate,
Rise up, and curse Him on His throne of fire.
Earth shuddered at my crown of blasphemy,
But Love was as a flame about my feet;
Proud up the Golden Stair I strode; and beat
Thrice on the Gate, and entered with a cry
All the great courts were quiet in the sun,
And full of vacant echoes: moss had grown
Over the glassy pavement, and begun
To creep within the dusty council-halls.
An idle wind blew round an empty throne
And stirred the heavy curtains on the walls. — Rupert Brooke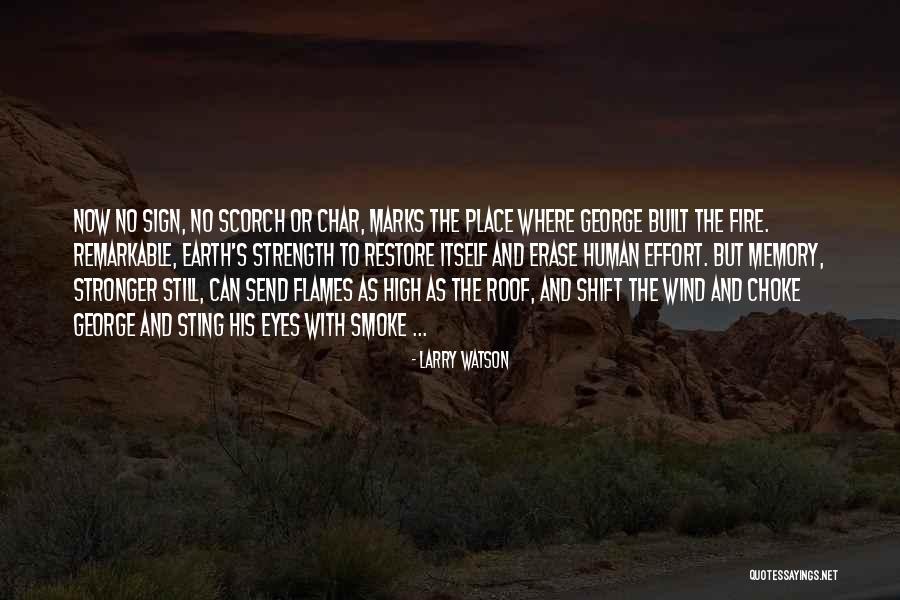 Now no sign, no scorch or char, marks the place where George built the fire. Remarkable, earth's strength to restore itself and erase human effort. But memory, stronger still, can send flames as high as the roof, and shift the wind and choke George and sting his eyes with smoke ... — Larry Watson