Dream It Live It Love It Quotes & Sayings
Enjoy reading and share 57 famous quotes about Dream It Live It Love It with everyone.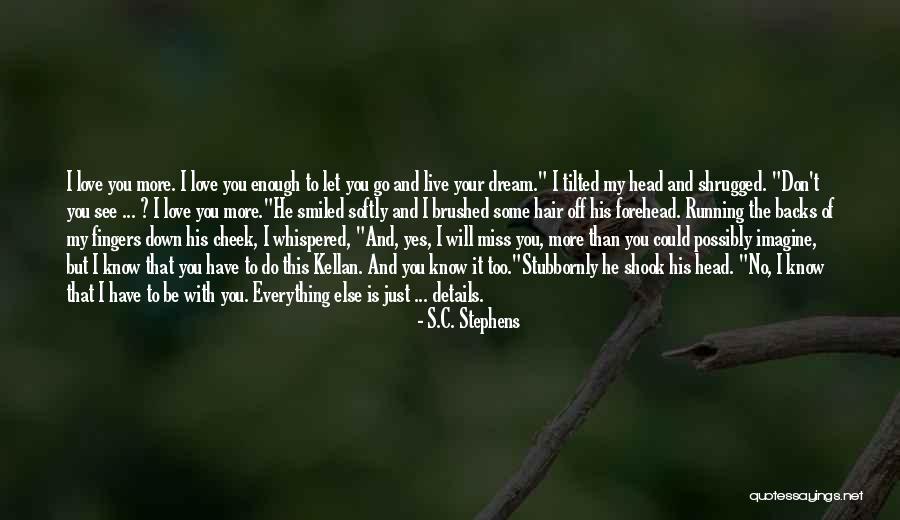 I love you more. I love you enough to let you go and live your dream." I tilted my head and shrugged. "Don't you see ... ? I love you more."
He smiled softly and I brushed some hair off his forehead. Running the backs of my fingers down his cheek, I whispered, "And, yes, I will miss you, more than you could possibly imagine, but I know that you have to do this Kellan. And you know it too."
Stubbornly he shook his head. "No, I know that I have to be with you. Everything else is just ... details. — S.C. Stephens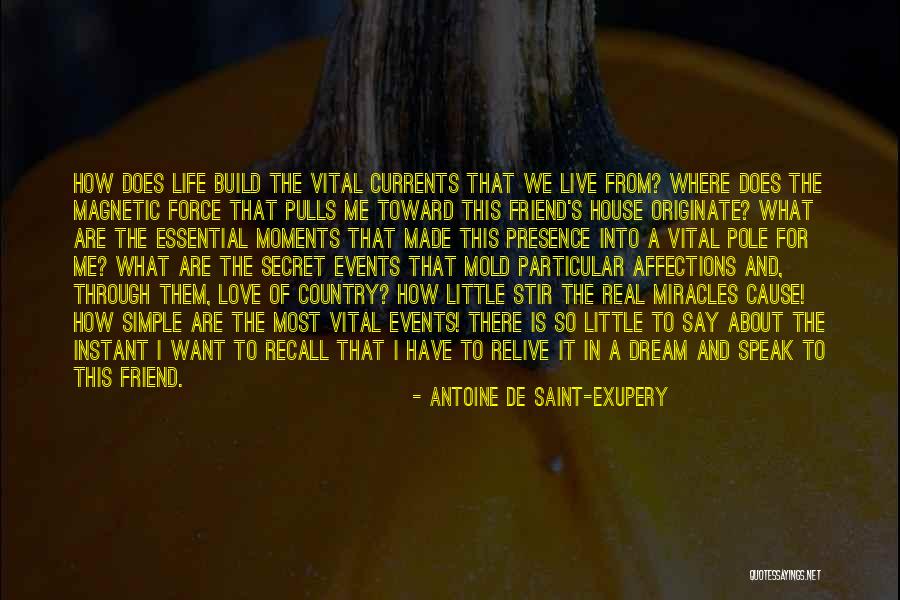 How does life build the vital currents that we live from? Where does the magnetic force that pulls me toward this friend's house originate? What are the essential moments that made this presence into a vital pole for me? What are the secret events that mold particular affections and, through them, love of country? How little stir the real miracles cause! How simple are the most vital events! There is so little to say about the instant I want to recall that I have to relive it in a dream and speak to this friend. — Antoine De Saint-Exupery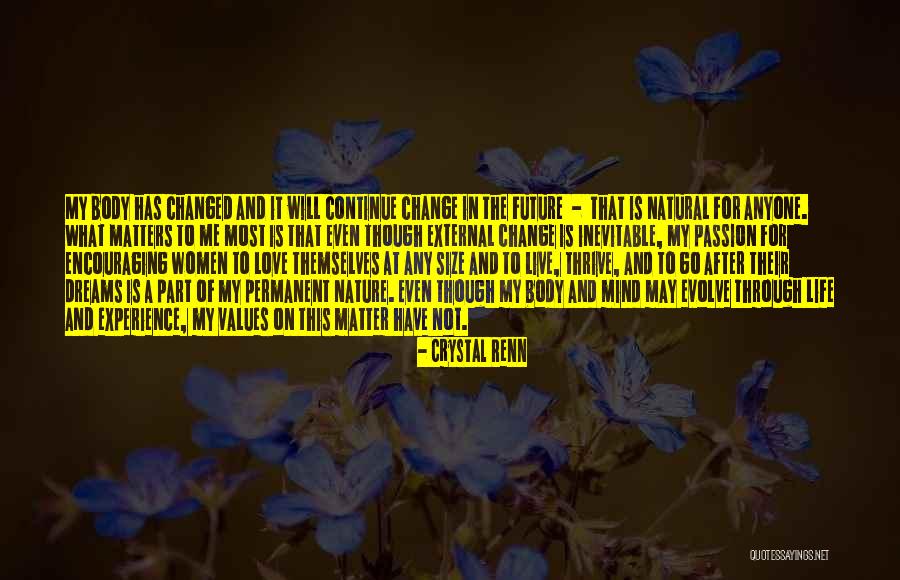 My body has changed and it will continue change in the future - that is natural for anyone. What matters to me most is that even though external change is inevitable, my passion for encouraging women to love themselves at any size and to live, thrive, and to go after their dreams is a part of my permanent nature. Even though my body and mind may evolve through life and experience, my values on this matter have not. — Crystal Renn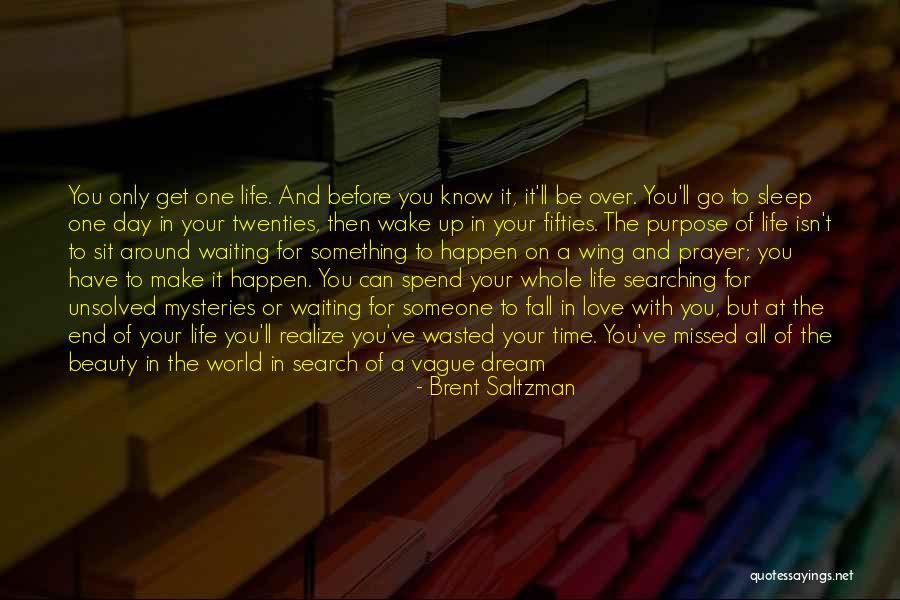 You only get one life. And before you know it, it'll be over. You'll go to sleep one day in your twenties, then wake up in your fifties. The purpose of life isn't to sit around waiting for something to happen on a wing and prayer; you have to make it happen. You can spend your whole life searching for unsolved mysteries or waiting for someone to fall in love with you, but at the end of your life you'll realize you've wasted your time. You've missed all of the beauty in the world in search of a vague dream or an answer to a question that has none. The purpose of life isn't to wait for things to fall into your lap. The purpose of life is to live. — Brent Saltzman
But human beings must suffer, and must make suffering for themselves, and beat themselves up into spiritual frenzies, and oh death and desolation, and oh night space and horror, and oh keep my dream from me. And how very splendid it is that we can do all this to ourselves and have such a splendid and really ingenious gift for inflicting suffering upon ourselves. For suffering and strain are the gauge of life, and who wishes to live like a vegetable?
But sometimes suffering measures life and ends it. And then it is not good at all. And between two people without knowing it a love may grow up, and a link may form, and no one knows or guesses. — Stevie Smith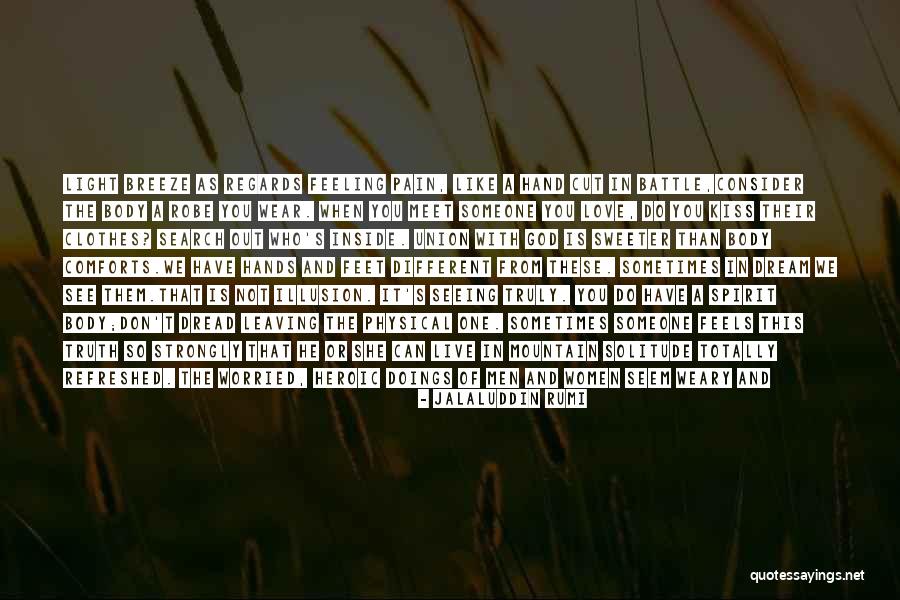 Light Breeze

As regards feeling pain,
like a hand cut in battle,
consider the body a robe you wear.


When you meet someone you love,
do you kiss their clothes?
Search out who's inside.


Union with God is sweeter
than body comforts.

We have hands and feet
different from these.
Sometimes in dream we see them.
That is not illusion.
It's seeing truly.
You do have a spirit body;

don't dread leaving the physical one. Sometimes someone feels this truth so strongly that he or she can live in mountain solitude totally refreshed.


The worried, heroic doings of men and women seem weary and futile to dervishes enjoying the light breeze of spirit. — Jalaluddin Rumi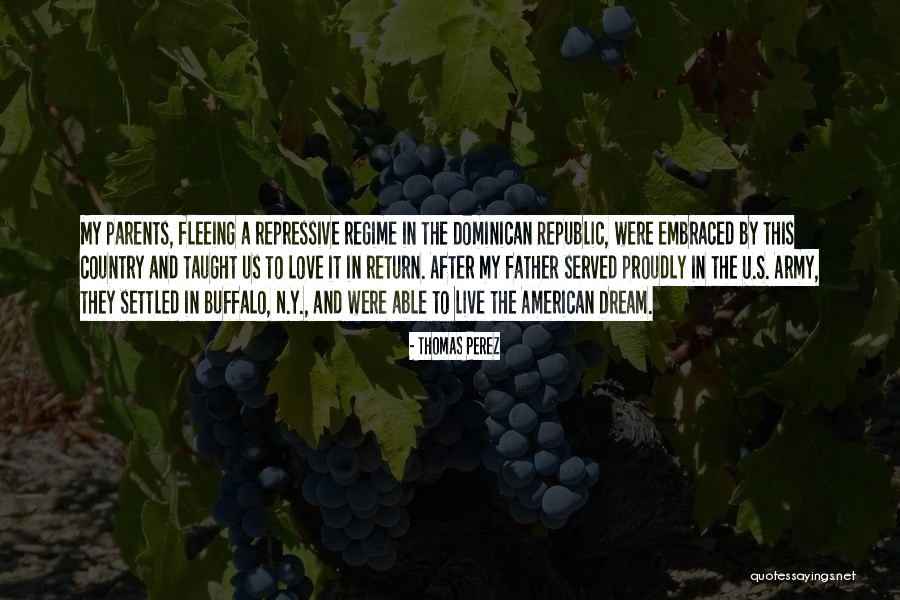 My parents, fleeing a repressive regime in the Dominican Republic, were embraced by this country and taught us to love it in return. After my father served proudly in the U.S. Army, they settled in Buffalo, N.Y., and were able to live the American Dream. — Thomas Perez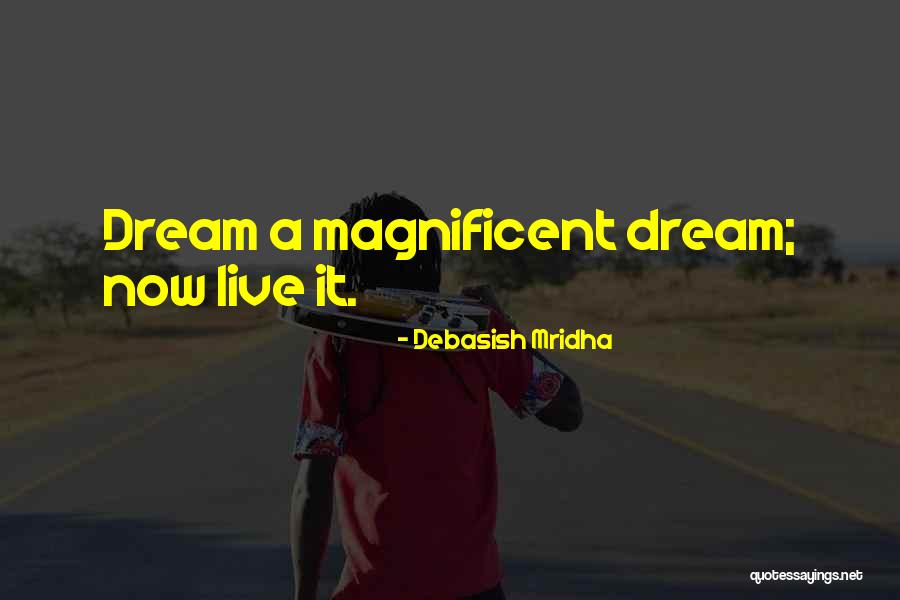 Dream a magnificent dream; now live it. — Debasish Mridha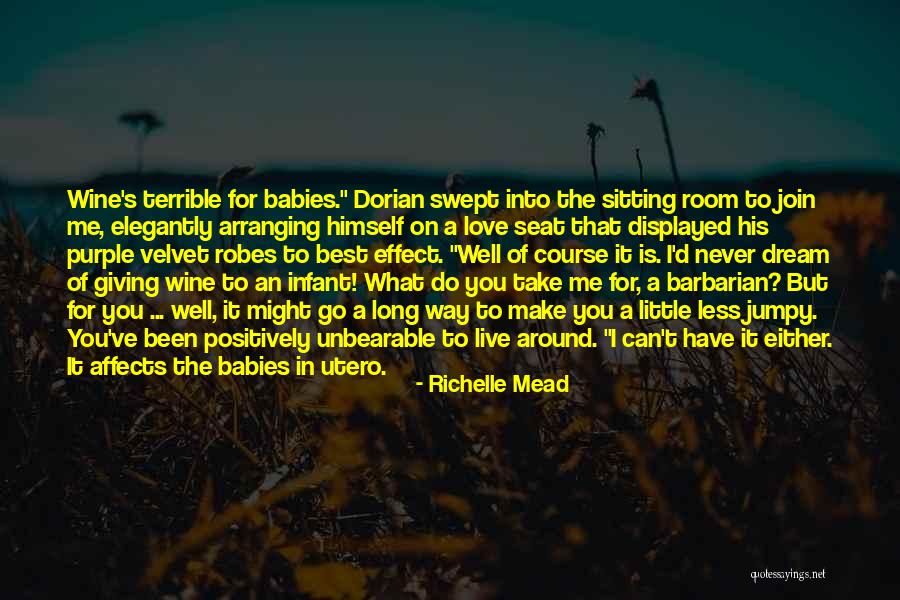 Wine's terrible for babies." Dorian swept into the sitting room to join me, elegantly arranging himself on a love seat that displayed his purple velvet robes to best effect.
"Well of course it is. I'd never dream of giving wine to an infant! What do you take me for, a barbarian? But for you ... well, it might go a long way to make you a little less jumpy. You've been positively unbearable to live around.
"I can't have it either. It affects the babies in utero. — Richelle Mead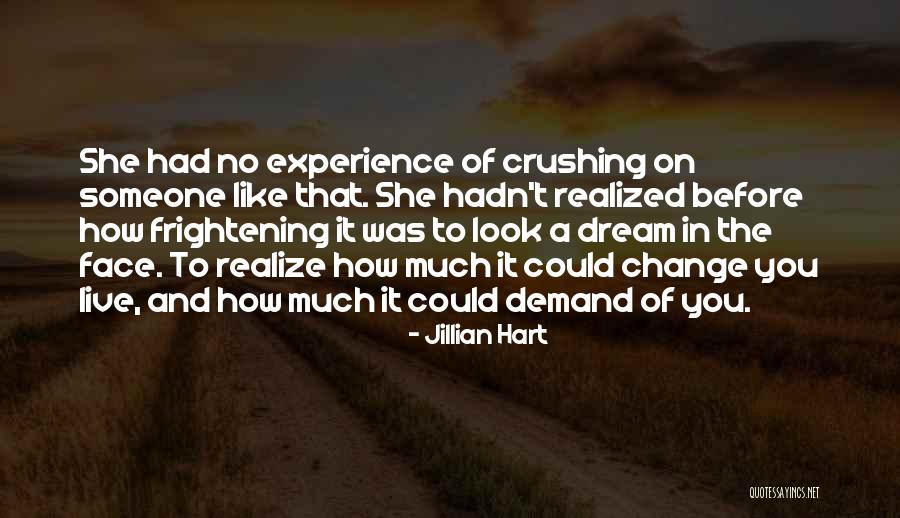 She had no experience of crushing on someone like that. She hadn't realized before how frightening it was to look a dream in the face. To realize how much it could change you live, and how much it could demand of you. — Jillian Hart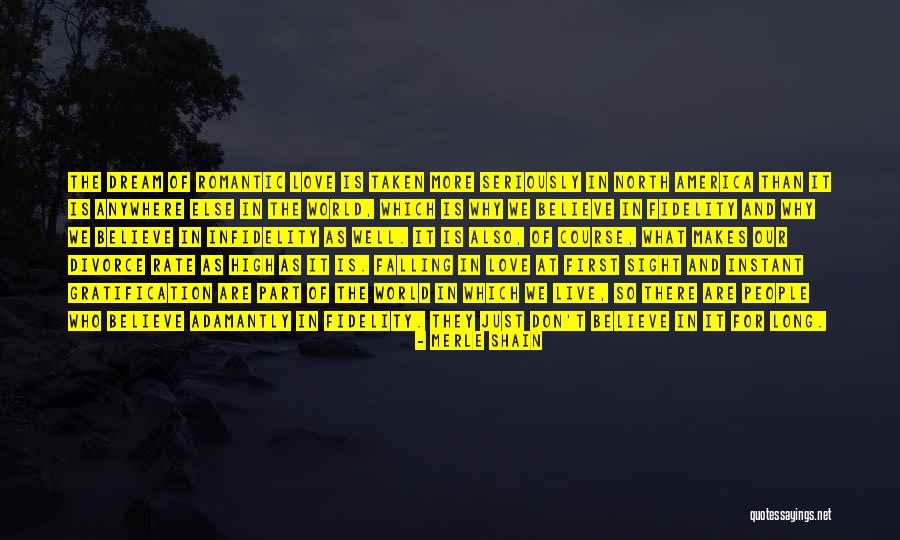 The dream of romantic love is taken more seriously in North America than it is anywhere else in the world, which is why we believe in fidelity and why we believe in infidelity as well. It is also, of course, what makes our divorce rate as high as it is. Falling in love at first sight and instant gratification are part of the world in which we live, so there are people who believe adamantly in fidelity. They just don't believe in it for long. — Merle Shain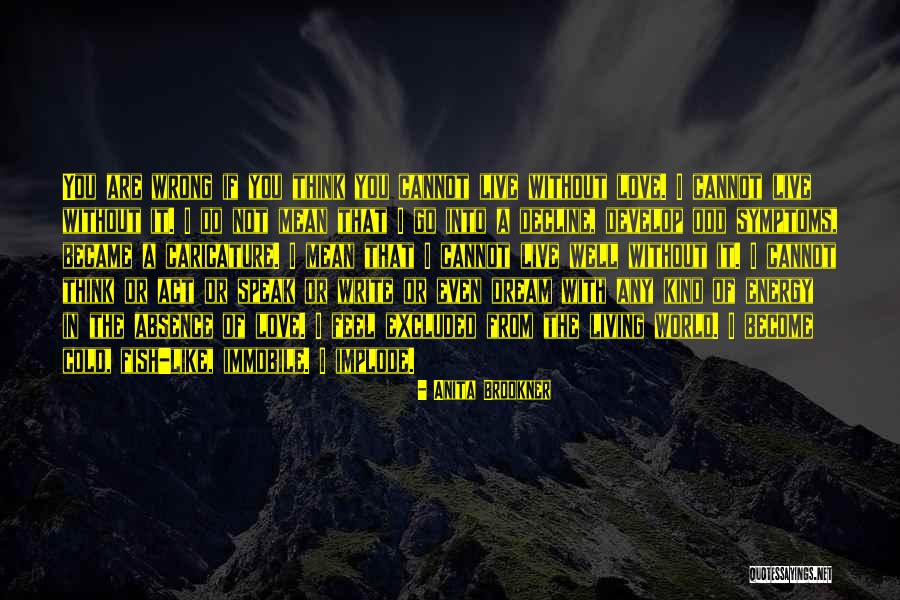 You are wrong if you think you cannot live without love. I cannot live without it. I do not mean that I go into a decline, develop odd symptoms, became a caricature. I mean that I cannot live well without it. I cannot think or act or speak or write or even dream with any kind of energy in the absence of love. I feel excluded from the living world. I become cold, fish-like, immobile. I implode. — Anita Brookner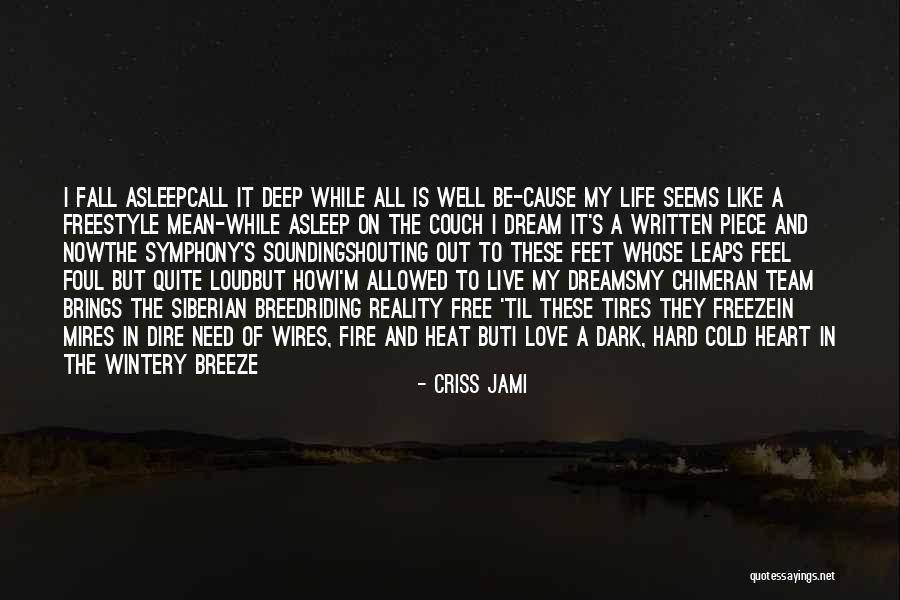 I fall asleep
Call it deep while all is well be-
Cause my life seems like a freestyle mean-
While asleep on the couch I dream it's a written piece and now
The symphony's sounding
Shouting out to these feet whose leaps feel foul but quite loud
But how
I'm allowed to live my dreams
My Chimeran team brings the Siberian breed
Riding reality free 'til these tires they freeze
In mires in dire need of wires, fire and heat but
I love a dark, hard cold heart in the wintery breeze — Criss Jami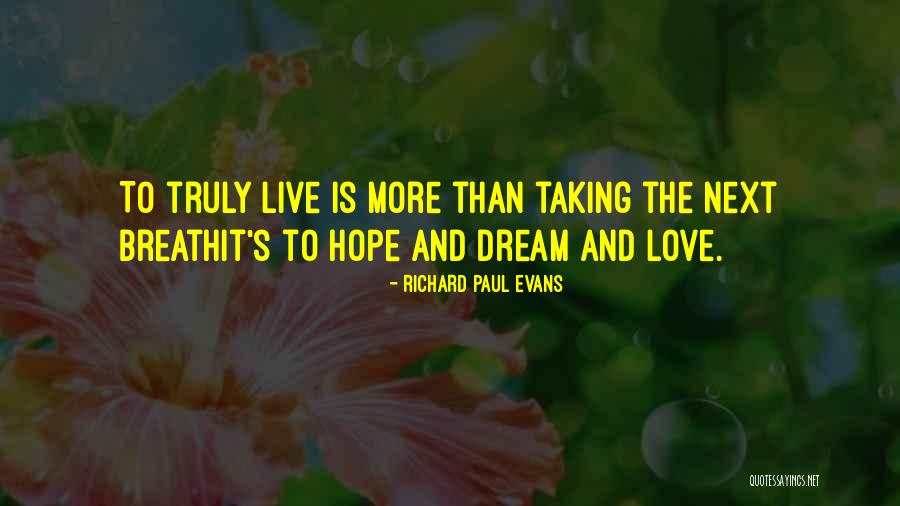 To truly live is more than taking the next breath
it's to hope and dream and love. — Richard Paul Evans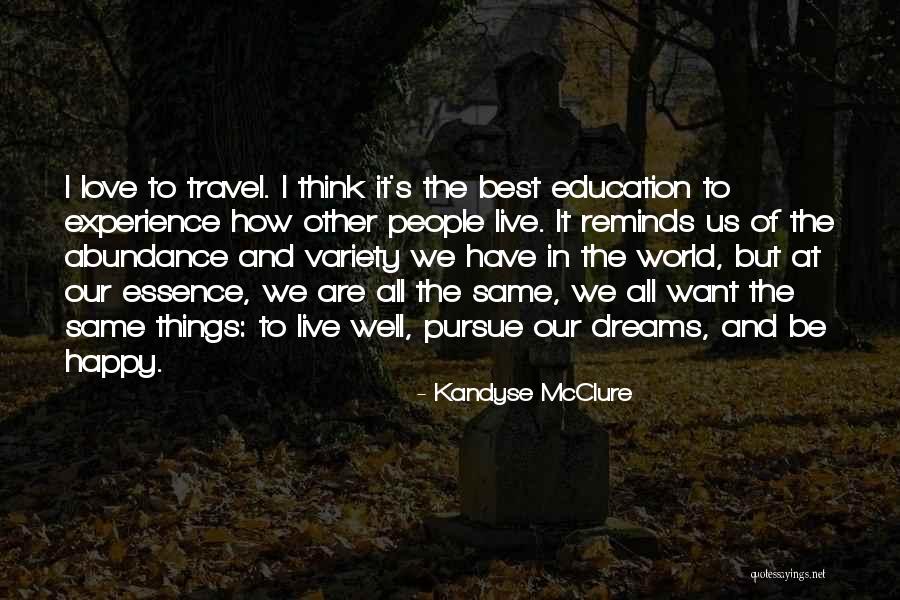 I love to travel. I think it's the best education to experience how other people live. It reminds us of the abundance and variety we have in the world, but at our essence, we are all the same, we all want the same things: to live well, pursue our dreams, and be happy. — Kandyse McClure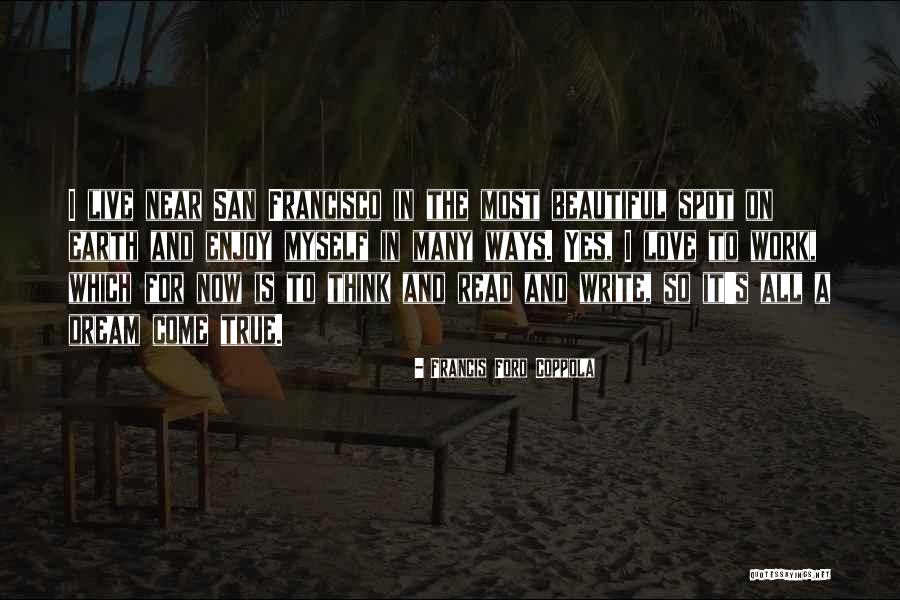 I live near San Francisco in the most beautiful spot on earth and enjoy myself in many ways. Yes, I love to work, which for now is to think and read and write, so it's all a dream come true. — Francis Ford Coppola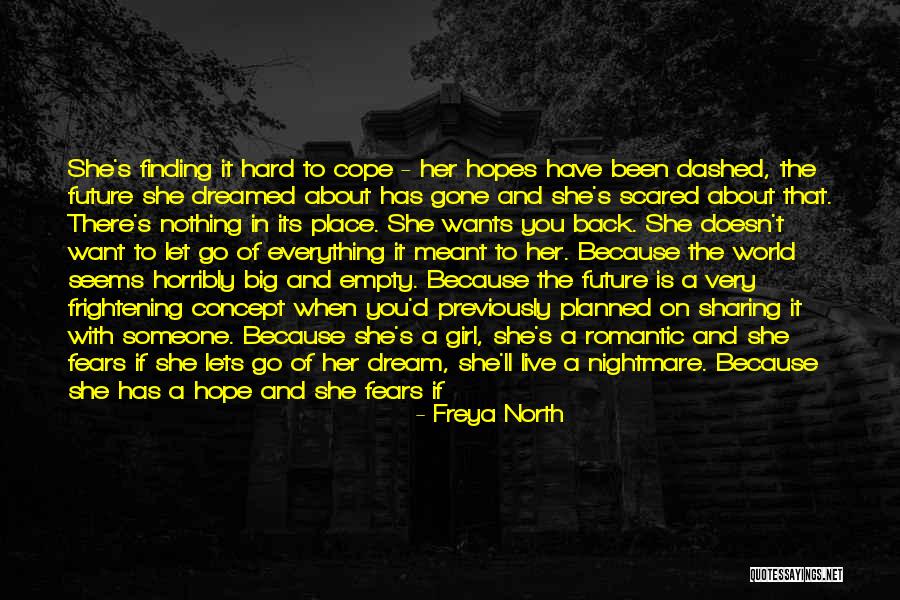 She's finding it hard to cope - her hopes have been dashed, the future she dreamed about has gone and she's scared about that. There's nothing in its place. She wants you back. She doesn't want to let go of everything it meant to her.
Because the world seems horribly big and empty. Because the future is a very frightening concept when you'd previously planned on sharing it with someone. Because she's a girl, she's a romantic and she fears if she lets go of her dream, she'll live a nightmare. Because she has a hope and she fears if she lets her hope go, who will she be?
The effort, the pain of clinging on is preferable to the wide-open fear of letting go. — Freya North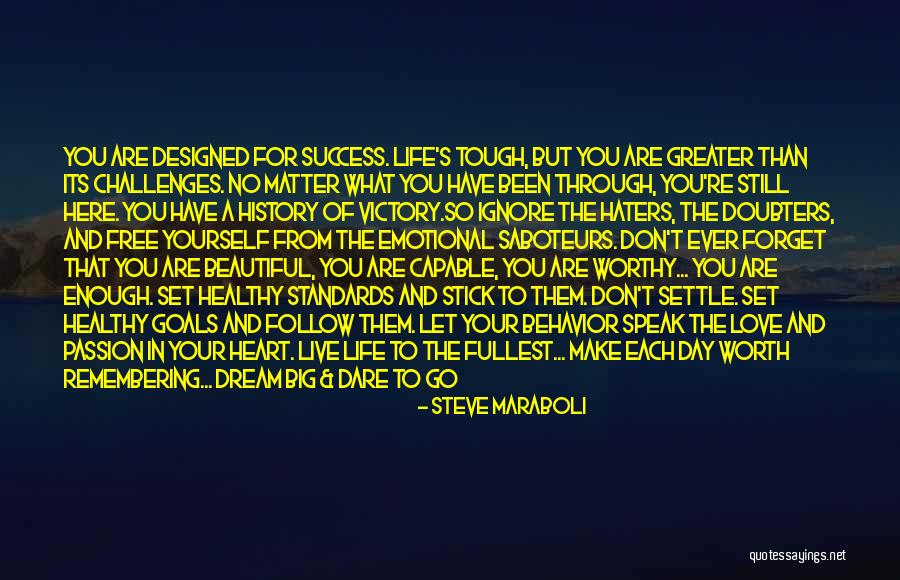 You are designed for success. Life's tough, but you are greater than its challenges. No matter what you have been through, you're still here. You have a history of victory.

So ignore the haters, the doubters, and free yourself from the emotional saboteurs. Don't ever forget that you are beautiful, you are capable, you are worthy... you are enough.

Set healthy standards and stick to them. Don't settle. Set healthy goals and follow them. Let your behavior speak the love and passion in your heart. Live life to the fullest... make each day worth remembering... Dream BIG & dare to go for it... Be unapologetically you! — Steve Maraboli
Love requires peace, love will dream; it cannot live upon the remnants of our time and our personality. — Ellen Key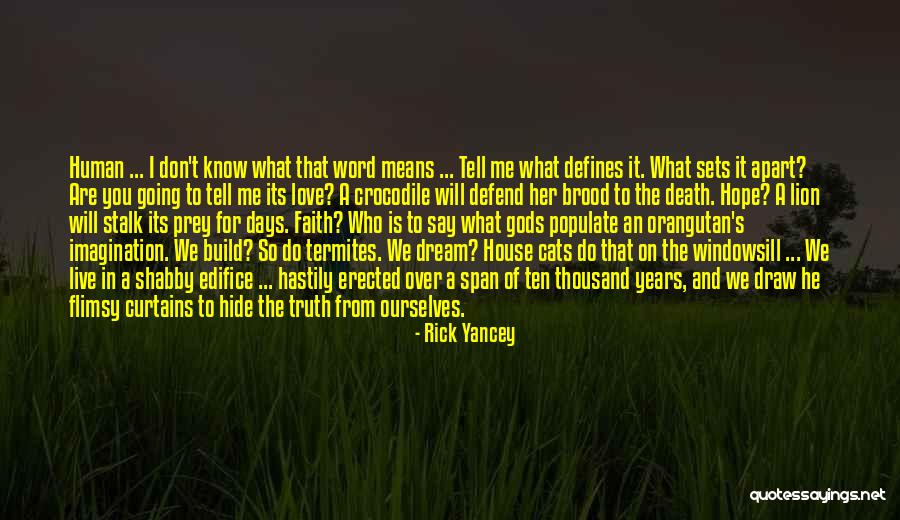 Human ... I don't know what that word means ... Tell me what defines it. What sets it apart? Are you going to tell me its love? A crocodile will defend her brood to the death. Hope? A lion will stalk its prey for days. Faith? Who is to say what gods populate an orangutan's imagination. We build? So do termites. We dream? House cats do that on the windowsill ... We live in a shabby edifice ... hastily erected over a span of ten thousand years, and we draw he flimsy curtains to hide the truth from ourselves. — Rick Yancey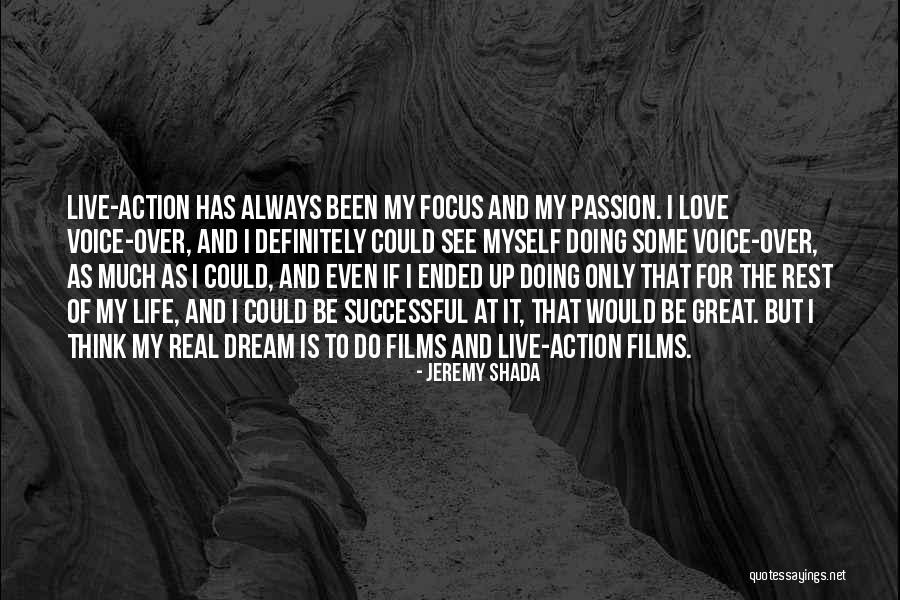 Live-action has always been my focus and my passion. I love voice-over, and I definitely could see myself doing some voice-over, as much as I could, and even if I ended up doing only that for the rest of my life, and I could be successful at it, that would be great. But I think my real dream is to do films and live-action films. — Jeremy Shada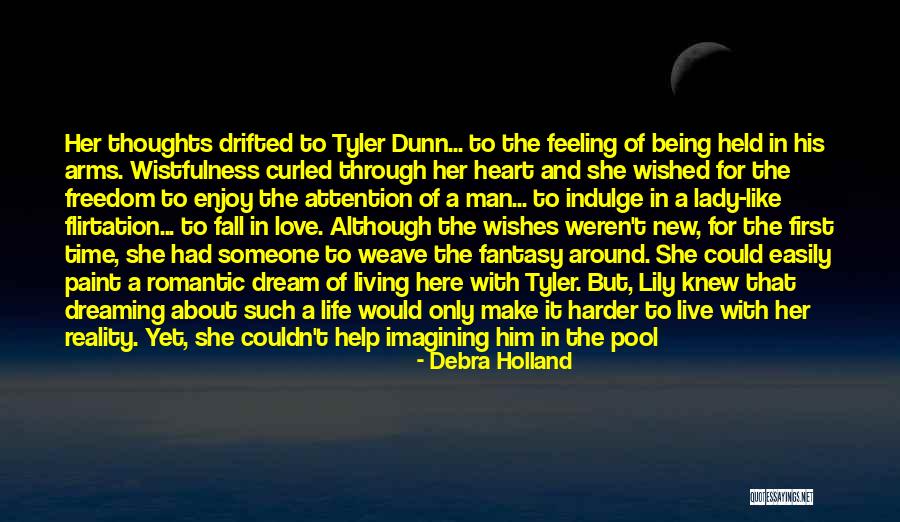 Her thoughts drifted to Tyler Dunn... to the feeling of being held in his arms. Wistfulness curled through her heart and she wished for the freedom to enjoy the attention of a man... to indulge in a lady-like flirtation... to fall in love. Although the wishes weren't new, for the first time, she had someone to weave the fantasy around. She could easily paint a romantic dream of living here with Tyler. But, Lily knew that dreaming about such a life would only make it harder to live with her reality. Yet, she couldn't help imagining him in the pool like this, naked as a newborn babe, yet all man. — Debra Holland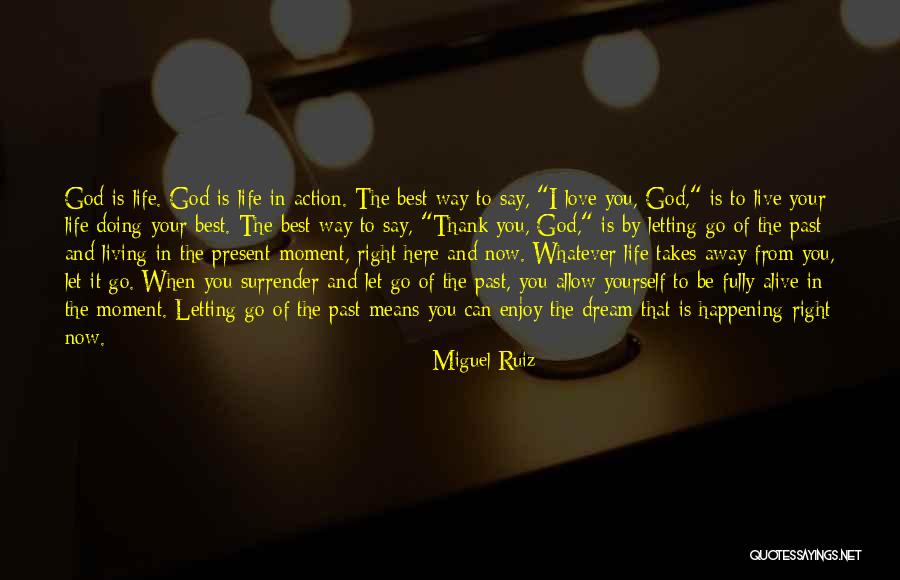 God is life. God is life in action. The best way to say, "I love you, God," is to live your life doing your best. The best way to say, "Thank you, God," is by letting go of the past and living in the present moment, right here and now. Whatever life takes away from you, let it go. When you surrender and let go of the past, you allow yourself to be fully alive in the moment. Letting go of the past means you can enjoy the dream that is happening right now. — Miguel Ruiz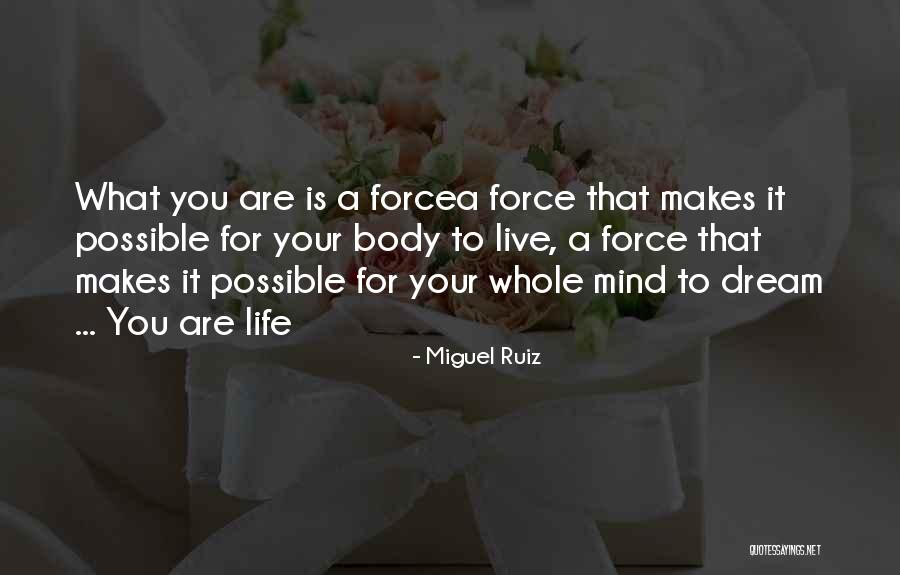 What you are is a force
a force that makes it possible for your body to live, a force that makes it possible for your whole mind to dream ... You are life — Miguel Ruiz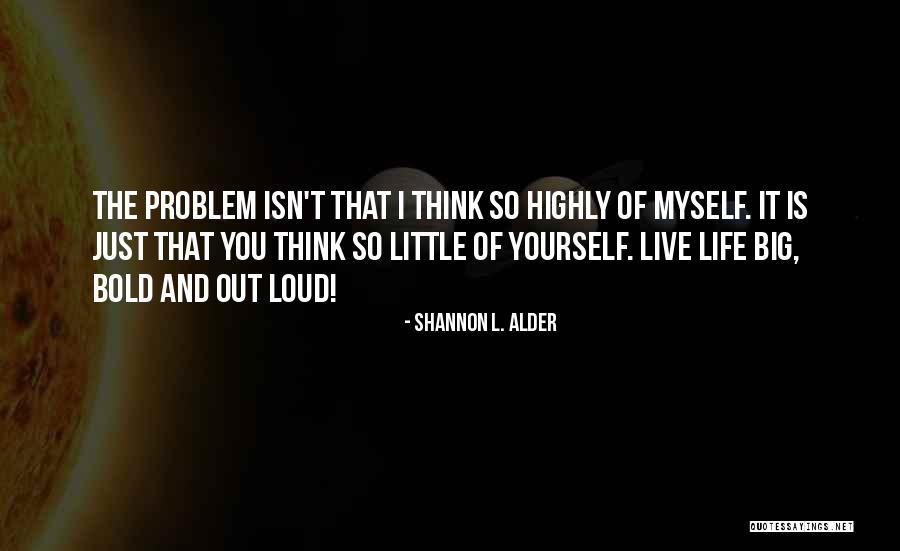 The problem isn't that I think so highly of myself. It is just that you think so little of yourself. Live life BIG, BOLD and OUT LOUD! — Shannon L. Alder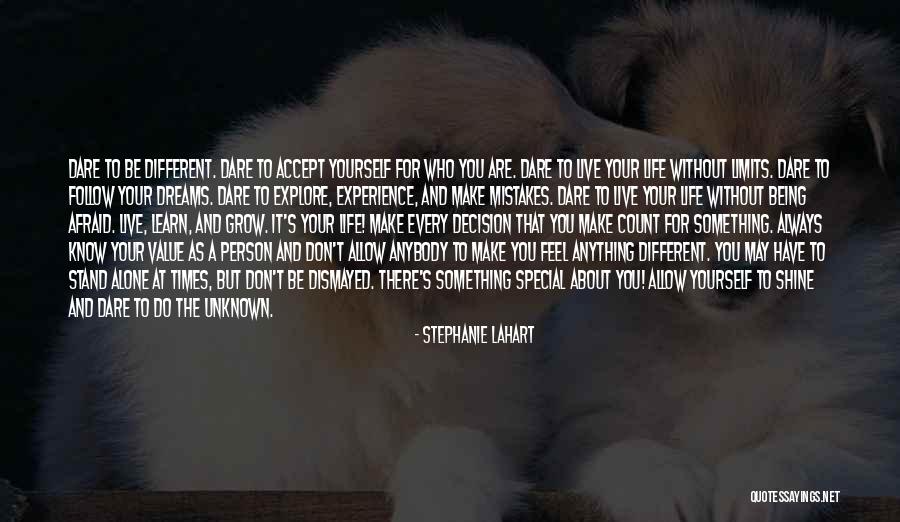 Dare to be different. Dare to accept yourself for who YOU are. Dare to live your life without limits. Dare to follow YOUR dreams. Dare to explore, experience, and make mistakes. Dare to live your life without being afraid. Live, learn, and grow. It's your life! Make every decision that you make count for something. Always know your value as a person and don't allow anybody to make you feel anything different. You may have to stand alone at times, but don't be dismayed. There's something special about you! Allow yourself to shine and dare to do the unknown. — Stephanie Lahart
Traveling around is what I Like to Do. Me And my boy Arab we live on the road. Doing shows is what I love to do. I put my heart and soul on the track and I Love the response I get. Performing wit UNK? Mane daz a dream come true. He's one of my favorite artist and Inspirations. So when they said Soulja Boy you got a show wit UNK man. Im like Walk It Out UNK? LETS GO! — Soulja Boy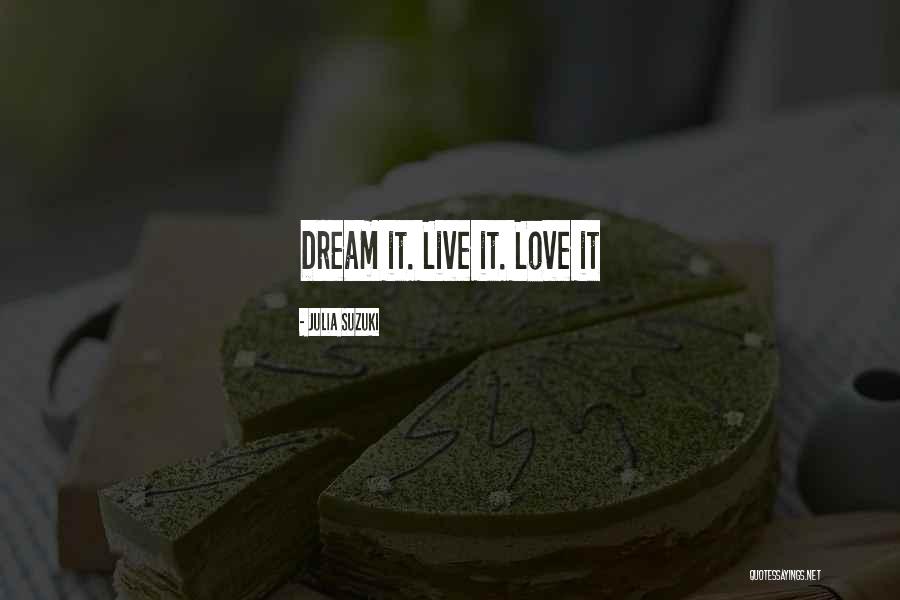 Dream it. Live it. Love it — Julia Suzuki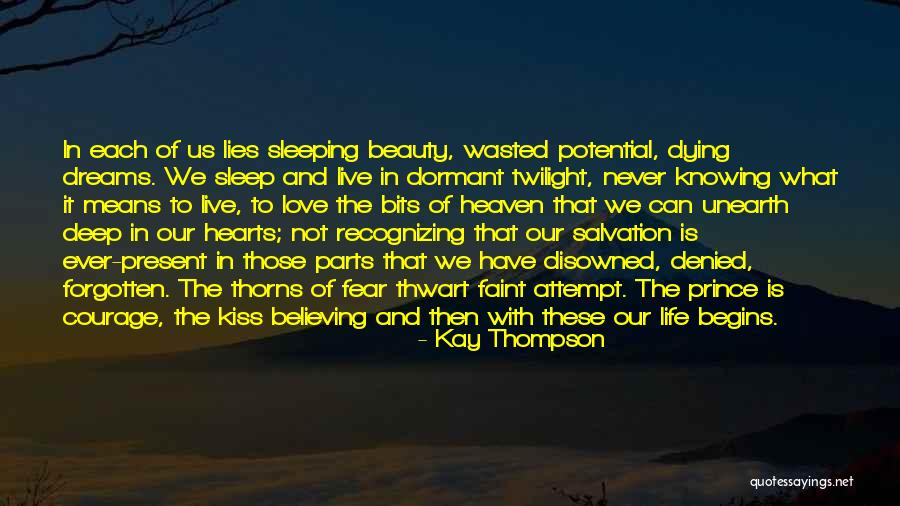 In each of us lies sleeping beauty, wasted potential, dying dreams. We sleep and live in dormant twilight, never knowing what it means to live, to love the bits of heaven that we can unearth deep in our hearts; not recognizing that our salvation is ever-present in those parts that we have disowned, denied, forgotten. The thorns of fear thwart faint attempt. The prince is courage, the kiss believing and then with these our life begins. — Kay Thompson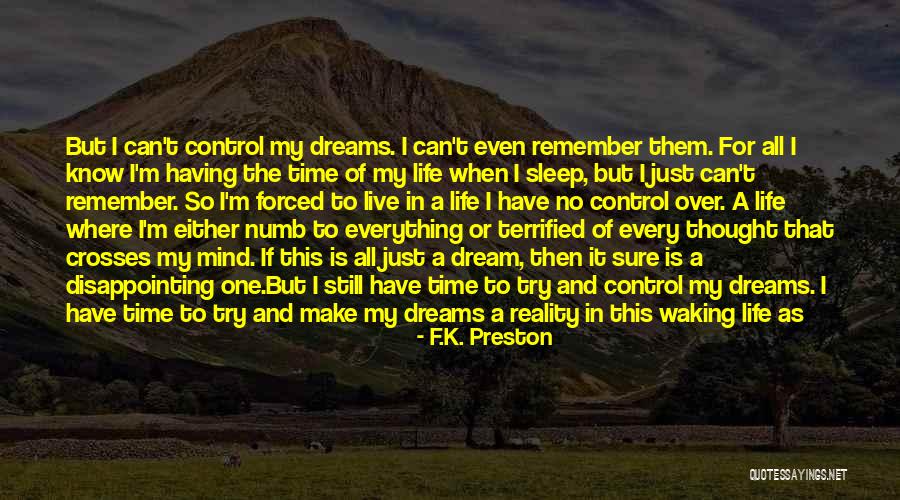 But I can't control my dreams. I can't even remember them. For all I know I'm having the time of my life when I sleep, but I just can't remember. So I'm forced to live in a life I have no control over. A life where I'm either numb to everything or terrified of every thought that crosses my mind. If this is all just a dream, then it sure is a disappointing one.

But I still have time to try and control my dreams. I have time to try and make my dreams a reality in this waking life as well. The one bloody thing I have is time. I've got to remember that. I still have time. And despite everything, there is something reassuring about that. — F.K. Preston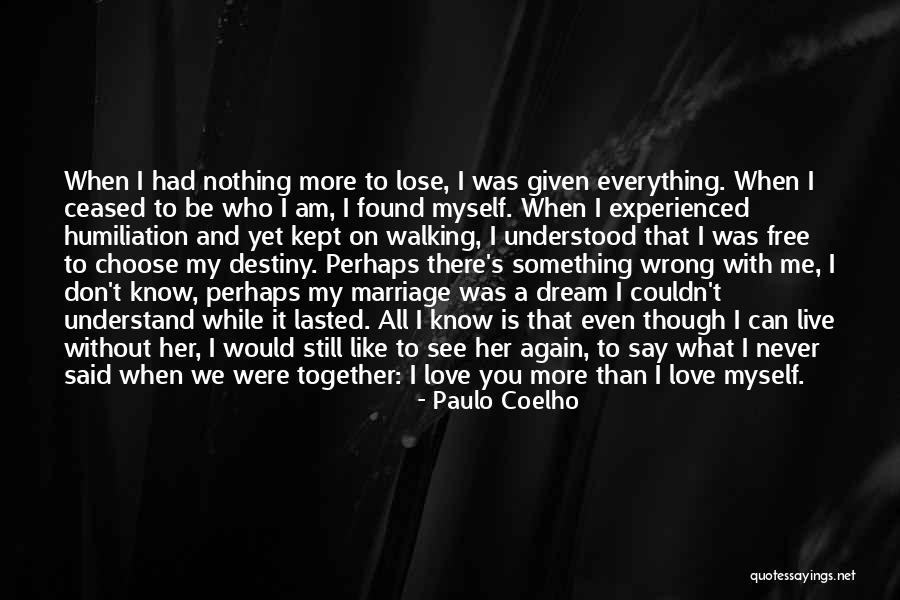 When I had nothing more to lose, I was given everything. When I ceased to be who I am, I found myself. When I experienced humiliation and yet kept on walking, I understood that I was free to choose my destiny. Perhaps there's something wrong with me, I don't know, perhaps my marriage was a dream I couldn't understand while it lasted. All I know is that even though I can live without her, I would still like to see her again, to say what I never said when we were together: I love you more than I love myself. If I could say that, then I could go on living, at peace with myself, because that love has redeemed me. — Paulo Coelho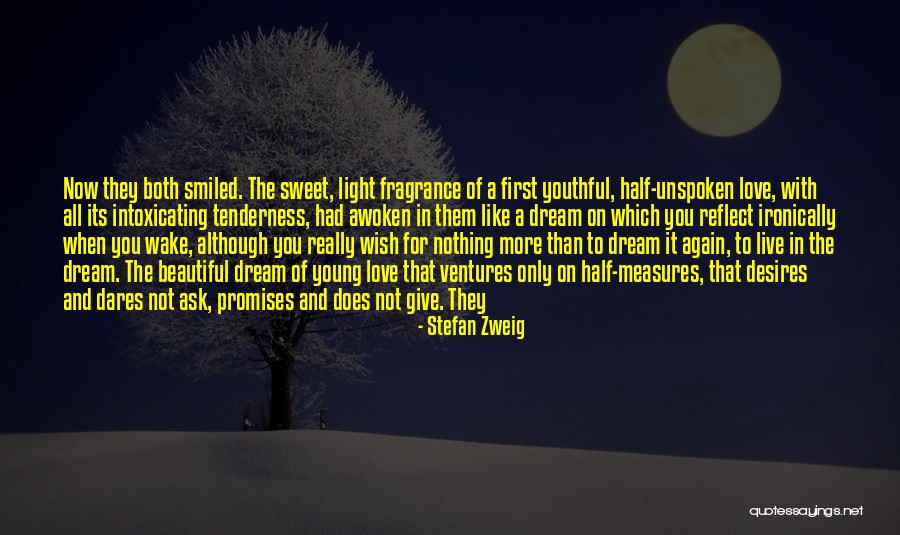 Now they both smiled. The sweet, light fragrance of a first youthful, half-unspoken love, with all its intoxicating tenderness, had awoken in them like a dream on which you reflect ironically when you wake, although you really wish for nothing more than to dream it again, to live in the dream. The beautiful dream of young love that ventures only on half-measures, that desires and dares not ask, promises and does not give. They — Stefan Zweig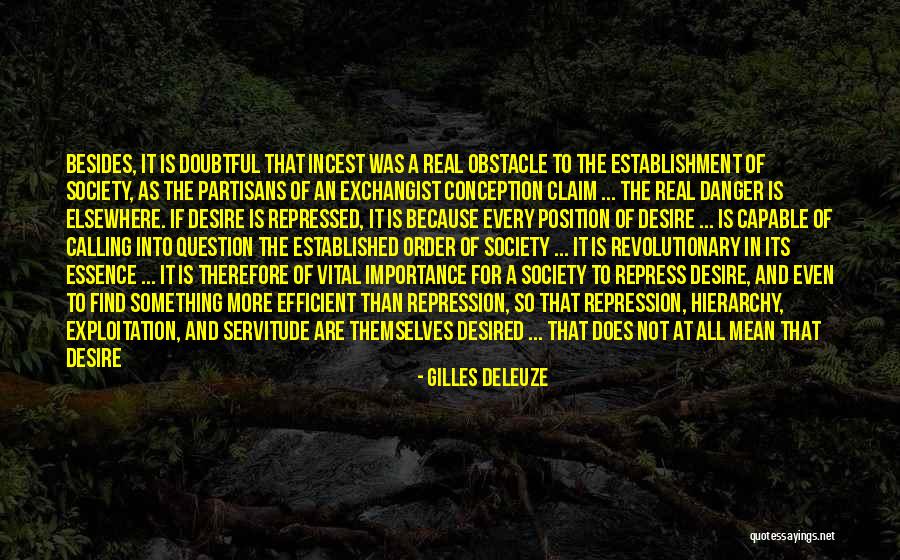 Besides, it is doubtful that incest was a real obstacle to the establishment of society, as the partisans of an exchangist conception claim ... The real danger is elsewhere. If desire is repressed, it is because every position of desire ... is capable of calling into question the established order of society ... it is revolutionary in its essence ... It is therefore of vital importance for a society to repress desire, and even to find something more efficient than repression, so that repression, hierarchy, exploitation, and servitude are themselves desired ... that does not at all mean that desire is something other than sexuality, but that sexuality and love do not live in the bedroom of Oedipus, they dream instead of wide-open spaces, and ... do not let themselves be stocked within an established order. — Gilles Deleuze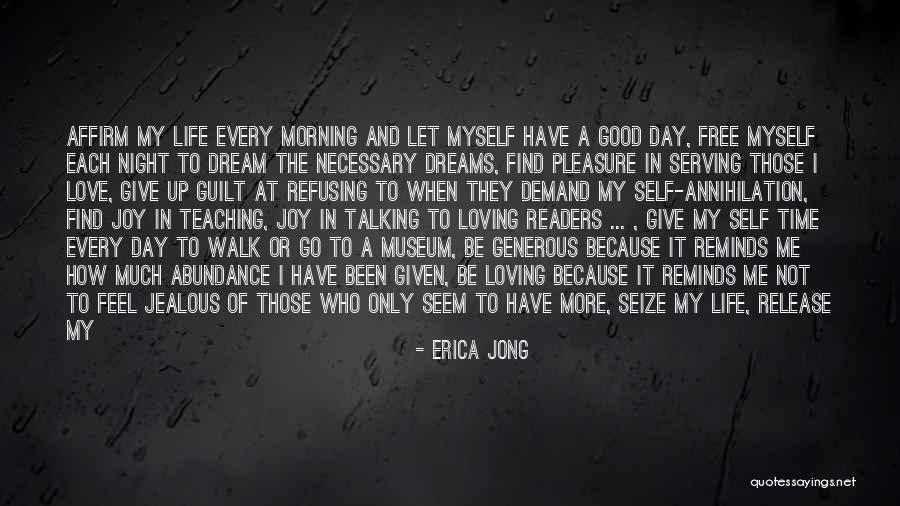 Affirm my life every morning and let myself have a good day, free myself each night to dream the necessary dreams, find pleasure in serving those I love, give up guilt at refusing to when they demand my self-annihilation, find joy in teaching, joy in talking to loving readers ... , give my self time every day to walk or go to a museum, be generous because it reminds me how much abundance I have been given, be loving because it reminds me not to feel jealous of those who only seem to have more, seize my life, release my anger, bless the known and the unknown world ...
If, every day, I dare to remember that I am here on loan, that this house, this hillside, these minutes are all leased to me, not given, I will never despair. Despair is for those who expect to live for ever.
I no longer do. — Erica Jong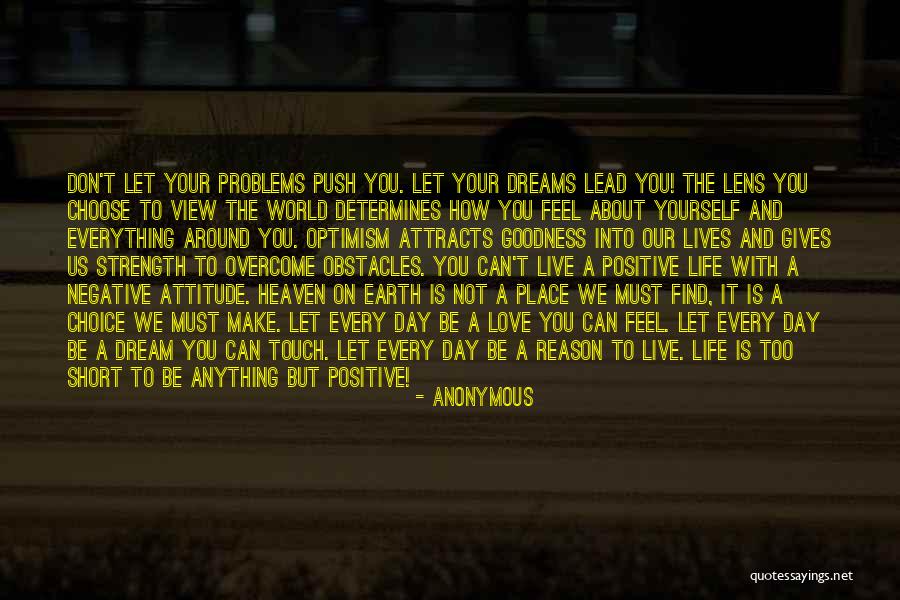 Don't let your problems push you. Let your dreams lead you! The lens you choose to view the world determines how you feel about yourself and everything around you. Optimism attracts goodness into our lives and gives us strength to overcome obstacles. You can't live a positive life with a negative attitude. Heaven on earth is not a place we must find, it is a choice we must make. Let every day be a love you can feel. Let every day be a dream you can touch. Let every day be a reason to live. Life is too short to be anything but positive! — Anonymous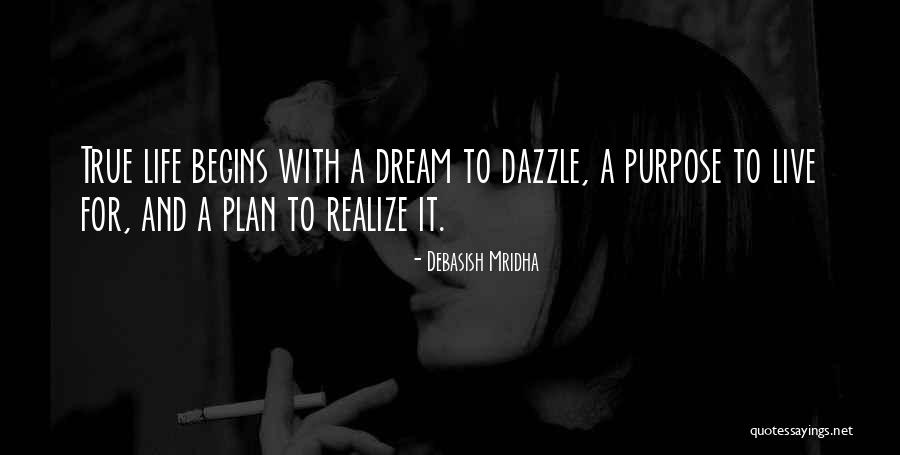 True life begins with a dream to dazzle, a purpose to live for, and a plan to realize it. — Debasish Mridha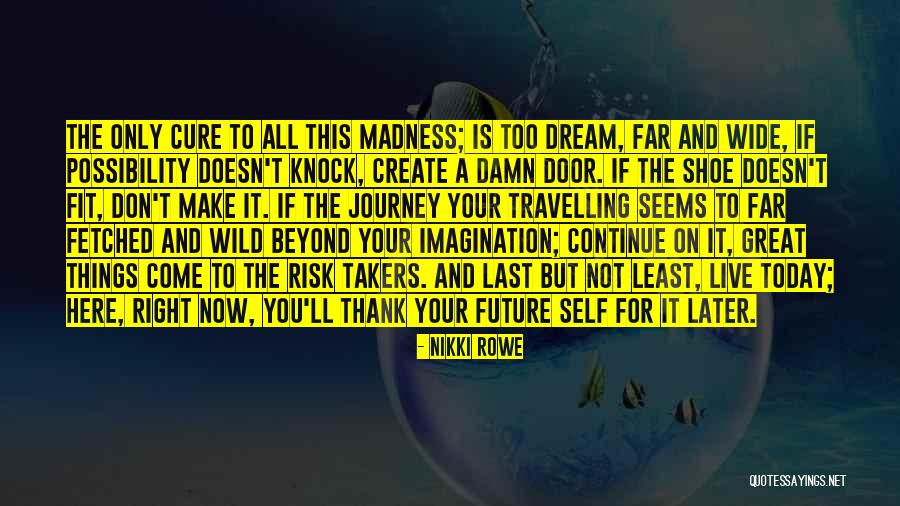 The only cure to all this madness; is too dream, far and wide, if possibility doesn't knock, create a damn door. If the shoe doesn't fit, don't make it. If the journey your travelling seems to far fetched and wild beyond your imagination; continue on it, great things come to the risk takers. And last but not least, live today; here, right now, you'll thank your future self for it later. — Nikki Rowe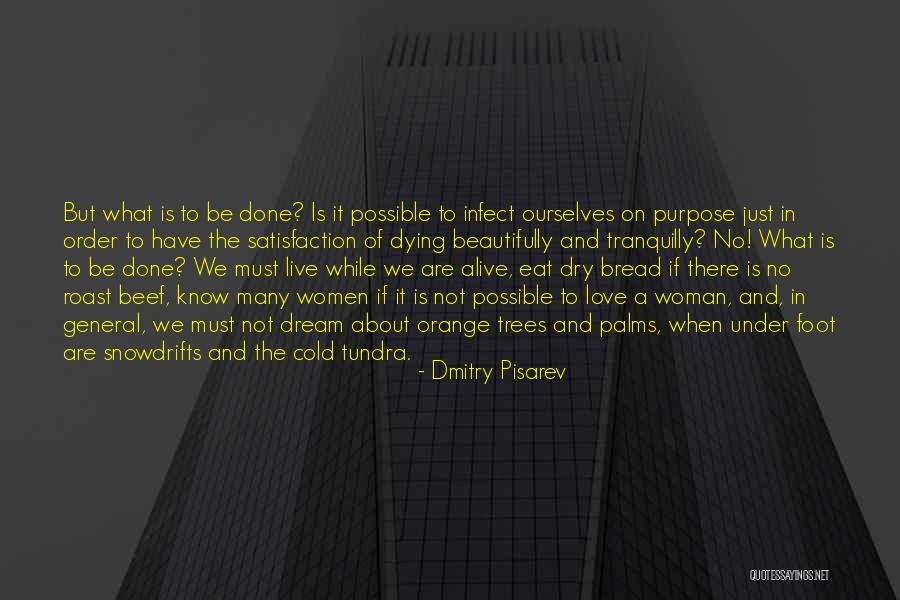 But what is to be done? Is it possible to infect ourselves on purpose just in order to have the satisfaction of dying beautifully and tranquilly? No! What is to be done? We must live while we are alive, eat dry bread if there is no roast beef, know many women if it is not possible to love a woman, and, in general, we must not dream about orange trees and palms, when under foot are snowdrifts and the cold tundra. — Dmitry Pisarev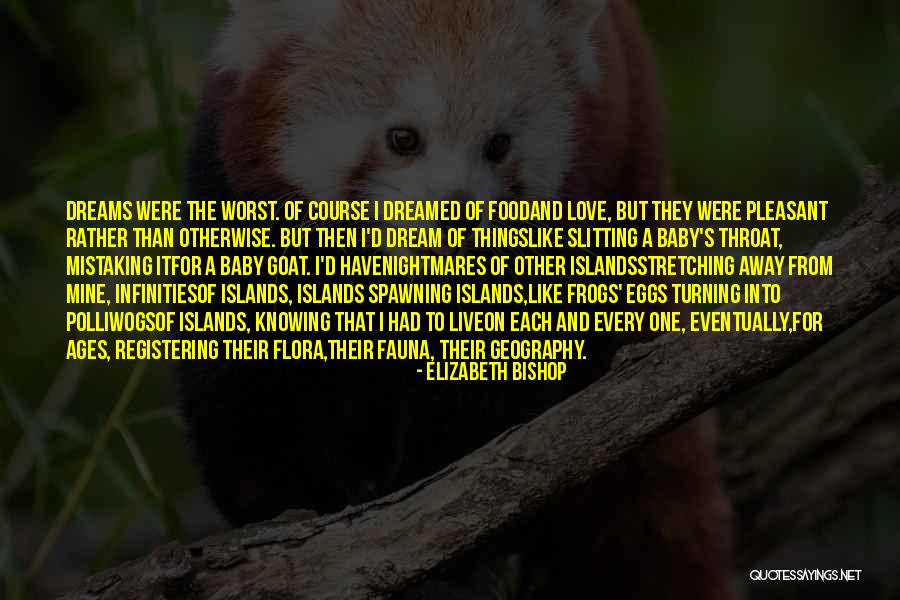 Dreams were the worst. Of course I dreamed of food
and love, but they were pleasant rather
than otherwise. But then I'd dream of things
like slitting a baby's throat, mistaking it
for a baby goat. I'd have
nightmares of other islands
stretching away from mine, infinities
of islands, islands spawning islands,
like frogs' eggs turning into polliwogs
of islands, knowing that I had to live
on each and every one, eventually,
for ages, registering their flora,
their fauna, their geography. — Elizabeth Bishop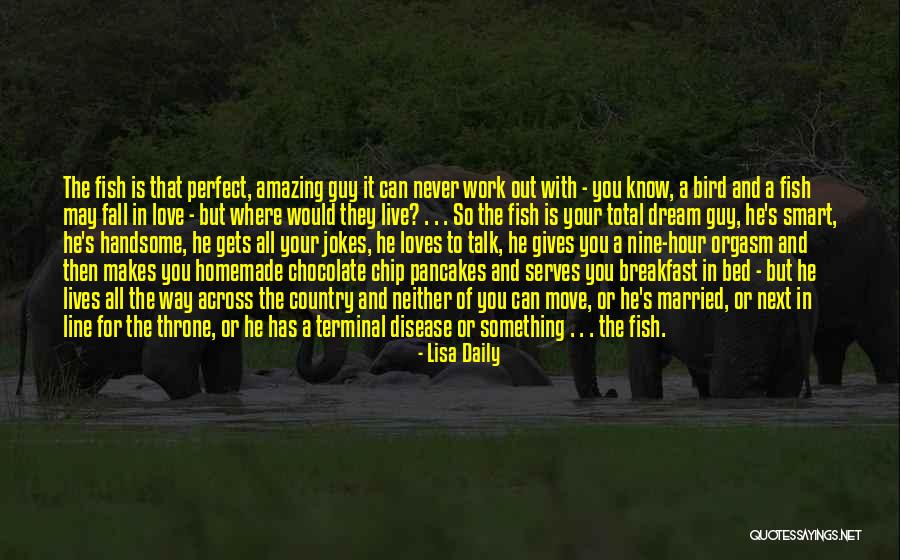 The fish is that perfect, amazing guy it can never work out with - you know, a bird and a fish may fall in love - but where would they live? . . . So the fish is your total dream guy, he's smart, he's handsome, he gets all your jokes, he loves to talk, he gives you a nine-hour orgasm and then makes you homemade chocolate chip pancakes and serves you breakfast in bed - but he lives all the way across the country and neither of you can move, or he's married, or next in line for the throne, or he has a terminal disease or something . . . the fish. — Lisa Daily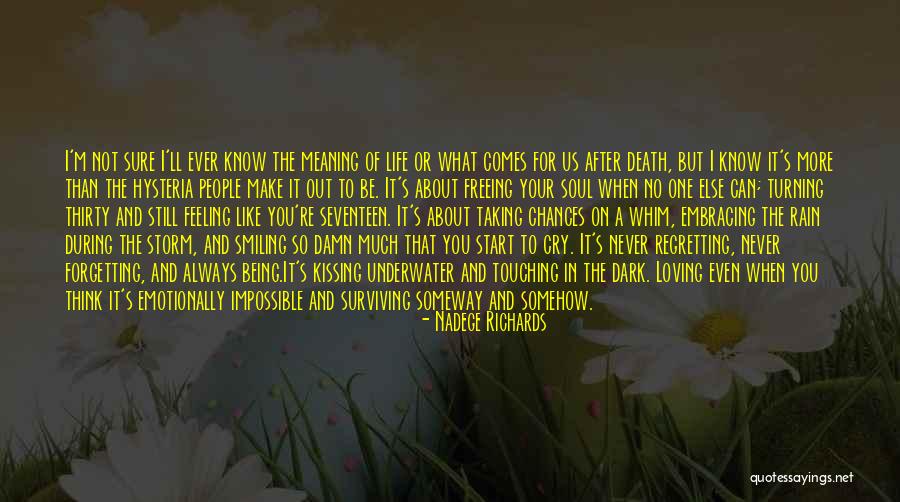 I'm not sure I'll ever know the meaning of life or what comes for us after death, but I know it's more than the hysteria people make it out to be. It's about freeing your soul when no one else can; turning thirty and still feeling like you're seventeen. It's about taking chances on a whim, embracing the rain during the storm, and smiling so damn much that you start to cry. It's never regretting, never forgetting, and always being.
It's kissing underwater and touching in the dark. Loving even when you think it's emotionally impossible and surviving someway and somehow.
It's about living life with a full heart and an overflowing glass.
I live life on the edge. I dream, I care, and I belong.
I know there's a here and now.
I know that I want it. — Nadege Richards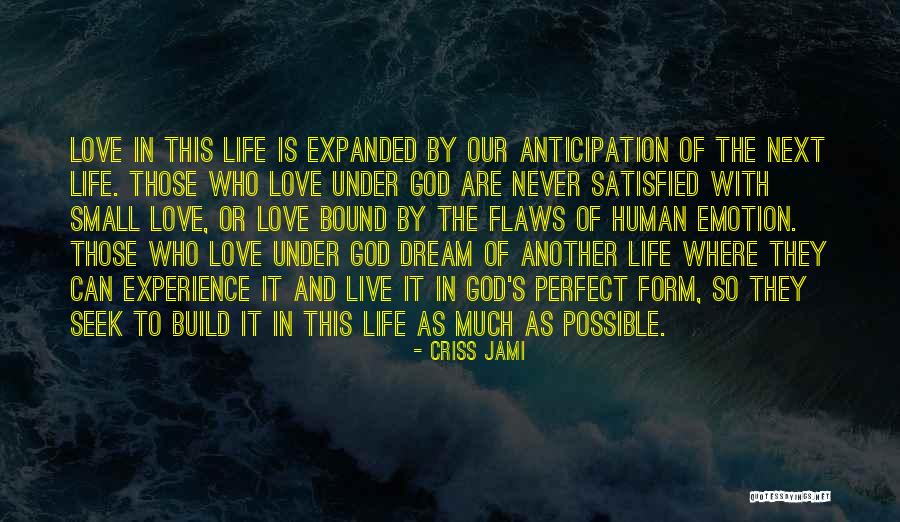 Love in this life is expanded by our anticipation of the next life. Those who love under God are never satisfied with small love, or love bound by the flaws of human emotion. Those who love under God dream of another life where they can experience it and live it in God's perfect form, so they seek to build it in this life as much as possible. — Criss Jami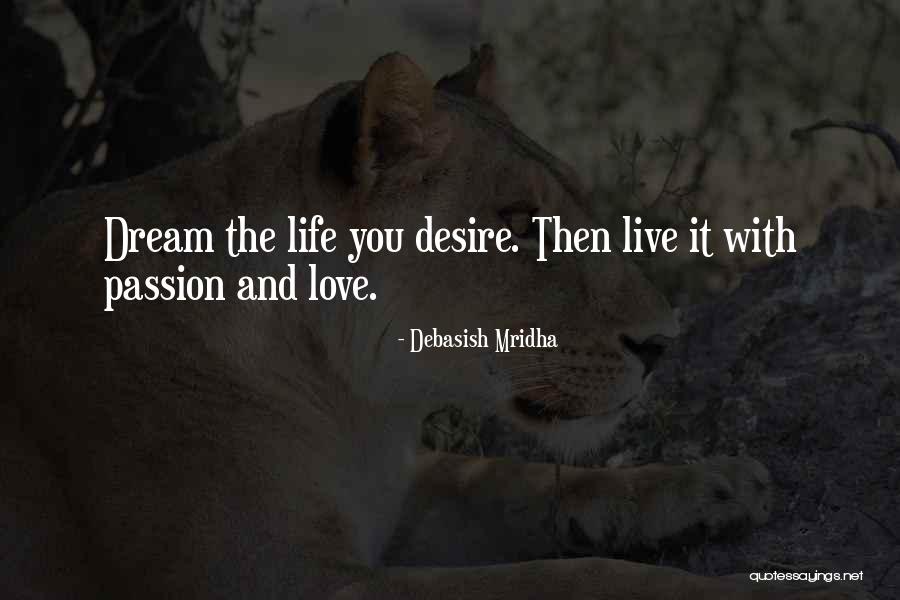 Dream the life you desire. Then live it with passion and love. — Debasish Mridha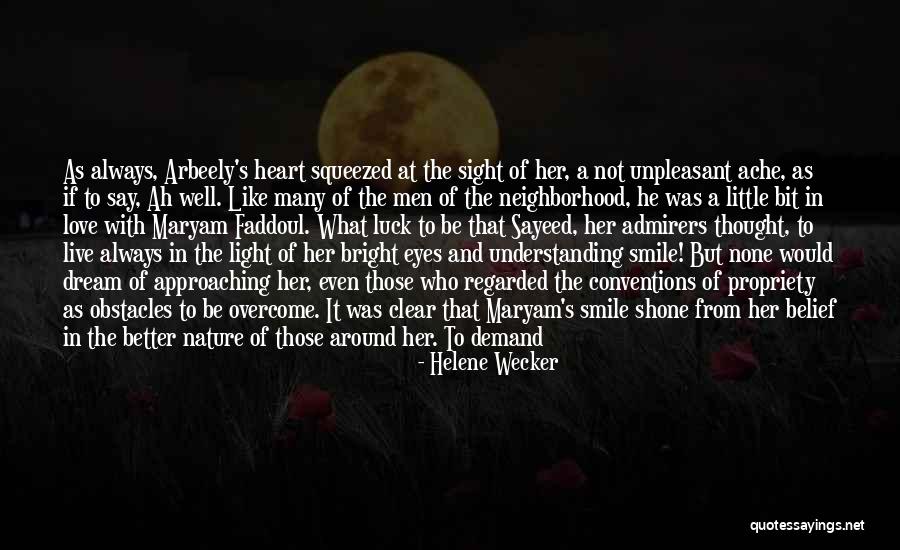 As always, Arbeely's heart squeezed at the sight of her, a not unpleasant ache, as if to say, Ah well. Like many of the men of the neighborhood, he was a little bit in love with Maryam Faddoul. What luck to be that Sayeed, her admirers thought, to live always in the light of her bright eyes and understanding smile! But none would dream of approaching her, even those who regarded the conventions of propriety as obstacles to be overcome. It was clear that Maryam's smile shone from her belief in the better nature of those around her. To demand more of that smile for themselves would only serve to extinguish it. — Helene Wecker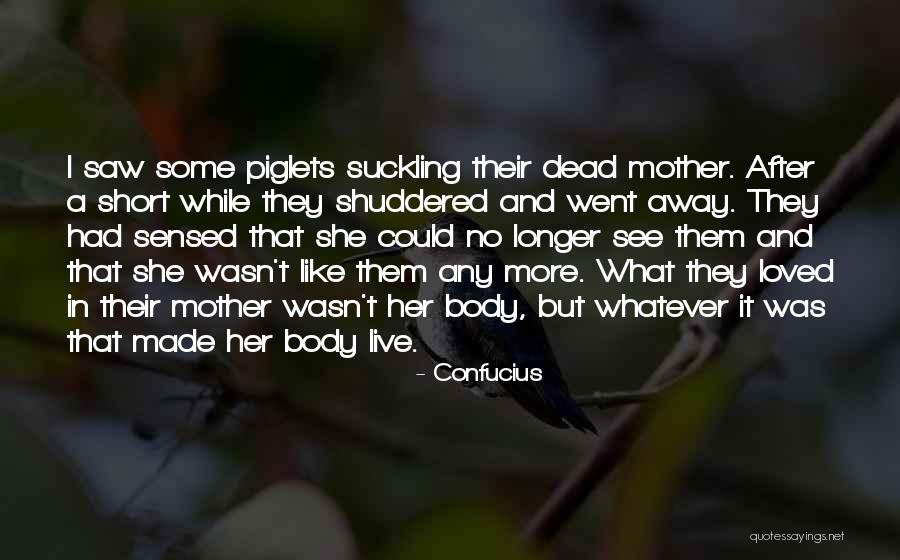 I saw some piglets suckling their dead mother. After a short while they shuddered and went away. They had sensed that she could no longer see them and that she wasn't like them any more. What they loved in their mother wasn't her body, but whatever it was that made her body live. — Confucius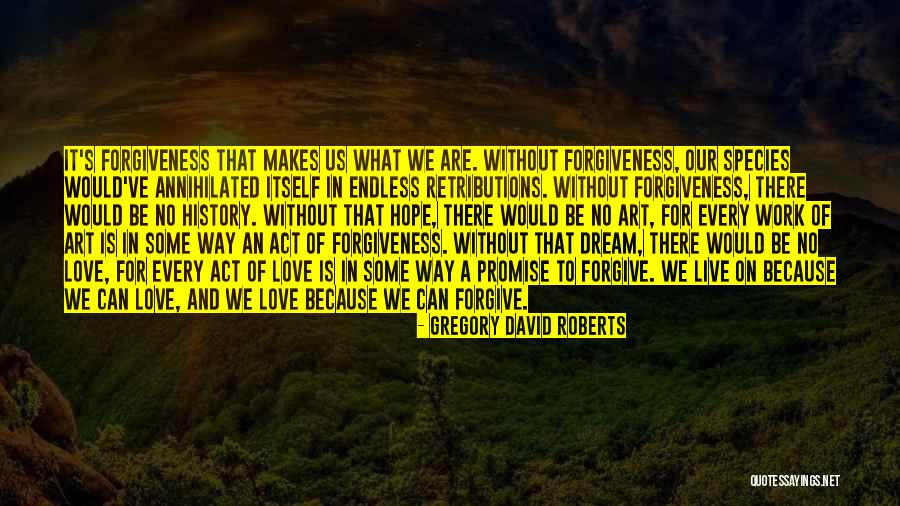 It's forgiveness that makes us what we are. Without forgiveness, our species would've annihilated itself in endless retributions. Without forgiveness, there would be no history. Without that hope, there would be no art, for every work of art is in some way an act of forgiveness. Without that dream, there would be no love, for every act of love is in some way a promise to forgive. We live on because we can love, and we love because we can forgive. — Gregory David Roberts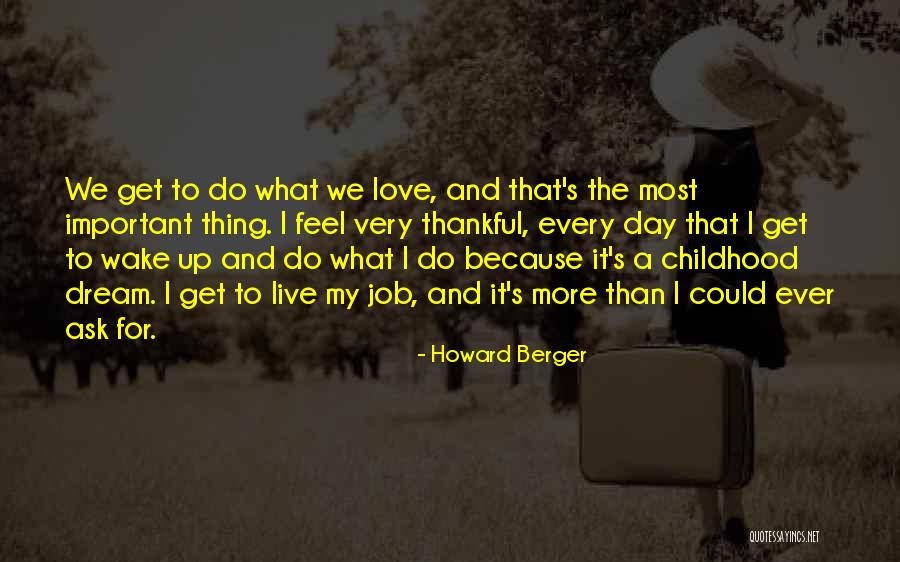 We get to do what we love, and that's the most important thing. I feel very thankful, every day that I get to wake up and do what I do because it's a childhood dream. I get to live my job, and it's more than I could ever ask for. — Howard Berger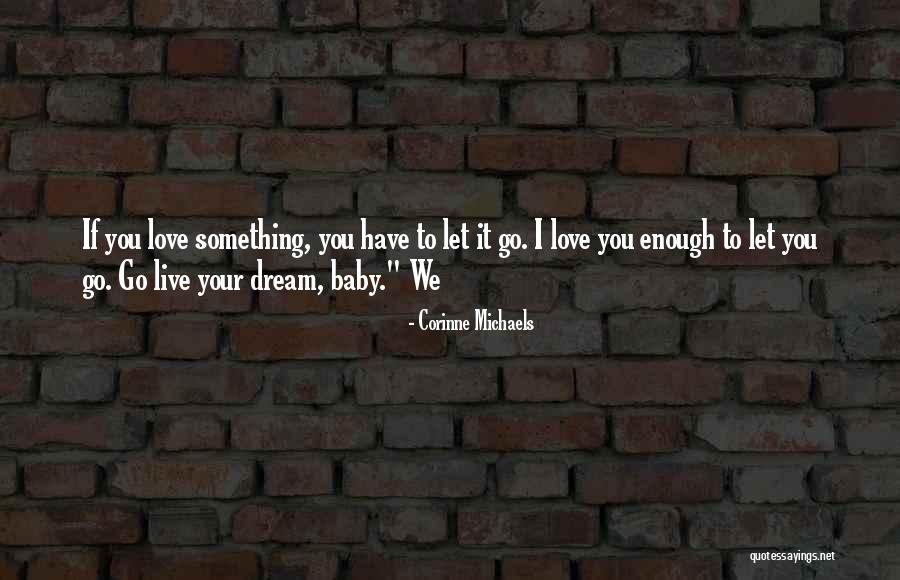 If you love something, you have to let it go. I love you enough to let you go. Go live your dream, baby." We — Corinne Michaels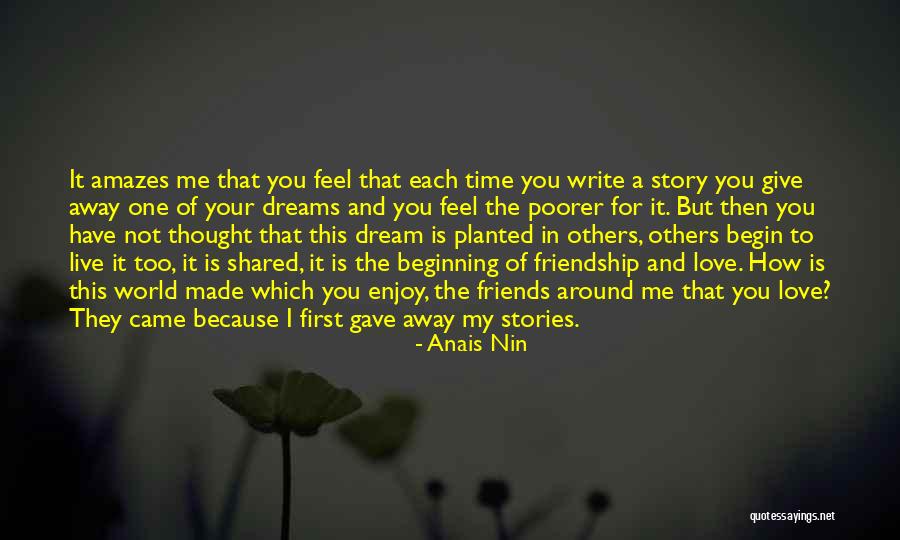 It amazes me that you feel that each time you write a story you give away one of your dreams and you feel the poorer for it. But then you have not thought that this dream is planted in others, others begin to live it too, it is shared, it is the beginning of friendship and love. How is this world made which you enjoy, the friends around me that you love? They came because I first gave away my stories. — Anais Nin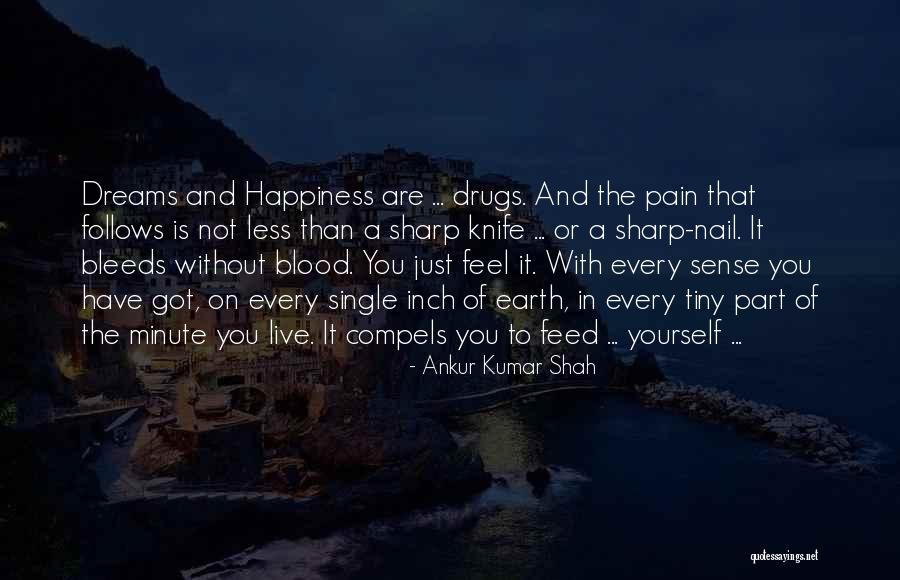 Dreams and Happiness are ... drugs. And the pain that follows is not less than a sharp knife ... or a sharp-nail. It bleeds without blood. You just feel it. With every sense you have got, on every single inch of earth, in every tiny part of the minute you live. It compels you to feed ... yourself ... — Ankur Kumar Shah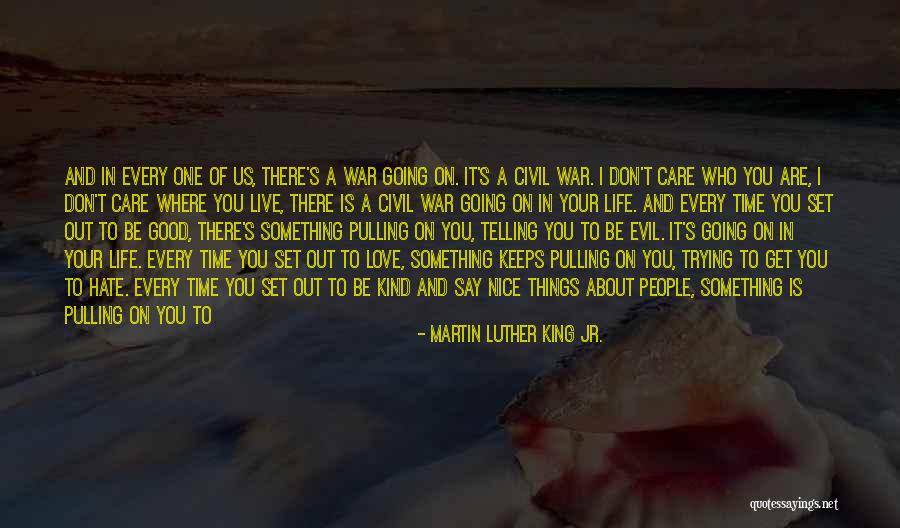 And in every one of us, there's a war going on. It's a civil war. I don't care who you are, I don't care where you live, there is a civil war going on in your life. And every time you set out to be good, there's something pulling on you, telling you to be evil. It's going on in your life. Every time you set out to love, something keeps pulling on you, trying to get you to hate. Every time you set out to be kind and say nice things about people, something is pulling on you to be jealous and envious and to spread evil gossip about them. There's a civil war going on. There is a schizophrenia, as the psychologists or the psychiatrists would call it, going on within all of us. And there are times that all of us know somehow that there is a Mr. Hyde and a Dr. Jekyll in us ... There's a tension at the heart of human nature. And whenever we set out to dream our dreams and to build our temples, we must be honest enough to recognize it. — Martin Luther King Jr.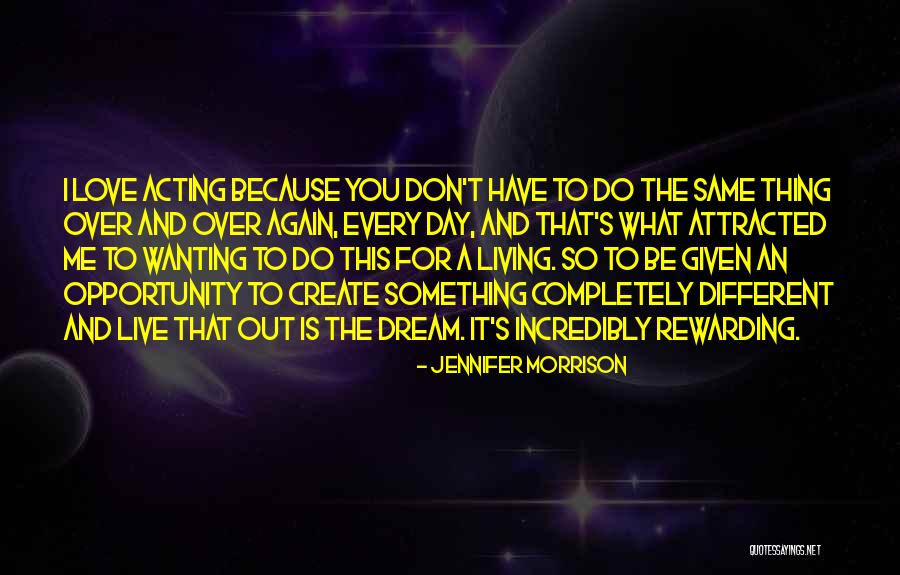 I love acting because you don't have to do the same thing over and over again, every day, and that's what attracted me to wanting to do this for a living. So to be given an opportunity to create something completely different and live that out is the dream. It's incredibly rewarding. — Jennifer Morrison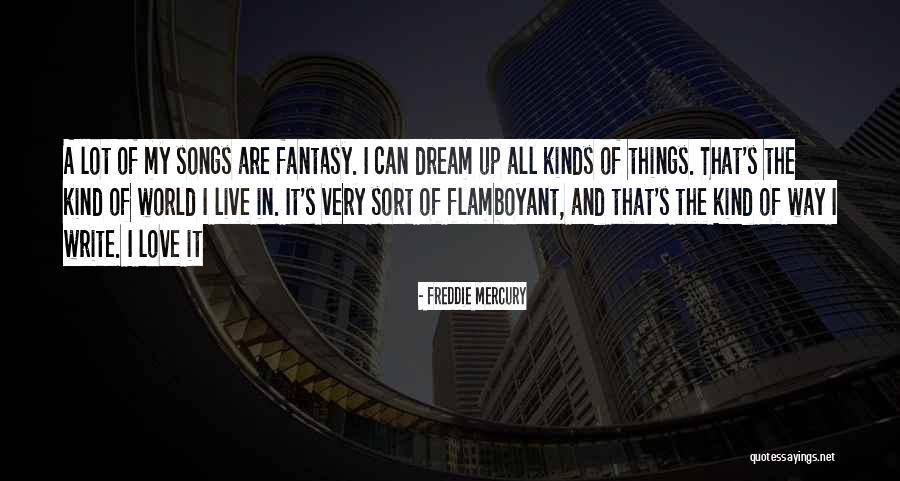 A lot of my songs are fantasy. I can dream up all kinds of things. That's the kind of world I live in. It's very sort of flamboyant, and that's the kind of way I write. I love it — Freddie Mercury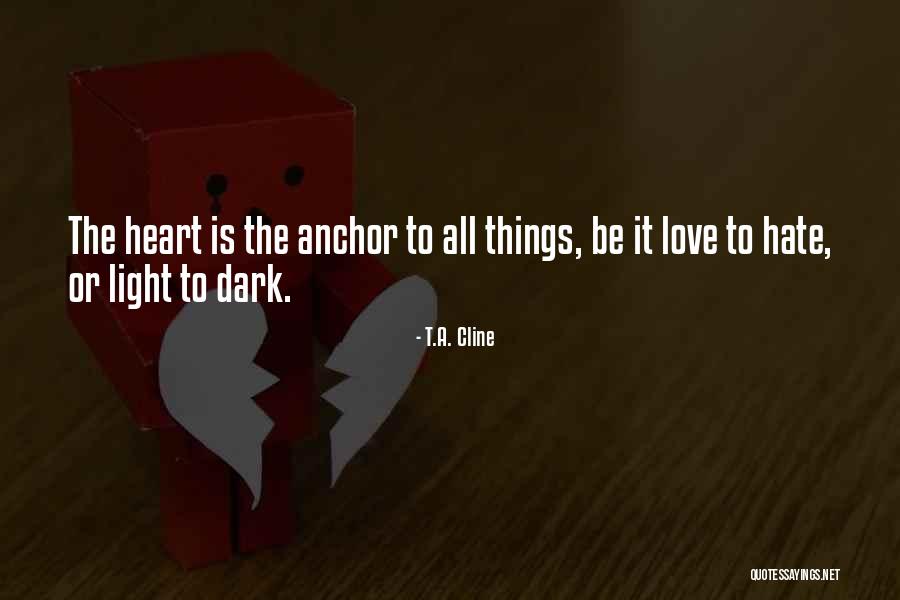 The heart is the anchor to all things, be it love to hate, or light to dark. — T.A. Cline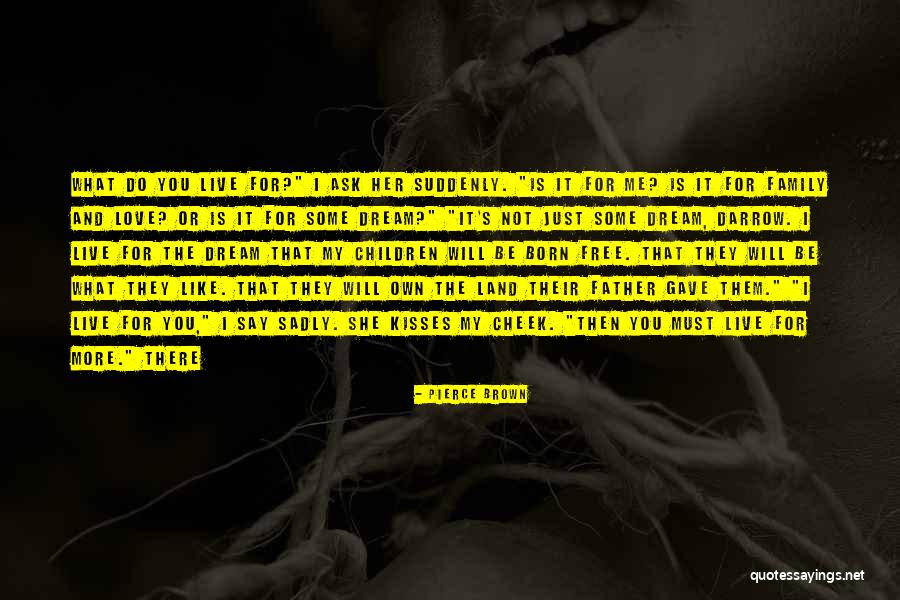 What do you live for?" I ask her suddenly. "Is it for me? Is it for family and love? Or is it for some dream?" "It's not just some dream, Darrow. I live for the dream that my children will be born free. That they will be what they like. That they will own the land their father gave them." "I live for you," I say sadly. She kisses my cheek. "Then you must live for more." There — Pierce Brown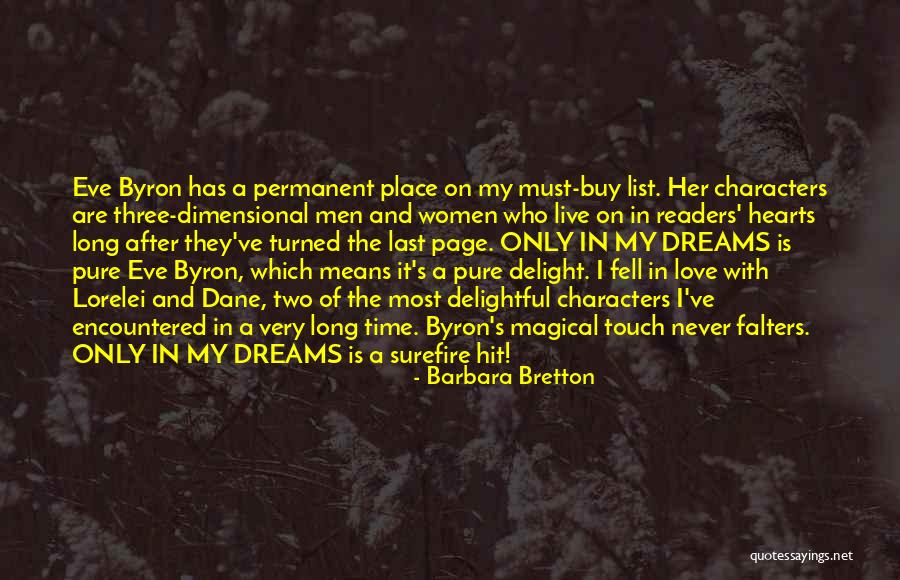 Eve Byron has a permanent place on my must-buy list. Her characters are three-dimensional men and women who live on in readers' hearts long after they've turned the last page. ONLY IN MY DREAMS is pure Eve Byron, which means it's a pure delight. I fell in love with Lorelei and Dane, two of the most delightful characters I've encountered in a very long time. Byron's magical touch never falters. ONLY IN MY DREAMS is a surefire hit! — Barbara Bretton