Quotes & Sayings About Difficult Love Relationships
Enjoy reading and share 38 famous quotes about Difficult Love Relationships with everyone.
Top Difficult Love Relationships Quotes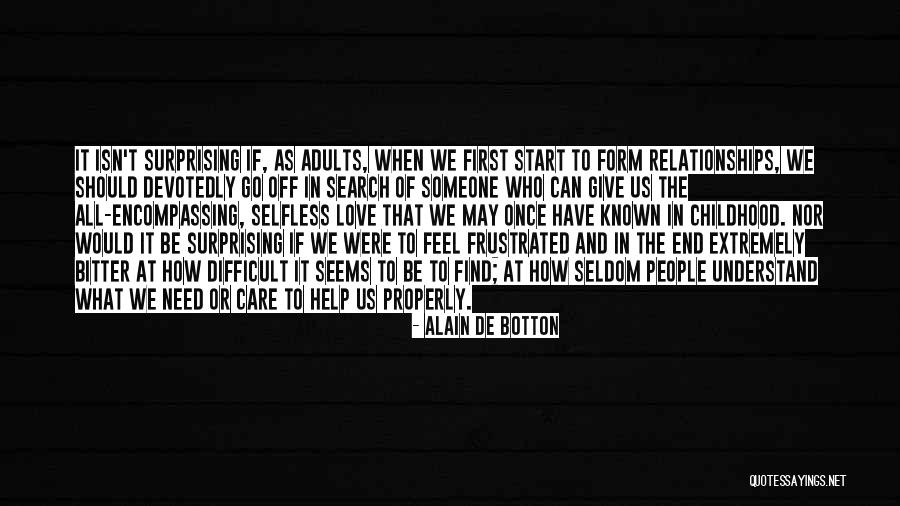 It isn't surprising if, as adults, when we first start to form relationships, we should devotedly go off in search of someone who can give us the all-encompassing, selfless love that we may once have known in childhood. Nor would it be surprising if we were to feel frustrated and in the end extremely bitter at how difficult it seems to be to find; at how seldom people understand what we need or care to help us properly. — Alain De Botton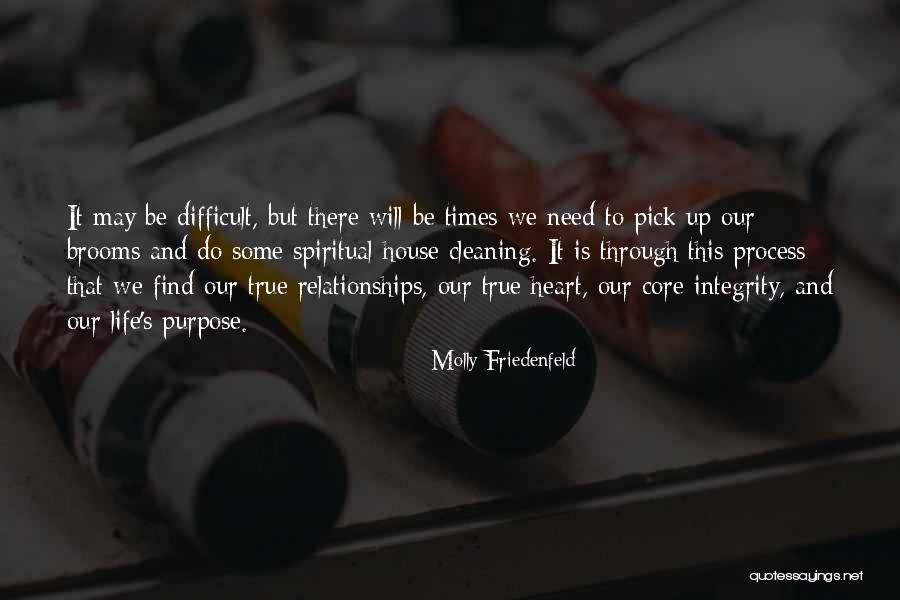 It may be difficult, but there will be times we need to pick up our brooms and do some spiritual house cleaning. It is through this process that we find our true relationships, our true heart, our core integrity, and our life's purpose. — Molly Friedenfeld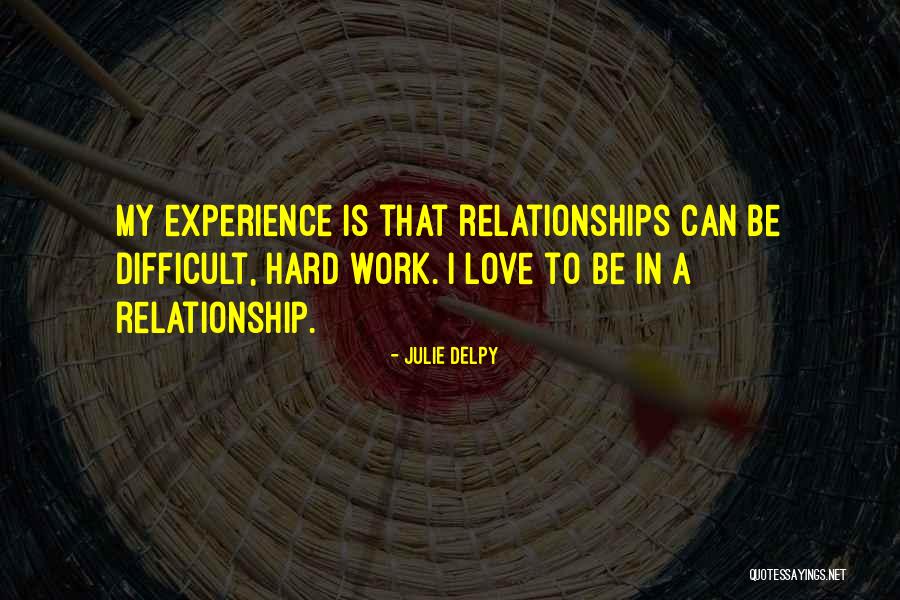 My experience is that relationships can be difficult, hard work. I love to be in a relationship. — Julie Delpy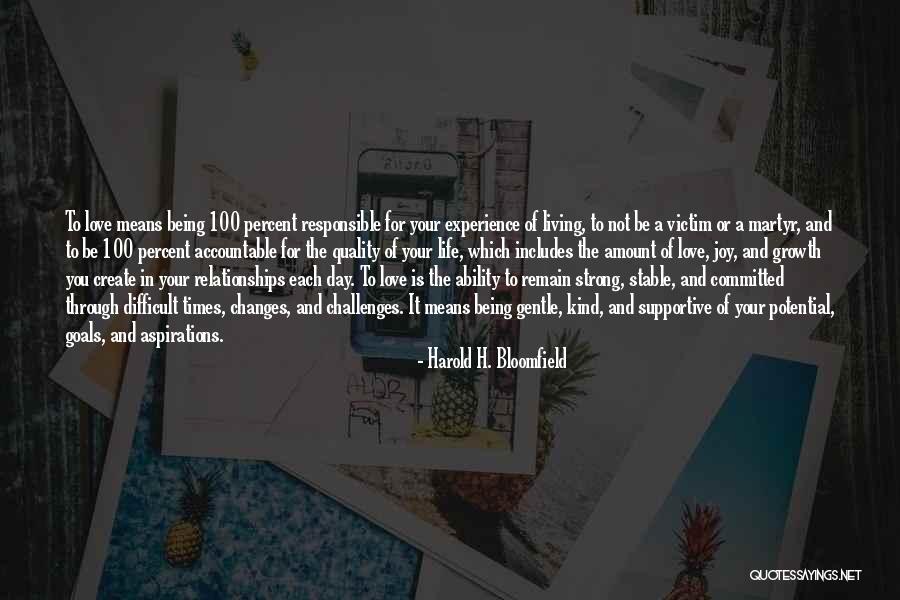 To love means being 100 percent responsible for your experience of living, to not be a victim or a martyr, and to be 100 percent accountable for the quality of your life, which includes the amount of love, joy, and growth you create in your relationships each day. To love is the ability to remain strong, stable, and committed through difficult times, changes, and challenges. It means being gentle, kind, and supportive of your potential, goals, and aspirations. — Harold H. Bloomfield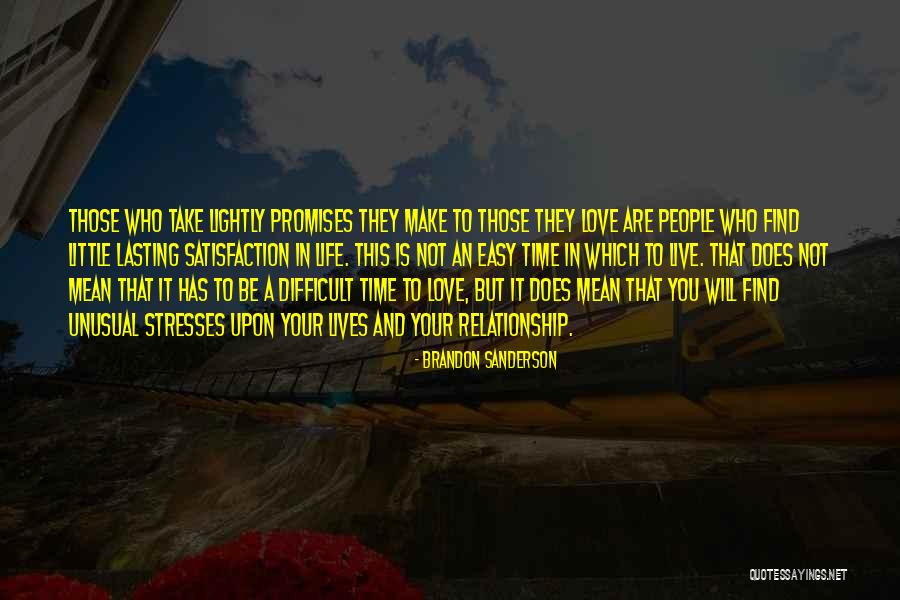 Those who take lightly promises they make to those they love are people who find little lasting satisfaction in life. This is not an easy time in which to live. That does not mean that it has to be a difficult time to love, but it does mean that you will find unusual stresses upon your lives and your relationship. — Brandon Sanderson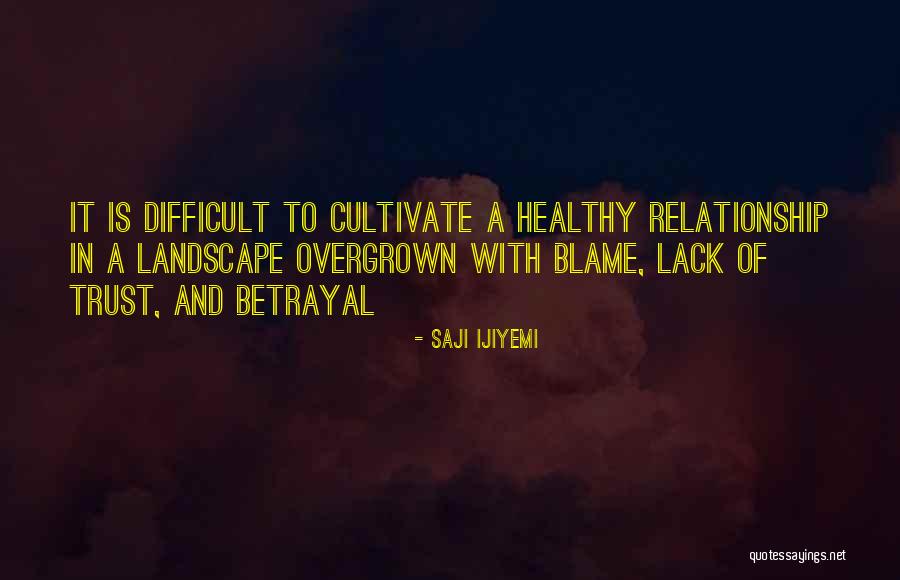 It is difficult to cultivate a healthy relationship in a landscape overgrown with blame, lack of trust, and betrayal — Saji Ijiyemi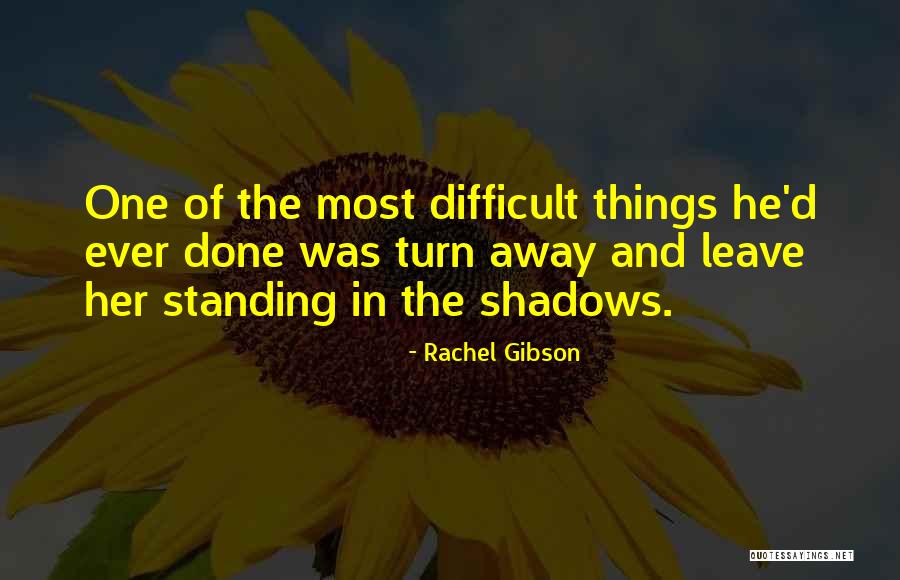 One of the most difficult things he'd ever done was turn away and leave her standing in the shadows. — Rachel Gibson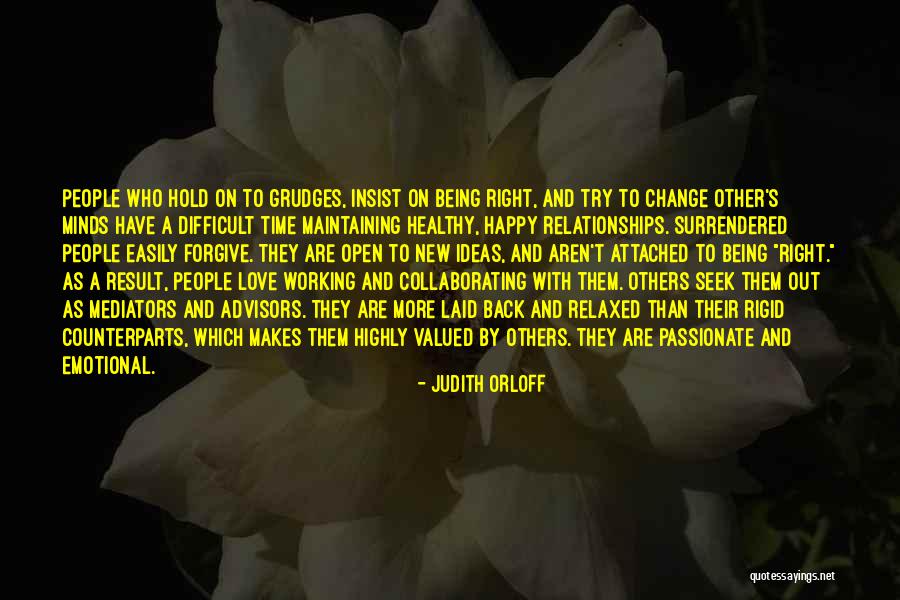 People who hold on to grudges, insist on being right, and try to change other's minds have a difficult time maintaining healthy, happy relationships. Surrendered people easily forgive. They are open to new ideas, and aren't attached to being "right." As a result, people love working and collaborating with them. Others seek them out as mediators and advisors. They are more laid back and relaxed than their rigid counterparts, which makes them highly valued by others. They are passionate and emotional. — Judith Orloff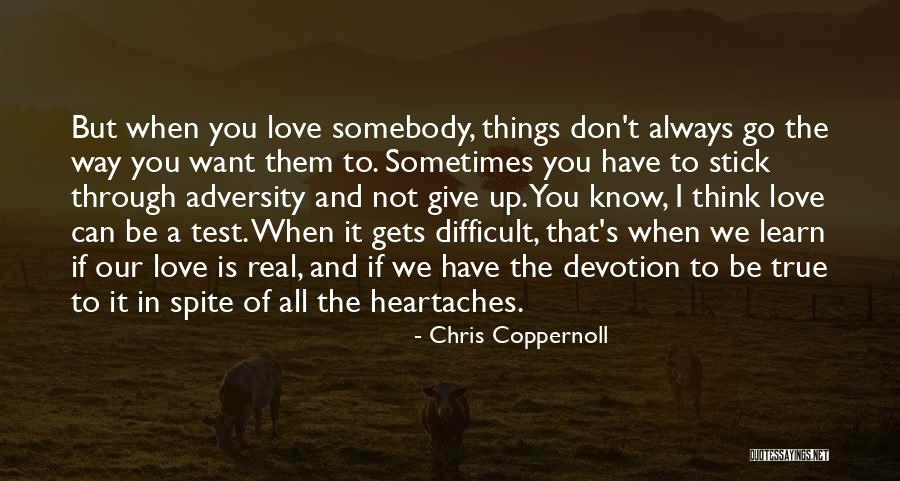 But when you love somebody, things don't always go the way you want them to. Sometimes you have to stick through adversity and not give up. You know, I think love can be a test. When it gets difficult, that's when we learn if our love is real, and if we have the devotion to be true to it in spite of all the heartaches. — Chris Coppernoll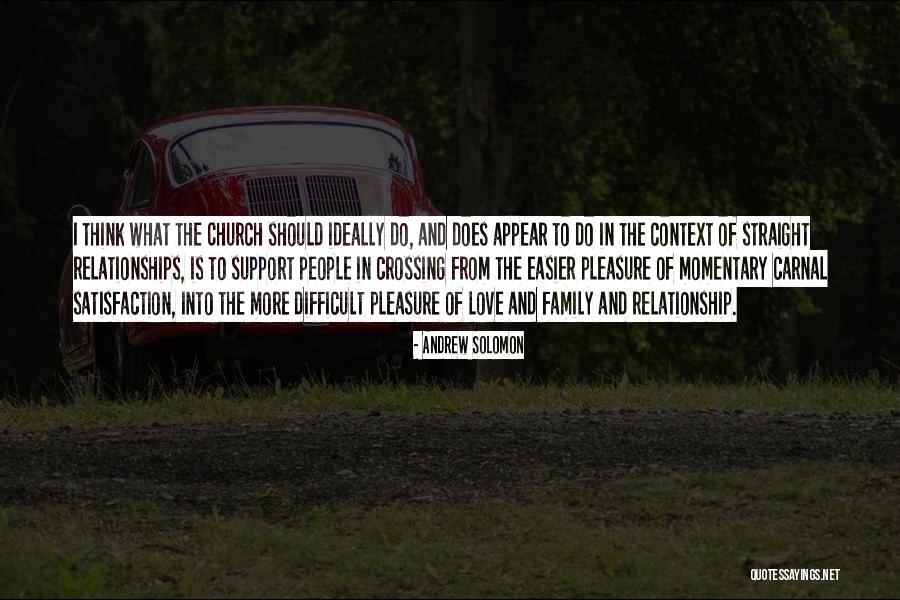 I think what the Church should ideally do, and does appear to do in the context of straight relationships, is to support people in crossing from the easier pleasure of momentary carnal satisfaction, into the more difficult pleasure of love and family and relationship. — Andrew Solomon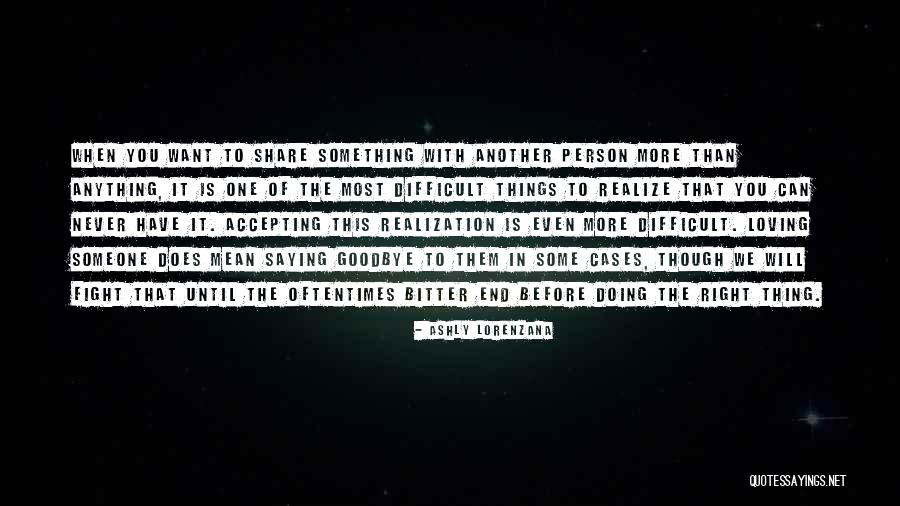 When you want to share something with another person more than anything, it is one of the most difficult things to realize that you can never have it. Accepting this realization is even more difficult. Loving someone does mean saying goodbye to them in some cases, though we will fight that until the oftentimes bitter end before doing the right thing. — Ashly Lorenzana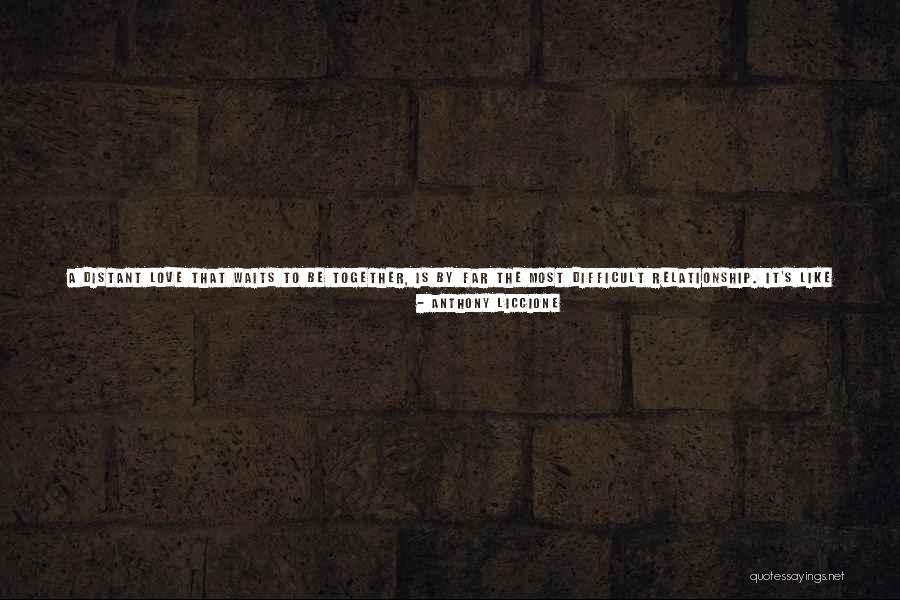 A distant love that waits to be together, is by far the most difficult relationship. It's like lighting a candle, and adoring the long flame and robust glow. Until time sets in like wax, overflowing deeper and deeper into the wick, leaving a sparse flame struggling to live. This is where most distant relationships fade, with the wax smothering the flame. This kind of relationship takes patience, hope, unconditional love, trust and strength, all centered around God. If the flame endures to the end, and the two come together, only then will it feel as if the candle was tipped and all the wax came pouring out, when the flame is revived, long and glowing again. — Anthony Liccione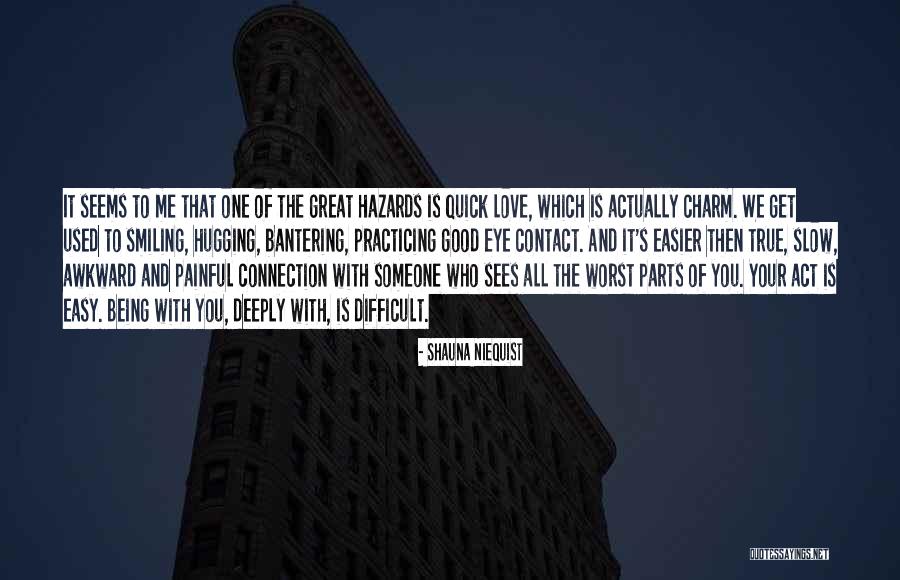 It seems to me that one of the great hazards is quick love, which is actually charm. We get used to smiling, hugging, bantering, practicing good eye contact. And it's easier then true, slow, awkward and painful connection with someone who sees all the worst parts of you. Your act is easy. Being with you, deeply with, is difficult. — Shauna Niequist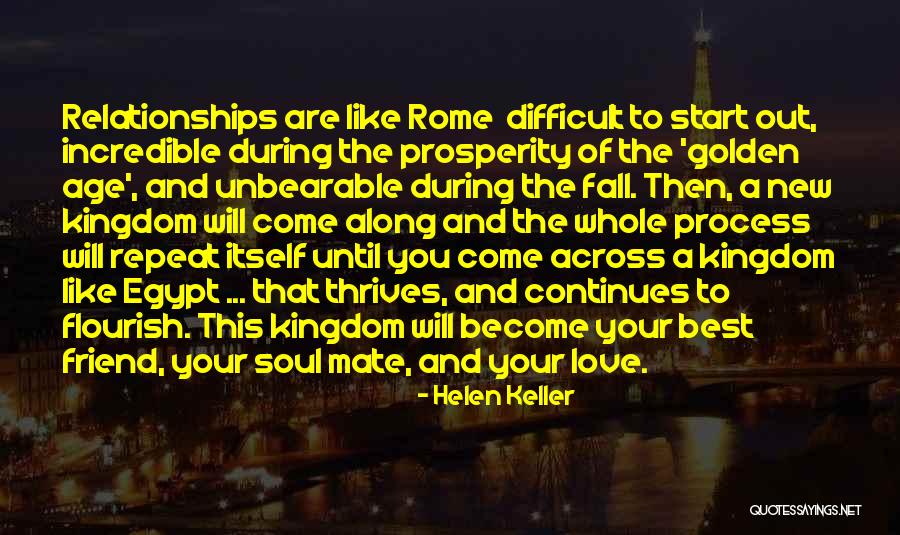 Relationships are like Rome
difficult to start out, incredible during the prosperity of the 'golden age', and unbearable during the fall. Then, a new kingdom will come along and the whole process will repeat itself until you come across a kingdom like Egypt ... that thrives, and continues to flourish. This kingdom will become your best friend, your soul mate, and your love. — Helen Keller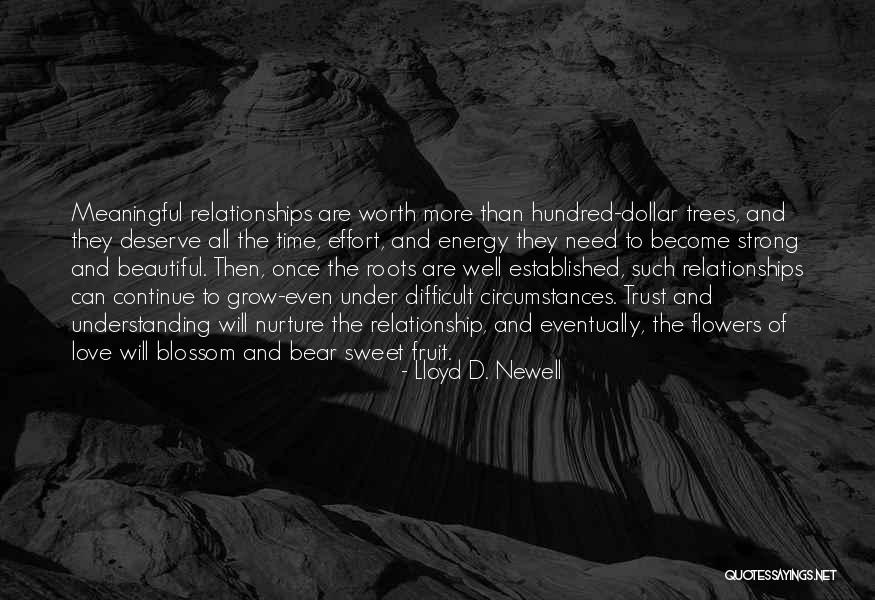 Meaningful relationships are worth more than hundred-dollar trees, and they deserve all the time, effort, and energy they need to become strong and beautiful. Then, once the roots are well established, such relationships can continue to grow-even under difficult circumstances. Trust and understanding will nurture the relationship, and eventually, the flowers of love will blossom and bear sweet fruit. — Lloyd D. Newell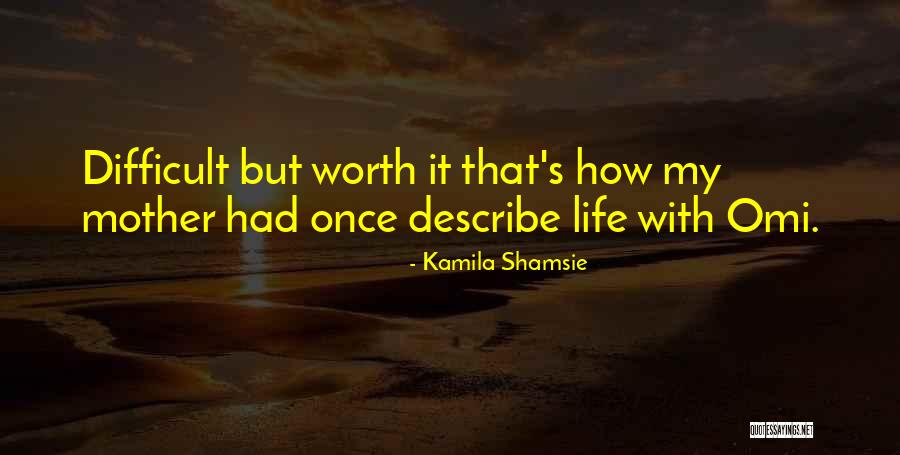 Difficult but worth it
that's how my mother had once describe life with Omi. — Kamila Shamsie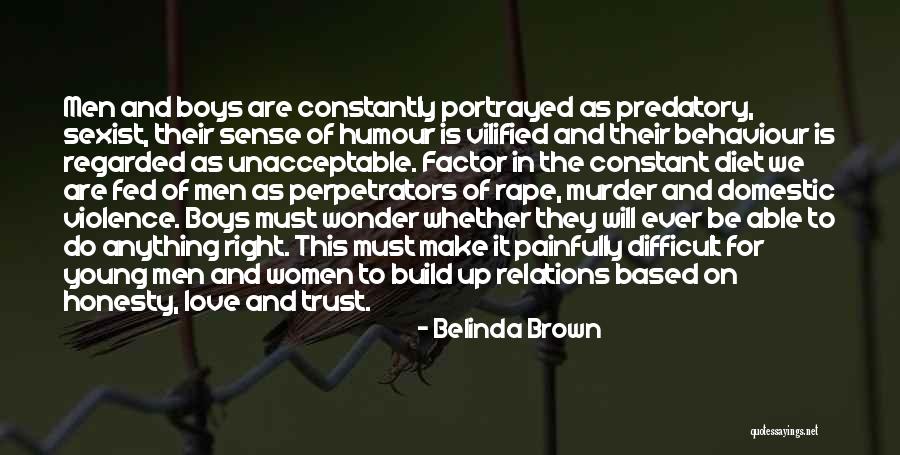 Men and boys are constantly portrayed as predatory, sexist, their sense of humour is vilified and their behaviour is regarded as unacceptable. Factor in the constant diet we are fed of men as perpetrators of rape, murder and domestic violence. Boys must wonder whether they will ever be able to do anything right. This must make it painfully difficult for young men and women to build up relations based on honesty, love and trust. — Belinda Brown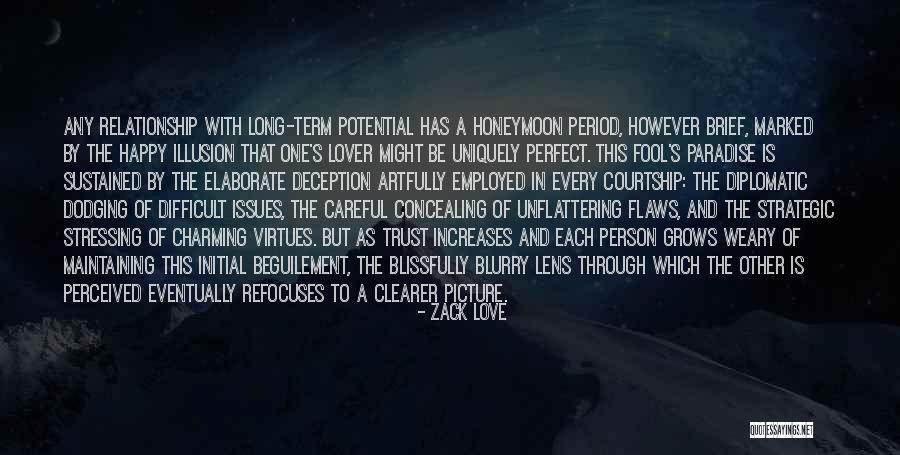 Any relationship with long-term potential has a honeymoon period, however brief, marked by the happy illusion that one's lover might be uniquely perfect. This fool's paradise is sustained by the elaborate deception artfully employed in every courtship: the diplomatic dodging of difficult issues, the careful concealing of unflattering flaws, and the strategic stressing of charming virtues. But as trust increases and each person grows weary of maintaining this initial beguilement, the blissfully blurry lens through which the other is perceived eventually refocuses to a clearer picture. — Zack Love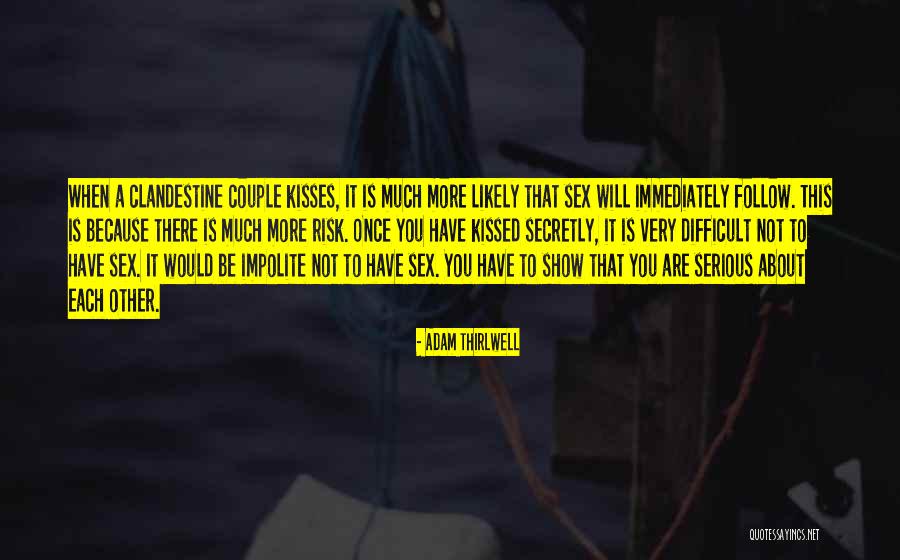 When a clandestine couple kisses, it is much more likely that sex will immediately follow. This is because there is much more risk. Once you have kissed secretly, it is very difficult not to have sex. It would be impolite not to have sex. You have to show that you are serious about each other. — Adam Thirlwell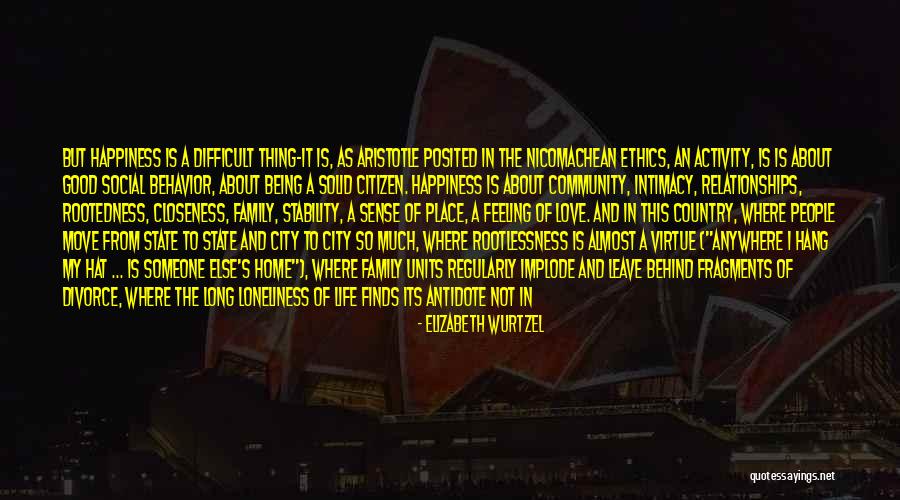 But happiness is a difficult thing-it is, as Aristotle posited in The Nicomachean Ethics, an activity, is is about good social behavior, about being a solid citizen. Happiness is about community, intimacy, relationships, rootedness, closeness, family, stability, a sense of place, a feeling of love. And in this country, where people move from state to state and city to city so much, where rootlessness is almost a virtue ("anywhere I hang my hat ... is someone else's home"), where family units regularly implode and leave behind fragments of divorce, where the long loneliness of life finds its antidote not in a hardy, ancient culture (as it would in Europe), not in some blood-deep tribal rites (as it would in the few still-hale Third World nations), but in our vast repository of pop culture, of consumer goods, of cotton candy for all-in this America, happiness is hard. — Elizabeth Wurtzel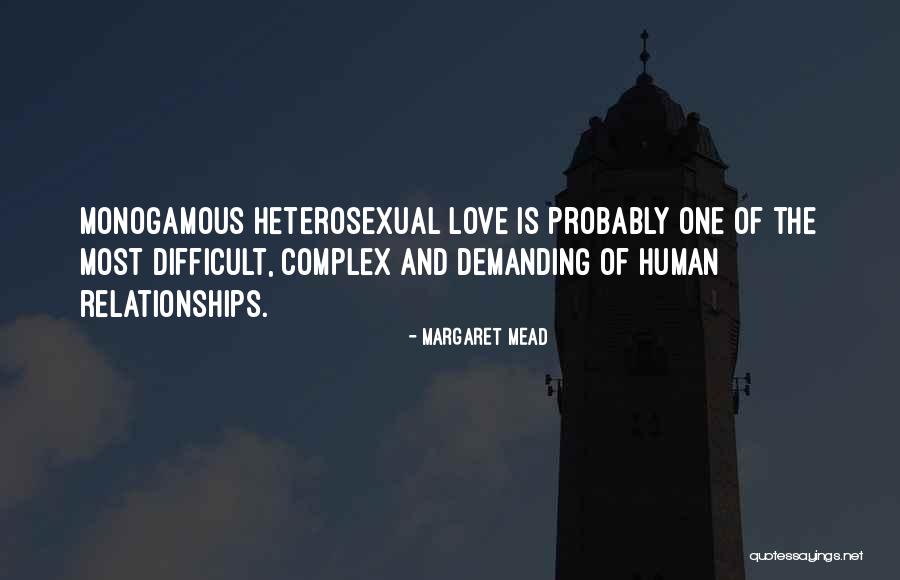 Monogamous heterosexual love is probably one of the most difficult, complex and demanding of human relationships. — Margaret Mead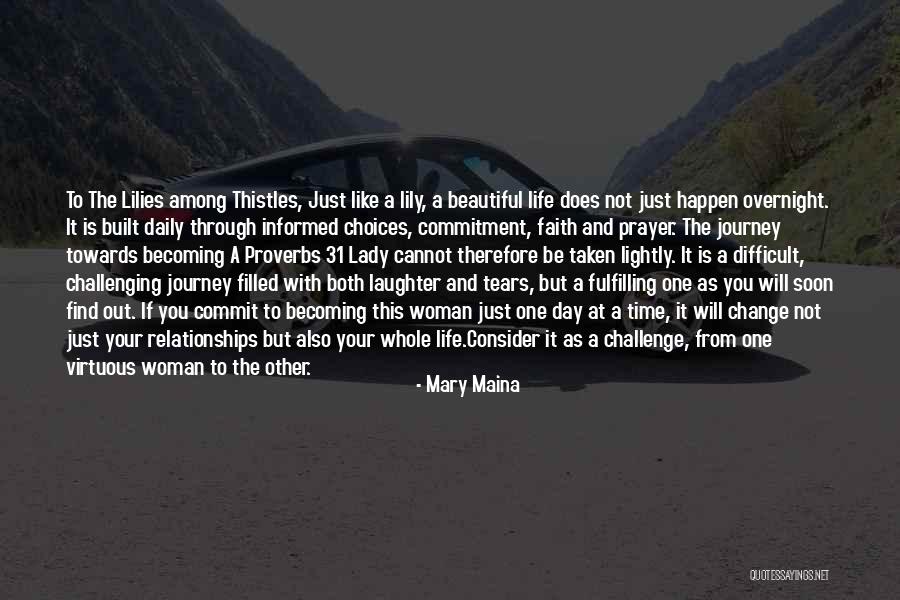 To The Lilies among Thistles, Just like a lily, a beautiful life does not just happen overnight. It is built daily through informed choices, commitment, faith and prayer. The journey towards becoming A Proverbs 31 Lady cannot therefore be taken lightly. It is a difficult, challenging journey filled with both laughter and tears, but a fulfilling one as you will soon find out. If you commit to becoming this woman just one day at a time, it will change not just your relationships but also your whole life.Consider it as a challenge, from one virtuous woman to the other. — Mary Maina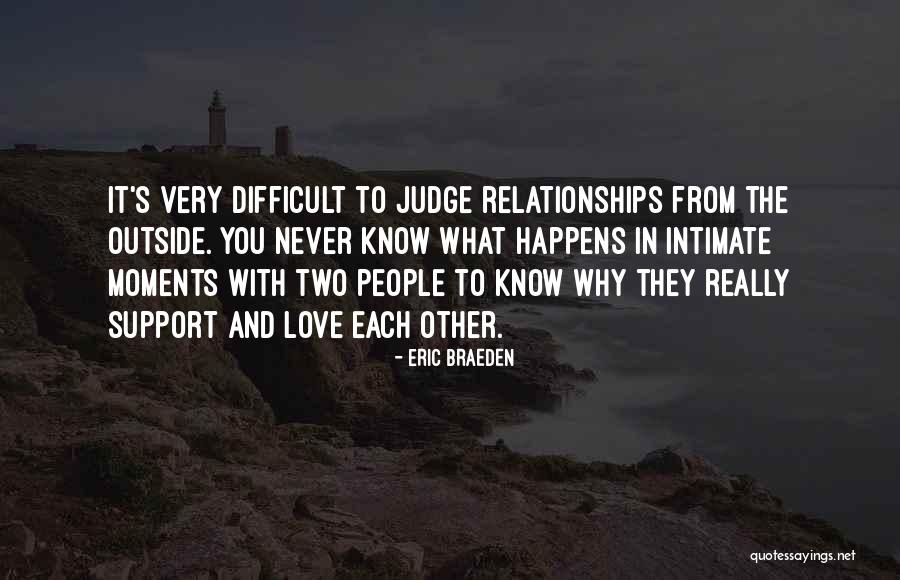 It's very difficult to judge relationships from the outside. You never know what happens in intimate moments with two people to know why they really support and love each other. — Eric Braeden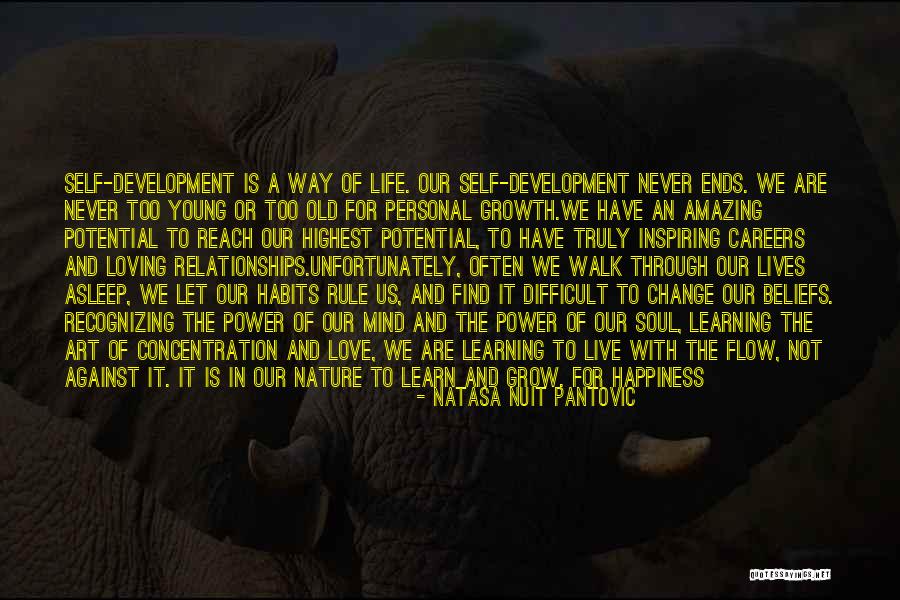 Self-development is a way of Life. Our Self-Development never ends. We are never too young or too old for personal growth.
We have an amazing potential to reach our highest potential, to have truly inspiring careers and loving relationships.
Unfortunately, often we walk through our lives asleep, we let our habits rule us, and find it difficult to change our beliefs. Recognizing the power of our Mind and the power of our Soul, learning the art of Concentration and Love, we are learning to Live with the Flow, not against it.
It is in our nature to learn and grow. For happiness we need to learn to Love, we need to learn to Concentrate and we should keep the flow and energy of inspiration within our lives. — Natasa Nuit Pantovic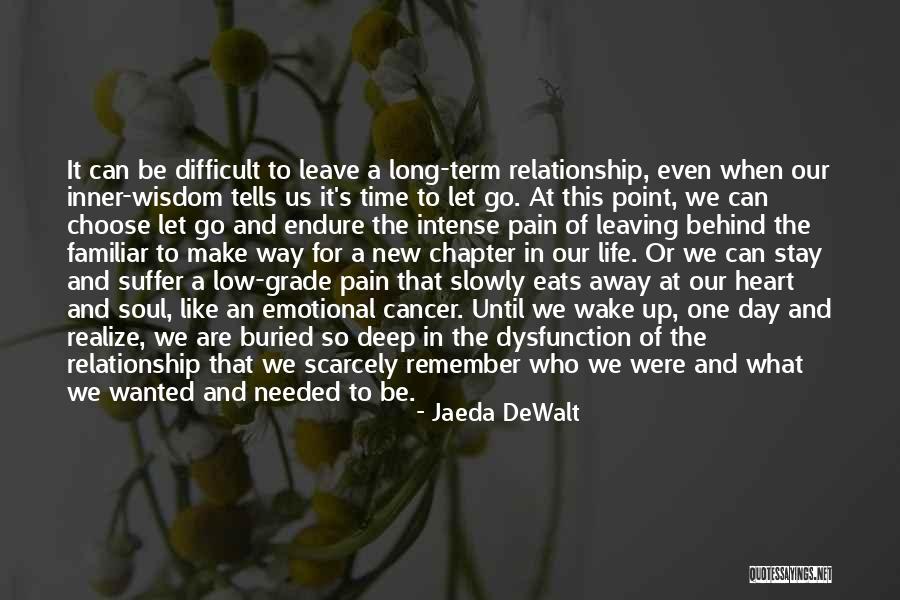 It can be difficult to leave a long-term relationship, even when our inner-wisdom tells us it's time to let go. At this point, we can choose let go and endure the intense pain of leaving behind the familiar to make way for a new chapter in our life. Or we can stay and suffer a low-grade pain that slowly eats away at our heart and soul, like an emotional cancer. Until we wake up, one day and realize, we are buried so deep in the dysfunction of the relationship that we scarcely remember who we were and what we wanted and needed to be. — Jaeda DeWalt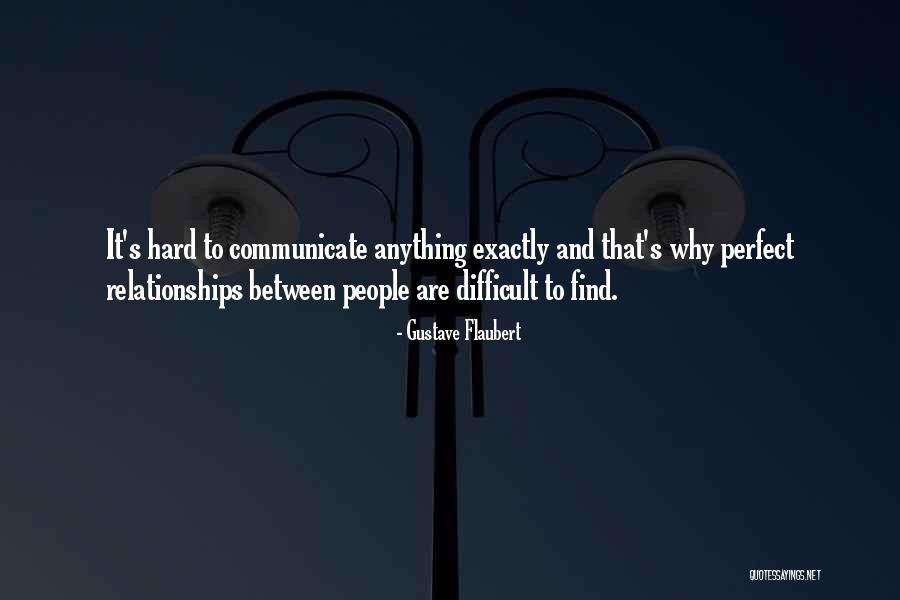 It's hard to communicate anything exactly and that's why perfect relationships between people are difficult to find. — Gustave Flaubert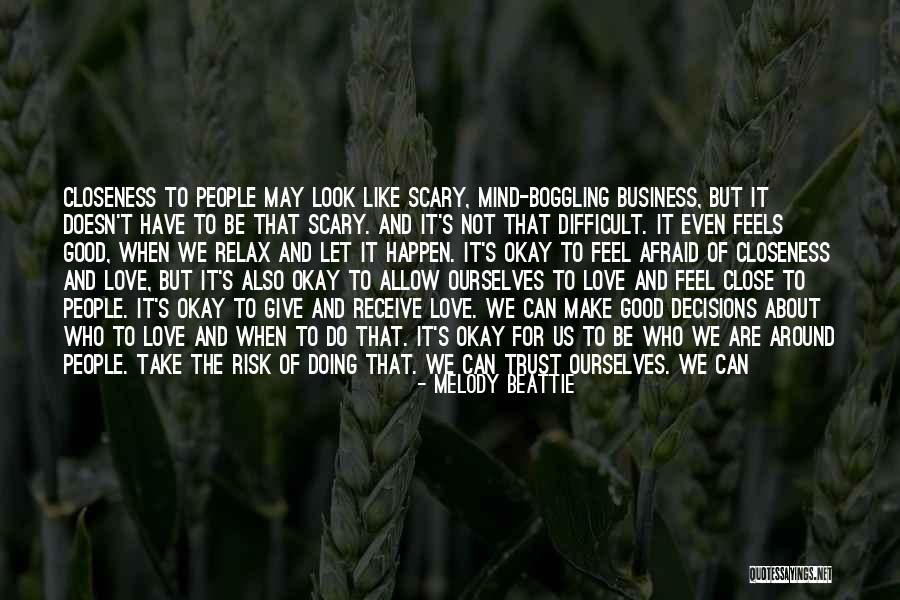 Closeness to people may look like scary, mind-boggling business, but it doesn't have to be that scary. And it's not that difficult. It even feels good, when we relax and let it happen. It's okay to feel afraid of closeness and love, but it's also okay to allow ourselves to love and feel close to people. It's okay to give and receive love. We can make good decisions about who to love and when to do that. It's okay for us to be who we are around people. Take the risk of doing that. We can trust ourselves. We can go through the awkwardness and friction of initiating relationships. We can find people who are safe to trust. We can open up, become honest, and be who we are. We can even handle feeling hurt or rejected from time to time. We can love without losing ourselves or giving up our boundaries. We can love and think at the same time. We can take off our track shoes. — Melody Beattie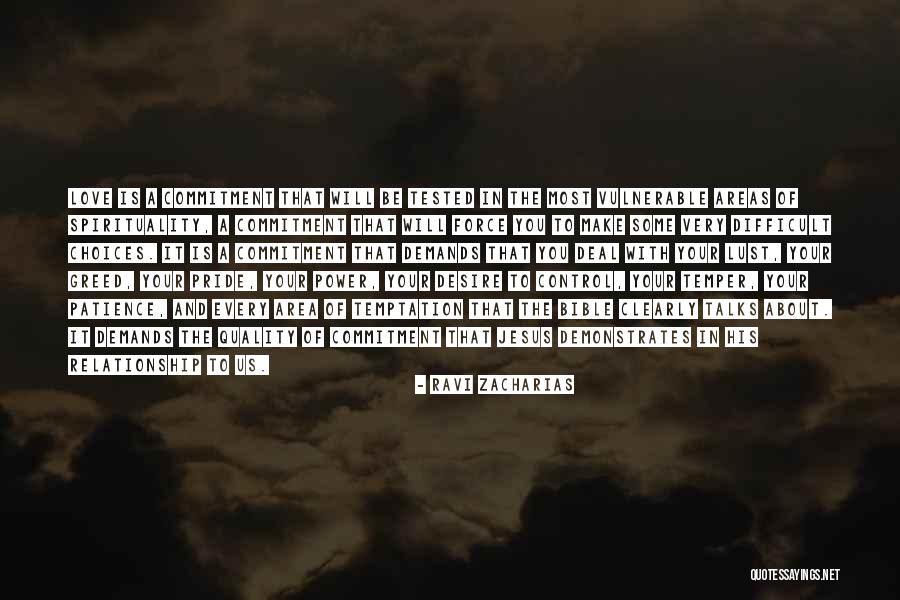 Love is a commitment that will be tested in the most vulnerable areas of spirituality, a commitment that will force you to make some very difficult choices. It is a commitment that demands that you deal with your lust, your greed, your pride, your power, your desire to control, your temper, your patience, and every area of temptation that the Bible clearly talks about. It demands the quality of commitment that Jesus demonstrates in His relationship to us. — Ravi Zacharias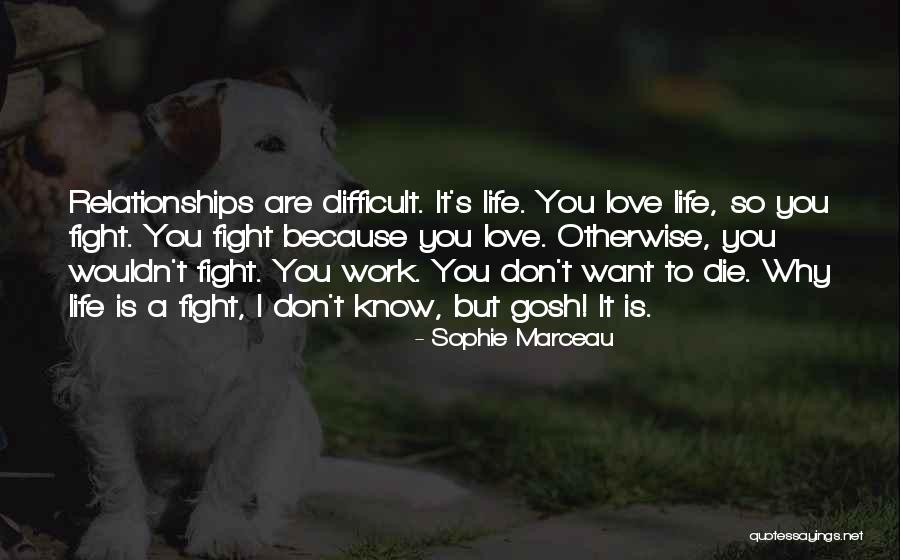 Relationships are difficult. It's life. You love life, so you fight. You fight because you love. Otherwise, you wouldn't fight. You work. You don't want to die. Why life is a fight, I don't know, but gosh! It is. — Sophie Marceau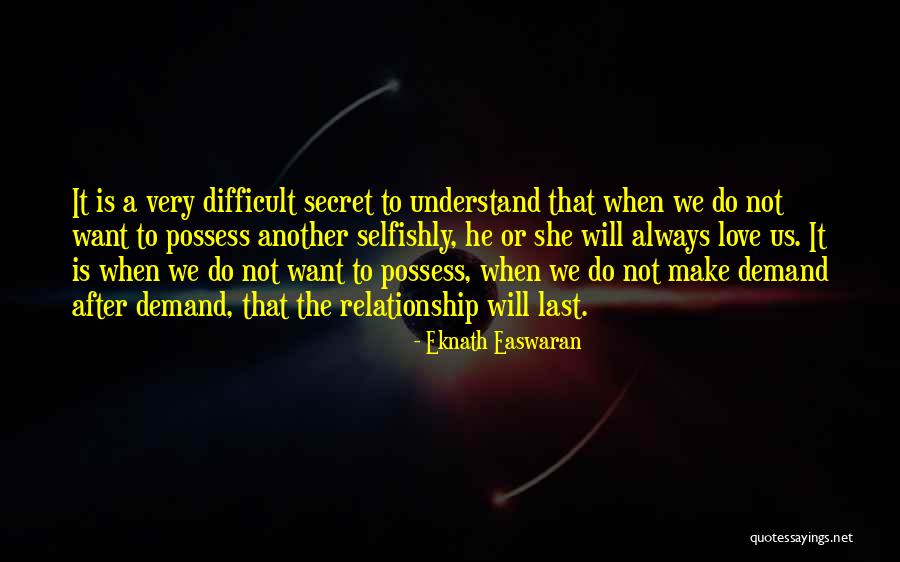 It is a very difficult secret to understand that when we do not want to possess another selfishly, he or she will always love us. It is when we do not want to possess, when we do not make demand after demand, that the relationship will last. — Eknath Easwaran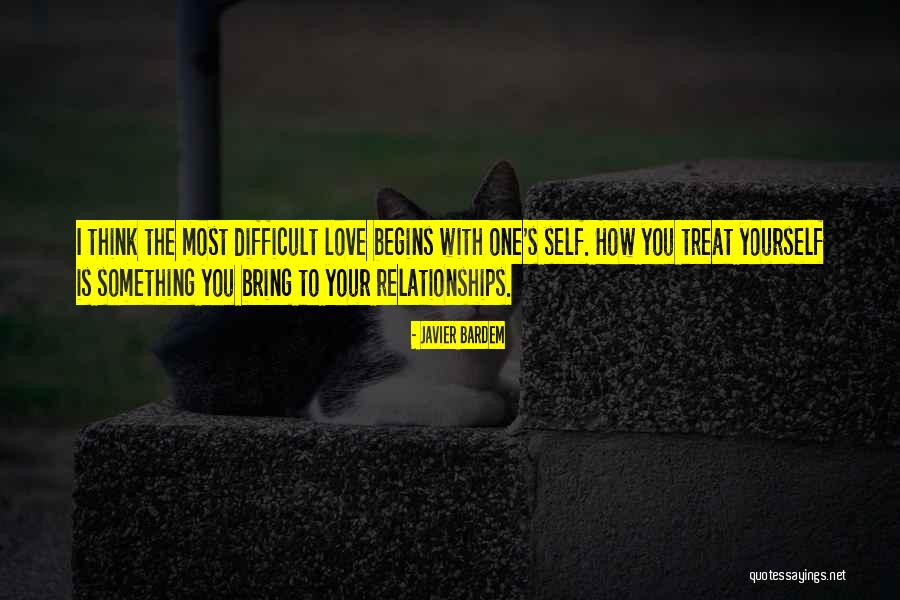 I think the most difficult love begins with one's self. How you treat yourself is something you bring to your relationships. — Javier Bardem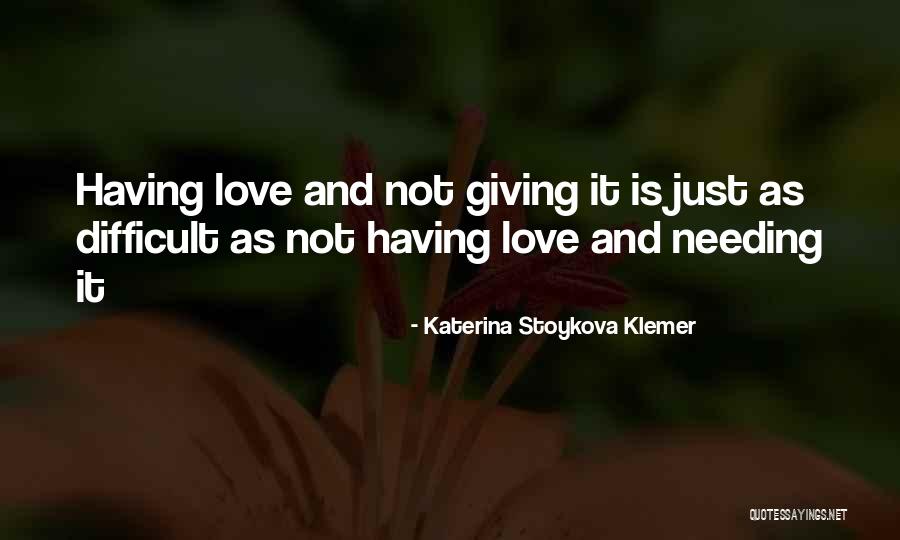 Having love and not giving it is just as difficult as not having love and needing it — Katerina Stoykova Klemer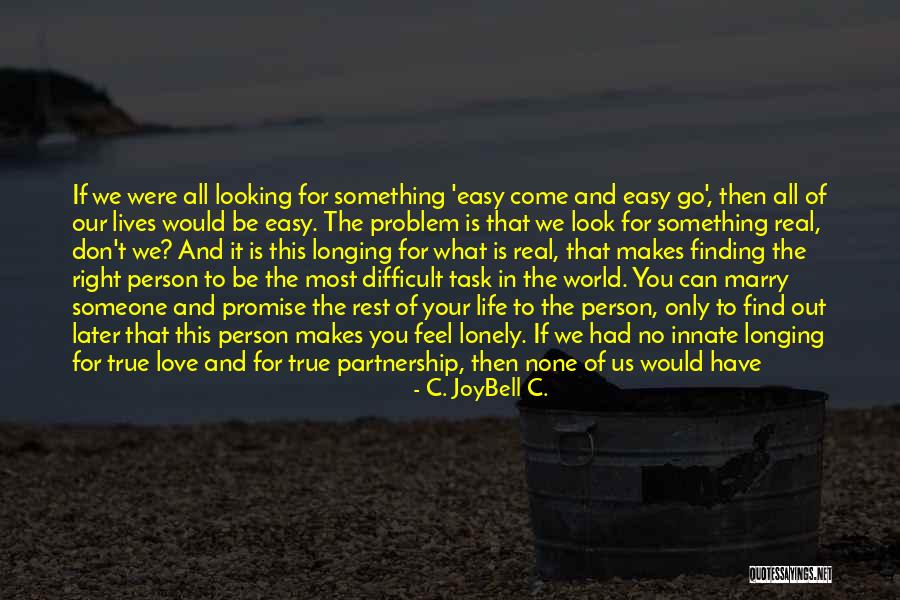 If we were all looking for something 'easy come and easy go', then all of our lives would be easy. The problem is that we look for something real, don't we? And it is this longing for what is real, that makes finding the right person to be the most difficult task in the world. You can marry someone and promise the rest of your life to the person, only to find out later that this person makes you feel lonely. If we had no innate longing for true love and for true partnership, then none of us would have any problems! Therefore, the most frightening question to ponder upon, is, 'what if true love does not exist; what if the real stuff isn't real at all?' In such a case, life would be meaningless. I suppose I would rather believe in love relentlessly, than live in this world meaninglessly. — C. JoyBell C.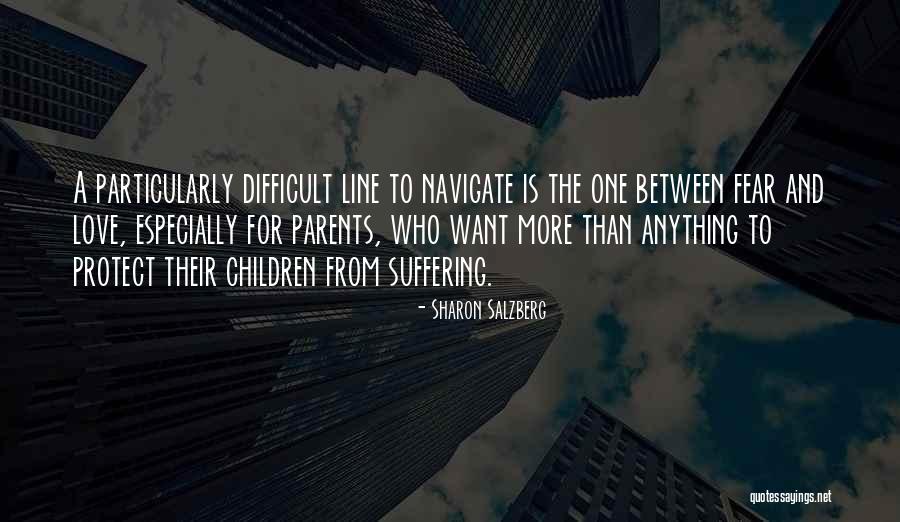 A particularly difficult line to navigate is the one between fear and love, especially for parents, who want more than anything to protect their children from suffering. — Sharon Salzberg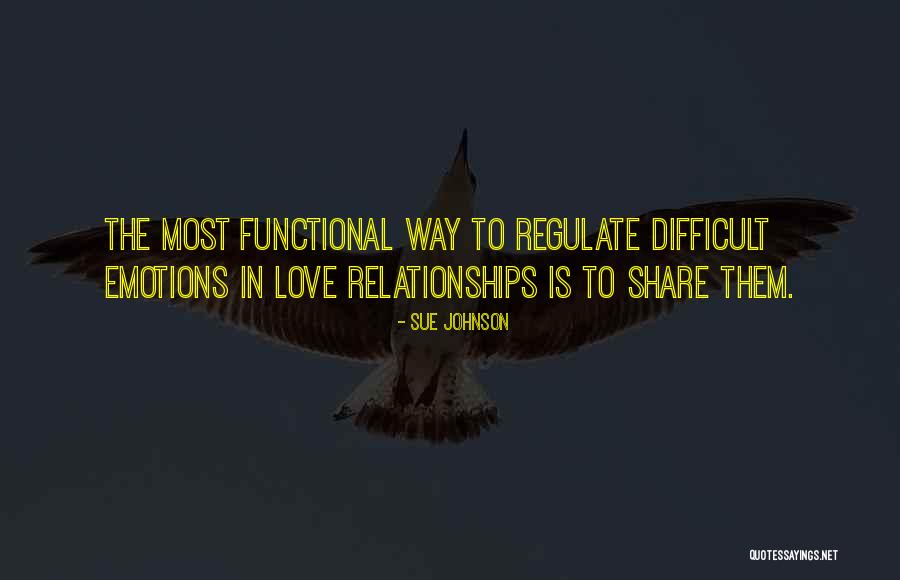 The most functional way to regulate difficult emotions in love relationships is to share them. — Sue Johnson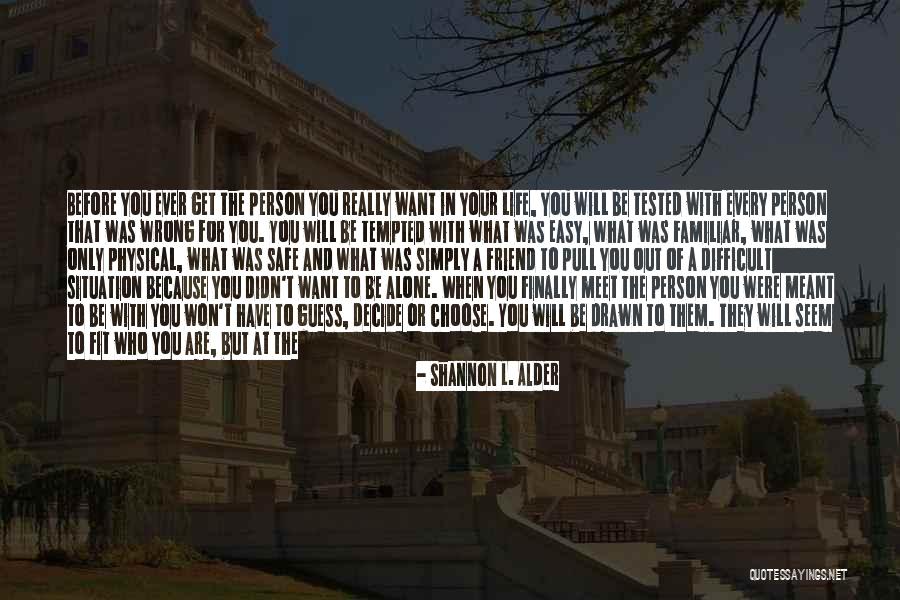 Before you ever get the person you really want in your life, you will be tested with every person that was wrong for you. You will be tempted with what was easy, what was familiar, what was only physical, what was safe and what was simply a friend to pull you out of a difficult situation because you didn't want to be alone. When you finally meet the person you were meant to be with you won't have to guess, decide or choose. You will be drawn to them. They will seem to fit who you are, but at the same time have the missing pieces that makes you want to become a better person. There is no need to be guarded because this soul is like your own and talking to them about the deepest things in life are effortless. They won't be like any other you have met and you will find yourself looking for parts of them in everyone you meet. — Shannon L. Alder