Deceive In Love Quotes & Sayings
Enjoy reading and share 42 famous quotes about Deceive In Love with everyone.
Top Deceive In Love Quotes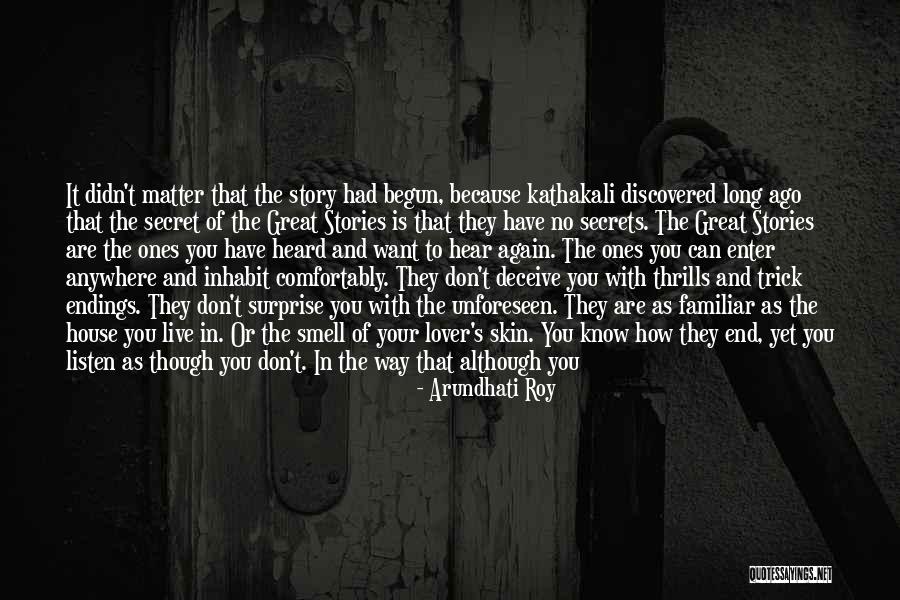 It didn't matter that the story had begun, because kathakali discovered long ago that the secret of the Great Stories is that they have no secrets. The Great Stories are the ones you have heard and want to hear again. The ones you can enter anywhere and inhabit comfortably. They don't deceive you with thrills and trick endings. They don't surprise you with the unforeseen. They are as familiar as the house you live in. Or the smell of your lover's skin. You know how they end, yet you listen as though you don't. In the way that although you know that one day you will die, you live as though you won't. In the Great Stories you know who lives, who dies, who finds love, who doesn't. And yet you want to know again. — Arundhati Roy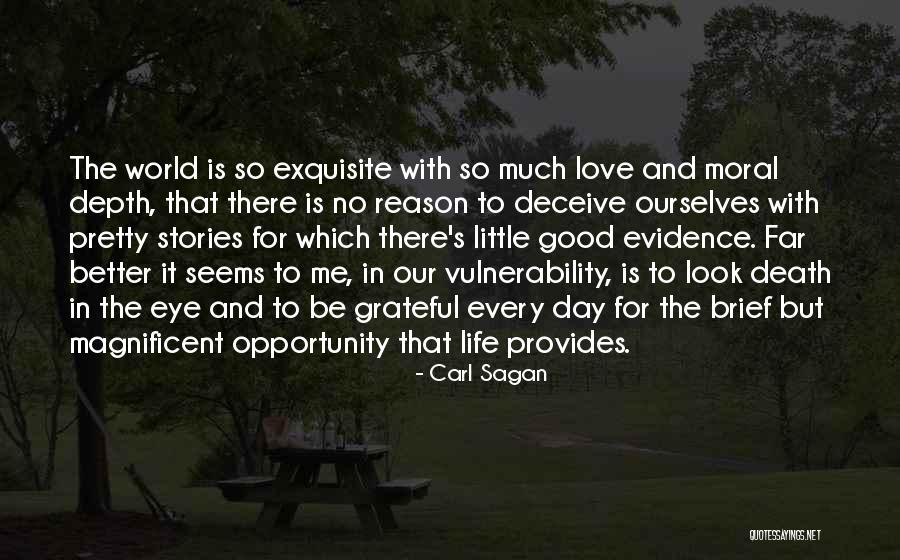 The world is so exquisite with so much love and moral depth, that there is no reason to deceive ourselves with pretty stories for which there's little good evidence. Far better it seems to me, in our vulnerability, is to look death in the eye and to be grateful every day for the brief but magnificent opportunity that life provides. — Carl Sagan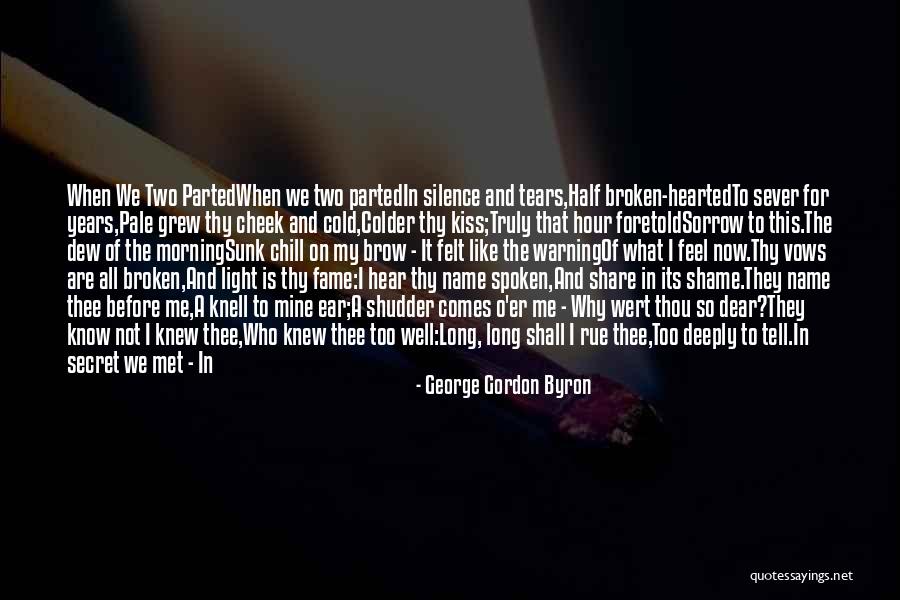 When We Two Parted

When we two parted
In silence and tears,
Half broken-hearted
To sever for years,
Pale grew thy cheek and cold,
Colder thy kiss;
Truly that hour foretold
Sorrow to this.

The dew of the morning
Sunk chill on my brow -
It felt like the warning
Of what I feel now.
Thy vows are all broken,
And light is thy fame:
I hear thy name spoken,
And share in its shame.

They name thee before me,
A knell to mine ear;
A shudder comes o'er me -
Why wert thou so dear?
They know not I knew thee,
Who knew thee too well:
Long, long shall I rue thee,
Too deeply to tell.

In secret we met -
In silence I grieve,
That thy heart could forget,
Thy spirit deceive.
If I should meet thee
After long years,
How should I greet thee?
With silence and tears. — George Gordon Byron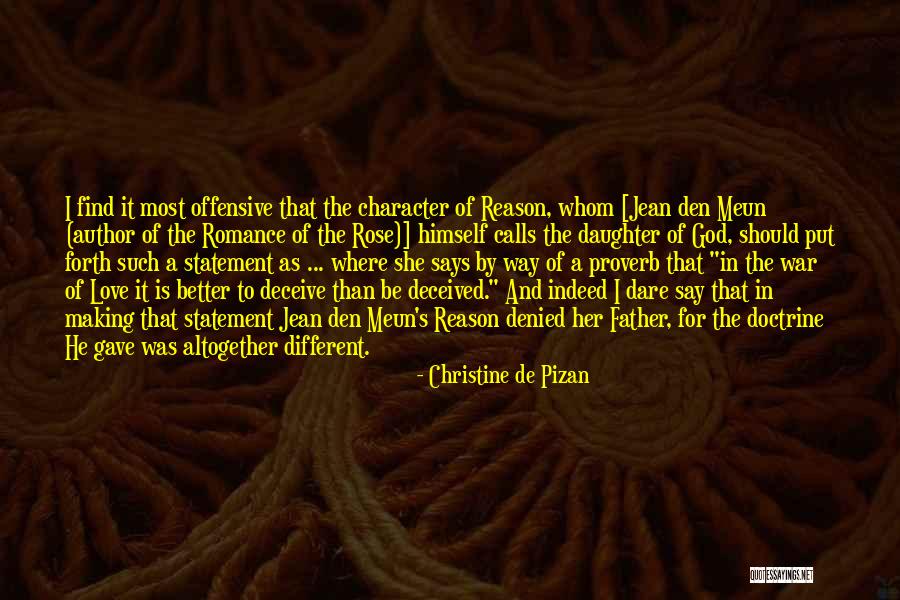 I find it most offensive that the character of Reason, whom [Jean den Meun (author of the Romance of the Rose)] himself calls the daughter of God, should put forth such a statement as ... where she says by way of a proverb that "in the war of Love it is better to deceive than be deceived." And indeed I dare say that in making that statement Jean den Meun's Reason denied her Father, for the doctrine He gave was altogether different. — Christine De Pizan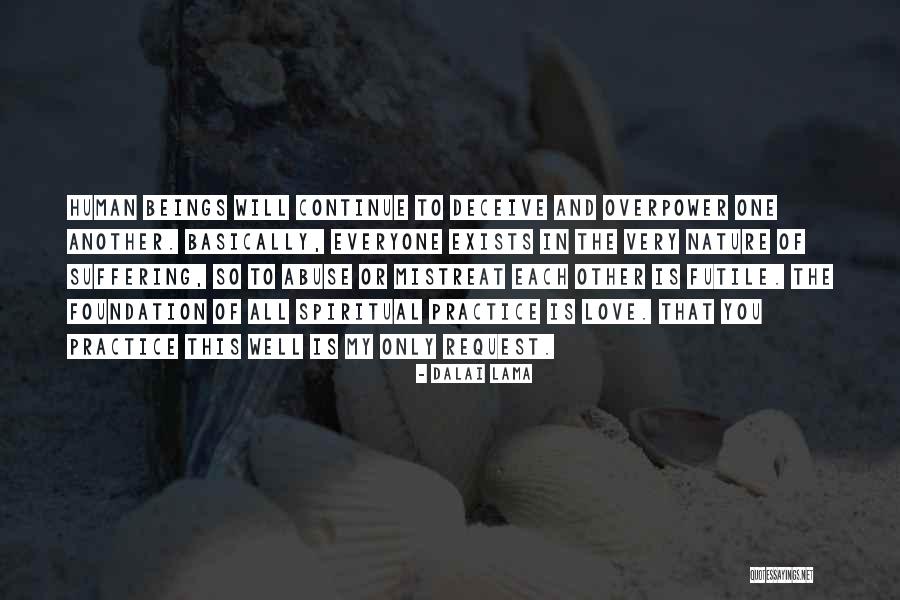 Human beings will continue to deceive and overpower one another. Basically, everyone exists in the very nature of suffering, so to abuse or mistreat each other is futile. The foundation of all spiritual practice is love. That you practice this well is my only request. — Dalai Lama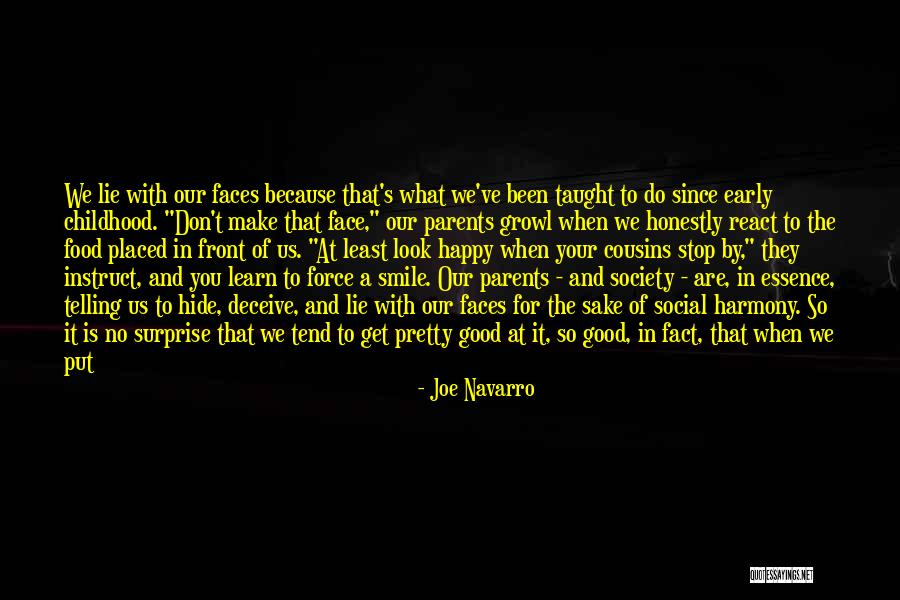 We lie with our faces because that's what we've been taught to do since early childhood. "Don't make that face," our parents growl when we honestly react to the food placed in front of us. "At least look happy when your cousins stop by," they instruct, and you learn to force a smile. Our parents - and society - are, in essence, telling us to hide, deceive, and lie with our faces for the sake of social harmony. So it is no surprise that we tend to get pretty good at it, so good, in fact, that when we put on a happy face at a family gathering, we might look as if we love our in-laws when, in reality, we are fantasizing about how to hasten their departure. — Joe Navarro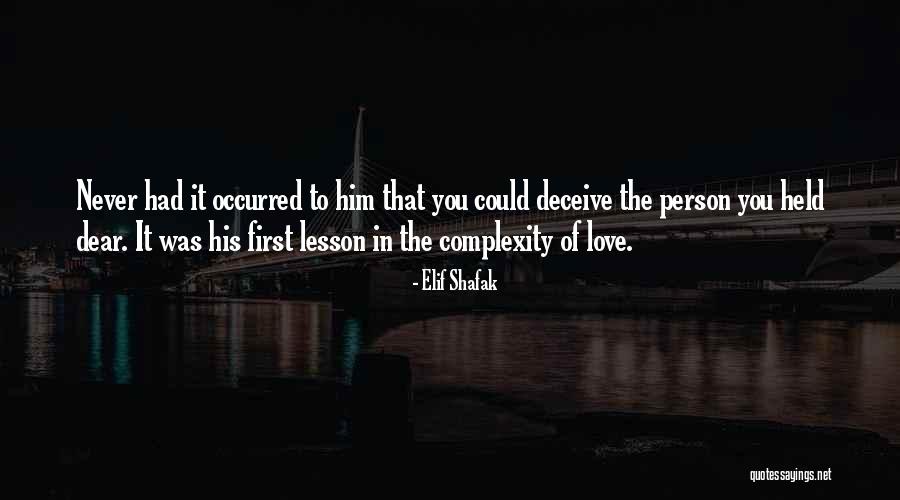 Never had it occurred to him that you could deceive the person you held dear. It was his first lesson in the complexity of love. — Elif Shafak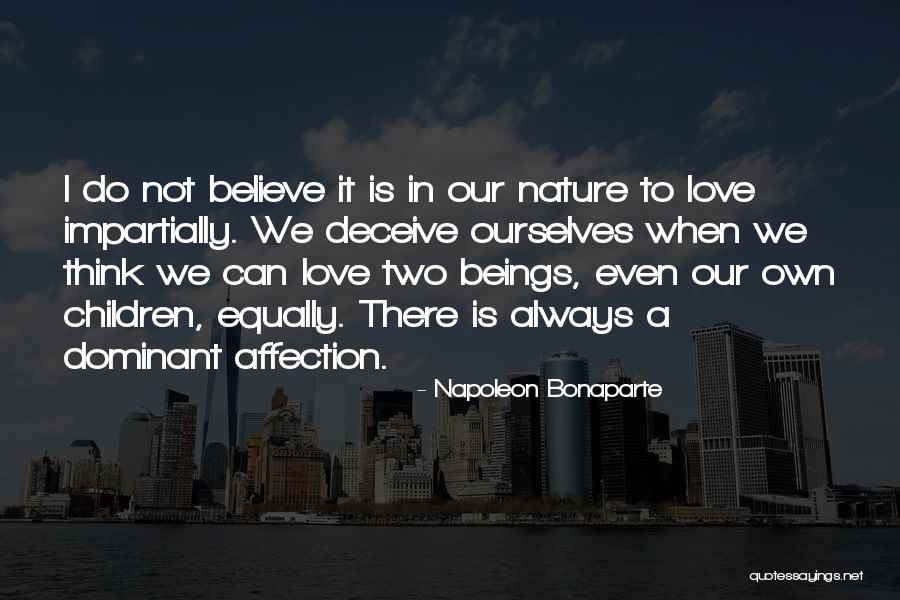 I do not believe it is in our nature to love impartially. We deceive ourselves when we think we can love two beings, even our own children, equally. There is always a dominant affection. — Napoleon Bonaparte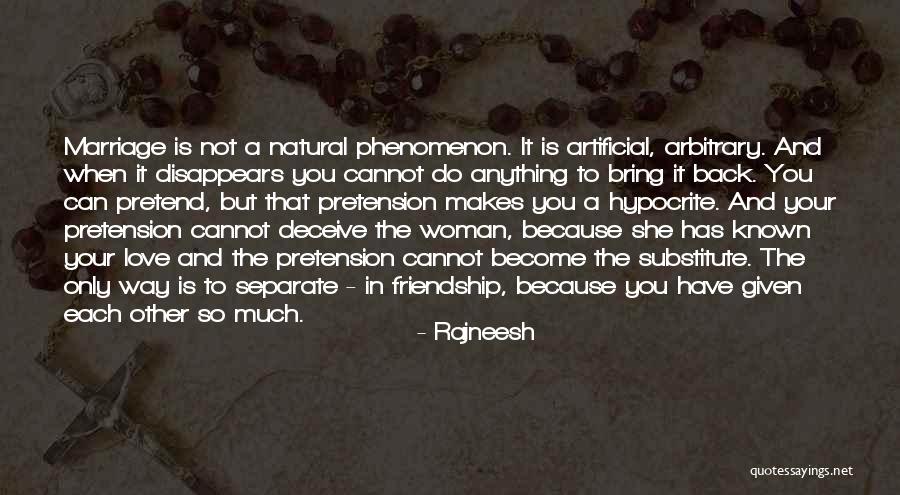 Marriage is not a natural phenomenon. It is artificial, arbitrary. And when it disappears you cannot do anything to bring it back. You can pretend, but that pretension makes you a hypocrite. And your pretension cannot deceive the woman, because she has known your love and the pretension cannot become the substitute. The only way is to separate - in friendship, because you have given each other so much. — Rajneesh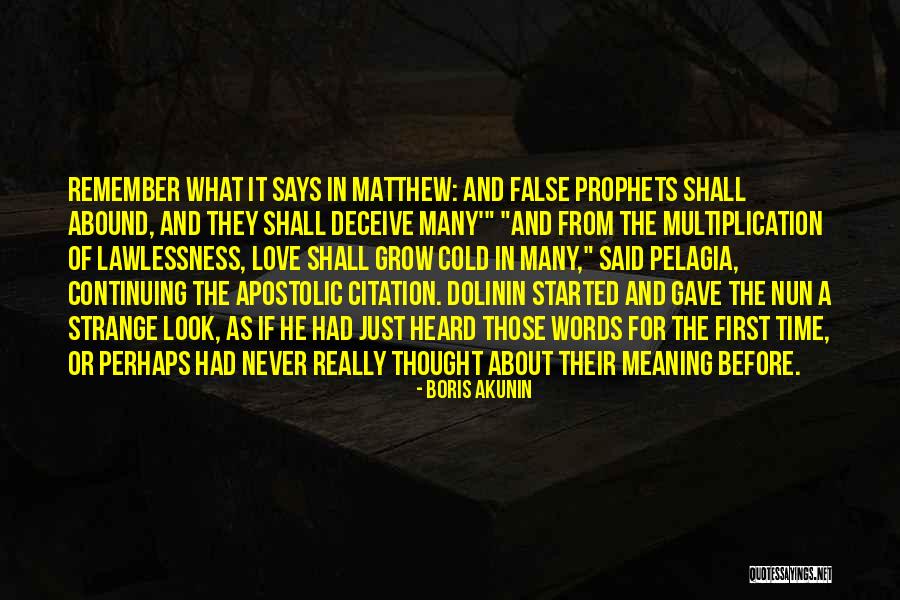 Remember what it says in Matthew: And false prophets shall abound, and they shall deceive many'" "And from the multiplication of lawlessness, love shall grow cold in many," said Pelagia, continuing the apostolic citation. Dolinin started and gave the nun a strange look, as if he had just heard those words for the first time, or perhaps had never really thought about their meaning before. — Boris Akunin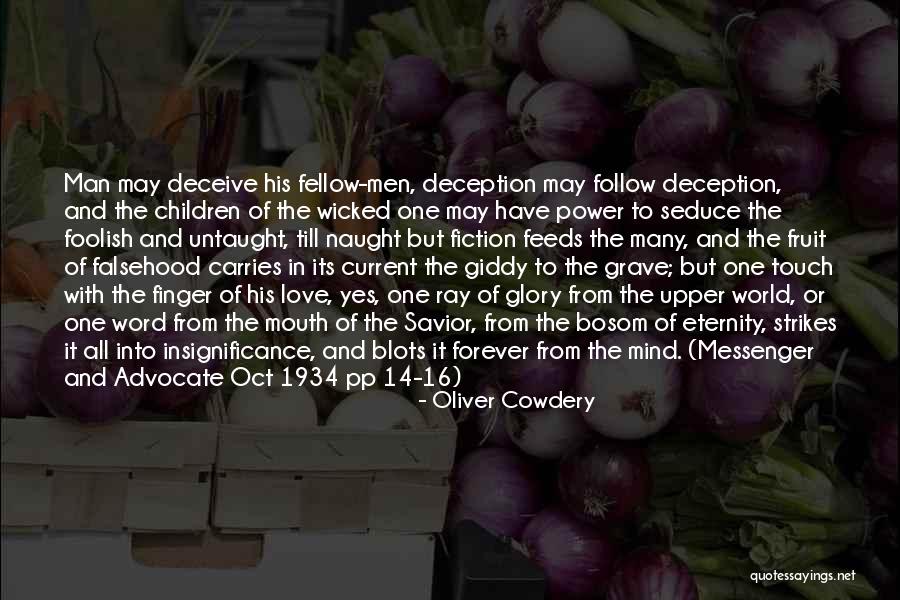 Man may deceive his fellow-men, deception may follow deception, and the children of the wicked one may have power to seduce the foolish and untaught, till naught but fiction feeds the many, and the fruit of falsehood carries in its current the giddy to the grave; but one touch with the finger of his love, yes, one ray of glory from the upper world, or one word from the mouth of the Savior, from the bosom of eternity, strikes it all into insignificance, and blots it forever from the mind. (Messenger and Advocate Oct 1934 pp 14-16) — Oliver Cowdery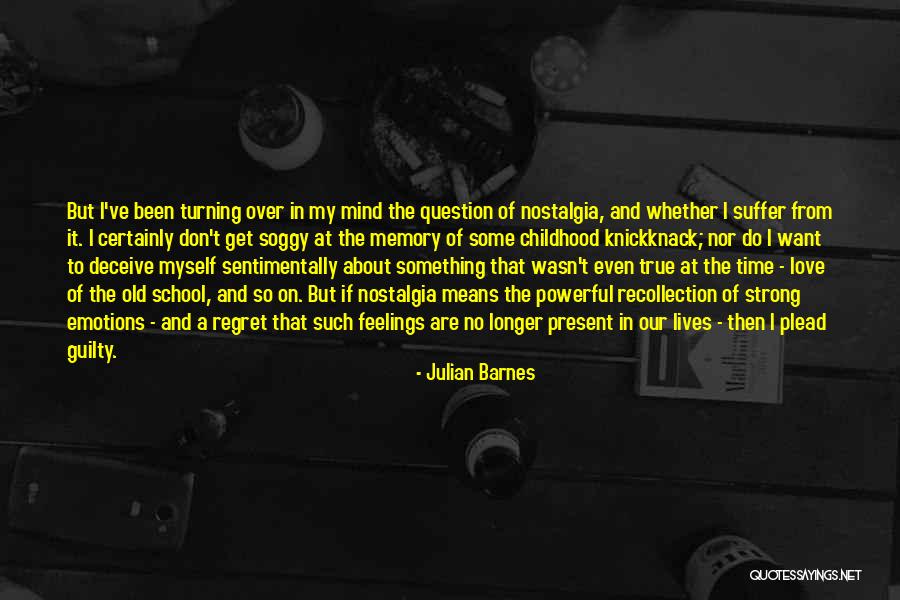 But I've been turning over in my mind the question of nostalgia, and whether I suffer from it. I certainly don't get soggy at the memory of some childhood knickknack; nor do I want to deceive myself sentimentally about something that wasn't even true at the time - love of the old school, and so on. But if nostalgia means the powerful recollection of strong emotions - and a regret that such feelings are no longer present in our lives - then I plead guilty. — Julian Barnes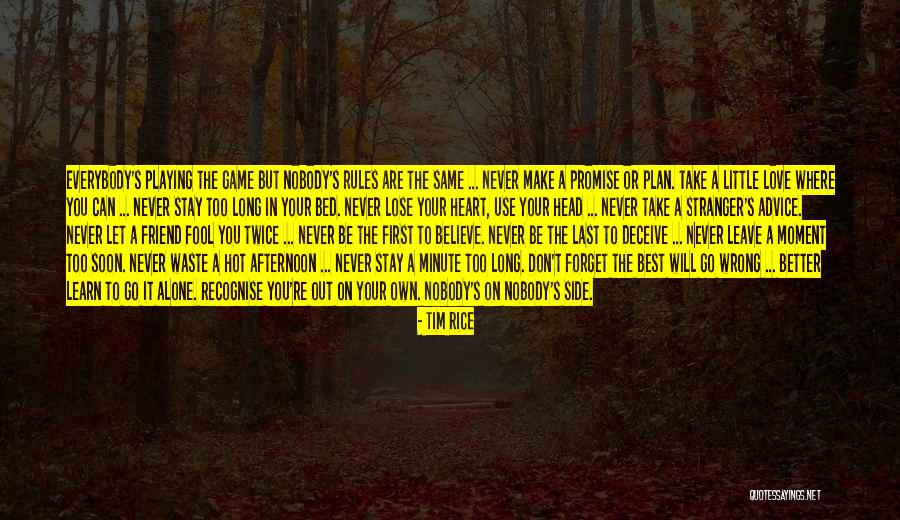 Everybody's playing the game but nobody's rules are the same ... Never make a promise or plan. Take a little love where you can ... Never stay too long in your bed. Never lose your heart, use your head ... Never take a stranger's advice. Never let a friend fool you twice ... Never be the first to believe. Never be the last to deceive ... Never leave a moment too soon. Never waste a hot afternoon ... Never stay a minute too long. Don't forget the best will go wrong ... Better learn to go it alone. Recognise you're out on your own. Nobody's on nobody's side. — Tim Rice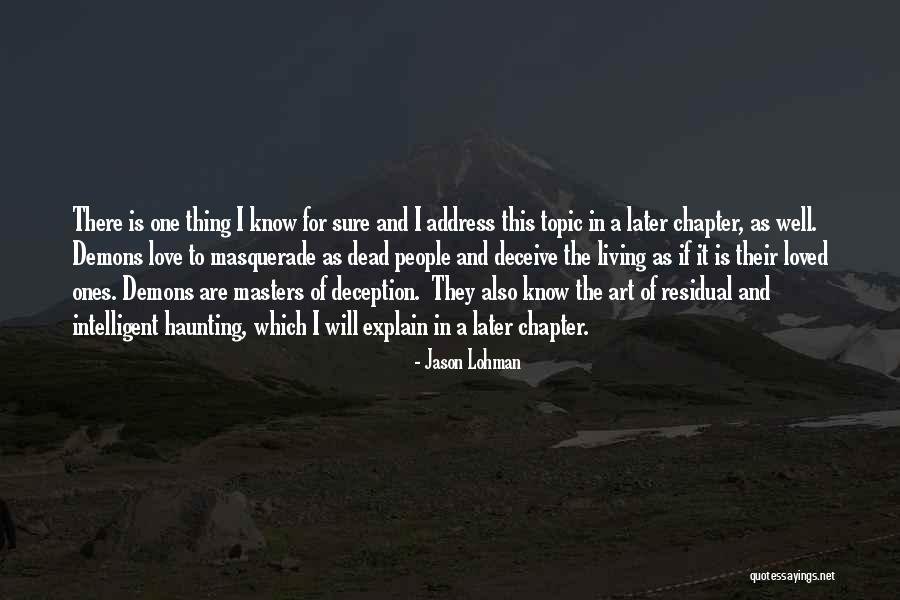 There is one thing I know for sure and I address this topic in a later chapter, as well. Demons love to masquerade as dead people and deceive the living as if it is their loved ones. Demons are masters of deception. They also know the art of residual and intelligent haunting, which I will explain in a later chapter. — Jason Lohman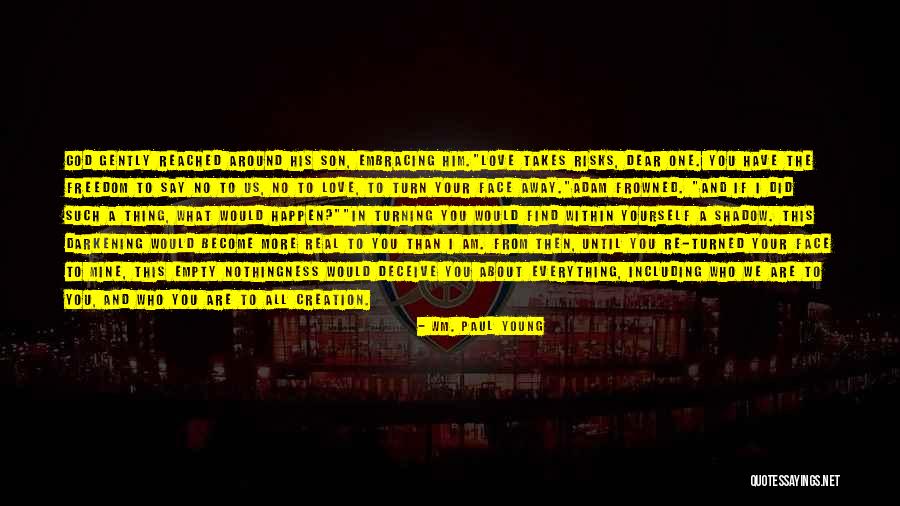 God gently reached around His son, embracing him.
"Love takes risks, dear one. You have the freedom to say no to Us, no to Love, to turn your face away."
Adam frowned. "And if I did such a thing, what would happen?"
"In turning you would find within yourself a shadow. This darkening would become more real to you than I am. From then, until you re-turned your face to Mine, this empty nothingness would deceive you about everything, including who We are to you, and who you are to all creation. — Wm. Paul Young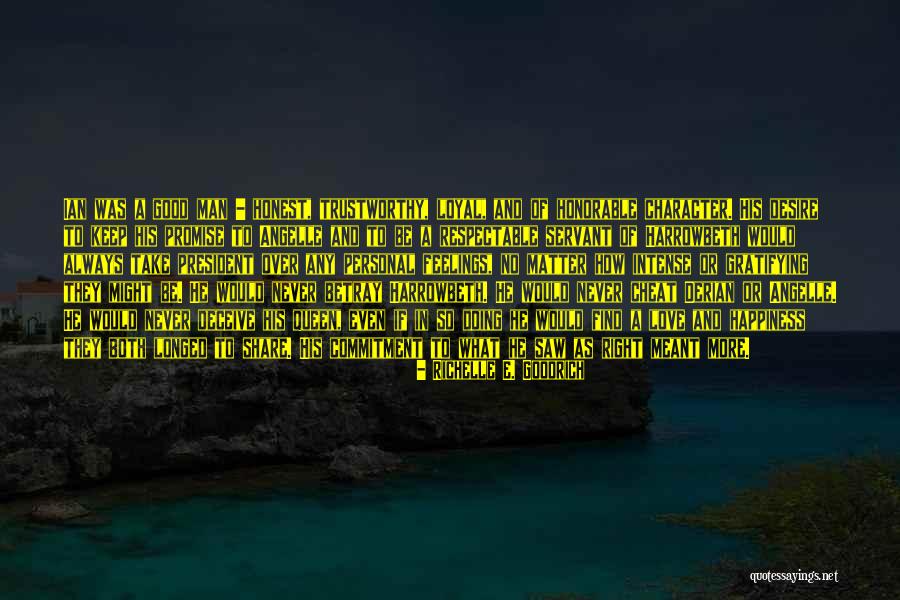 Ian was a good man - honest, trustworthy, loyal, and of honorable character. His desire to keep his promise to Angelle and to be a respectable servant of Harrowbeth would always take president over any personal feelings, no matter how intense or gratifying they might be. He would never betray Harrowbeth. He would never cheat Derian or Angelle. He would never deceive his queen, even if in so doing he would find a love and happiness they both longed to share. His commitment to what he saw as right meant more. — Richelle E. Goodrich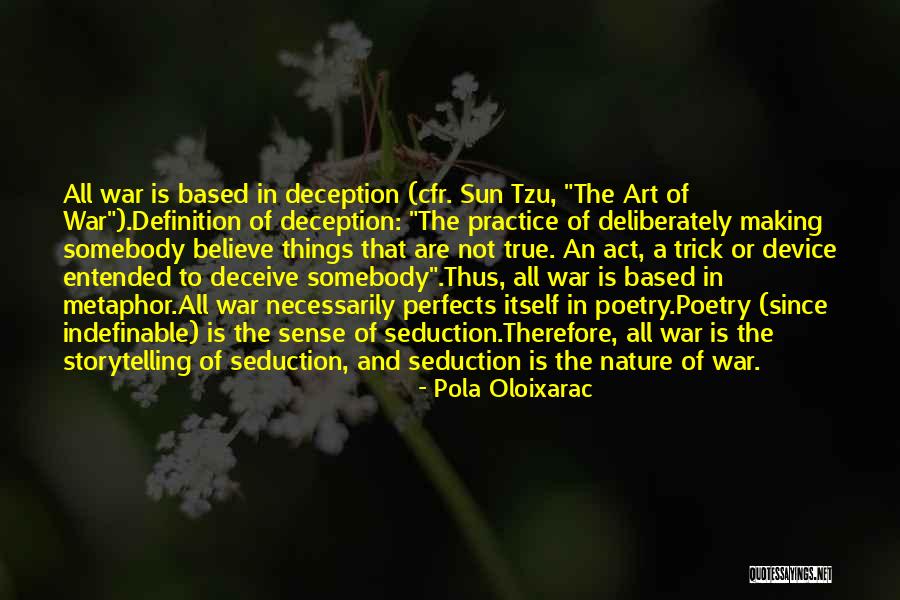 All war is based in deception (cfr. Sun Tzu, "The Art of War").
Definition of deception: "The practice of deliberately making somebody believe things that are not true. An act, a trick or device entended to deceive somebody".
Thus, all war is based in metaphor.
All war necessarily perfects itself in poetry.
Poetry (since indefinable) is the sense of seduction.
Therefore, all war is the storytelling of seduction, and seduction is the nature of war. — Pola Oloixarac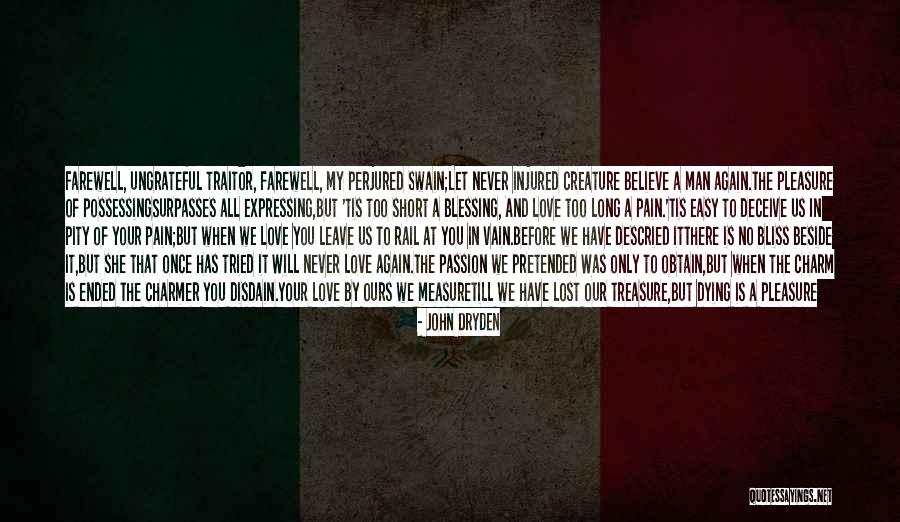 Farewell, ungrateful traitor,
Farewell, my perjured swain;
Let never injured creature
Believe a man again.
The pleasure of possessing
Surpasses all expressing,
But 'tis too short a blessing,
And love too long a pain.

'Tis easy to deceive us
In pity of your pain;
But when we love you leave us
To rail at you in vain.
Before we have descried it
There is no bliss beside it,
But she that once has tried it
Will never love again.

The passion we pretended
Was only to obtain,
But when the charm is ended
The charmer you disdain.
Your love by ours we measure
Till we have lost our treasure,
But dying is a pleasure
When living is a pain. — John Dryden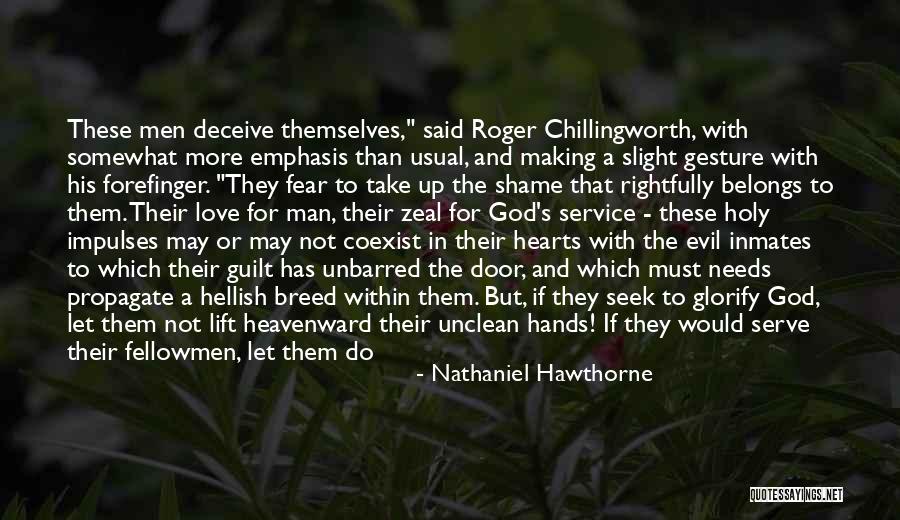 These men deceive themselves," said Roger Chillingworth, with somewhat more emphasis than usual, and making a slight gesture with his forefinger. "They fear to take up the shame that rightfully belongs to them. Their love for man, their zeal for God's service - these holy impulses may or may not coexist in their hearts with the evil inmates to which their guilt has unbarred the door, and which must needs propagate a hellish breed within them. But, if they seek to glorify God, let them not lift heavenward their unclean hands! If they would serve their fellowmen, let them do it by making manifest the power and reality of conscience, in constraining them to penitential self-abasement! Would thou have me to believe, O wise and pious friend, that a false show can be better - can be more for God's glory, or man' welfare - than God's own truth? Trust me, such men deceive themselves!" "It — Nathaniel Hawthorne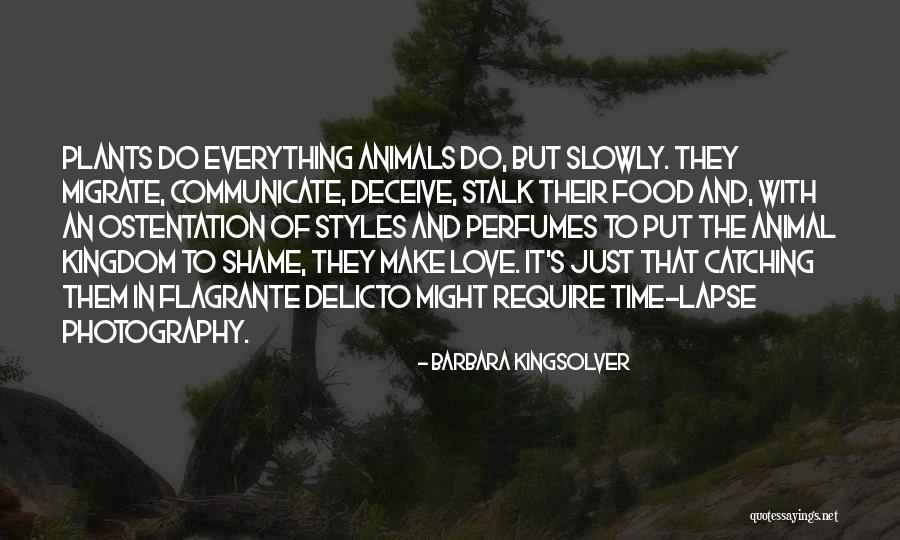 Plants do everything animals do, but slowly. They migrate, communicate, deceive, stalk their food and, with an ostentation of styles and perfumes to put the animal kingdom to shame, they make love. It's just that catching them in flagrante delicto might require time-lapse photography. — Barbara Kingsolver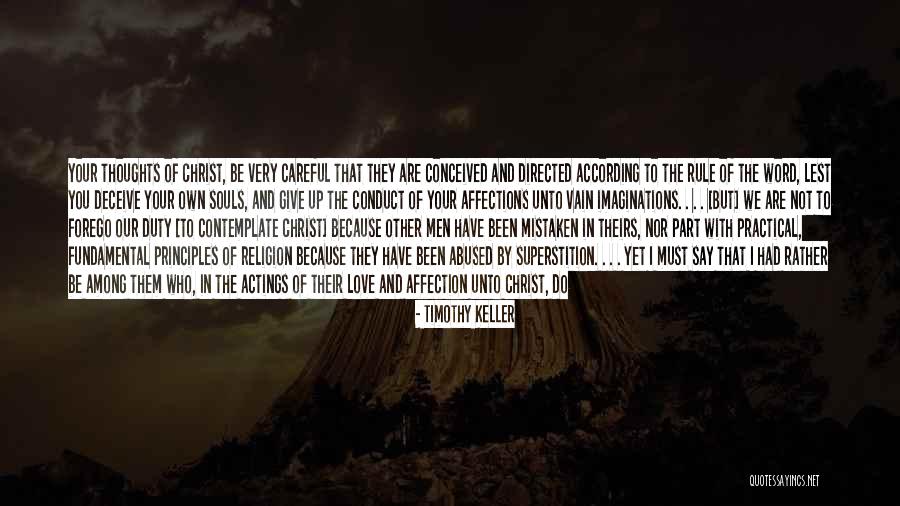 Your thoughts of Christ, be very careful that they are conceived and directed according to the rule of the word, lest you deceive your own souls, and give up the conduct of your affections unto vain imaginations. . . . [But] we are not to forego our duty [to contemplate Christ] because other men have been mistaken in theirs, nor part with practical, fundamental principles of religion because they have been abused by superstition. . . . Yet I must say that I had rather be among them who, in the actings of their love and affection unto Christ, do fall into some irregularities and excesses in the manner of expressing it . . . than among those who, professing themselves to be Christians, do almost disavow their having any thoughts of or affection unto the person of Christ.297 — Timothy Keller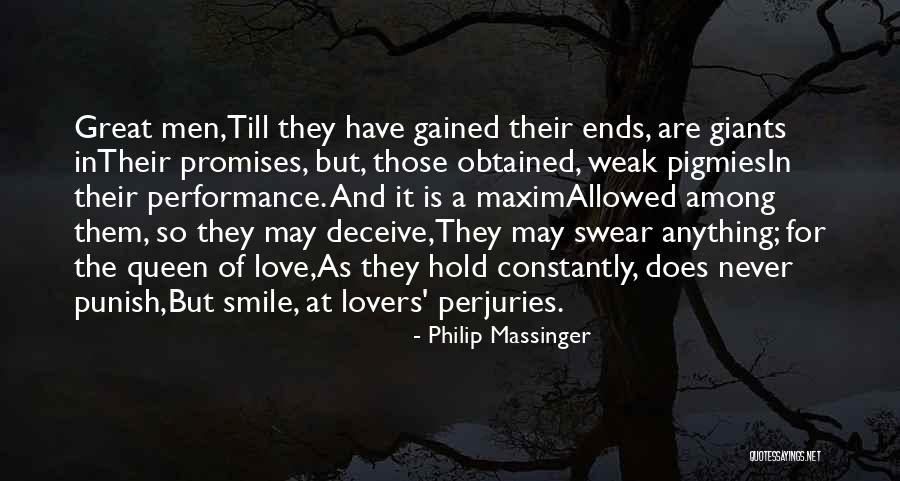 Great men,
Till they have gained their ends, are giants in
Their promises, but, those obtained, weak pigmies
In their performance. And it is a maxim
Allowed among them, so they may deceive,
They may swear anything; for the queen of love,
As they hold constantly, does never punish,
But smile, at lovers' perjuries. — Philip Massinger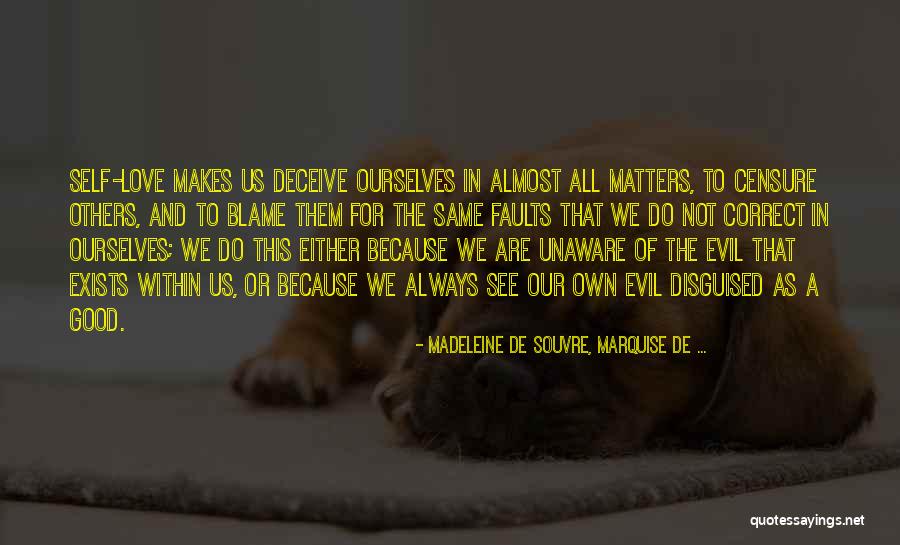 Self-love makes us deceive ourselves in almost all matters, to censure others, and to blame them for the same faults that we do not correct in ourselves; we do this either because we are unaware of the evil that exists within us, or because we always see our own evil disguised as a good. — Madeleine De Souvre, Marquise De ...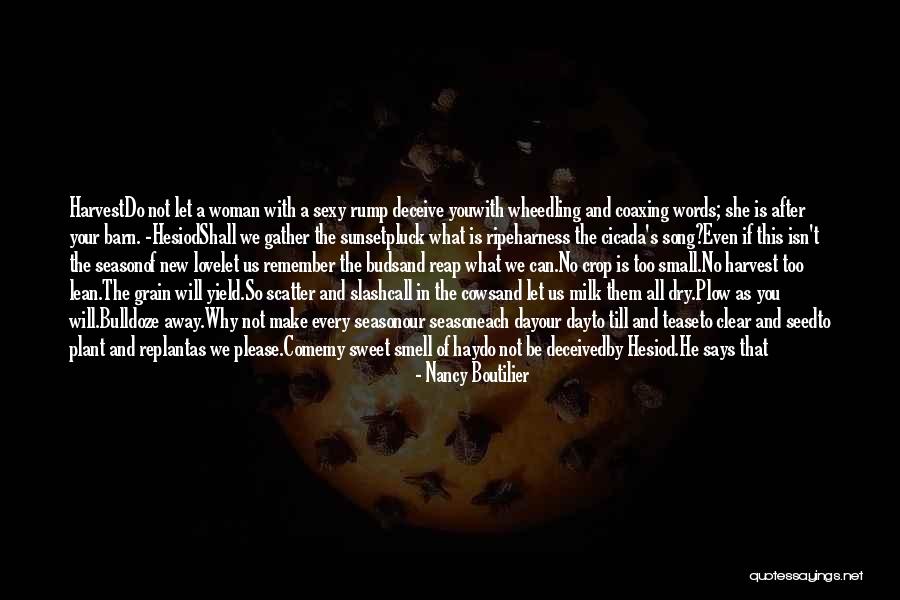 Harvest

Do not let a woman with a sexy rump deceive you
with wheedling and coaxing words; she is after your barn.
-Hesiod

Shall we gather the sunset
pluck what is ripe
harness the cicada's song?
Even if this isn't the season
of new love
let us remember the buds
and reap what we can.
No crop is too small.
No harvest too lean.
The grain will yield.
So scatter and slash
call in the cows
and let us milk them all dry.
Plow as you will.
Bulldoze away.
Why not make every season
our season
each day
our day
to till and tease
to clear and seed
to plant and replant
as we please.
Come
my sweet smell of hay
do not be deceived
by Hesiod.
He says that I am
after your barn.
I want the whole
fucking farm! — Nancy Boutilier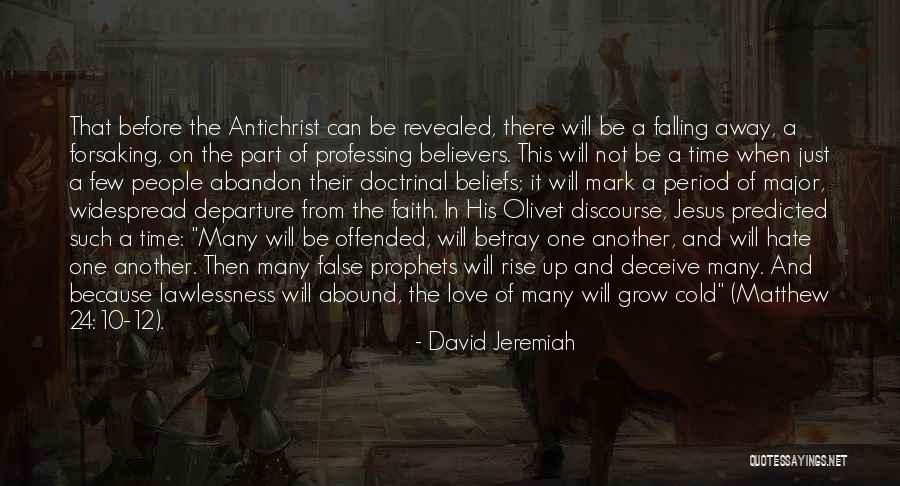 That before the Antichrist can be revealed, there will be a falling away, a forsaking, on the part of professing believers. This will not be a time when just a few people abandon their doctrinal beliefs; it will mark a period of major, widespread departure from the faith. In His Olivet discourse, Jesus predicted such a time: "Many will be offended, will betray one another, and will hate one another. Then many false prophets will rise up and deceive many. And because lawlessness will abound, the love of many will grow cold" (Matthew 24:10-12). — David Jeremiah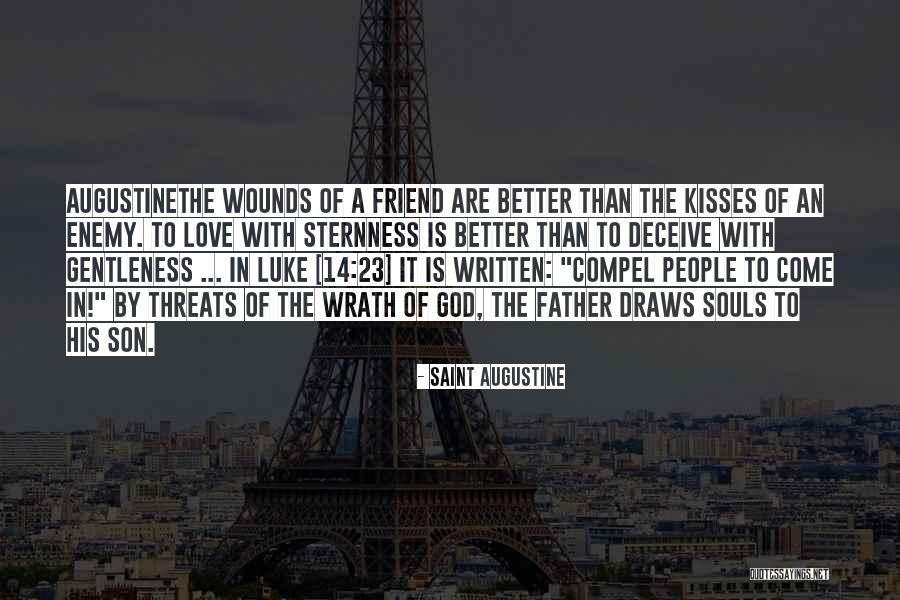 AugustineThe wounds of a friend are better than the kisses of an enemy. To love with sternness is better than to deceive with gentleness ... In Luke [14:23] it is written: "Compel people to come in!" By threats of the wrath of God, the Father draws souls to his Son. — Saint Augustine
Suffer not yourselves to be betrayed with a kiss. Ask yourselves how this gracious reception of our petition comports with those warlike preparations which cover our waters and darken our land. Are fleets and armies necessary to a work of love and reconciliation? Have we shown ourselves so unwilling to be reconciled, that force must be called in to win back our love? Let us not deceive ourselves, sir. These are the implements of war and subjugationthe last arguments to which kings resort. — Patrick Henry
His question reminded me of how easy he had been to deceive, so easy that he seemed to me almost a conniver at his wife's unfaithfulness, as the man who leaves loose banknotes in a hotel bedroom connives at theft, and I hated him for the very quality which had once helped my love. — Graham Greene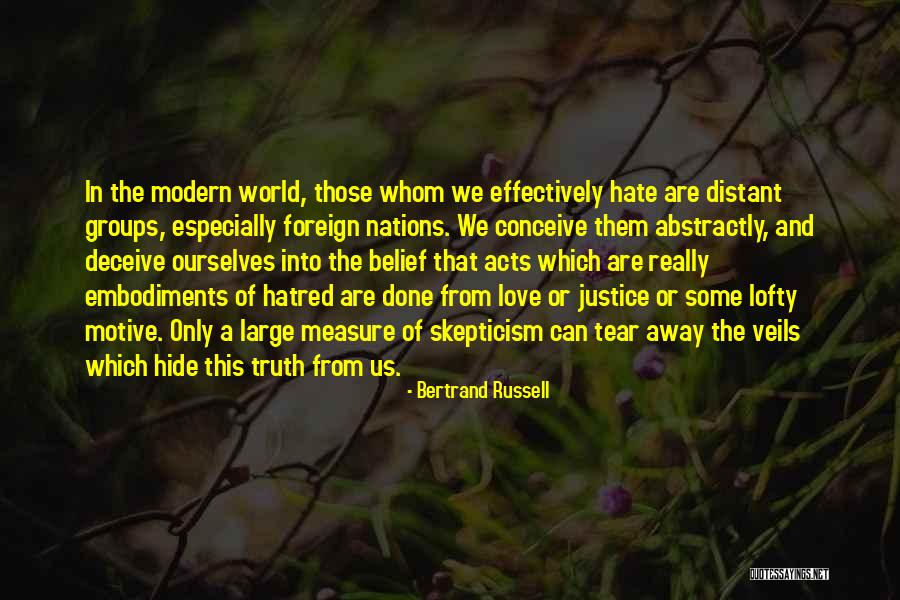 In the modern world, those whom we effectively hate are distant groups, especially foreign nations. We conceive them abstractly, and deceive ourselves into the belief that acts which are really embodiments of hatred are done from love or justice or some lofty motive. Only a large measure of skepticism can tear away the veils which hide this truth from us. — Bertrand Russell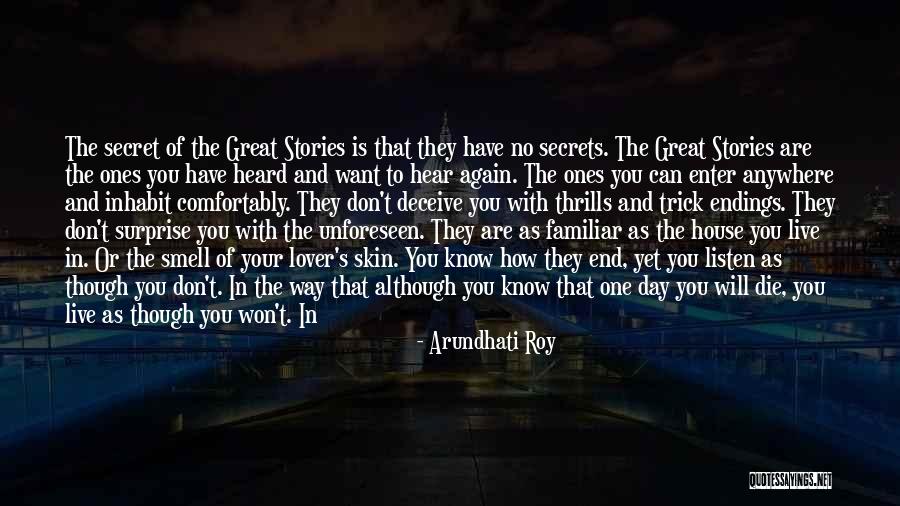 The secret of the Great Stories is that they have no secrets. The Great Stories are the ones you have heard and want to hear again. The ones you can enter anywhere and inhabit comfortably. They don't deceive you with thrills and trick endings. They don't surprise you with the unforeseen. They are as familiar as the house you live in. Or the smell of your lover's skin. You know how they end, yet you listen as though you don't. In the way that although you know that one day you will die, you live as though you won't. In the Great Stories you know who lives, who dies, who finds love, who doesn't. And yet you want to know again.
That is their mystery and their magic. — Arundhati Roy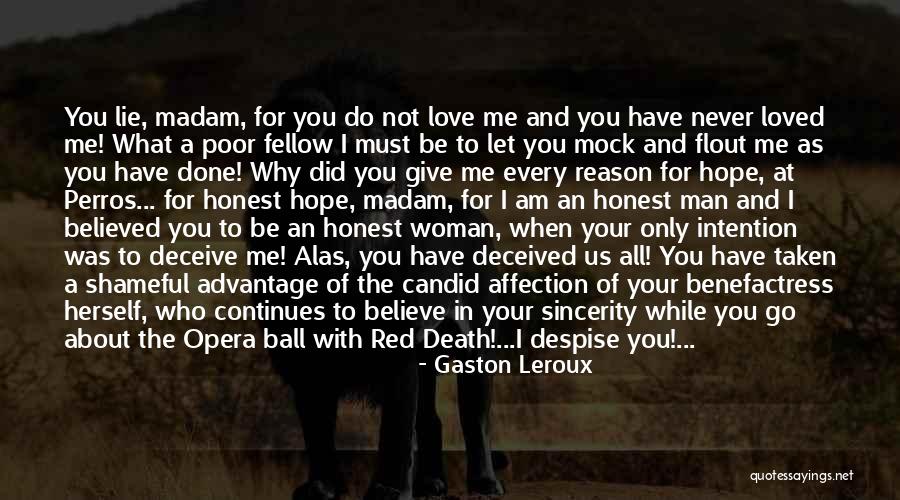 You lie, madam, for you do not love me and you have never loved me! What a poor fellow I must be to let you mock and flout me as you have done! Why did you give me every reason for hope, at Perros... for honest hope, madam, for I am an honest man and I believed you to be an honest woman, when your only intention was to deceive me! Alas, you have deceived us all! You have taken a shameful advantage of the candid affection of your benefactress herself, who continues to believe in your sincerity while you go about the Opera ball with Red Death!...I despise you!... — Gaston Leroux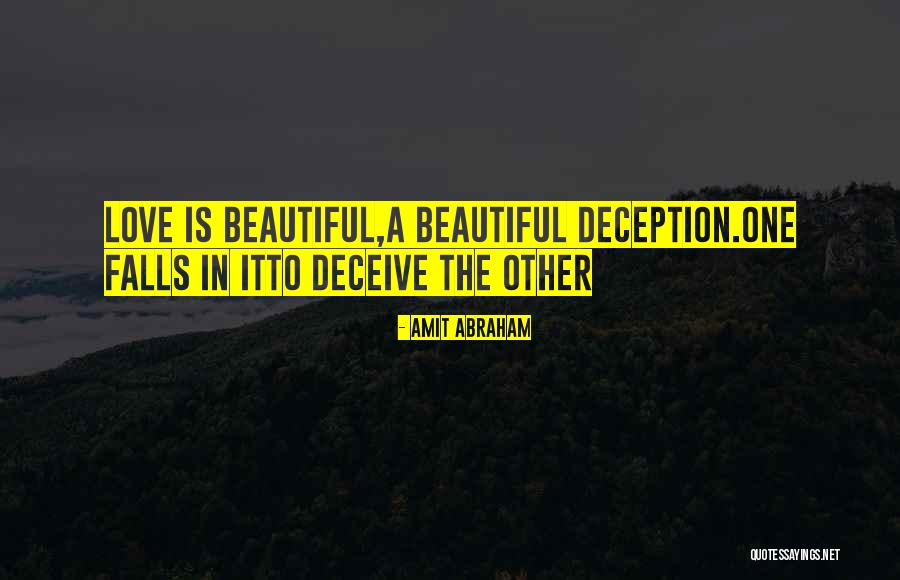 Love is beautiful,
A beautiful deception.
One falls in it
To deceive the other — Amit Abraham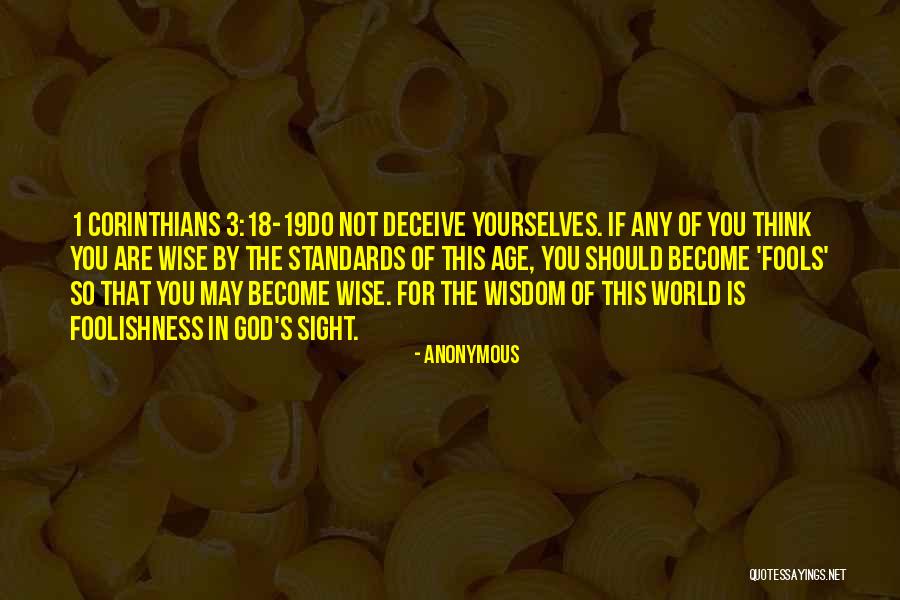 1 Corinthians 3:18-19
Do not deceive yourselves. If any of you think you are wise by the standards of this age, you should become 'fools' so that you may become wise. For the wisdom of this world is foolishness in God's sight. — Anonymous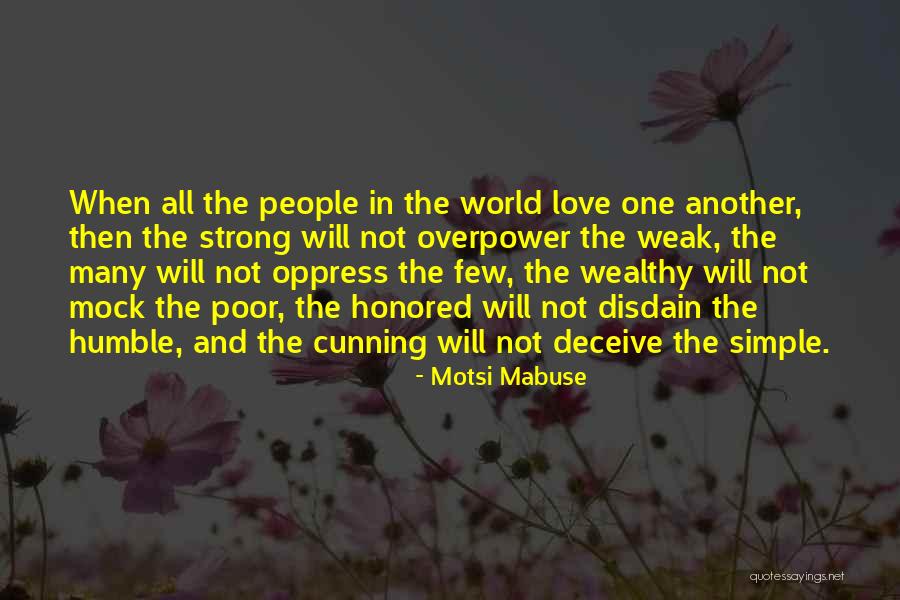 When all the people in the world love one another, then the strong will not overpower the weak, the many will not oppress the few, the wealthy will not mock the poor, the honored will not disdain the humble, and the cunning will not deceive the simple. — Motsi Mabuse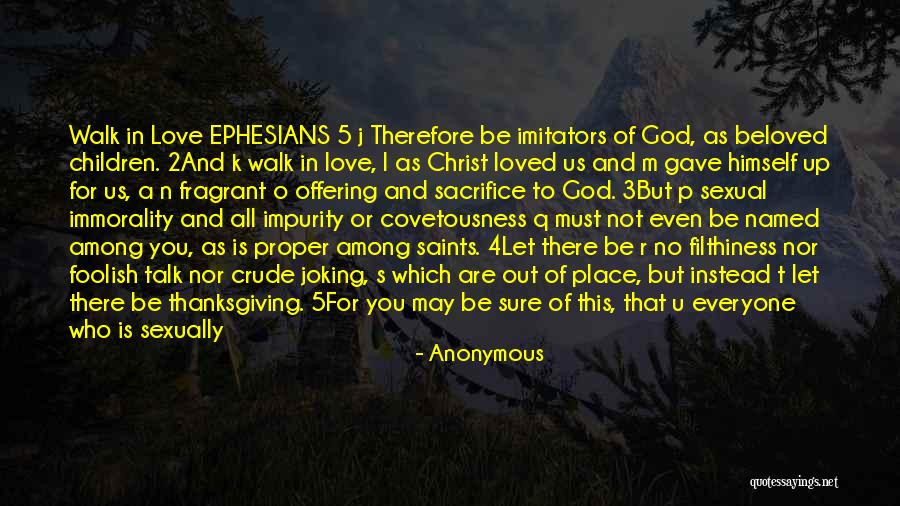 Walk in Love EPHESIANS 5 j Therefore be imitators of God, as beloved children. 2And k walk in love, l as Christ loved us and m gave himself up for us, a n fragrant o offering and sacrifice to God. 3But p sexual immorality and all impurity or covetousness q must not even be named among you, as is proper among saints. 4Let there be r no filthiness nor foolish talk nor crude joking, s which are out of place, but instead t let there be thanksgiving. 5For you may be sure of this, that u everyone who is sexually immoral or impure, or who is covetous ( v that is, an idolater), has no inheritance in the kingdom of Christ and God. 6 w Let no one x deceive you with empty words, for because of these things y the wrath of God comes upon z the sons of disobedience. 7Therefore a do not become partners with them; 8for b at one time you were c darkness, but now you are light in the Lord. d Walk as children of light — Anonymous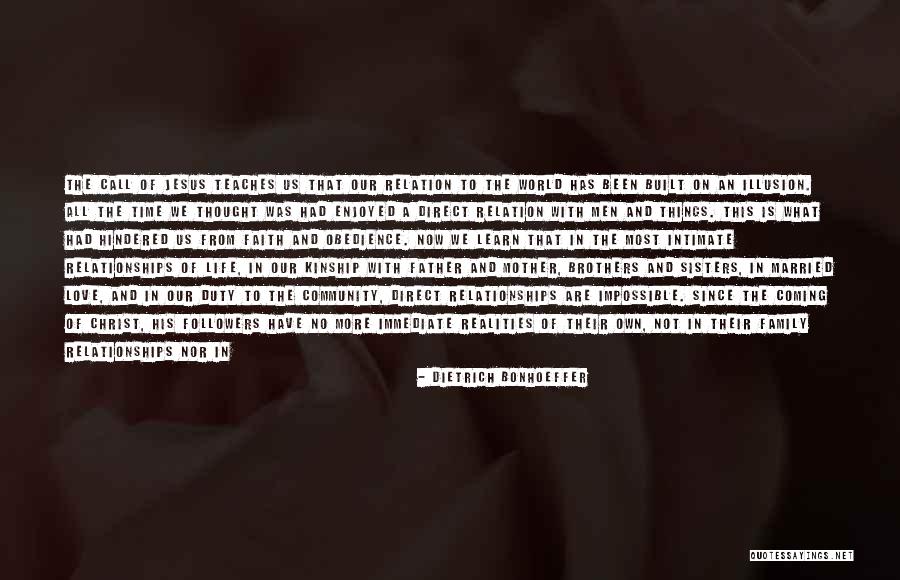 The call of Jesus teaches us that our relation to the world has been built on an illusion. All the time we thought was had enjoyed a direct relation with men and things. This is what had hindered us from faith and obedience. Now we learn that in the most intimate relationships of life, in our kinship with father and mother, brothers and sisters, in married love, and in our duty to the community, direct relationships are impossible. Since the coming of Christ, his followers have no more immediate realities of their own, not in their family relationships nor in the ties with their nation nor in the relationships formed in the process of living. Between father and son, husband and wife, the individual and the nation, stands Christ the Mediator, whether they are able to recognize him or not. We cannot establish direct contact outside ourselves except through him, through his word, and through our following of him. To think otherwise is to deceive ourselves. — Dietrich Bonhoeffer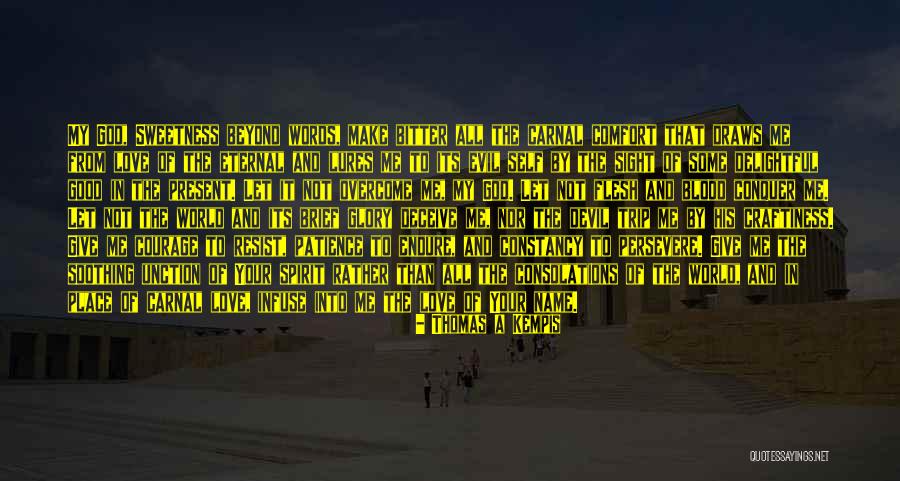 My God, Sweetness beyond words, make bitter all the carnal comfort that draws me from love of the eternal and lures me to its evil self by the sight of some delightful good in the present. Let it not overcome me, my God. Let not flesh and blood conquer me. Let not the world and its brief glory deceive me, nor the devil trip me by his craftiness. Give me courage to resist, patience to endure, and constancy to persevere. Give me the soothing unction of Your spirit rather than all the consolations of the world, and in place of carnal love, infuse into me the love of Your name. — Thomas A Kempis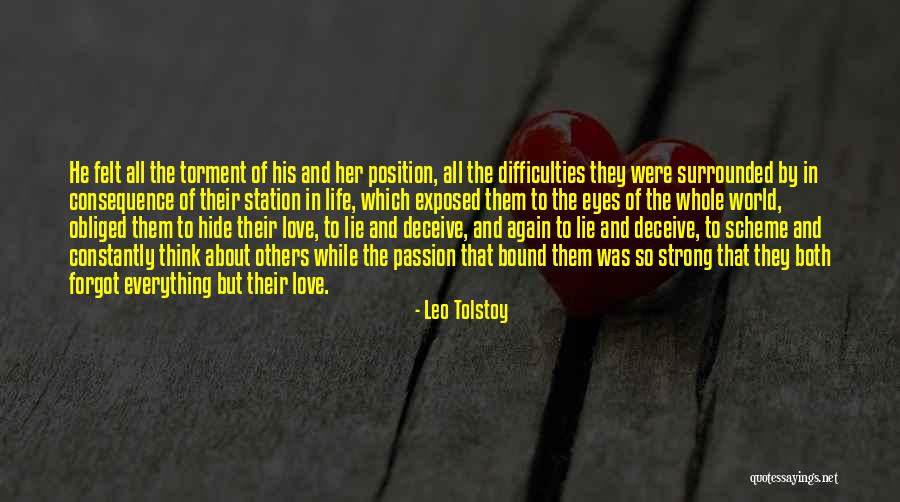 He felt all the torment of his and her position, all the difficulties they were surrounded by in consequence of their station in life, which exposed them to the eyes of the whole world, obliged them to hide their love, to lie and deceive, and again to lie and deceive, to scheme and constantly think about others while the passion that bound them was so strong that they both forgot everything but their love. — Leo Tolstoy
The heart is the place where we live our passions. It is frail and easily broken, but wonderfully resilient. There is no point in trying to deceive the heart. It depends upon our honesty for its survival. — Leo Buscaglia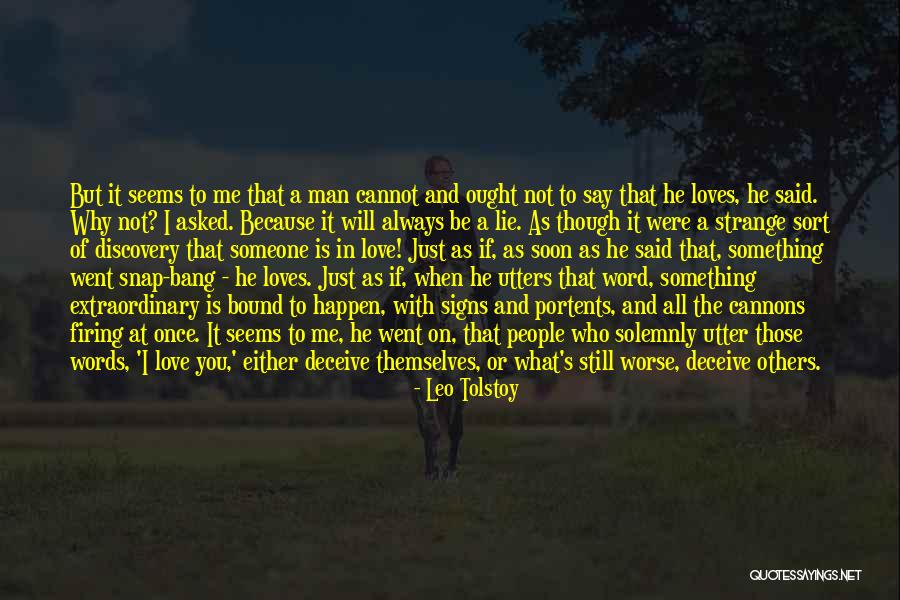 But it seems to me that a man cannot and ought not to say that he loves, he said. Why not? I asked. Because it will always be a lie. As though it were a strange sort of discovery that someone is in love! Just as if, as soon as he said that, something went snap-bang - he loves. Just as if, when he utters that word, something extraordinary is bound to happen, with signs and portents, and all the cannons firing at once. It seems to me, he went on, that people who solemnly utter those words, 'I love you,' either deceive themselves, or what's still worse, deceive others. — Leo Tolstoy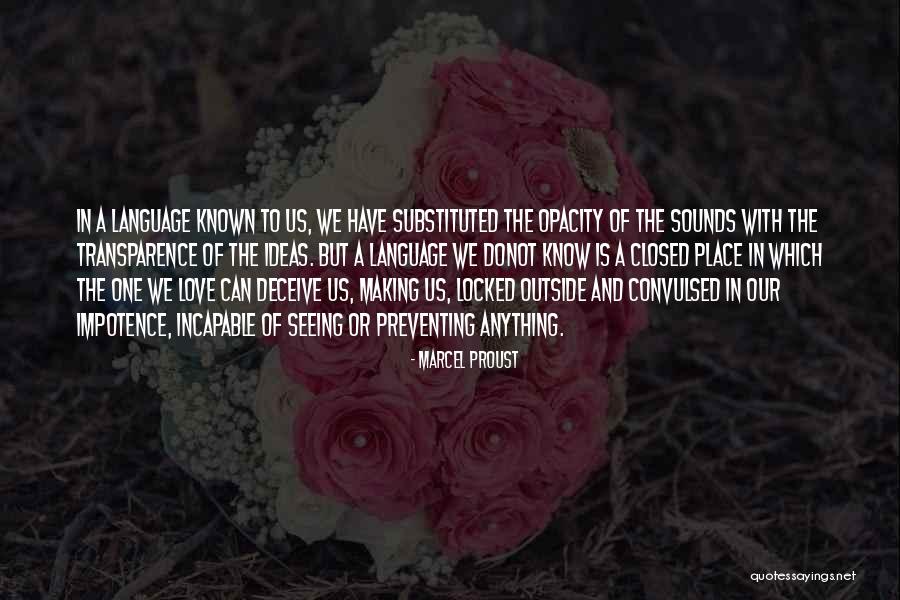 In a language known to us, we have substituted the opacity of the sounds with the transparence of the ideas. But a language we donot know is a closed place in which the one we love can deceive us, making us, locked outside and convulsed in our impotence, incapable of seeing or preventing anything. — Marcel Proust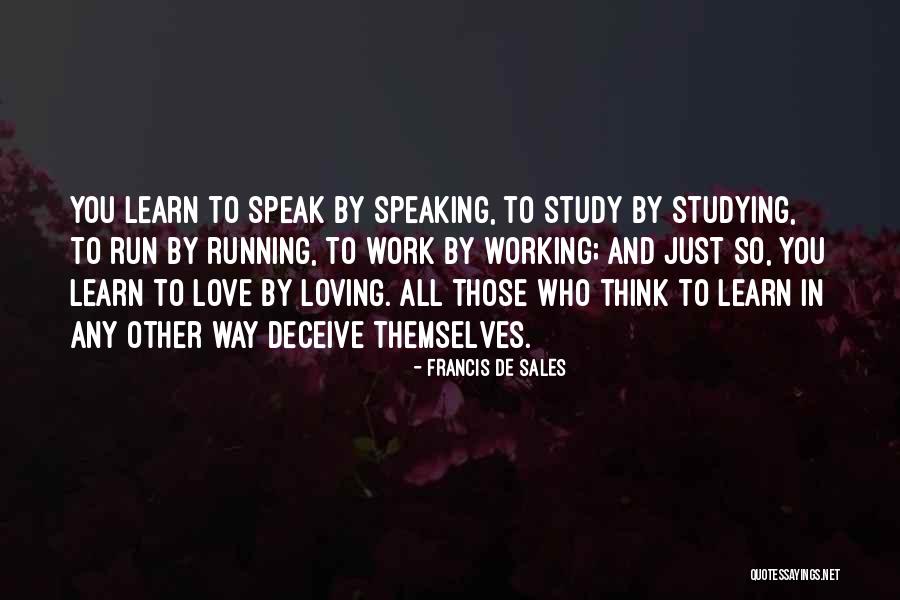 You learn to speak by speaking, to study by studying, to run by running, to work by working; and just so, you learn to love by loving. All those who think to learn in any other way deceive themselves. — Francis De Sales