Quotes & Sayings About Crying In The Rain
Enjoy reading and share 51 famous quotes about Crying In The Rain with everyone.
Top Crying In The Rain Quotes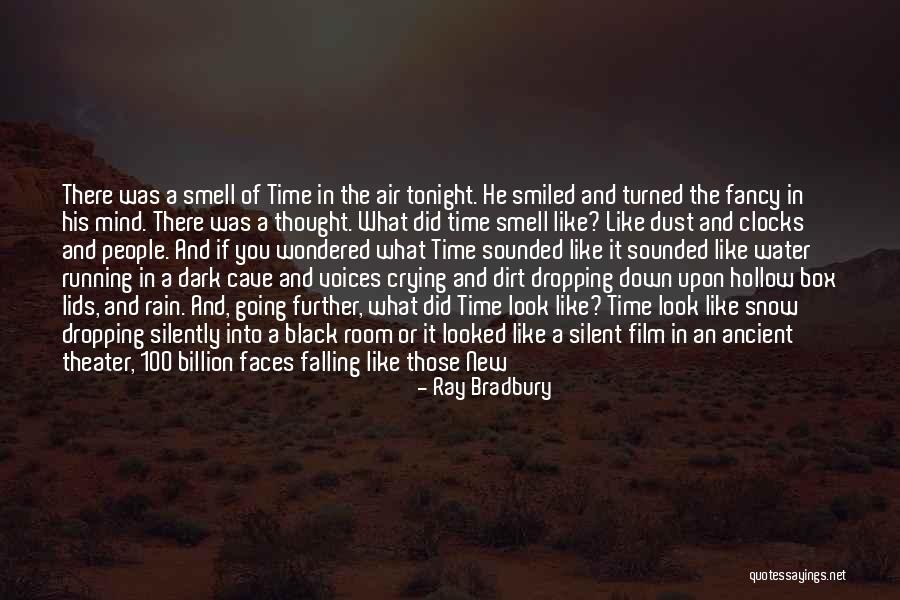 There was a smell of Time in the air tonight. He smiled and turned the fancy in his mind. There was a thought. What did time smell like? Like dust and clocks and people. And if you wondered what Time sounded like it sounded like water running in a dark cave and voices crying and dirt dropping down upon hollow box lids, and rain. And, going further, what did Time look like? Time look like snow dropping silently into a black room or it looked like a silent film in an ancient theater, 100 billion faces falling like those New Year balloons, down and down into nothing. That was how Time smelled and looked and sounded. And tonight-Tomas shoved a hand into the wind outside the truck-tonight you could almost taste time. — Ray Bradbury
I hear pounding feet in the streets below
And the women crying and the children know
That there's something wrong
And it's hard to believe that love will prevail
Oh it won't rain all the time
The sky won't fall forever
And though the night seems long
Your tears won't fall forever — Jane Siberry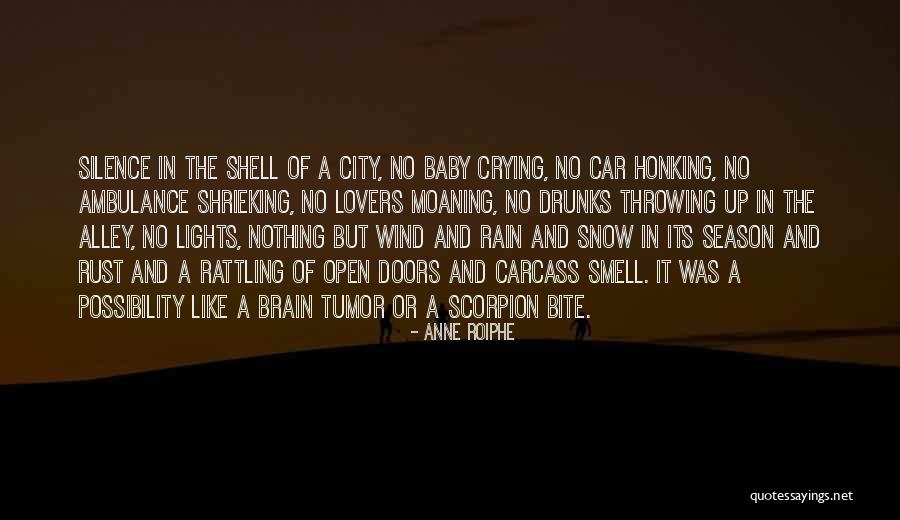 Silence in the shell of a city, no baby crying, no car honking, no ambulance shrieking, no lovers moaning, no drunks throwing up in the alley, no lights, nothing but wind and rain and snow in its season and rust and a rattling of open doors and carcass smell. It was a possibility like a brain tumor or a scorpion bite. — Anne Roiphe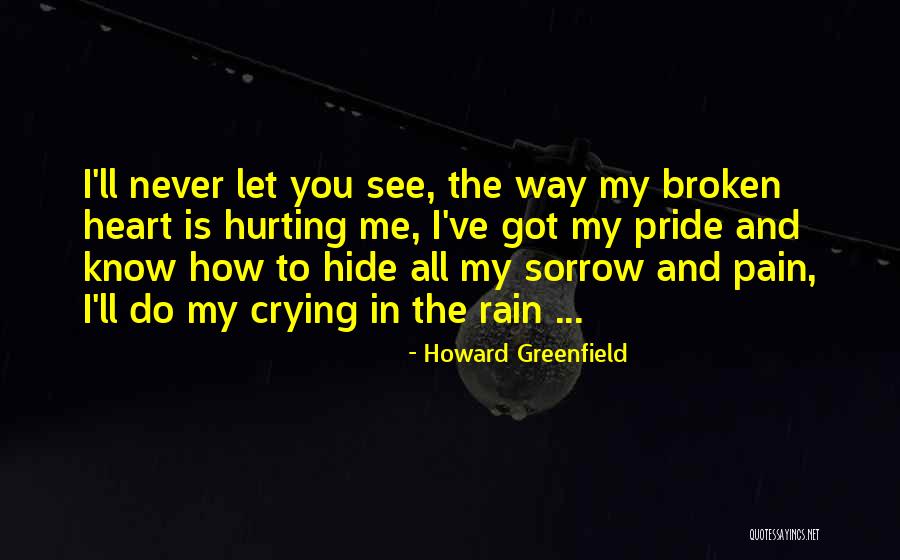 I'll never let you see, the way my broken heart is hurting me, I've got my pride and know how to hide all my sorrow and pain, I'll do my crying in the rain ... — Howard Greenfield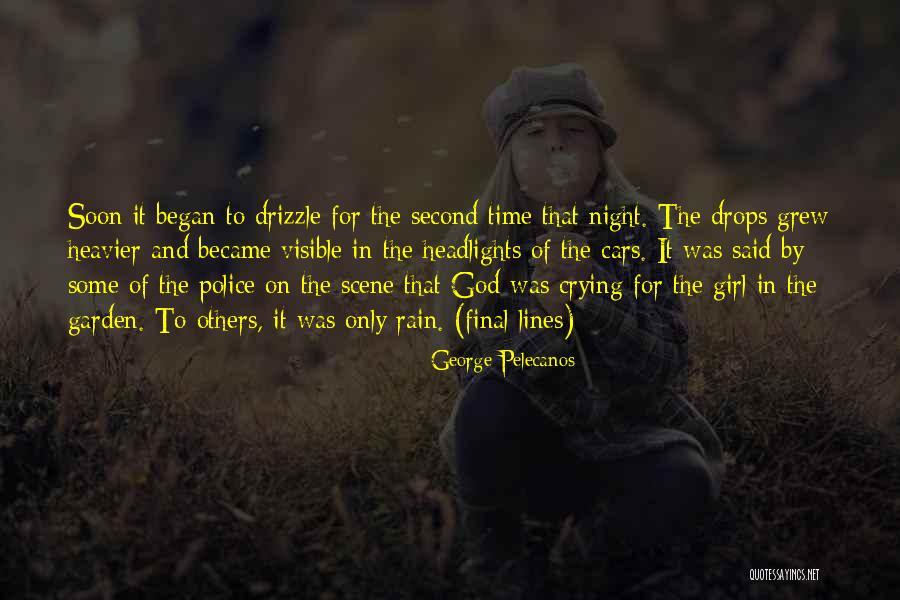 Soon it began to drizzle for the second time that night. The drops grew heavier and became visible in the headlights of the cars. It was said by some of the police on the scene that God was crying for the girl in the garden. To others, it was only rain. (final lines) — George Pelecanos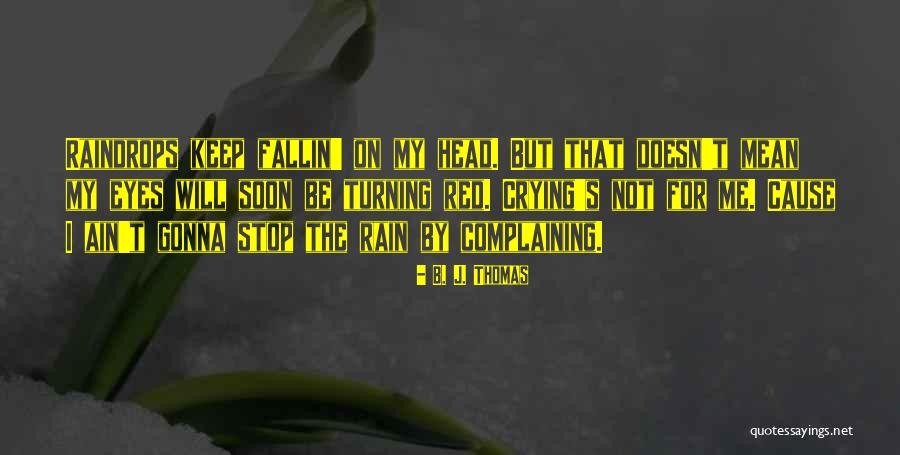 Raindrops keep fallin' on my head. But that doesn't mean my eyes will soon be turning red. Crying's not for me. Cause I ain't gonna stop the rain by complaining. — B. J. Thomas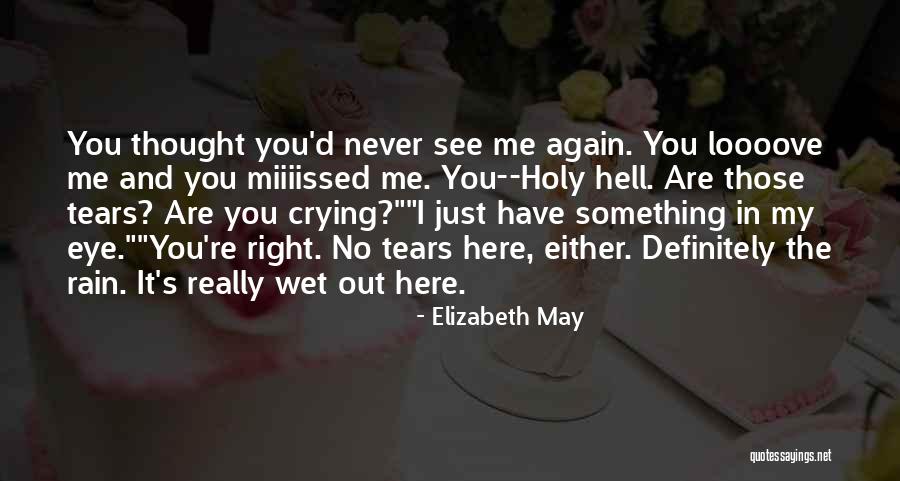 You thought you'd never see me again. You loooove me and you miiiissed me. You--Holy hell. Are those tears? Are you crying?"

"I just have something in my eye."

"You're right. No tears here, either. Definitely the rain. It's really wet out here. — Elizabeth May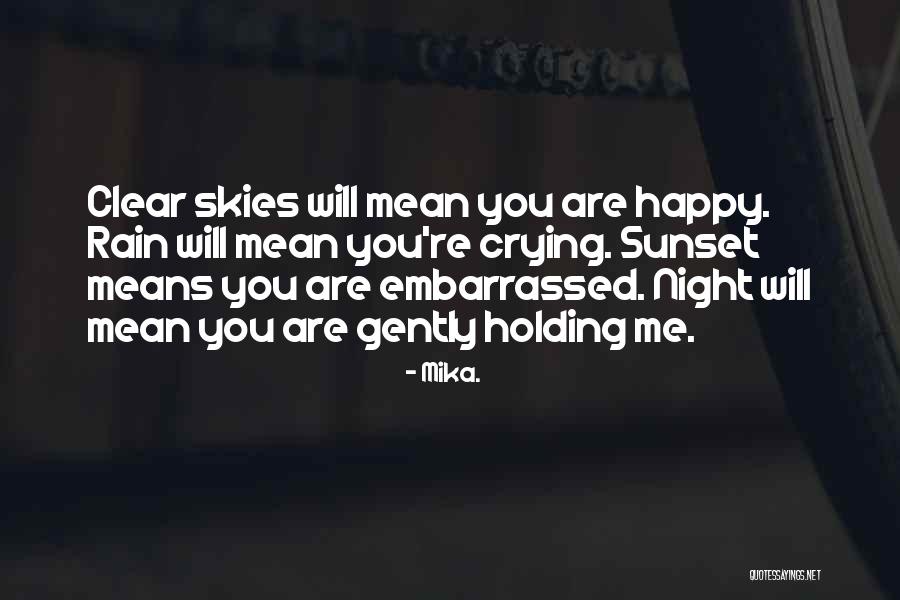 Clear skies will mean you are happy. Rain will mean you're crying. Sunset means you are embarrassed. Night will mean you are gently holding me. — Mika.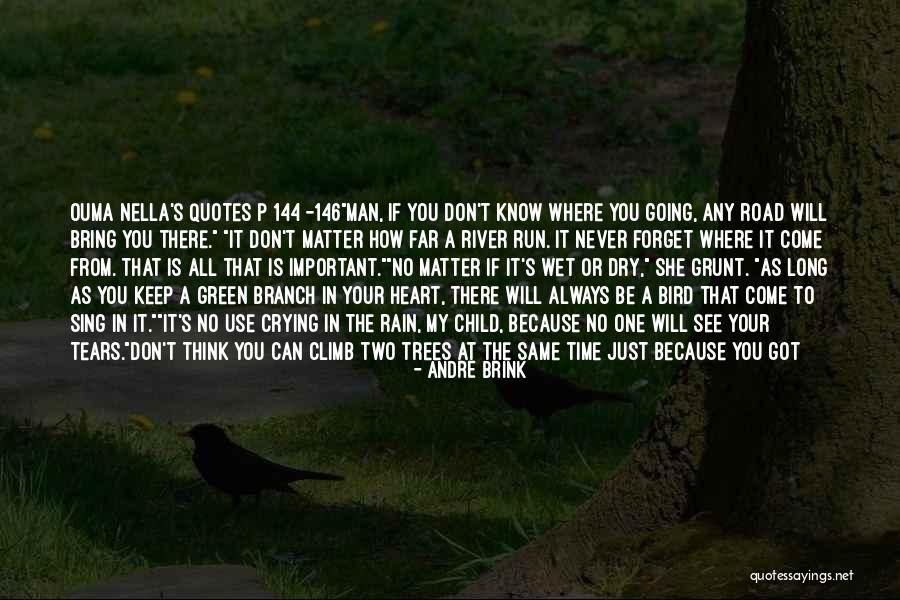 Ouma Nella's quotes p 144 -146
"Man, if you don't know where you going, any road will bring you there."
"It don't matter how far a river run. It never forget where it come from. That is all that is important."
"No matter if it's wet or dry," she grunt. "As long as you keep a green branch in your heart, there will always be a bird that come to sing in it."
"It's no use crying in the rain, my child, because no one will see your tears.
"Don't think you can climb two trees at the same time just because you got two legs."
"Ouma Nella, where am I not?"
"But you're right here with me, Philida. So there's many places where you're not."
"Tell me where those places are. I got to know. So I can go and look for myself. — Andre Brink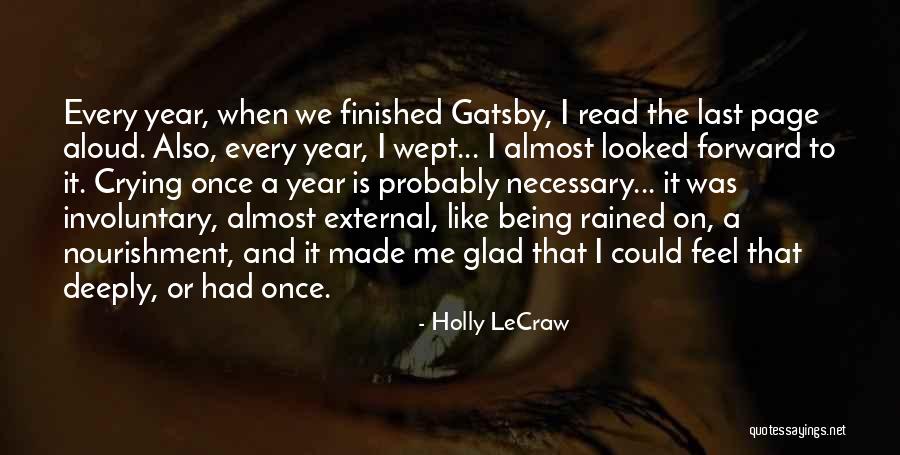 Every year, when we finished Gatsby, I read the last page aloud. Also, every year, I wept... I almost looked forward to it. Crying once a year is probably necessary... it was involuntary, almost external, like being rained on, a nourishment, and it made me glad that I could feel that deeply, or had once. — Holly LeCraw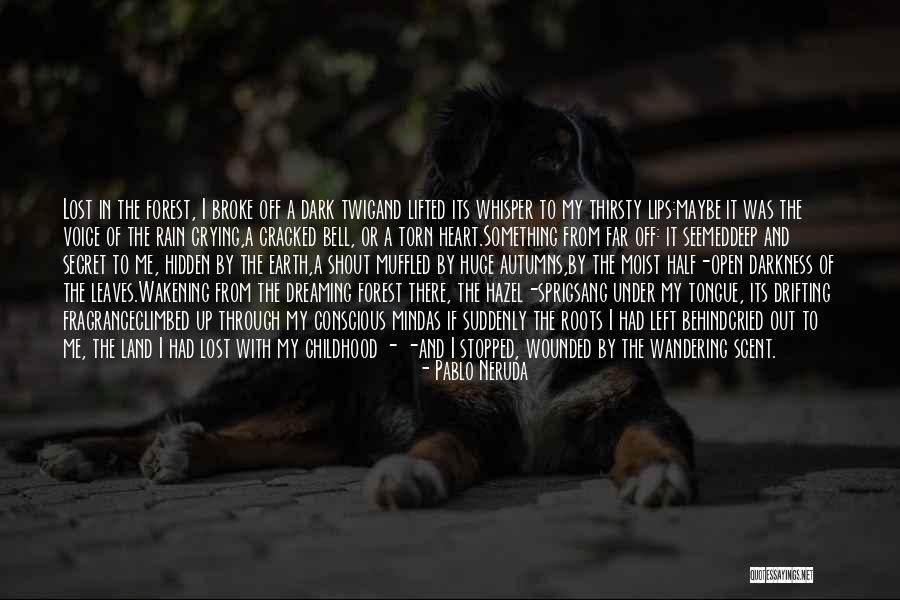 Lost in the forest, I broke off a dark twig
and lifted its whisper to my thirsty lips:
maybe it was the voice of the rain crying,
a cracked bell, or a torn heart.
Something from far off: it seemed
deep and secret to me, hidden by the earth,
a shout muffled by huge autumns,
by the moist half-open darkness of the leaves.
Wakening from the dreaming forest there, the hazel-sprig
sang under my tongue, its drifting fragrance
climbed up through my conscious mind
as if suddenly the roots I had left behind
cried out to me, the land I had lost with my childhood - -
and I stopped, wounded by the wandering scent. — Pablo Neruda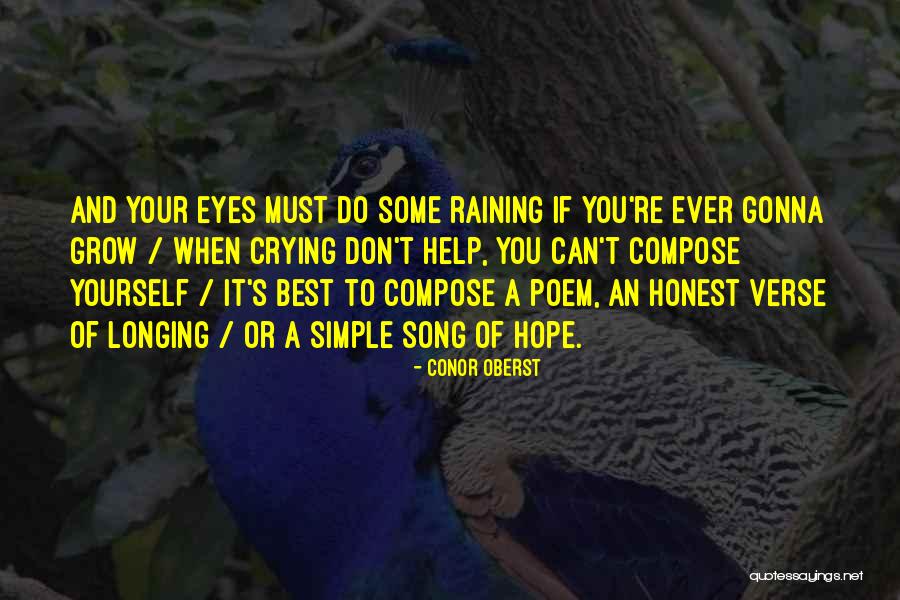 And your eyes must do some raining if you're ever gonna grow / When crying don't help, you can't compose yourself / It's best to compose a poem, an honest verse of longing / Or a simple song of hope. — Conor Oberst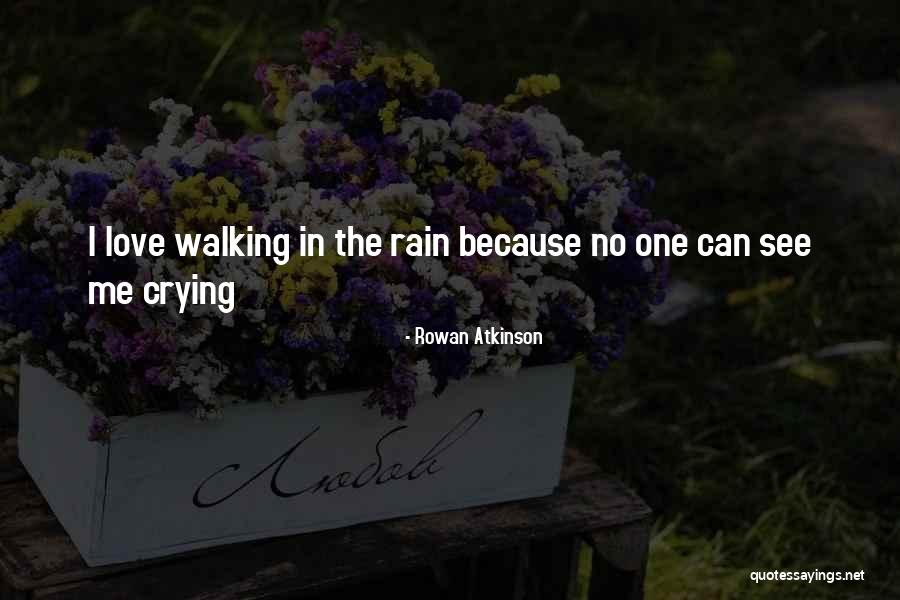 I love walking in the rain because no one can see me crying — Rowan Atkinson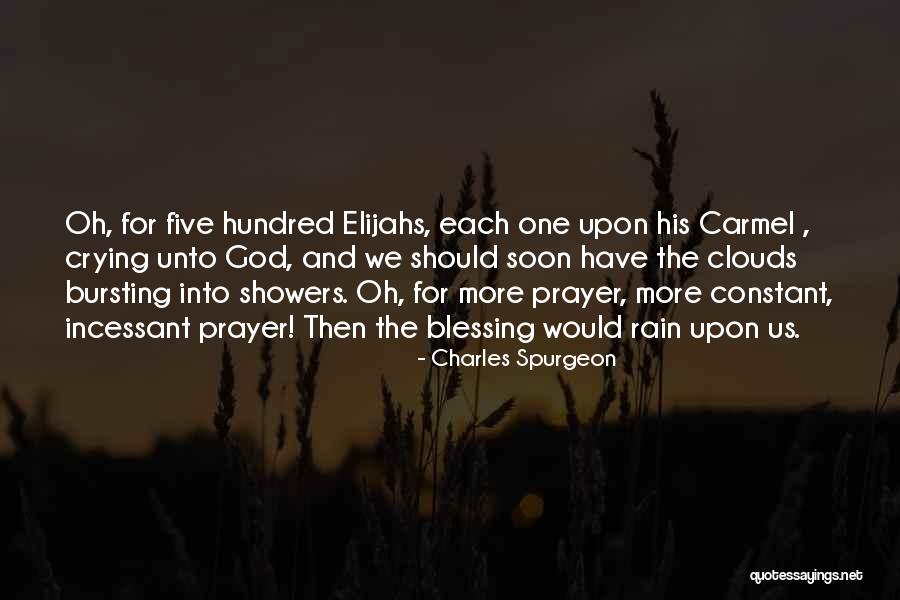 Oh, for five hundred Elijahs, each one upon his Carmel , crying unto God, and we should soon have the clouds bursting into showers. Oh, for more prayer, more constant, incessant prayer! Then the blessing would rain upon us. — Charles Spurgeon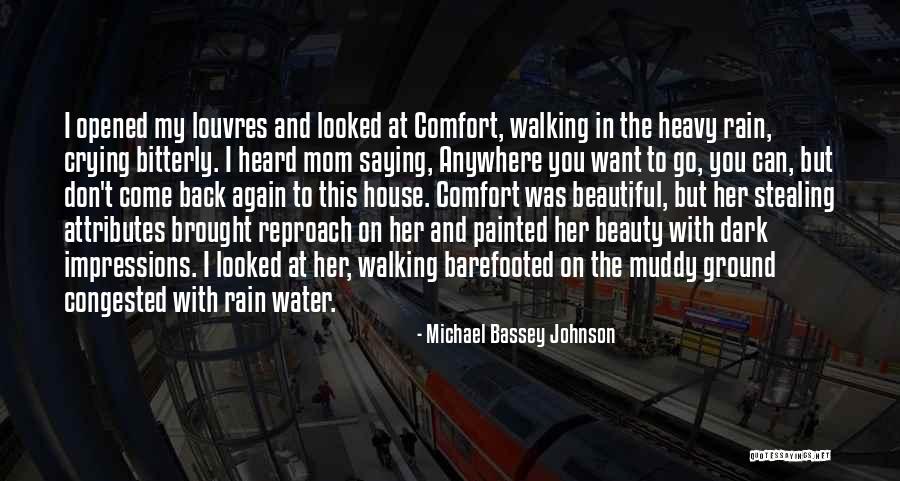 I opened my louvres and looked at Comfort, walking in the heavy rain, crying bitterly.
I heard mom saying, Anywhere you want to go, you can, but don't come back again to this house.
Comfort was beautiful, but her stealing attributes brought reproach on her and painted her beauty with dark impressions.
I looked at her, walking barefooted on the muddy ground congested with rain water. — Michael Bassey Johnson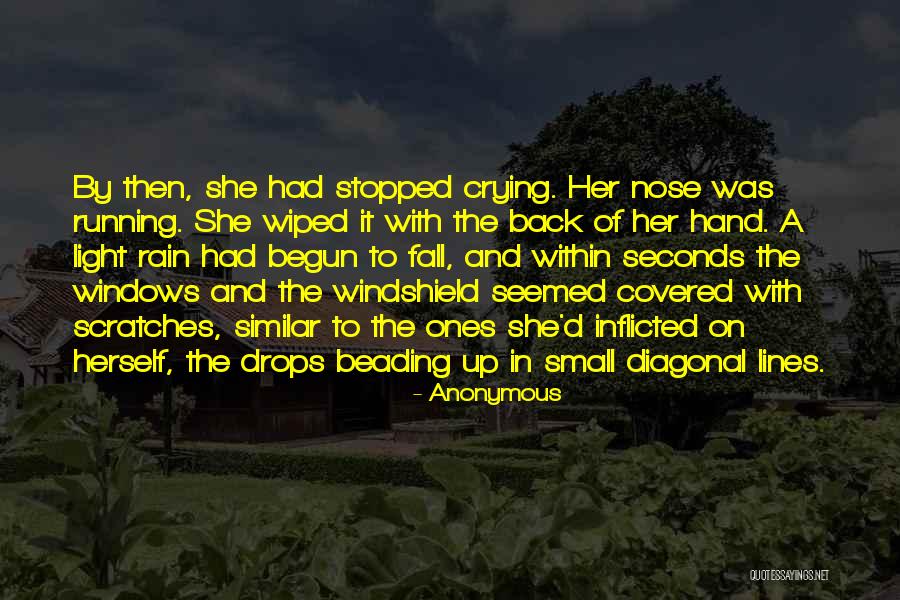 By then, she had stopped crying. Her nose was running. She wiped it with the back of her hand. A light rain had begun to fall, and within seconds the windows and the windshield seemed covered with scratches, similar to the ones she'd inflicted on herself, the drops beading up in small diagonal lines. — Anonymous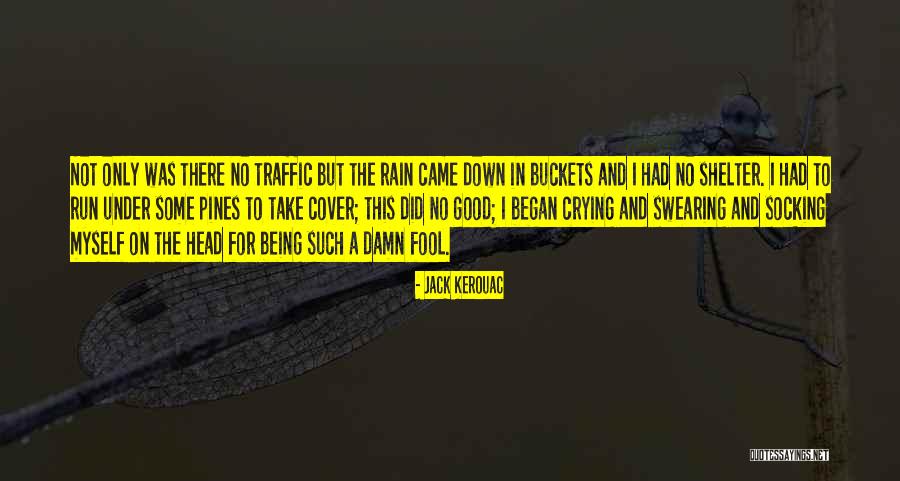 Not only was there no traffic but the rain came down in buckets and I had no shelter. I had to run under some pines to take cover; this did no good; I began crying and swearing and socking myself on the head for being such a damn fool. — Jack Kerouac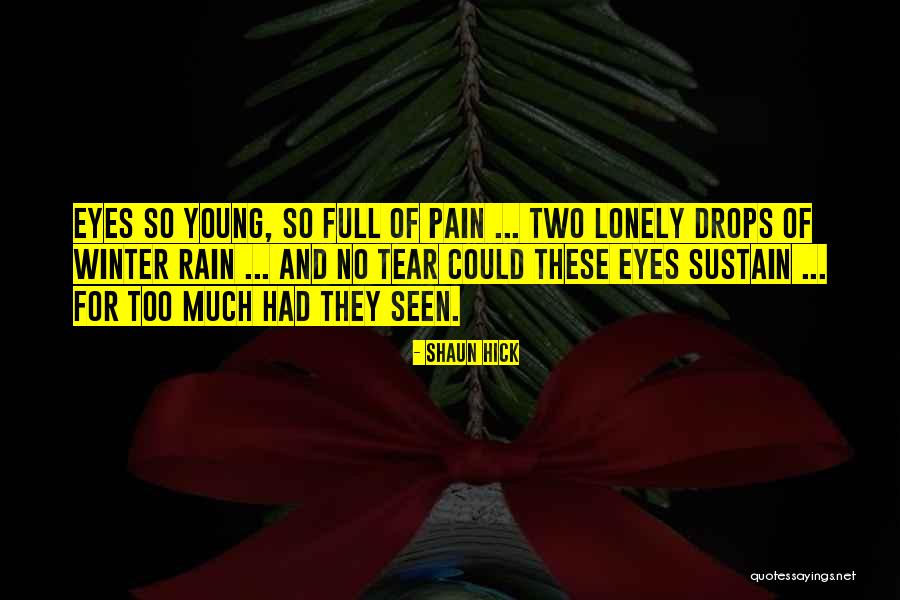 Eyes so young, so full of pain ... Two lonely drops of winter rain ... And no tear could these eyes sustain ... For too much had they seen. — Shaun Hick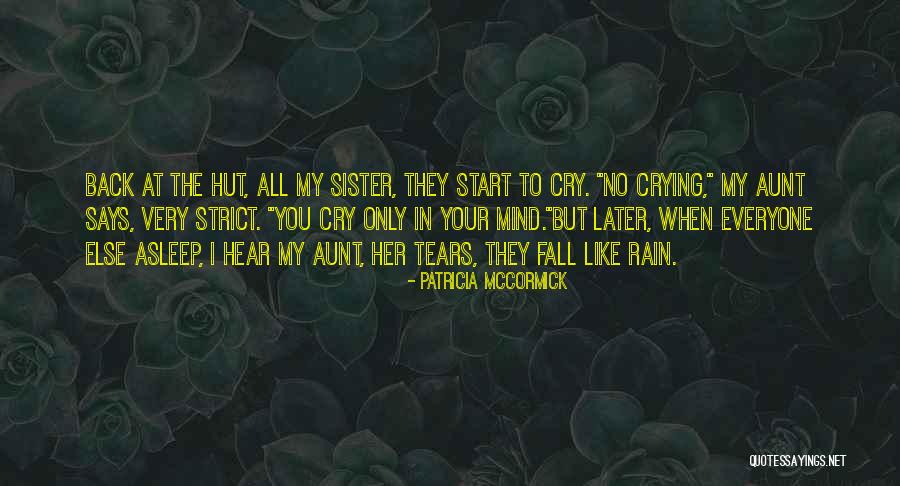 Back at the hut, all my sister, they start to cry. "No crying," my aunt says, very strict. "You cry only in your mind."
But later, when everyone else asleep, I hear my aunt, her tears, they fall like rain. — Patricia McCormick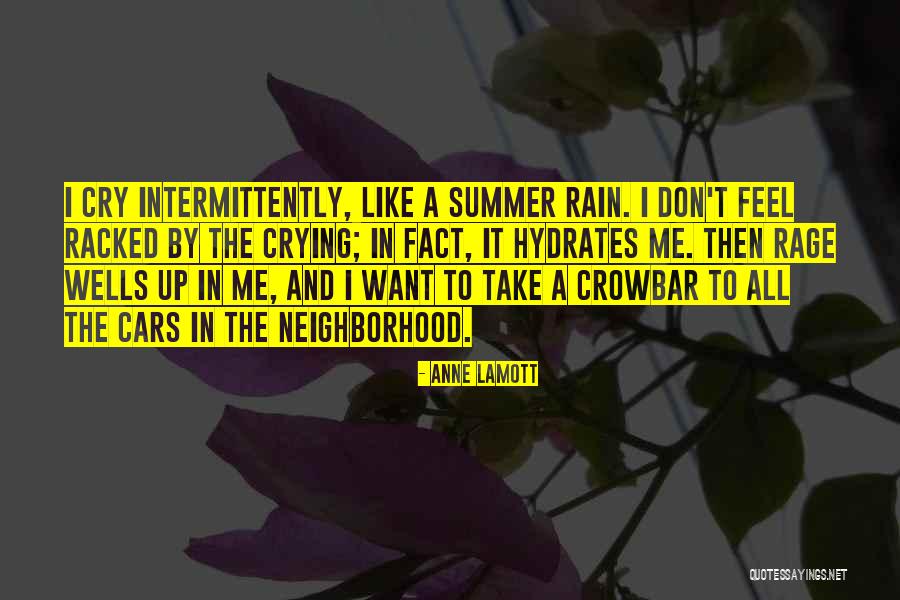 I cry intermittently, like a summer rain. I don't feel racked by the crying; in fact, it hydrates me. Then rage wells up in me, and I want to take a crowbar to all the cars in the neighborhood. — Anne Lamott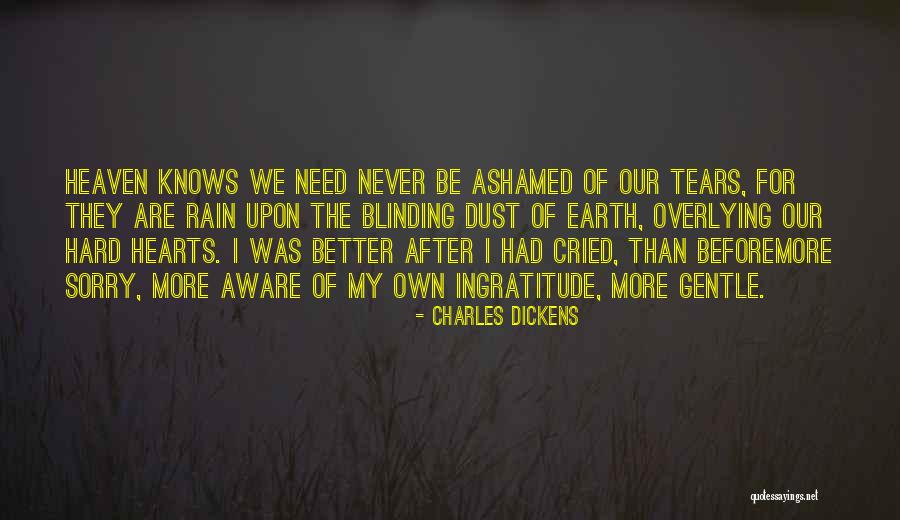 Heaven knows we need never be ashamed of our tears, for they are rain upon the blinding dust of earth, overlying our hard hearts. I was better after I had cried, than before
more sorry, more aware of my own ingratitude, more gentle. — Charles Dickens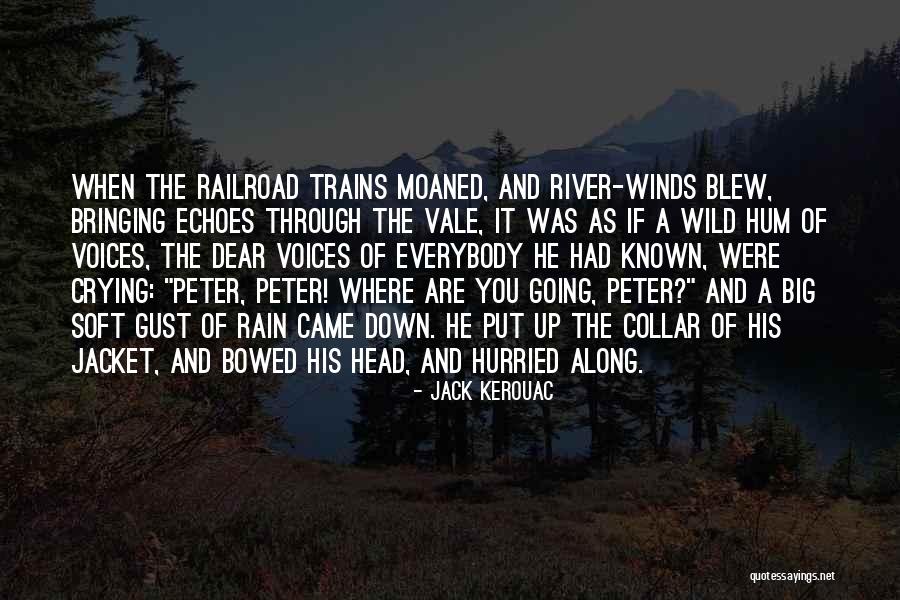 When the railroad trains moaned, and river-winds blew, bringing echoes through the vale, it was as if a wild hum of voices, the dear voices of everybody he had known, were crying: "Peter, Peter! Where are you going, Peter?" And a big soft gust of rain came down.
He put up the collar of his jacket, and bowed his head, and hurried along. — Jack Kerouac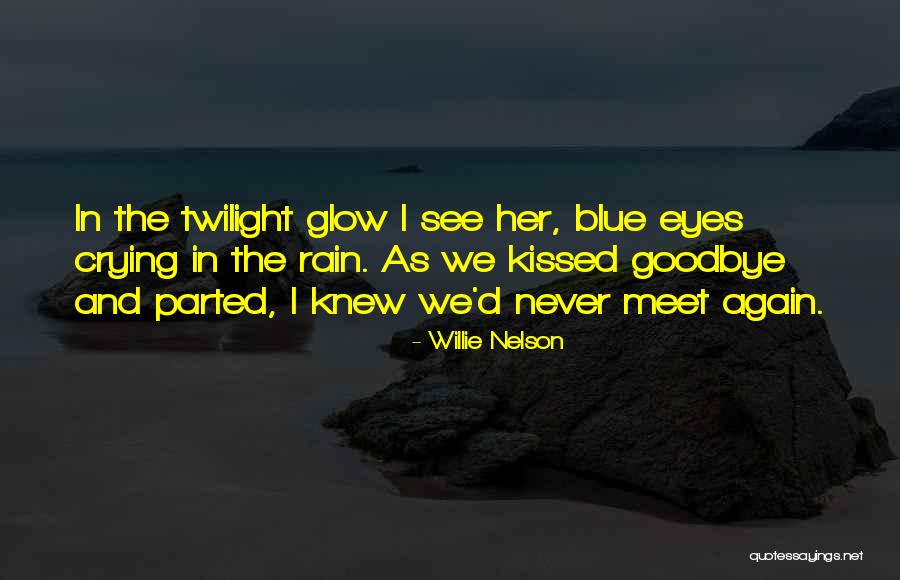 In the twilight glow I see her, blue eyes crying in the rain. As we kissed goodbye and parted, I knew we'd never meet again. — Willie Nelson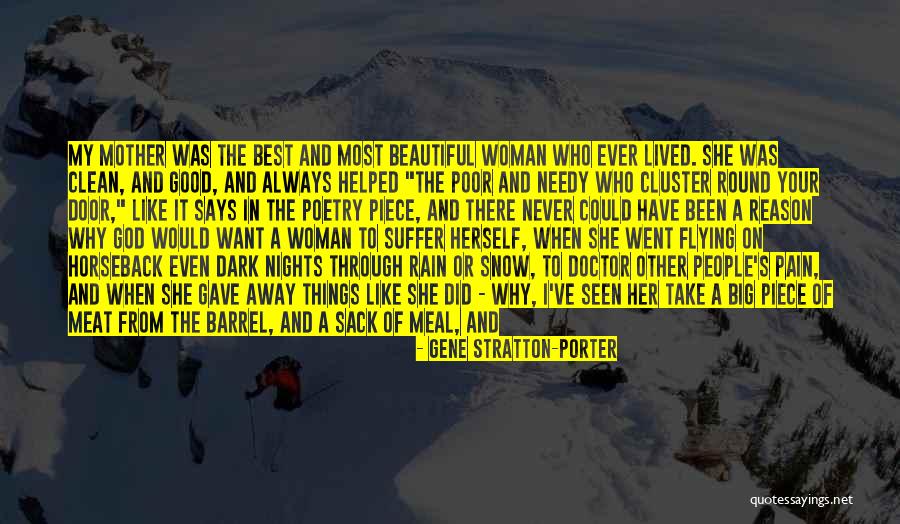 My mother was the best and most beautiful woman who ever lived. She was clean, and good, and always helped "the poor and needy who cluster round your door," like it says in the poetry piece, and there never could have been a reason why God would want a woman to suffer herself, when she went flying on horseback even dark nights through rain or snow, to doctor other people's pain, and when she gave away things like she did - why, I've seen her take a big piece of meat from the barrel, and a sack of meal, and heaps of apples and potatoes to carry to Mandy Thomas - when she gave away food by the wagonload at a time, God couldn't have wanted her to be hungry, and yet she was that very minute almost crying for food; — Gene Stratton-Porter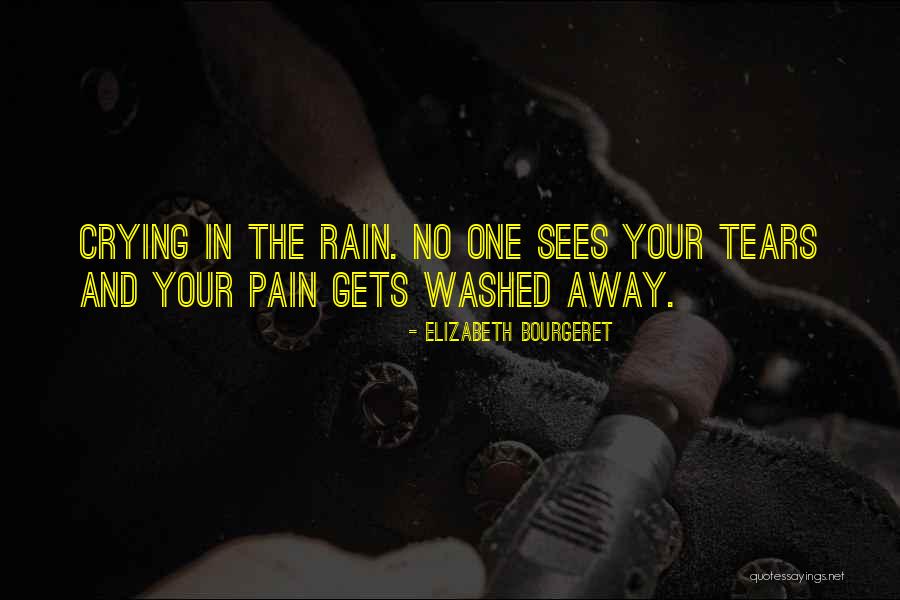 Crying in the rain. No one sees your tears and your pain gets washed away. — Elizabeth Bourgeret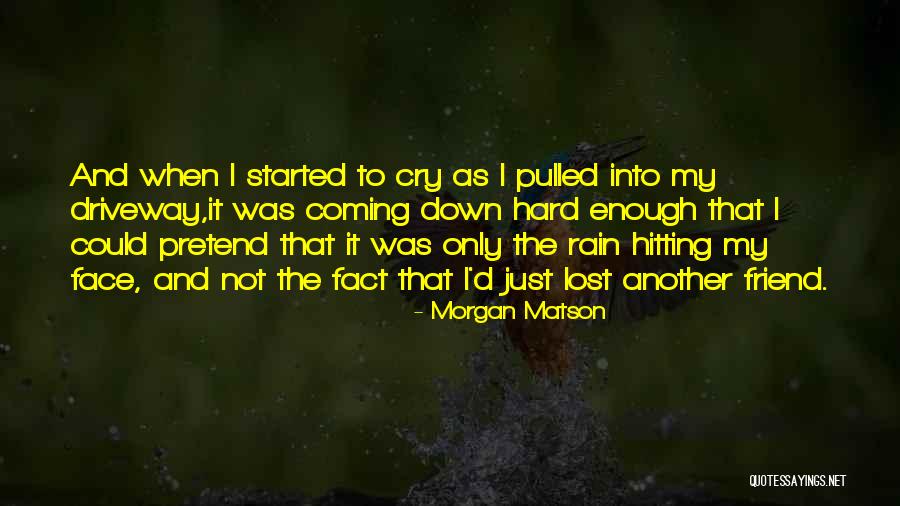 And when I started to cry as I pulled into my driveway,it was coming down hard enough that I could pretend that it was only the rain hitting my face, and not the fact that I'd just lost another friend. — Morgan Matson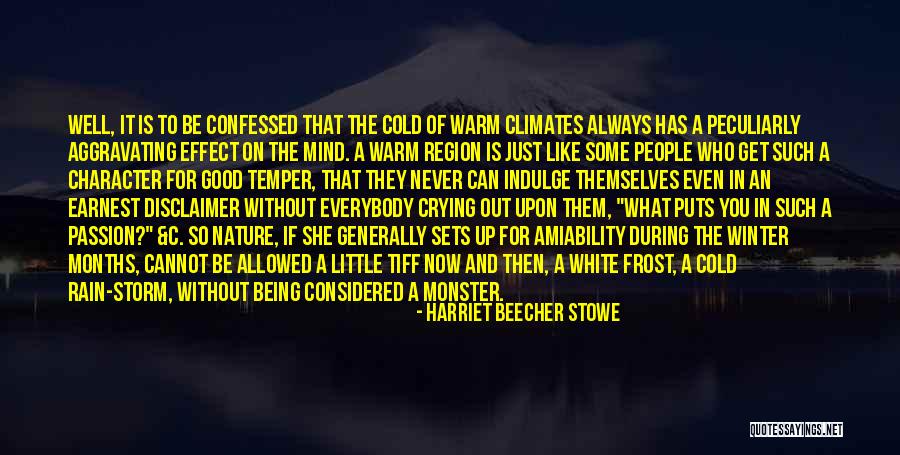 Well, it is to be confessed that the cold of warm climates always has a peculiarly aggravating effect on the mind. A warm region is just like some people who get such a character for good temper, that they never can indulge themselves even in an earnest disclaimer without everybody crying out upon them, "What puts you in such a passion?" &c. So Nature, if she generally sets up for amiability during the winter months, cannot be allowed a little tiff now and then, a white frost, a cold rain-storm, without being considered a monster. — Harriet Beecher Stowe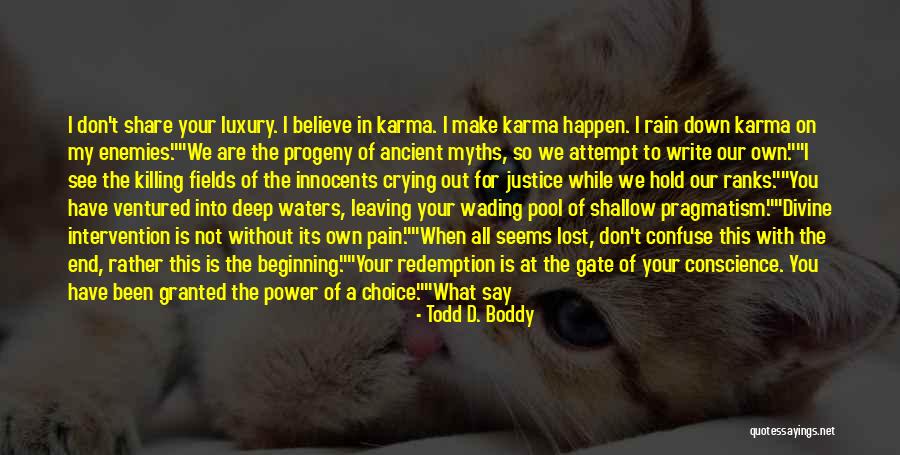 I don't share your luxury. I believe in karma. I make karma happen. I rain down karma on my enemies."
"We are the progeny of ancient myths, so we attempt to write our own."
"I see the killing fields of the innocents crying out for justice while we hold our ranks."
"You have ventured into deep waters, leaving your wading pool of shallow pragmatism."
"Divine intervention is not without its own pain."
"When all seems lost, don't confuse this with the end, rather this is the beginning."
"Your redemption is at the gate of your conscience. You have been granted the power of a choice."
"What say you, image bearer? Have you come to save us? — Todd D. Boddy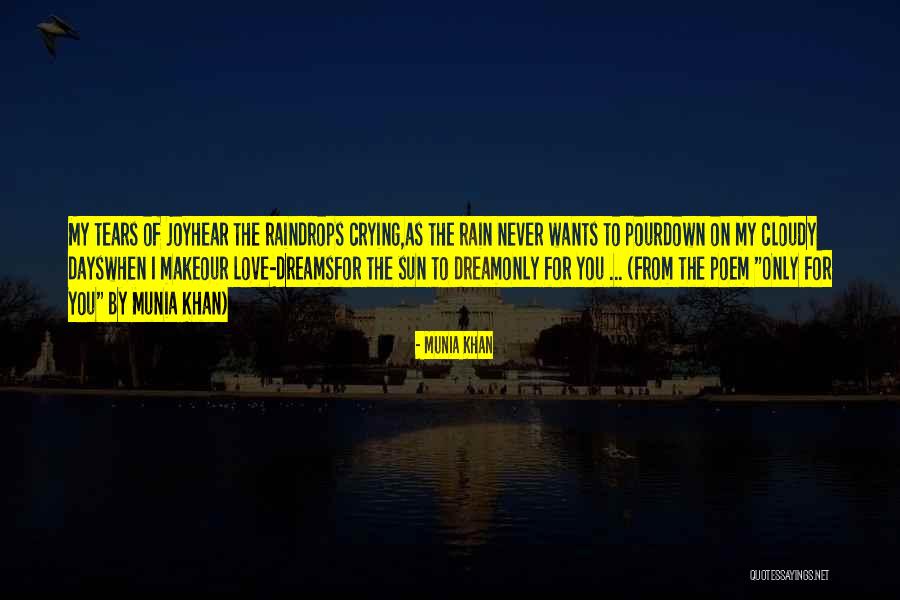 My tears of joy
hear the raindrops crying,
as the rain never wants to pour
down on my cloudy days
when I make
our love-dreams
for the sun to dream
only for you ...
(From the poem "Only For You" By Munia Khan) — Munia Khan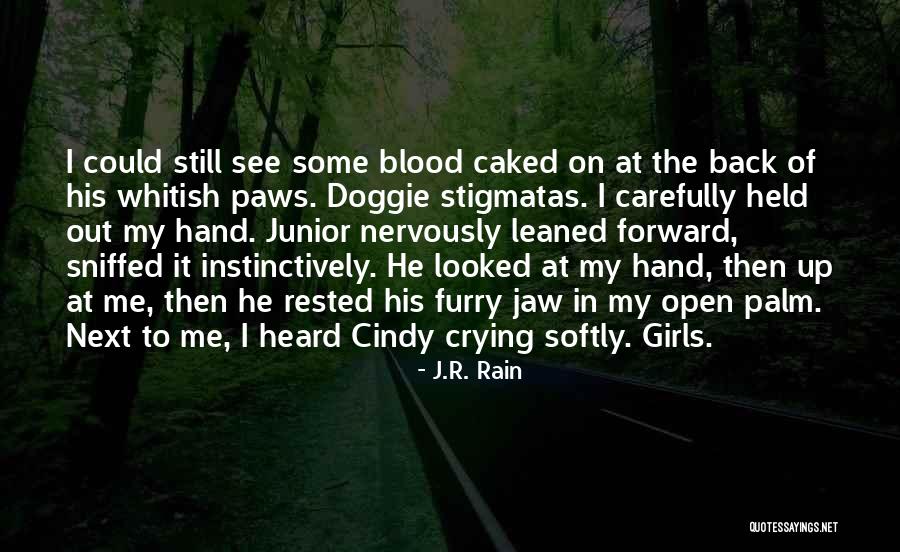 I could still see some blood caked on at the back of his whitish paws. Doggie stigmatas. I carefully held out my hand. Junior nervously leaned forward, sniffed it instinctively. He looked at my hand, then up at me, then he rested his furry jaw in my open palm. Next to me, I heard Cindy crying softly. Girls. — J.R. Rain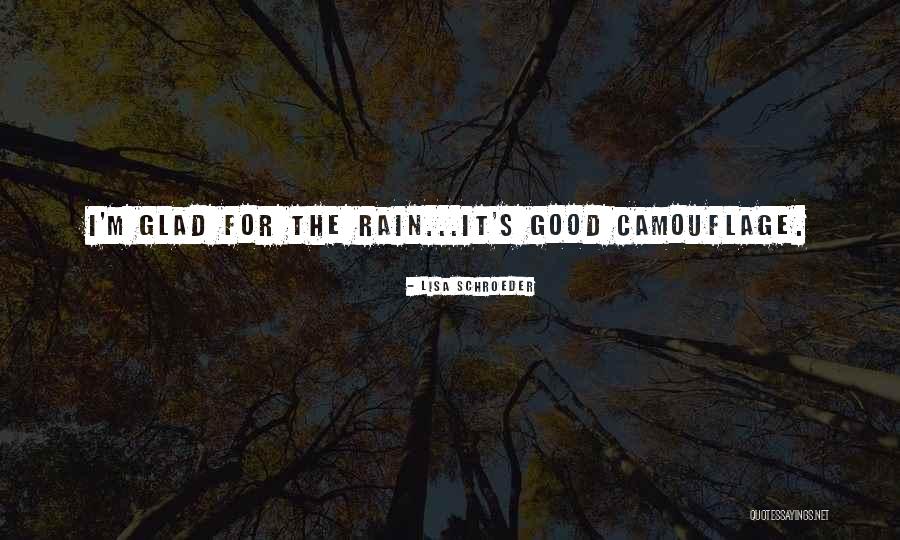 I'm glad for the rain...It's good camouflage. — Lisa Schroeder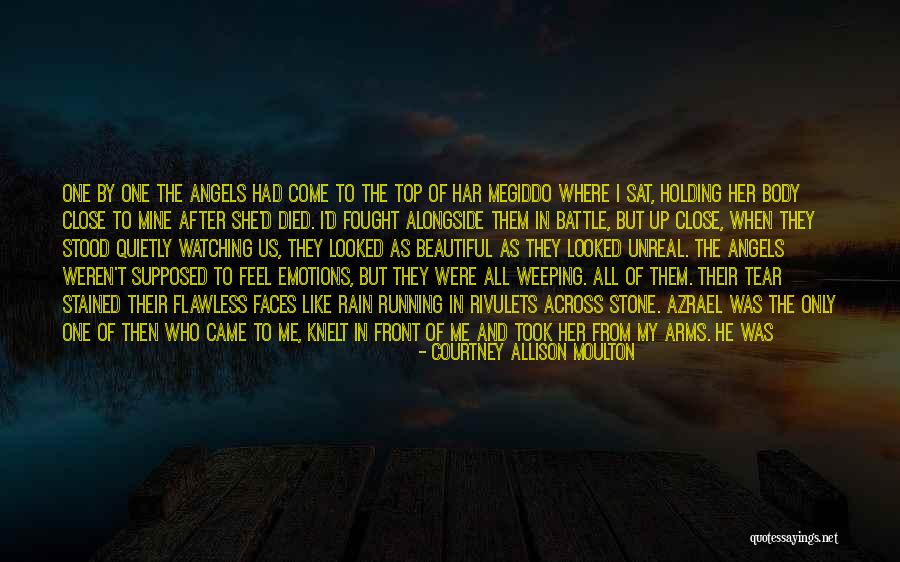 One by one the angels had come to the top of Har Megiddo where I sat, holding her body close to mine after she'd died. I'd fought alongside them in battle, but up close, when they stood quietly watching us, they looked as beautiful as they looked unreal. the angels weren't supposed to feel emotions, but they were all weeping. All of them. Their tear stained their flawless faces like rain running in rivulets across stone. Azrael was the only one of then who came to me, knelt in front of me and took her from my arms. He was the angel of death come to carry his sister home. I din't want to give her up, knowing it would be the last time I ever saw her face. I had died on that wretched hill with her. — Courtney Allison Moulton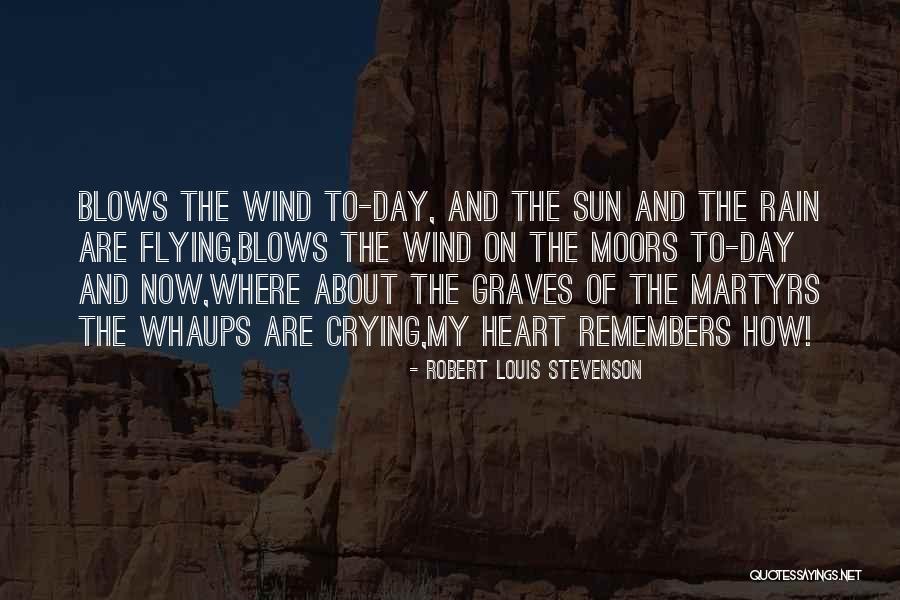 Blows the wind to-day, and the sun and the rain are flying,
Blows the wind on the moors to-day and now,
Where about the graves of the martyrs the whaups are crying,
My heart remembers how! — Robert Louis Stevenson
My heart felt like it was going to explode as I burst out crying. He laughed, "Hey, what's with the April showers?" I half giggled, half sniffed as he wiped my cheeks with his thumb. "These are happy tears" I whispered. He grinned, "No rain, no rainbow. — Karli Perrin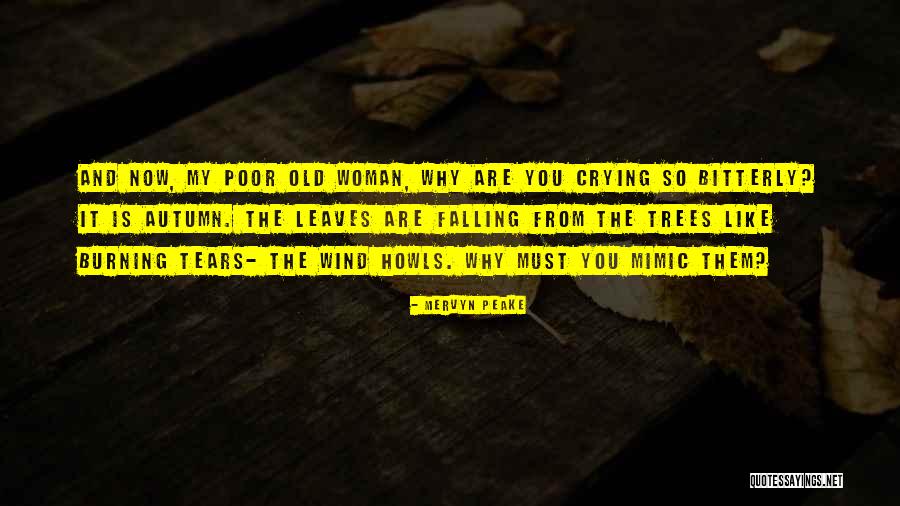 And now, my poor old woman, why are you crying so bitterly? It is autumn. The leaves are falling from the trees like burning tears- the wind howls. Why must you mimic them? — Mervyn Peake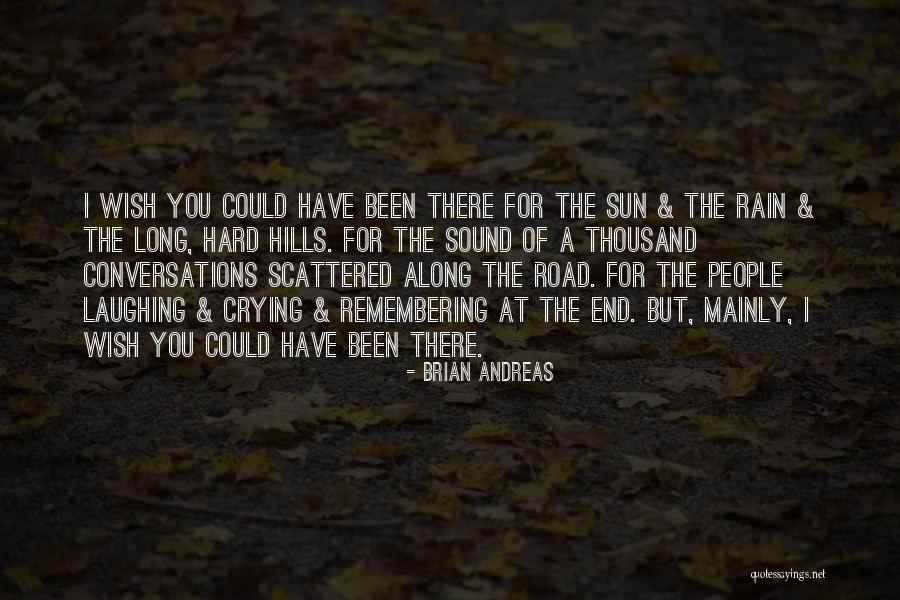 I wish you could have been there for the sun & the rain & the long, hard hills. For the sound of a thousand conversations scattered along the road. For the people laughing & crying & remembering at the end. But, mainly, I wish you could have been there. — Brian Andreas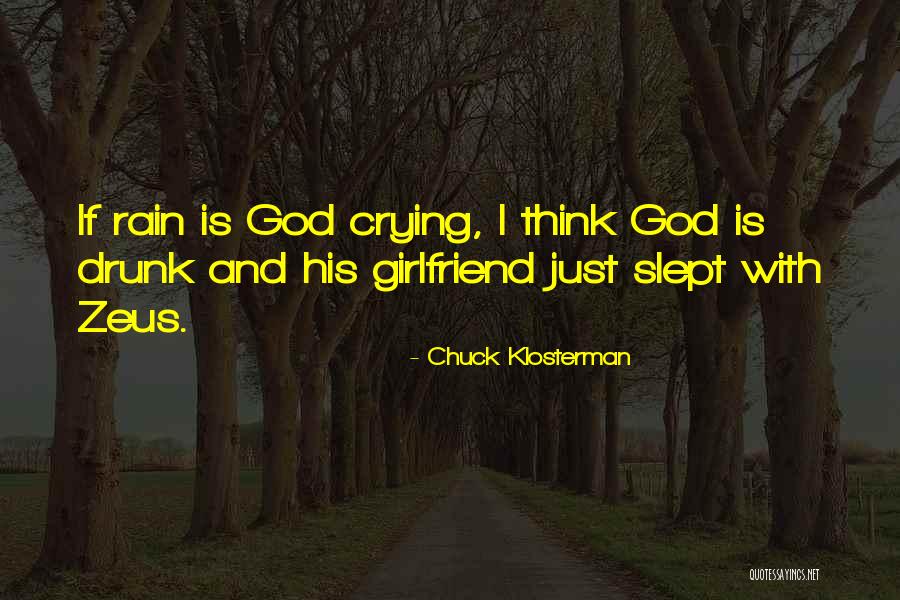 If rain is God crying, I think God is drunk and his girlfriend just slept with Zeus. — Chuck Klosterman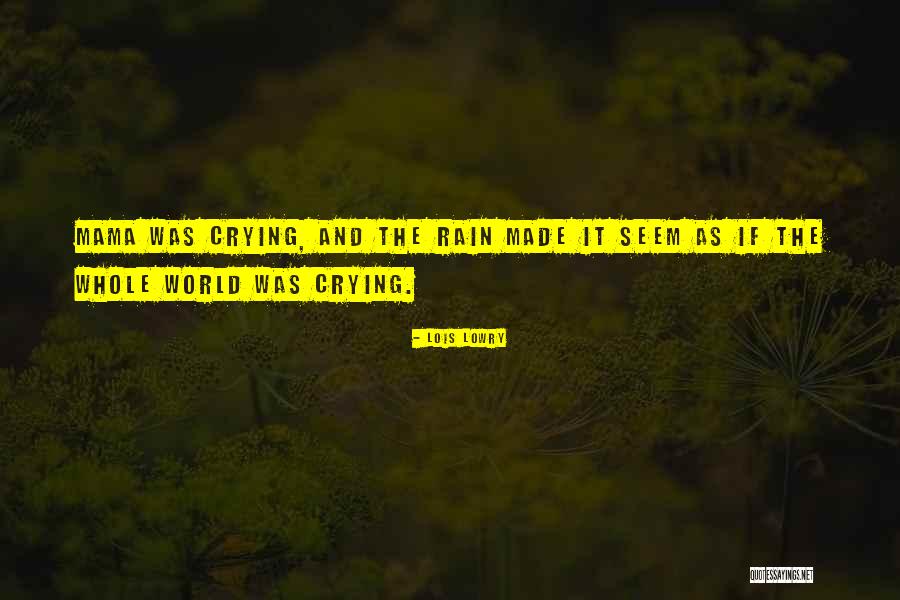 Mama was crying, and the rain made it seem as if the whole world was crying. — Lois Lowry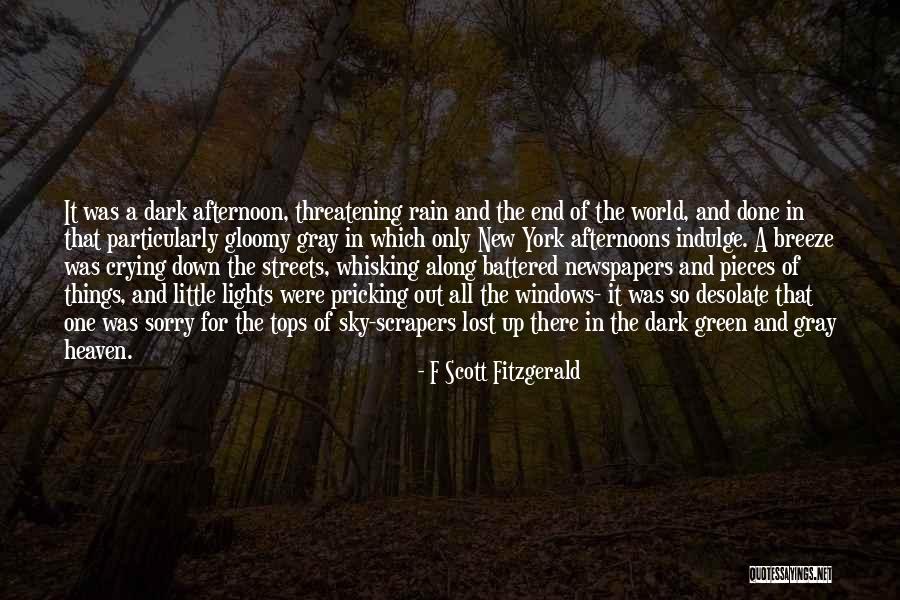 It was a dark afternoon, threatening rain and the end of the world, and done in that particularly gloomy gray in which only New York afternoons indulge. A breeze was crying down the streets, whisking along battered newspapers and pieces of things, and little lights were pricking out all the windows- it was so desolate that one was sorry for the tops of sky-scrapers lost up there in the dark green and gray heaven. — F Scott Fitzgerald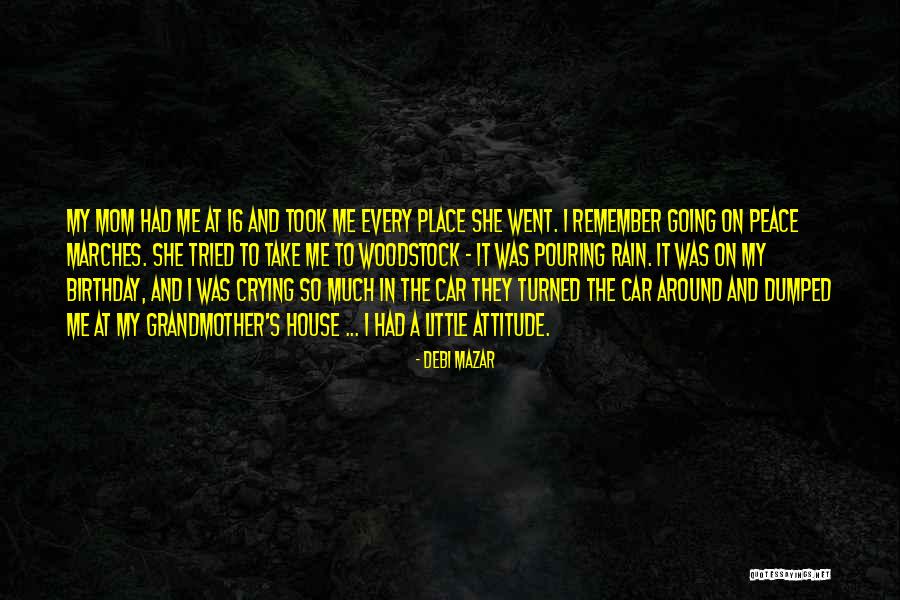 My mom had me at 16 and took me every place she went. I remember going on peace marches. She tried to take me to Woodstock - it was pouring rain. It was on my birthday, and I was crying so much in the car they turned the car around and dumped me at my grandmother's house ... I had a little attitude. — Debi Mazar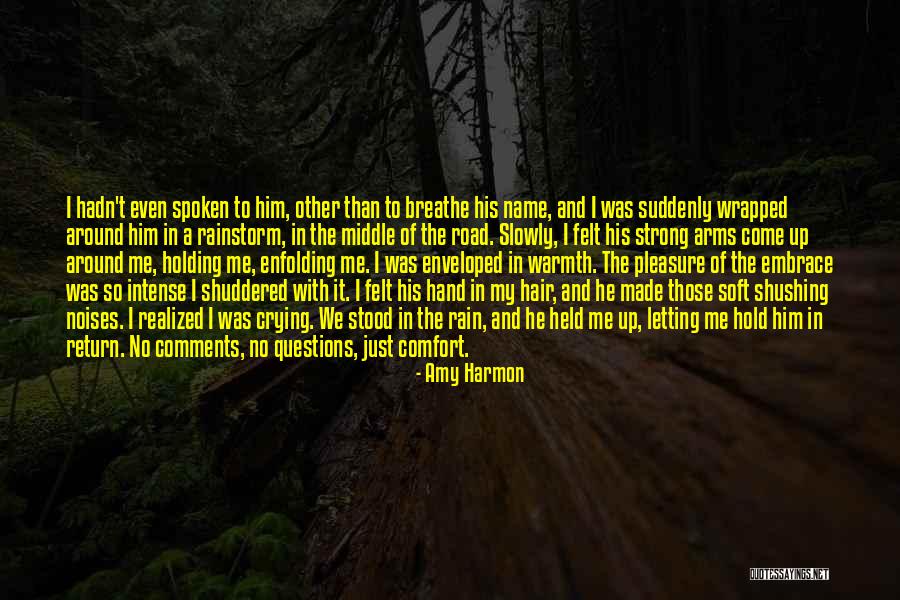 I hadn't even spoken to him, other than to breathe his name, and I was suddenly wrapped around him in a rainstorm, in the middle of the road. Slowly, I felt his strong arms come up around me, holding me, enfolding me. I was enveloped in warmth. The pleasure of the embrace was so intense I shuddered with it. I felt his hand in my hair, and he made those soft shushing noises. I realized I was crying. We stood in the rain, and he held me up, letting me hold him in return. No comments, no questions, just comfort. — Amy Harmon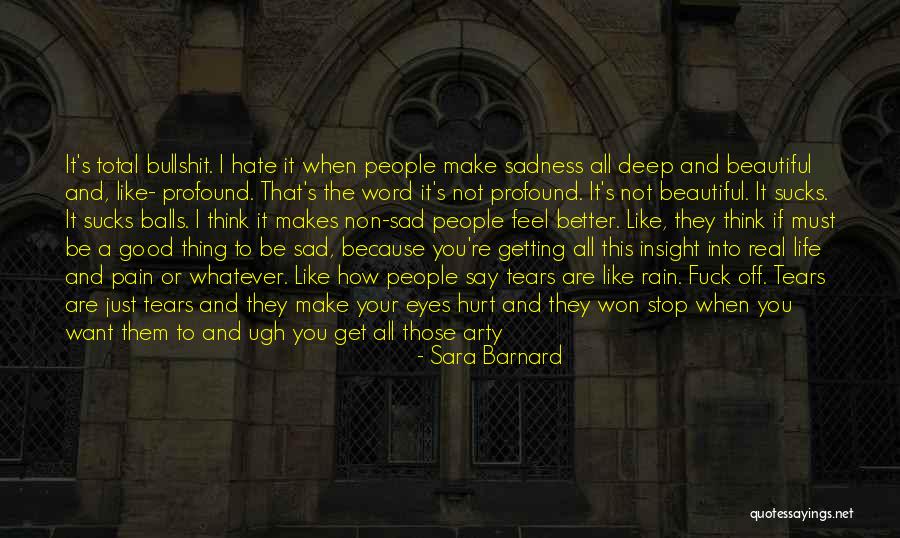 It's total bullshit. I hate it when people make sadness all deep and beautiful and, like- profound. That's the word it's not profound. It's not beautiful. It sucks. It sucks balls. I think it makes non-sad people feel better. Like, they think if must be a good thing to be sad, because you're getting all this insight into real life and pain or whatever. Like how people say tears are like rain. Fuck off. Tears are just tears and they make your eyes hurt and they won stop when you want them to and ugh you get all those arty photos of girls crying - it's always girls, have you noticed?- and it's so beautiful and tasteful and moving. When the reality is your face goes all blotchy and your nose runs and you can taste it every time you breathe'
'Taste what?'
'It. Pain. Sadness. I'm just saying that sadness isn't beautiful and if it looks that way, it's a lie. — Sara Barnard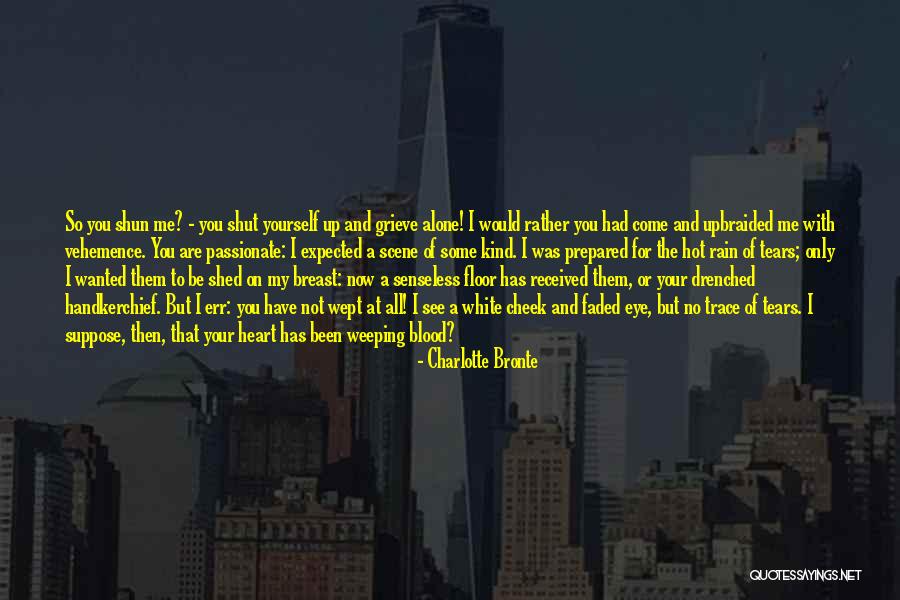 So you shun me? - you shut yourself up and grieve alone! I would rather you had come and upbraided me with vehemence. You are passionate: I expected a scene of some kind. I was prepared for the hot rain of tears; only I wanted them to be shed on my breast: now a senseless floor has received them, or your drenched handkerchief. But I err: you have not wept at all! I see a white cheek and faded eye, but no trace of tears. I suppose, then, that your heart has been weeping blood? — Charlotte Bronte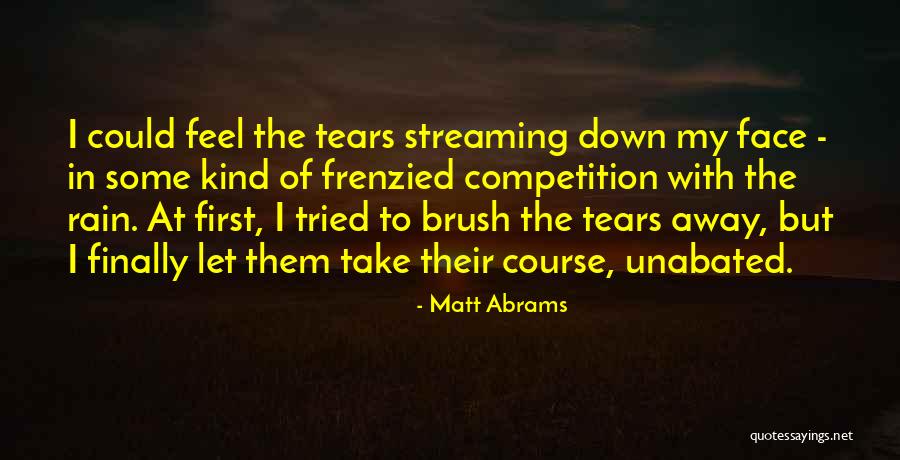 I could feel the tears streaming down my face - in some kind of frenzied competition with the rain. At first, I tried to brush the tears away, but I finally let them take their course, unabated. — Matt Abrams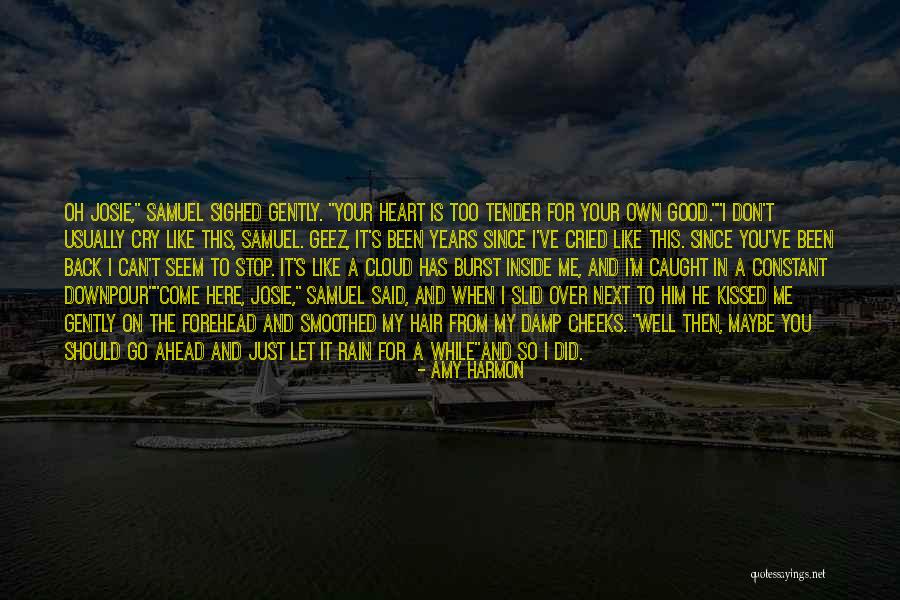 Oh Josie," Samuel sighed gently. "Your heart is too tender for your own good."
"I don't usually cry like this, Samuel. Geez, it's been years since I've cried like this. Since you've been back I can't seem to stop. It's like a cloud has burst inside me, and I'm caught in a constant downpour"
"Come here, Josie," Samuel said, and when I slid over next to him he kissed me gently on the forehead and smoothed my hair from my damp cheeks. "Well then, maybe you should go ahead and just let it rain for a while"
And so I did. — Amy Harmon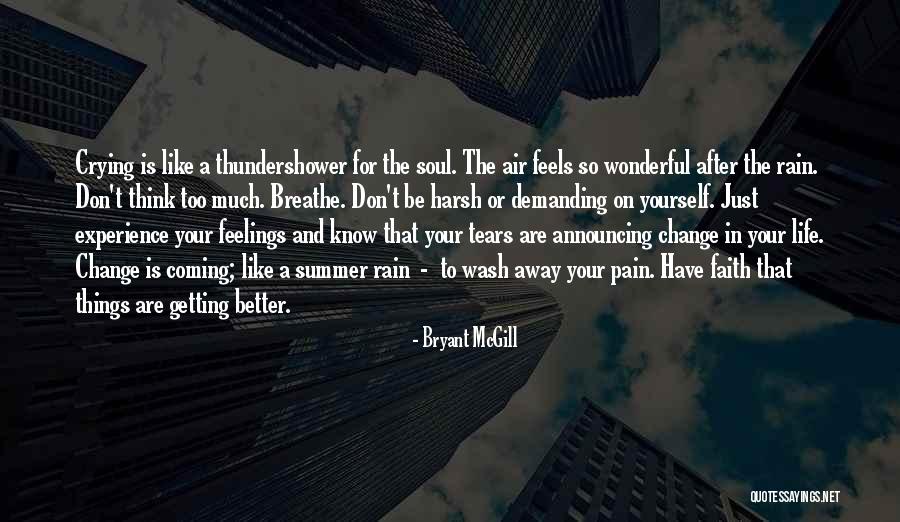 Crying is like a thundershower for the soul. The air feels so wonderful after the rain. Don't think too much. Breathe. Don't be harsh or demanding on yourself. Just experience your feelings and know that your tears are announcing change in your life. Change is coming; like a summer rain - to wash away your pain. Have faith that things are getting better. — Bryant McGill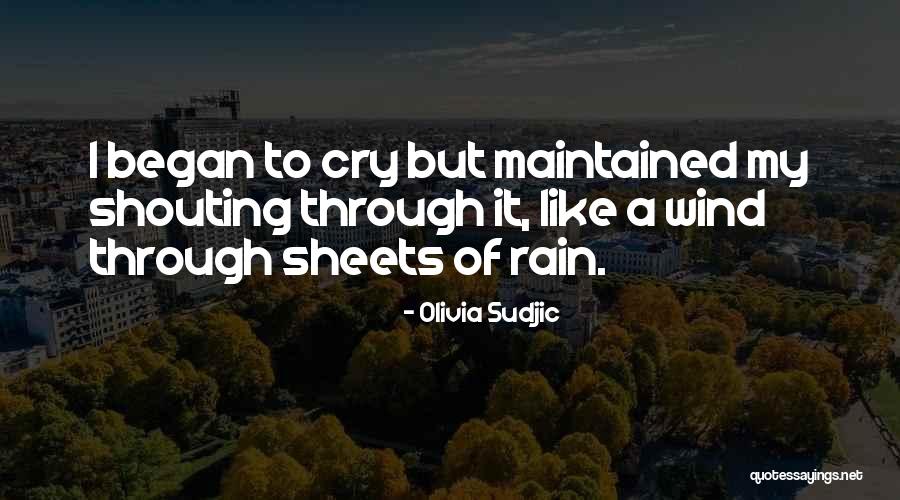 I began to cry but maintained my shouting through it, like a wind through sheets of rain. — Olivia Sudjic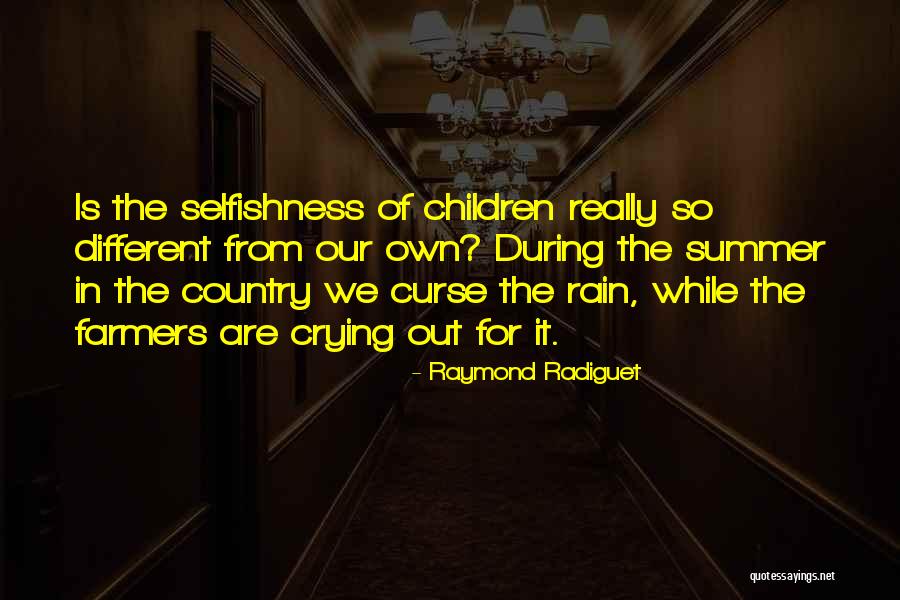 Is the selfishness of children really so different from our own? During the summer in the country we curse the rain, while the farmers are crying out for it. — Raymond Radiguet