Quotes & Sayings About Crazy Minds
Enjoy reading and share 29 famous quotes about Crazy Minds with everyone.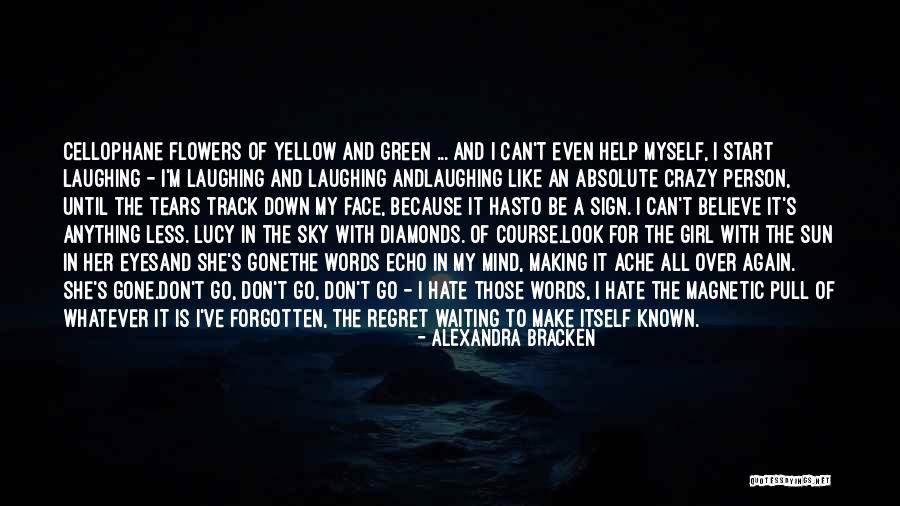 Cellophane flowers of yellow and green ...
And I can't even help myself, I start laughing - I'm laughing and laughing and
laughing like an absolute crazy person, until the tears track down my face, because it has
to be a sign. I can't believe it's anything less. Lucy in the Sky with Diamonds. Of course.
Look for the girl with the sun in her eyes
And she's gone
The words echo in my mind, making it ache all over again. She's gone.
Don't go, don't go, don't go - I hate those words, I hate the magnetic pull of whatever it is I've forgotten, the regret waiting to make itself known. — Alexandra Bracken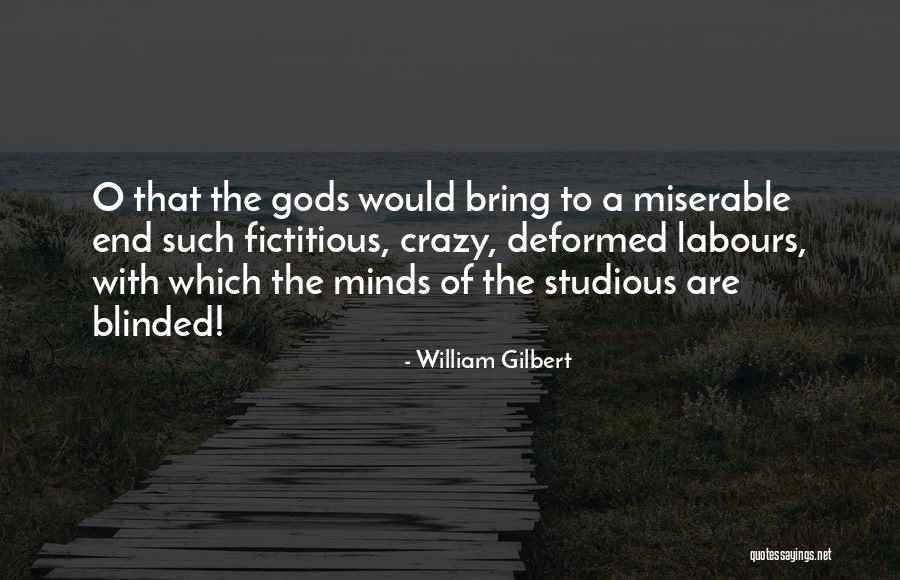 O that the gods would bring to a miserable end such fictitious, crazy, deformed labours, with which the minds of the studious are blinded! — William Gilbert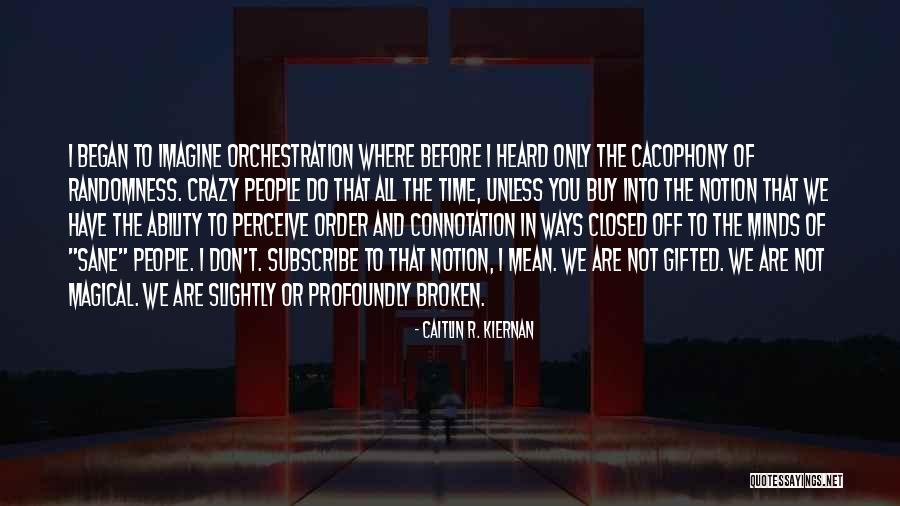 I began to imagine orchestration where before I heard only the cacophony of randomness. Crazy people do that all the time, unless you buy into the notion that we have the ability to perceive order and connotation in ways closed off to the minds of "sane" people. I don't. Subscribe to that notion, I mean. We are not gifted. We are not magical. We are slightly or profoundly broken. — Caitlin R. Kiernan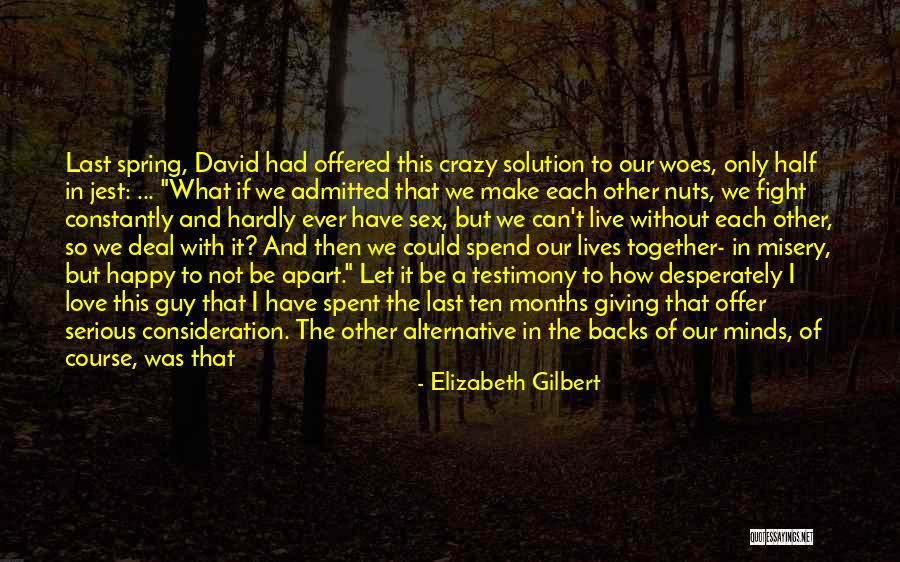 Last spring, David had offered this crazy solution to our woes, only half in jest: ... "What if we admitted that we make each other nuts, we fight constantly and hardly ever have sex, but we can't live without each other, so we deal with it? And then we could spend our lives together- in misery, but happy to not be apart." Let it be a testimony to how desperately I love this guy that I have spent the last ten months giving that offer serious consideration. The other alternative in the backs of our minds, of course, was that one of us might change. He might become more open and affectionate, not withholding himself from anyone who loves him on the fear that she will eat his soul. Or I might learn how to ... stop trying to eat his soul. — Elizabeth Gilbert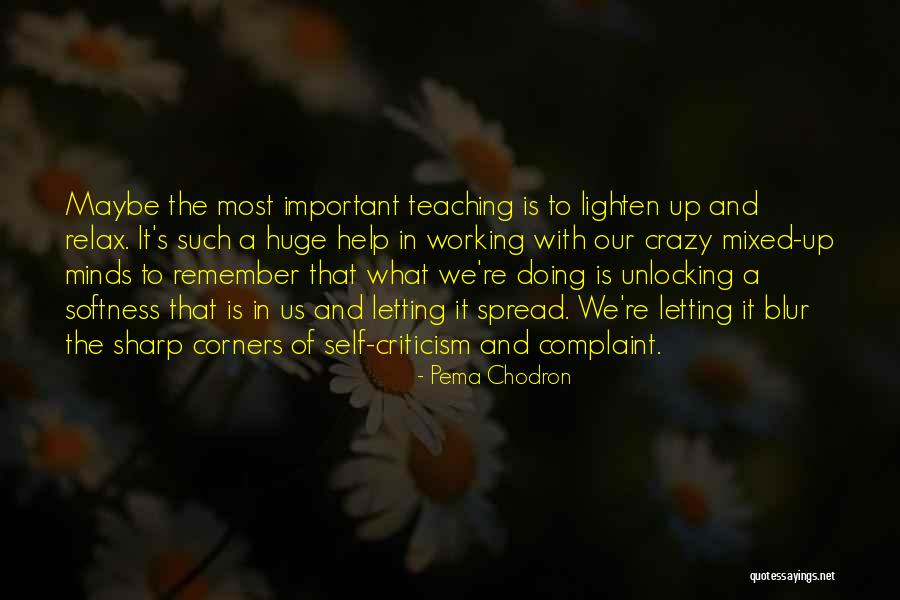 Maybe the most important teaching is to lighten up and relax. It's such a huge help in working with our crazy mixed-up minds to remember that what we're doing is unlocking a softness that is in us and letting it spread. We're letting it blur the sharp corners of self-criticism and complaint. — Pema Chodron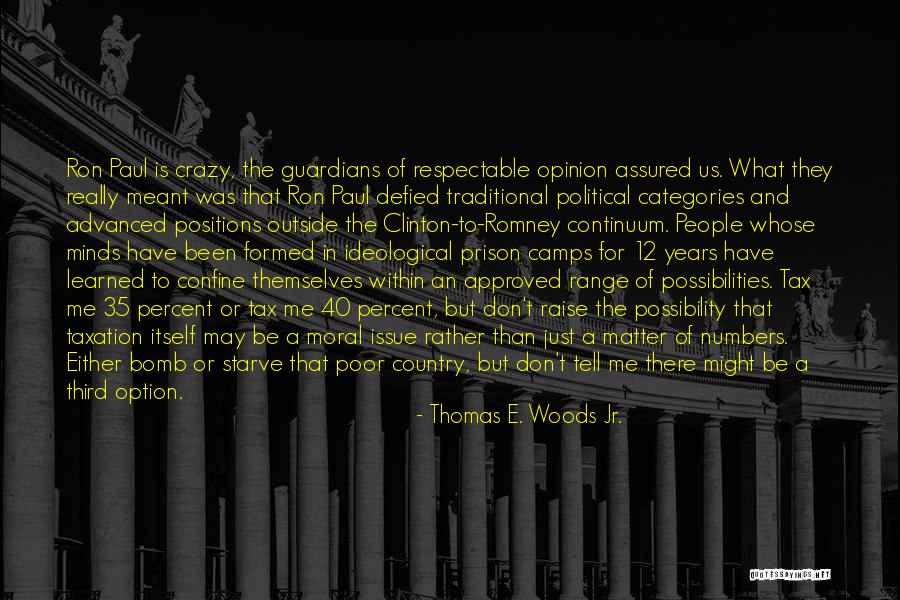 Ron Paul is crazy, the guardians of respectable opinion assured us. What they really meant was that Ron Paul defied traditional political categories and advanced positions outside the Clinton-to-Romney continuum. People whose minds have been formed in ideological prison camps for 12 years have learned to confine themselves within an approved range of possibilities. Tax me 35 percent or tax me 40 percent, but don't raise the possibility that taxation itself may be a moral issue rather than just a matter of numbers. Either bomb or starve that poor country, but don't tell me there might be a third option. The Fed should loosen or the Fed should tighten, but don't tell me our money supply doesn't need to be supervised by a central planner. As always, confine yourself to the three square inches of intellectual terrain the New York Times has graciously allotted to you. — Thomas E. Woods Jr.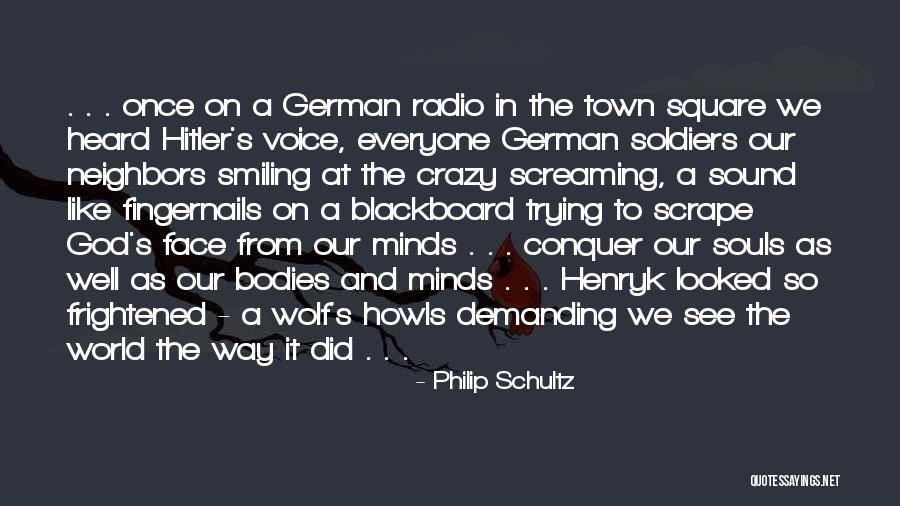 . . . once on a German radio in the town square we heard Hitler's voice, everyone German soldiers our neighbors smiling at the crazy screaming, a sound like fingernails on a blackboard trying to scrape God's face from our minds . . . conquer our souls as well as our bodies and minds . . . Henryk looked so frightened - a wolf's howls demanding we see the world the way it did . . . — Philip Schultz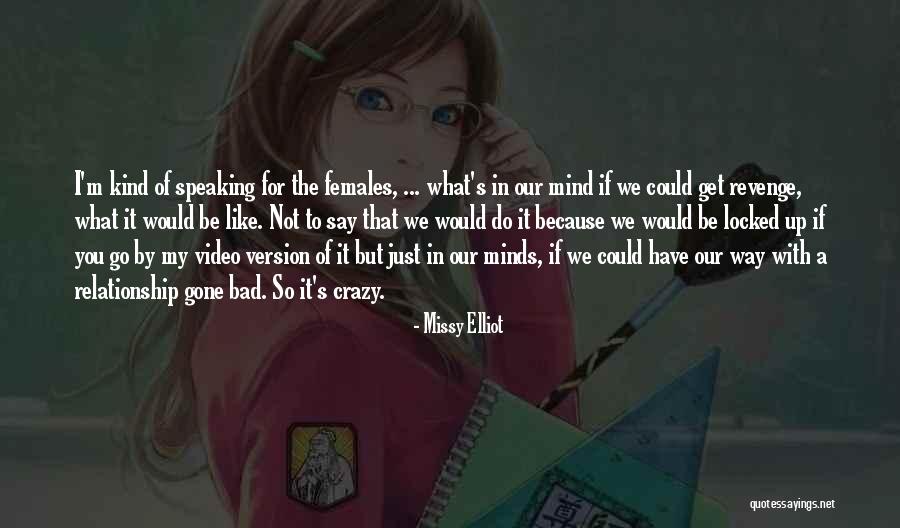 I'm kind of speaking for the females, ... what's in our mind if we could get revenge, what it would be like. Not to say that we would do it because we would be locked up if you go by my video version of it but just in our minds, if we could have our way with a relationship gone bad. So it's crazy. — Missy Elliot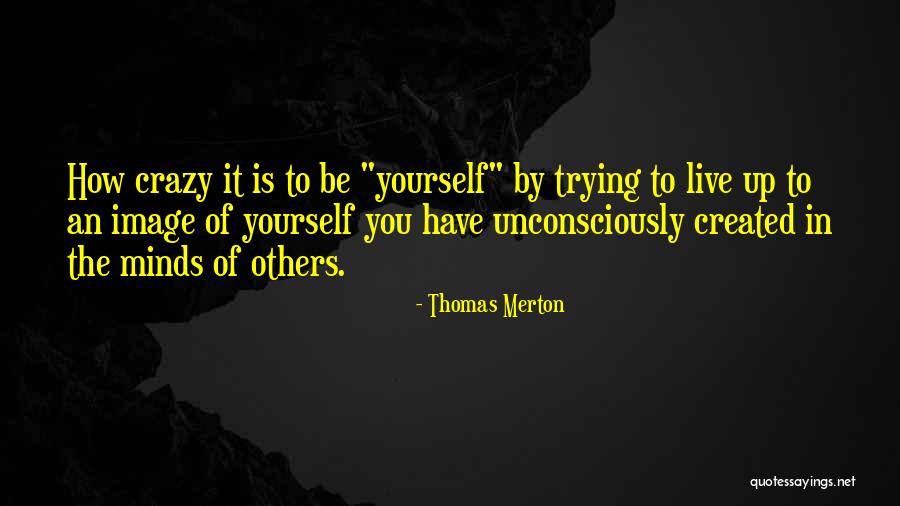 How crazy it is to be "yourself" by trying to live up to an image of yourself you have unconsciously created in the minds of others. — Thomas Merton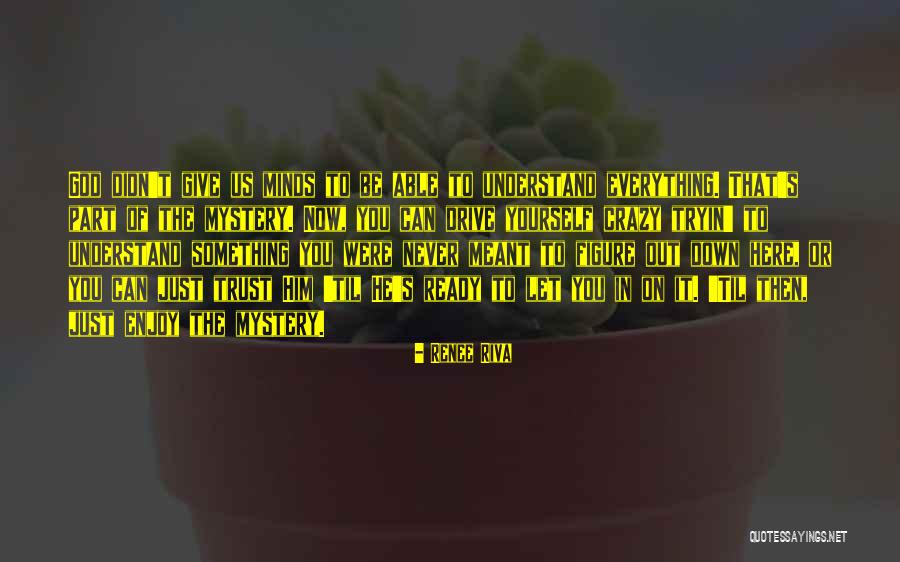 God didn't give us minds to be able to understand everything. That's part of the mystery. Now, you can drive yourself crazy tryin' to understand something you were never meant to figure out down here, or you can just trust Him 'til He's ready to let you in on it. 'Til then, just enjoy the mystery. — Renee Riva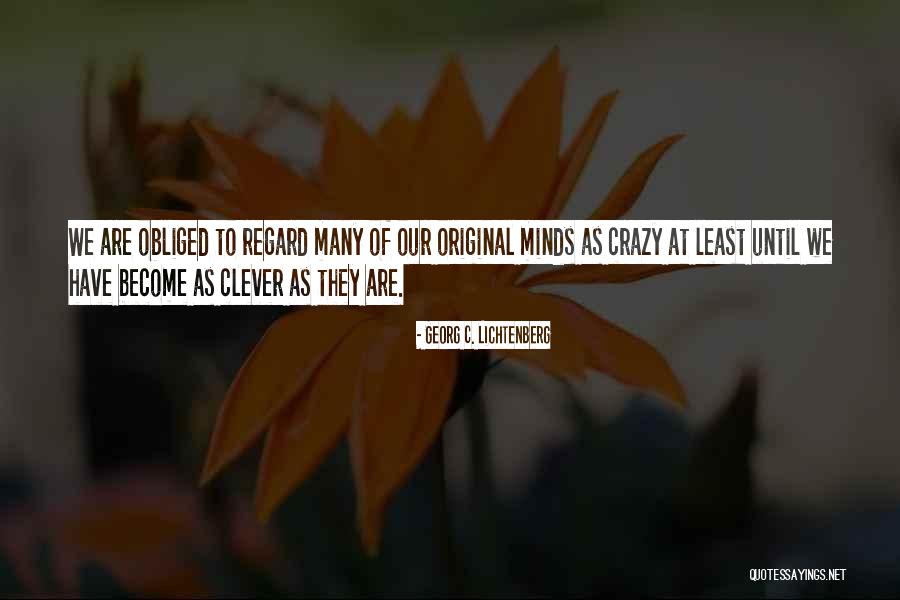 We are obliged to regard many of our original minds as crazy at least until we have become as clever as they are. — Georg C. Lichtenberg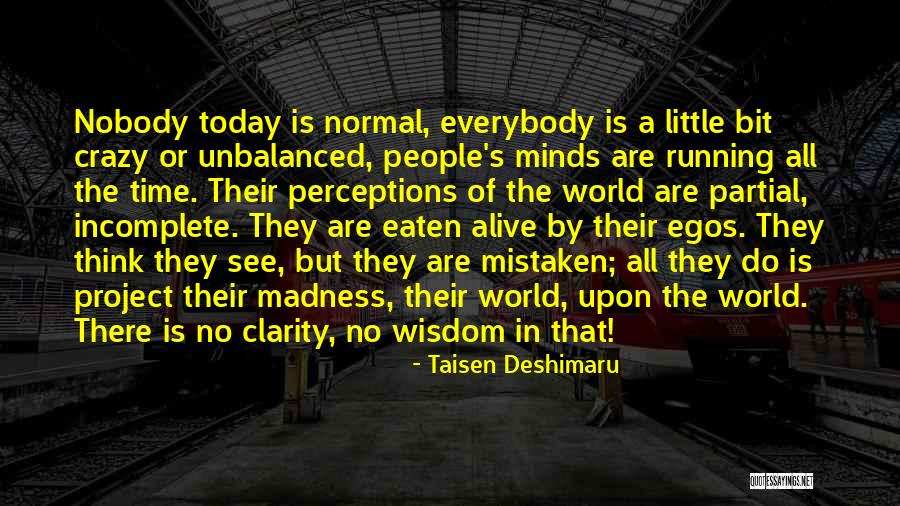 Nobody today is normal, everybody is a little bit crazy or unbalanced, people's minds are running all the time. Their perceptions of the world are partial, incomplete. They are eaten alive by their egos. They think they see, but they are mistaken; all they do is project their madness, their world, upon the world. There is no clarity, no wisdom in that! — Taisen Deshimaru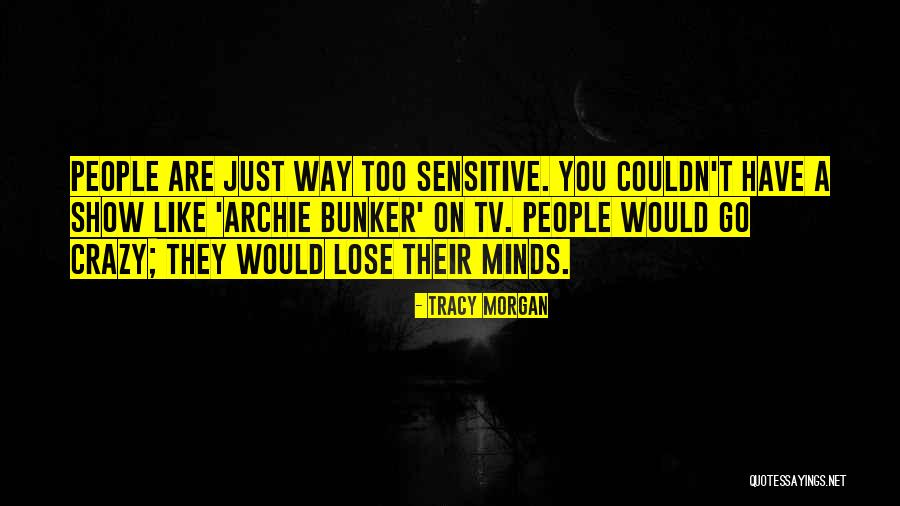 People are just way too sensitive. You couldn't have a show like 'Archie Bunker' on TV. People would go crazy; they would lose their minds. — Tracy Morgan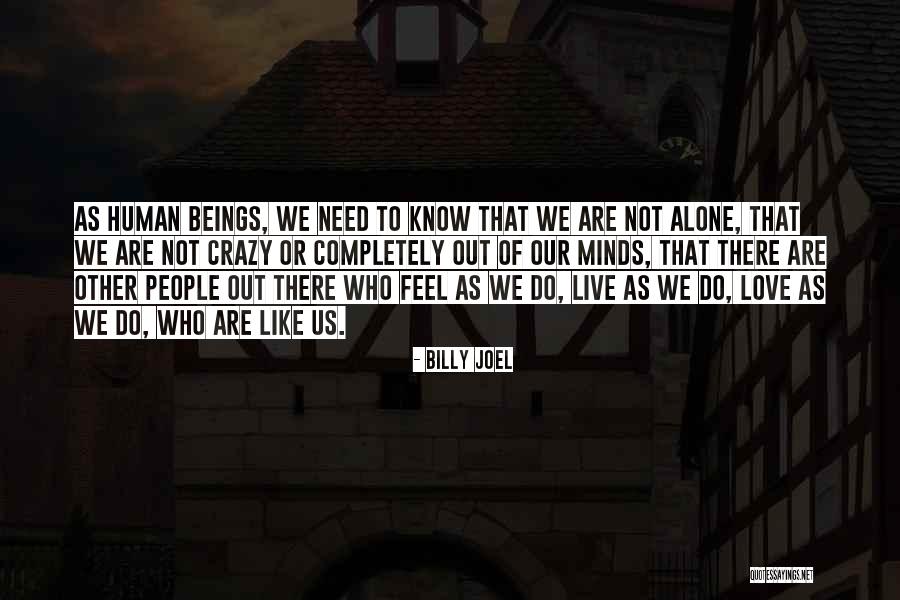 As human beings, we need to know that we are not alone, that we are not crazy or completely out of our minds, that there are other people out there who feel as we do, live as we do, love as we do, who are like us. — Billy Joel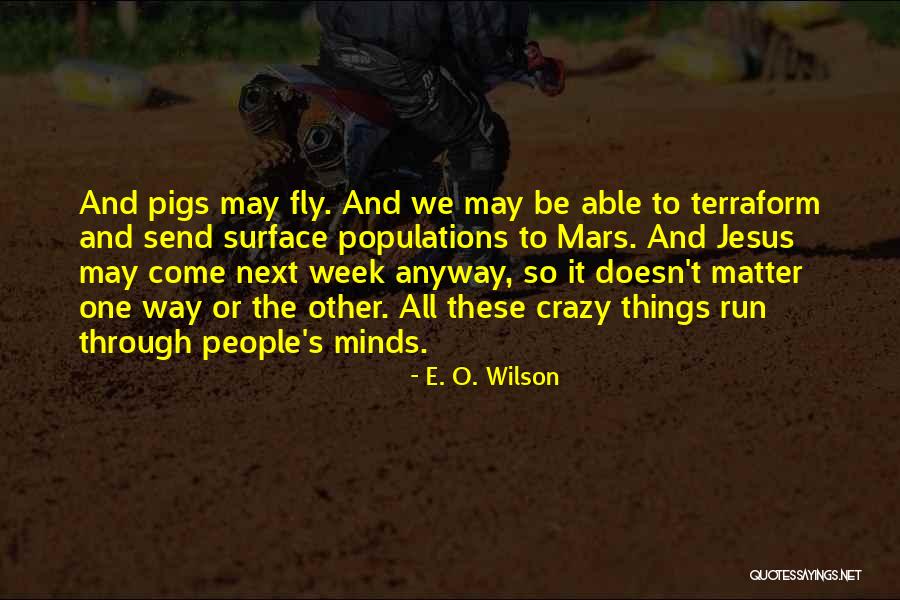 And pigs may fly. And we may be able to terraform and send surface populations to Mars. And Jesus may come next week anyway, so it doesn't matter one way or the other. All these crazy things run through people's minds. — E. O. Wilson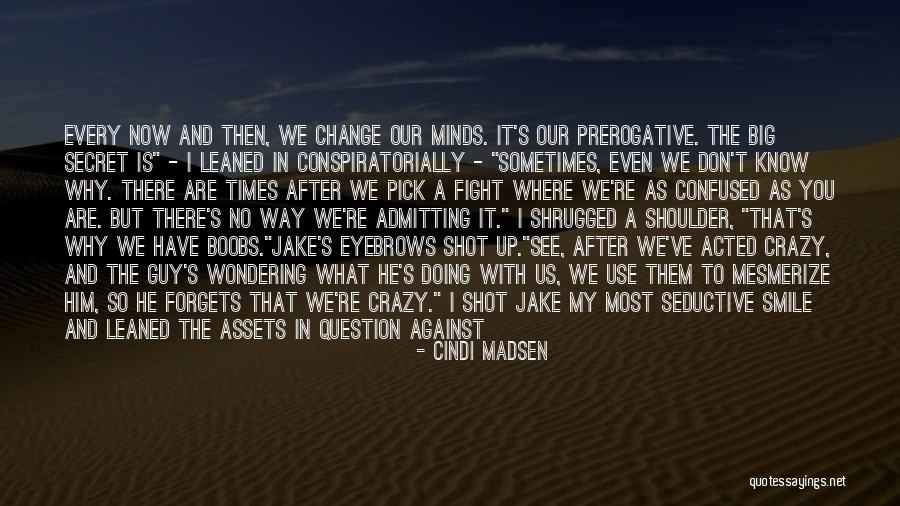 Every now and then, we change our minds. It's our prerogative. The big secret is" - I leaned in conspiratorially - "sometimes, even we don't know why. There are times after we pick a fight where we're as confused as you are. But there's no way we're admitting it." I shrugged a shoulder, "That's why we have boobs."
Jake's eyebrows shot up.
"See, after we've acted crazy, and the guy's wondering what he's doing with us, we use them to mesmerize him, so he forgets that we're crazy." I shot Jake my most seductive smile and leaned the assets in question against his arm. "And by the way, if you look at my cleavage right now, even though I'm the one talking about it, I'll accuse you of not caring about what I saw and of just treating me like an object."
Jake swallowed hard, keeping eye contact with me, though I could tell he was fighting his impulse to look down. A mischievous glint flickered through his eyes. "And treating you like an object would be bad? — Cindi Madsen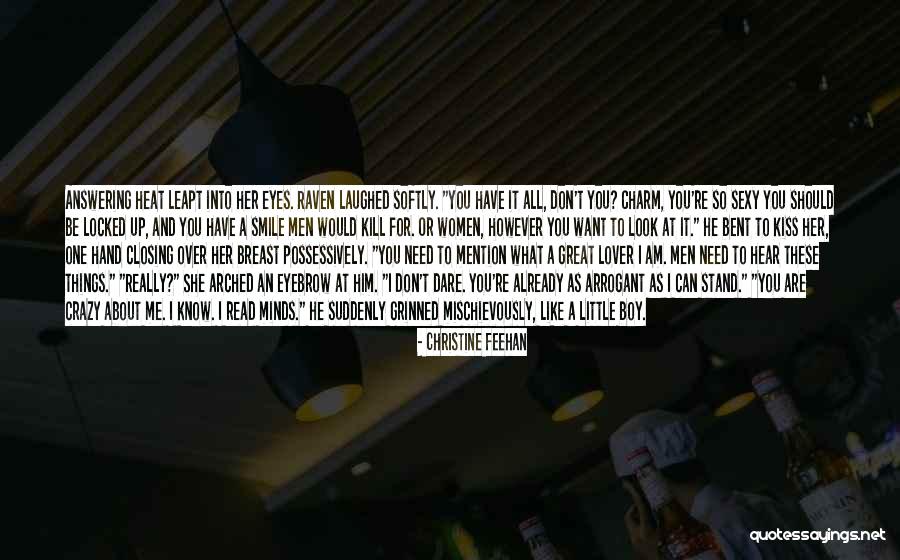 Answering heat leapt into her eyes. Raven laughed softly. "You have it all, don't you? Charm, you're so sexy you should be locked up, and you have a smile men would kill for. Or women, however you want to look at it."
He bent to kiss her, one hand closing over her breast possessively. "You need to mention what a great lover I am. Men need to hear these things."
"Really?" She arched an eyebrow at him. "I don't dare. You're already as arrogant as I can stand."
"You are crazy about me. I know. I read minds." He suddenly grinned mischievously, like a little boy. — Christine Feehan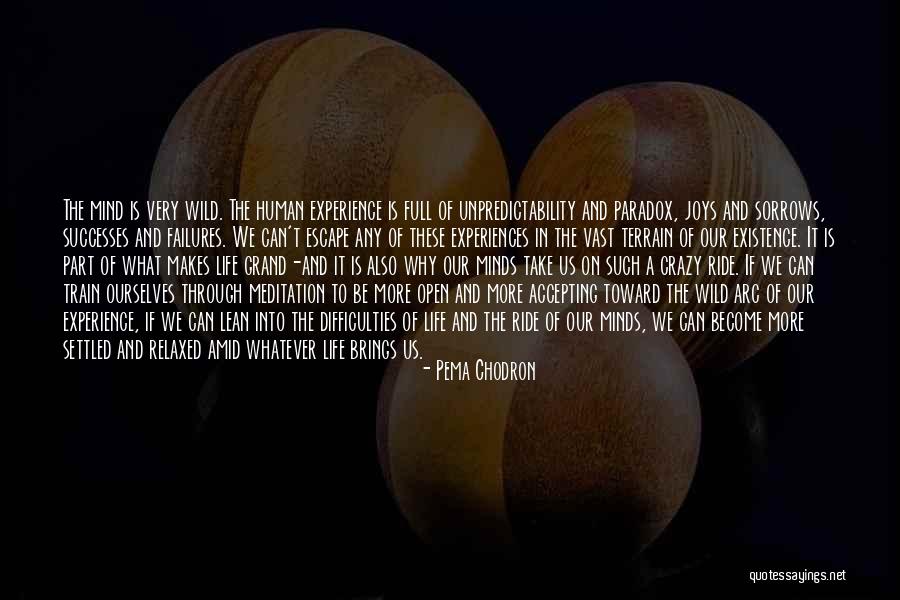 The mind is very wild. The human experience is full of unpredictability and paradox, joys and sorrows, successes and failures. We can't escape any of these experiences in the vast terrain of our existence. It is part of what makes life grand-and it is also why our minds take us on such a crazy ride. If we can train ourselves through meditation to be more open and more accepting toward the wild arc of our experience, if we can lean into the difficulties of life and the ride of our minds, we can become more settled and relaxed amid whatever life brings us. — Pema Chodron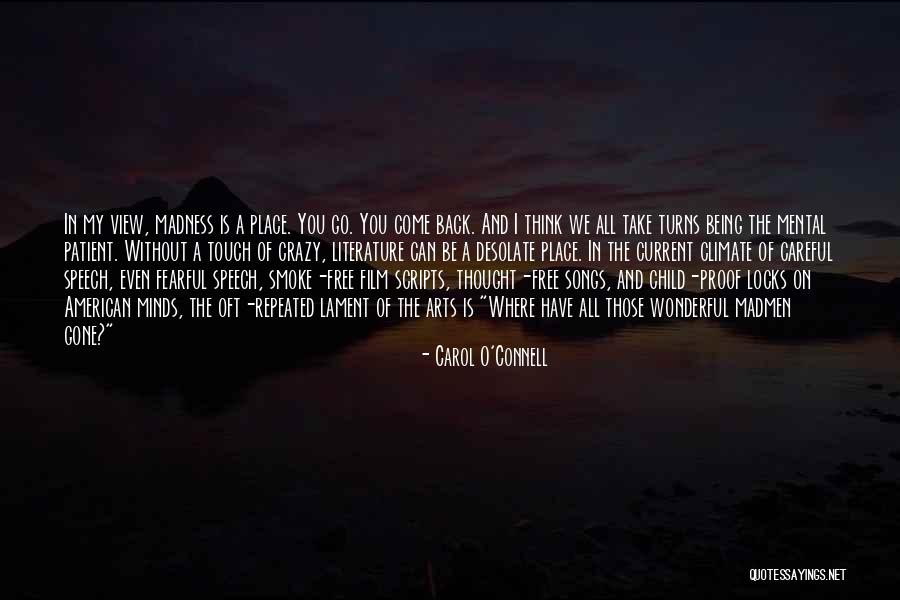 In my view, madness is a place. You go. You come back. And I think we all take turns being the mental patient. Without a touch of crazy, literature can be a desolate place. In the current climate of careful speech, even fearful speech, smoke-free film scripts, thought-free songs, and child-proof locks on American minds, the oft-repeated lament of the arts is "Where have all those wonderful madmen gone?" — Carol O'Connell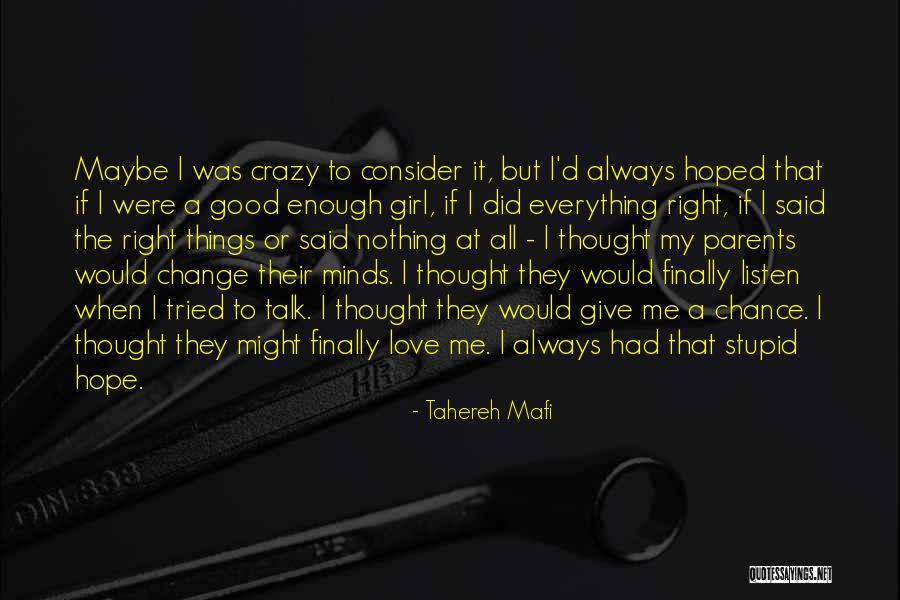 Maybe I was crazy to consider it, but I'd always hoped that if I were a good enough girl, if I did everything right, if I said the right things or said nothing at all - I thought my parents would change their minds. I thought they would finally listen when I tried to talk. I thought they would give me a chance. I thought they might finally love me. I always had that stupid hope. — Tahereh Mafi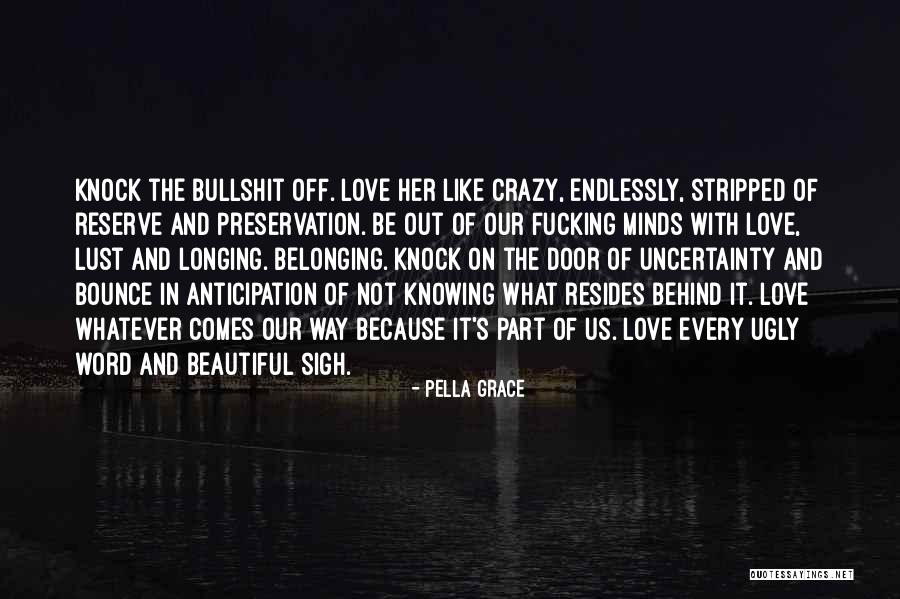 Knock the bullshit off. Love her like crazy, endlessly, stripped of reserve and preservation. Be out of our fucking minds with love, lust and longing. Belonging. Knock on the door of uncertainty and bounce in anticipation of not knowing what resides behind it. Love whatever comes our way because it's part of us. Love every ugly word and beautiful sigh. — Pella Grace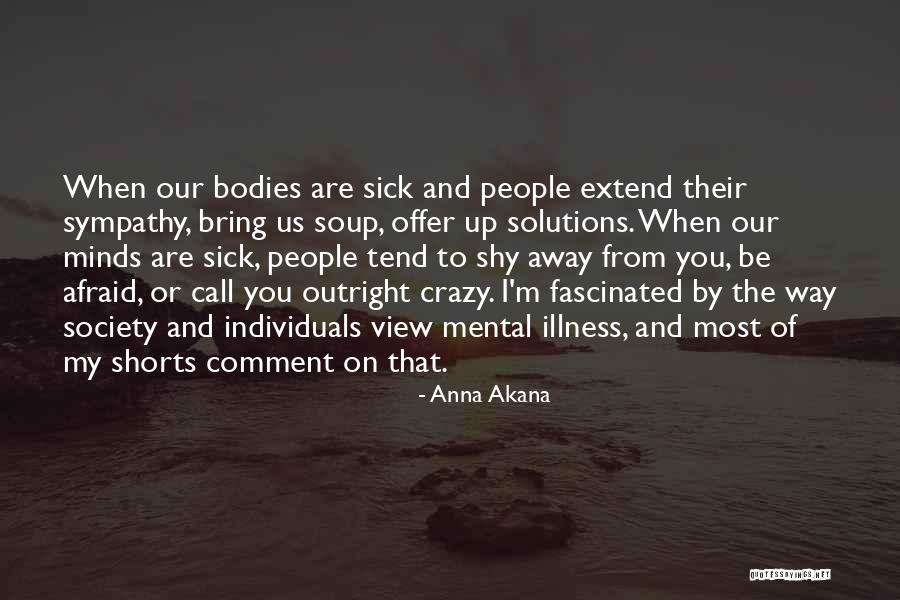 When our bodies are sick and people extend their sympathy, bring us soup, offer up solutions. When our minds are sick, people tend to shy away from you, be afraid, or call you outright crazy. I'm fascinated by the way society and individuals view mental illness, and most of my shorts comment on that. — Anna Akana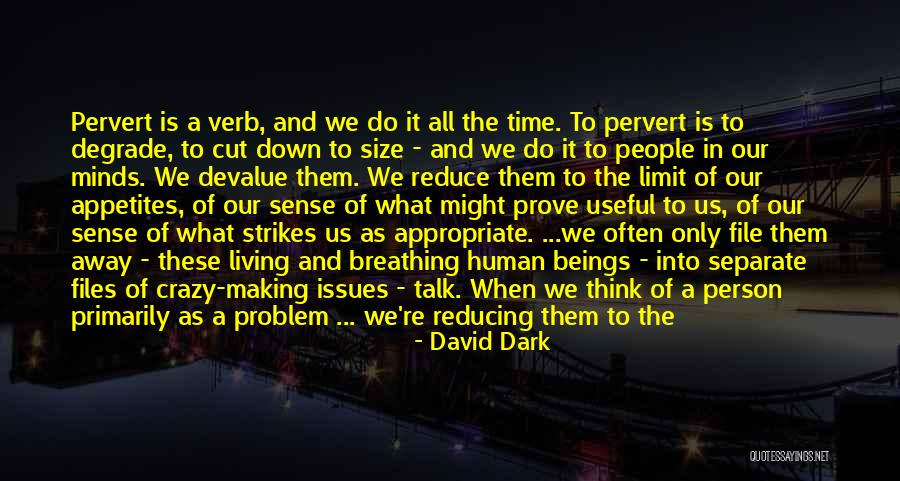 Pervert is a verb, and we do it all the time. To pervert is to degrade, to cut down to size - and we do it to people in our minds. We devalue them. We reduce them to the limit of our appetites, of our sense of what might prove useful to us, of our sense of what strikes us as appropriate. ...we often only file them away - these living and breathing human beings - into separate files of crazy-making issues - talk. When we think of a person primarily as a problem ... we're reducing them to the tiny sphere of our stunted attention span. This is how perversion works. Perversion is a failure of the imagination, a failure to pay adequate attention. — David Dark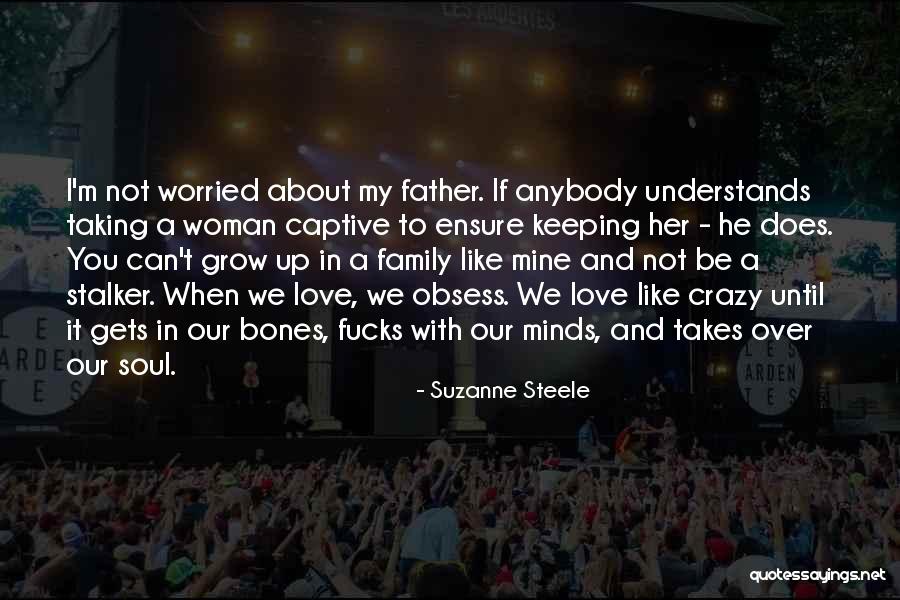 I'm not worried about my father. If anybody understands taking a woman captive to ensure keeping her - he does. You can't grow up in a family like mine and not be a stalker. When we love, we obsess. We love like crazy until it gets in our bones, fucks with our minds, and takes over our soul. — Suzanne Steele
New lovers tend to "lose their minds" and do all sorts of crazy things in the heat of the moment. One study showed that new lovers' brains have a lot in common with people on cocaine. Dopamine is sometimes called the "drug of desire." Too much dopamine, from being "high with excitement, — David Rock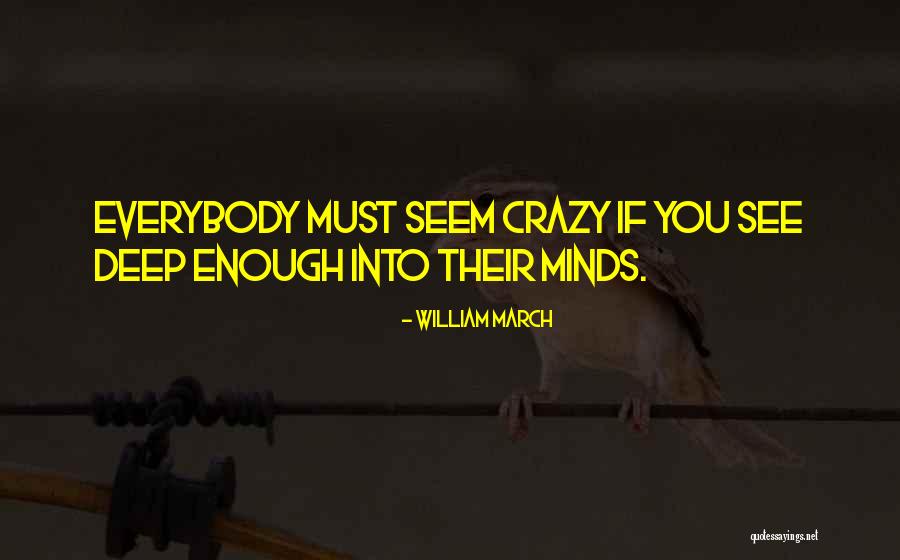 Everybody must seem crazy if you see deep enough into their minds. — William March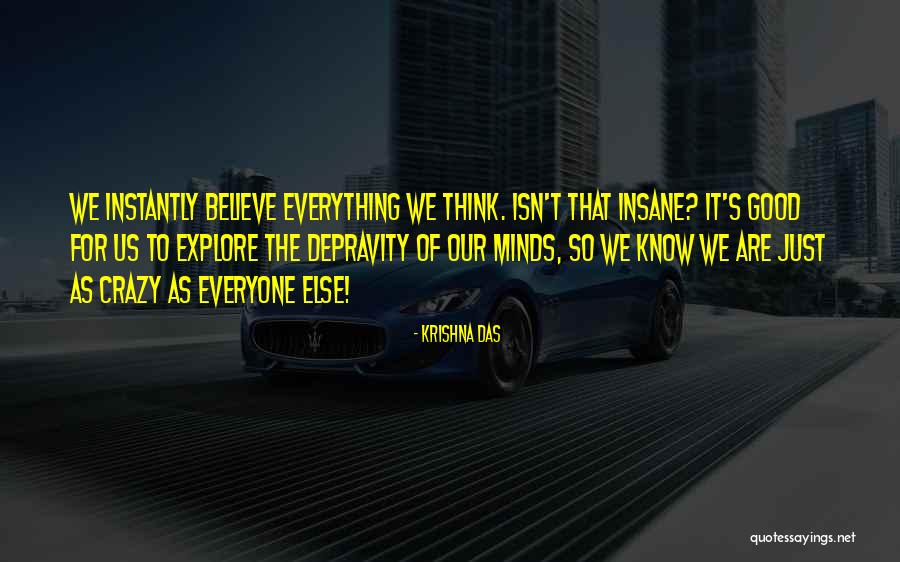 We instantly believe everything we think. Isn't that insane? It's good for us to explore the depravity of our minds, so we know we are just as crazy as everyone else! — Krishna Das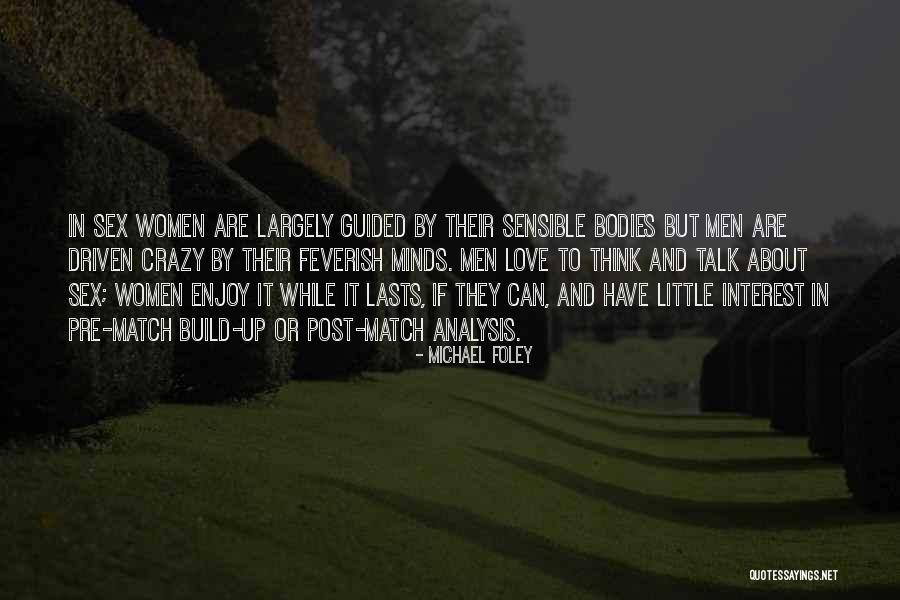 In sex women are largely guided by their sensible bodies but men are driven crazy by their feverish minds. Men love to think and talk about sex; women enjoy it while it lasts, if they can, and have little interest in pre-match build-up or post-match analysis. — Michael Foley