Quotes & Sayings About Cracks In The Road
Enjoy reading and share 6 famous quotes about Cracks In The Road with everyone.
Top Cracks In The Road Quotes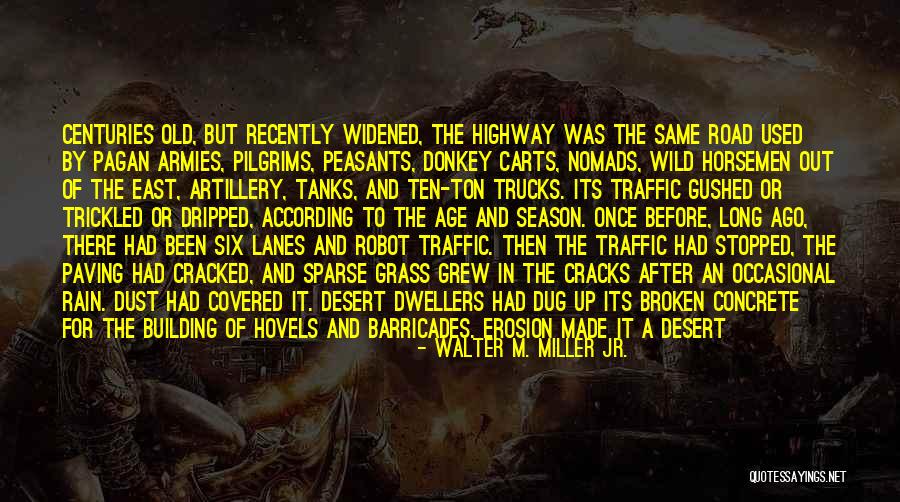 Centuries old, but recently widened, the highway was the same road used by pagan armies, pilgrims, peasants, donkey carts, nomads, wild horsemen out of the east, artillery, tanks, and ten-ton trucks. Its traffic gushed or trickled or dripped, according to the age and season. Once before, long ago, there had been six lanes and robot traffic. Then the traffic had stopped, the paving had cracked, and sparse grass grew in the cracks after an occasional rain. Dust had covered it. Desert dwellers had dug up its broken concrete for the building of hovels and barricades. Erosion made it a desert trail, crossing wilderness. But now there were six lanes and robot traffic, as before. — Walter M. Miller Jr.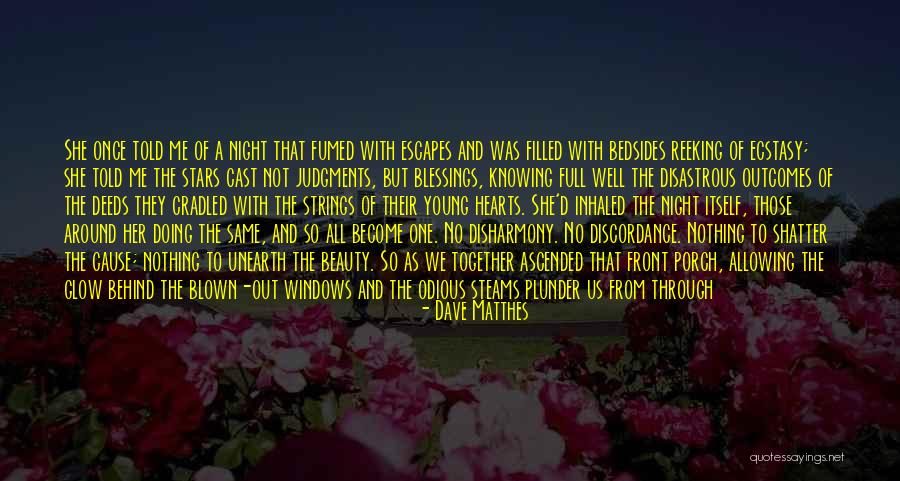 She once told me of a night that fumed with escapes and was filled with bedsides reeking of ecstasy; she told me the stars cast not judgments, but blessings, knowing full well the disastrous outcomes of the deeds they cradled with the strings of their young hearts. She'd inhaled the night itself, those around her doing the same, and so all become one. No disharmony. No discordance. Nothing to shatter the cause; nothing to unearth the beauty. So as we together ascended that front porch, allowing the glow behind the blown-out windows and the odious steams plunder us from through the cracks ... time forgot to distill us, and our steps became as silver as glass. I could no longer deny the boiling words of my blood: tonight would be the beginning of a very long road indeed. — Dave Matthes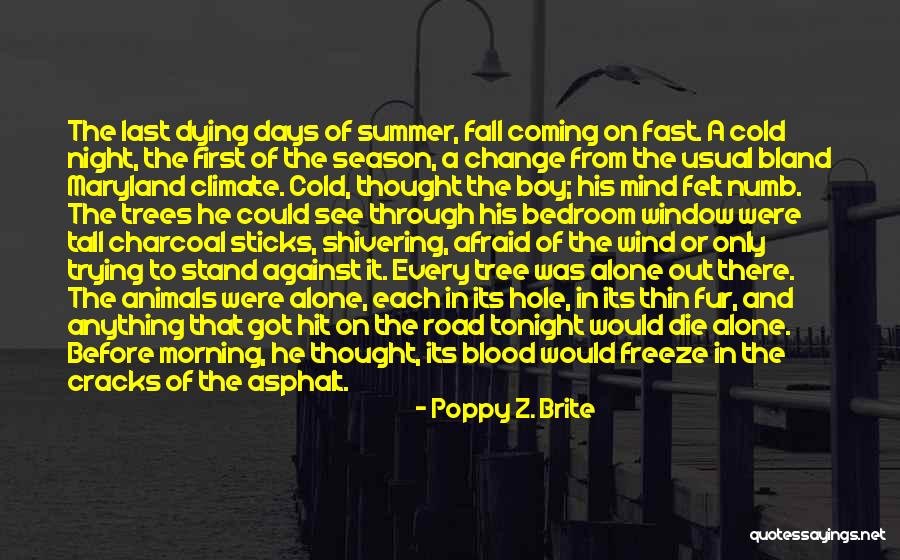 The last dying days of summer, fall coming on fast. A cold night, the first of the season, a change from the usual bland Maryland climate. Cold, thought the boy; his mind felt numb. The trees he could see through his bedroom window were tall charcoal sticks, shivering, afraid of the wind or only trying to stand against it. Every tree was alone out there. The animals were alone, each in its hole, in its thin fur, and anything that got hit on the road tonight would die alone. Before morning, he thought, its blood would freeze in the cracks of the asphalt. — Poppy Z. Brite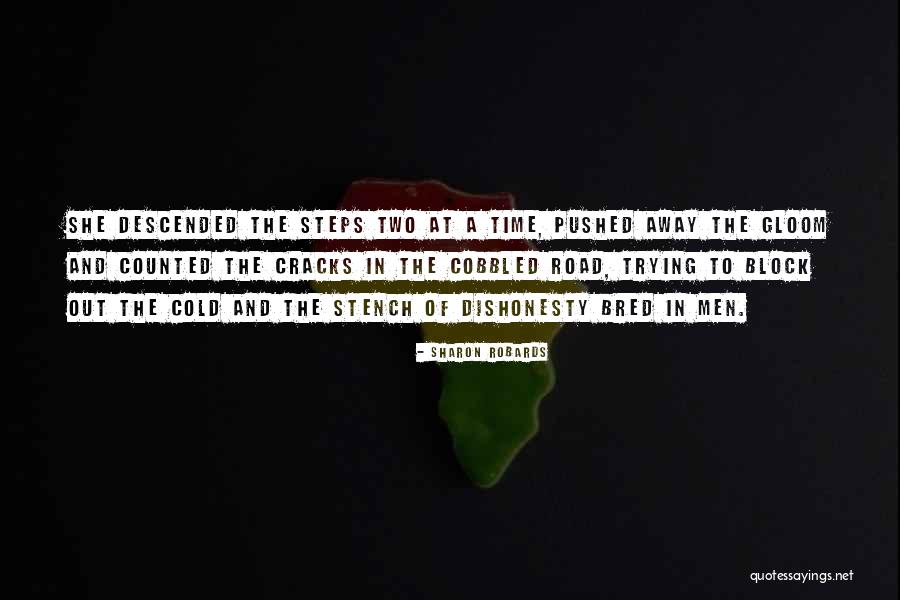 She descended the steps two at a time, pushed away the gloom and counted the cracks in the cobbled road, trying to block out the cold and the stench of dishonesty bred in men. — Sharon Robards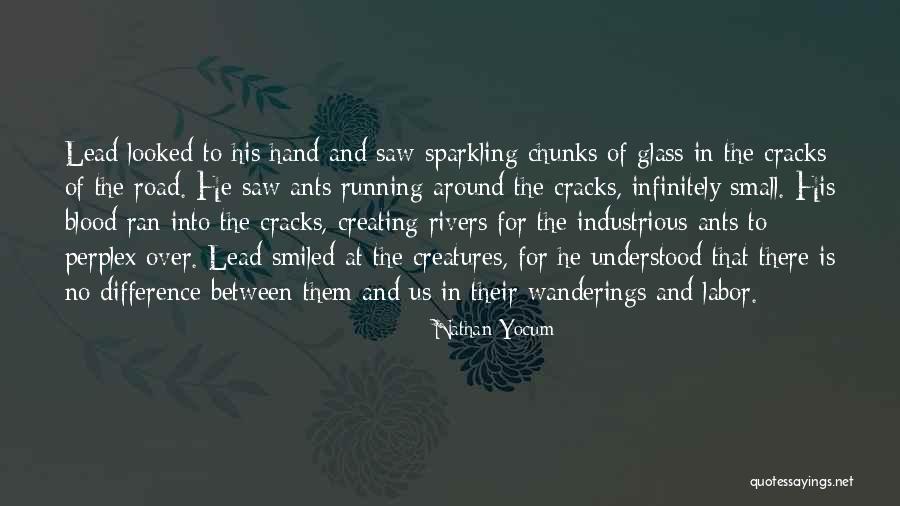 Lead looked to his hand and saw sparkling chunks of glass in the cracks of the road. He saw ants running around the cracks, infinitely small. His blood ran into the cracks, creating rivers for the industrious ants to perplex over. Lead smiled at the creatures, for he understood that there is no difference between them and us in their wanderings and labor. — Nathan Yocum