Courage To Make Change Quotes & Sayings
Enjoy reading and share 36 famous quotes about Courage To Make Change with everyone.
Top Courage To Make Change Quotes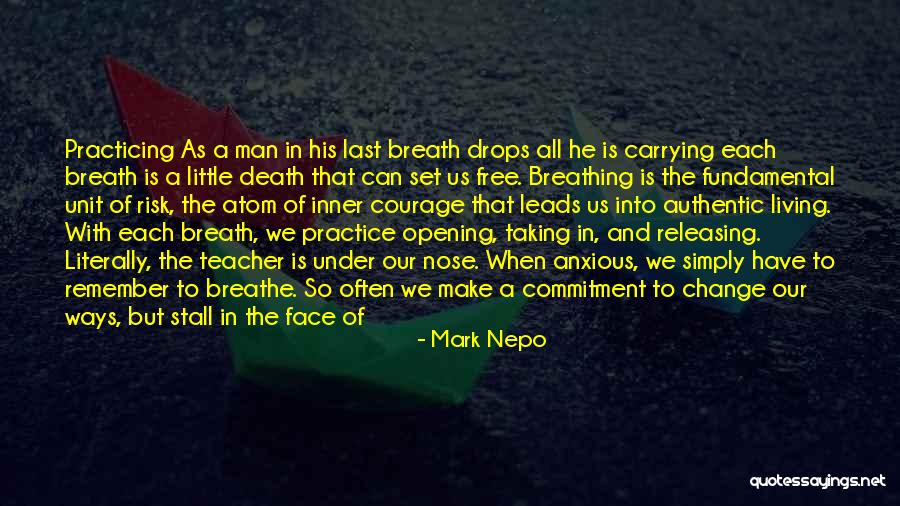 Practicing As a man in his last breath drops all he is carrying each breath is a little death that can set us free. Breathing is the fundamental unit of risk, the atom of inner courage that leads us into authentic living. With each breath, we practice opening, taking in, and releasing. Literally, the teacher is under our nose. When anxious, we simply have to remember to breathe. So often we make a commitment to change our ways, but stall in the face of — Mark Nepo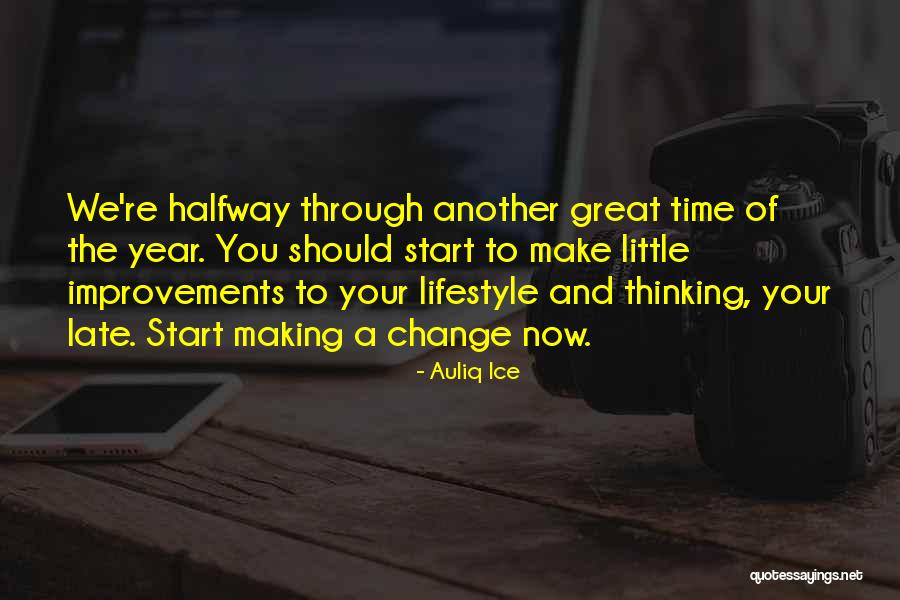 We're halfway through another great time of the year. You should start to make little improvements to your lifestyle and thinking, your late. Start making a change now. — Auliq Ice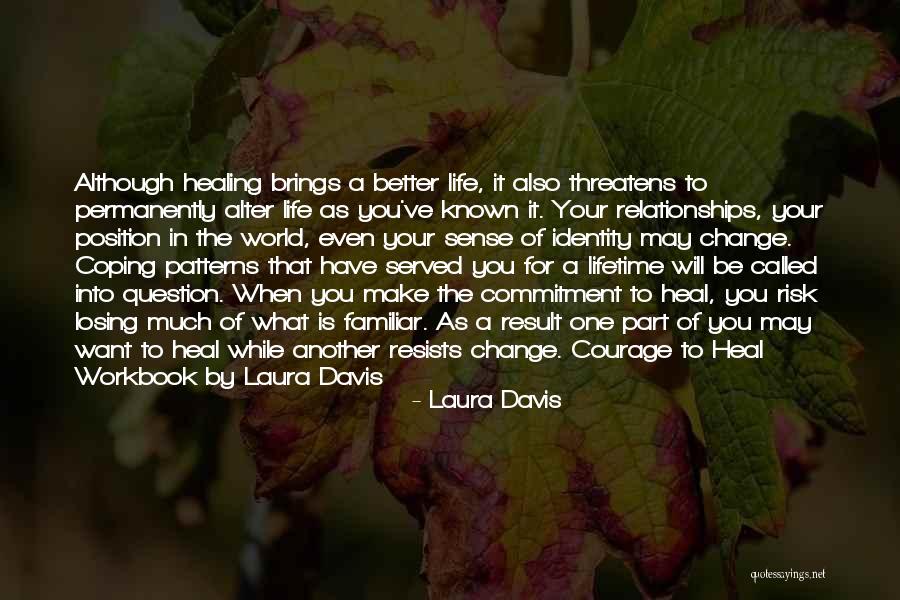 Although healing brings a better life, it also threatens to permanently alter life as you've known it. Your relationships, your position in the world, even your sense of identity may change. Coping patterns that have served you for a lifetime will be called into question. When you make the commitment to heal, you risk losing much of what is familiar. As a result one part of you may want to heal while another resists change.
Courage to Heal Workbook by Laura Davis — Laura Davis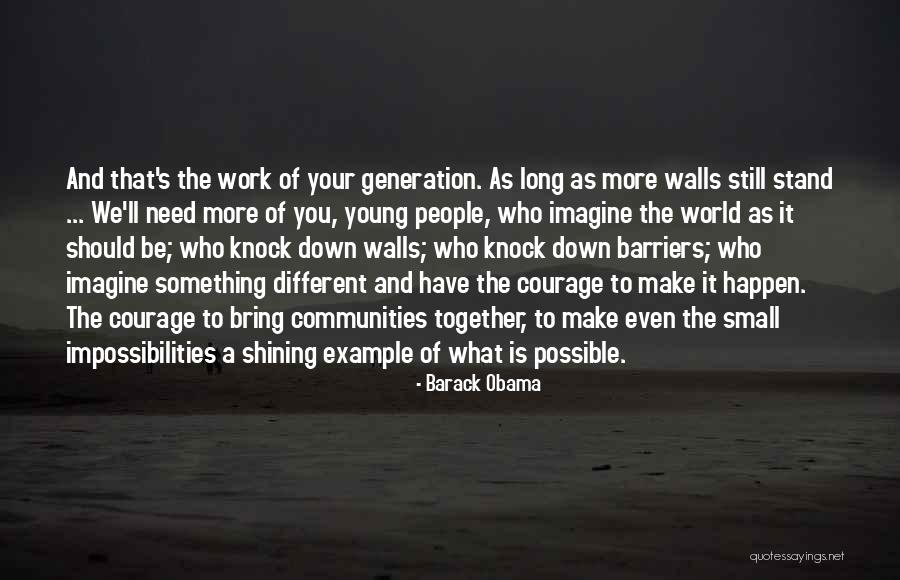 And that's the work of your generation. As long as more walls still stand ... We'll need more of you, young people, who imagine the world as it should be; who knock down walls; who knock down barriers; who imagine something different and have the courage to make it happen. The courage to bring communities together, to make even the small impossibilities a shining example of what is possible. — Barack Obama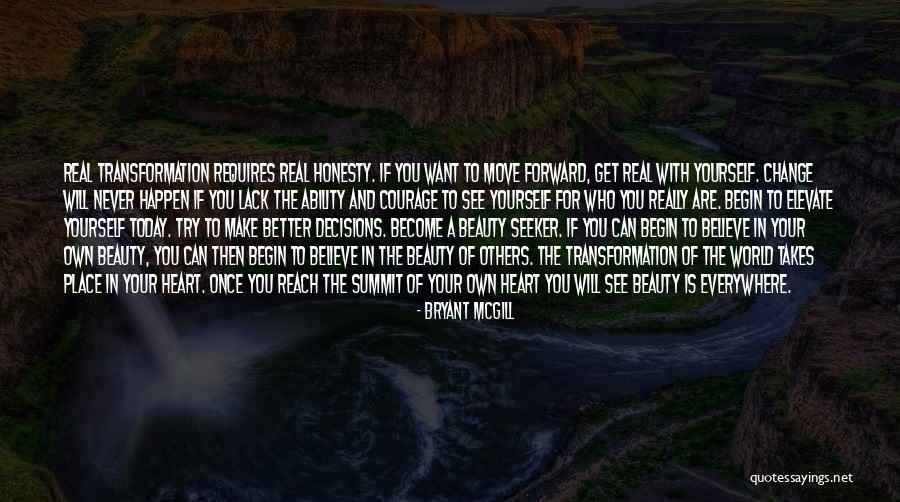 Real transformation requires real honesty. If you want to move forward, get real with yourself. Change will never happen if you lack the ability and courage to see yourself for who you really are. Begin to elevate yourself today. Try to make better decisions. Become a beauty seeker. If you can begin to believe in your own beauty, you can then begin to believe in the beauty of others. The transformation of the world takes place in your heart. Once you reach the summit of your own heart you will see beauty is everywhere. — Bryant McGill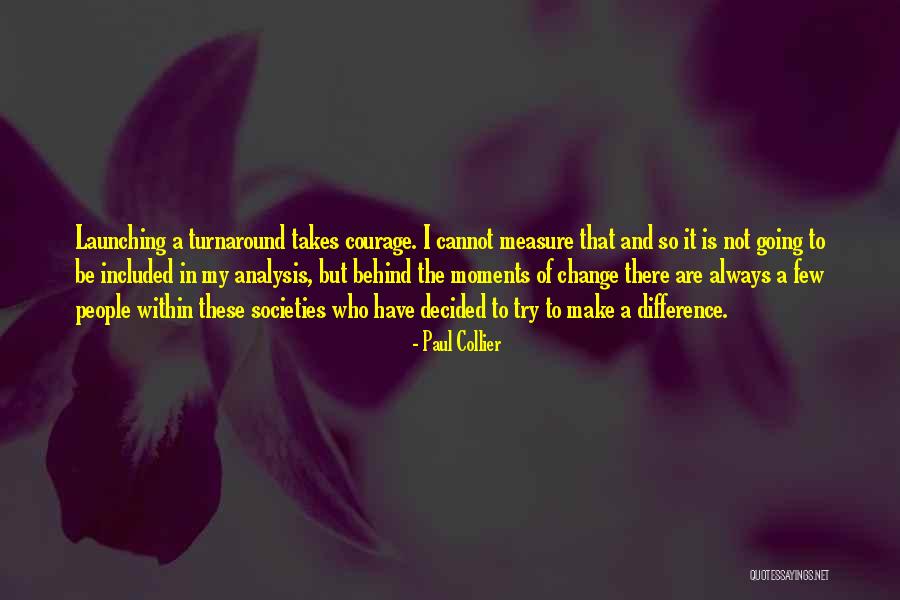 Launching a turnaround takes courage. I cannot measure that and so it is not going to be included in my analysis, but behind the moments of change there are always a few people within these societies who have decided to try to make a difference. — Paul Collier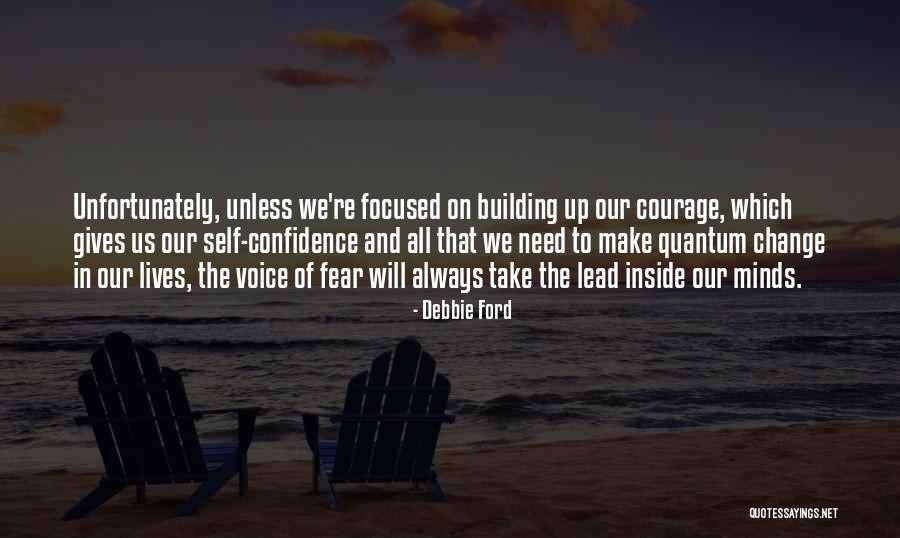 Unfortunately, unless we're focused on building up our courage, which gives us our self-confidence and all that we need to make quantum change in our lives, the voice of fear will always take the lead inside our minds. — Debbie Ford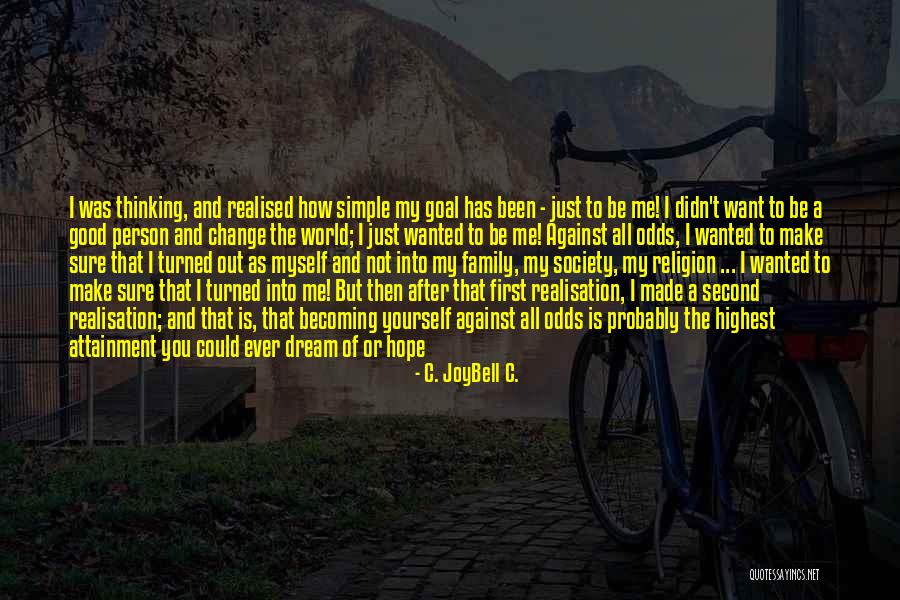 I was thinking, and realised how simple my goal has been - just to be me! I didn't want to be a good person and change the world; I just wanted to be me! Against all odds, I wanted to make sure that I turned out as myself and not into my family, my society, my religion ... I wanted to make sure that I turned into me! But then after that first realisation, I made a second realisation; and that is, that becoming yourself against all odds is probably the highest attainment you could ever dream of or hope for! After all, the minute we are born, we are born into a world that isn't interested in making us who we are; but rather, is interested in making us who they think we are supposed to be! It is a most courageous act to become yourself, no matter what! And you can move mountains and change the world without trying to! As long as you fight for you! — C. JoyBell C.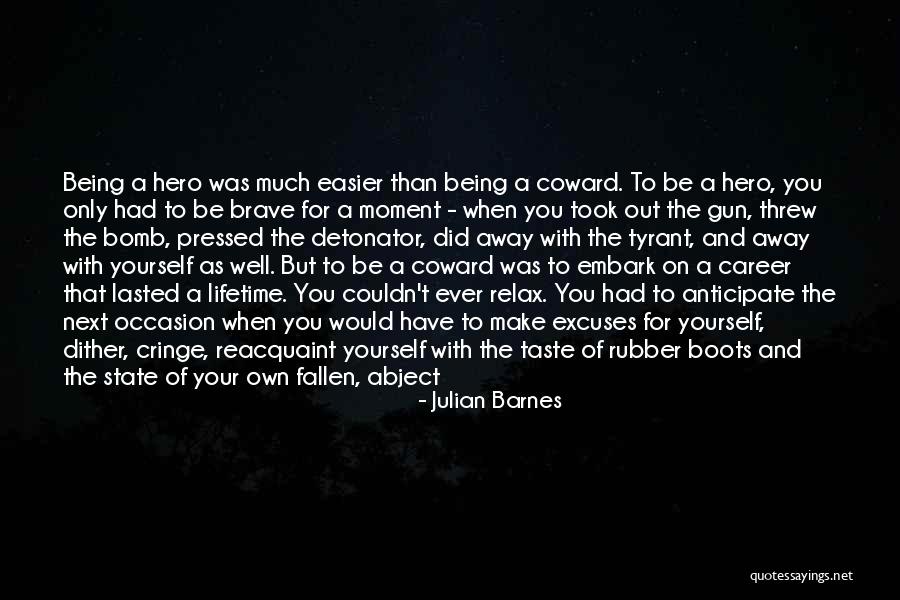 Being a hero was much easier than being a coward. To be a hero, you only had to be brave for a moment - when you took out the gun, threw the bomb, pressed the detonator, did away with the tyrant, and away with yourself as well. But to be a coward was to embark on a career that lasted a lifetime. You couldn't ever relax. You had to anticipate the next occasion when you would have to make excuses for yourself, dither, cringe, reacquaint yourself with the taste of rubber boots and the state of your own fallen, abject character. Being a coward required pertinacity, persistence, a refusal to change - which made it, in a way, a kind of courage. — Julian Barnes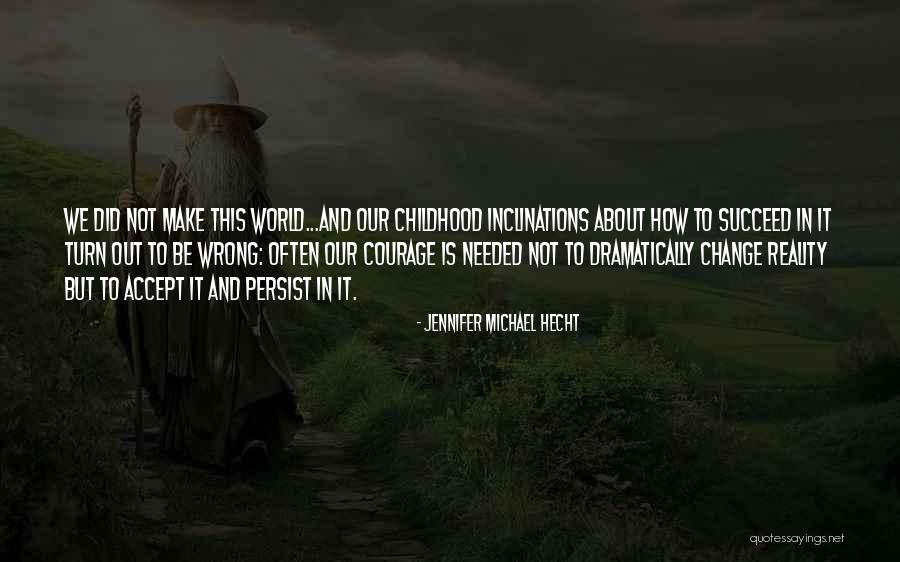 We did not make this world...and our childhood inclinations about how to succeed in it turn out to be wrong: often our courage is needed not to dramatically change reality but to accept it and persist in it. — Jennifer Michael Hecht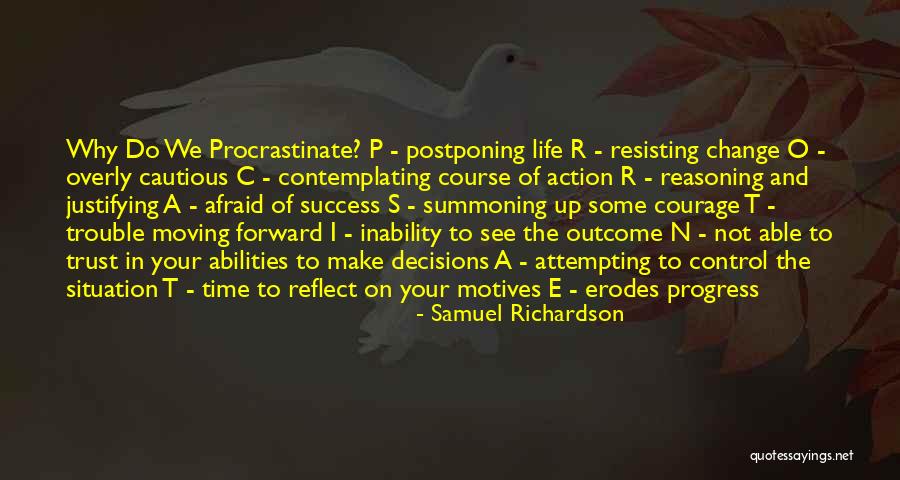 Why Do We Procrastinate? P - postponing life R - resisting change O - overly cautious C - contemplating course of action R - reasoning and justifying A - afraid of success S - summoning up some courage T - trouble moving forward I - inability to see the outcome N - not able to trust in your abilities to make decisions A - attempting to control the situation T - time to reflect on your motives E - erodes progress — Samuel Richardson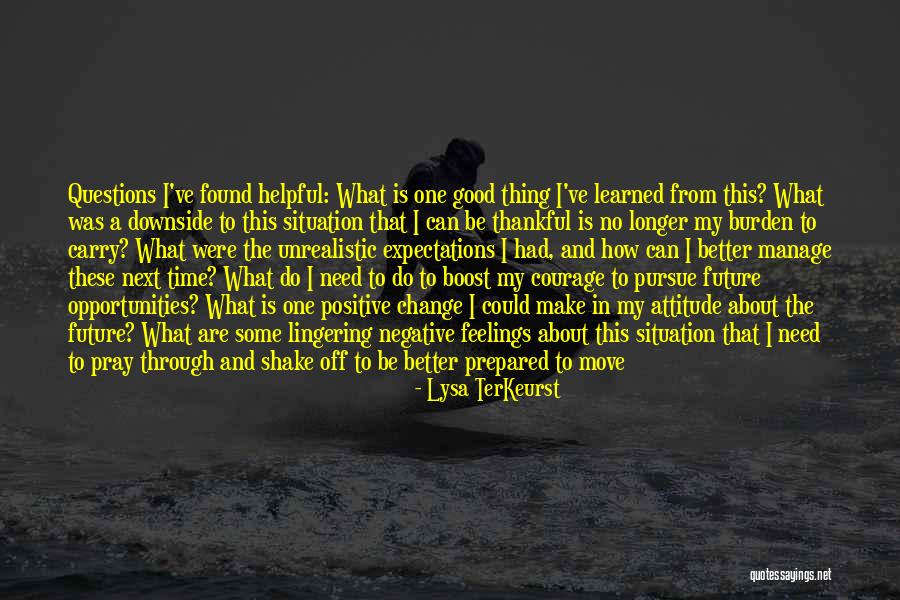 Questions I've found helpful: What is one good thing I've learned from this? What was a downside to this situation that I can be thankful is no longer my burden to carry? What were the unrealistic expectations I had, and how can I better manage these next time? What do I need to do to boost my courage to pursue future opportunities? What is one positive change I could make in my attitude about the future? What are some lingering negative feelings about this situation that I need to pray through and shake off to be better prepared to move forward? What is one thing God has been asking me to do today to make tomorrow easier? — Lysa TerKeurst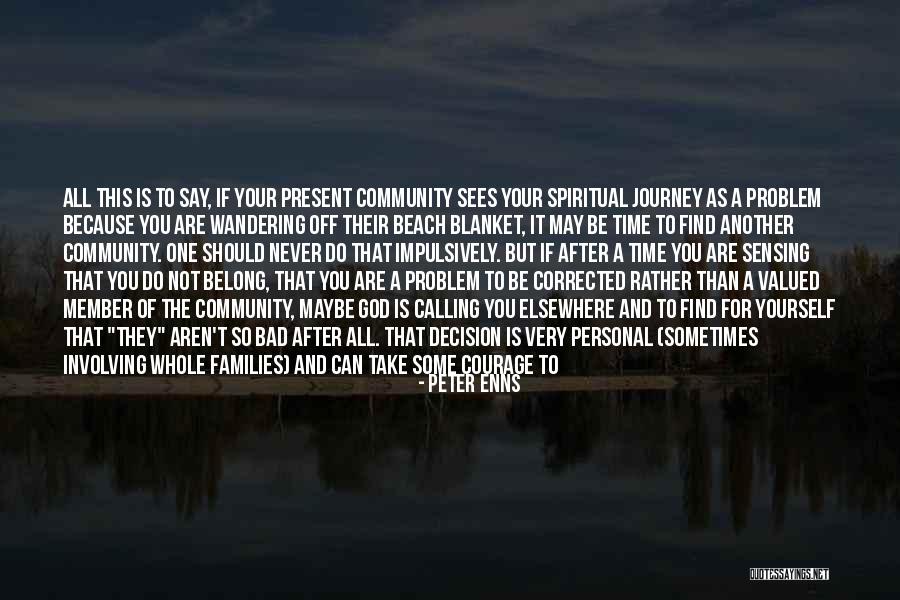 All this is to say, if your present community sees your spiritual journey as a problem because you are wandering off their beach blanket, it may be time to find another community. One should never do that impulsively. But if after a time you are sensing that you do not belong, that you are a problem to be corrected rather than a valued member of the community, maybe God is calling you elsewhere and to find for yourself that "they" aren't so bad after all. That decision is very personal (sometimes involving whole families) and can take some courage to make, but it is worth the risk. One thing is certain: if you stay where you are without any change at all, the pressure to either conform or keep quiet will work in you like a slow-acting poison. And if you go too far down that road, it can be a tough haul coming back from bitterness and resentment - especially for children. — Peter Enns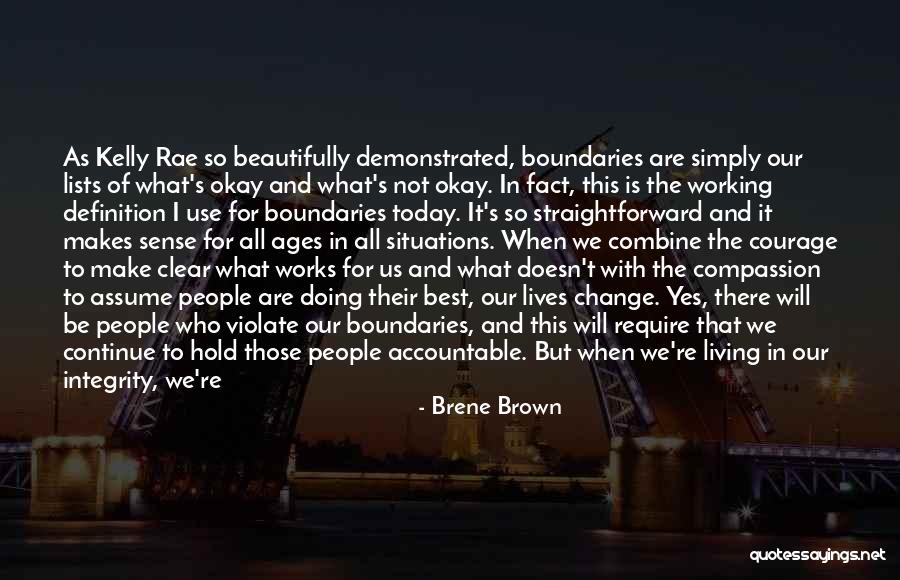 As Kelly Rae so beautifully demonstrated, boundaries are simply our lists of what's okay and what's not okay. In fact, this is the working definition I use for boundaries today. It's so straightforward and it makes sense for all ages in all situations. When we combine the courage to make clear what works for us and what doesn't with the compassion to assume people are doing their best, our lives change. Yes, there will be people who violate our boundaries, and this will require that we continue to hold those people accountable. But when we're living in our integrity, we're strengthened by the self-respect that comes from the honoring of our boundaries, rather than being flattened by disappointment and resentment. — Brene Brown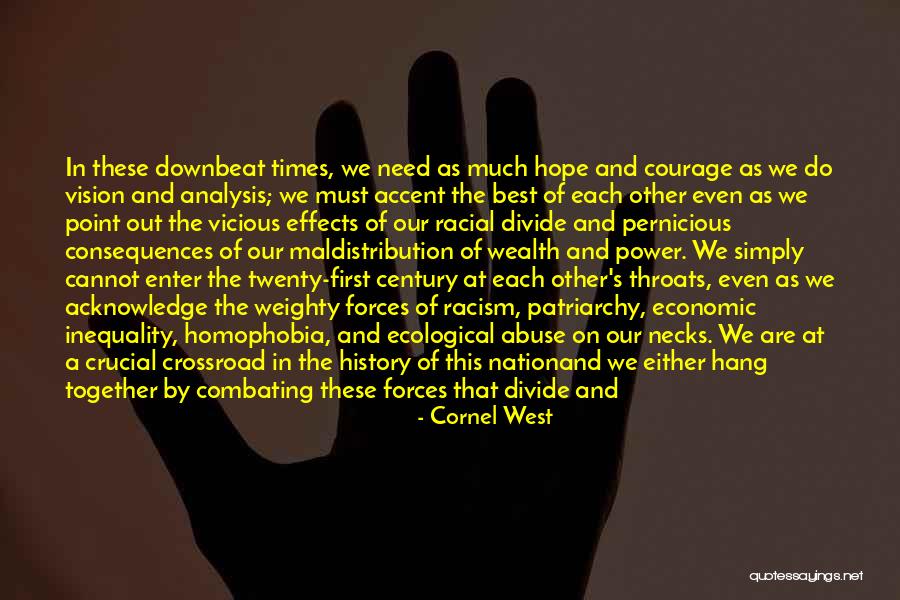 In these downbeat times, we need as much hope and courage as we do vision and analysis; we must accent the best of each other even as we point out the vicious effects of our racial divide and pernicious consequences of our maldistribution of wealth and power. We simply cannot enter the twenty-first century at each other's throats, even as we acknowledge the weighty forces of racism, patriarchy, economic inequality, homophobia, and ecological abuse on our necks. We are at a crucial crossroad in the history of this nation
and we either hang together by combating these forces that divide and degrade us or we hang separately. Do we have the intelligence, humor, imagination, courage, tolerance, love, respect, and will to meet the challenge? Time will tell. None of us alone can save the nation or world. But each of us can make a positive difference if we commit ourselves to do so. — Cornel West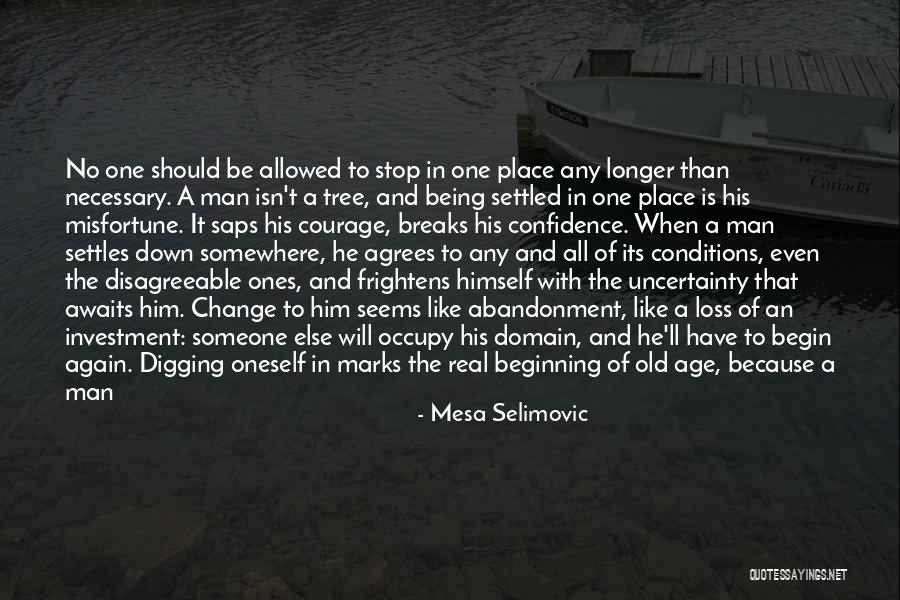 No one should be allowed to stop in one place any longer than necessary. A man isn't a tree, and being settled in one place is his misfortune. It saps his courage, breaks his confidence. When a man settles down somewhere, he agrees to any and all of its conditions, even the disagreeable ones, and frightens himself with the uncertainty that awaits him. Change to him seems like abandonment, like a loss of an investment: someone else will occupy his domain, and he'll have to begin again. Digging oneself in marks the real beginning of old age, because a man is young as long as he isn't afraid to make new beginnings. If he stays in the same place, he has to put up with things, or take action. If he moves on, he keeps his freedom; he's ready to change places and the conditions imposed on him. — Mesa Selimovic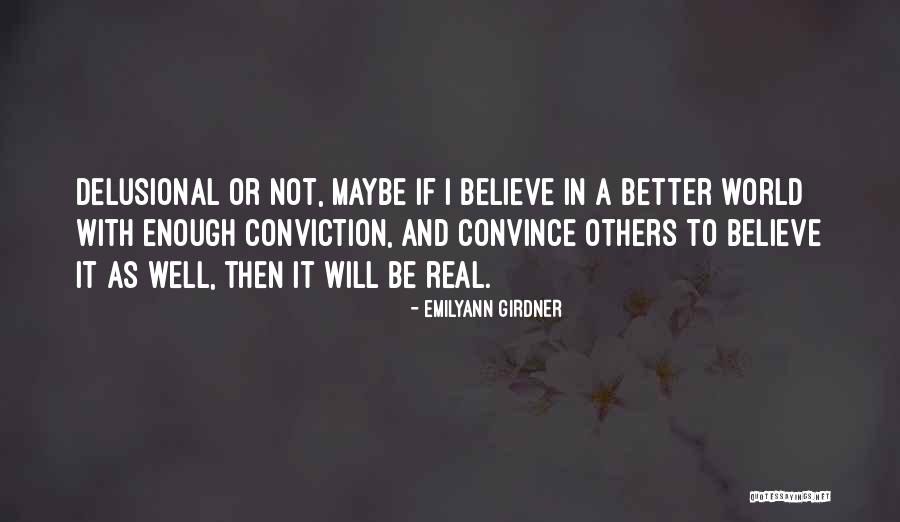 Delusional or not, maybe if I believe in a better world with enough conviction, and convince others to believe it as well, then it will be real. — Emilyann Girdner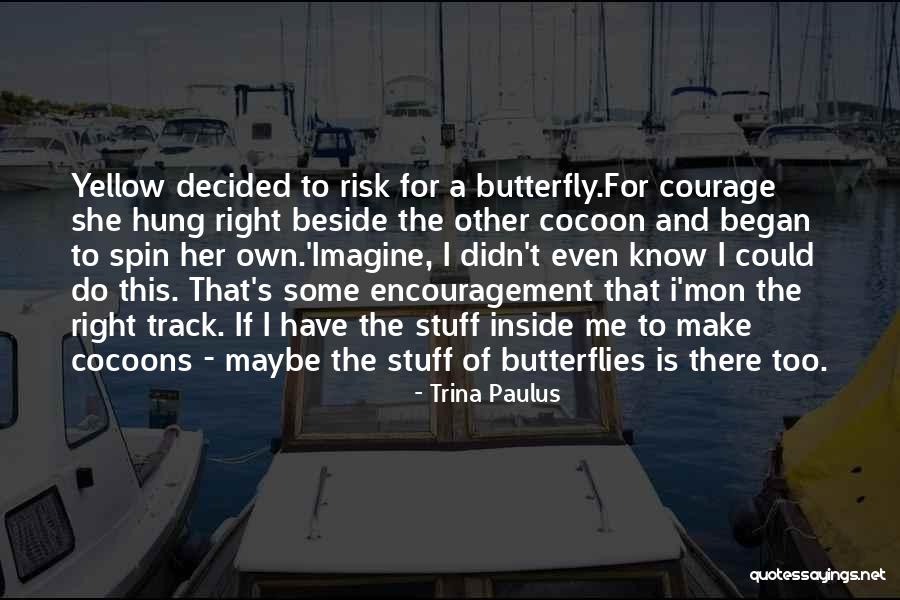 Yellow decided to risk for a butterfly.
For courage she hung right beside the other cocoon and began to spin her own.
'Imagine, I didn't even know I could do this. That's some encouragement that i'mon the right track. If I have the stuff inside me to make cocoons - maybe the stuff of butterflies is there too. — Trina Paulus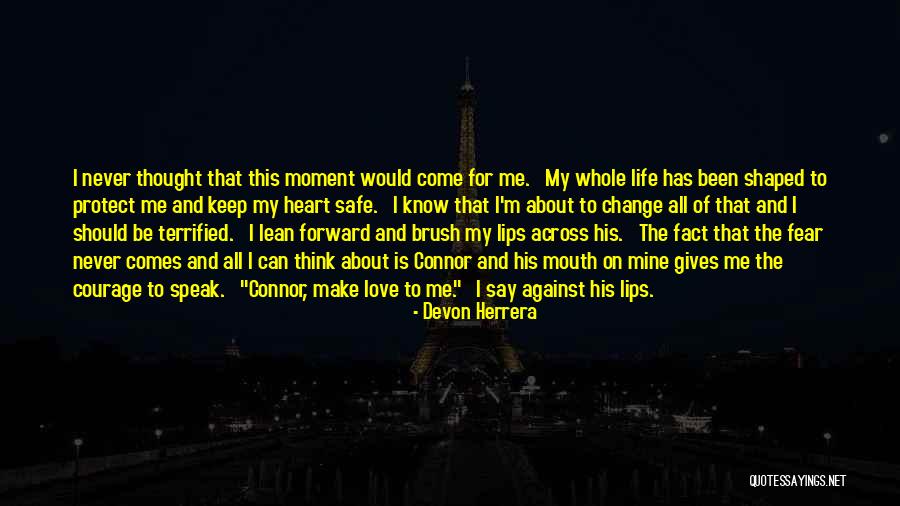 I never thought that this moment would come for me. My whole life has been shaped to protect me and keep my heart safe. I know that I'm about to change all of that and I should be terrified. I lean forward and brush my lips across his. The fact that the fear never comes and all I can think about is Connor and his mouth on mine gives me the courage to speak. "Connor, make love to me." I say against his lips. — Devon Herrera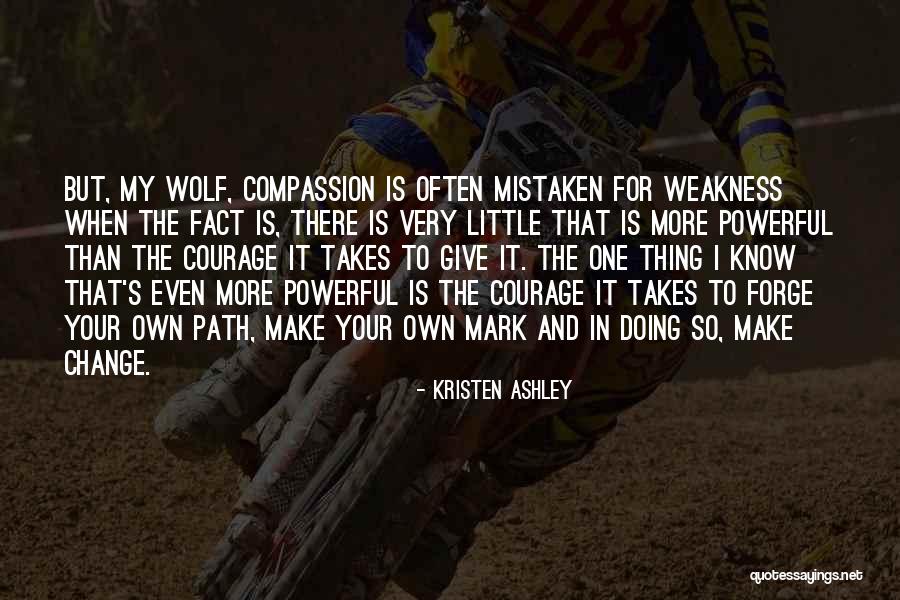 But, my wolf, compassion is often mistaken for weakness when the fact is, there is very little that is more powerful than the courage it takes to give it. The one thing I know that's even more powerful is the courage it takes to forge your own path, make your own mark and in doing so, make change. — Kristen Ashley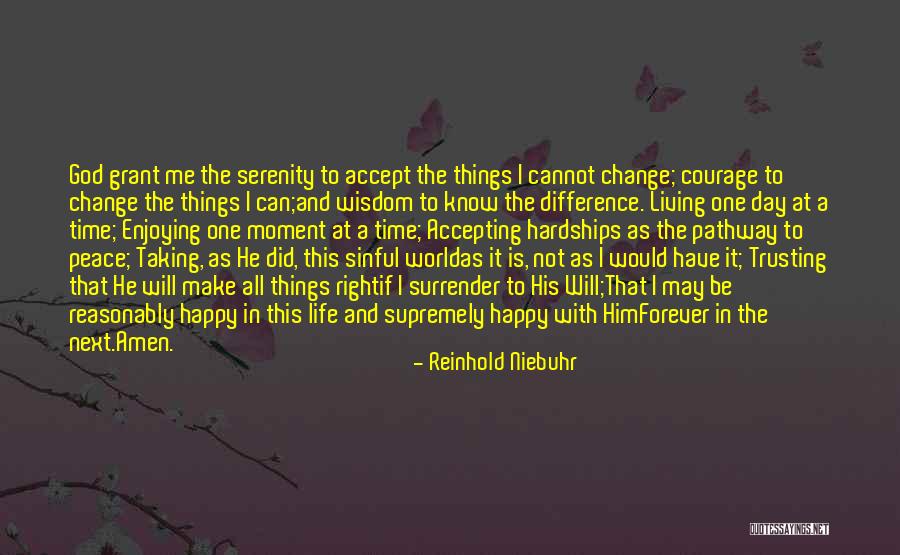 God grant me the serenity
to accept the things I cannot change;
courage to change the things I can;
and wisdom to know the difference.
Living one day at a time;
Enjoying one moment at a time;
Accepting hardships as the pathway to peace;
Taking, as He did, this sinful world
as it is, not as I would have it;
Trusting that He will make all things right
if I surrender to His Will;
That I may be reasonably happy in this life
and supremely happy with Him
Forever in the next.
Amen. — Reinhold Niebuhr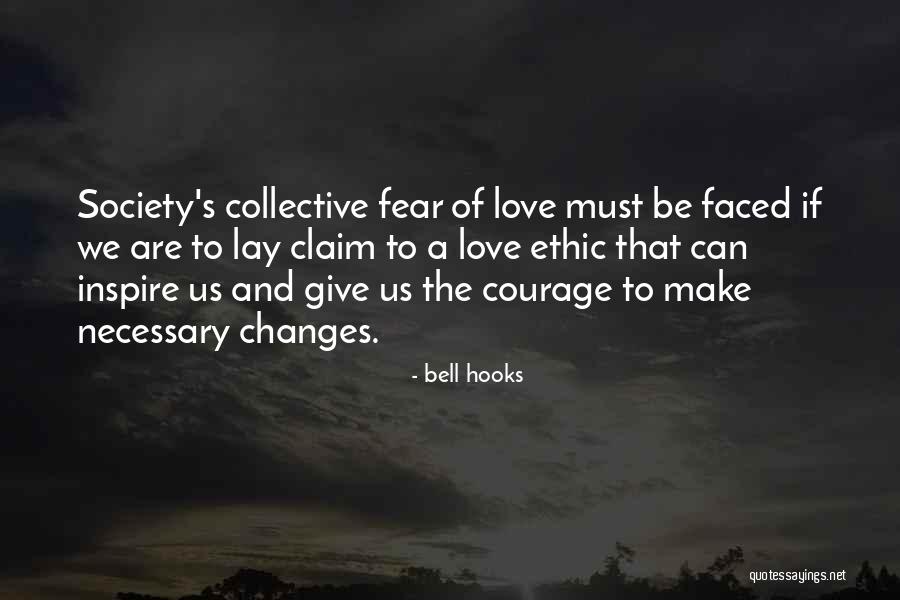 Society's collective fear of love must be faced if we are to lay claim to a love ethic that can inspire us and give us the courage to make necessary changes. — Bell Hooks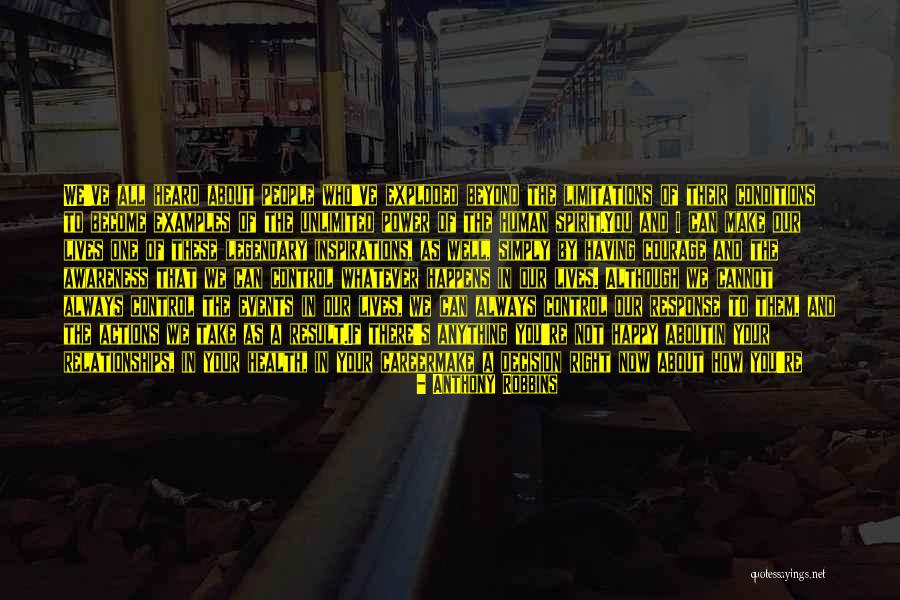 We've all heard about people who've exploded beyond the limitations of their conditions to become examples of the unlimited power of the human spirit.
You and I can make our lives one of these legendary inspirations, as well, simply by having courage and the awareness that we can control whatever happens in our lives. Although we cannot always control the events in our lives, we can always control our response to them, and the actions we take as a result.
If there's anything you're not happy about
in your relationships, in your health, in your career
make a decision right now about how you're going to change it immediately. — Anthony Robbins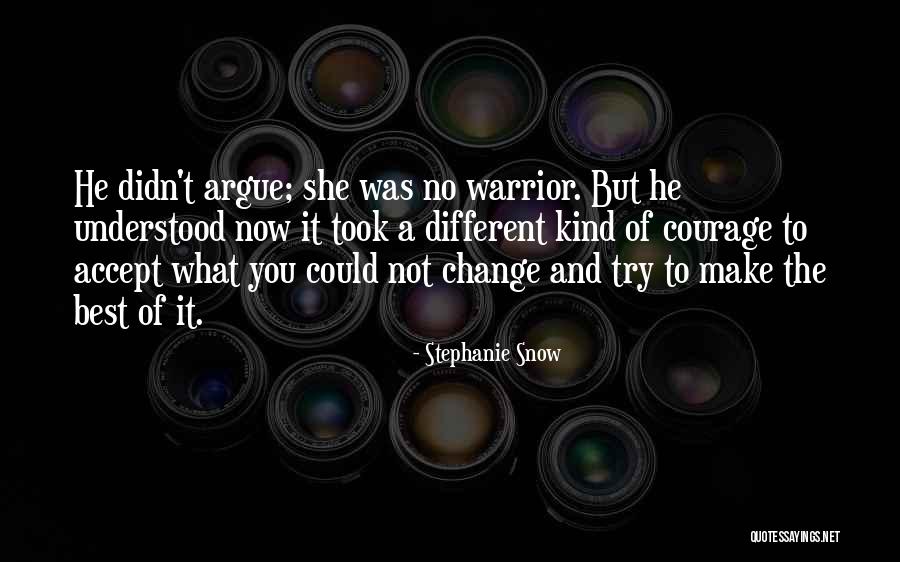 He didn't argue; she was no warrior. But he understood now it took a different kind of courage to accept what you could not change and try to make the best of it. — Stephanie Snow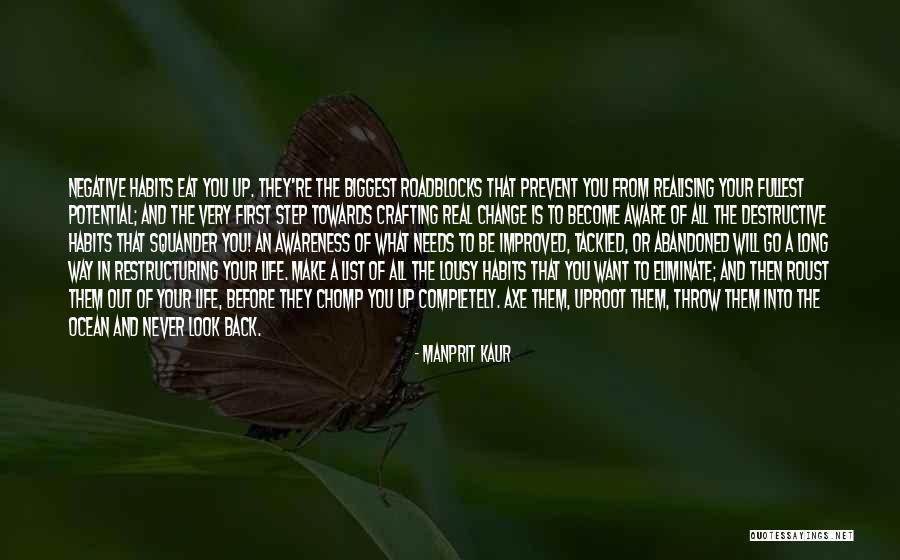 Negative habits eat you up. They're the biggest roadblocks that prevent you from realising your fullest potential; and the very first step towards crafting real change is to become aware of all the destructive habits that squander you! An awareness of what needs to be improved, tackled, or abandoned will go a long way in restructuring your life. Make a list of all the lousy habits that you want to eliminate; and then roust them out of your life, before they chomp you up completely. Axe them, uproot them, throw them into the ocean and never look back. — Manprit Kaur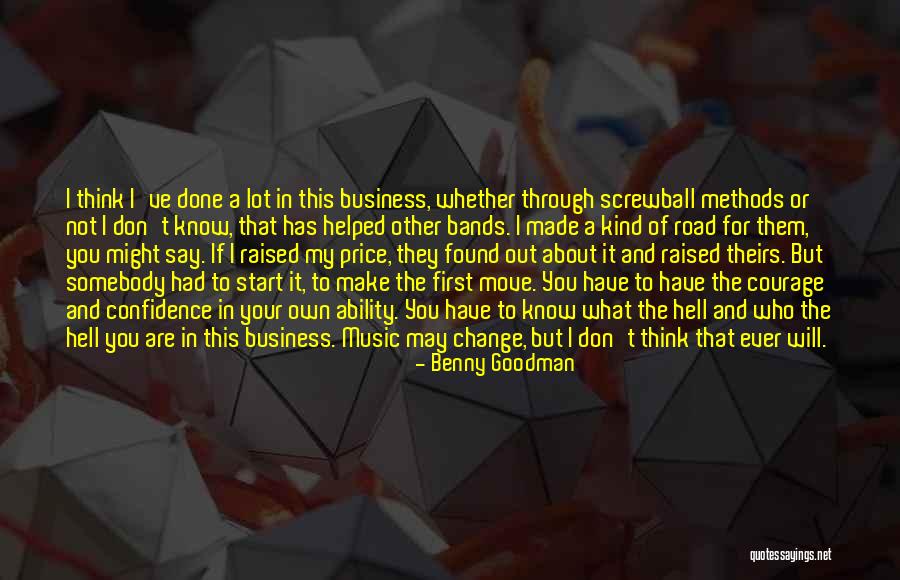 I think I've done a lot in this business, whether through screwball methods or not I don't know, that has helped other bands. I made a kind of road for them, you might say. If I raised my price, they found out about it and raised theirs. But somebody had to start it, to make the first move. You have to have the courage and confidence in your own ability. You have to know what the hell and who the hell you are in this business. Music may change, but I don't think that ever will. — Benny Goodman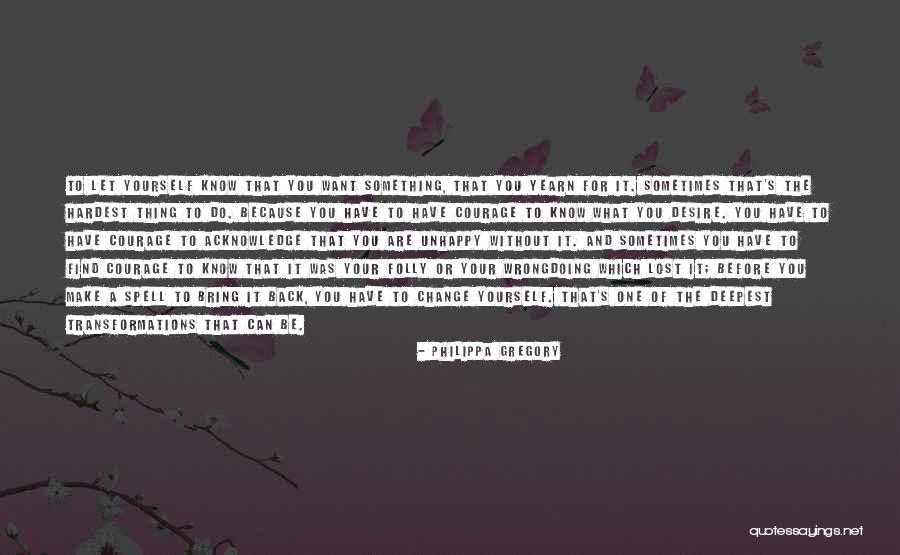 To let yourself know that you want something, that you yearn for it. Sometimes that's the hardest thing to do. Because you have to have courage to know what you desire. You have to have courage to acknowledge that you are unhappy without it. And sometimes you have to find courage to know that it was your folly or your wrongdoing which lost it; before you make a spell to bring it back, you have to change yourself. That's one of the deepest transformations that can be. — Philippa Gregory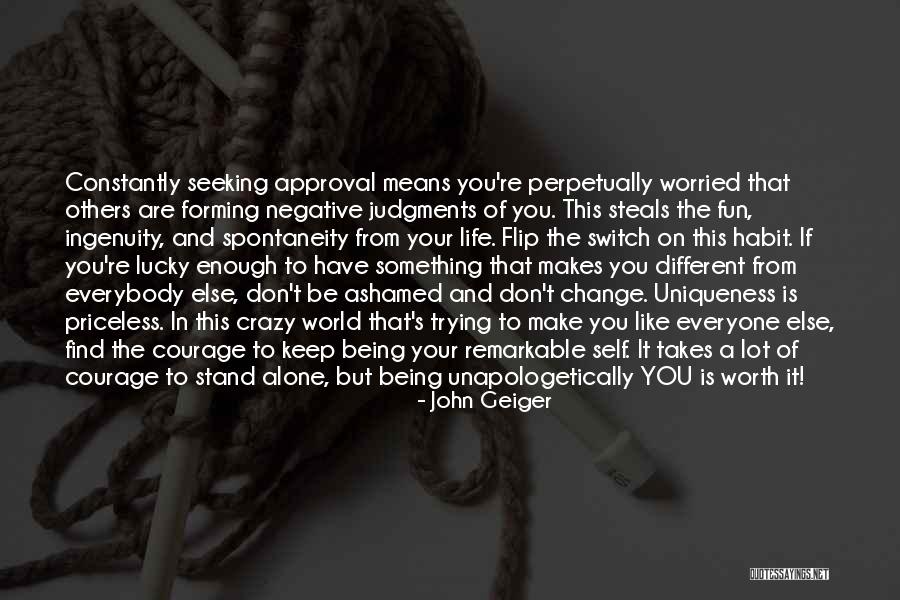 Constantly seeking approval means you're perpetually worried that others are forming negative judgments of you. This steals the fun, ingenuity, and spontaneity from your life. Flip the switch on this habit. If you're lucky enough to have something that makes you different from everybody else, don't be ashamed and don't change. Uniqueness is priceless. In this crazy world that's trying to make you like everyone else, find the courage to keep being your remarkable self. It takes a lot of courage to stand alone, but being unapologetically YOU is worth it! — John Geiger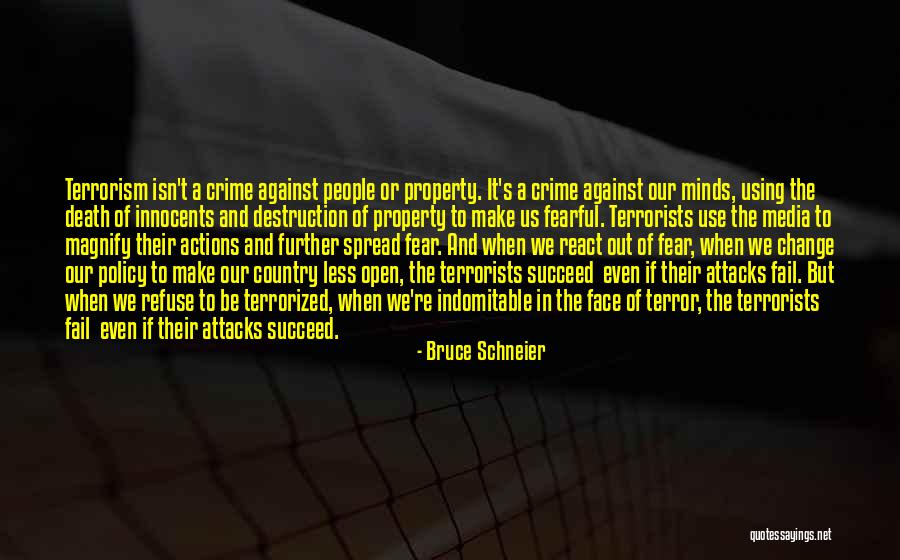 Terrorism isn't a crime against people or property. It's a crime against our minds, using the death of innocents and destruction of property to make us fearful. Terrorists use the media to magnify their actions and further spread fear. And when we react out of fear, when we change our policy to make our country less open, the terrorists succeed
even if their attacks fail. But when we refuse to be terrorized, when we're indomitable in the face of terror, the terrorists fail
even if their attacks succeed. — Bruce Schneier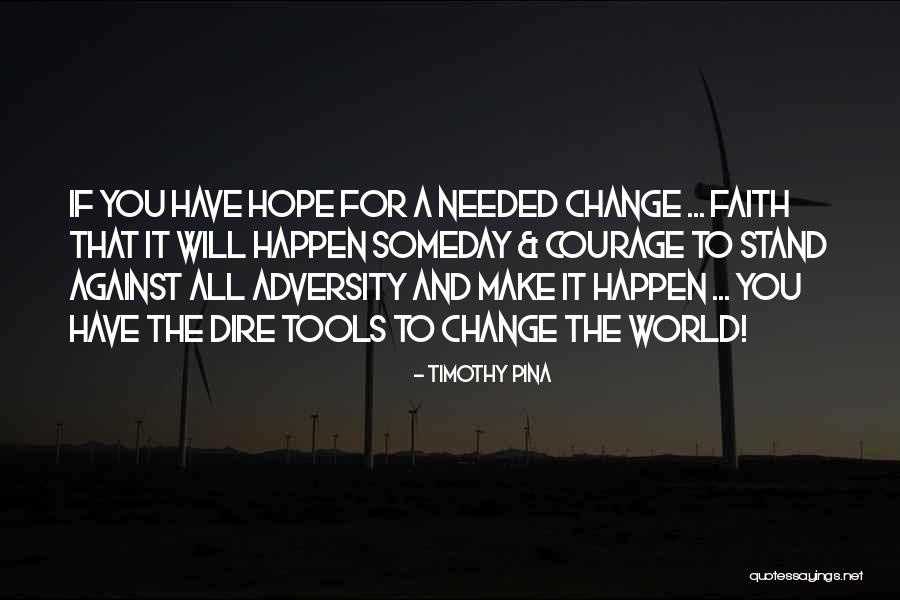 If you have Hope for a needed change ... Faith that it will happen someday & Courage to stand against all adversity and make it happen ... You have the dire tools to change the world! — Timothy Pina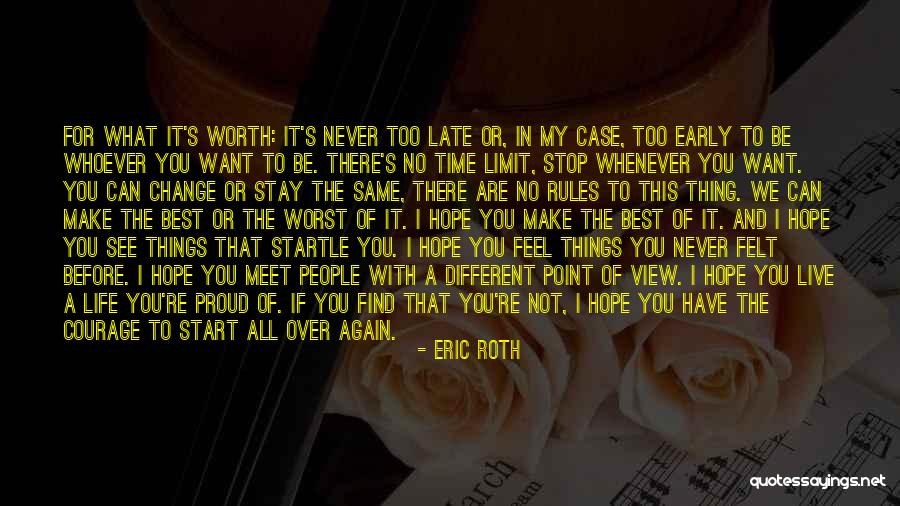 For what it's worth: it's never too late or, in my case, too early to be whoever you want to be. There's no time limit, stop whenever you want. You can change or stay the same, there are no rules to this thing. We can make the best or the worst of it. I hope you make the best of it. And I hope you see things that startle you. I hope you feel things you never felt before. I hope you meet people with a different point of view. I hope you live a life you're proud of. If you find that you're not, I hope you have the courage to start all over again. — Eric Roth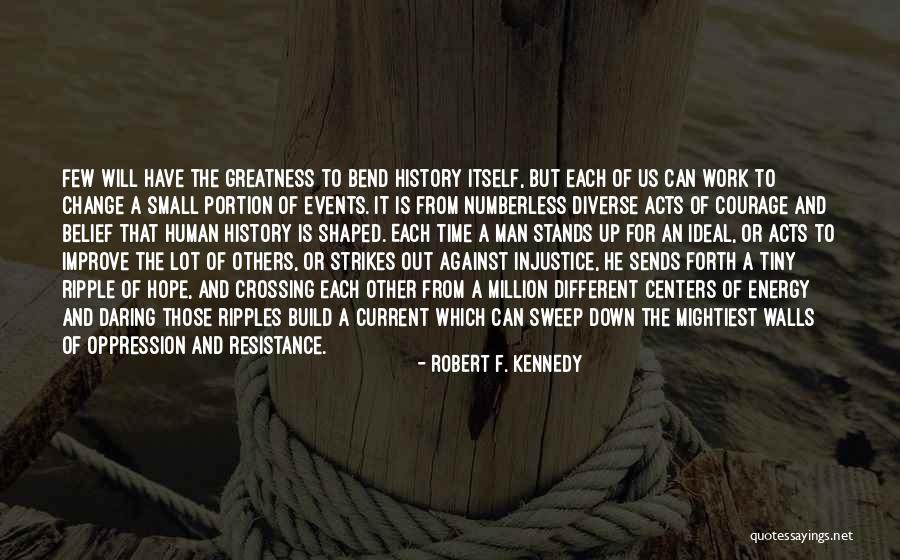 Few will have the greatness to bend history itself, but each of us can work to change a small portion of events. It is from numberless diverse acts of courage and belief that human history is shaped. Each time a man stands up for an ideal, or acts to improve the lot of others, or strikes out against injustice, he sends forth a tiny ripple of hope, and crossing each other from a million different centers of energy and daring those ripples build a current which can sweep down the mightiest walls of oppression and resistance. — Robert F. Kennedy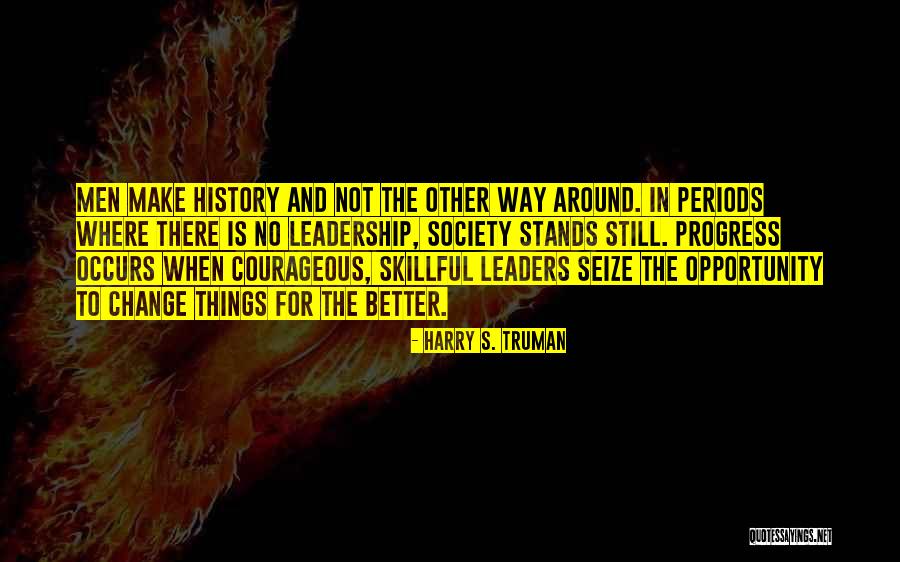 Men make history and not the other way around. In periods where there is no leadership, society stands still. Progress occurs when courageous, skillful leaders seize the opportunity to change things for the better. — Harry S. Truman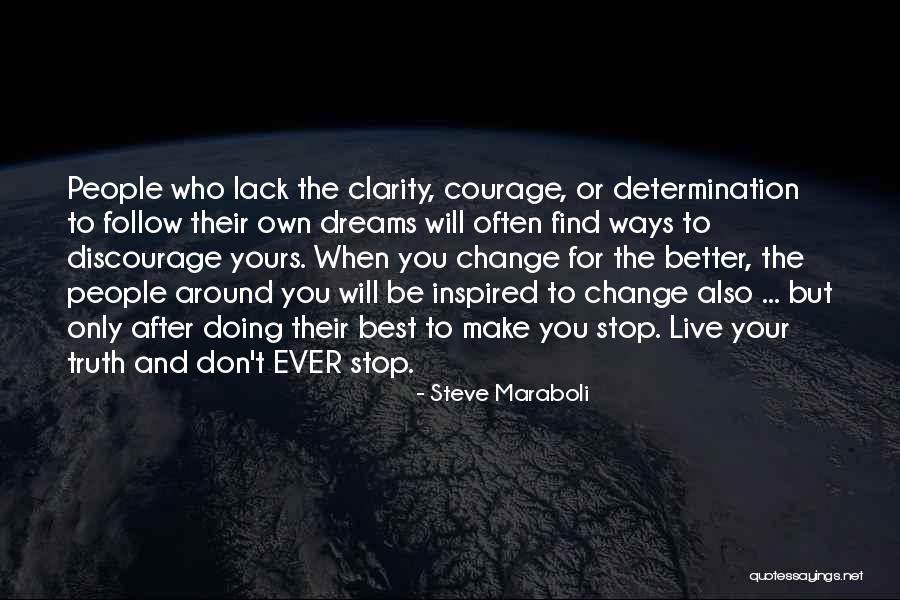 People who lack the clarity, courage, or determination to follow their own dreams will often find ways to discourage yours. When you change for the better, the people around you will be inspired to change also ... but only after doing their best to make you stop. Live your truth and don't EVER stop. — Steve Maraboli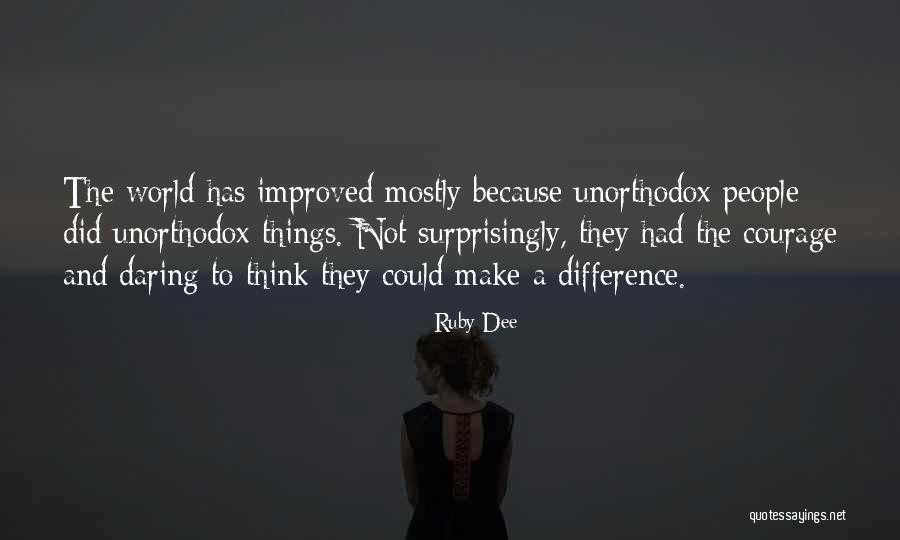 The world has improved mostly because unorthodox people did unorthodox things. Not surprisingly, they had the courage and daring to think they could make a difference. — Ruby Dee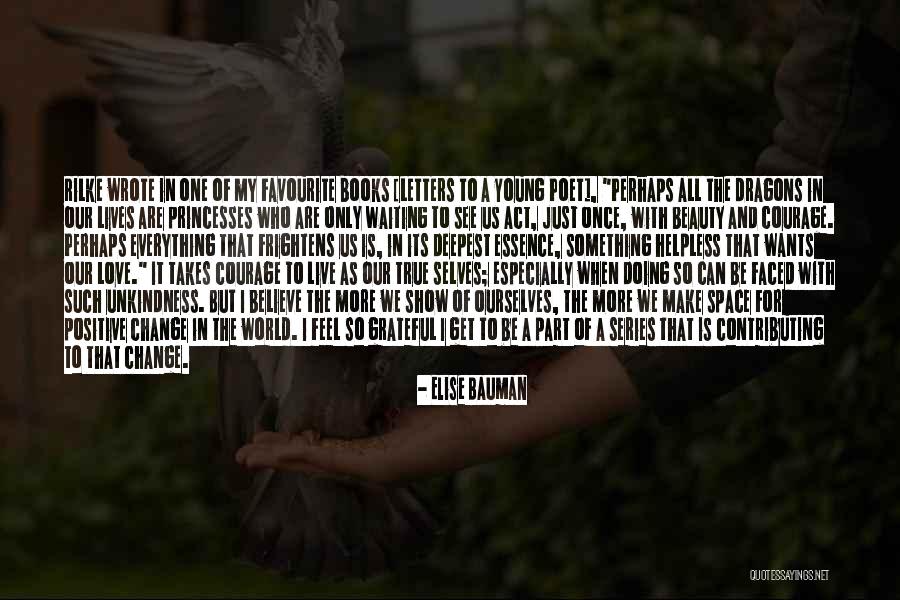 Rilke wrote in one of my favourite books [Letters to a Young Poet], "Perhaps all the dragons in our lives are princesses who are only waiting to see us act, just once, with beauty and courage. Perhaps everything that frightens us is, in its deepest essence, something helpless that wants our love." It takes courage to live as our true selves; especially when doing so can be faced with such unkindness. But I believe the more we show of ourselves, the more we make space for positive change in the world. I feel so grateful I get to be a part of a series that is contributing to that change. — Elise Bauman