Courage To Create Quotes & Sayings
Enjoy reading and share 83 famous quotes about Courage To Create with everyone.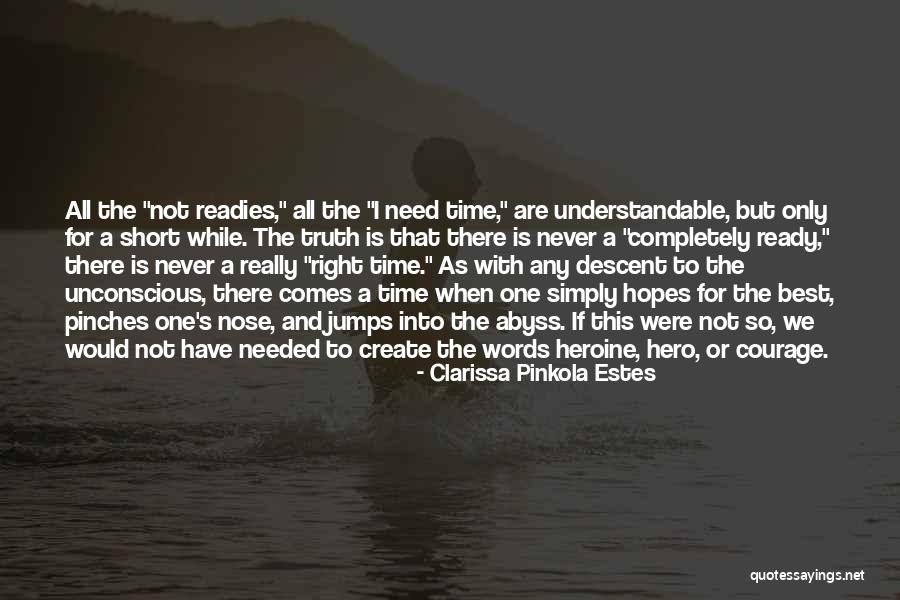 All the "not readies," all the "I need time," are understandable, but only for a short while. The truth is that there is never a "completely ready," there is never a really "right time."
As with any descent to the unconscious, there comes a time when one simply hopes for the best, pinches one's nose, and jumps into the abyss. If this were not so, we would not have needed to create the words heroine, hero, or courage. — Clarissa Pinkola Estes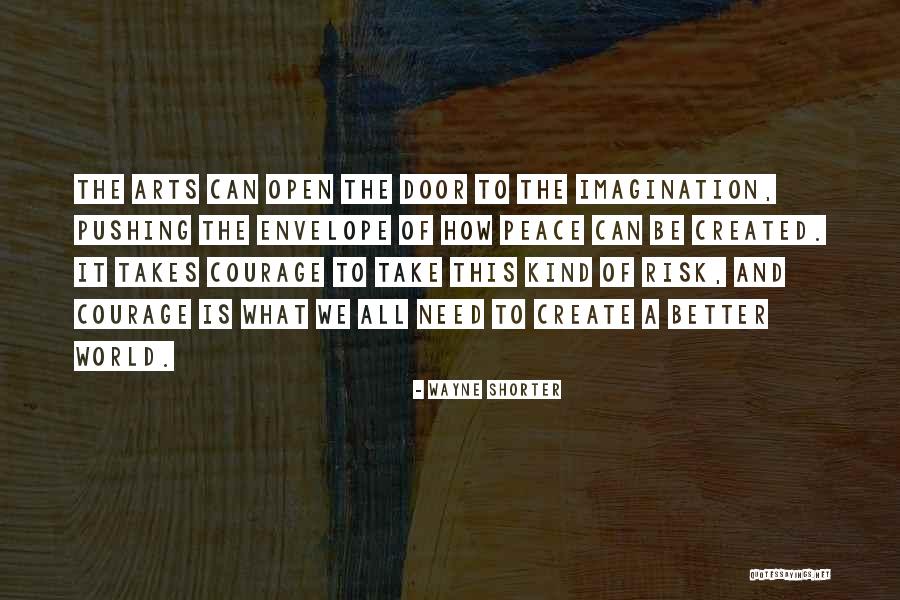 The arts can open the door to the imagination, pushing the envelope of how peace can be created. It takes courage to take this kind of risk, and courage is what we all need to create a better world. — Wayne Shorter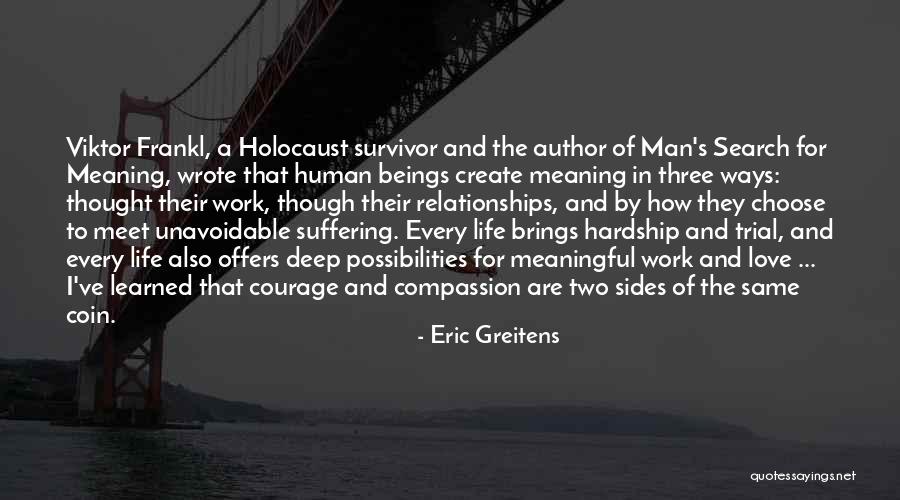 Viktor Frankl, a Holocaust survivor and the author of Man's Search for Meaning, wrote that human beings create meaning in three ways: thought their work, though their relationships, and by how they choose to meet unavoidable suffering. Every life brings hardship and trial, and every life also offers deep possibilities for meaningful work and love ... I've learned that courage and compassion are two sides of the same coin. — Eric Greitens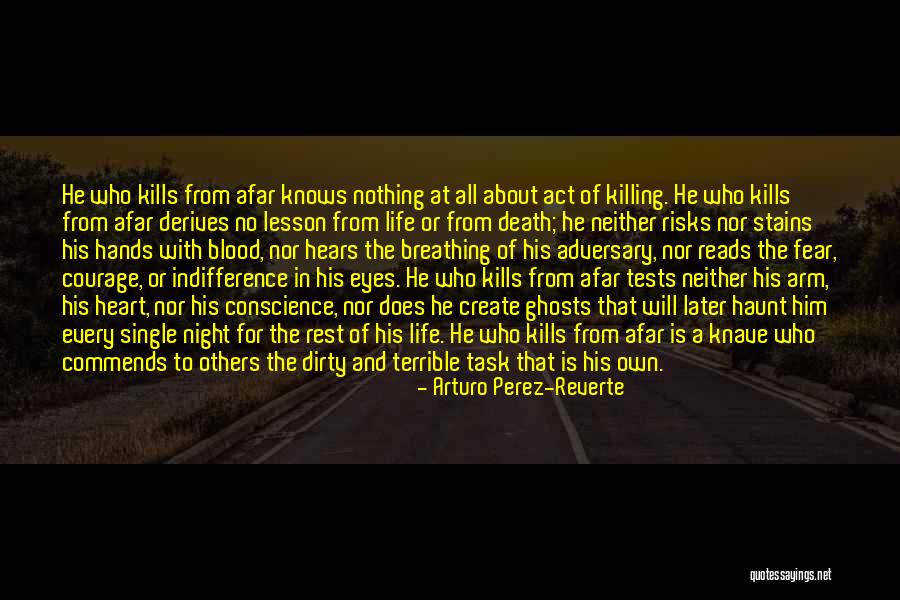 He who kills from afar knows nothing at all about act of killing. He who kills from afar derives no lesson from life or from death; he neither risks nor stains his hands with blood, nor hears the breathing of his adversary, nor reads the fear, courage, or indifference in his eyes. He who kills from afar tests neither his arm, his heart, nor his conscience, nor does he create ghosts that will later haunt him every single night for the rest of his life. He who kills from afar is a knave who commends to others the dirty and terrible task that is his own. — Arturo Perez-Reverte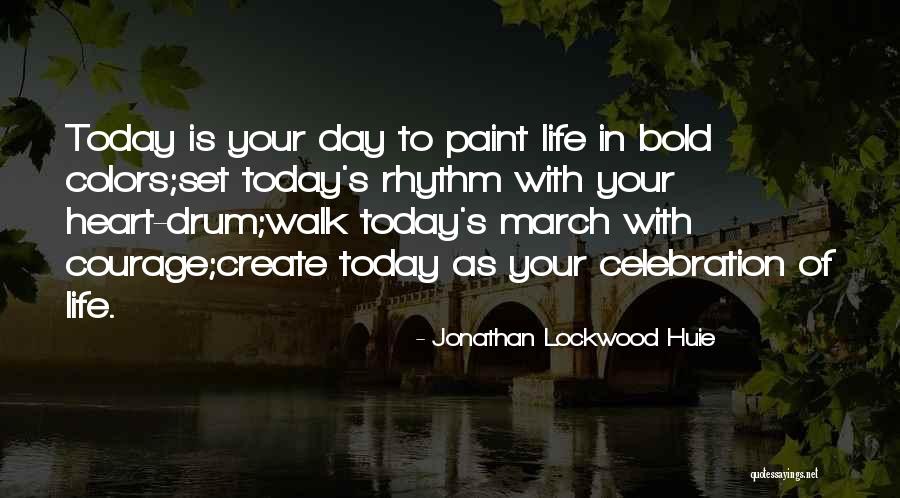 Today is your day to paint life in bold colors;
set today's rhythm with your heart-drum;
walk today's march with courage;
create today as your celebration of life. — Jonathan Lockwood Huie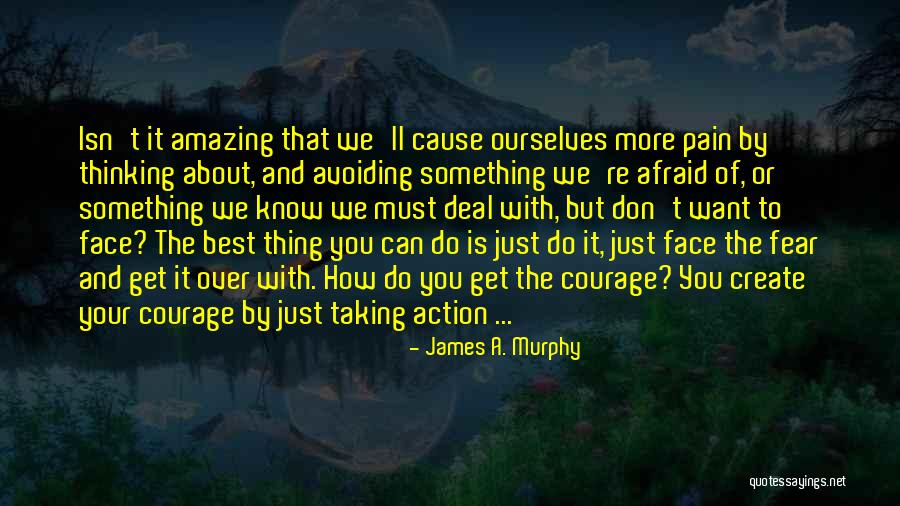 Isn't it amazing that we'll cause ourselves more pain by thinking about, and avoiding something we're afraid of, or something we know we must deal with, but don't want to face? The best thing you can do is just do it, just face the fear and get it over with. How do you get the courage? You create your courage by just taking action ... — James A. Murphy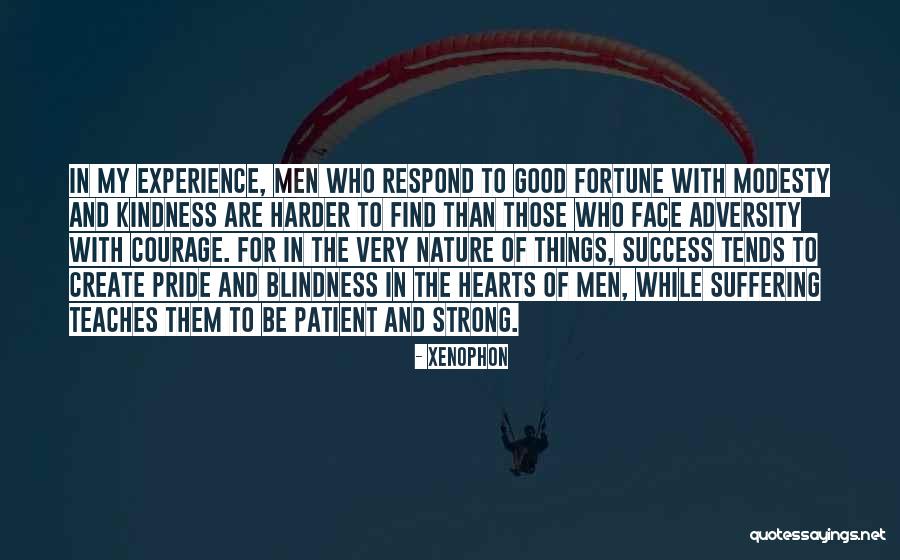 In my experience, men who respond to good fortune with modesty and kindness are harder to find than those who face adversity with courage. For in the very nature of things, success tends to create pride and blindness in the hearts of men, while suffering teaches them to be patient and strong. — Xenophon
It takes courage to create,' he said. 'People are afraid of embarrassing themselves by not being good enough.'
Or maybe even by showing who they really are. — Claire Cook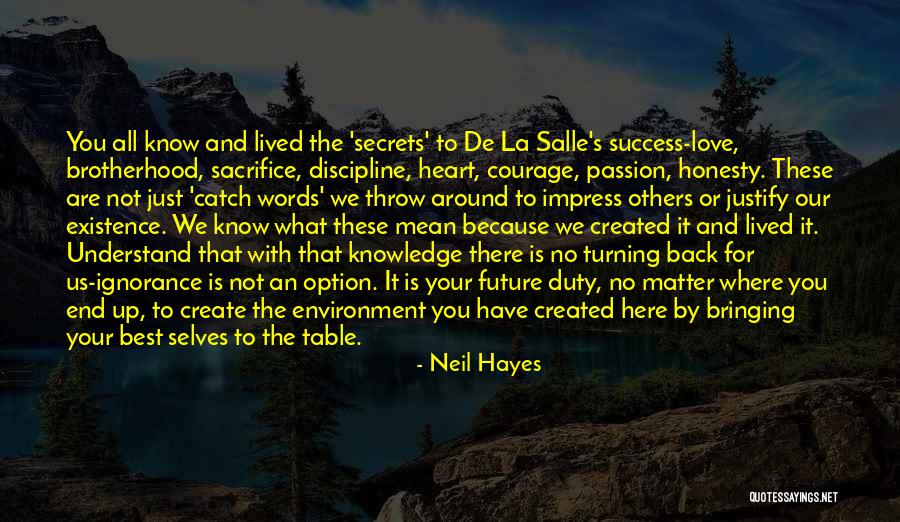 You all know and lived the 'secrets' to De La Salle's success-love, brotherhood, sacrifice, discipline, heart, courage, passion, honesty. These are not just 'catch words' we throw around to impress others or justify our existence. We know what these mean because we created it and lived it. Understand that with that knowledge there is no turning back for us-ignorance is not an option. It is your future duty, no matter where you end up, to create the environment you have created here by bringing your best selves to the table. — Neil Hayes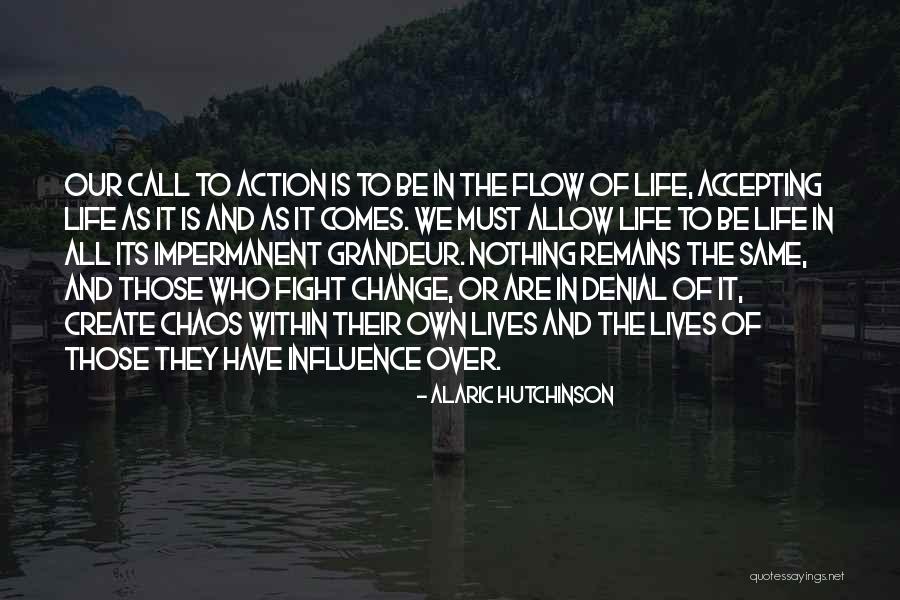 Our call to action is to be in the flow of life, accepting life as it is and as it comes. We must allow life to be life in all its impermanent grandeur. Nothing remains the same, and those who fight change, or are in denial of it, create chaos within their own lives and the lives of those they have influence over. — Alaric Hutchinson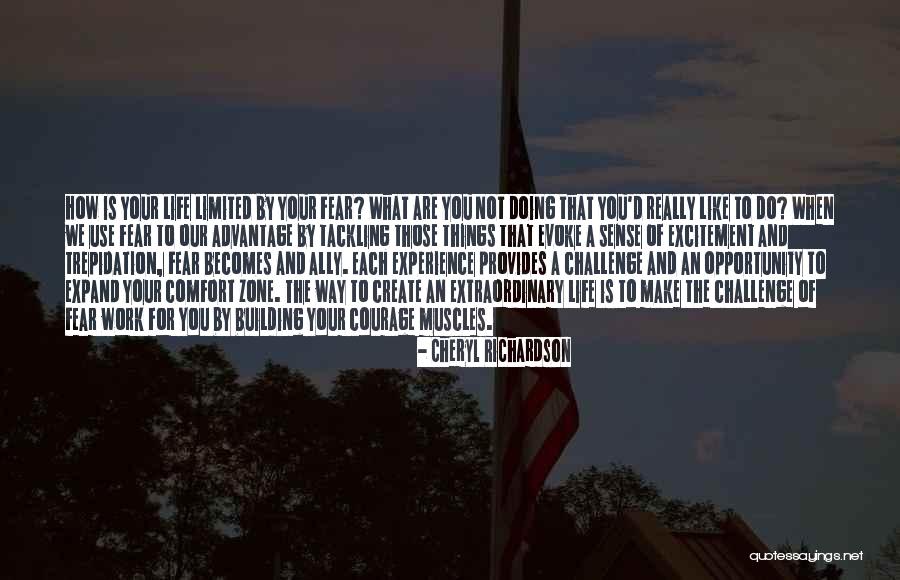 How is your life limited by your fear? What are you not doing that you'd really like to do? When we use fear to our advantage by tackling those things that evoke a sense of excitement and trepidation, fear becomes and ally. Each experience provides a challenge and an opportunity to expand your comfort zone. The way to create an extraordinary life is to make the challenge of fear work for you by building your courage muscles. — Cheryl Richardson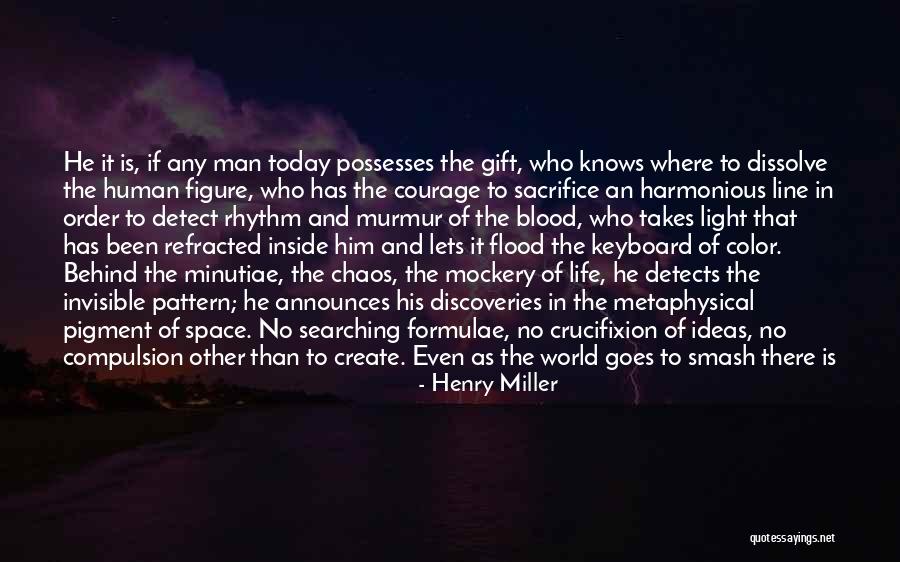 He it is, if any man today possesses the gift, who knows where to dissolve the human figure, who has the courage to sacrifice an harmonious line in order to detect rhythm and murmur of the blood, who takes light that has been refracted inside him and lets it flood the keyboard of color. Behind the minutiae, the chaos, the mockery of life, he detects the invisible pattern; he announces his discoveries in the metaphysical pigment of space. No searching formulae, no crucifixion of ideas, no compulsion other than to create. Even as the world goes to smash there is one man who remains at the core, who becomes more solidly fixed and anchored, more centrifugal as the process of dissolution quickens. — Henry Miller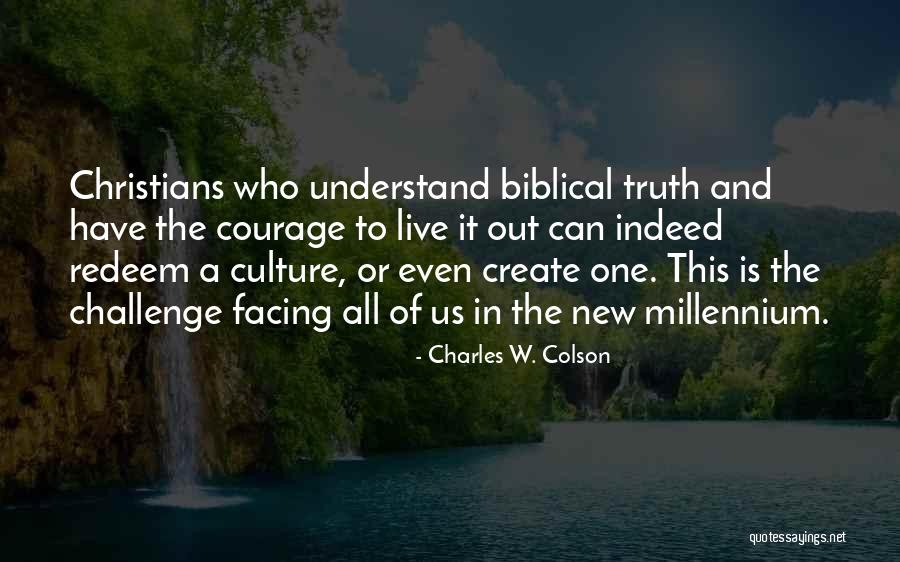 Christians who understand biblical truth and have the courage to live it out can indeed redeem a culture, or even create one. This is the challenge facing all of us in the new millennium. — Charles W. Colson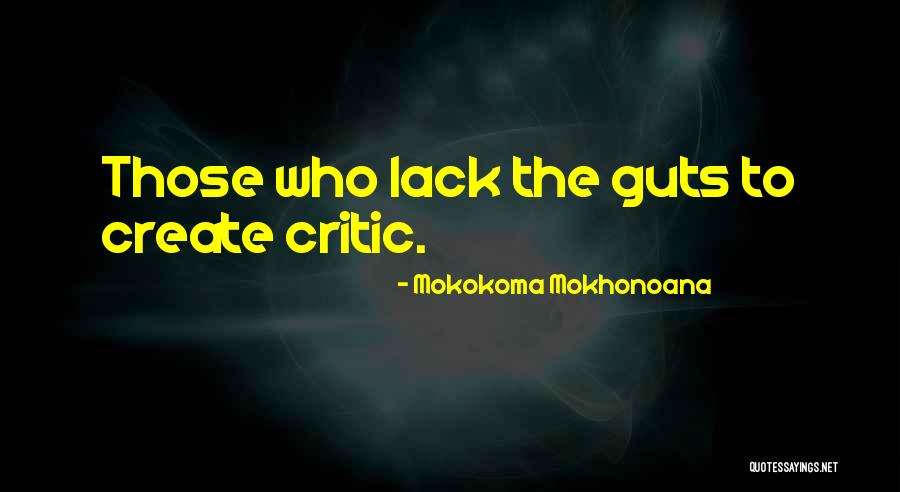 Those who lack the guts to create critic. — Mokokoma Mokhonoana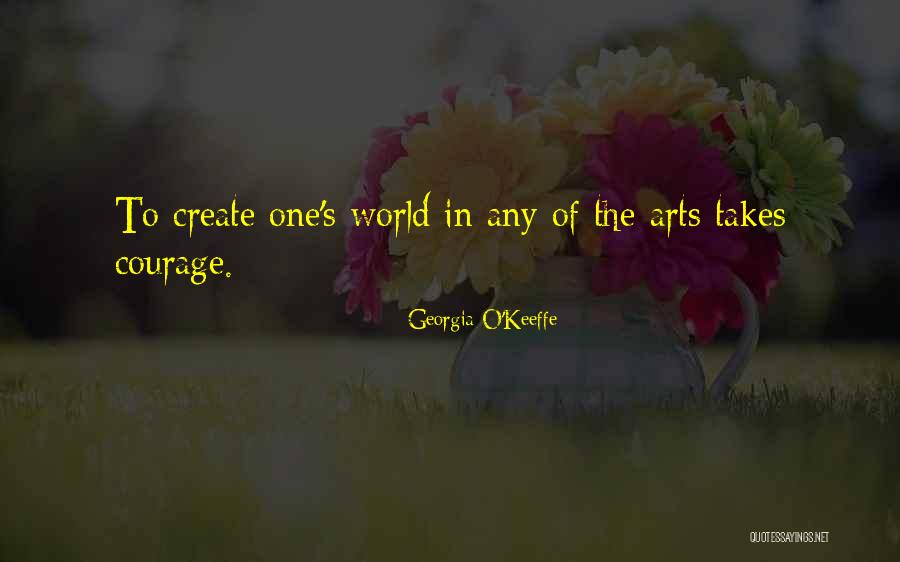 To create one's world in any of the arts takes courage. — Georgia O'Keeffe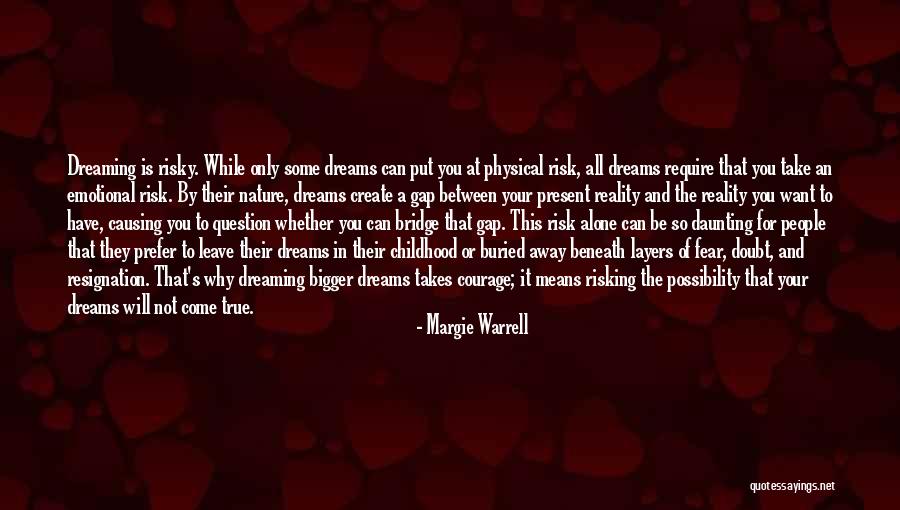 Dreaming is risky. While only some dreams can put you at physical risk, all dreams require that you take an emotional risk. By their nature, dreams create a gap between your present reality and the reality you want to have, causing you to question whether you can bridge that gap. This risk alone can be so daunting for people that they prefer to leave their dreams in their childhood or buried away beneath layers of fear, doubt, and resignation. That's why dreaming bigger dreams takes courage; it means risking the possibility that your dreams will not come true. — Margie Warrell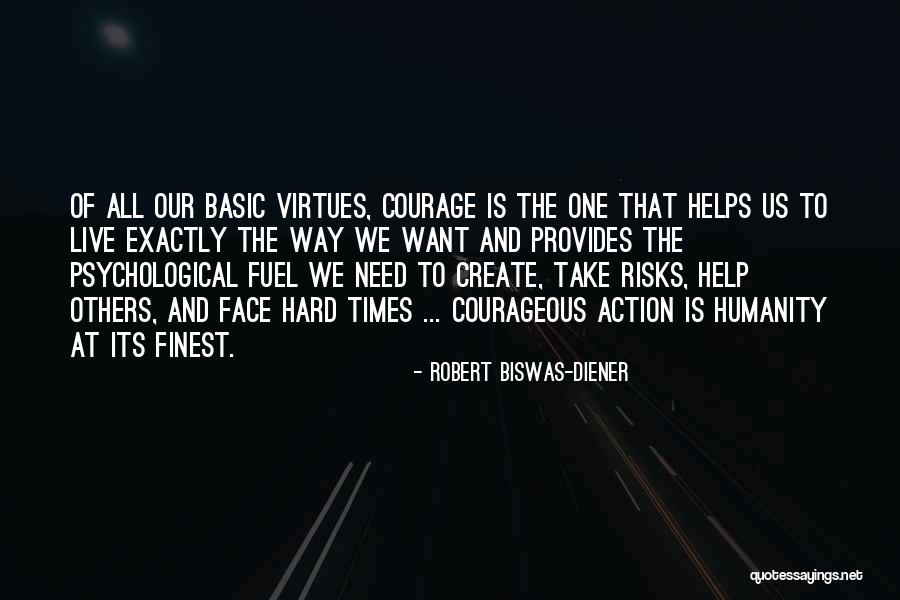 Of all our basic virtues, courage is the one that helps us to live exactly the way we want and provides the psychological fuel we need to create, take risks, help others, and face hard times ... Courageous action is humanity at its finest. — Robert Biswas-Diener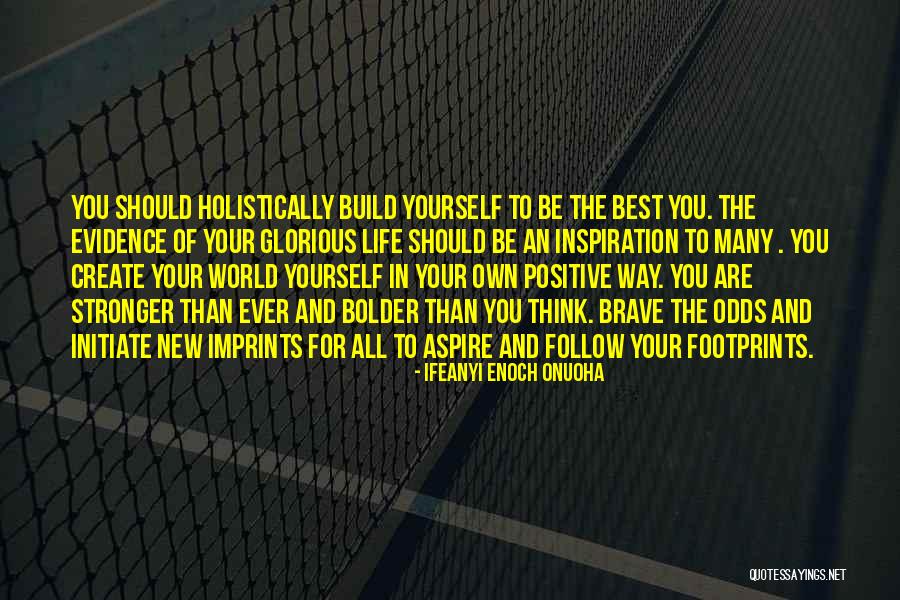 You should holistically build yourself to be the best you. The evidence of your glorious life should be an inspiration to many . You create your world yourself in your own positive way. You are stronger than ever and bolder than you think. Brave the odds and initiate new imprints for all to aspire and follow your footprints. — Ifeanyi Enoch Onuoha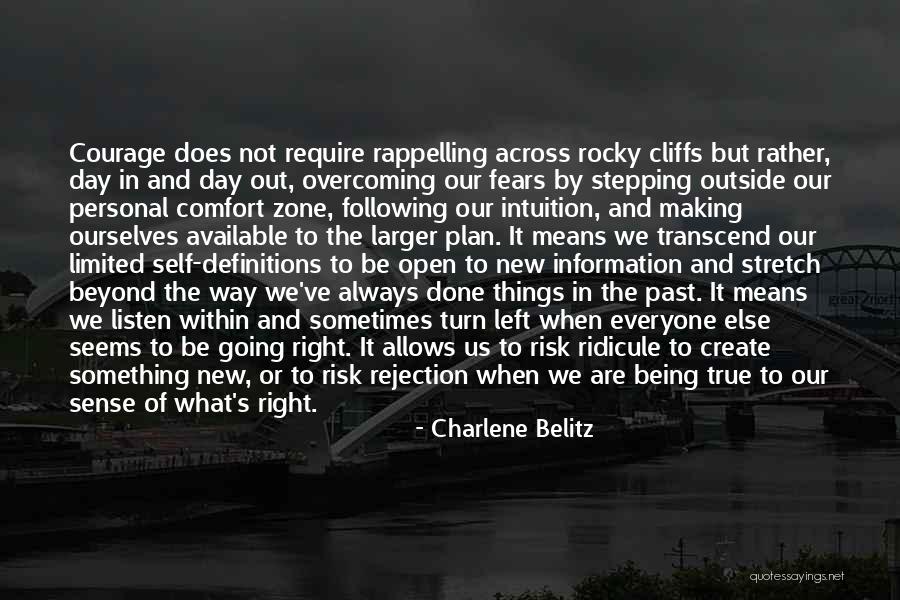 Courage does not require rappelling across rocky cliffs but rather, day in and day out, overcoming our fears by stepping outside our personal comfort zone, following our intuition, and making ourselves available to the larger plan. It means we transcend our limited self-definitions to be open to new information and stretch beyond the way we've always done things in the past. It means we listen within and sometimes turn left when everyone else seems to be going right. It allows us to risk ridicule to create something new, or to risk rejection when we are being true to our sense of what's right. — Charlene Belitz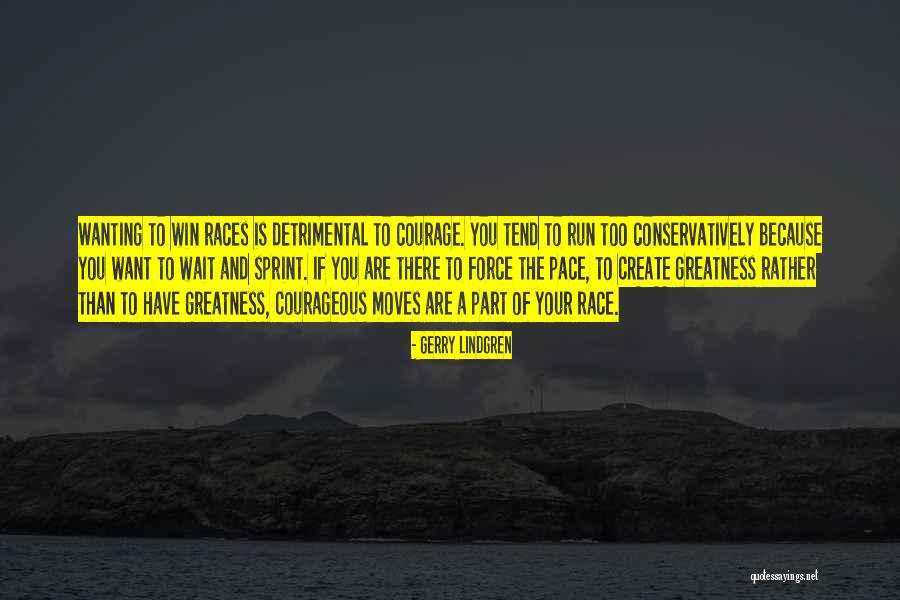 Wanting to win races is detrimental to courage. You tend to run too conservatively because you want to wait and sprint. If you are there to force the pace, to CREATE greatness rather than to have greatness, Courageous moves are a part of your race. — Gerry Lindgren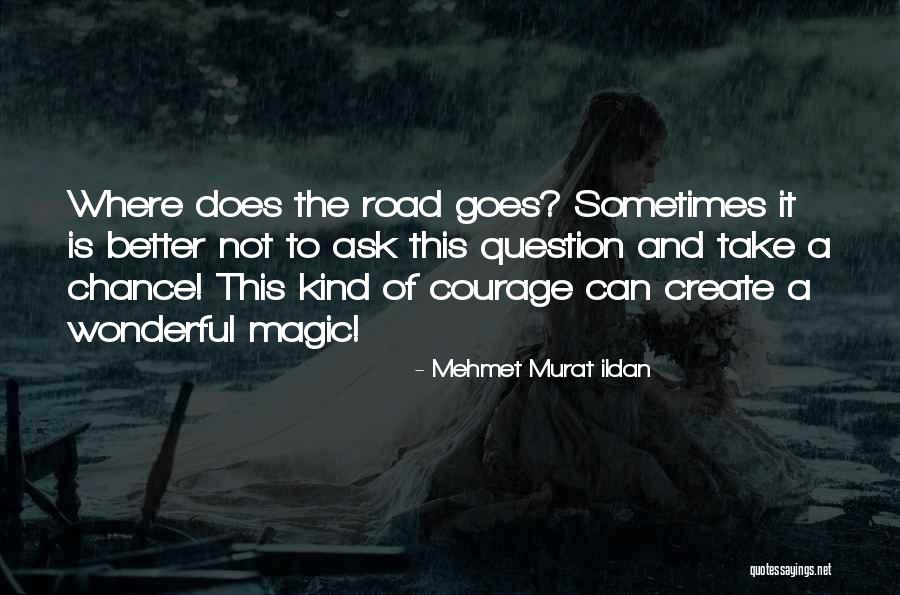 Where does the road goes? Sometimes it is better not to ask this question and take a chance! This kind of courage can create a wonderful magic! — Mehmet Murat Ildan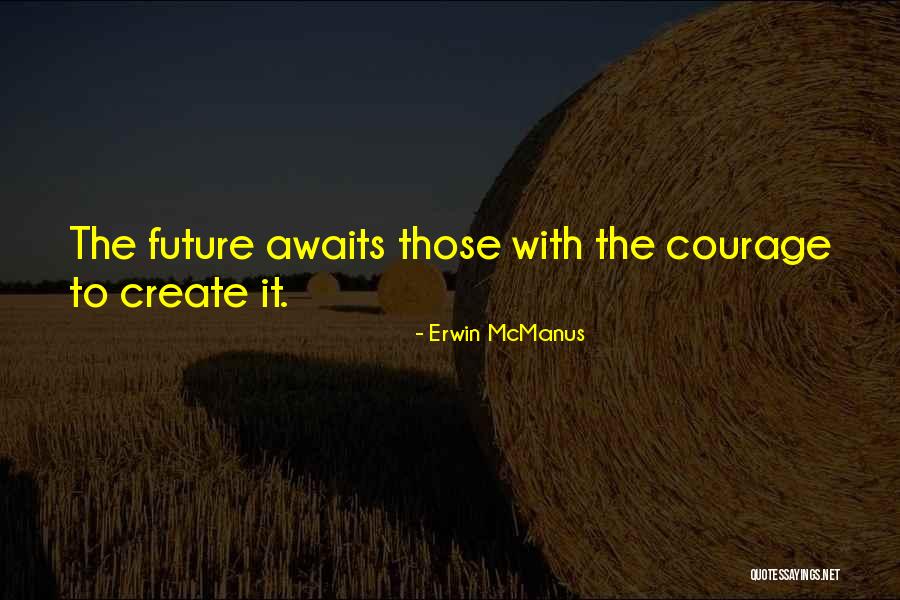 The future awaits those with the courage to create it. — Erwin McManus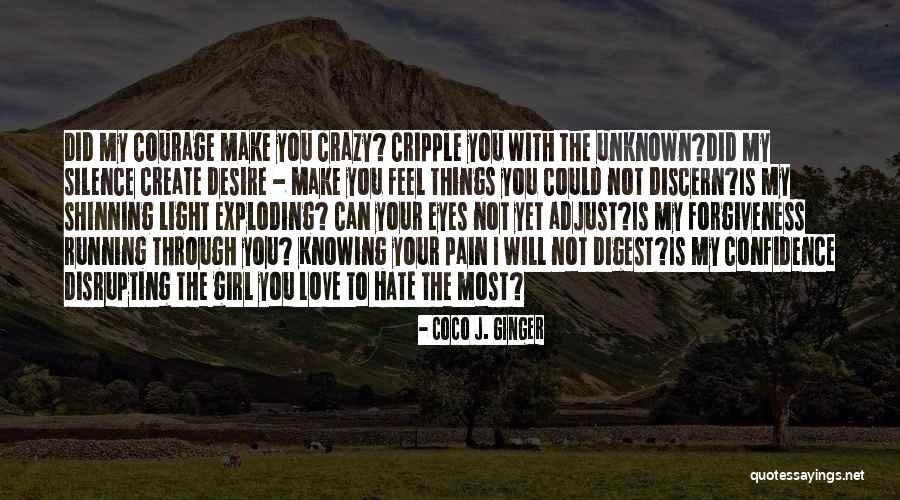 Did my courage make you crazy? Cripple you with the unknown?
Did my silence create desire - make you feel things you could not discern?
Is my shinning light exploding? Can your eyes not yet adjust?
Is my forgiveness running through you? Knowing your pain I will not digest?
Is my confidence disrupting the girl you LOVE to HATE the most? — Coco J. Ginger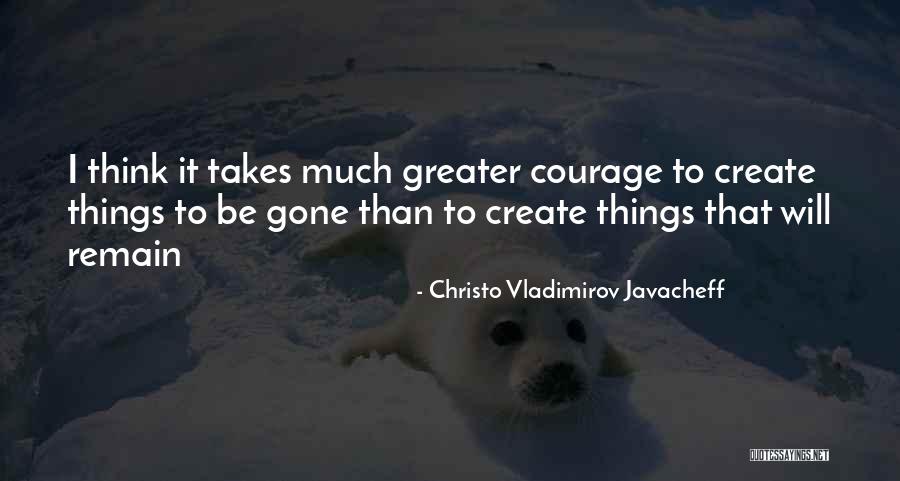 I think it takes much greater courage to create things to be gone than to create things that will remain — Christo Vladimirov Javacheff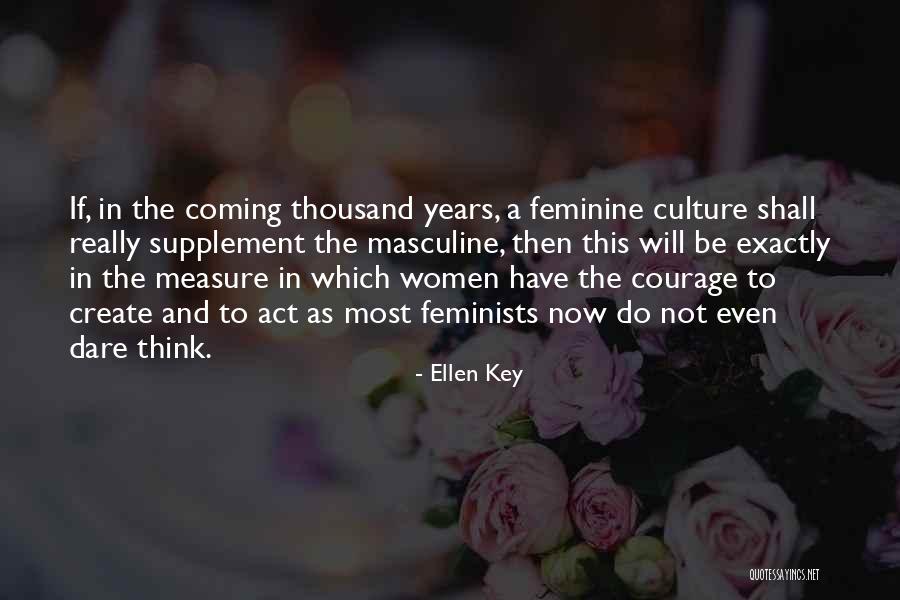 If, in the coming thousand years, a feminine culture shall really supplement the masculine, then this will be exactly in the measure in which women have the courage to create and to act as most feminists now do not even dare think. — Ellen Key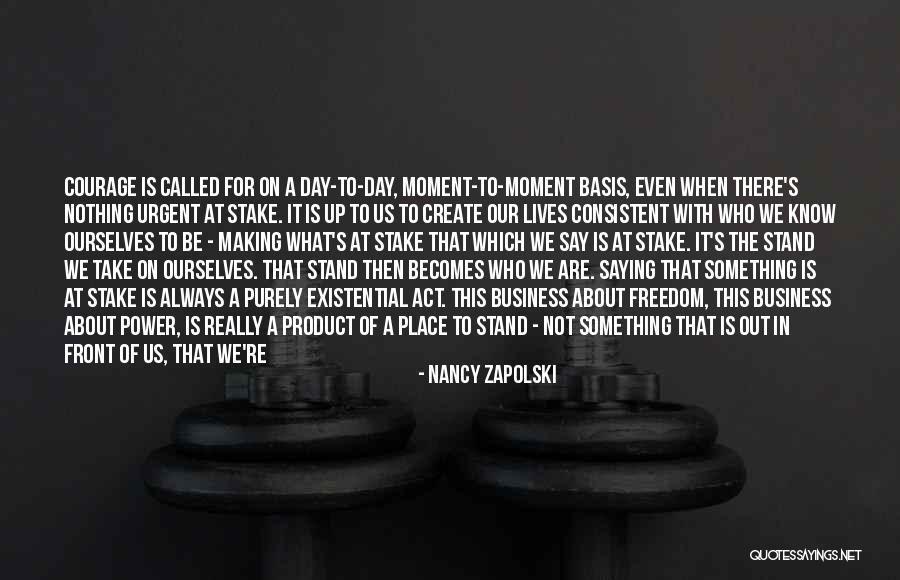 Courage is called for on a day-to-day, moment-to-moment basis, even when there's nothing urgent at stake. It is up to us to create our lives consistent with who we know ourselves to be - making what's at stake that which we say is at stake. It's the stand we take on ourselves. That stand then becomes who we are. Saying that something is at stake is always a purely existential act. This business about freedom, this business about power, is really a product of a place to stand - not something that is out in front of us, that we're working on or measuring ourselves against. When we live consistent with what we say, we are being true to ourselves. — Nancy Zapolski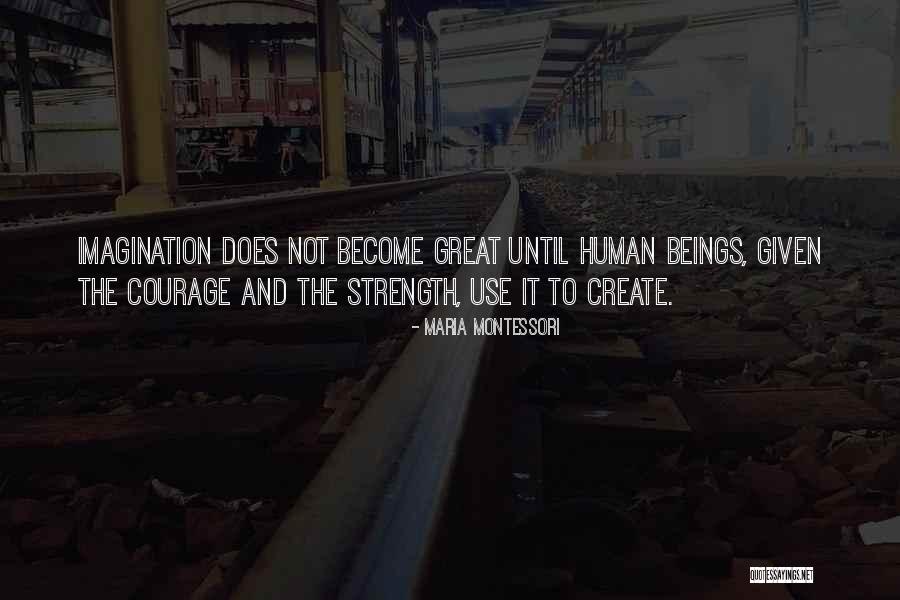 Imagination does not become great until human beings, given the courage and the strength, use it to create. — Maria Montessori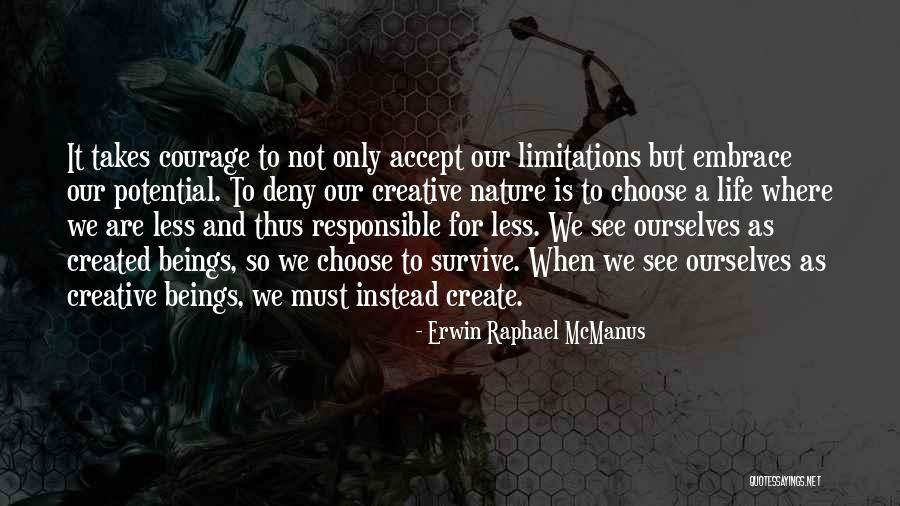 It takes courage to not only accept our limitations but embrace our potential. To deny our creative nature is to choose a life where we are less and thus responsible for less. We see ourselves as created beings, so we choose to survive. When we see ourselves as creative beings, we must instead create. — Erwin Raphael McManus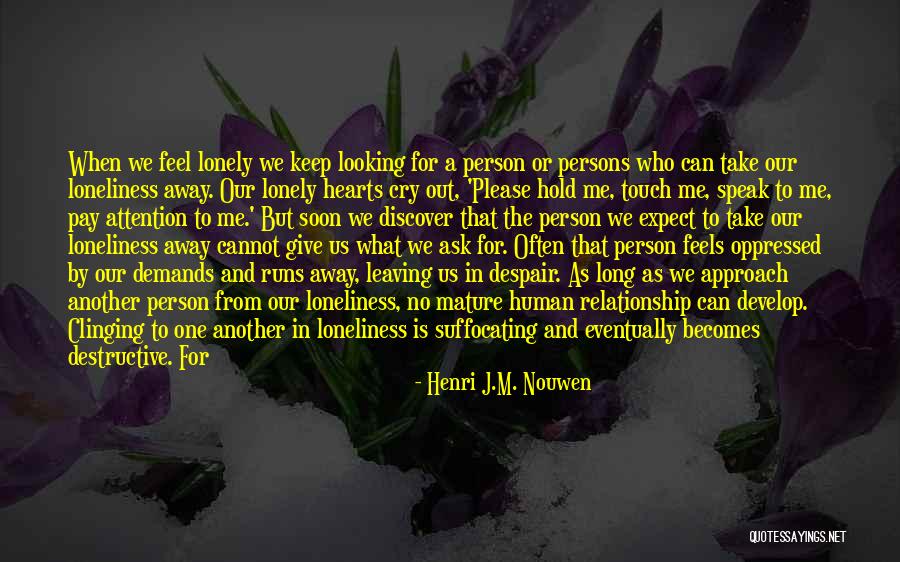 When we feel lonely we keep looking for a person or persons who can take our loneliness away. Our lonely hearts cry out, 'Please hold me, touch me, speak to me, pay attention to me.' But soon we discover that the person we expect to take our loneliness away cannot give us what we ask for. Often that person feels oppressed by our demands and runs away, leaving us in despair. As long as we approach another person from our loneliness, no mature human relationship can develop. Clinging to one another in loneliness is suffocating and eventually becomes destructive. For love to be possible we need the courage to create space between us and to trust that this space allows us to dance together. — Henri J.M. Nouwen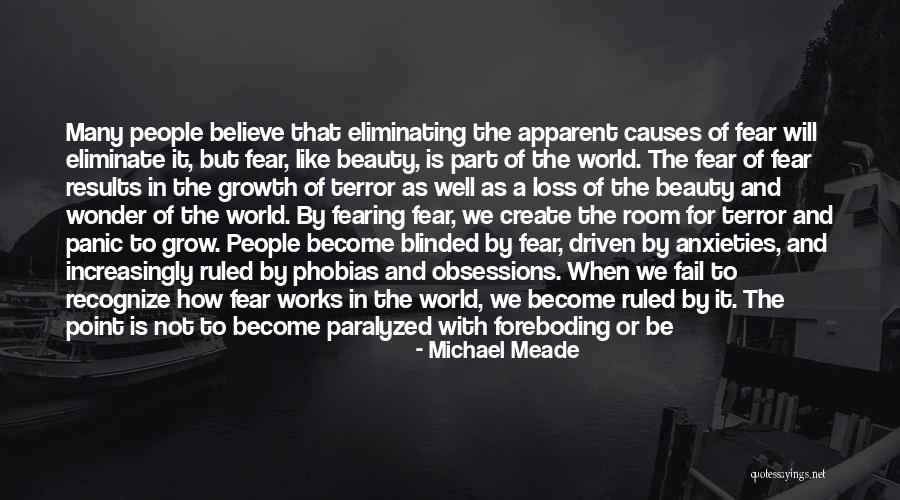 Many people believe that eliminating the apparent causes of fear will eliminate it, but fear, like beauty, is part of the world. The fear of fear results in the growth of terror as well as a loss of the beauty and wonder of the world. By fearing fear, we create the room for terror and panic to grow. People become blinded by fear, driven by anxieties, and increasingly ruled by phobias and obsessions. When we fail to recognize how fear works in the world, we become ruled by it. The point is not to become paralyzed with foreboding or be caught in the panic that can grip the collective and cause people to run blindly in the wrong direction. The point is to willingly go where most fear to go, to follow where the fear might lead and face the ways that the world roars at us. — Michael Meade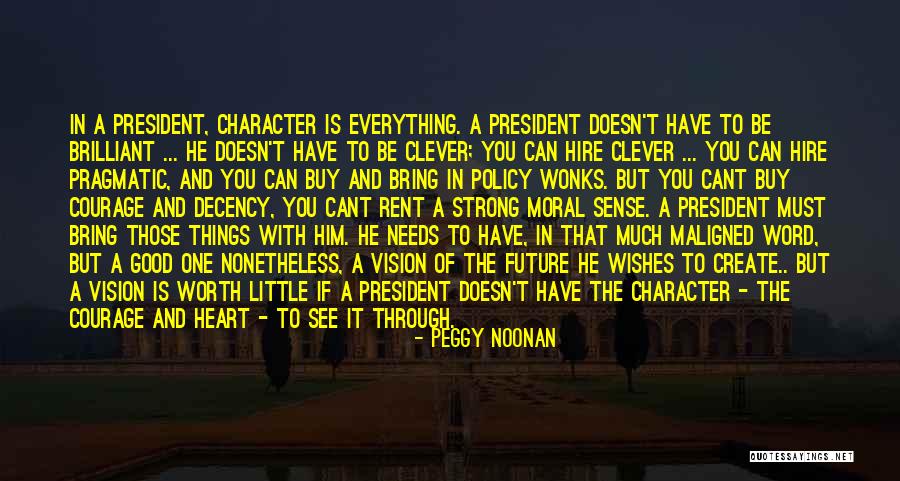 In a president, character is everything. A president doesn't have to be brilliant ... He doesn't have to be clever; you can hire clever ... You can hire pragmatic, and you can buy and bring in policy wonks. But you cant buy courage and decency, you cant rent a strong moral sense. A president must bring those things with him. He needs to have, in that much maligned word, but a good one nonetheless, a vision of the future he wishes to create.. But a vision is worth little if a president doesn't have the character - the courage and heart - to see it through. — Peggy Noonan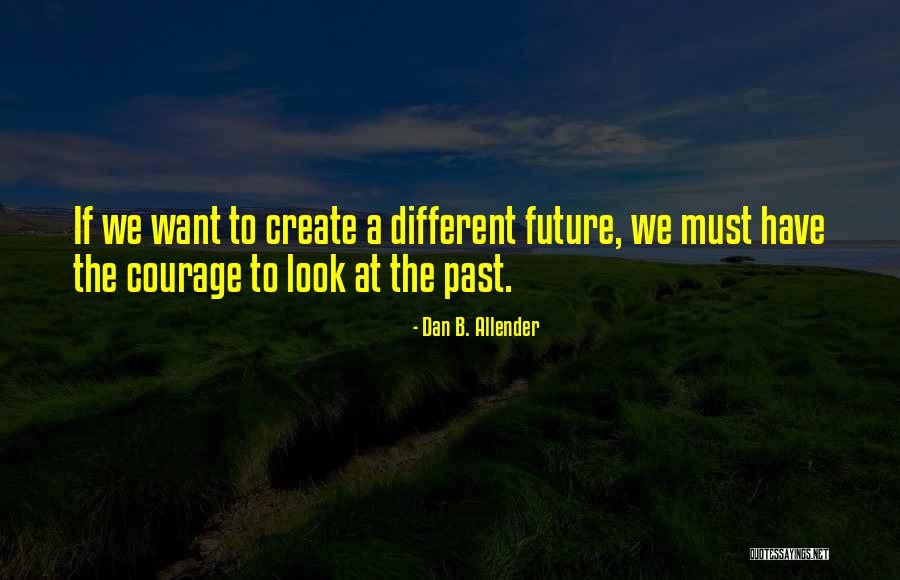 If we want to create a different future, we must have the courage to look at the past. — Dan B. Allender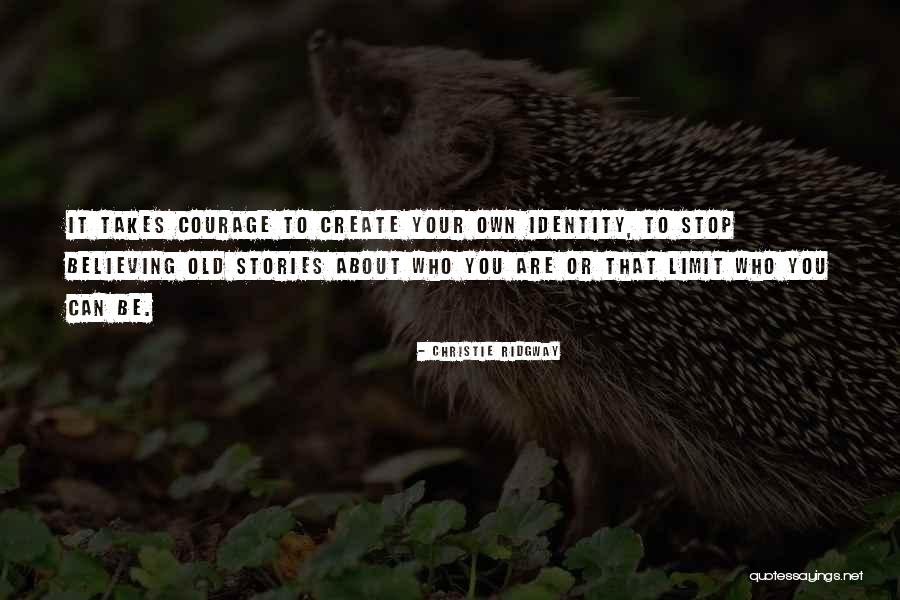 It takes courage to create your own identity, to stop believing old stories about who you are or that limit who you can be. — Christie Ridgway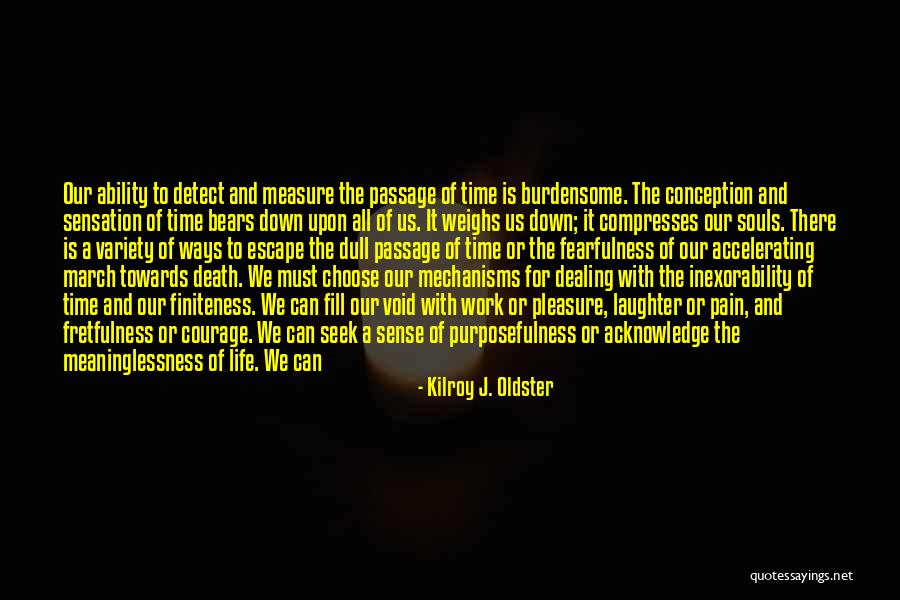 Our ability to detect and measure the passage of time is burdensome. The conception and sensation of time bears down upon all of us. It weighs us down; it compresses our souls. There is a variety of ways to escape the dull passage of time or the fearfulness of our accelerating march towards death. We must choose our mechanisms for dealing with the inexorability of time and our finiteness. We can fill our void with work or pleasure, laughter or pain, and fretfulness or courage. We can seek a sense of purposefulness or acknowledge the meaninglessness of life. We can seek to escape the drudgery and pain of life through alcohol, drugs, or pleasure seeking, or by working to support our families and create artistic testaments to our worldly existence. — Kilroy J. Oldster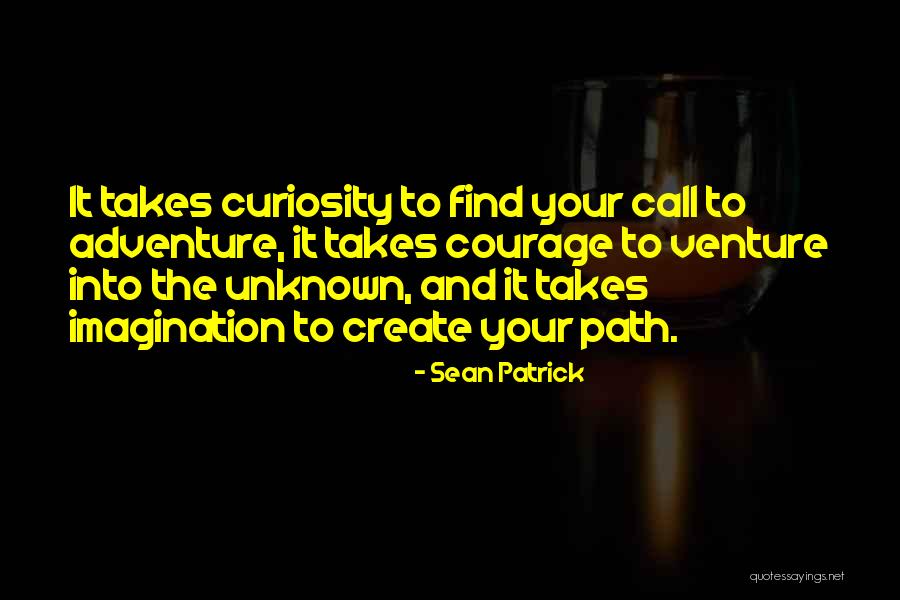 It takes curiosity to find your call to adventure, it takes courage to venture into the unknown, and it takes imagination to create your path. — Sean Patrick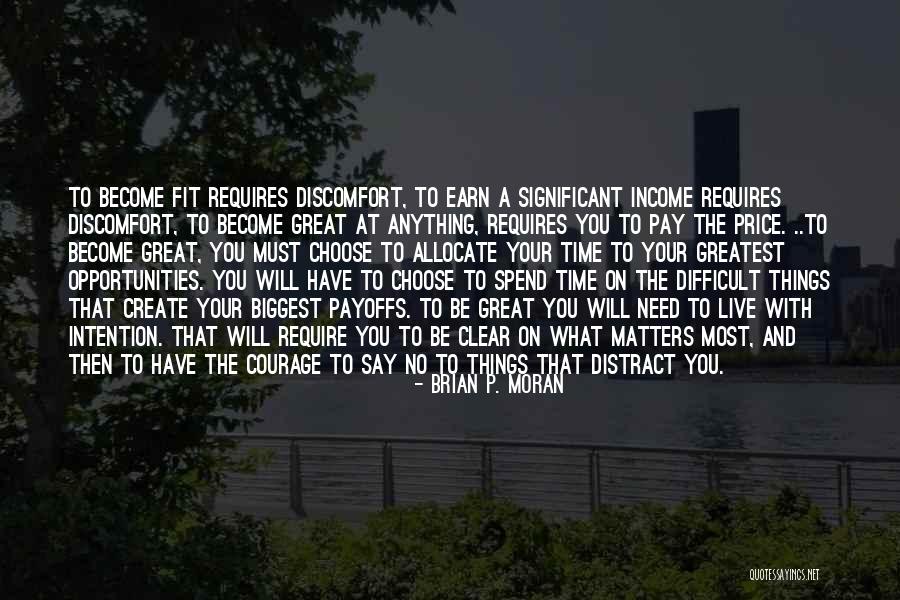 To become fit requires discomfort, to earn a significant income requires discomfort, to become great at anything, requires you to pay the price. ..

To become great, you must choose to allocate your time to your greatest opportunities. You will have to choose to spend time on the difficult things that create your biggest payoffs. To be great you will need to live with intention. That will require you to be clear on what matters most, and then to have the courage to say no to things that distract you. — Brian P. Moran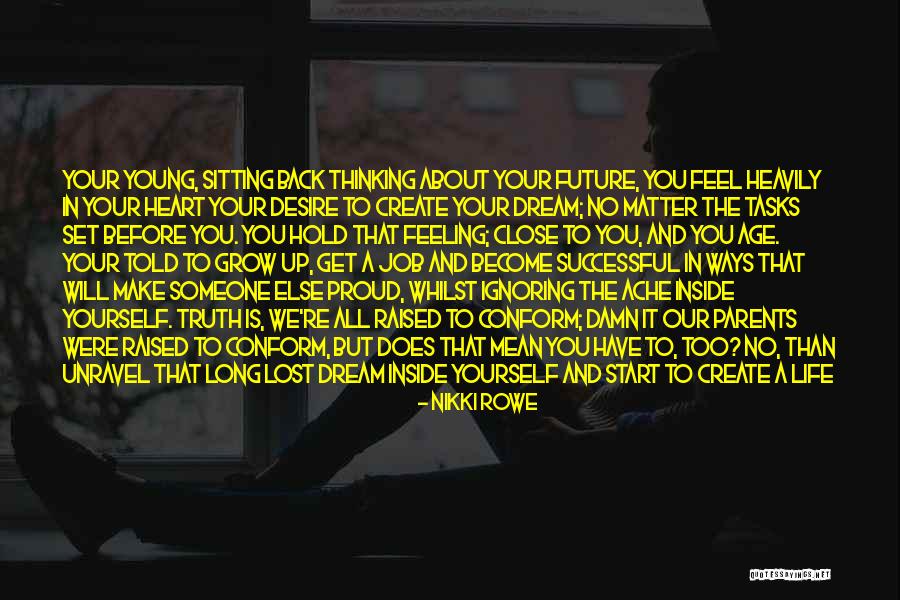 Your young, sitting back thinking about your future, you feel heavily in your heart your desire to create your dream; no matter the tasks set before you. You hold that feeling; close to you, and you age. Your told to grow up, get a job and become successful in ways that will make someone else proud, whilst ignoring the ache inside yourself. Truth is, we're all raised to conform; damn it our parents were raised to conform, but does that mean you have to, too? No, than unravel that long lost dream inside yourself and start to create a life from it, you'll walk alone for a while, you will break down every comfort zone you've ever known; slowly transforming into a being without one, and you know what..? even if it's going to be hard, possibly some of the greatest hurdles of your time; one thing will feel certain- you'll never have felt so empowered in all your life. — Nikki Rowe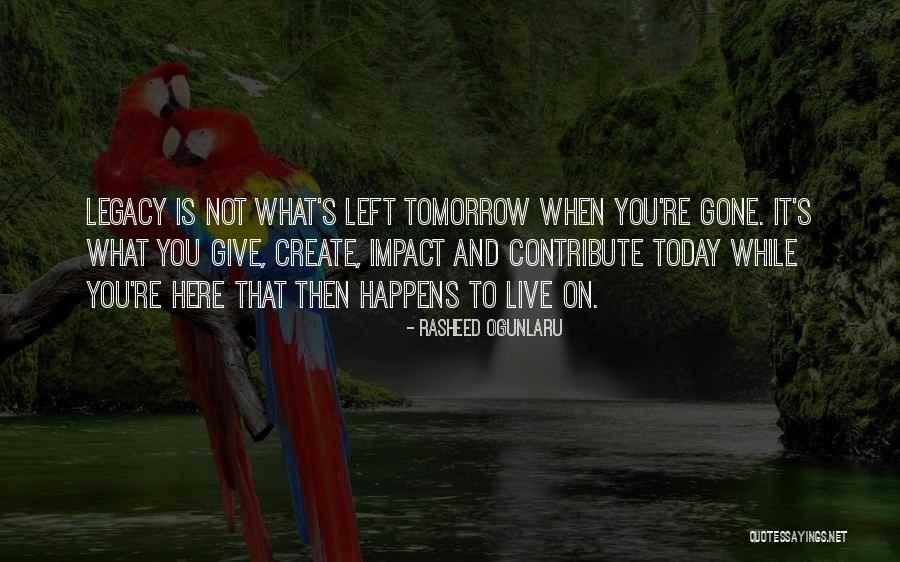 Legacy is not what's left tomorrow when you're gone. It's what you give, create, impact and contribute today while you're here that then happens to live on. — Rasheed Ogunlaru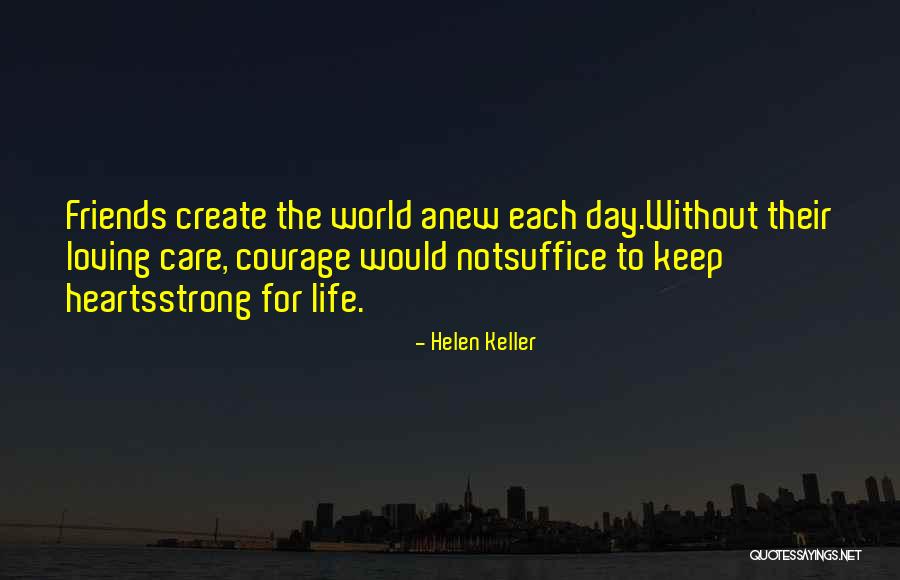 Friends create the world anew each day.
Without their loving care, courage would not
suffice to keep heartsstrong for life. — Helen Keller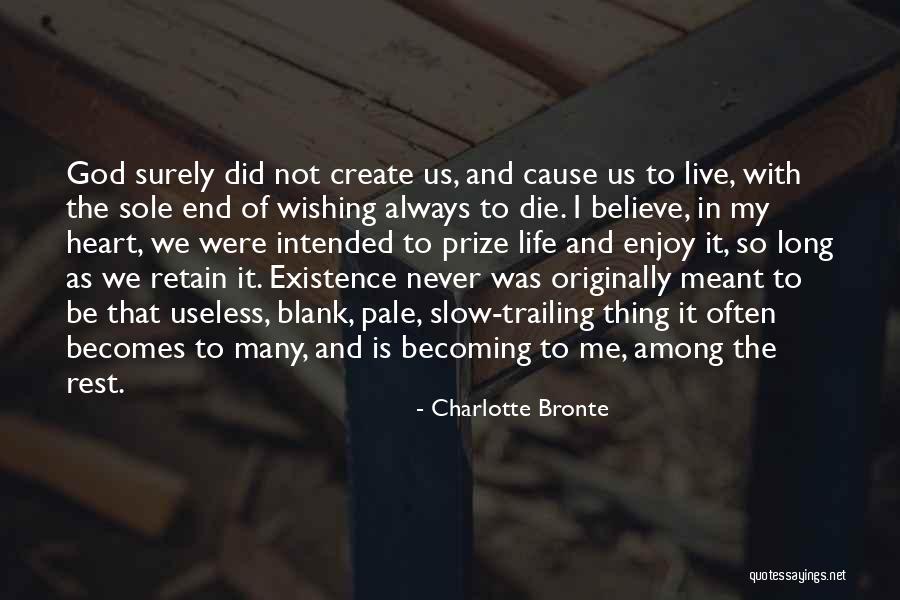 God surely did not create us, and cause us to live, with the sole end of wishing always to die. I believe, in my heart, we were intended to prize life and enjoy it, so long as we retain it. Existence never was originally meant to be that useless, blank, pale, slow-trailing thing it often becomes to many, and is becoming to me, among the rest. — Charlotte Bronte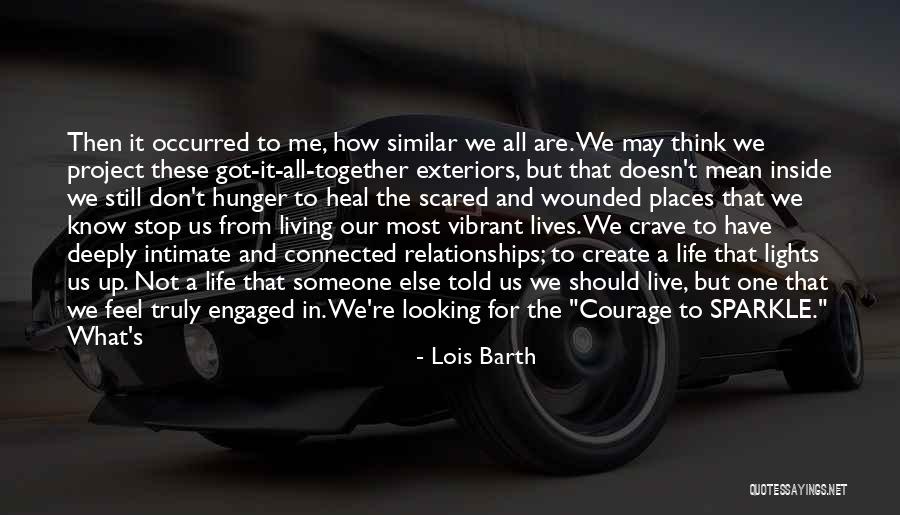 Then it occurred to me, how similar we all are. We may think we project these got-it-all-together exteriors, but that doesn't mean inside we still don't hunger to heal the scared and wounded places that we know stop us from living our most vibrant lives. We crave to have deeply intimate and connected relationships; to create a life that lights us up. Not a life that someone else told us we should live, but one that we feel truly engaged in. We're looking for the "Courage to SPARKLE." What's — Lois Barth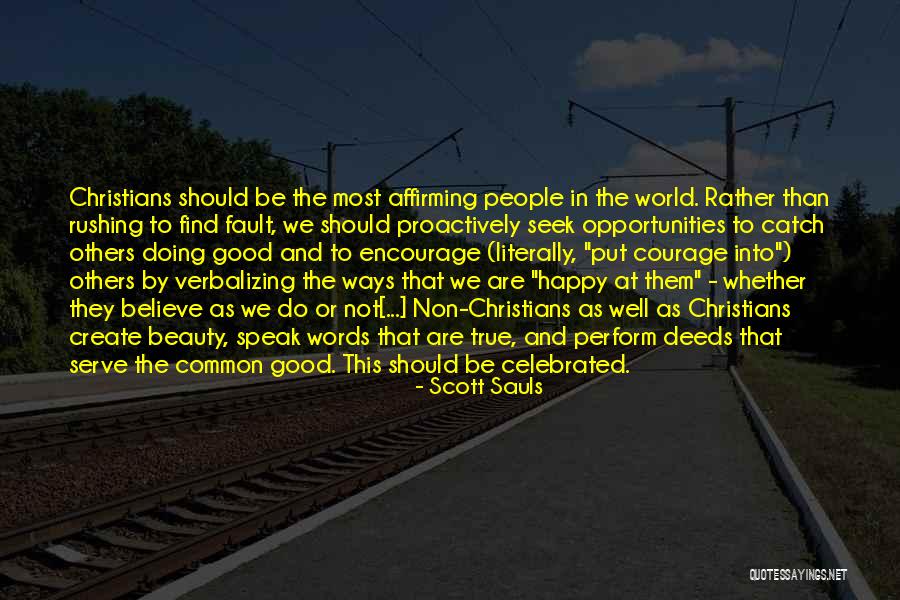 Christians should be the most affirming people in the world. Rather than rushing to find fault, we should proactively seek opportunities to catch others doing good and to encourage (literally, "put courage into") others by verbalizing the ways that we are "happy at them" - whether they believe as we do or not[...] Non-Christians as well as Christians create beauty, speak words that are true, and perform deeds that serve the common good. This should be celebrated. — Scott Sauls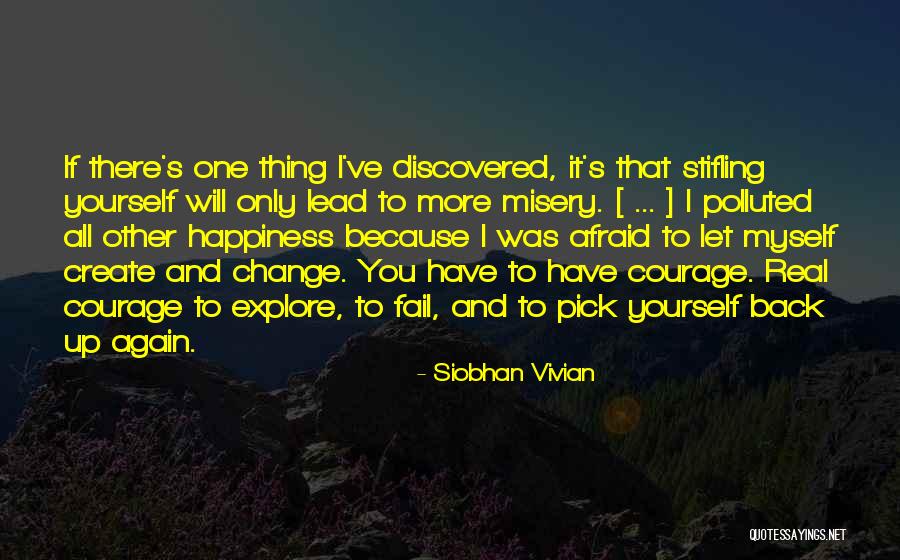 If there's one thing I've discovered, it's that stifling yourself will only lead to more misery. [ ... ] I polluted all other happiness because I was afraid to let myself create and change. You have to have courage. Real courage to explore, to fail, and to pick yourself back up again. — Siobhan Vivian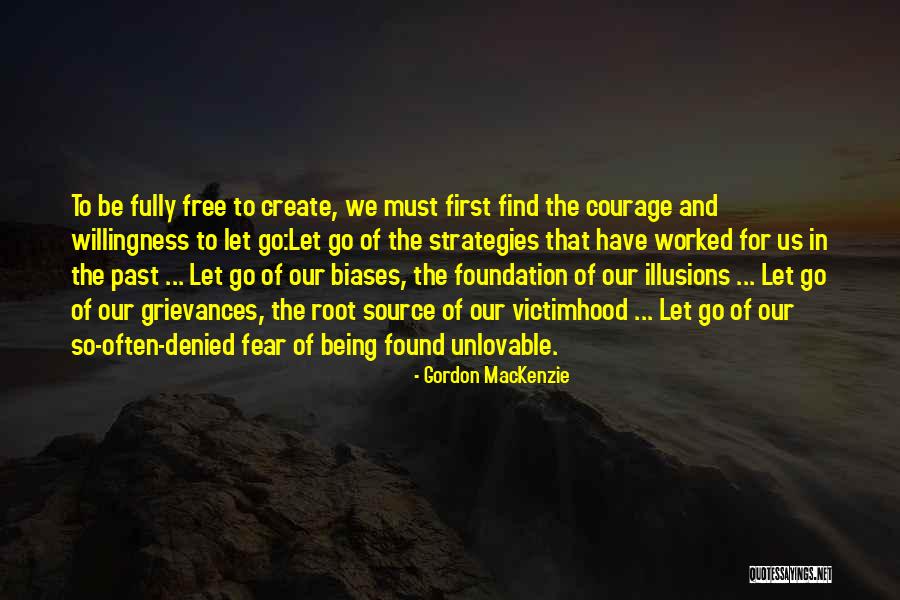 To be fully free to create, we must first find the courage and willingness to let go:
Let go of the strategies that have worked for us in the past ...
Let go of our biases, the foundation of our illusions ...
Let go of our grievances, the root source of our victimhood ...
Let go of our so-often-denied fear of being found unlovable. — Gordon MacKenzie
Joy is the zest that you get out of using your talents, your understanding, the totality of your being, for great aims ... That's the kind of feeling that goes with creativity. That's why I say the courage to create. Creation does not come out of simply what you're born with. That must be united with your courage, both of which cause anxiety, but also great joy. — Rollo May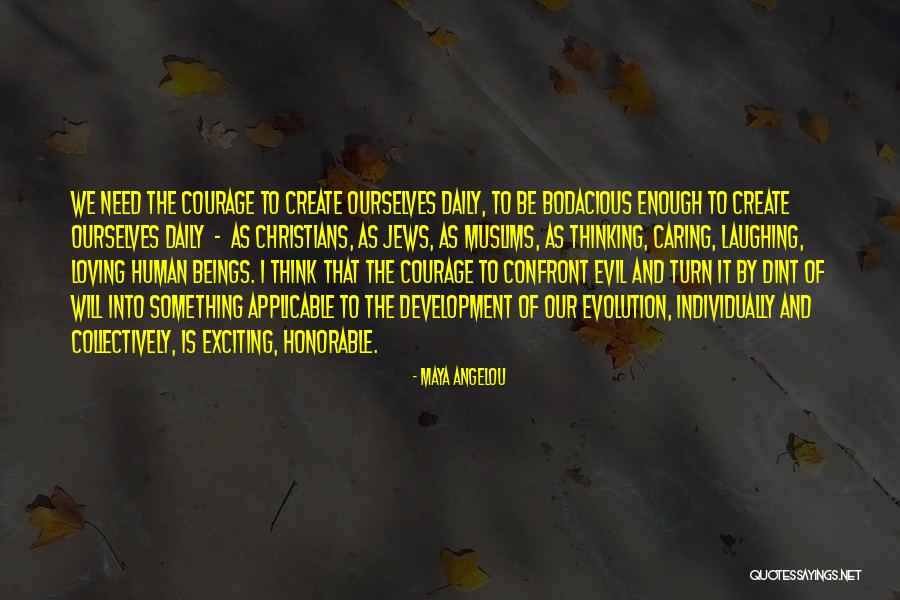 We need the courage to create ourselves daily, to be bodacious enough to create ourselves daily - as Christians, as Jews, as Muslims, as thinking, caring, laughing, loving human beings. I think that the courage to confront evil and turn it by dint of will into something applicable to the development of our evolution, individually and collectively, is exciting, honorable. — Maya Angelou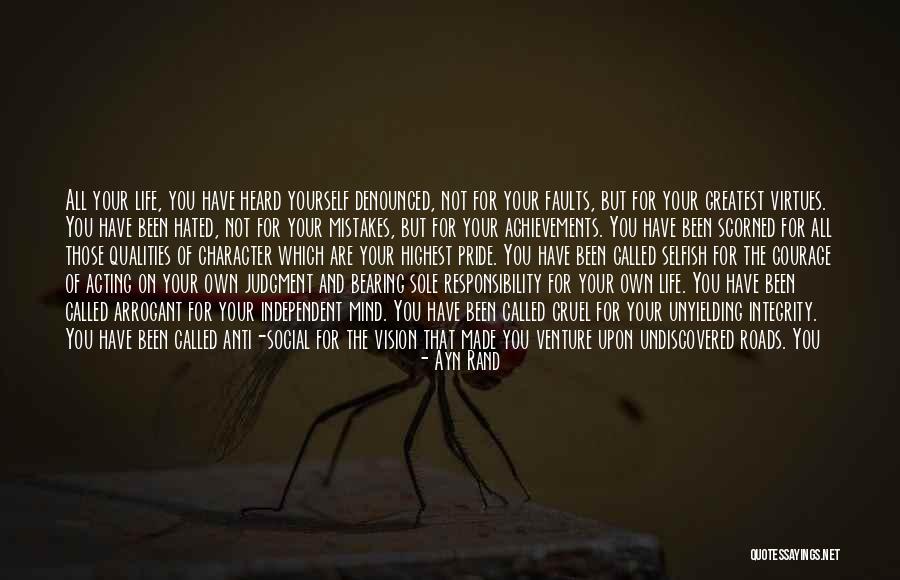 All your life, you have heard yourself denounced, not for your faults, but for your greatest virtues. You have been hated, not for your mistakes, but for your achievements. You have been scorned for all those qualities of character which are your highest pride. You have been called selfish for the courage of acting on your own judgment and bearing sole responsibility for your own life. You have been called arrogant for your independent mind. You have been called cruel for your unyielding integrity. You have been called anti-social for the vision that made you venture upon undiscovered roads. You have been called ruthless for the strength and self-discipline of your drive to your purpose. You have been called greedy for the magnificence of your power to create wealth. — Ayn Rand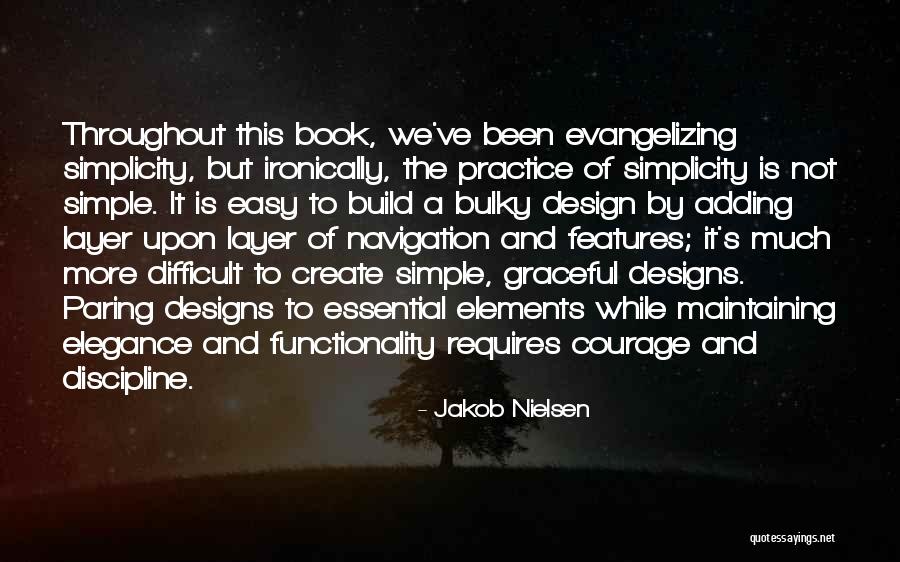 Throughout this book, we've been evangelizing simplicity, but ironically, the practice of simplicity is not simple. It is easy to build a bulky design by adding layer upon layer of navigation and features; it's much more difficult to create simple, graceful designs. Paring designs to essential elements while maintaining elegance and functionality requires courage and discipline. — Jakob Nielsen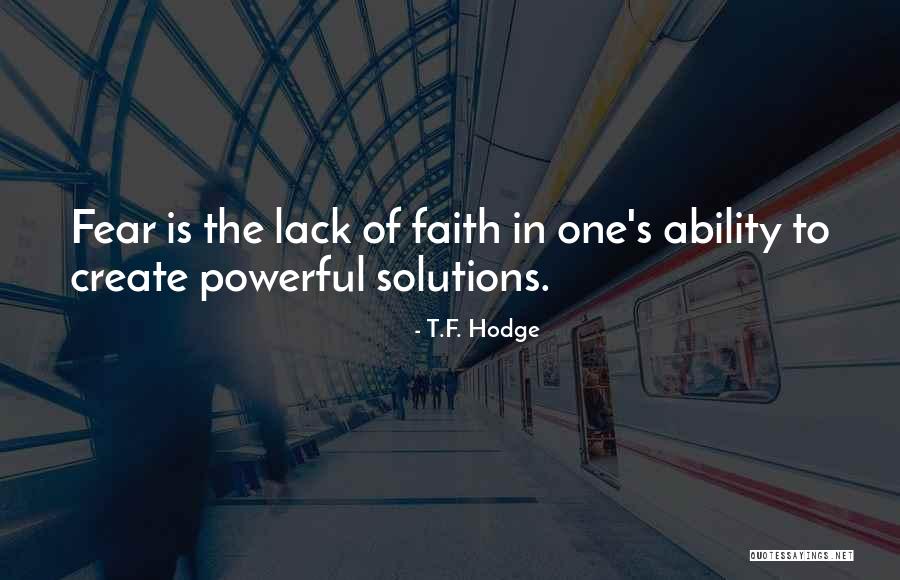 Fear is the lack of faith in one's ability to create powerful solutions. — T.F. Hodge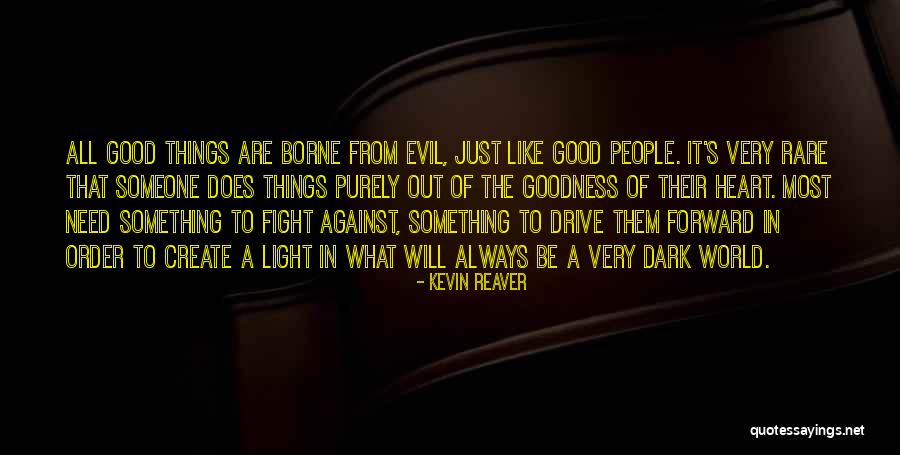 All good things are borne from evil, just like good people. It's very rare that someone does things purely out of the goodness of their heart. Most need something to fight against, something to drive them forward in order to create a light in what will always be a very dark world. — Kevin Reaver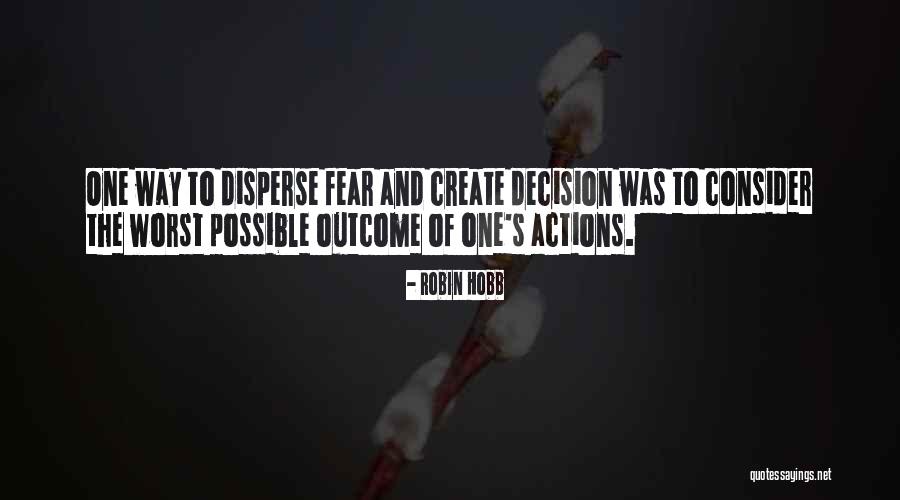 One way to disperse fear and create decision was to consider the worst possible outcome of one's actions. — Robin Hobb
In all the woods and forests, God did not create a single leaf the same as any other ... People go against nature because they lack the courage to be different. — Paulo Coelho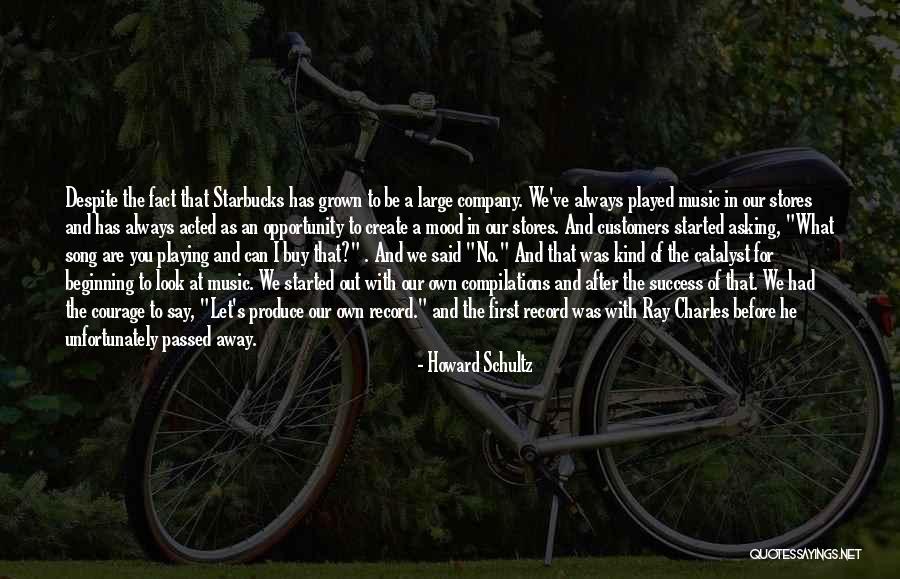 Despite the fact that Starbucks has grown to be a large company. We've always played music in our stores and has always acted as an opportunity to create a mood in our stores. And customers started asking, "What song are you playing and can I buy that?" . And we said "No." And that was kind of the catalyst for beginning to look at music. We started out with our own compilations and after the success of that. We had the courage to say, "Let's produce our own record." and the first record was with Ray Charles before he unfortunately passed away. — Howard Schultz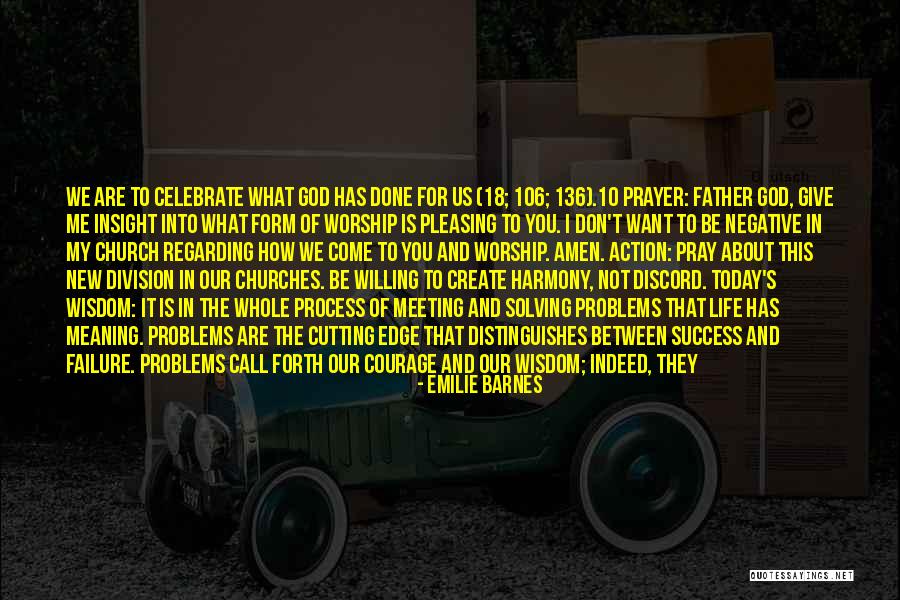 We are to celebrate what God has done for us (18; 106; 136).10 Prayer: Father God, give me insight into what form of worship is pleasing to You. I don't want to be negative in my church regarding how we come to You and worship. Amen. Action: Pray about this new division in our churches. Be willing to create harmony, not discord. Today's Wisdom: It is in the whole process of meeting and solving problems that life has meaning. Problems are the cutting edge that distinguishes between success and failure. Problems call forth our courage and our wisdom; indeed, they create our courage and our wisdom. It is only because of problems that we grow mentally and spiritually. It is through the pain of confronting and resolving problems that we learn. - M. SCOTT PECK — Emilie Barnes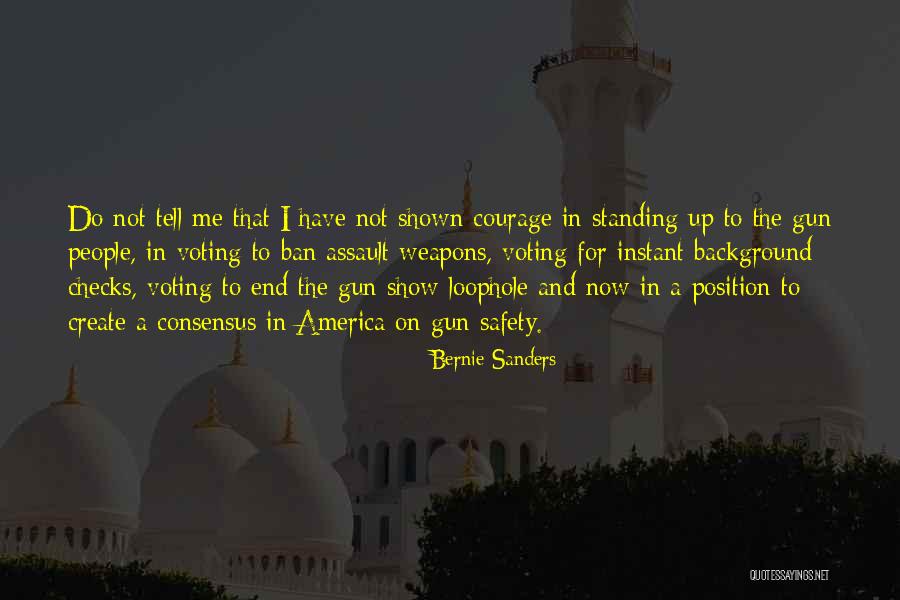 Do not tell me that I have not shown courage in standing up to the gun people, in voting to ban assault weapons, voting for instant background checks, voting to end the gun show loophole and now in a position to create a consensus in America on gun safety. — Bernie Sanders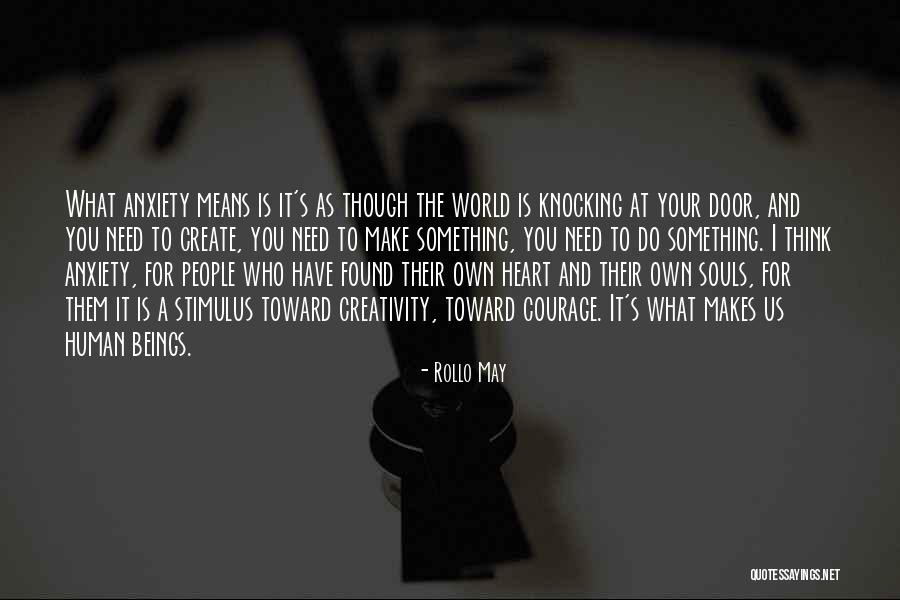 What anxiety means is it's as though the world is knocking at your door, and you need to create, you need to make something, you need to do something. I think anxiety, for people who have found their own heart and their own souls, for them it is a stimulus toward creativity, toward courage. It's what makes us human beings. — Rollo May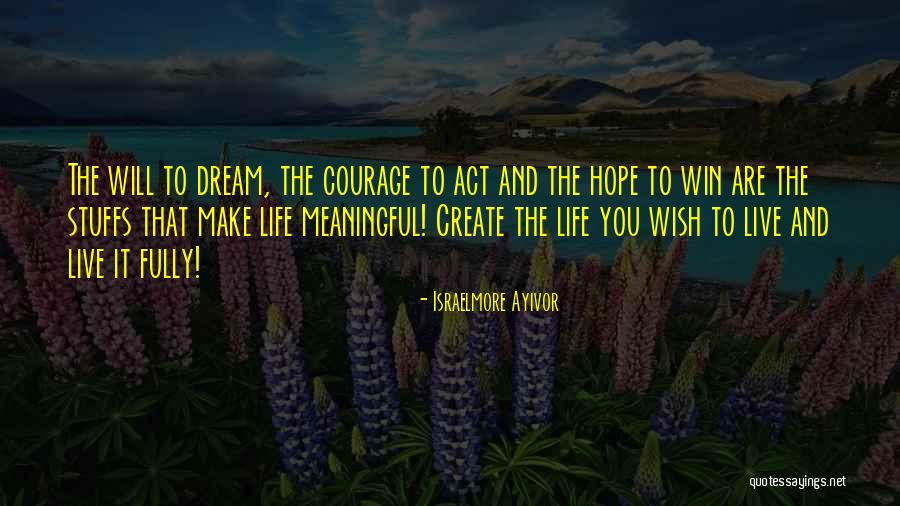 The will to dream, the courage to act and the hope to win are the stuffs that make life meaningful! Create the life you wish to live and live it fully! — Israelmore Ayivor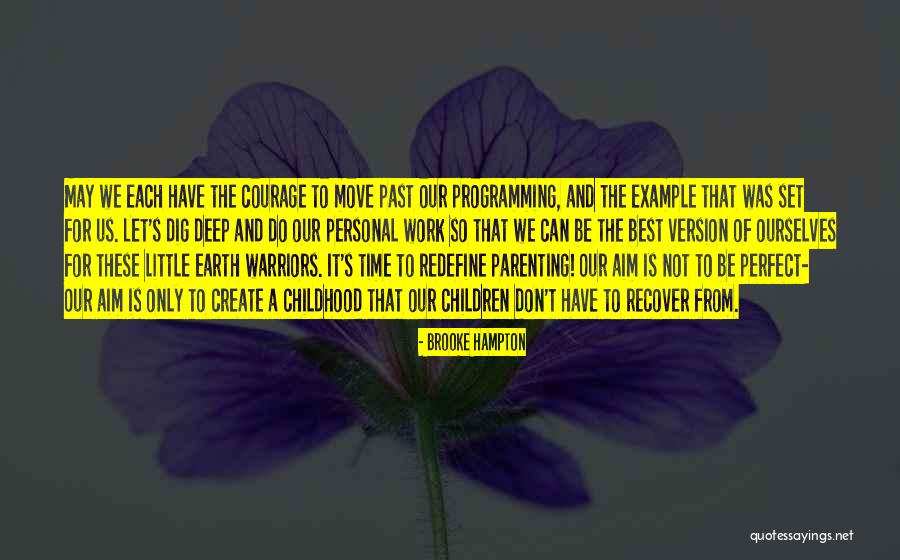 May we each have the courage to move past our programming, and the example that was set for us. Let's dig deep and do our personal work so that we can be the best version of ourselves for these little earth warriors.
It's time to redefine parenting!
Our aim is not to be perfect- Our aim is only to create a childhood that our children don't have to recover from. — Brooke Hampton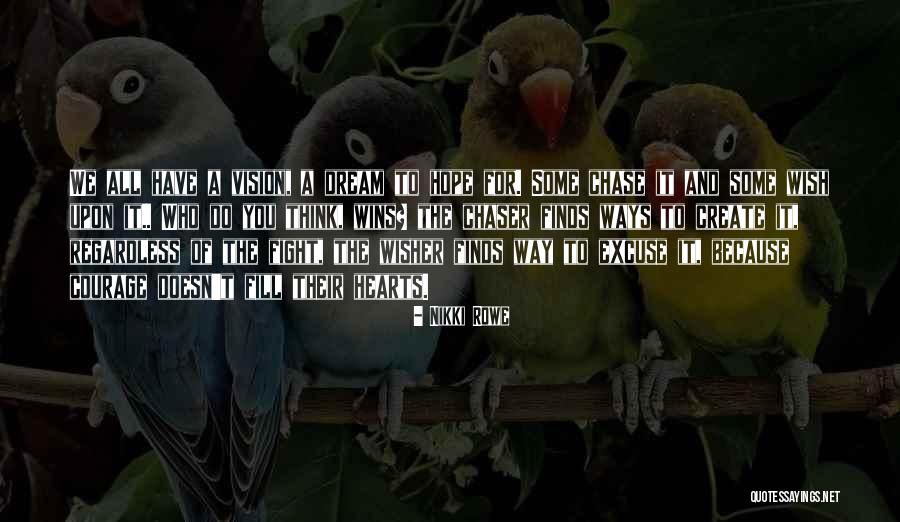 We all have a vision, a dream to hope for.
Some chase it and some wish upon it..
Who do you think, wins?
the chaser finds ways to create it, regardless of the fight, the wisher finds way to excuse it, because courage doesn't fill their hearts. — Nikki Rowe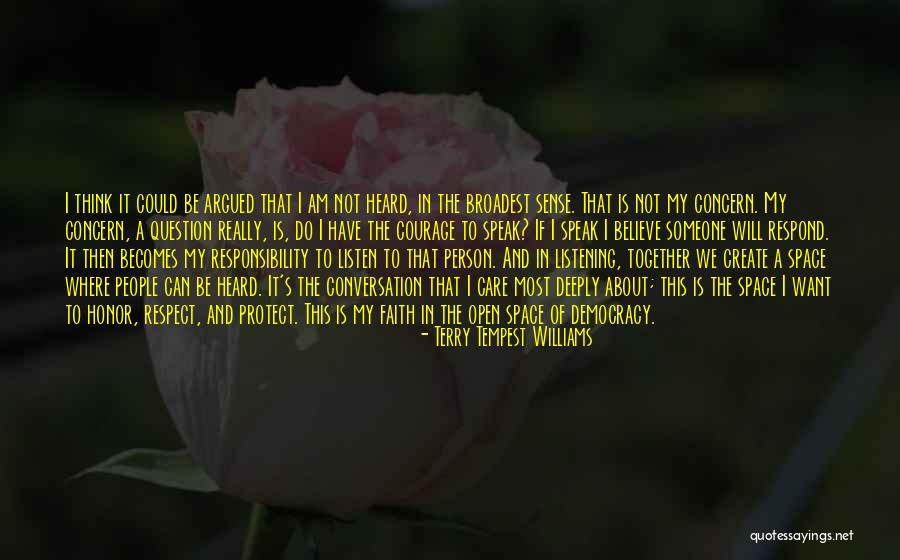 I think it could be argued that I am not heard, in the broadest sense. That is not my concern. My concern, a question really, is, do I have the courage to speak? If I speak I believe someone will respond. It then becomes my responsibility to listen to that person. And in listening, together we create a space where people can be heard. It's the conversation that I care most deeply about; this is the space I want to honor, respect, and protect. This is my faith in the open space of democracy. — Terry Tempest Williams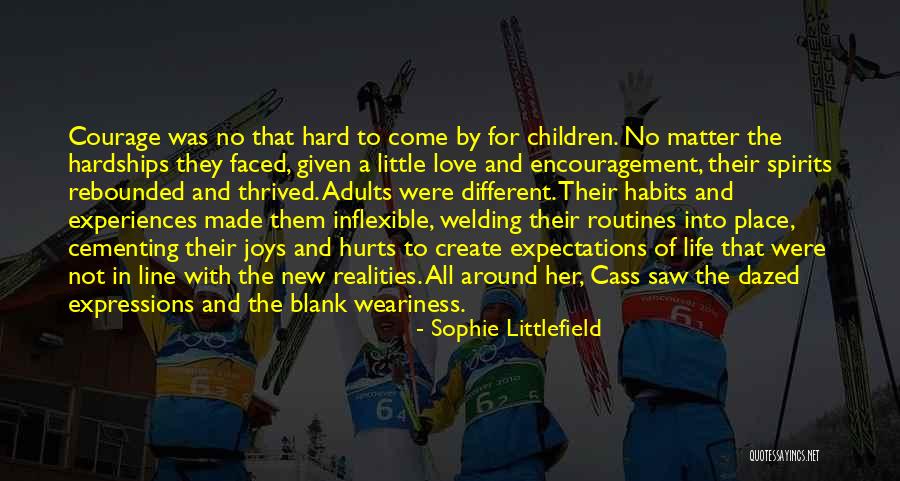 Courage was no that hard to come by for children. No matter the hardships they faced, given a little love and encouragement, their spirits rebounded and thrived.
Adults were different. Their habits and experiences made them inflexible, welding their routines into place, cementing their joys and hurts to create expectations of life that were not in line with the new realities. All around her, Cass saw the dazed expressions and the blank weariness. — Sophie Littlefield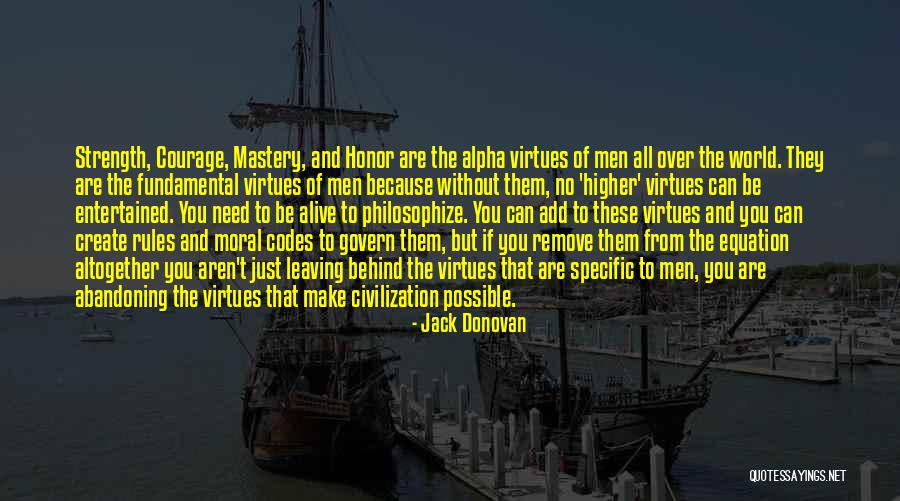 Strength, Courage, Mastery, and Honor are the alpha virtues of men all over the world. They are the fundamental virtues of men because without them, no 'higher' virtues can be entertained. You need to be alive to philosophize. You can add to these virtues and you can create rules and moral codes to govern them, but if you remove them from the equation altogether you aren't just leaving behind the virtues that are specific to men, you are abandoning the virtues that make civilization possible. — Jack Donovan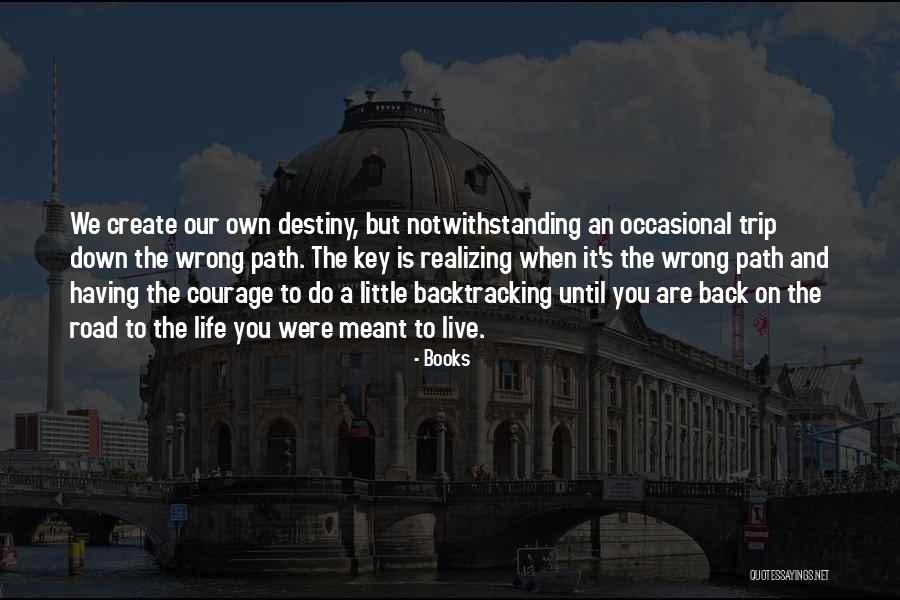 We create our own destiny, but notwithstanding an occasional trip down the wrong path. The key is realizing when it's the wrong path and having the courage to do a little backtracking until you are back on the road to the life you were meant to live. — Books
What if imagination and art are not frosting at all, but the fountainhead of human experience? — Rollo May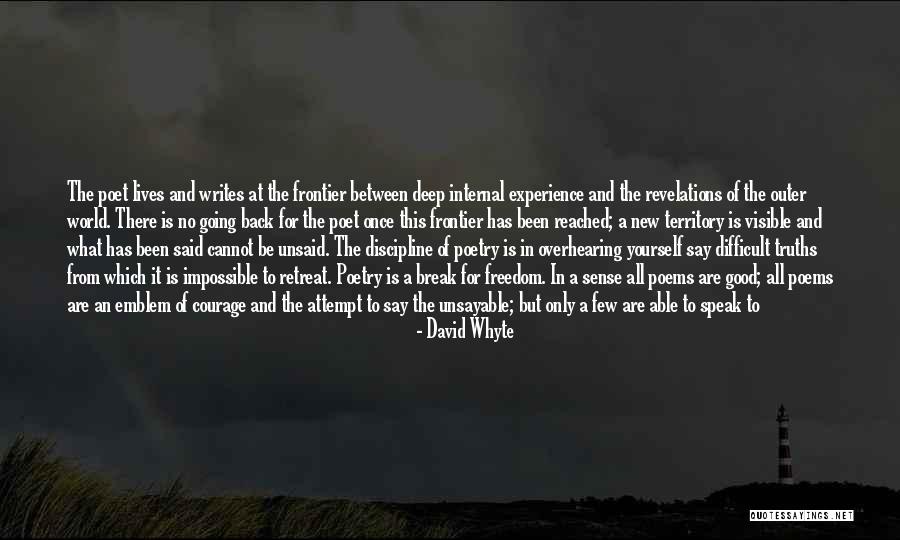 The poet lives and writes at the frontier between deep internal experience and the revelations of the outer world. There is no going back for the poet once this frontier has been reached; a new territory is visible and what has been said cannot be unsaid. The discipline of poetry is in overhearing yourself say difficult truths from which it is impossible to retreat. Poetry is a break for freedom. In a sense all poems are good; all poems are an emblem of courage and the attempt to say the unsayable; but only a few are able to speak to something universal yet personal and distinct at the same time; to create a door through which others can walk into what previously seemed unobtainable realms, in the passage of a few short lines. — David Whyte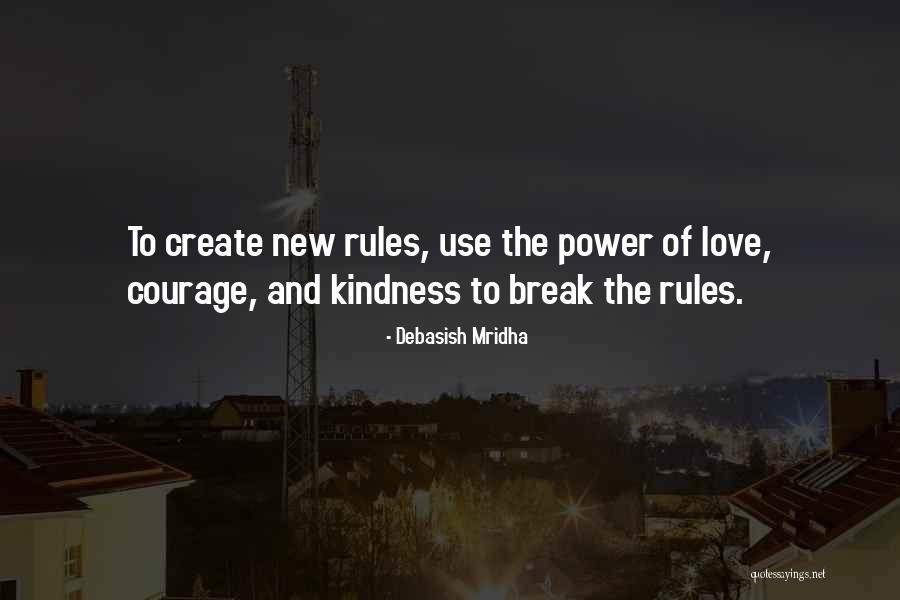 To create new rules, use the power of love, courage, and kindness to break the rules. — Debasish Mridha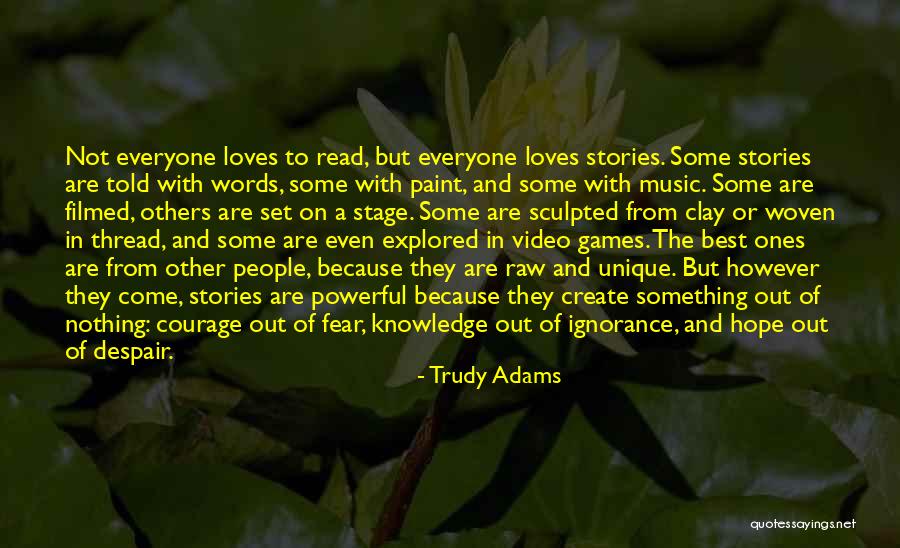 Not everyone loves to read, but everyone loves stories. Some stories are told with words, some with paint, and some with music. Some are filmed, others are set on a stage. Some are sculpted from clay or woven in thread, and some are even explored in video games. The best ones are from other people, because they are raw and unique. But however they come, stories are powerful because they create something out of nothing: courage out of fear, knowledge out of ignorance, and hope out of despair. — Trudy Adams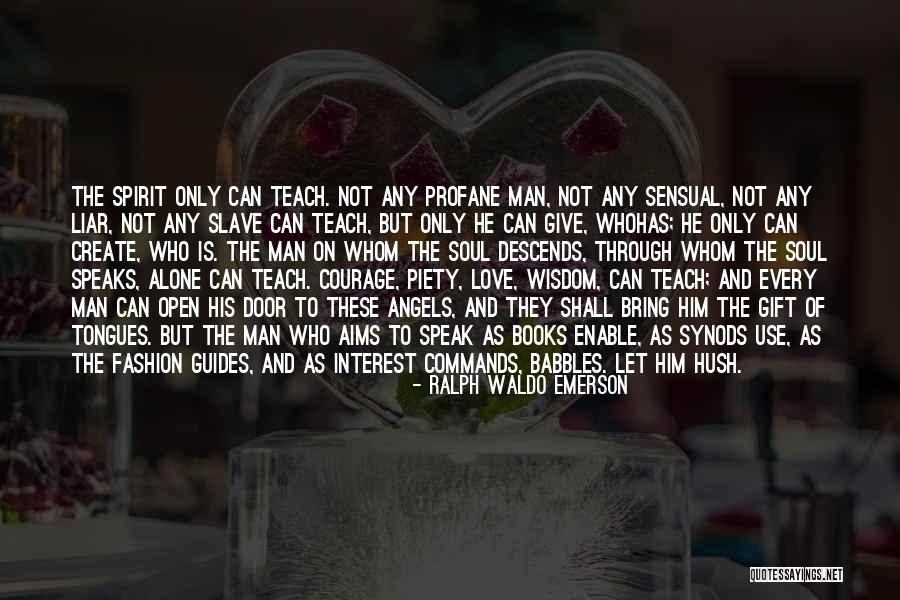 The spirit only can teach. Not any profane man, not any sensual, not any liar, not any slave can teach, but only he can give, whohas; he only can create, who is. The man on whom the soul descends, through whom the soul speaks, alone can teach. Courage, piety, love, wisdom, can teach; and every man can open his door to these angels, and they shall bring him the gift of tongues. But the man who aims to speak as books enable, as synods use, as the fashion guides, and as interest commands, babbles. Let him hush. — Ralph Waldo Emerson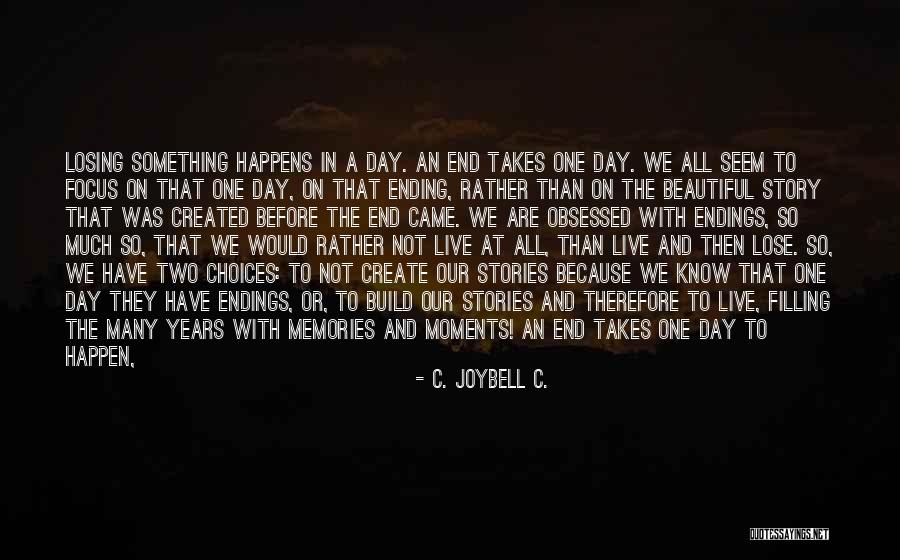 Losing something happens in a day. An end takes one day. We all seem to focus on that one day, on that ending, rather than on the beautiful story that was created before the end came. We are obsessed with endings, so much so, that we would rather not live at all, than live and then lose. So, we have two choices: to not create our stories because we know that one day they have endings, or, to build our stories and therefore to live, filling the many years with memories and moments! An end takes one day to happen, but life takes place in the moments and in the memories that we choose to feel, to build, to hold. Don't miss out on the years, for the fear of one day. — C. JoyBell C.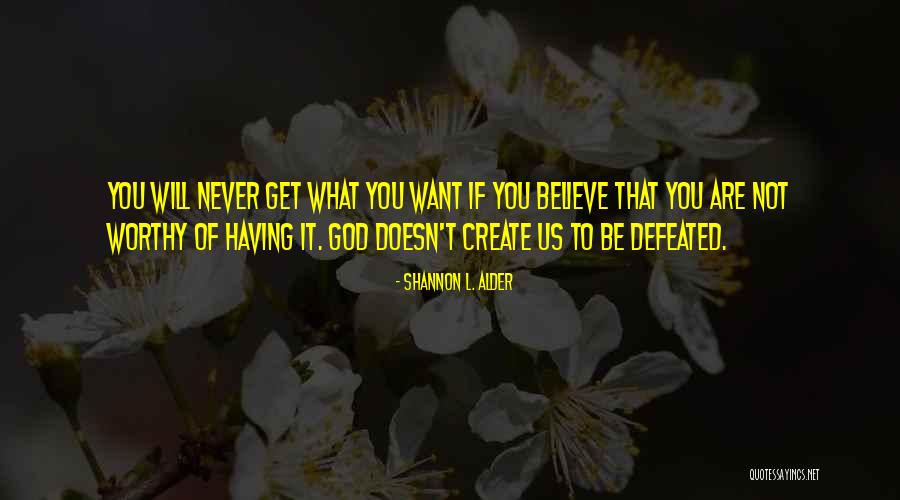 You will never get what you want if you believe that you are not worthy of having it. God doesn't create us to be defeated. — Shannon L. Alder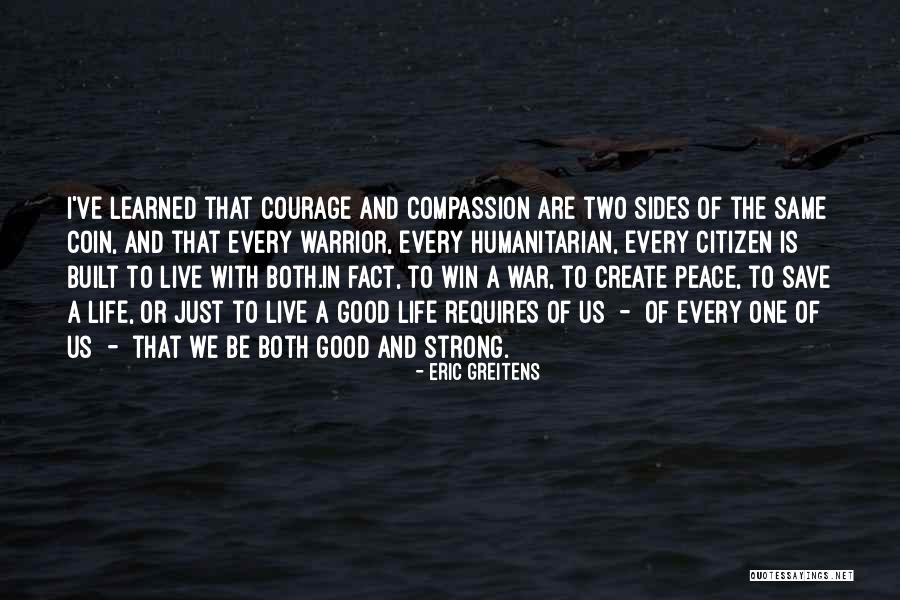 I've learned that courage and compassion are two sides of the same coin, and that every warrior, every humanitarian, every citizen is built to live with both.
In fact, to win a war, to create peace, to save a life, or just to live a good life requires of us - of every one of us - that we be both good and strong. — Eric Greitens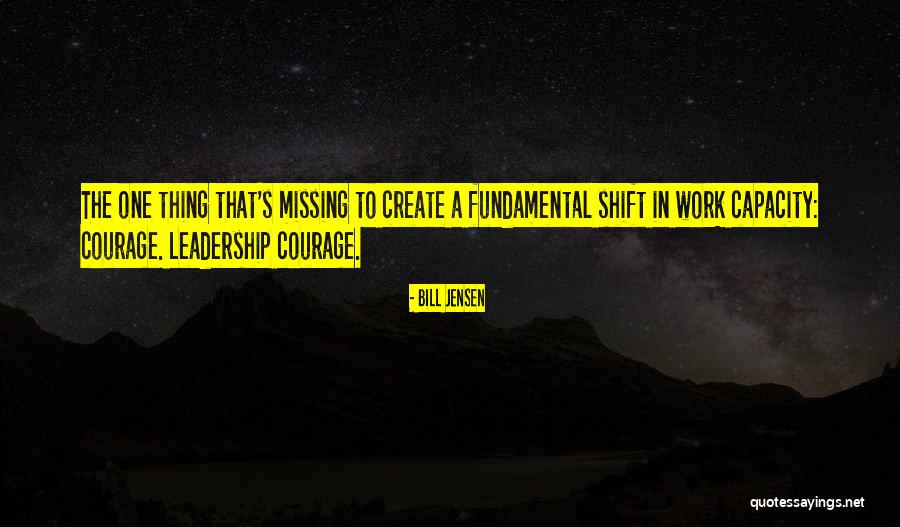 The one thing that's missing to create a fundamental shift in work capacity: courage. Leadership courage. — Bill Jensen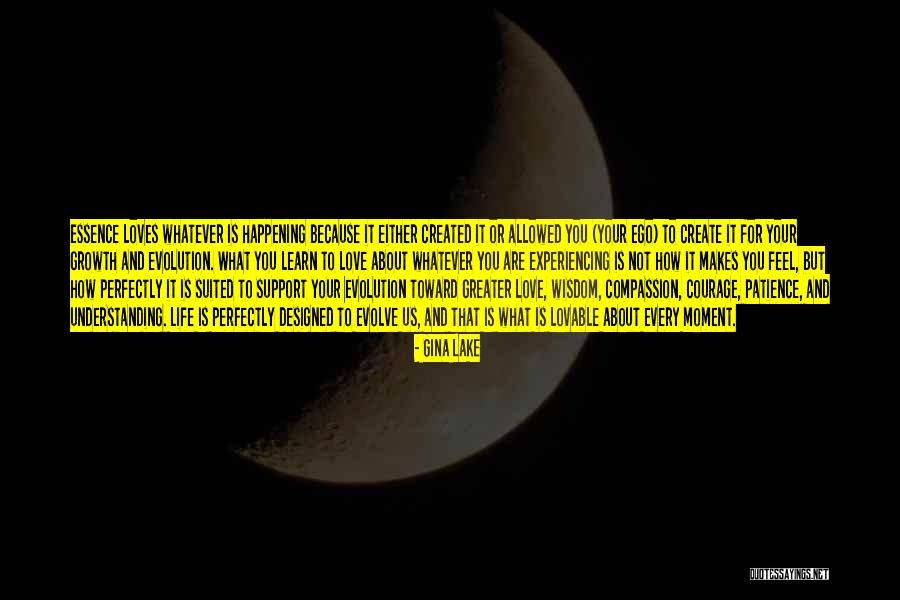 Essence loves whatever is happening because it either created it or allowed you (your ego) to create it for your growth and evolution. What you learn to love about whatever you are experiencing is not how it makes you feel, but how perfectly it is suited to support your evolution toward greater love, wisdom, compassion, courage, patience, and understanding. Life is perfectly designed to evolve us, and that is what is lovable about every moment. — Gina Lake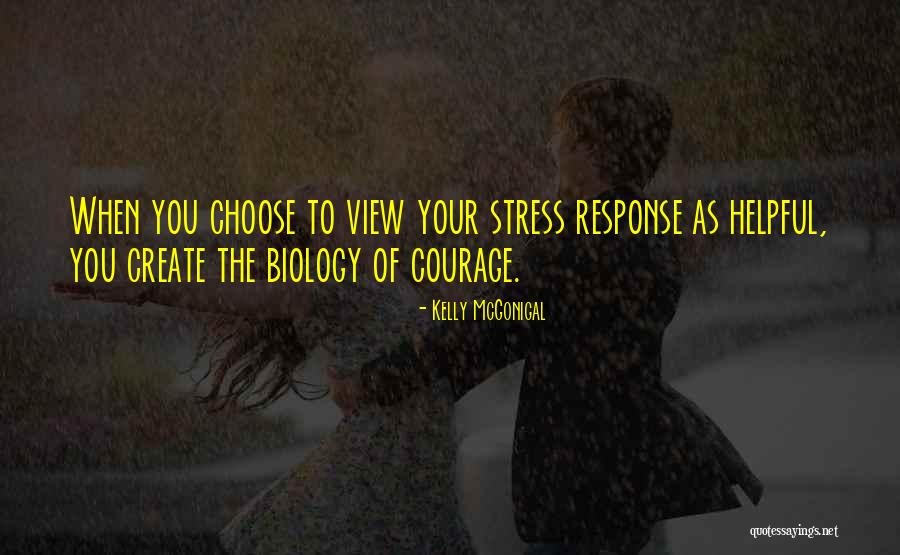 When you choose to view your stress response as helpful, you create the biology of courage. — Kelly McGonigal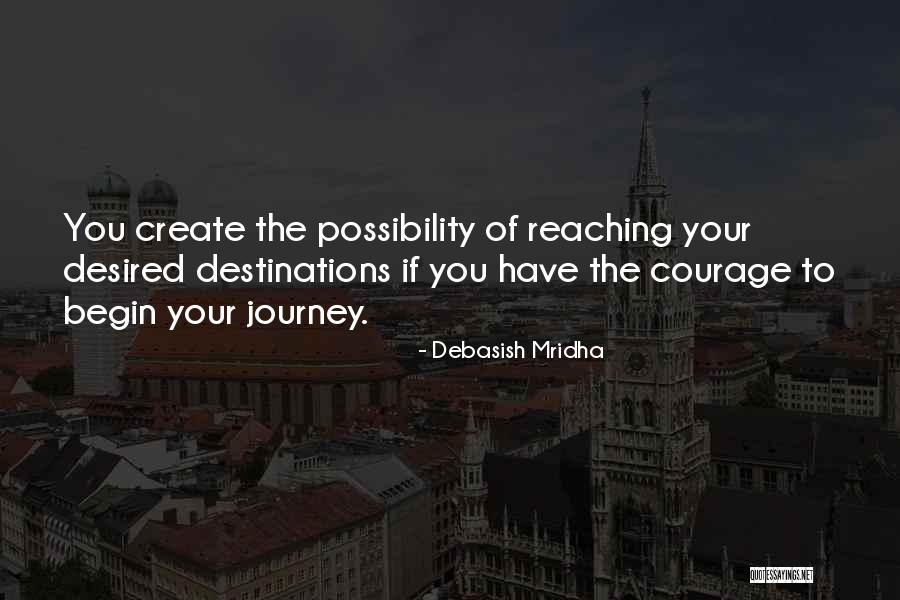 You create the possibility of reaching your desired destinations if you have the courage to begin your journey. — Debasish Mridha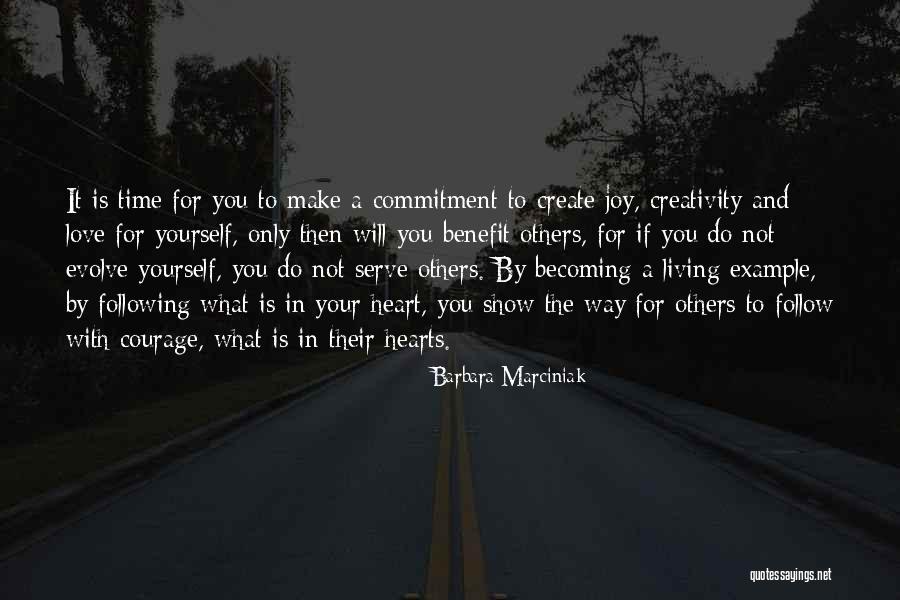 It is time for you to make a commitment to create joy, creativity and love for yourself, only then will you benefit others, for if you do not evolve yourself, you do not serve others. By becoming a living example, by following what is in your heart, you show the way for others to follow with courage, what is in their hearts. — Barbara Marciniak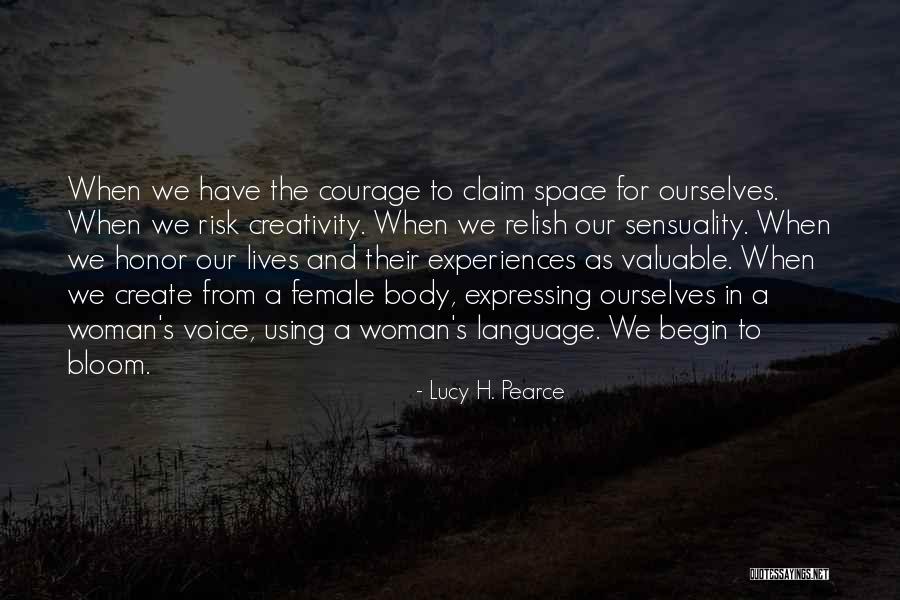 When we have the courage to claim space for ourselves. When we risk creativity. When we relish our sensuality. When we honor our lives and their experiences as valuable. When we create from a female body, expressing ourselves in a woman's voice, using a woman's language. We begin to bloom. — Lucy H. Pearce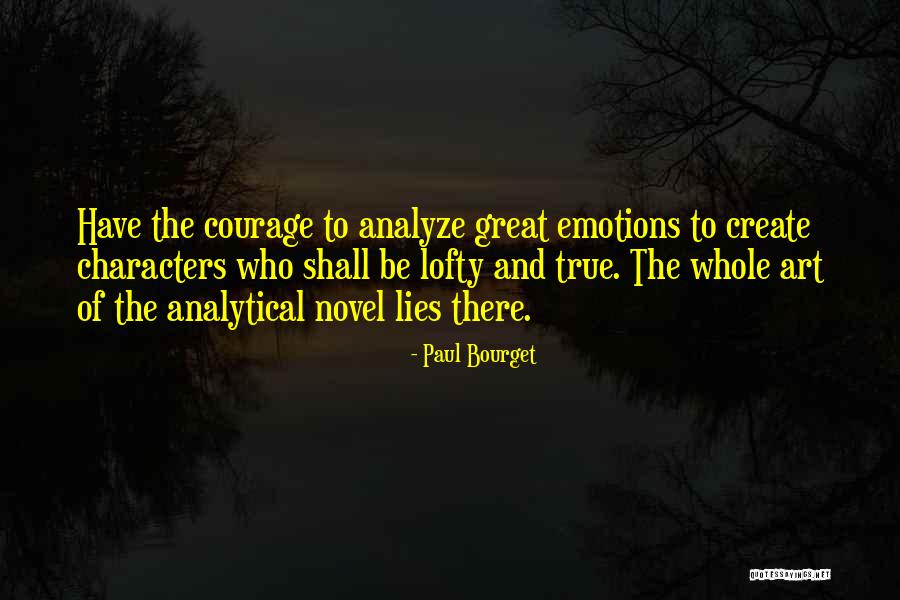 Have the courage to analyze great emotions to create characters who shall be lofty and true. The whole art of the analytical novel lies there. — Paul Bourget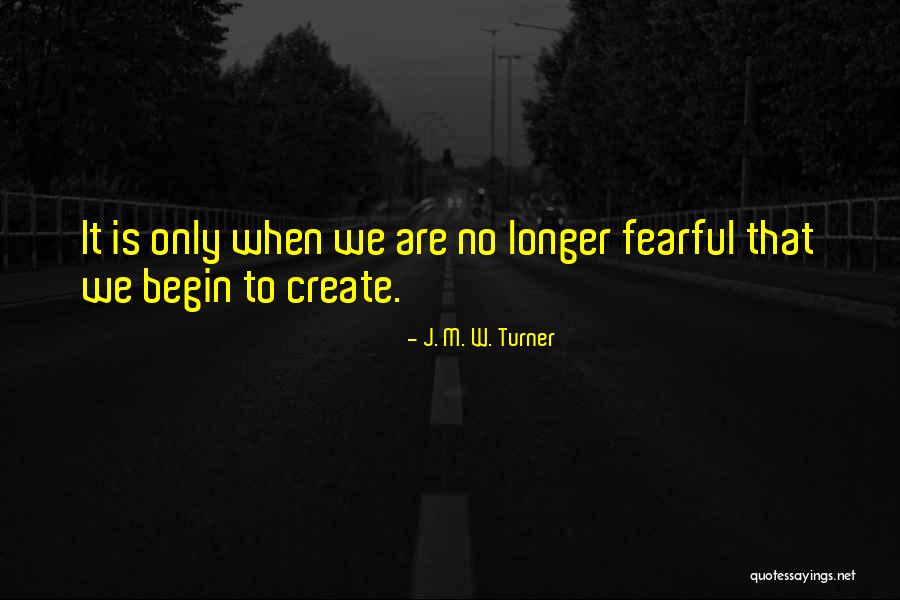 It is only when we are no longer fearful that we begin to create. — J. M. W. Turner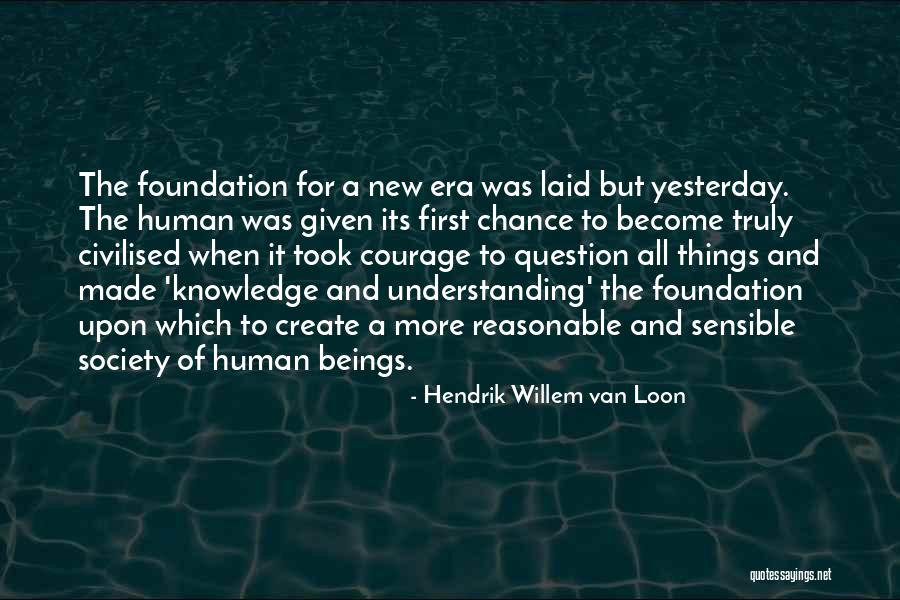 The foundation for a new era was laid but yesterday. The human was given its first chance to become truly civilised when it took courage to question all things and made 'knowledge and understanding' the foundation upon which to create a more reasonable and sensible society of human beings. — Hendrik Willem Van Loon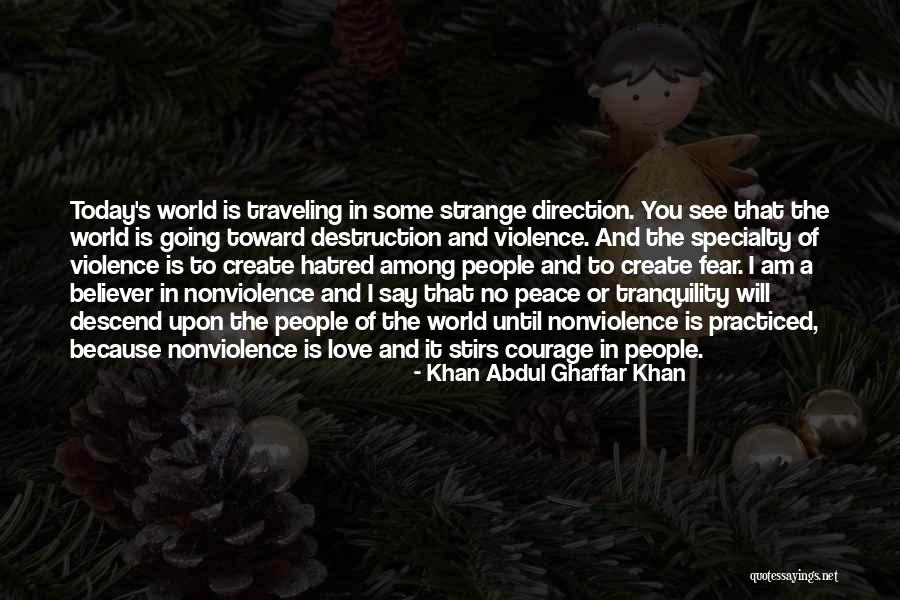 Today's world is traveling in some strange direction. You see that the world is going toward destruction and violence. And the specialty of violence is to create hatred among people and to create fear. I am a believer in nonviolence and I say that no peace or tranquility will descend upon the people of the world until nonviolence is practiced, because nonviolence is love and it stirs courage in people. — Khan Abdul Ghaffar Khan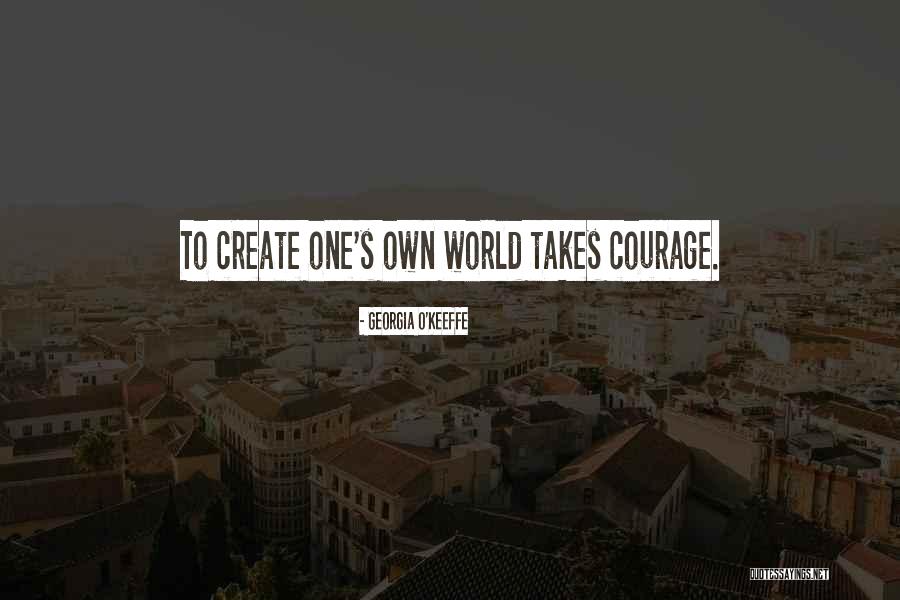 To create one's own world takes courage. — Georgia O'Keeffe