Quotes & Sayings About Corrupt Leaders
Enjoy reading and share 17 famous quotes about Corrupt Leaders with everyone.
Top Corrupt Leaders Quotes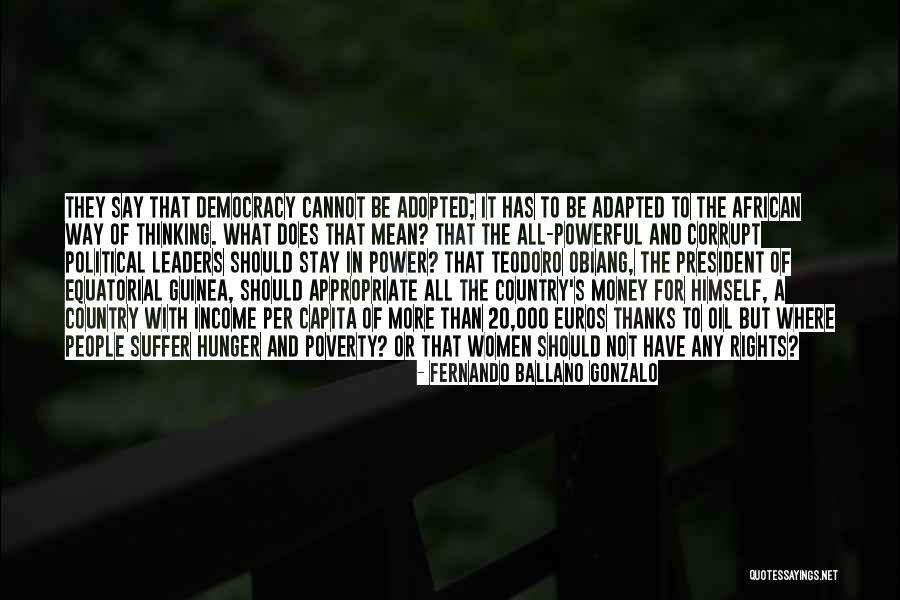 They say that democracy cannot be adopted; it has to be adapted to the African way of thinking. What does that mean? That the all-powerful and corrupt political leaders should stay in power? That Teodoro Obiang, the President of Equatorial Guinea, should appropriate all the country's money for himself, a country with income per capita of more than 20,000 euros thanks to oil but where people suffer hunger and poverty? Or that women should not have any rights? — Fernando Ballano Gonzalo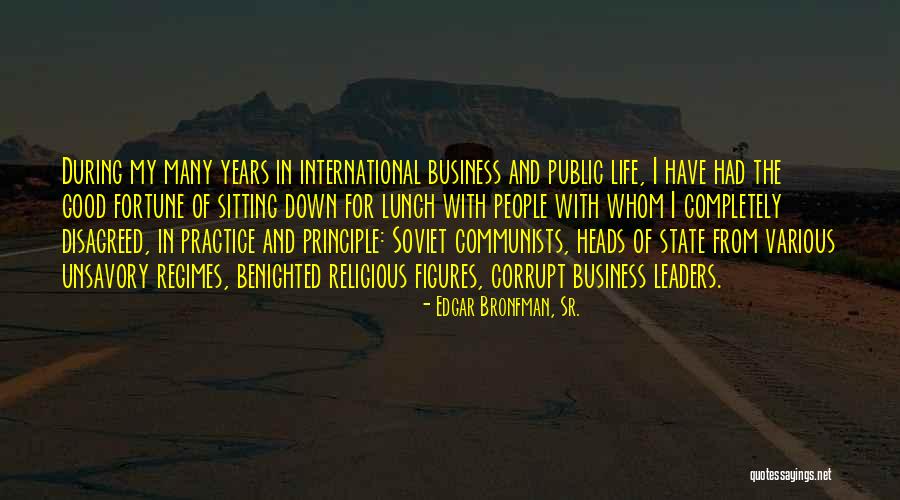 During my many years in international business and public life, I have had the good fortune of sitting down for lunch with people with whom I completely disagreed, in practice and principle: Soviet communists, heads of state from various unsavory regimes, benighted religious figures, corrupt business leaders. — Edgar Bronfman, Sr.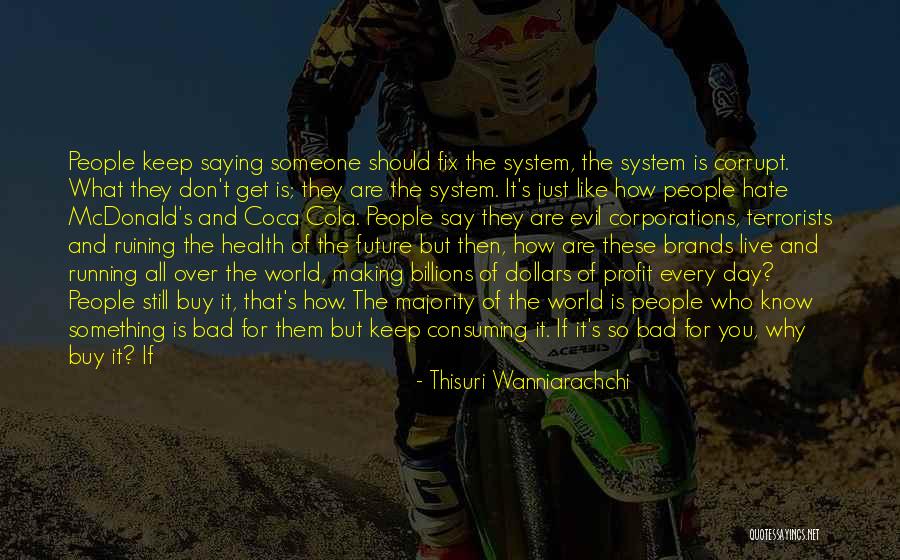 People keep saying someone should fix the system, the
system is corrupt. What they don't get is; they are the system. It's just like how people hate
McDonald's and Coca Cola. People say they are evil corporations, terrorists and ruining the
health of the future but then, how are these brands live and running all over the world,
making billions of dollars of profit every day? People still buy it, that's how. The majority of
the world is people who know something is bad for them but keep consuming it. If it's so
bad for you, why buy it? If the system is so bad, why do they vote for it? It's the people who
need to change not the leaders. — Thisuri Wanniarachchi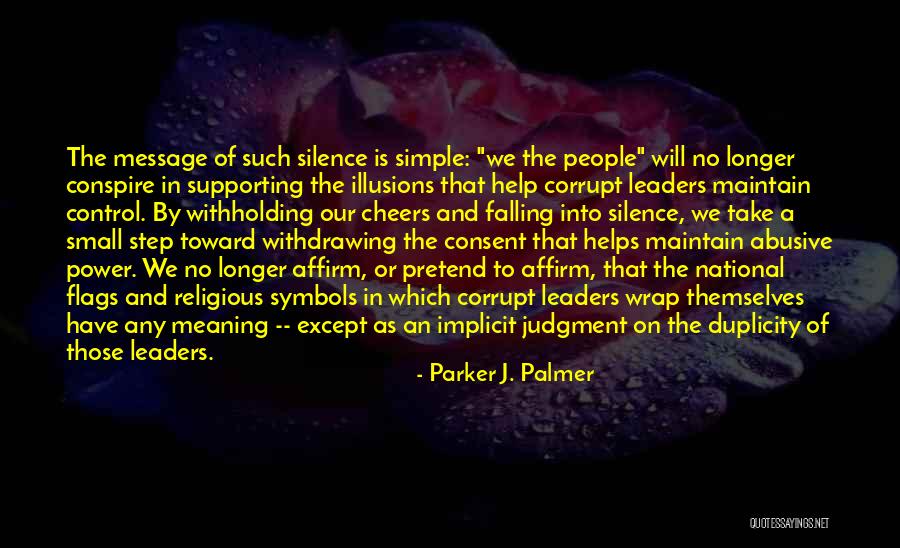 The message of such silence is simple: "we the people" will no longer conspire in supporting the illusions that help corrupt leaders maintain control. By withholding our cheers and falling into silence, we take a small step toward withdrawing the consent that helps maintain abusive power. We no longer affirm, or pretend to affirm, that the national flags and religious symbols in which corrupt leaders wrap themselves have any meaning -- except as an implicit judgment on the duplicity of those leaders. — Parker J. Palmer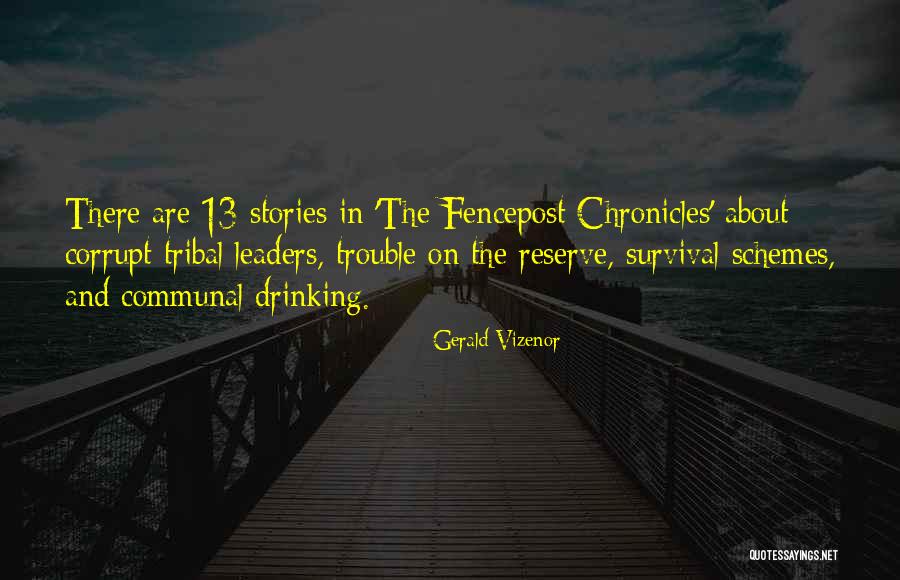 There are 13 stories in 'The Fencepost Chronicles' about corrupt tribal leaders, trouble on the reserve, survival schemes, and communal drinking. — Gerald Vizenor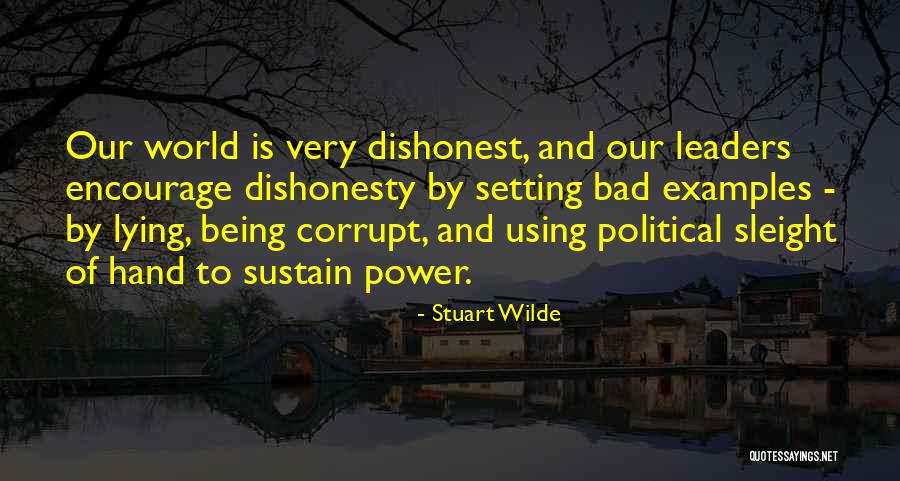 Our world is very dishonest, and our leaders encourage dishonesty by setting bad examples - by lying, being corrupt, and using political sleight of hand to sustain power. — Stuart Wilde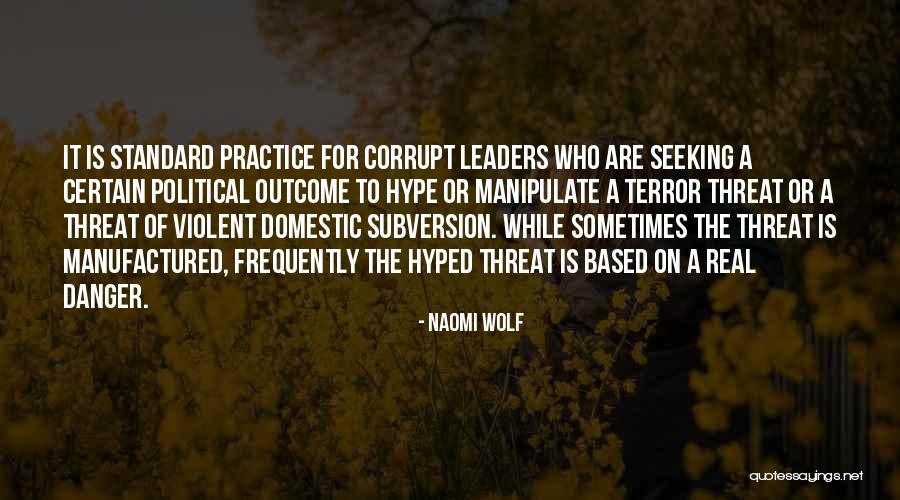 It is standard practice for corrupt leaders who are seeking a certain political outcome to hype or manipulate a terror threat or a threat of violent domestic subversion. While sometimes the threat is manufactured, frequently the hyped threat is based on a real danger. — Naomi Wolf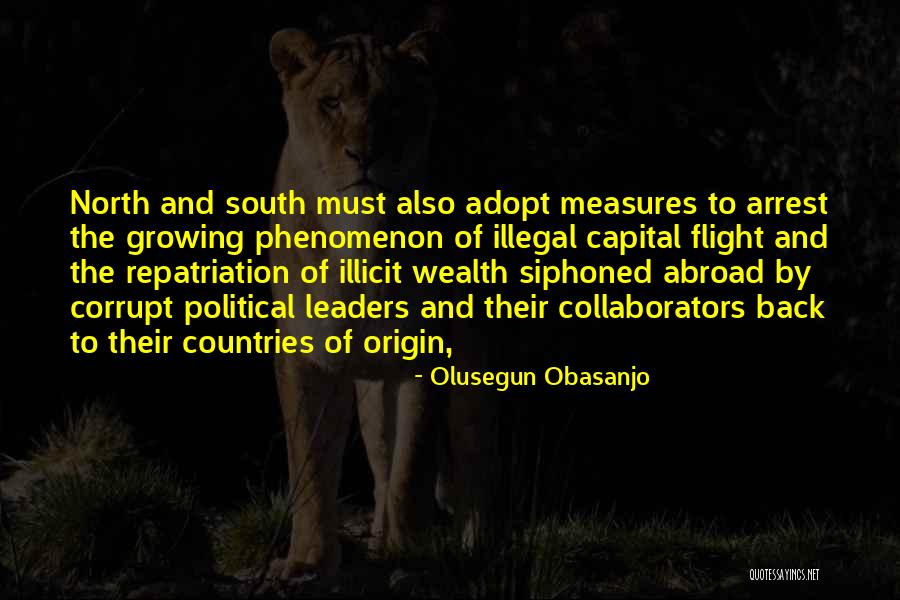 North and south must also adopt measures to arrest the growing phenomenon of illegal capital flight and the repatriation of illicit wealth siphoned abroad by corrupt political leaders and their collaborators back to their countries of origin, — Olusegun Obasanjo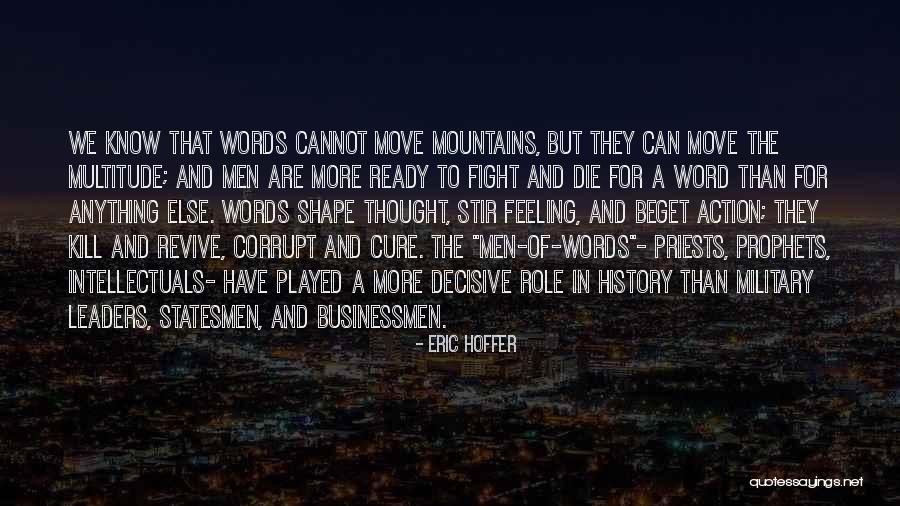 We know that words cannot move mountains, but they can move the multitude; and men are more ready to fight and die for a word than for anything else. Words shape thought, stir feeling, and beget action; they kill and revive, corrupt and cure. The "men-of-words"- priests, prophets, intellectuals- have played a more decisive role in history than military leaders, statesmen, and businessmen. — Eric Hoffer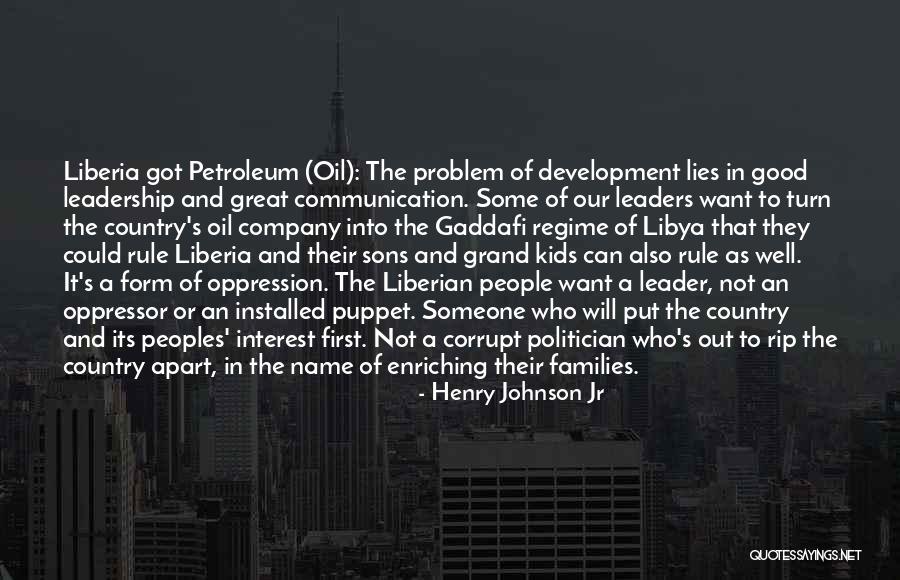 Liberia got Petroleum (Oil): The problem of development lies in good leadership and great communication. Some of our leaders want to turn the country's oil company into the Gaddafi regime of Libya that they could rule Liberia and their sons and grand kids can also rule as well. It's a form of oppression. The Liberian people want a leader, not an oppressor or an installed puppet. Someone who will put the country and its peoples' interest first. Not a corrupt politician who's out to rip the country apart, in the name of enriching their families. — Henry Johnson Jr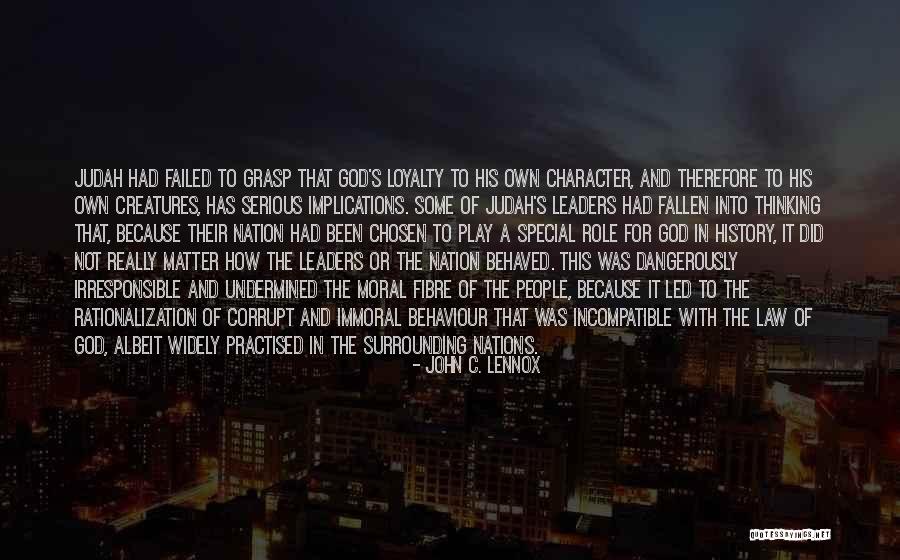 Judah had failed to grasp that God's loyalty to his own character, and therefore to his own creatures, has serious implications. Some of Judah's leaders had fallen into thinking that, because their nation had been chosen to play a special role for God in history, it did not really matter how the leaders or the nation behaved. This was dangerously irresponsible and undermined the moral fibre of the people, because it led to the rationalization of corrupt and immoral behaviour that was incompatible with the law of God, albeit widely practised in the surrounding nations. — John C. Lennox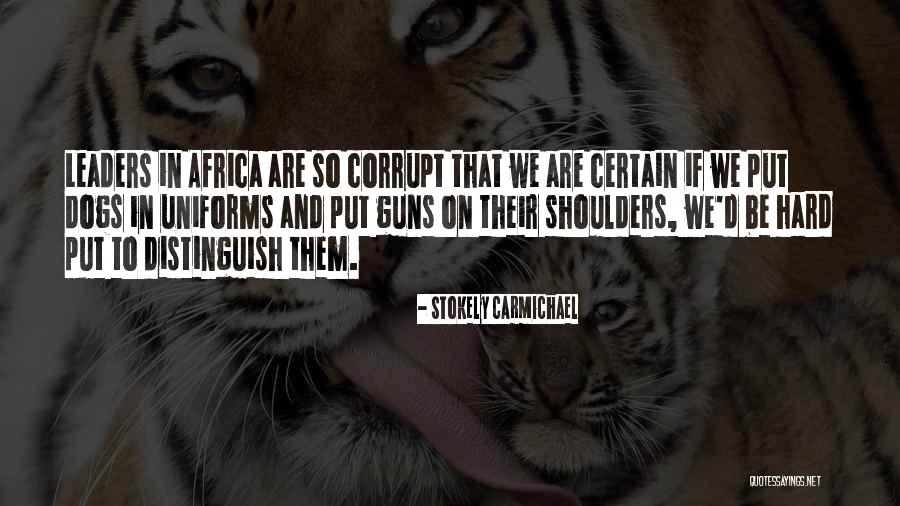 Leaders in Africa are so corrupt that we are certain if we put dogs in uniforms and put guns on their shoulders, we'd be hard put to distinguish them. — Stokely Carmichael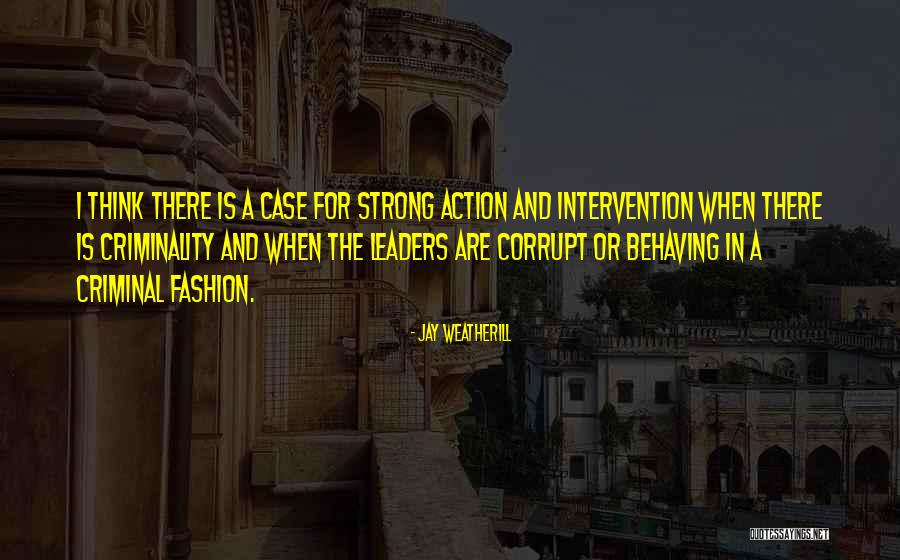 I think there is a case for strong action and intervention when there is criminality and when the leaders are corrupt or behaving in a criminal fashion. — Jay Weatherill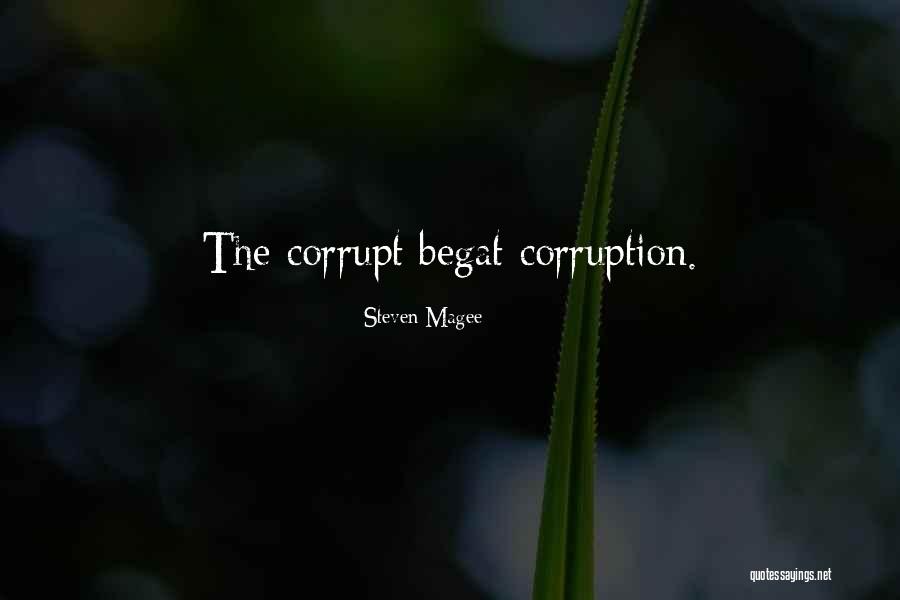 The corrupt begat corruption. — Steven Magee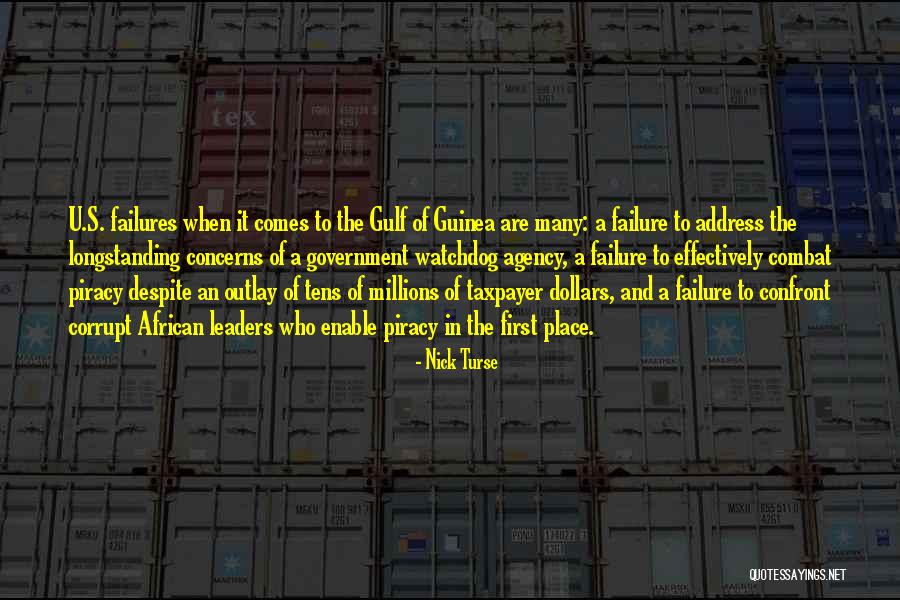 U.S. failures when it comes to the Gulf of Guinea are many: a failure to address the longstanding concerns of a government watchdog agency, a failure to effectively combat piracy despite an outlay of tens of millions of taxpayer dollars, and a failure to confront corrupt African leaders who enable piracy in the first place. — Nick Turse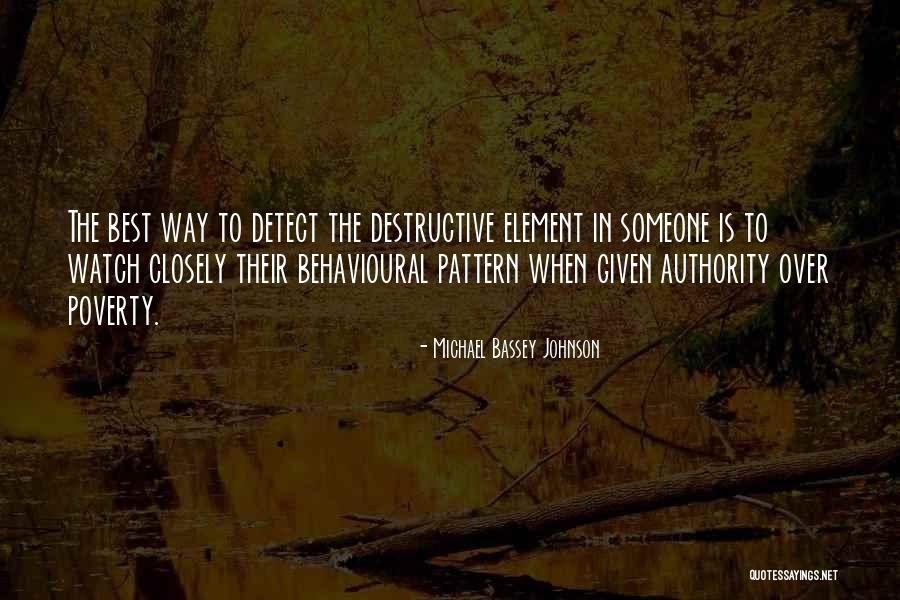 The best way to detect the destructive element in someone is to watch closely their behavioural pattern when given authority over poverty. — Michael Bassey Johnson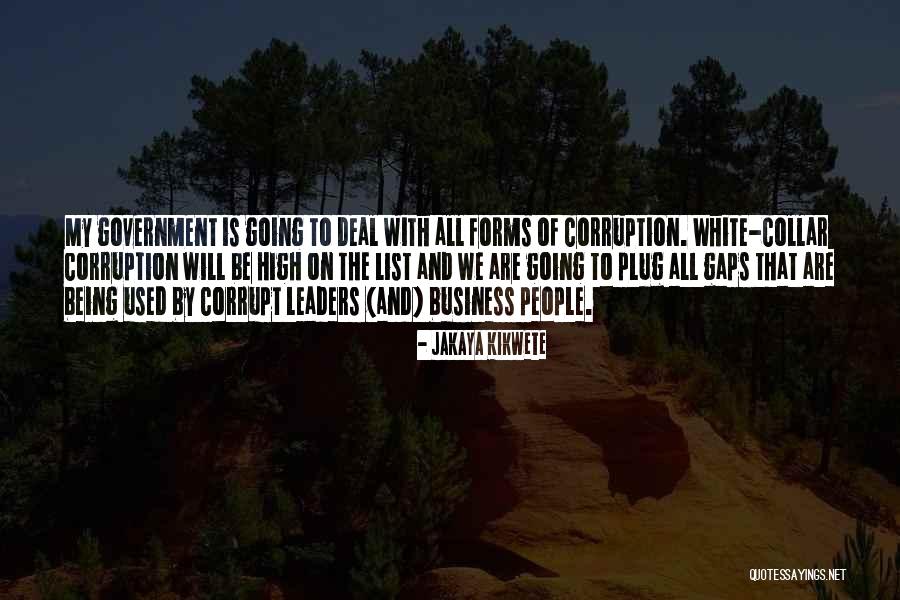 My government is going to deal with all forms of corruption. White-collar corruption will be high on the list and we are going to plug all gaps that are being used by corrupt leaders (and) business people. — Jakaya Kikwete