Cornflower Quotes & Sayings
Enjoy reading and share 12 famous quotes about Cornflower with everyone.
Top Cornflower Quotes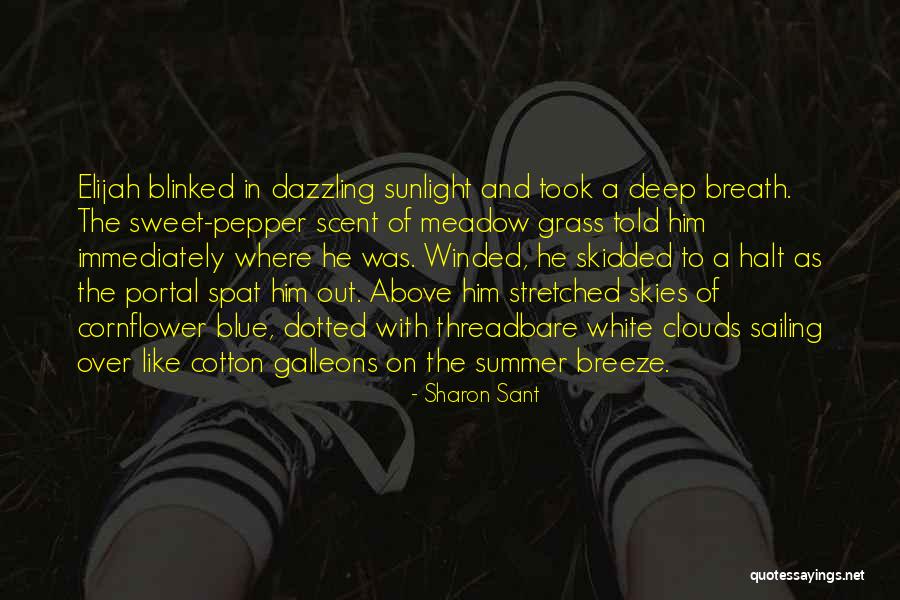 Elijah blinked in dazzling sunlight and took a deep breath. The sweet-pepper scent of meadow grass told him immediately where he was. Winded, he skidded to a halt as the portal spat him out. Above him stretched skies of cornflower blue, dotted with threadbare white clouds sailing over like cotton galleons on the summer breeze. — Sharon Sant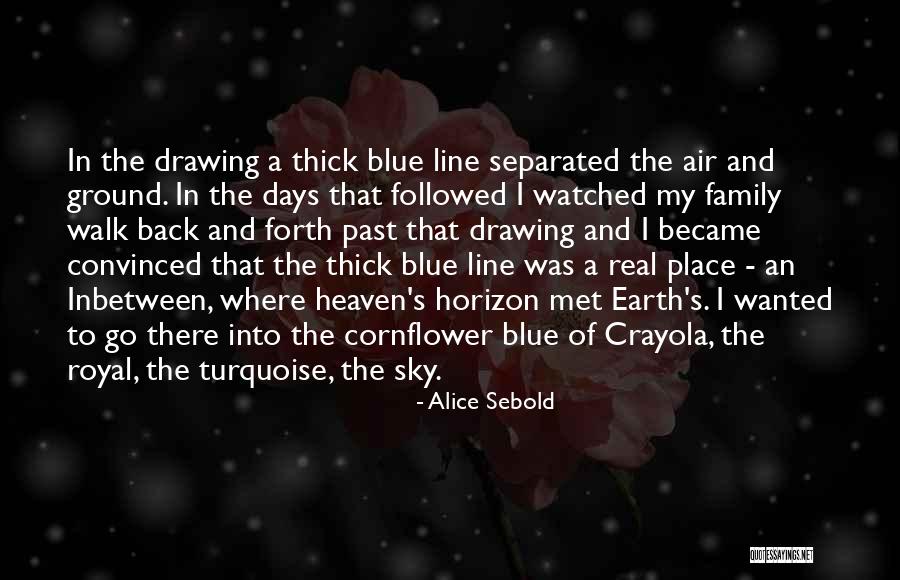 In the drawing a thick blue line separated the air and ground. In the days that followed I watched my family walk back and forth past that drawing and I became convinced that the thick blue line was a real place - an Inbetween, where heaven's horizon met Earth's. I wanted to go there into the cornflower blue of Crayola, the royal, the turquoise, the sky. — Alice Sebold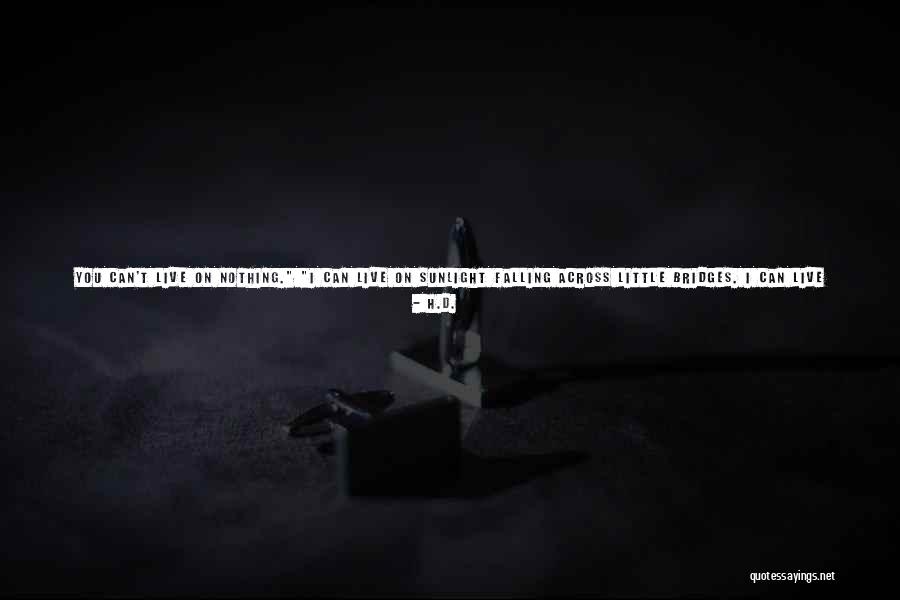 You can't live on nothing." "I can live on sunlight falling across little bridges. I can live on the Botticelli-blue cornflower pattern on the out-billowing garments of the attendant to Aphrodite and the pattern of strawberry blossoms and the little daisies in the robe of Primavera. I can live on the doves flying (he says) in cohorts from the underside of the faded gilt of the balcony of Saint Mark's cathedral and the long corridors of the Pitti Palace. I can gorge myself on Rome and the naked Bacchus and the face like a blasted lightning-blasted white birch that is some sort of Fury. — H.D.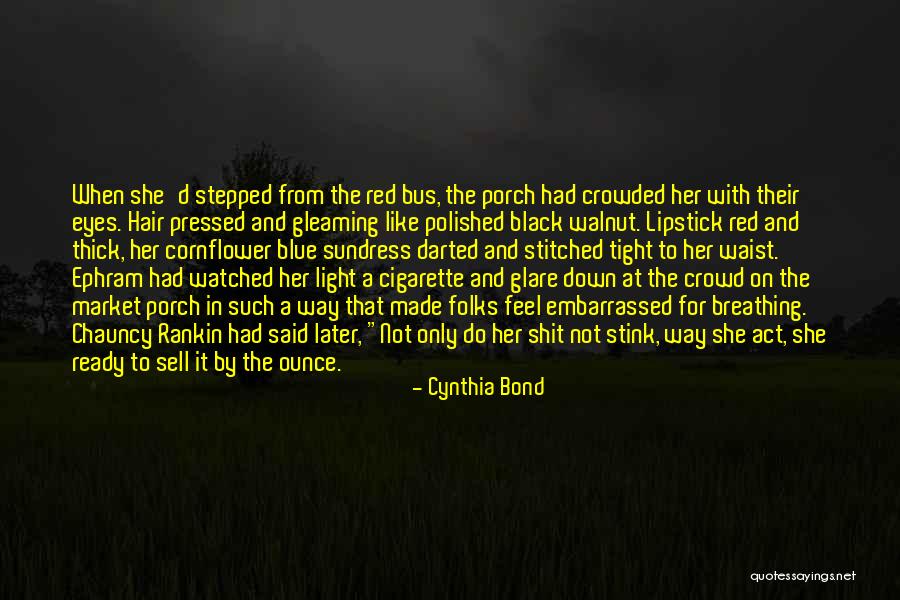 When she'd stepped from the red bus, the porch had crowded her with their eyes. Hair pressed and gleaming like polished black walnut. Lipstick red and thick, her cornflower blue sundress darted and stitched tight to her waist. Ephram had watched her light a cigarette and glare down at the crowd on the market porch in such a way that made folks feel embarrassed for breathing. Chauncy Rankin had said later, "Not only do her shit not stink, way she act, she ready to sell it by the ounce. — Cynthia Bond
I cried over beautiful things knowing no beautiful thing lasts.
The field of cornflower yellow is a scarf at the neck of the copper
sunburned woman, the mother of the year, the taker of seeds.
The northwest wind comes and the yellow is torn full of holes,
new beautiful things come in the first spit of snow on the northwest wind,
and the old things go, not one lasts. — Carl Sandburg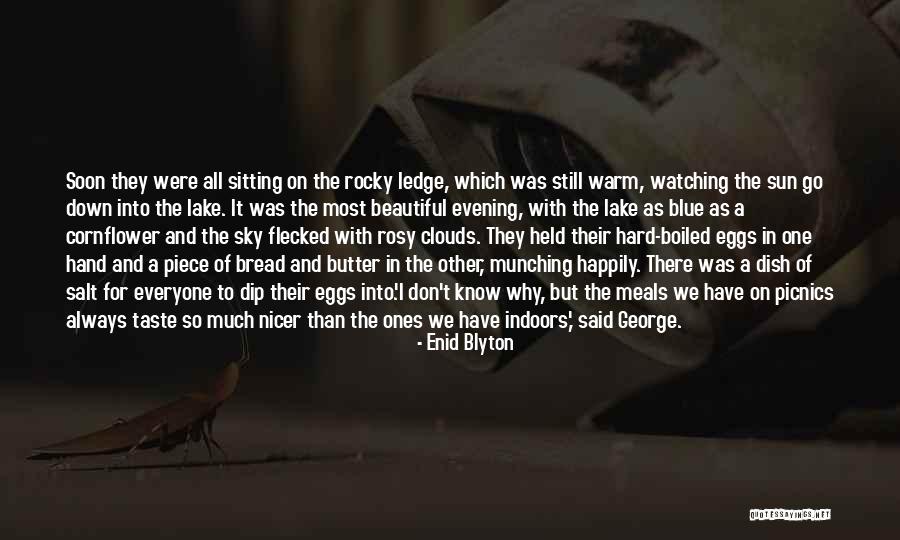 Soon they were all sitting on the rocky ledge, which was still warm, watching the sun go down into the lake. It was the most beautiful evening, with the lake as blue as a cornflower and the sky flecked with rosy clouds. They held their hard-boiled eggs in one hand and a piece of bread and butter in the other, munching happily. There was a dish of salt for everyone to dip their eggs into.

'I don't know why, but the meals we have on picnics always taste so much nicer than the ones we have indoors,' said George. — Enid Blyton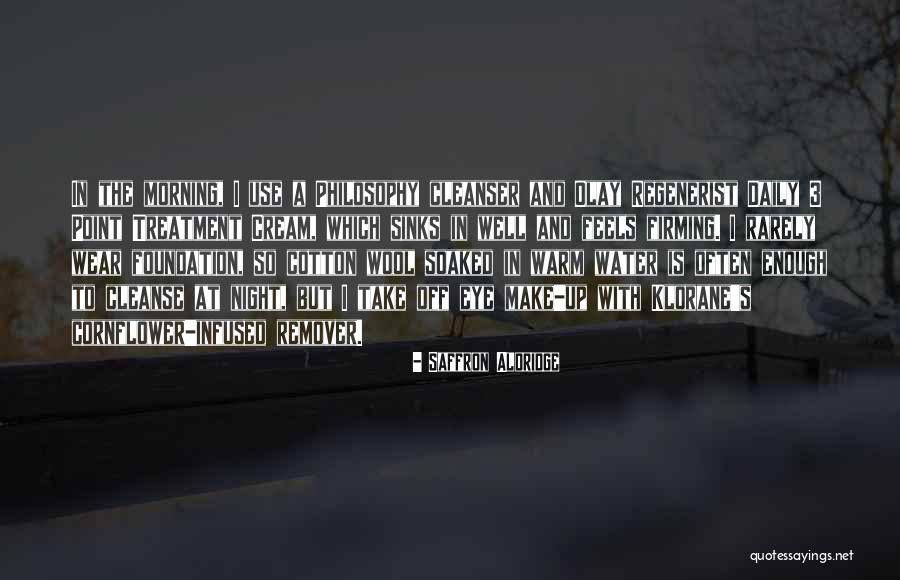 In the morning, I use a Philosophy cleanser and Olay Regenerist Daily 3 Point Treatment Cream, which sinks in well and feels firming. I rarely wear foundation, so cotton wool soaked in warm water is often enough to cleanse at night, but I take off eye make-up with Klorane's cornflower-infused remover. — Saffron Aldridge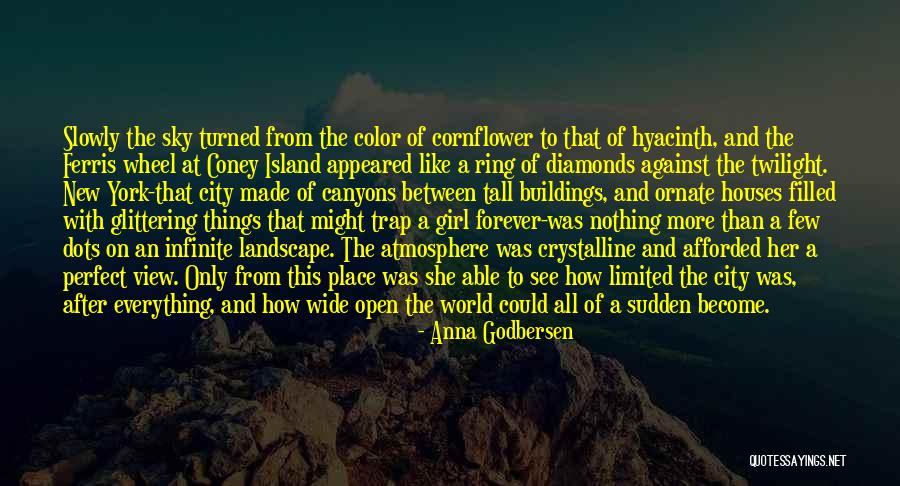 Slowly the sky turned from the color of cornflower to that of hyacinth, and the Ferris wheel at Coney Island appeared like a ring of diamonds against the twilight. New York-that city made of canyons between tall buildings, and ornate houses filled with glittering things that might trap a girl forever-was nothing more than a few dots on an infinite landscape. The atmosphere was crystalline and afforded her a perfect view. Only from this place was she able to see how limited the city was, after everything, and how wide open the world could all of a sudden become. — Anna Godbersen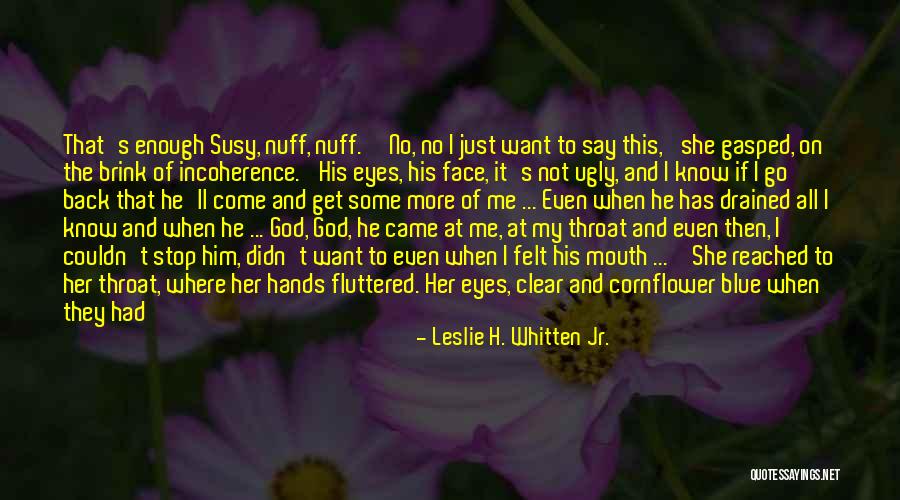 That's enough Susy, nuff, nuff.'
'No, no I just want to say this,' she gasped, on the brink of incoherence. 'His eyes, his face, it's not ugly, and I know if I go back that he'll come and get some more of me ... Even when he has drained all I know and when he ... God, God, he came at me, at my throat and even then, I couldn't stop him, didn't want to even when I felt his mouth ... '
She reached to her throat, where her hands fluttered. Her eyes, clear and cornflower blue when they had been so serene a few minutes ago, were stark and tormented. Suddenly she buckled toward him from her propped position, sobbing. He caught her and she wept into his chest.
'And the worst thing ... the worst thing ... is that I want to see him again ... Harry, he wanted me to take that cross off, and I did, and I've felt him wanting me now, even now, with blessed Jesus over my bed. — Leslie H. Whitten Jr.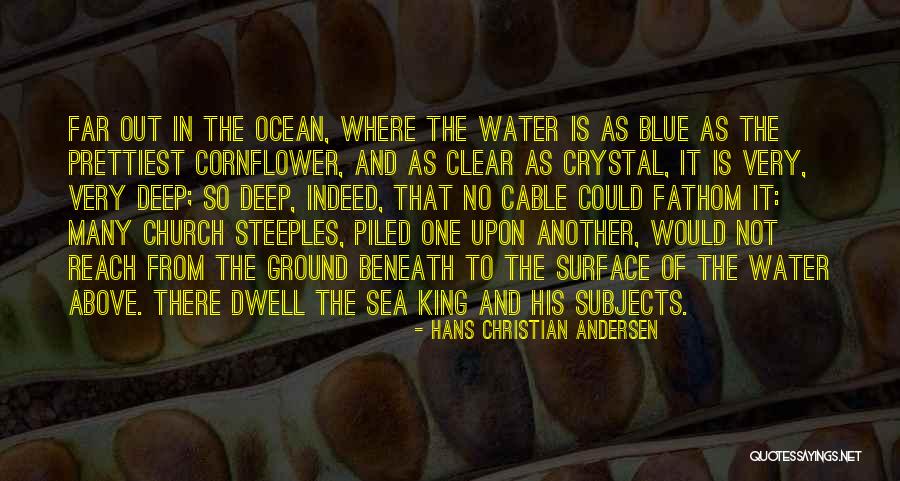 Far out in the ocean, where the water is as blue as the prettiest cornflower, and as clear as crystal, it is very, very deep; so deep, indeed, that no cable could fathom it: many church steeples, piled one upon another, would not reach from the ground beneath to the surface of the water above. There dwell the Sea King and his subjects. — Hans Christian Andersen
Revelation comes with these misunderstandings. Stuart's life and way of thinking momentarily exposed. Like a break in the hedgerow during the country lane part of a journey. For an instant you glimpse scenery you haven't seen before - fields of poppy and cornflower, trees gnarled in the shape of demons. — Alexander Masters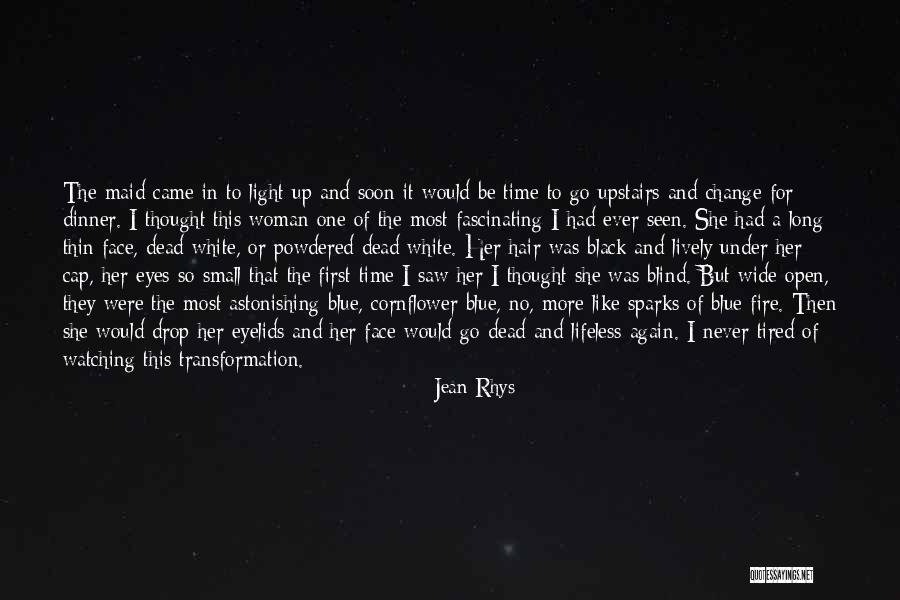 The maid came in to light up and soon it would be time to go upstairs and change for dinner. I thought this woman one of the most fascinating I had ever seen. She had a long thin face, dead white, or powdered dead white. Her hair was black and lively under her cap, her eyes so small that the first time I saw her I thought she was blind. But wide open, they were the most astonishing blue, cornflower blue, no, more like sparks of blue fire. Then she would drop her eyelids and her face would go dead and lifeless again. I never tired of watching this transformation. — Jean Rhys