Quotes & Sayings About Coping With Sadness
Enjoy reading and share 13 famous quotes about Coping With Sadness with everyone.
Top Coping With Sadness Quotes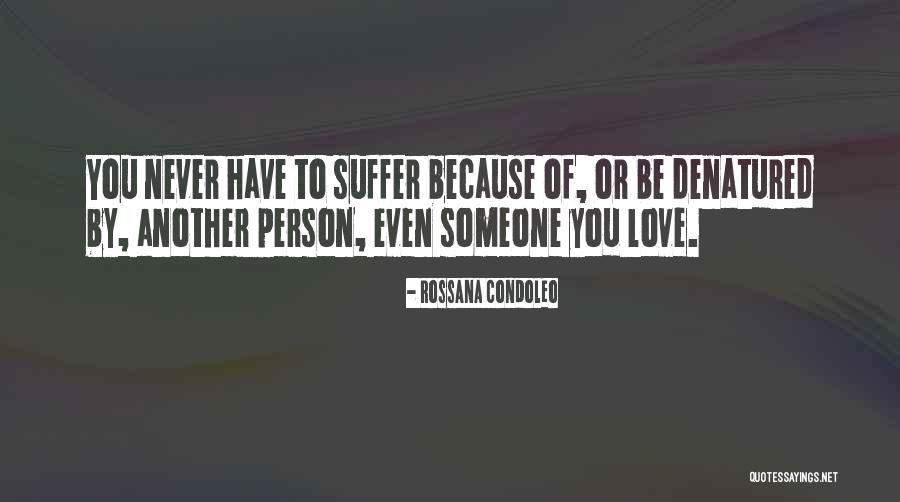 You never have to suffer because of, or be denatured by, another person, even someone you love. — Rossana Condoleo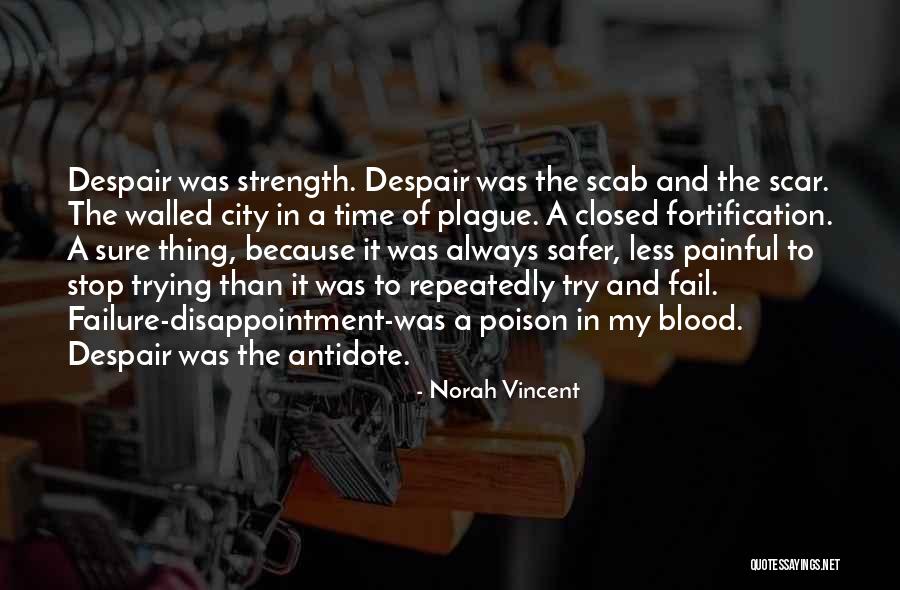 Despair was strength. Despair was the scab and the scar. The walled city in a time of plague. A closed fortification. A sure thing, because it was always safer, less painful to stop trying than it was to repeatedly try and fail. Failure-disappointment-was a poison in my blood. Despair was the antidote. — Norah Vincent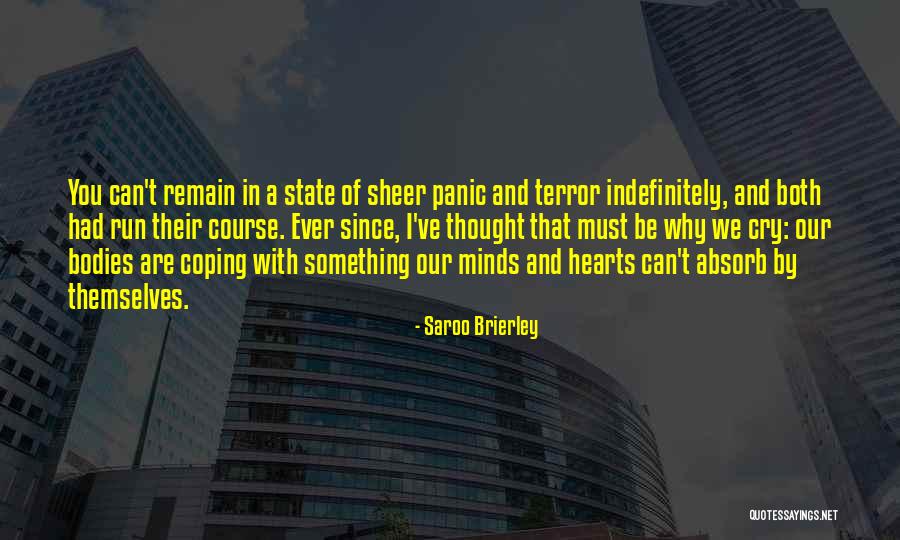 You can't remain in a state of sheer panic and terror indefinitely, and both had run their course. Ever since, I've thought that must be why we cry: our bodies are coping with something our minds and hearts can't absorb by themselves. — Saroo Brierley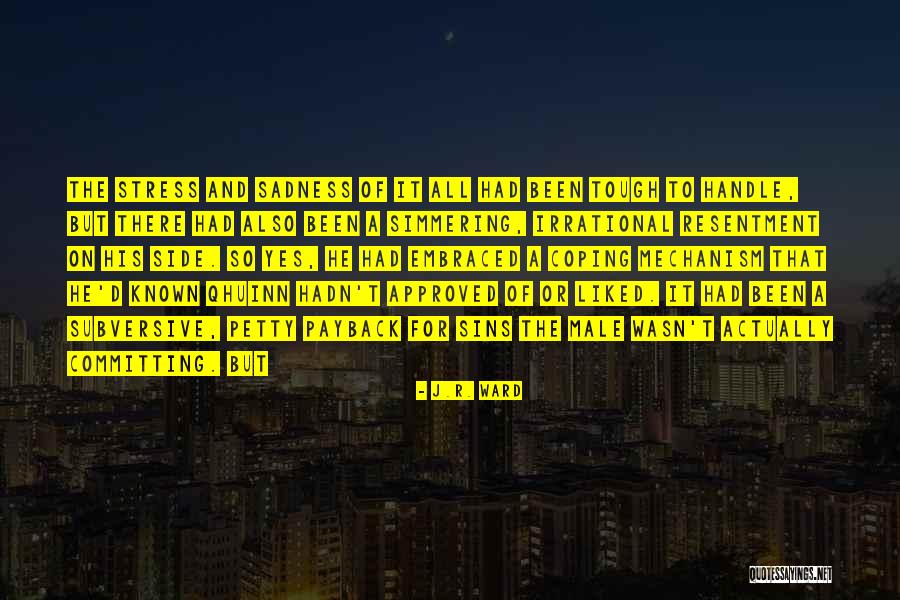 The stress and sadness of it all had been tough to handle, but there had also been a simmering, irrational resentment on his side. So yes, he had embraced a coping mechanism that he'd known Qhuinn hadn't approved of or liked. It had been a subversive, petty payback for sins the male wasn't actually committing. But — J.R. Ward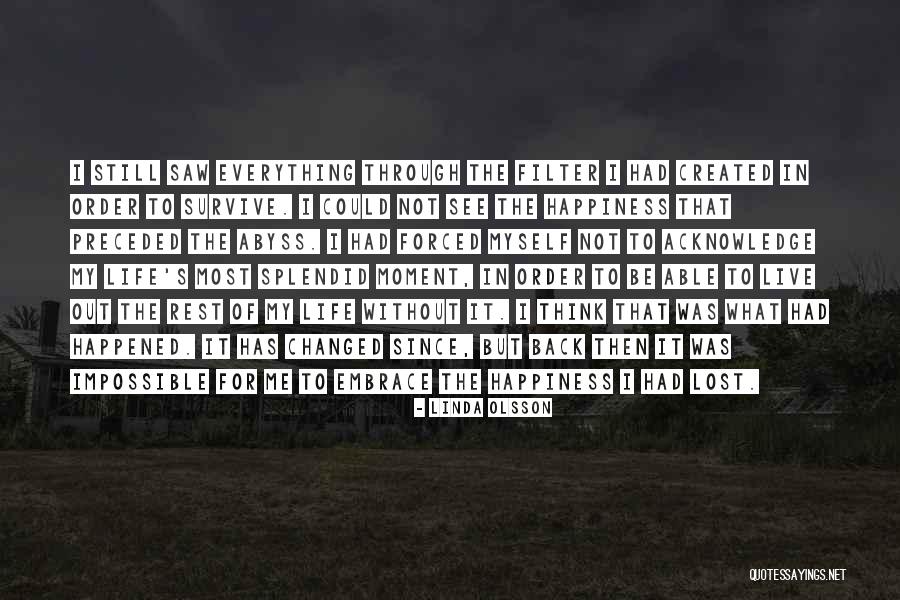 I still saw everything through the filter I had created in order to survive. I could not see the happiness that preceded the abyss. I had forced myself not to acknowledge my life's most splendid moment, in order to be able to live out the rest of my life without it. I think that was what had happened. It has changed since, but back then it was impossible for me to embrace the happiness I had lost. — Linda Olsson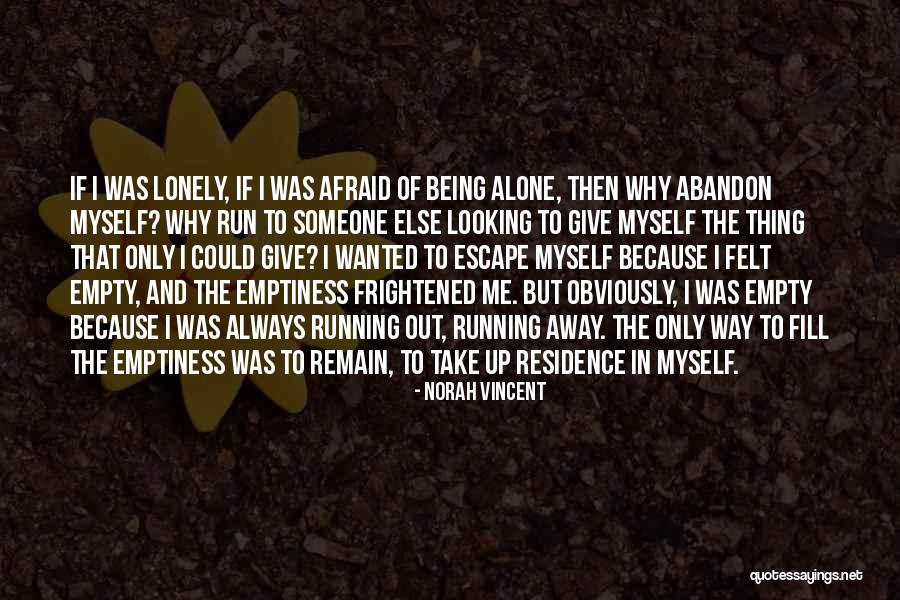 If I was lonely, if I was afraid of being alone, then why abandon myself? Why run to someone else looking to give myself the thing that only I could give? I wanted to escape myself because I felt empty, and the emptiness frightened me. But obviously, I was empty because I was always running out, running away. The only way to fill the emptiness was to remain, to take up residence in myself. — Norah Vincent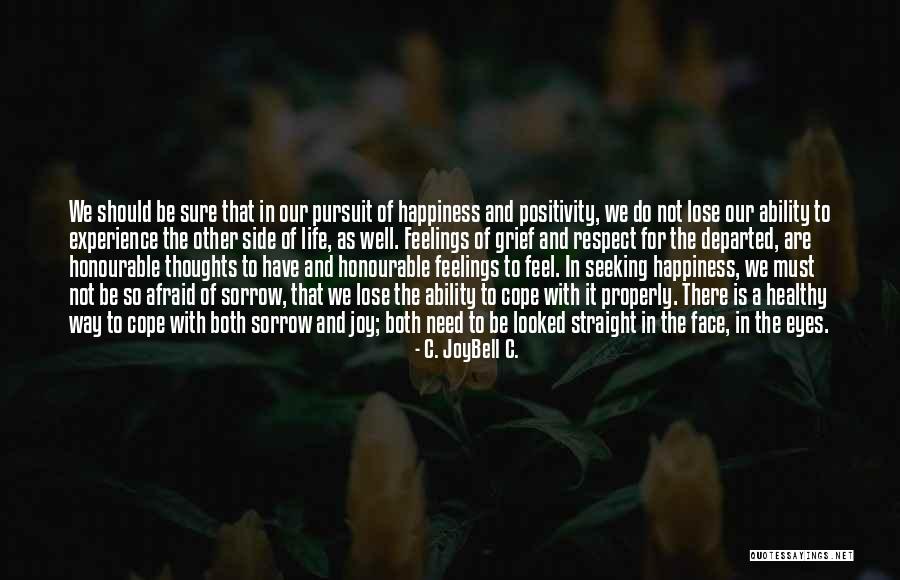 We should be sure that in our pursuit of happiness and positivity, we do not lose our ability to experience the other side of life, as well. Feelings of grief and respect for the departed, are honourable thoughts to have and honourable feelings to feel. In seeking happiness, we must not be so afraid of sorrow, that we lose the ability to cope with it properly. There is a healthy way to cope with both sorrow and joy; both need to be looked straight in the face, in the eyes. — C. JoyBell C.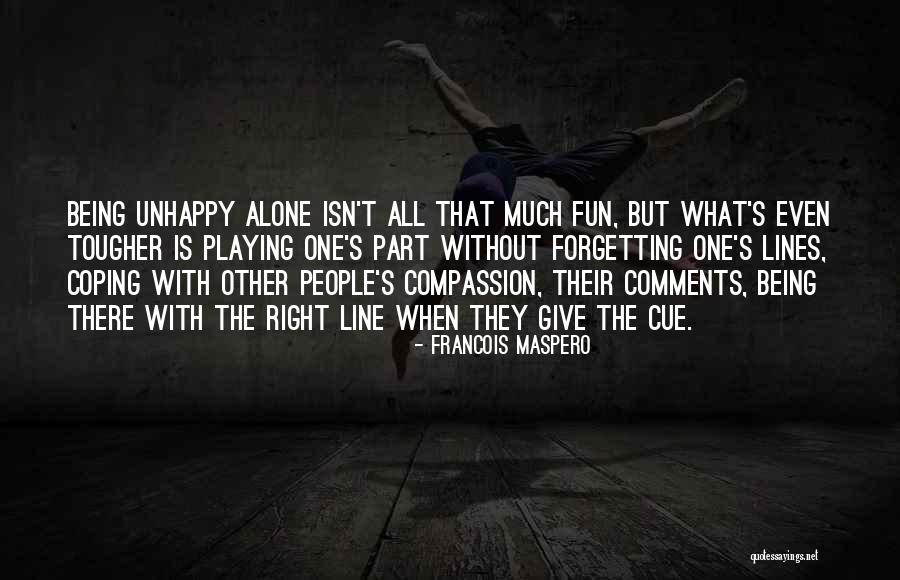 Being unhappy alone isn't all that much fun, but what's even tougher is playing one's part without forgetting one's lines, coping with other people's compassion, their comments, being there with the right line when they give the cue. — Francois Maspero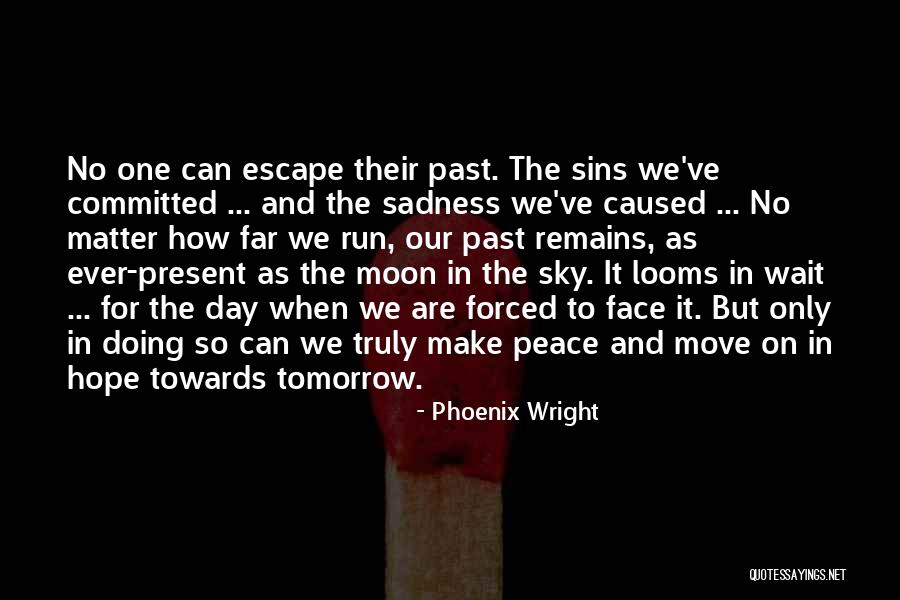 No one can escape their past. The sins we've committed ... and the sadness we've caused ... No matter how far we run, our past remains, as ever-present as the moon in the sky. It looms in wait ... for the day when we are forced to face it. But only in doing so can we truly make peace and move on in hope towards tomorrow. — Phoenix Wright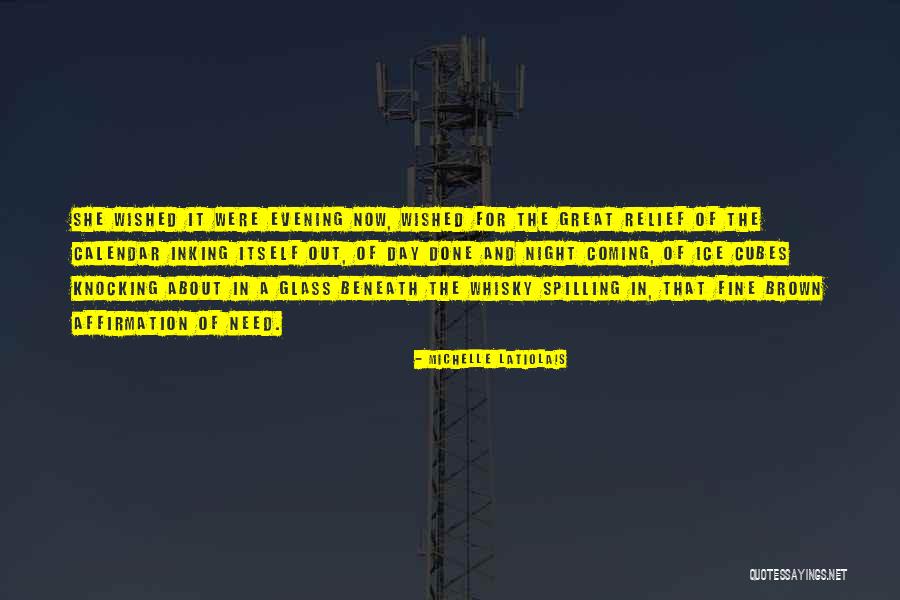 She wished it were evening now, wished for the great relief of the calendar inking itself out, of day done and night coming, of ice cubes knocking about in a glass beneath the whisky spilling in, that fine brown affirmation of need. — Michelle Latiolais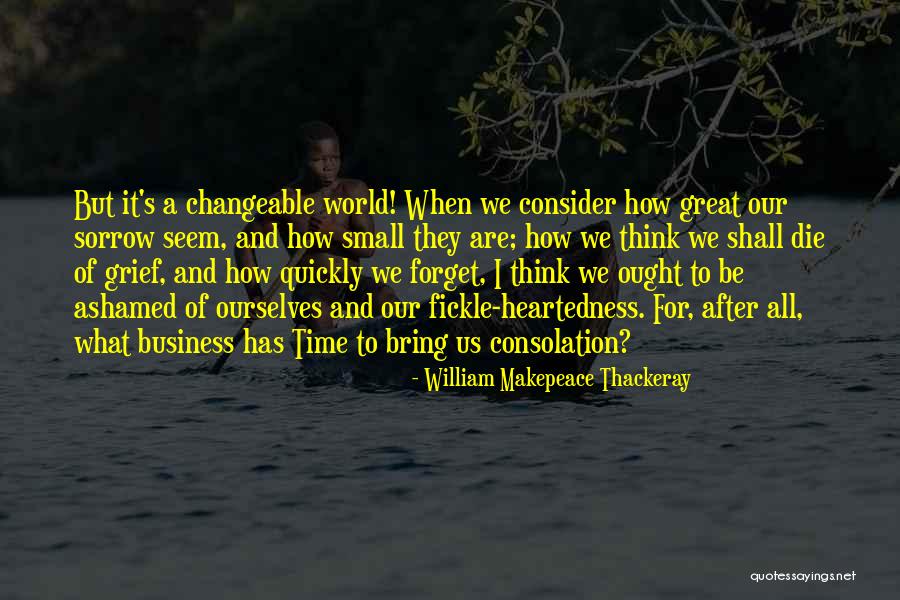 But it's a changeable world! When we consider how great our sorrow seem, and how small they are; how we think we shall die of grief, and how quickly we forget, I think we ought to be ashamed of ourselves and our fickle-heartedness. For, after all, what business has Time to bring us consolation? — William Makepeace Thackeray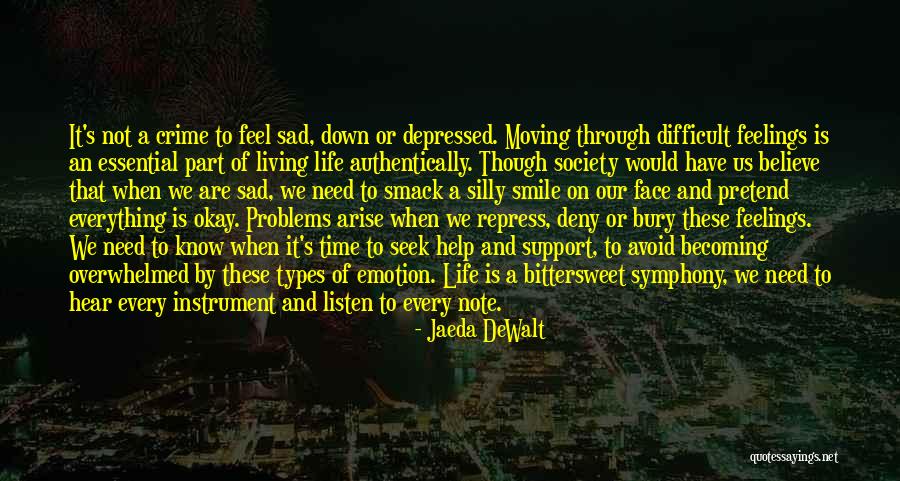 It's not a crime to feel sad, down or depressed. Moving through difficult feelings is an essential part of living life authentically. Though society would have us believe that when we are sad, we need to smack a silly smile on our face and pretend everything is okay. Problems arise when we repress, deny or bury these feelings. We need to know when it's time to seek help and support, to avoid becoming overwhelmed by these types of emotion. Life is a bittersweet symphony, we need to hear every instrument and listen to every note. — Jaeda DeWalt