Conversation Topics Quotes & Sayings
Enjoy reading and share 35 famous quotes about Conversation Topics with everyone.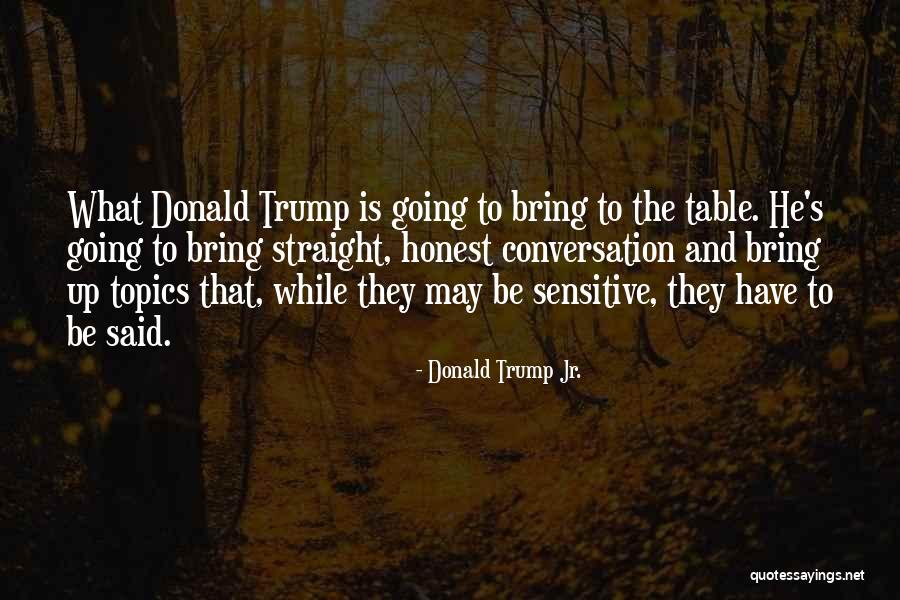 What Donald Trump is going to bring to the table. He's going to bring straight, honest conversation and bring up topics that, while they may be sensitive, they have to be said. — Donald Trump Jr.
I like people who can keep the conversation going no matter how random the topic gets. — Turcois Ominek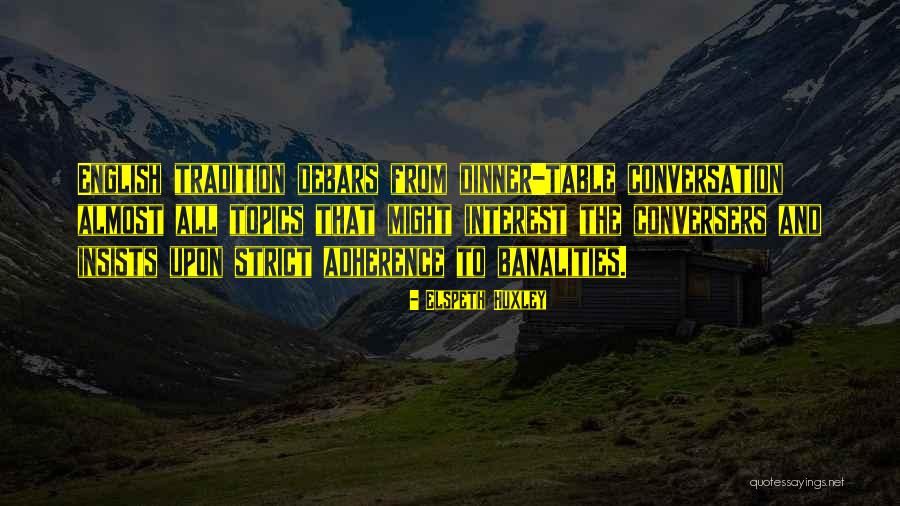 English tradition debars from dinner-table conversation almost all topics that might interest the conversers and insists upon strict adherence to banalities. — Elspeth Huxley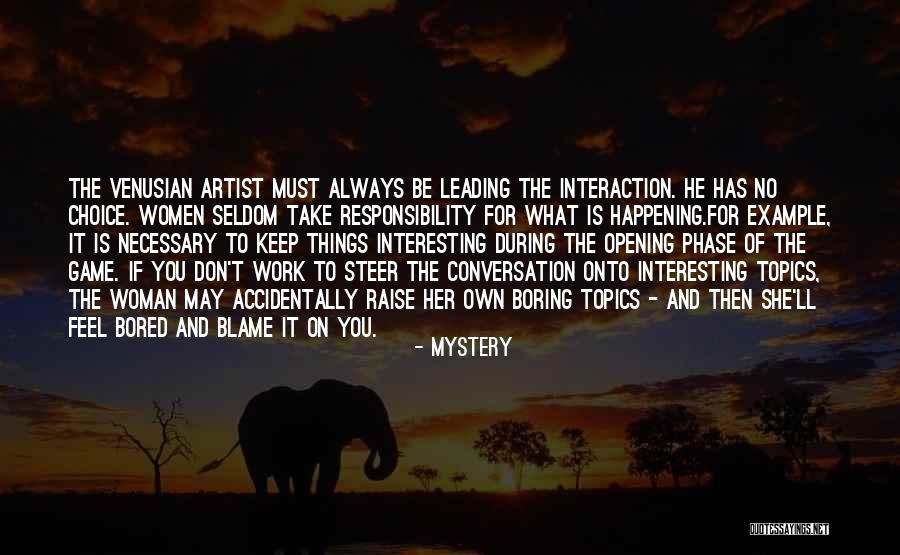 The Venusian artist must always be leading the interaction. He has no choice. Women seldom take responsibility for what is happening.
For example, it is necessary to keep things interesting during the opening phase of the game. If you don't work to steer the conversation onto interesting topics, the woman may accidentally raise her own boring topics - and then she'll feel bored and blame it on you. — Mystery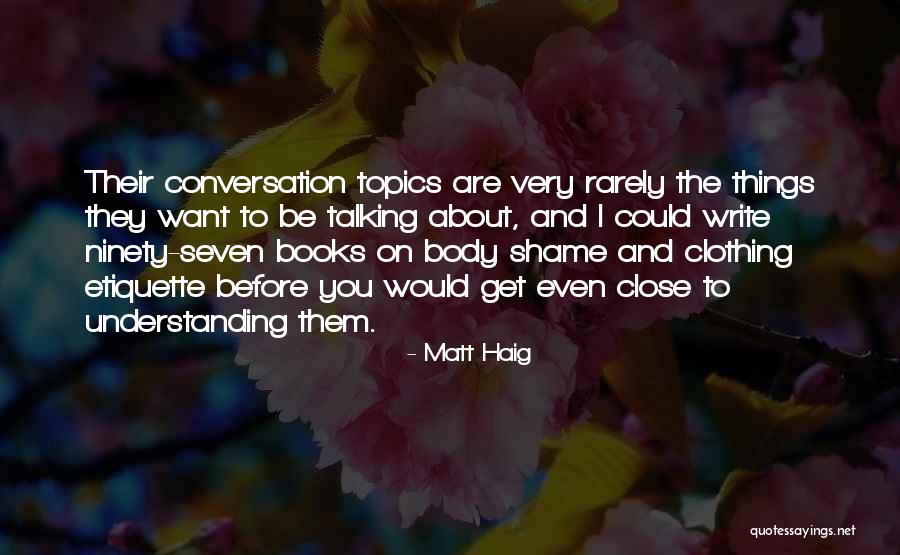 Their conversation topics are very rarely the things they want to be talking about, and I could write ninety-seven books on body shame and clothing etiquette before you would get even close to understanding them. — Matt Haig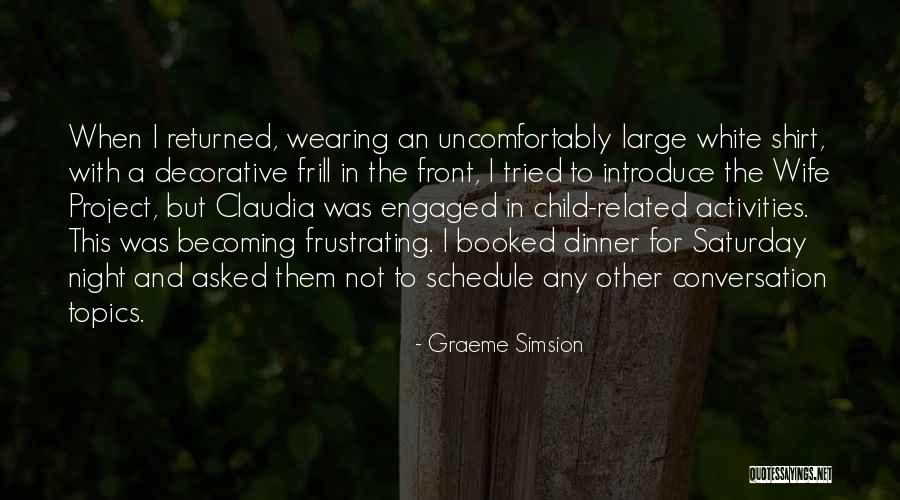 When I returned, wearing an uncomfortably large white shirt, with a decorative frill in the front, I tried to introduce the Wife Project, but Claudia was engaged in child-related activities. This was becoming frustrating. I booked dinner for Saturday night and asked them not to schedule any other conversation topics. — Graeme Simsion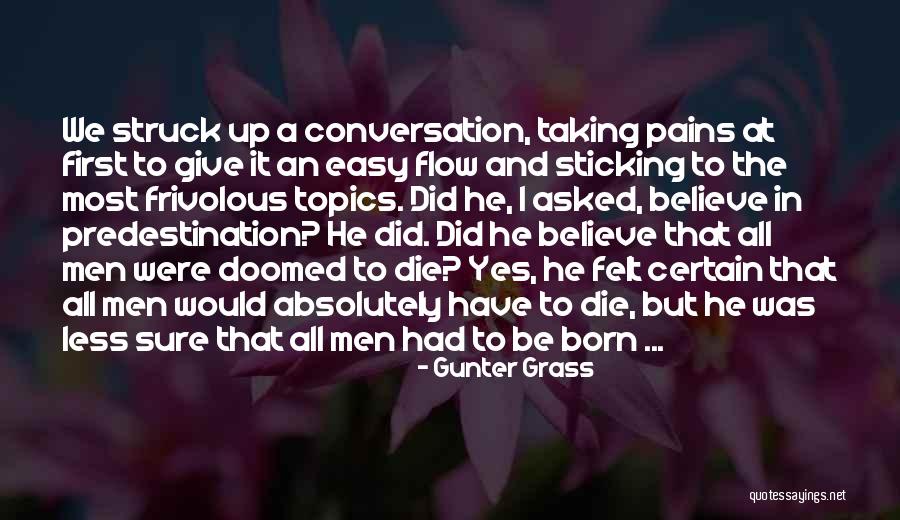 We struck up a conversation, taking pains at first to give it an easy flow and sticking to the most frivolous topics. Did he, I asked, believe in predestination? He did. Did he believe that all men were doomed to die? Yes, he felt certain that all men would absolutely have to die, but he was less sure that all men had to be born ... — Gunter Grass
The topics which language limits us to aren't much worth discussing in the first place.
(attrib: F.L. Vanderson) — Mort W. Lumsden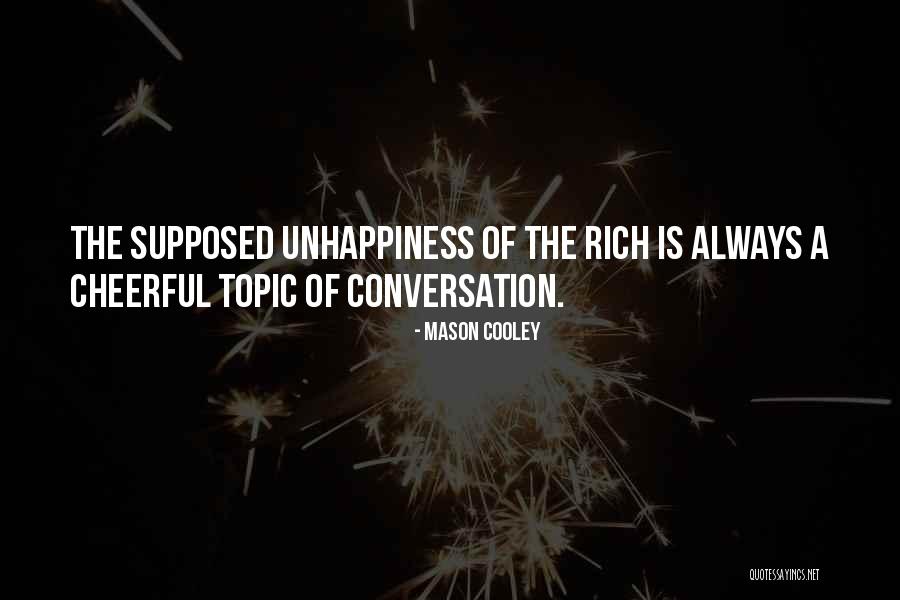 The supposed unhappiness of the rich is always a cheerful topic of conversation. — Mason Cooley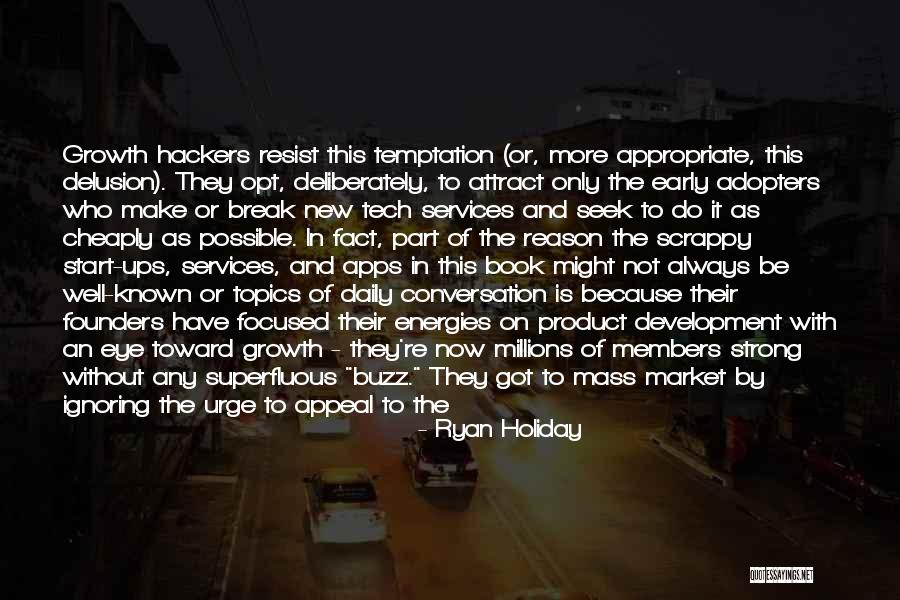 Growth hackers resist this temptation (or, more appropriate, this delusion). They opt, deliberately, to attract only the early adopters who make or break new tech services and seek to do it as cheaply as possible. In fact, part of the reason the scrappy start-ups, services, and apps in this book might not always be well-known or topics of daily conversation is because their founders have focused their energies on product development with an eye toward growth - they're now millions of members strong without any superfluous "buzz." They got to mass market by ignoring the urge to appeal to the mass market, at least to start with. — Ryan Holiday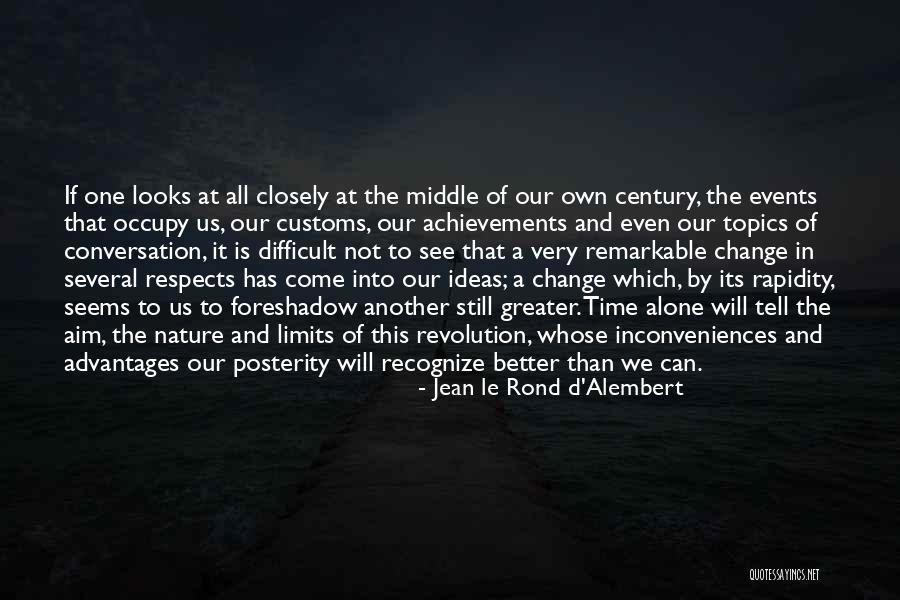 If one looks at all closely at the middle of our own century, the events that occupy us, our customs, our achievements and even our topics of conversation, it is difficult not to see that a very remarkable change in several respects has come into our ideas; a change which, by its rapidity, seems to us to foreshadow another still greater. Time alone will tell the aim, the nature and limits of this revolution, whose inconveniences and advantages our posterity will recognize better than we can. — Jean Le Rond D'Alembert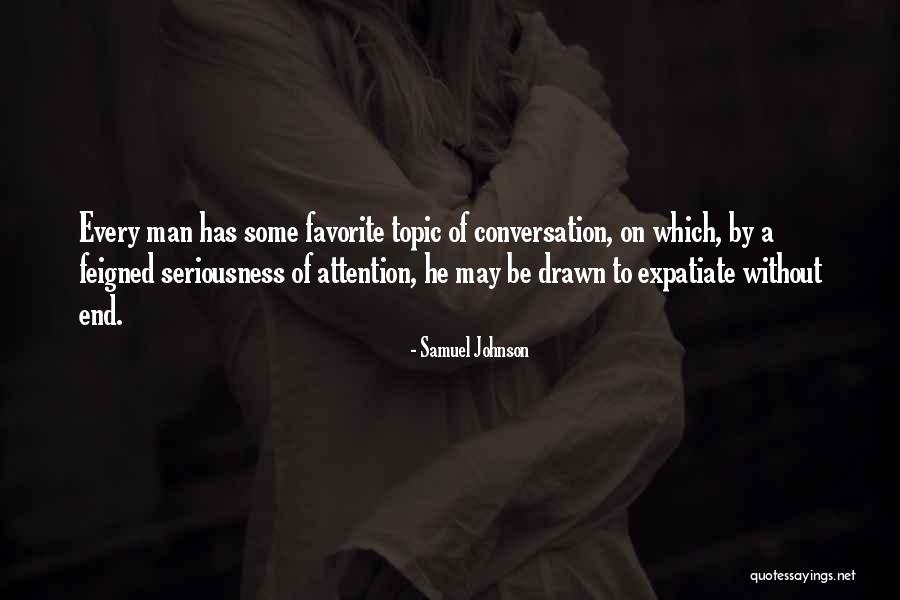 Every man has some favorite topic of conversation, on which, by a feigned seriousness of attention, he may be drawn to expatiate without end. — Samuel Johnson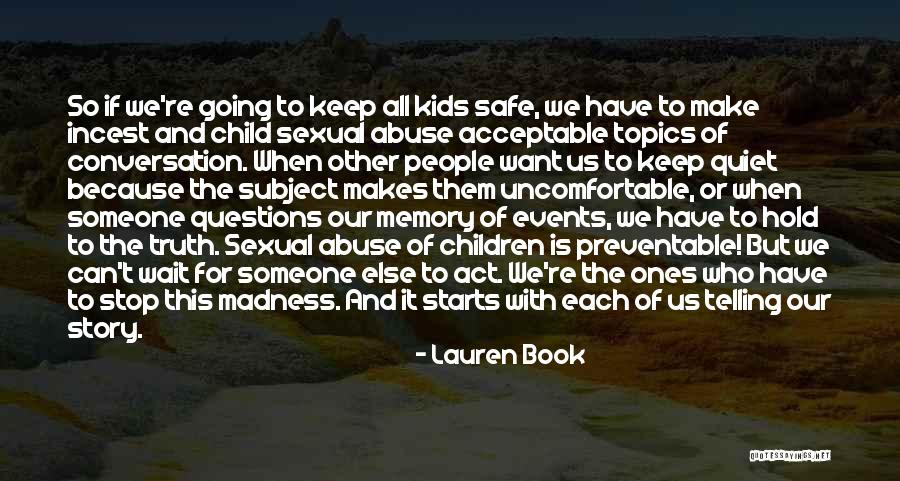 So if we're going to keep all kids safe, we have to make incest and child sexual abuse acceptable topics of conversation. When other people want us to keep quiet because the subject makes them uncomfortable, or when someone questions our memory of events, we have to hold to the truth. Sexual abuse of children is preventable! But we can't wait for someone else to act. We're the ones who have to stop this madness. And it starts with each of us telling our story. — Lauren Book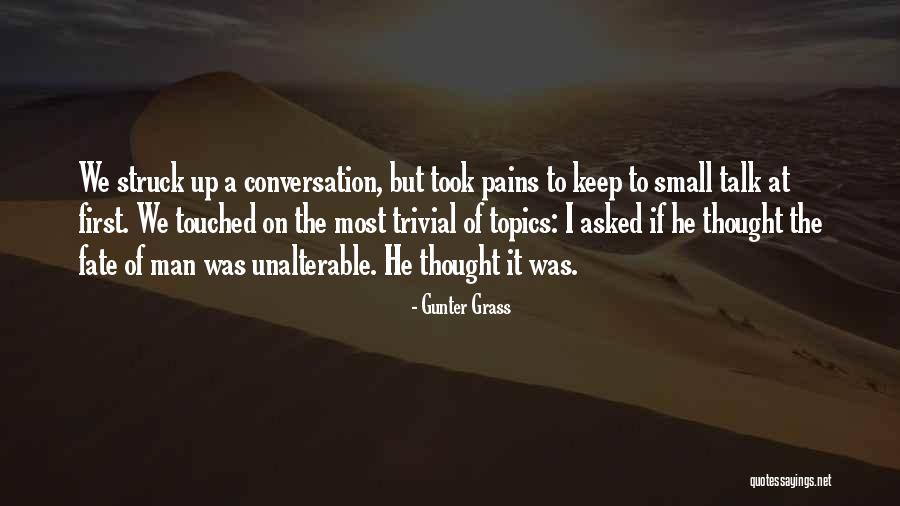 We struck up a conversation, but took pains to keep to small talk at first. We touched on the most trivial of topics: I asked if he thought the fate of man was unalterable. He thought it was. — Gunter Grass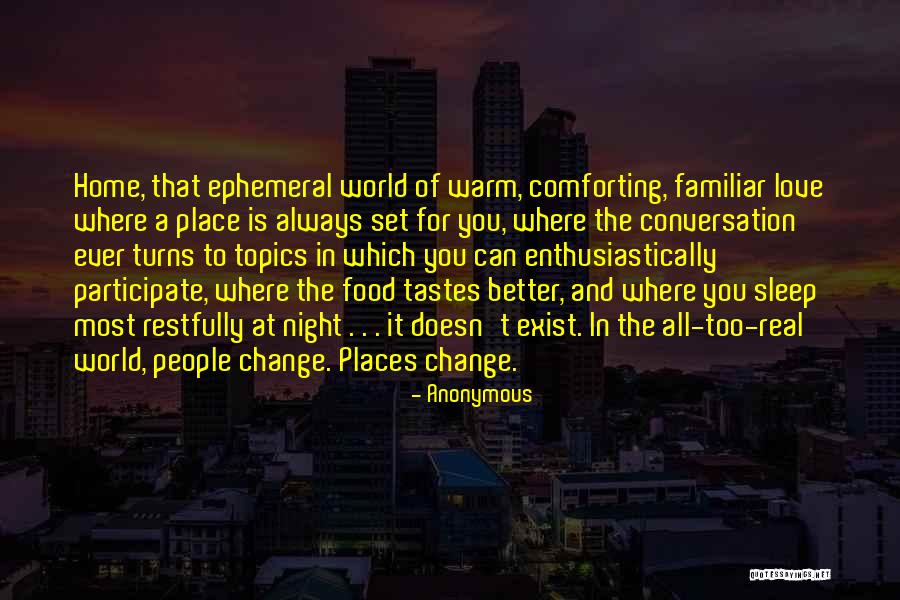 Home, that ephemeral world of warm, comforting, familiar love where a place is always set for you, where the conversation ever turns to topics in which you can enthusiastically participate, where the food tastes better, and where you sleep most restfully at night . . . it doesn't exist. In the all-too-real world, people change. Places change. — Anonymous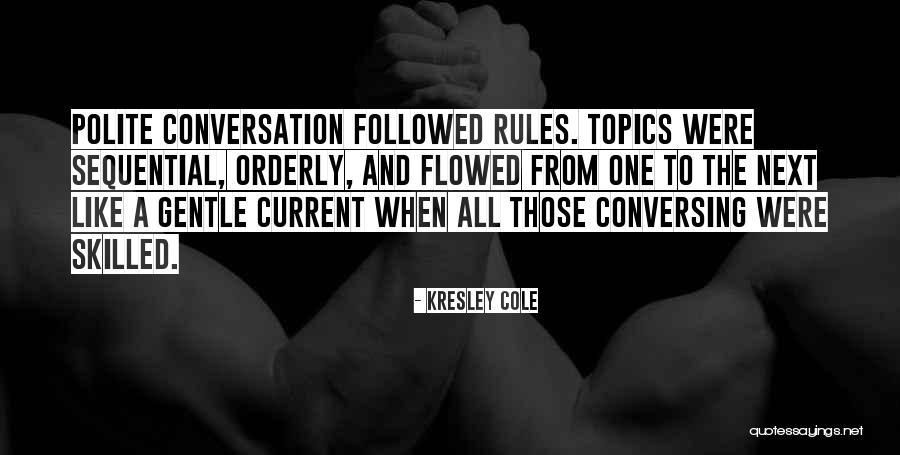 Polite conversation followed rules. Topics were sequential, orderly, and flowed from one to the next like a gentle current when all those conversing were skilled. — Kresley Cole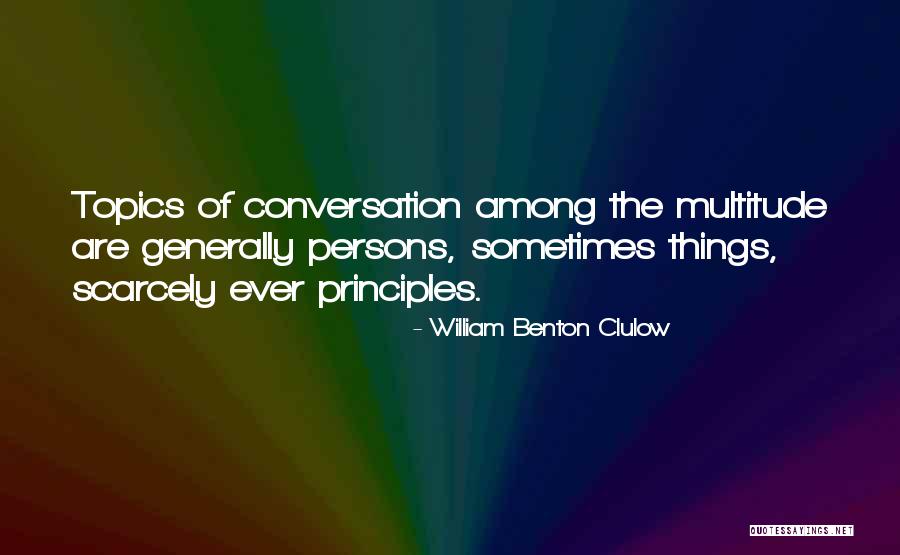 Topics of conversation among the multitude are generally persons, sometimes things, scarcely ever principles. — William Benton Clulow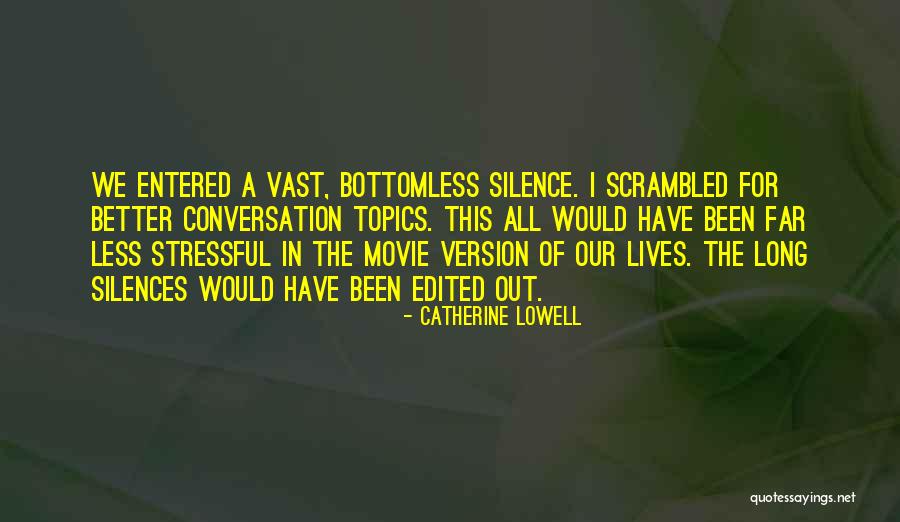 We entered a vast, bottomless silence. I scrambled for better conversation topics. This all would have been far less stressful in the movie version of our lives. The long silences would have been edited out. — Catherine Lowell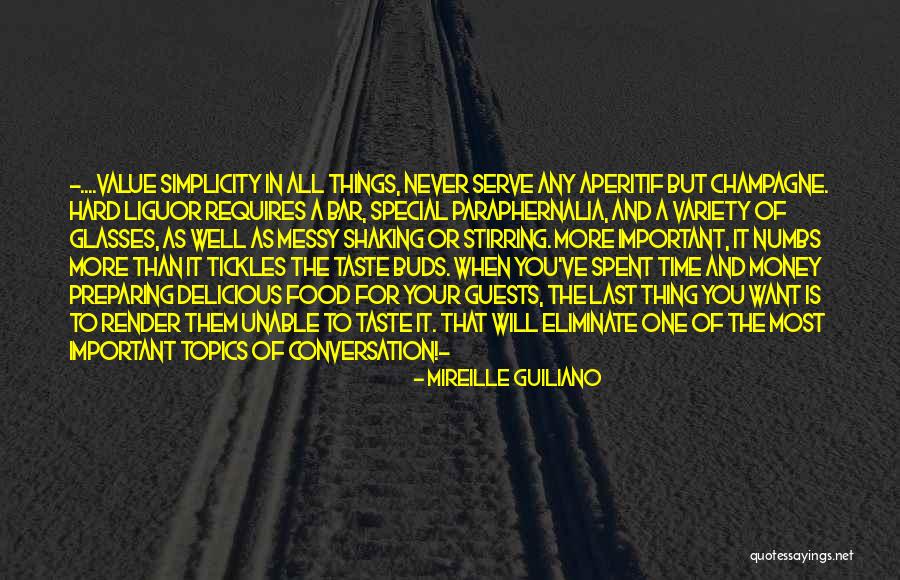 ~....value simplicity in all things, never serve any aperitif but Champagne. Hard liguor requires a bar, special paraphernalia, and a variety of glasses, as well as messy shaking or stirring. More important, it numbs more than it tickles the taste buds. When you've spent time and money preparing delicious food for your guests, the last thing you want is to render them unable to taste it. That will eliminate one of the most important topics of conversation!~ — Mireille Guiliano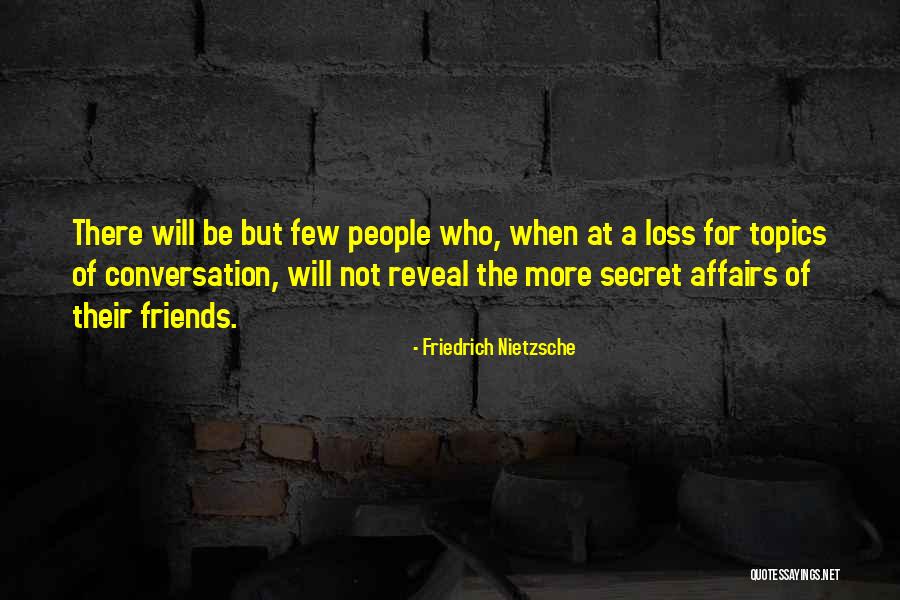 There will be but few people who, when at a loss for topics of conversation, will not reveal the more secret affairs of their friends. — Friedrich Nietzsche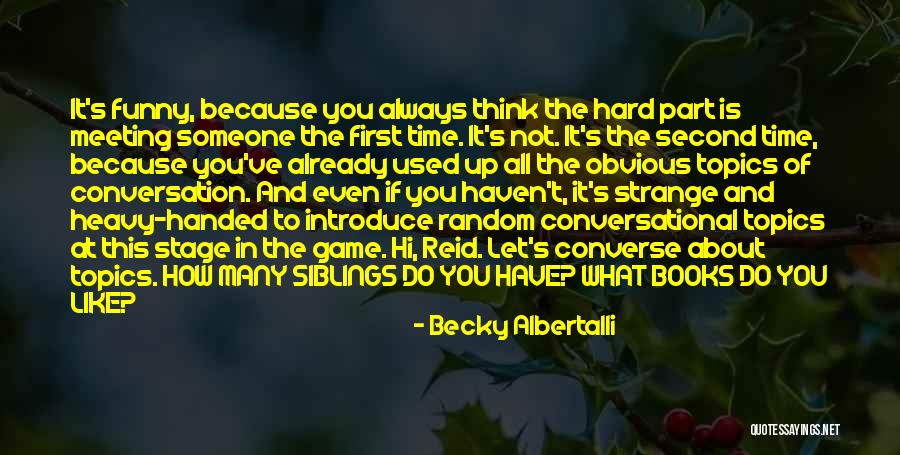 It's funny, because you always think the hard part is meeting someone the first time. It's not. It's the second time, because you've already used up all the obvious topics of conversation. And even if you haven't, it's strange and heavy-handed to introduce random conversational topics at this stage in the game. Hi, Reid. Let's converse about topics. HOW MANY SIBLINGS DO YOU HAVE? WHAT BOOKS DO YOU LIKE? — Becky Albertalli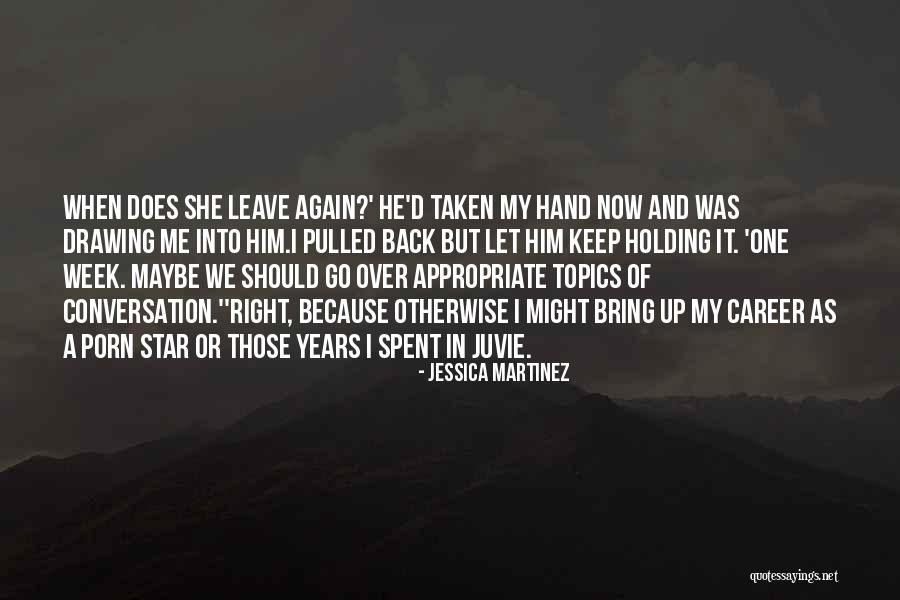 When does she leave again?' He'd taken my hand now and was drawing me into him.
I pulled back but let him keep holding it. 'One week. Maybe we should go over appropriate topics of conversation.'
'Right, because otherwise I might bring up my career as a porn star or those years I spent in juvie. — Jessica Martinez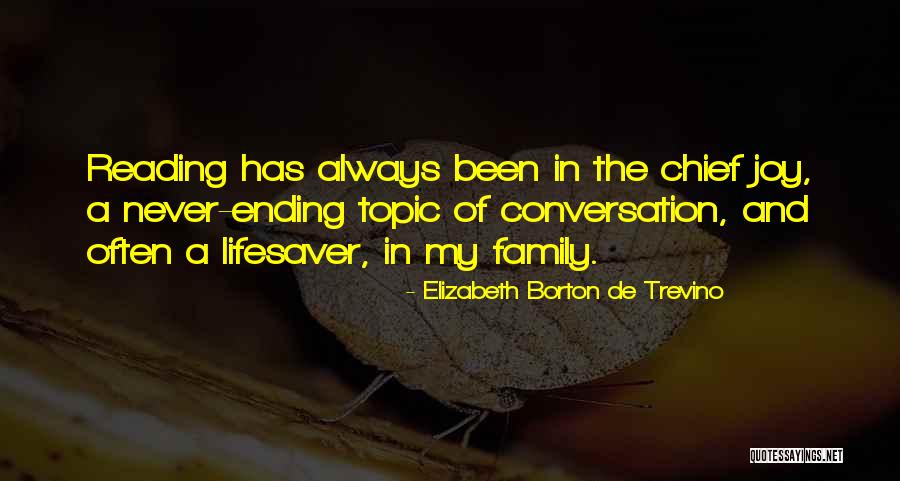 Reading has always been in the chief joy, a never-ending topic of conversation, and often a lifesaver, in my family. — Elizabeth Borton De Trevino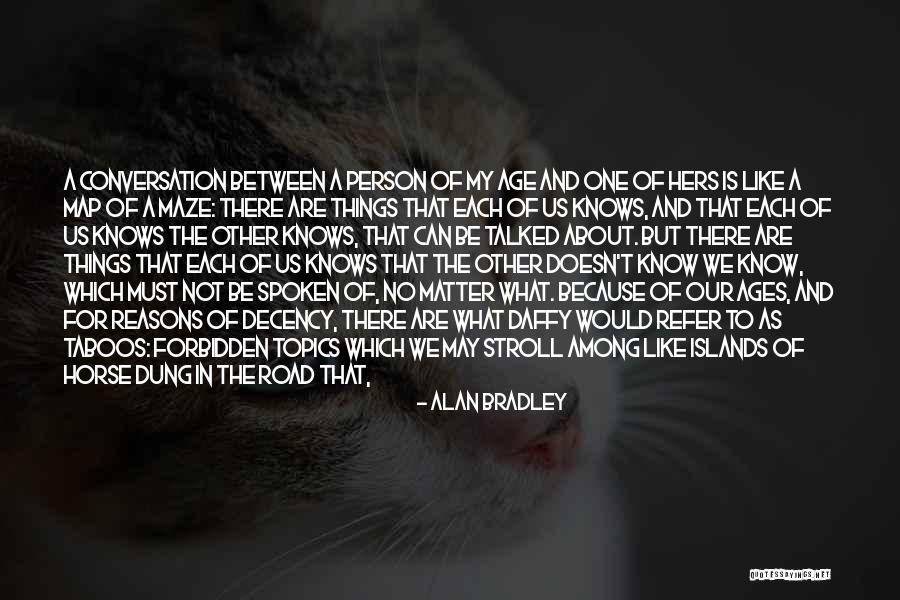 A conversation between a person of my age and one of hers is like a map of a maze: There are things that each of us knows, and that each of us knows the other knows, that can be talked about. But there are things that each of us knows that the other doesn't know we know, which must not be spoken of, no matter what. Because of our ages, and for reasons of decency, there are what Daffy would refer to as taboos: forbidden topics which we may stroll among like islands of horse dung in the road that, although perfectly evident to both of us, must not be mentioned or kicked at any cost.
It's a strange world when you come right down to it. — Alan Bradley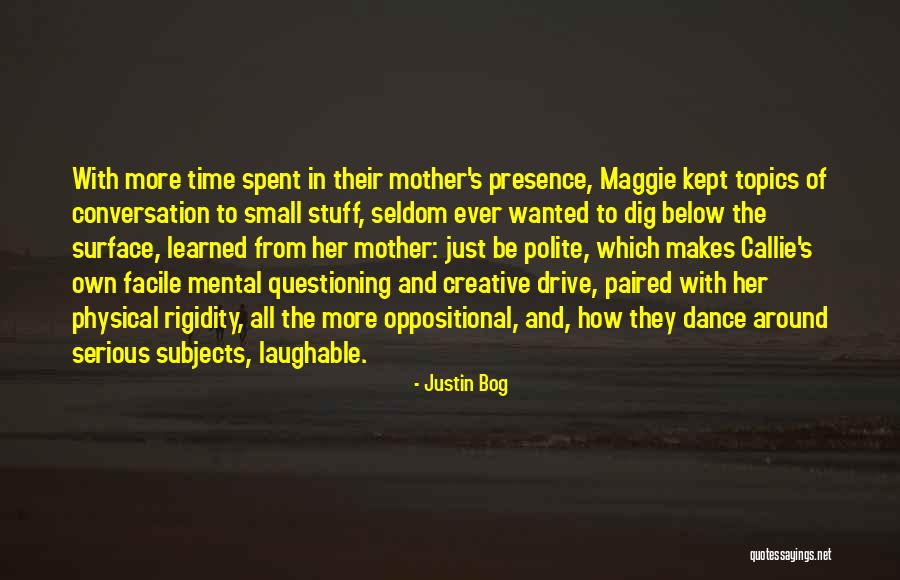 With more time spent in their mother's presence, Maggie kept topics of conversation to small stuff, seldom ever wanted to dig below the surface, learned from her mother: just be polite, which makes Callie's own facile mental questioning and creative drive, paired with her physical rigidity, all the more oppositional, and, how they dance around serious subjects, laughable. — Justin Bog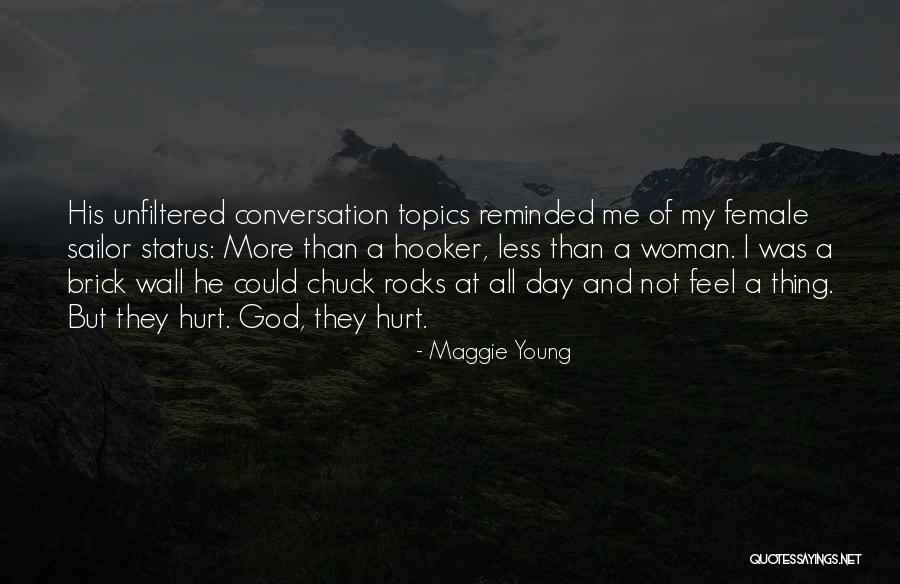 His unfiltered conversation topics reminded me of my female sailor status: More than a hooker, less than a woman. I was a brick wall he could chuck rocks at all day and not feel a thing. But they hurt. God, they hurt. — Maggie Young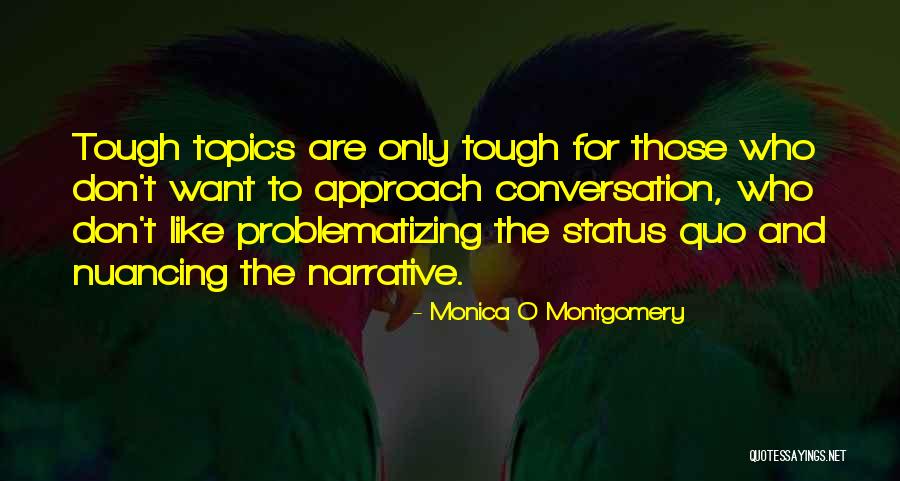 Tough topics are only tough for those who don't want to approach conversation, who don't like problematizing the status quo and nuancing the narrative. — Monica O Montgomery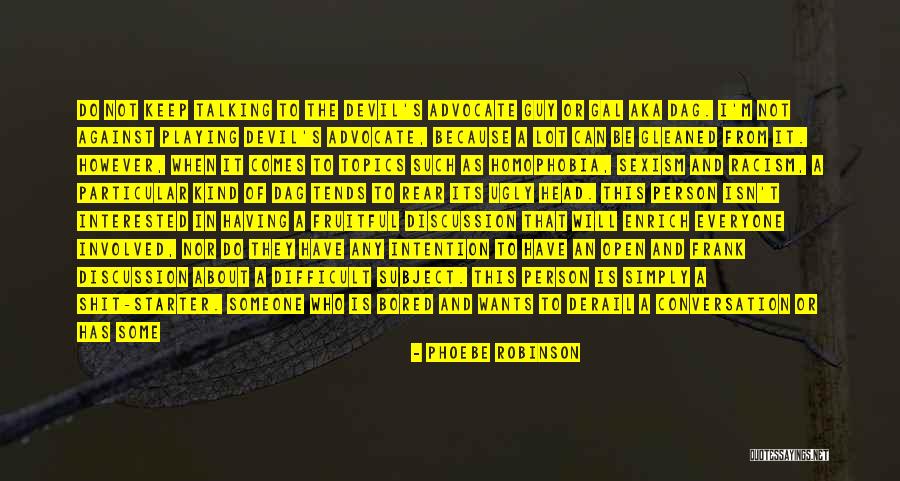 Do not keep talking to the Devil's Advocate Guy or Gal aka DAG. I'm not against playing Devil's Advocate, because a lot can be gleaned from it. However, when it comes to topics such as homophobia, sexism and racism, a particular kind of DAG tends to rear its ugly head. This person isn't interested in having a fruitful discussion that will enrich everyone involved, nor do they have any intention to have an open and frank discussion about a difficult subject. This person is simply a shit-starter. Someone who is bored and wants to derail a conversation or has some inner rage that they are dying to unleash. During my days of blogging about race, I have encountered this person often. They start out as seemingly run-of-the-mill people, perhaps sharing slightly bias statistics but asking enough questions to seem like they are open to ideas. Eventually though, DAG will lose their cool, and reveal themselves for who they are. — Phoebe Robinson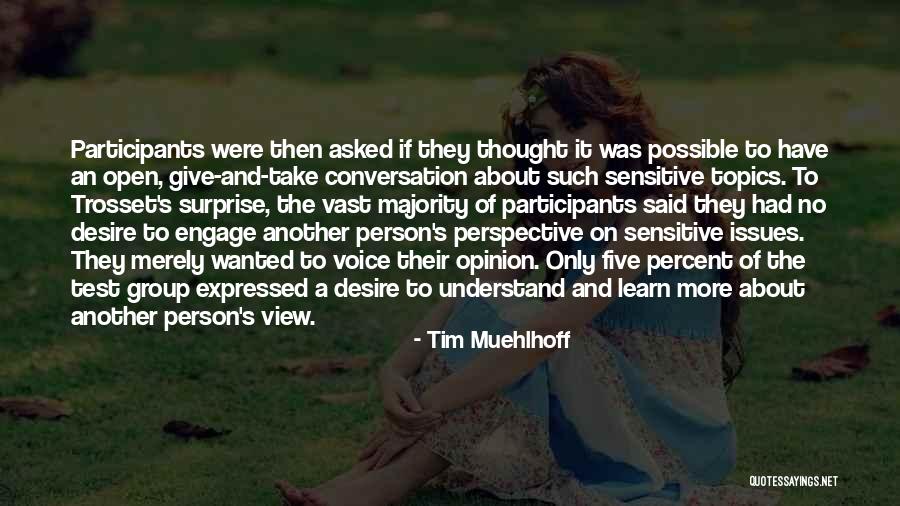 Participants were then asked if they thought it was possible to have an open, give-and-take conversation about such sensitive topics. To Trosset's surprise, the vast majority of participants said they had no desire to engage another person's perspective on sensitive issues. They merely wanted to voice their opinion. Only five percent of the test group expressed a desire to understand and learn more about another person's view. — Tim Muehlhoff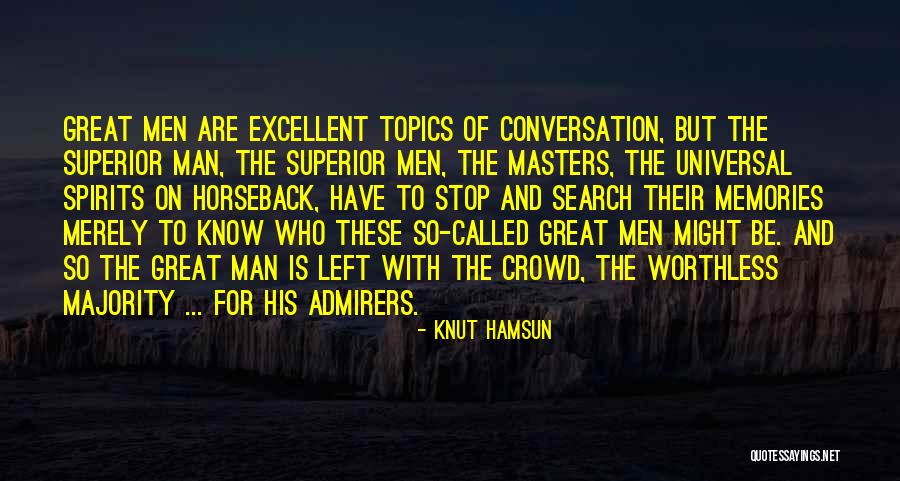 Great men are excellent topics of conversation, but the superior man, the superior men, the masters, the universal spirits on horseback, have to stop and search their memories merely to know who these so-called great men might be. And so the great man is left with the crowd, the worthless majority ... for his admirers. — Knut Hamsun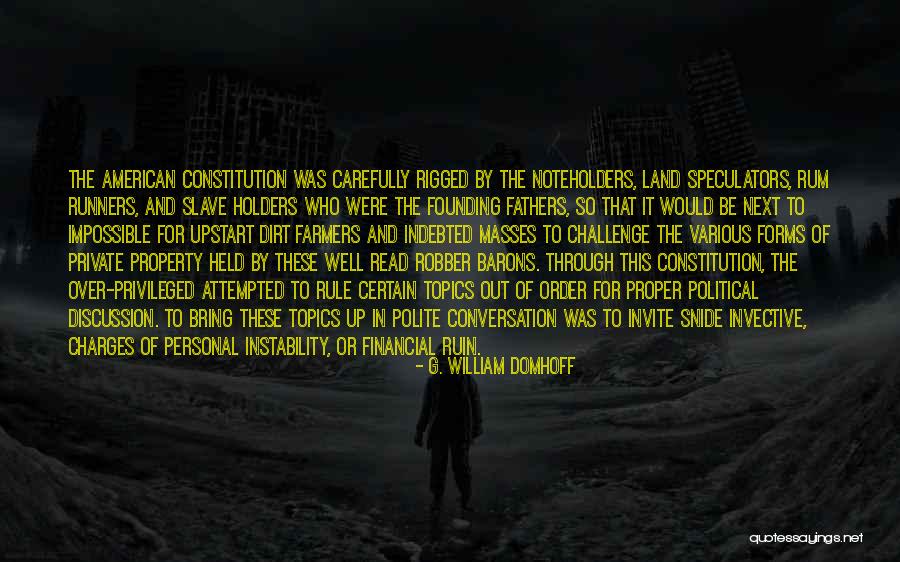 The American Constitution was carefully rigged by the noteholders, land speculators, rum runners, and slave holders who were the Founding Fathers, so that it would be next to impossible for upstart dirt farmers and indebted masses to challenge the various forms of private property held by these well read robber barons. Through this Constitution, the over-privileged attempted to rule certain topics out of order for proper political discussion. To bring these topics up in polite conversation was to invite snide invective, charges of personal instability, or financial ruin. — G. William Domhoff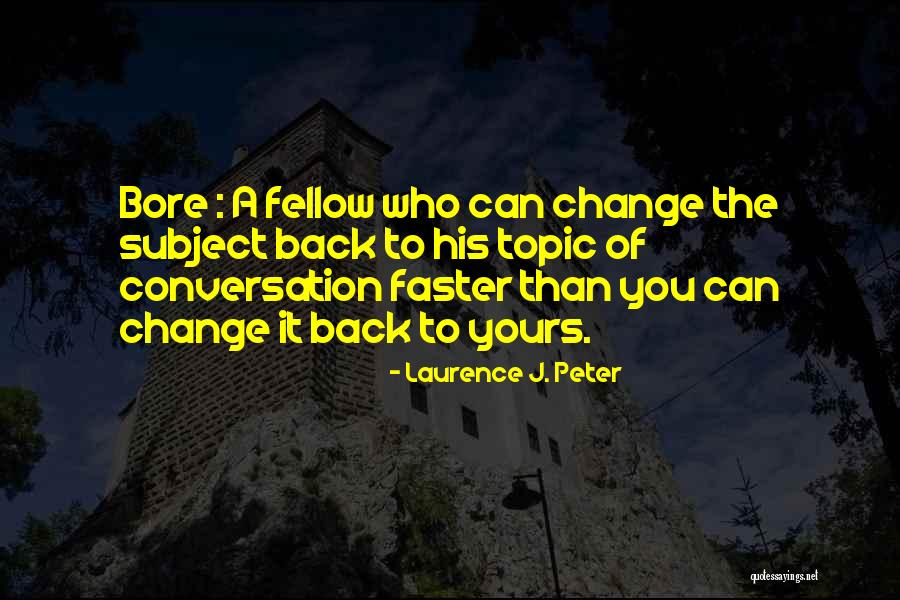 Bore : A fellow who can change the subject back to his topic of conversation faster than you can change it back to yours. — Laurence J. Peter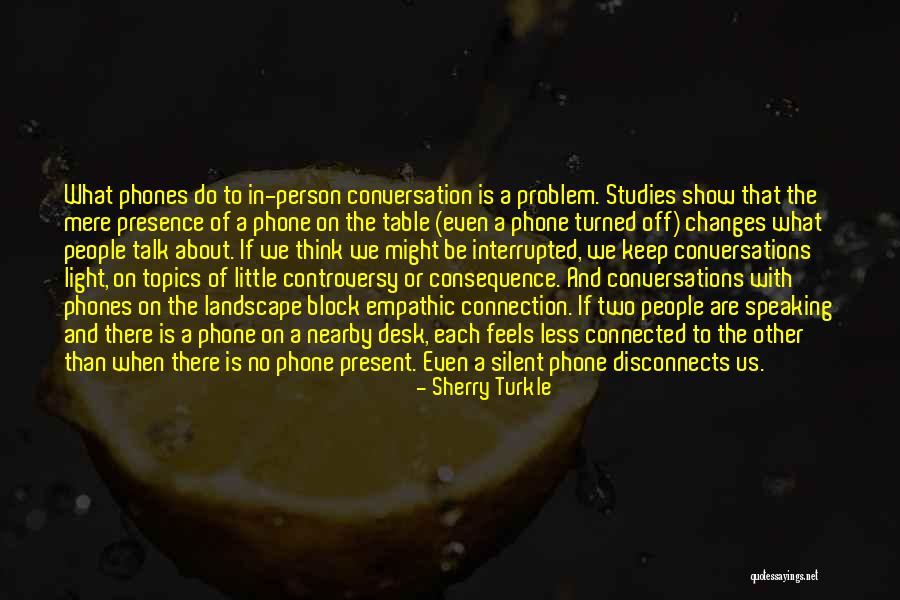 What phones do to in-person conversation is a problem. Studies show that the mere presence of a phone on the table (even a phone turned off) changes what people talk about. If we think we might be interrupted, we keep conversations light, on topics of little controversy or consequence. And conversations with phones on the landscape block empathic connection. If two people are speaking and there is a phone on a nearby desk, each feels less connected to the other than when there is no phone present. Even a silent phone disconnects us. — Sherry Turkle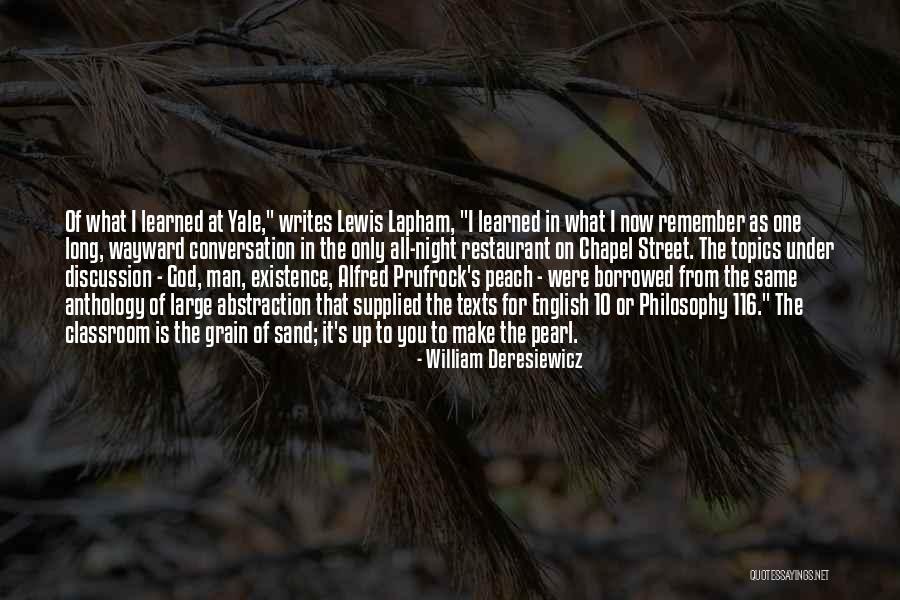 Of what I learned at Yale," writes Lewis Lapham, "I learned in what I now remember as one long, wayward conversation in the only all-night restaurant on Chapel Street. The topics under discussion - God, man, existence, Alfred Prufrock's peach - were borrowed from the same anthology of large abstraction that supplied the texts for English 10 or Philosophy 116." The classroom is the grain of sand; it's up to you to make the pearl. — William Deresiewicz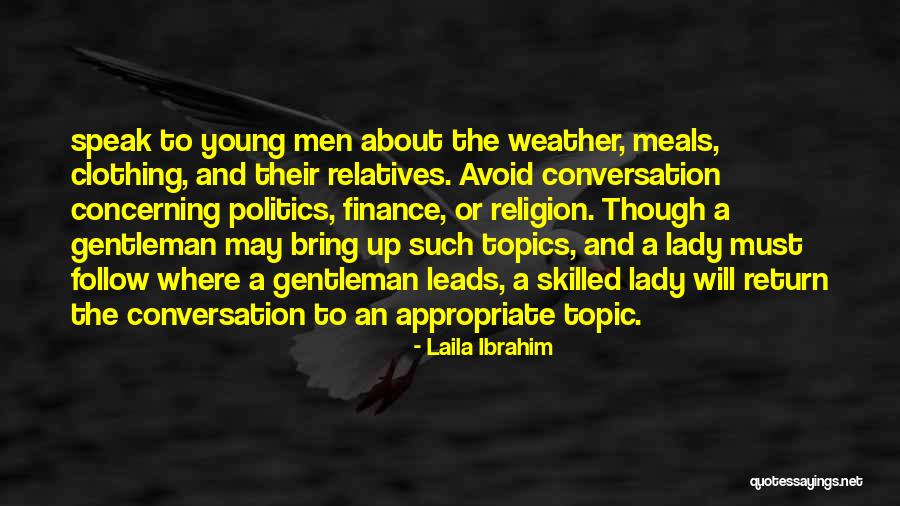 speak to young men about the weather, meals, clothing, and their relatives. Avoid conversation concerning politics, finance, or religion. Though a gentleman may bring up such topics, and a lady must follow where a gentleman leads, a skilled lady will return the conversation to an appropriate topic. — Laila Ibrahim