Quotes & Sayings About Coming Out Of The Darkness Into The Light
Enjoy reading and share 46 famous quotes about Coming Out Of The Darkness Into The Light with everyone.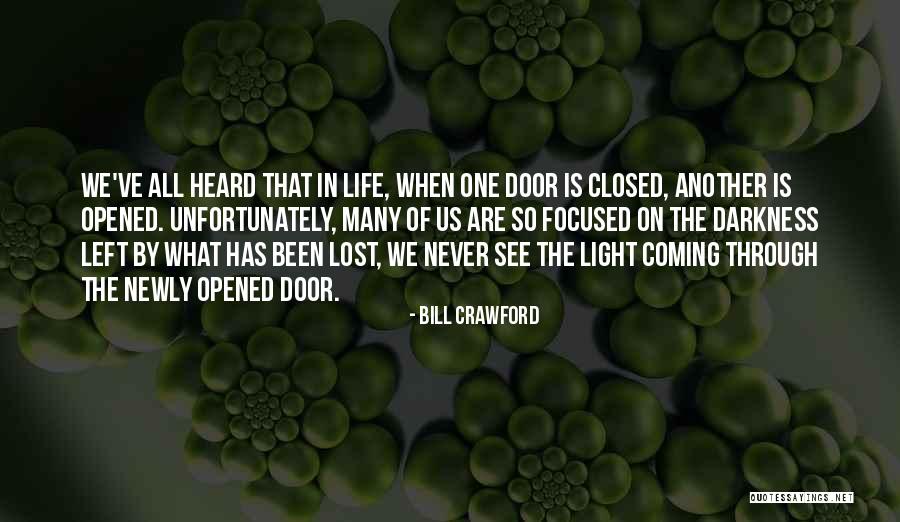 We've all heard that in life, when one door is closed, another is opened. Unfortunately, many of us are so focused on the darkness left by what has been lost, we never see the light coming through the newly opened door. — Bill Crawford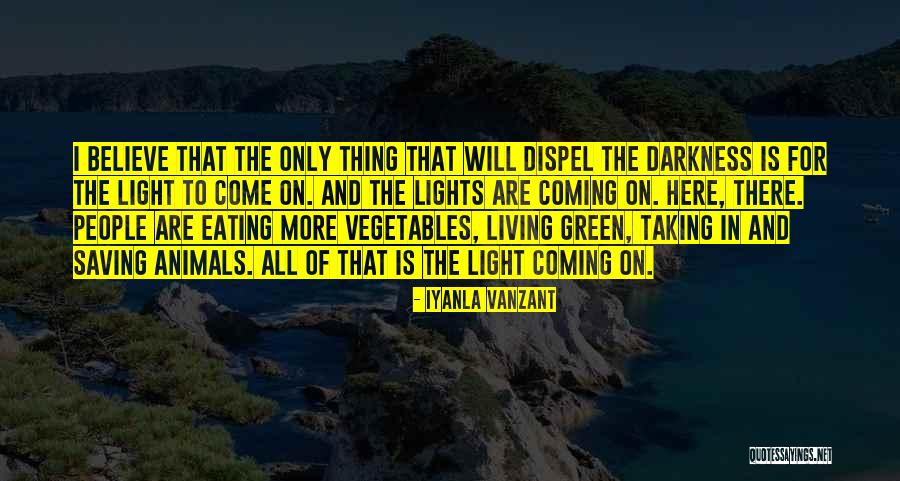 I believe that the only thing that will dispel the darkness is for the light to come on. And the lights are coming on. Here, there. People are eating more vegetables, living green, taking in and saving animals. All of that is the light coming on. — Iyanla Vanzant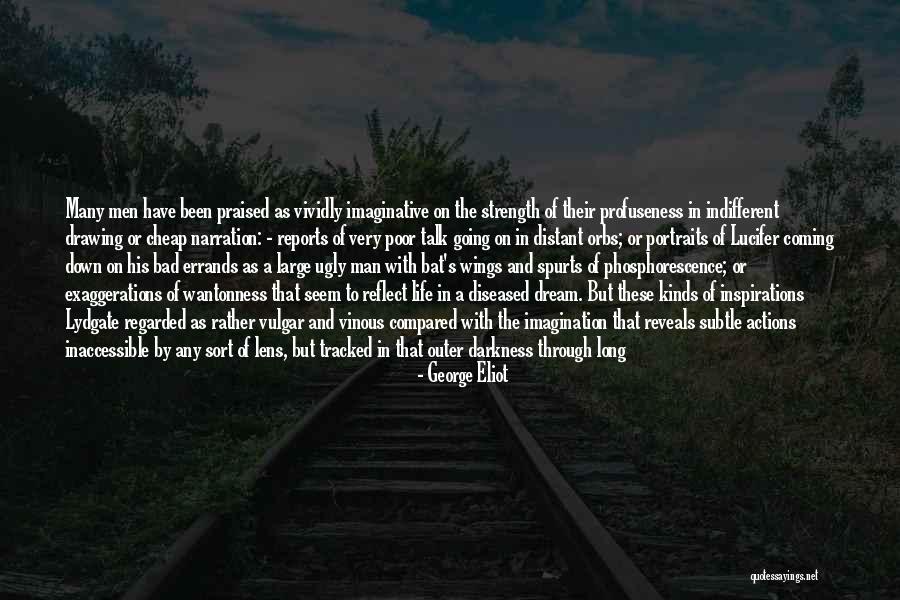 Many men have been praised as vividly imaginative on the strength of their profuseness in indifferent drawing or cheap narration: - reports of very poor talk going on in distant orbs; or portraits of Lucifer coming down on his bad errands as a large ugly man with bat's wings and spurts of phosphorescence; or exaggerations of wantonness that seem to reflect life in a diseased dream. But these kinds of inspirations Lydgate regarded as rather vulgar and vinous compared with the imagination that reveals subtle actions inaccessible by any sort of lens, but tracked in that outer darkness through long pathways of necessary sequence by the inward light which is the last refinement of Energy, capable of bathing even the ethereal atoms in its ideally illuminated space. — George Eliot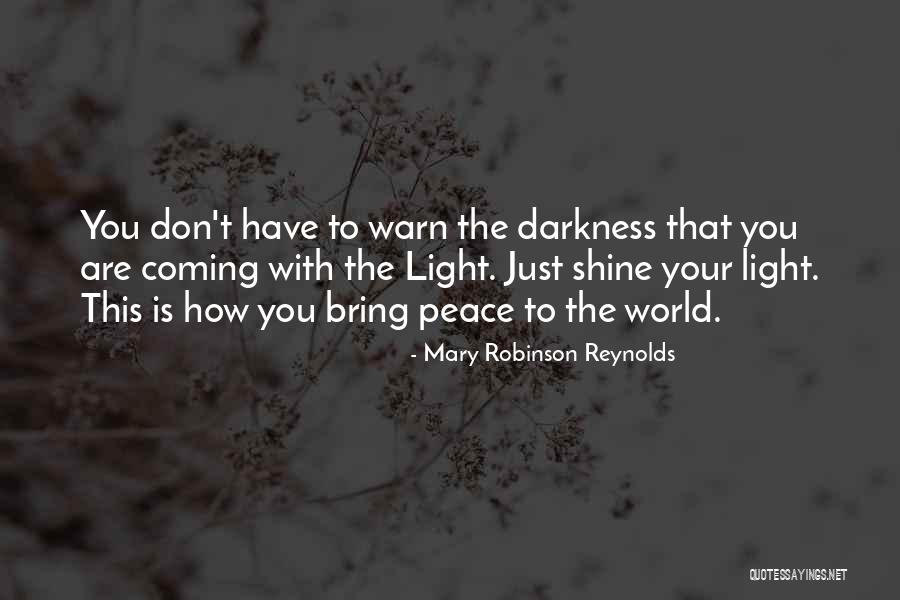 You don't have to warn the darkness that you are coming with the Light. Just shine your light. This is how you bring peace to the world. — Mary Robinson Reynolds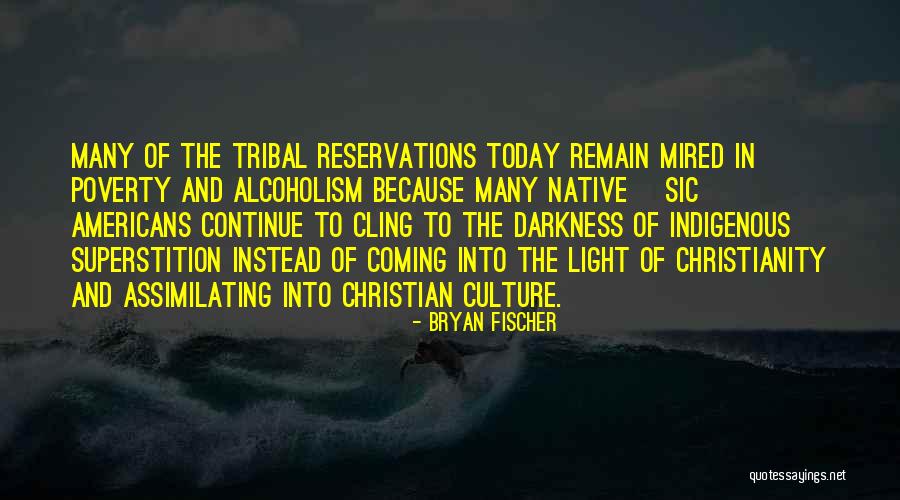 Many of the tribal reservations today remain mired in poverty and alcoholism because many native [sic] Americans continue to cling to the darkness of indigenous superstition instead of coming into the light of Christianity and assimilating into Christian culture. — Bryan Fischer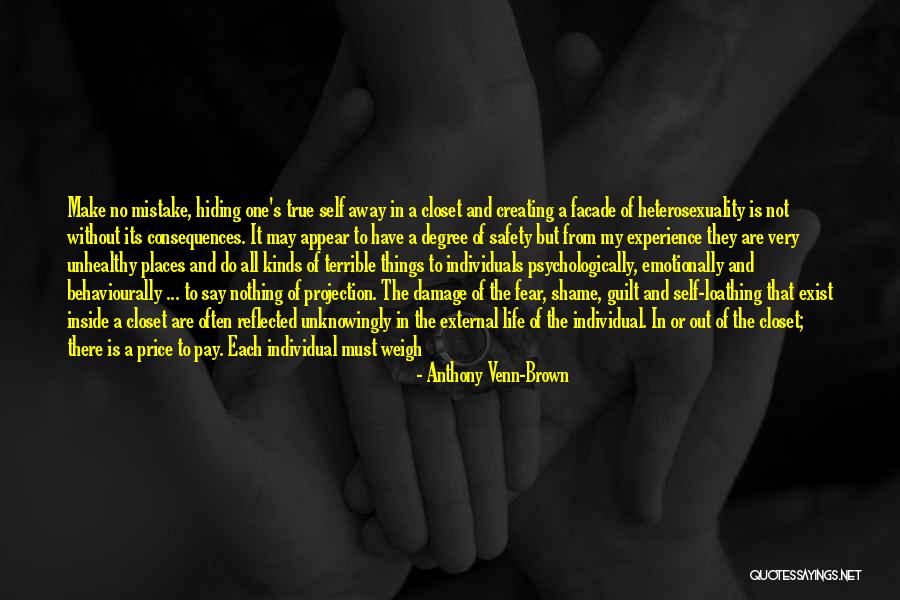 Make no mistake, hiding one's true self away in a closet and creating a facade of heterosexuality is not without its consequences. It may appear to have a degree of safety but from my experience they are very unhealthy places and do all kinds of terrible things to individuals psychologically, emotionally and behaviourally ... to say nothing of projection. The damage of the fear, shame, guilt and self-loathing that exist inside a closet are often reflected unknowingly in the external life of the individual. In or out of the closet; there is a price to pay. Each individual must weigh up the consequences of honesty, openness, secrecy and deception for themselves. Coming out, for most of us, is like an exorcism that releases us of the darkness we have lived in for years and caused us to believe awful things about ourselves. On the other side of the looking glass are freedom, light and life. — Anthony Venn-Brown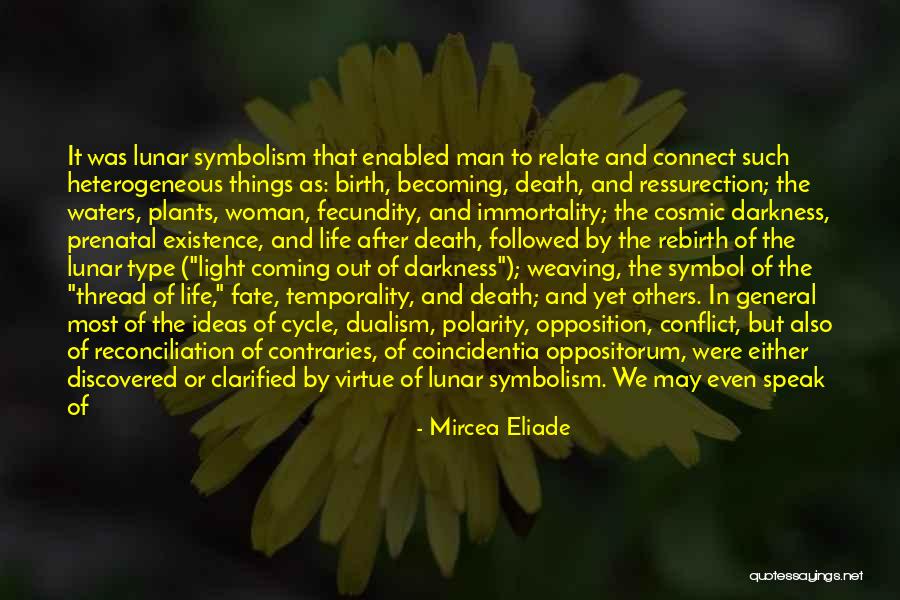 It was lunar symbolism that enabled man to relate and connect such heterogeneous things as: birth, becoming, death, and ressurection; the waters, plants, woman, fecundity, and immortality; the cosmic darkness, prenatal existence, and life after death, followed by the rebirth of the lunar type ("light coming out of darkness"); weaving, the symbol of the "thread of life," fate, temporality, and death; and yet others. In general most of the ideas of cycle, dualism, polarity, opposition, conflict, but also of reconciliation of contraries, of coincidentia oppositorum, were either discovered or clarified by virtue of lunar symbolism. We may even speak of a metaphysics of the moon, in the sense of a consistent system of "truths" relating to the mode of being peculiar to living creatures, to everything in the cosmos that shares in life, that is, in becoming, growth and waning, death and ressurrection. — Mircea Eliade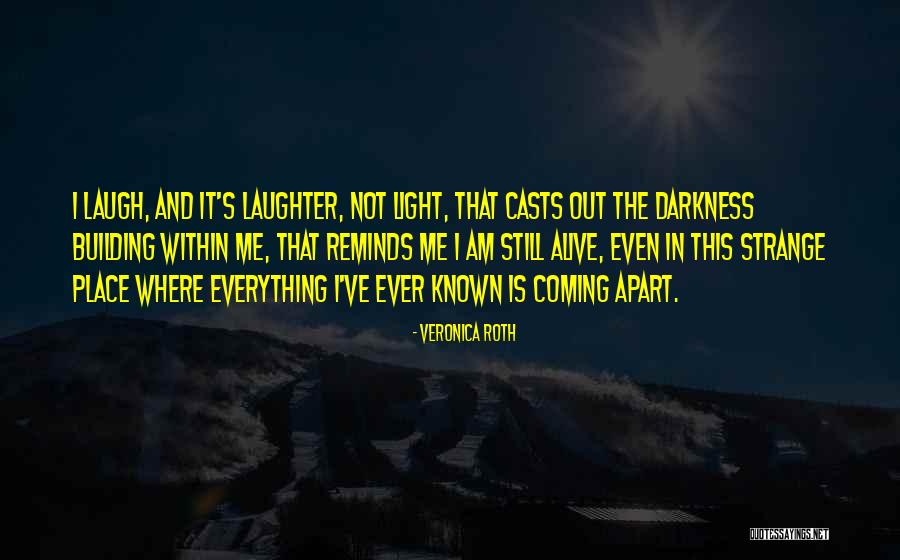 I laugh, and it's laughter, not light, that casts out the darkness building within me, that reminds me I am still alive, even in this strange place where everything I've ever known is coming apart. — Veronica Roth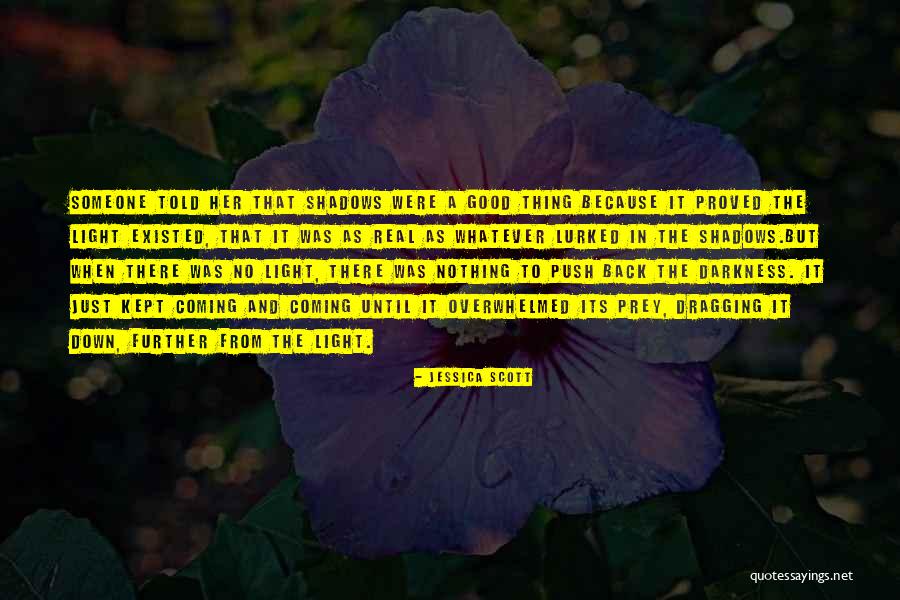 Someone told her that shadows were a good thing because it proved the light existed, that it was as real as whatever lurked in the shadows.
But when there was no light, there was nothing to push back the darkness. It just kept coming and coming until it overwhelmed its prey, dragging it down, further from the light. — Jessica Scott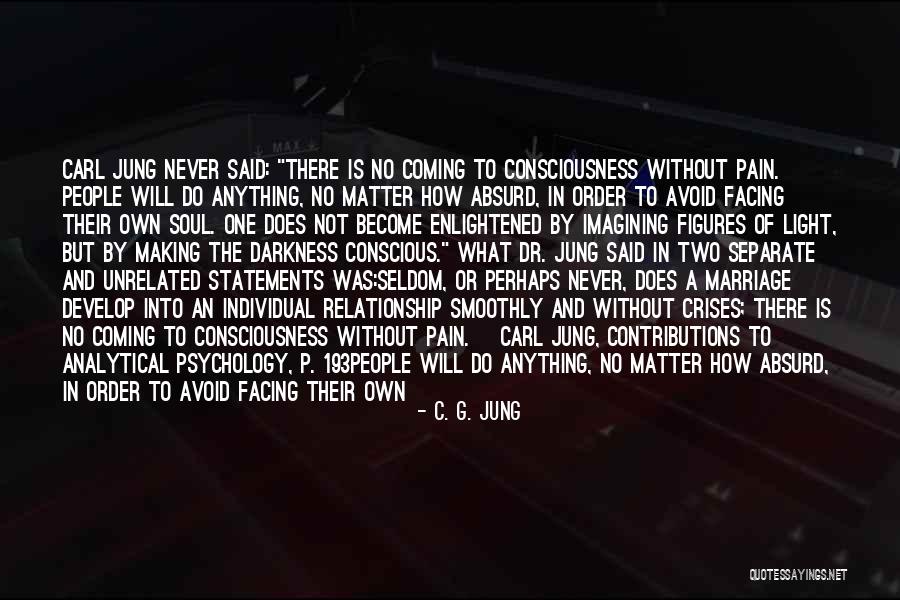 Carl Jung never said: "There is no coming to consciousness without pain. People will do anything, no matter how absurd, in order to avoid facing their own Soul. One does not become enlightened by imagining figures of light, but by making the darkness conscious."
What Dr. Jung said in two separate and unrelated statements was:
Seldom, or perhaps never, does a marriage develop into an individual relationship smoothly and without crises; there is no coming to consciousness without pain. ~Carl Jung, Contributions to Analytical Psychology, P. 193
People will do anything, no matter how absurd, in order to avoid facing their own souls. One does not become enlightened by imagining figures of light, but by making the darkness conscious. ~Carl Jung, Psychology and Alchemy, Page 99. — C. G. Jung
We all had our secrets, and maybe the most terrible of them was that we weren't exactly who we thought we were, who we said we were, who we dreamed of being, that we were divided and at war and half made of self-mythologies, too. Sometimes on that staircase spiraling up from the darkness, we met ourselves coming up into the light, not recognizing ourselves or what we might do next. — Michael Paterniti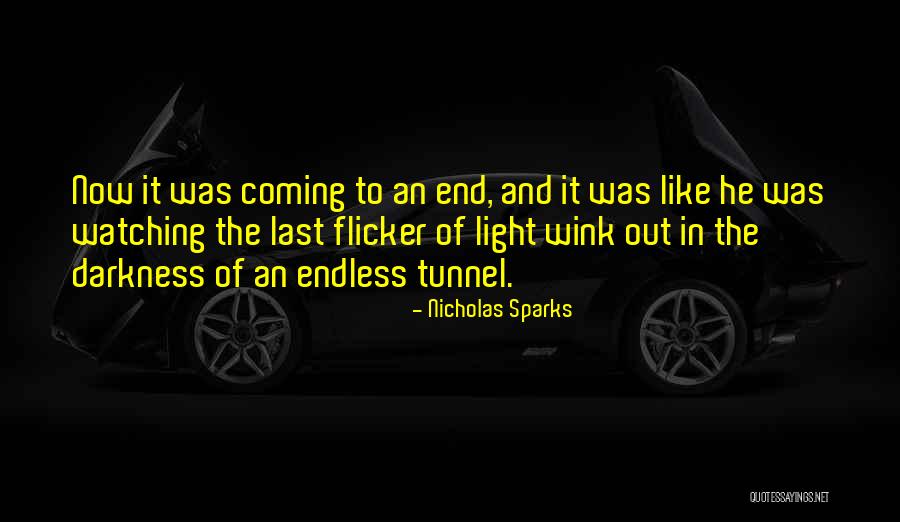 Now it was coming to an end, and it was like he was watching the last flicker of light wink out in the darkness of an endless tunnel. — Nicholas Sparks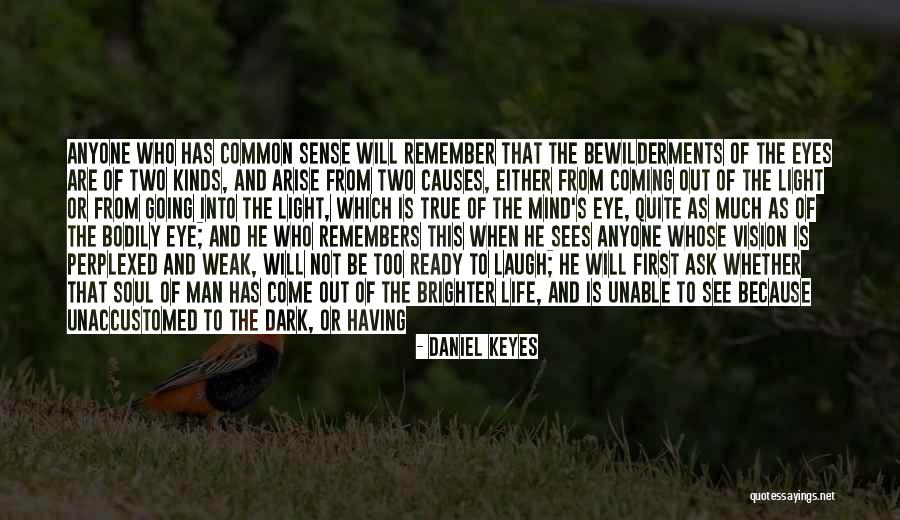 Anyone who has common sense will remember that the bewilderments of the eyes are of two kinds, and arise from two causes, either from coming out of the light or from going into the light, which is true of the mind's eye, quite as much as of the bodily eye; and he who remembers this when he sees anyone whose vision is perplexed and weak, will not be too ready to laugh; he will first ask whether that soul of man has come out of the brighter life, and is unable to see because unaccustomed to the dark, or having turned from darkness to the day is dazzled by excess of light. And he will count the one happy in his condition and state of being, and he will pity the other; or, if he have a mind to laugh at the soul which comes from below into the light, there will be more reason in this than in the laugh which greets him who returns from above out of the light into the den. — Daniel Keyes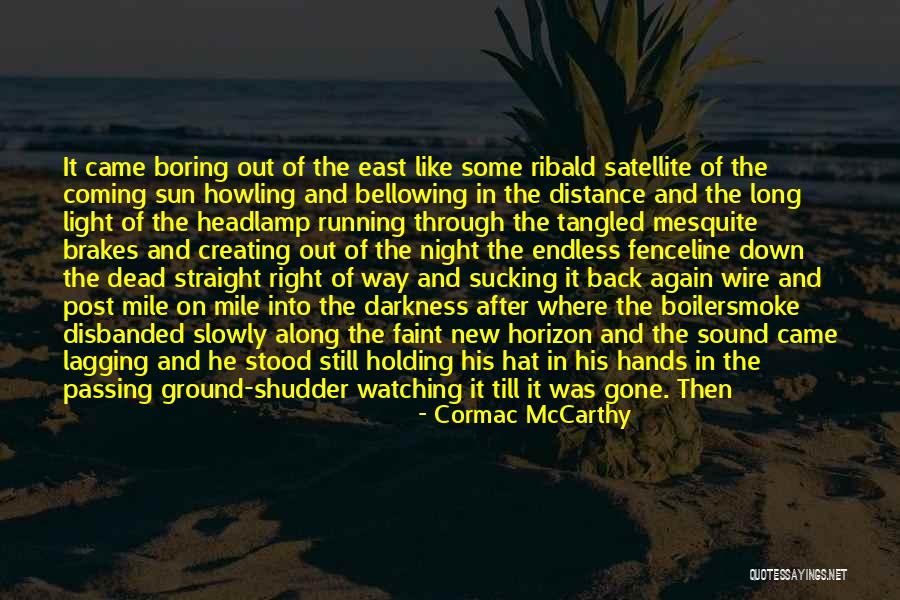 It came boring out of the east like some ribald satellite of the coming sun howling and bellowing in the distance and the long light of the headlamp running through the tangled mesquite brakes and creating out of the night the endless fenceline down the dead straight right of way and sucking it back again wire and post mile on mile into the darkness after where the boilersmoke disbanded slowly along the faint new horizon and the sound came lagging and he stood still holding his hat in his hands in the passing ground-shudder watching it till it was gone. Then — Cormac McCarthy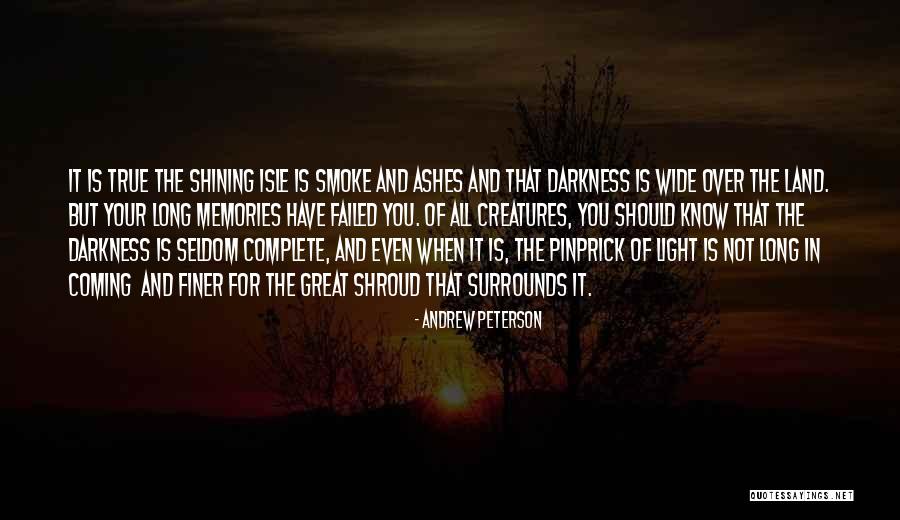 It is true the Shining Isle is smoke and ashes and that darkness is wide over the land. But your long memories have failed you. Of all creatures, you should know that the darkness is seldom complete, and even when it is, the pinprick of light is not long in coming
and finer for the great shroud that surrounds it. — Andrew Peterson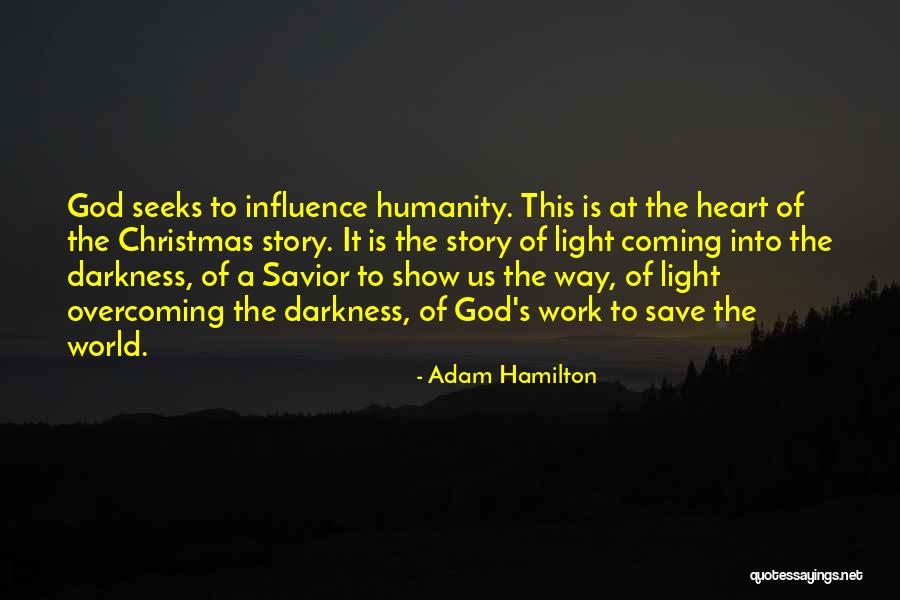 God seeks to influence humanity. This is at the heart of the Christmas story. It is the story of light coming into the darkness, of a Savior to show us the way, of light overcoming the darkness, of God's work to save the world. — Adam Hamilton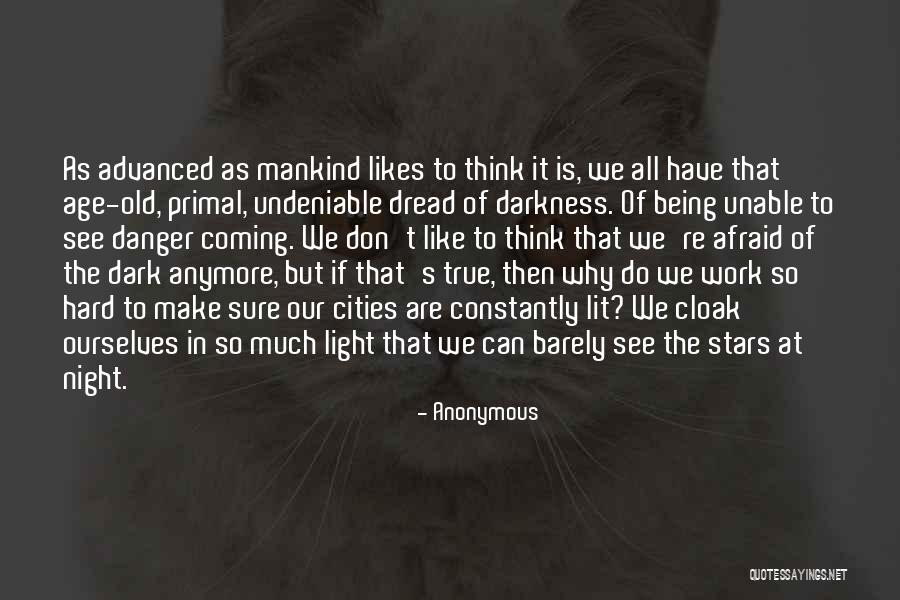 As advanced as mankind likes to think it is, we all have that age-old, primal, undeniable dread of darkness. Of being unable to see danger coming. We don't like to think that we're afraid of the dark anymore, but if that's true, then why do we work so hard to make sure our cities are constantly lit? We cloak ourselves in so much light that we can barely see the stars at night. — Anonymous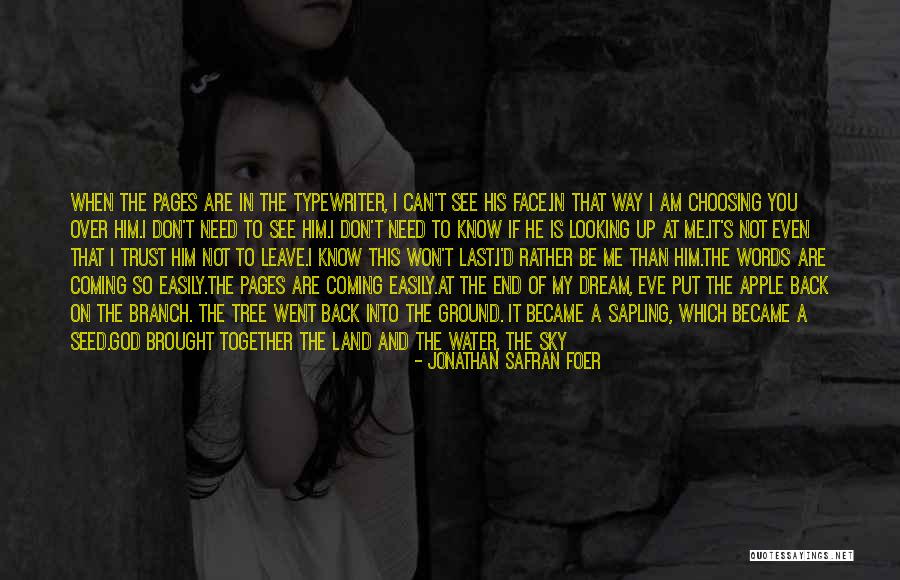 When the pages are in the typewriter, I can't see his face.
In that way i am choosing you over him.
I don't need to see him.
I don't need to know if he is looking up at me.
It's not even that I trust him not to leave.
I know this won't last.
I'd rather be me than him.
The words are coming so easily.
The pages are coming easily.
At the end of my dream, Eve put the apple back on the branch. The tree went back into the ground. It became a sapling, which became a seed.
God brought together the land and the water, the sky and the water, the water and the water, evening and morning, something and nothing.
He said, Let there be light.
And there was darkness. — Jonathan Safran Foer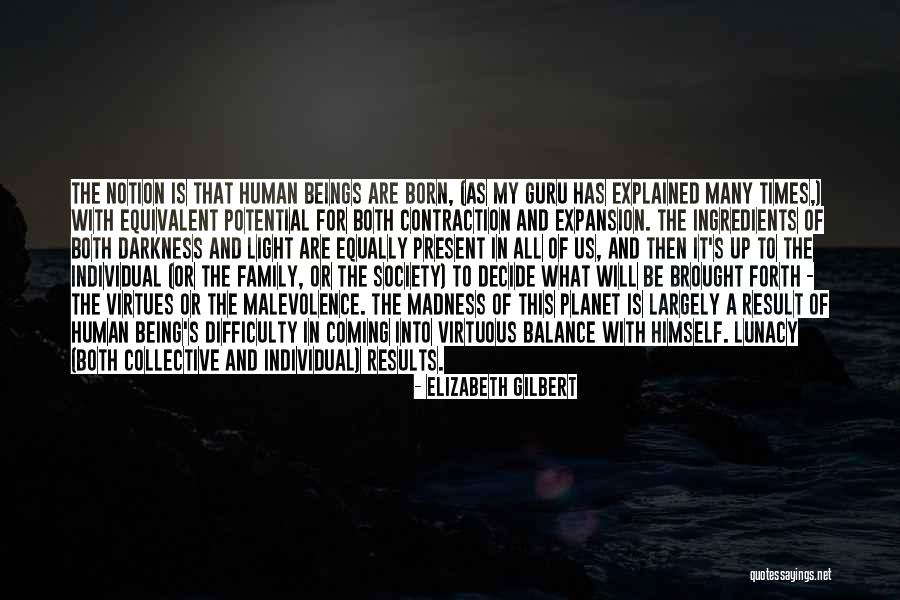 The notion is that human beings are born, (as my Guru has explained many times,) with equivalent potential for both contraction and expansion. The ingredients of both darkness and light are equally present in all of us, and then it's up to the individual (or the family, or the society) to decide what will be brought forth - the virtues or the malevolence. The madness of this planet is largely a result of human being's difficulty in coming into virtuous balance with himself. Lunacy (both collective and individual) results. — Elizabeth Gilbert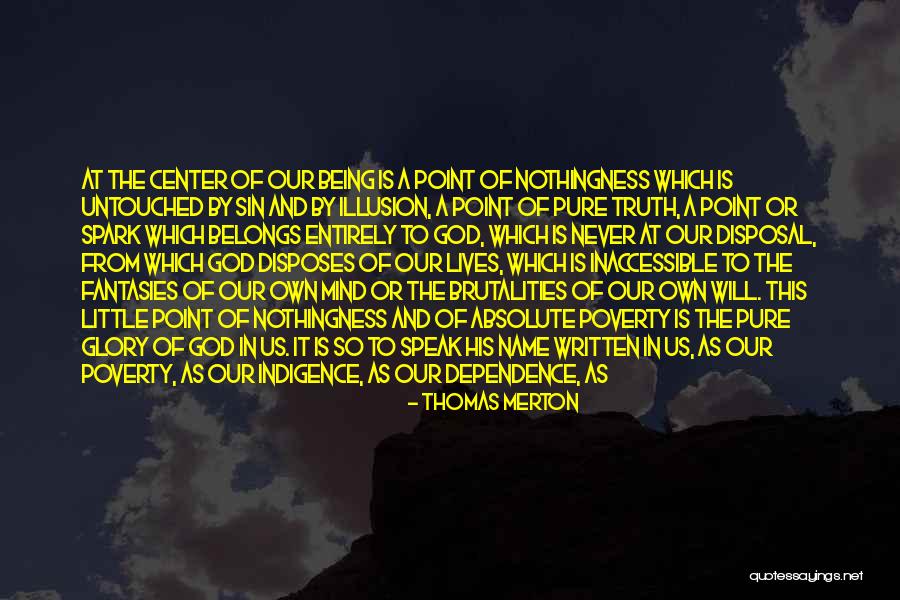 At the center of our being is a point of nothingness which is untouched by sin and by illusion, a point of pure truth, a point or spark which belongs entirely to God, which is never at our disposal, from which God disposes of our lives, which is inaccessible to the fantasies of our own mind or the brutalities of our own will. This little point of nothingness and of absolute poverty is the pure glory of God in us. It is so to speak His name written in us, as our poverty, as our indigence, as our dependence, as our sonship. It is like a pure diamond, blazing with the invisible light of heaven. It is in everybody, and if we could see it we would see these billions of points of light coming together in the face and blaze of a sun that would make all the darkness and cruelty of life vanish completely ... I have no program for this seeing. It is only given. But the gate of heaven is every- where. — Thomas Merton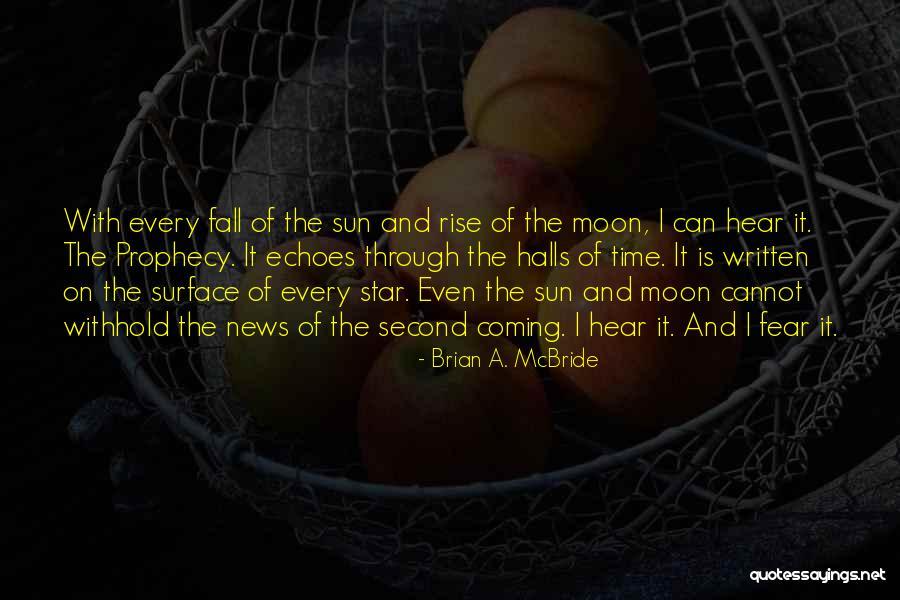 With every fall of the sun and rise of the moon, I can hear it. The Prophecy. It echoes through the halls of time. It is written on the surface of every star. Even the sun and moon cannot withhold the news of the second coming. I hear it. And I fear it. — Brian A. McBride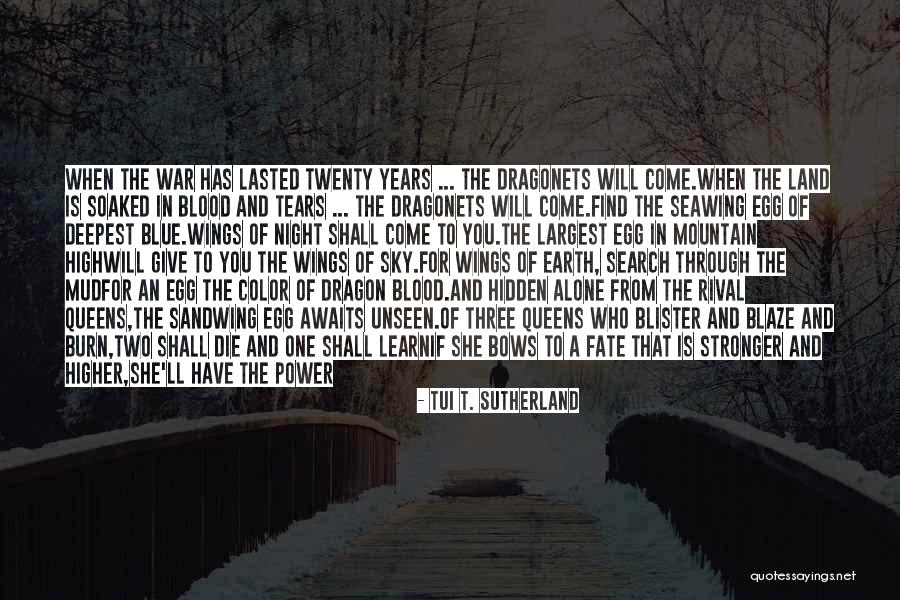 When the war has lasted twenty years ...
the dragonets will come.
When the land is soaked in blood and tears ...
the dragonets will come.
Find the SeaWing egg of deepest blue.
Wings of night shall come to you.
The largest egg in mountain high
will give to you the wings of sky.
For wings of earth, search through the mud
for an egg the color of dragon blood.
And hidden alone from the rival queens,
the SandWing egg awaits unseen.
Of three queens who blister and blaze and burn,
two shall die and one shall learn
if she bows to a fate that is stronger and higher,
she'll have the power of wings of fire.
Five eggs to hatch on brightest night,
five dragons born to end the fight.
Darkness will rise to bring the light.
The dragonets are coming ... — Tui T. Sutherland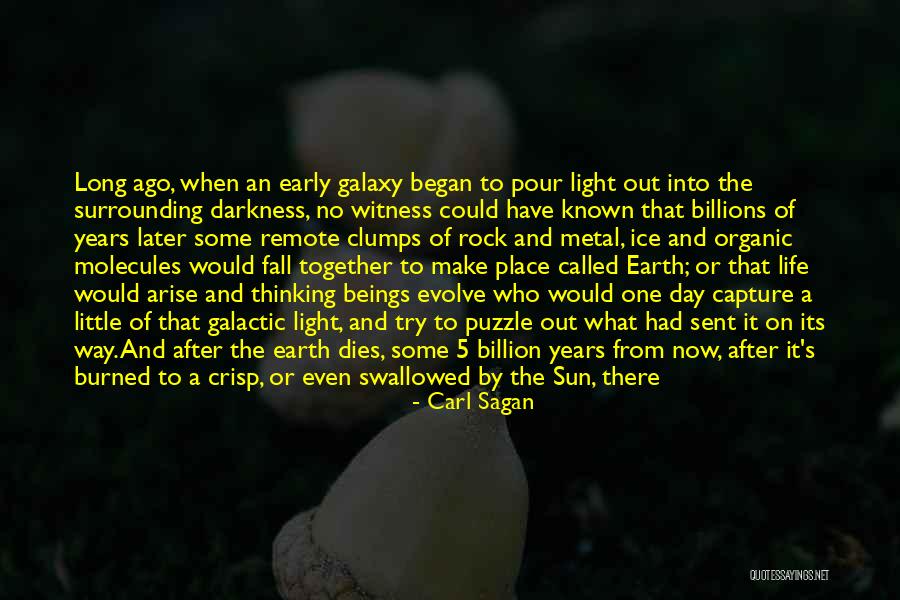 Long ago, when an early galaxy began to pour light out into the surrounding darkness, no witness could have known that billions of years later some remote clumps of rock and metal, ice and organic molecules would fall together to make place called Earth; or that life would arise and thinking beings evolve who would one day capture a little of that galactic light, and try to puzzle out what had sent it on its way. And after the earth dies, some 5 billion years from now, after it's burned to a crisp, or even swallowed by the Sun, there will be other worlds and stars and galaxies coming into being
and they will know nothing of a place once called Earth. — Carl Sagan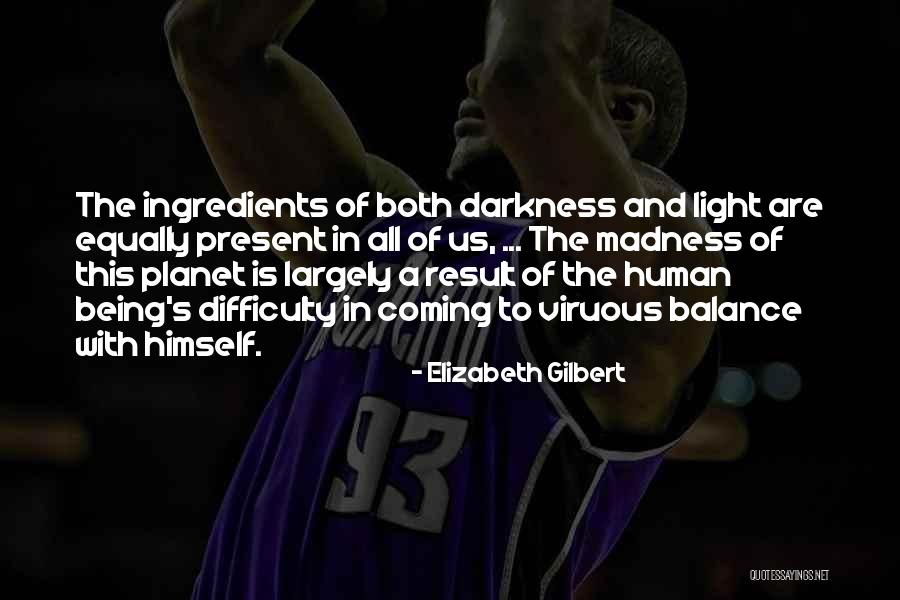 The ingredients of both darkness and light are equally present in all of us, ... The madness of this planet is largely a result of the human being's difficulty in coming to viruous balance with himself. — Elizabeth Gilbert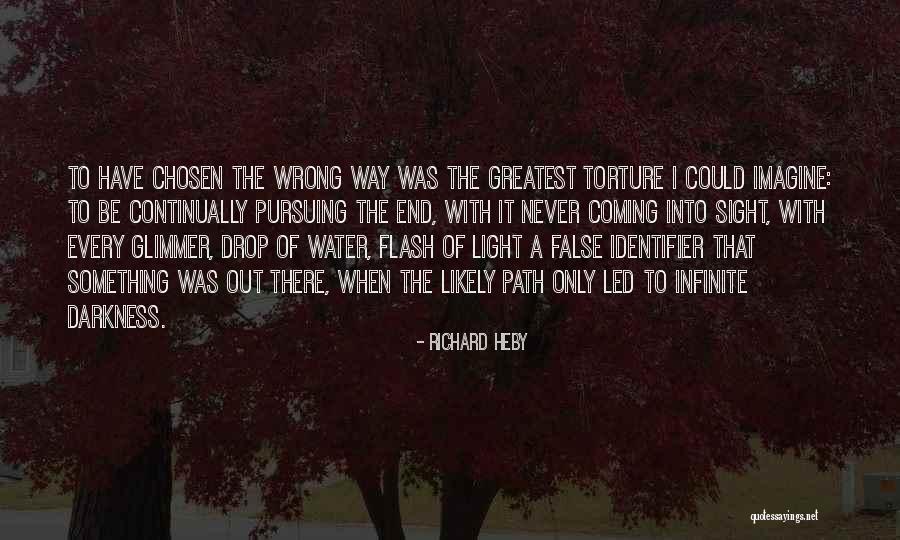 To have chosen the wrong way was the greatest torture I could imagine: to be continually pursuing the end, with it never coming into sight, with every glimmer, drop of water, flash of light a false identifier that something was out there, when the likely path only led to infinite darkness. — Richard Heby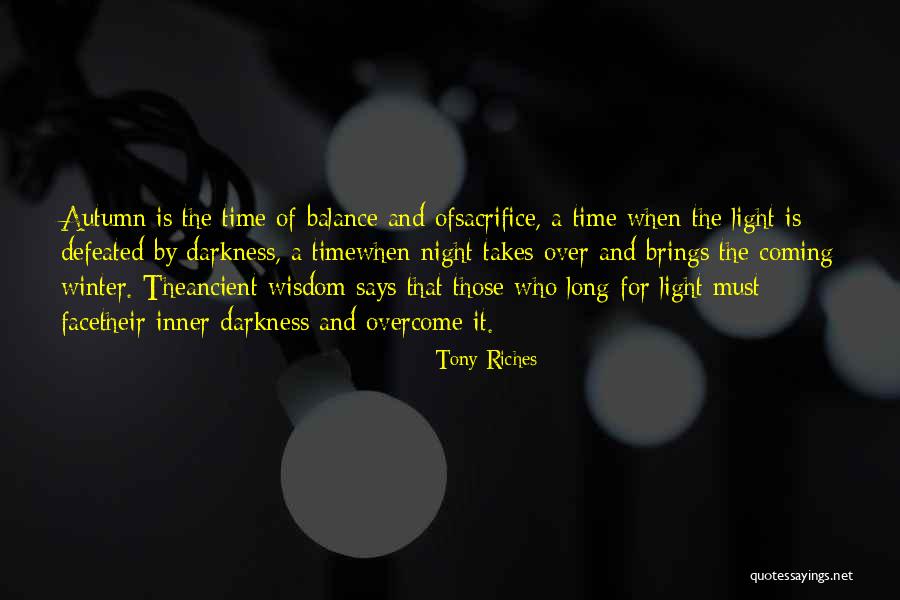 Autumn is the time of balance and of
sacrifice, a time when the light is defeated by darkness, a time
when night takes over and brings the coming winter. The
ancient wisdom says that those who long for light must face
their inner darkness and overcome it. — Tony Riches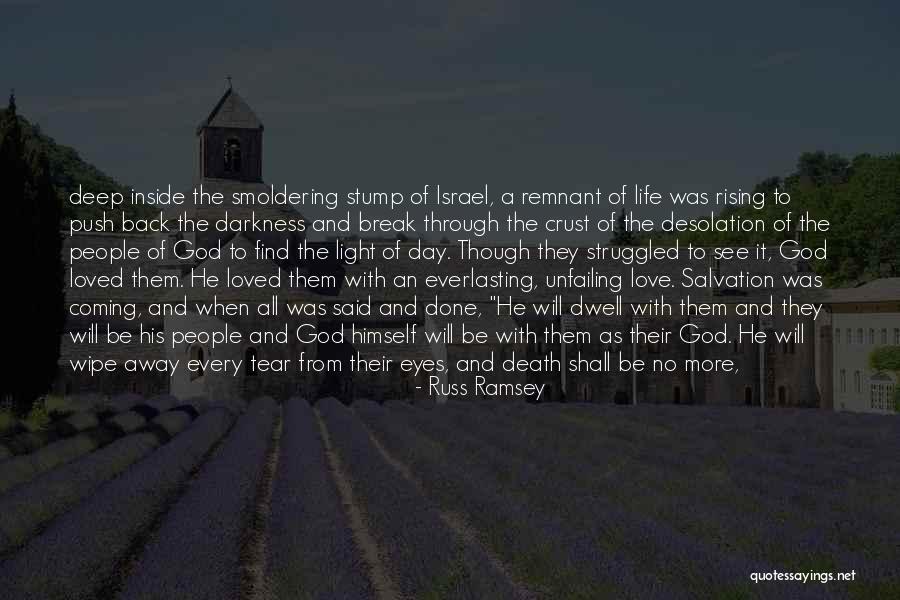 deep inside the smoldering stump of Israel, a remnant of life was rising to push back the darkness and break through the crust of the desolation of the people of God to find the light of day. Though they struggled to see it, God loved them. He loved them with an everlasting, unfailing love. Salvation was coming, and when all was said and done, "He will dwell with them and they will be his people and God himself will be with them as their God. He will wipe away every tear from their eyes, and death shall be no more, neither shall there be mourning, nor crying, nor pain anymore. " (Rev 21:3-4) "Behold," he says, "I am making all things new. — Russ Ramsey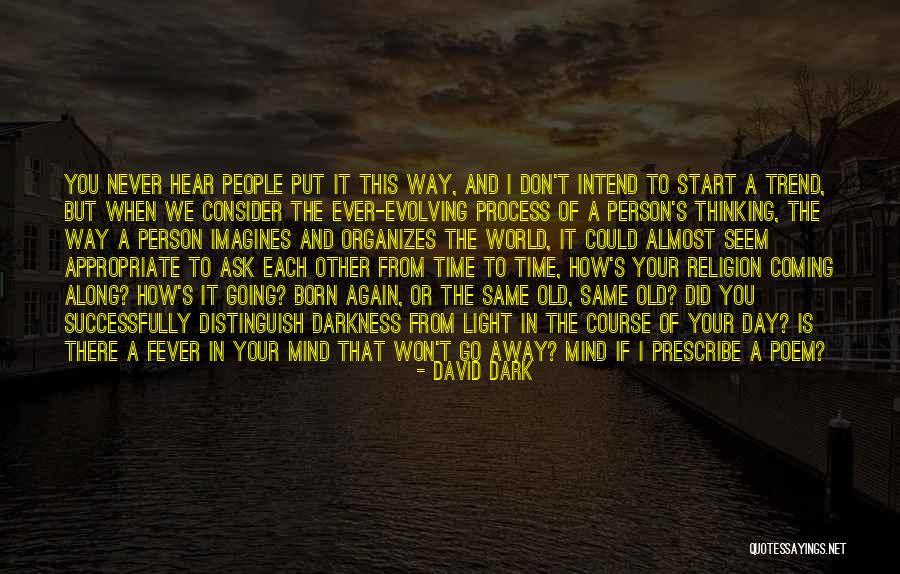 You never hear people put it this way, and I don't intend to start a trend, but when we consider the ever-evolving process of a person's thinking, the way a person imagines and organizes the world, it could almost seem appropriate to ask each other from time to time, How's your religion coming along? How's it going? Born again, or the same old, same old? Did you successfully distinguish darkness from light in the course of your day? Is there a fever in your mind that won't go away? Mind if I prescribe a poem? — David Dark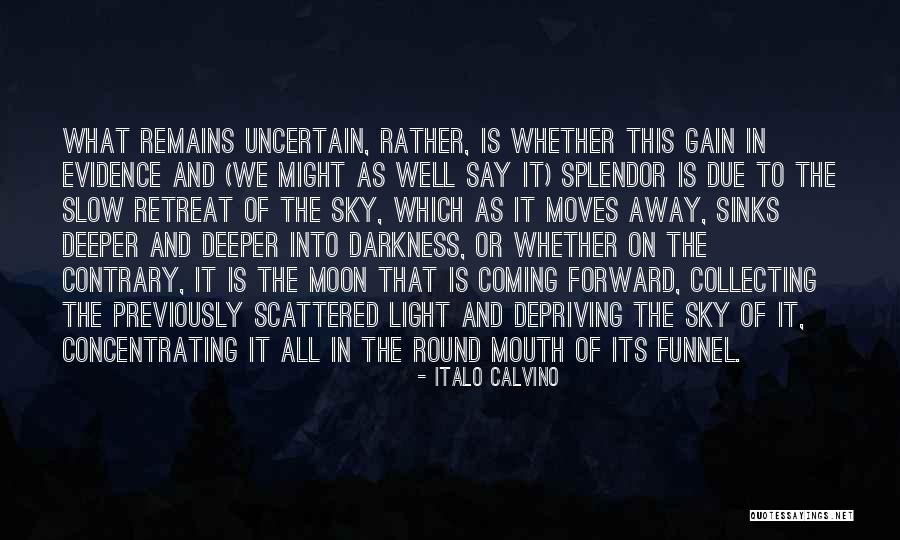 What remains uncertain, rather, is whether this gain in evidence and (we might as well say it) splendor is due to the slow retreat of the sky, which as it moves away, sinks deeper and deeper into darkness, or whether on the contrary, it is the moon that is coming forward, collecting the previously scattered light and depriving the sky of it, concentrating it all in the round mouth of its funnel. — Italo Calvino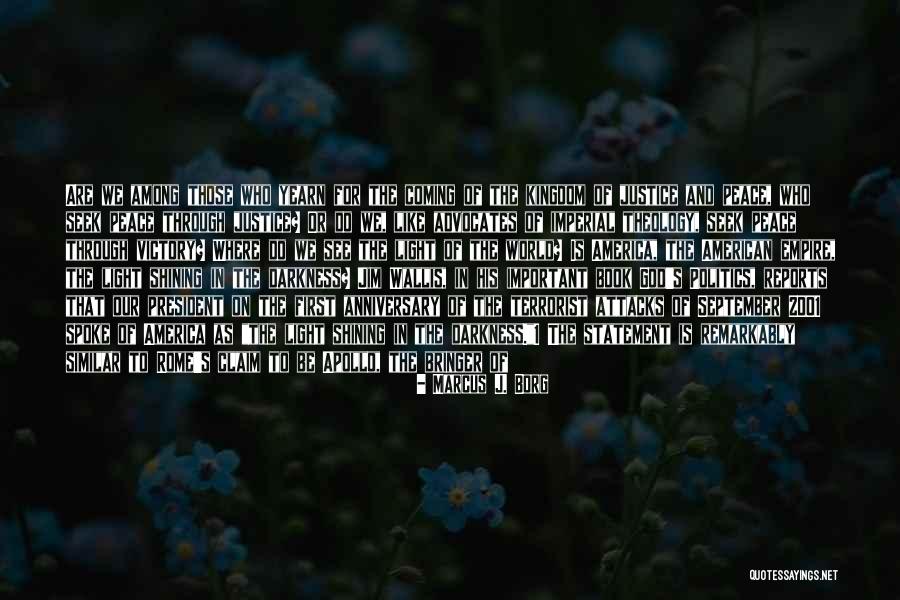 Are we among those who yearn for the coming of the kingdom of justice and peace, who seek peace through justice? Or do we, like advocates of imperial theology, seek peace through victory? Where do we see the light of the world? Is America, the American empire, the light shining in the darkness? Jim Wallis, in his important book God's Politics, reports that our president on the first anniversary of the terrorist attacks of September 2001 spoke of America as "the light shining in the darkness."1 The statement is remarkably similar to Rome's claim to be Apollo, the bringer of light. Or do we see the light of the world in Jesus, who stood against empire and indeed was executed by imperial authority? — Marcus J. Borg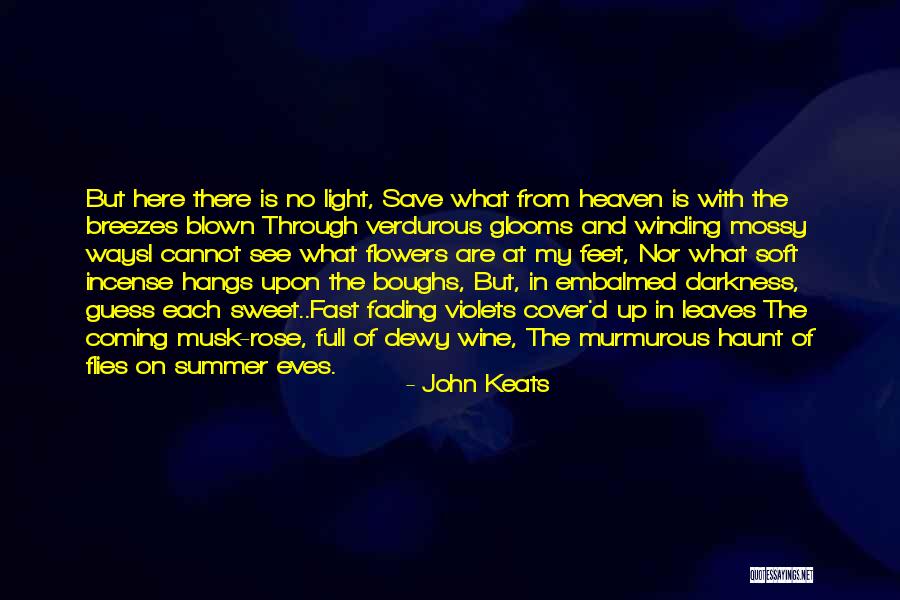 But here there is no light,
Save what from heaven is with the breezes blown
Through verdurous glooms and winding mossy ways
I cannot see what flowers are at my feet,
Nor what soft incense hangs upon the boughs,
But, in embalmed darkness, guess each sweet
..Fast fading violets cover'd up in leaves
The coming musk-rose, full of dewy wine,
The murmurous haunt of flies on summer eves. — John Keats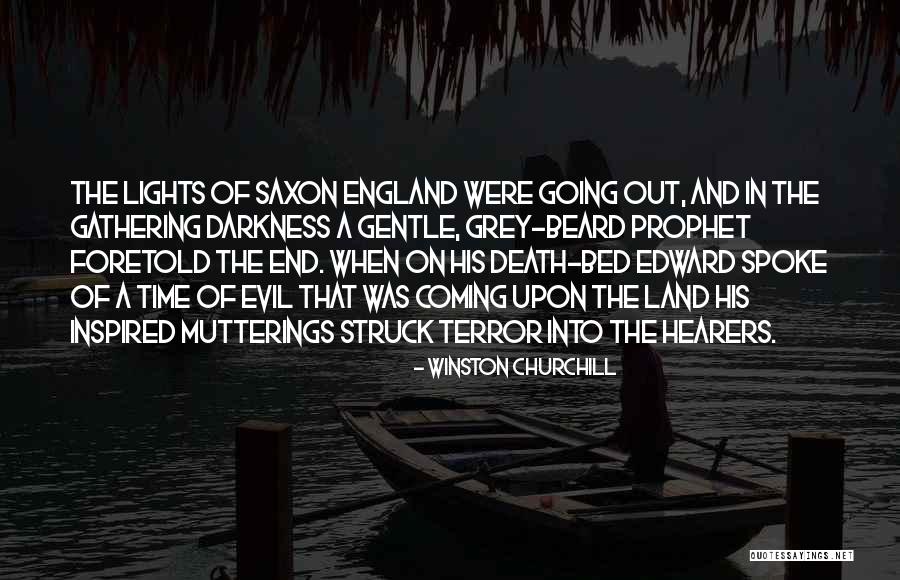 The lights of Saxon England were going out, and in the gathering darkness a gentle, grey-beard prophet foretold the end. When on his death-bed Edward spoke of a time of evil that was coming upon the land his inspired mutterings struck terror into the hearers. — Winston Churchill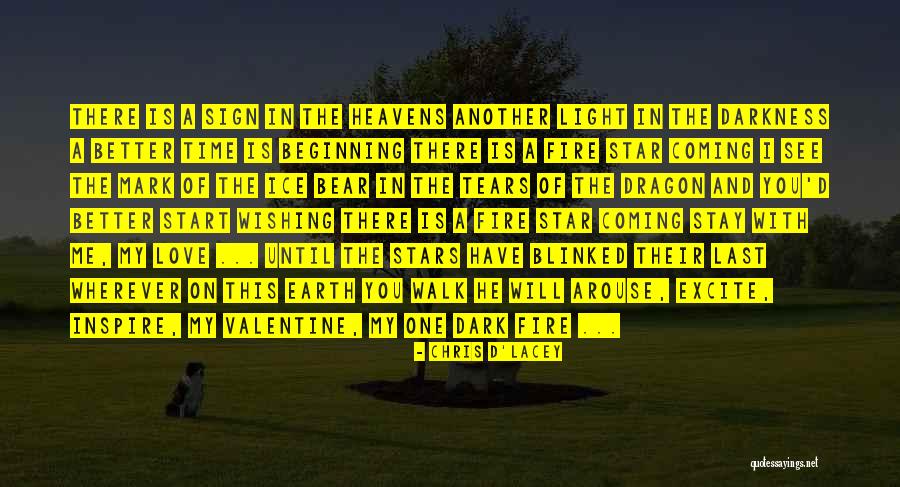 There is a sign in the heavens Another light in the darkness A better time is beginning There is a fire star coming I see the mark of the ice bear In the tears of the dragon And you'd better start wishing There is a fire star coming Stay with me, my love ... Until the stars have blinked their last Wherever on this earth you walk He will arouse, excite, inspire, My Valentine, my one dark fire ... — Chris D'Lacey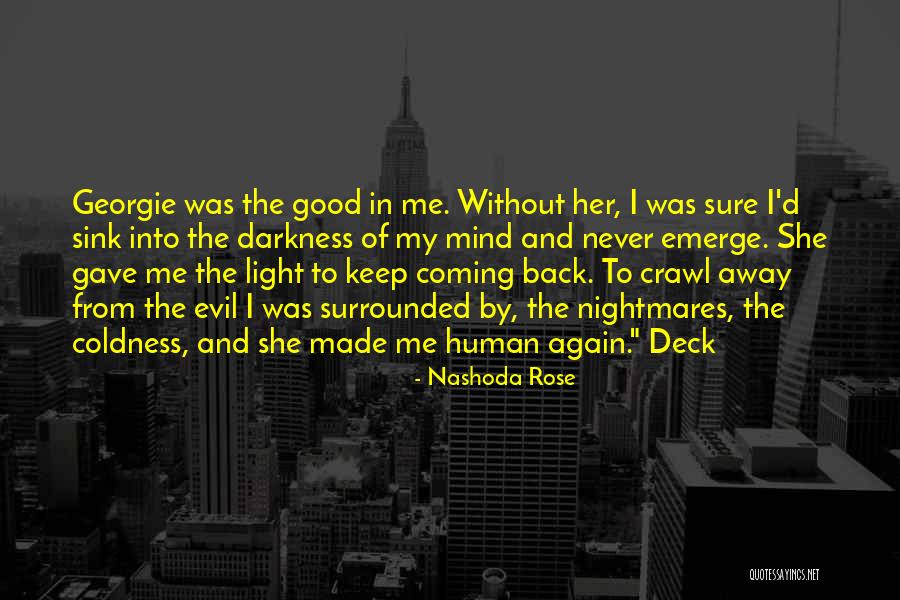 Georgie was the good in me. Without her, I was sure I'd sink into the darkness of my mind and never emerge. She gave me the light to keep coming back. To crawl away from the evil I was surrounded by, the nightmares, the coldness, and she made me human again." Deck — Nashoda Rose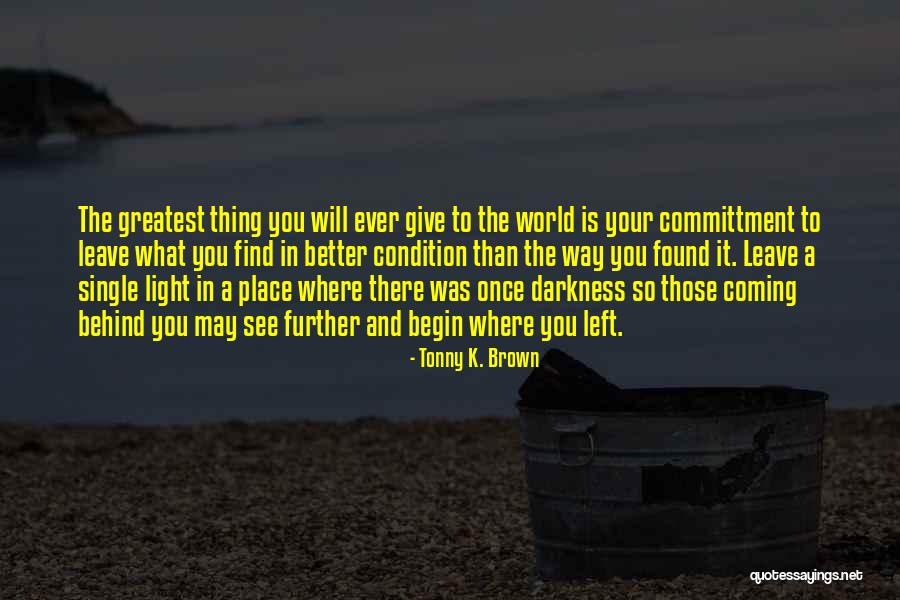 The greatest thing you will ever give to the world is your committment to leave what you find in better condition than the way you found it. Leave a single light in a place where there was once darkness so those coming behind you may see further and begin where you left. — Tonny K. Brown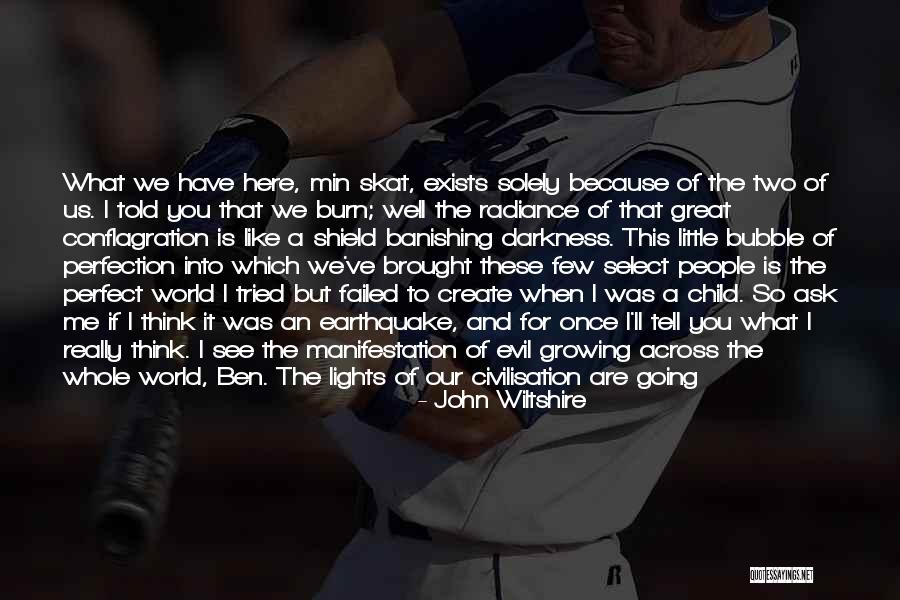 What we have here, min skat, exists solely because of the two of us. I told you that we burn; well the radiance of that great conflagration is like a shield banishing darkness. This little bubble of perfection into which we've brought these few select people is the perfect world I tried but failed to create when I was a child. So ask me if I think it was an earthquake, and for once I'll tell you what I really think. I see the manifestation of evil growing across the whole world, Ben. The lights of our civilisation are going out one by one, and we will be extinguished, engulfed by what is coming. Except here, under our shield, in the light of our fire." He turned Ben's hand over and stroked across the creases. "We hold the whole world in the palm of our hands." He folded Ben's fingers into a fist. "And we are mighty. — John Wiltshire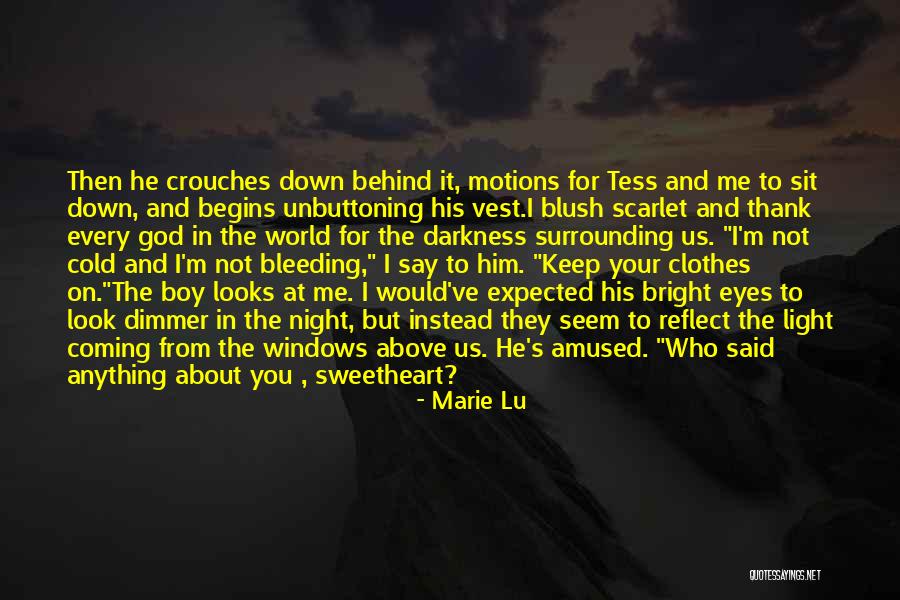 Then he crouches down behind it, motions for Tess and me to sit down, and begins unbuttoning his vest.
I blush scarlet and thank every god in the world for the darkness surrounding us. "I'm not cold and I'm not bleeding," I say to him. "Keep your clothes on."
The boy looks at me. I would've expected his bright eyes to look dimmer in the night, but instead they seem to reflect the light coming from the windows above us. He's amused. "Who said anything about you , sweetheart? — Marie Lu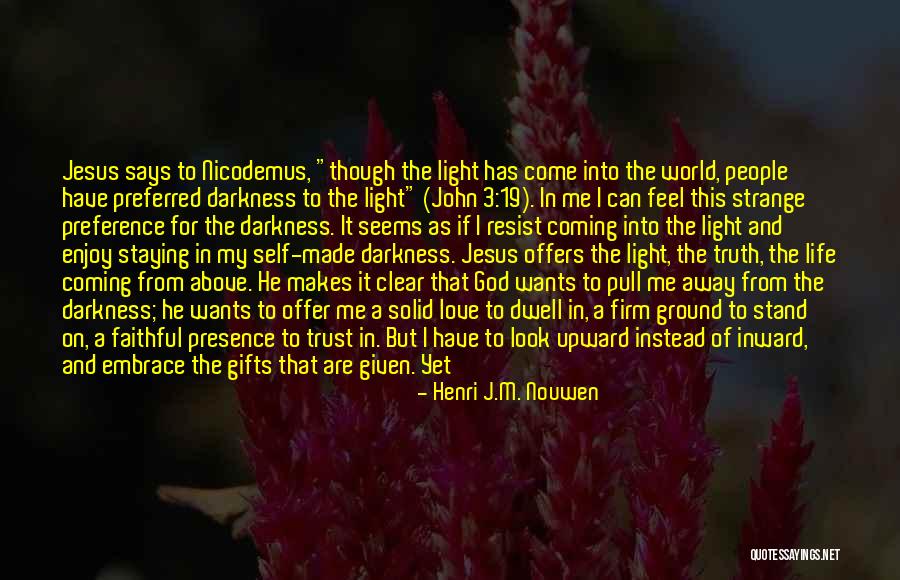 Jesus says to Nicodemus, "though the light has come into the world, people have preferred darkness to the light" (John 3:19). In me I can feel this strange preference for the darkness. It seems as if I resist coming into the light and enjoy staying in my self-made darkness. Jesus offers the light, the truth, the life coming from above. He makes it clear that God wants to pull me away from the darkness; he wants to offer me a solid love to dwell in, a firm ground to stand on, a faithful presence to trust in. But I have to look upward instead of inward, and embrace the gifts that are given. Yet — Henri J.M. Nouwen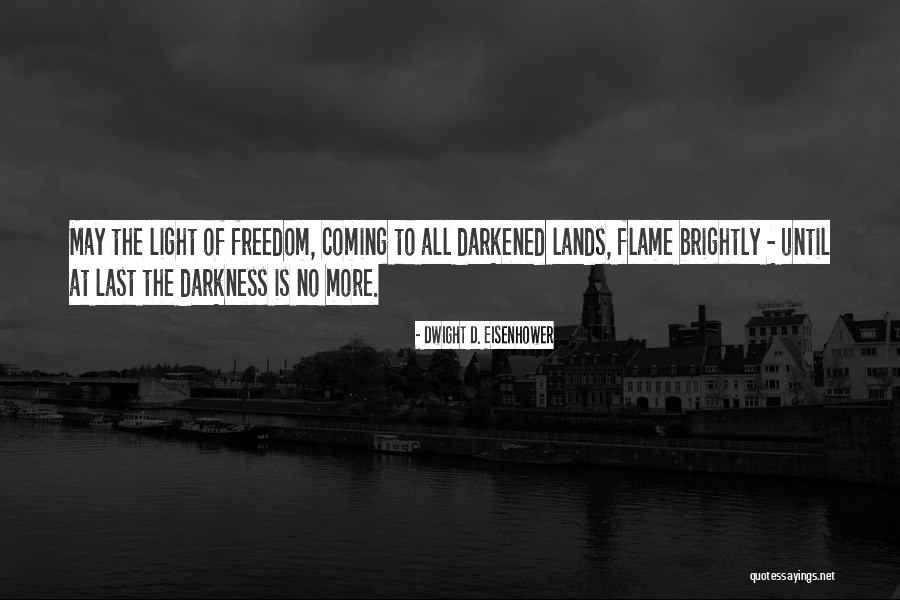 May the light of freedom, coming to all darkened lands, flame brightly - until at last the darkness is no more. — Dwight D. Eisenhower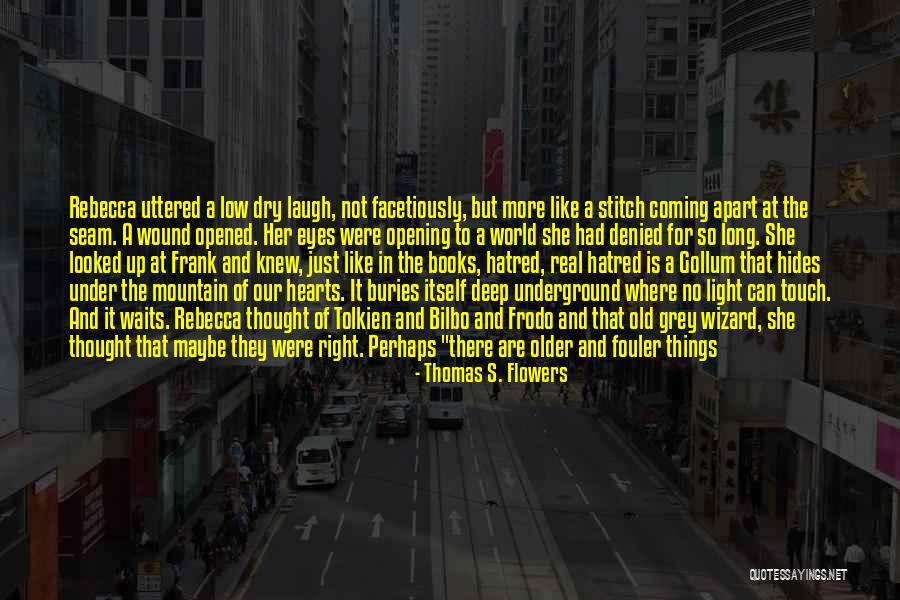 Rebecca uttered a low dry laugh, not facetiously, but more like a stitch coming apart at the seam. A wound opened. Her eyes were opening to a world she had denied for so long. She looked up at Frank and knew, just like in the books, hatred, real hatred is a Gollum that hides under the mountain of our hearts. It buries itself deep underground where no light can touch. And it waits. Rebecca thought of Tolkien and Bilbo and Frodo and that old grey wizard, she thought that maybe they were right. Perhaps "there are older and fouler things in the deep places of the world - in the deep places of our hearts." And as she sat on the floor with Tom Johnson's Glock aimed at her husband's head, Rebecca looked into the space where his eyes should have been. She looked at what was now only darkness and felt something on the other side, something not her husband, looking back. — Thomas S. Flowers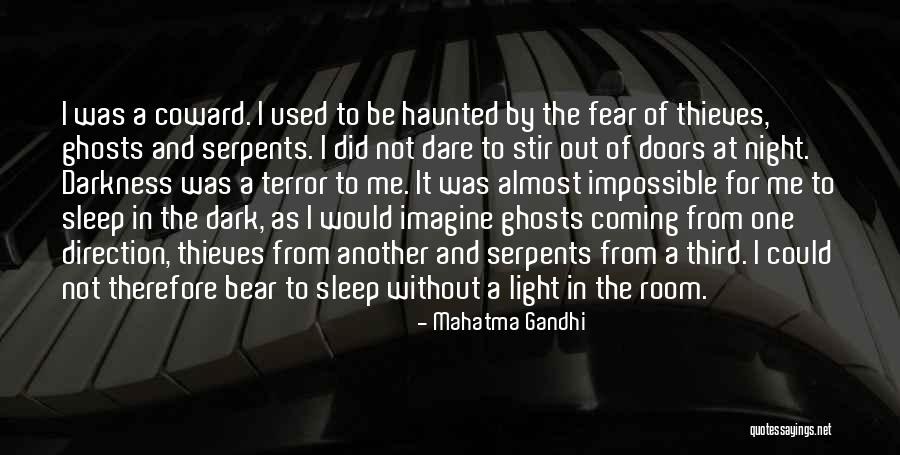 I was a coward. I used to be haunted by the fear of thieves, ghosts and serpents. I did not dare to stir out of doors at night. Darkness was a terror to me. It was almost impossible for me to sleep in the dark, as I would imagine ghosts coming from one direction, thieves from another and serpents from a third. I could not therefore bear to sleep without a light in the room. — Mahatma Gandhi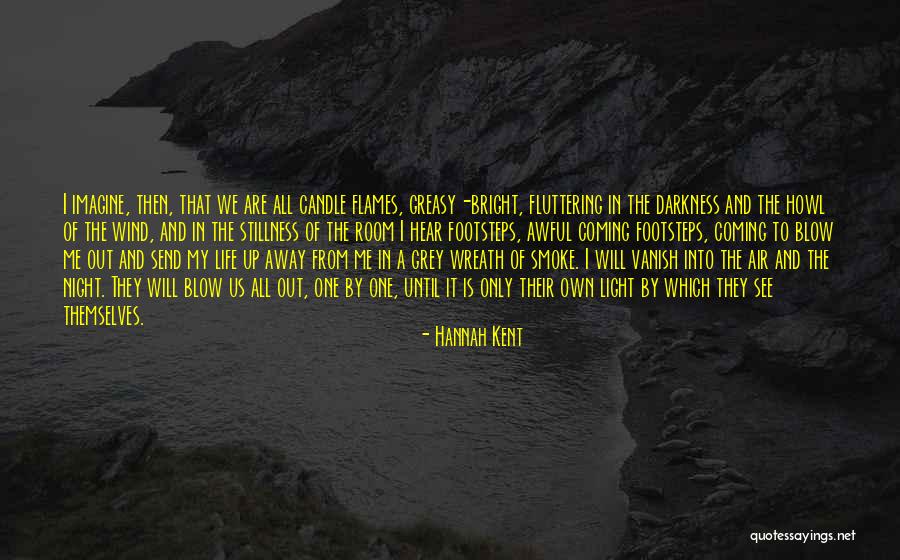 I imagine, then, that we are all candle flames, greasy-bright, fluttering in the darkness and the howl of the wind, and in the stillness of the room I hear footsteps, awful coming footsteps, coming to blow me out and send my life up away from me in a grey wreath of smoke. I will vanish into the air and the night. They will blow us all out, one by one, until it is only their own light by which they see themselves. — Hannah Kent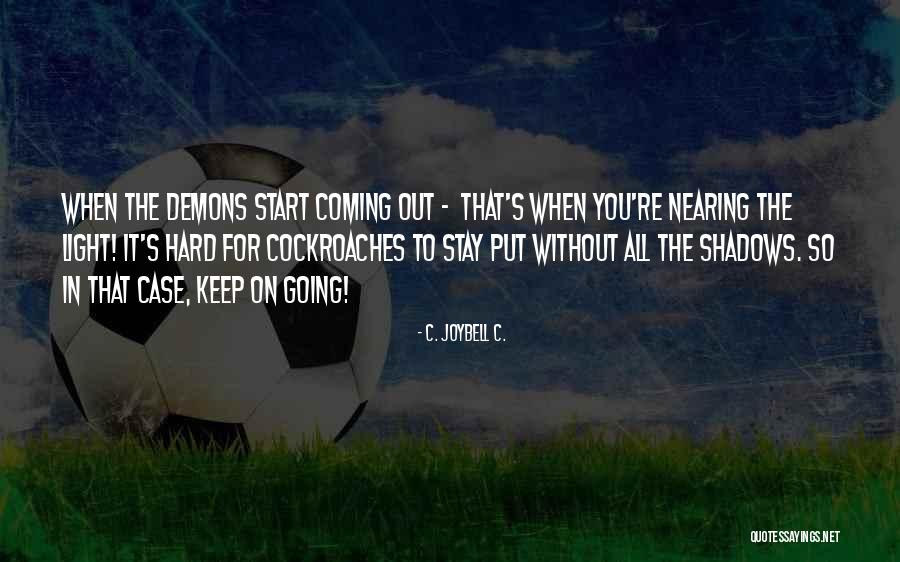 When the demons start coming out - that's when you're nearing the light! It's hard for cockroaches to stay put without all the shadows. So in that case, keep on going! — C. JoyBell C.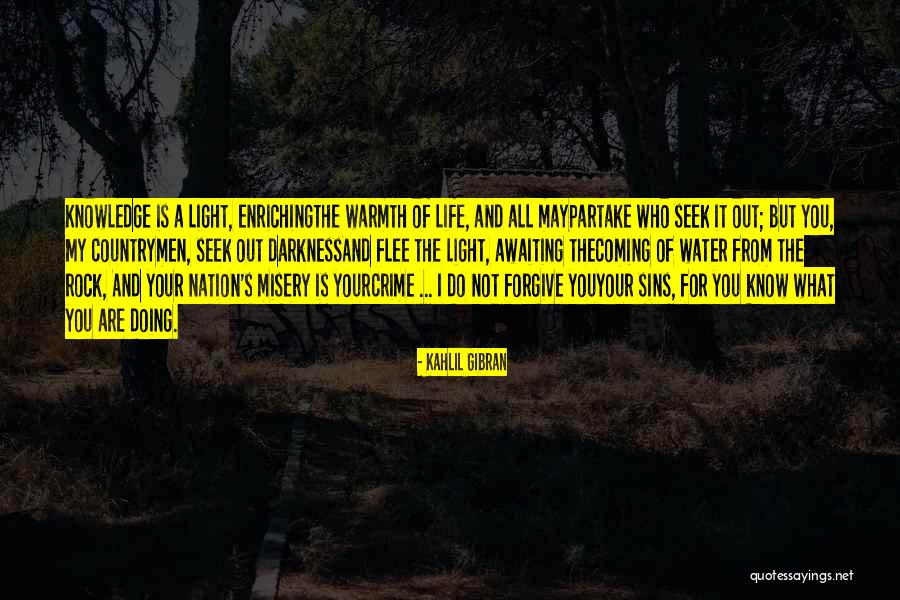 Knowledge is a light, enriching
The warmth of life, and all may
Partake who seek it out; but you,
My Countrymen, seek out darkness
And flee the light, awaiting the
Coming of water from the rock,
And your nation's misery is your
Crime ... I do not forgive you
Your sins, for you know what you are doing. — Kahlil Gibran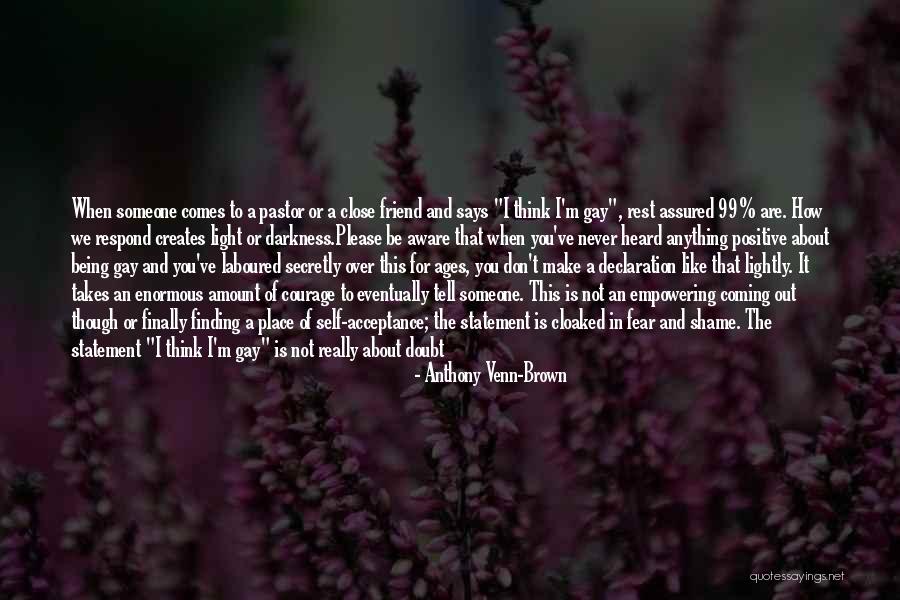 When someone comes to a pastor or a close friend and says "I think I'm gay", rest assured 99% are. How we respond creates light or darkness.
Please be aware that when you've never heard anything positive about being gay and you've laboured secretly over this for ages, you don't make a declaration like that lightly. It takes an enormous amount of courage to eventually tell someone. This is not an empowering coming out though or finally finding a place of self-acceptance; the statement is cloaked in fear and shame. The statement "I think I'm gay" is not really about doubt or confusion it's more likely they are saying "I'm gay, but it scares the shit out of me and I don't want to be. Help!"
At that point the pastor or friend has the privileged opportunity to provide a place of safety and compassion that will lead them on into self-acceptance and an authentic life. Handled unwisely could lead them into years of internal torment. — Anthony Venn-Brown