Civil Services Quotes & Sayings
Enjoy reading and share 11 famous quotes about Civil Services with everyone.
Top Civil Services Quotes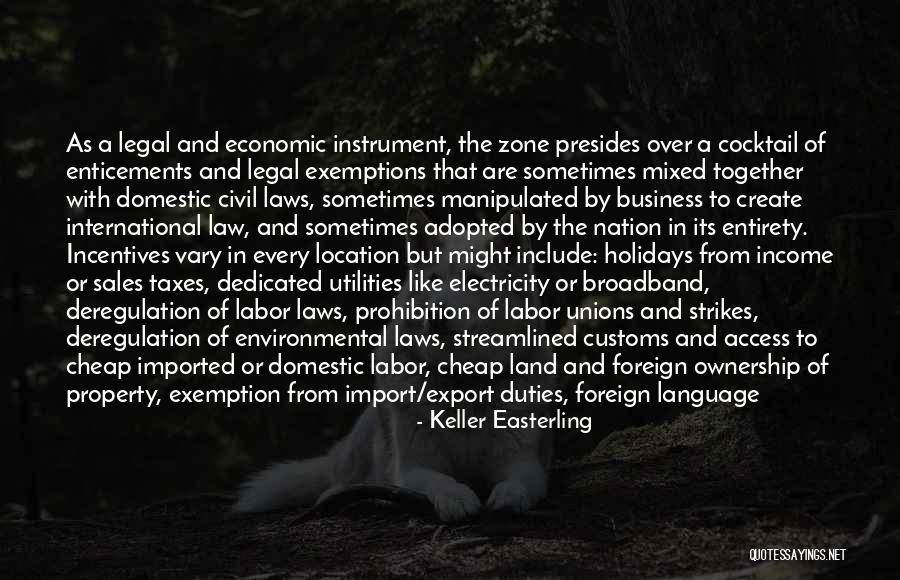 As a legal and economic instrument, the zone presides over a cocktail of enticements and legal exemptions that are sometimes mixed together with domestic civil laws, sometimes manipulated by business to create international law, and sometimes adopted by the nation in its entirety. Incentives vary in every location but might include: holidays from income or sales taxes, dedicated utilities like electricity or broadband, deregulation of labor laws, prohibition of labor unions and strikes, deregulation of environmental laws, streamlined customs and access to cheap imported or domestic labor, cheap land and foreign ownership of property, exemption from import/export duties, foreign language services, or relaxed licensing requirements. — Keller Easterling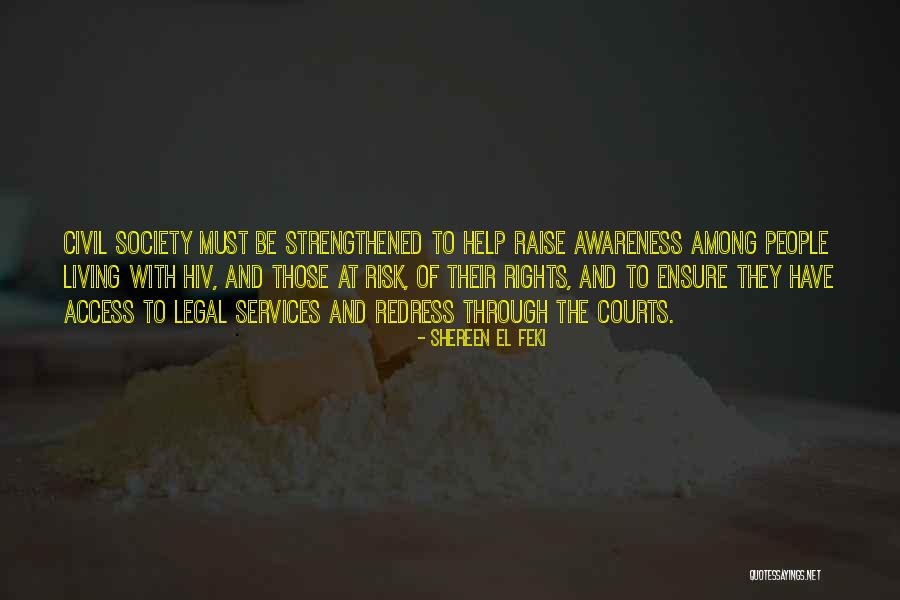 Civil society must be strengthened to help raise awareness among people living with HIV, and those at risk, of their rights, and to ensure they have access to legal services and redress through the courts. — Shereen El Feki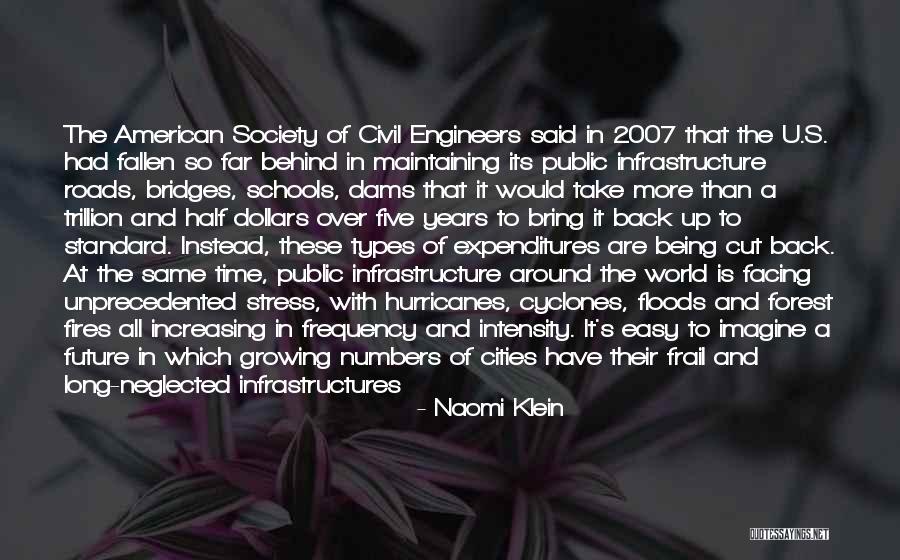 The American Society of Civil Engineers said in 2007 that the U.S. had fallen so far behind in maintaining its public infrastructure
roads, bridges, schools, dams
that it would take more than a trillion and half dollars over five years to bring it back up to standard. Instead, these types of expenditures are being cut back. At the same time, public infrastructure around the world is facing unprecedented stress, with hurricanes, cyclones, floods and forest fires all increasing in frequency and intensity. It's easy to imagine a future in which growing numbers of cities have their frail and long-neglected infrastructures knocked out by disasters and then are left to rot, their core services never repaired or rehabilitated. The well-off, meanwhile, will withdraw into gated communities, their needs met by privatized providers. — Naomi Klein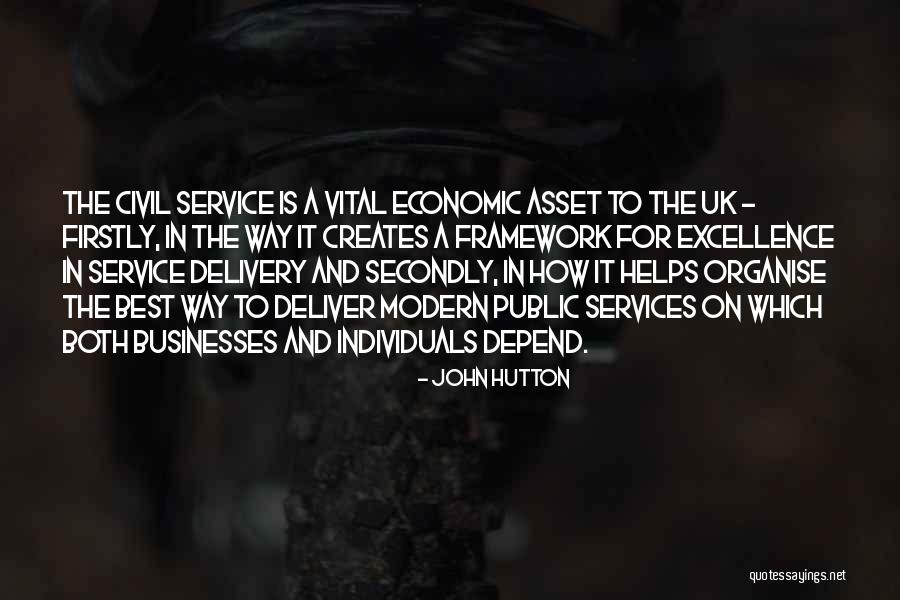 The Civil Service is a vital economic asset to the UK - firstly, in the way it creates a framework for excellence in service delivery and secondly, in how it helps organise the best way to deliver modern public services on which both businesses and individuals depend. — John Hutton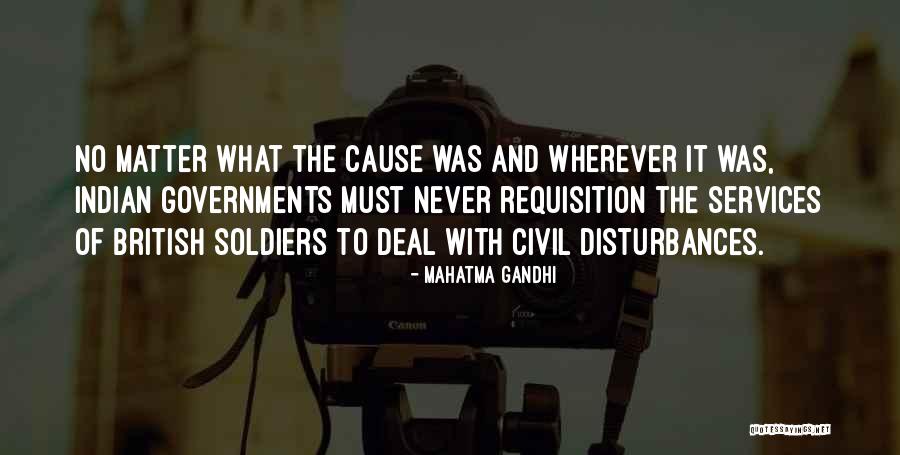 No matter what the cause was and wherever it was, Indian governments must never requisition the services of British soldiers to deal with civil disturbances. — Mahatma Gandhi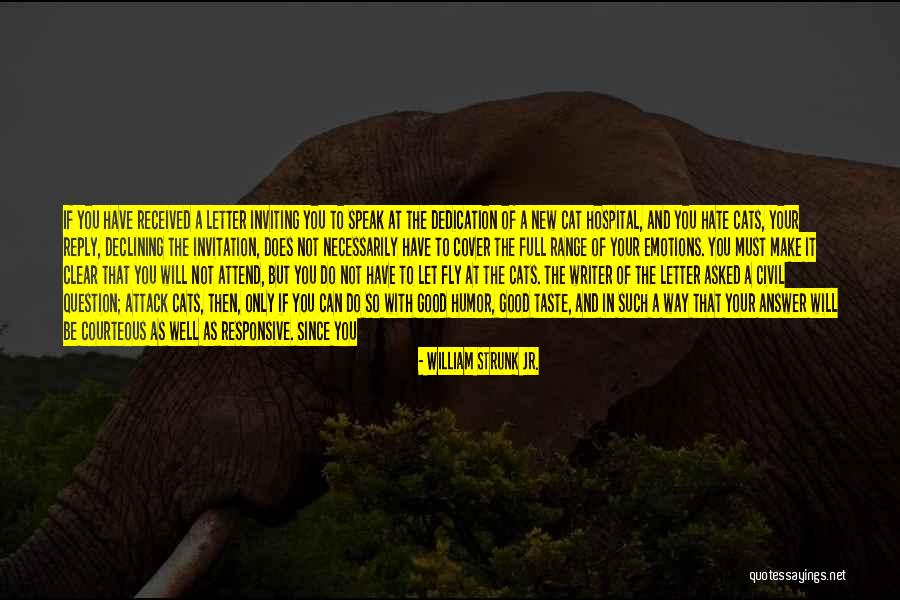 If you have received a letter inviting you to speak at the dedication of a new cat hospital, and you hate cats, your reply, declining the invitation, does not necessarily have to cover the full range of your emotions. You must make it clear that you will not attend, but you do not have to let fly at the cats. The writer of the letter asked a civil question; attack cats, then, only if you can do so with good humor, good taste, and in such a way that your answer will be courteous as well as responsive. Since you are out of sympathy with cats, you may quite properly give this as a reason for not appearing at the dedicatory ceremonies of a cat hospital. But bear in mind that your opinion of cats was not sought, only your services as a speaker. Try to keep things straight. — William Strunk Jr.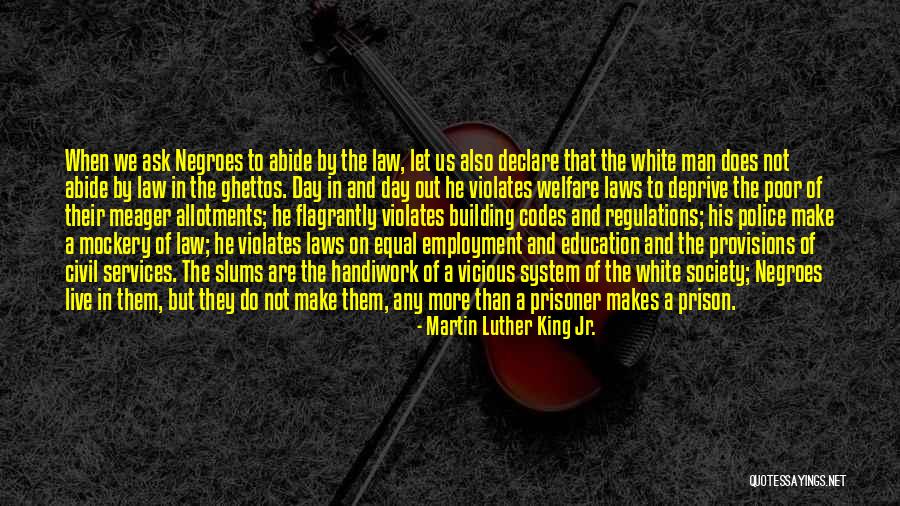 When we ask Negroes to abide by the law, let us also declare that the white man does not abide by law in the ghettos. Day in and day out he violates welfare laws to deprive the poor of their meager allotments; he flagrantly violates building codes and regulations; his police make a mockery of law; he violates laws on equal employment and education and the provisions of civil services. The slums are the handiwork of a vicious system of the white society; Negroes live in them, but they do not make them, any more than a prisoner makes a prison. — Martin Luther King Jr.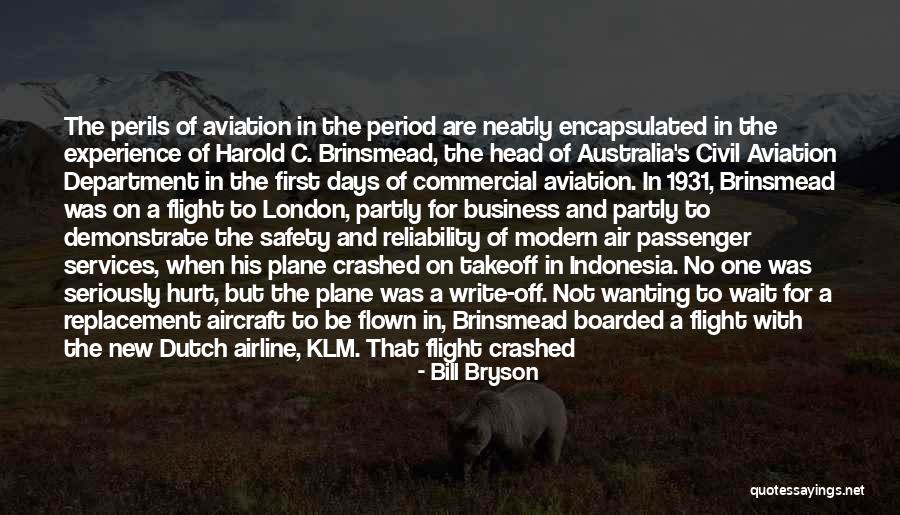 The perils of aviation in the period are neatly encapsulated in the experience of Harold C. Brinsmead, the head of Australia's Civil Aviation Department in the first days of commercial aviation. In 1931, Brinsmead was on a flight to London, partly for business and partly to demonstrate the safety and reliability of modern air passenger services, when his plane crashed on takeoff in Indonesia. No one was seriously hurt, but the plane was a write-off. Not wanting to wait for a replacement aircraft to be flown in, Brinsmead boarded a flight with the new Dutch airline, KLM. That flight crashed while taking off in Bangkok. On this occasion, five people were killed and Brinsmead suffered serious injuries from which he never recovered. He died two years later. Meanwhile, the surviving passengers carried on to London in a replacement plane. That plane crashed on the return trip. Daly — Bill Bryson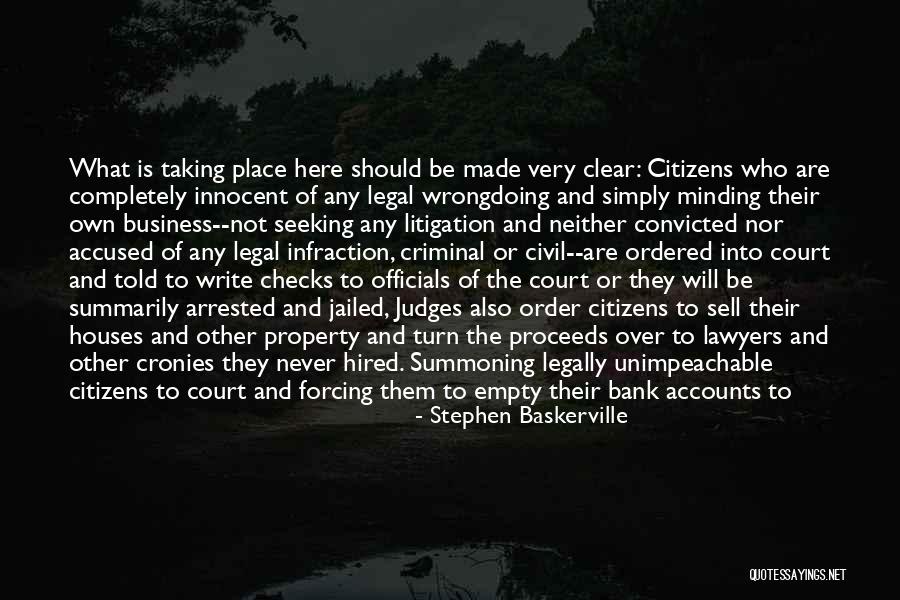 What is taking place here should be made very clear: Citizens who are completely innocent of any legal wrongdoing and simply minding their own business--not seeking any litigation and neither convicted nor accused of any legal infraction, criminal or civil--are ordered into court and told to write checks to officials of the court or they will be summarily arrested and jailed, Judges also order citizens to sell their houses and other property and turn the proceeds over to lawyers and other cronies they never hired. Summoning legally unimpeachable citizens to court and forcing them to empty their bank accounts to people they have not hired for services they have neither requested nor received on threat of physical punishment is what most people would call a protection racket. . . Yet family court judges do this as a matter of routine. This is by far the clearest example of what we political scientists term a "kleptocracy," or government by theives. — Stephen Baskerville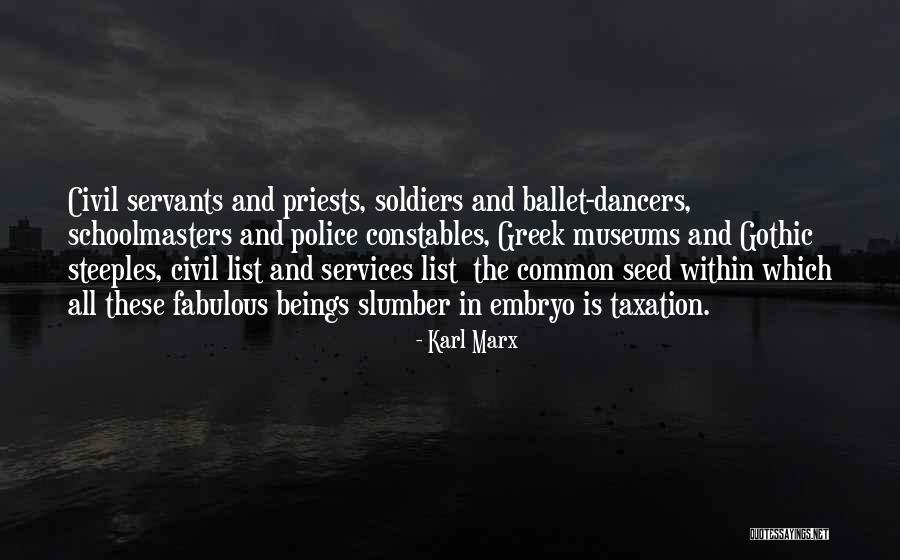 Civil servants and priests, soldiers and ballet-dancers, schoolmasters and police constables, Greek museums and Gothic steeples, civil list and services list
the common seed within which all these fabulous beings slumber in embryo is taxation. — Karl Marx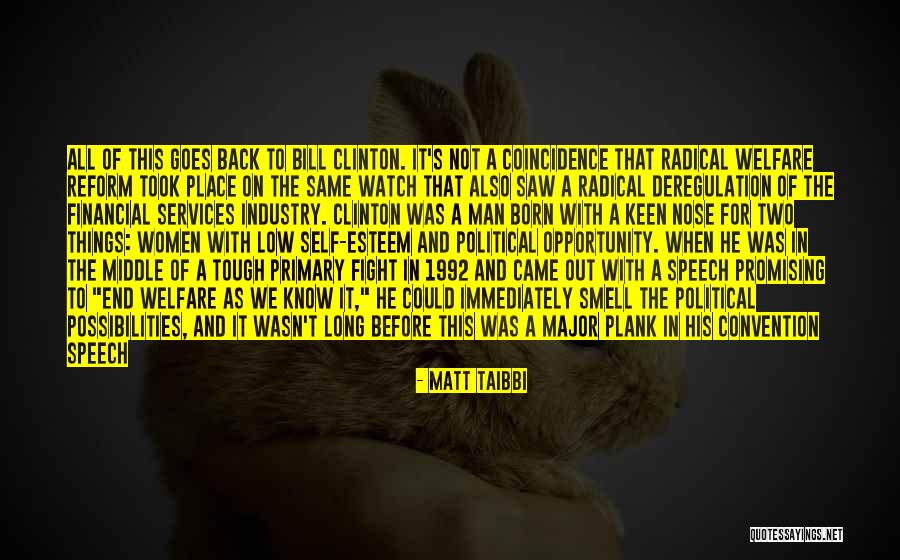 All of this goes back to Bill Clinton. It's not a coincidence that radical welfare reform took place on the same watch that also saw a radical deregulation of the financial services industry. Clinton was a man born with a keen nose for two things: women with low self-esteem and political opportunity. When he was in the middle of a tough primary fight in 1992 and came out with a speech promising to "end welfare as we know it," he could immediately smell the political possibilities, and it wasn't long before this was a major plank in his convention speech (and soon in his first State of the Union address). Clinton understood that putting the Democrats back in the business of banging on black dependency would allow his party to reseize the political middle that Democrats had lost when Lyndon Johnson threw the weight of the White House behind the civil rights effort and the War on Poverty. — Matt Taibbi