Quotes & Sayings About Civil Rights And Equality
Enjoy reading and share 45 famous quotes about Civil Rights And Equality with everyone.
Top Civil Rights And Equality Quotes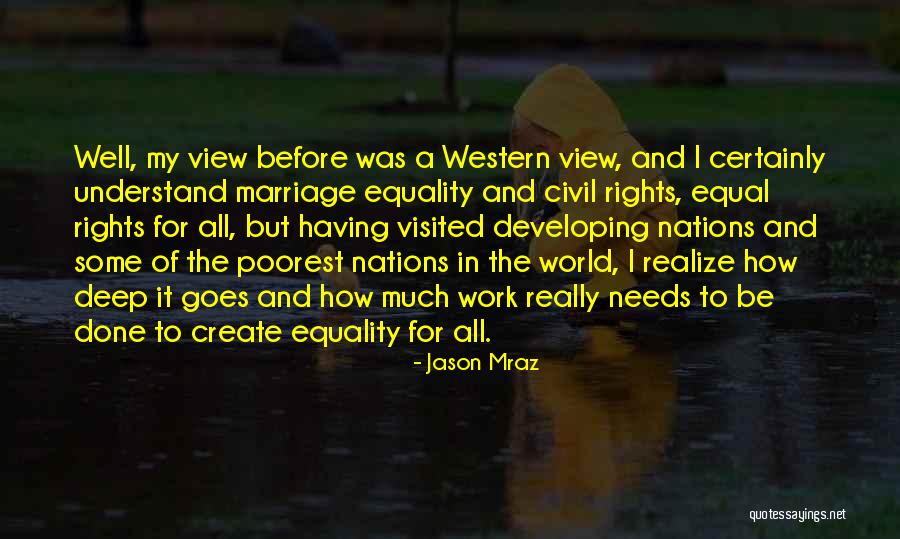 Well, my view before was a Western view, and I certainly understand marriage equality and civil rights, equal rights for all, but having visited developing nations and some of the poorest nations in the world, I realize how deep it goes and how much work really needs to be done to create equality for all. — Jason Mraz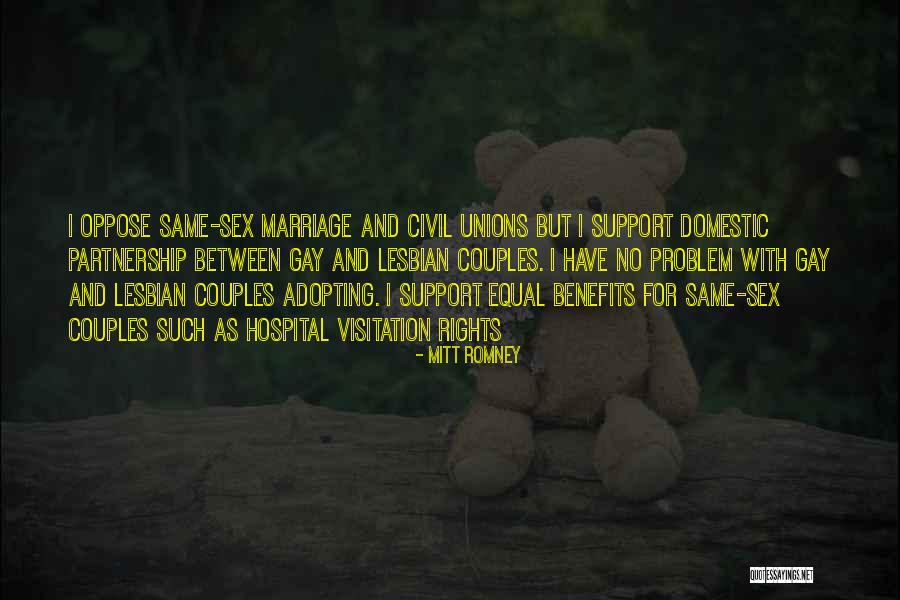 I oppose same-sex marriage and civil unions but I support domestic partnership between gay and lesbian couples. I have no problem with gay and lesbian couples adopting. I support equal benefits for same-sex couples such as hospital visitation rights — Mitt Romney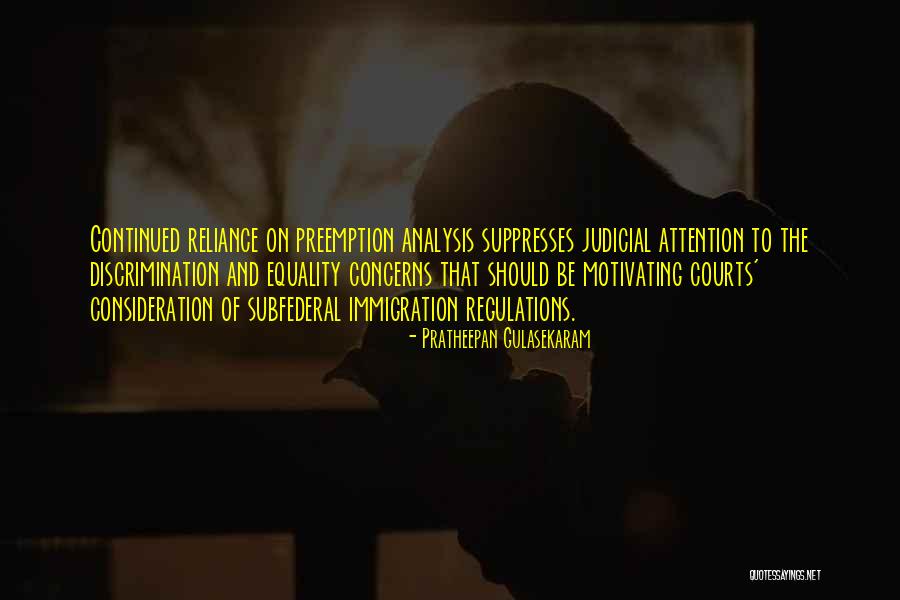 Continued reliance on preemption analysis suppresses judicial attention to the discrimination and equality concerns that should be motivating courts' consideration of subfederal immigration regulations. — Pratheepan Gulasekaram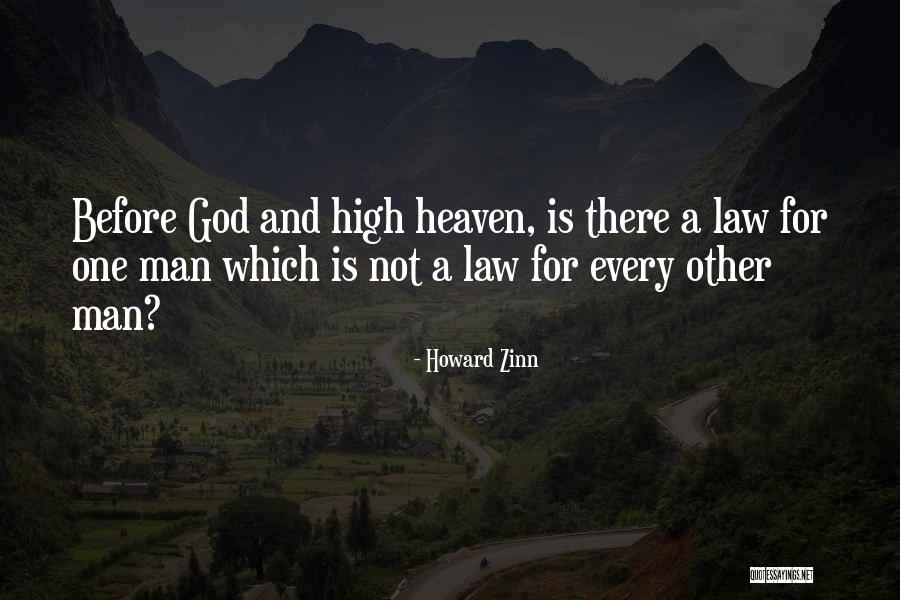 Before God and high heaven, is there a law for one man which is not a law for every other man? — Howard Zinn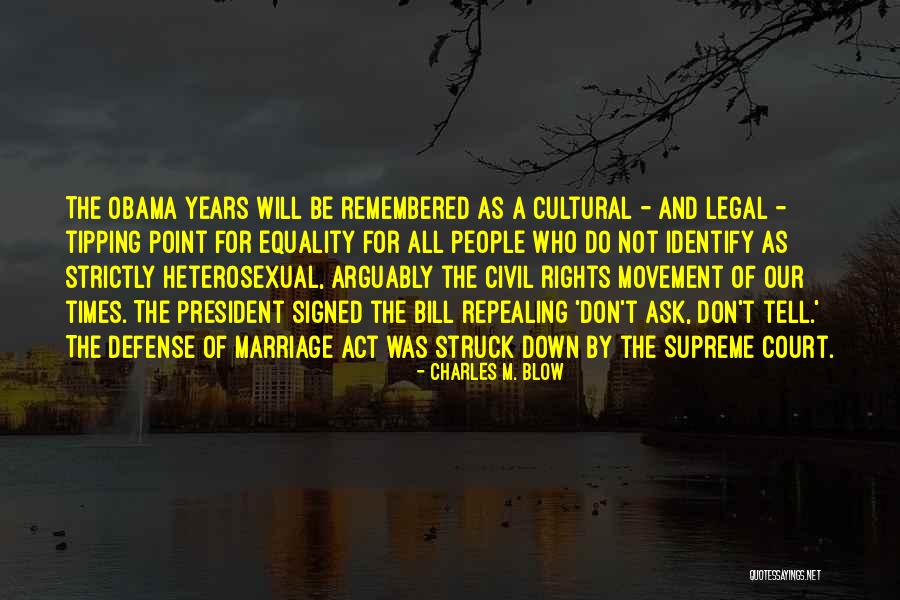 The Obama years will be remembered as a cultural - and legal - tipping point for equality for all people who do not identify as strictly heterosexual, arguably the civil rights movement of our times. The president signed the bill repealing 'don't ask, don't tell.' The Defense of Marriage Act was struck down by the Supreme Court. — Charles M. Blow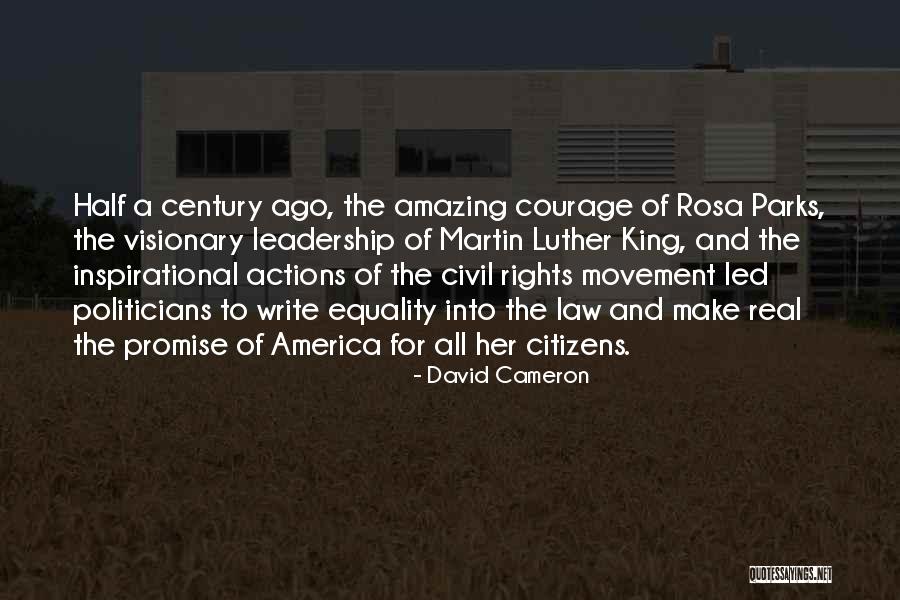 Half a century ago, the amazing courage of Rosa Parks, the visionary leadership of Martin Luther King, and the inspirational actions of the civil rights movement led politicians to write equality into the law and make real the promise of America for all her citizens. — David Cameron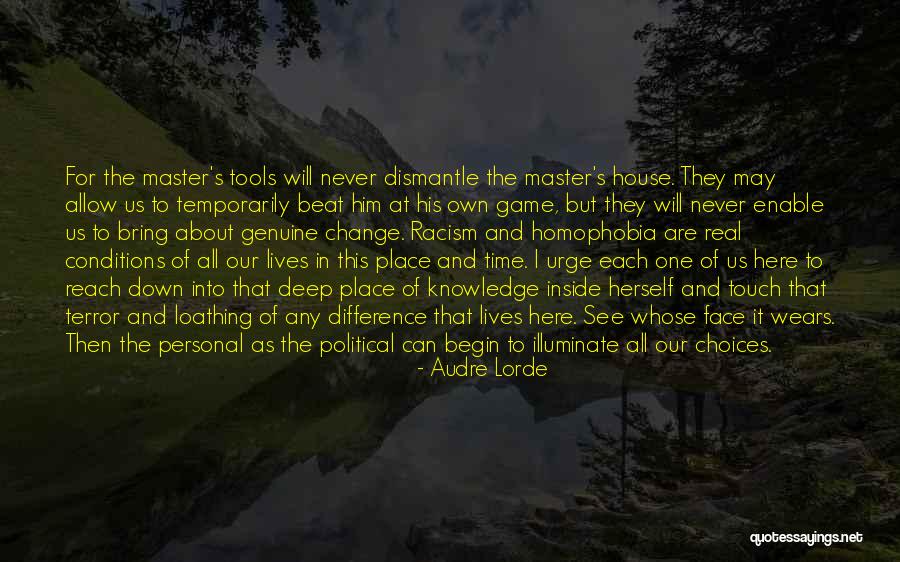 For the master's tools will never dismantle the master's house. They may allow us to temporarily beat him at his own game, but they will never enable us to bring about genuine change. Racism and homophobia are real conditions of all our lives in this place and time. I urge each one of us here to reach down into that deep place of knowledge inside herself and touch that terror and loathing of any difference that lives here. See whose face it wears. Then the personal as the political can begin to illuminate all our choices. — Audre Lorde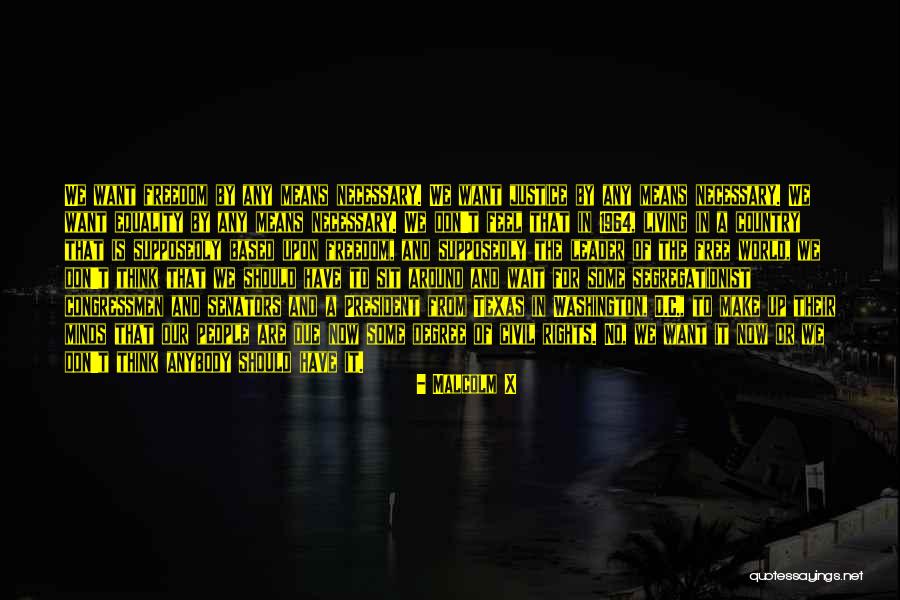 We want freedom by any means necessary. We want justice by any means necessary. We want equality by any means necessary. We don't feel that in 1964, living in a country that is supposedly based upon freedom, and supposedly the leader of the free world, we don't think that we should have to sit around and wait for some segregationist congressmen and senators and a President from Texas in Washington, D.C., to make up their minds that our people are due now some degree of civil rights. No, we want it now or we don't think anybody should have it. — Malcolm X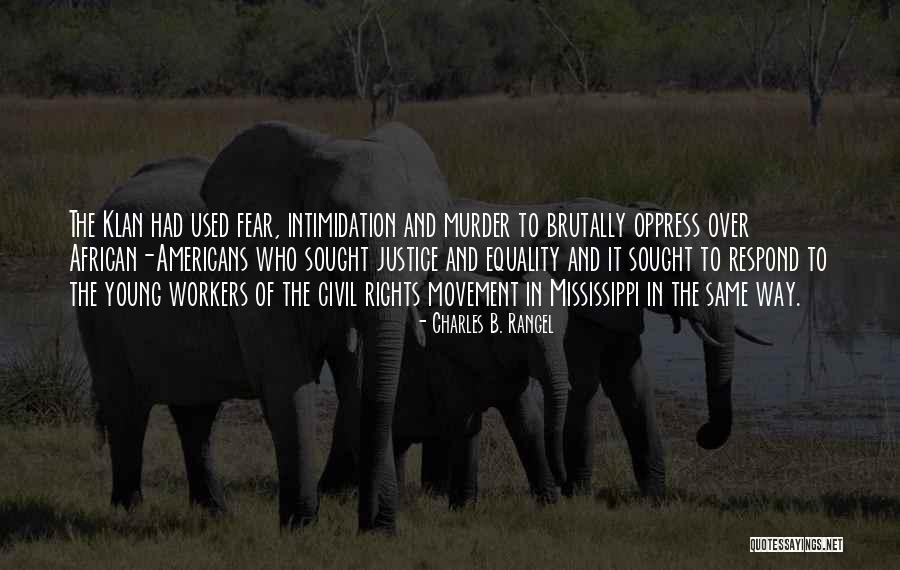 The Klan had used fear, intimidation and murder to brutally oppress over African-Americans who sought justice and equality and it sought to respond to the young workers of the civil rights movement in Mississippi in the same way. — Charles B. Rangel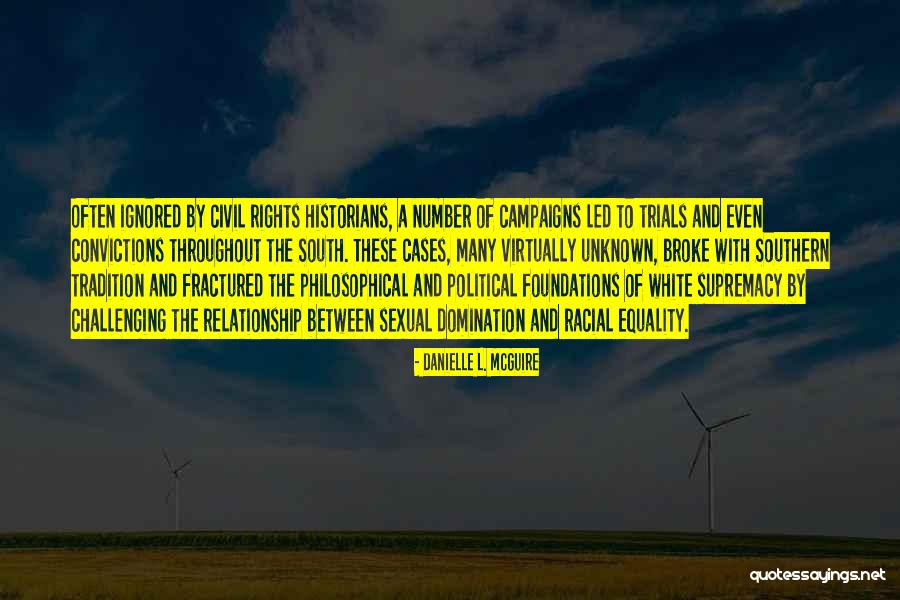 Often ignored by civil rights historians, a number of campaigns led to trials and even convictions throughout the South. These cases, many virtually unknown, broke with Southern tradition and fractured the philosophical and political foundations of white supremacy by challenging the relationship between sexual domination and racial equality. — Danielle L. McGuire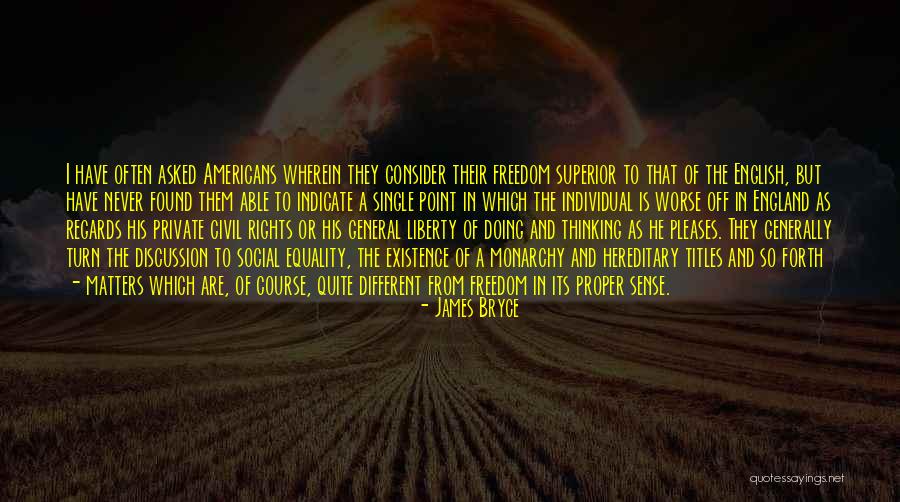 I have often asked Americans wherein they consider their freedom superior to that of the English, but have never found them able to indicate a single point in which the individual is worse off in England as regards his private civil rights or his general liberty of doing and thinking as he pleases. They generally turn the discussion to social equality, the existence of a monarchy and hereditary titles and so forth - matters which are, of course, quite different from freedom in its proper sense. — James Bryce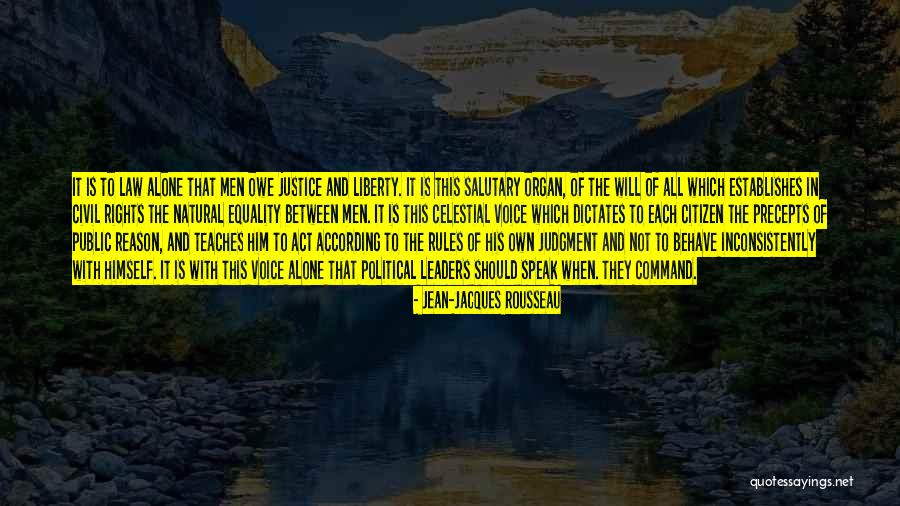 It is to law alone that men owe justice and liberty. It is this salutary organ, of the will of all which establishes in civil rights the natural equality between men. It is this celestial voice which dictates to each citizen the precepts of public reason, and teaches him to act according to the rules of his own judgment and not to behave inconsistently with himself. It is with this voice alone that political leaders should speak when. they command. — Jean-Jacques Rousseau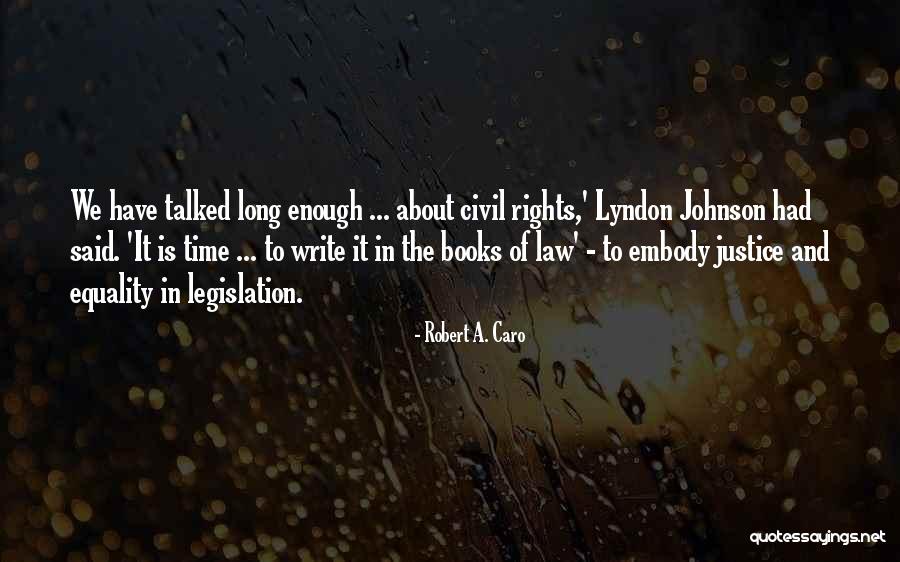 We have talked long enough ... about civil rights,' Lyndon Johnson had said. 'It is time ... to write it in the books of law' - to embody justice and equality in legislation. — Robert A. Caro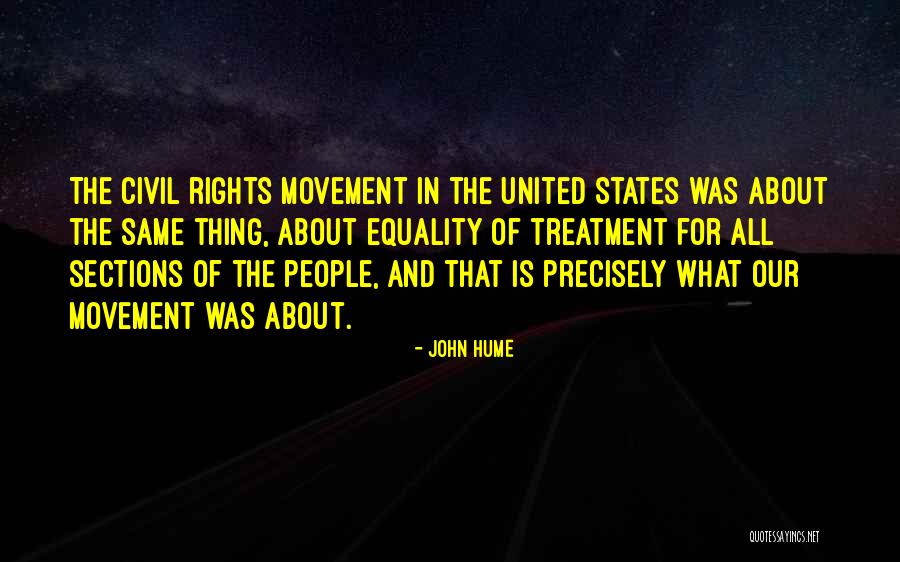 The civil rights movement in the United States was about the same thing, about equality of treatment for all sections of the people, and that is precisely what our movement was about. — John Hume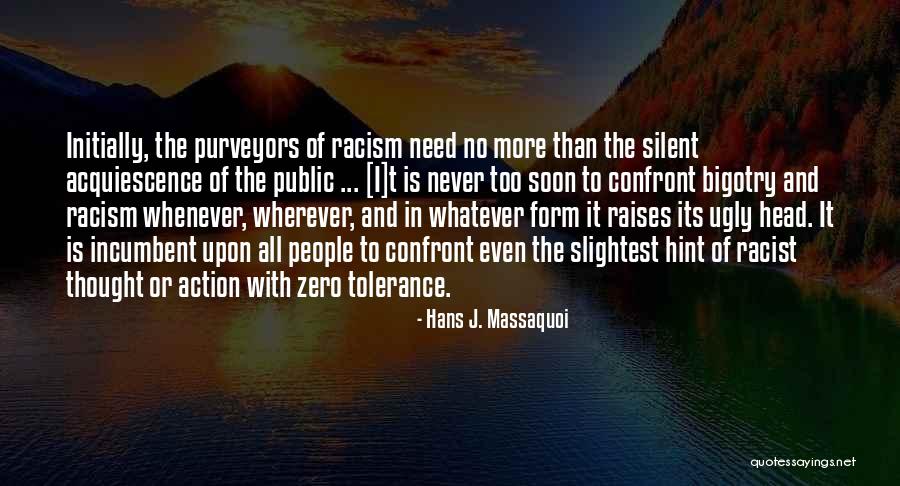 Initially, the purveyors of racism need no more than the silent acquiescence of the public ... [I]t is never too soon to confront bigotry and racism whenever, wherever, and in whatever form it raises its ugly head. It is incumbent upon all people to confront even the slightest hint of racist thought or action with zero tolerance. — Hans J. Massaquoi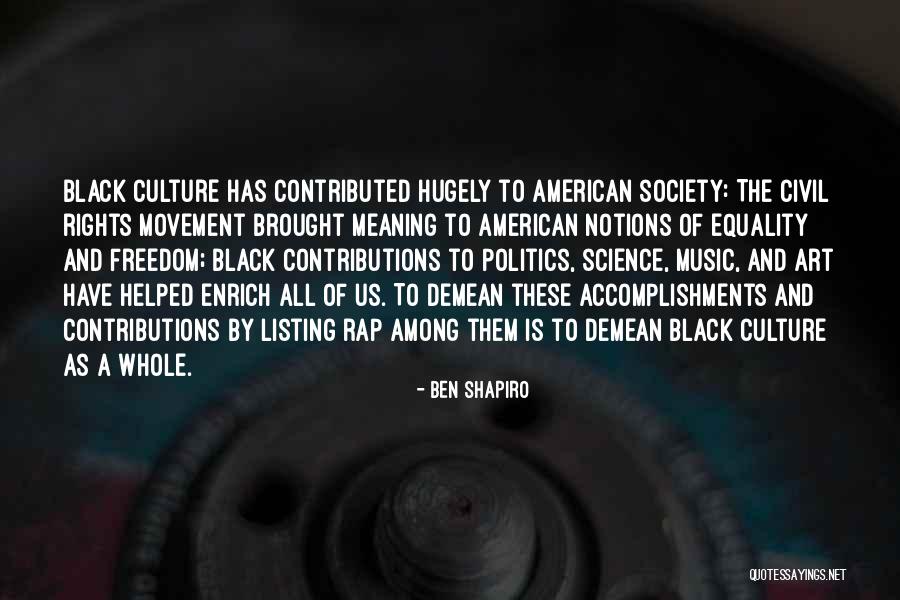 Black culture has contributed hugely to American society: The civil rights movement brought meaning to American notions of equality and freedom; black contributions to politics, science, music, and art have helped enrich all of us. To demean these accomplishments and contributions by listing rap among them is to demean black culture as a whole. — Ben Shapiro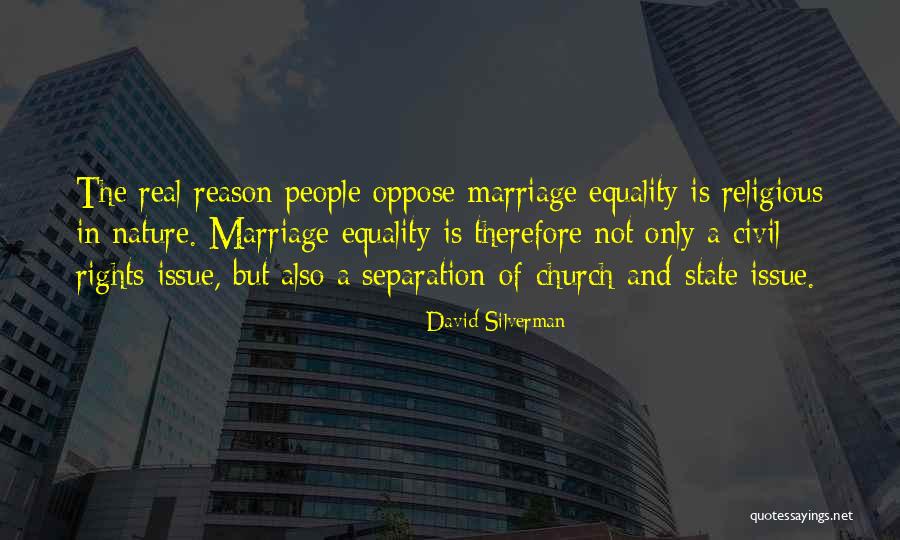 The real reason people oppose marriage equality is religious in nature. Marriage equality is therefore not only a civil rights issue, but also a separation-of-church-and-state issue. — David Silverman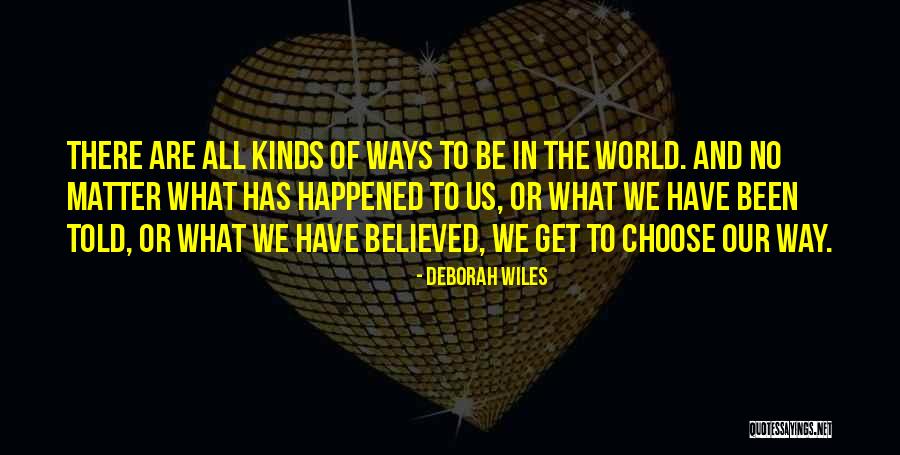 There are all kinds of ways to be in the world. And no matter what has happened to us, or what we have been told, or what we have believed, we get to choose our way. — Deborah Wiles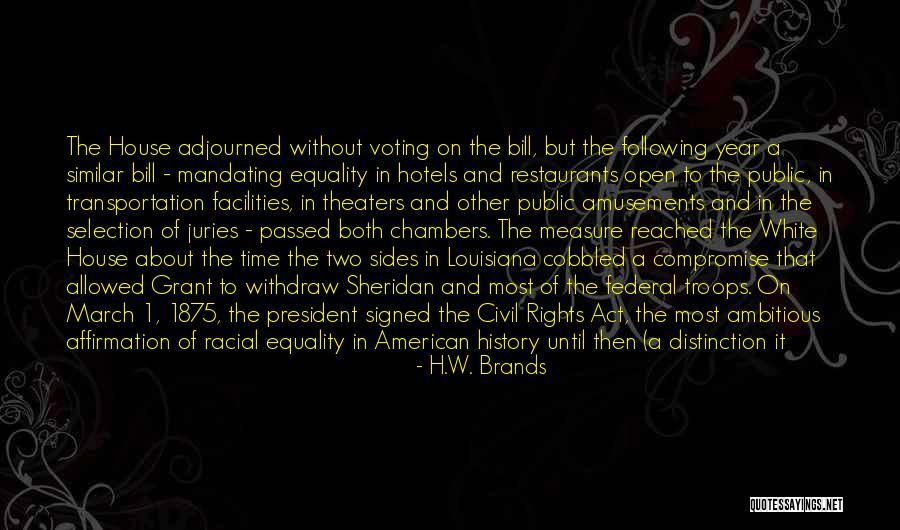 The House adjourned without voting on the bill, but the following year a similar bill - mandating equality in hotels and restaurants open to the public, in transportation facilities, in theaters and other public amusements and in the selection of juries - passed both chambers. The measure reached the White House about the time the two sides in Louisiana cobbled a compromise that allowed Grant to withdraw Sheridan and most of the federal troops. On March 1, 1875, the president signed the Civil Rights Act, the most ambitious affirmation of racial equality in American history until then (a distinction it would retain until the 1960s). — H.W. Brands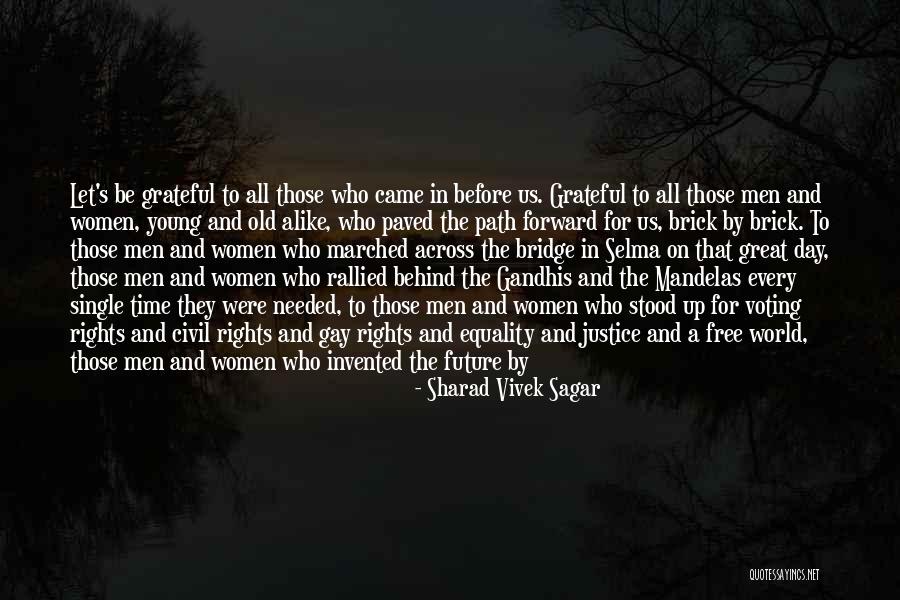 Let's be grateful to all those who came in before us. Grateful to all those men and women, young and old alike, who paved the path forward for us, brick by brick. To those men and women who marched across the bridge in Selma on that great day, those men and women who rallied behind the Gandhis and the Mandelas every single time they were needed, to those men and women who stood up for voting rights and civil rights and gay rights and equality and justice and a free world, those men and women who invented the future by inventing things that fundamentally changed the world from the electricity to vaccinations, from airplanes to birth control pills, from the printing press to the internet. — Sharad Vivek Sagar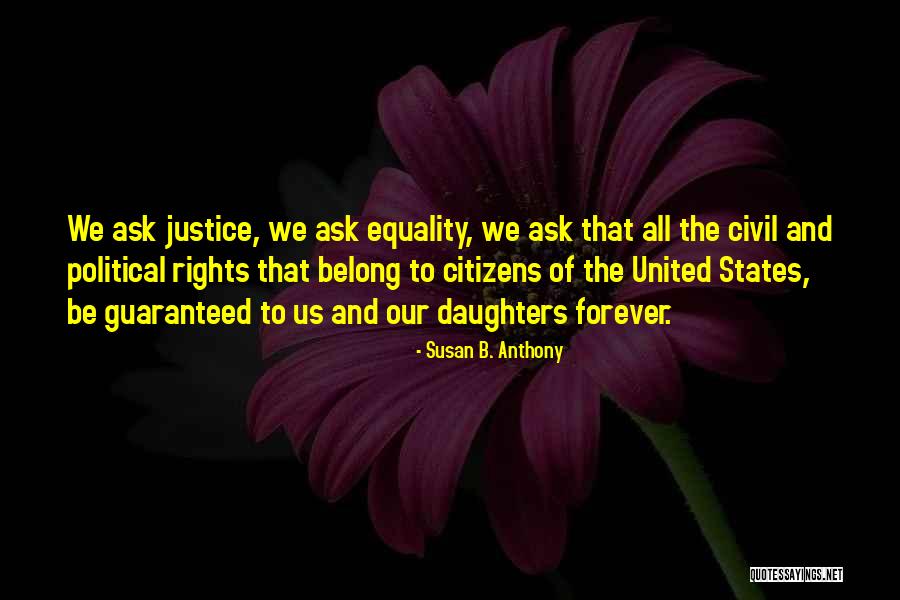 We ask justice, we ask equality, we ask that all the civil and political rights that belong to citizens of the United States, be guaranteed to us and our daughters forever. — Susan B. Anthony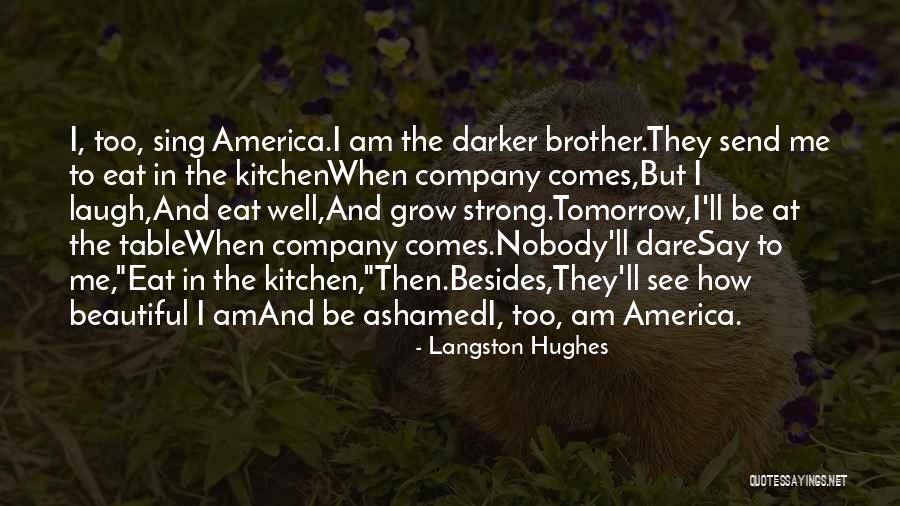 I, too, sing America.
I am the darker brother.
They send me to eat in the kitchen
When company comes,
But I laugh,
And eat well,
And grow strong.
Tomorrow,
I'll be at the table
When company comes.
Nobody'll dare
Say to me,
"Eat in the kitchen,"
Then.
Besides,
They'll see how beautiful I am
And be ashamed
I, too, am America. — Langston Hughes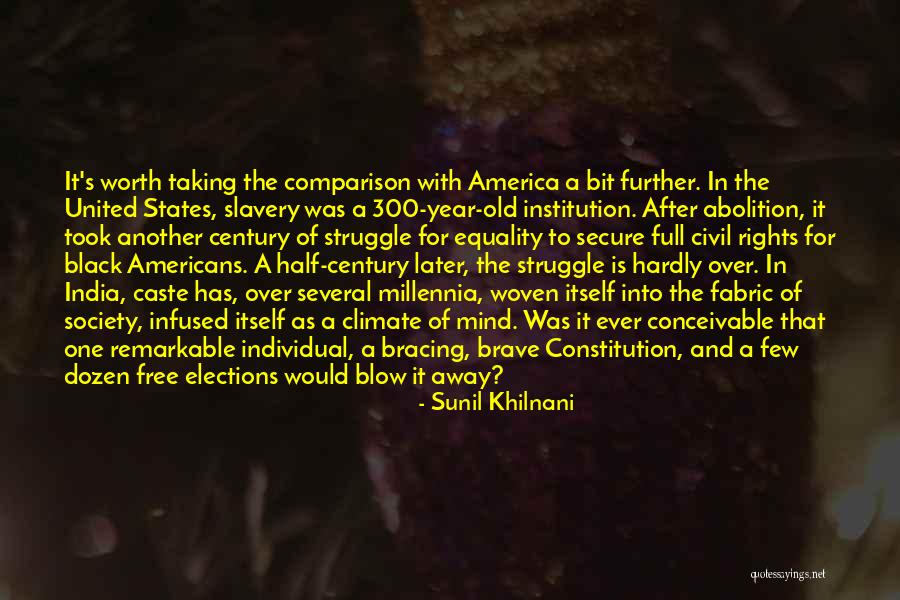 It's worth taking the comparison with America a bit further. In the United States, slavery was a 300-year-old institution. After abolition, it took another century of struggle for equality to secure full civil rights for black Americans. A half-century later, the struggle is hardly over. In India, caste has, over several millennia, woven itself into the fabric of society, infused itself as a climate of mind. Was it ever conceivable that one remarkable individual, a bracing, brave Constitution, and a few dozen free elections would blow it away? — Sunil Khilnani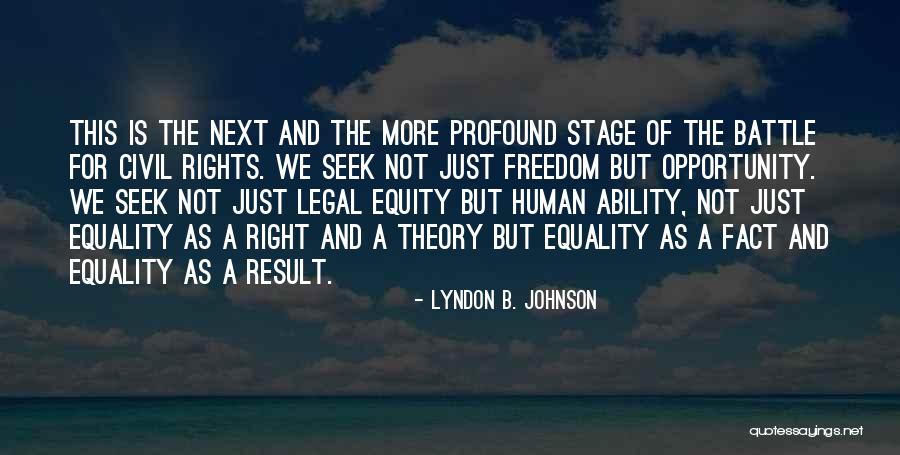 This is the next and the more profound stage of the battle for civil rights. We seek not just freedom but opportunity. We seek not just legal equity but human ability, not just equality as a right and a theory but equality as a fact and equality as a result. — Lyndon B. Johnson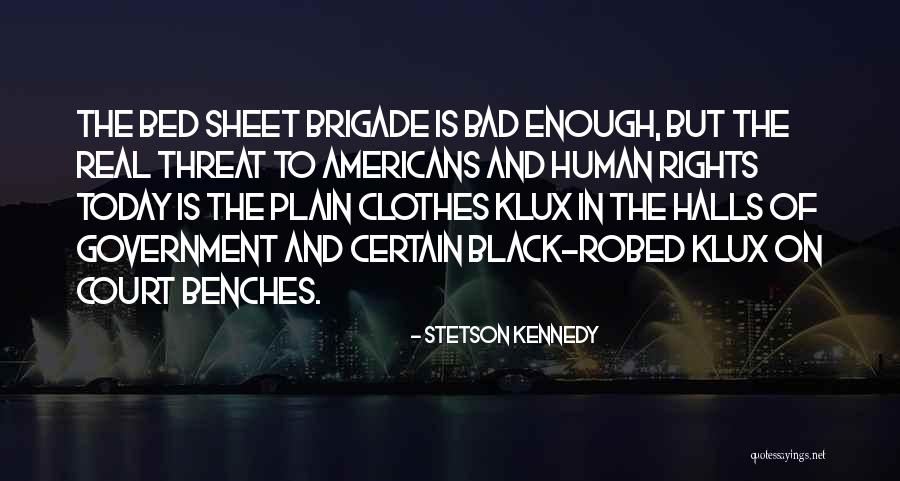 The bed sheet brigade is bad enough, but the real threat to Americans and human rights today is the plain clothes Klux in the halls of government and certain black-robed Klux on court benches. — Stetson Kennedy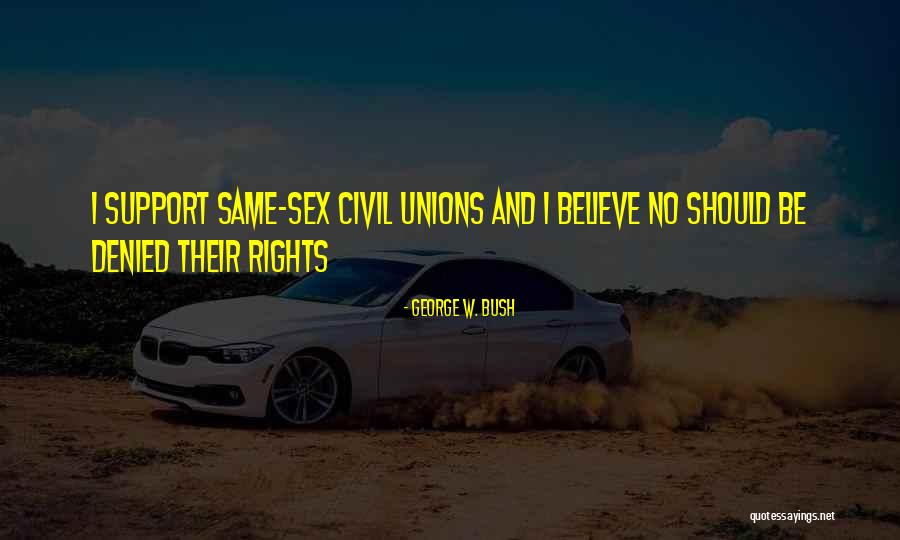 I support same-sex civil unions and I believe no should be denied their rights — George W. Bush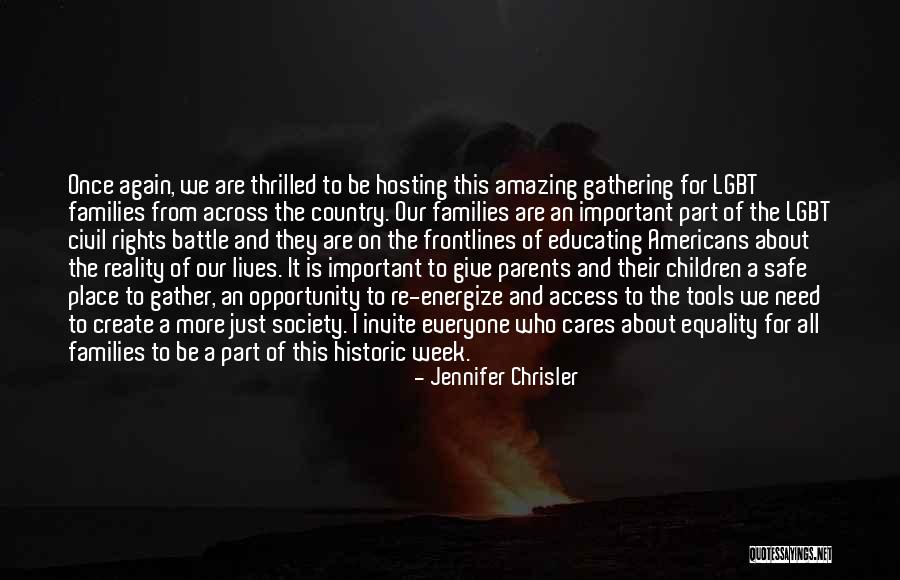 Once again, we are thrilled to be hosting this amazing gathering for LGBT families from across the country. Our families are an important part of the LGBT civil rights battle and they are on the frontlines of educating Americans about the reality of our lives. It is important to give parents and their children a safe place to gather, an opportunity to re-energize and access to the tools we need to create a more just society. I invite everyone who cares about equality for all families to be a part of this historic week. — Jennifer Chrisler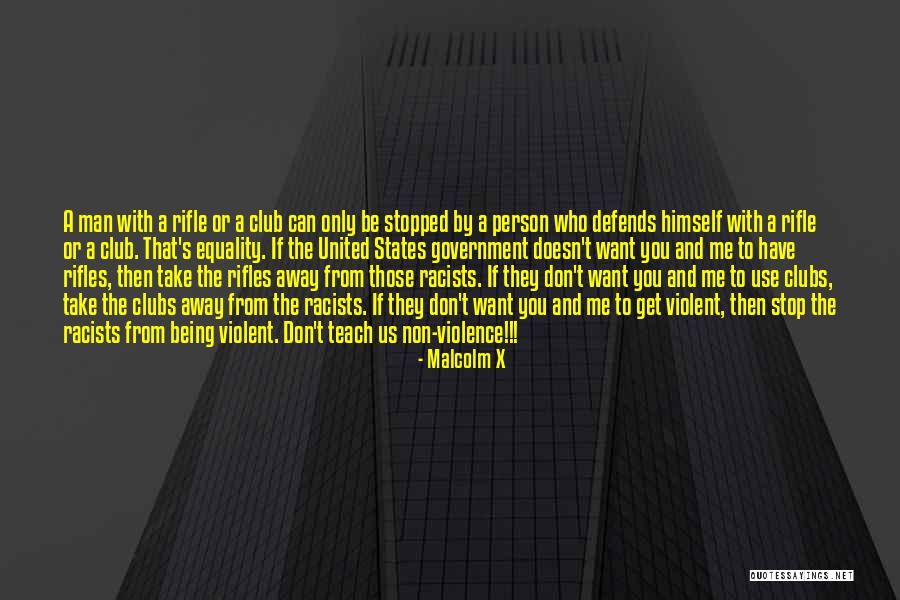 A man with a rifle or a club can only be stopped by a person who defends himself with a rifle or a club. That's equality. If the United States government doesn't want you and me to have rifles, then take the rifles away from those racists.
If they don't want you and me to use clubs, take the clubs away from the racists. If they don't want you and me to get violent, then stop the racists from being violent. Don't teach us non-violence!!! — Malcolm X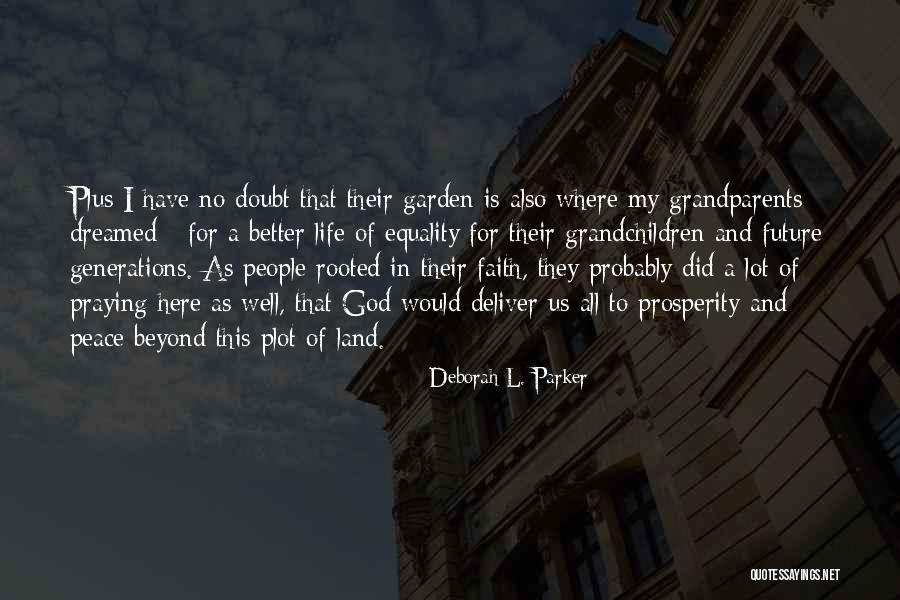 Plus I have no doubt that their garden is also where my grandparents dreamed - for a better life of equality for their grandchildren and future generations. As people rooted in their faith, they probably did a lot of praying here as well, that God would deliver us all to prosperity and peace beyond this plot of land. — Deborah L. Parker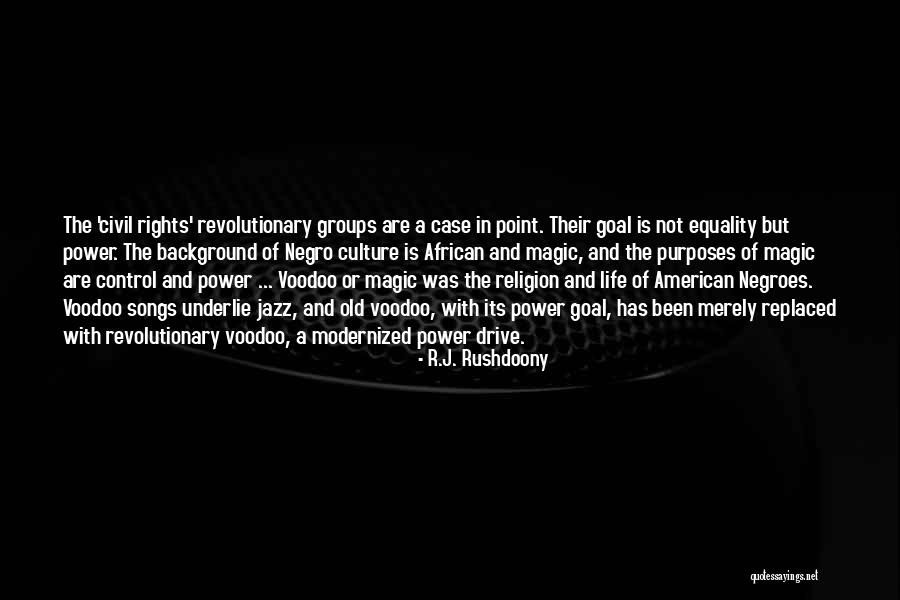 The 'civil rights' revolutionary groups are a case in point. Their goal is not equality but power. The background of Negro culture is African and magic, and the purposes of magic are control and power ... Voodoo or magic was the religion and life of American Negroes. Voodoo songs underlie jazz, and old voodoo, with its power goal, has been merely replaced with revolutionary voodoo, a modernized power drive. — R.J. Rushdoony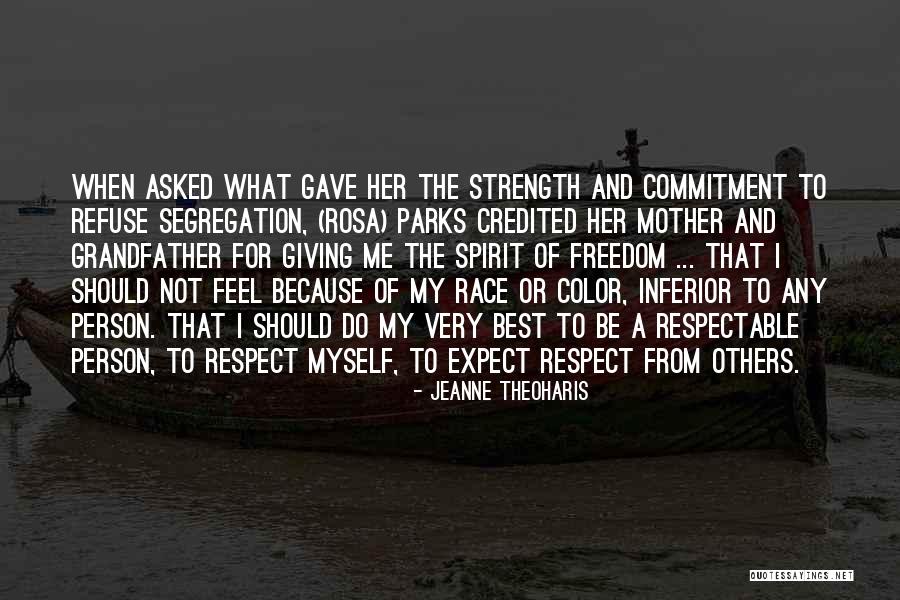 When asked what gave her the strength and commitment to refuse segregation, (Rosa) Parks credited her mother and grandfather for giving me the spirit of freedom ... that I should not feel because of my race or color, inferior to any person. That I should do my very best to be a respectable person, to respect myself, to expect respect from others. — Jeanne Theoharis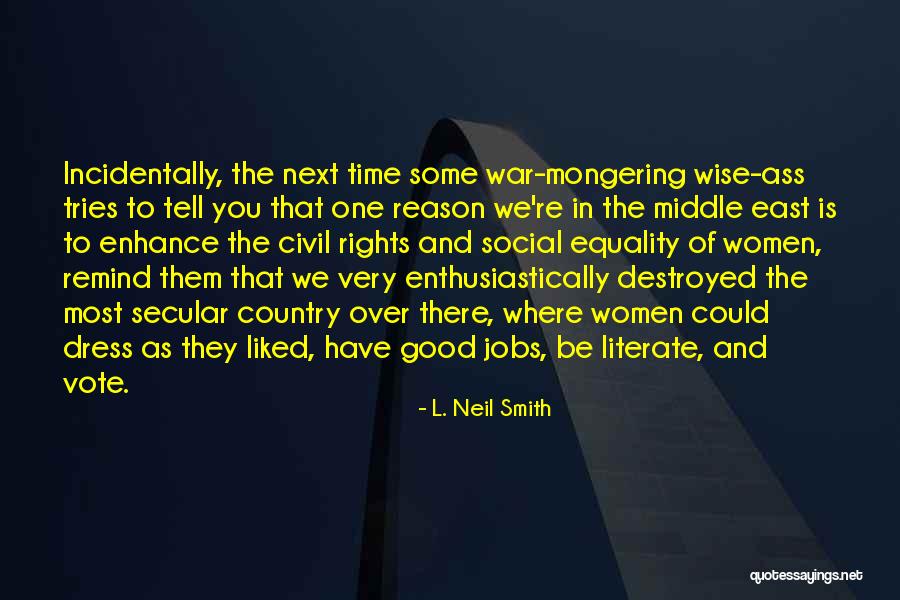 Incidentally, the next time some war-mongering wise-ass tries to tell you that one reason we're in the middle east is to enhance the civil rights and social equality of women, remind them that we very enthusiastically destroyed the most secular country over there, where women could dress as they liked, have good jobs, be literate, and vote. — L. Neil Smith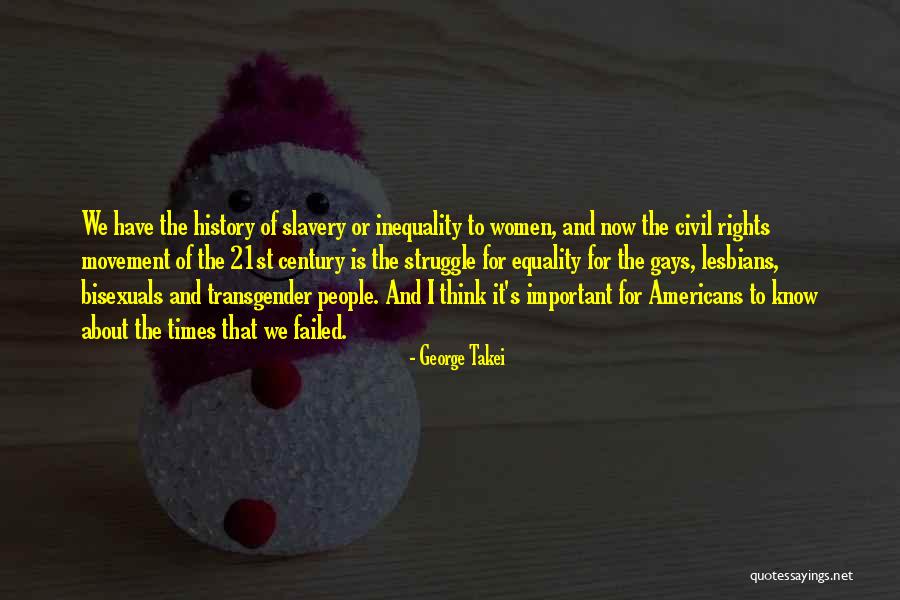 We have the history of slavery or inequality to women, and now the civil rights movement of the 21st century is the struggle for equality for the gays, lesbians, bisexuals and transgender people. And I think it's important for Americans to know about the times that we failed. — George Takei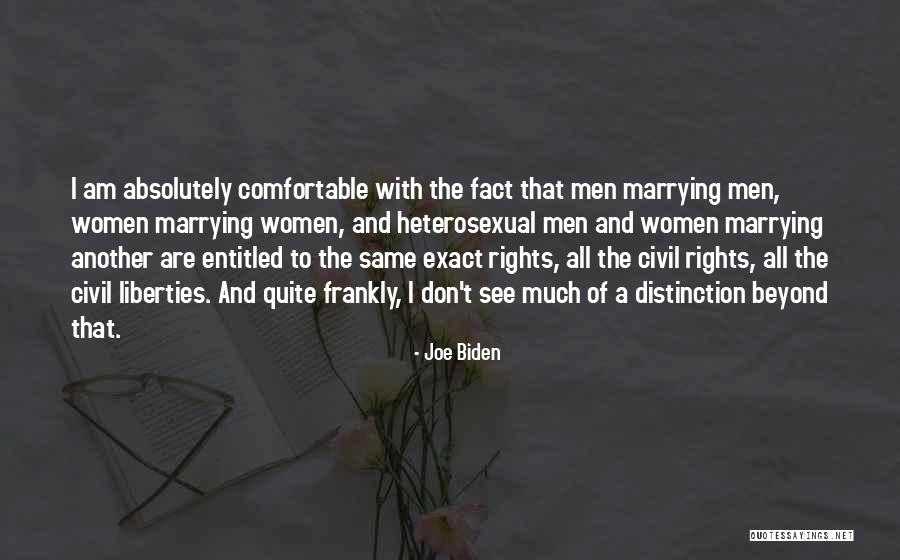 I am absolutely comfortable with the fact that men marrying men, women marrying women, and heterosexual men and women marrying another are entitled to the same exact rights, all the civil rights, all the civil liberties. And quite frankly, I don't see much of a distinction beyond that. — Joe Biden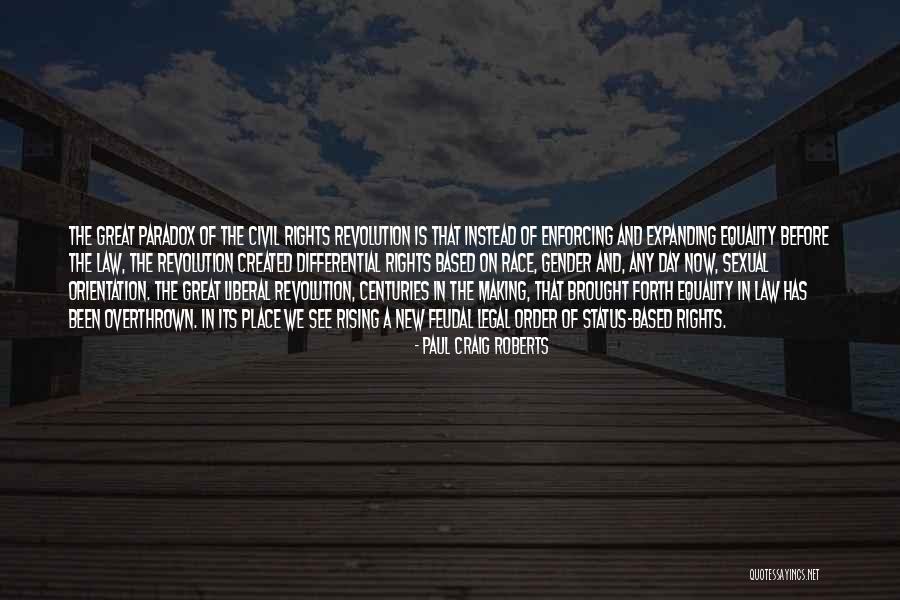 The great paradox of the civil rights revolution is that instead of enforcing and expanding equality before the law, the revolution created differential rights based on race, gender and, any day now, sexual orientation. The great liberal revolution, centuries in the making, that brought forth equality in law has been overthrown. In its place we see rising a new feudal legal order of status-based rights. — Paul Craig Roberts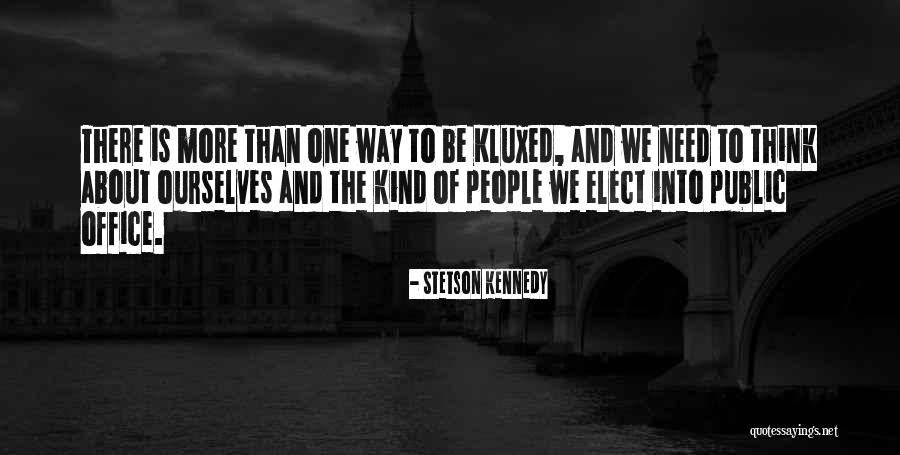 There is more than one way to be Kluxed, and we need to think about ourselves and the kind of people we elect into public office. — Stetson Kennedy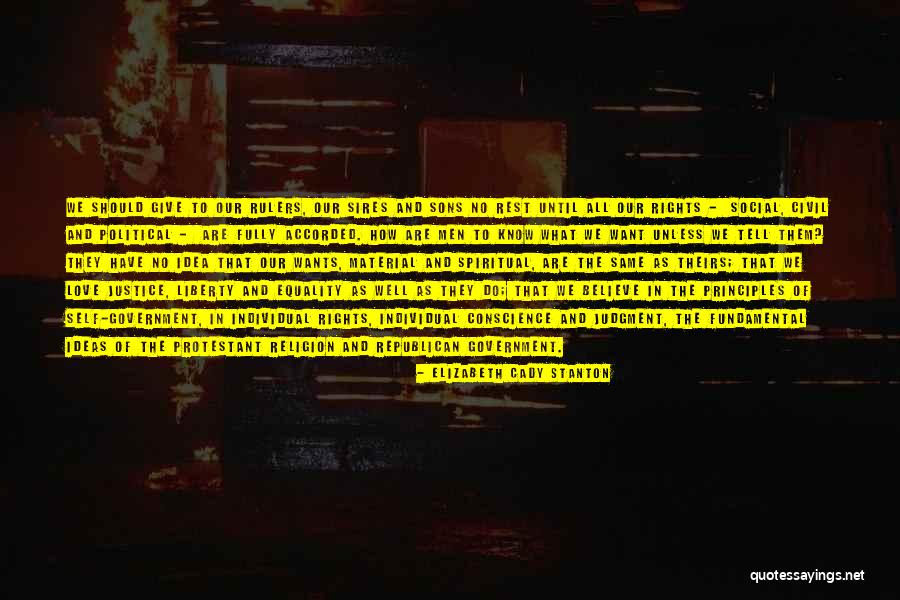 We should give to our rulers, our sires and sons no rest until all our rights - social, civil and political - are fully accorded. How are men to know what we want unless we tell them? They have no idea that our wants, material and spiritual, are the same as theirs; that we love justice, liberty and equality as well as they do; that we believe in the principles of self-government, in individual rights, individual conscience and judgment, the fundamental ideas of the Protestant religion and republican government. — Elizabeth Cady Stanton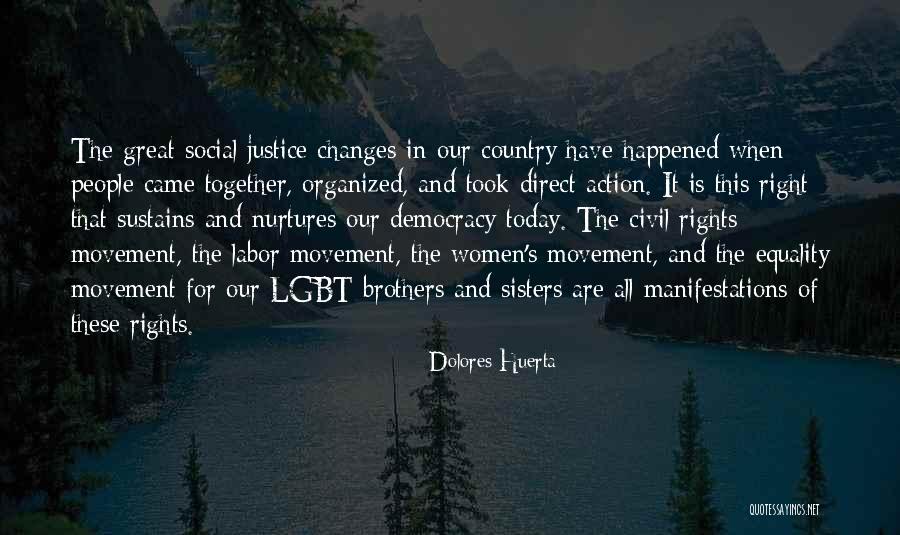 The great social justice changes in our country have happened when people came together, organized, and took direct action. It is this right that sustains and nurtures our democracy today. The civil rights movement, the labor movement, the women's movement, and the equality movement for our LGBT brothers and sisters are all manifestations of these rights. — Dolores Huerta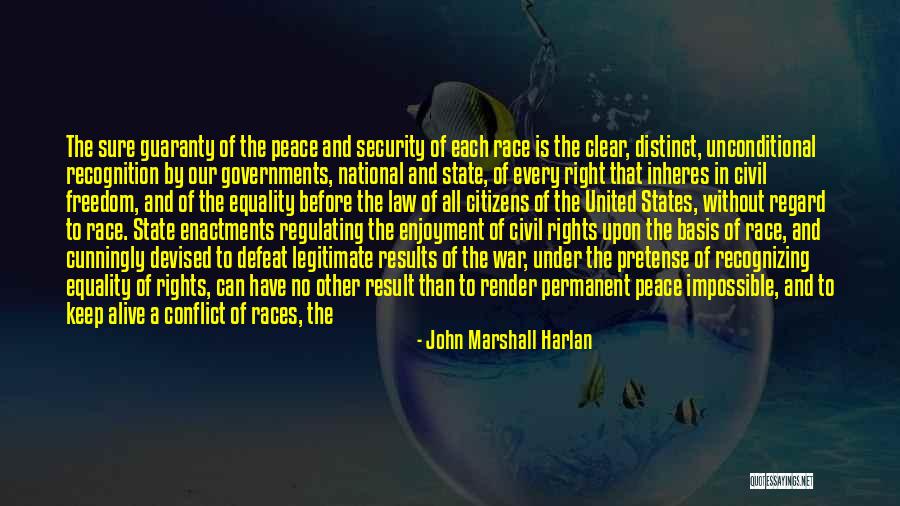 The sure guaranty of the peace and security of each race is the clear, distinct, unconditional recognition by our governments, national and state, of every right that inheres in civil freedom, and of the equality before the law of all citizens of the United States, without regard to race. State enactments regulating the enjoyment of civil rights upon the basis of race, and cunningly devised to defeat legitimate results of the war, under the pretense of recognizing equality of rights, can have no other result than to render permanent peace impossible, and to keep alive a conflict of races, the continuance of which must do harm to all concerned. — John Marshall Harlan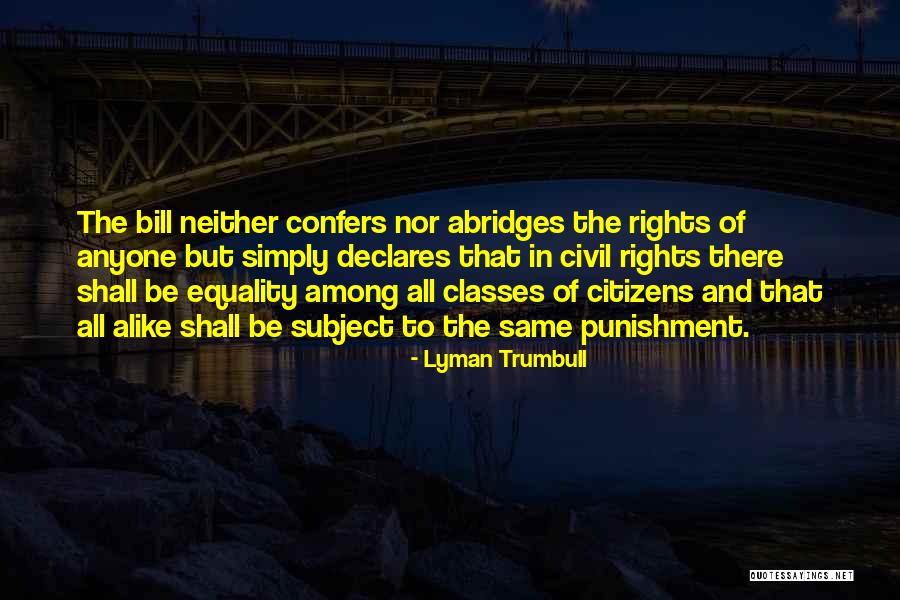 The bill neither confers nor abridges the rights of anyone but simply declares that in civil rights there shall be equality among all classes of citizens and that all alike shall be subject to the same punishment. — Lyman Trumbull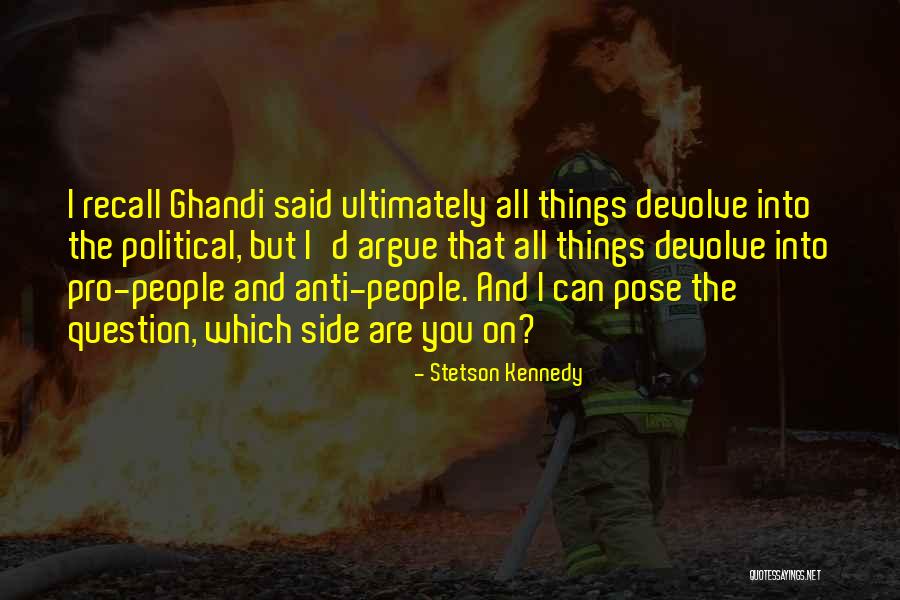 I recall Ghandi said ultimately all things devolve into the political, but I'd argue that all things devolve into pro-people and anti-people. And I can pose the question, which side are you on? — Stetson Kennedy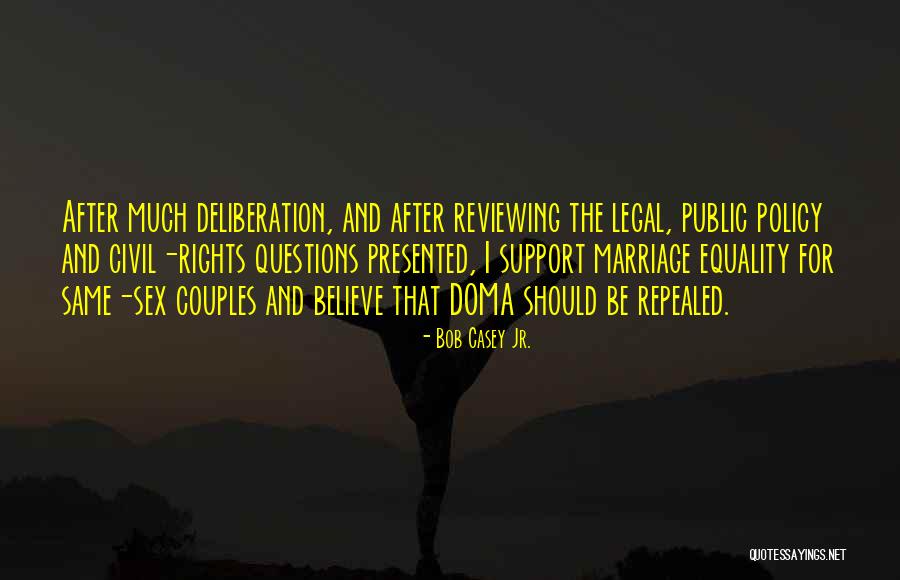 After much deliberation, and after reviewing the legal, public policy and civil-rights questions presented, I support marriage equality for same-sex couples and believe that DOMA should be repealed. — Bob Casey Jr.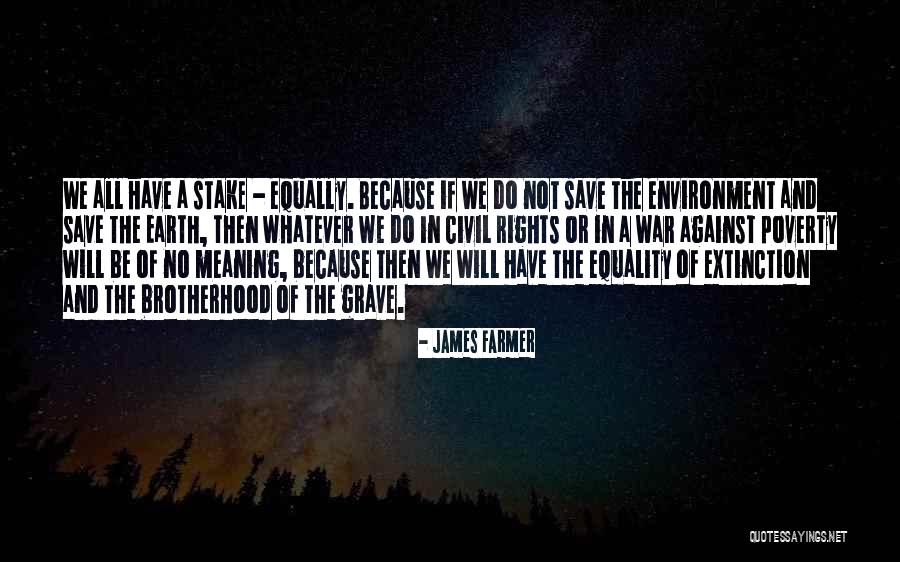 We all have a stake - equally. Because if we do not save the environment and save the Earth, then whatever we do in civil rights or in a war against poverty will be of no meaning, because then we will have the equality of extinction and the brotherhood of the grave. — James Farmer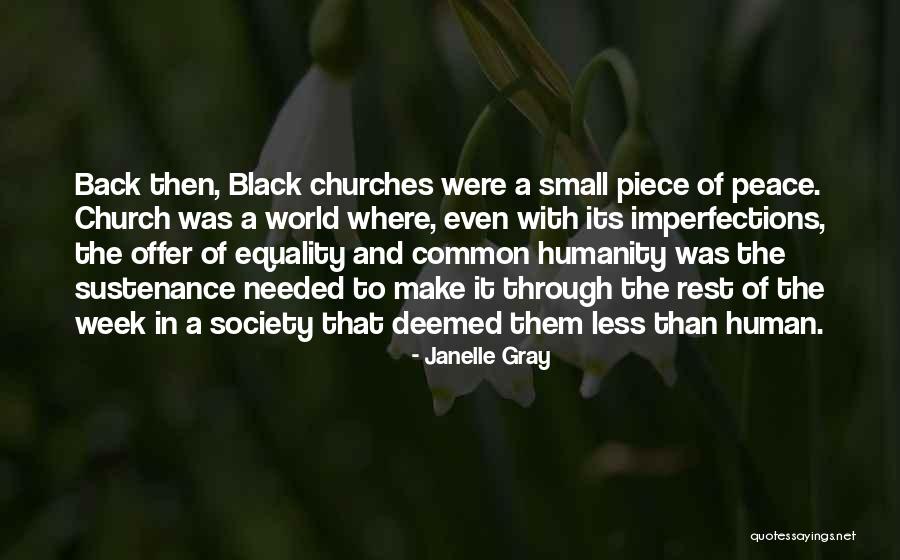 Back then, Black churches were a small piece of peace. Church was a world where, even with its imperfections, the offer of equality and common humanity was the sustenance needed to make it through the rest of the week in a society that deemed them less than human. — Janelle Gray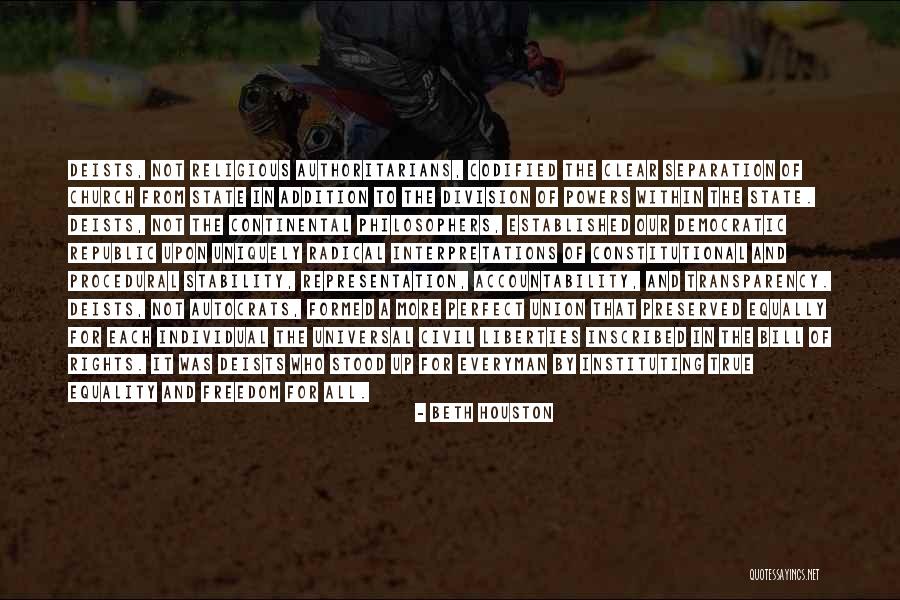 Deists, not religious authoritarians, codified the clear separation of church from state in addition to the division of powers within the state. Deists, not the Continental philosophers, established our democratic republic upon uniquely radical interpretations of constitutional and procedural stability, representation, accountability, and transparency. Deists, not autocrats, formed a more perfect Union that preserved equally for each individual the universal civil liberties inscribed in the Bill of Rights. It was Deists who stood up for Everyman by instituting true equality and freedom for all. — Beth Houston