Quotes & Sayings About Changing Yourself For Someone You Love
Enjoy reading and share 32 famous quotes about Changing Yourself For Someone You Love with everyone.
Top Changing Yourself For Someone You Love Quotes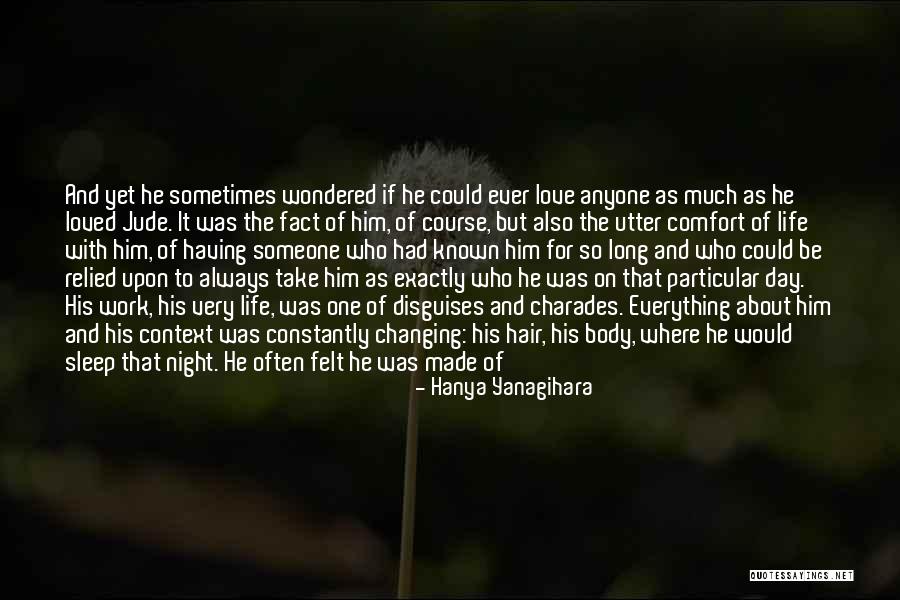 And yet he sometimes wondered if he could ever love anyone as much as he loved Jude. It was the fact of him, of course, but also the utter comfort of life with him, of having someone who had known him for so long and who could be relied upon to always take him as exactly who he was on that particular day. His work, his very life, was one of disguises and charades. Everything about him and his context was constantly changing: his hair, his body, where he would sleep that night. He often felt he was made of something liquid, something that was being continually poured from bright-colored bottle to bright-colored bottle, with a little being lost or left behind with each transfer. But his friendship with Jude made him feel that there was something real and immutable about who he was, that despite his life of guises, there was something elemental about him, something that Jude saw even when he could not, as if Jude's very witness of him made him real. — Hanya Yanagihara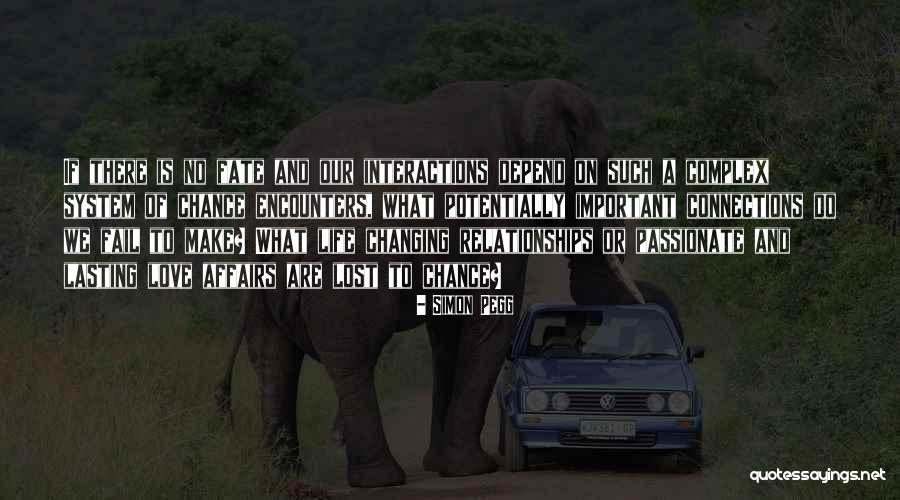 If there is no fate and our interactions depend on such a complex system of chance encounters, what potentially important connections do we fail to make? What life changing relationships or passionate and lasting love affairs are lost to chance? — Simon Pegg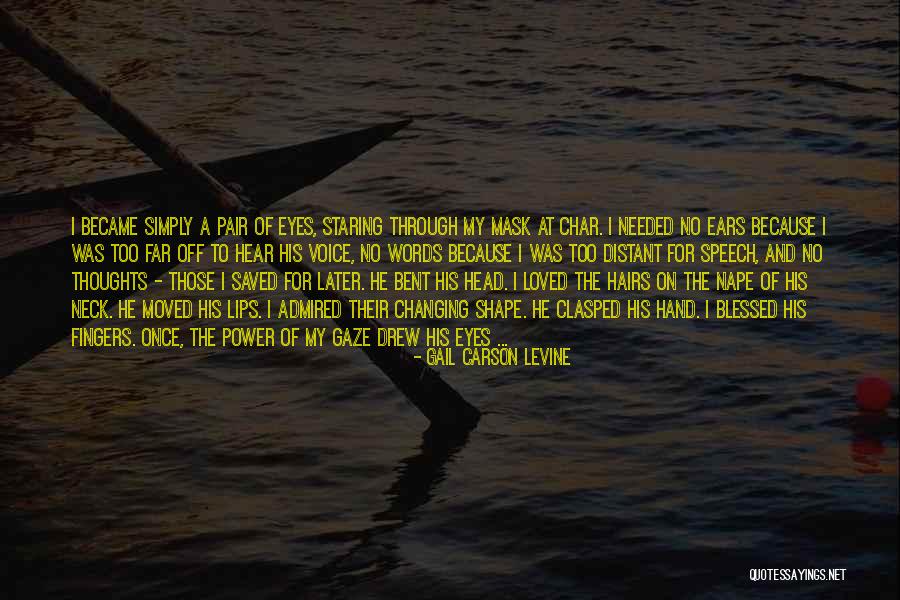 I became simply a pair of eyes, staring through my mask at Char. I needed no ears because I was too far off to hear his voice, no words because I was too distant for speech, and no thoughts - those I saved for later. He bent his head. I loved the hairs on the nape of his neck. He moved his lips. I admired their changing shape. He clasped his hand. I blessed his fingers. Once, the power of my gaze drew his eyes ... — Gail Carson Levine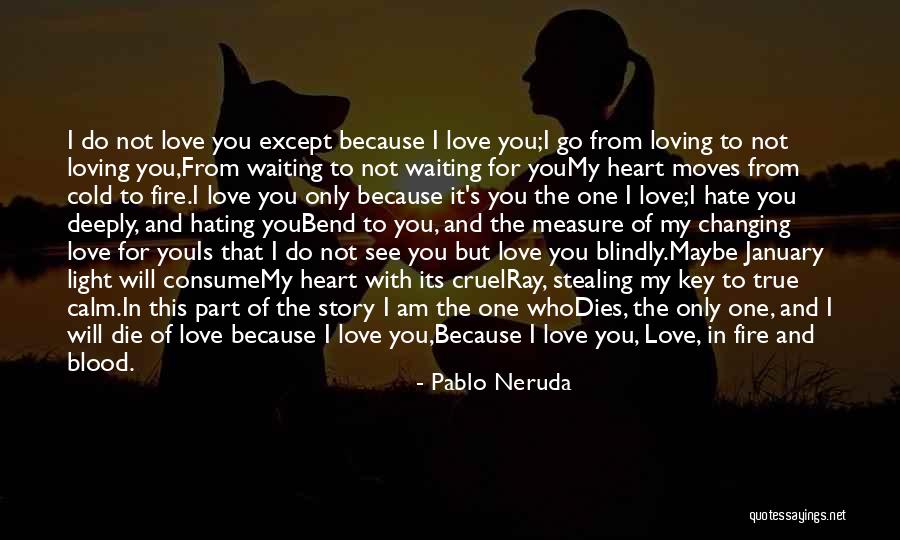 I do not love you except because I love you;
I go from loving to not loving you,
From waiting to not waiting for you
My heart moves from cold to fire.
I love you only because it's you the one I love;
I hate you deeply, and hating you
Bend to you, and the measure of my changing love for you
Is that I do not see you but love you blindly.
Maybe January light will consume
My heart with its cruel
Ray, stealing my key to true calm.
In this part of the story I am the one who
Dies, the only one, and I will die of love because I love you,
Because I love you, Love, in fire and blood. — Pablo Neruda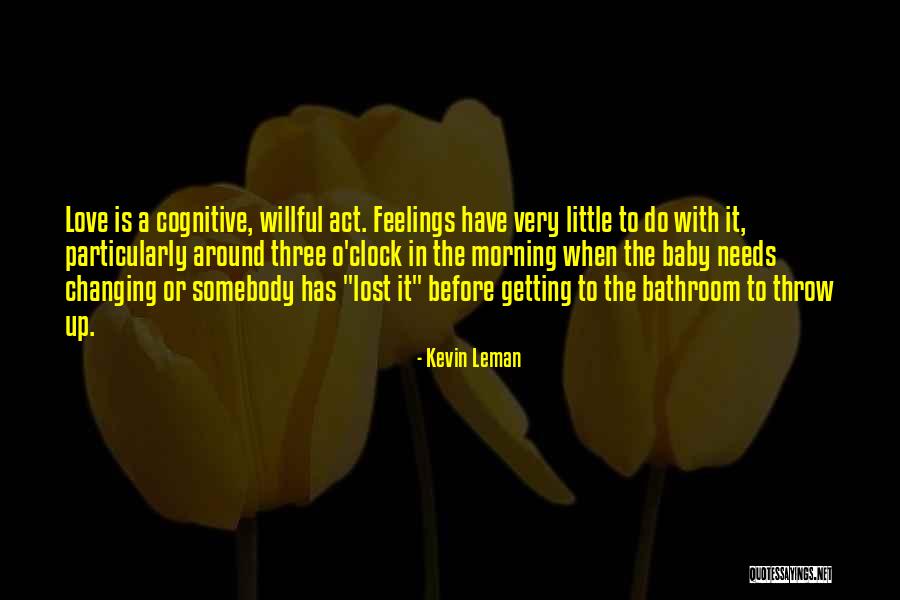 Love is a cognitive, willful act. Feelings have very little to do with it, particularly around three o'clock in the morning when the baby needs changing or somebody has "lost it" before getting to the bathroom to throw up. — Kevin Leman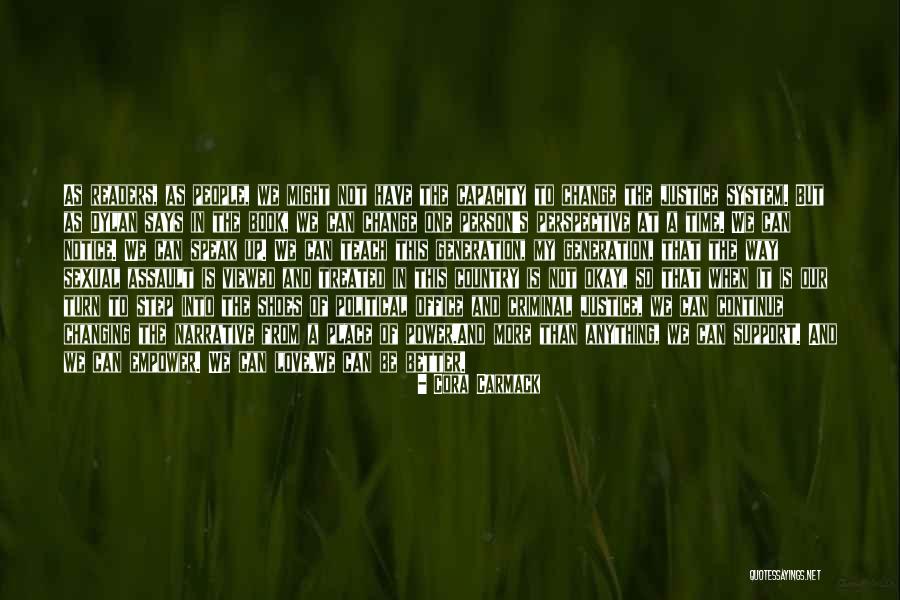 As readers, as people, we might not have the capacity to change the justice system. But as Dylan says in the book, we can change one person's perspective at a time. We can notice. We can speak up. We can teach this generation, my generation, that the way sexual assault is viewed and treated in this country is not okay, so that when it is our turn to step into the shoes of political office and criminal justice, we can continue changing the narrative from a place of power.
And more than anything, we can support. And we can empower. We can love.
We can be better. — Cora Carmack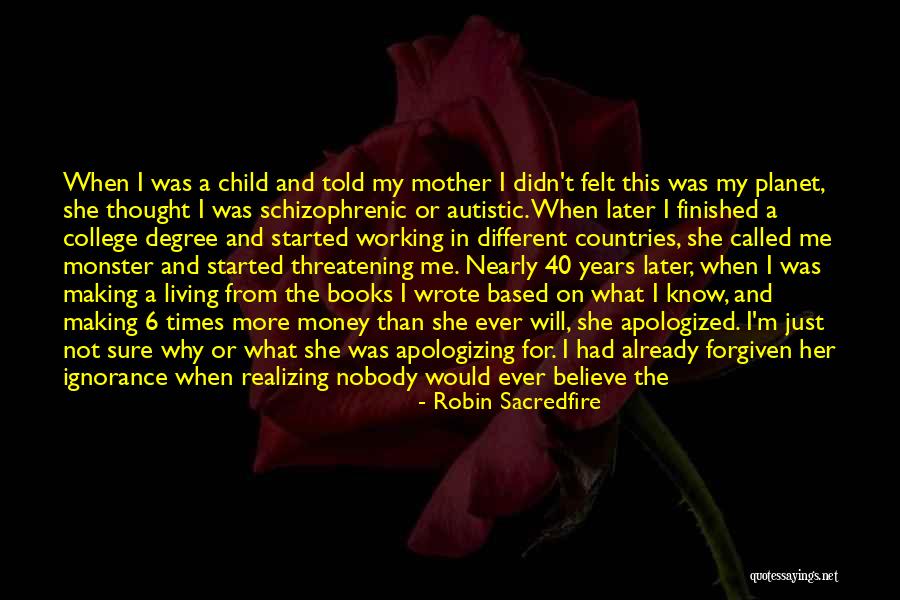 When I was a child and told my mother I didn't felt this was my planet, she thought I was schizophrenic or autistic. When later I finished a college degree and started working in different countries, she called me monster and started threatening me. Nearly 40 years later, when I was making a living from the books I wrote based on what I know, and making 6 times more money than she ever will, she apologized. I'm just not sure why or what she was apologizing for. I had already forgiven her ignorance when realizing nobody would ever believe the truth but myself. I had to go the whole way alone. Nobody was going to come with me on this very long, painful and challenging journey that humans call life but for me was much more than that, it was my mission, of changing their whole future far beyond the time when I'm gone. She was never my mother but merely the human body that gave me birth. In that sense, I am a monster, because I had no love. I had to find that too, on my own. — Robin Sacredfire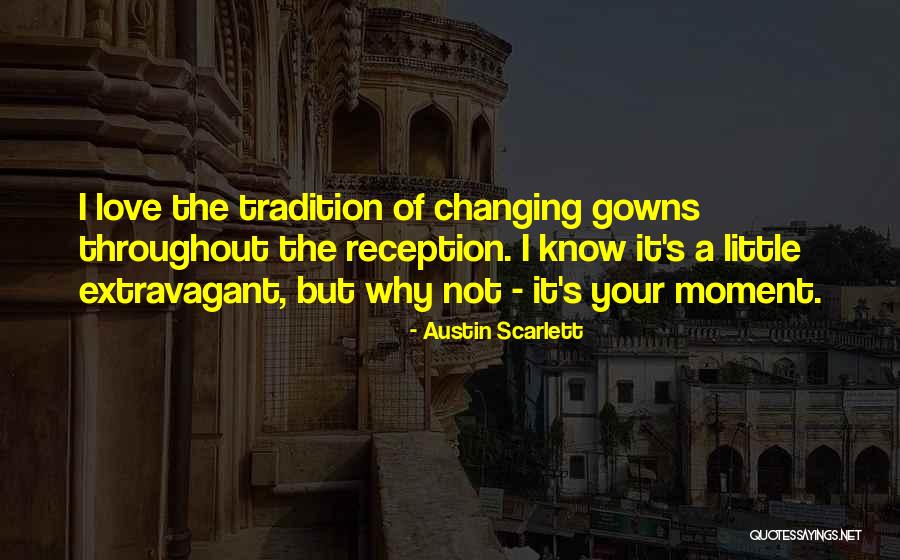 I love the tradition of changing gowns throughout the reception. I know it's a little extravagant, but why not - it's your moment. — Austin Scarlett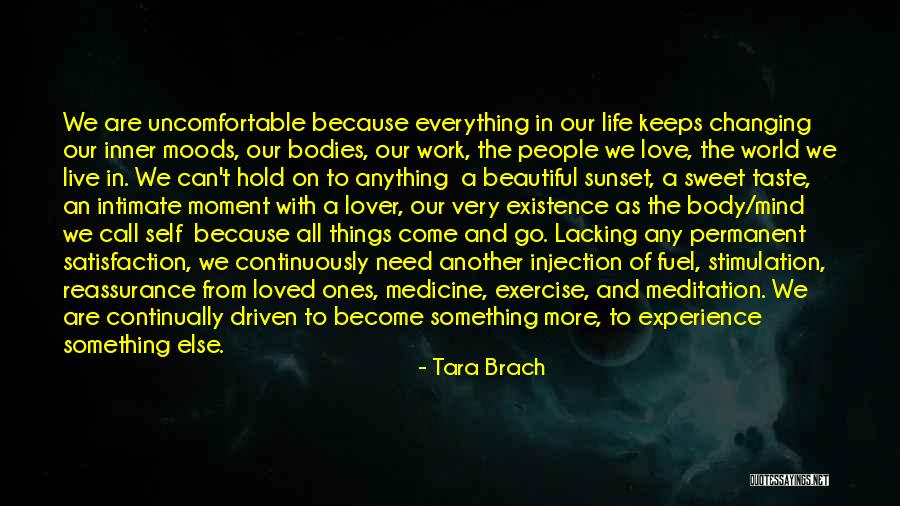 We are uncomfortable because everything in our life keeps changing
our inner moods, our bodies, our work, the people we love, the world we live in. We can't hold on to anything
a beautiful sunset, a sweet taste, an intimate moment with a lover, our very existence as the body/mind we call self
because all things come and go. Lacking any permanent satisfaction, we continuously need another injection of fuel, stimulation, reassurance from loved ones, medicine, exercise, and meditation. We are continually driven to become something more, to experience something else. — Tara Brach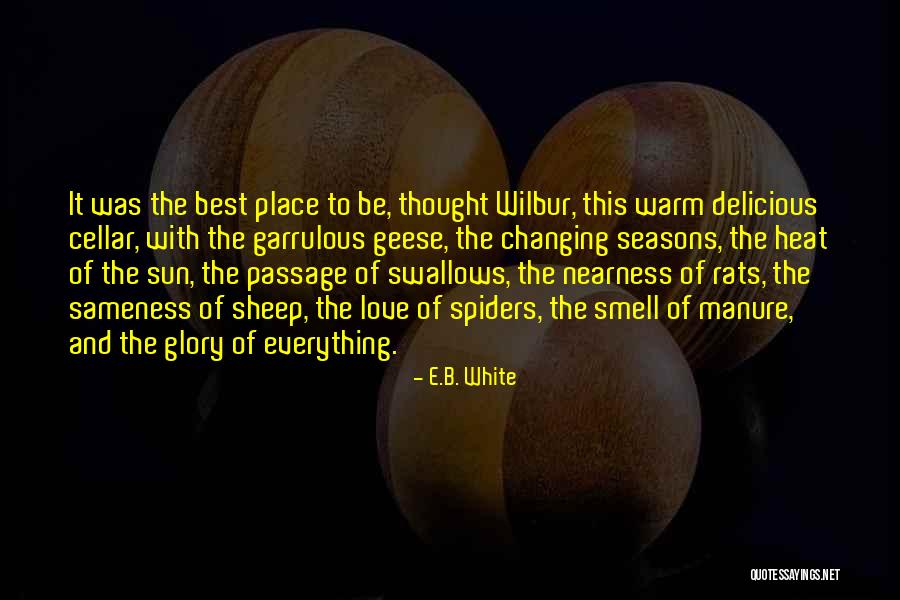 It was the best place to be, thought Wilbur, this warm delicious cellar, with the garrulous geese, the changing seasons, the heat of the sun, the passage of swallows, the nearness of rats, the sameness of sheep, the love of spiders, the smell of manure, and the glory of everything. — E.B. White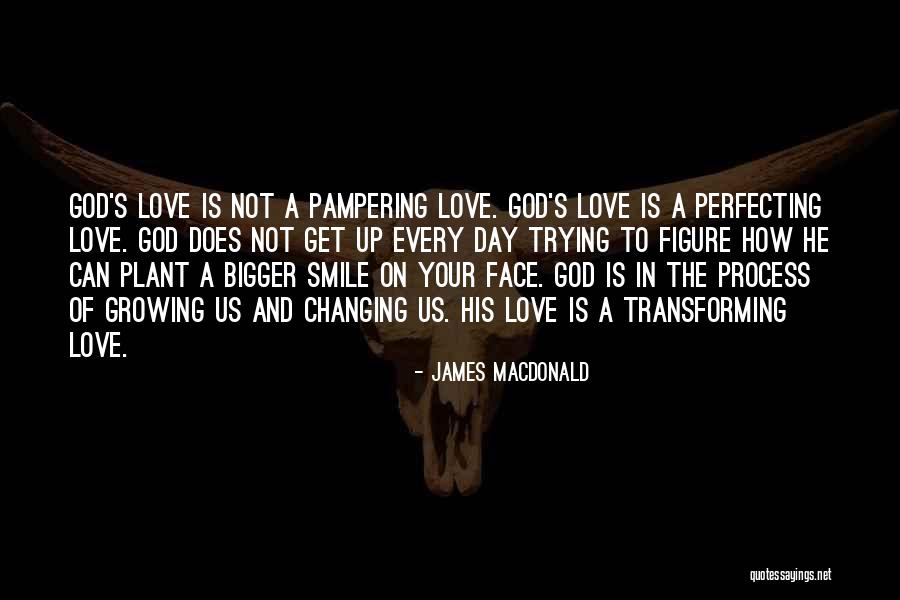 God's love is not a pampering love. God's love is a perfecting love. God does not get up every day trying to figure how He can plant a bigger smile on your face. God is in the process of growing us and changing us. His love is a transforming love. — James MacDonald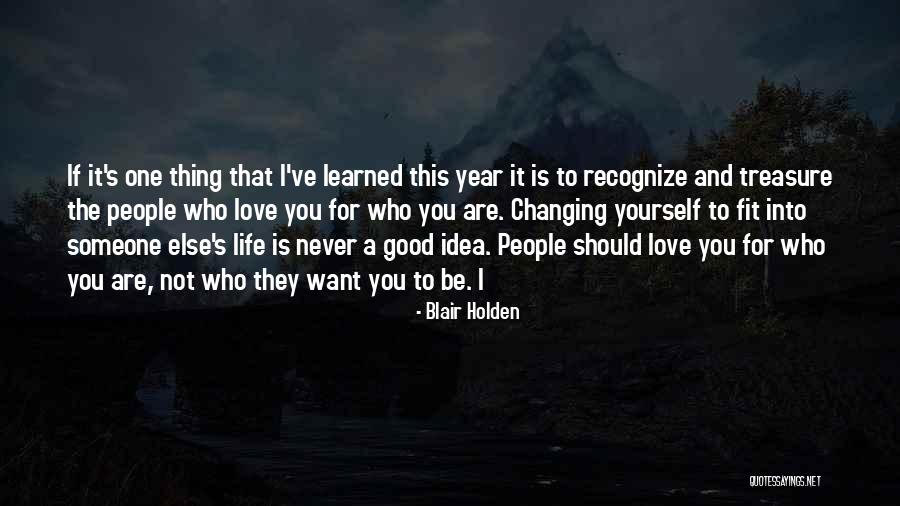 If it's one thing that I've learned this year it is to recognize and treasure the people who love you for who you are. Changing yourself to fit into someone else's life is never a good idea. People should love you for who you are, not who they want you to be. I — Blair Holden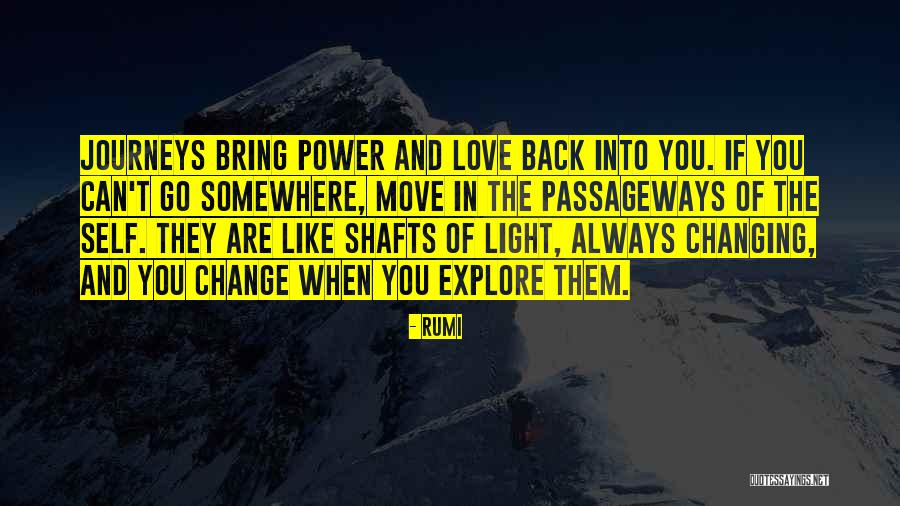 Journeys bring power and love back into you. If you can't go somewhere, move in the passageways of the self. They are like shafts of light, always changing, and you change when you explore them. — Rumi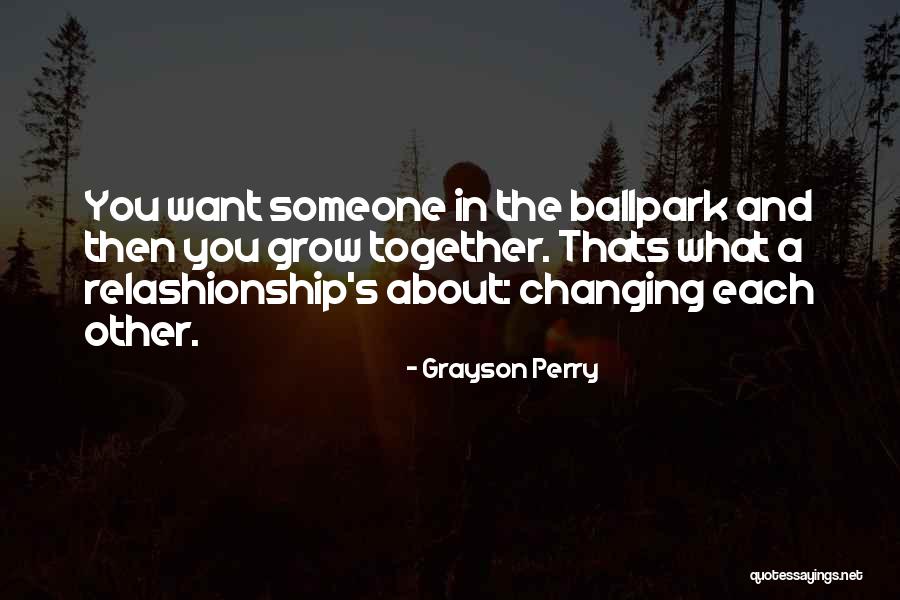 You want someone in the ballpark and then you grow together. Thats what a relashionship's about: changing each other. — Grayson Perry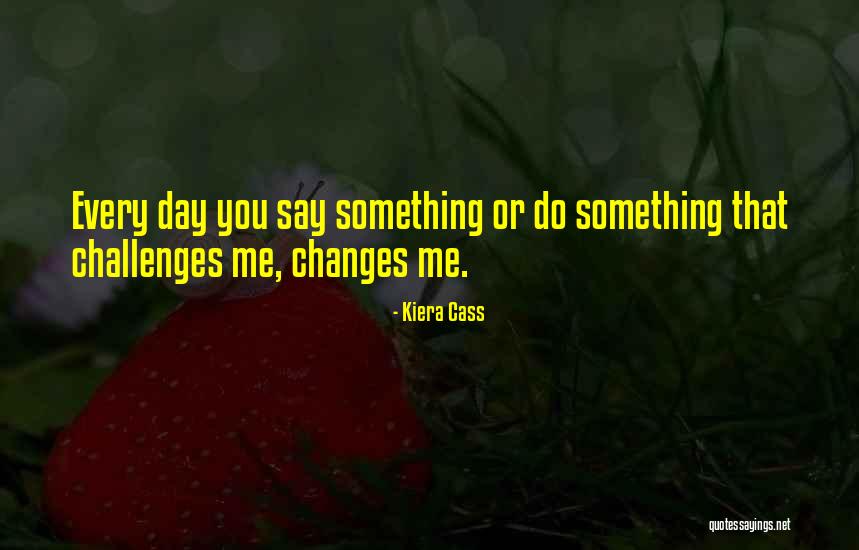 Every day you say something or do something that challenges me, changes me. — Kiera Cass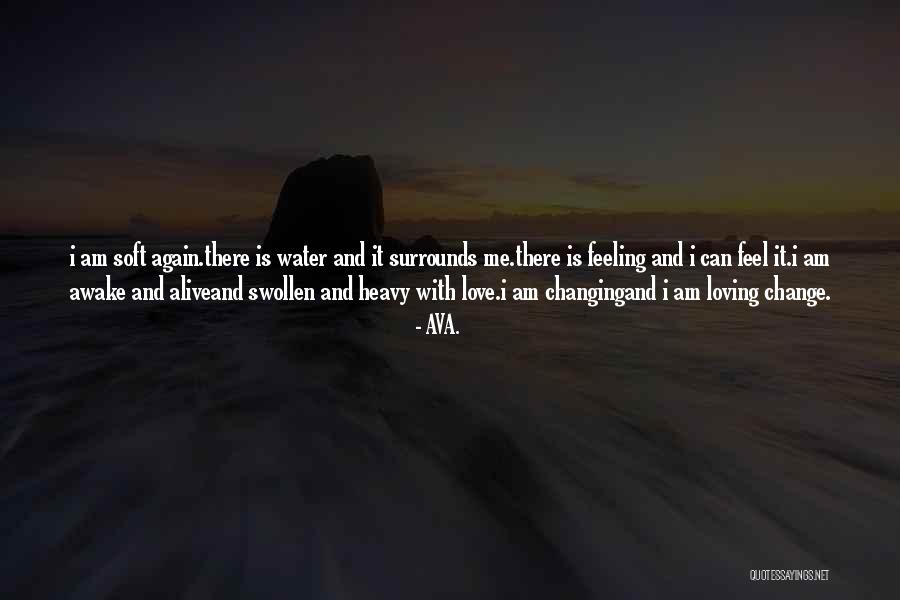 i am soft again.
there is water and it surrounds me.
there is feeling and i can feel it.

i am awake and alive
and swollen and heavy with love.

i am changing
and i am loving change. — AVA.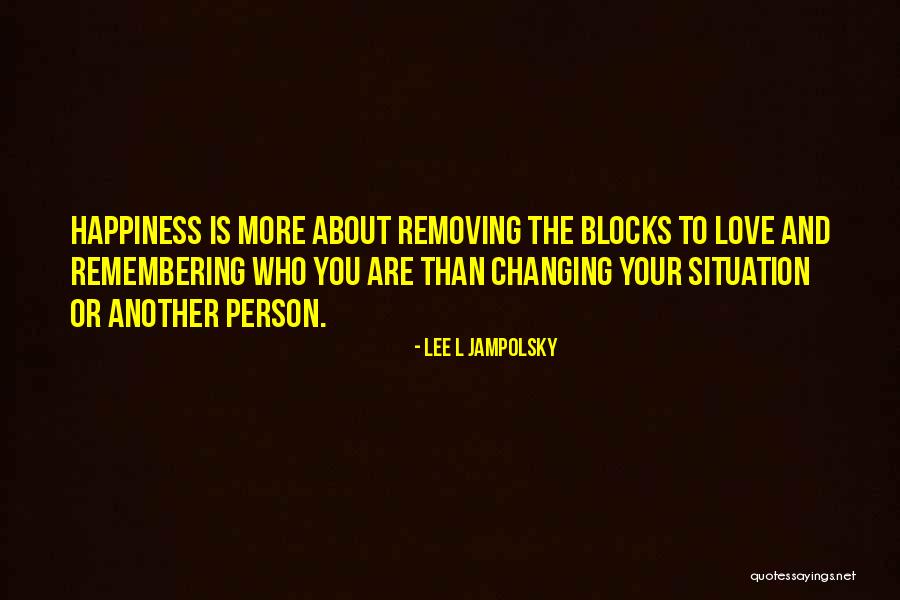 Happiness is more about removing the blocks to Love and remembering who you are than changing your situation or another person. — Lee L Jampolsky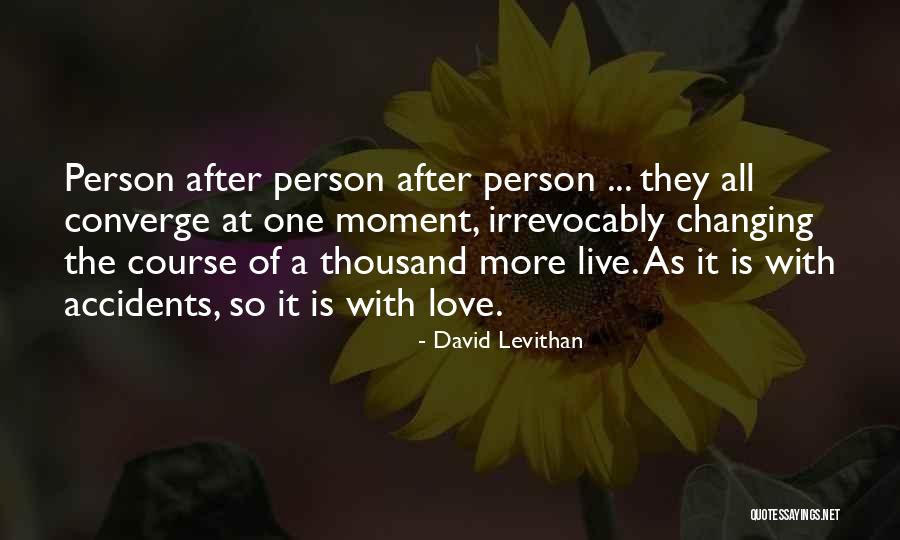 Person after person after person ... they all converge at one moment, irrevocably changing the course of a thousand more live.
As it is with accidents, so it is with love. — David Levithan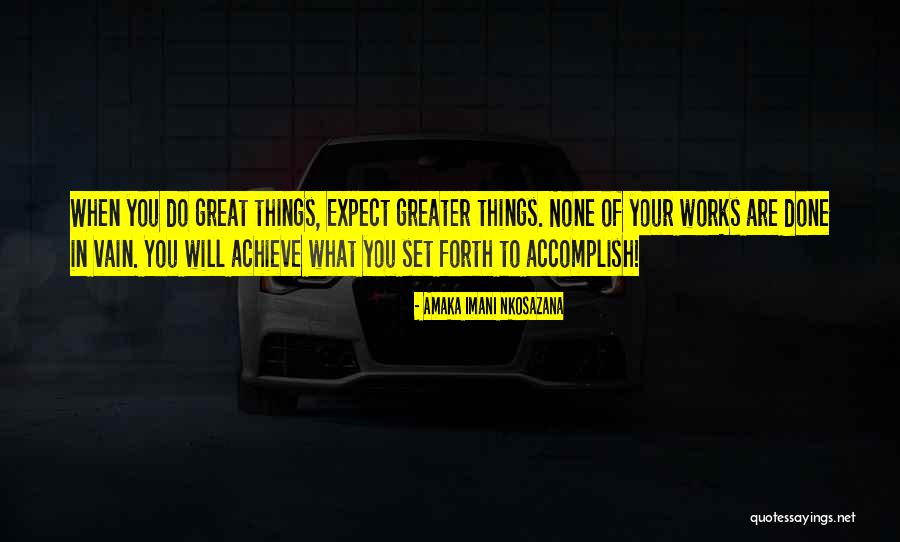 When you do great things, Expect greater things. None of your works are done in vain. You will achieve what you set forth to accomplish! — Amaka Imani Nkosazana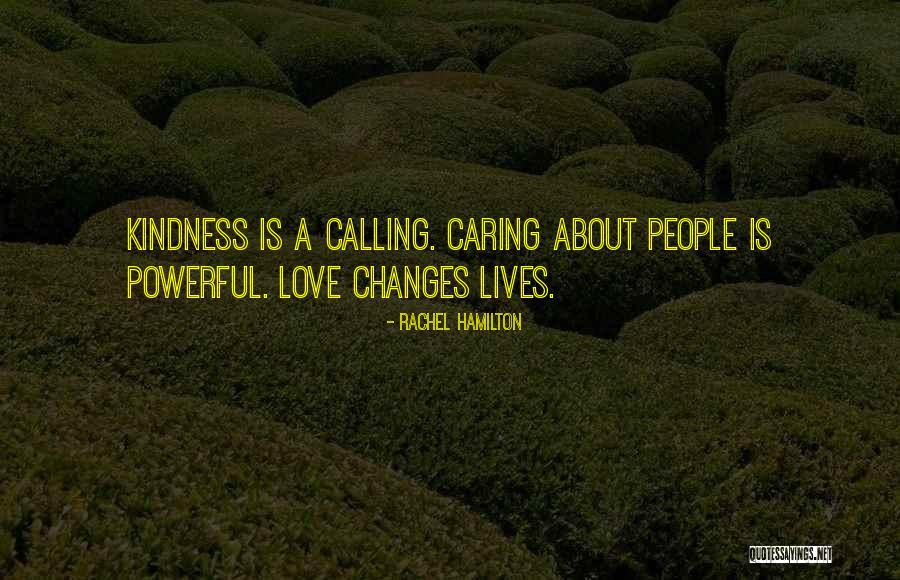 Kindness is a calling. Caring about people is powerful. Love changes lives. — Rachel Hamilton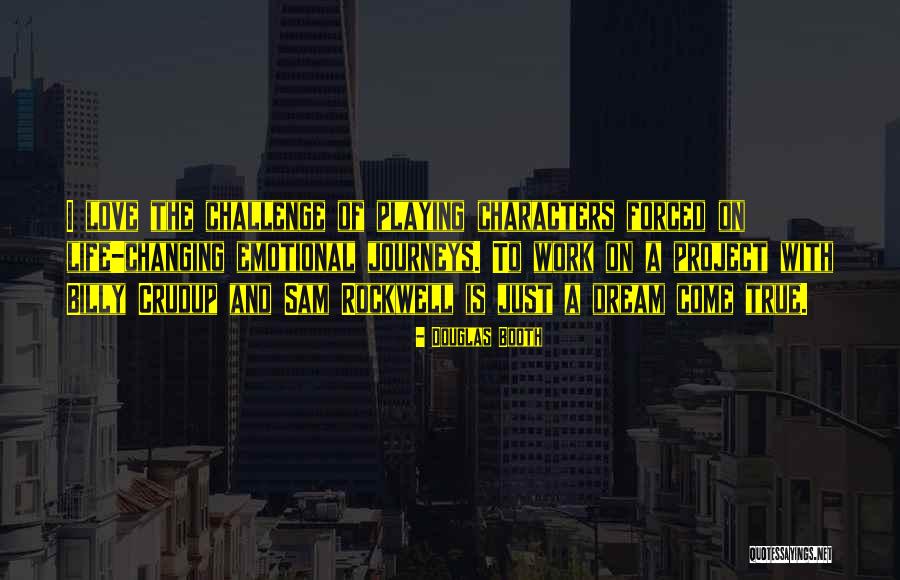 I love the challenge of playing characters forced on life-changing emotional journeys. To work on a project with Billy Crudup and Sam Rockwell is just a dream come true. — Douglas Booth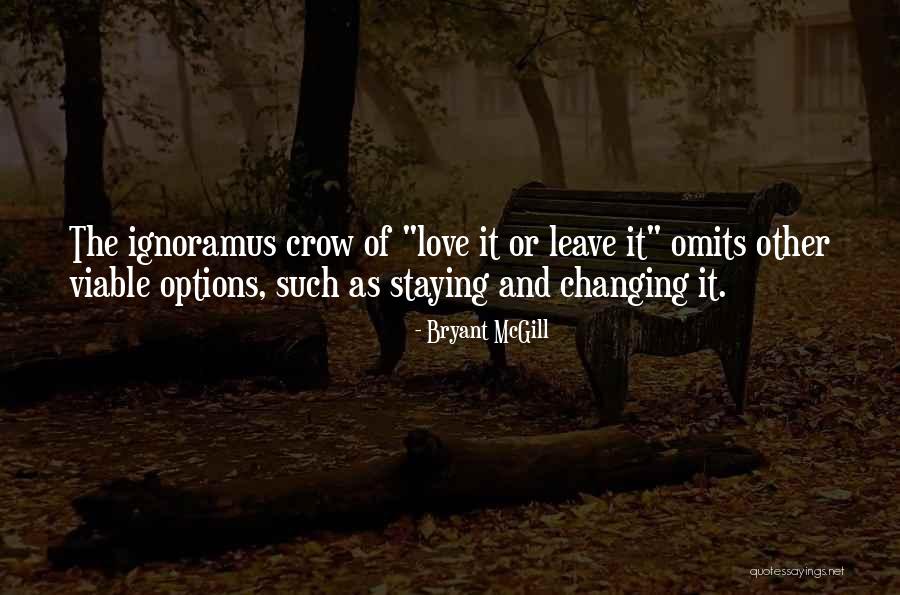 The ignoramus crow of "love it or leave it" omits other viable options, such as staying and changing it. — Bryant McGill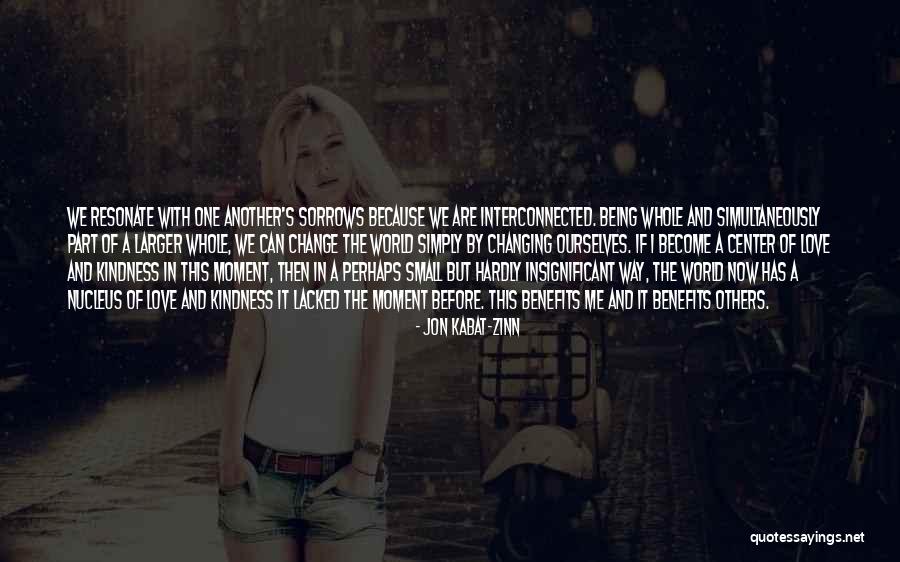 We resonate with one another's sorrows because we are interconnected. Being whole and simultaneously part of a larger whole, we can change the world simply by changing ourselves. If I become a center of love and kindness in this moment, then in a perhaps small but hardly insignificant way, the world now has a nucleus of love and kindness it lacked the moment before. This benefits me and it benefits others. — Jon Kabat-Zinn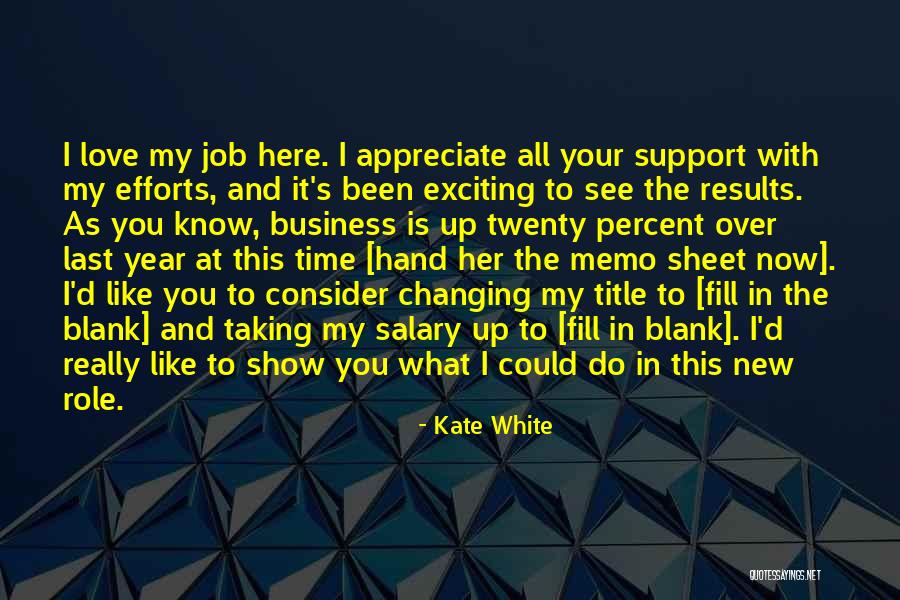 I love my job here. I appreciate all your support with my efforts, and it's been exciting to see the results. As you know, business is up twenty percent over last year at this time [hand her the memo sheet now]. I'd like you to consider changing my title to [fill in the blank] and taking my salary up to [fill in blank]. I'd really like to show you what I could do in this new role. — Kate White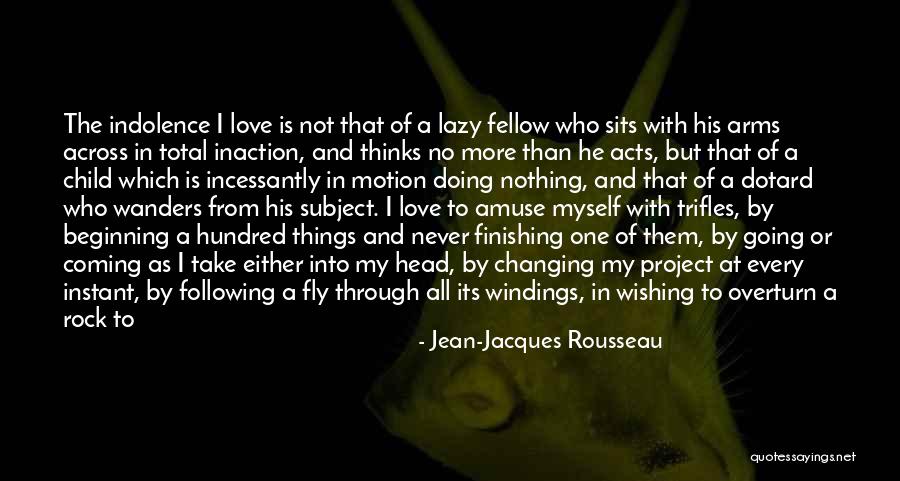 The indolence I love is not that of a lazy fellow who sits with his arms across in total inaction, and thinks no more than he acts, but that of a child which is incessantly in motion doing nothing, and that of a dotard who wanders from his subject. I love to amuse myself with trifles, by beginning a hundred things and never finishing one of them, by going or coming as I take either into my head, by changing my project at every instant, by following a fly through all its windings, in wishing to overturn a rock to see what is under it, by undertaking with ardor the work of ten years, and abandoning it without regret at the end of ten minutes; finally, in musing from morning until night without order or coherence, and in following in everything the caprice of a moment. — Jean-Jacques Rousseau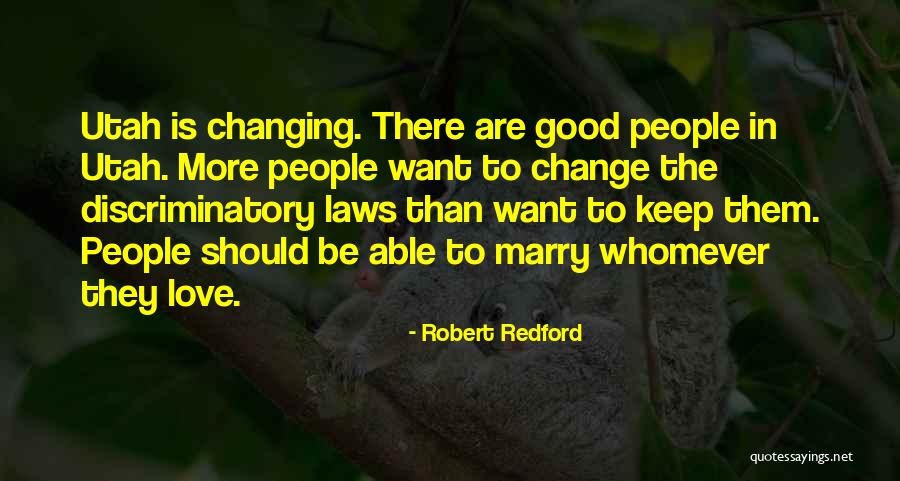 Utah is changing. There are good people in Utah. More people want to change the discriminatory laws than want to keep them. People should be able to marry whomever they love. — Robert Redford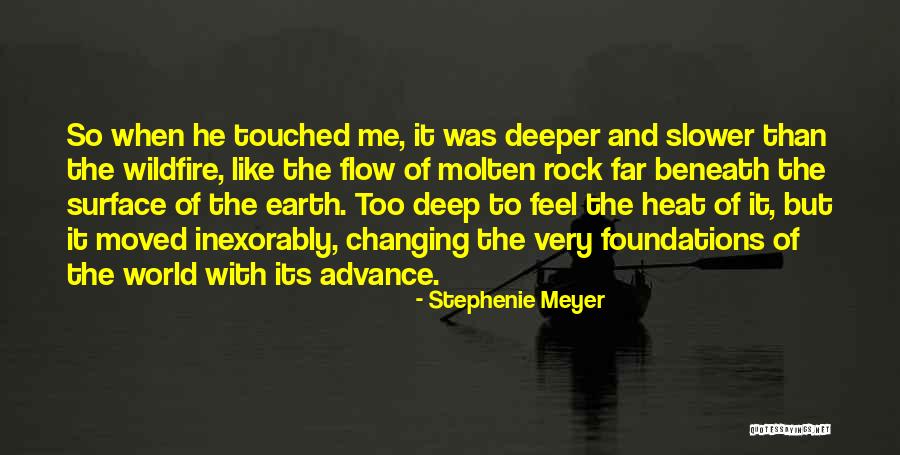 So when he touched me, it was deeper and slower than the wildfire, like the flow of molten rock far beneath the surface of the earth. Too deep to feel the heat of it, but it moved inexorably, changing the very foundations of the world with its advance. — Stephenie Meyer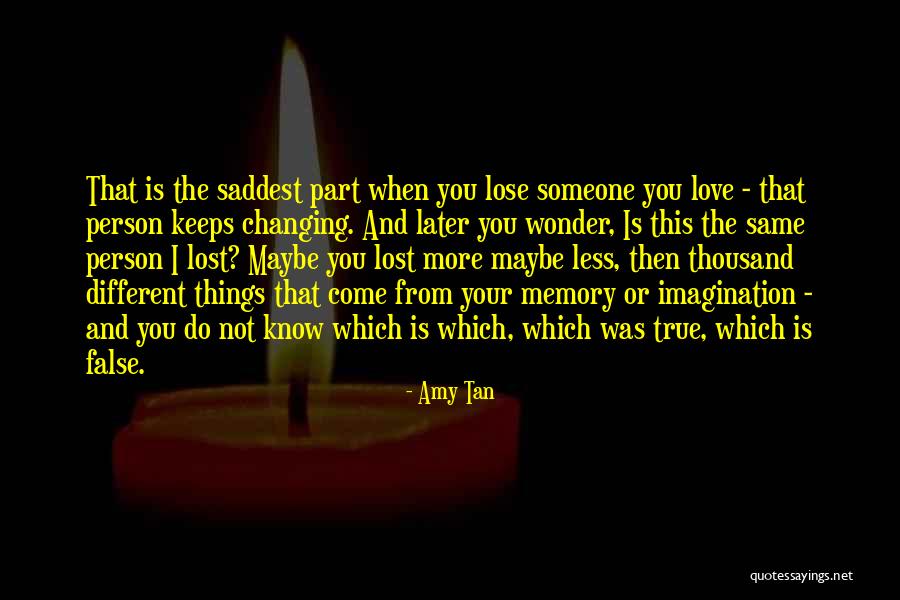 That is the saddest part when you lose someone you love - that person keeps changing. And later you wonder, Is this the same person I lost? Maybe you lost more maybe less, then thousand different things that come from your memory or imagination - and you do not know which is which, which was true, which is false. — Amy Tan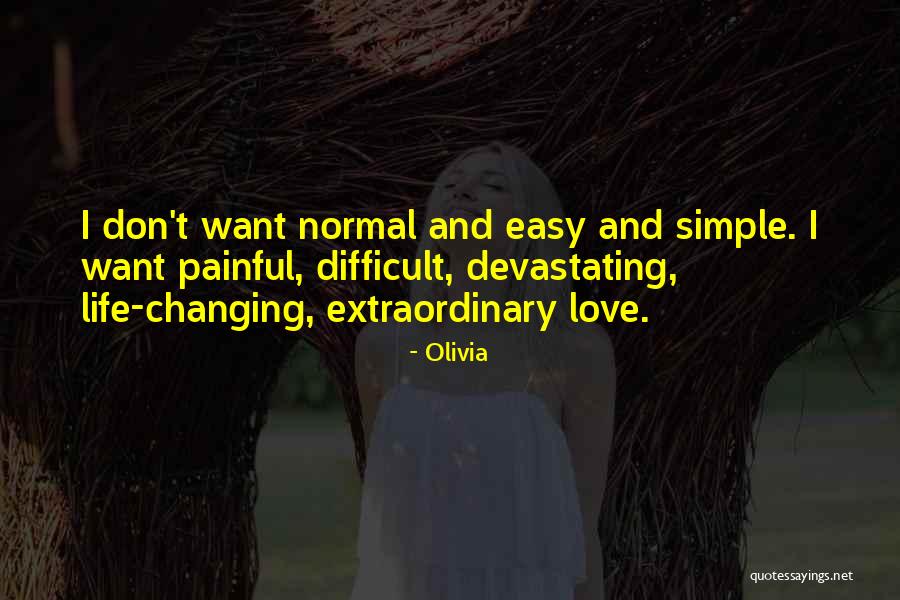 I don't want normal and easy and simple. I want painful, difficult, devastating, life-changing, extraordinary love. — Olivia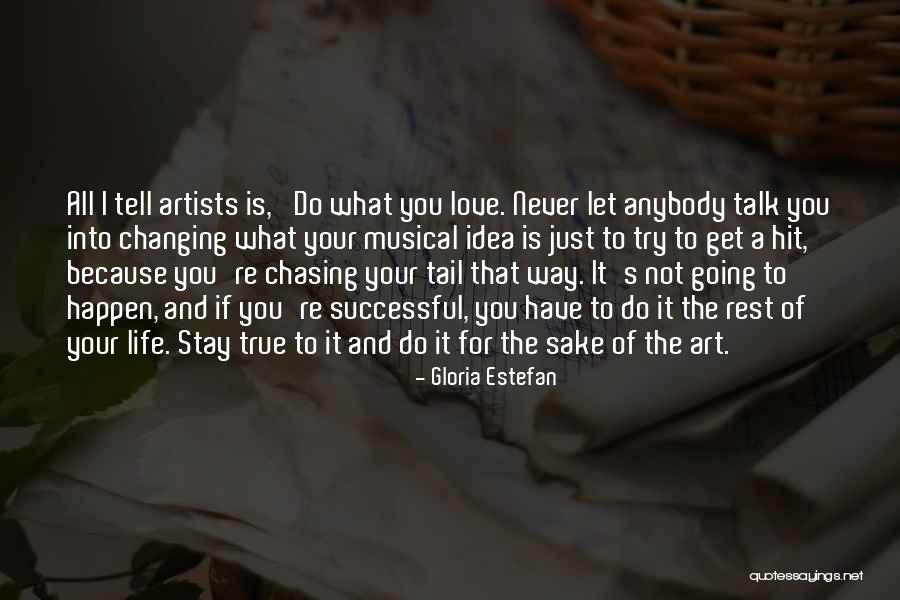 All I tell artists is, 'Do what you love. Never let anybody talk you into changing what your musical idea is just to try to get a hit, because you're chasing your tail that way. It's not going to happen, and if you're successful, you have to do it the rest of your life. Stay true to it and do it for the sake of the art.' — Gloria Estefan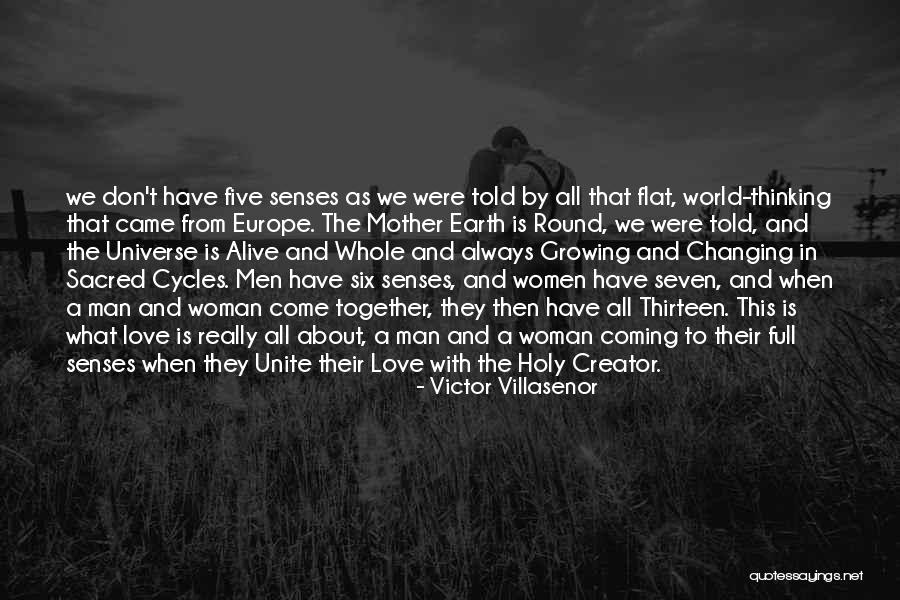 we don't have five senses as we were told by all that flat, world-thinking that came from Europe. The Mother Earth is Round, we were told, and the Universe is Alive and Whole and always Growing and Changing in Sacred Cycles. Men have six senses, and women have seven, and when a man and woman come together, they then have all Thirteen. This is what love is really all about, a man and a woman coming to their full senses when they Unite their Love with the Holy Creator. — Victor Villasenor